A lifestyle blog focuses on the interests and daily activities of the author. It is a personal blog which makes it more unique and exceptional. Most readers tend to read this type of blog because they can learn more about life as they get to know the experiences of other people. Whether you are a parent, student, employee, or entrepreneur, lifestyle blogs scope a broad range of topics that you can certainly relate to. Here are some of the best lifestyle blogs in Singapore for you to follow.
1. Mitsueki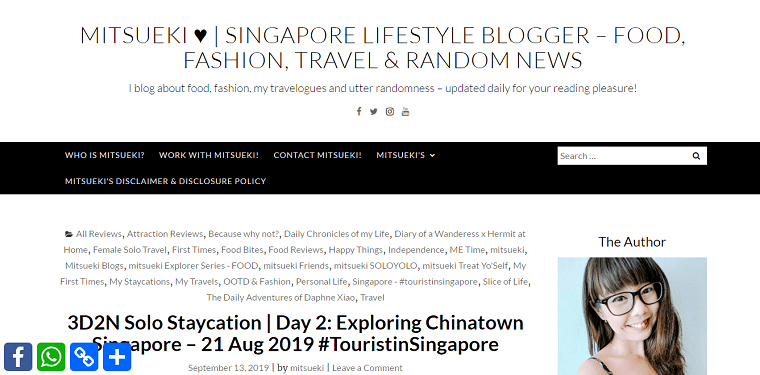 Mitsueki's content covers a wide range of topics including food, fashion, beauty, travel, and even some random things about the author. It began as a marketing platform for the author's accessories store. As she loves to share her interests and post them on Facebook, she captured and gained the attention of some followers. Since then, she transformed it into blog posts and now features extensive content.
Website: https://mitsueki.sg/
Instagram: https://instagram.com/mitsueki
2. Seedly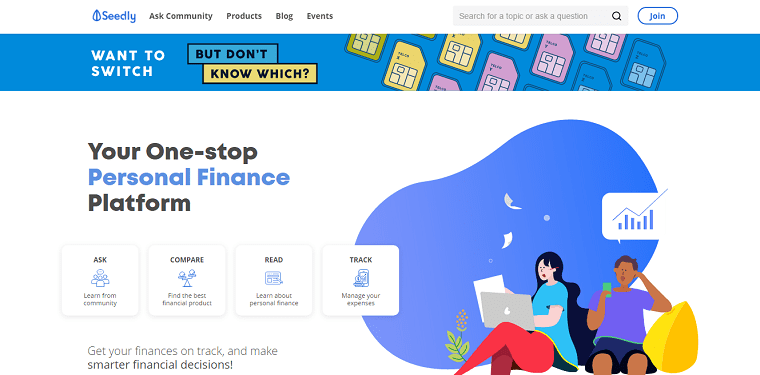 Seedly is quite different from other lifestyle blogs. It features posts about financial matters to help you make the wisest decisions and avoid complications. With their mobile tracking app that lets you be kept updated on your expenses; they have also established a blog where they will guide you throughout your finance journey. Handling economic concerns might be too difficult but with their informative content, you will surely be in good hands. Their topics include savings, investments, insurance, loans, career, dining, education, life hacks, and other important aspects in life.
Website: https://seedly.sg/
Instagram: https://www.instagram.com/seedlysg
3. TechieLobang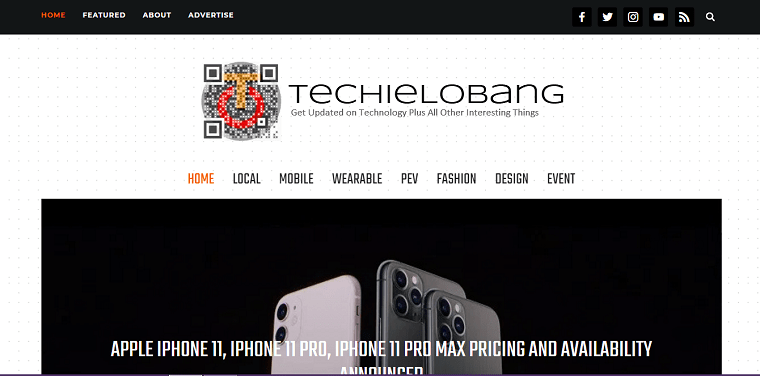 TechieLobang provides the most recent news about modern technology for the readers to stay in the trends of the digital era. As we all know, this generation has been influenced by the advanced technology which offered us an easier and more convenient lifestyle. This blog will help you choose and decide on what would be the perfect brand and product for your current needs and preferences. For over a decade, the blog has been accompanying several brands towards a successful release.
Website: https://techielobang.com/blog/
Instagram: https://instagram.com/techielobang
4. The Smart Local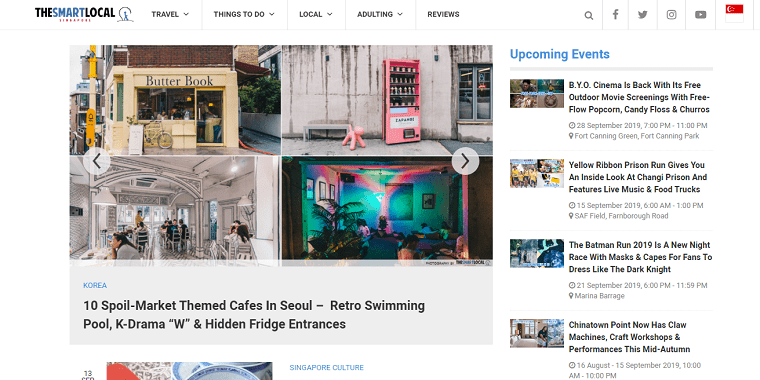 The Smart Local is one of the most followed lifestyle blogs in Singapore. They have been serving both locals and tourists with street-smart tactics and help them live and spend wisely. Practicality and quality are the two main goals of this blog. The official website is partly editorial and community-based. Therefore, readers will be able to explore different perspectives and make smarter choices in life. The contents are categorized by travel, things to do, local, adulting, and reviews.
Website: https://thesmartlocal.com/
Instagram: https://www.instagram.com/thesmartlocalsg/
5. Parka Blogs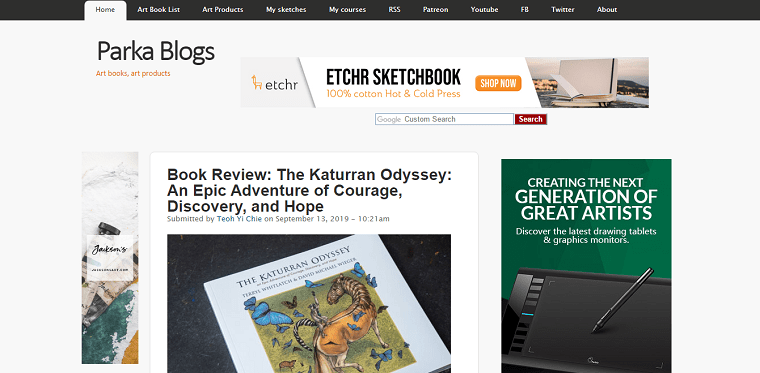 If you are an art lover, then Parka Blogs must be a heavenly website for you! It features reviews about a variety of art books and art products in different forms such as animations, movies, and comics. Whenever we are planning to purchase a book or any item, we always want to know what would the actual package be and the things included in it. In this blog, you'll be able to check first your item before placing an order. There is no need to worry because all the reviews are unbiased so you can be sure that what you read is what you get.
Website: https://www.parkablogs.com/
Instagram: https://www.instagram.com/parkablogs/?hl=en
6. Luxury Haven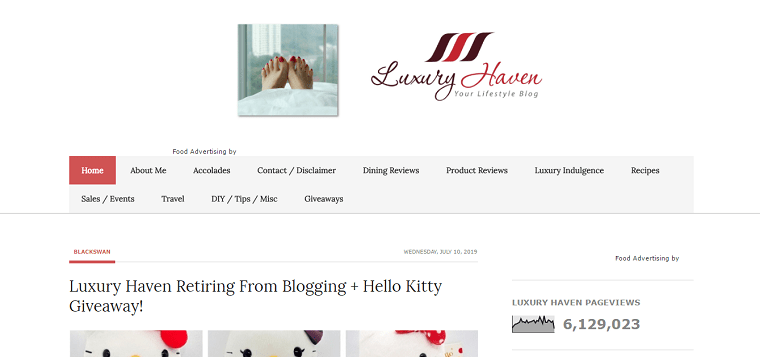 Luxury Haven is managed by a flight attendant whose passion is to travel and explore more about the beautiful diversity of all cultures. In this blog, readers will be able to know all about the food, culture, traditions, and even the way of living in one's country. If you are going to have a long week vacation with your family and friends, you might as well sneak a peek into this blog and find out if the country is included on the list. Aside from these, the contents also feature product reviews, cooking recipes, luxuries, DIYs, and tips. Giveaways are also being provided as an appreciation to all of the blog followers.
 Website: https://www.luxuryhaven.co/
7. Cheekiemonkies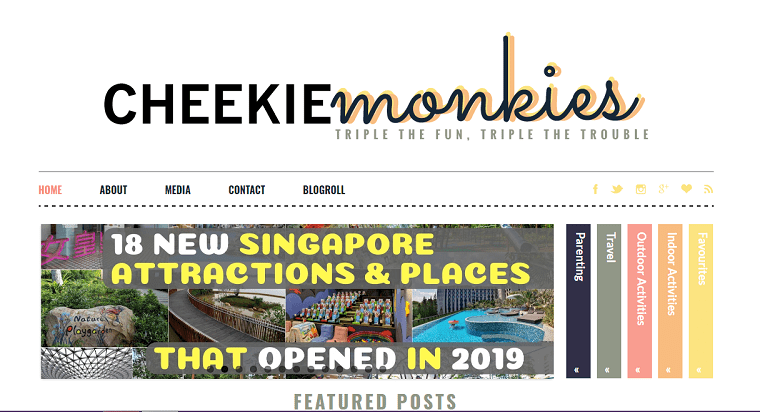 Cheekiemonkies is a parenting blog website by the book author of 'Got Kids, Go Where?' which contains a series of activities where parents can bond with their children. The author is an active father that promotes the essence of conducting right parenthood. With this blog, parents will discover many latest, enjoyable, and kids-friendly places in Singapore and international countries as well. The contents are categorized by indoor activities, outdoor activities, travel destinations, and parenting tips. For those who just became parents to their newborn or struggling to find the right balance in the parenting life, this might be the ideal content creator to follow!
Website: http://www.cheekiemonkie.net/
Instagram: https://www.instagram.com/cheekiemonkies/
8. The Wacky Duo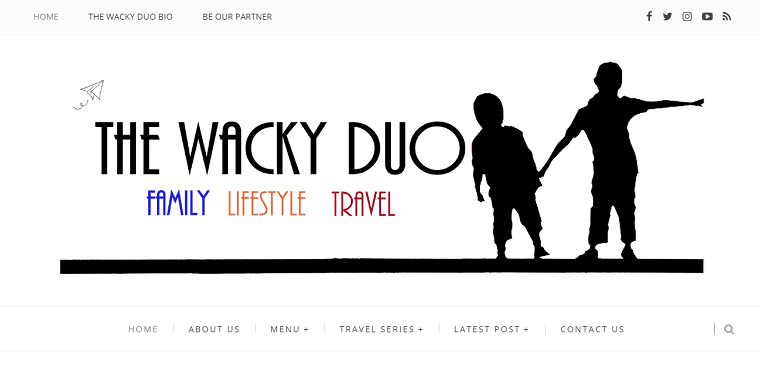 The Wacky Duo is a family-owned blog; hence, readers will be able to see the different points of view between the parents and the children. They are claimed to be family, travel, and lifestyle blog that covers events, hotel reviews, parenting, and product reviews. With this scope of contents, they have been recognized as one of Singapore's Best Family Blog and other lists on both local and global. They share their fun, real, and adventurous moments in the midst of their travel and help you realize that being a parent is the most rewarding experience that a person can ever have!
Website: https://www.thewackyduo.com
Instagram: https://www.instagram.com/thewackyduo
9. Hpility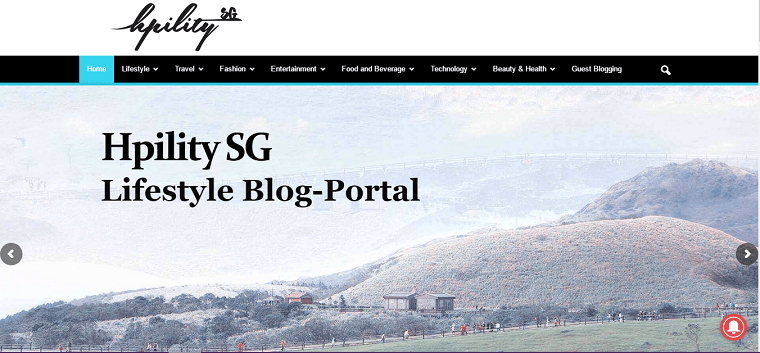 Hpility belongs to the list of the blogs that feature a broad variety of content. It is also published a decade ago which makes it a reliable and credible lifestyle blog. Throughout the years, they have become an award-winning website as they continue to earn numerous awards from prestigious institutions. The portal consists of timely updates about the current trends and events in Singapore, as well as, travel itineraries, fashion, entertainment, cafes and restaurants, gadget reviews, cosmetics, and health products.
Website: https://www.hpility.sg/
Instagram: https://www.instagram.com/hpility
10. Social and Style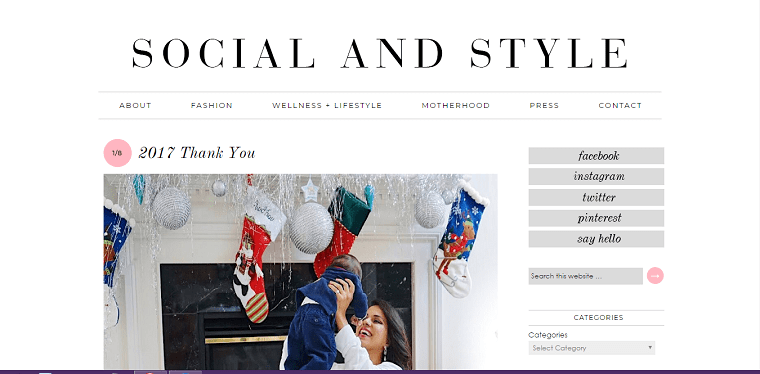 Social and Style is more of a lifestyle and fashion blog. For aspiring fashion bloggers, they can learn a lot from the author. Despite being born in America, the blog mainly features South Asian fashion and has extensive knowledge about the way of living in Singapore. The blog is known for being acknowledged by famous magazines and brands. Either it is a new place or a product, reviews are created fairly and based on the author's experience. Apart from these, stories of being in motherhood are also told through the posts.
Website: http://socialandstyle.com/
Instagram: http://instagram.com/socialandstyle
11. Vivian Tian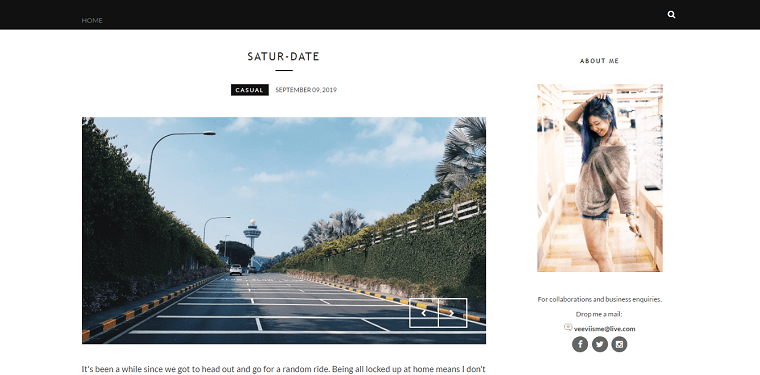 Vivian Tian's blog may be quite simple compared to the other lifestyle bloggers, but once you've read her blog posts, you will definitely be staying for a long time. She does not add anything fancy or filters on her reviews and experiences which makes it very relatable for many readers. In part with her travel adventures, fashion and beauty tips, and food reviews, she also shares her genuine thoughts and perceptions about certain things. Readers commend that they always find a friend through her posts, making it a place for comfort and warmth.
Website: http://dokivee.blogspot.com/
Instagram: https://instagram.com/veeviisme
12. PassportChop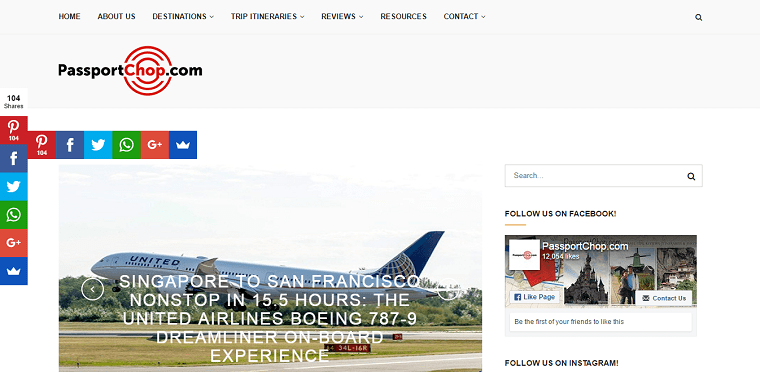 Passport Chop is a travel blog that shares the actual lifestyle in a certain country through reviews of hotels, restaurants, and tourist attractions. For over a decade, they have received several awards from global blog communities. Due to their engaging and exciting travel experiences, they also collaborated with famous companies in the tourism industry. When it comes to their food venture, they have explored Asian, Europian, and Western cuisines. Their reviews include hotel facilities, dining, technology, transport, art as well as some helpful travel tips.
Website: http://www.passportchop.com/
Instagram: https://instagram.com/passportchop/
13. Viva Woman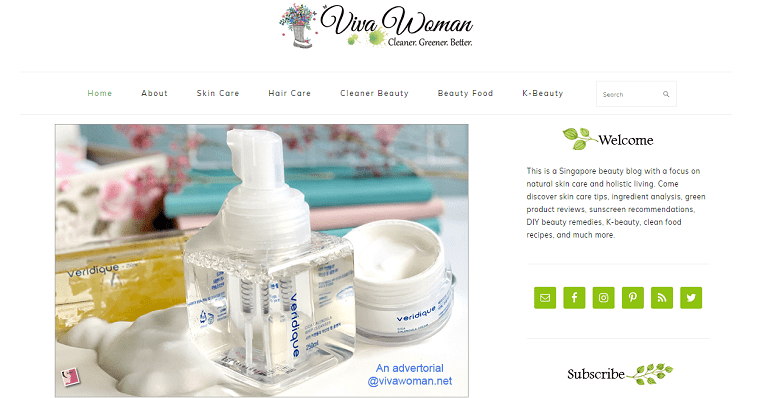 For the women out there who are highly interested in skin care products and beauty cosmetics, you can rely on Viva Woman's product reviews and beauty tips. Taking care of our skin takes up a large part in our wellness. The blog consists of skincare, haircare, organic beauty and even the most popular theme in this generation, K Beauty. A healthy lifestyle would not be complete without a nutritious diet; hence, it also has cooking tips and food reviews.
Website: https://www.vivawoman.net/
Instagram: https://www.instagram.com/sesamechew/
14.  Aspirant SG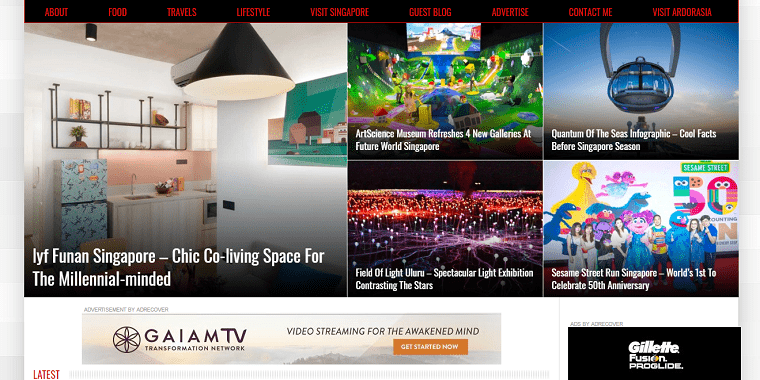 Aspirant SG is known for promoting commercial and business purposes. It started with an independent management but as they continue to rise in the industry, they are now being managed by The Influencer Media. Their goal is to connect with both professionals and entrepreneurs through engaging lifestyle content that include food reviews and travel scenes. It also encourages the tourists to explore the beautiful culture of Singapore and the locals to value the history and traditions of the country. They also feature a guest blog whereas readers can view distinct perceptions from many different people.
Website: https://www.aspirantsg.com/
Instagram: https://www.instagram.com/aspirantsg/
15. The Ordinary Patrons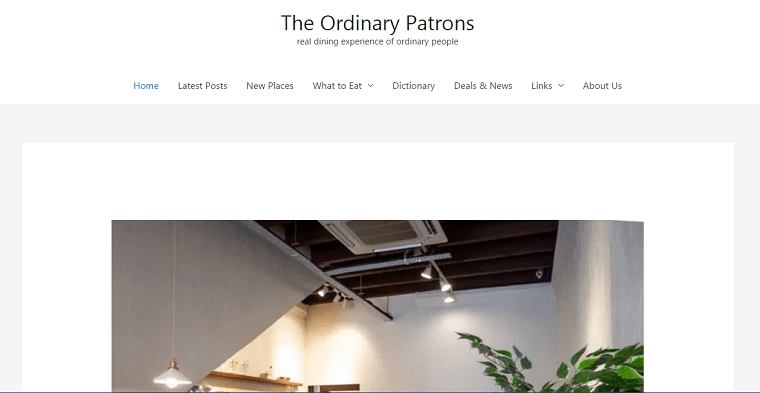 With its name, The Ordinary Patrons, the blog focuses on making relatable and empathetic reviews of local and international dining places. When it comes to their contents, they share the entire experience including the cuisine, ambiance, services, affordability, and accessibility. At the end of each post, they conclude with honest feedback. They live to their brand by consistently providing unsponsored and unpaid content.
Website: https://ordinarypatrons.com/
Instagram: https://www.instagram.com/ordinarypatrons/
16. Lester Chan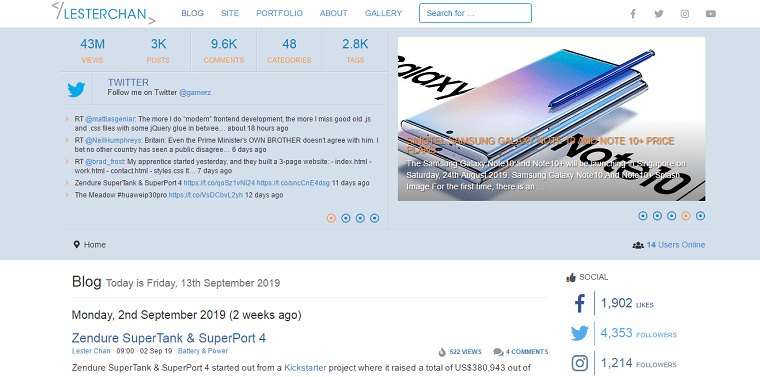 Lester Chan's blog produces content that will surely trigger the interests of tech-savvies. If you want to keep up with the modern gadget trends, you should follow his blog for it contains a wide scope of reviews of gadgets, devices, and even software. Everything related to the digital world is here in this blog. It also provides content about entertainment, fashion, dining, and attractions in part with the lifestyle of the author.
Website: https://lesterchan.net/
Instagram: https://instagram.com/gamerz
17. The Occasional Traveller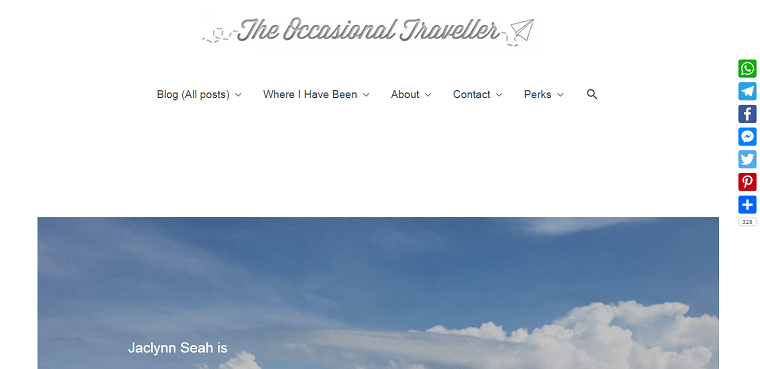 As the author of The Occasional Traveller is a full time professional, she aims to inspire her readers to always have time to take things slow and be relaxed despite the busy life. If we are always on the go, we can easily feel tired and so to recharge ourselves, a trip with family and friends would always be a pleasure. No matter how long or short the trip is, as long as you are with your loved ones and you've got everything planned out, it will certainly be a memorable experience. Through the blog's contents you will be able to learn some tips on how to maximize your time and use it wisely.
Website: https://theoccasionaltraveller.com/
Instagram: https://instagram.com/theoccasionaltraveller
18. Working With Grace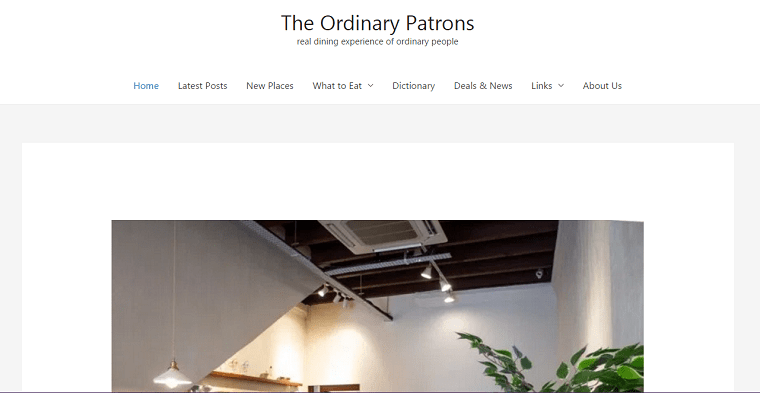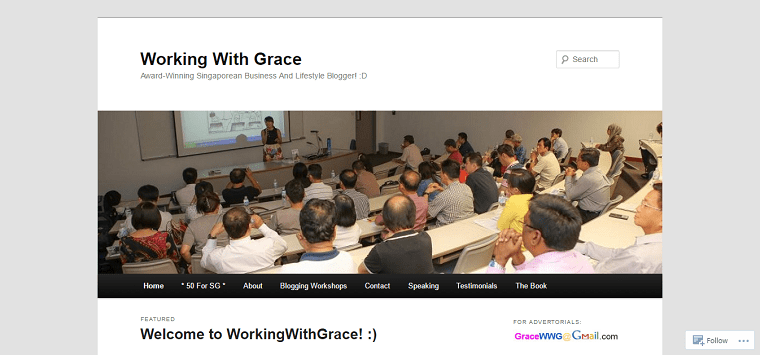 Working With Grace is an award-winning lifestyle blog that features business contents whereas the author shared valuable interviews with successful entrepreneurs and start-up business owners. With these stories, readers will know the struggles and hardships that come with managing a business as well as the rewarding moments. All of these contents stand as essential lessons for aspiring entrepreneurs. The blog also tends to enlighten people that there are endless possibilities outside of a full-time office-based job and that life is not always about your career status. Instead, it is about how you live your life and how you will make it through.
Website: https://workingwithgrace.wordpress.com/
19. Expat Living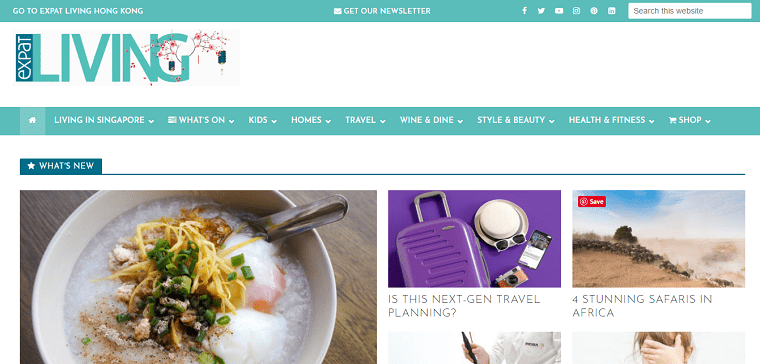 Expat Living delivers contents that inform the locals about the current happenings in the country. For those who are planning to move into Singapore, they also provide helpful information that will assist you throughout your way of living. As they say, you must always make wise financial decisions. Their contents are both relevant and delightful to read and it is also categorized by education, business, environment, homes, travel, dining, fashion, beauty, and fitness. They also have an online shop where they sell digital and printed magazines.
Website: https://expatliving.sg
Instagram: https://www.instagram.com/expatlivingsg/
20. Home and Decor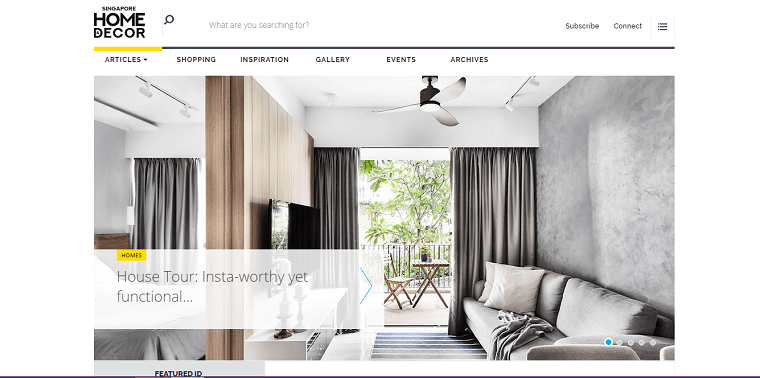 This blog caters to those people who will be having a house renovation or relocation. They provide home tips, house tours, lists of top interior designers, renovation tips, and recent housing news. From the locations, interiors, furniture, up to the upholsteries and house prices, they will guide you throughout your journey. They also have a list of designers and contractors to help you find the right partner for your renovation.
Website: https://www.homeanddecor.com.sg/
Instagram: https://instagram.com/homeanddecor_sg/