Top 38 Best Lifestyle Blogs in Singapore: Most Trusted in 2021
Looking for the best lifestyle blogs in Singapore to give you fresh insight into the island and life on it? Well, look no further, because we've found the very best Singapore lifestyle blogs for this roundup!
These lifestyle Singapore blogs were picked by dint of being the best-written and best-managed blogs of those we surveyed. They offer content that ranges from eye-popping to sweetly sentimental, from thrilling to thought-provoking…
But no matter what the topic, these lifestyle Singapore blogs are always interesting, and they're always relatable.
So for an authentic look into the lifestyle of a Singaporean today, let's delve into these blogs. Here are the best lifestyle blogs in Singapore:
1. Mitsueki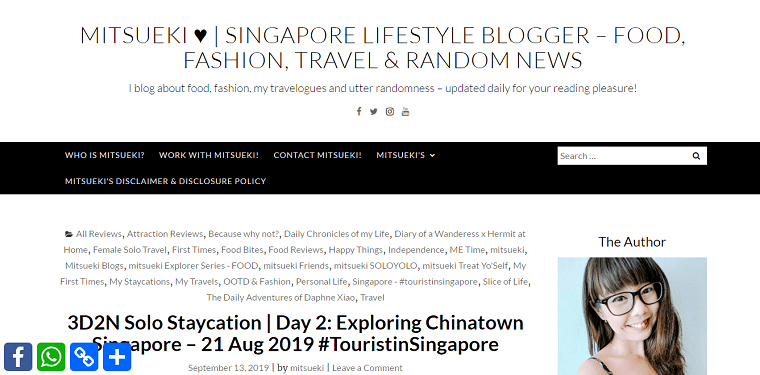 Mitsueki's content covers a wide range of topics including food, fashion, beauty, travel, and even some random things about the author.
It began as a marketing platform for the author's accessories store so she started getting known as one of Singapore's fashion bloggers. As she loves to share her interests and post them on Facebook, she captured and gained the attention of some followers.
Since then, she has transformed it into a lifestyle Singapore blog that covers a wide range of content. She has a strong following among fashion-savvy blog readers.
Website: https://mitsueki.sg/
Instagram: https://instagram.com/mitsueki
2. RainbowDiaries
If you are a parent who would love to get some insights from a fellow mother, Shubhada Bhide about parenting, lifestyle, and food, RainbowDiaries is one parenting blog in Singapore that you should definitely visit. 
Aside from sharing with her readers her first-hand experiences as a mother, she also posts reviews for kids stuff, events, beauty, other lifestyle items, food, etc. which is deemed helpful not only to parents but to other types of audiences.
Website: http://www.rainbowdiaries.com/
Instagram: https://www.instagram.com/Shub_SG
3. Mums And Babies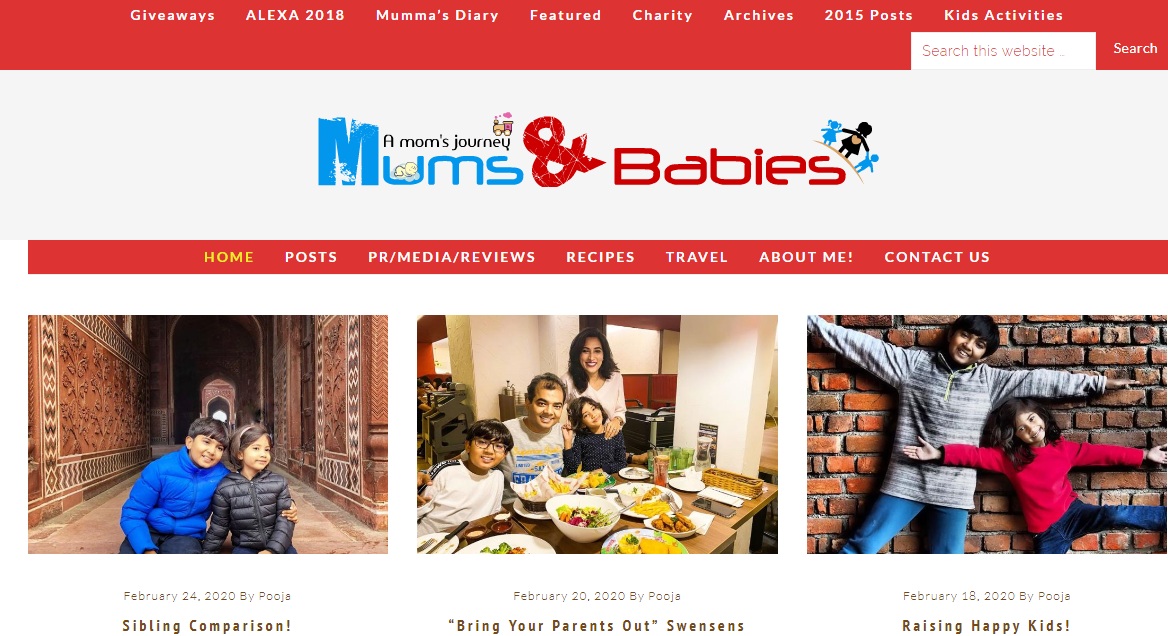 Mums And Babies is owned by Pooja, a mother of two who passionately shares her personal journey as a mom and their experiences and adventure as a family who travels, cooks, bonds, etc.
The blog has been featured and acknowledged quite a few times by various companies as well. So if you are a mom who needs some tips from a fellow mother especially regarding cooking for children or handling kids while traveling, you'd most certainly enjoy browsing Mums And Babies' posts.
Website: http://www.themumsandbabies.com/
Instagram: http://www.instagram.com/poojakawatra
4. The Smart Local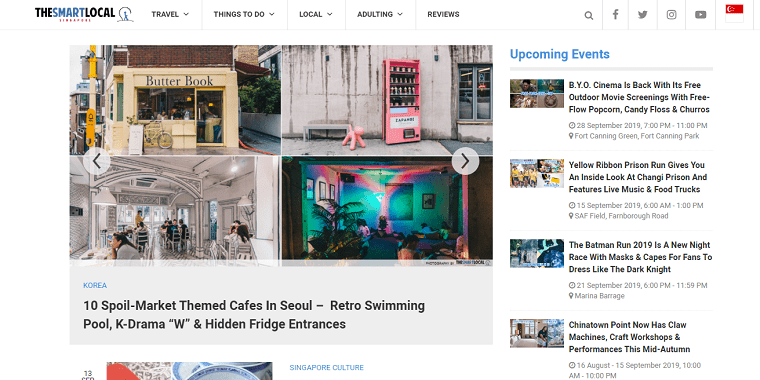 The Smart Local is one of the most followed lifestyle blogs in Singapore. They have been serving both locals and tourists with street-smart tactics for a while that help them live and spend wisely.
Practicality and quality are the two main goals of this blog. The official website is partly editorial and community-based.
Therefore, readers will be able to explore different perspectives on how to make smarter choices in life. The articles are categorised by topic, with topics like travel, things to do, local, "adulting", and reviews.
Absolutely one of the most interactive lifestyle bloggers in Singapore with a strong following.
Website: https://thesmartlocal.com/
Instagram: https://www.instagram.com/thesmartlocalsg/
5. Parka Blogs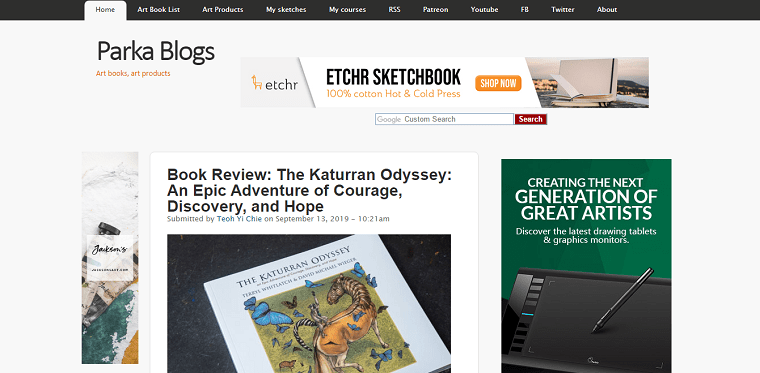 If you're looking for a creative blogger in Singapore then Parka Blogs will be the perfect website for you! It features reviews about a variety of art books and art in different forms such as animation, movies, and comics.
This is also a good product unboxing blog. What's more, they provide reviews of the things they unbox.
Website: https://www.parkablogs.com/
Instagram: https://www.instagram.com/parkablogs/?hl=en
6. Luxury Haven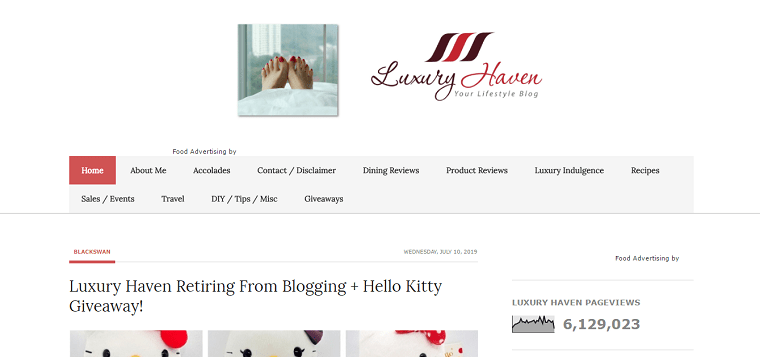 Luxury Haven is managed by an ex-flight attendant whose passion is travelling and enjoying the beautiful diversity of all cultures.
In this blog, readers will be able to know all about the food, culture, traditions, and even the way of living in different countries.
If you're going to have a long overseas vacation with your family and friends, you might want to peek into this blog and find out if the country has been covered by the blog. This is one Singapore blogger that can provide a lot of insight into your destination.
The blog also features product reviews, cooking recipes, luxuries, DIYs, and tips. Giveaways are also provided often.
 Website: https://www.luxuryhaven.co/
Instagram: https://www.instagram.com/luxury.haven/
7. Cheekiemonkies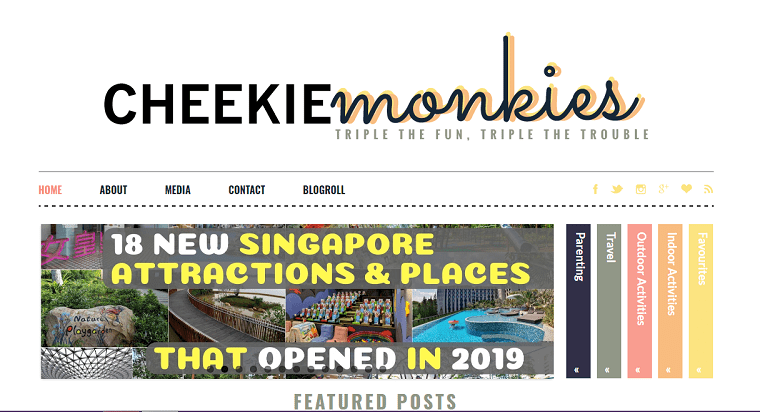 Cheekiemonkies is a parenting blog website by the author of 'Got Kids, Go Where?'. The author is an active father who promotes responsible and dedicated parenthood.
With this blog, parents will discover many of the latest, most enjoyable kid-friendly places in Singapore. The articles are categorised — you can choose indoor activities, outdoor activities, travel destinations, and parenting tips.
Many are attracted to the unique point of view and perspective of this blog. Because unlike most lifestyle blogs in Singapore about parenting, this is created and written by a Singaporean fathers point of view.
For those who just became parents to their newborn or who are struggling to find the right balance in their new parenting life, this might be the ideal content creator to follow!
Website: http://www.cheekiemonkie.net/
Instagram: https://www.instagram.com/cheekiemonkies/
8. The Wacky Duo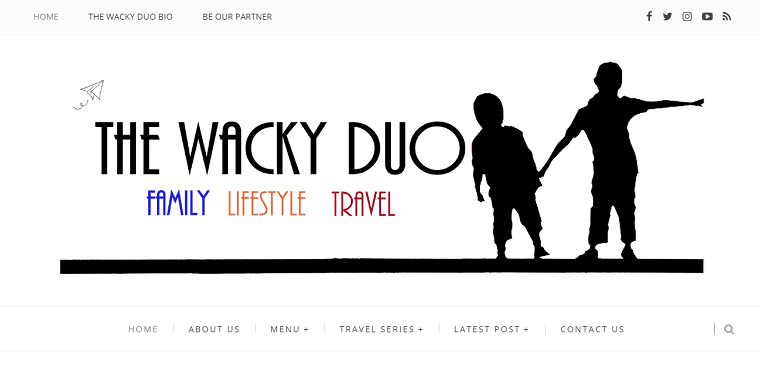 The Wacky Duo is a family-owned blog; hence, readers will be able to see the different points of view between the parents and the children writing here.
This is a lifestyle blog that covers events, hotel reviews, parenting, and product reviews. They've been recognised as one of Singapore's best family blogs thanks to their candid, often-touching articles.
The Wacky Duo is definitely one of the few lifestyle websites in Singapore that provides reviews seen through the eyes of all family members. 
Website: https://www.thewackyduo.com
Instagram: https://www.instagram.com/thewackyduo
9. Hpility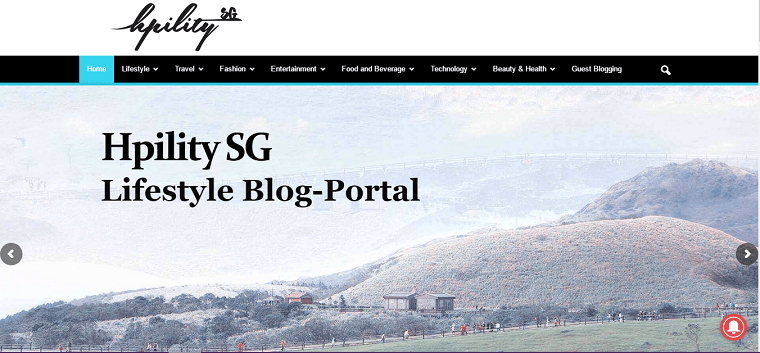 Hpility belongs to the list of the blogs that feature a broad variety of content topics. It also started a decade ago, which makes it one of the most established credible lifestyle blogs here.
Throughout the years, they have become an award-winning website as they continue to earn numerous awards from prestigious institutions.
Today, the portal consists of timely updates about the current trends and events in Singapore, as well as travel, fashion, entertainment, cafes and restaurants, gadgets, cosmetics, and health products.
Website: https://www.hpility.sg/
Instagram: https://www.instagram.com/hpility
10. TechieLobang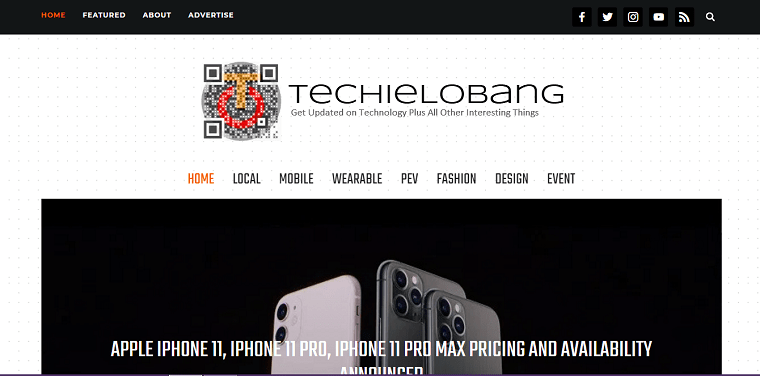 TechieLobang provides the most recent news about modern technology for the readers to stay in the trends of the digital era.
This blog will help you choose and decide on what would be the perfect brand and product for your current needs and preferences.
Website: https://techielobang.com/blog/
Instagram: https://instagram.com/techielobang
11. Katong Kids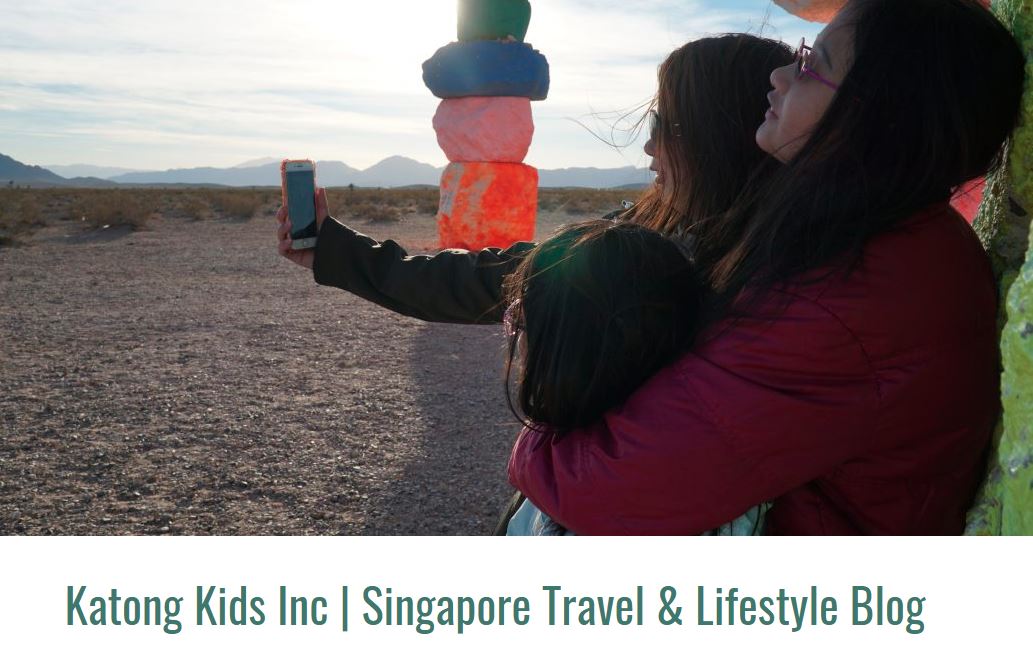 Katong Kids is a food, lifestyle, travel, staycation blog with a tinge of parenthood! They have reated this blog to share the interesting journey of parenting that most of us face. Be it good or bad, as parents, they are well aware these experiences will make other parents learn a lot as well.
Website: https://katongkidsinc.com/
Facebook: https://www.facebook.com/katongkidsincblog/
12. Vivian Tian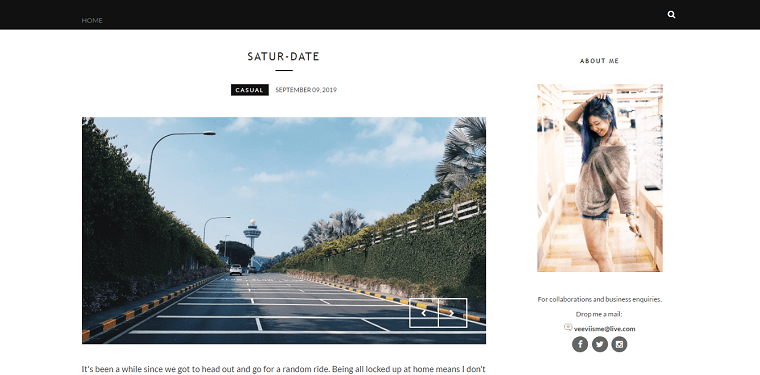 Vivian Tian's blog may be quite simple compared to those of other lifestyle bloggers, but once you've read her blog posts, you will definitely be staying for a long time.
She does not add anything fancy or filter her reviews and experiences. This makes her articles very relatable for many readers.
To go with her travel adventures, fashion and beauty tips, and food reviews, she also shares her thoughts about a variety of topics. Readers commend that they always find a friend through her posts, making the blog a place for comfort and warmth.
Website: http://dokivee.blogspot.com/
Instagram: https://instagram.com/veeviisme
13. PassportChop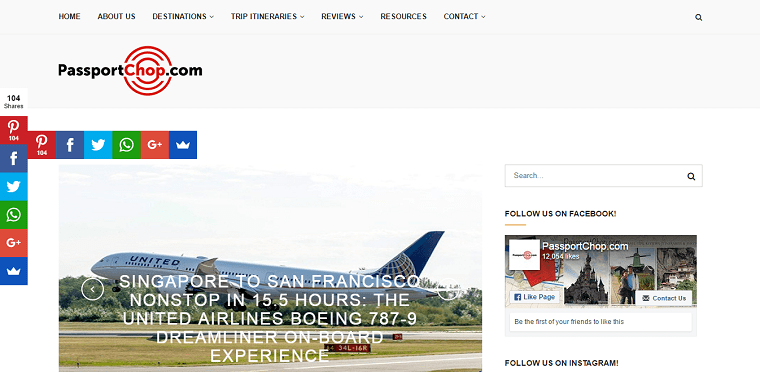 Passport Chop is a travel blog that shares the lifestyle in a certain country through reviews of hotels, restaurants, and tourist attractions.
For over a decade, they have received awards from global blog communities. Due to their engaging and exciting travel experiences, they also collaborated with famous companies in the tourism industry.
When it comes to their food venture, they have explored Asian, Europian, and Western cuisines. Their reviews include hotel facilities, dining, technology, transport, art as well as some helpful travel tips.
Website: http://www.passportchop.com/
Instagram: https://instagram.com/passportchop/
14. Viva Woman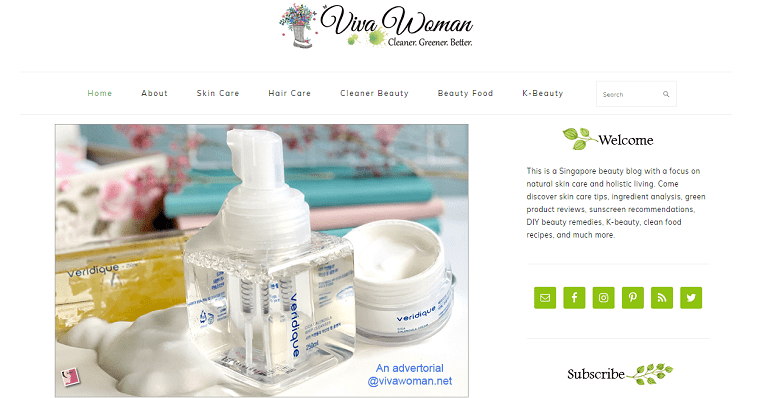 For the women out there who are highly interested in skin care products and beauty cosmetics, you can rely on Viva Woman's product reviews and beauty tips.
Taking care of our skin takes up a large part in our wellness. The blog consists of skincare, haircare, organic beauty and even the most popular theme in this generation, K Beauty.
And, since a healthy lifestyle would not be complete without a nutritious diet, the blog also has cooking tips and food reviews. Truly all you need for your beauty regimen!
Website: https://www.vivawoman.net/
Instagram: https://www.instagram.com/sesamechew/
15.  Aspirant SG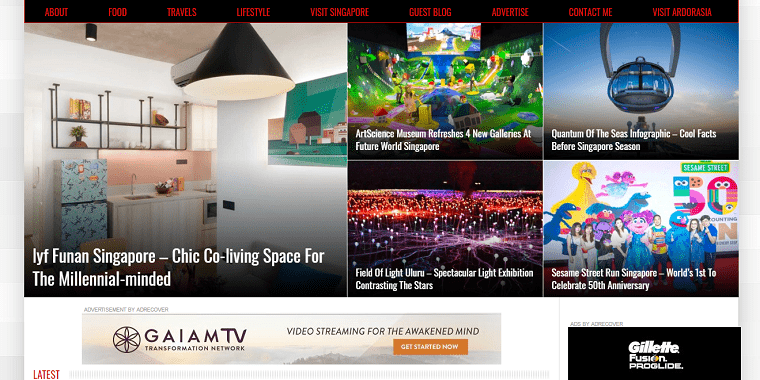 Aspirant SG is known for promoting commercial and business purposes. It started with independent management but as they continue to rise in the industry, it switched to professional, and they are now being managed by The Influencer Media.
Their goal is to connect with both professionals and entrepreneurs through engaging lifestyle content that includes food reviews and travel scenes. The blog also encourages the tourists to explore the beautiful culture of Singapore and the locals to value the history and traditions of the country.
What's more, they feature a guest blog whereas readers can view distinct perceptions and opinions from many different people on various topics.
Website: https://www.aspirantsg.com/
Instagram: https://www.instagram.com/aspirantsg/
16. The Ordinary Patrons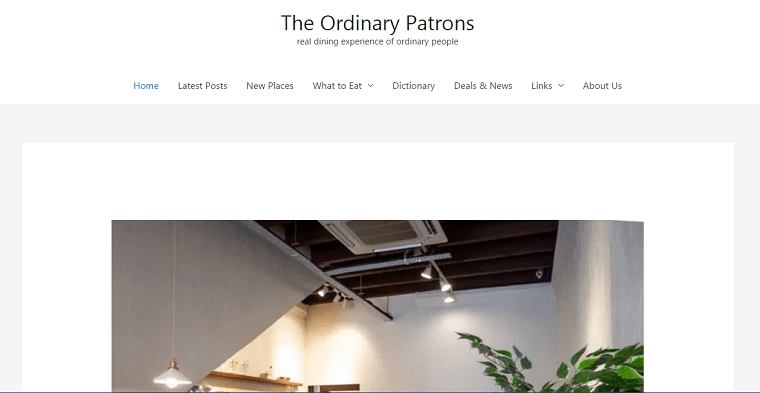 With its name, The Ordinary Patrons, the blog focuses on making relatable reviews of local and international dining places. When it comes to their content, they share the entire experience including the cuisine, ambience, services, affordability, and accessibility.
At the end of each post, they conclude with honest feedback. They live up to their brand by consistently providing unsponsored and unpaid content.
Website: https://ordinarypatrons.com/
Instagram: https://www.instagram.com/ordinarypatrons/
17. Lester Chan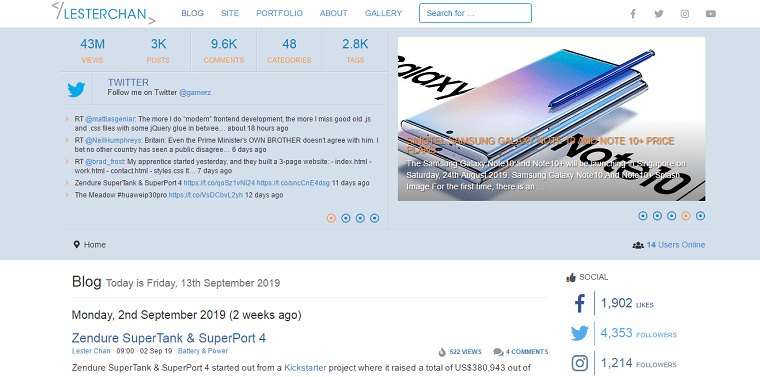 Lester Chan's blog produces content that will surely trigger the interest of tech-savvy people. If you want to keep up with the gadget trends, you should follow his blog, for it contains a wide scope of reviews of gadgets, devices, and even software.
Everything related to the digital world is here in this blog. It also provides content about entertainment, fashion, dining, and attractions.
Website: https://lesterchan.net/
Instagram: https://instagram.com/gamerz
18. The Occasional Traveller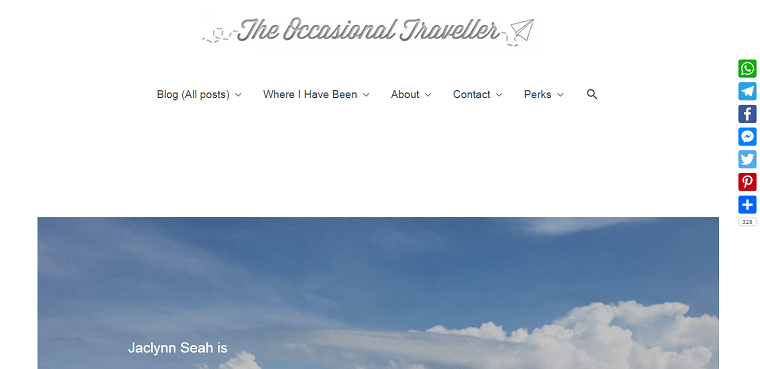 As the author of The Occasional Traveller is a full-time professional, she aims to inspire her readers to always have time to take things slow and be relaxed despite the busy life.
Through the blog's content, you will be able to learn some tips on how to maximise your time and use it wisely.
Website: https://theoccasionaltraveller.com/
Instagram: https://instagram.com/theoccasionaltraveller
19. Working With Grace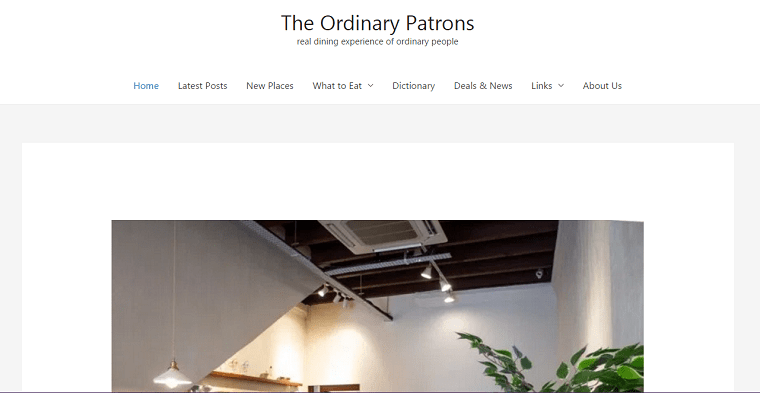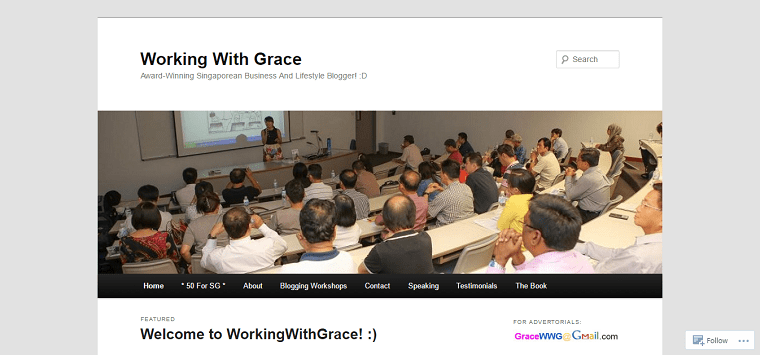 Working With Grace is an award-winning lifestyle blog that features business content where the author shares valuable interviews with successful entrepreneurs and start-up business owners.
With these stories, readers will know the struggles and hardships that come with managing a business as well as the rewarding moments. All of these articles stand as essential lessons for aspiring entrepreneurs.
The blog also often shows people that there are endless possibilities outside of a full-time office-based job and that life is not always about your career status. Instead, the author says it is about how you live your life and how you will make it through.
Website: https://workingwithgrace.wordpress.com/
20. Expat Living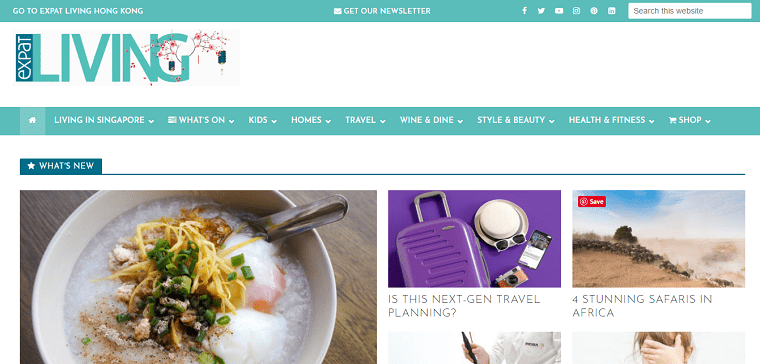 Expat Living delivers content that informs the locals about the current happenings in the country. For those who are planning to move into Singapore, they also provide helpful information that will assist you throughout your everyday life.
Their posts are both relevant and delightful to read and are also categorised by education, business, environment, homes, travel, dining, fashion, beauty, and fitness. They also have an online shop where they sell digital and printed magazines.
Website: https://expatliving.sg
Instagram: https://www.instagram.com/expatlivingsg/
21. Home and Decor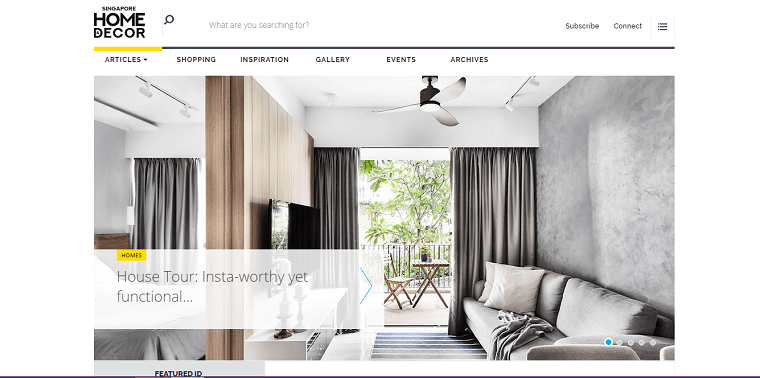 This blog caters to those people who will be having a house renovation or relocation. They provide home tips, house tours, lists of top interior designers, renovation tips, and recent housing news.
From the locations to the interiors and furniture, up to the upholstery and house prices, they will guide you throughout your journey. They also have a list of designers and contractors to help you find the right partner for your renovation.
Website: https://www.homeanddecor.com.sg/
Instagram: https://instagram.com/homeanddecor_sg/
22. Icefrost Diary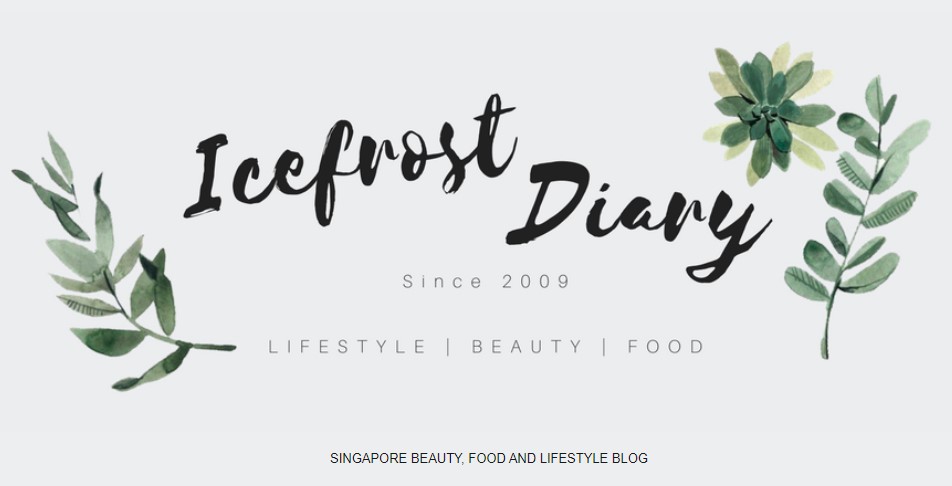 Michelle from Singapore started Icefrost Diary in 2009 when she was committed to starting a beauty blog. With the rise of social media and an influx of social media content creators, she sets herself apart from writing / creating content on brands that she loves, products that she actually uses on a day to day basis, and travel and makeup tips she picked up from all form of platforms.
Website: http://icefrostdiary.com/
Facebook: https://www.facebook.com/icefrostbeautydiary
23. Social and Style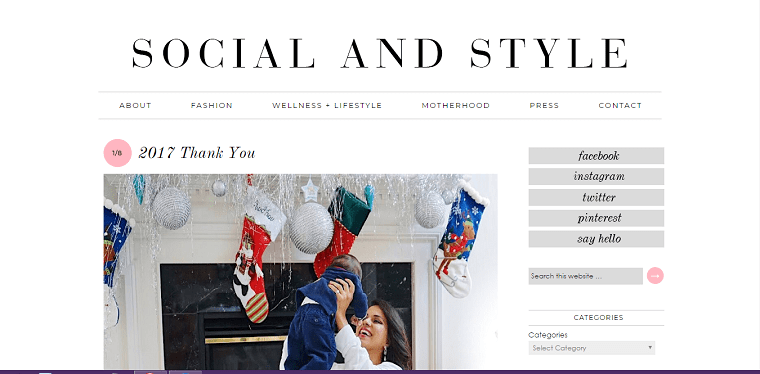 Social and Style is one of the most active lifestyle and fashion bloggers in Singapore. For aspiring fashion bloggers, they can learn a lot from the author, particularly her reviews.
Despite being born in America, the author mainly features South Asian fashion and has extensive knowledge about Singapore. The blog has been acknowledged by many famous magazines and brands.
Reviews on this blog are created fairly and based on the author's experience. Apart from these, stories of motherhood are also told through the posts.
Website: http://socialandstyle.com/
Instagram: http://instagram.com/socialandstyle
24. City Girl, City Stories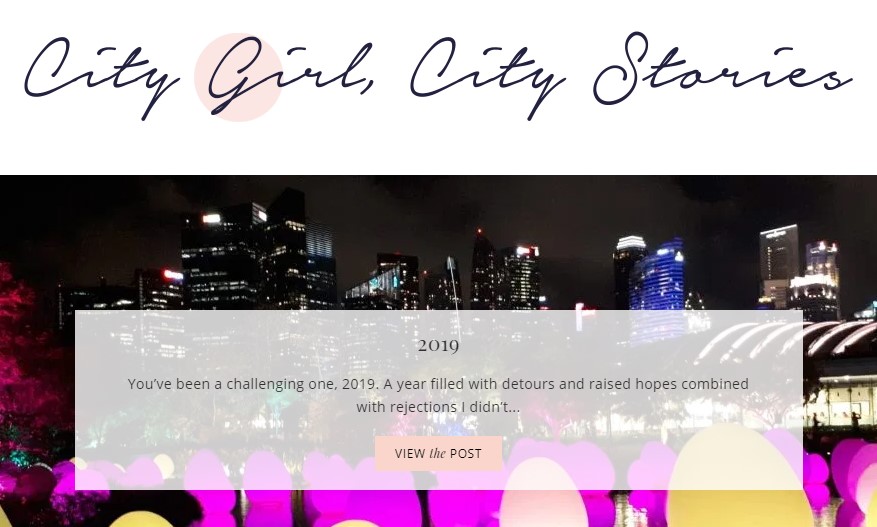 City Girl, City Stories is a Hong Kong and Singapore lifestyle blog, where you can read happy adventures ranigng from great food to interesting places to check out and from shopping to nature. This space also acts as a diary for its owner, Kylene, to document her journey in two awesome cities as she explores them.
Website: http://www.citygirlcitystories.com/
Instagram: https://www.instagram.com/citygirlcitystories/
25. missuschewy
Charlene is the author and photographer behind Singapore Lifestyle & Travel Blog, missuschewy. She shares her thoughtful insights into what sizzles a couple's relationship in the form of tested and proven dating ideas, travel experiences & Singapore staycation reviews through her blog.
Website: http://www.missuschewy.com/
Facebook: https://www.facebook.com/missuschewy/
26. Life's Tiny Miracles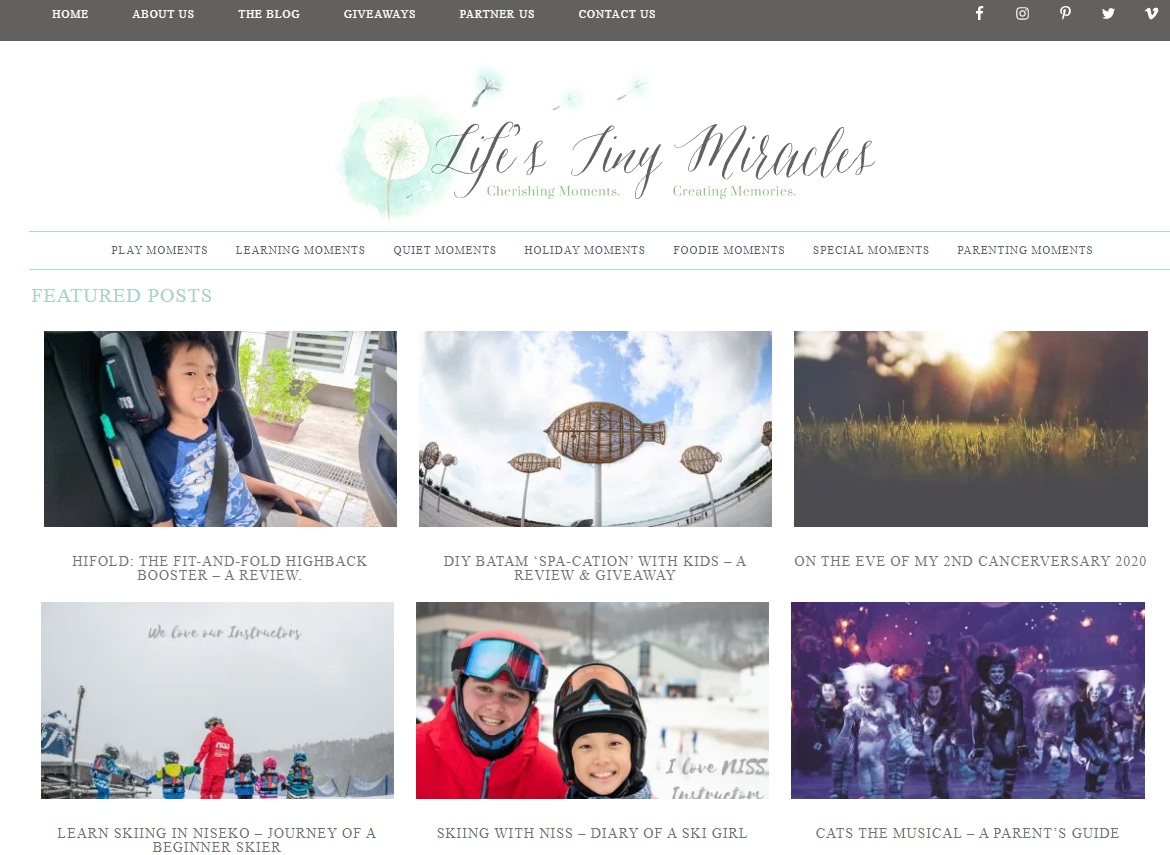 Life's Tiny Miracles is a lifestyle, parenting, and travel vlog which mainly highlights the life of a family living in Singapore. Angie, the owner and writer, shares her first-hand experiences exploring the world and making memories with her beautiful family.
In her blog, she covers various topics that will definitely help parents nurture their relationship with their children. She shares stuff like play moments, learning moments, foodie moments, holiday moments, a lot more.
Website: https://www.lifestinymiracles.com/
Instagram: https://www.instagram.com/lifestinymiracles/
27. Little Big Red Dot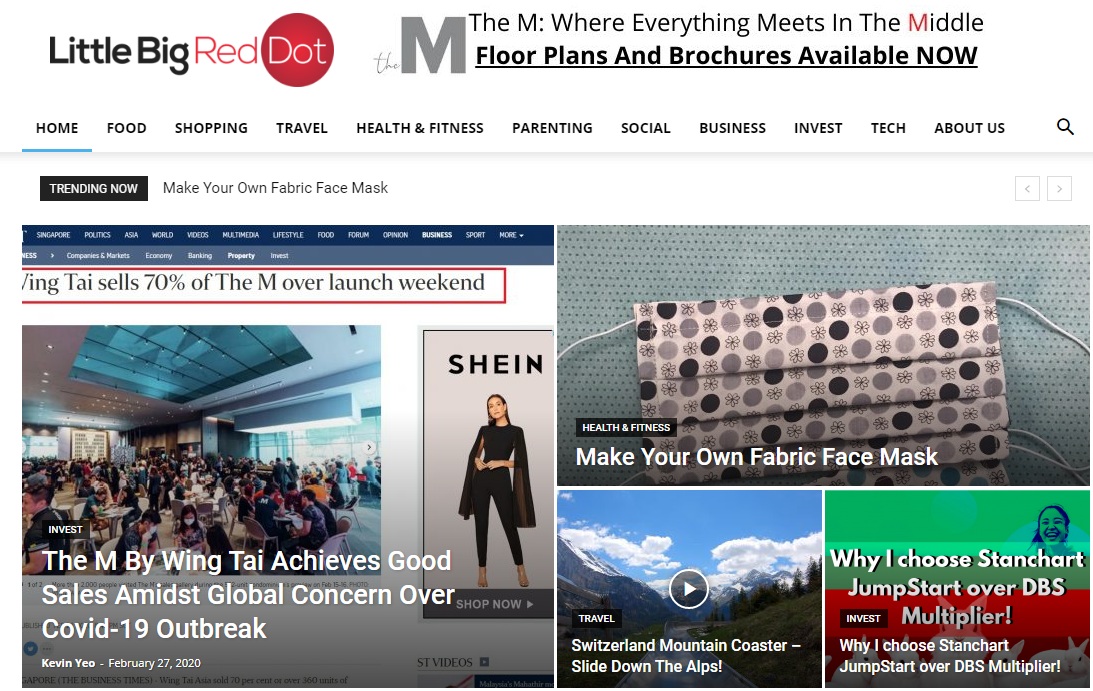 Little Big Red Dot covers a wide range of topics featuring the most interesting stuff in Singapore. From food to shopping  and event business and parenting, all of those are highlighted in one of the country's leading lifestyle blogs.
Since it is a community blog, you can also share your own write-ups free of charge. You can write anything under the sun as long as it's not inappropriate and the team will gladly have your post featured.
Website: https://www.littlebigreddot.com/
Instagram: https://www.instagram.com/little.big.red.dot/
28. Seedly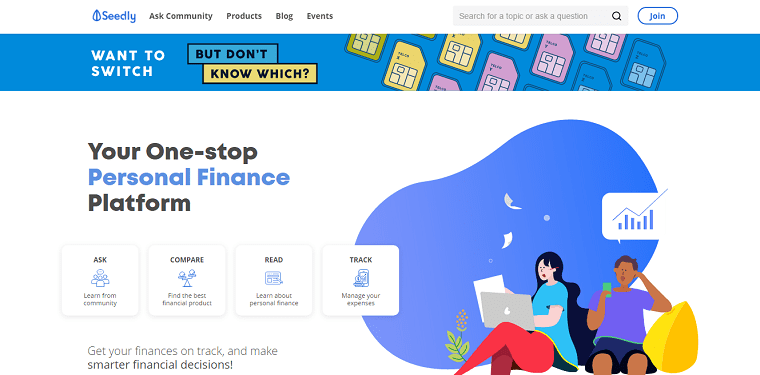 Seedly is quite different from other lifestyle blogs. It features posts about financial matters to help you make the wisest decisions and avoid complications.
They have a mobile tracking app that lets you stay updated on your expenses. Combined with the blog, they can guide you throughout your financial journey.
Their topics include savings, investments, insurance, loans, career, dining, education, life hacks, and the like.
Website: https://seedly.sg/
Instagram: https://www.instagram.com/seedlysg
29. Myfarrahdise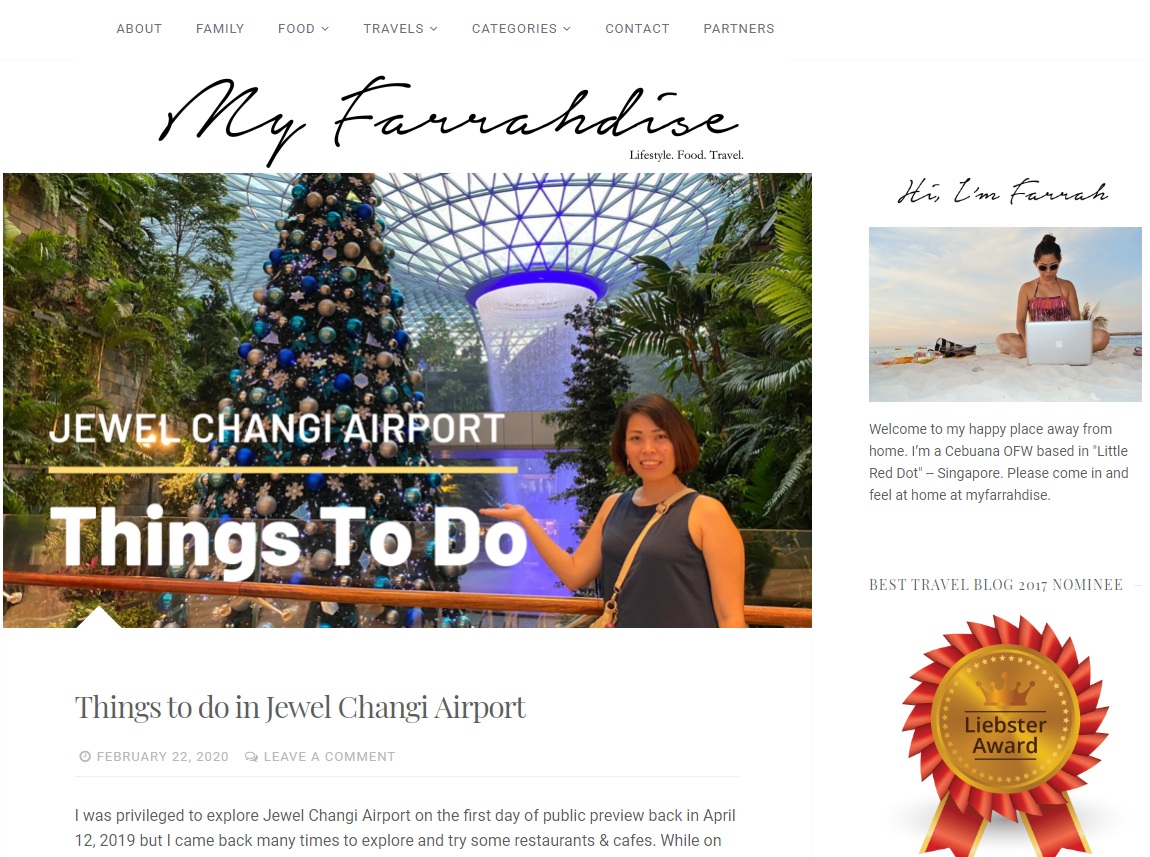 Lifestyle, food, and travel are the main topics covered by Myfarrahdise. She features places to visit in different Asian countries like Singapore, Philippines, Thailand, Malaysia, Japan, etc. and its local food to try. While she shares some recipes in her kitchen that you can also try at home.
Her blog also has some articles on beauty and wellness, fashion, DIY activities and the likes that are perfectly suited for the young and young-at-heart.
Website: https://myfarrahdise.com/
Instagram: https://www.instagram.com/myfarrahdise/
30. Elaine Heng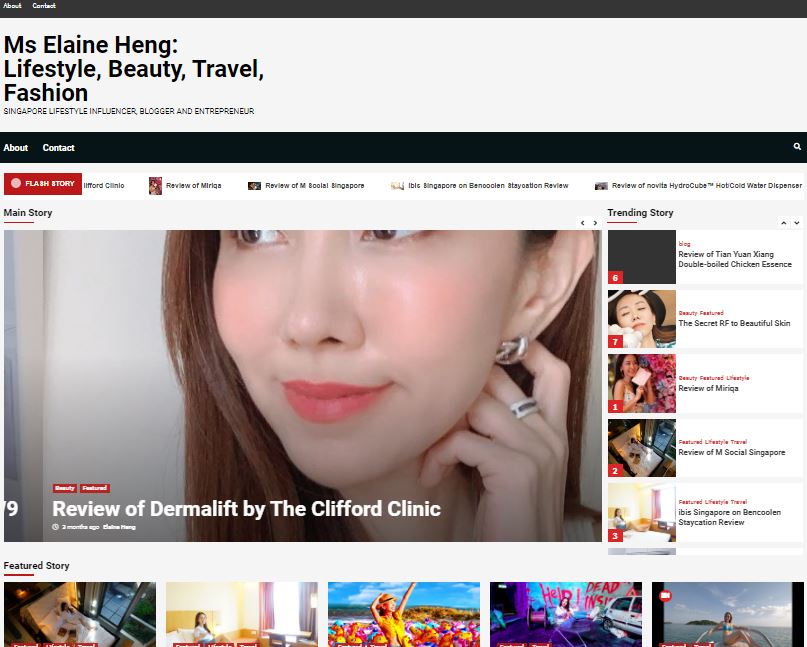 If you want to keep up with Miss Singapore International World 2008 winner Elaine Heng's life as a beauty queen and career as an image consultant, makeup artist and hairstylist, her blog can be your window. There she shares with the world her own collection of fashion-related items as well as the events she visited that highlights beauty, fashion, modelling, etc.
She also features reviews on some establishments she had first-hand experience with like salons, fashion houses, local restaurants, spas, etc.
Website: http://www.mselaineheng.com/
Instagram: http://www.instagram.com/mselaineheng
31. Dawn Chan 
Having created a blog in 2012, Dawn Chan, a Mass Communication graduate from Republic Polytechnic, is a Singapore Lifestyle Blogger and Digital Marketer. The content released by the blogger are mostly about beauty: "If You Have Oily Skin, You NEED This – Cathy Doll Oil Control Film Pact", events: "Where to buy birthday flowers and other gift ideas", food (New restaurant Mpire launched at 77 Amoy Street", and travel (5 Reasons Why You Should Travel to Maldives in 2017″.
If these topics pique your interest, make sure to check her blog out!
Website: http://www.dawnchansg.com/
Instagram: https://www.instagram.com/dawnchansg/
Facebook: https://www.facebook.com/dawnchansg
YouTube: https://www.youtube.com/c/berryginny
32. Easy Travel Recipes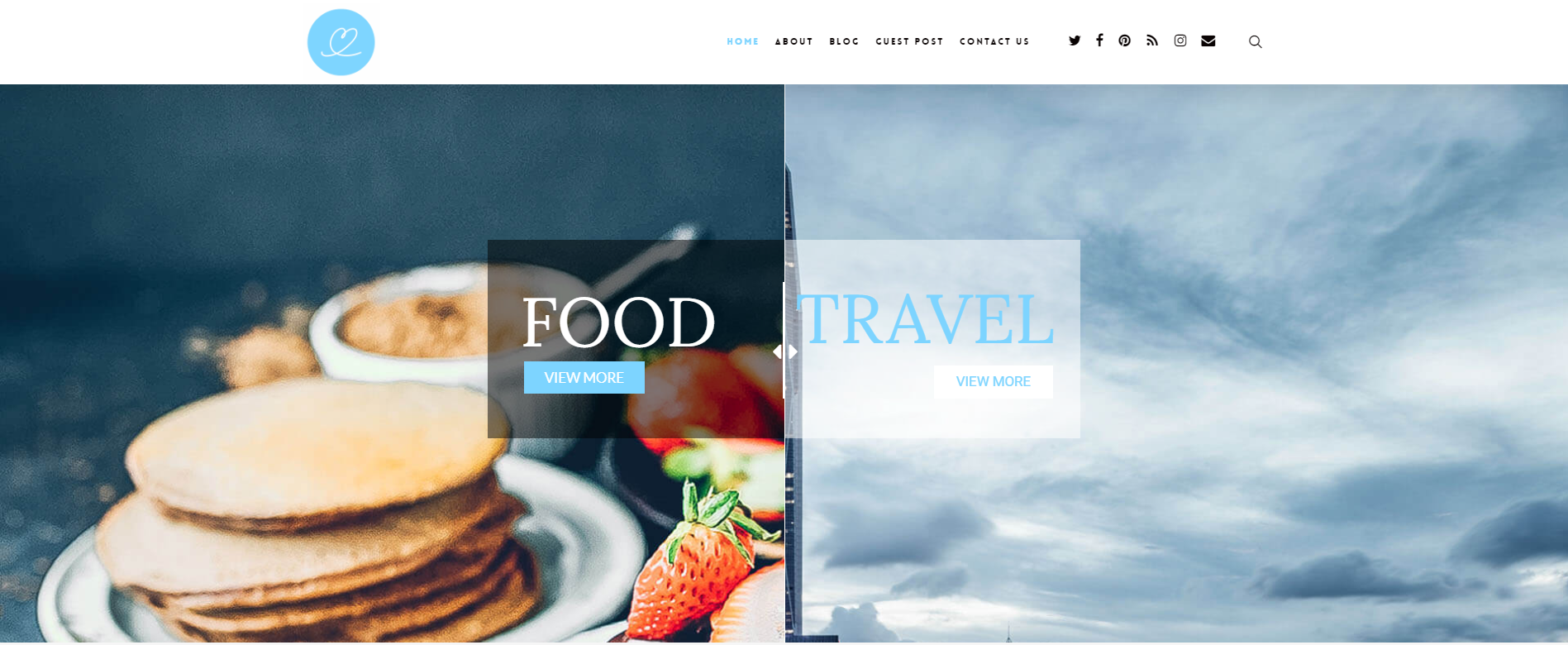 If ever you are travelling and in need of some cooking tips, why don't you check out Easy Travel Recipes? They've got it all prepared and ready for you.
It is most suitable for couples, for the blogs are created to enhance the honeymoon experience. The couple running the blog is on a mission, and it is to spend every day like it's Valentine's Day and every travelling holiday like it's their first Honeymoon.
Therefore, they will be sharing all of their experiences and tips about where you can go with your loved one, as well as what you can cook for your partner. With their blog, you need to make sure that no matter what you're doing, you're both enjoying yourselves!
Website: https://www.easytravelrecipes.com/
Instagram: https://www.instagram.com/easytravelrecipes/
33. Spring Tomorrow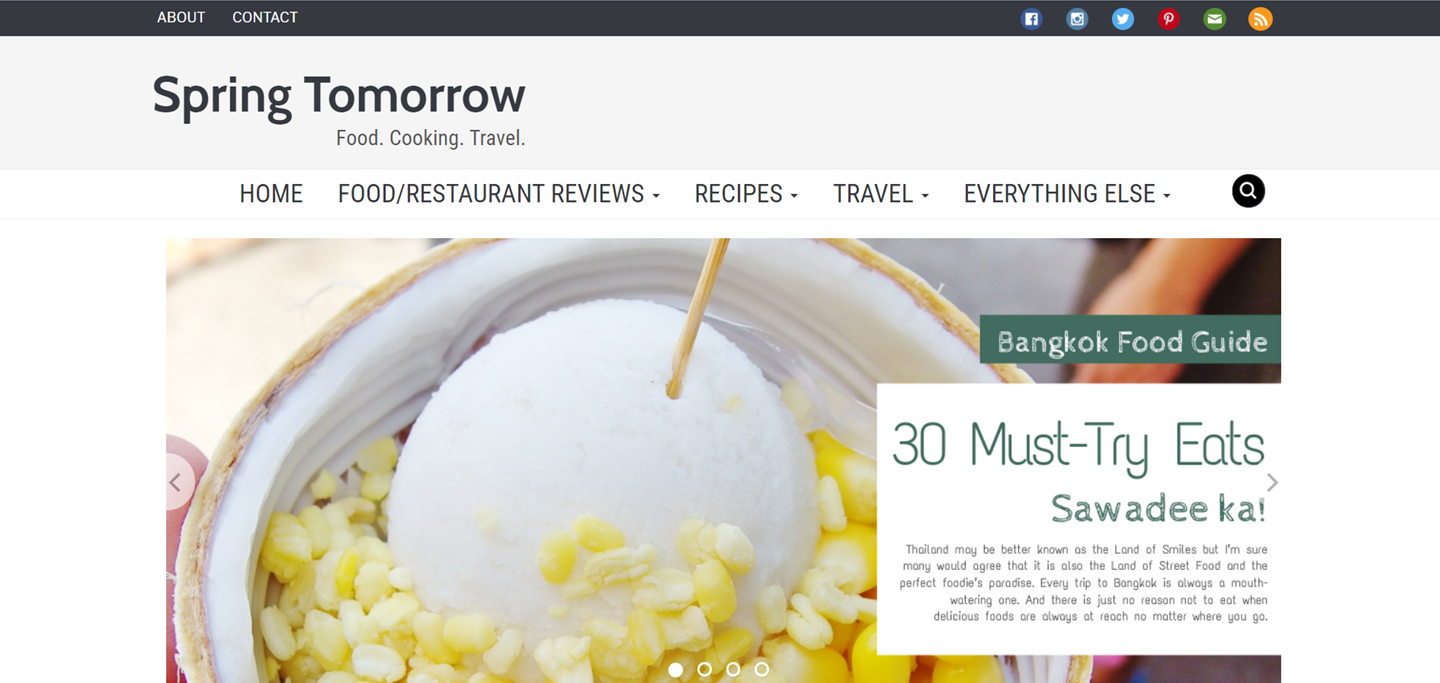 If your interests include cooking, food, and travelling, then you'll surely enjoy Spring Tomorrow's feature articles. Started by Geri, a huge food lover and certified wanderlust, Spring Tomorrow brings the readers the best recipes to try and the best places to go to in all of Singapore.
The lifestyle blog documents Geri's experiences and adventures in life for her to keep as memories, and for you to try along with her. With all the amazing things she's discovered, Spring Tomorrow will surely spice up your day and satisfy your curiosity.
Website: https://www.springtomorrow.com/
Instagram: https://www.instagram.com/springtomorrow/
34. Bel Around the World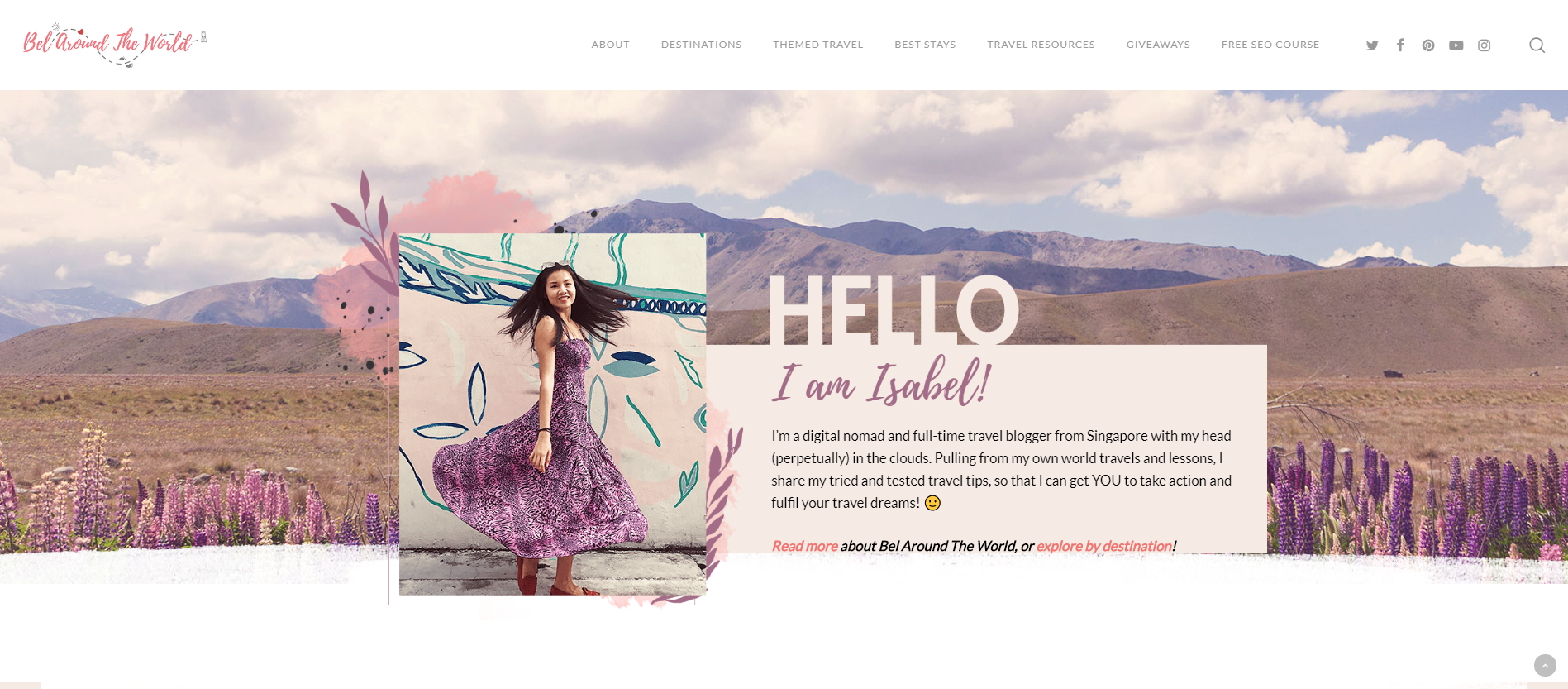 If you're looking for travel tips, then Isabel's blog can help you. Charmingly named Bel Around the World, this blog detail's her independent travels since 2015.
From Europe, to New Zealand, and then Japan, Isabel has tried many hotels and tours along the way. With her help, you can spend less and travel more– no matter the destination.
Website: https://belaroundtheworld.com/
Instagram: https://www.instagram.com/belardtheworld/
35. Chapters of Escapism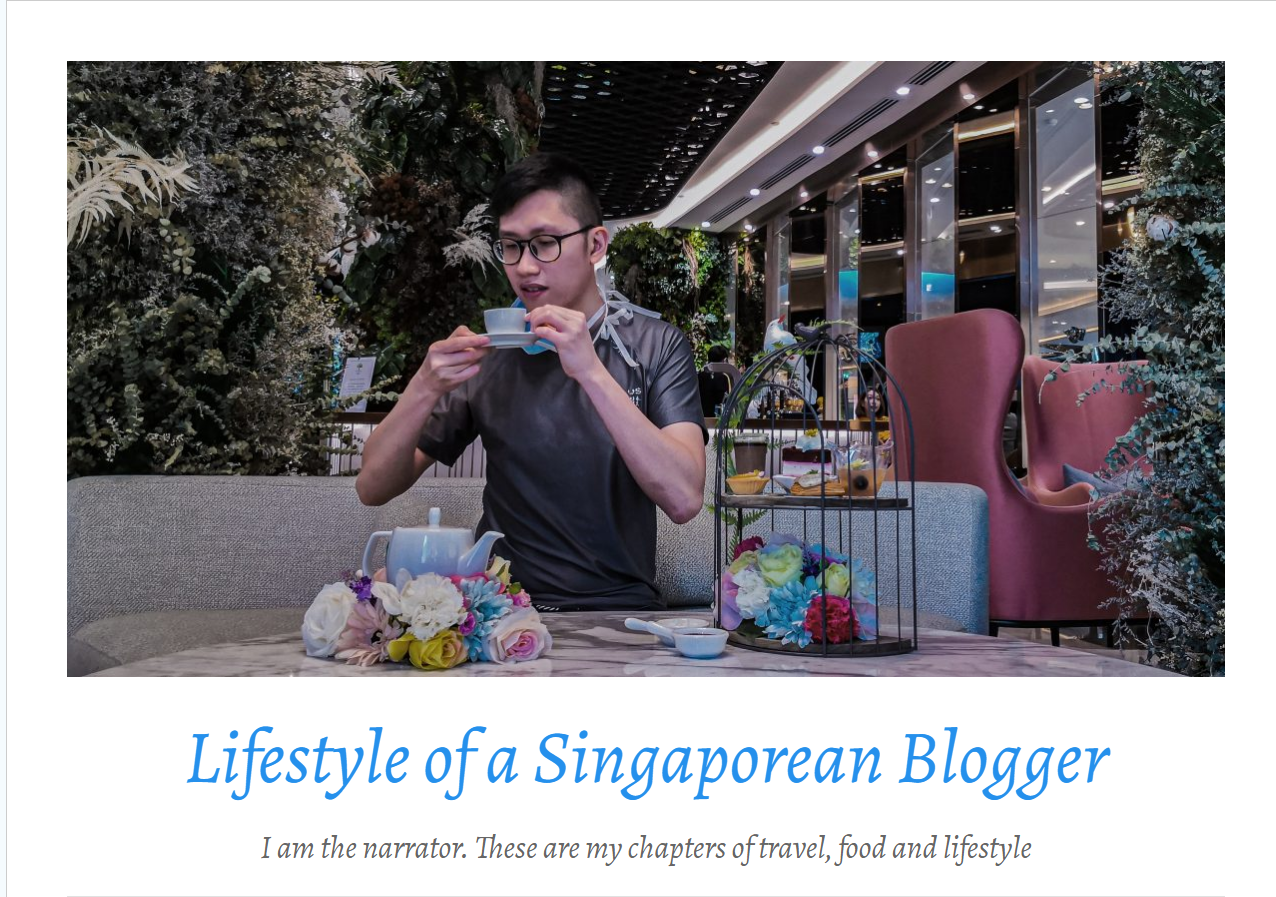 Enjoy blogs about food, travel, and art, with Chapters of Escapism. It's owned by Alvin, an aspiring artist who's contributed over 50 amazing features and reviews since 2018.
From the photos to the writings, you're sure to enjoy every bit when scrolling through Chapters of Escapism's website.
For collaborations, tasting, or even advertising, drop by his email account and talk over the details!
Website: https://chaptersofescapism.com
Instagram: https://www.instagram.com/chaptersofescapism/
36. Our Parenting World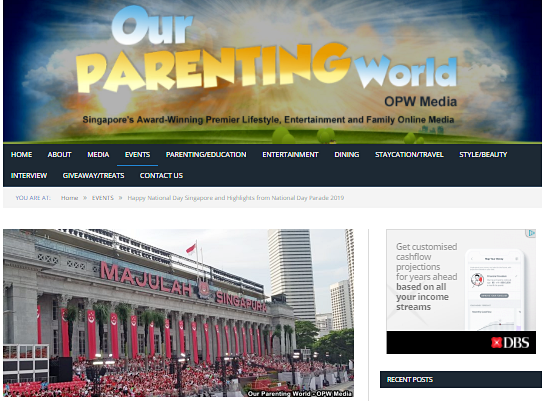 Our Parenting World is a lifestyle blog that is run by a team of parents covering a wide range of topics from Parenting Advice & Tips, Products, Food, Beauty, Travel and Entertainment.
If you want to know the latest F&B, Beauty, Product Reviews and other offerings, events to go, fun and leisure activities in Singapore and around the region where you can go with your family and loved ones, check out their website. For collaboration, partnerships and advertising, please email the team.
Website: http://ourparentingworld.com/
Facebook: https://www.facebook.com/our.parentingworld/
Instagram: https://www.instagram.com/opwmedia/
37. Pinggo Diaries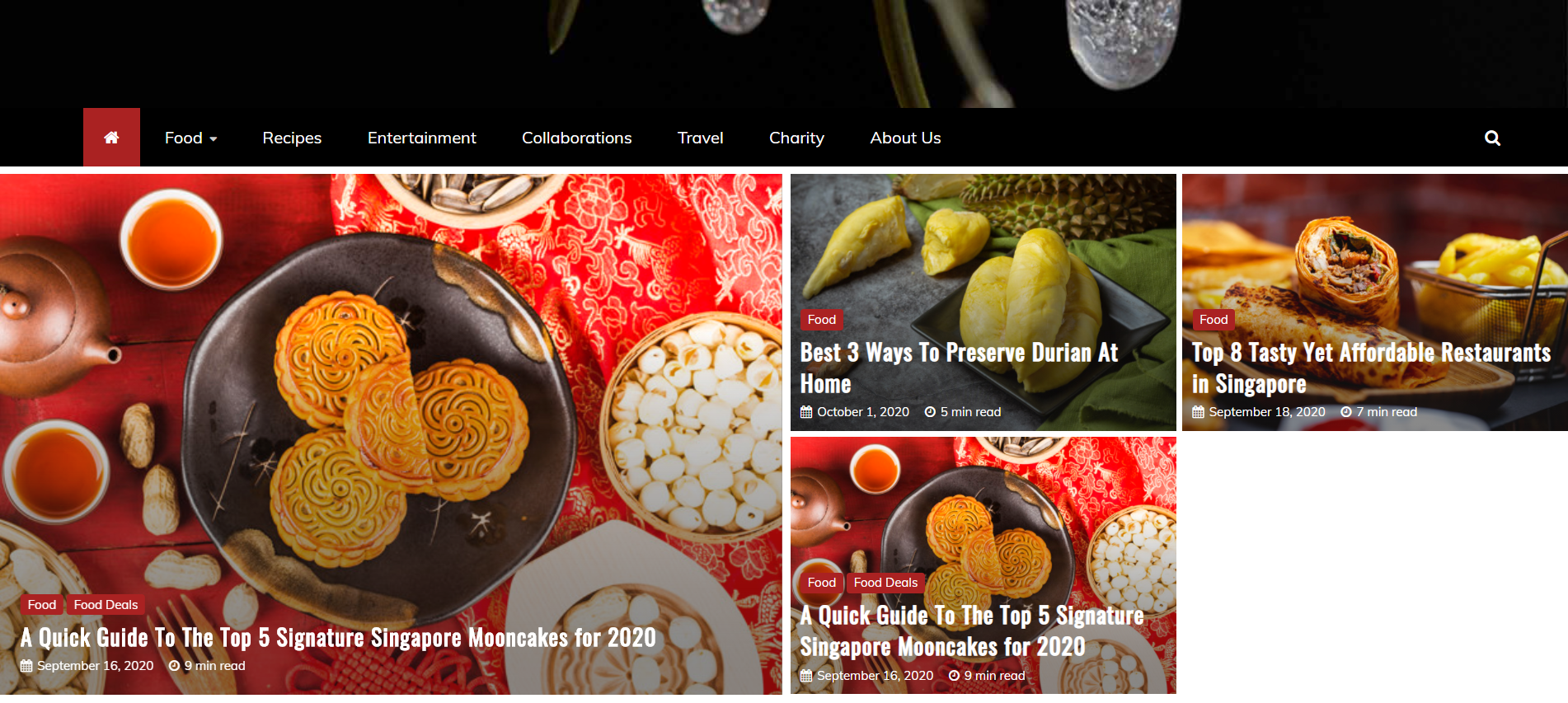 Singapore has a diverse food culture, one that is fun to explore. That, as well as their passion for food, is the main idea behind Pinggo Diaries.
Pinggo Diaries is a food blog that explores all the food Singapore has to offer, from street hawkers to gourmet restaurants. If you're looking for food to try, there's no better place to read but their website.
Website: https://www.pinggodiaries.com
Facebook: https://www.facebook.com/Pinggo-Diaries-103650278160873
38. Smart Wealth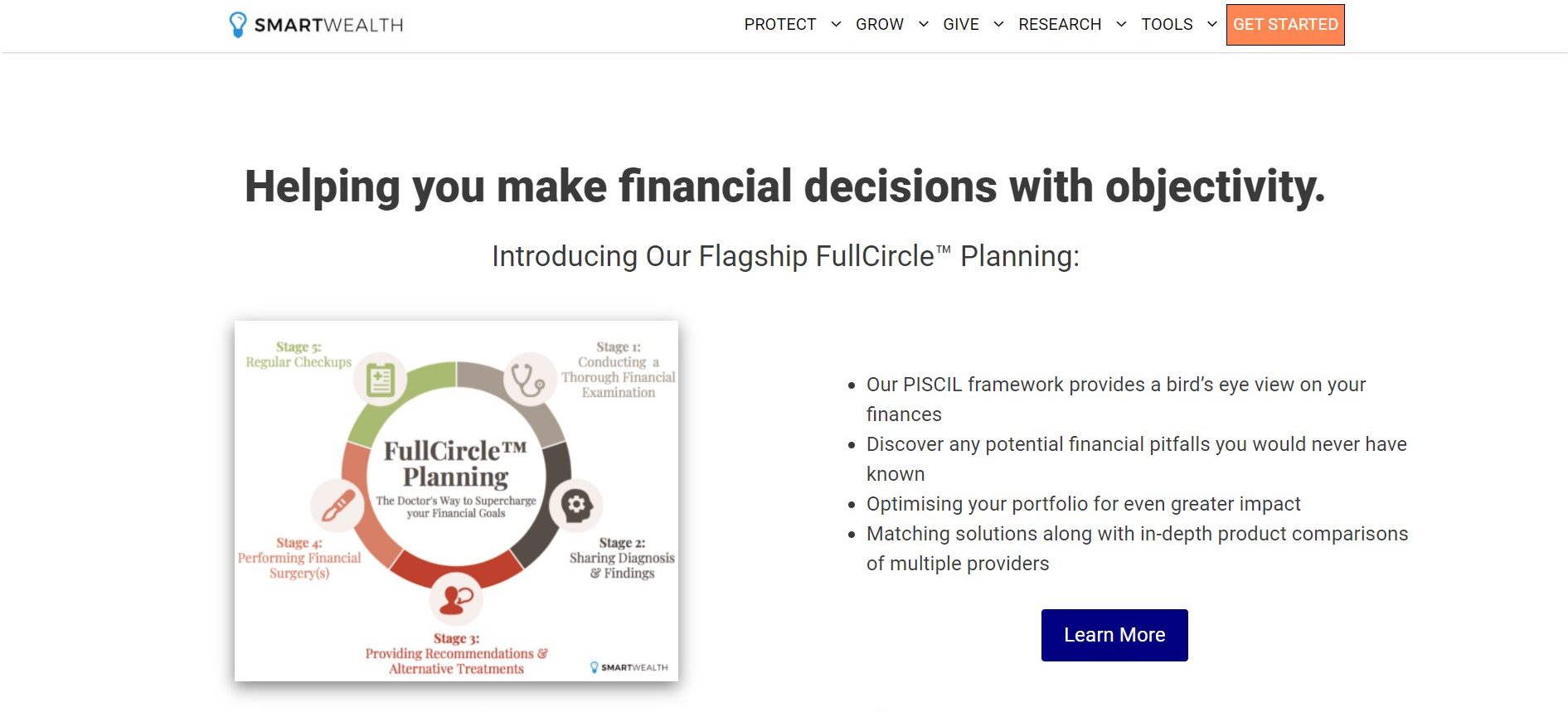 SmartWealth has a different approach to creating content. Knowing that personal finance can be complex yet is a core component in one's life journey, they strive to create financial information that is simple to understand.
They go further by ensuring the content they create are factual and based on research so that readers are well-equipped to make better financial decisions.
The topics they cover include savings, investments, retirement planning, insurance, and more.
That's it for our best lifestyle blogs in Singapore! Whether you're looking for an influencer or thinking of turning your blogspot Singapore into a full professional blog, we hope you found this list helpful.
So, tell us, did you find the blog you're looking for above? Or do you think we missed a blog in the list — if so, let us know which one it is and why it's great!
And remember to give our other blog roundups a try if you're looking for more blogs to follow online. Check out our list of the best food blogs in Singapore, for instance!