14 Best Travel Agencies and Tour Operators in Singapore (2021)
Travelling with your loved ones? We got you, fam. Today, we're taking up your options for the best travel agency in Singapore!
Even though most travel and tourism companies in Singapore can be booked online, nothing still beats having an agent take care of your travel details for you.
Travel agents in Singapore are professionally trained to take care and look out for things normally not seen or anticipated, so this leaves more room for you to have fun!
These adventure experts will be sure to give your family the trip of a lifetime. So, fasten your seat belts and let our picks for the best travel agency in Singapore give you the touring experience you deserve!
1. WTS Travel

Operating for over 30 years, WTS Travel has become one of the top travel agencies in Singapore. They offer flight tours to the USA, Hong Kong, Australia, and London, among other sites.
This is a travel agency in Singapore that keeps things simple: they have two main options for their tours — cost-saver and premium, with varying prices. With its staff's vast knowledge of travel, WTS Travel is ever-evolving and improves its services regularly for a delightful family vacation.
WTS Travel is at 930 Yishun Avenue 2, #B2-136 & 137, Northpoint, Singapore.
They specialise in Asia-Pacific region, UK and UAE and Singapore getaways. So if you plan to go to those places, we suggest contacting them to speak with one of their highly trained Singapore travel agents.
Hotline: 64668558
Tours
S.A.
Australia
Hong Kong
Great Britain
Japan
United Arab Emirates 
Partner Airlines
Singapore Airlines
Thai Airways
Silkair
Cathay Pacific
China Airlines 
2. Chan Brothers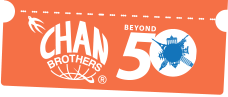 Chan Brothers provides tours that are sure to be your most comfortable family trip ever. They prioritise the comfort of their travellers aside from planning an amazing tour for customers.
The travel agency says that planning should be as enjoyable as the vacation itself. Hence, Chan Brothers offer adventures in spots that are worth visiting and revisiting in memory.
Tours include China and South Africa, as well as the Mediterranean (Greece and Italy) so if you're planning on travelling to these wonderful places, trust that you're under the hands of one of the most established travel agencies in Singapore.
Chan Brothers is at 150 South Bridge Road, Fook Hai Building, Singapore.
Hotline: +6564388880
Tours
China
South Africa
Greece
New Zealand
Italy 
Partner Airlines
Malaysia Airlines
Air China
Emirates
Turkish Airlines
Eva Air 
3. CTC Travel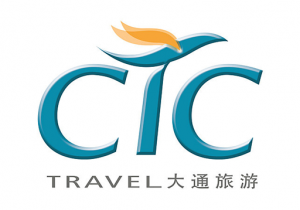 CTC Travel is a travel agency in Singapore that believes in providing great customer service through personal travel experience.
Since their vacation consultants are well-travelled, they can easily suggest a tour that you can surely enjoyable. Your dream vacation becomes a reality with CTC Travel!
They blend travel expertise and tourist insight so they can offer the best tour package for their customers. CTC Travel's tour packages feature Sri Lanka, India, and Cambodia.
So if you're looking for a travel agent in Singapore that has actual personal experience and is well-travelled themselves, we suggest you contact CTC Travel to have a chat.
CTC Travel is at 133 New Bridge Road, Unit 03-06, Singapore.
Hotline: 6532 0532 
Tours
Sri Lanka
Cambodia
India
Japan
Maldives
4. Dynasty Travel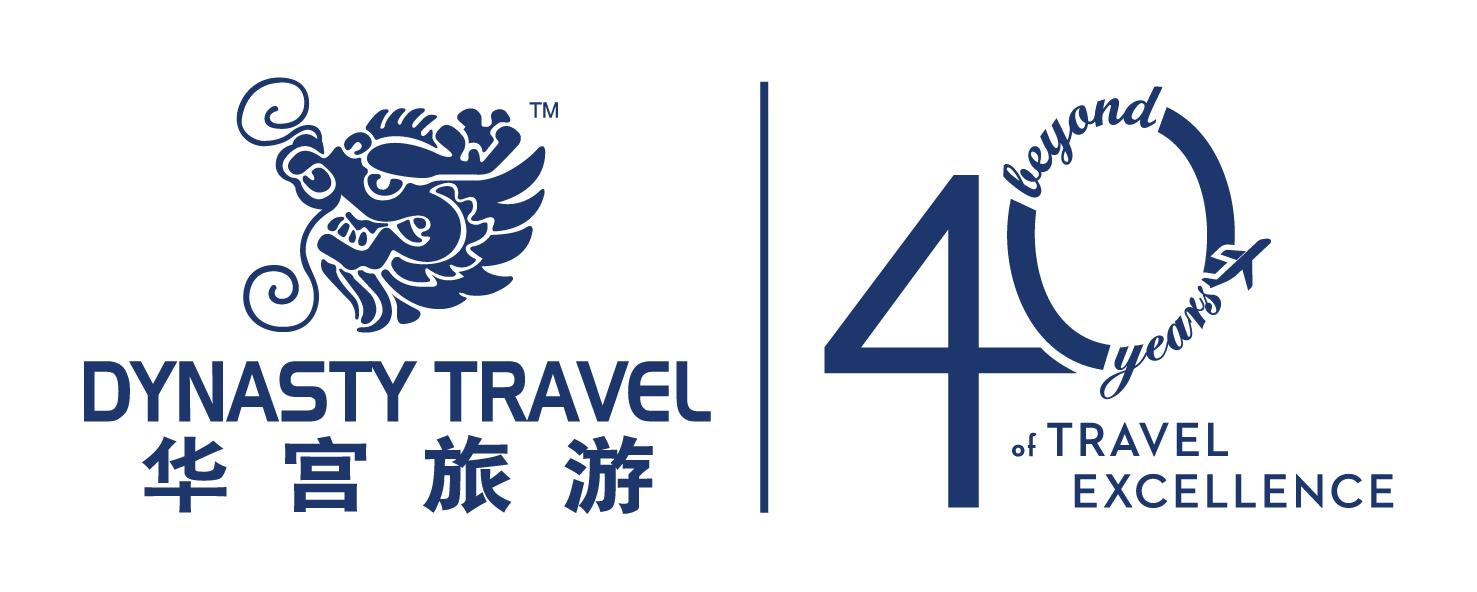 If you're looking for a top tour agency in Singapore that provides a wide arrange of tours, travels and services, Dynasty should be one of your options.
At Dynasty Travel, they provide quality accommodations and cruises, authentic local cuisines and more inclusions, giving you the most value for your money and the best holiday experience one can get!
Their team of professional tour consultants and tour managers take pleasure in making your holiday experience an unforgettable by ensuring your trip is conducted in the safest, most efficient and enjoyable way.
Operating for over 40 years now, Dynasty Travel is one of the most experienced and is considered by many travellers to be the best travel agency in Singapore.
Dynasty Travel is at 35 New Bridge Road, Dynasty Travel Hub Singapore 059395 (opposite Clarke Quay MRT Exit E)
Hotline: +65 6338 4455
Tours
Selected countries in the following continents:
Asia
Africa
Americas
Europe
5. Tour About Singapore 

Looking for homegrown, local Singapore travel agency and guides that can showoff  the island like it's supposed to–personal and full of foodie treats? Check out Tour About Singapore.
Tour About Singapore. provides tours that are made up of a series of food, walking and bike tours about the sunny island of Singapore. All the fun activities that make Singapore unique.
Either your a foodie, adventurer or explorer, their tour guides will surely have something that will cater to your style.
Hotline: +65 9699 2799
Tours
Food Tours (Chinatown Food and Walking Tour, Eat Pray Love Tour,The Singapore Hawker Food Trail)
Bike Tours (The Singapore River, Punggol,
Walking Tours (SG 700 Story, Ethnic Quarters, Singapore River Tour, etc.)
6. Original Food Tours Singapore Pte. Ltd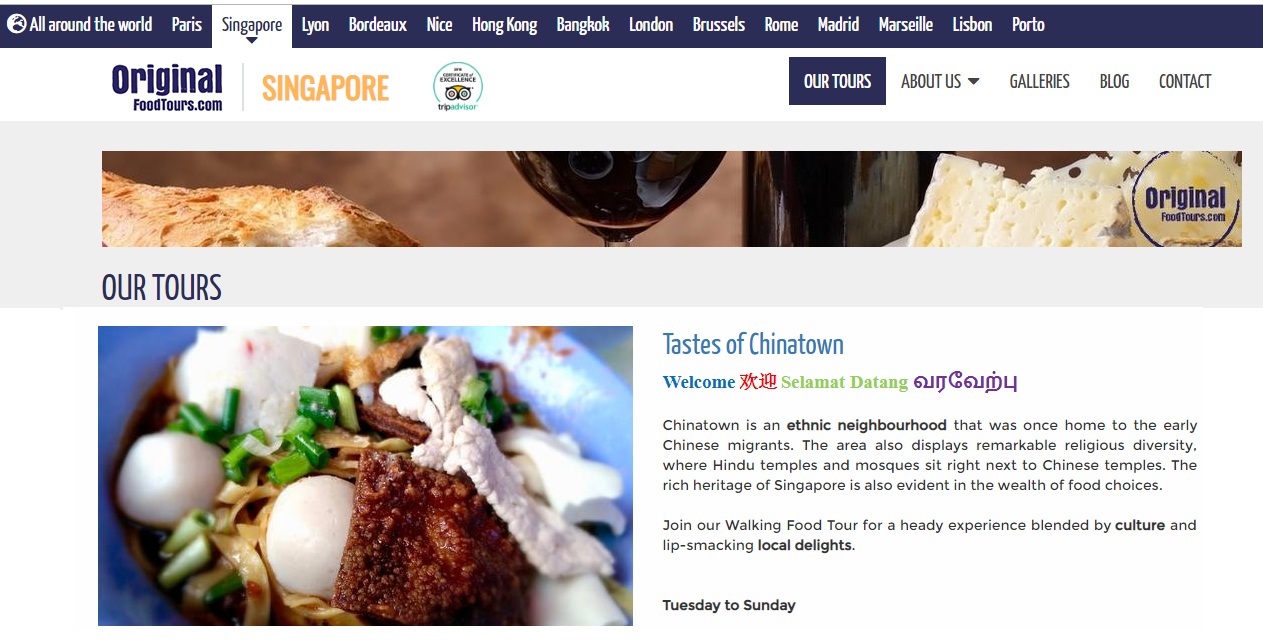 In case you get tired of endlessly walking around Singapore, then it's time to fill your stomach. For food recommendations, Original Food Tours Singapore got your back. This is not your typical travel agency that only brings you to places. They also serve you with good local foods together with food experts.
There are also tours which allow you to learn how to make sauce. So, if you want to recreate their dipping sauce, you may do so.
If you're an adventurous foodie who loves to travel, Original Food Tours should be one of the tour operators in Singapore that you should contact.
Tours
7. CITY TOURS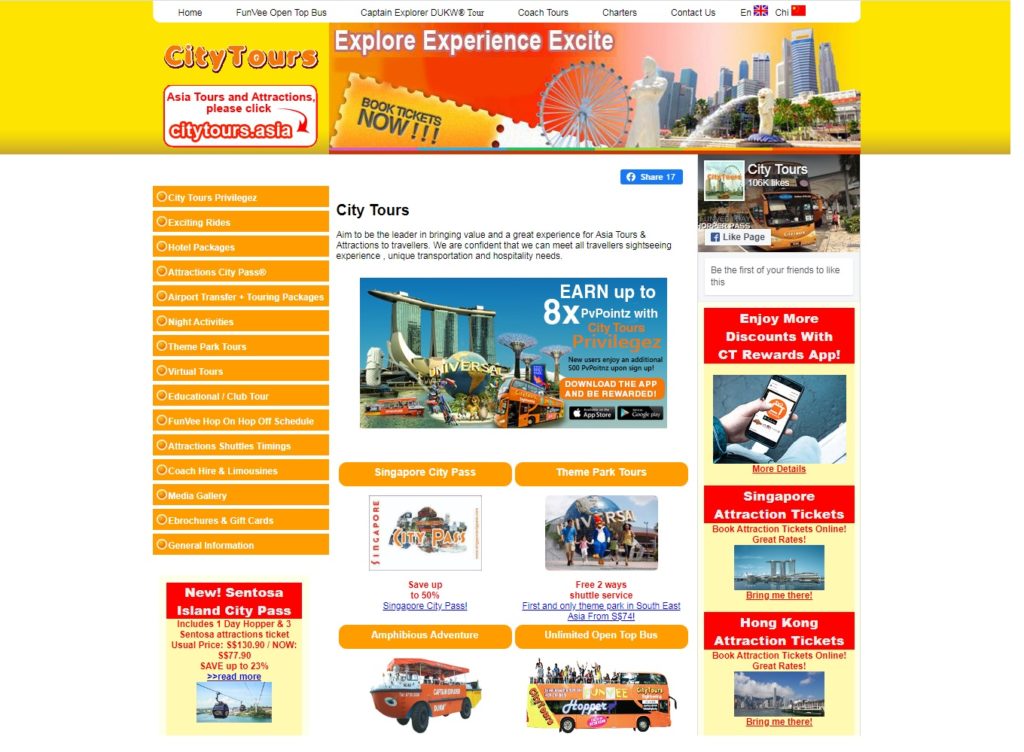 City Tours aim to bring you the best and most exciting Asian travel that will lead you to some of the most visited, highly popular and truly fascinating cities and tourist spots.
From hotel packages to thrilling theme park tours, City Tours can provide you with great deal activities, some are even offered for discounted prices. They also operate 2 popular attractions in Singapore:
A) Captain Explorer DUKW Tour which brings you on a land adventure before splashing down in the waters of Marina Bay.
B) FunVee Hop on Hop off City Sightseeing is a great option if you opt to wander around Singapore without the hassles of commuting on our own.
They offer tours for different Singapore attractions which are perfect for both locals and foreign visitors.
Passes on some of the major attractions are also available on a 1-day up until a 5-day pass so you really get the best value for your money and you will definitely have a wonderful time touring around.
Tours
Singapore
Malaysia
Thailand
Hongkong
Taiwan
Seoul
Philippines
Vietnam
Cambodia
Partner Airlines
Asiana Airlines
Garuda Indonesia
8. Indie Singapore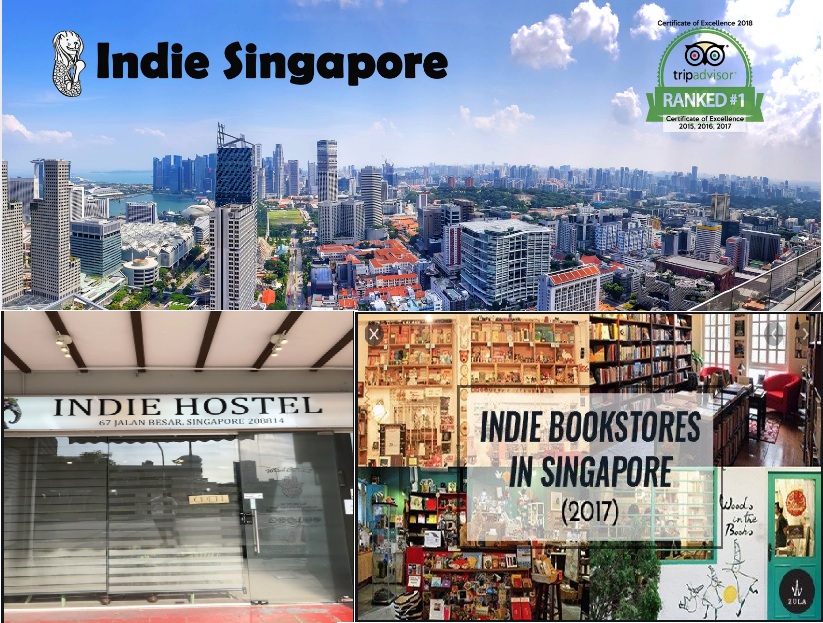 Indie Singapore is a travel tour in the country which provides free and personal tours. Yes! You've heard it right! They don't charge you with having guides that will tag along with you during the tour. They prepare itinerary which are perfect for various groups of tourists. You can choose if you want to do a private city tour or the specialized tours like food trips, history or nature.
Further, the travel agency offers educational tours for schools. This is a good way to show the history of the place in an exciting and fun manner.
Tours
Private city tours
Specialized tours (Food, War, History, Nature)
Educational tours
9. MONSTER DAY TOURS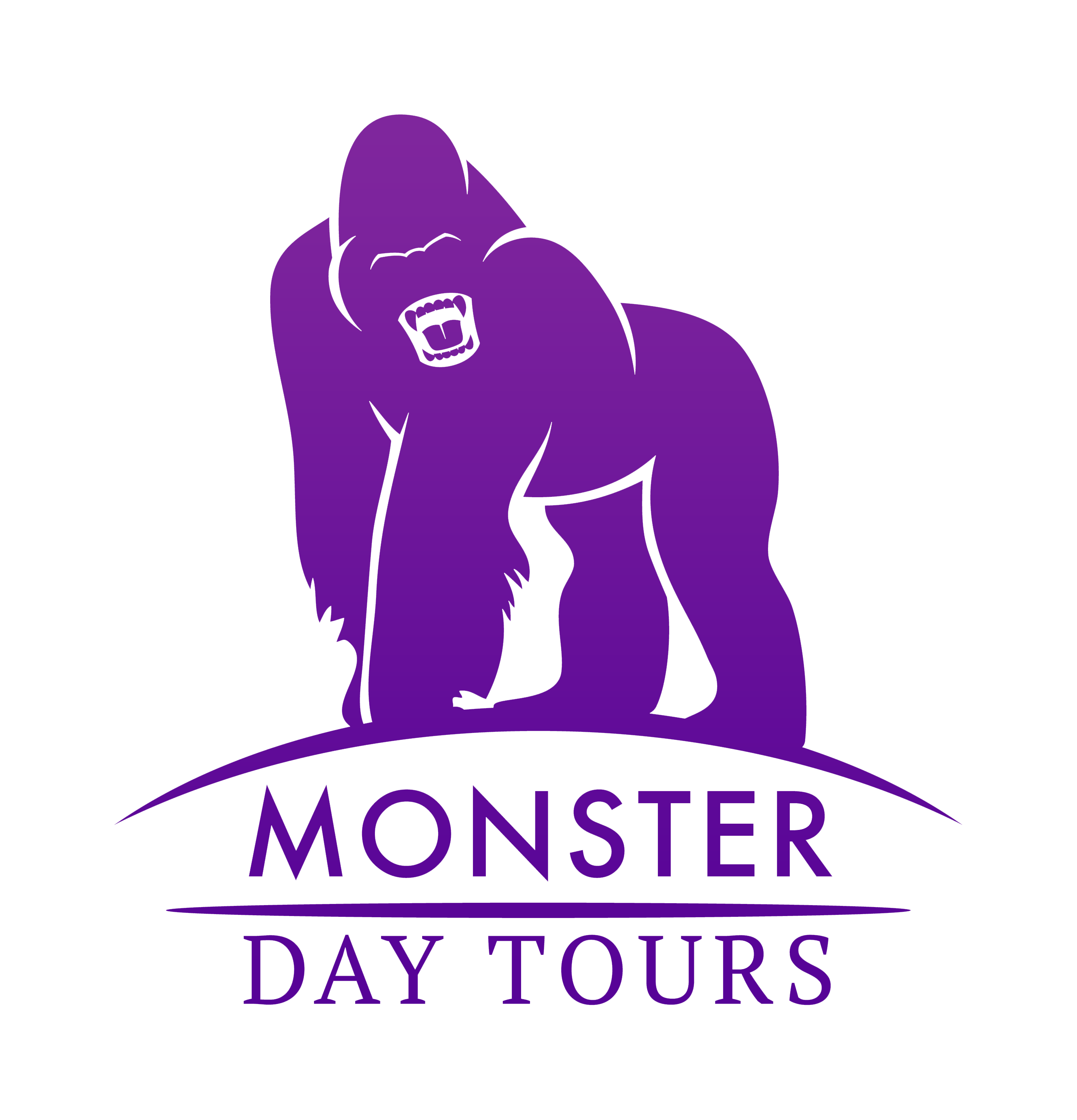 Focusing on local authentic experiences and exploring off-the-beaten paths in Singapore, Monster Day Tours is the leading Walking Tour operator with a variety of themed and private tours that covers culture, history, adventure and food. They are also the biggest free walking tour operator in Singapore and organise daily walking tours to Chinatown, Little India and Kampong Glam.
Their tours revolve around encouraging travellers to go big and experience everything to its fullest. Having been nominated for Best Customer Service by the Singapore Tourism Awards for 2 consecutive years, get ready for fantastic and fun-filled experience with their team of fun local guides! Discover the many facets of Singapore with Monster Day Tours now! For more information, please visit: https://www.monsterdaytours.com/
Tours
Signature Themed Tours
Private Customized Tours
Free Walking Tours
10. Nam Ho Travel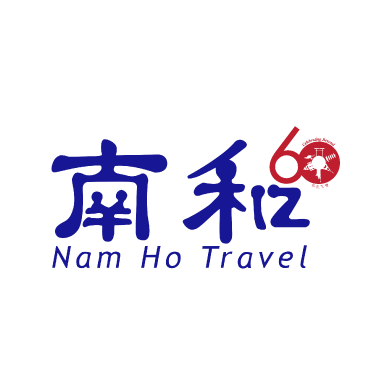 Nam Ho Travel helps Singaporeans reach their dream travel destinations, whether they may be in nearby Asian countries, or in far-off Oceania destinations.
Since this travel agency caters to both corporate and leisure travellers, it knows how and when to prioritize budget, timelines, and other client requirements. As such, Nam Ho Travel has numerous travel services.
One of these services is the group tours service, where Nam Ho Travel takes care of everything. From setting you up with premiere airlines to getting you to see the best sightseeing points and eat the best local cuisine, Nam Ho Travel will do it.
Of course, Nam Ho Travel also has packages that allow for more independence. Still, this travel agency helps its clients by connecting them to travel insurance agencies that cover individuals, families, and corporate employees.
As of today, Nam Ho Travel is offering cruise vacations, with the Dream Cruises and the Royal Caribbean. You can check out their tour packages for more information on its website.
Tours
China
Japan
Korea
Southeast Asia
Australia
Europe
Cruises
11. Lightfoot Travel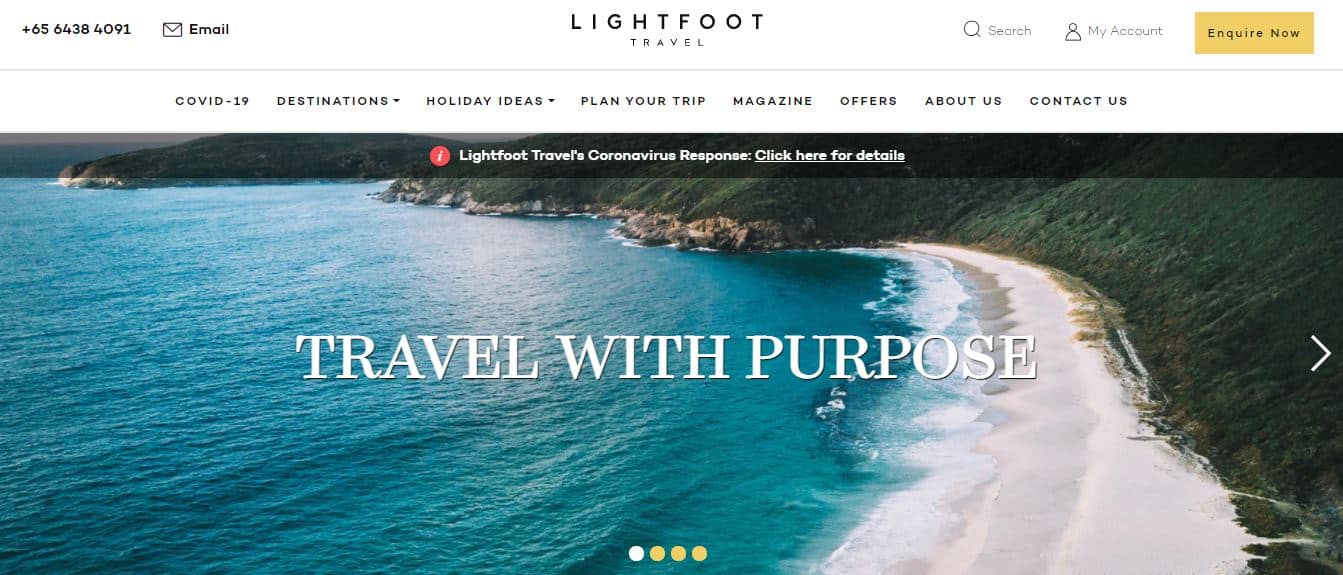 Lightfoot Travel can cater to just about anyone wishing to travel abroad as its services cover Asia, Europe, Middle East, Africa, the Caribbean, and the Americas.
Its team is also made up of people who have lived around the globe. Thus, they can provide insights about cultures and other useful trivia to make your trips one of a kind.
This travel agency also caters to any type of vacation. Whether it be an adventurous safari, cultural immersion, trekking or skiing trip, or a honeymoon, Lightfoot Travel can help.
Besides, this luxury travel agency also handles individual, couple, family, and group trips.
The main goal for Lightfoot Travel is to make each trip fun yet relaxing. So, it creates memorable and detailed itineraries, taking care of almost everything, from the accommodations to the planned activities.
On its website, Lightfoot suggests the most popular holiday plans. However, it still allows its clients to customize their travel holiday with its Plan Your Trip online forms.
To make things more convenient during these trying times, Lightfoot Travel has adjusted payment plans and added health testing support to its services.
Tours
North America
Central America
South America
Europe
Caribbean
Africa
Middle East
South Asia
East Asia
Australia and Oceania
Polar Regions
12. ASA Holidays
With a goal of making travel available and enjoyable to all, ASA Holidays is a travel agency that provides an extensive set of travelling options around the world. Many praise them for catering to travellers of all kinds, regardless of age, profile, or demographic.
After working in the travel industry for many years, they've been able to develop the quality of their services consistently and keep it on par with the standards of today. Moreover, these premium, personalised travel products are available to their customers at the most competitive prices.
Their experienced team of skilled travel professionals consistently provide accurate and up-to-date information when it comes to corporate travel. No matter who their customer may be, they always strive to deliver the best they can in order to ensure that anyone that requests their services will end up satisfied.
Given their top-notch services, diverse set of destinations, and reasonable prices, ASA Holidays is one of the best options you can consider when looking for a travel agency. If you're interested, you're more than welcome to check out their list of destinations and schedule a tour through their website.
Tours
America + Canada
Australia
Bhutan
Caucasus
China
Egypt
Europe
Iceland
India
Japan
Korea
Malaysia
Morocco
Nepal
New Zealand
Russia
Siberia
South Africa
South America
Taiwan
Thailand
Turkey
UAE
Vietnam
13. EXO Travel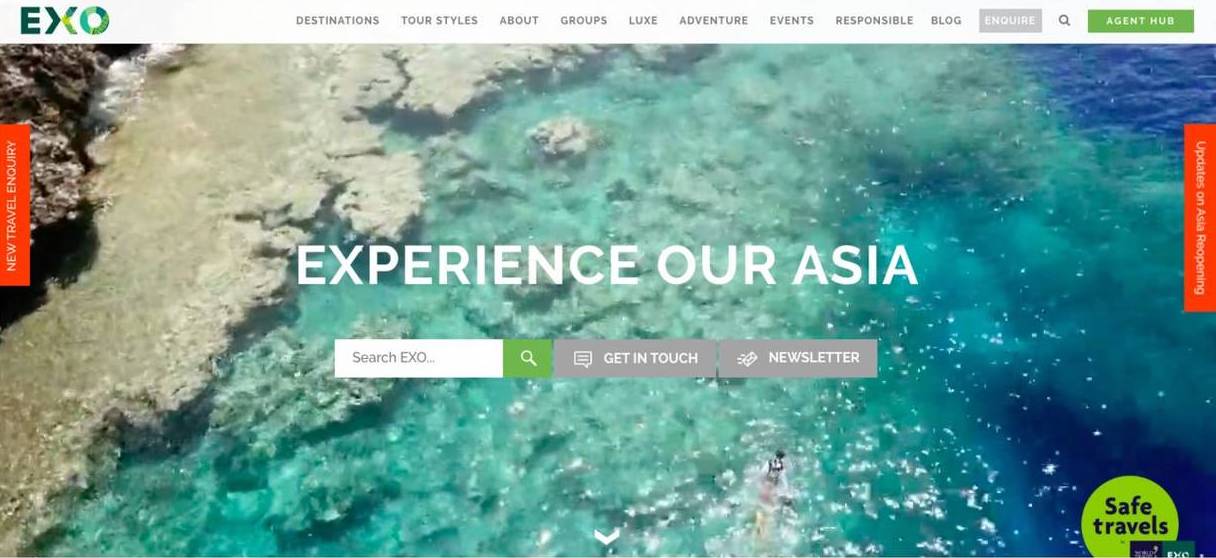 For more than 20 years now, EXO Travel has worked to allow travelers to experience Asia and its magic.
They craft their tours with the purpose of creating experiences that excite, challenge, and educate. They have a philosophy of bespoke travel, so you'll have an itinerary that's tailored to you.
True to their philosophy, you can choose from a variety of tour styles. Whether you want to explore beaches, see nature and wildlife, go on adventures, cruise Asia's waters, have a luxury tour, or discover hidden locations, you bet they'd have something for you!
They're wholly committed to their customers, hence why they provide a timely and professional service, and high quality service on the ground with a well-trained staff.
What's more is they don't only care about you. They also care about Mother Nature. They make sure the hotels, tours and entire experience are sustainable and eco-friendly, overall creating responsible travel.
If you're an enthusiast of this region, EXO travel would be perfect for you!
Tours
Myanmar
Vietnam
Thailand
Laos
Indonesia
Cambodia
Japan
Malaysia & Borneo
Singapore
Multi Country
14. Let's Go Bike Singapore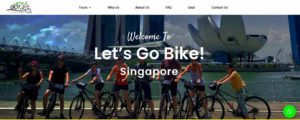 We highly recommend Let's Go Bike Singapore for those who want to explore Singapore in a different way and have an overall unique travel experience. 
We love the idea of a bike tour to discover Singapore and all that it has to offer, and thankfully, Let's Go Bike Singapore offers just that. 
You can go on a Historical Singapore Tour, Bike & Bites Food Tour, Trails of Tan Ah Huat, Marina Bay Night Tour, or even have your own private tour! 
We think the tours they offer are great because they allow tourists to see how Singaporeans live, eat, work and play, and for them to see beyond the touristy spots. 
For those who aren't too keen on riding a bike, this multiple award-winning tour operator has a wide range of other tours to cater to various interests. Some of their popular activities include Boat Tours, Walking Tours, Cooking Tours, Nature Tours and Theatrical Tours.  
Tours
Singapore (

Historical Singapore Tour, Bike & Bites Food Tour, Trails of Tan Ah Huat, Marina Bay Night Tour)
BONUS SECTION:
BEST SHORT GETAWAYS FROM SINGAPORE
Now that you know the top travel agencies in Singapore, we thought we'd give you a little bit of inspiration. Here are some ideas for you and your friends / family for your next getaway from Singapore!
Rewarding ourselves with a quick vacation away from the island can be beneficial for our physical and mental wellbeing. Sometimes, what we need are the best short getaways from Singapore in order to bring ourselves back on track!
Lotus Desaru Beach Resort & Spa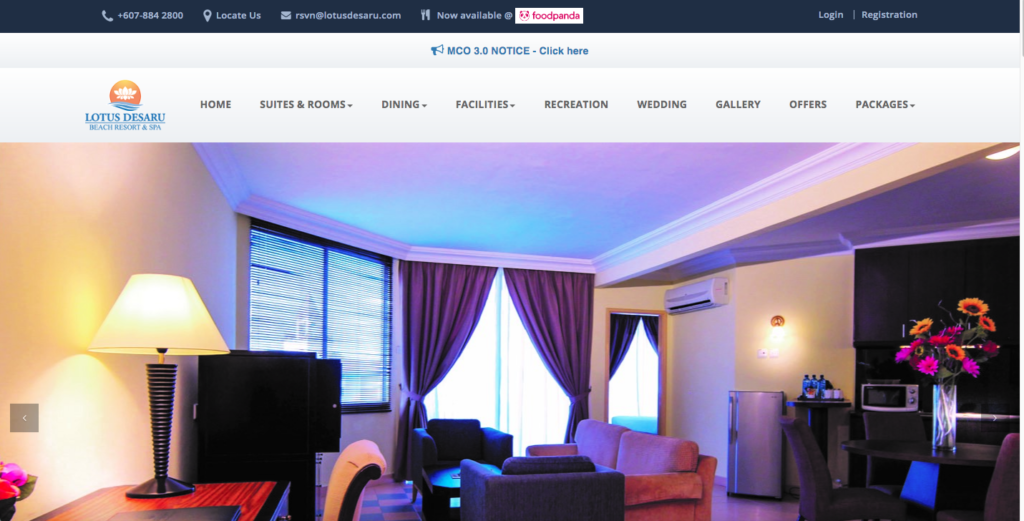 BEST FOR
Those who want a sandy beach getaway
LOCATION
Desaru, Malaysia
BOOKING WEBSITE
http://lotusdesaru.com/
ADDRESS
Lot 1854, Jalan Desaru, Bandar Penawar, 81930 Kota Tinggi, Johor Darul Ta'zim, Malaysia
CONTACT DETAILS
+607-884 2800 | 

[email protected]
If you're thinking of lounging around near beautiful and quiet beaches, then Desaru, Malaysia is the perfect place for you! And while you're exploring Desaru, we highly recommend checking in at Lotus Desaru Beach Resort & Spa for a comfortable and cheap accommodation.
Desaru is famous for its crystal-clear water and sand beaches that cannot be found in Singapore. Hanging around near the beach with friends and family is definitely one of the best short getaways from Singapore.
In terms of the best time to visit, most tourists say that May to October is the perfect time to see the beaches of Desaru. But be prepared for the surge of fellow tourists visiting Desaru then.
Above all, going to Desaru is extremely easy. All you need to do is take a ferry from the Changi Ferry Terminal.
Pros
Gorgeous beaches
Peaceful environment
Easy transportation
Cons
It's quite a popular destination among tourists
Customer Reviews
The Lotus Desaru Beach Resort and Spa has over 3,700 reviews online with an impressive average of 4.2 stars.
Here's one review left by a guest of theirs, Matthew Maximillian:
Very very welcoming place! The Staff are really helpful and the rooms are clean! A lot of activities to do as well, despite being in a time of a pandemic you can visit the restaurants and bar.
In comparison to Westin, which had nothing to do other than the beach and the ridiculously small pool area.
Visit Lotus Desaru, best bang for your buck if you're looking to relax and have some fun on the beach. Will continue to visit this place for the awesome scenery and entertainment
The Lovina Bali Resort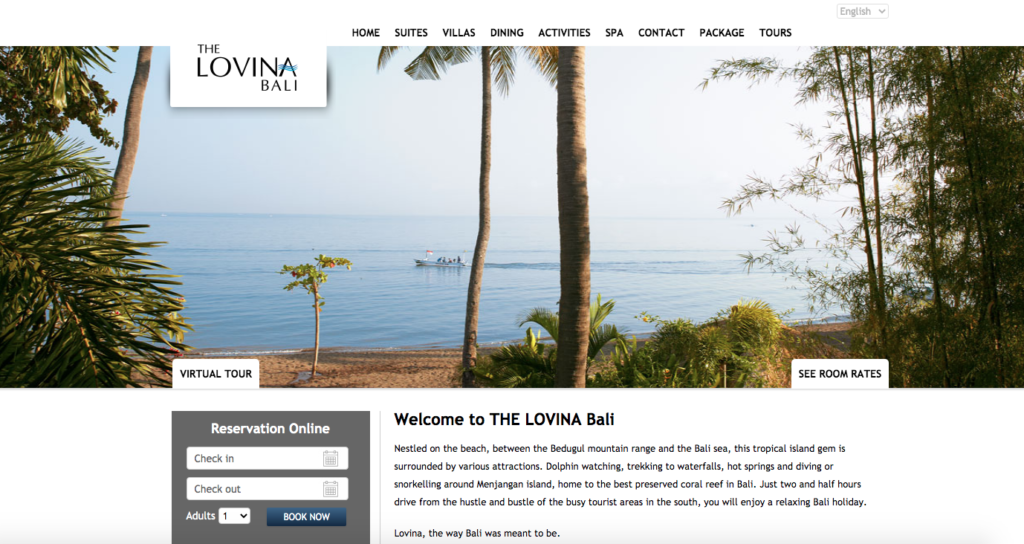 BEST FOR 
White sand beach getaway
LOCATION
Bali, Indonesia
BOOKING WEBSITE
https://www.thelovinabali.com/en/
ADDRESS
Jl. Mas Lovina, Kalibukbuk, Lovina, Kabupaten Buleleng, Bali 81151, Indonesia
CONTACT DETAILS
+62 362 3435 800 | 

[email protected]
There's no doubt that Bali is one of the most beautiful places in Singapore, and it's a good thing that it's near Singapore. It's the perfect spot for couples who want to have a romantic getaway from their busy lives in the city.
If you're looking for accommodation, then check out The Lovina Bali Resort. It's considered among the best resorts in Singapore for its proximity to various tourist attractions and beaches.
Since Bali is a tropical island, tourists can also enjoy the sights of its beautiful volcanoes and jungles, something that's unheard of in Singapore.
Communicating with locals won't be a problem either because English is one of the many languages spoken in the island. See why it's one of the best short getaways from Singapore.
Pros
Short flight
Clear blue waters
Tourist-friendly locals
Cons
Bali being Bali, we advise you to visit during lean months
Customer Reviews
With over 1,000 reviews online, The Lovina Bali has an impressive average review. of 4.6 stars.
Here's one review from a recent guest of theirs, Ian Redfern:
We stayed at The Lovina last weekend, as an extended family group, using one of their 3-bedroom garden villas with private pool. A lovely experience that we hope to repeat again every soon. The villa we used was very well decorated and maintained. The quality and service, both at breakfast and the beach cafe areas was everything we could have needed.
Centara Anda Dhevi Resort & Spa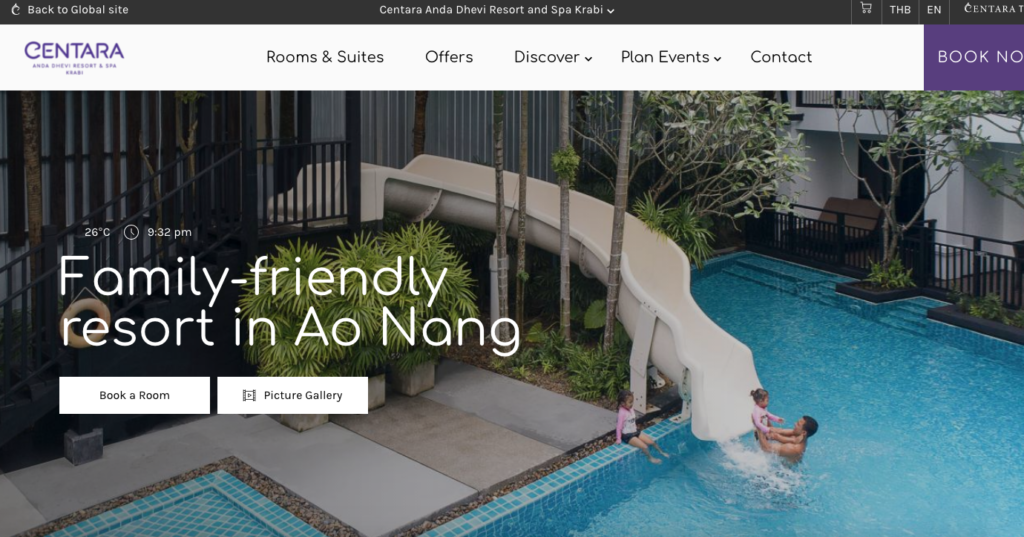 BEST FOR
An active getaway for the family / group
LOCATION
Krabi, Thailand
BOOKING WEBSITE
https://www.centarahotelsresorts.com/
ADDRESS
182 Moo 3, Tumbol Ao Nang Soi 8, Mueang Krabi, Krabi, 81000, Thailand
CONTACT DETAILS
+66 (0) 7562 6222 | 

[email protected]
If you're the type who likes having intense, adrenaline-filled activities, then Krabi, Thailand is the perfect place for you!
Krabi is filled with places where you can go scuba diving, rock climbing, kayaking, & hiking, among others — which is why we've named it one of the best short getaways from Singapore.
After tiring yourself out doing these activities, you can choose to relax at any of its beaches such as Koh Poda, Ko Hong, and Ko Gai. All of these beaches are close to Centara Anda Dhevi Resort & Spa Krabi, making it the perfect place to stay while exploring Krabi.
On top of this, these beaches also serve some of the best Thai cuisine in the country. Your adventurous spirit will not be the only one satisfied but your appetite as well.
Pros
Thai cuisine
Adrenaline-filled activities
Gorgeous beaches
Cons
This holiday may be more enjoyable during lean season
Customer Reviews
The Centara Anda Dhevi Resort & Spa Krabi has a whopping 1,111 reviews online and with an average of 4.4 rating, majority of the reviews are from guests who've had a positive experience.
Here's one review from Jingjo Sarita-Smith, a guest of the resort:
Was there for 4 nights. Professional well-trained staff. Helpful and very polite. They will greet and ask all the time you stay there with care. Room is so clean and well maintenance. Good facilities. Breakfast is the best. Love the pool. Thank you everyone for our fantastic holiday. PS. Please add more movie Chanel and hotel slipper.
Adhisthana Hotel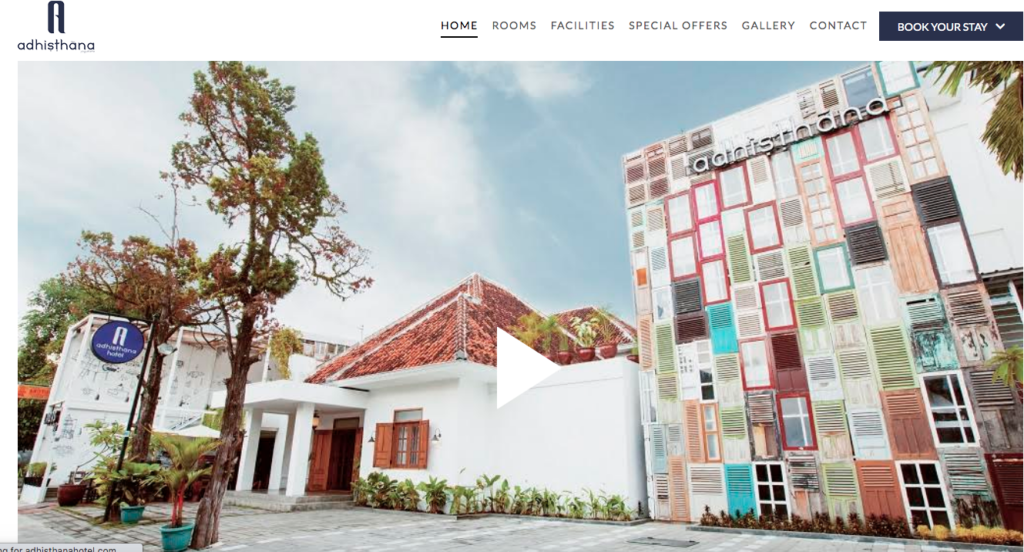 BEST FOR
a getaway to explore heritage sites
LOCATION
Yogyakarta, Indonesia
BOOKING WEBSITE
http://www.adhisthanahotel.com/
ADDRESS
Jl. Prawirotaman 2 No.613, Brontokusuman, Kec. Mergangsan, Kota Yogyakarta, Daerah Istimewa Yogyakarta 55153, Indonesia
CONTACT DETAILS
+62-274-413888 | 

[email protected]
Yogyakarta is the best place to visit if you want to see the breathtaking cultural heritage sites of Indonesia with your own eyes. We strongly recommend exploring the entire Borobudur temple, one of Southeast Asia's best temple sites.
Borobudur Temple is considered one of the largest Buddhist monuments on Earth, with a giant pyramid of 9 levels, 504 Buddha statues, and almost 3000 carved panels. It's best to drop by the temple before sunrise in order to witness how the sunlight brushes against the statues.
After exploring Borobudur Temple, another temple complex to visit is the Prambanan Temple. If the former is known for its size, Prambanan is known for being filled with statues with intricate decorations.
All these tourist sites are near Adhisthana Hotel, so make sure to check it out if you want accommodation.
Pros
UNESCO world heritage sites
Cultural activities
Easy transportation around the area
Cons
Direct flights to Yogyakarta are limited
Customer Reviews
The Adhisthana Hotel has almost 2,000 review online, averaging a rating of 4.5 (Excellent). Here is one review left by their guest, Bee Wongsuwanglert:
Spent 4 nights here and was totally happy about the hotel. Room is cozy, nicely decorated and well equipped. Staff very friendly and helpful. Please make sure you try Indonesian food they offer at breakfast because it is very tasty. Many good restaurants can be reached by foot. Totally recommend this place.
Tip: it is situated in the southern part of town not very far from old town Kotagede which a stroll is absolutely a must to see its old market and traditional Joglo houses.
Upper View Regalia Hotel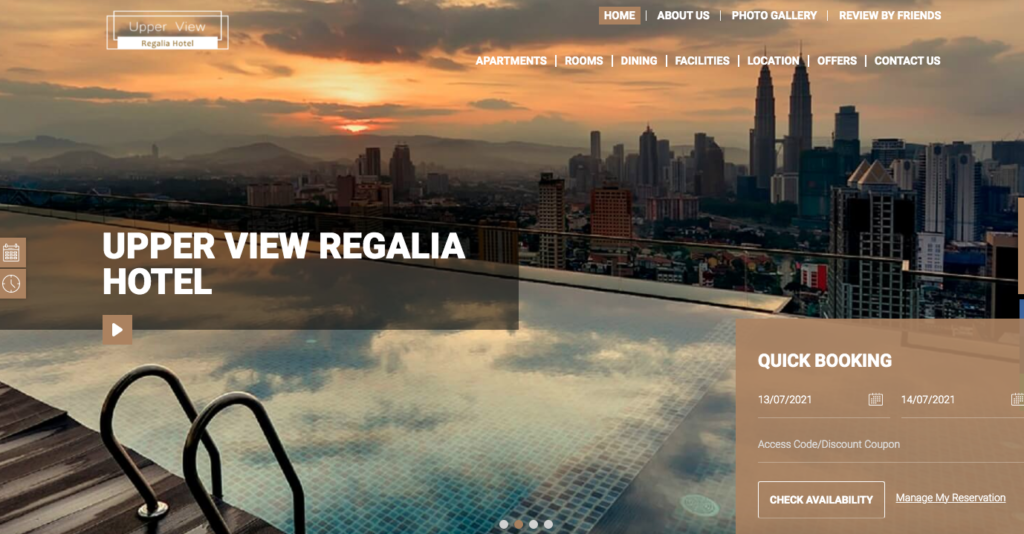 BEST FOR
A getaway with a bustling night life
LOCATION
Kuala Lumpur, Malaysia
BOOKING WEBSITE
https://www.upperview-regalia.com/
ADDRESS
No. 2, Jalan Anjung Putra, Off, Jalan Sultan Ismail, 50480, Federal Territory of Kuala Lumpur, Malaysia
CONTACT DETAILS
+603-2725 0735 | 

[email protected]
f you want to experience the city life of another country without spending lots of money, then having a quick getaway to Malaysia is your best option. On top of being close to Singapore, accommodation and transportation around the city is similar in cost to what you'd find in Singapore.
Speaking of cheap accommodation, Upper View Regalia Hotel is at the heart of Kuala Lumpur, near different shopping malls, restaurants, parks, and even night clubs. It's one of the top options for the best short getaways from Singapore if you want to stay at a highly urbanized place, just like Singapore
Pros
Urban life
Close to Singapore
Easy transportation
Cons
Get ready for Kuala Lumpur's traffic jam (it's part of the experience!)
Customer Reviews
The Upper View Regalia Hotel has almost 8,000 reviews online posted by their guests. Here's a review written by Sourab Banthia, one of the recent guests of the hotel:
This building is full of serviced apartments and a good bunch of them are being rented out as hostels. I stayed at KL Skyline Hostel in Block C. There's a Gym and a Mini Mart on the 4th floor which is very convenient.
But most importantly the views here are just incredible. Waking up to a bird's eye view of KL's most iconic buildings was just great.
The pool has just the best view of the KL skyline. I had a really good time here!
Montigo Resorts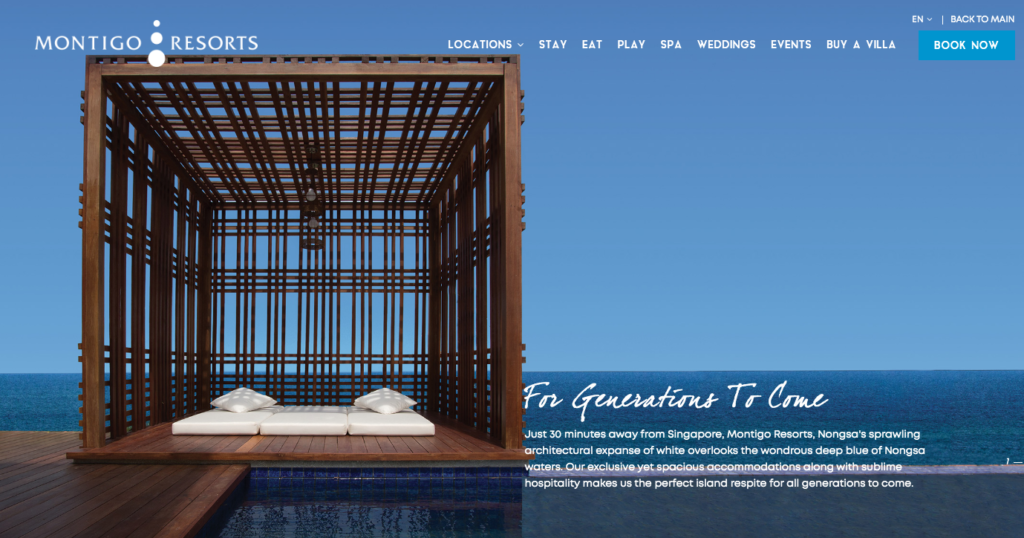 Montigo Resorts offers you the ultimate luxury of island vacationing. With its high-end facilities and optimal location in the beautiful Bali, it is the perfect opportunity to achieve the getaway of your dreams.
Montigo Resorts has a wide variety of amenities tailored specially for the recreation and relaxation of all guests. It features elegant suites and villas, restaurants, spas, and even spectacular ice cabins. Complete the experience with skiing activities, exquisite food, topnotch service from the staff, and breathtaking views of the South China Sea.
Montigo Resorts has everything you need for an unforgettable tropical experience. It is no doubt the perfect paradise to take your family, special someone, and colleagues.
Pros
Friendly and Helpful Personnel
A short 45 ferry ride away
Good Room Service
Comfortable and Calming Place
Buy Now Stay Anytime vouchers with 2 years validity
Cons
This getaway suits adults
Customer Reviews
With over 2,000 reviews online, Montigo Resort has an average rating of 4.4 which is quite impressive.
Here's one review left by a recent guest of Montigo Resort, who goes by the username "Push":
A lovely weekend getaway at this wonderful resort and spa. The ferry ride was short and the ride to the resort was not bad either. We checked in quite smoothly and the golf cart ride to our beautiful villa was memorable. It was a beautiful day. We enjoyed the villa and the pool. We loved the spa treatment and also the food was very good. We had a private Chef who cooked food in our villa and treated us to some local and western food. Would love to go back here once things reopen and once it's safe.
With any of these travel agencies above coupled with these getaway suggestions, we trust that you'll get the experience you've been dreaming of. They always deliver on their promises and have been serving tourists for years.
By the way, if you do end up liking some place you visit so much that you decide to move to it, remember that we have a list of the best movers in Singapore too. They can help you relocate, whether locally or internationally, without a fuss.