Our 8 Favourite Medical Concierges in Singapore
If you're no longer satisfied with the quality of medical services you're receiving from your primary hospital, maybe now's the right time to consider switching to the best medical concierges in Singapore for better and wider healthcare coverage.
More and more people are signing up for the best medical concierges in Singapore because of the hassle-free, fast and convenient medical services.
There's no need to wait for hours just to be accommodated by the next available physician when you're under the care of the best medical concierges in Singapore.
For today's article, we're going to help you find the best medical concierges in Singapore for your medical needs. We asked locals for their recommendations and listed down the ones we believe are worth your attention.
Anyway, here are our picks for the best medical concierges in Singapore.
1.  The Medical Concierge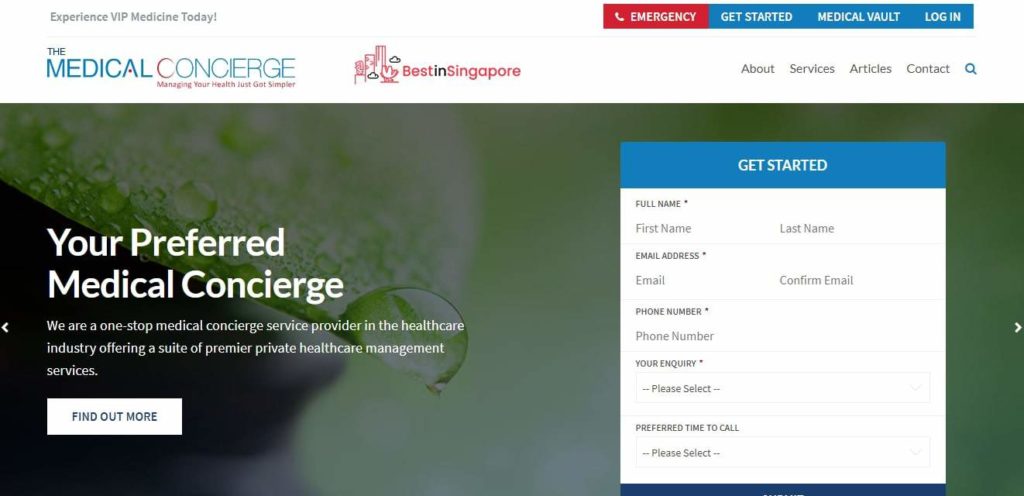 BEST FOR   
24/7 healthcare services
SERVICES
Private healthcare management, medical concierge services, individual assessments, nutrition and wellness, health screenings, and records managements
WEBSITE
https://themedicalconcierge.com.sg/
ADDRESS
1 Scotts Rd, #24-05 Shaw Centre, Singapore 228208
CONTACT DETAILS
+65 8200 3831

[email protected]

OPERATING HOURS
Monday – Friday: 10:00 AM – 9:00 PM
If what you're after are convenient and accessible medical services, then we strongly recommend checking out The Medical Concierge. It's a one-stop medical concierge service provider that aims to help patients of all ages, offering a wide range of private healthcare services.
Some of the services provided by The Medical Concierge are private healthcare, regular health screenings, nutrition and wellness, worldwide medical evacuation, and even medical records management.
The Medical Concierge is made up of a large team of medically trained healthcare managers who make sure that every client is properly accommodated at all times. It will take away the stress of booking an appointment with a doctor and following up with the results.
Another reason we call it one of the best medical concierges in Singapore is its 24/7 medical services. In case there's an emergency, its medical staff can be reached any time of the day, even during midnight.
Highlights
24/7 services
Trained healthcare managers
Extensive healthcare coverage
2.  Singapore Medical Group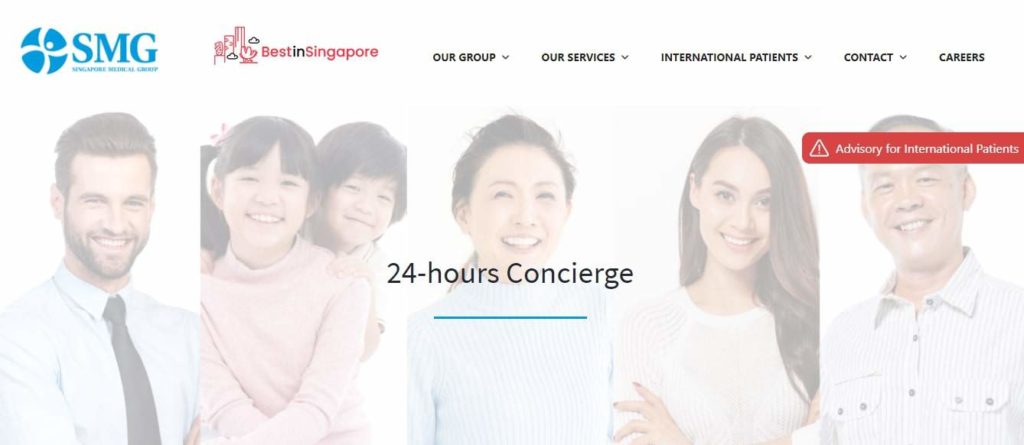 | | |
| --- | --- |
| BEST FOR    | 24-hour medical concierge providing direct and immediate access to the widest range of specialist doctors in Singapore  |
| SERVICES | Health screening, specialist healthcare services, medical enquiries, a multinational team providing personalized services for Singaporean and international patients |
| WEBSITE | |
| ADDRESS | Main clinic: 1004 Toa Payoh N, #06-03 to 07, Singapore 318995 |
| CONTACT DETAILS | +65 6817 8889 |
| OPERATING HOURS | Monday – Friday: 9:00 AM – 6:00 PM |
 Established in 2005, Singapore Medical Group has served patients from over 61 countries across a multidisciplinary range of healthcare specialities. 
The Group's medical concierge provides Singaporeans, ex-pats, and international patients with personalized healthcare services in addition to direct access to more than 100 specialist doctors across the island spanning 40 conveniently located clinics. 
The SMG Patient Centre prides itself on providing quick and efficient medical information via its vast network of General Practitioners, and healthcare specialists. In addition, the medical concierge provides detailed information on a variety of personalised health screening services and packages catered specifically for each individual. 
For cost-conscious patients, SMG also offers an online loyalty programme that aims to reduce medical costs and expenses for everyone.
Highlights
Established medical concierge backed by one of the region's largest specialist healthcare group
Over 40 conveniently located clinics across the island
Personalized services backed by a multinational team
3.  Icon Cancer Centre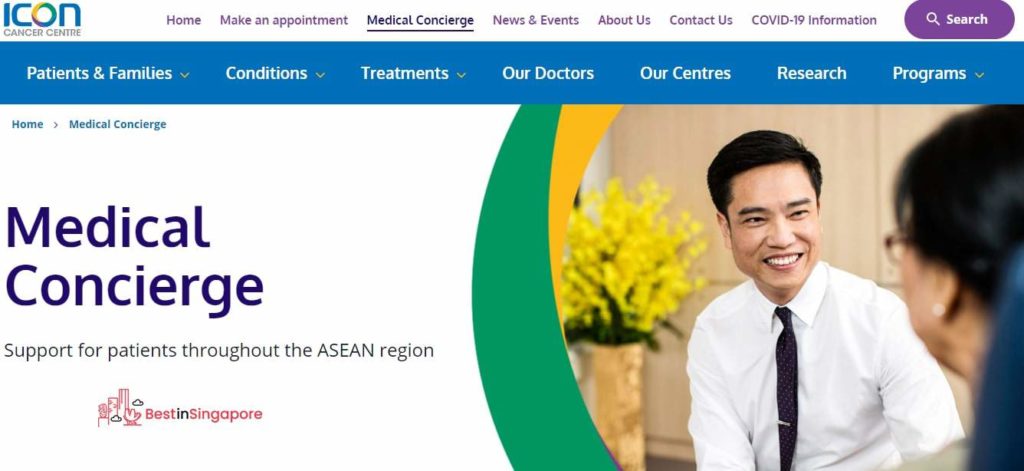 | | |
| --- | --- |
| BEST FOR    | Cancer patients |
| SERVICES | Cancer diagnosis, cancer treatment, and post-cancer treatment |
| WEBSITE | https://iconcancercentre.sg/ |
| ADDRESS | 1 Farrer Park Station Rd, Singapore 217562 |
| CONTACT DETAILS | +65 6604 9919 |
| OPERATING HOURS | Monday – Saturday: 8:30 AM – 5:30 PM |
For cancer patients looking for top-tier cancer treatments, Icon Cancer Centre stands as your best option. It's among the few cancer clinics that aim to help cancer patients seeking to travel overseas for better cancer treatments.
Icon Cancer Centre serves patients in Singapore, Malaysia, Thailand, the Philippines, Myanmar, and even the United Arab Emirates. It's known for providing personalised medical treatments based on the needs of its patients.
It's considered one of the best medical concierges in Singapore due to its strong cohort of cancer specialists capable of assisting patients in a personalised and culturally-sensitive matter. Icon Cancer Centre vows that all patients will be taken care of to the fullest extent.
Most of Icon Cancer Centre's doctors are bilingual as well, reducing the chances of miscommunication between them and patients. If needed, there will be an interpreter to assist doctors and patients.
Highlights
Multilingual doctors
Personalised services
Access to top healthcare providers in the world
4.  Priority Medical Concierge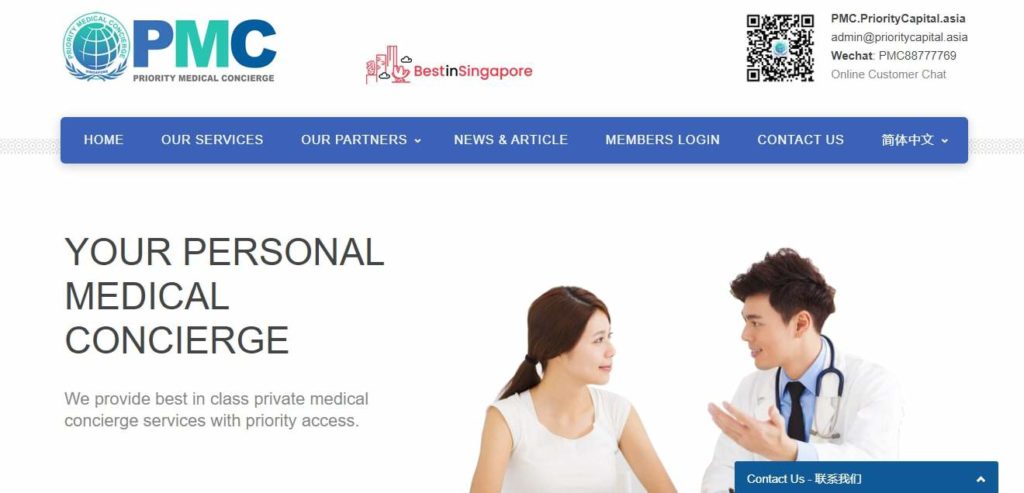 BEST FOR   
Advanced medical facilities
SERVICES
Medical consultations, medical transportation, and medical accommodation
WEBSITE
http://prioritycapital.asia/pmc/en/
ADDRESS
10 Anson Road #45-11 International Plaza Singapore 079903
CONTACT DETAILS
Wechat ID: pmc88777769

[email protected]

OPERATING HOURS
Monday – Friday: 9:00 AM – 5:00 PM
Considered one of the best medical concierges in Singapore, Priority Medical Concierge caters mainly to high networth client members with serious medical conditions. It can assist in medical consultations, medical transportation, and even medical accommodation.
Priority Medical Concierge is aware of how difficult it is to go through a serious medical condition which is why it aims to provide services that make it as easy and convenient to its patients as possible.
On top of that, Priority Medical Concierge has established a strong network of more than 1,500 trusted hospitals and medical professionals from different medical fields. It can connect patients with medical experts in oncology, cardiology, and even children paediatric.
One of the best things about being a member of Priority Medical Concierge is having priority access to new US-FDA approved drugs. Most of these medicines take 3 to 6 months before getting approved by Singapore's health ministry.
Highlights
Strong network of doctors
Cutting-edge medical technologies
Priority treatment
Quick access to new FDA-approved drugs
5.  Ace Medical Services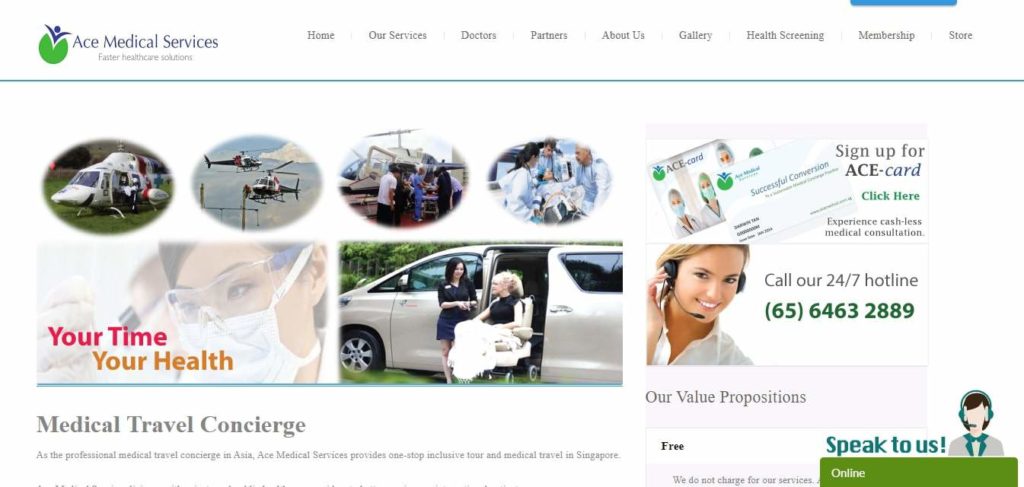 | | |
| --- | --- |
| BEST FOR    | Medical travel concierge |
| SERVICES | Medical consultations, travel concierge, healthcare management, and health screenings |
| WEBSITE | https://www.acemedical.com.sg/ |
| ADDRESS | 1 Fifth Ave., #04-07 Guthrie House, Singapore 268802 |
| CONTACT DETAILS | +65 6463 2889 |
| OPERATING HOURS | Monday – Friday: 9:00 AM – 5:00 PM |
Ace Medical Services is one of the few medical concierge companies in Singapore that specialise in medical travels. Patients won't have to lift a finger because it will take care of everything, from planning the travel down to visa applications.
In terms of its medical network, Ace Medical Services surely doesn't disappoint. It's well-connected with some of the top specialists and medical providers all over the world.
Every member of Ace Medical Services will gain access to its cutting-edge medical facilities, pool of in-demand doctors and personalised healthcare programs. This is why we call it one of the best medical concierges in Singapore.
We also admire Ace Medical Services's commitment to constantly improving the quality of its healthcare services. It's always on the lookout to hire the brightest minds in the medical field and the most advanced medical services to acquire.
Highlights
Customised healthcare services
Global network of top healthcare providers
Hassle-free medical travel concierge
6. Bio Aesthetic Medispa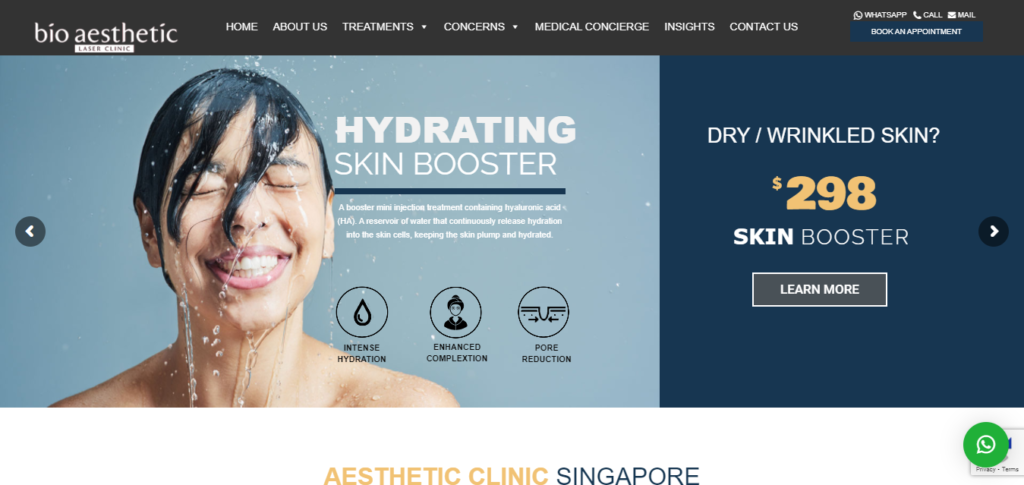 BEST FOR   
Clinically-designed aesthetic services
SERVICES
Skin, face, and body treatments, medi-facial
WEBSITE
https://www.baclinic.sg/
ADDRESS
Orchard Clinic: Palais Renaissance, 390 Orchard Road #03-01 Singapore 238871 
Tampines Clinic:Tampines 1 Mall #04-35A Singapore 529536
CONTACT DETAILS
Orchard Clinic: +65 6333 4566
Tampines Clinic:+65 8321 8613


[email protected]

 
OPERATING HOURS
Orchard Clinic: Monday – Friday: 11:00 AM – 8:30PMSaturday: 10:00 AM – 6:00 PM
Tampines Clinic: By appointment
If you're looking for beauty services backed by medicine and science, you should try Bio Aesthetic Medispa. Bio Aesthetic Medispa is a luxurious environment with the latest technologies for aesthetic services.
The clinic offers clinically-designed treatments, including laser treatments, injectables, body, and face treatments. Each of these procedures is personalised and fit for what your skin and body need.
You can trust Bio Aesthetic Medispa's services because the clinic has licensed medical practitioners. Aside from that credibility, the medispa service provider is also multi-awarded.
Highlights
Clinically-designed aesthetic services
Luxurious experience
Award-winning and highly-rated services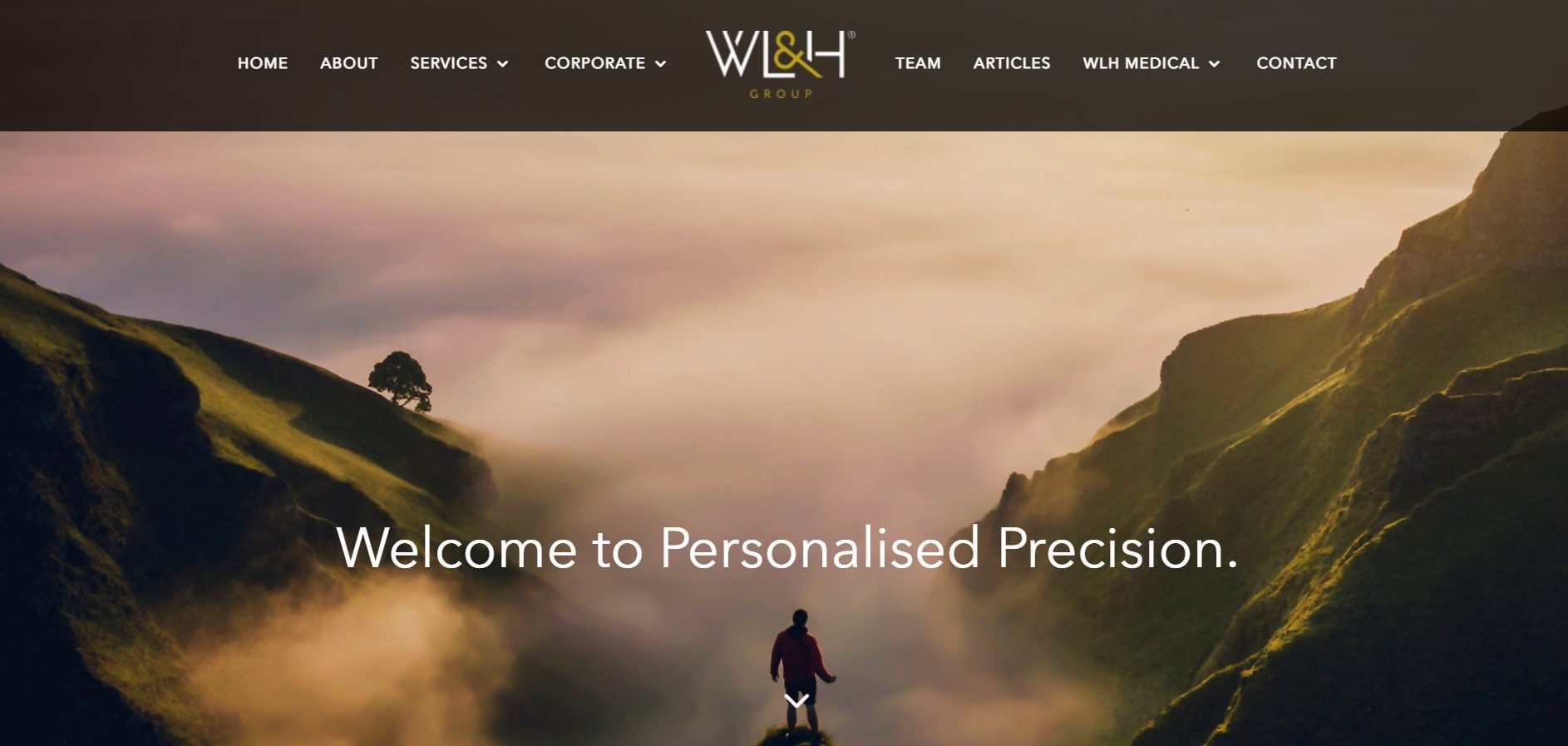 BEST FOR

Preventive Medicine and Precision Wellness

SERVICES

PANORA Precision Wellness Program

ATLAS Multiphasic Health Screening

TREASURY Concierge & Membership Program

GENESIS Genetic & Precision Medicine Program

ENDEAVOUR Lifestyle Modification

NIMBUS Healthcare Technology & Remote Monitoring


VOYAGER Lifestyle Modification Retreat

WEBSITE
http://www.wlhgroup.com.sg/
ADDRESS

Shaw Centre, 1 Scotts Road, #20-11/13, Singapore 228208

CONTACT DETAILS
+65 6662 9366
OPERATING HOURS
Monday – Friday
9:00am – 1:00pm
2:00pm – 5:00 pm
Saturday
9:00am – 1:00pm
WL&H Group was established to bring about a change in the current approach to medicine, choosing to be proactive rather than reactive. They aim to provide personalised precision healthcare to the right patients at the right time to assist them in preventing non-communicable diseases and living in healthy longevity.

Founded by renowned cardiologist and haematologist, Dr. Yan and Dr. Teo, WL&H is guided by proven medical and evidence-based wellness practices. The combination of their ATLAS Health Screenings with their other services, like the Genesis genetic tests and Endeavour lifestyle modification coaching, help to create a more comprehensive view of your health and holistic program to guide you toward better health.

More details are presented on WL&H Group's website. You may also call them for other inquiries.
Service Highlights
Utilises the P4 (Predictive, Preventive, Personalised & Participatory) medicine

Genetic Tests & Counselling

Lifestyle Modification Programs
Customer Reviews
Read one of the reviews left by WL&H Group's patients:
"Recently came by here to do a health screening and wanted to leave a review because the staff were really helpful! They went beyond to help me communicate with the imaging center so as to reduce my waiting time for my tests and results! Thank you so much! Super impressed by their excellent service and professionalism! Highly recommend to check this clinic out! Nice ambience as well. Felt taken care of from start to end!"
BEST FOR
Specialised Private Medical Services
SERVICES

HEALTH SPECIALISTS
CARDIOLOGY
EAR NOSE THROAT
GASTROENTEROLOGY
GENERAL SURGEON
GYNAECOLOGY
OPTHOMOLOGY
ORTHOPAEDIC
PAEDIATRIC
ONCOLOGY
DENTAL

AESTHETIC SERVICES
FACIAL THREADS
INJECTABLES
PLASTIC SURGERY

WEBSITE
https://www.iaso.sg/
ADDRESS
CONTACT DETAILS
MAIL: [email protected]
PHONE :+65 8282 7554
OPERATING HOURS
24/7
IASO is a medical concierge firm that offers private medical services. They cover a wide area of specialties such as general medicine, cardiology, general surgery, and more.
They also offer aesthetic services for those interested. Facial threads, injectables, and plastic surgery are the treatments they provide.
Their specialists have more than 10 years of experience. You can count on them to handle your medical concerns professionally and attentively.
Service Highlights
Various health services available
Hassle-free consultations
Cashless process
Affordable medical packages available
And that's it for our list of the best medical concierges in Singapore. If you've tried any of their services in the past, share with us how it impacted your overall health and wellness.
By the way, if you have a medical condition related to the stomach, thyroid glands, abdomen, breast, and more, we recommend consulting with the best general surgeons in Singapore. Luckily, we have a list of those as well!