Our 8 Favourite Places for Foot Reflexology in Singapore
Have you been experiencing foot pains that don't seem to go away even after a message? In cases like this, maybe only the best foot reflexology in Singapore can make those pains go away.
On top of relieving body pains, foot reflexology can also improve blood circulation, promote better sleep, lighten up your mood, and relax your body. Its multiple health benefits are among its key differences from the typical foot massage.
So, if you're thinking of having a foot reflexology session yourself but don't know where to get one, worry no more. We listed a few clinics that offer the best root reflexology in Singapore.
(Note: This list is in no particular order.)
1. My Foot Reflexology

| | |
| --- | --- |
| BEST FOR | Experienced Therapists |
| SERVICES | Foot Reflexology, Upper Body Massage, and Full Body Massage |
| WEBSITE | http://www.myfoot.com.sg/myFootReflex.html |
| ADDRESS | 1, #03-114 Kim Seng Promenade, Great World City, Singapore 237994 |
| CONTACT DETAILS | +65 6738 6235 |
| OPERATING HOURS | Monday – Saturday, 11:30 PM – 10:00 PM |
My Foot Reflexology has been one of the staple names in foot reflexology and body massage for years, thanks to its professionally trained and experienced therapists.
All the therapists it hires are visually impaired people. That may actually make them more sensitive to their work, though, which is why we name it one of the top places for the best foot reflexology in Singapore.
Over the years, it has also started training deaf-mute, mentally challenged, and physically handicapped people as a way of providing them with a stable source of income. Besides this, My Foot Reflexology is also known for its chill and pleasant atmosphere, which is why most customers return to its doors.
Highlights
Trained therapists
Pleasant environment
2. Precious Foot Reflexology

BEST FOR
Multiple Branches
SERVICES
Foot Reflexology, Body Massage, and Back Shoulder Massage
WEBSITE
https://www.preciousfoot.com.sg/
ADDRESS
Blk 443 Clementi Ave 3 #01-71 Singapore 120443

Blk 177 Toa Payoh Central #01-134 Singapore 310177

Blk 130 Jurong Gateway Road #01-217 Singapore 600130

CONTACT DETAILS
+65 8363 4703 | +65 6354 1911 | +65 6563 3766
OPERATING HOURS
Monday – Friday, 10:00 AM – 10:00 PM
Precious Foot Reflexology takes "Netflix & Chill" to the next level. Customers can avail of their iPads to catch up on their favourite television series while having a foot reflexology or a message.
We consider it one of the top places to get the best foot reflexology in Singapore for two things: its trained masseuse who can drive away any type of body pain, and its affordable rates.
Your entire body, especially your feet, will feel rejuvenated and relaxed after a single session with them.
What's more, customers have the option to avail of their aromatherapy essential oils that are proven to be capable of awakening the senses! If you're curious as to how this feels, don't hesitate to drop by any of their clinics!
Highlights
Competitive rates
Experienced masseuse
With multiple awards
3. My Happy Feet

BEST FOR
Cool Ambiance
SERVICES
Foot Reflexology, Signature Body Massage, Specialty Body Massage
WEBSITE
https://www.myhappyfeet.com.sg/
ADDRESS
21A Lor Mambong, Singapore 277680
CONTACT DETAILS
(65) 6462 0525 | (65) 8588 0318 |

[email protected]

OPERATING HOURS
Monday – Friday, 11:00 AM – 9:00 PM
Established in 2008, My Happy Feet has been relieving Singaporeans of their body aches for years by providing them with both traditional and contemporary foot and body massages. It's no surprise that it ended up on our list of the best foot reflexology in Singapore given that it's famous for its skilled therapists and pleasant ambiance.
Another thing we love about My Happy Feet is that it frequently offers promos and discounts, especially to regular customers. If you're not in the mood to avail of its massage packages, you may opt for its body scrub and ear cleaning treatment, both of which take less than an hour to finish.
Highlights
Skilled therapists
Private ambiance
4. Fiji Foot Reflexology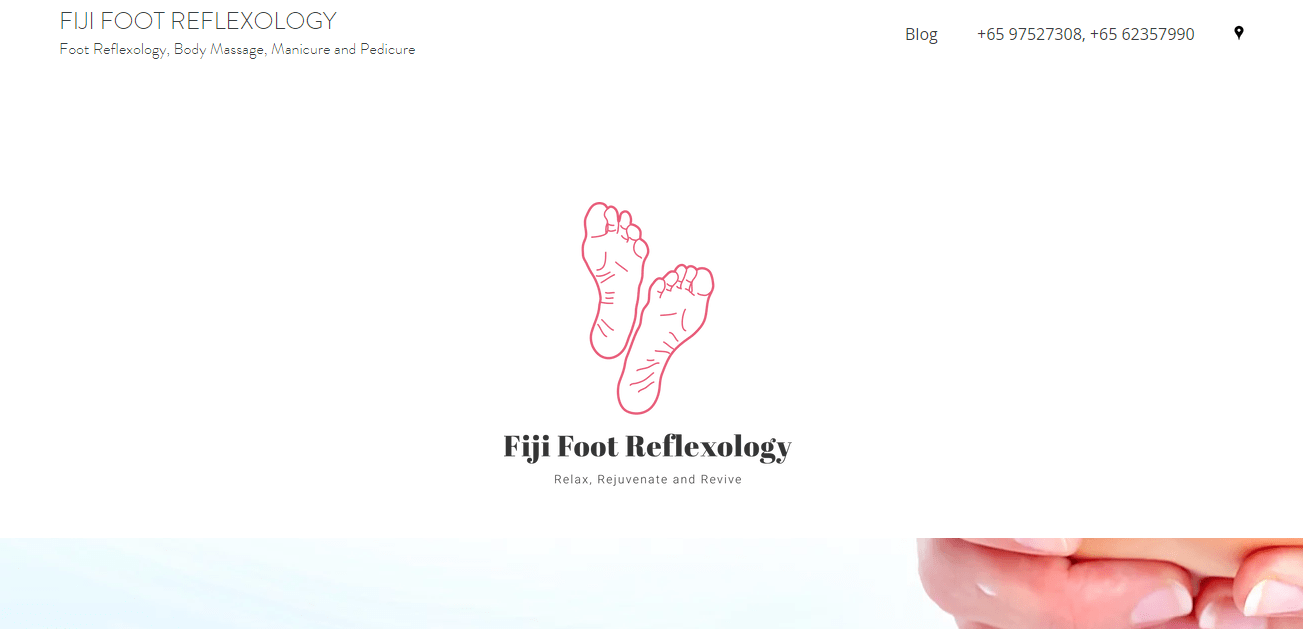 | | |
| --- | --- |
| BEST FOR | Wide Range of Services |
| SERVICES | Foot Reflexology, Body Massage, Deep Tissue Massage, Manicure and Pedicure |
| WEBSITE | https://www.fijifootreflexology.com/ |
| ADDRESS | 400 Orchard Rd, #01-19, Singapore 238875 |
| CONTACT DETAILS | +65 97527308 | +65 62357990 |
| OPERATING HOURS | Monday – Saturday, 10:00 AM – 11:00 PM |
If you're looking for a clinic that offers more than just typical body messages, then consider dropping by Fiji Foot Reflexology. Some of the services it offers are deep tissue massage, body massage, mani and pedi, and of course, foot reflexology.
One of the reasons it stands out from its competitors is its holistic approach towards getting rid of body pains. It also has a team of 12 skilled and experienced therapists who can make sure that you'll leave their clinic feeling rejuvenated and energised.
Highlights
Holistic approach
Trained therapists
5. Feet Haven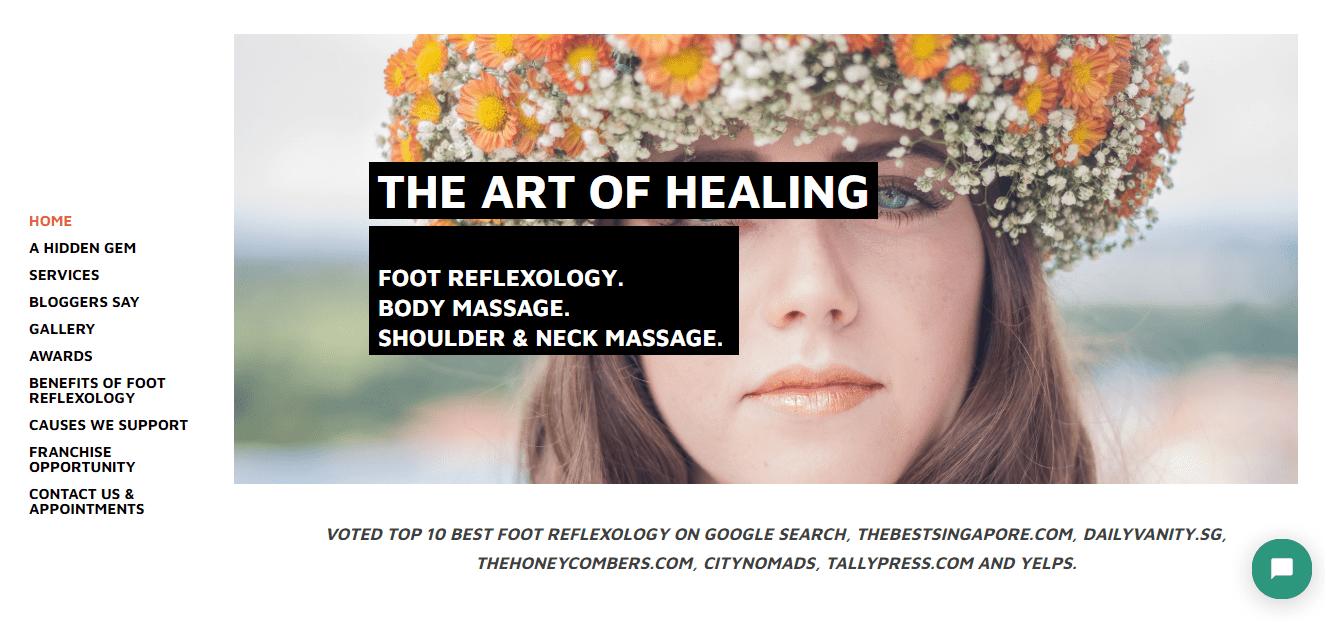 BEST FOR
Online Booking
SERVICES
Foot Reflexology, Body Massage, Combi Therapy, Shoulder Massage, Pre and Post-Natal Massage, and Sports Therapy
WEBSITE
http://www.feethaven.com/
ADDRESS
136 E Coast Rd, Singapore 428821
CONTACT DETAILS
+65 6344 7311 |

[email protected]

OPERATING HOURS
Monday – Sunday, 12:00 PM – 10:00 PM
Most spas tend to be fully booked every day, which makes it harder for walk-in customers to get an appointment within the day. It's a good thing that Feet Haven finally allows online booking to ensure that customers will be accommodated on their desired date and time, without having to wait in line.
It's also been voted one of the top places to get the best foot reflexology in Singapore, according to various review websites. What's more, promos and discounts are available to all customers for a limited time.
Another thing we love about Feet Haven would be its affordable rates, especially when compared to other spas. Combined these with frequent discounts, and you'll receive the best foot reflexology in your life without going beyond your budget.
Highlights
Discounts and promos
Trained therapists
Credit card payments
6. Refresh TCM Wellness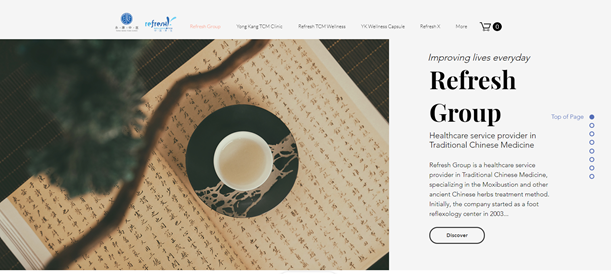 BEST FOR
Acupuncture
SERVICES
Moxibustion, Lymphatic Drainage, Bojin TCM Body Treatment, Refresh Signature Facial, Gua Sha, Hot Stone, Hips Therapy
WEBSITE
https://www.yongkangtcm.com/
ADDRESS
The Star Vista
#B1-32
1 Vista Exchange Green, Singapore 138617White Sands
#04-11
61 Pasir Ris, Central Street 3, Singapore 518457Plaza Singapura
#03-47
68 Orchard Rd, Singapore 238839Sun Plaza
#03-24
30 Sembawang, Dr, 757713
CONTACT DETAILS
9427 3800 | [email protected]
OPERATING HOURS
Daily: 10:30am–9pm
Public Holidays: Hours might differ
A company which started only as a foot reflexology center, Refresh TCM Wellness came a long way through the years. Having successfully treated over 4 million satisfied customers, they're on another league when it comes to health and wellness, focusing on every patient's holistic and over-all well-being.
A health service provider which adapted the ancient Chinese herbs and methods in their works, Refresh TCM Wellness has prevailed in being one of the most sought after not only in foot reflexology, but also in acupuncture, facials, and hot stones.
Having an edge when it comes to knowing the most traditional procedures, they're the only center to have retained the old ways which sets them apart from those who have integrated with technology. Since 2003, they have continuously proven that nothing can beat the old techniques when it comes to ensuring the wellness of the people.
Highlights
Convenient location
Accommodating staff
Detailed diagnosis
Flexible schedules
7. Pure Relaxology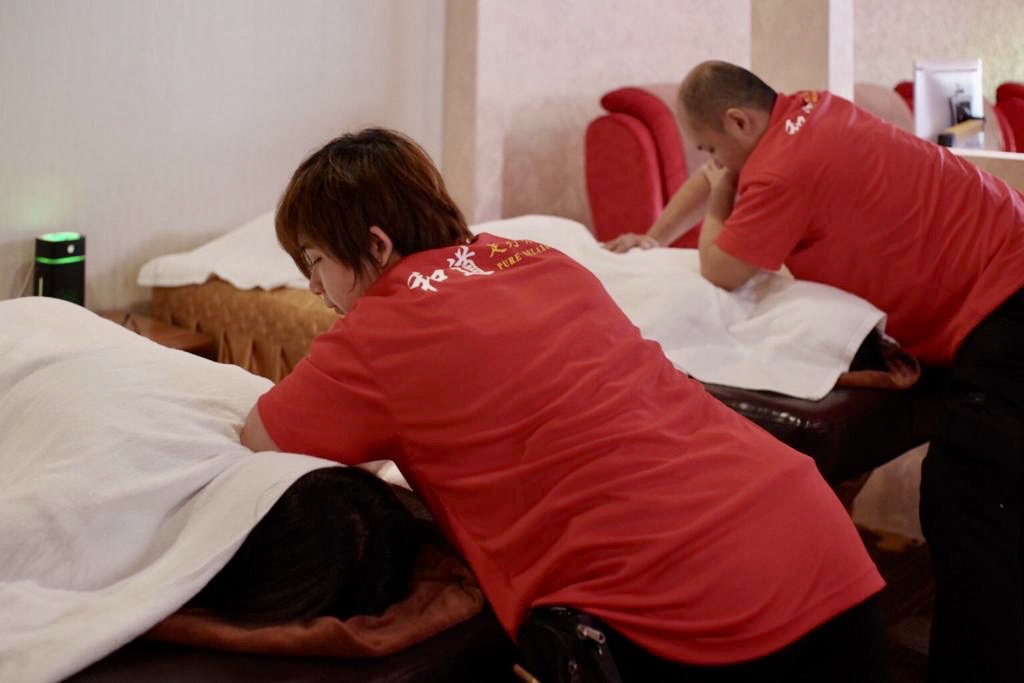 BEST FOR

Foot reflexology and tuina body massage

SERVICES

Foot Reflexology, Tuina Massage, Cupping and Guasha Therapy

WEBSITE

http://www.purerelaxology.com/

ADDRESS

207 Lavender Street S338765

CONTACT DETAILS

+ 65 62982930


[email protected]

OPERATING HOURS

10am – 10:30pm daily (including weekends and public holidays)
At Pure Relaxology, our highly skilled masseurs use the traditional Ruo Shi若石 method of massage to energize meridians and acupoints to balance the flow of qi in the body. The flow of qi and body circulation is improved and muscles are relaxed.
Tuina massage is based on the theory that imbalances of Qi can cause blockages of energy and blood flow in the body. Tuina massage thus stimulates the flow of Qi to promote balance and harmony within the body.
Pure Relaxology specialises in foot reflexology and tuina body massages. We also offer a master level cupping and gua sha coupled with massage to release the extremely tight tension knots and blockages in the body to restore the body's natural flow of energy.
Tucked away in a little corner of Lavender Street with an eclectic mix of neighbours including a tyre shop and car workshop, the unassuming outlet is an oasis of haven once you step inside. The air smells clean and fresh due to the use of disinfecting UV lamp with ozone. The extremely comfortable, fully reclinable massage chairs comes with individual monitor screen, personal headphone and best of all, a wide array of movies to allow total relaxation while having a foot reflexology session.
Highlights
use the traditional Ruo Shi (

若石

) method of massage to energise meridians and acupressure points to balance the flow of qi in your feet and body

Helps ease tension/muscles knots/ removes blockages from body

Highly skilled masseuse

Comfortable fully reclinable chairs with individual monitor screens and headphones
8. Foot Note Reflexology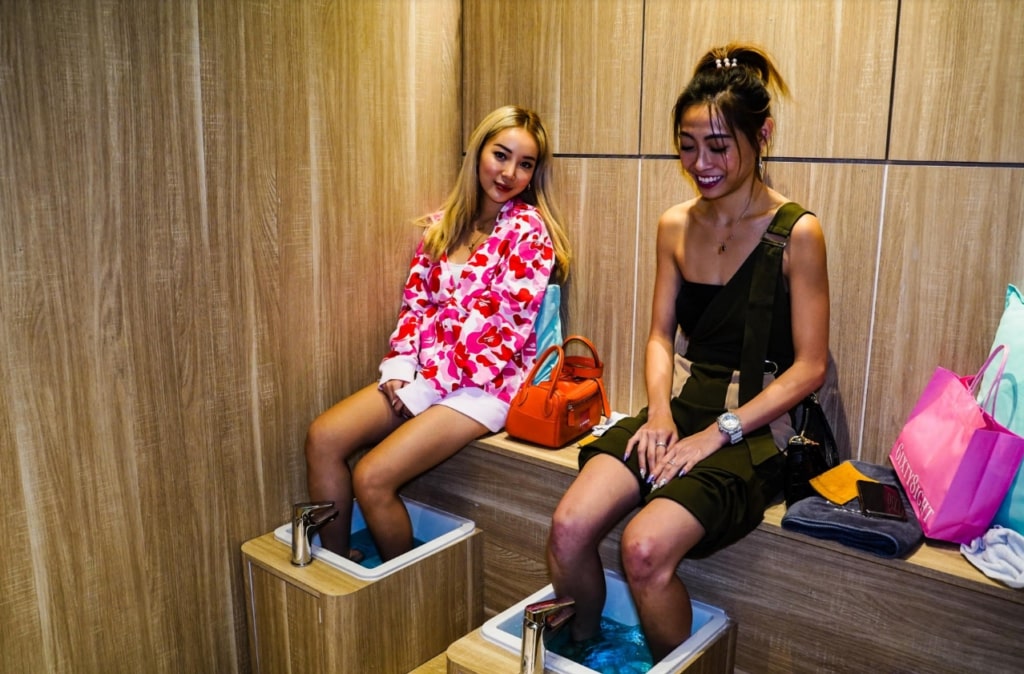 FootNote Reflexology delivers stress relief by focusing on individual needs. The spa creates consistent results that eliminate discomfort by applying the individualistic approach to every customer experience.
If the fast pace of life has you feeling worn out, then their trained professionals will help you to regain your energy. They provide a total of eight incredibly comfortable reclining foot reflex massage chairs to help you unwind from a challenging day.
Their natural healing spa experience also includes four massage beds and two monkey chairs.
It's also worth noting that the FootNote Reflexology team focuses on balancing your Chi and stimulating the nerves to improve your body's vitality.
So, if you are looking to eliminate the pain and stiffness in your feet, back, neck, shoulders, or legs, then now is the perfect time to visit FootNote Reflexology. Let their positive energy and skilled staff complete your restoration process.
Highlights
Highly comfortable and accessible location
Personable and professional team
Competitive prices
Body and muscle relief with the help of human touch
And with that, we conclude our list of the clinics with the best foot reflexology in Singapore. If you've visited any of these places we mentioned, do tell us about your experiences with them!
By the way, if you're also looking for places that offer more than just foot reflexology, you might want to check out our list of the best spas in Singapore. We guarantee that all your stress and body pains will be flushed away by the services of these excellent spas!