The Top 10 Shops for Best Phone Repairs in Singapore
Do you have a busted mobile or landline phone that needs repairing immediately? If so, then you've come to the right place… because today we're making a list of the best phone repairs in Singapore.
We know how hard it is to have a non-functioning phone because it prevents us from connecting with our loved ones and friends. It also keeps us from being updated with the latest news and happenings in Singapore.
There might be a lot of phone repair shops in Singapore, but we must remember that not all such services that are worth paying for.
Since we want to help you out, we looked for the top options for the best phone repairs in Singapore so you don't have to. Check out these shops whenever your mobile or landline phone starts acting up.
1. Eden Technology & Services Center Pte Ltd

BEST FOR 
Long Operations Hours
SERVICES
iPhone and Samsung Repairs
WEBSITE
https://edentechnologyservicescenterpteltd.business.site/
ADDRESS
Sim Lim Square
1 Rochor Canal Road #02-88/91
Singapore 188504
CONTACT DETAILS
+65 6432 8286
OPERATING HOURS
Mon: 11:00 AM – 8:30 PM
Tue: 11:00 AM – 8:30 PM
Wed: 11:00 AM – 8:30 PM
Thu: 11:00 AM – 8:30 PM
Fri: 11:00 AM – 8:30 PM
Sat: 11:00 AM – 8:30 PM
Sun: 11:00 AM – 8:30 PM
Eden Technology & Services Center Pte Ltd is a reliable phone repair choice in Singapore for many reasons. Most importantly, they guarantee a high service standard through their sound business processes.
Furthermore, they only employ professional technicians to repair your phone, ensuring that your beloved mobile phone lies in safe hands. Their friendly and approachable service staff are well-trained to promise a pleasant repair experience during your time at Eden Technology & Services Center Pte Ltd.
Highlights
Affordable rates
Quality products
Professional phone technicians
2.  Phone Doctor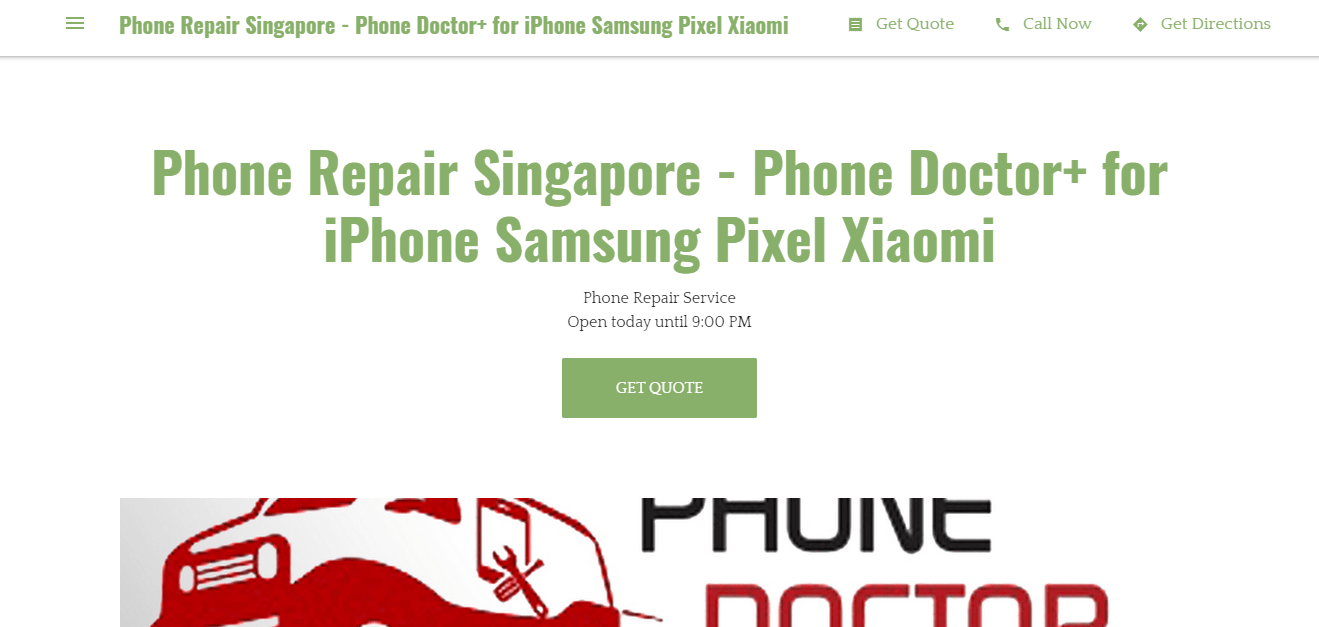 | | |
| --- | --- |
| BEST FOR  | Apple and Android Models |
| SERVICES | iPhone, Samsung, Pixel, and Xiaomi Repairs |
| WEBSITE | https://phonedoctorsingapore.business.site/ |
| ADDRESS | Multiple Locations in Singapore |
| CONTACT DETAILS | +65 6432 8292 |
| OPERATING HOURS | Monday – Friday, 11:00 AM – 9:00 PM |
If you want to restore the glory days of your mobile phone, then Phone Doctor would be willing to help. It fixes almost all brands of mobile phones, from all iPhone models to Android phones such as Samsung, Xaiomi, among others.
One reason we name it among the best phone repairs in Singapore would be the affordable rates, which are already inclusive of GST and service charge.
It also offers free face-to-face diagnostics and quotations, so you know how your phone is going to be fixed and how much it would cost.
Phone Doctor also has a team that focuses on discovering new phone problems. That way, they can come up with their own way of addressing these uncommon phone problems.
Highlights
Cheap rates
Free diagnostics and quote
Discounts on tempered glasses
Customer Reviews
Here are some of the comments left by satisfied customers:
"They fixed my shattered screen on my iPhone 8 and did a fantastic job. I got an appointment right away and they had the repair done within 2 hours. The Apple store could not get me in for 3 days. The staff was efficient and courteous. I highly recommend them and will use them again if needed in the future."
"We are from out of state and my friend needed her screen fixed and they were fantastic with the service. We went and ate and when we were finished the phone was ready to go. I also bought a case and screen protector for a great price. If you need any repair to a phone I would highly recommend them. I'm so glad we found this place."
3.  Mister Mobile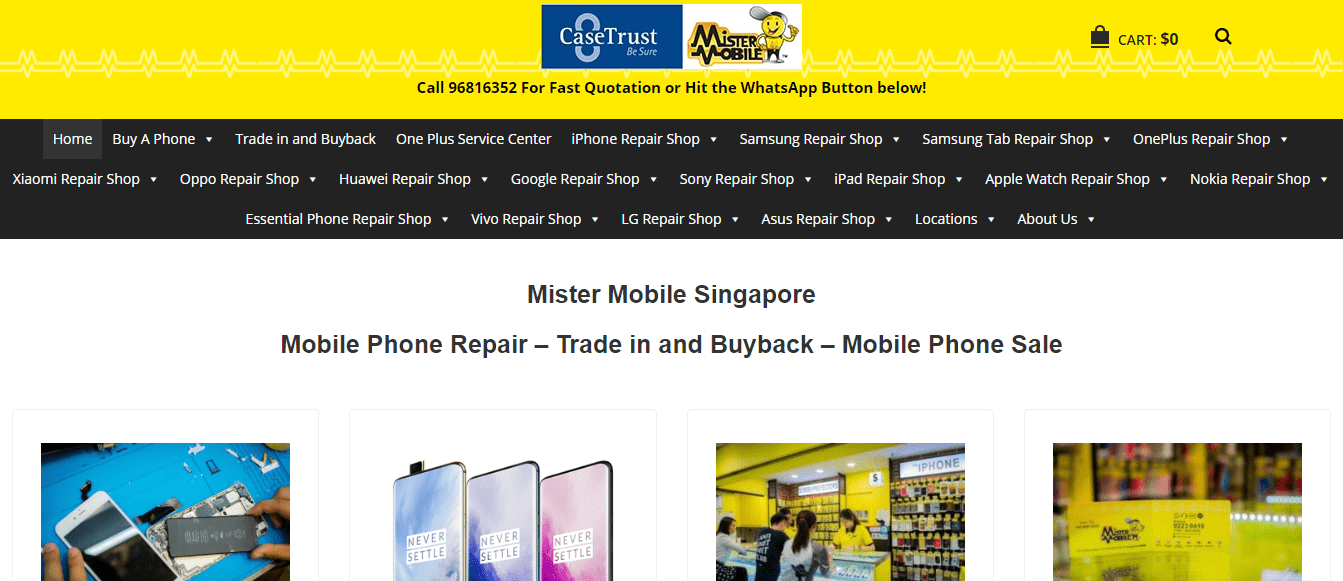 | | |
| --- | --- |
| BEST FOR  | Competitive Prices |
| SERVICES | Apple and Android Repairs, Cracked Screen, LCD Replacement, Battery Replacement, and Water Damage Repair |
| WEBSITE | https://www.mistermobile.com.sg/ |
| ADDRESS | 810 Geylang Rd, #01-67A City Plaza, Singapore 409286 |
| CONTACT DETAILS | +6564328297 |
| OPERATING HOURS | Monday – Sunday, 11:00 AM – 9:00 PM |
Mister Mobile is among the leading phone repair shops in Singapore due to its wide range of services. Some of these include battery replacement, water damage repair, camera removal, motherboard repair, LCD replacement, and a whole lot more.
It also fixes almost all brands of mobile phones available in Singapore, such as Apple, Samsung, Sony, Oppo, Google, and Huawei.
Its repair process is accredited and verified by CaseTrust, which is why we consider it one of the top options for the best phone repairs in Singapore.
Moreover, Mister Mobile also has a team of professional technicians who will ensure that your mobile phones are in safe and qualified hands.
Highlights
Accredited by CaseTrust
Experienced technicians
Well-trained and friendly service staff
Customer Reviews
Mister Mobile has an average rating of 4.8 on Google Reviews, proving that most customers have something positive to say about its services. Check out these reviews:
"Excellent service at City Plaza Mister Mobile phone shop! Technician and customer service personnel provide extra effort to check the affected phone thoroughly and repair it at a reasonable price and quickest time for cracked screens. Deeply impressed. Highly recommended. Thanks Mister Mobile."
"My Apple Watch 4 had a cracked screen. Made an appointment online and visited their store in City Plaza. Took just two hours to repair at a very reasonable cost. The next day I noticed that my battery was discharging quickly, contacted them and was told to leave the watch overnight with them. Collected this morning and everything is working perfectly Highly recommended and very honest people"
4.  BreakFixNow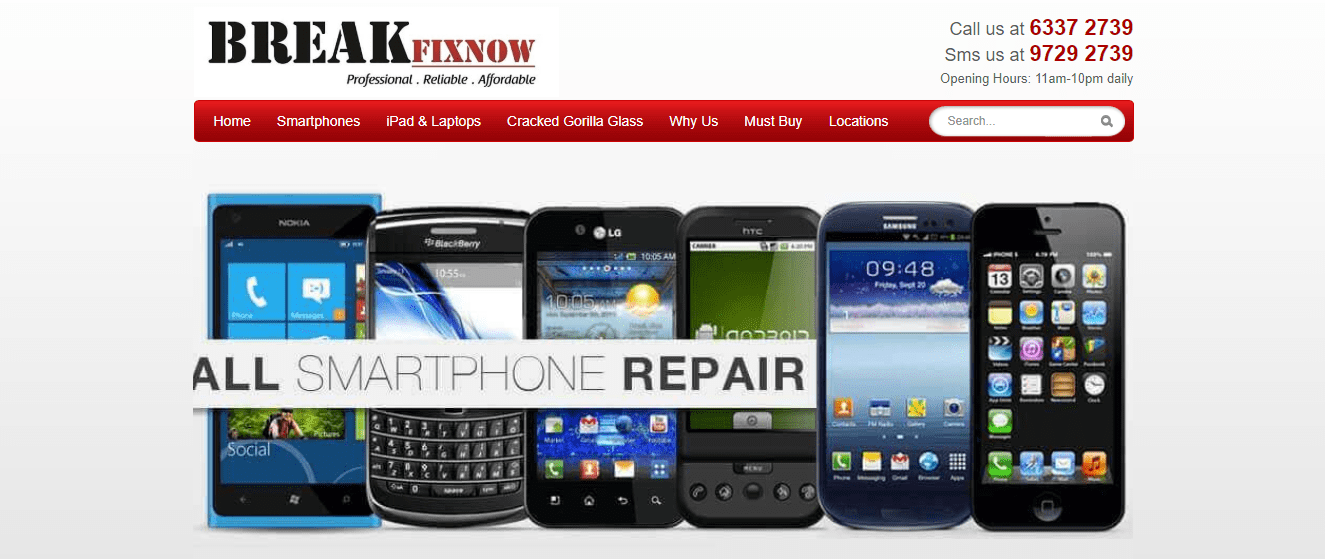 | | |
| --- | --- |
| BEST FOR  | Phone and Tablet Repairs |
| SERVICES | Apple and Android Repairs, iPad Repairs, Laptop Repairs, and Apple Watch Repairs |
| WEBSITE | https://breakfixnow.com.sg/ |
| ADDRESS | 62 Queen Street – Little Red Dot Building Unit #ABFL 1-5, Singapore 188541 |
| CONTACT DETAILS | 6337 2739 | 9729 2739 |
| OPERATING HOURS | Monday – Sunday, 11:00 AM – 10:00 PM |
BreakFixNow has long been one of the staple names in phone repairs in Singapore, with a huge number of customers who can attest to the quality of its services. It boasts a team of experienced technicians who can deal with all sorts of mobile problems.
More than this, it offers free diagnostics and quotation, providing customers with fair and affordable prices for its services. If you don't have time to drop by its shop, you may opt for its home services for a small additional price.
BreakFixNow also guarantees that all parts to be used are authentic. And that's just one reason we consider it one of the top shops for the best phone repairs in Singapore.
Highlights
Home service
Genuine parts
Reasonable prices
Customer Reviews
Take a look at some of the feedback posted on Google Reviews:
"Prices are a little more compared to other shops but I don't mind that as the staff are up front as to their pricing structure. They don't hide or try to pull a fast one on you. A free consultation is really one and they don't push you to change the spoilt item. Also, they don't ask you to get the more expensive option, just the one you are most comfortable getting."
"Great service from Jason, absolute customer service from him. Assisting in whatever questions that you have regarding the repairs. Being patient is the key for great customer service. Thank you once again for fixing up my iPhone 7 plus"
5.  LYK Mobile

| | |
| --- | --- |
| BEST FOR  | Warranty |
| SERVICES | LCD Replacement, Battery Replacement, Screen Repair, Motherboard Repair, iPad Repair, and Apple Watch Repair |
| WEBSITE | https://lykrepair.com/ |
| ADDRESS | 1 Irving place, The [email protected] #02-07, Singapore 369546 |
| CONTACT DETAILS | 9025 2185 | 9679 2229 |
| OPERATING HOURS | Monday – Sunday, 11:00 AM – 9:00 PM |
If you're looking for the best spot to have your phone and other gadgets repaired, then LYK Mobile is the right one for you. It offers a wide range of services from battery replacement and screen repair to home button repair and water damage repair.
You may also bring in your iPad and Apple Watch for consultation and repairs. Worry no more about spending money on repair services because it employs a huge team of experienced and competent technicians.
Moreover, LYK Mobile works on mobile phones quickly, which is why we've included it in our list of the best phone repairs in Singapore. You can even eat snacks and use the WiFi while waiting for your phone to be finished!
Highlights
Friendly staff
Huge team of technicians
Free diagnostics
Customer Reviews
Here are some of the comments posted by satisfied customers on Google Reviews:
"Did a quick search on google for a fast Iphone mobile repair and it prompted this company LYK Repair. I would like to say that this team at LYK Repair deserves a recognition in their line of service. Their professional and expertise help Apple users to gain confidence in their products. Please continue to keep up with the advance technology, building up trust and providing consistent service. You guys are awesome! Thank you so much for saving my device LYK."
"Speedy and very professional service. No surprises, quotes prior to repair. Great communication. Very happy with the repaired product, very high quality. Comes with a 100 day warranty. Highly recommended to anyone looking for a reliable place to have their Apple products repaired."
6.  Hitec Mobile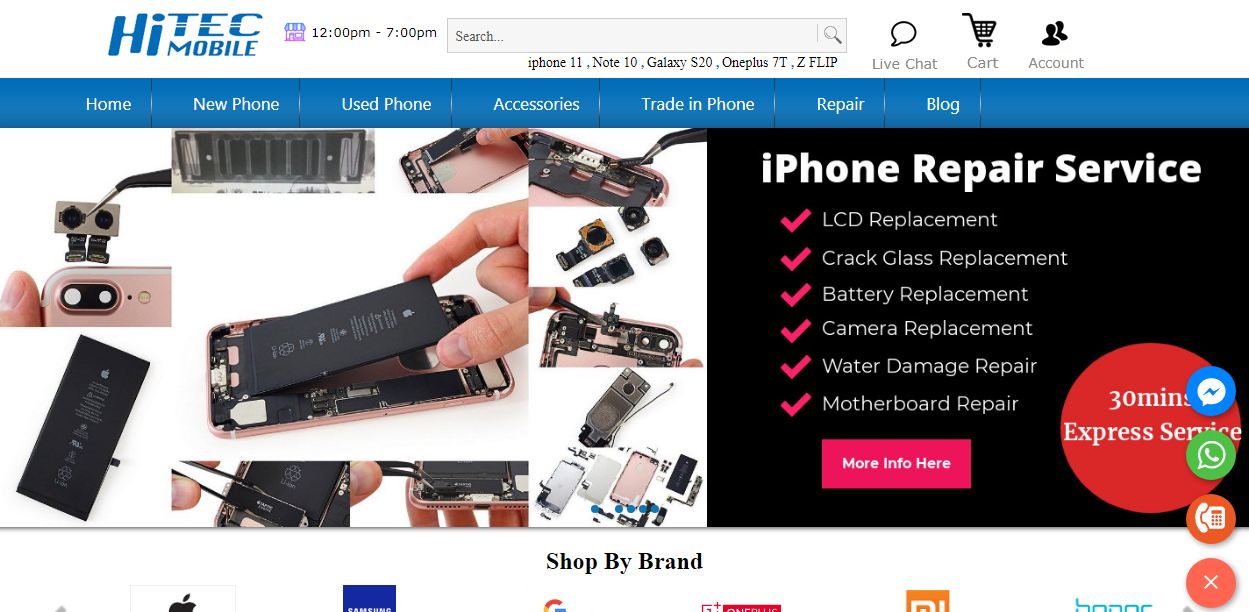 BEST FOR 
Online phone repair quote
SERVICES
Cracked Glass Replacement, Motherboard Repair, Phone Accessories, Trade-in Phone
WEBSITE
https://hitecmobile.com.sg/
ADDRESS
200 Victoria Street Bugis Junction #03-24 IT Zone at Level 3 Singapore 188021
CONTACT DETAILS
Tel:+65 6336 3017
Whatsapp: 9182 2795
OPERATING HOURS
Daily, 12–7pm
Hitec Mobile features a group of certified technicians who provide on-site repair where you can get your phone fixed in less than an hour, particularly for hardware issues.
You can easily access their service online, for you just need to pick the model and the type of problem, then they'll give you an instant quote so you can immediately know the overall costs.
The repair charges are based on the model and issues — rest assured that there'll be no hidden fees. They offer their solutions for Apple, Samsung, Huawei, Xiaomi, Google, Oppo, OnePlus, and Microsoft products.
Highlights
Transparent pricing
Trade-in phone service
Customer Reviews
Hitec Mobile has gained the trust of many customers because of their reliable services, transparent pricing, and skilled technicians — which is why they offer the best phone repairs in Singapore. One of their customers shared this experience:
"Fast and professional service. I went there and got my phone's LCD screen replaced in an hour. Louis also made sure to check the phone with me after he repaired it. Cost wise, it was true to the prices on the website. The colours on my screen look more vibrant now as well!"
7. Atomware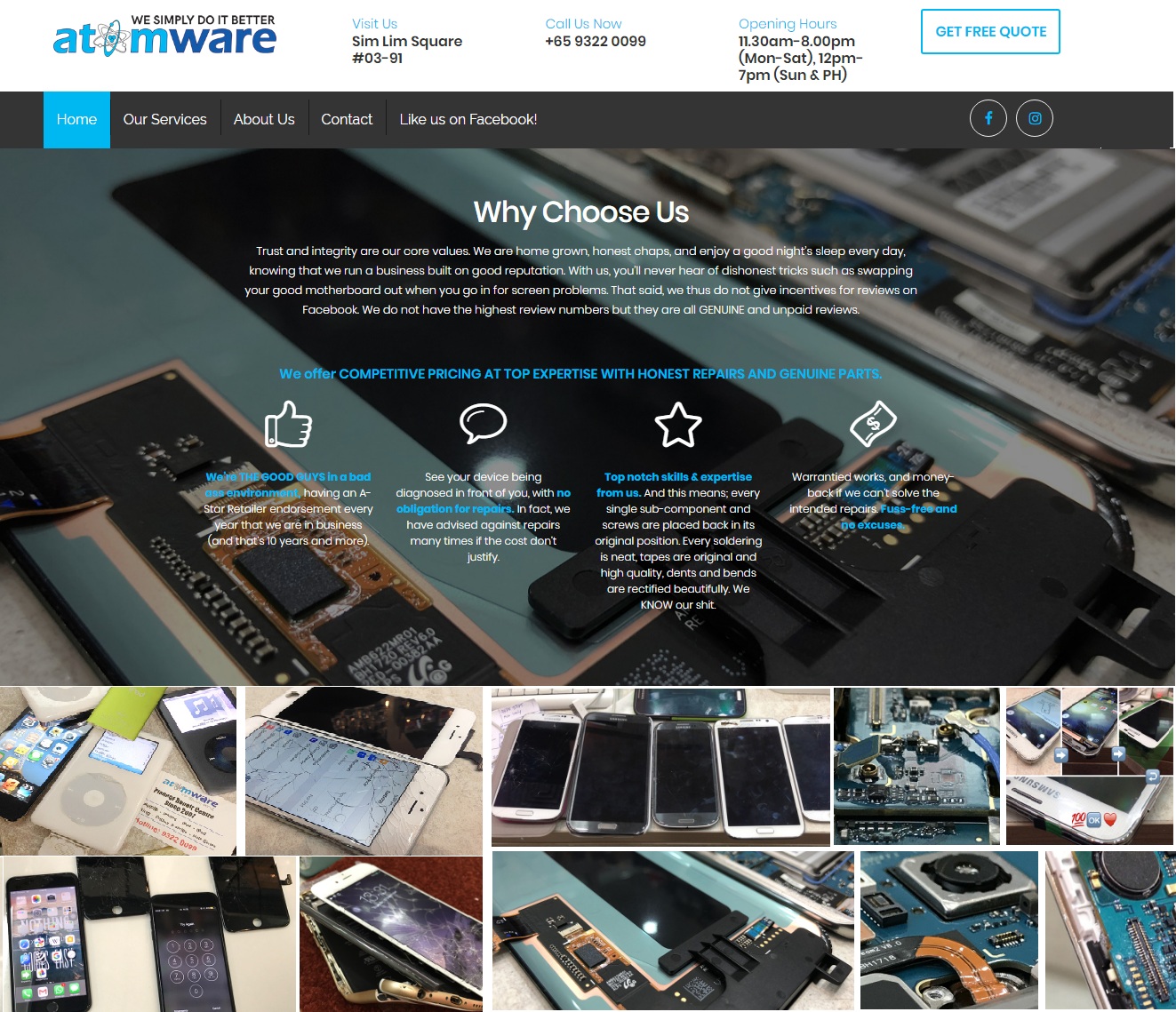 Do you own an Iphone, Samsung, or Huawei mobile phone that needs seamless repair work? Bring it now to Atomware and let it be handled by their highly dedicated team who are truly pros in repairing these mobile phone brands.
From restoring a terribly cracked screen to covering all aspects of mobile device repair, you can trust Atomware to do a perfect job.
They also assure you that they only use genuine components to maintain the quality of your device regardless of the degree of damage it had.
Highlights
Cost-effective

Authentic mobile components

Money back guarantee
Customer Reviews
Their customers applaud the company's high quality of service backed with very affordable rates.
"Went in for a battery replacement for my iPhone X – the other reviews prepared me for good work at a relatively steeper price. Pleasantly surprised to get the lowest quote ($65) out of three shops + shortest estimated replacement time. Had my battery replaced in 15 minutes without problems! Would definitely come back :))"
8. Zu'es Connections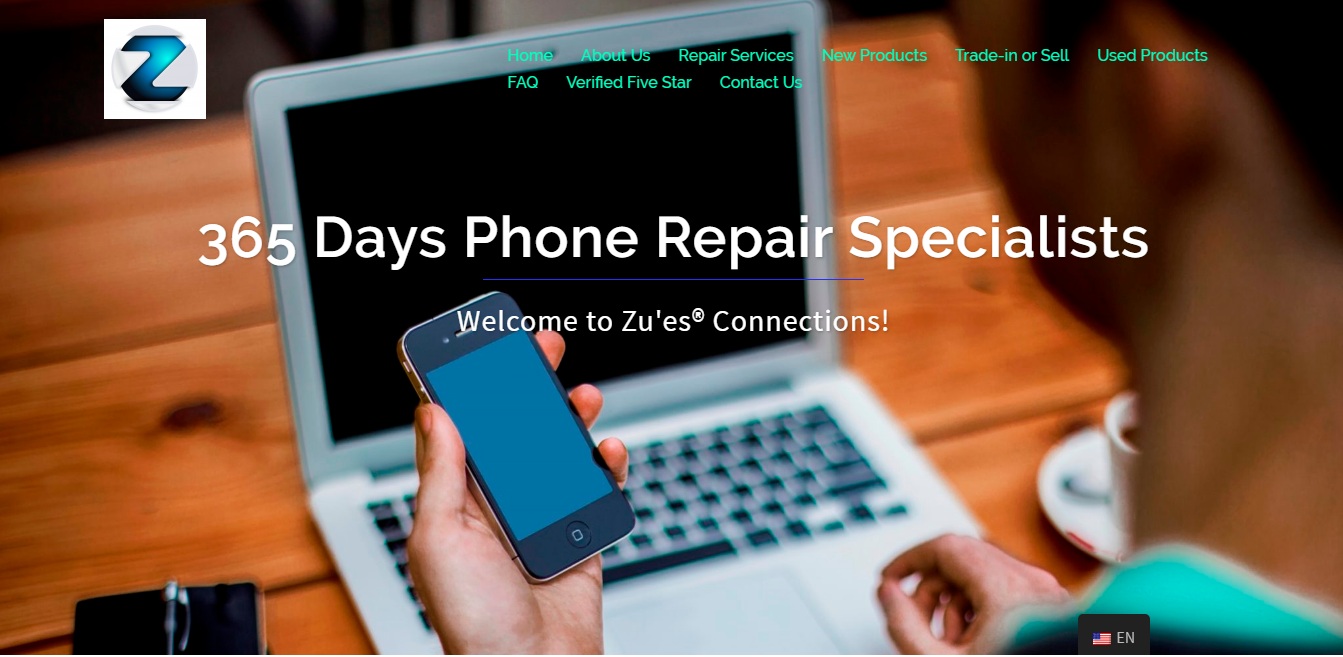 Mobile Shop Zu'es® is one of the most trusted shops in Singapore specializing in handphone repair. They provide repair services for Apple, Samsung, Oppo, Xiaomi, Huawei, and other brands of mobile products.
If you just want to have an initial check up or phone diagnostic, you'd be glad to know that the shop does that for no charges at all!
Their shop is also available to accommodate your concerns all days of the week so for emergency concerns, it's best to bring your mobile products to any branch of Mobile Shop Zu'es®.
Highlights
Repairs a wide variety of device models

Multiple branches

well-trained and highly experienced staff
9. Citri Mobile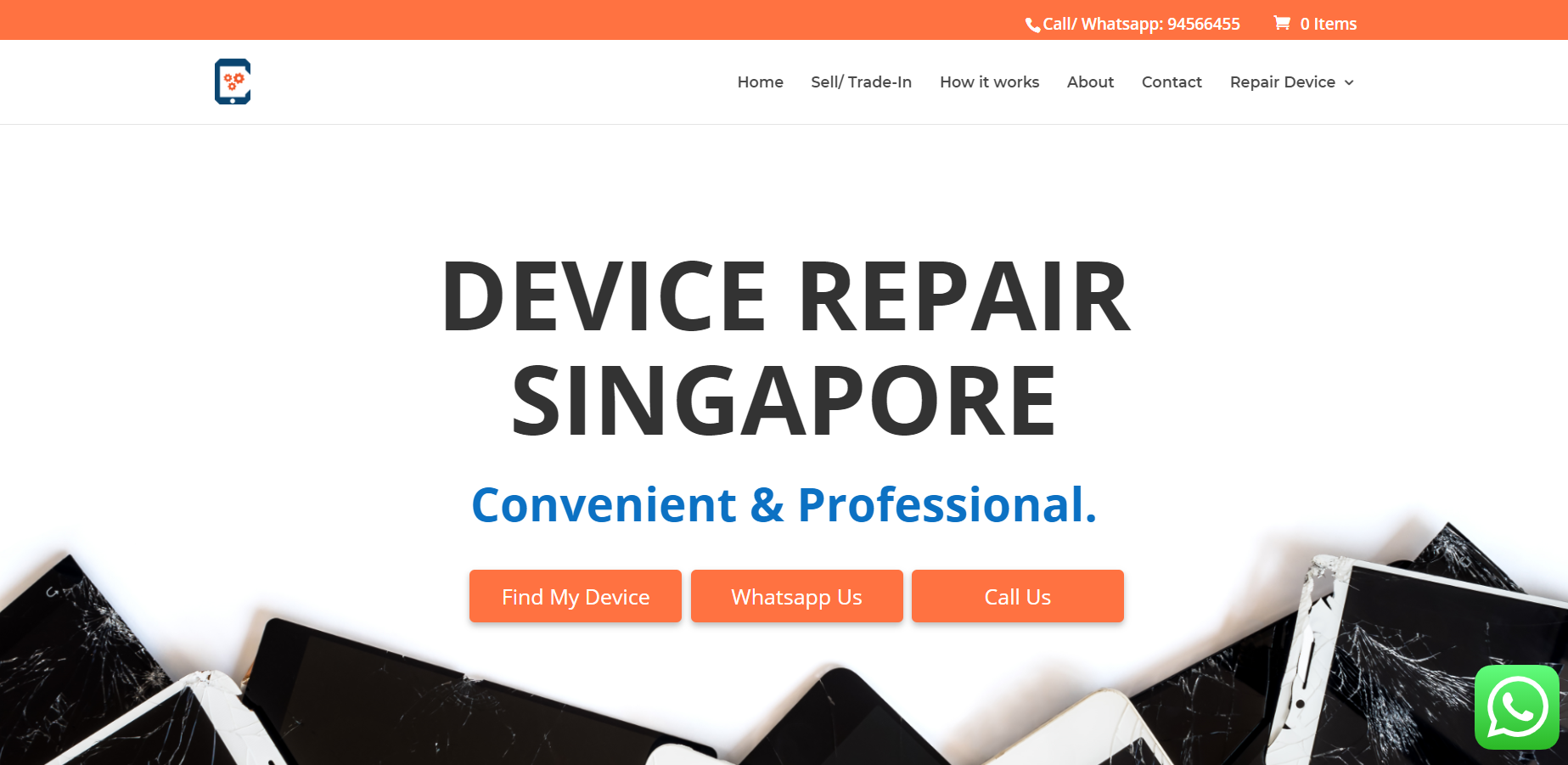 BEST FOR
iPhone Repair
PRICING
Enquire for more information
WEBSITE
http://www.citrimobile.com
ADDRESS
PEOPLE'S PARK CENTRE,
#01-47 Singapore 058357
CONTACT DETAILS
94566455
OPERATING HOURS
11:00 AM – 9:00 PM Daily
Citri Mobile repairs mobile devices of various brands and models. They take pride in offering the most affordable prices for their services.
Their team of technicians are knowledgeable in the numerous aspects of phone repair. You can count on them to bring your phone back to working condition, no matter the problem it may have.
They're conveniently located near the Chinatown MRT for easy access. Best of all, their repairs come with a 100 days warranty.
Highlights
Can handle various brands and models
Professional technicians
Convenient services
Affordable prices
10. Repair Advise

BEST FOR
Apple Devices
PRICING
Enquire for more information
WEBSITE
https://repairadvise.com.sg
ADDRESS
5 Purvis Street #02-01
Singapore 188584
CONTACT DETAILS
Call/SMS/Whatsapp
+65 8755 3393
OPERATING HOURS
Mon-Fri: 11am-8pm
Sat-Sun: 11am-6pm
Repair Advise is a shop that repairs a wide variety of devices. Their team of technicians are capable of repairing devices no matter the brand or model. 
They specialise in working with Apple devices. As an Apple Certified Pro company, you can count on them to diagnose and repair your Apple device expertly.
In case your repairs involve part replacement, you can rest assured that they will use original parts for your device. Data privacy won't be an issue as well since their repairs are face-to-face.
Highlights
7 years of experience
Apple certified pro
Advanced data recovery
Original parts
And that's the end of our list of the top places for the best phone repairs in Singapore. If you know other repair shops that weren't part of our list, tell us about them and your experience with their services!
By the way, if you're also thinking of getting a new phone for a much lower price, then we highly recommend that you drop by the shops for the best refurbished phones in Singapore. Any of these shops have a wide variety of mobile phones to choose from.