17 Best Spots for the Most Romantic Dinner in Singapore! (2021)
Whatever your reason for setting up a romantic dinner in Singapore, it's important to pick the right place. Romance is a blend of many things coming together — the right service, the right food, the right atmosphere.
Obviously, getting all of these things together can be a challenge. But we're here to help you out with that.
Without further ado, here are the best romantic restaurants in Singapore:
1. THE SUMMERHOUSE
BEST FOR
Private, romantic garden domes
PRICING
Dining in the Domes starts at $400++ per couple The Summerhouse Kitchen Table: From SG$70 per person
MENU: http://www.thesummerhouse.sg/wp-content/uploads/2019/04/TSH-Dinner-Menu-2019-web.pdf
WEBSITE
https://www.thesummerhouse.sg/
ADDRESS
3 Park Lane, Singapore 798387
CONTACT DETAILS
8809 5840 | [email protected]
OPERATING HOURS
Brunch: Sat, Sun & PH 12PM to 3PM
Dinner: Wed to Sun, Eve of & PH 6PM to 10PM
The Summerhouse is a classic spot for a romantic dining in Singapore due to its lush gardens and the magical garden domes. You and your date get a private and exclusive dining experience inside a garden dome within their verdant edible garden.
Each dome seats up to 8 guests, but you can rent the place for two for a romantic candle light dinner in Singapore. The geodesic domes are air-conditioned too, so you can dine under the stars in complete comfort.
On Wednesday through Sunday, guests can opt for the 'Dine in The Dome' experience. This includes a premium 9-course communal menu, which comes complete with a bottle of wine.
This makes the dome one of the most unique romantic restaurants in Singapore for 2020.
Service Highlights
G Awards 2017, Award of Excellence
Chope Top 15 Most Romantic Dining Places
Time Out Recommended Award 2018
Best ingredients sourced sustainably
Romantic, magical garden geodesic domes
Customer Reviews
Customers love the ambience and top-notch food quality, hence the numerous 5-star ratings on Google Reviews. They also praise customer service, so they didn't mind the price that much because of the overall experience.
Elsa Goh gave them 5 stars with the following review:
"Very impressed with the pork collar and roasted root vegetables! Pork collar was tender, juicy and marinated well. Husband adores the portobello mushroom tart. The vegetables were picked from their garden and the tart really melts in your mouth. Had a unique experience with the signature flower latte, which had a meringue as a topper. Prices are reasonable with the quality of food. Definitely a place for a great gathering with friends and family. Relaxing atmosphere with a lot of space and greenery. Definitely a great place to relax and have coffee. Great service too! Oh, did I mention the outdoor area is dog friendly too?? Really awesome place to chill out! Will definitely come back again!"
2. ODETTE
Rosemary Smoked Organic Egg
BEST FOR
Modern French cuisine
PRICING
Enquire for pricing
WEBSITE
http://www.odetterestaurant.com/
ADDRESS
1 St Andrew's Road #01-04
Singapore 178957
CONTACT DETAILS
 +65 6385 0498 | [email protected]
OPERATING HOURS
Lunch: 12.00pm to 1.30pm (last seating)
Dinner: 7.00pm to 9.00pm (last seating)

Monday – Dinner only
Tuesday to Saturday – Lunch & Dinner
Closed on Sunday & Public Holidays
Odette prides itself on its meticulous selection of the ingredients to create dishes of the purest flavours. They serve Modern French Cuisine that is guided by Chef Julien's lifelong respect for seasonality, terroir and artisanal produce.
This makes Odette the perfect choice for the foodie and gourmand couple looking for romantic restaurants in Singapore.
Another strength of theirs is their exquisite selection of wines. Pairing their wine with their signature dishes makes this place a memorable gustatory journey for any couple.
They are so popular, in fact, that due to overwhelming response they advise making a reservation 1 month in advance to secure a table. Keep that in mind if you do decide to try this place.
Based on the review though, it's one o the most romantic dinner places in Singapore worth waiting to have a spot for. 
Service Highlights
2 Michelin stars
Glowing reviews from food critics
Recognised as one of the top 5 restaurants in Asia
For their tasting menu, guests can swap with dishes from their plant-forward tasting menu. They can also accommodate guests with dairy allergies or intolerance.
Cakes available upon request
Customer Reviews
Food critics are not the only ones who love Odette. In fact, the restaurant has high ratings on Google Reviews, with customers impressed by the fantastic food, ambience, presentation, and service.
"Exquisite" and "a form of art" are just some of the words used to describe their dining experiences at Odette. Syd Parham wrote:
"What an incredible experience- beautiful and exquisite cuisine, lovely staff and sommelier in a beautiful setting. The meal was perfectly paced. Each course was delicious. The food was perfectly executed and cooked to perfection. The staff were very friendly and punctual but not overbearing. It rivals several 3 Michelin Star restaurants that we have been to. A must if you are a foodie!"
3. THE WHITE RABBIT
BEST FOR
Classic European cuisine, charming renovated church building
PRICING
Mains from SG$32
MENU: https://static1.squarespace.com/static/5b39ace9d274cb237ebdb45b/t/5bdbad0f4ae237cd8903a255/1541123347468/TWR-MENU-ALC-INSERT-2018-10-30+%28WEB%29.pdf
WEBSITE
https://www.thewhiterabbit.com.sg/
ADDRESS
39C Harding Road Singapore 249541
CONTACT DETAILS
 +65 6473 9965 | [email protected]
OPERATING HOURS
Tuesday–Friday
11.45am-2.30pm (Set Lunch)
6.30–10.30pm

Saturday–Sunday
11am-3.30pm (Brunch)
6.30–10.30pm

Closed Mondays
Set in a restored colonial chapel, The White Rabbit immediately transports you into a whimsical space. Here, you and your significant other can enjoy classic European dishes from their kitchen helmed by Head Chef Benjamin Tan.
The White Rabbit is already an established institution in Singapore and has also been recognised internationally. Complete your romantic dinner in Singapore with a taste of their sophisticated award-winning wine list, whose wines have been carefully sourced from around the globe.
The White Rabbit is perfect for milestone dates, like celebrating your anniversary dinner in Singapore, for example. 
Service Highlights
Internationally recognised as a unique dining experience in Singapore
Award-winning wine selection
Convenient online reservation
Romantic, fairy tale ambience
An outdoor bar – The Rabbit Hole
Customer Reviews
The high ceiling and renovated chapel space impress the customers, but they also gave positive reviews of their friendly staff and, of course, the food. Here's a 5-star review from Thomas Chong:
"Food was out of this world. Too bad we didn't have much tummy space to try out more on the menu. Shout out to JJ and the team for the splendid service and attention. Everyone went all out to cater to our every whim & fancy. We later proceeded to Rabbit Hole out in the garden for cocktails and found ourselves a great spot to chat. Indeed, an experience and a meal to remember."
4. THE OTTOMANI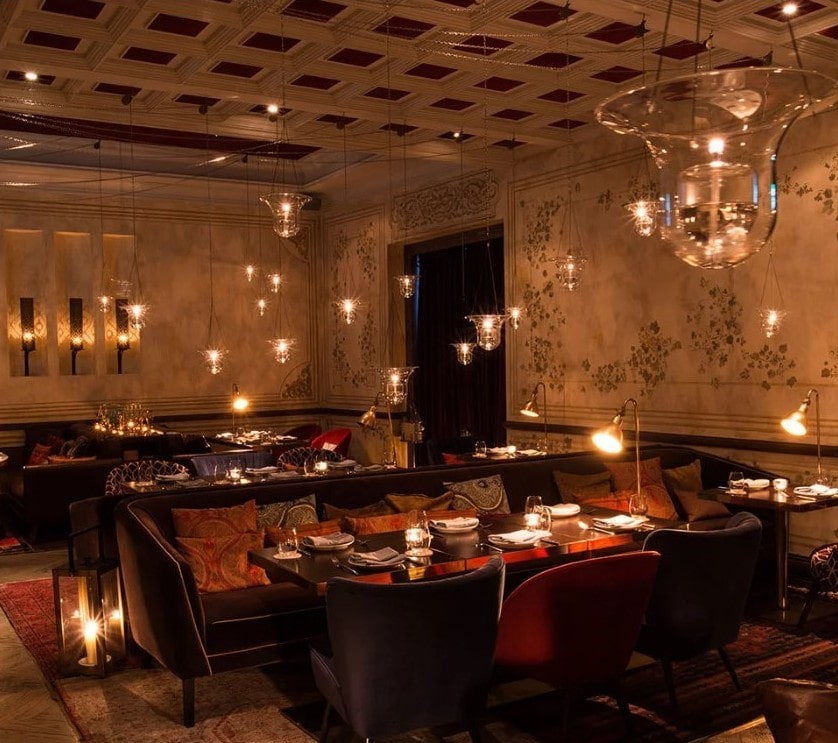 | | |
| --- | --- |
| BEST FOR | Middle Eastern cuisine |
| PRICING | From SG$108 PER PERSON |
| WEBSITE | https://www.theottomani.com/ |
| ADDRESS | 48 Peck Seah Street in Singapore, right near Tanjong Pagar |
| CONTACT DETAILS |  +65 9231 9316 | [email protected] |
| OPERATING HOURS | Mon to Sat: 6pm to Midnight |
Dining at The Ottomani is like a trip by itself with classic, Middle Eastern decor to complement their cuisine.
The food boasts bold, exotic flavours using local and sustainable ingredients alongside unique dishes from the far-off regions of Morocco to Turkey.
To set the mood, they use fire as a central element in the interiors as well as food preparation. Most sources of light in the restaurant venue are either candles or oil lanterns, adding to the fantasy of mysterious Arabian nights.
If you want a no-fail dinner date in Singapore that has romantic ambiance, The Ottomani should be one of your top choices. 
Service Highlights
Local, sustainable ingredients
Intimate, cosy ambience
Luxurious decor fit for royalty
Cocktails made with Raki, a popular Middle Eastern anise-flavoured spirit
Convenient online reservation
Customer Reviews
For their outstanding service, a knowledgeable staff, good food and cosy atmosphere, they have a high Google Reviews rating. One customer described The Ottomani as "the most interesting restaurant" in Singapore.
Meanwhile, Gary Woods wrote:
"Feel transported to a 5* restaurant in 1930s Istanbul, with subtle background music that doesn't interfere with your dining experience.  Attentive service and original dishes with a middle eastern influence, discreetly hidden at the back of the Fat Prince kebab bar."
5. JAAN by Kirk Westaway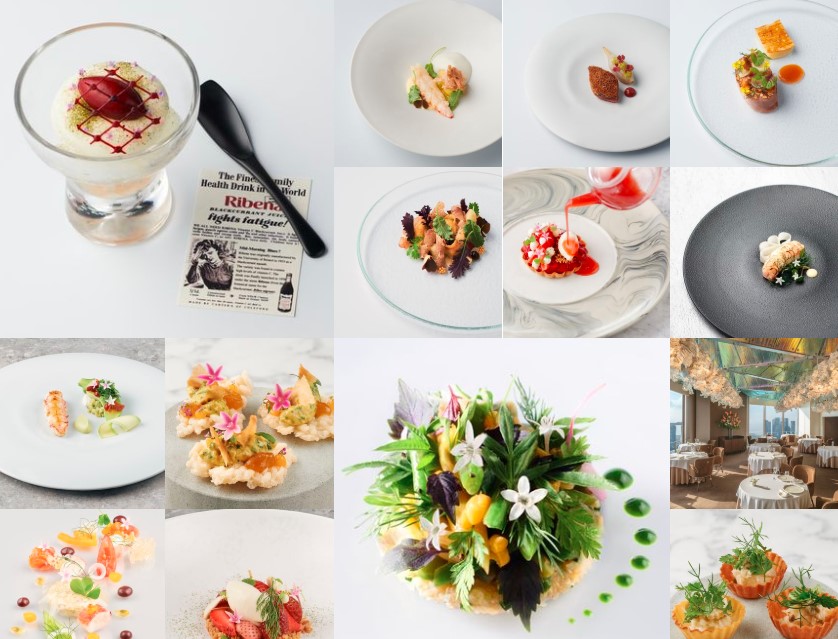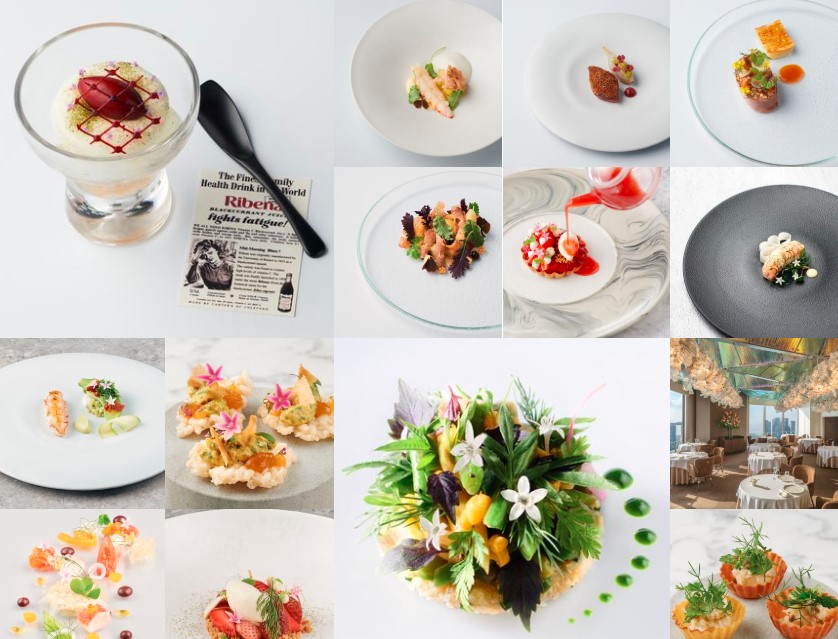 | | |
| --- | --- |
| BEST FOR | Modern British Cuisine |
| PRICING | Menu |
| WEBSITE | https://www.jaan.com.sg/ |
| ADDRESS |  2 Stamford Road Swissôtel, Level 70 The Stamford, Singapore 178882 |
| CONTACT DETAILS | +65 6837 3322 | [email protected] |
| OPERATING HOURS | Monday-Sunday, 11:45am–1pm, 6:45–8pm |
JAAN is an internationally recognised restaurant which has established itself as a gastronomic platform with a reputation for handpicking and grooming exceptional culinary talents.
Born in South West Britain, Executive Chef de Cuisine Kirk Westaway channels his deeply rooted passion for natural flavours that are reminiscent of his childhood in England. Applying the philosophy 'Reinventing British', his perpetually evolving menu embodies a seasonal philosophy to showcase British dining in a modern, refreshing light.
Couples who are into gastronomic adventures consider JAAN to be one of the best date restaurants in Singapore.
Service Highlights
The intimate 40 seat restaurant has a sophisticated interior that features an elegant private dining room for exclusive events as well as a stunning Murano crystal and silver free-form chandelier that spans the entire length of the ceiling.
the breathtaking view of Singapore's scenic landscape
Truly exquisite culinary and service experience that have become the hallmark of this multi-award winning restaurant
Customer Reviews
5-star Google review from Masa:
"You can expect great experience with amazing dishes and iconic view of Singapore. Sophisticated design interior but still can feel cozy. I always feel very very special when I visit and every time they will surprise me with their dishes. Highly recommend to make reservation with window side seat."
6. SKAI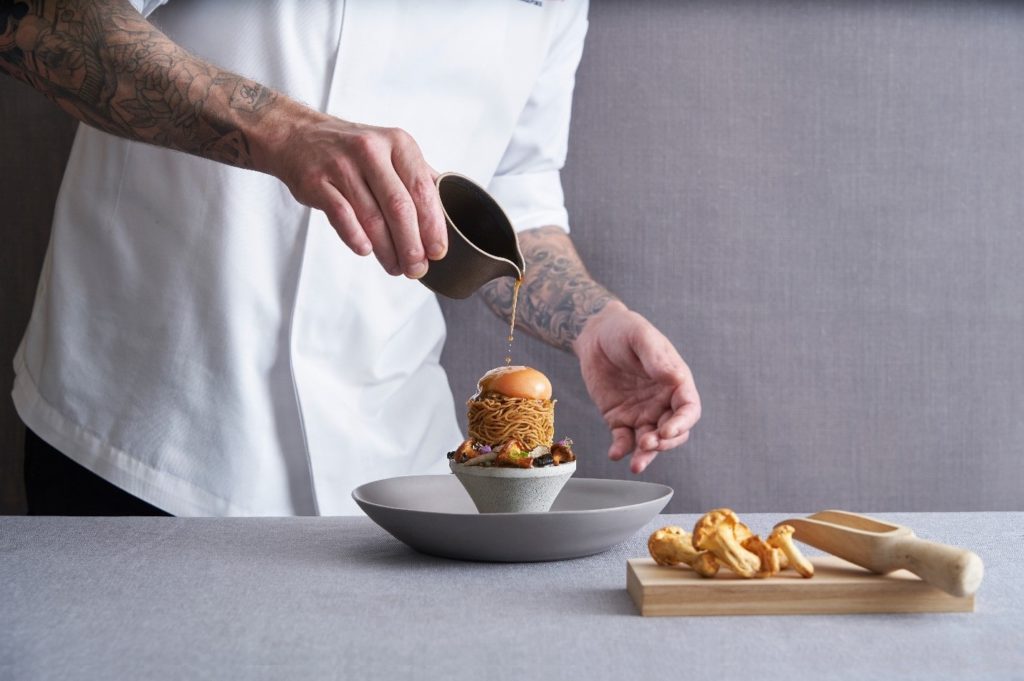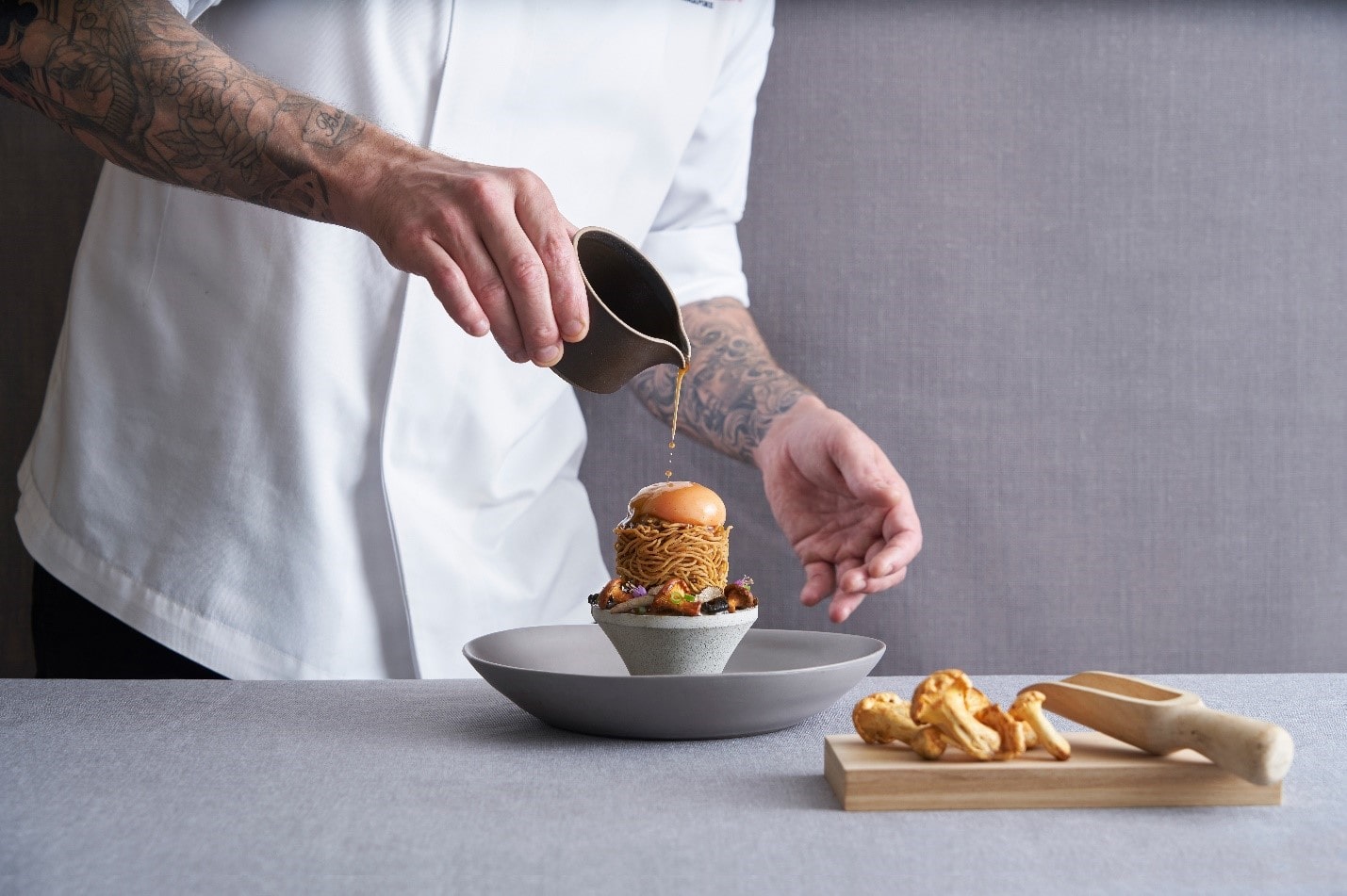 Crispy Rye Noodles
BEST FOR
Panoramic views, excellent steaks
PRICING
MENU: https://skai.sg/menu/dinner
WEBSITE
https://skai.sg/
ADDRESS
2 STAMFORD ROAD, SINGAPORE
CONTACT DETAILS
 +65 6837 3322 | [email protected]
OPERATING HOURS
LUNCH
SUNDAY – FRIDAY
12:00 PM – 02:30 PM
DINNER
MONDAY – SUNDAY
06:00 PM – 10:00 PM
SATURDAY BRUNCH
SATURDAY
12:00 PM – 03:30 PM
BAR
MONDAY – THURSDAY
05:00 PM – 01:00 AM
FRIDAY
05:00 PM – 02:00 AM
SATURDAY
04:00 PM – 02:00 AM
SUNDAY
04:00 PM – 01:00 AM
Skai is described as a refined yet lively contemporary grill restaurant. Located on the 70th floor of Singapore's acclaimed Swissôtel The Stamford, customers are treated to sprawling cityscape.
So if you're looking for a romantic restaurant in Singapore that can boast of both its views and food, Skai should be a consideration.
Add seamless service and bespoke beverages, and this becomes one of the top choices for a romantic dinner in Singapore.
Their new menu has been thoughtfully curated by Executive Chef, Paul Hallett. He combines cutting-edge culinary skills with a cooking philosophy honed through years of experience to create a truly personal and progressive fine grill offering.
Service Highlights
Iconic city view
Produce-driven menu featuring the finest produce with a respectful tribute towards Japanese ingredients
Artisanal beef cuts
An array of mouth-watering desserts and photogenic pastry spread, all masterpieces created by their award-winning pastry team
Customer Reviews
Skai received many 5-star ratings on Google Reviews from satisfied customers. They credit the excellent views, food, ambience, and drinks for their positive reviews.
Because of their iconic city views and excellent food, many consider them to be a go-to for a romantic dinner in Singapore for 2020.
Here's some feedback from Patricia Yeo:
"Excellent view of the city and we get to enjoy the day view, sunset and night lights as we arrived around 6.30pm.
Service was great as she was very attentive when needed.
Dinner was lovely, but the beef was rather cooked even though we requested for medium.
Will definitely be back again to try their set lunch or dinner when there is one. Wanted to make reservation on National Day but it's already booked for an event, otherwise it will be a really great place to view the fireworks and the performance at the Padang."
7. PRELUDIO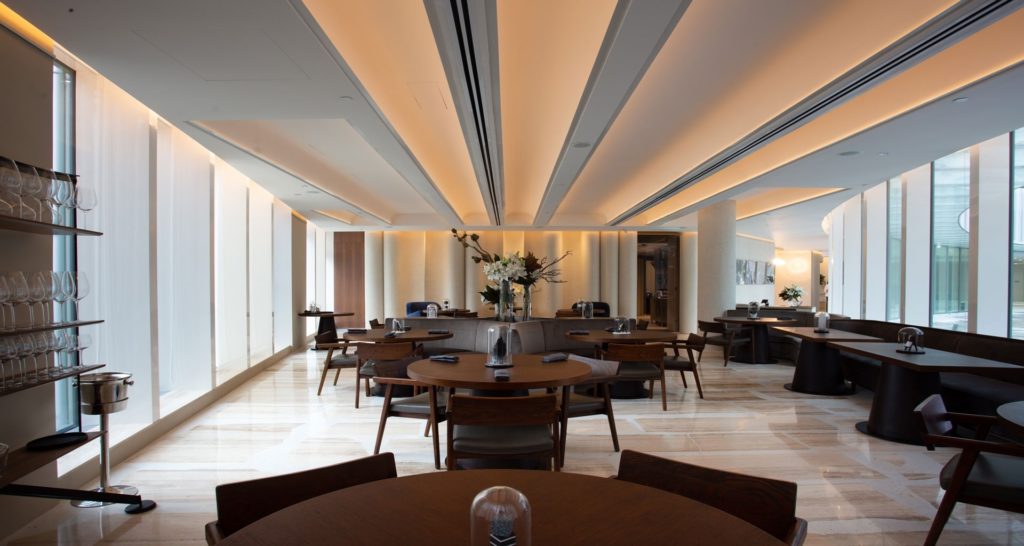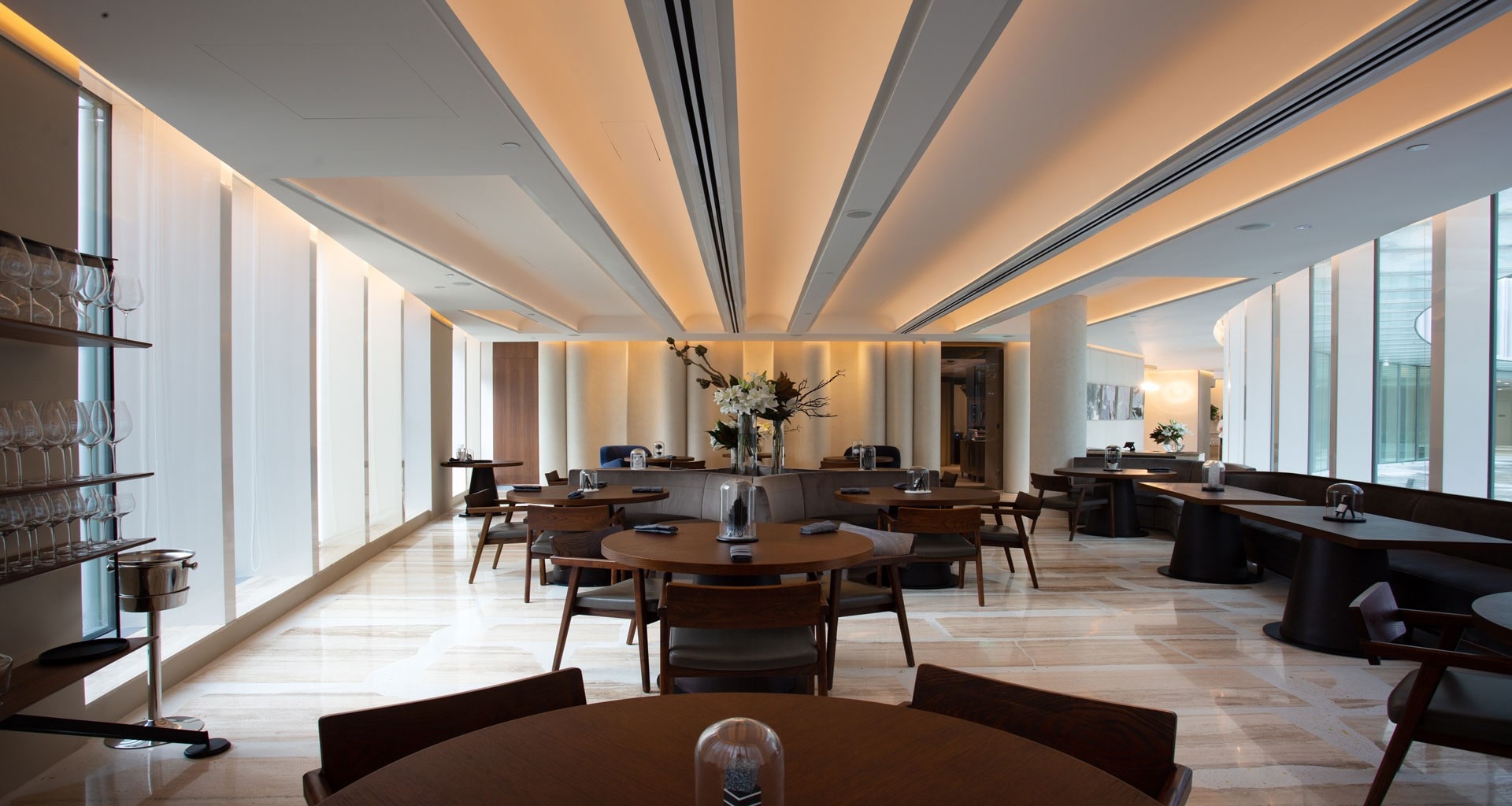 BEST FOR
Contemporary dining
PRICING
Lunch
4 course Executive $58
6 course Weekday Lunch Experience $128
7 course Saturday Lunch Experience $188

Dinner
6 courses $188
8 courses $238
WEBSITE
http://preludio.sg/
ADDRESS
182 Cecil Street
Frasers Tower #03-01/02
Singapore 069547
CONTACT DETAILS
 +65 6904 5686 | [email protected] / [email protected]
OPERATING HOURS
 Lunch (Mondays to Saturdays) 11:30am – 2:30pm  
Dinner (Mondays to Saturdays) 6:00pm – 9:30pm  
The restaurant will be closed on Sundays and on all public holidays.
Preludio has all the elements you need for a Singapore romantic dinner: elegant setting, mood-setting music, and thoughtfully curated food.
In fact, Preludio is a continuously fascinating contemporary dining concept as it evolves with a new chapter every 12 to 18 months. Customers can expect refreshing dishes with each new chapter for every 8-course meal.
Their first chapter or theme is Monochrome, inspired by black and white.
If you're looking for affordable fine dining in Singapore, Preludio is not a bad choice at all. 
Service Highlights
Preludio ventures into the territory known as "author's cuisine" with an ever-changing and yet constantly memorable dining experience
Convenient online booking
Accommodates special requests for people with allergies and dietary restrictions, but inform them in advance when making your reservation
Customer Reviews
This is another highly-rated restaurant on Google Reviews. Customers like the relaxed atmosphere despite the fine dining and formal environment.
They also praise their creativity in creating and presenting dishes, as well as the staff's chemistry, which they say elevated the entire dining experience. Here's what Peter White has to say:
"One of the least pretentious and most friendly fine dining experiences I've had the pleasure to enjoy. The staff worked together previously at another restaurant and it shows that they all get along and are very relaxed with customers despite the formal looking environment. The intention is that the menu will change annually, but in 2019 it's "Chapter 1: Monochrome"."
8. CAFFE FERNET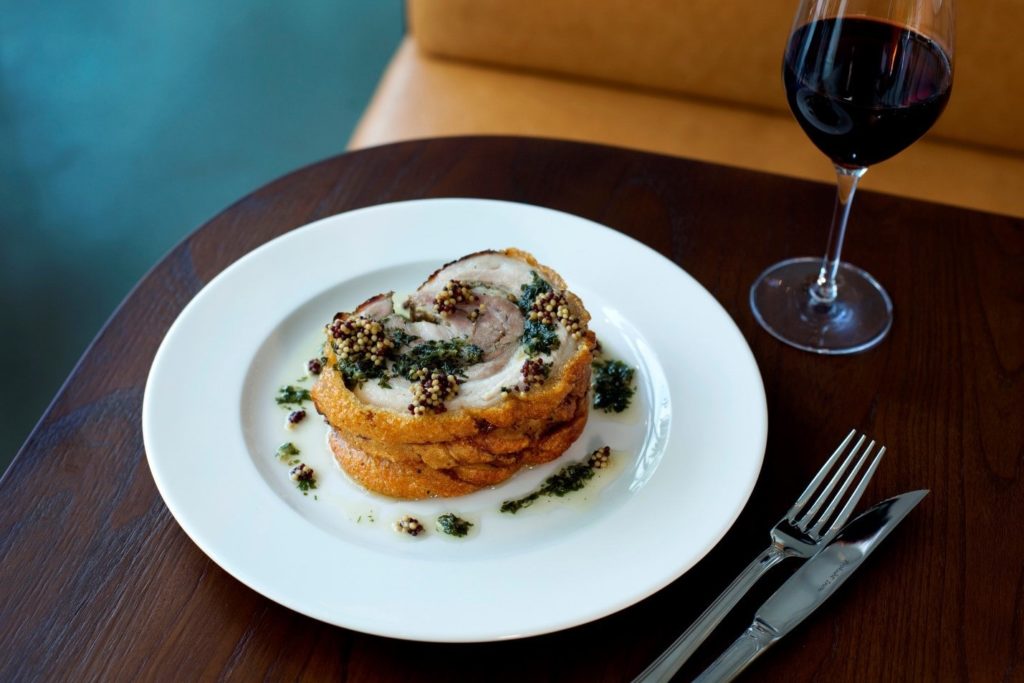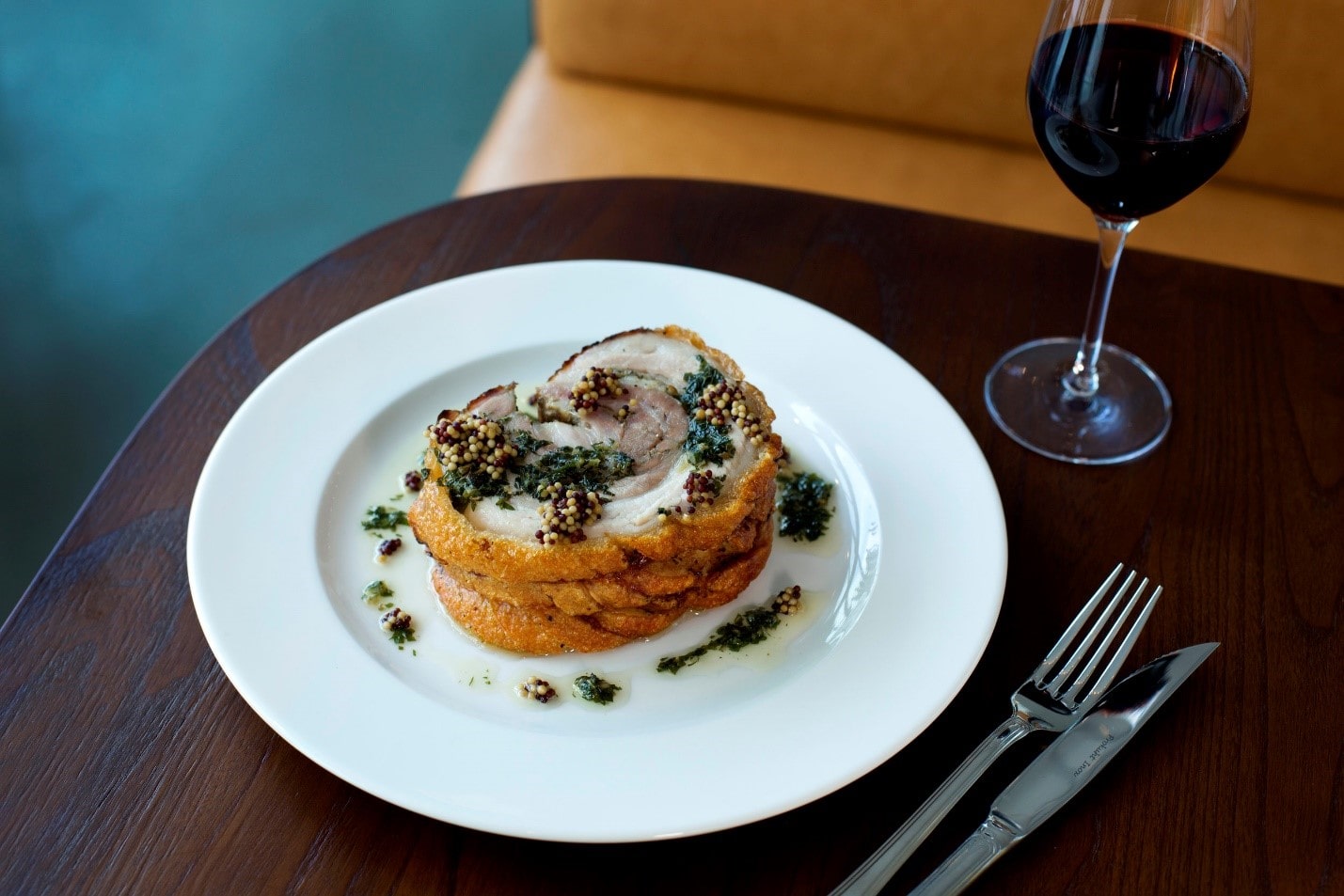 Porchetta
| | |
| --- | --- |
| BEST FOR | Italian cuisine, happy hour promotions |
| PRICING | MENU: https://static1.squarespace.com/static/5a4235c3b7411c36d0973667/t/5c04f945f950b70cd1bcef45/1543829830163/12.03.18+CF+dinner+menu.pdf |
| WEBSITE | https://www.caffefernet.sg/ |
| ADDRESS | 70 COLLYER QUAY, #01-05, S049323, SINGAPORE |
| CONTACT DETAILS |  +65 91781105 | [email protected] |
| OPERATING HOURS | Mon to Thur: 12pm-12am Fri: 12pm-2am Saturday: 12pm-2am Sunday: 11am-5pm   Happy Hour: 3pm-730pm |
You can't go wrong with Italian cuisine! Caffe Fernet describes their offering as "lighter and brighter Italian-inspired dishes that will have you hooked from the get-go".
You can pair their food with your favourite Italian cocktails. It's a versatile space for meeting friends, going for after-work drinks, or even a romantic date in their restaurant with a great view.
Because of their vibrant atmosphere and cocktail pairing course, Caffe Fernet is considered one of the most romantic restaurants in Singapore.
Service Highlights
Convenient online reservation
Dine outdoors with views of the Marina Bay skyline
Vibrant atmosphere
Customer Reviews
At Caffe Fernet, customers love the cosy bar, variety of drinks, great menu, and impeccable service. Here's what Richard Irving has to say:
"Some of Singapore's best cocktails by the same people that run jigger & pony. Amazing view, delicious food and awesome hospitality. These guys really know how to make you feel at home"
9. MONTI


BEST FOR
Classy ambience, multi-regional Italian cuisine
PRICING
5-course: $130 pp
*With wine pairing additional $80
7-course: $180 pp
*With wine pairing additional $110
WEBSITE
http://www.monti.sg/
ADDRESS
Monti at Fullerton Pavilion
82 Collyer Quay, Singapore 049327
CONTACT DETAILS
65350724 | [email protected]
OPERATING HOURS
Weekday all-day Brunch Mon to Fri at 11:00AM – 5:00PM
All-You-Can-Eat Weekend Brunch Sat, Sun & PH at 11:00AM – 4PM
Dinner Mon to Sun at 5:30PM – 10:30PM
Monti has a 108-seater dining hall. They serve "detail-orientated Italian cuisine" where diners can soak in their elegant interiors alongside attentive service.
Their Italian dishes are multi-regional to truly capture the soul of Italy's diverse culture. Plus, this is perfect for a romantic dinner dates in Singapore for the combination of food, service, and a winning view.
Service Highlights
Private dining room with a seating capacity of 20 to 40 pax
Dine by the bay
Open-air rooftop terrace
Extensive wine and refreshing cocktail selection
Customer Reviews
What people like about Monti, based on Google Reviews, are the great views, good food, and friendly service. One piece of feedback singled them out as the "best rooftop bar in Singapore".
Customers recommend dining outside to enjoy the amazing view of Marina Bay. WL Xanelle wrote:
"Definitely a wonderful dining experience at Monti made even more memorable by well-trained, knowledgeable and understanding staff, delectable dishes as well as an awesome view of the marina."
10. POLLEN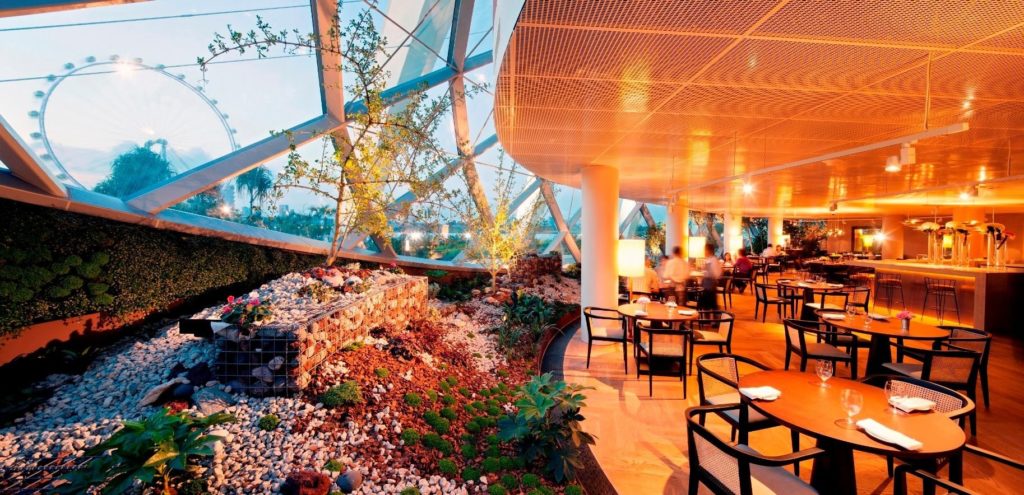 BEST FOR
Beautiful, lush setting; French-Mediterranean cuisine
PRICING
MENU: https://www.pollen.com.sg/menu/pollen/A%20LA%20CARTE%201.7.19.pdf
WEBSITE
https://www.pollen.com.sg/#home
ADDRESS
Flower Dome, Gardens by the Bay
18 Marina Gardens Drive, #01-09
Singapore 018953
CONTACT DETAILS
 +65 6604 9988 | [email protected]
OPERATING HOURS
Main Dining Room – Level 1
Lunch 12pm to 3pm (last order 2.30pm)
Dinner 6pm to 10pm (last order 9.30pm)
CLOSED ON TUESDAYS
The whole experience makes POLLEN a great date place. Couples will begin their epicurean journey to the restaurant through a personalised buggy service from Gardens by the Bay's arrival plaza.
The thoughtfully created menu by Executive Chef Steve Allen and his team offers elevated Modern French cuisine with flavours inspired by the Mediterranean coast. Couples can enjoy multi-course menus on the first floor, which has amazing views of the Marina Bay skyline and waterfront.
Service Highlights
Personalised buggy service from Gardens by the Bay's arrival plaza to the restaurant
Lush environment with beautiful flowers
Complimentary access to the Flower Dome; wander in the sub 20-degree Mediterranean garden filled with exotic flowers, herbs, and foliage
Customer Reviews
POLLEN takes care of their guests from the get-go and this makes the whole experience more than memorable. James Hu gave them 5 stars and wrote this review:
"I bought my family to Pollen in February and love the quiet ambiance. You get to smell the flowers once you step into the restaurant, and being in the dome, the environment is kept in a nice temperature.
We went for the 7-course dinner menu, with wine pairing which goes well with the food."
11. CHEEK BY JOWL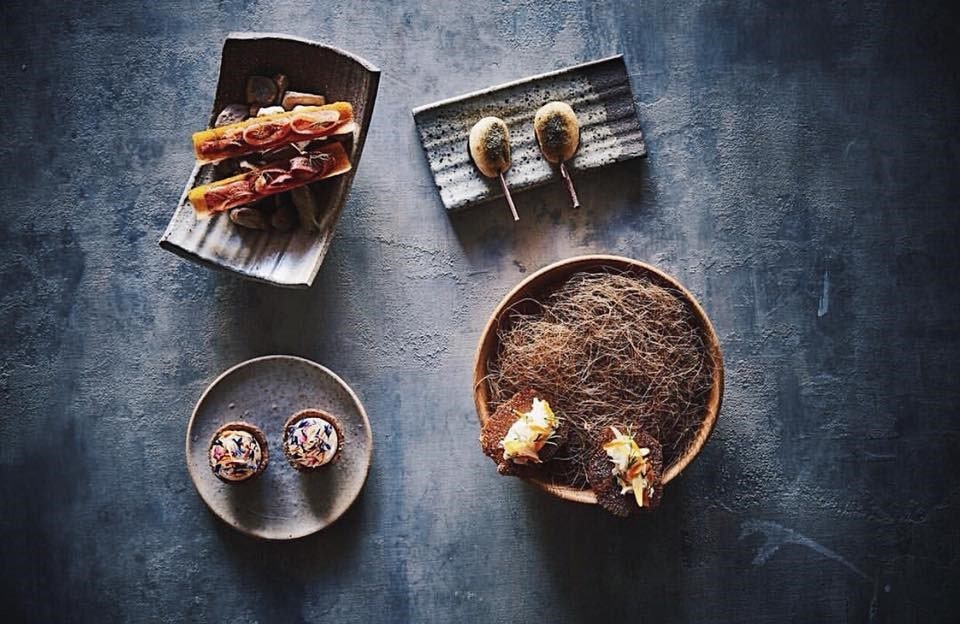 BEST FOR
Laid-back dining, Australian & contemporary cuisine
PRICING
Mains from SG$18 (Beetroot, Golden Raisin, Goat's Cheese, Radicchio) to SG$168 (Steak T-Bone, for sharing
WEBSITE
https://cheekbistro.com/
ADDRESS
21 Boon Tat Street, Singapore 069620
CONTACT DETAILS
(65) 6221 1911 | [email protected]
OPERATING HOURS
Monday – Friday (LUNCH & DINNER)
Saturday (DINNER ONLY)
Lunch — 12PM To 2:30PM
Dinner — 6PM To 10:30PM
Cheek by Jowl is a Modern Australian restaurant in Singapore helmed by husband-and-wife tandem, Rishi Naleendra and Manuela Toniolo. It is a casual dining place featuring mostly Australian cuisine with contemporary flourishes.
Service Highlights
Convenient online reservation
Casual dining
Artisanal wines
Affordable prices
Customer Reviews
One review on Google said, "Outstanding, would give it a 6 if I could!" That gives you a sense of how satisfying and popular this restaurant is. Another review noted the "[m]odern decor, awesome food and warm hospitality." Nicolas Vogel wrote:
"Perfectly balanced flavours. Great service. The dishes are very harmonious and keep a certain level of simplicity despite complex associations. Not a single flaw. To include in any "must-do" list. Prices are affordable, allowing for multiple visits."
12. MYKONOS BY THE BAY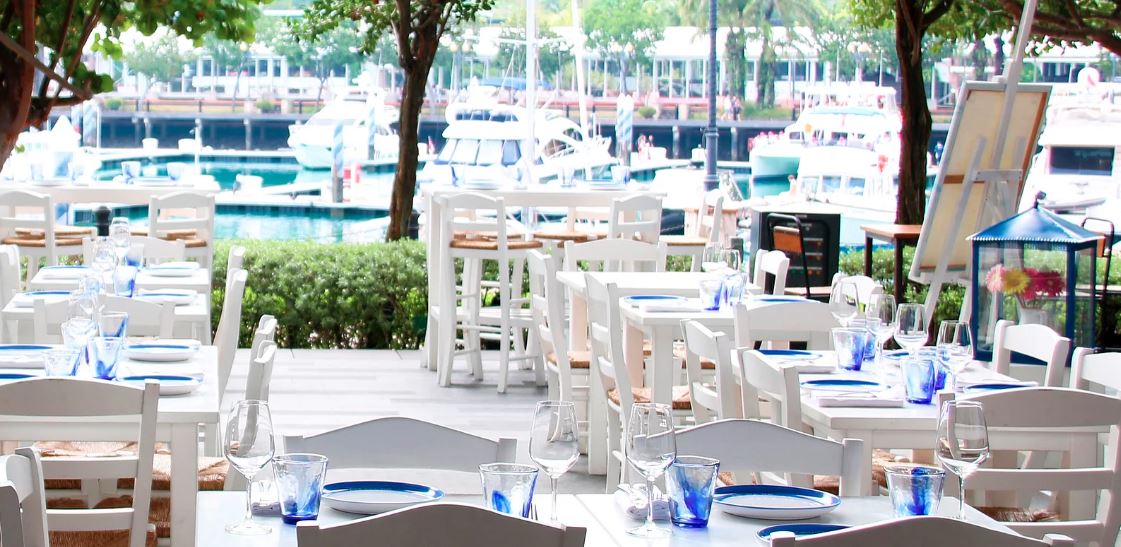 BEST FOR
Greek-inspired setting and cuisine
PRICING
MENU: https://www.mykonosonthebay.com/menu
WEBSITE
https://www.mykonosonthebay.com/
ADDRESS

31 Ocean Way

#01-10 Quayside Isle

Sentosa Cove

Singapore 098375

CONTACT DETAILS

+65 6334 3818

OPERATING HOURS

Mon to Fri: 12pm – 2:45pm;

6pm – 10:30pm

Sat, Sun and PH: all day dining

12pm – 10:30pm
Mykonos On The Bay is an extension of co-owners Executive Chef Mauro Muroni and General Manager Gerri Sottile's time in Greek Tavernas around the Hellenic Islands in Greece. As part of the Mangiatutto Group of Restaurants, they specialise on authentic Greek cuisine using the freshest and finest ingredients.
Service Highlights
Experience a Mediterranean feast by the sea with handmade classic Greek dishes – Taramosalata, Shrimp and Cheese Saganaki, Elies, Mousaka, grilled meats and seafood from their custom-made charcoal grill, Spanakopita and Baklava.
Enjoy a typical Greek seaside dining experience with their Greek imported blue and white furniture and décor along the stunning marina at Sentosa Cove
All Sentosa Cove residents enjoy a 10% discount on food only if they present their residents' pass to enjoy this offer.
Customer Reviews
5-Star Facebook review from Berrak Sisman:
"Most delicious food in Singapore <3 Yummy. If you miss Mediterranean food, I recommend you to go to this place! In addition, Sentosa Cove has a very nice and romantic energy."
13. ARTEMIS GRILL & SKY BAR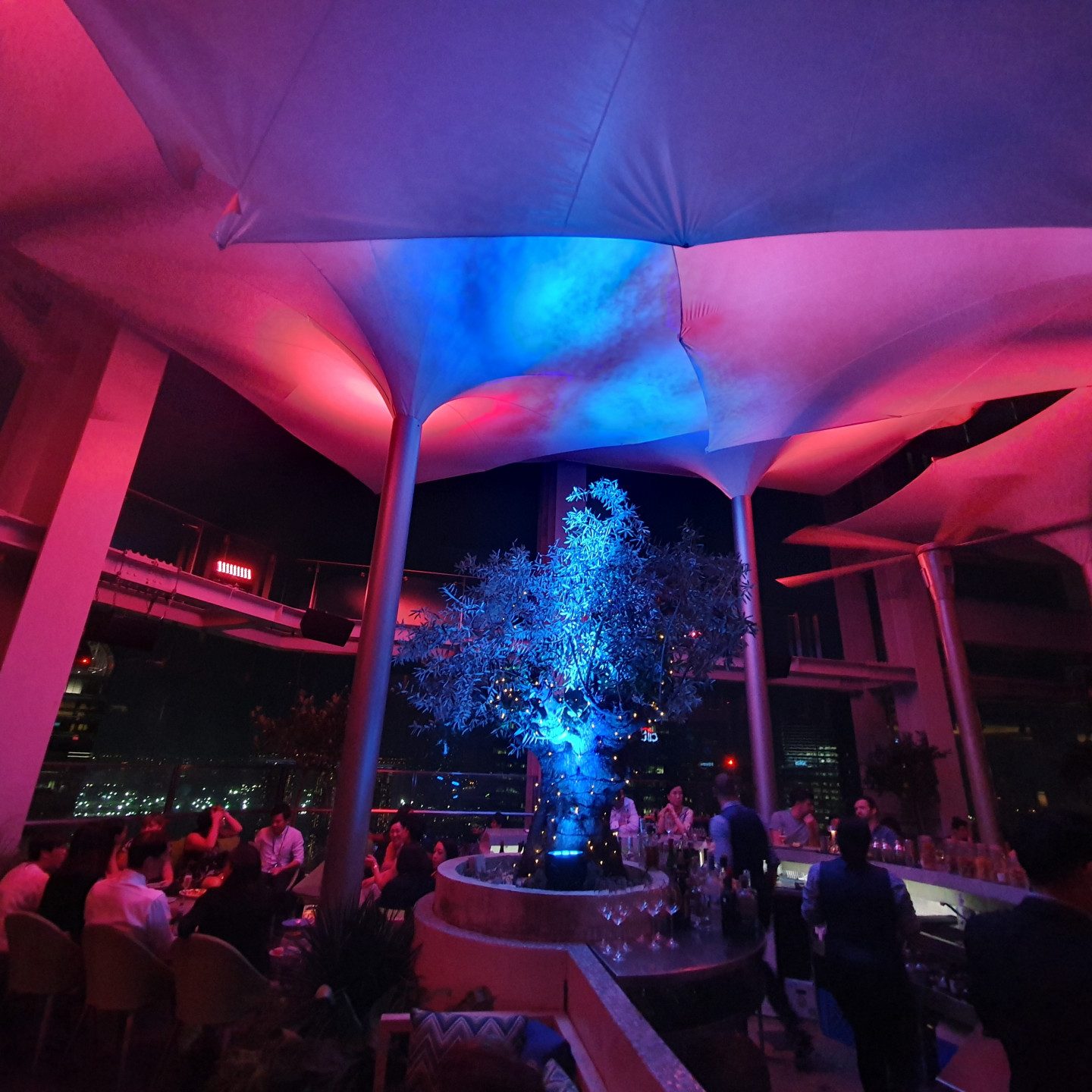 BEST FOR
A contemporary Mediterranean-inspired rooftop restaurant and sky bar in the CBD, with 40th floor panoramic views of the iconic Singapore Marina Bay skyline
PRICING
MENU: https://artemisgrill.com.sg/menus/
WEBSITE
https://artemisgrill.com.sg/
ADDRESS

138 Market Street,
CapitaGreen Rooftop (Level 40),
Singapore 048946

CONTACT DETAILS

Phone: +65 6635 8677
Mobile: +65 9850 7954
Email: [email protected]

OPERATING HOURS

Monday to Friday: 11:30 am to late
Saturday: 6:00 pm to late
Helmed by Executive Chef Oliver Hyde and Operations Director Wes Guild, Artemis Grill & Sky Bar is continues to attract couples, groups of families and friends with delivering quality food and premium wines.
Artemis Grill offers a seasonal menu inspired by the diverse culinary heritage of the Mediterranean. They also have a Sky Bar that is an outside rooftop bar that offers a sky-high contemporary terrace setting for dining and beverages.
Service Highlights
The kitchen serves fresh food using only the best ingredients at their seasonal peak, with all dishes crafted and prepared in the spirit of the restaurant's Mediterranean inspiration – clean, flavourful and fresh
Artemis can also be booked from informal to intimate celebrations, such as corporate event or special wedding
The Sky Bar is circulating a 100-year-old olive tree, open 6 days a week and delivers a daily Happy Hour list that includes beers, G&T's, classic cocktails and premium wines.
Customer Reviews
5-Star Facebook review from Arvin Sombilla:
"The best dinning experience we have ever had. I booked a dinner for our anniv and everything from reservations to dinner service and food quality was perfect. The staff was uber friendly and welcoming. The food was cooked to perfection. The staff was very knowledgeable about the menu. The wine selection was extensive. They made our anniv dinner extra special with the service. Ambience was great as you have a good view of the city. It was a spectacular experience and very well recommended."
14. SALT GRILL & SKY BAR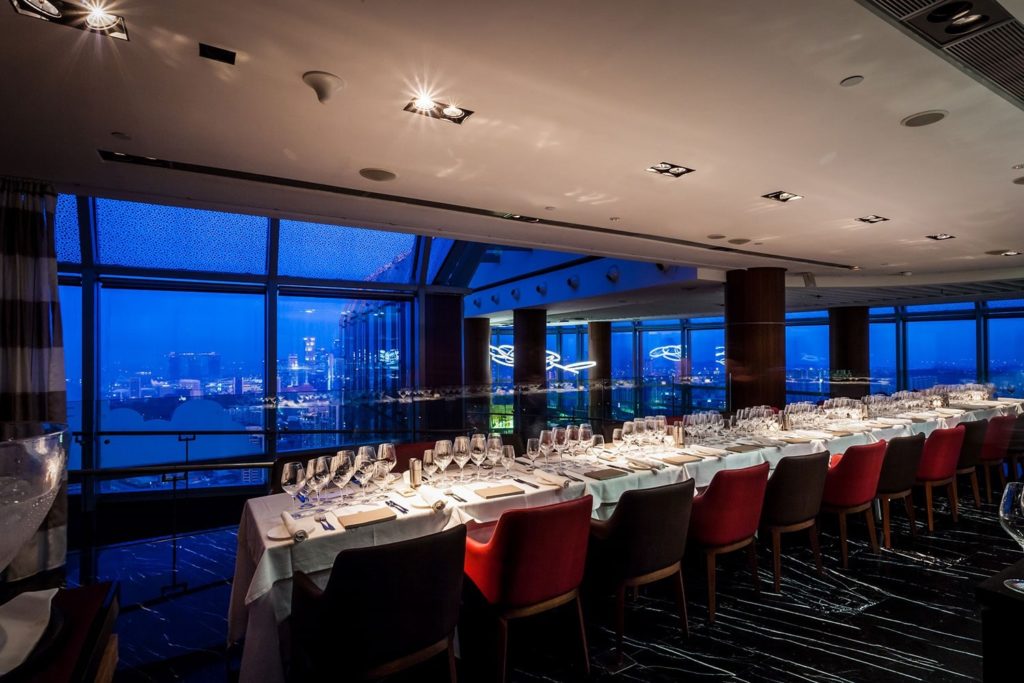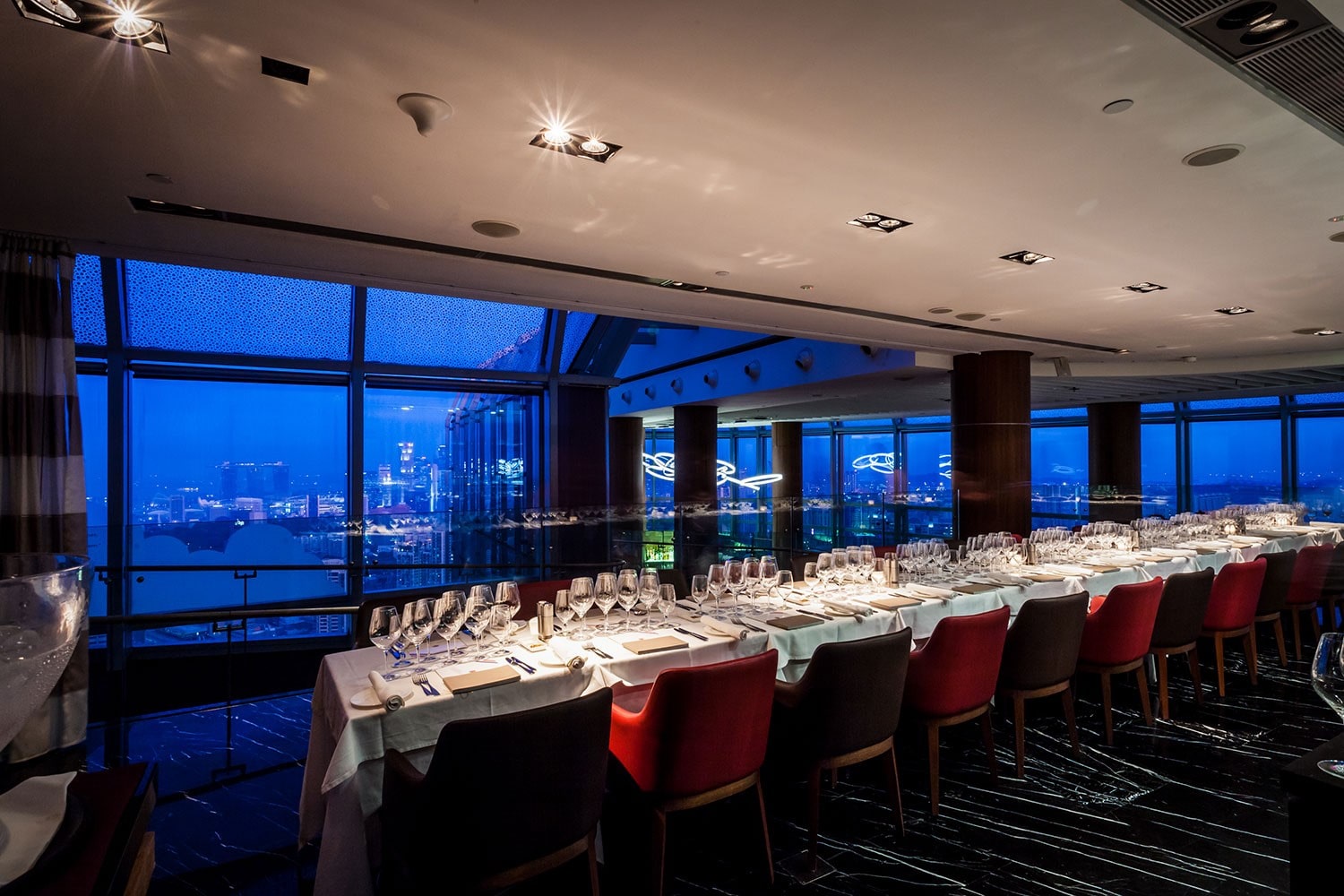 BEST FOR
Breath-taking view of the city, celebrity chef
PRICING
Tasting Menu, SG$150++ (6 course)
MENU: https://www.saltgrill.com/wp-content/uploads/A_LA_CARTE_MENU.pdf
WEBSITE
https://www.saltgrill.com/
ADDRESS
2 Orchard Turn,
#55-01 ION Orchard
Singapore 238801
CONTACT DETAILS
 +65 6592 5118 | [email protected]
OPERATING HOURS
LUNCH (Mon-Fri)
11.30am-1.45pm

Brunch (Sat, Sun & PH)
11am-2.30pm

Dinner (Mon-Sun)
6pm-9.45pm

Sky bar
Drinks 11.30am-10.45pm
Bar 11.30am-9.45pm
If you like want to feel like you're on top of the world, or at least Singapore, the stunning panoramic views of the sea and the cityscape from Salt Grill & Sky Bar should do the trick.
The magic hour will be even more magical as you dine with your significant other at this restaurant located at Level 55 of ION Orchard. For food, you'll get a taste of classic Asian and premium Australian beef courtesy of Australian-born-and-bred Head Chef Jake Kowalewski.
Service Highlights
Convenient online reservation
Panoramic views of Singapore featuring floor-to-ceiling glass windows give diners an unhindered scenic view
Open 365 days a year
Split into 3 areas: Sky bar, main dining, and private dining
Customer Reviews
Excellent views, delicious gourmet dishes, and attentive service are just some of the reasons given for their high rating on Google Reviews. Jason wrote the following on his feedback:
"Having dinner here to celebrate my wife's birthday. It's our 1st time dining at the sky bar. Manage to get the window side table and the night views is great. Food and customer service are excellent too. Price are reasonable for the food and view you will get."
15. BOTANICO @ THE GARAGE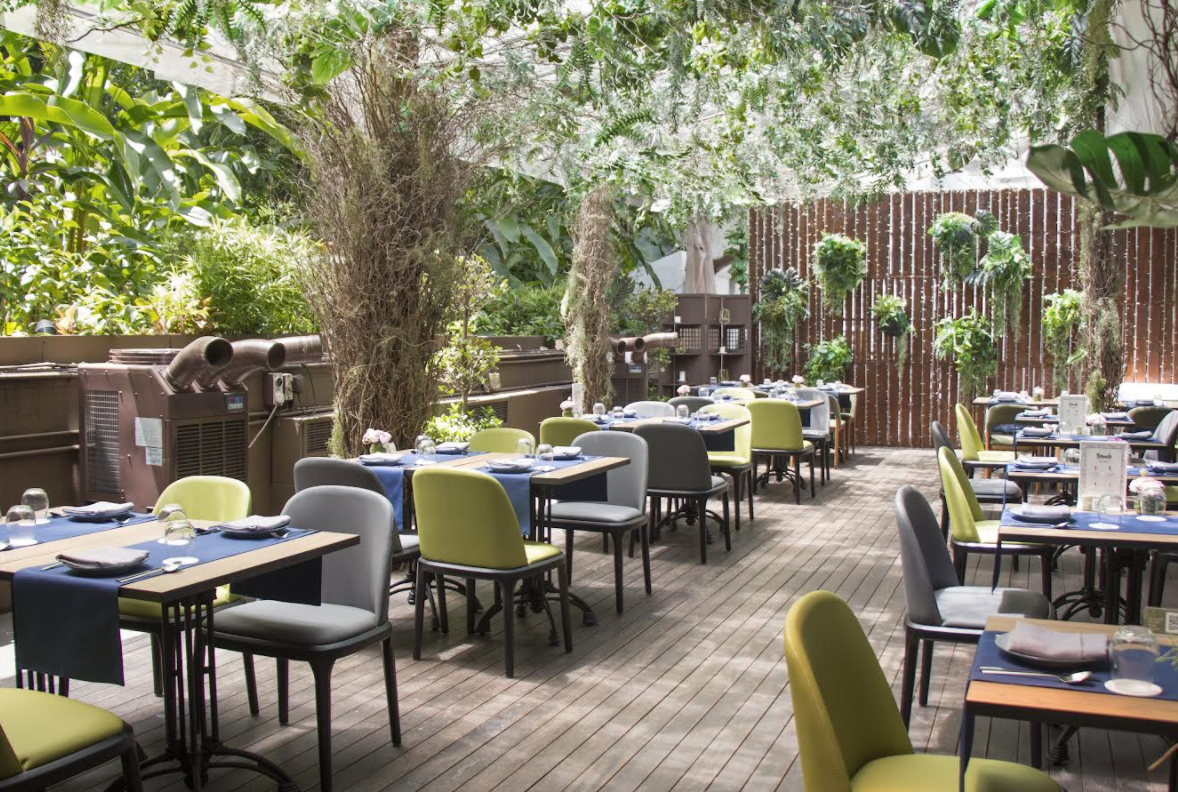 If you're looking for a date spot that's a little closer to nature, then you may want to consider The Garage's Botanico restaurant for your next get-together.
The Botanico is a garden restaurant and bar nestled in the lush greenery of the Botanic Gardens. It's most known for its picturesque landscape, one that offers guests a short respite from the hustle and bustle of city life.
Aside from the peaceful atmosphere, The Botanico also offers contemporary European cuisine with Asian inflections. The restaurant has various menus to choose from, one for Lunch, Brunch, Dinner, Wine, and the Bar. 
These menus feature a broad range of dishes, with some options catering vegetarian diets. Lunch and dinner comes in set menus ranging from three to six dishes. 
The service at The Botanico is pretty noteworthy as well, given how the staff are always polite yet warm, working to deliver requests on time. 
To top things off, The Botanico is equipped with a blooming indoor dining hall and a verdant outdoor terrace and bar, the restaurant and bar is also an enchanting destination for weddings, corporate and social events.
Service Highlights
Beautiful garden location
Extensive wine and drinks menu
Gourmet cuisine
Excellent service
16. BAROSSA STEAK & GRILL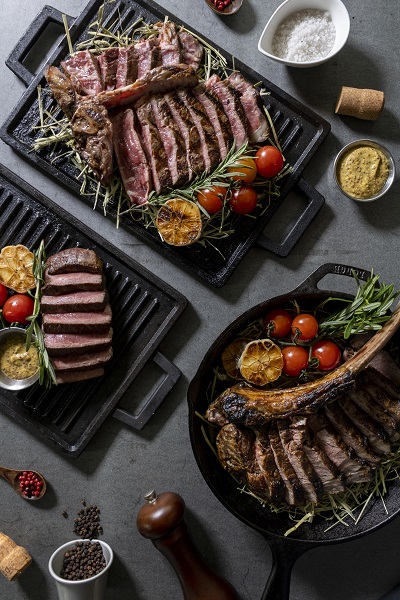 BEST FOR
Josper Grilled Dry-Aged Beef
PRICING
WEBSITE
https://www.barossa.com.sg
ADDRESS

1 Harbourfront Walk, #01-161/162, VivoCity, Singapore 098585

CONTACT DETAILS

+65 6255 1855

OPERATING HOURS

Mon – Thur: 12:00pm – 3:00pm (Lunch), 5:00pm – 10:30pm (Dinner)  

Fri: 12:00pm – 10:30pm 

Sat – Sun: 11:00am – 10:30pm
If you're looking for a romantic ambiance with good food, Barossa Steak and Grill might be the place to go to. In VivoCity, they offer the best dry-aged Australian beef and Josper grilled entrees. 
For meat lovers, their menu includes a good variety of lamb, beef, pork, and chicken options. In total, they have 58 dishes from the appetizers to the kids meal selections aside from their weekend brunch menu.
We also like that their menu is suitable for everyone of different diets. Barossa is not strictly confined to serving meat because they also offer vegan and vegetarian options.
As an Australian-inspired outback restaurant, the ambiance inside Barossa speaks of liveliness. Sentosa can also be viewed from just inside the restaurant. 
We also appreciate that you can celebrate the beginning of your happily ever after within the private rooms with a touch of elegance and sophistication and exchange your vows over at the breezy alfresco area, overlooking the mesmerising background of the tranquil water.
For those wondering, their food is somehow affordable with prices higher than the average. However, they offer promotions so be sure to check their website from time to time. 
Service Highlights
Offers amazing steaks 
Alfresco dining is available

Wide selection of food

Suitable for vegans and vegetarians

Nice view and good ambience

Has separate menu for weekend brunch

Offers promotions

Can cater intimate weddings and events
Customer Reviews
Here are some Tripadvisor reviews from their customers:
"A must-try in the city. A good view of Marina Bay while sipping wine or just enjoy good food with great company. Thanks to Claire for accomodating our booking and reservation!" – Quingkay
"Visited Barossa tonight and the service was beyond our expectation. All service crew was amazing and we'll like to give a special special shout out to Jo who was star of the night in our opinion. The food was also delicious, especially the pork rib and black pepper cream smoke duck pasta! Highly recommended and every dollar well spent! Great way to start our weekend and we'll definitely go back again to dine frequently!!" – Charm_2525
17. VINEYARD AT HORTPARK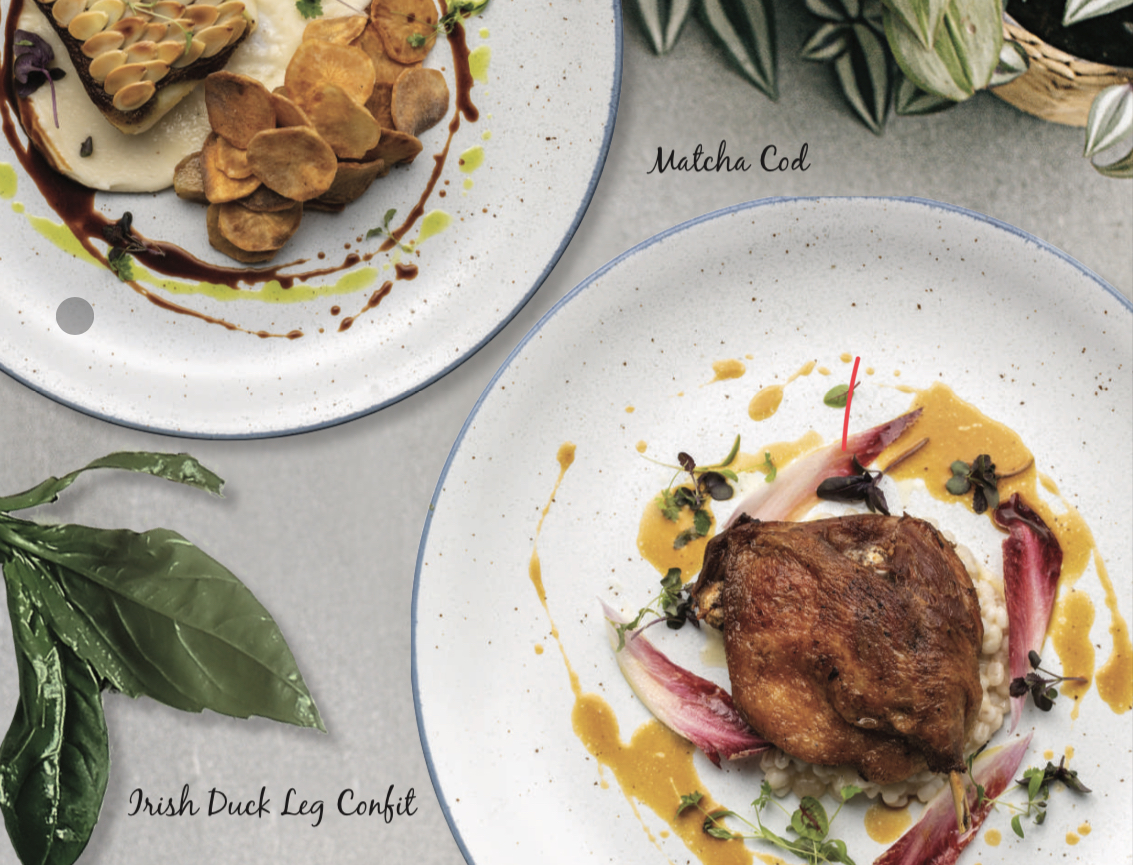 BEST FOR
European Cuisine Made from Fresh Ingredients & Garden Wedding Parties
PRICING
WEBSITE
https://www.vineyardhortpark.com.sg
ADDRESS
3 Hyderabad Road, #02-02, HortPark, Singapore 119578
CONTACT DETAILS

6479 7977

OPERATING HOURS

Mon – Fri: 12:00pm – 3:00pm (Lunch), 6:00pm – 10:30pm (Dinner)

*Set Lunch available on weekdays only

Sat – Sun: 10:30am – 10.30pm

*Brunch menu available on weekends, from 10:30am – 3pm only
If you and your date would like to have a change of scenery, you can enjoy a romantic getaway in Vineyard. In the restaurant, a provincial vibe is felt in the atmosphere where couples can dine indoors, in the veranda, or outdoors near the infinity pool. 
Nestled amid the lush greenscape of HortPark, Vineyard is a charming garden-to-table Modern European restaurant serving up herbaceous and aromatic dishes. In the area, they are known for their locally-sourced ingredients that guarantee the freshness of their dishes.
If you're looking to have a set lunch with two or three courses, they also have a separate menu on weekdays. Customers can choose their starter, main dish, and a dessert.
For insight, the prices of Vineyard's mains range from $28 to $42. On the other hand, their sets start at either $30 or $35 depending on the number of courses.
Aside from having a nice meal at Vineyard, the restaurant is known as a great venue for solemn wedding ceremonies and garden parties.
Service Highlights
Food made from locally-sourced fresh ingredients

Rustic and provincial ambiance

Wide selection of beverages

Offers set lunch and brunch menu

Reasonably-priced food

Serves vegan and vegetarian food

Best place for intimate weddings and garden parties

Island-wide delivery
Customer Reviews
Here are some customer reviews from Tripadvisor:
"Lovely place to dine with family & friends – amidst lush greeny & unnecessary crowd. I am a repeat visitor to this place . Very good value set lunch & good portion ." – Howe-Teo
"Decided to try this out since it was near where we live. Had no expectations but we were pleasantly surprised. Everything from our appetisers to the dessert were delicious and we'll presented. We'll definitely be back with the family!" – U2049XJjon
---
And with that, we have our top places to go to for the best romantic dinner in Singapore.
Of course, there may be other places worthy of a mention on the island, but for our money, these are the best ones by far.
If you disagree and think we should have included a certain restaurant here, though, go ahead and let us know! We'd love an excuse to go check out yet another romantic restaurant on the island.
And remember too that if your idea of the perfect dinner is bound to certain cuisines, we have a lot of other top restaurant roundups. For example, try our list of the best Italian restaurants in Singapore or of the best Japanese restaurants in Singapore.
---
Images taken from each company's official websites/social media.