Searching for a new and fun way to burn some calories? You should try taking some of the best dance classes in Singapore!
Learning some basic dance moves is a great workout, especially if you prefer to do indoor exercises to running marathons or other outdoor fitness activities. Besides, attending studio classes is also another way to make new friends and even discover your hidden potential!
Whether you want to learn ballroom dances or trendy dance routines, we've listed the top studios where you can experience the best dance classes in Singapore!
1.  Converge Studios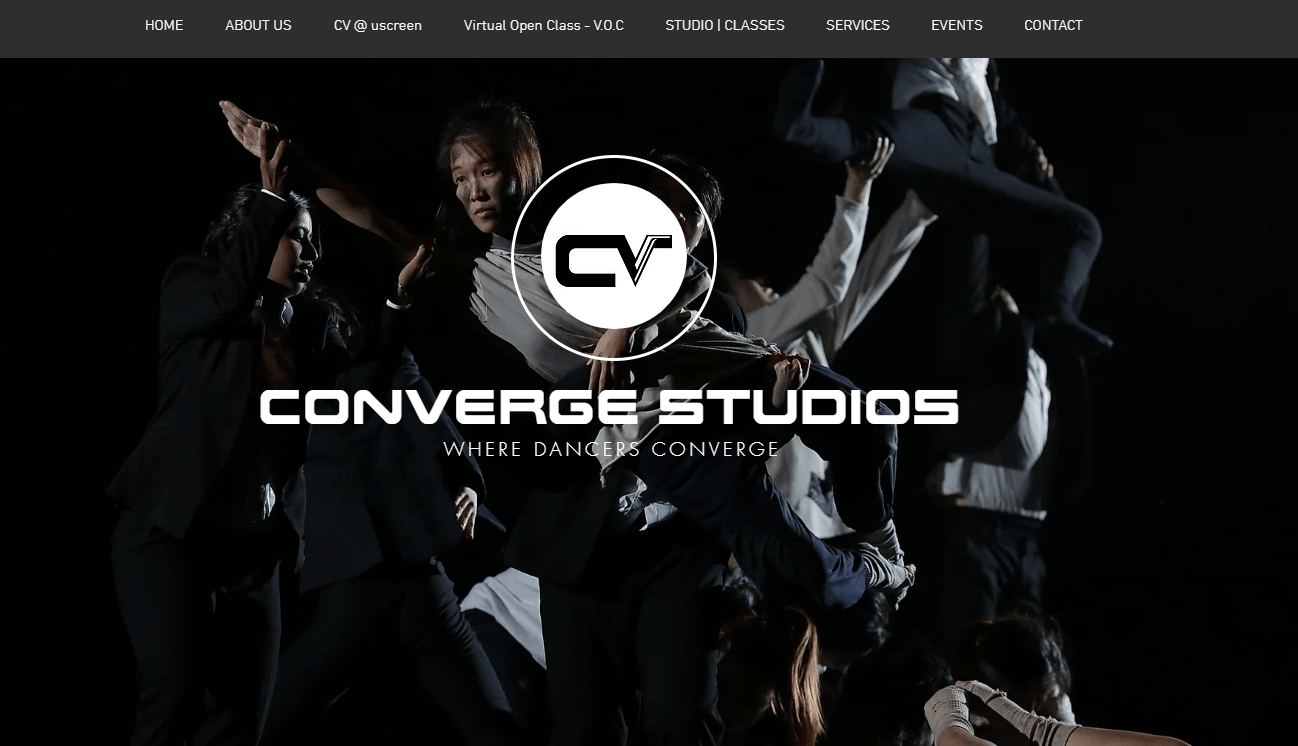 BEST FOR 
Powerful Dance Styles
PRICING
Packages
WEBSITE
https://www.convergestudios.sg/
ADDRESS
137 Cecil Street #02-01 Singapore 069537
CONTACT DETAILS
65-6221-7980
OPERATING HOURS
Mon – Fri: 5pm – 10.30pm

Saturday: 12pm – 4.30pm

​Sunday: 11am – 3.30pm
If you'd like to learn powerful contemporary dance styles, then Converge Studios has some of the best dance classes in Singapore. They have a team of passionate and talented instructors who've been teaching a variety of dance genres for some time now.
This includes hip hop, street jazz, K-pop, jazz-funk, popping, tap, waacking, urban fusion, locking, house, and many more. In every genre, they provide different levels of instruction so that both beginners and professionals can easily learn new dance styles.
They also offer short-term and one-off exposure workshops with a customised experience!
Highlights
Virtual open classes
Corporate services
Student package
Customer Reviews
Converge Studios has received tons of positive responses from their students, saying that they truly offer comprehensive classes for beginners.
A customer wrote this review:
"No fuss. Just come early to sign up and secure a spot! I'm still new to this place but the open classes are good and the packages are affordable! After trying Hip Hop Intro and Basic I can safely say that they teach really different things. Basic is more of laying the foundation if you wanna become a better dancer, and it focuses on specific areas like Footwork etc. Intro is more into the choreography already and I think it's good to try it to see if you like the style. And if u do and wanna get better, start going for Basic classes! However if you're here to have fun u could always go for the intro classes I think they're more fun :)"
2.  Danz People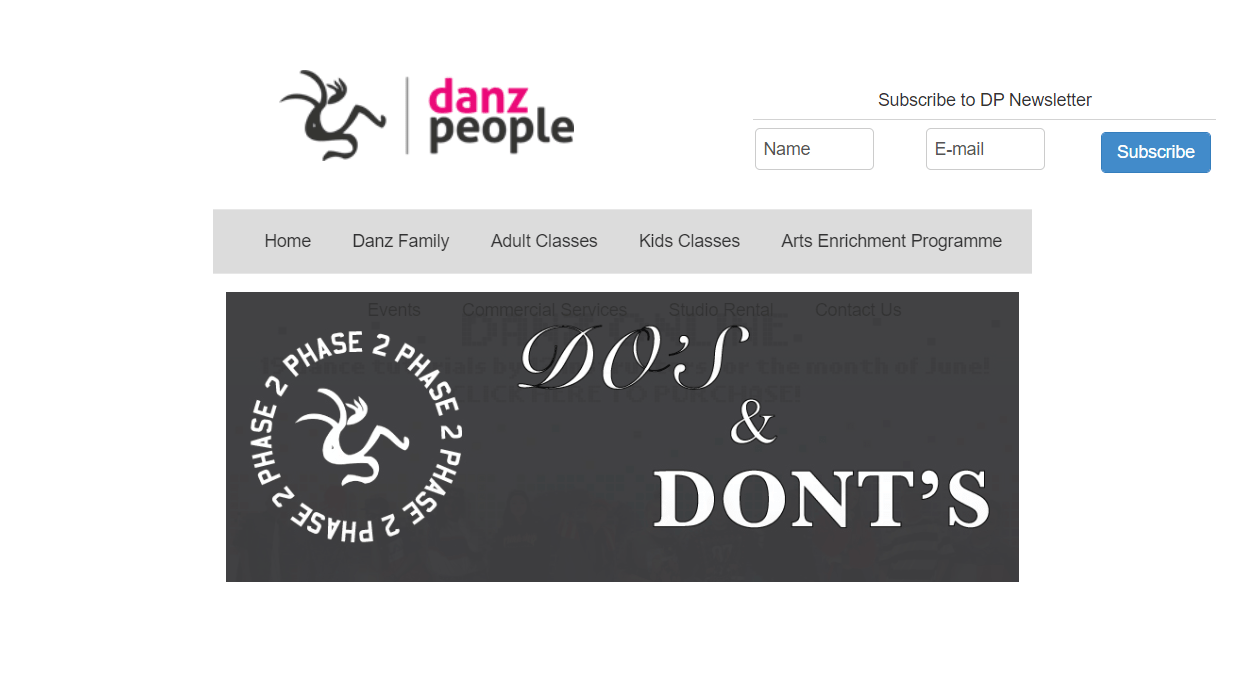 BEST FOR 
Classical and Contemporary Dance
PRICING
Packages
WEBSITE
http://www.danzpeople.com/
ADDRESS
6 Raffles Boulevard #02-15/17 Marina Square Shopping Mall Singapore 039594
CONTACT DETAILS
+65 6884 9072
OPERATING HOURS
Mon – Fri: 10am – 2:30pm (BY APPOINTMENT ONLY)

Mon – Fri: 2:30pm – 10:00pm

Sat: 10:30am – 6:30pm

Sun: 12pm – 6:30pm

[Closed on Public Holidays ]
For over a decade, Danz People has been providing an extensive range of dance courses for seasoned and novice dancers alike. They even have selections for both adult and kids classes.
For their adult classes, they have hip hop, girls' hip hop, basic groove, K-pop, contemporary, and more. They also teach different kinds of jazz dance such as street jazz and lyrical jazz.
For kids to develop good posture, musicality, and listening skills, they teach basic hip hop and jazz moves. They also specialise in conducting dance sessions for companies and do choreography, staging, and overall production for event performances.
Moreover, they organise various student-centric programs that showcase the true value of dance and promote social activities. Through these courses, they've become known for having the best dance classes in Singapore.
Highlights
Kids and adult classes
Staging and production for event performances
Dance sessions for corporates
3.  The Brass Barre
BEST FOR 
Pole Dancing Classes
PRICING
Fees
WEBSITE
http://www.thebrassbarre.com/
ADDRESS
277 Orchard Rd, #02-24, Singapore 238858
CONTACT DETAILS
(65) 6282 6962
OPERATING HOURS
Weekdays: 11:30am–10:30pm

Weekends: 10:30am–9pm
At The Brass Barre, you'll be able to learn different styles of pole dancing and discover the beauty of lyrical dance, regardless of your age and body type.
Since pole dancing is a sport that requires great strength and control, it can be a bit challenging for everyone. However, their classes are suitable for everyone as they offer different class types and level courses.
They even manage private parties for birthdays, corporate bonding, girls night out, and special celebrations!
Highlights
Trial classes suitable for anyone
Party workshops
Customer Reviews
Most of The Brass Barre's students said that the studio has a nice ambience and friendly instructors. They also mentioned that the courses are perfectly made for beginners or first-timers.
This is why many locals have been claiming that they indeed have the best dance classes in Singapore. A customer shared this experience:
"Very clean, modern and well equipped studio ; friendly and professional staff that takes care after each student, large choice of lessons. They've been very accommodating for me as a drop-in student even though they offer an 8-week lesson class (spinning pole was a bit challenging for me as I'm doing static most of the time). They also showcase some nice Pleaser shoes at the entrance – always nice to have a look. Only minor drawback : no shower available after the class, but that's OK as long as you know it in advance. Would come back again and I recommend this studio. Thank you !"
4.  EN Motion Dance School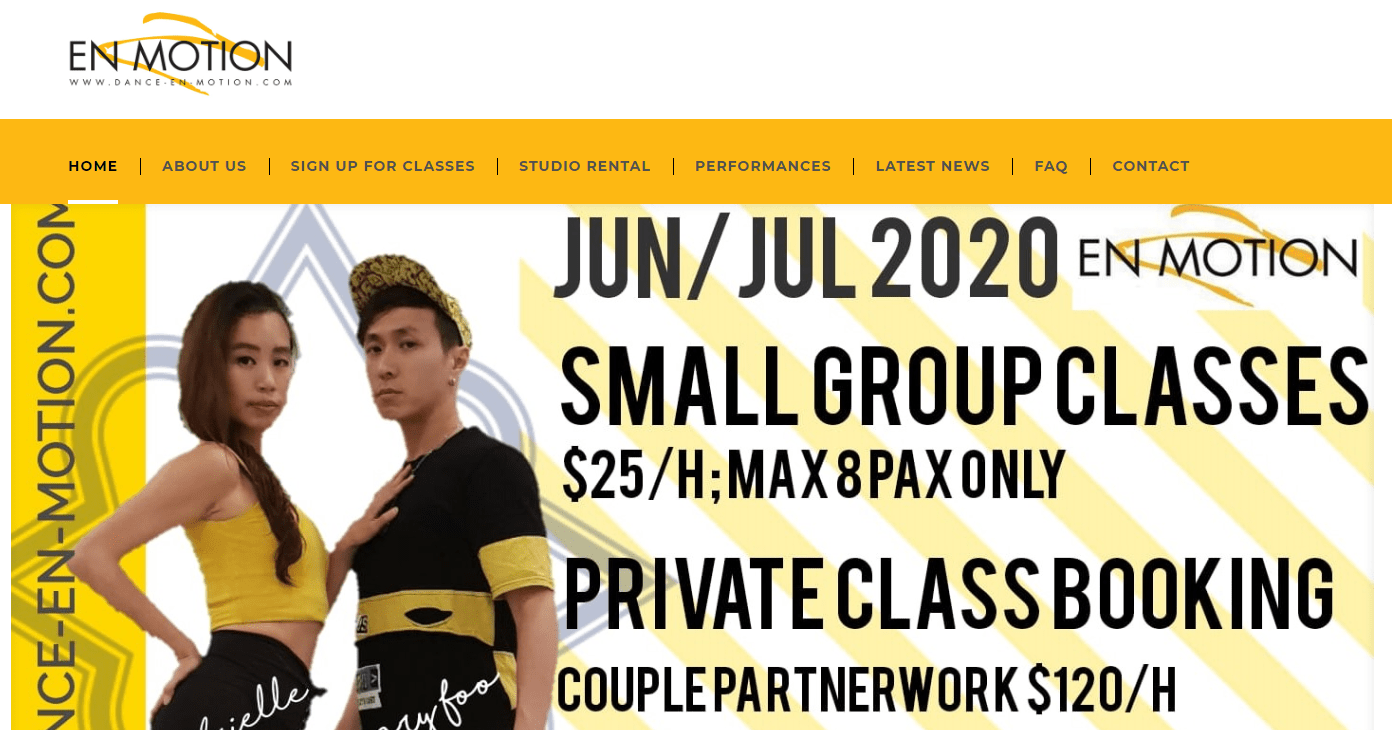 BEST FOR 
Latin Dances
PRICING
Fees
WEBSITE
https://dance-en-motion.com/
ADDRESS
#03-05/05A Cineleisure Orchard 8 Grange Road Singapore 239695
CONTACT DETAILS
91597811
OPERATING HOURS
Mon – Thur: 1pm – 11pm

Fri: 1pm – 2am

Sat: 12pm – 1am

Sun: 1pm – 8pm
Being an award-winning Latin dance school, EN Motion Dance School offers fun and exciting dance courses with well-trained and experienced instructors! They teach several Latin dances like salsa, bachata, afro, mambo, cha-cha, reggaeton, and many more.
Aside from their regular classes, they also offer private classes for those who want to learn certain dance styles. Corporate classes are also part of their services: employees and staff can have a memorable and productive bonding time together through these classes.
Their best dance classes in Singapore also involve choreography and training for dance performances. They can also help those who want to participate in international dance competitions and other events!
Highlights
Corporate and private cases
Training for professional dance team performance
Choreography for international dance competitions
Customer Reviews
EN Motion Dance School has received high-rated feedback from most of their students because of the professionalism of the instructors and the quality of the dance classes.
A customer posted this review:
"I find En Motion to be an excellent dance school. The Bachata and Salsa class package is great value. They allow you to do many refresher classes which is really helpful for beginners.  Also there is a wide variety of interesting Salsa and Bachata open classes for people who want to learn more moves and techniques. They also have social dance on Friday nights and many other social events which allow students to practice their dancing. I have learned so much from them in the past year. The Instructors are very patient, friendly, very easy to understand and I was infected by their obvious passion. I strongly recommend En Motion!!"
5.  Groove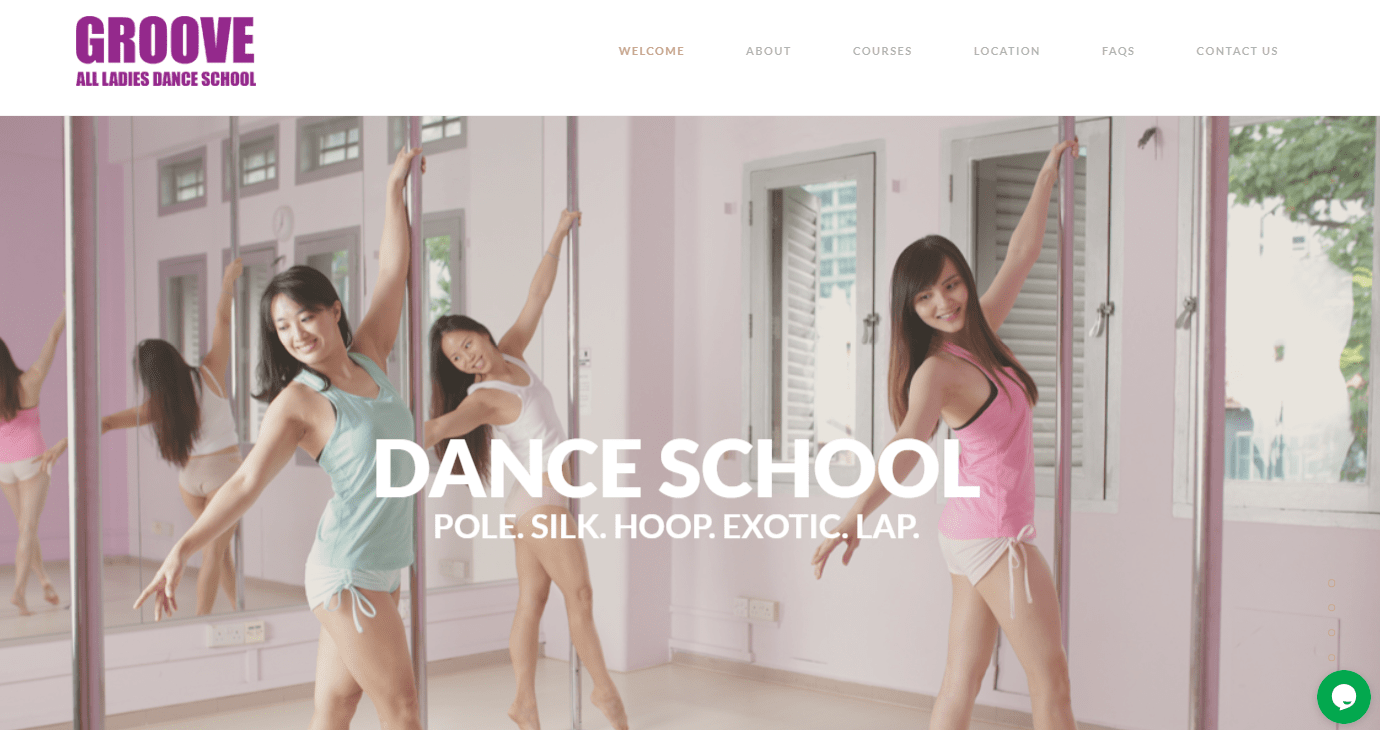 | | |
| --- | --- |
| BEST FOR  | Aerial Silk Dance Classes |
| PRICING | Fees |
| WEBSITE | http://www.groove.com.sg/ |
| ADDRESS | 195 Pearl's Hill Terrace, #01-01, Singapore 168976 |
| CONTACT DETAILS | 6223-4813 |
| OPERATING HOURS | Mondays to Fridays: 9am to 3pm |
For the ladies who want to learn graceful and artistic dance techniques, Groove offers pole dancing and aerial silk as well as exotic dance courses, letting you enhance the flexibility and balance of your body.
Their classes are also a good addition to your regular workout routine as each course focuses on improving one's fitness through challenging and stress-relieving routines.
This studio is an all-ladies dance school that has been providing excellent classes for over a decade and participated in international dance competitions.
With their achievements and services, you can be sure that they have some of the best dance classes in Singapore, specially designed for every talented woman out there.
Highlights
Pole dancing
aerial hoop classes
Exotic dance
Lap dance
And that's our list of studios with the best dance classes in Singapore! If you know of other great dance studios, you may also share them with us!
And if you're also looking for other fitness classes that you can easily fit into your hectic schedule, you may want to take these best yoga classes in Singapore! Yoga activities are great for maintaining a healthy body and mind as well as finding a spiritual balance.