The Top 6 Studios for the Best Art Jamming in Singapore
Searching for that perfect place where you can have fun and be productive at the same time? Well, going to a studio with the best art jamming in Singapore can be a nice thing to do with your family and friends!
If you enjoy practicing your creativity or releasing your stress through art, then you should definitely visit some of the well-known art jamming studios on the island. These places are equipped with a complete set of art tools and a pleasant environment to work in.
So to help you find the best art jamming in Singapore, we've listed the top studios that offer great facilities, initiate fun social activities, and great ambience! See our list below to find out more about their services, prices, and locations!
1.  Arthaus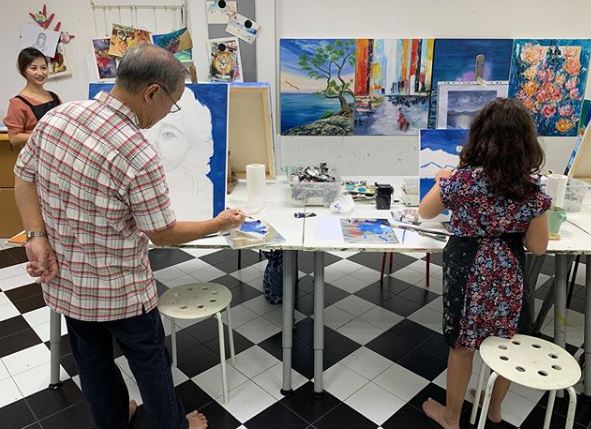 | | |
| --- | --- |
| BEST FOR  | Portfolio preparation for adults, Personalised course for kids |
| PRICING | Rates |
| WEBSITE | https://www.arthaus.com.sg/ |
| ADDRESS | 901A Bukit Timah Rd, Singapore 589619 |
| CONTACT DETAILS | +65 9023 0458 |
Arthaus engages all art enthusiasts with their cosy and stress-free environment where you can indulge yourself in a variety of art courses and workshops.
Their offered activities are categorised into ones for adults and kids, so you can also bring your children or younger relatives. In this way, you can have a good time with your whole family while enjoying the best art jamming in Singapore.
Their courses include fundamental lessons, portfolio preparation, residential and corporate murals, and more. They also have a personalised course for kids & private sessions, and can even organize a birthday party event at the studio!
Highlights
Holiday programs
Commissioned works
Birthday party events
2.  Boulevart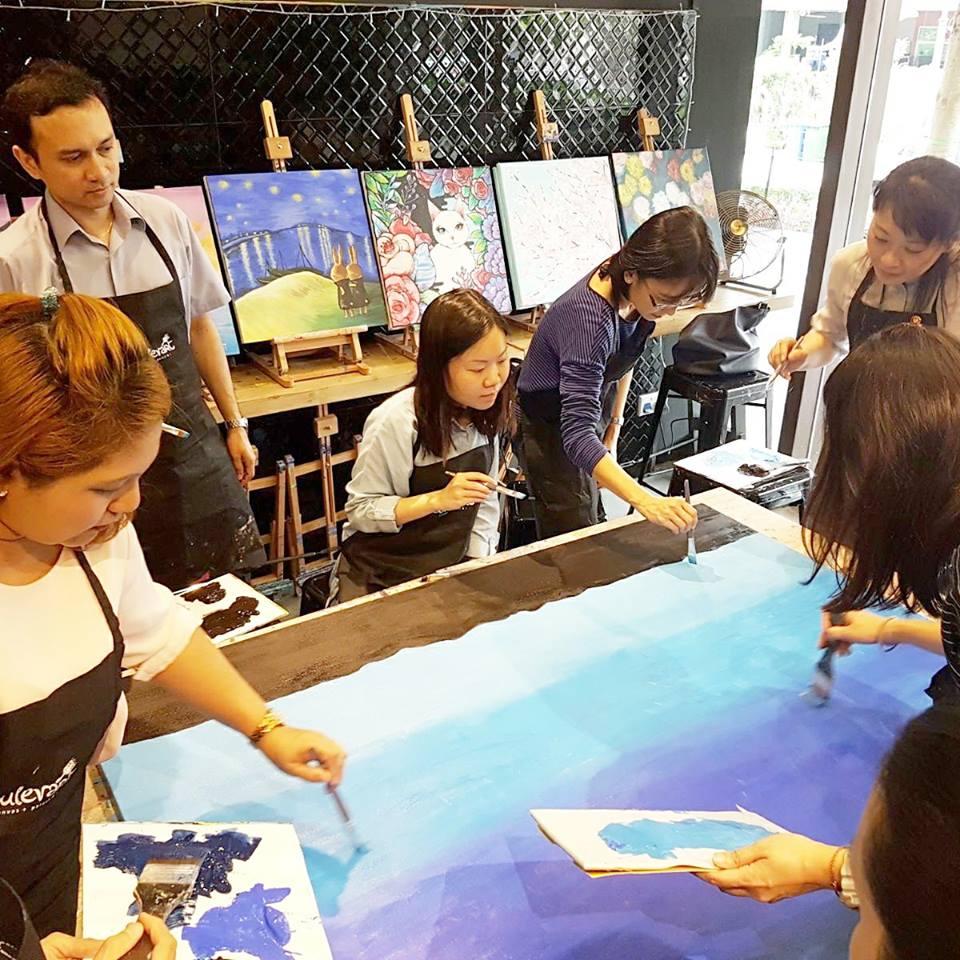 For the professional artists who just want to relax and unwind, Boulevart offers a flexible time for walk-ins so you can do some art jamming any time of the day. You just need to check the availability of seats.
For those who haven't done any art jamming before, they provide guided painting sessions too. They have set time slots, so make sure to book in advance and reserve a slot.
Most of their workshops are scheduled on a monthly or a quarterly basis. Still, if you prefer a private session, then you can also make a request by messaging them.
They've also organized countless art activities for team buildings or other corporate events — giving you the best art jamming in Singapore for big groups.
Highlights
Corporate art activity events
Private sessions
Online shop
Special promotions
3.  Heartroom Gallery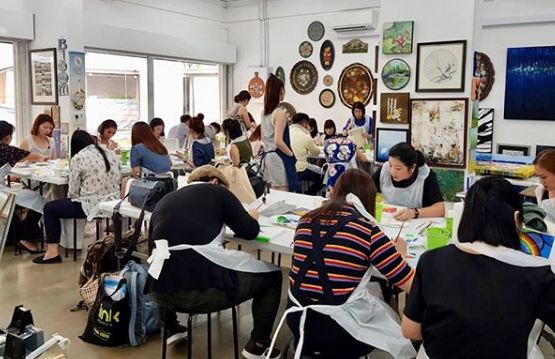 Heartroom Gallery features a variety of classes for beginners and advanced lessons for those who already have an art background or art jamming experience. For their best art jamming in Singapore, they have options for team building, party events, and even for couples!
When it comes to art classes, they offer manga drawing classes, Chinese brush painting classes, acrylic art classes, and special classes for kids. All of their sessions come with a fixed schedule, so make sure to plan ahead.
Highlights
Art jamming for couples
Off-site art jamming events
4.  Art Jam Studio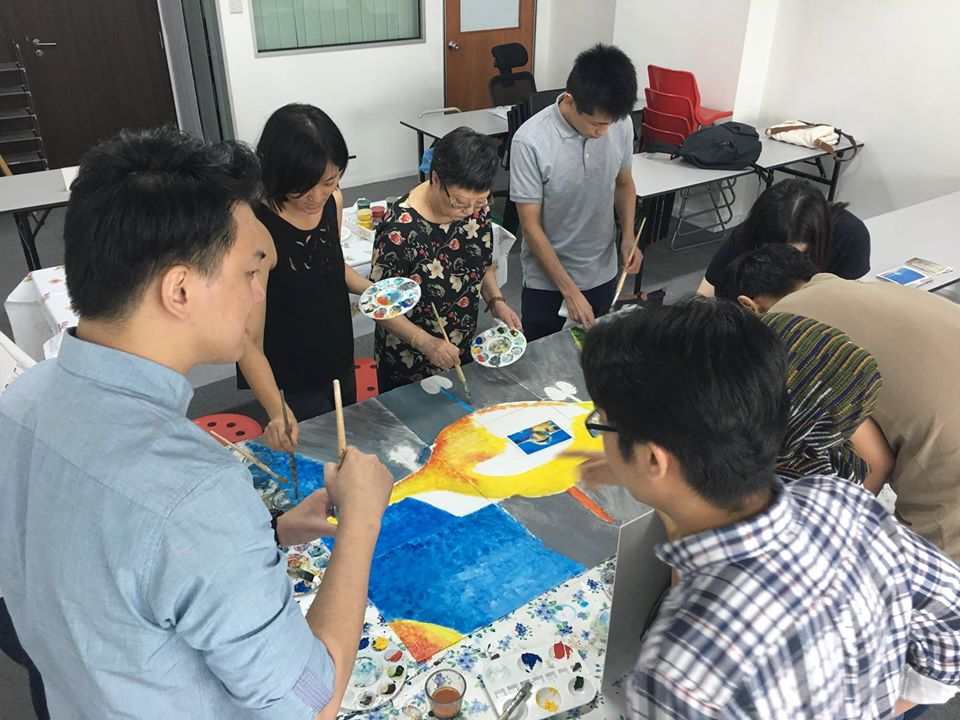 | | |
| --- | --- |
| BEST FOR  | Group art jams |
| PRICING | Rates |
| WEBSITE | http://www.artjam.asia/ |
| ADDRESS | 8 Burn Road #05-10 Trivex Singapore 369977 |
| CONTACT DETAILS | +65 6655 2811 |
Art Jam Studio offers sessions for both individuals and groups. For their individual art jam, you can choose between guided and non-guided sessions: both have specific time slots, so advanced booking is highly advised.
You can also rent the studio for group art jams and their rooms come in different sizes, so whether you plan to bring your close family and friends or do a team building, you can use their space. You can also opt for guided sessions and other additional services.
There are workshops for adults and kids and all are offered with packages that feature 4 sessions in a month. With this range of services, they truly have some of the best art jamming in Singapore.
Highlights
Off-site art jamming
Membership perks
5.  Arteastiq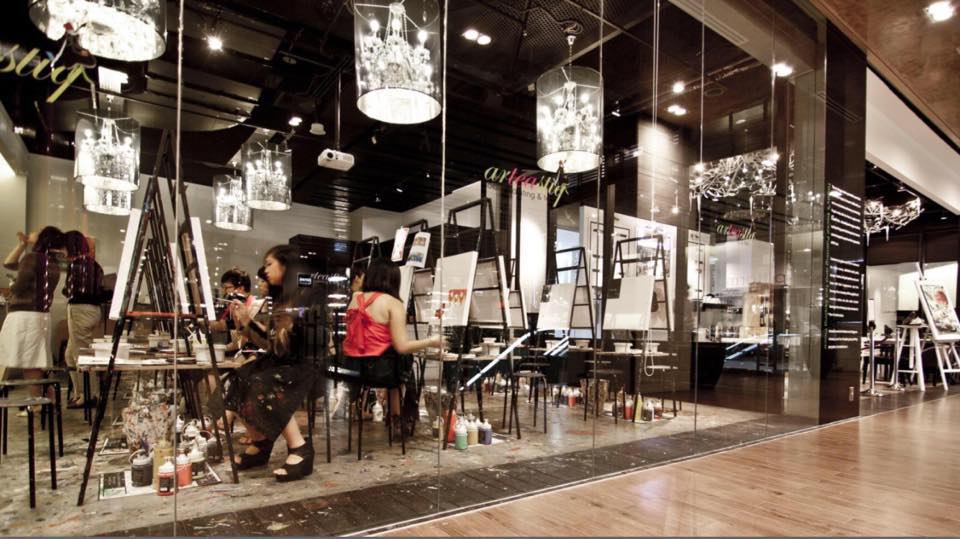 Arteastiq introduces a new, informative, and unique concept of art jamming as your freely expressed paintings are analysed by professional trainers. They'll interpret the personalities of each individual or a team through artwork.
Their art jamming sessions are very good for team building events, so if you're currently looking for the ideal group activity to do during your company outing, then you should try their best art jamming in Singapore.
Highlights
Events and catering
Special promotions
6. Team Bonding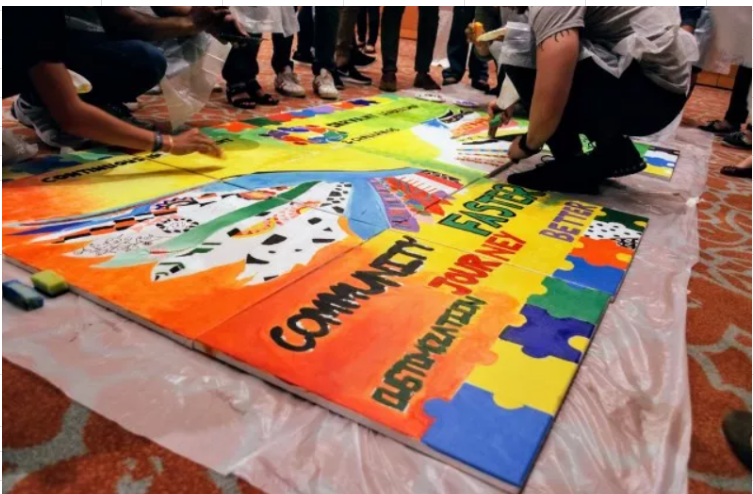 Art jamming, improv performances and more. This is what Team Bonding by Singexperience offers; a wide array of team building activities that all serves the purpose of bringing a group of people closer and work together.
Team bonding offers a full range of group activities from puzzles, amazing races, music, performance, escape rooms, baking and even technology-centric activities. The best part is that you can participate in all these team building activities even at the comfort of your home, because Team Bonding also offers online and virtual team buildings!
Connect, communicate, solve, explore and experience one of the best team building programs with Team Bonding.
Highlights
Online and virtual team building
International Team Buildings
Various activities of different genres
That's it for our list of the best art jamming in Singapore! Have you already had an art jamming experience before? If so, then share with us your story as we'd love to hear about it!
You might also love these best workshops in Singapore as some of the listed places also offer art jamming sessions, giving you more options to choose from!