20 Best Study Spots In Singapore That Are Free
It's worth studying in Singapore because you know you'll be getting a high-quality, world-class education.
But since most HDB flats are quite small and cramped, most Singaporean students often find it hard to study somewhere quiet, with no distractions, and won't cost them an arm and a leg to stay.
With that in mind, today's listicle is all about the best study spots in Singapore that are free to use.
Quiet Places to Study in Singapore
Aside from the campuses of private schools in Singapore, there are thankfully plenty of spots to hit the books with little to no background noises. They can be found in public libraries, community centres, and quiet little cafes all over the city.
So fret not because there are places outside school and home that are conducive for studying and won't distract you with ambient sounds. Let's take a look at some of the best ones below.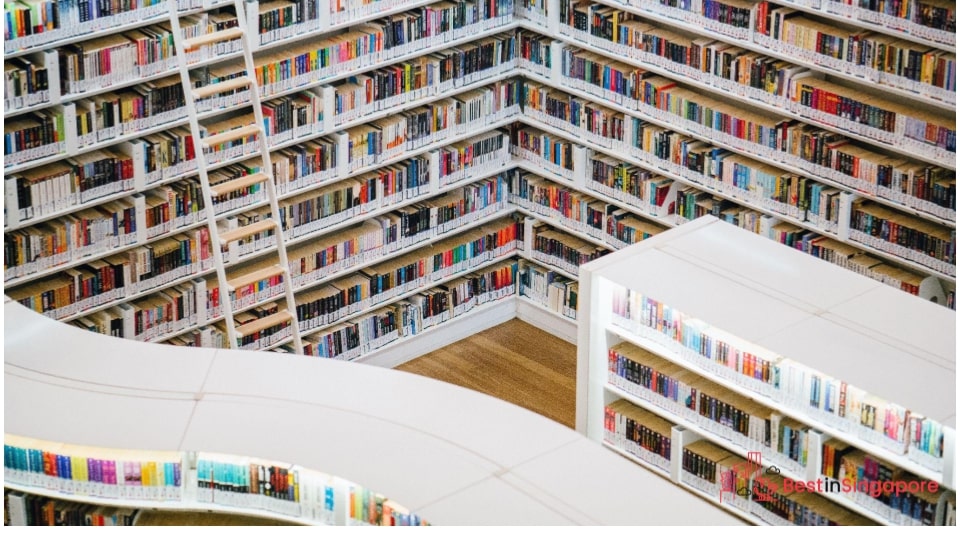 Location: 277 Orchard Rd, 03-12 /04-11 Orchard Gateway, Singapore 238858
Hours: 11 AM – 9 PM daily
Amenities: Air-conditioned, free Wi-Fi, power outlets
If you envision libraries to be dark, drab, musty-smelling places with boring green table lamps, then you haven't been to the [email protected]. This architecture and interior design marvel would exceed your aesthetic expectations.
The curving bookshelves and wide seating encourage fruitful studying sessions. Plus, it's quite comfy to stay for long hours since it's an air-conditioned and quiet space.
As with other places on this list, you can enjoy free Wi-Fi while at the [email protected].
The downside is you can only stay until 9 PM, so you might have to head elsewhere if you need to do more studying.
2. The National Library
Location: 100 Victoria St, Singapore 188064
Hours: 10 AM – 9 PM daily
Amenities: Free Wi-Fi, natural light, quiet atmosphere
We mentioned libraries as some of the most conducive places to study in Singapore. We believe that the National Library is arguably the finest example of this.
There's a study lounge meant for those cramming sessions. Plus, the library offers free Wi-Fi should you need to look up something online.
It's large enough to accommodate hundreds of students or people who simply want a quiet space to read a book or their lecture notes. You won't even need to bother with your wireless earphones to drown out ambient noise.
3. Tzu Chi Humanistic Youth Centre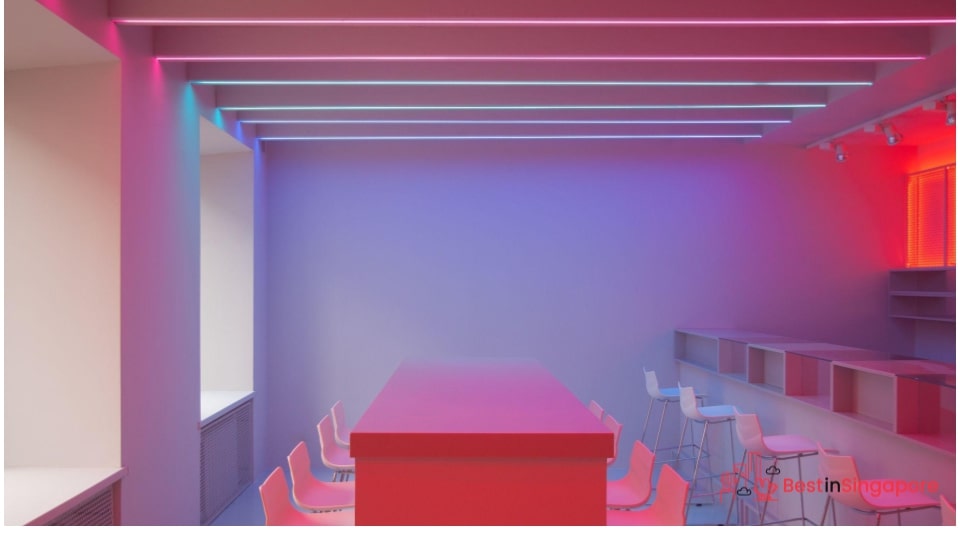 Location: 30A Yishun Central 1, Singapore 768796
Hours: 10 AM – 10 PM daily
Amenities: Free Wi-Fi, power outlets, whiteboards, cafeteria
Do you like the look and feel of a coworking space while you're studying for an exam but don't have the money to pay for hourly rentals? We can recommend one that won't cost a thing and is quite peaceful.
A nonprofit organisation offers the Tzu Chi Humanistic Youth Centre for students who wish to study in peace. The centre itself has comfortable study zones and even whiteboards for those who need to hold group meetings.
Students can get free Wi-Fi on its premises and charge their devices on the power outlets too. And if you get hungry, the Humanistic Youth Centre cafeteria also offers good food and a quiet place to study.
4. Blossom Youth Centre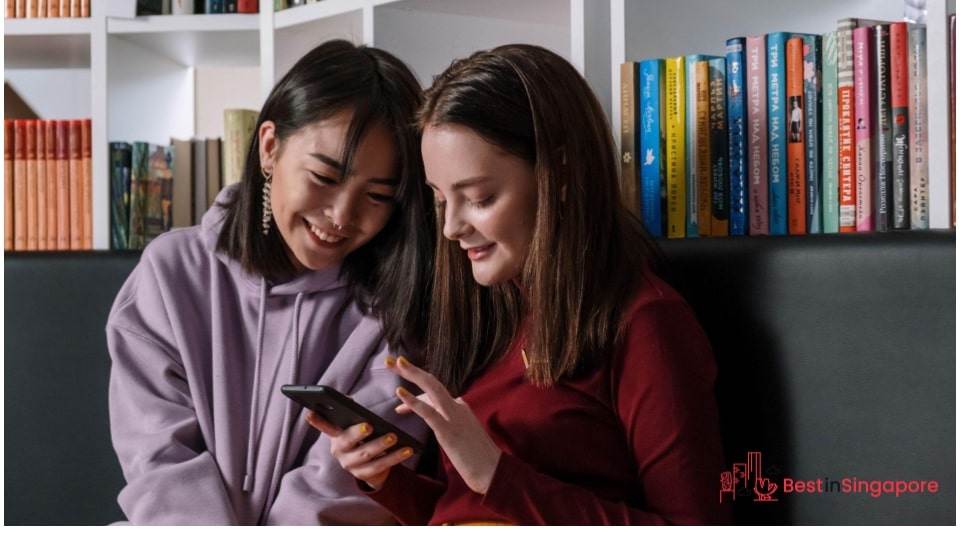 Location: 9 Toh Yi Dr, 1-321, Singapore 590009
Hours: Monday to Friday, 2 PM – 10 PM
Amenities: Air-conditioned, free Wi-Fi, power outlets, food
Here's another youth centre that's perfect for the busy student who can't concentrate when there's noise and distractions in the background.
The Blossom Youth Centre offers its space and resources for free to members who've signed up with them. It's a great place to study because there's nothing to interrupt you, unlike commercial spaces.
Plus, you can take advantage of the free Wi-Fi and power outlets to charge your electronics!
So if you're already a member, all you'll need to do is bring your laptop, books, and other study materials to the centre. You won't have to pay for anything, and you can even have some complimentary snacks at the Eat Area when you're feeling peckish.
5. Nee Soon East Community Club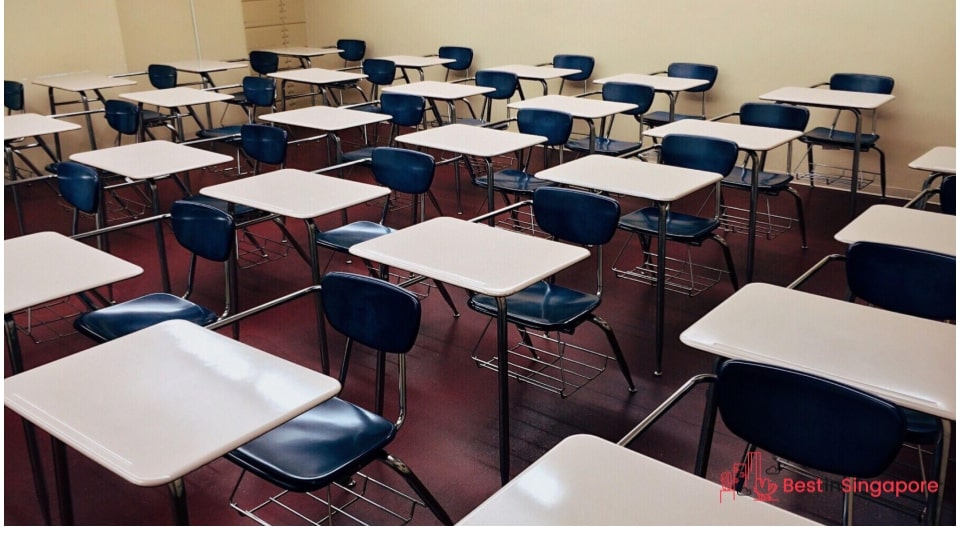 Location: 1 Yishun Ave 9, Singapore 768893
Hours: 10 AM – 6 PM daily
Amenities: Free Wi-Fi, power outlets, air-conditioned
While community clubs are often associated with seniors and citizens on retirement, we believe they're great places to study because of the low noise levels.
Plus points if they're airconditioned, offer free Wi-Fi, and power outlets to users. One good example is the Nee Soon East Community Club.
Brightly lit study nooks, flexible seating arrangements, and a quiet and cool atmosphere make this centre conducive to hours of studying. And all it takes is an annual membership fee of just S$15, which is pretty affordable for the average student.
Places to Study with Free Wi-Fi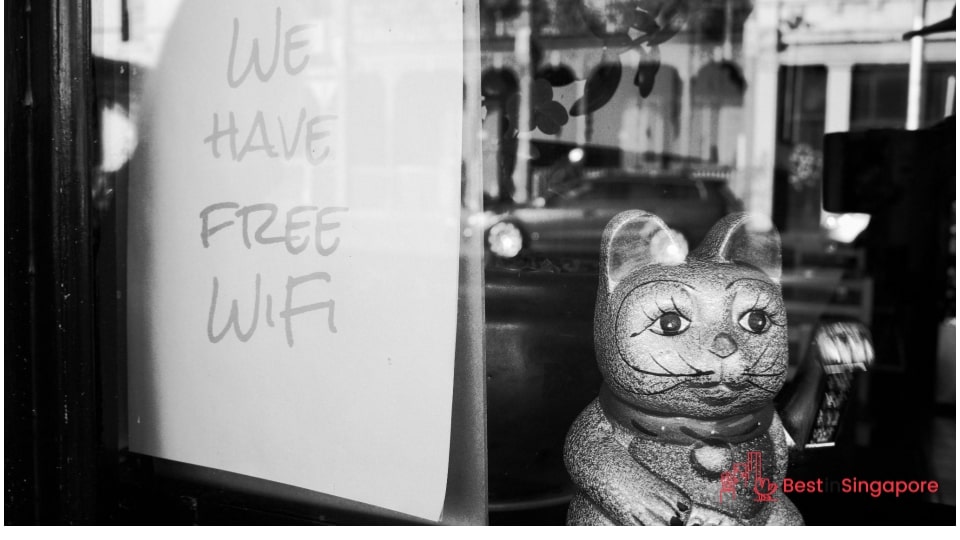 When we wrote "free," we meant to include studying tools and amenities that can make reviewing and reading easier.
And we know how inconvenient it is to lug around a portable Wi-Fi when you're out and about. That's why we made sure to include some study places in this post that offer free Wi-Fi and charging ports for your devices.
6. NUS Central Library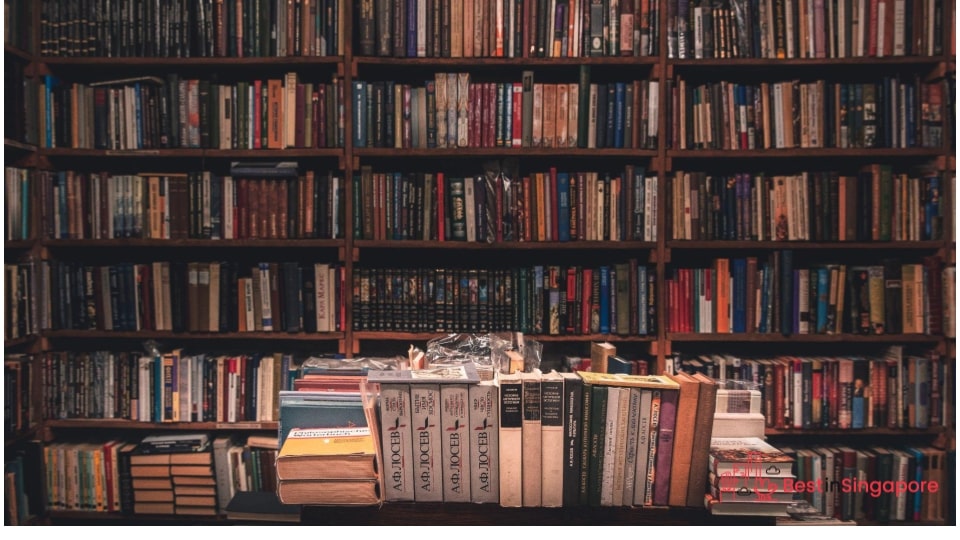 Location: 12 Kent Ridge Crescent, Singapore 119275
Hours: Monday to Saturday, 9 AM – 6 PM, closed on Sundays
Amenities: Free Wi-Fi, air-conditioned, power outlets
It's important to study in comfort, otherwise, how can your brain absorb anything in heat and humidity?
So if you're looking for a study space that has aircon, look no further than the NUS Central Library. And while the National University of Singapore isn't a public library, its doors are still open to those who need access to its wide range of resources.
Aside from air-conditioning, you can expect free Wi-Fi and power outlets to charge your laptop or tablet. Its cushy, well-lit reading areas complete with carpeted floors and cushy armchairs make reviewing less of an ordeal for students.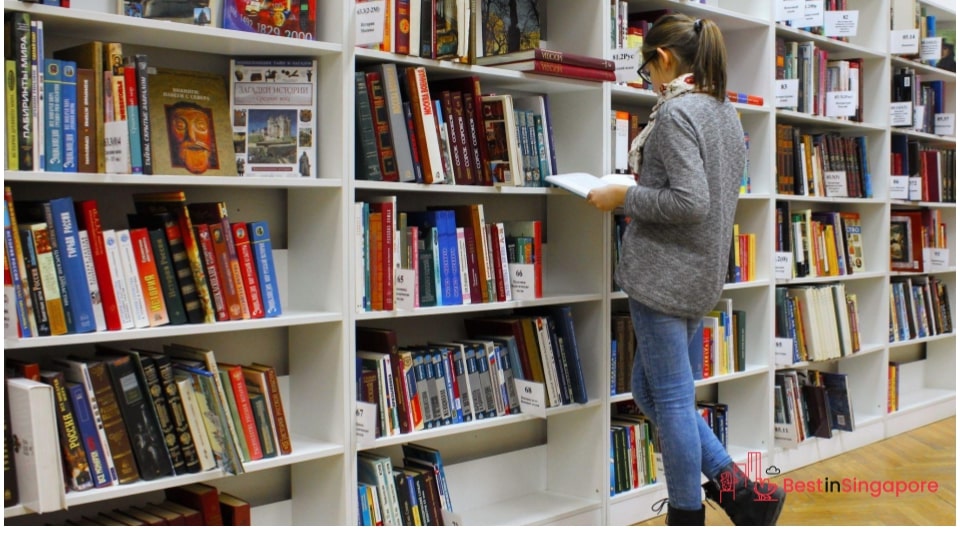 Location: 8 Raffles Avenue, #03-01, Singapore 039802
Hours: 11 AM – 9 PM daily
Amenities: Free Wi-Fi, comfy seats
Though its collection is mainly art-centred, the [email protected] still has something to offer to anyone who needs to cram or review for an upcoming test.
You can charge your laptop or tablet if they run out of juice at any of the library's power outlets. You also have a choice of indoor or outdoor seating according to your mood.
But perhaps the best thing it can offer is free and speedy Wi-Fi, which a lot of students have sworn by. And its premises are air-conditioned, so you can spend hours studying in comfort and without breaking a sweat (unless it's trigonometry-related anxiety).
8. United Square Shopping Mall Study Room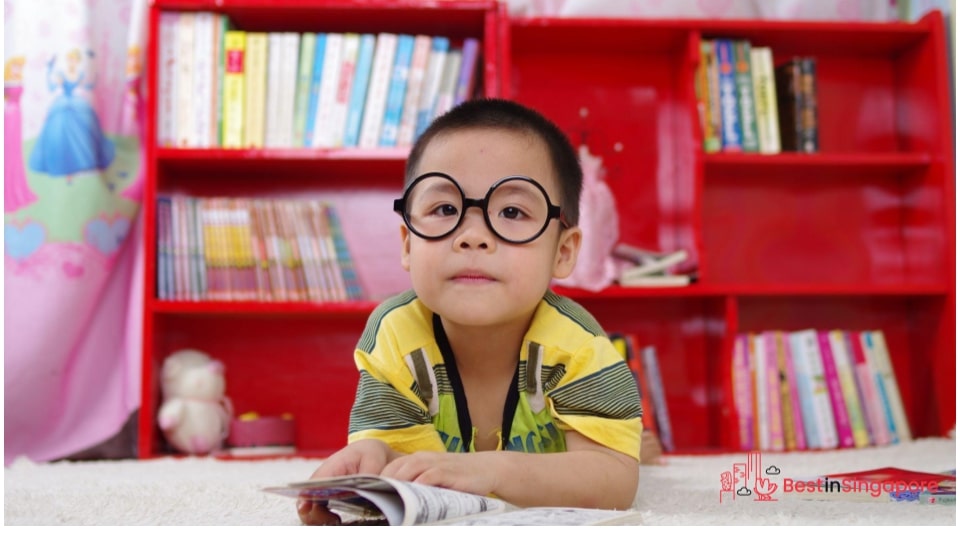 Location: 101 Thomson Road Singapore 307591
Hours: 10 AM – 9:30 PM daily
Amenities: Air-conditioned, free Wi-Fi, power outlets
A shopping mall might not be the most ideal place that comes to mind when it comes to studying. But the Study Room at the United Square Shopping Mall on Thomson Road would beg to differ.
With over 590 square feet of space meant for studying, it's an ideal place for primary, secondary, and high school kids to use. And with free air-conditioning, it provides a comfy spot for those who want to escape the heat outside.
So while other family members and friends are out shopping, you'll be glad to know that you can review your notes in peace in this quiet nook tucked away in a busy retail space.
9. The Book Cafe
Location: 20 Martin Road, Seng Kee Building, #01-02, Singapore 239070
Hours: 8:30 AM – 8:30 PM daily
Amenities: Free Wi-Fi, comfy seats, all-day breakfast menu, free printer use
As its name implies, The Book Cafe isn't just a regular cafe in Singapore serving up good strong coffee and premium teas. It's also a place for book lovers and those who can sit still reading for hours and fueled by their preferred brew.
It's only open until 8:30 PM, but there's an all-day breakfast menu that you can have even after sundown. Comfy, squashy armchairs are available to make reading extra cosy.
To say that The Book Cafe is work and study-friendly would be an understatement. The free Wi-Fi and available printer that lets customers print notes (at no cost!) can attest to this.
10. The Red Box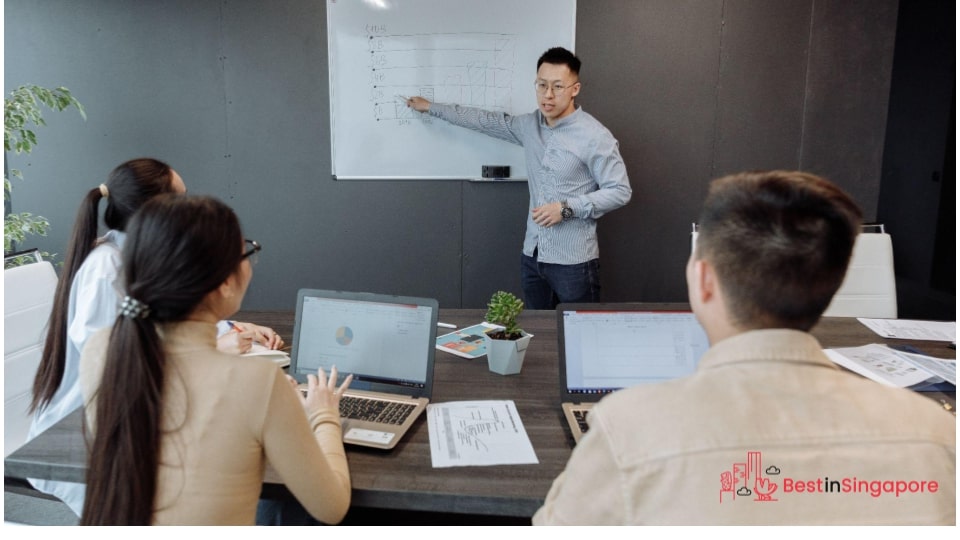 Location: 113 Somerset Rd, Singapore 238165
Hours: 10 AM – 10 PM daily
Amenities: Free Wi-Fi, power outlets
The Red Box is another community centre where, on most days, you might need noise-cancelling headphones to drown out the lively chatter and banter.
That's because it's where community volunteers, workshop attendees, and people in meetings gather for free. The Red Box is open to anyone that needs it, including students who need a quiet place to review notes.
But on the days that it's empty, it's quite ideal for studying and more muted gatherings. Aside from being free to use, Wi-Fi is available, and there are power outlets to charge devices.
11. Twenty-Eight Cafe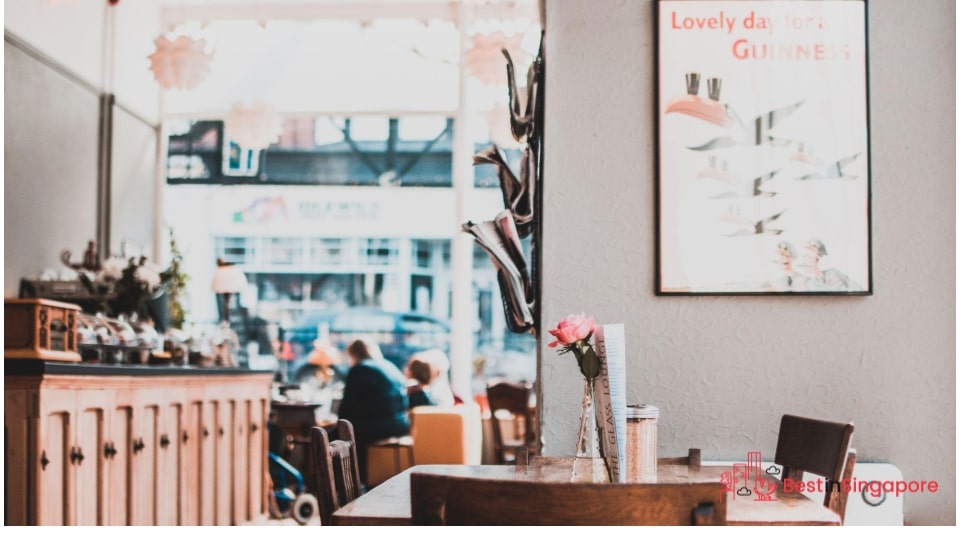 Location: 28 Wilkie Rd, 01-06, Singapore 228051
Hours: Monday to Friday, 7:30 AM – 4:30 PM; Saturday to Sunday, 8 AM – 4:30 PM
Amenities: Free Wi-Fi, power outlets, large tables
Twenty-Eight Cafe checks off a lot of the things a student needs to get their studying game on. It's spacious, has low noise levels, offers free Wi-FI, and has tables large enough to hold heavy textbooks and laptops.
And because it's a coffee shop, you can always get fueled by freshly brewed coffee and pastries to keep you powering through. You can opt for full meals if you find yourself spending more than a couple of hours on the premises.
Too bad it isn't open 24 hours, but Twenty-Eight is still a good studying option that provides loads of free and convenient amenities.
12. Lowercase Cafe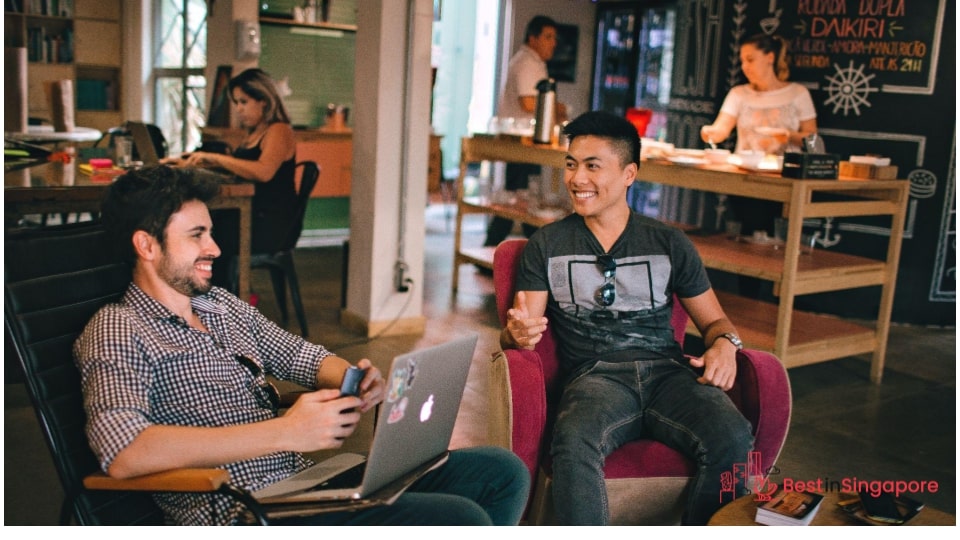 Location: Blk D 01-01, 1 McNally St, 187940
Hours: Monday to Wednesday, 8 AM – 8 PM; Thursday to Saturday, 8 AM – 10 PM
Amenities: Free Wi-Fi, a brunch menu, natural lighting
Those who prefer studying when it's bright and early can find a comfy space at Lowercase Cafe. It's open as early as 8 in the morning, so the interiors get flooded with gorgeous natural light, thanks to its floor-to-ceiling glass windows.
It has bookcases filled with reading material that might come in handy if certain subjects need to be referenced. And the tables are spacious enough to accommodate laptops, tablets, and several notebooks if you need a desk-like surface to work on.
Lowercase serves a good range of brunch options to nourish you while you study. And you can connect to the cafe's free Wi-Fi and use it for as long as you like too.
13. Mox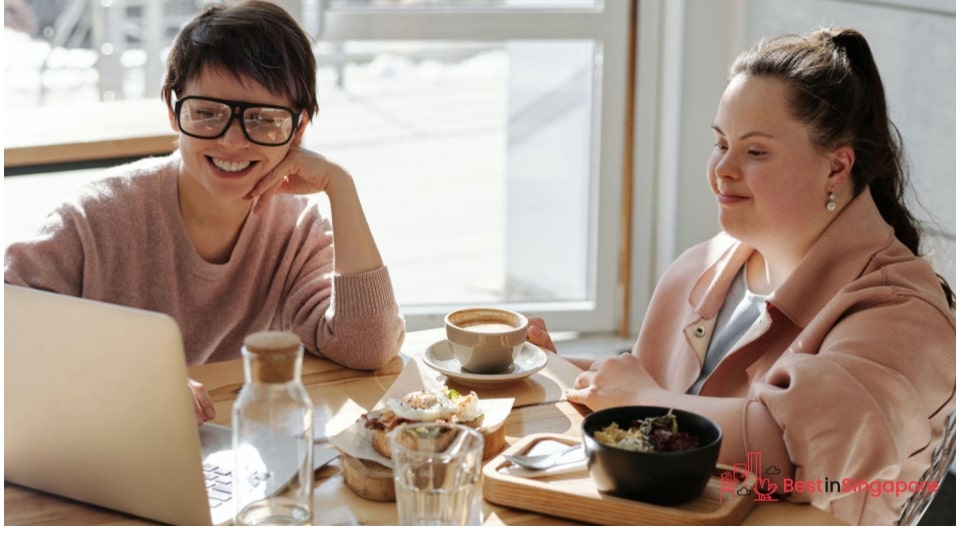 Location: Oxley Rise, 02-17, Singapore 238698
Hours: Monday to Friday, 10 AM – 6 PM
Amenities: Air-conditioned, free Wi-Fi, power outlets
Mox is a relatively new collaborative and gathering spot aiming to be an independent workspace for creatives. So whether it's for startup meetings, a gathering of entrepreneurs, or students wanting a safe place to study, Mox has it all.
There are several coworking spaces including ones that have desks, long tables, and quiet, air-conditioned spaces conducive to concentration and focus. Mox also has venues for special gatherings if you need them.
A Mox membership provides 24/7 access to the premises, along with free Wi-Fi, concierge support, access to the pantry (and the food and beverages within), complimentary parking, and other awesome perks.
14. Huggs Collective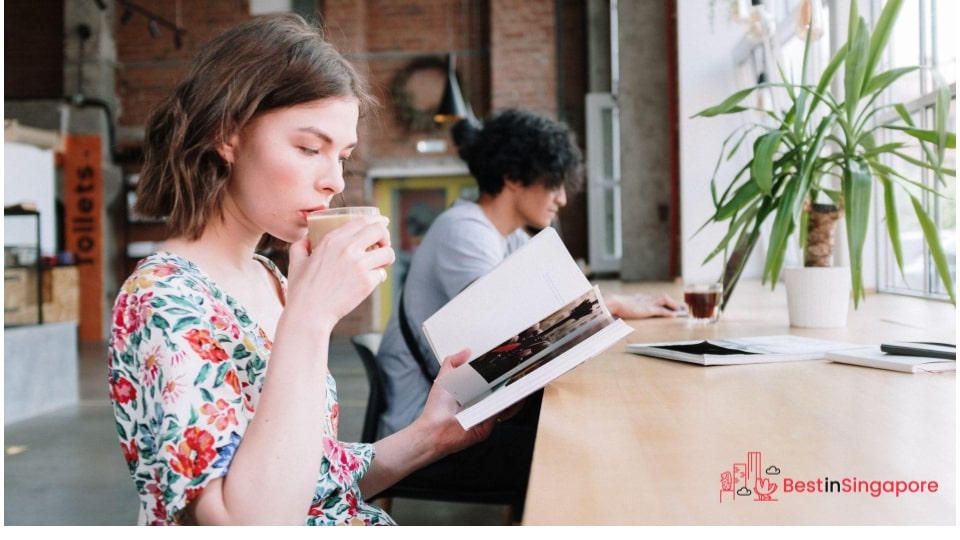 Location: The Clift, 21 Mccallum Street, 01-07/08 Singapore 069047
Hours: Monday to Friday, 7 AM – 5 PM
Amenities: Free Wi-FI, dedicated members' lounge, small study nooks
Imagine a cafe where you can still maintain privacy. Huggs Collective makes this possible by offering private enclosed nooks so you can have Zoom meetings and learn from tutors in peace.
Huggs Collective is already a good enough cafe to study thanks to its great pastry and coffee selection. But adding privacy nooks is a great touch for those who can't be distracted by other cafegoers while they're studying.
Some branches also offer members' lounges where you can conduct study group sessions in peace. And it goes without saying that Wi-Fi is also free.
Places to Study That Are Open 24 Hours
It's always a great experience to stumble upon a study place that's well-lit and welcoming, especially late at night. And it's even better if it's open for 24 hours, seven days a week, perfect for nocturnal students.
15. O'Coffee Club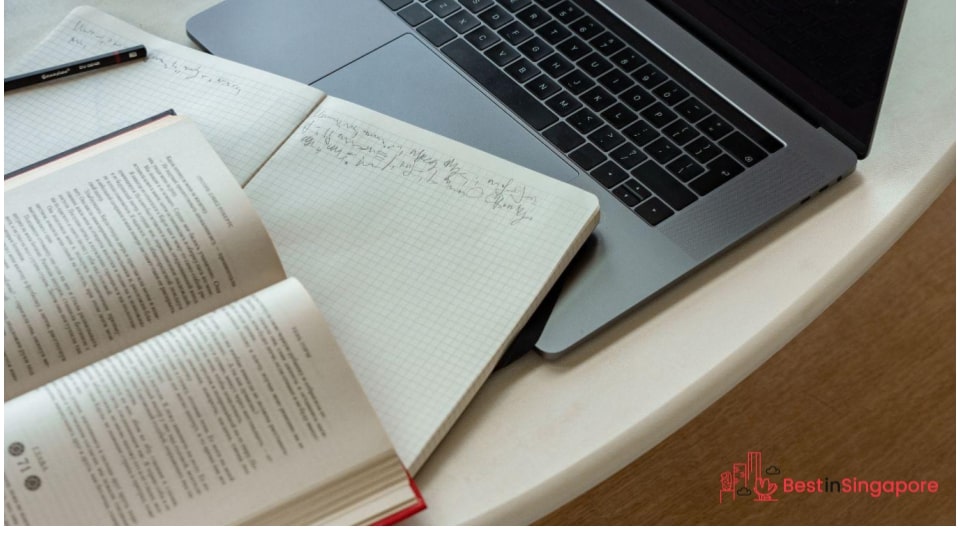 Location: 78 Airport Boulevard, Jewel, Changi Airport, #03-216-218, Singapore 819666
Hours: 24 hours, 7 days a week
Amenities: Power outlets, free Wi-Fi, all-day breakfast meals
Established in 1991, O'Coffee has now expanded into six locations all over Singapore. Its coffee menu promises a rich and flavourful wake-up experience for its clients.
It makes it to our list of great studying spots in Singapore because of the free Wi-Fi you can have on its premises. So while parking yourself there means you'll need to offer at least a cup of coffee, you can still go online without having to pay for it.
Should you find yourself doing an all-nighter to prepare for tests, the branch at Changi Airport is open 24 hours and offers all-day breakfast meals. That should help you refuel your brain for more studying.
16. Sengkang Community Club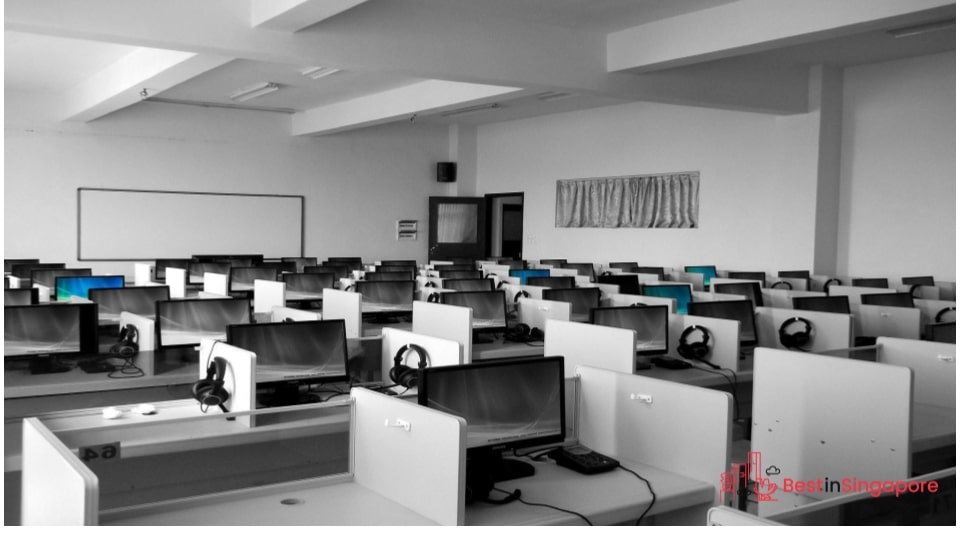 Location: 2 Sengkang Square 01-01, Sengkang Community Club 545025
Hours: 24 hours, 7 days a week
Amenities: Free Wi-Fi, power outlets, free food and drinks
Now here's a truly free study room. You won't have to buy anything or pay for entrance when you chose to study at the Sengkang Community Club.
You won't even have to bring a power bank because you can charge your smartphone or e-book reader directly in any of the centres' power outlets.
The study rooms also offer free snacks and drinks to nourish learning minds. Really, what's not to love about this setup?
17. Our Tampines Hub
Location: 1 Tampines Walk, Singapore 528523
Hours: 24 hours, 7 days a week
Amenities: Free Wi-Fi, picnic-style tables and benches
Do you always find yourself looking for late-night studying spots because you're nocturnal that way? Then consider visiting Our Tampines Hub which is open 24/7. 
There are six floors of free study spaces, so there's plenty of room for everyone. However, it's best to get there as early as possible to secure the comfiest spot.
The study places are laid out like picnic tables and chairs, which is great for group study sessions. So should you find yourself in the East at dusk next time, check this great place out.
18. Singapore Changi Airport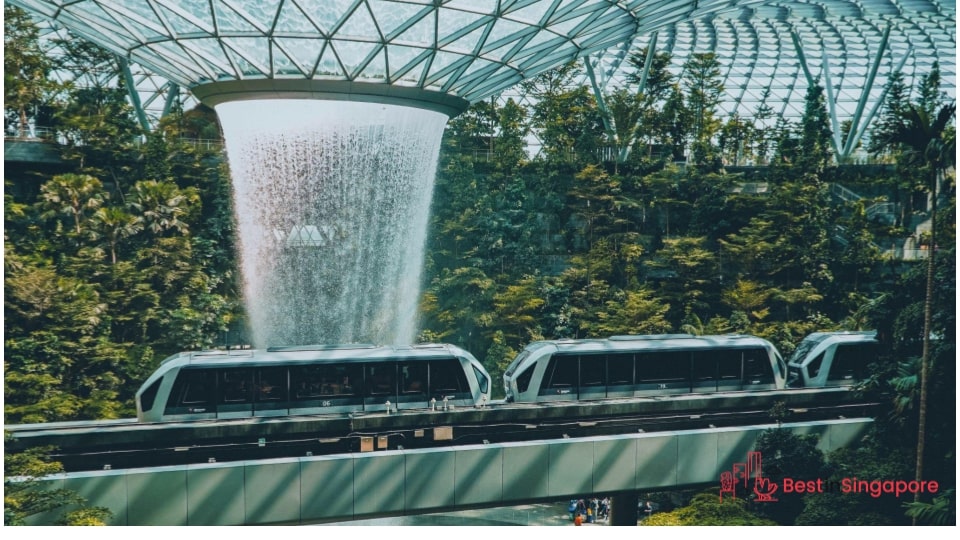 Location: Airport Blvd, Singapore 918146
Hours: 24 hours, 7 days a week
Amenities: Air-conditioned, free Wi-Fi, power outlets, food outlets
If you can't imagine studying in airports because you've only been exposed to bustling, noisy ones, we're asking you to give the Singapore Changi Airport a try. 
Scores of Singaporean students have done so and have named it one of their favourite places to study.
It's not just a multi-awarded airport that's gorgeously and creatively laid out. It also has plenty of free amenities for anyone to use, whether they're passengers or not.
For starters, it's open 24 hours a day, so anyone can find a comfy spot to sit in and read to their heart's content. It also has free Wi-Fi and plenty of power outlets to charge all your electronics.
And since there are plenty of food outlets available, you'll likely be spoilt for choice when it comes to study-time munchies. Now, imagine all that with the soothing sounds of a waterfall in the background.
19. SMU Study Spots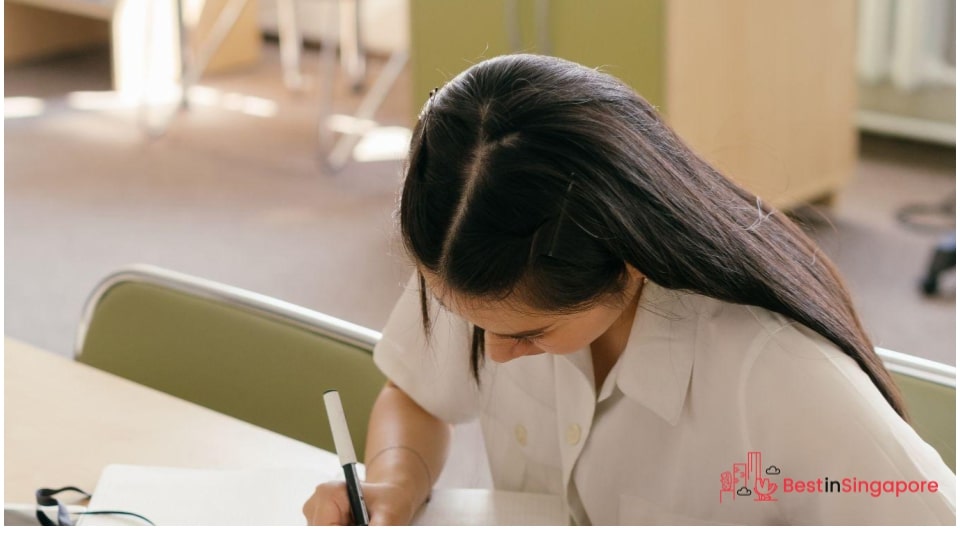 Location: 81 Victoria St, Singapore 188065
Hours: 24 hours, 7 days a week
Amenities: Free Wi-Fi, power outlets, food
We know how important it is to not worry about running out of juice for your laptop, tablet, e-reader, or smartphone. A wireless charger can address all that, but a place offering the use of power outlets for free is infinitely better. 
Thankfully, the Singapore Management University is not just open 24/7 but also offers free amenities to studious people. Best of all, they're available whether you're an SMU student or an outsider!
SMU has a huge campus that can accommodate plenty of outdoor studying spots at any hour of the day. Inside, there are comfy seats and tables for more quiet reading, along with power outlets to recharge devices—and free Wi-Fi, of course.
20. Smart Void Deck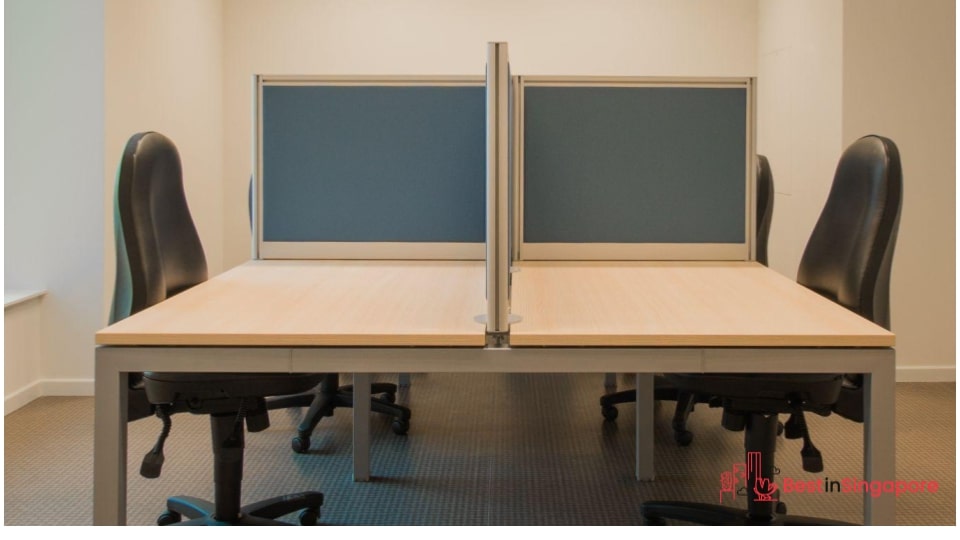 Location: 224 Jurong East Street 21, Singapore 600224
Hours: 24 hours, 7 days a week
Amenities: Free Wi-Fi, power outlets
We're including a small public space in this listicle as a unique studying alternative in case you get bored with the usual 24-hour haunts. And it's a great way to prepare to become a work nomad since it encourages you to work in different conditions.
The Smart Void Deck features furniture that can be converted into different forms for ultimate comfort and flexibility. It also has adjustable lighting so you can make it as conducive to studying as you want.
There's also free Wi-Fi and power sockets to plug your devices and charge them. And since it's in a public place, you won't have to pay to use them.
It's a good idea to check out the place as early as you can, though. Other students might have the same idea to spend their reviewing time at the Smart Void Deck and beat you to it.