The 13 Best Window Contractors in Singapore
Whether you're preparing a new home or replacing old windows, you need the best window contractors in Singapore to make sure that your windows are properly and safely installed.
Only the top contractors can also give you the best materials and services, whether you want the best casement window in Singapore or the best HDB window repair for an existing window.
There are lots of options to choose from on the island, fortunately, but we're here to narrow them down to the best ones. So, if you're clueless as to where to find the best window contractors, you've come to the right place!
These are the contractors we've found to have great track records, services, and rates. When you're working with these, you know you're getting the cream of the crop, whether you're in it for the best sliding window in Singapore or the most handsome French windows in the country!
Anyway, you'll see all that below. Without further ado, here's our list of the best window contractors in Singapore.
1. Renovation Contractor Singapore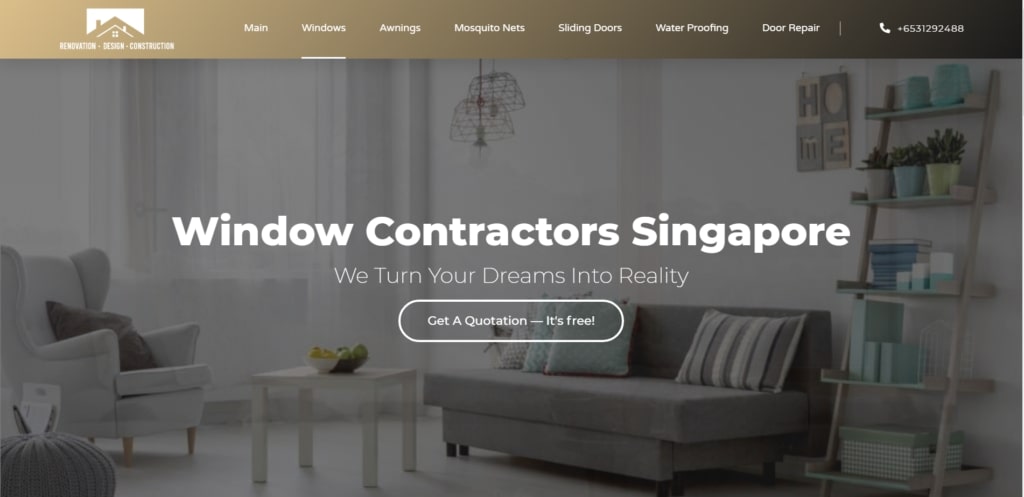 At Renovation Contractor Singapore, they turn your design dreams into reality. They are a full service contractor and interior designer, dedicated to providing exceptional hands on customer service as well as excellent after sales support.
Their team of skilled and dedicated professionals understand that each clients' needs and preferences are different, which is why they make sure to listen to you attentively. This is to ensure that each project is done to your liking.
Trust that your interior space is in good hands. Your dream place starts here. Let Renovation Contractor Singapore, turn your home into a fairy tale.
Highlights
Free quotation
Team of experts
Has completed various projects over the years
2. Express Windows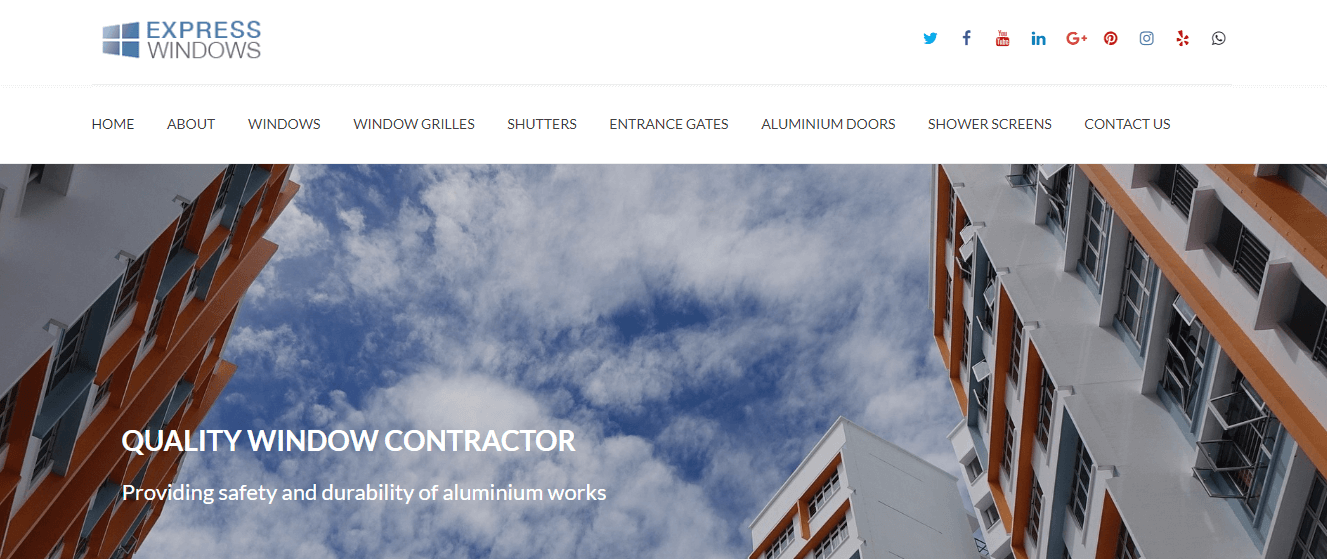 BEST FOR
Aluminum Works and Window Installations
SERVICES
Windows, Window Grilles, Shutters, Entrance Gates, Aluminum Doors, and Shower Screens
WEBSITE
https://expresswindows.com.sg/
ADDRESS
1 Tampines North Dr 1 #07-05/06 T-Space
Singapore 528559
CONTACT DETAILS
OPERATING HOURS
Monday – Friday, 9:00 AM – 7:00 PM
If you want a window contractor with a great track record, then look no further than Express Windows.
With over 20 years of experience, they have become one of the most trusted names in window and door installation, with a clientele made up of homeowners and business owners.
They've can install the best sliding window in Singapore you've ever seen, say customers, who also vouch for their being one of the best HDB window repair firms.
While there may be a lot of window contractors on the island, no one has the same level of commitment to safety and quality. It's no surprise, considering they're all professional BCA-certified window installers, on top of being great at aluminium work.
In case your window only needs maintenance, you may also ask for their help. The same holds true if you want something like the best casement window in Singapore installed in your home.
Whatever your needs, they should be capable of providing for them!
Highlights
20 years of experience
Uses durable materials
BCA-certified
Customer Reviews
Express Windows is on our list for their excellent customer service. Here's some feedback from their clients showing why we think they belong to this list:
"Excellent service! Prompt response and affordable pricing. The entire process from quotation to installation was hassle free. Even though I only required a simple service and cost a small amount, vendor was extremely patient with my multiple queries, and replied promptly throughout. They are also very professional and can be trusted to deliver a good job. Highly recommended! Will def consider them for my future jobs."
"I would like to commend Express Windows for their quick and efficient window installations for my renovation. We got a very reasonable quote from them, but we were most impressed with the level of professionalism they showed."
3. Top 1 Window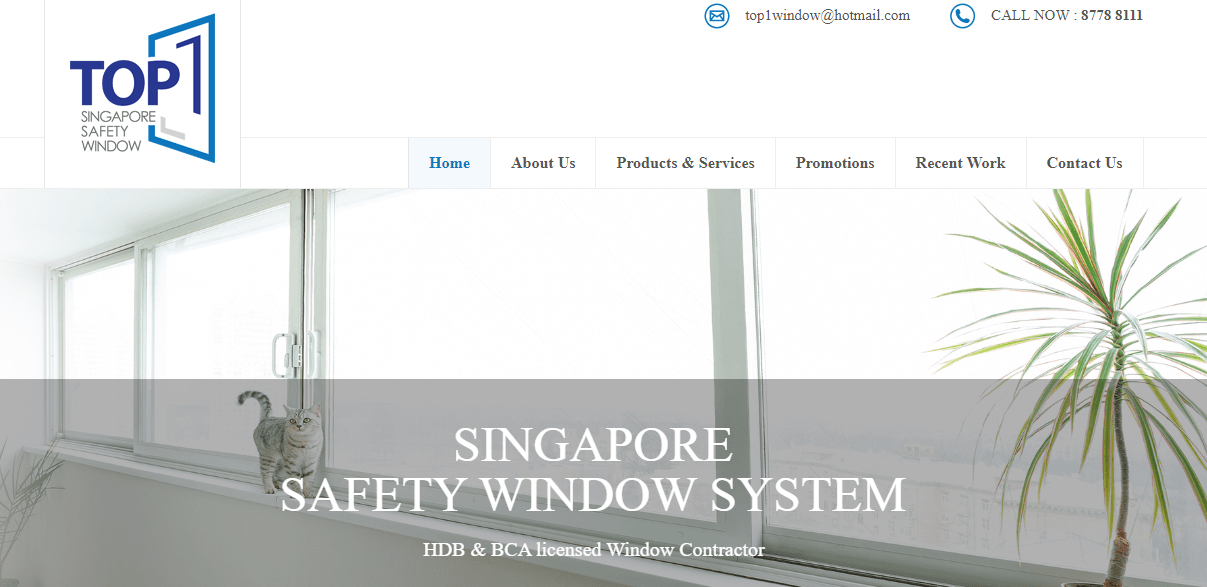 | | |
| --- | --- |
| BEST FOR | Safe Window Installation |
| SERVICES | Aluminum Grille, Aluminum Window, Aluminum Door, Aluminum Gate, Painting Services, and Glass Doors |
| WEBSITE | http://www.top1window.com.sg/ |
| ADDRESS | 29 Sunoco South Road Singapore 758803 |
| CONTACT DETAILS | 8788 8111 |
| OPERATING HOURS | Monday – Friday, 9:00 AM – 6:00 PM |
Top 1 Window is a BCA- and HDB-licenced window contractor in Singapore that offers a wide range of services including window installation, grille installation, door installation, and even painting services. They're often cited as one of the best HDB window repair companies you can call too.
Most customers love their services for a variety of reasons. For instance, a lot of clients stick with them because they try to work as quiet as possible so as not to disturb the harmony of your home.
Another thing customers love about Top 1 Window is that they listen carefully to all their suggestions and ideas. They try to incorporate all these in their work, resulting in the satisfaction of every client.
If you want a window contractor that takes your output seriously, then they're a perfect match you. They can also accommodate tight budgets!
So, if you want something like, say, the best casement window in Singapore but don't want to pay through the nose for it, go to these guys. We'd recommend them wholeheartedly for just about any window project.
Highlights
BCA- and HDB-certified
10 years of experience
Team of expert technicians
4. A&V Aluminum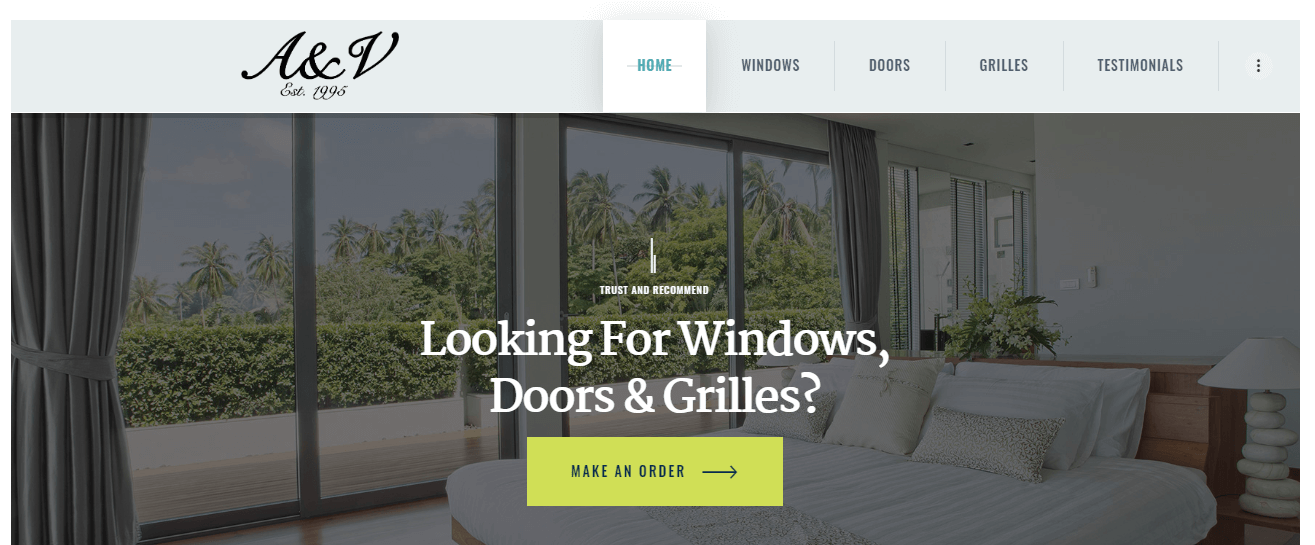 | | |
| --- | --- |
| BEST FOR | Quality Workmanship |
| SERVICES | Window Installation, Grilles, Entrance Doors, and Glass Doors |
| WEBSITE | https://www.anvaluminium.com/ |
| ADDRESS | 71 Woodlands Ave 10, #07-14, Singapore 737743 |
| CONTACT DETAILS | 9431 1487 |
| OPERATING HOURS | Monday – Friday, 9:00 AM – 9:00 PM |
A & V Aluminum offers quality window, grille, and door installation services to everyone in Singapore. In particular, they've made a name for themselves by offering the best sliding windows in Singapore as well as the best casement windows in Singapore.
One of their goals as a company is to improve the lives of clients by providing them with unparalleled workmanship partnered with the use of top-quality products.
Established 20 years ago, they have grown into one of the most dependable window contractors on the island, boasting a pool of clients from both residential and commercial spaces. If you want your dream house to come alive, then don't hesitate to pick up the phone and give them a call.
Moreover, on top of their quality services, their rates are affordable and reasonable. You will never hear them overcharging their clients with ridiculously high rates just because they can.
Highlights
20 years of experience
Quality workmanship
Free on-site consultation
Affordable rates
Customer Reviews
A & V Aluminum has an average rating of 5 on Google Reviews, making it one of the best-reviewed contractors in Singapore.
If you take a look at their website, you can also see some customer testimonials. Here are some of them:
"Highly Recommended! I am extremely impressed with Alex and Vincent's expertise, knowledge and experience. They are very obliging; fantastic and efficient in carrying out the detailed works required. I was totally assured that their work is of superlative quality. Alex and Vincent are honest and principled professionals. Please give them the opportunity to serve you. You will definitely NOT be disappointed!"
"A&V has successfully helped us to build our dream home. We are satisfied with the quality of the aluminum grilles and the excellent workmanship. The price offered is also reasonable. We would definitely recommend A&V to our friends and family"
5. Pang Giap Enterprise

| | |
| --- | --- |
| BEST FOR | Artistic and Antique Designs |
| SERVICES | Aluminum Windows, Soundproof Windows, Wrought Iron Gates |
| WEBSITE | http://www.panggiap88.com.sg/ |
| ADDRESS | 4035 Ang Mo Kio Industrial Park 1, Singapore 569642 |
| CONTACT DETAILS | 6281 2485 |
| OPERATING HOURS | Monday – Friday, 9:00 AM – 6:00 PM |
If you have extra money to spare on a window contractor, then you should definitely hire Pang Giap Enterprise's services. Some say you haven't seen the best casement window in Singapore until you've seen their offerings!
As one of the leading window contractors in Singapore, their services definitely do not come cheap… but once you see the results of their work, you know it's worth it.
Besides being HDB- and BCA-licensed window contractor, Pang Giap also manufactures their own metal and glass products like doors, grilles, windows, and even railings.
Having their own product line allows them to maintain the quality of their services, and in turn, satisfy all their customers.
One of the things customers like about them is their highly-trained and expert team of technicians and installers. Despite spending a lot of money on their services, you know that the people you let into your home are the best persons to do the job.
Lastly, they also manufacture and create modern, artistic, and antique designs, allowing customers to choose a design that can complement the interior of their home. You can turn to them for unique designs for the best sliding window in Singapore too!
Highlights
HDB- and BCA-licensed
Team of qualified technicians
Durable and strong products
Modern, artistic, and antique designs
Customer Reviews
As one of the top window contractors in Singapore, Pang Giap has received a lot of praise from their clients. Take a look at some of them:
"Engaging Pang Giap to replace my windows is by far one of the best things that has happened to me. If you've dealt with contractors before, you would know what I mean. To begin with, the surveyor, Mr. Ang who came to my house to quote, unlike other contractors, took measurements right to the millimeters without any indication that he will be given the job. His suggestion and recommendations were honest and sincere. Contrary to all other contractors who wanted me to change the entire kitchen windows because a faulty grille, Mr. Ang offers to repair it instead of replacing, thus saving cost."
"Pang giap has an experienced team with good knowledge which give sincere advice. The team is very careful and detailed throughout the process installing the windows and grilles. Reasonable price. Appreciate your hard work. Thank you."
"I am also satisfied with Pang Giap's service from sales to installation. Slim grill is so useful for hanging laundry during the day too. It's a little costly compared to other type/traditional wrought iron but slim grill will never go out of fashion and I would definitely recommend you to get slim grill for your home too!"
6. Hydroseal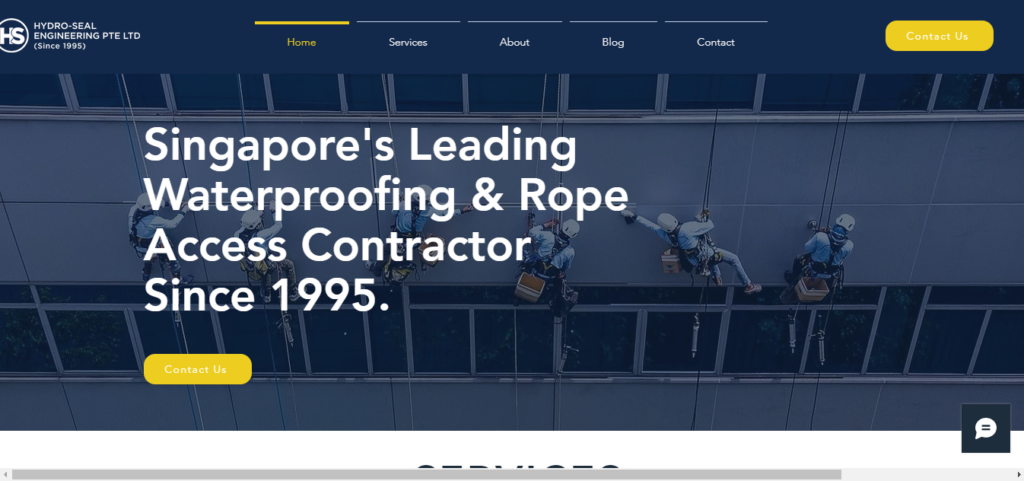 Hydroseal has been Singapore's leading waterproofing and rope access contractor since 1995. They specialize in Residential, Commercial, Industrial waterproofing and concrete repair works.
What people love about them is their customer service. That they offer them a superior level of service at affordable rates.
Unlike other companies, all their works include a "no-hassle" Certificate of Warranty. This makes their customers have peace of mind when working with them.
In case there are any unintended oversights, they will take responsibility and be held accountable for it.
Highlights
Competetive rates
Ensures timely and satisfactory completion of all projects
Offers 1 to 10 years warranties
7. Wee Ping Aluminium Contactors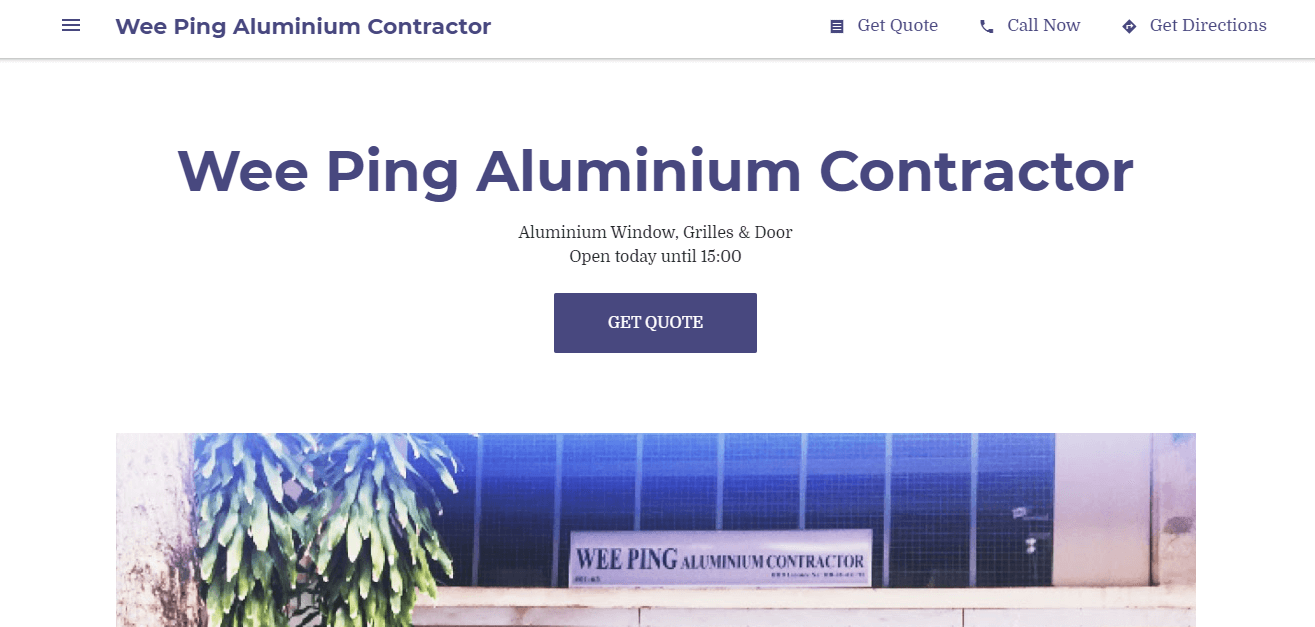 | | |
| --- | --- |
| BEST FOR | Affordable Rates |
| SERVICES | Aluminium Windows, Aluminium Grilles, and Wrought Iron Gates |
| WEBSITE | https://wee-ping-aluminium-contractor.business.site/ |
| ADDRESS | 1035 Eunos Ave 5 #01-63 Singapore 409744 |
| CONTACT DETAILS | 6858 4009 |
| OPERATING HOURS | Monday – Saturday, 8:00 AM – 5:00 PM |
If you're on a tight budget but still want an excellent window contractor, then you should check out Wee Ping Aluminium Contactor, They're a team of technicians who specialize in aluminium windows, aluminium grilles, and iron grilles.
They may not be the most well-known window contractor on the island, but they have a good number of clients who attest to how brilliant they are at their job. One customer even proclaims that they're definitely the best window contractor they have ever hired.
In addition, Wee Ping offers free on-site consultation to all their clients. They will show some sample designs, provide measurements, and offer an estimate of how much money will have to be spent.
Go to them for the best casement windows in Singapore on a budget, by the way! You'll be astonished by how low their rates can go sometimes for quality work.
Highlights
Affordable rates
Friendly technicians
Uses top-of-the-line materials
Free on-site consultation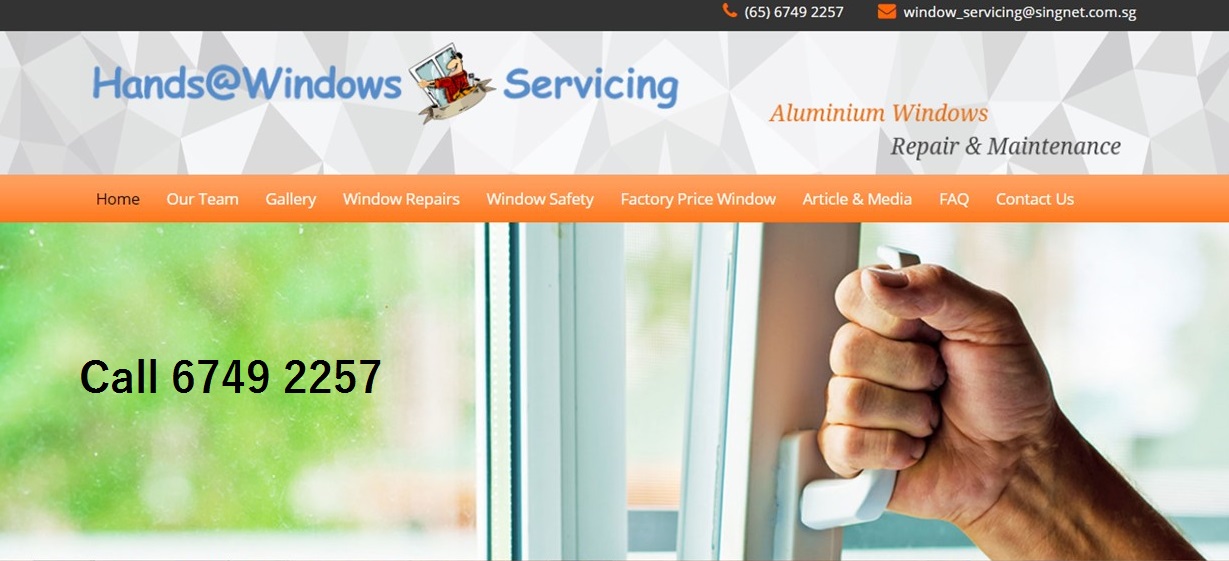 | | |
| --- | --- |
| BEST FOR | Window Repairs & Window Installation |
| SERVICES | Replacement of friction stay, window roller, FORM B1 house selling, new window & grille |
| WEBSITE | http://www.window-servicing.com/ |
| ADDRESS | 30 Kaki Bukit Road 3, #04-15 EmpireTechno Centre, Singapore 417819 |
| CONTACT DETAILS | 6749 2257 / 9367 9649 (Emergency Only) |
| OPERATING HOURS | Mon to Fri, 8am to 6pm, Sat 8am to 4pm, Emergency Services |
[email protected] Servicing is established to provide window repair services for HDB and Condo. Whenever there is a faulty window, they will try their best to offer repairs in order to save cost and also doing their little part for the environment.
The company is made up of a small team of BCA-HDB trained staff to carry out window works ranging from window safety inspection, replacement of hinges, rollers, handles and locks; they are specially trained in window repair works. [email protected] Servicing also provides new quality window and grille installation for homeowners if repair is not possible.
As one of the best window contractors registered under the licenced with HDB and BCA, they are always ready to serve you, you can contact them to find out more about their offers.
Highlights
BCA & HDB Certified staff
Specialised in window repairs
Great staff & service
All appointment is pre-booked
Customer Reviews
All [email protected] Servicing reviews are genuinely rated by their satisfied customers. They have owners engaging them from all walks of life. They strive to provide quality window repair services to make old windows last as long as possible.
9. Kluje
Kluje is the optimal platform to find the most fitting contractor for you. Established to make lives for homeowners easier, Kluje allows you to avoid the long, painful process of deciding whether someone can be trusted to do a good job or not, as you can see real-time reviews on the site as well.
You can post on the site what services you require and have contractors contact you in no time. With Kluje, you'll be able to pick out the best people for the job without the hassle of looking up companies one by one.
For window instalments or repair, you can simply write on the site that you're in need of a window contractor, and you're good to go!
Highlights
Fast responses
Best online platform to look for contractors
Easy contracts and trusted companies
10. Window-Grille-Door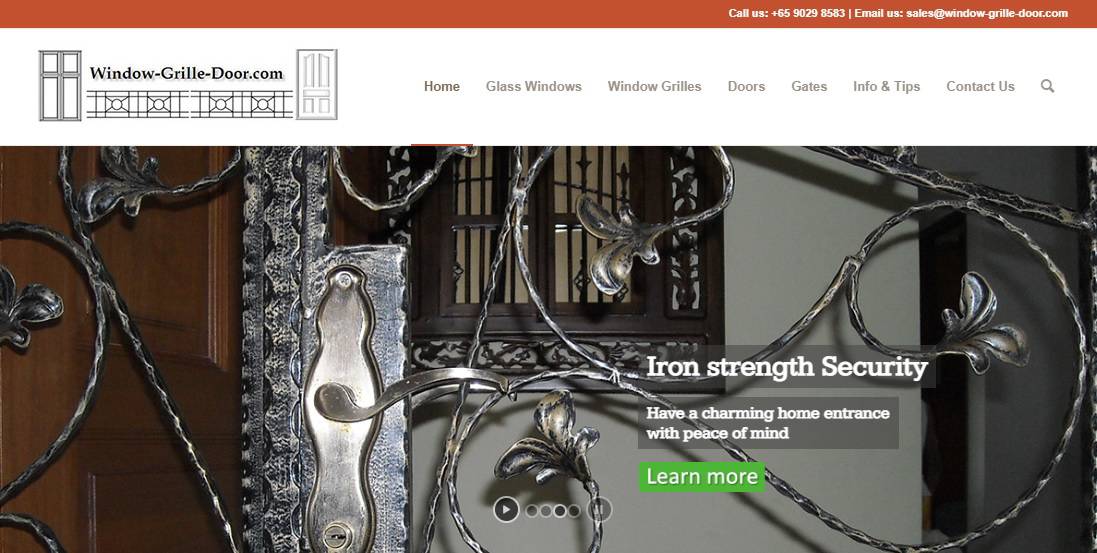 BEST FOR
Window treatments
SERVICES
Glass windows, Window grilles, Doors, Gates
WEBSITE
ADDRESS
20 Ang Mo Kio Industrial Park 2A
#06-30 AMK Techlink, Singapore 449408.
CONTACT DETAILS
+65 9029 8583
[email protected]
OPERATING HOURS
Monday to Friday: 9 am to 6 pm
Saturday: 9 am to 3 pm
Site visit by Appointment Only
Windows-Grille-Door is a company fruited from the collaboration of two amazing businesses, namely the Victorious Windows & Doors Pte Ltd, and the Yong Ka Aluminium Pte Ltd. It's considered to be one of the best window contractors in the country.
The WIndow-Grille-Door offers installments not only for windows, but also for grilles, doors, and gates. Among these services, you'll also be able to choose the type of material you'd want to use. For the windows, you have the options of Sliding Windows, Casement Windows, Louvre Windows, Bay Windows, Soundproof Windows, and of course, the Service Yard Windows.
To know more, simply head on to their website for the complete explanation and description for the services and materials available.
Highlights
Services are done in a timely manner
High-quality service
Stylish and affordable
11. Grilles N Glass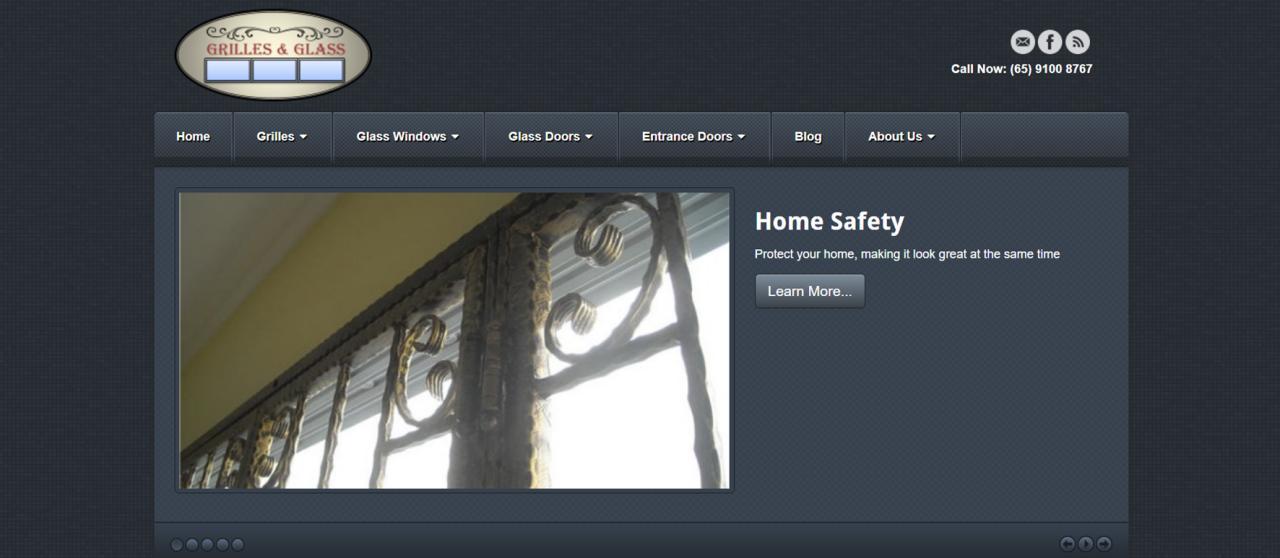 BEST FOR
Fully customised windows
SERVICES

Grilles, Glass Windows, Glass Doors, Entrance Doors

WEBSITE
https://www.grillesnglass.com/
ADDRESS

71 Woodlands Avenue 10, #07-14, Singapore 737743

CONTACT DETAILS
Phone: +65 9100 8767
Email: [email protected]
OPERATING HOURS
Monday – Friday: 9am–6:30pm
Saturday: 9am–5pm
Sunday: Closed
As a Singapore HDB-licensed contractor, Grilles N' Glass is the company to acquire for premier grilles, doors, and of course, windows. With their years of experience, their quality of work is something worth the price, which is definitely cheaper than most.
There are different types of windows for you to choose from: sliding windows, casement windows, soundproof windows, and louvre windows. Other features can also be changed to your likings, like the type of glass and frame used, as well as the colour of the glass and frame.
Anything can be made to your preference, simply contact Grilles N' Glass for more information.
Highlights
Decade of experience
Factory direct items
Delivers quality windows on time
Customer Reviews
Here are some of the feedbacks left on Grilles N' Glass' google review:
"Alex is very friendly and professional. He will go the extra mile to help wherever he could and provide good advice. My master bedroom is facing a BTO construction site and after the installation of the windows in my bedroom and master bathroom, noise level is tremendously reduced. I would highly recommend him to everyone who needs quality windows." – Helen Goh
"Alex is very professional and friendly. Building a good team work and awesome workmanship. Did my kitchen sliding window including the grills. Excellent work ." – Lina
12. Ho Ho Engineering
BEST FOR
Wide Range of Products
SERVICES
Tap/Basin, Electric, Lighting, Heater, Choke/Leakage, Rivet Changing, Lock, Painting, Basin, Toilet Bowl, Rubbish Chute, Cleaning, Sun-X, Aircon
WEBSITE
http://www.hohodoorsingapore.com/
ADDRESS
51 Kaki Bukit Industrial Terrace, Singapore 416131
CONTACT DETAILS
Tel: 67479019
Fax: 67478919
Email: [email protected]
House renovations vary in scale; if yours involves many areas of the house, then you might want to give Ho Ho Engineering a call. They offer a variety of products and maintenance services for your home.
They have a wide range of items, from iron-wrought gates to home furnishings. No matter what you need, they're sure to have.
Most importantly, they are a licensed contractor under the Housing Development Board and a BCA registered contractor. You can trust Ho Ho Engineering to deliver only the best.
Highlights
35 years of experience
Wide range of products
Maintenance services
13. M Aluminium & Glass

BEST FOR
Aluminum and Steel Products (Windows and Doors)
SERVICES
Glass Doors
Aluminium Windows
Aluminium Window Grilles
Shower Screens
Mezzanine Platforms
Staircase Railings
Awnings / Skylight
Toilet Doors
Slide and Swing
Kitchen Backsplash
WEBSITE
https://www.magworks.sg/
ADDRESS
10 Admiralty Street, #03-10/27 Northlink Building
Singapore 757695
CONTACT DETAILS

+65 9851 4223 | [email protected]
Sai Huat Metal Fabrication/ M Aluminum & Glass is a pioneer in the metalworks industry of Singapore. It is patronised by several home and building owners for its products of glass and steel, which include exquisite windows, doors, gates, and the like.
The workmanship of MAG is marked by sophistication and premium quality, tailored especially to suit the preferences of every client.
All products are scratch and rust-resistant, crafted only from materials of high caliber. You will only have to decide what design and build you think works best for your home – the MAG experts will take care of the rest!
Whether you are in the middle of a house or building construction, or simply trying to replace your old doors or windows, you can rely on the expertise of MAG. The delivery and installation of your orders will cost you nothing, and there will be no need to wait a lengthy amount of time for them to arrive.
Highlights
Outstanding quality of metal and aluminium works
Wide selection of products
Affordable prices for sophisticated and personalised designs
Superior quality mild-steel
Free delivery and installation
And that's it for our list of the best window contractors in Singapore! Whether you have a broken window or just want to replace it with a new one, you can definitely depend on any of these great window contractors. Most of them are on our list of the best HDB window repair companies too!
If you have a certain window contractor in mind that should've been on our list, tell us about it by leaving a comment below! We'd like to know if we missed any worth mentioning.
Lastly, if you're also looking for a kitchen contractor in Singapore but don't know which are the best ones, then you may want to read our list of the best kitchen renovation services in Singapore. With a clean and organized kitchen, you will always be in the mood to prepare food for the family.