Whether you're preparing a new home or replacing old windows, you need the best window contractors in Singapore to make sure that your windows are properly and safely installed.
There are lots of options to choose from on the island, fortunately, but we're here to narrow them down to the best ones. So, if you're clueless as to where to find the best window contractors, you've come to the right place!
These are the contractors we've found to have the best track records, services, and rates. Without further ado, here's our list of the best window contractors in Singapore.
1.  Express Windows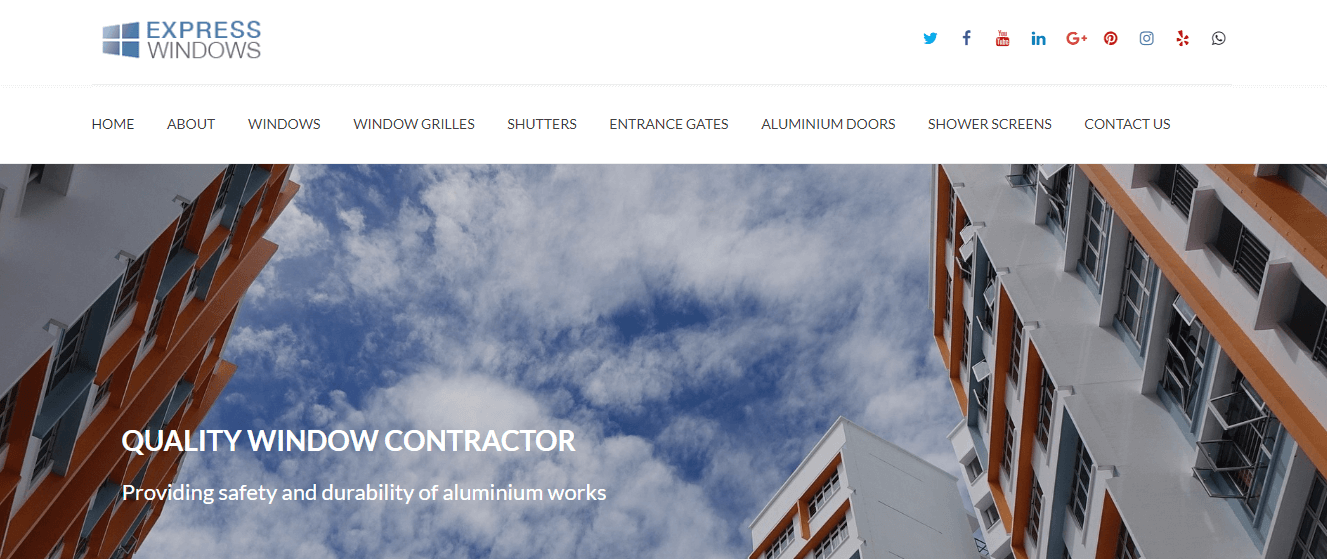 | | |
| --- | --- |
| BEST FOR  | Aluminum Works and Window Installations |
| SERVICES | Windows, Window Grilles, Shutters, Entrance Gates, Aluminum Doors, and Shower Screens |
| WEBSITE | https://expresswindows.com.sg/ |
| ADDRESS | 10 Admiralty Street North Link Building #02-16, Singapore 757695 |
| CONTACT DETAILS | 92310101 |
| OPERATING HOURS | Monday – Friday, 9:00 AM – 7:00 PM |
If you want a window contractor with a great track record, then look no further than Express Windows.
With over 20 years of experience, they have become one of the most trusted names in window and door installation, with a clientele made up of homeowners and business owners.
While there may be a lot of window contractors on the island, no one has the same level of commitment to safety and quality. It's no surprise, considering they're all professional BCA-certified window installers, on top of being great at aluminum work.
In case your window only needs maintenance, you may also ask for their help. However, whatever window-related concerns you may have, they can definitely be of help.
Highlights
20 years of experience
Uses durable materials
BCA-certified
Customer Reviews
Express Windows tops our list for their excellent customer service. So, here are some feedback from their clients:
"Excellent service! Prompt response and affordable pricing. The entire process from quotation to installation was hassle free. Even though I only required a simple service and cost a small amount, vendor was extremely patient with my multiple queries, and replied promptly throughout. They are also very professional and can be trusted to deliver a good job. Highly recommended! Will def consider them for my future jobs."
"I would like to commend Express Windows for their quick and efficient window installations for my renovation. We got a very reasonable quote from them, but we were most impressed with the level of professionalism they showed."
 2.  A&V Aluminum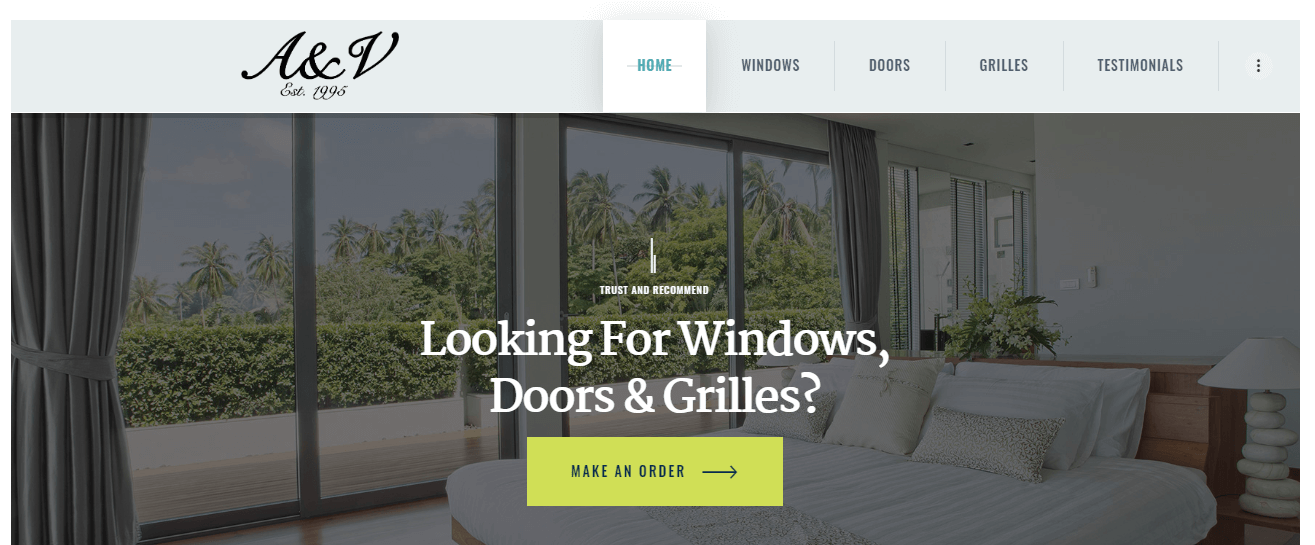 | | |
| --- | --- |
| BEST FOR  | Quality Workmanship |
| SERVICES | Window Installation, Grilles, Entrance Doors, and Glass Doors |
| WEBSITE | https://anv-aluminium.com/ |
| ADDRESS | 71 Woodlands Ave 10, #07-14, Singapore 737743 |
| CONTACT DETAILS | 9431 1487 |
| OPERATING HOURS | Monday – Friday, 9:00 AM – 9:00 PM |
A & V Aluminum offers quality window, grille, and door installation services to everyone in Singapore. One of their goals as a company is to improve the lives of clients by providing them with unparalleled workmanship partnered with the use of top-quality products.
Established 20 years ago, they have grown into one of the most dependable window contractors on the island, boasting a pool of clients from both residential and commercial spaces. If you want your dream house to come alive, then don't hesitate to pick up the phone and give them a call.
Moreover, on top of their quality services, their rates are affordable and reasonable. You will never hear them overcharging their clients with ridiculously high rates just because they can.
Highlights
20 years of experience
Quality workmanship
Free on-site consultation
Affordable rates
Customer Reviews
A & V Aluminum has an average rating of 5 on Google Reviews, making it one of the best-reviewed contractors in Singapore.
If you take a look at their website, you can also see some customer testimonials. Here are some of them:
"Highly Recommended! I am extremely impressed with Alex and Vincent's expertise, knowledge and experience. They are very obliging; fantastic and efficient in carrying out the detailed works required. I was totally assured that their work is of superlative quality. Alex and Vincent are honest and principled professionals. Please give them the opportunity to serve you. You will definitely NOT be disappointed!"
"A&V has successfully helped us to build our dream home. We are satisfied with the quality of the aluminum grilles and the excellent workmanship. The price offered is also reasonable. We would definitely recommend A&V to our friends and family"
 3.  Top 1 Window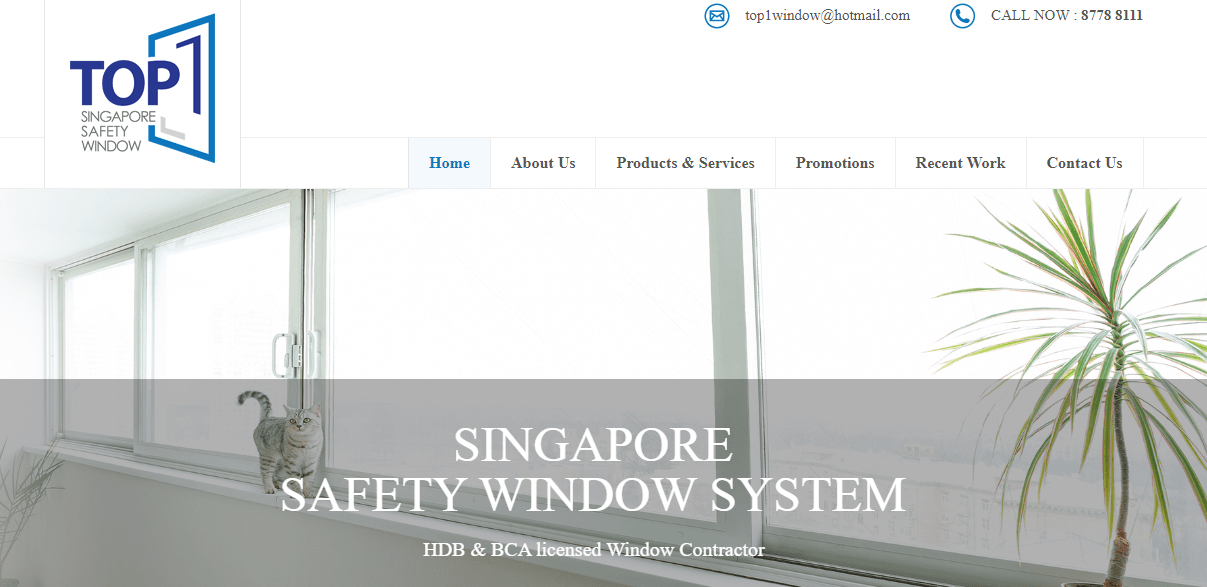 | | |
| --- | --- |
| BEST FOR  | Safe Window Installation |
| SERVICES | Aluminum Grille, Aluminum Window, Aluminum Door, Aluminum Gate, Painting Services, and Glass Doors |
| WEBSITE | http://www.top1window.com.sg/ |
| ADDRESS | 29 Sunoco South Road Singapore 758803 |
| CONTACT DETAILS | 8778 8111 |
| OPERATING HOURS | Monday – Friday, 9:00 AM – 6:00 PM |
Top 1 Window is a BCA- and HDB-licenced window contractor in Singapore that offers a wide range of services including window installation, grille installation, door installation, and even painting services.
Most customers love their services for a variety of reasons. For instance, a lot of clients stick with them because they try to work as quiet as possible so as not to disturb the harmony of your home.
Another thing customers love about Top 1 Window is that they listen carefully to all their suggestions and ideas. They try to incorporate all these in their work, resulting in the satisfaction of every client.
If you want a window contractor that takes your output seriously, then they're a perfect match you. They can also accommodate tight budgets!
Highlights
BCA- and HDB-certified
10 years of experience
Team of expert technicians
4.  Wee Ping Aluminum Contactors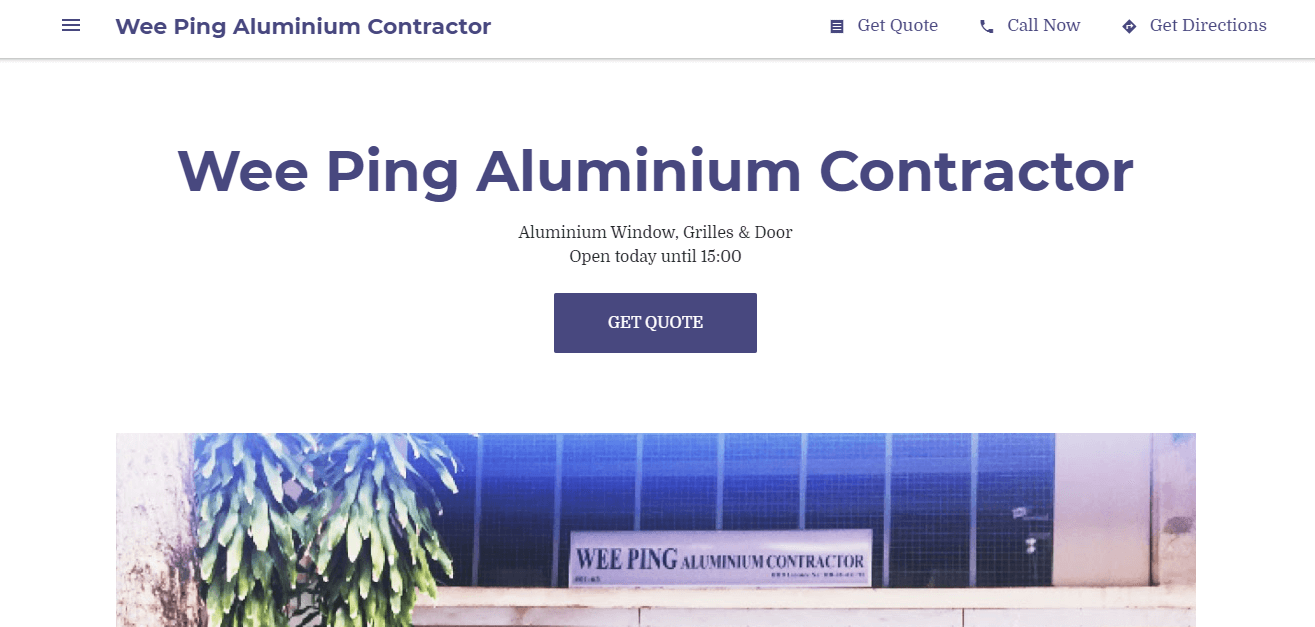 | | |
| --- | --- |
| BEST FOR  | Affordable Rates |
| SERVICES | Aluminum Windows, Aluminum Grilles, and Wrought Iron Gates |
| WEBSITE | https://wee-ping-aluminium-contractor.business.site/ |
| ADDRESS | 1035 Eunos Ave 5 #01-63 Singapore 409744 |
| CONTACT DETAILS | 6858 4009 |
| OPERATING HOURS | Monday – Saturday, 8:00 AM – 5:00 PM |
If you're on a tight budget but still want an excellent window contractor, then you should check out Wee Ping Aluminum Contactor, They're a team of technicians who specialize in aluminum windows, aluminum grilles, and iron grilles.
They may not be the most well-known window contractor on the island, but they have a good number of clients who attest to how brilliant they are at their job. One customer even proclaims that they're definitely the best window contractor they have ever hired.
In addition, Wee Ping offers free on-site consultation to all their clients. They will show some sample designs, provide measurements, and offer an estimate of how much money will have to be spent.
Highlights
Affordable rates
Friendly technicians
Uses top-of-the-line materials
Free on-site consultation
5.  Pang Giap Enterprise

| | |
| --- | --- |
| BEST FOR  | Artistic and Antique Designs |
| SERVICES | Aluminum Windows, Soundproof Windows, Wrought Iron Gates |
| WEBSITE | http://www.panggiap88.com.sg/ |
| ADDRESS | 4035 Ang Mo Kio Industrial Park 1, Singapore 569642 |
| CONTACT DETAILS | (65) 6281 2485 |
| OPERATING HOURS | Monday – Friday, 9:00 AM – 6:00 PM |
If you have extra money to spare on a window contractor, then you should definitely hire Pang Giap Enterprise's services.
As one of the leading window contractors in Singapore, their services definitely do not come cheap, but once you see the results of their work, you know it's worth it.
Besides being HDB- and BCA-licensed window contractor, Pang Giap also manufactures their own metal and glass products like doors, grilles, windows, and even railings. Having their own product line allows them to maintain the quality of their services, and in turn, satisfy all their customers.
One of the things customers like about them is their highly-trained and expert team of technicians and installers. Despite spending a lot of money on their services, you know that the people you let into your home are the best persons to do the job.
Lastly, they also manufacture and create modern, artistic, and antique designs, allowing customers to choose a design that can complement the interior of their home.
Highlights
HDB- and BCA-licensed
Team of qualified technicians
Durable and strong products
Modern, artistic, and antique designs
Customer Reviews
As one of the top window contractors in Singapore, Pang Giap has received a lot of praise from their clients. Take a look at some of them:
"Engaging Pang Giap to replace my windows is by far one of the best things that has happened to me. If you've dealt with contractors before, you would know what I mean. To begin with, the surveyor, Mr. Ang who came to my house to quote, unlike other contractors, took measurements right to the millimeters without any indication that he will be given the job. His suggestion and recommendations were honest and sincere. Contrary to all other contractors who wanted me to change the entire kitchen windows because a faulty grille, Mr. Ang offers to repair it instead of replacing, thus saving cost."
"Pang giap has an experienced team with good knowledge which give sincere advice.  The team is very careful and detailed throughout the process installing the windows and grilles. Reasonable price. Appreciate your hard work.  Thank you."
"I am also satisfied with Pang Giap's service from sales to installation. Slim grill is so useful for hanging laundry during the day too. It's a little costly compared to other type/traditional wrought iron but slim grill will never go out of fashion and I would definitely recommend you to get slim grill for your home too!"
6. Sainty Aluminum Co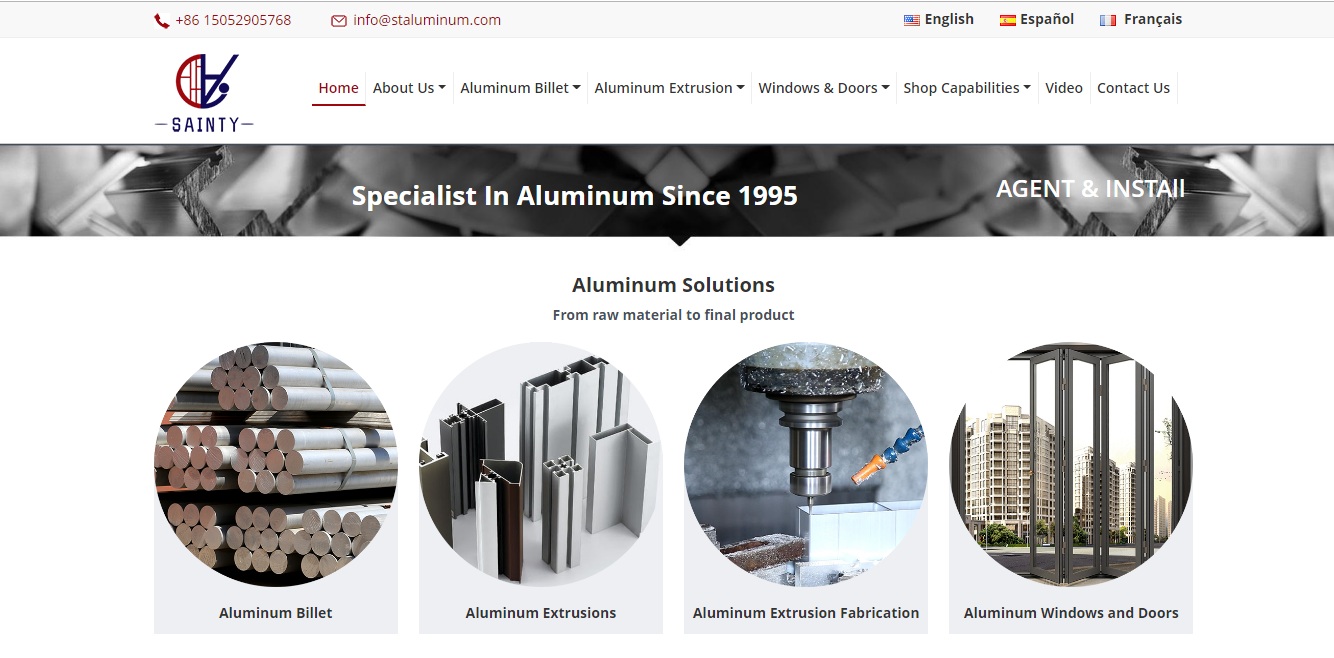 BEST FOR

Aluminum Windows

SERVICES

Casement Window, Ventilate Window, Thermal Break Window Casement Window with Trickle Vents, Double Sliding Window, Window Screen

WEBSITE

http://www.staluminumprofile.com/

ADDRESS

Sainty Road No.121, Dongcheng Dept, Linqu County, Weifang City, Shandong Province

CONTACT DETAILS
+86-15052905768 / [email protected]
OPERATING HOURS
Monday – Friday:

9:00 am – 6:00 pm
Founded in 1995, Sainty Aluminum Co. is one of China's sources of aluminum. They manufacture aluminum alloy raw materials and other aluminum products. So, if you want your windows to be made up of this material, you can order from the shop. 
Their years in the business allowed them to expand their horizon and improve their service. As a result, they earned a good reputation among the consumers. 
Highlights
Shop windows, doors

Over 300 series of products

Customer oriented

40 countries designs available
And that's it for our list of the best window contractors in Singapore! Whether you have a broken window or just want to replace it with a new one, you can definitely depend on any of these great window contractors.
If you have a certain window contractor in mind that should've been on our list, tell us about it by leaving a comment below! We'd like to know if we missed any worth mentioning.
Lastly, if you're also looking for a kitchen contractor in Singapore but don't know which are the best ones, then you may want to read our list of the best kitchen renovation services in Singapore. With a clean and organized kitchen, you will always be in the mood to prepare food for the family.