21 Best Places and Centres to Volunteer in Singapore (2021 List)
Are you looking for a good way to contribute to the community and volunteer in Singapore? You may be interested in today's roundup, then, which is about the best places to volunteer in Singapore.
The non-profits we've found all have worthy causes. But what sets the ones in this lineup apart from the rest is the excellence of their organisation, the proven impact of their efforts, and their willingness to welcome and teach new members how to contribute.
But you can see that for yourself if you join any of them. So we won't waste any more of your time and take you through the best centres or places to volunteer in Singapore.
1. Very Special Arts Singapore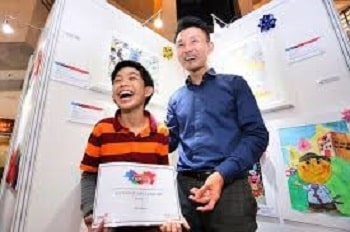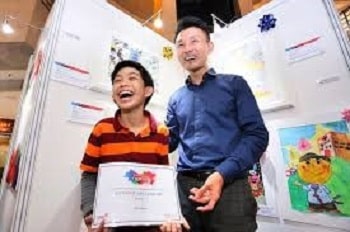 *Photo from A Very Special Arts' Facebook page
For over 25 years, Very Special Arts Singapore has run workshops and art fairs for the differently-abled and adults with special needs.
This volunteer centre in Singapore is open to those who have creative skills that they can share and teach to the students. Throughout the entire experience, the members all get their chance to exhibit their creativity to their heart's content.
2. Animal Research and Education Society (ACRES)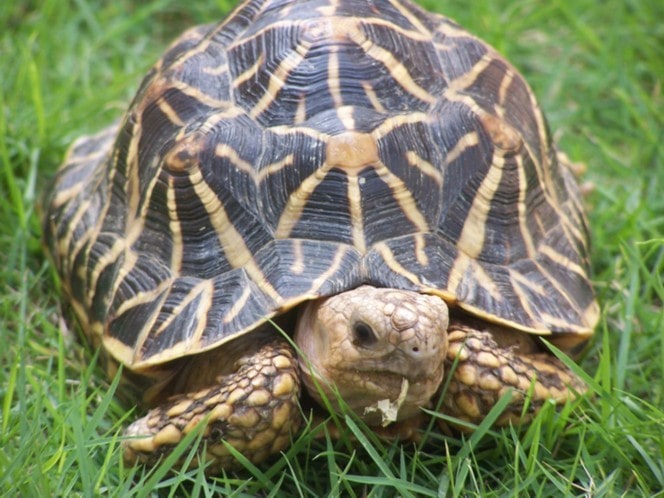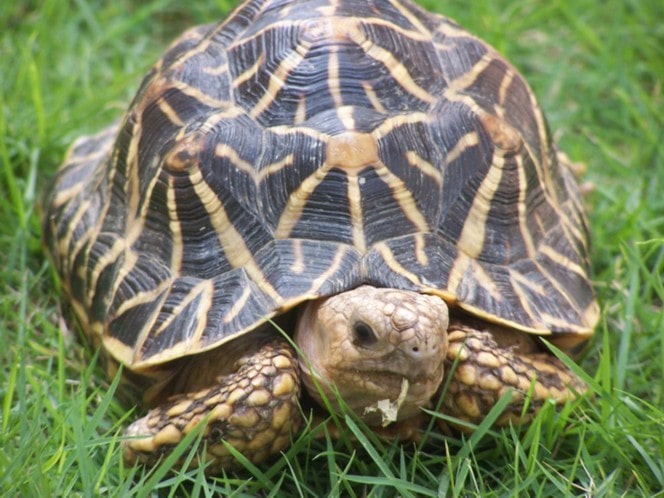 *Photo from Animal Research and Education Society's website
Looking for a place to volunteer in Singapore that focuses on wildlife? 
Animal lovers can spread their wild love for wildlife in ACRES. They are dedicated to protecting animals ranging from monkeys to birds, sea turtles to sugar gliders, and snakes to furbabies like dogs and cats, among others.
ACRES works to battle illegal wildlife trade, animal abuse, while also raising animal welfare awareness, doing rescues, rehabilitation, and community outreach.
It's not surprising to know that many animal lovers consider ACRES as their preferred place for volunteer in Singapore for 2021.
3. Beyond Social Services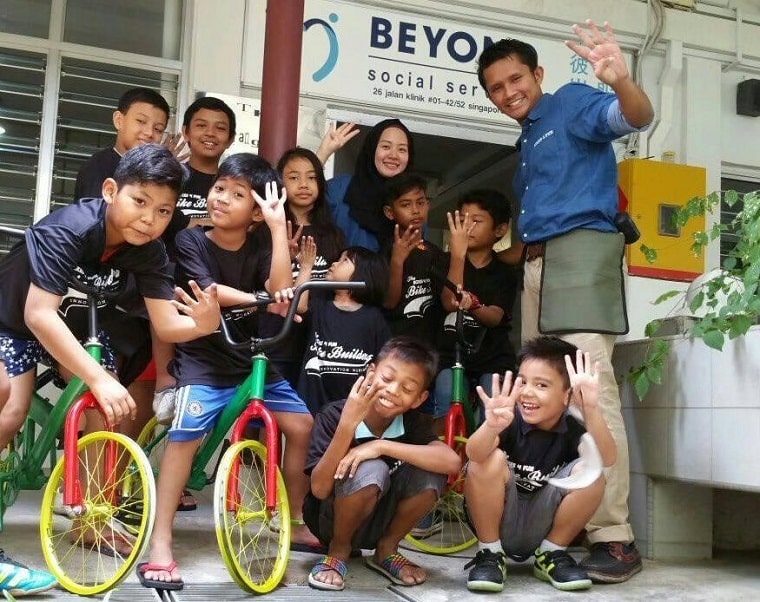 *Photo from Giving.sg
You can register at Beyond Social Services, where every volunteer in Singapore can send help to underprivileged youth.
Volunteers are encouraged to showcase their talent or hobby or just lend an ear to those who need a heartfelt sharing session. Beyond Social Services advocates building connections through empathy, and helping others overcome poverty.
Beyond Social Services is considered by many to be one of the most fun and interactive places to volunteer in Singapore.
4. Mummy Yummy Singapore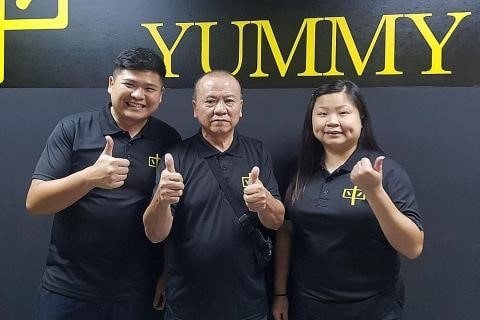 *Photo from Tnp.sg
Because of poverty, many Singaporeans are denied a decent meal in some days. So Mummy Yummy travels from door to door to deliver free packets of freshly cooked vegetarian food to various families in need.
Volunteers can contribute SGD 1 to the charity or assemble friends to deliver monthly food to their chosen "adopted" neighbourhood.
5. ReadAble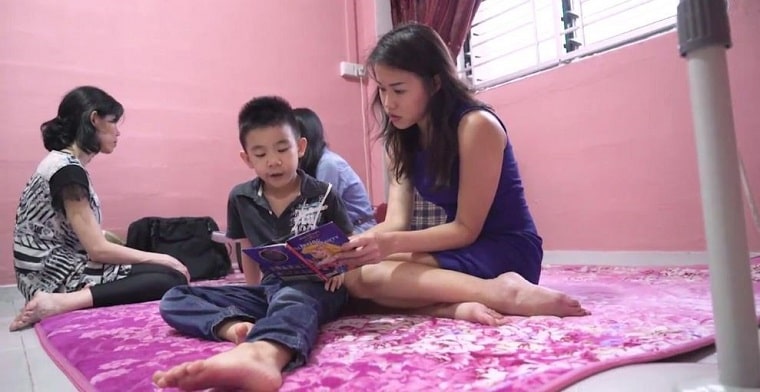 *Photo from ReadAble's website
If you're after a centre for volunteer in Singapore that focuses on fostering literacy among children, ReadAble is perfect for you. 
Singapore's youth are helped to develop their reading and writing prowess by folks from ReadAble.
Advocating literacy for children, the organisation holds weekly readings plus lessons on language and arts to unleash their creativity.
You can join ReadAble to teach children or sponsor school supplies. These items are used to conduct classroom sessions.
6. Lion's Befrienders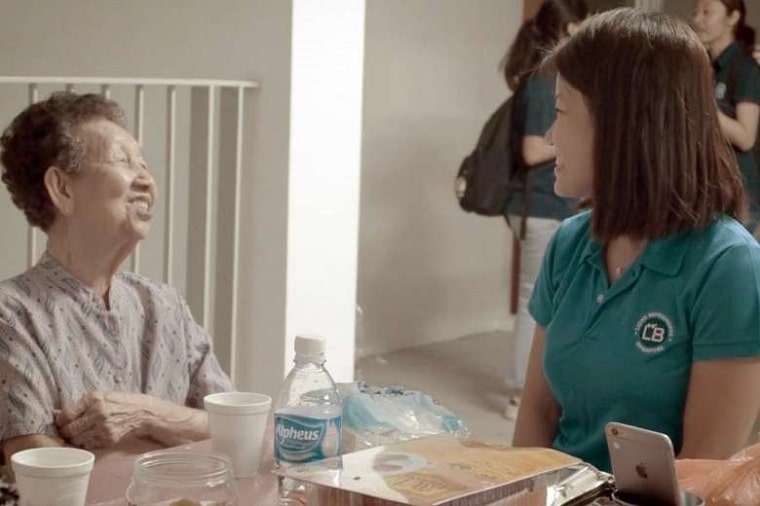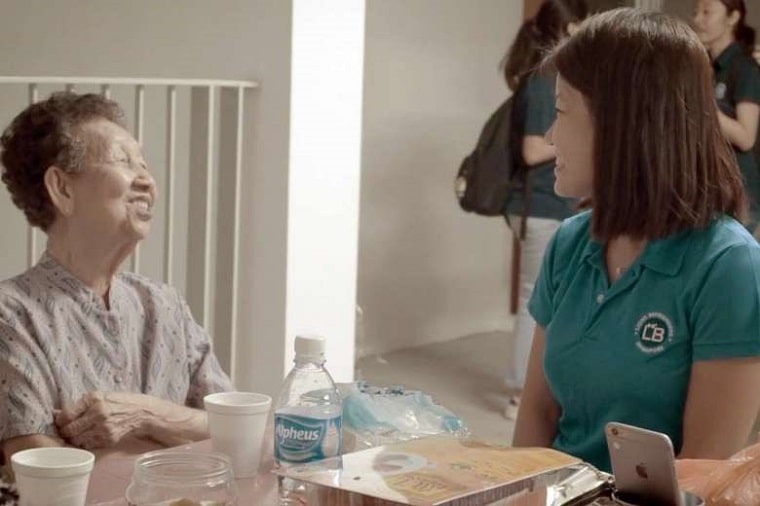 *Photo from Straitstimes.com
Age is just a number that grows as we meet more friends along the way. That's certainly something seen when you're part of this non-profit.
Lion's Befrienders are volunteers who visit homes for seniors weekly. They bond and form friendships with them, sharing lasting moments that never gets old.
A few of the Befriender's tasks are accompanying the oldies to the doctor's, reminding them about their medicines, or plain old support whenever needed.
Those who have a soft spot for the senior members of the community find that Befriender is the perfect place to volunteer in Singapore.
7. Pink Dot Singapore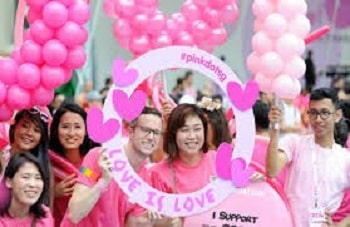 *Photo from Thehoneycombers.com
If you're passionate about fostering rights for the LGBTQ+ community, Pink Dot is the ideal centre to volunteer in Singapore for you.
Volunteers with Pink Dot are supporters of the LGBTQ+ community. Advocating the community's rights is their prime motivation as they spread awareness about acceptance.
"Supporting the freedom to love," as their motto proclaims, Pink Dot conducts a yearly demonstration that gathers allies and supporters alike in Hong Lim Park to advocate for, and celebrate the LGBTQ+ society.
8. Food from the Heart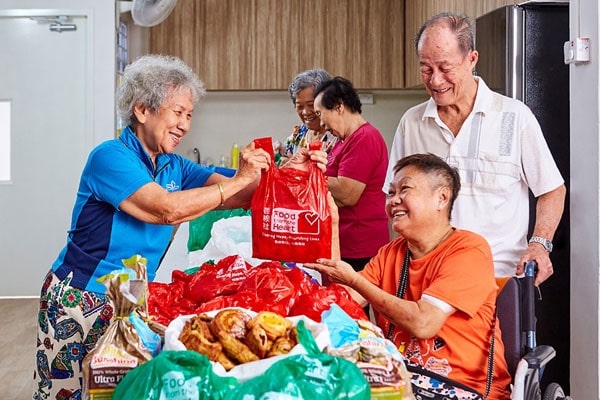 *Photo from Food from the Heart's website
Food from the Heart is a volunteer place in Singapore that has a focused aim: to provide daily bread (literally)
Food from the Heart volunteers collect bread from certain bakeries around Singapore. The breads are surplus, thus, they are not being sold nor eaten.
Food from the Heart gathers the baked treats then delivers them to their beneficiaries. You can join the organisation to help ensure that food will not be wasted on the island.
9. Causes For Animals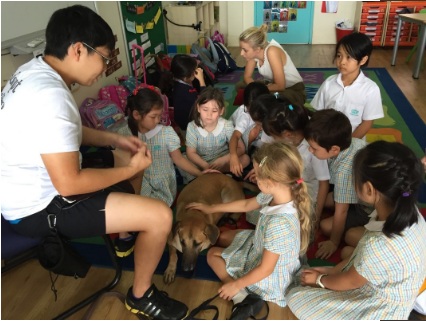 *Photo from  Causes For Animals.com
Causes for Animals is a volunteer place in Singapore that aims to provide proper care to stray animals, from rescuing to giving them a family that will treat them like their own. The money that the organisation raises is allotted to various programs for animal welfare. There's food, medical supplies, housing needs, and other sustainable activities to keep these animals away from the streets and the harm it could possibly bring.
Volunteers could be of help in many ways. They can write, design, take photographs, assist in the adoption process, take part in the events, and many other work for the benefit of the rescued animals.
10. Singapore Council of Women's Organisations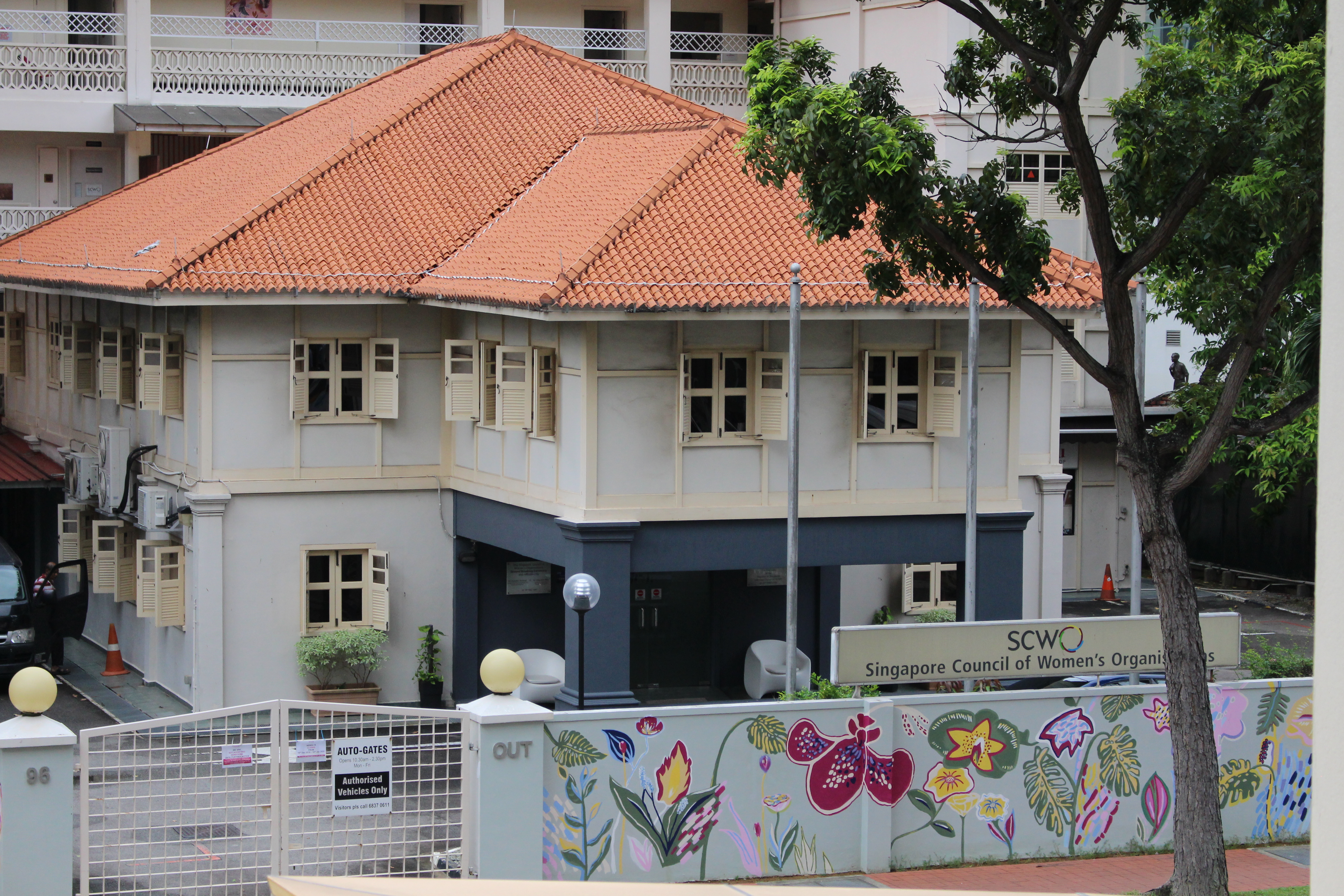 Women's welfare is the utmost priority of Singapore Council of Women's Organisations. It brings together more than 50 member organisations, which represent over 500,000 women across the country in promoting "Equal Space, Equal Voice and Equal Worth" for all the women in Singapore.
Various activities await aspiring volunteers of the Council like Tutoring, Child-care support
Skills training (IT, language, financial, arts & craft), and Recreational (e.g. gardening, sports, music, outings). They also manage some thrift shops and IT hubs to widen the scope of their reach.
Those who are passionate about fostering women's rights will find Singapore Council of Womens' Organisations the ideal place to volunteer in Singapore for them.
11. Singapore Red Cross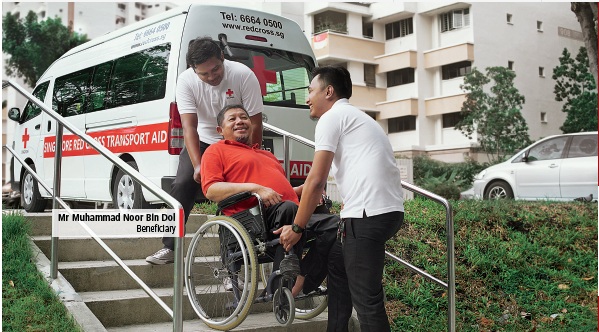 Red Cross is one of the widely known organisations worldwide and here in Singapore is yet another institution that provides assistance for people in need of immediate blood supply and other related emergencies.
Being a volunteer of Singapore Red Cross means the opportunity to help save someone's life. They provide training and seminars that will get you fully equipped for different activities like  blood drives, medical missions, and emergency responding.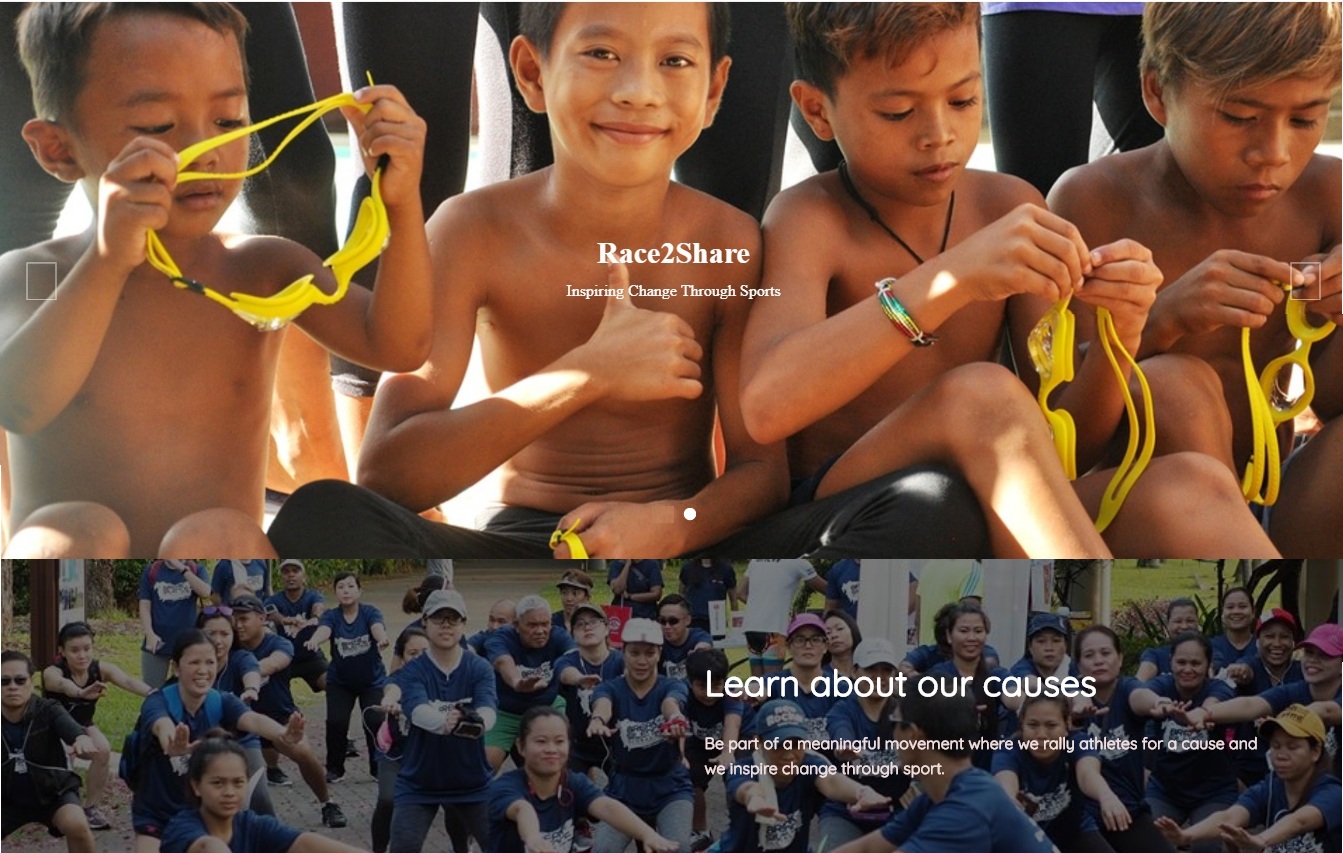 Do you want to get fit and have fun while volunteering in Singapore?
Fun and engaging activities for a cause is what Race2Share is all about. The pursuit that they host does not only challenge the physical capacity of their participants by hosting marathons and other sports but it also serves as a meaningful movement to inspire and reach less fortunate and unempowered people and help them be better.
Race2Share have supported a variety of causes in the past related to sexual abuse on deaf women and children, education, HIV prevention and PWD empowerment and they continue to raise awareness and increase funds to further their reach.
13. Habitat for Humanity Singapore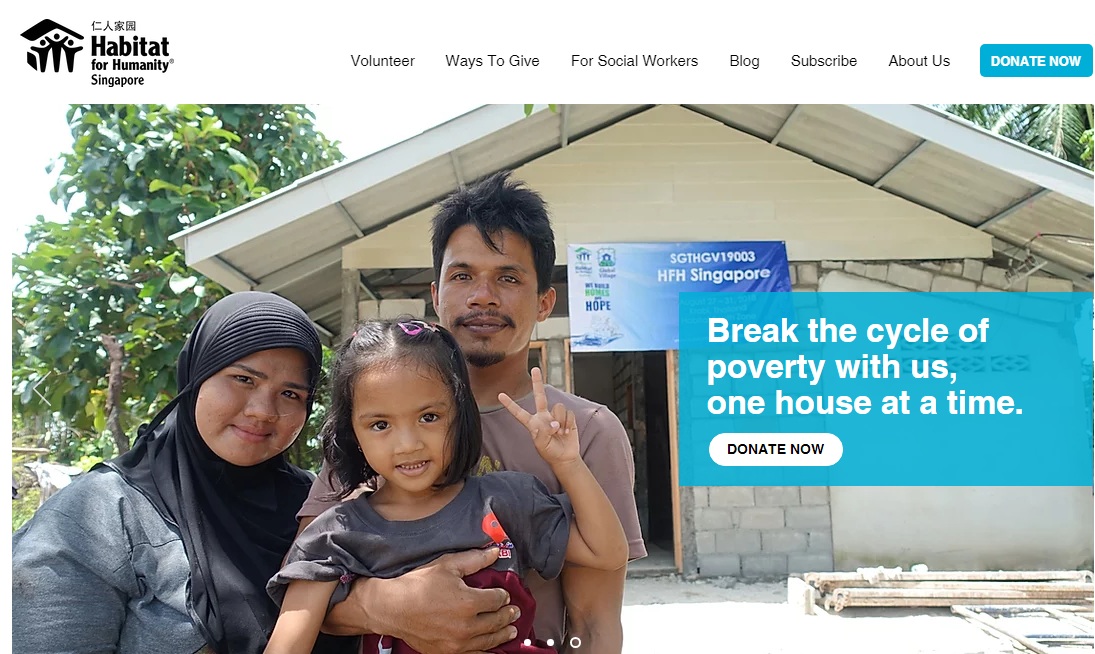 Habitat for Humanity is an internationally acclaimed organisation that aims to fight against poverty and help less fortunate families to live a better life by providing shelters, basic necessities, and other similar needs that will improve their current living conditions.
The organisations hosts various activities to raise funds and support from people in and outside of Singapore. Due to their wide scope of beneficiaries, they are in continuous need for volunteers in Singapore who have the same advocacy.
14. Action for Singapore Dogs

Action for Singapore Dogs is a nonprofit organisation that aims to help stray and abandoned dogs in Singapore. They have a strict no-kill policy for their shelter.
They focus on fostering and re-homing all the dogs they take care of. With all the activities they do, any manpower and donations you may provide are more than welcome.
Needless to say animal and dog lovers find this to be the perfect place to volunteer in Singapore.
15. Youth Corps Singapore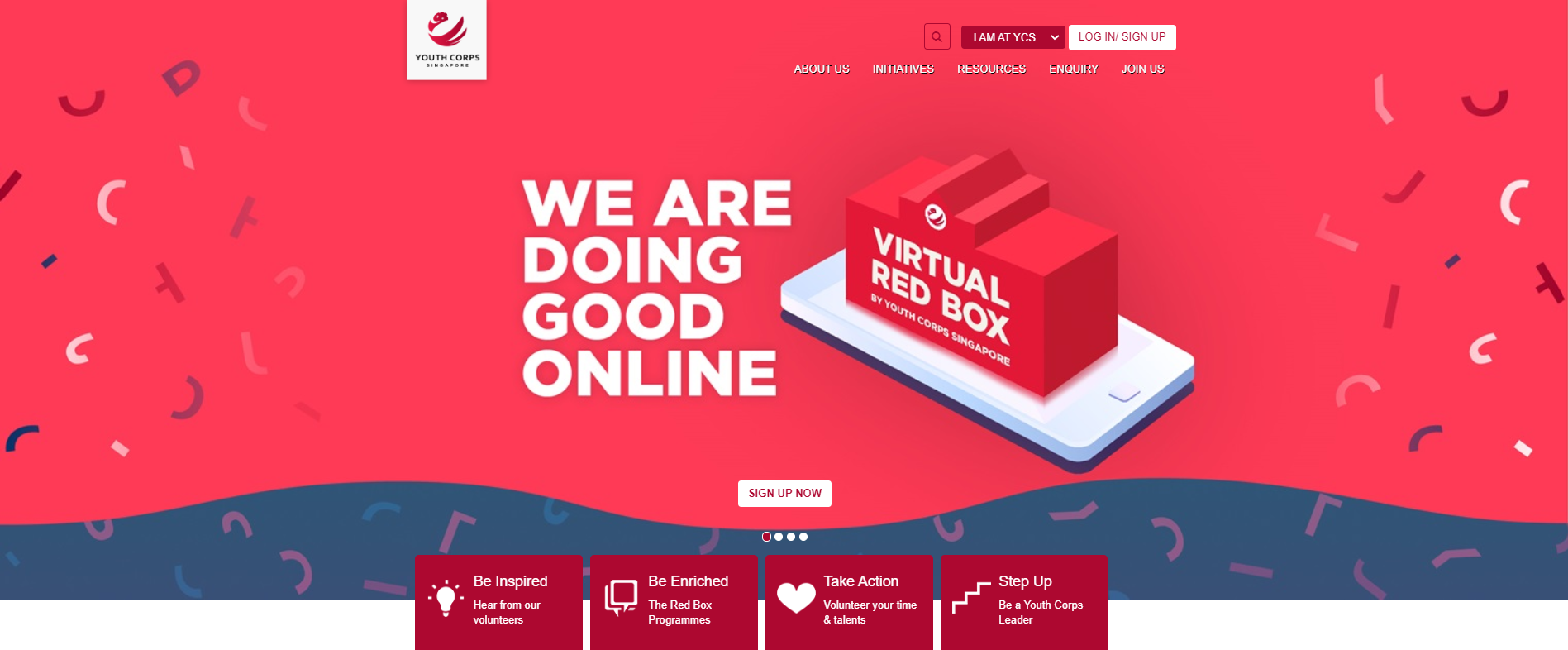 Youth Corps Singapore aims to provide a variety of volunteering opportunities for youth. Their service projects range from ad-hoc, to regular and project-based.
They provide all volunteers a chance to hone one's skills, no matter the skill level. You'll also get the chance to meet like-minded individuals, ones who are as passionate about serving the community as you are.
16. Babes Pregnancy Crisis Support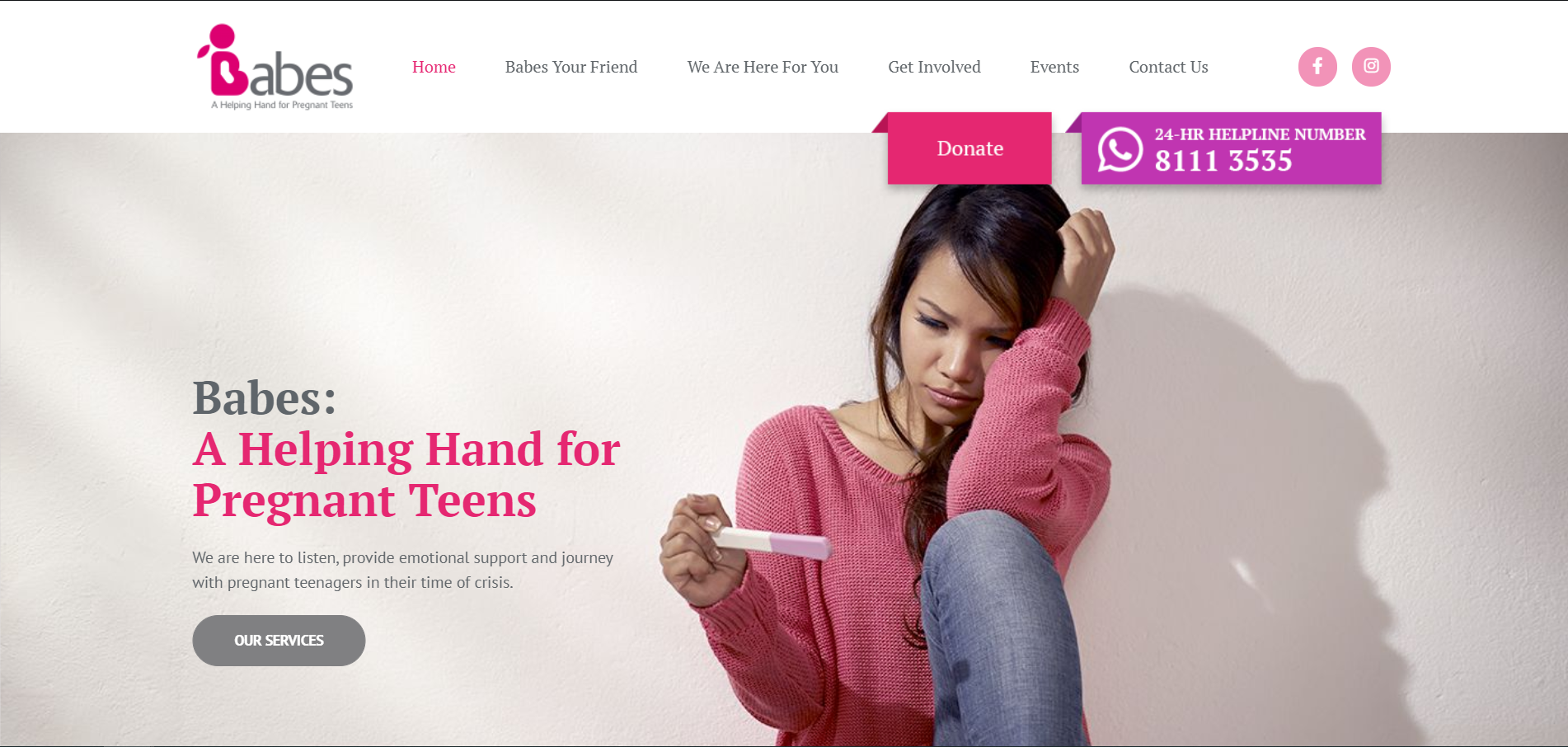 Babes Pregnancy Crisis Support is an organisation whose goal is to help pregnant teens in their time of crisis. They assist women aged 21 and below to inform her of her options and possible course of action.
By journeying with them, they aim to help the expectant woman reach stability and new normality through practical assistance and emotional support.
17. Edible Garden City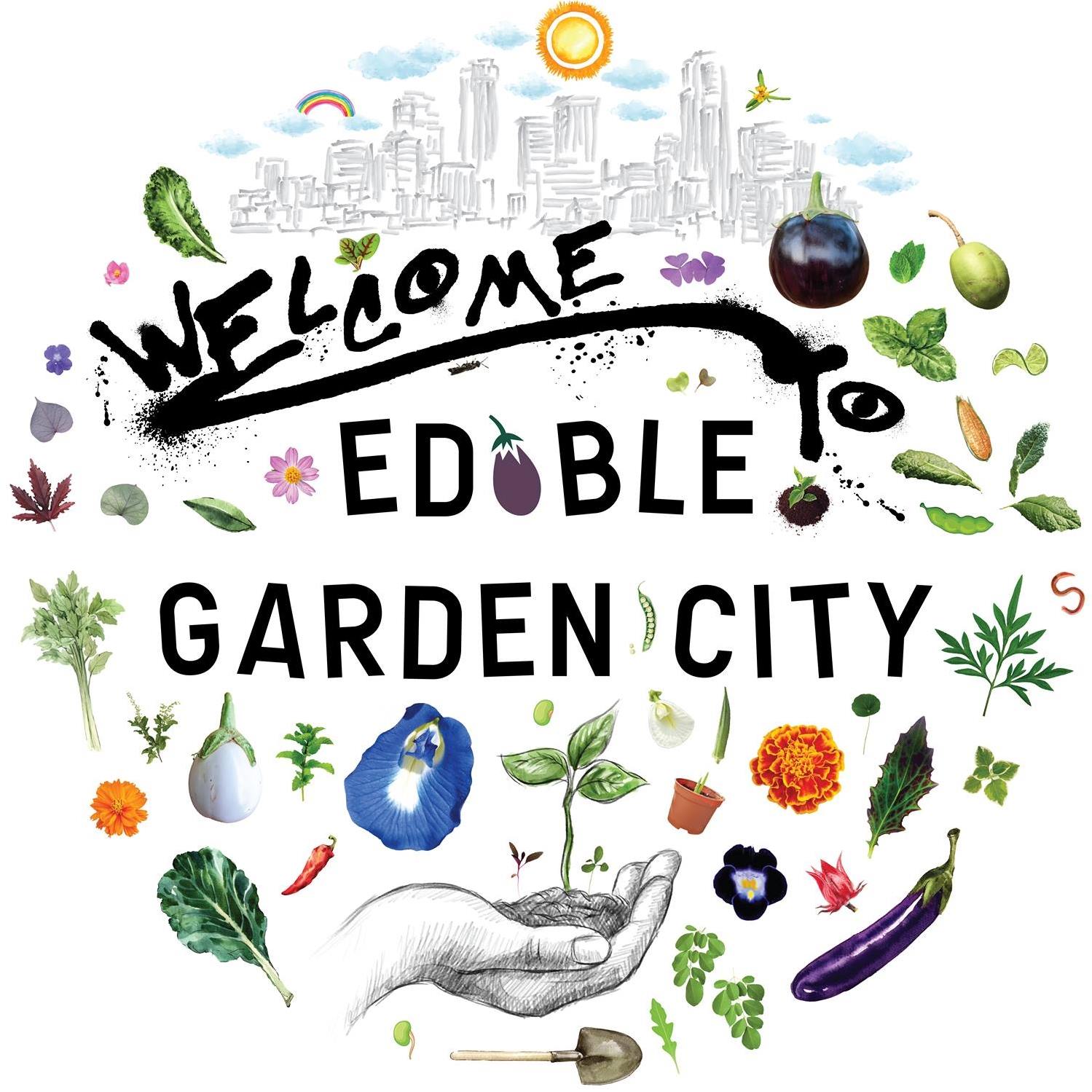 Edible Garden City is a volunteer place in Singapore where you can hit two birds in one stone: do meaningful work / volunteer and also learn all about urban farming.
Their goal is green and simple: for Singaporeans to be able to thrive on safe, sustainable locally grown fresh food in their own urban communities. 
Edible Garden City designs, builds and maintains urban food gardens all over Singapore's hotels, restaurants, schools and residences. Hoping to plant a seed amongst Singaporeans to have a passion for sustainable urban gardening, they conduct farming workshops at their site.
For volunteer schedules and workshops, it's recommended you contact them at least a week prior (they get back to queries within 3 working days). It's important to note that Edible Garden City is not open to the public except during tours, volunteers and workshops. 
Volunteer Reviews
Many seem to be quite happy with their Singapore volunteer experience with Edible Garden City as they learn something valuable whilst giving back. 
Here's one online review from CK Chim, who volunteered at the centre:
It is a social enterprise that aims to promote growing our own food. I participated in "The Edible Garden City Tour: Queenstown Farm" and found it to be very informative and interactive. We got to try lots of edibles (eg. flowers, micro greens) and each of us was even given a large bag of kale, a bottle of honey and a box of microgreen.
18. Touch Community Services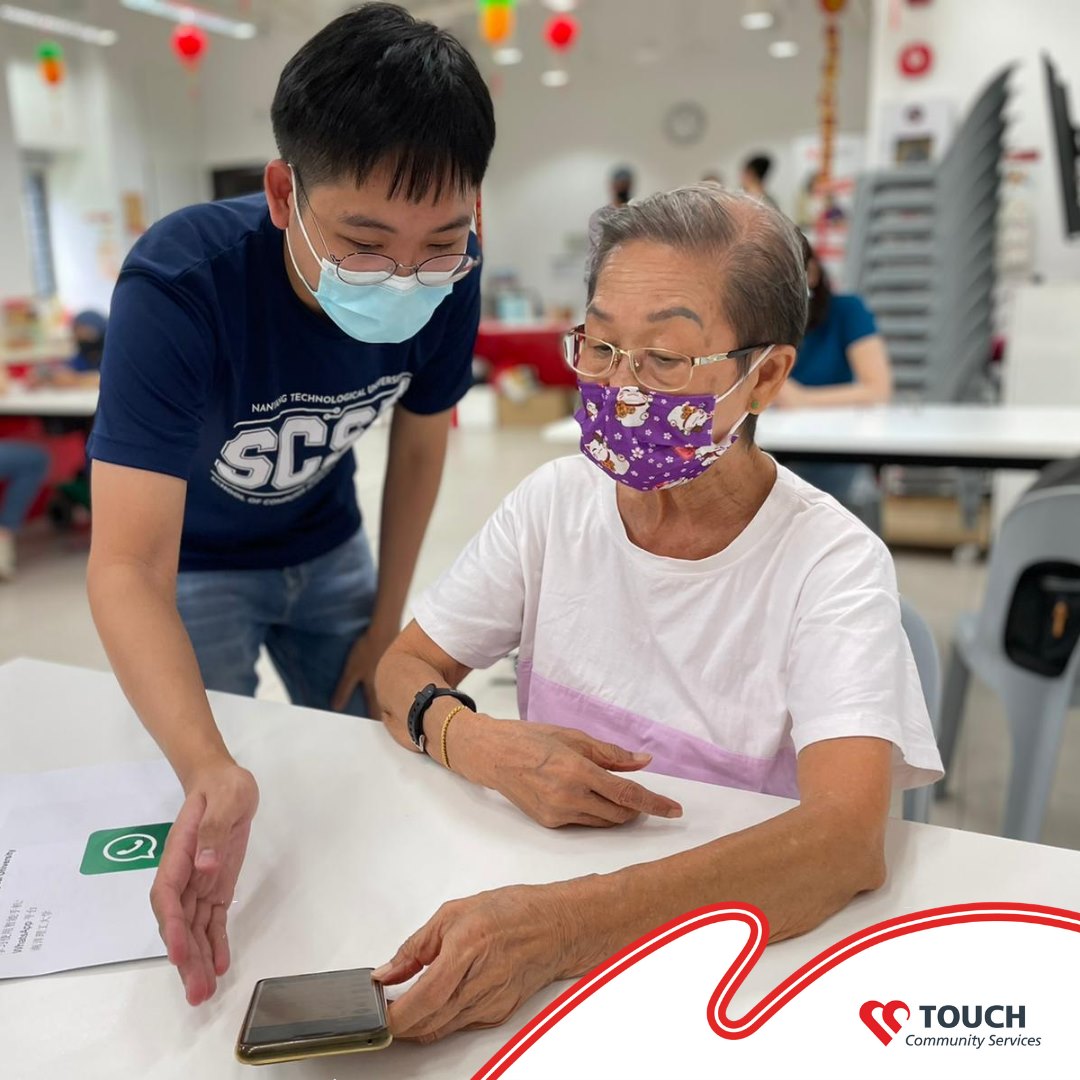 CAUSES
fostering growth and help across multi-generations from youth, the elderly, disabled and those with special needs
WEBSITE
https://www.touch.org.sg/
ADDRESS
Blk 162 Bukit Merah Central
#05-3545 Singapore 150162
CONTACT DETAILS 

(65) 6377 0122
Touch Community Services is one of the most established and trusted volunteer places in Singapore. It was established in 1992 as a not-for-profit charity organisation in Singapore. 
With their slogan of "Strong families. Caring Generations. Enabled Communities", Touch Community Services first started on helping latchkey children, or those who grew up returning to an empty home, or grew up with little to no adult supervision. 
Through the decades, Touch Community Services grew and evolved into a volunteer place in Singapore that helps and fosters growth in individuals from all walks of life. From youth to the elderly, to the disabled and those with special needs, there is a programme for each sector within Touch Community Services. 
There are plenty of ways to get involved and volunteer with Touch Community Services. When it comes to volunteering in Singapore, they offer one of the most flexible options.
You can volunteer as an individual, family, or any type of group (corporate / school etc). Because they make volunteering very flexible, Touch Community remains to be one of the most preferred and best places to volunteer in Singapore.
Volunteer Reviews
As one of the most established volunteer places in Singapore, Touch Community Services has garnered plenty of online reviews. Here's one from Alvin Fong:
A big thank you to the nice, thoughtful and compassionate people like Jaswan, Jennifer and others whom had attended to our late mother for her appointments at the hospital. They visited her at the hospice and also came to comfort us at her wake. We are so blessed to have them !
19. Willing Hearts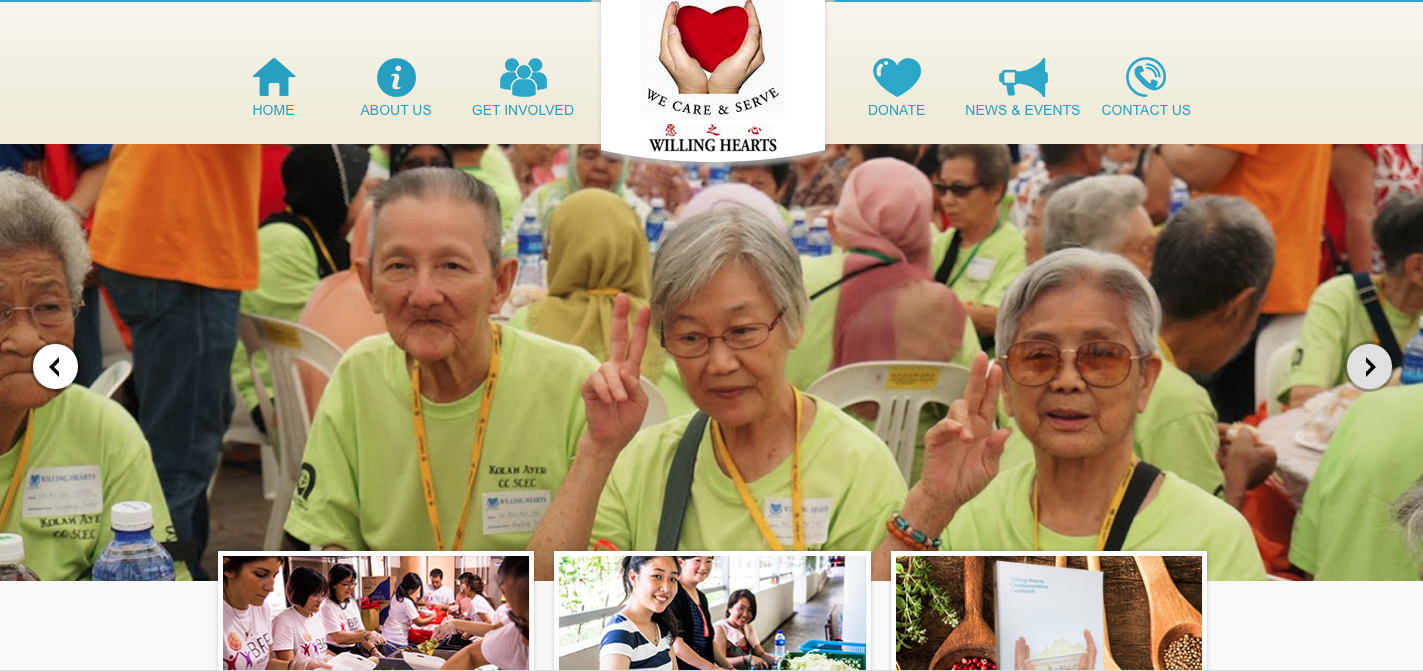 | | |
| --- | --- |
| CAUSES | Improving the lives of the marginalised through daily meals |
| WEBSITE | https://willinghearts.org.sg/ |
| ADDRESS | 11 Jalan Ubi Blk 6, #01-51 Kembangan – Chai Chee Community Hub, Singapore 409074 |
| CONTACT DETAILS  | +65 6476 5822 |
If feeding people gives you meaning and is your preferred act of service, Willing Hearts is the best volunteer centre in Singapore for you.
Willing Hearts is a secular, non-affiliated charity that operates as a soup kitchen. Daily, they prepare and distribute a whopping 9,500 meals to over 40 locations across Singapore. They do this 365 days a year, wholly through volunteer work.
Willing Hearts is great for families who wish to do volunteer work in Singapore. They welcome all forms of volunteer but encourage families and groups to participate. Packing, food preparation and clean-up are the most common type of volunteer work at Willing Hearts.
Volunteer Reviews
There are over 300 online reviews by those who volunteered at Willing Hearts. Majority are happy and have found meaning during their time helping out. Here's one review from one volunteer with a username of "Push":
Such an enriching experience to volunteer as a family at Willing Hearts. We spent the entire morning packing cooked food, cutting vegetables and unloading groceries. The charity is well maintained and has quite an amazing set up.

It's such a good way to see how meals are prepared and how much love and effort is put in by the volunteers for such a noble cause.
20. Yellow Ribbon
| | |
| --- | --- |
| CAUSE | Providing second chances to ex-offenders |
| WEBSITE | https://www.yellowribbon.gov.sg/ |
| ADDRESS | 980 Upper Changi Road North Singapore 507708 |
| CONTACT DETAILS | 1800 741 5567 |
With a motto of "Beyond Second Chances", Yellow Ribbon is a volunteer place in Singapore that believes mistakes do not mark someone for life. Their goal is to give ex-offenders a second opportunity to live a meaningful life.
Their service focuses on giving necessary training and development to ex-offenders and ensuring they are fit to be employed. Yellow Ribbon certainly is a volunteer centre in Singapore that does not discriminate and believes we all deserve that re-start in life.
They have a community engagement program called Care Network, the concept and logo of which is derived from the notion of 'turning over a new leaf'. One of the organisations national campaign is the Yellow Ribbon Project, which aims to change and broaden the society's image of ex-offenders having a second chance in life.
Volunteer Reviews
Because of their targeted cause and focus, Yellow Ribbon is a volunteer centre in Singapore that attracts plenty of volunteers. Here's one review from Jean Seah:
Fantastic initiative, vital for rehabilitation and integration of those who have served their time and are doing their best to turn over a new leaf.
21. Silver Ribbon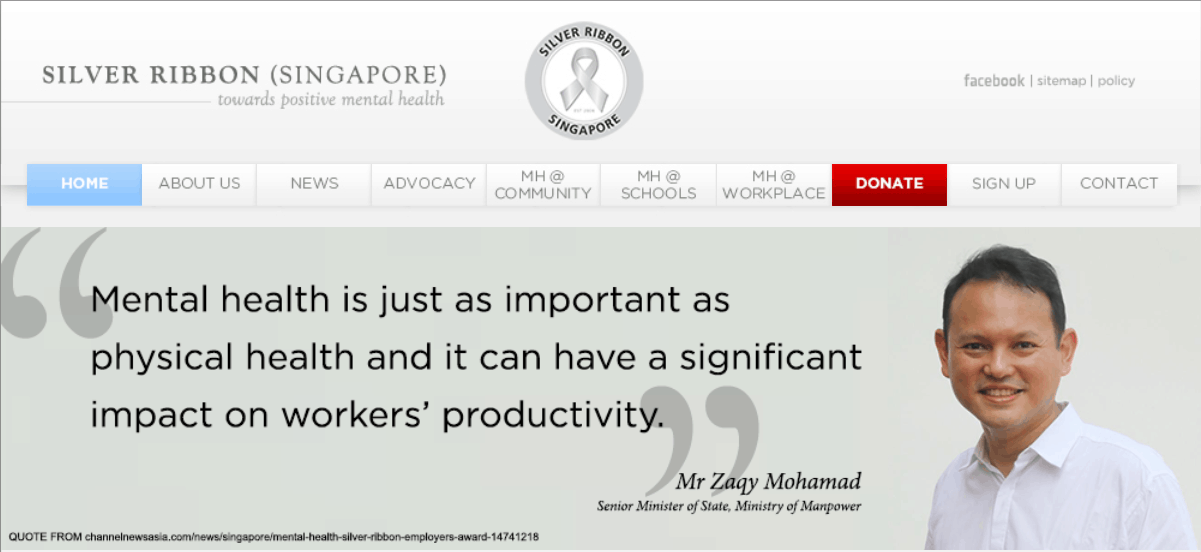 Silver Ribbon is an organisation that aims to bring a more positive and holistic approach to mental health. One of their main goals is to eliminate the stigma that mental illness carries and debunk any misconceptions  the general public has about it.
With that in mind, they strive to push advocacies and petitions that remove stigmatize mental illness, such as the decriminalisation of suicide and minimisation of mental health declarations in job applications. One of their recent advocacies involves workplace depression, from identifying to treating it.
They also aim to make mental health services more accessible to the general populace, not only through information, but also by facilitating better treatment and providing basic counselling services as well. Moreover, they also try to help curb medical costs for treatments in Singapore in order to increase the rates of patients seeking aid and getting treated.
Silver Ribbon has a clear goal they constantly pursue, which is why they've been able to achieve many things along the way. If you're interested in volunteering for them, memberships are open to people of all ages, with individuals below 18 years of age needing the written consent of their guardian. 
And with that, we've finished our list of the best nonprofits to go to if you want to volunteer in Singapore. Which of these worthy causes are you planning to join? Let us know!