The 5 Best Adoption Agencies in Singapore
Adopting a child is a complicated, costly, and long process that requires reliable legal help. To help you find the right professionals to assist you with the procedures, we've searched and rounded up the best adoption agencies in Singapore.
The agencies we've found are experts in handling all requirements and documentation needed for the adoption. They make sure that the process will be successful and done in a proper manner.
So despite the numerous factors that may hinder you from adopting a child, these agencies have the knowledge and skills to deal with possible adoption issues.
Anyway, see our picks for the best adoption agencies in Singapore to know more about their offered services and fees:
1. Singapore Adoption Agency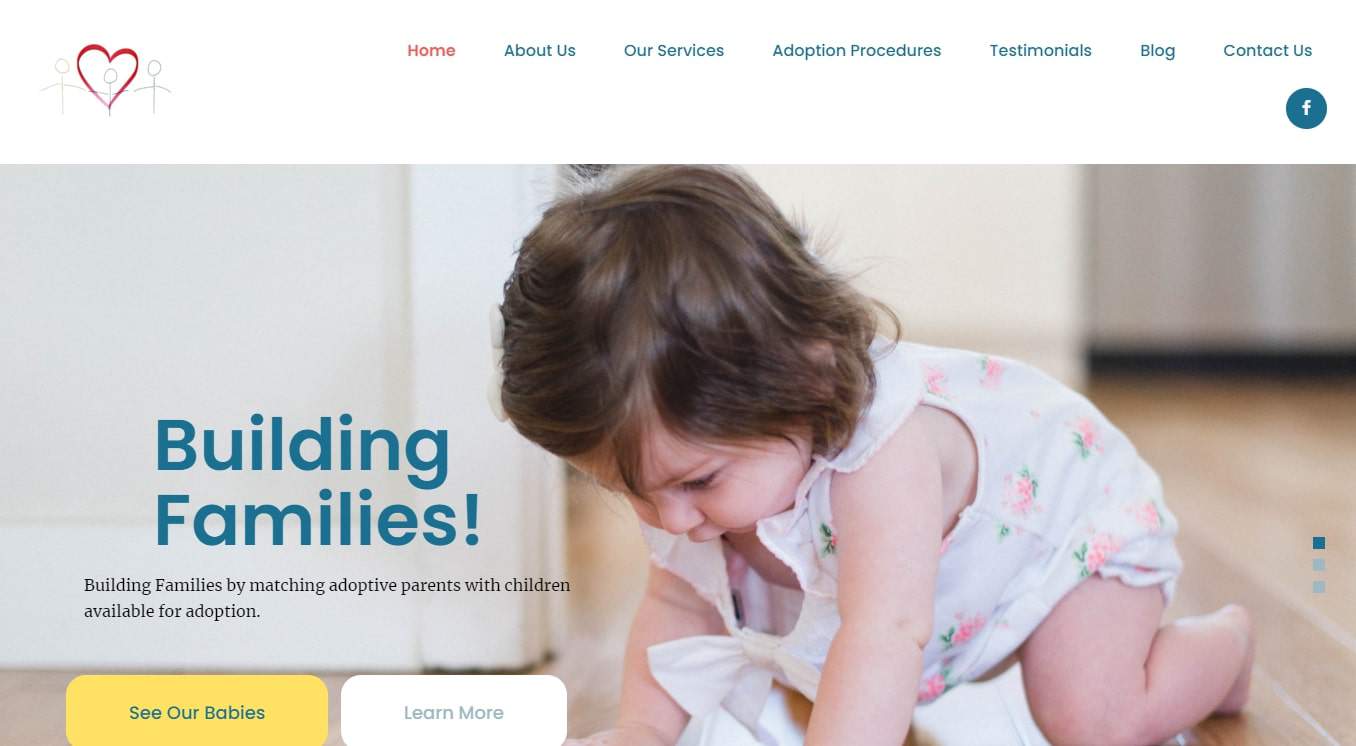 Singapore Adoption Agency is known for processing overseas adoption of children from Vietnam and Malaysia. They provide the best environment for the children to grow and prosper and have a loving family who'll take care of them.
You can choose between open or closed adoption, based on the preferences of both parties. Closed adoption is the most common process between the two.
The babies are mostly infants of between 1 and 6 months old. They usually recommend a 2-to-3-day trip to Vietnam or Malaysia for the parents to see the baby.
For those who need help in taking care of the baby upon arrival, they have nannies who can assist during the transition time — one of the reasons why they're considered to be the best adoption agency in Singapore. They also offer training for first-time parents.
When it comes to the adoption procedures, there's no need to worry about possible complications. They provide prior consultation and constantly update the potential adopters about the latest regulations in the adoption process in Singapore.
To make sure that there'll be no hidden costs all throughout the process, they give the full fee schedule so that you can know the actual cost of adoption.
Highlights
Legal process assistance with the Family Court
Adoption leave
ICA application
Insurance for the baby
2. Lovely Baby and Child Adoption Services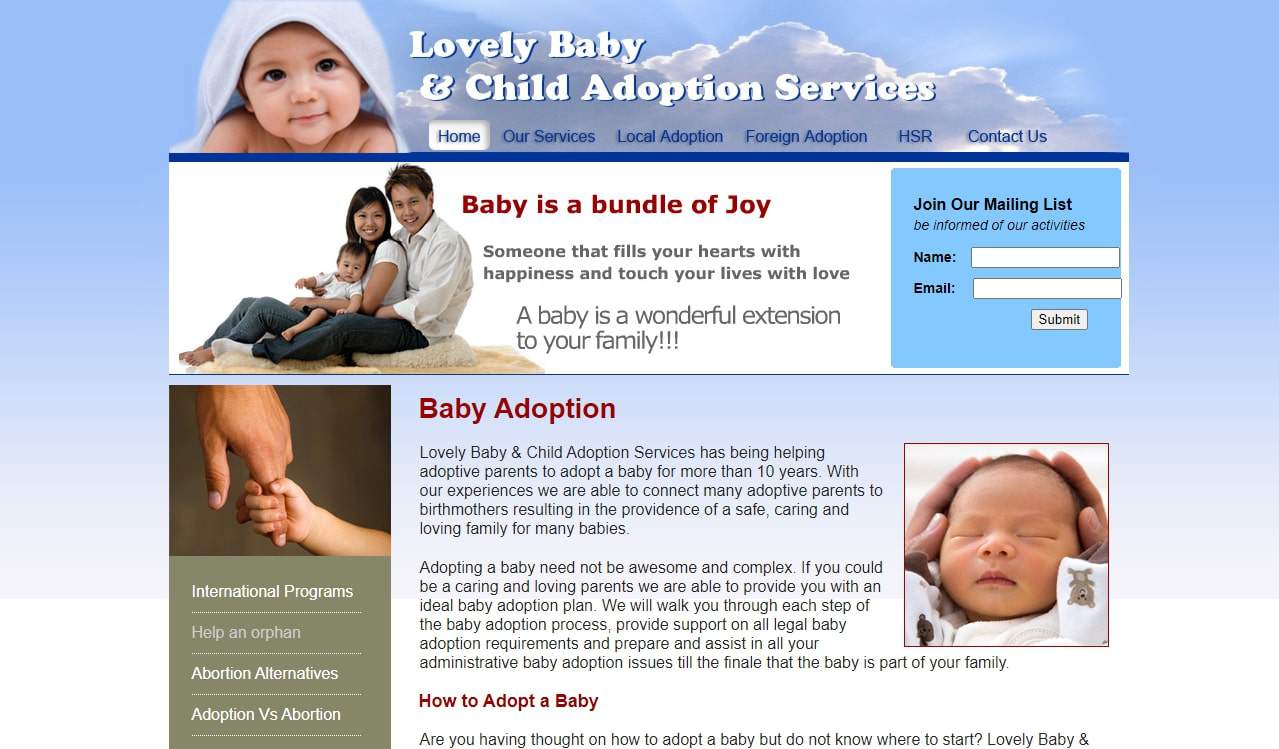 | | |
| --- | --- |
| BEST FOR | Counselling for birth parents and adoptive families |
| WEBSITE | https://www.lovelybabyadoption.com/ |
| ADDRESS | 22 Sin Ming Lane #06-76, Midview City, Singapore 573969 |
| CONTACT DETAILS | (+65) 8311 0008 |
Lovely Baby and Child Adoption Services offer advice, guidance, support, and counselling on baby adoption. With them, you can have the ideal baby adoption plan as well as be a caring and loving parent to your child.
Their skilled and dedicated staff will assist you through legal requirements, administrative issues, and provide solutions to all adoption problems that you may encounter.
For birth parents who are exploring possible baby adoption options, they can help you find a suitable adoptive family for your baby.
They also conduct adoption counselling to help them cope with unplanned pregnancy or untimely birth. This involves informing them about their rights and responsibilities during and after the adoption process.
With this range of services, they're truly one of the best adoption agencies in Singapore.
Highlights
Home Study Report (HSR) assistance
Domestic and international adoptions
Health examination for the baby
Legal documentation assistance
Birth certificate and citizenship assistance
Free consultation
3. Lotus Child Adoption Agency International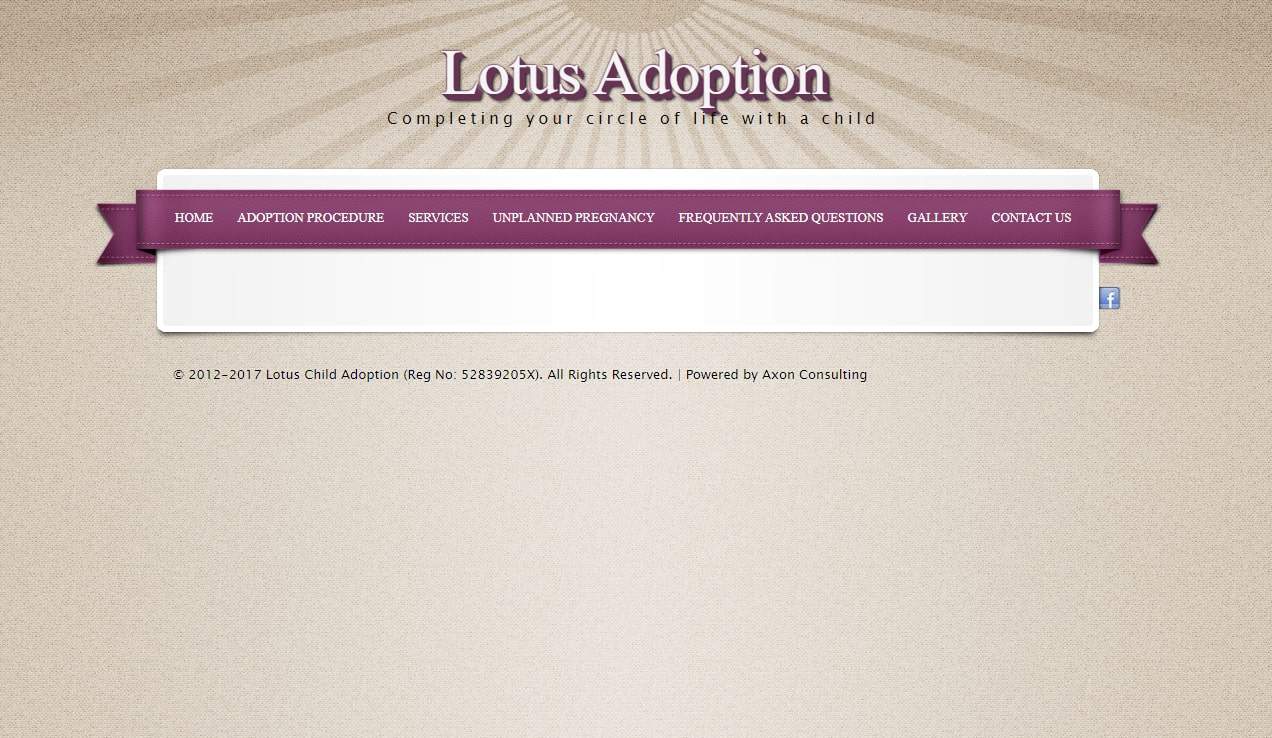 Lotus Child Adoption Agency International accommodates both local and foreign adoptions. They guide the adoptive couples through the process of getting the Home Study Report (HSR) to start the adoption procedures.
They have their own paediatricians who take care of the babies and ensure a healthy life. They also recommend other paediatricians if the adoptive parents prefer to consult with other medical professionals.
For legal matters, they prepare all documentation needed to ensure a better understanding and agreement between the couple and the agent.
As for the adoption costs, they allow interest-free instalments, a cost-effective choice for every parent. They also provide follow-up services until the birth certificate is issued to the adoptive parents.
Highlights
HSR assistance
Provides full relevant documentation
Medical clearance service
Free consultation
4. Happy Heart Child Adoption Agency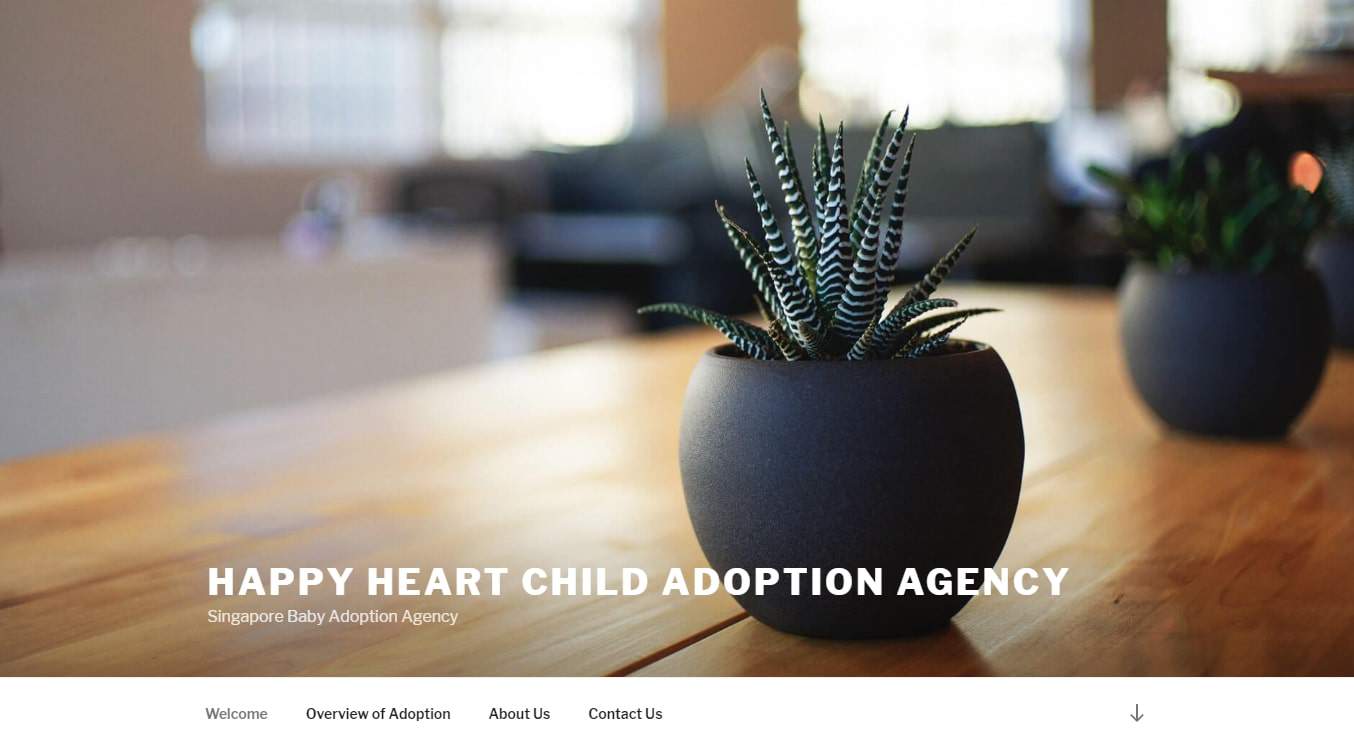 | | |
| --- | --- |
| BEST FOR | Chinese and Malay races |
| WEBSITE | https://happyheartchildadoption.com/ |
| ADDRESS | 10 Anson Road #33-04A, International Plaza, Singapore 079903 |
| CONTACT DETAILS | +65 90627793 |
| OPERATING HOURS | Weekdays: 9am–5pm |
The children at Happy Heart Child Adoption Agency range from newborns to 6-month olds and are Chinese and Malay. They provide full medical checkups to make sure that the babies are growing healthily.
They're in charge of the overall adoption process. This includes HSR application, child matching and medical clearance, Dependent Pass (DP) application, and court proceeding for the birth certificate.
They also provide a pre-adoption briefing before the whole process begins, so the adoptive parents will be informed about the rules and regulations that must be followed.
This best adoption agency in Singapore ensures that the adoption process will be done within the time schedule.
Highlights
Assistance on all legal proceedings and paperwork
Medical clearance
Full documentation on the biological parents' medical histories
Free consultation
5. Kid and Tot Adoption Agency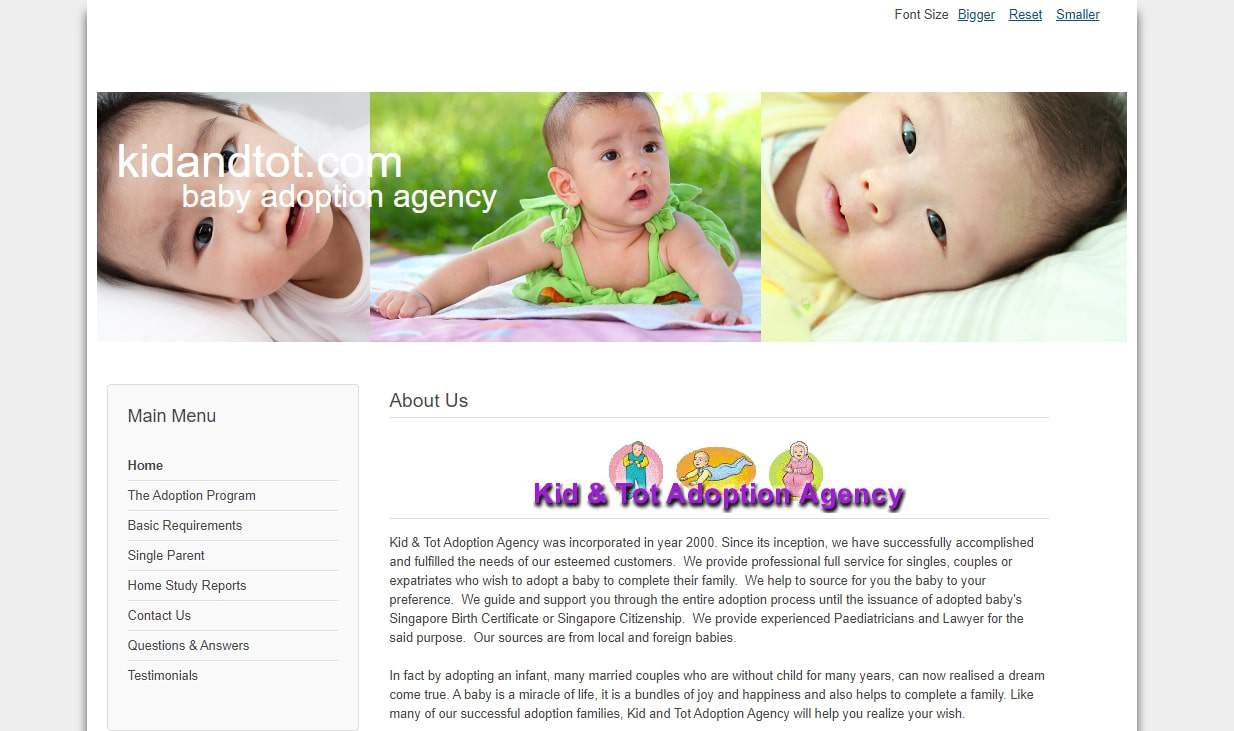 | | |
| --- | --- |
| BEST FOR | International adoption program |
| WEBSITE | http://www.kidandtot.com/ |
| ADDRESS | 114 Bukit Batok West Ave 6, #09-190, Singapore 650114 |
| CONTACT DETAILS | +65 9199 9949 |
Unlike most agencies, Kid and Tot Adoption Agency provides travel support for the parents to visit the baby. They schedule flights and arrange accommodations for a hassle-free trip.
You'll be assisted by their bilingual staff who'll guide you through the whole adoption process. They'll help you deal with the documentation needed by the Embassy to approve the adoption and grant citizenship.
Due to their comprehensive adoption programme for foreigners, they've become one of the best adoption agencies in Singapore.
Highlights
Documentation of adoptive child and biological parents
Medical health examination and screening of the baby
Handle all administrative and legal documents
Consultation
That wraps up our list of the top adoption agencies in Singapore. These should be able to help you adopt the little one you've always wanted.
And to seek further legal advice about the adoption process, you may consult with these best family lawyers in Singapore. They can aid you in the legalities of this major decision!