The Top 5 Shops for the Best Luggage Repair in Singapore
Noticed that your luggage has broken zippers/handles or cracks on the surface? Don't worry because we're here to help you find the most recommended shops that offer the best luggage repair in Singapore.
We've selected the leading shops on the island that are known for providing quality repair services, including restoration and maintenance of your luggage. So take a look at our list below to see where you can find the best luggage repair in Singapore.
1. Dynamic Ace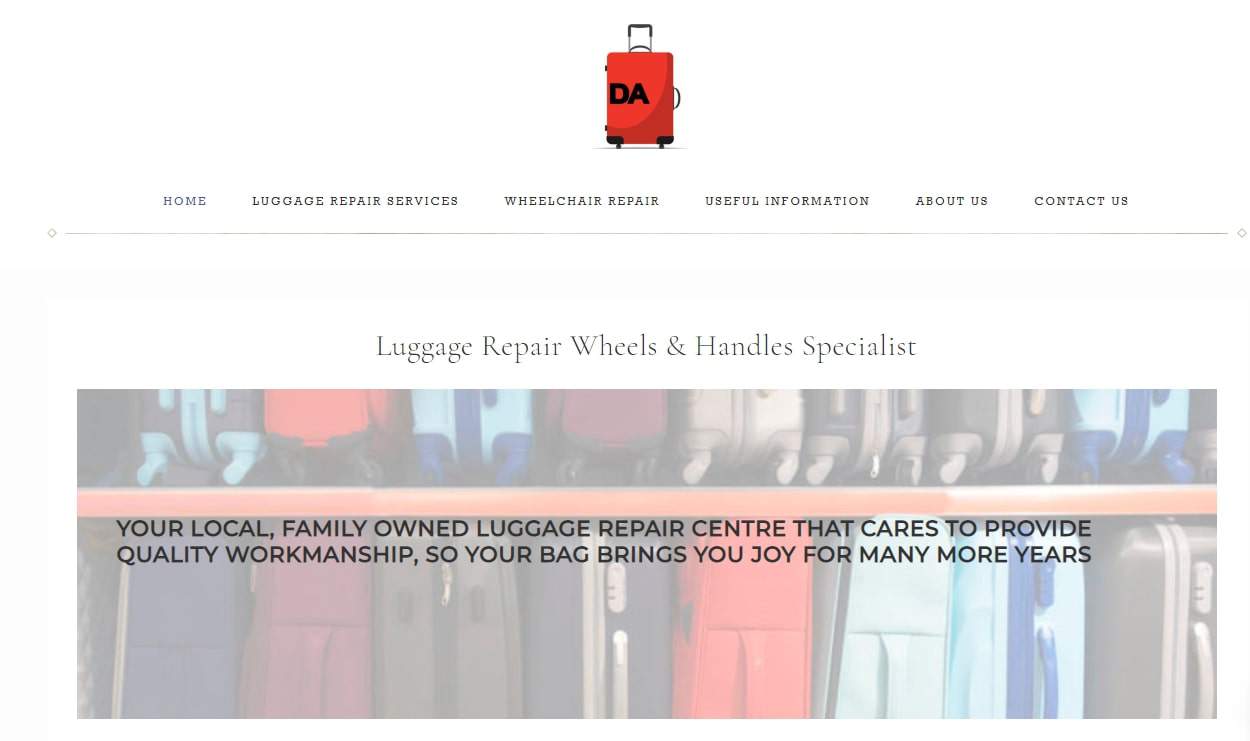 | | |
| --- | --- |
| BEST FOR | Fixing luggage handles and wheels, All luggage brands, Wheels replacement |
| WEBSITE | https://dynamicace.com.sg/ |
| CONTACT DETAILS | +65 8874 6244 |
| OPERATING HOURS | Weekdays and Saturdays, 9am to 6pm |
Dynamic Ace is a local and family-owned repair centre that specialises in fixing luggage wheels and handles. They repair all luggage brands, including Samsonite, American Tourister, Delsey, Swiss Gear, and more.
If you're having problems with the single spinner wheels of your luggage, they can replace them with roller blade type wheels that are more durable. They also repair all types of handles on both soft and hard luggage cases as well as telescopic or extendable handles.
Rest assured that there won't be any hidden costs as you'll receive a quote of the overall repair expenses and estimated repair time too. You can either pick up your luggage at the store or have it delivered at your home!
Highlights
Quality spare parts
Quote estimation
Delivery service
3-month warranty on replacements
Customer Reviews
Customers praised the prompt service and responsive staff at Dynamic Ace. They said that the staff were able to fix their luggage in a short time — this is why the shop is known for having the best luggage repair in Singapore.
A customer gave this review:
"While packing for my long business trip for the next day, I noticed my Wenger luggage wheels had worn off. This was a Sunday and most of the luggage repair shops had closed. I called up Dynamic Ace who came quickly to pick up my bag and had it repaired and sent back within a few hours. Thank you for this quick service!"
2. Chiang Kong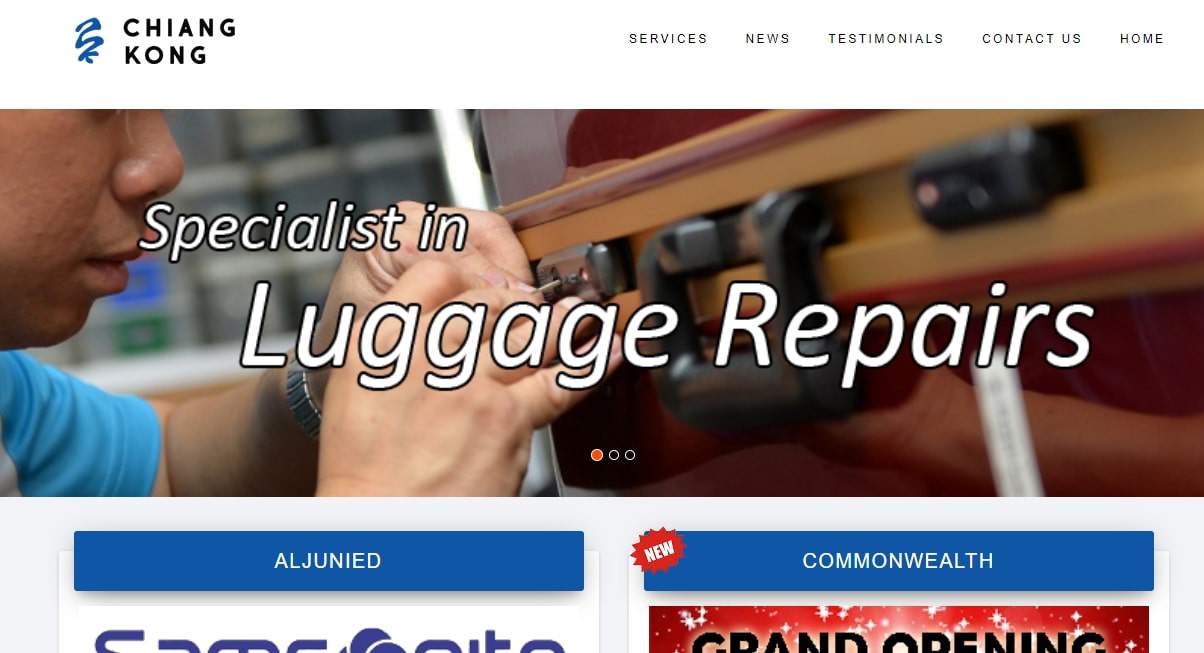 Chiang Kong has a team of skilled staff who are capable of repairing all luggage parts. This includes pull handles, locks, zippers, wheels, and more.
If there are any cracks, dents, or hinges on your luggage, they can also help you fix these issues and give you fully restored luggage. With their complete service packages, your luggage will surely look like you've just bought it!
They can work on all luggage brands like Wenger, The North Face, Samsonite, Delsey, Titan, and so much more!
Highlights
Fixation of torn bags
Handle replacement
Repairing locks and handles
Delivery service
Customer Reviews
Many clients were satisfied by how the specialists at Chiang Kong made sure that all parts of their luggage were perfectly assembled. A customer posted this feedback:
"I discovered your service online and after reading the fabulous testimonials I decided to try it. The quote was very reasonable and I was able to book in a pick-up with less than 48 hours' notice. The process was easy and professional from beginning to end, and the best thing was that my bags were delivered quickly, safely and waiting for me at my Glasgow destination. I have been recommending your great service to friends and I will definitely be using it again."
3. Honest Crafters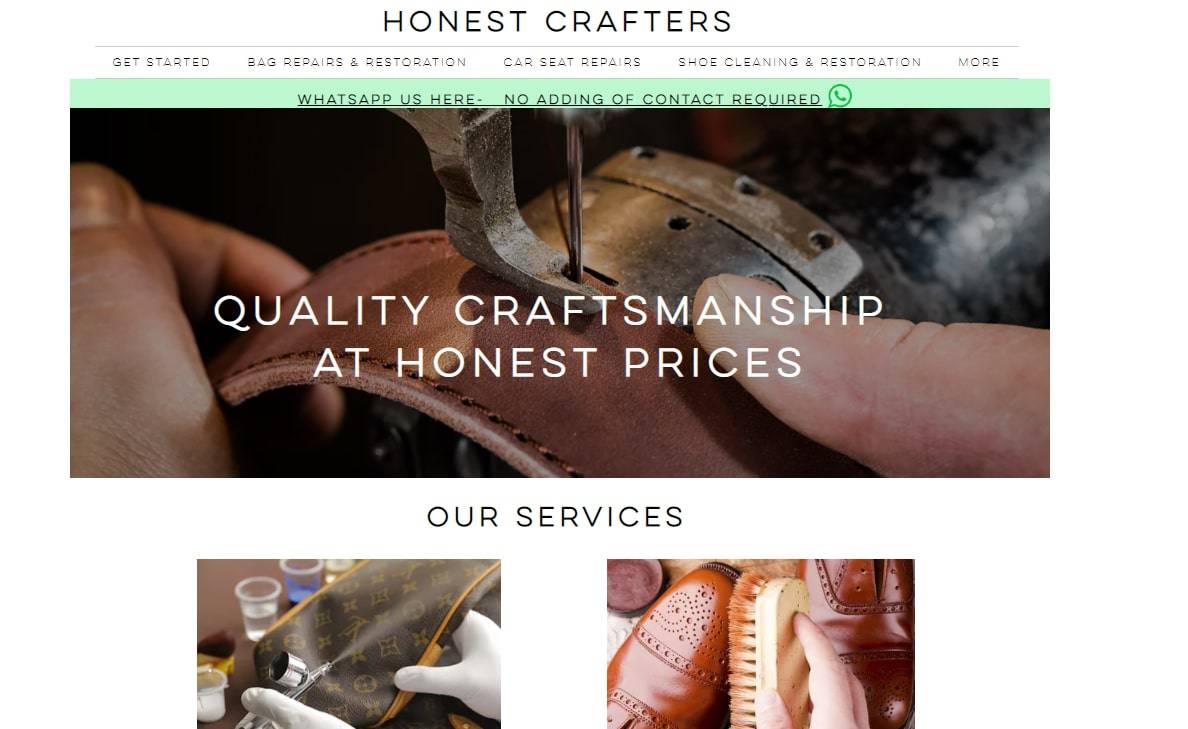 | | |
| --- | --- |
| BEST FOR | Repairing leather luggage bags |
| WEBSITE | https://www.honestcrafters.com/ |
| ADDRESS | Gracious Aires Raffles City Shopping Centre #02-08/8A Singapore 179103 |
| CONTACT DETAILS | 94870688 |
| OPERATING HOURS | Daily, 10:30am to 10pm |
For those who have leather luggage bags, you must visit Honest Crafters — they're experts in solving common leather bag problems! Whether it's mould, broken straps, stains, or discolouration issues, they have the best luggage repair in Singapore for you!
They offer value packages to make their services affordable for everyone. The packages consist of cleaning, polishing, restoration, repair, and replacement services.
They also provide easy-to-follow guides on how to prevent and resolve leather issues so you can avoid frequent repairs and additional costs.
Highlights
Colour restoration
Mould removal
Cleaning and polishing services
Leather replacements
Stitching repairs
Customer Reviews
Honest Crafters has received tons of positive feedback from the customers. Most of them complimented the professional and personalised services of the staff.
They also said that the specialists were highly detailed during the restoration process. A customer wrote this review:
"I appreciate how much time, learning, and effort must have gone into being this versatile with leather. The team at HC has been nothing but pleasant and the work they have done on our bag was great – it prevented my partner from having to discard a bag that was sentimental to him. Thank you to the team at HC for pushing through with their best!"
4. Style Theory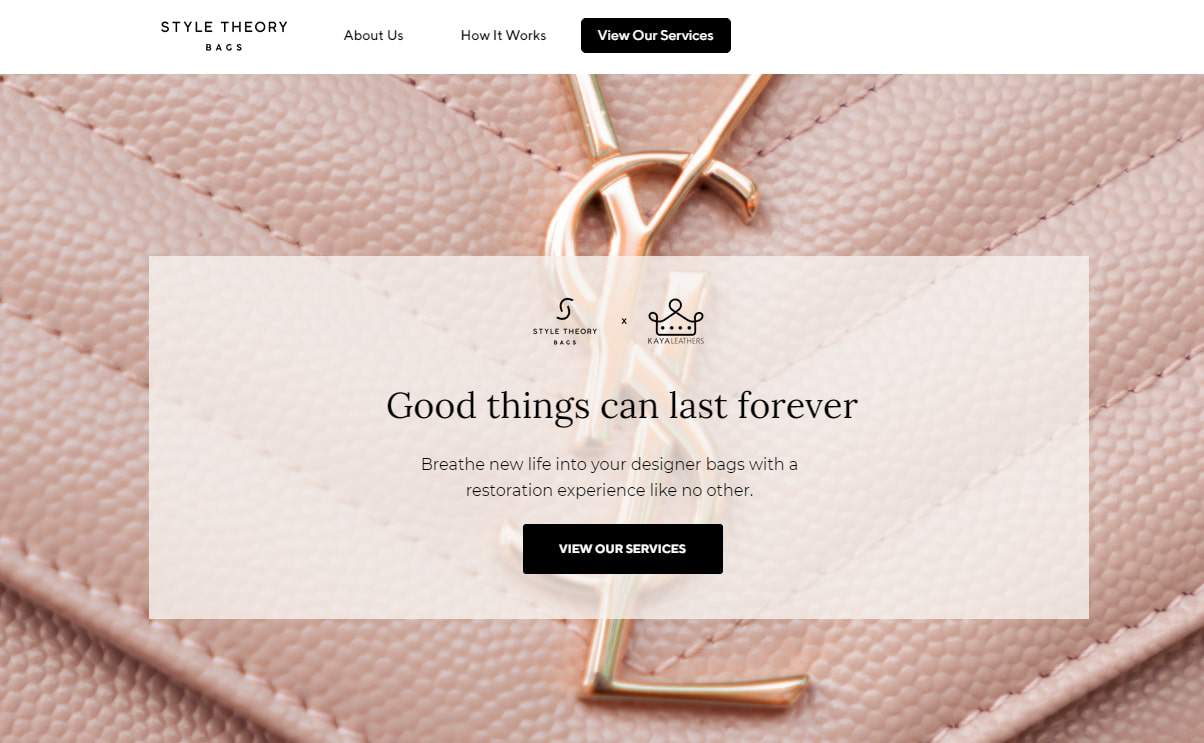 | | |
| --- | --- |
| BEST FOR | Repairing and maintaining designer luggage bags |
| WEBSITE | Style Theory |
| ADDRESS | 00G Pasir Panjang Rd, #06-17, Singapore 118523 |
| CONTACT DETAILS | +65 9023 4882 |
| OPERATING HOURS | Weekdays: 10AM – 7PM |
If you're searching for a repair shop that specialises in handling designer bags, Style Theory offers the best luggage repair in Singapore!
They've launched a designer bag consignment programme, for instance… and hundreds of customers have trusted them to maintain their designer bags.
Their experienced and skilled specialists use state-of-the-art tools to repair the overall design and make it more durable. Their services include cleaning, hardware polishing, protection treatment, and other maintenance services.
To deliver high-quality workmanship, they've partnered with Kaya Leathers, which focuses on restoring the actual look, style, and structure of luxurious bags.
Highlights
Stain reduction
Colour touch-ups
Edge restoration
Delivery service
No hidden costs and upfront quotes
5. K Shoe and Bags Services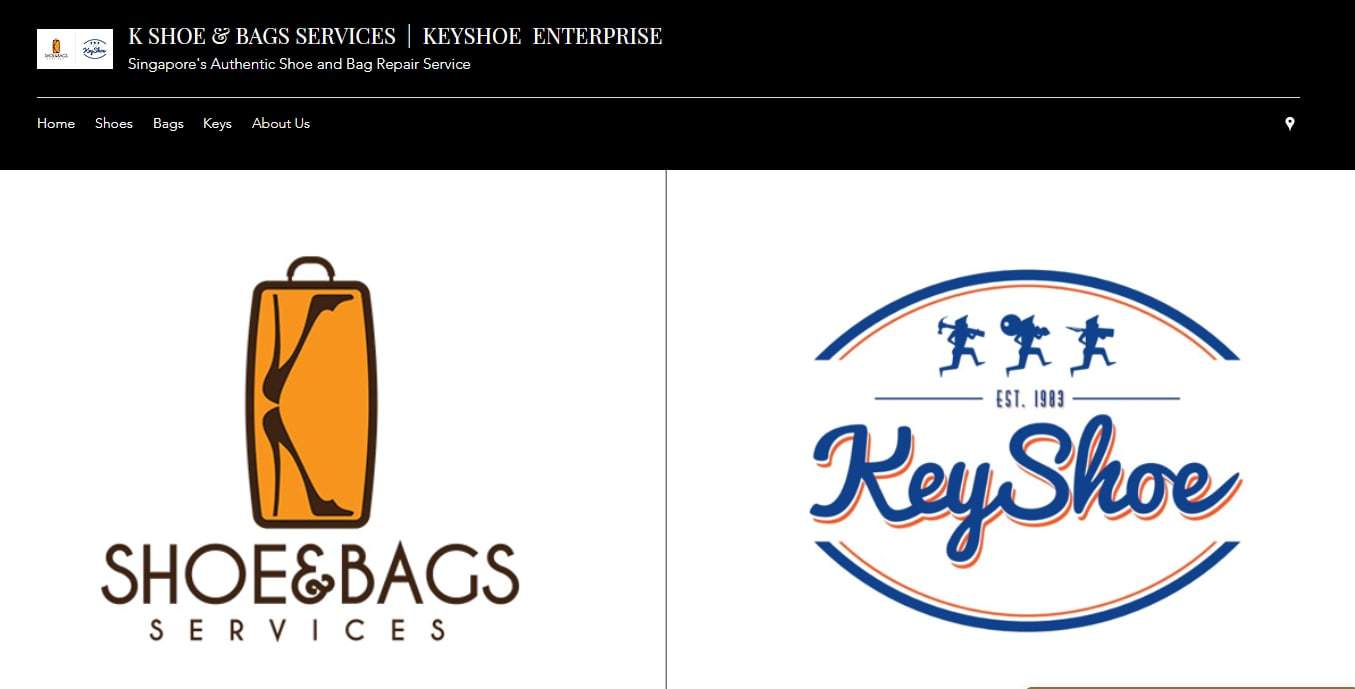 When it comes to luggage bag repairs, K Shoe and Bags Services offers a wide range of treatments. This involves stitching, restoring actual colours, and replacing handles, zippers, buttons, and rivets as well.
Aside from these, they also provide services for dyeing bags in new colours and cleaning services. Most of the products that they've worked on are leather bags — so if your luggage needs some leather restoration, then they have the solutions for your concerns.
Moreover, given that they've already managed to open several outlets located across the island, they've proven that they're indeed known for their best luggage repair in Singapore.
Highlights
Restoration and replacement services
Cleaning services
Accessible locations
And that's our list of shops with the best luggage repair in Singapore! If you'd like to recommend more places, feel free to share them with us!
But if you're looking for new luggage to buy instead, here are some suggestions for the best luggage in Singapore with varied styles and designs! Check out that list if you feel like replacing your old luggage!