The 19 Best Career Coaches in Singapore
Do you feel like your career isn't moving forward like you've expected? Seeking help from the best career coaches in Singapore can change your personal and professional outlook and can help you achieve the promotion or job that you've been dreaming of.
Everyone goes through the feeling of being lost and unmotivated in their professional life. That's why the best career coaches in Singapore are there to offer substantial advice that can help your professional progress.
However, searching for the right career coach in Singapore can get a bit difficult because most people don't know which ones are worth hiring. Worry no more because we're here to guide you with our list of the best career coaches in Singapore.
1. Lifework Global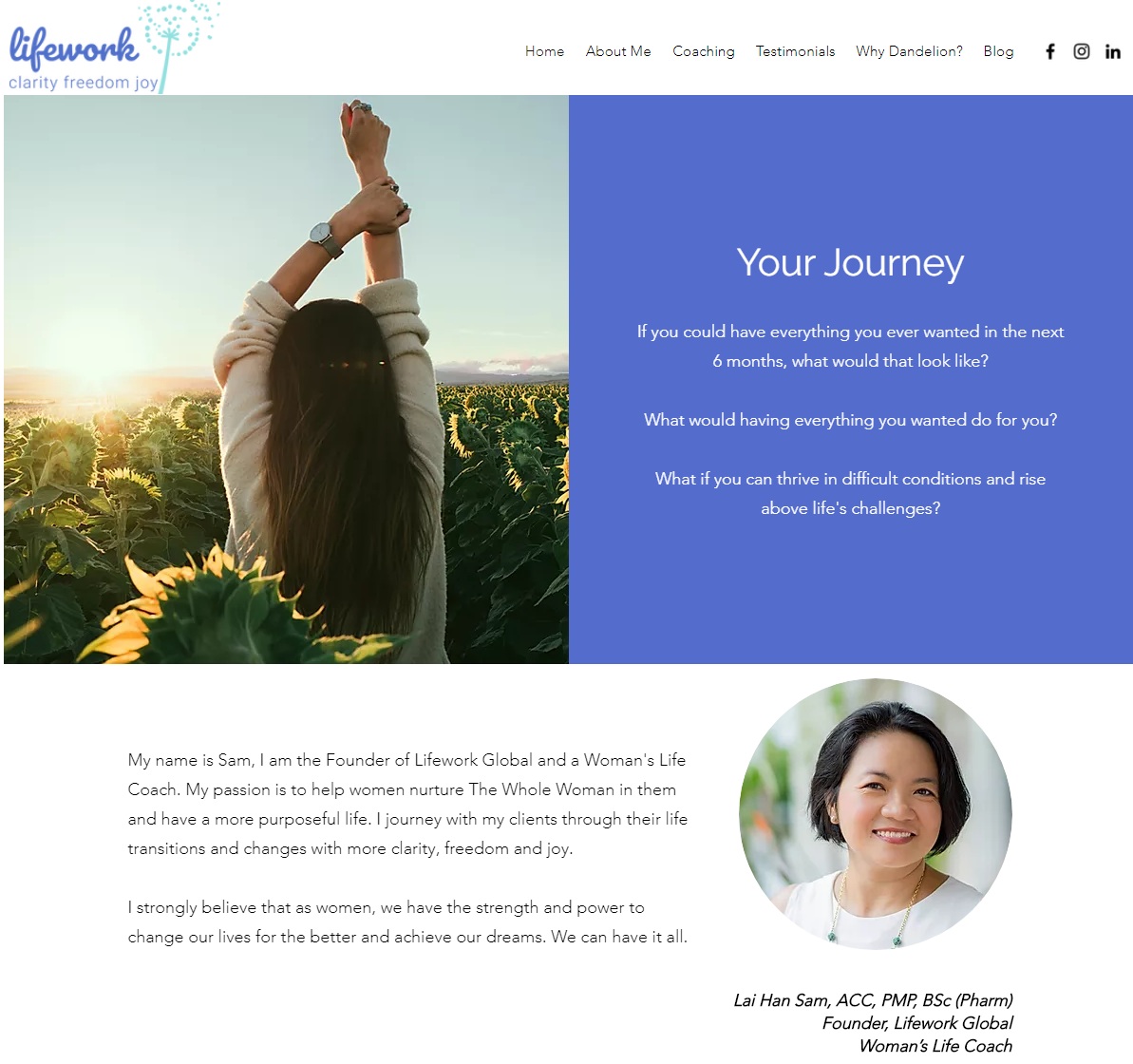 Lifework Global aims to help women achieve their desired career path in an emphatic and empowering approach. Lai Han Sam, the founder of the company is highly committed to nurture women and become the best version of themselves by providing career and life coaching.
Transitioning from one career path to another is not as easy as it sounds, hence Lifework Global is always available to join you in this journey until you find your new niche in the industry.
Life can also be overwhelming so you might need someone to provide you with a reliable life coaching that will bring positive change to your disposition in life and this is one of Lifework Global's purposes.
Highlights
 Complimentary 30-min Discovery Session

One-on-one consultations

Associate Certified Coach, International Coach Federation, ACC
Customer Reviews
"Sam is very open and authentic, always very supportive, and also practical in her coaching process. She always supports her client to find the best inner resources and solutions.Sam helped me find new inner solutions, and she supported me inseeing challenges from different perspectives, so that these challenges can easily become possibilities in our life long journey as human beings. Now, I am even more positive, energetic and confident in myself, and I feel stronger to make always my very best as a human being and as a coach!"
2.  Sandbox Advisors

Established in 2008, Sandbox Advisors has been helping fresh graduates and working professionals find better opportunities through career coaching and training since then.
Its team is made up of experienced writers, consultants, and associates who can provide help for your career advancement.
One of the unique things about Sandbox Advisors' career coaches is their approach, which is based heavily on academic research and their own professional experience. On top of this, they will also create a detailed action plan that will help you achieve all you need to do.
These reasons are what convinced us to consider it one of the best career coaches in Singapore.
Highlights
Experienced consultant
Academic-based approach
3.  Aventis Learning Group

BEST FOR 
Corporate Career Coaching
SERVICES
Career Coaching for Organizations and Individuals and Career Training
WEBSITE
https://aventislearning.com/
ADDRESS
100 Orchard Road, #04-100 Concorde Hotel Singapore 238840
CONTACT DETAILS
6720 3333

 

OPERATING HOURS
Monday – Friday, 9:00 AM – 5:00 PM
Aventis Learning has been offering career coaching services for more than a decade now with clients from both commercial and government sectors. It specialises in companies in the Finance, Marketing, and Human Resource industry, so if your company falls in these sectors, Aventis is the perfect option for you.
On the other hand, if you're a corporate worker in need of professional advice, Aventis also has you covered. Signing up for its services means that you'll get to talk with a professional career coach who can help you plan out your career for the next few years.
Lastly, its career coaches will guide you towards your next steps. Whether it's to leave your current job to find a better one or to stay and ask for a more significant role, Aventis will help you weigh your options.
Highlights
Multi-awarded company
Free complimentary session
Experienced career advisors
4. Avodah People Solutions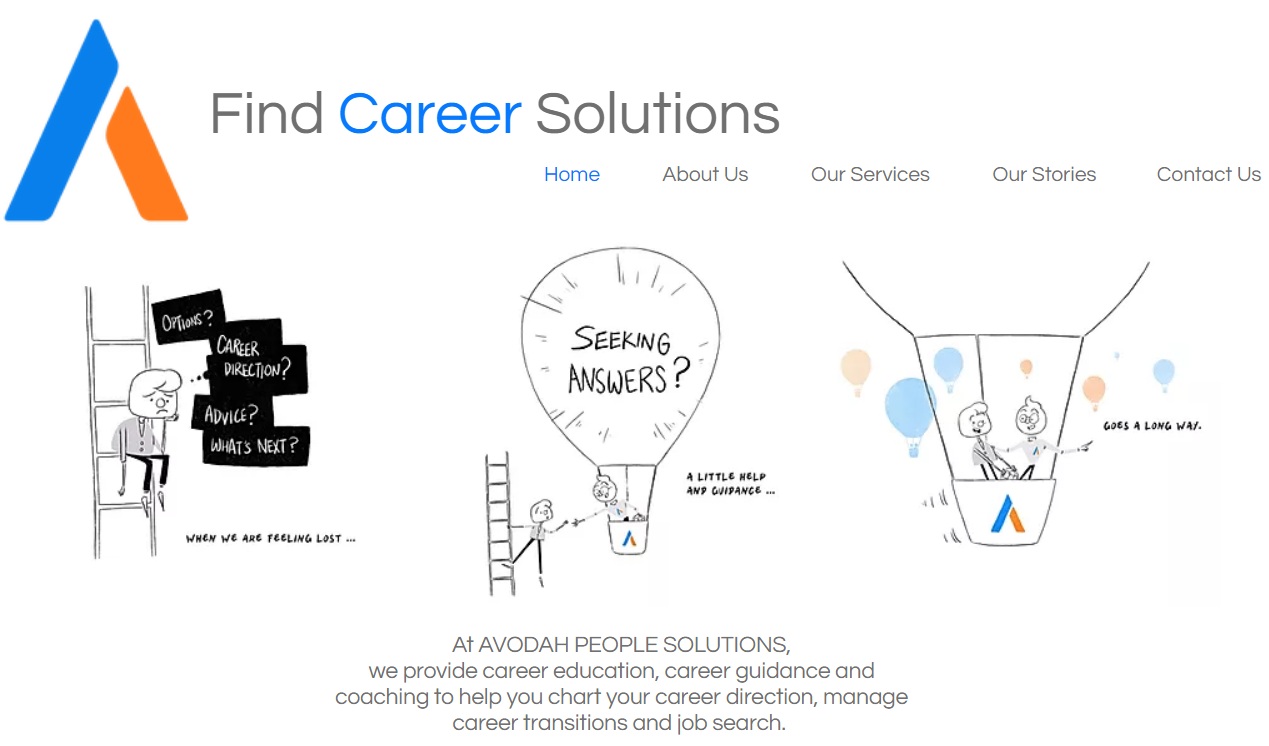 | | |
| --- | --- |
| BEST FOR | One on one coaching |
| SERVICES | Career Direction, Job Search Skills, Interview Skills, Personal Branding |
| WEBSITE | https://www.avodahsolutions.com/ |
| ADDRESS | 193 Jln Besar, #02-01, Singapore 208883 |
| CONTACT DETAILS | [email protected] |
| OPERATING HOURS | Monday to Friday: 10am-6pm |
Avodah People Solutions provide one to one and group career workshops conducted by locally and internationally trained and accredited Career Coaches.
Their past clientele includes fresh graduates seeking direction on their first job and mid career professional seeking to transition to new opportunities.
Avodah's coaches will take you through a carefully developed process of understanding your needs and guiding you through self discovery and equipping you with career skills such as interviewing, resume building, networking and branding.
To ensure a high quality of service and ethical practice of career guidance, Avodah's coaches are also clinically supervised to help you through your career situation.
Highlights
One on one guidance on career transitions
Career Skills guidance – Interviews, Resumes, Branding, Networking, Job Search
Trained and accredited coaches who are supervised in their practice
Customer Reviews
"Amazing service! The course was conducted very well. Would recommend it especially if you are looking for your strengths and weaknesses in the workplace and how to apply that to your craft. Really insightful information that helped me understand myself better and improve my career. Any person looking to change careers, break through their 'plateau', or work better with others should talk to Avodah. Thank you once again for a fun and useful time at the course."
5.  Gary and Pearl International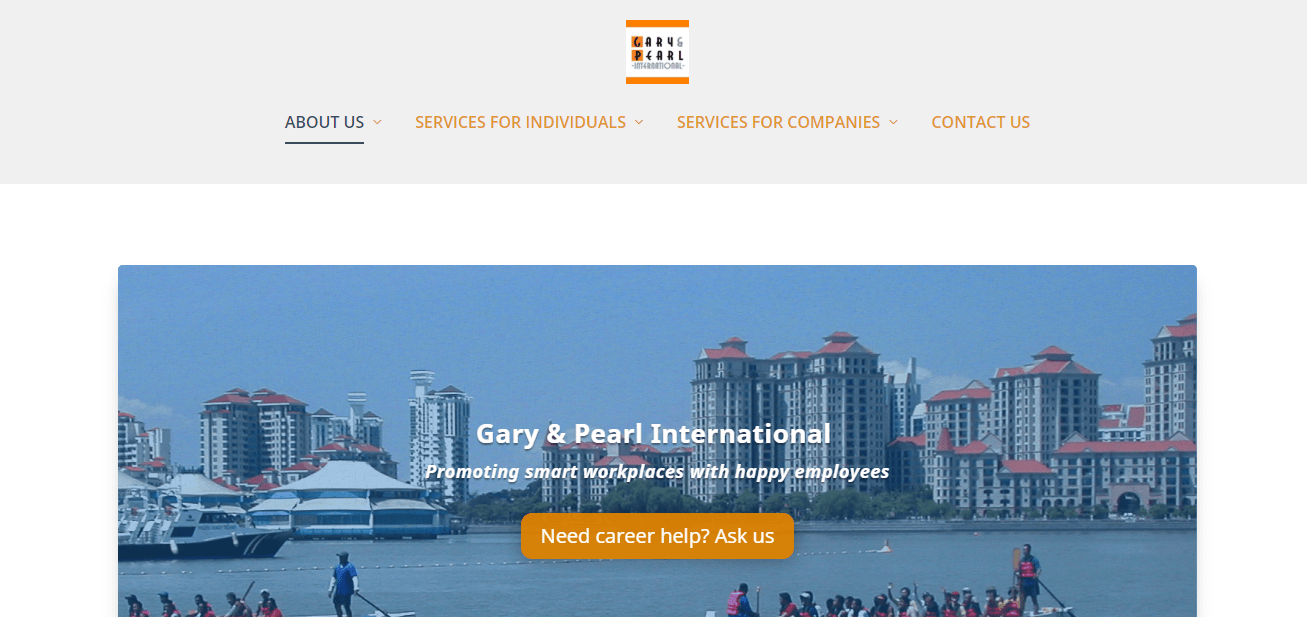 BEST FOR 
Affordable Services
SERVICES
Career Coaching, Career Counseling, Counseling for Start-ups, and Recruitment & Consultancy
WEBSITE
https://www.career-singapore.com/
ADDRESS
102 Potong Pasir Avenue 1
#10-342
Singapore 350102
CONTACT DETAILS
Tel: +65 6894-4371
OPERATING HOURS
Monday – Friday, 10:00 AM – 10:00 PM (By appointment only)
Career coaching in Singapore can drain your wallet. Good thing that Gary and Pearl International is here to offer affordable rates for career coaching that won't hurt anyone's budget, especially working professionals.
Gary and Pearl International can help working professionals achieve their professional goals by offering meaningful advice and strategies that will help them towards their goals. One of the ways they do this is by crafting elaborate strategies that clients are to follow.
We consider Gary and Pearl International one of the best career coaches in Singapore because they're really committed to providing their clients with the right advice to help them reach their professional goals.
Highlights
Competitive rates
Committed career coaches
Customer Reviews
Here are some testimonials left by their clients that prove how dedicated they are to their work:
"I contacted Vinod at a point where I wasn't feeling quite like my motivated, happy self. It was the perfect time for me to realize that some time spent understanding myself would be time well spent. Through several sessions with Vinod he coached me through the process of becoming more self aware. I realized that I was experiencing burnout and that is it actually quite natural given how hard I like to push myself."
"As someone with a reserved personality and naturally soft-spoken, I have frequently received feedback from interviewers and colleagues that I do not project my voice effectively and therefore struggle to engage my audience. After a session with Roberta, involving voice training exercises and learning techniques to feel more at ease during interviews or presentations, and practicing those techniques when answering interview questions, I now feel I have more confidence and am able to project my voice more effectively. I will definitely continue to practice the techniques I learned during the session in future!"
6. Global Lumen HR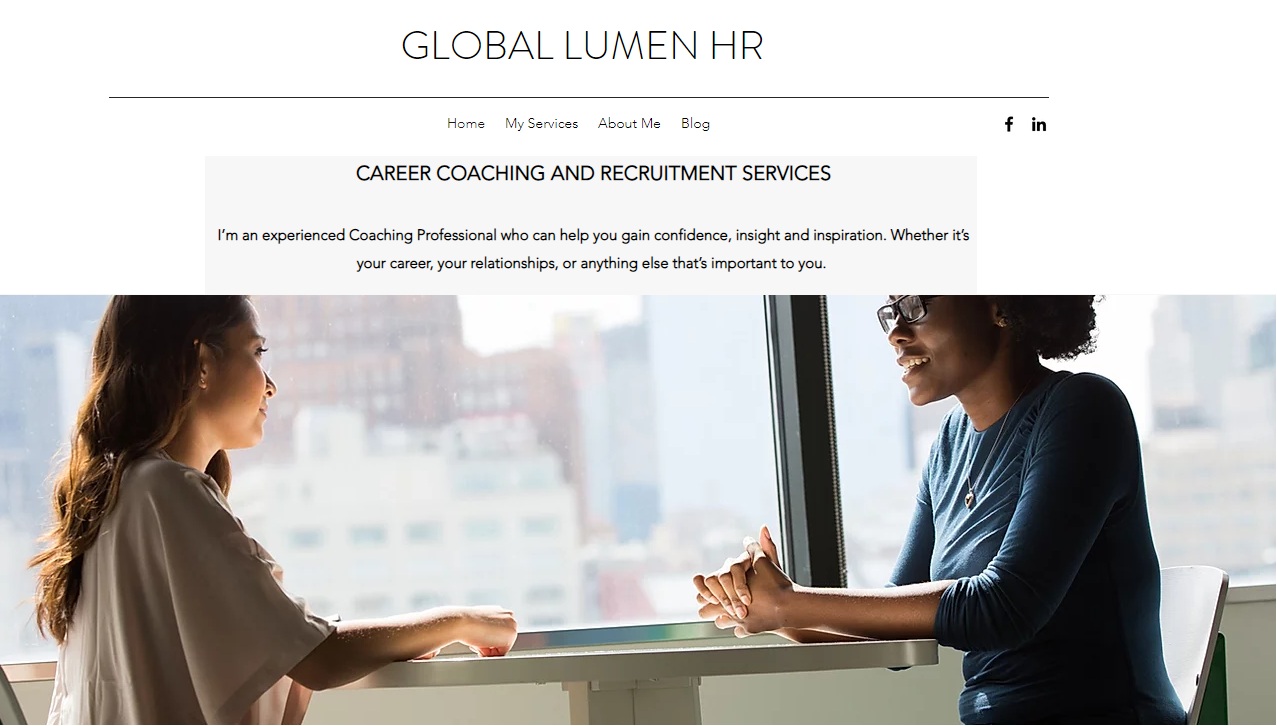 BEST FOR

Career Coaching And Recruitment Services

SERVICES

Leadership Recruitment, Career Coaching, Leadership Coaching, Outplacement Coaching, Role Transition Coaching

WEBSITE

https://www.globallumenhr.com/

ADDRESS

800 Thomson Road, Singapore 298189

CONTACT DETAILS

+6581334881 |

[email protected]
Global Lumen HR is led by a career coaching professional Nitya who is extremely passionate about helping people genuinely identify their desired career path and at the same time open doors for them to more working opportunities.
Their career coaching programs are designed to bring positive change and empowerment not only to employees but to bosses as well as they also offer leadership coaching to help business owners improve their skills as managers.
Employers may also get in touch with Global Lumen HR in finding the best candidates for a job. The company makes sure to recommend efficient, goal-oriented, and reliable employees to work for you.
Highlights
Personalized approach

Well-experienced and certified career coaches

High level coaching solutions
7. The Happy Mondays Co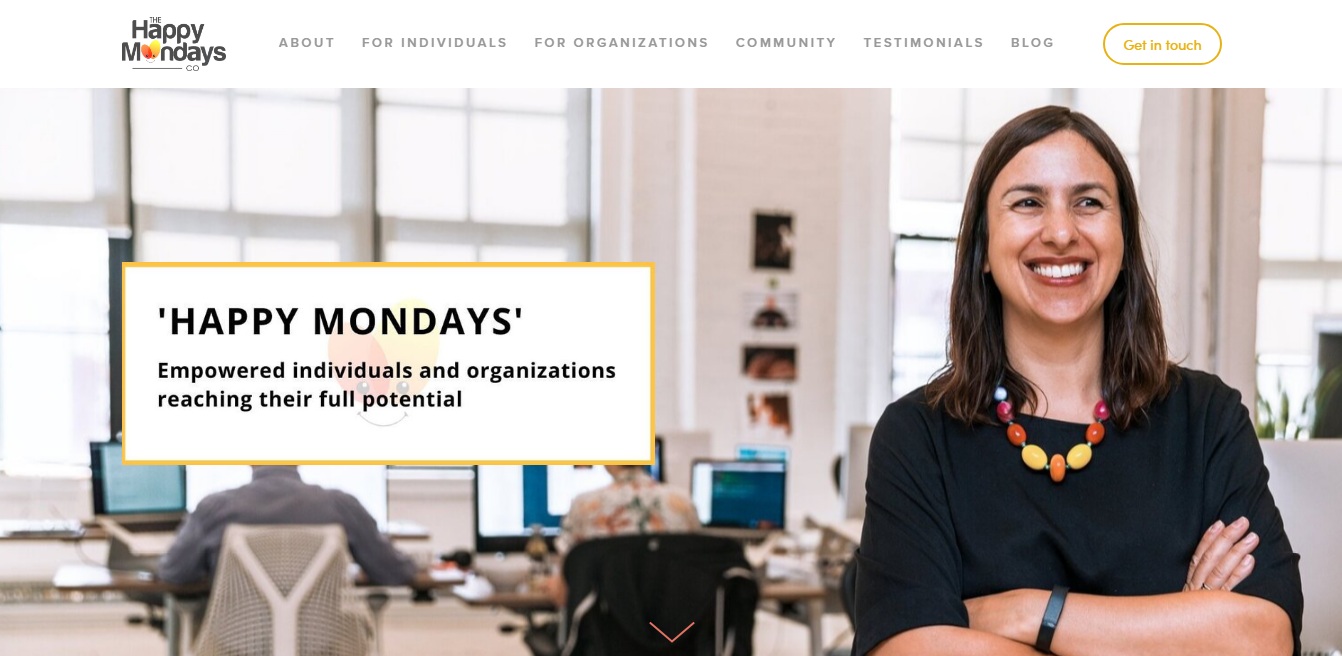 BEST FOR

Individual & Organisations who want to reach their full potential

SERVICES
For Individuals: Career, Leadership and Wellbeing Coaching 
For Organisations: Talent Solutions, Coaching, Outplacements and Workshops
WEBSITE

https://www.thehappymondays.co/

ADDRESS

Singapore

CONTACT DETAILS
[email protected]
The Happy Mondays Co was founded on the belief that every individual has something unique and important to offer and that it's beneficial to us all if they are empowered to do so. Since they started in 2016, they have empowered several hundreds of people to reach their true potential spreading Happy Mondays across the Asia Pacific, Europe, Middle East and America.

For Individuals: The Happy Mondays Co is known for providing the space to discover and celebrate ones uniquenesses, and nurture the competencies, emotional resilience and skills to help you build sustainable Happy Mondays. They offer several highly personalised 1:1 career development & wellbeing programmes, to meet you where you are and accompany you to your unique definition of Happy Mondays.
For Organizations: The Happy Mondays Co supports organisations build, develop and retain Happy High Performing Teams. They combine diverse professional expertise -in Coaching, Facilitation, Conflict Resolution, Recruitment, Organizational Development, Strategy, Diversity & Inclusion and Wellbeing – with the insights gained from working with hundreds of diverse individuals globally to create impactful bespoke interventions.
Highlights
Access to the global network of The Happy Mondays Co clients
Copy of the coaching material, templates and exercises for your life-time use
Complimentary first session with the founder of the company
Highly experienced HR team and certified coaches
They dedicate 5% of their time to pro-bono activities.
Customer Reviews
THMC are excellent coaches, very encouraging and insightful. Their methodology and program are top-notch! During our one-to-one sessions, they helped me restore my confidence in getting back into the workforce. Each step in the process has a purpose; the assignments are challenging, but they are a great guide to define your career path. Now I know where I get my motivation from and what job would make me happy. They have also given me a fresh new perspective on job searching and on many other aspects that are tremendously helpful. I do highly recommend them!
Upon transitioning to a new role at my company, I connected with THMC to re-align my values and find purpose both in life and at work. THMC team is a master at making one put words into action; my journey with them left me with a clear, actionable insight on both my life and career ahead of me. Appreciate THMCs professionalism and non-bias approach toward coaching.
THMC are not only terrific Career Coaches but also inspiring people. Experiencing their quick and sharp mind setting career achievements with you is a must-have experience, and actually what got me working with them. So impressive!
8. Career Agility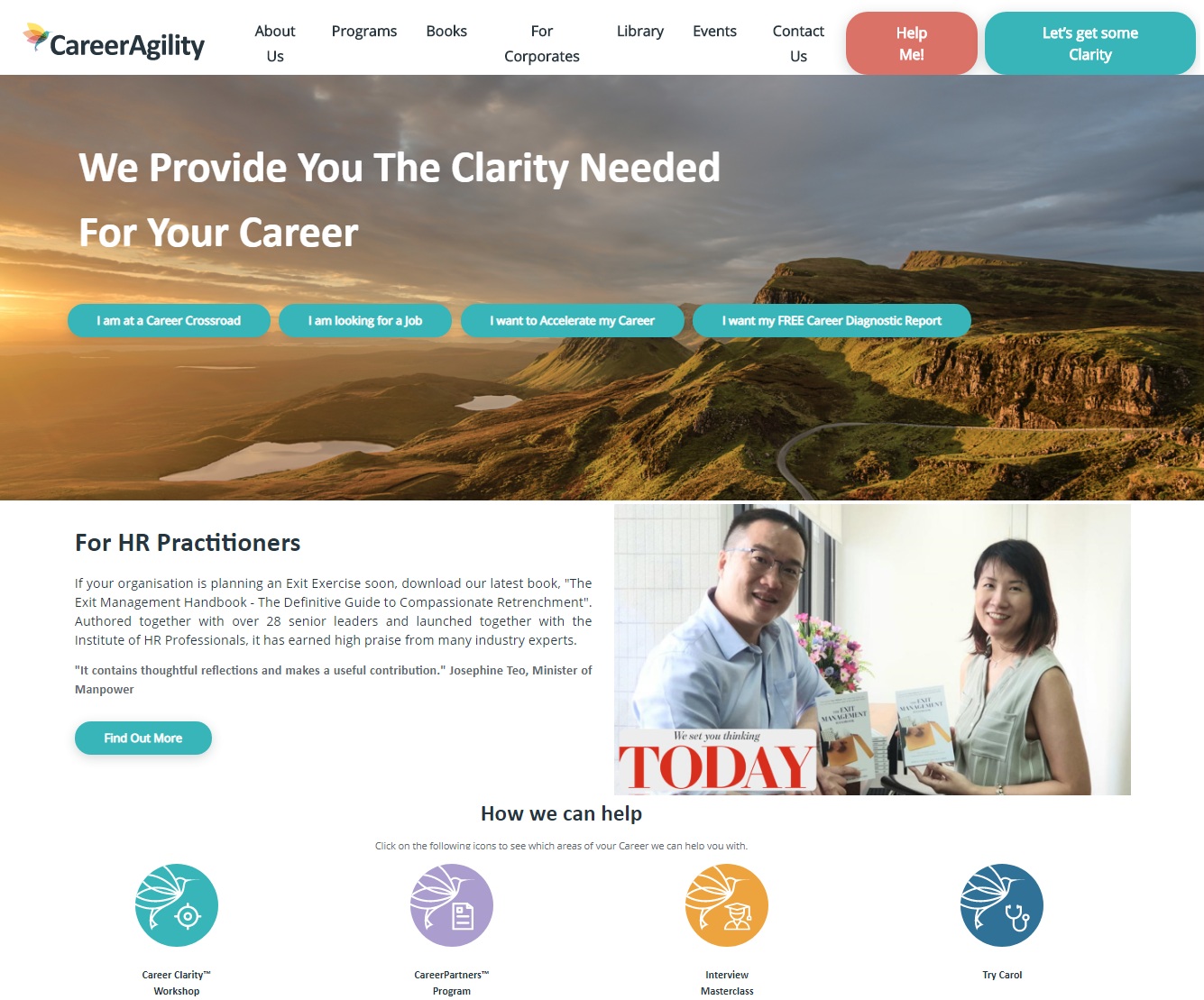 BEST FOR

Holistic approach career programs

SERVICES

CareerClarity™ Workshop, CareerPartners™ Program, Interview

 

Masterclass, Try Carol

WEBSITE

https://www.careeragility.org/

ADDRESS

24, Raffles Place, #26-06B, Clifford Centre, Singapore 048621

CONTACT DETAILS

+65 69090 931 |

[email protected]
Career Agility has designed a series of programs and tools to help their clients, each with different career concerns, in identifying their career paths and making the right decision especially when it comes to career shifting or transitioning.
Their team consists of various career coaching experts who are passionate in helping out fresh starters, career transitioners, and those who have yet to identify their desired type of employment.
Each career coaching session that they provide is not a one size fits all, therefore personalized for optimal results.
Highlights
Well-experienced career coaches

Curate programs and tools

Interview workshops
9. Petadiri Leadership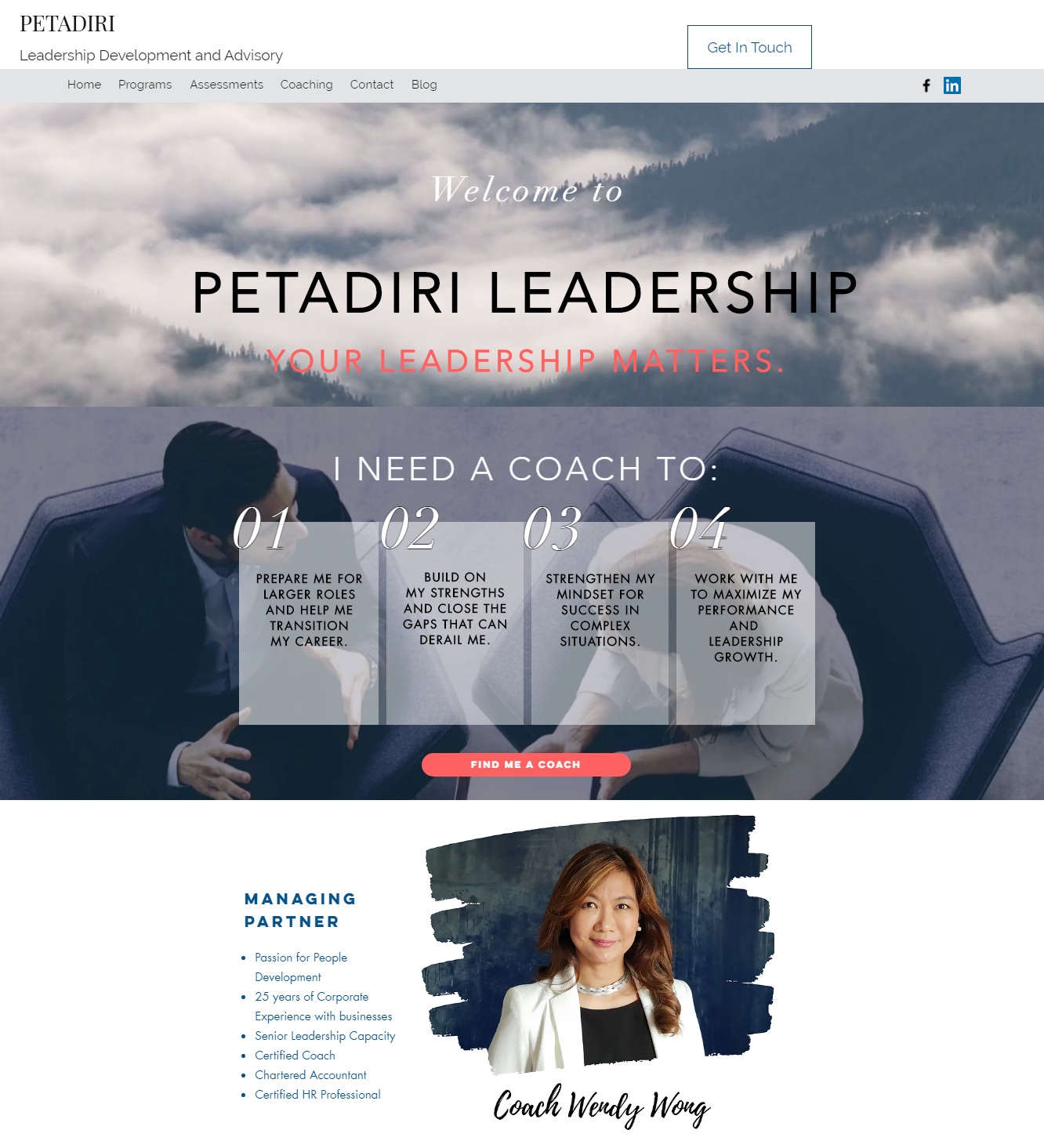 Petadiri Leadership offers an extensive range of career coaching programs that are not only deemed helpful for job seekers but to employers as well. The company focuses on numerous specializations that are vital in improving one's career condition such as Mindset and Awareness, Performance Management, Emotional Intelligence, Vision & Presentation, etc
Aside from one on one coaching, they also offer team coaching in which they focus on helping teams improve their communication, collaboration, and conflict management.
Wendy, the managing partner and a certified coach, has 25 years of corporate Experience with businesses, thus you are guaranteed to be in the best hands while having your career coaching sessions with Petadiri Leadership.
Highlights
Wide range of career coaching programs

Strategic coaching approach
10. Aureus Consulting Pte. Ltd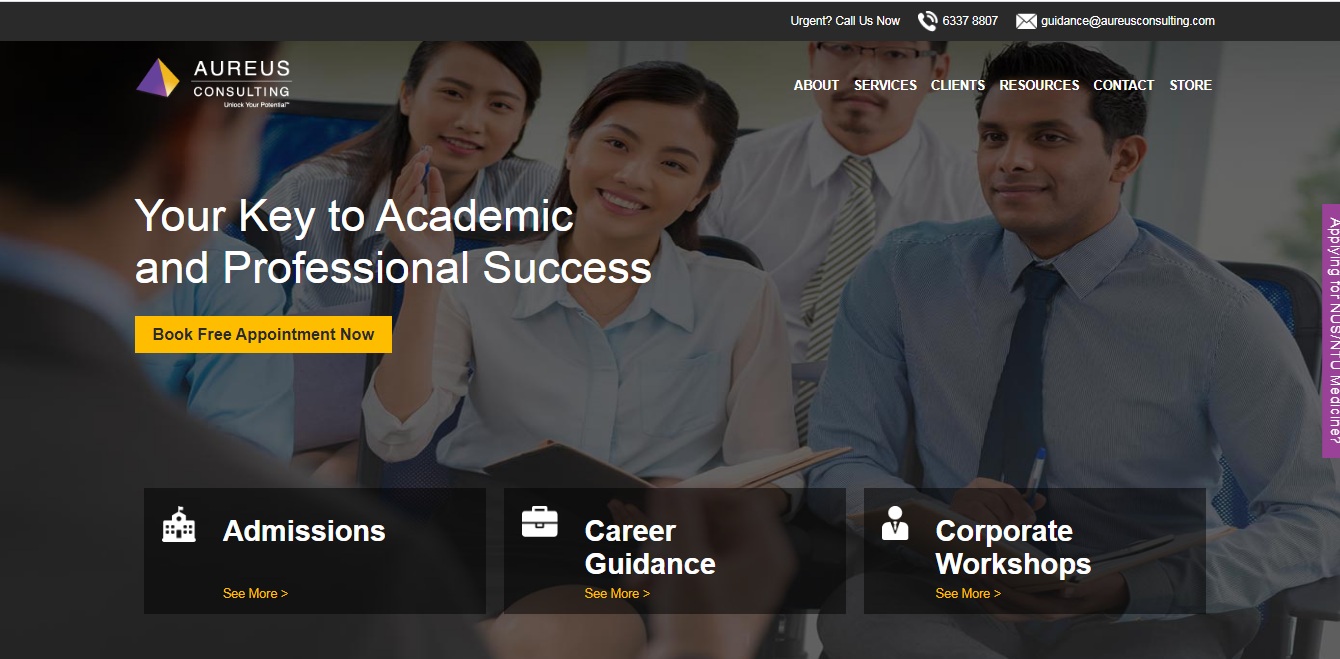 BEST FOR

Academic and Professional Consulting

SERVICES

Admissions, Career Guidance, Corporate Workshops

WEBSITE

https://aureusconsulting.com/

ADDRESS

61 Stamford Road, Stamford Court, #01-01, Singapore 178892

CONTACT DETAILS

6337 8807 |

[email protected]
At Aureus Consulting Pte. Ltd. you get the best value for money as they offer a wide range of services aimed to help not only work professionals but also academically-inclined clients who would like to explore their opportunities abroad.
The team is highly dedicated to bringing thousands of competent, goal-oriented, and extremely talented professionals to numerous businesses across Singapore and all over the world.
With their team of certified and reliable career coaches, it is best to say that you are one step closer to your dream job.
Highlights
Free appointment

Sharp professional image

Specializes in Job Search, Career Management, and Career transition by honing their interpersonal skills, eye catching resume
11.  e2i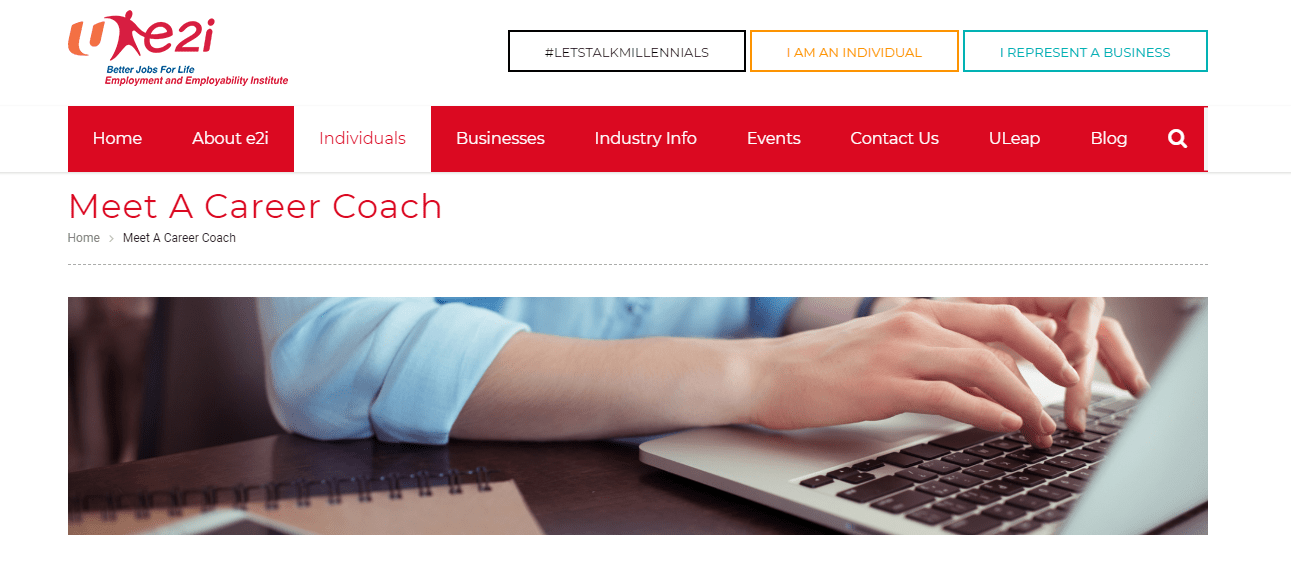 BEST FOR 
Online Coaching
SERVICES
Career Coaching, Skills Workshop, Career Navigator, Recruitment Services, and Hospitality Training
WEBSITE
https://e2i.com.sg/app
ADDRESS
80 Jurong East St 21, Level 2 Singapore 609607

 

490 Lorong 6 Toa Payoh #07-11 (Lift Lobby 1) Singapore 310490

CONTACT DETAILS
6474 0606

 

6474 0606

OPERATING HOURS
Monday – Friday, 9:00 AM – 5:00 PM
If you're looking for the best online career coaching in Singapore, then consider checking out e2i. It's ideal for people who don't have enough time to have a one-on-one session with a career coach.
Unlike with other career coaches, getting in touch with them couldn't be easier! All you need to do before booking an online appointment is ready your NRIC, email address, and mobile number.
What makes e2i one of the centres with the best career coaches in Singapore is that everyone on its team is a certified and professional career coach who can offer valuable advice that will help advance your career.
In terms of other services, e2i also offers recruitment, skills, and employment training for both individuals and companies.
Highlights
Online appointment
Certified career coaches
Customer Reviews
e2i is known to customers for having friendly and professional staff and coaches, on top of having quality services. So, new customers don't need to worry about not getting the services they're expecting and paid for.
In addition, companies also liked how efficient and approachable all of its coaches and advisors were. They were found to be great at their jobs because they're capable of coming up with sensible advice that is helpful for a company that's just starting.
12. Andrew The Executive Coach

If you don't like the idea of hiring a career coach from a huge company, then Andrew The Executive Coach would be a great match for you.
As one of the best career coaches in Singapore, Andrew Jonas can be your way of working towards achieving the fulfilling career that you've always wanted.
What's more, Andrew is a certified career coach with experience working for different industries. Andrew teaches clients about self-awareness, opening oneself to more opportunities, changing oneself, and professional integrity.
In addition, Andrew is open to mentoring business owners, HR personnel, and corporate leaders to help them provide a more healthy workplace to their people. This is only one of the many reasons why we think Andrew is among the best career coaches in Singapore.
Highlights
Personal approach
Themed career workshops
13. Mind Transformations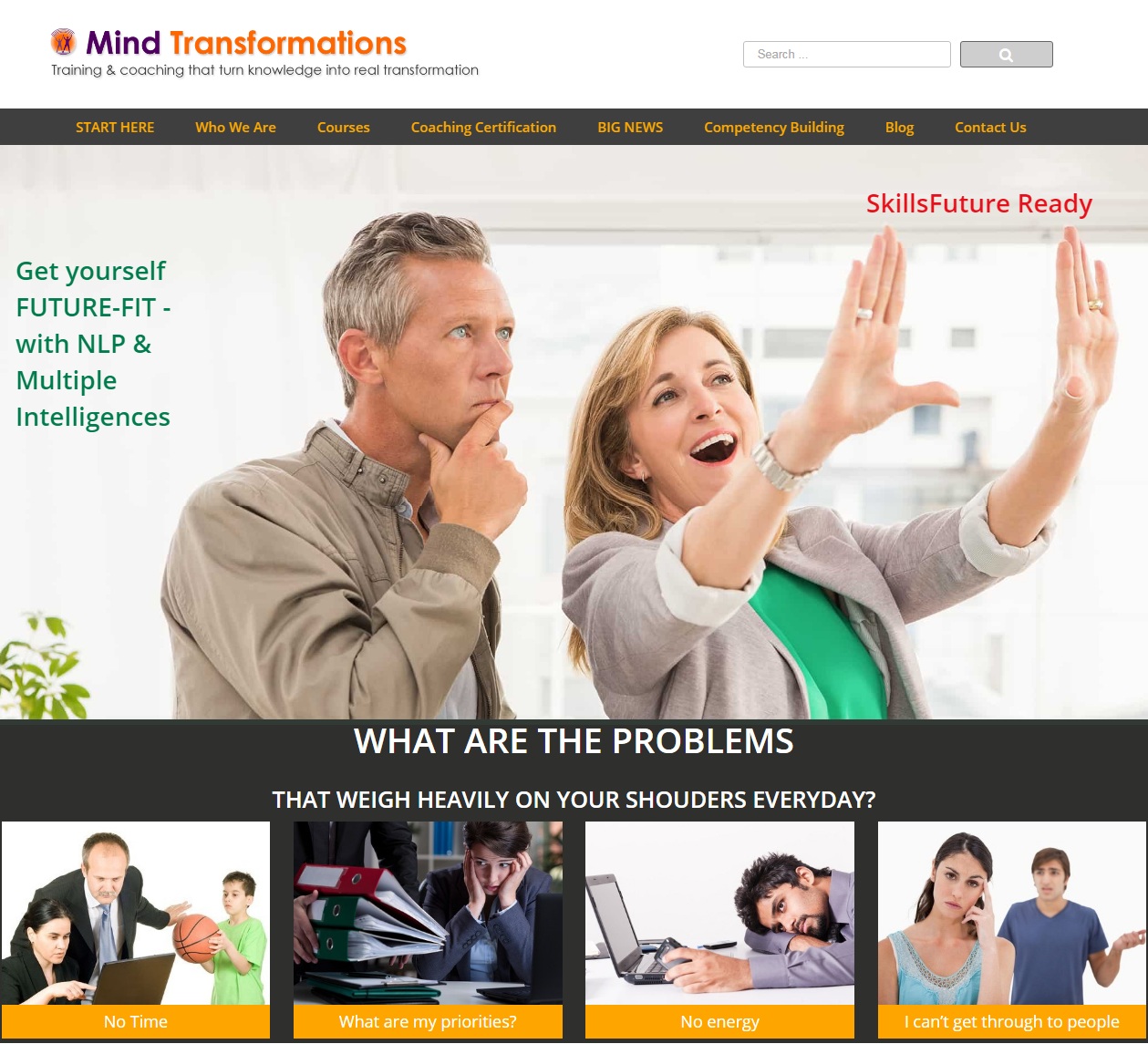 High quality and effective Neuro-linguistic Programming is what Mind Transformations all about. They own the largest pool of NLP Practitioners and Master Practitioners in Singapore. 
Compared to other programs, Master Practitioners has a unique method on how to synthesize their multi-disciplinary knowledge into a new NLP technology. With their new method, it helps their graduates to be armed with exceptional tools and know-how for facilitating change in human behaviors.
It was founded in 1997 by Barney who has been training and coaching NLP ever since.
Highlights
Life Coach Certification

Executive Coach Certification

Mentoring Coaches 

Multi-intelligences Coaches

NLP Coaching
14. Jobs-ME Pte Ltd

BEST FOR
One-to-one coaching and job search strategy with accountability
SERVICES
Career coaching, job search strategy, interview coaching,
LinkedIn branding and training, resume optimization
WEBSITE
http://www.jobs-me.com.sg/
CONTACT DETAILS
[email protected]
JobS-ME was established in 2015, but the amount of people they've helped are on par with some companies who have been in the field far longer. With customized one to one approach, and multiple resources soon you'll be on your way in accepting job offers left and right.
The founder is a former corporate recruiter who understands the recruitment landscape very well and can help job seekers to make tweaks that give results. What sets their services apart is that they work with the job seekers till they get job offers instead of working on a set time-period or hours.
JobS-ME is a trusted partner with various reputable organizations like INSEAD, SMU Postgraduate career services, WSG, NetExpat and Snaphunt where they deliver career workshops, LinkedIn trainings as well as individual coaching. So if you want to know the secret of the most effective job searching, then contact Jobs-ME Pte Ltd now!
Highlights
One to one customized support with multiple resources and guides
In-depth understanding of the recruitment landscape
Partnership throughout your job search
Accountability through weekly conversations
Customer Reviews
"I met Shub while changing jobs after working for the same company for about 12 years. She guided me throughout the process and helped me secure a job very fast after our initial meeting. With her expertise, she even managed to position my experience to get a higher package than I was expecting. Shub has very good understanding of the local recruitment scenario and I'll recommend her to job seekers who need guidance in their job search in a heartbeat."
15. SC Coaching Asia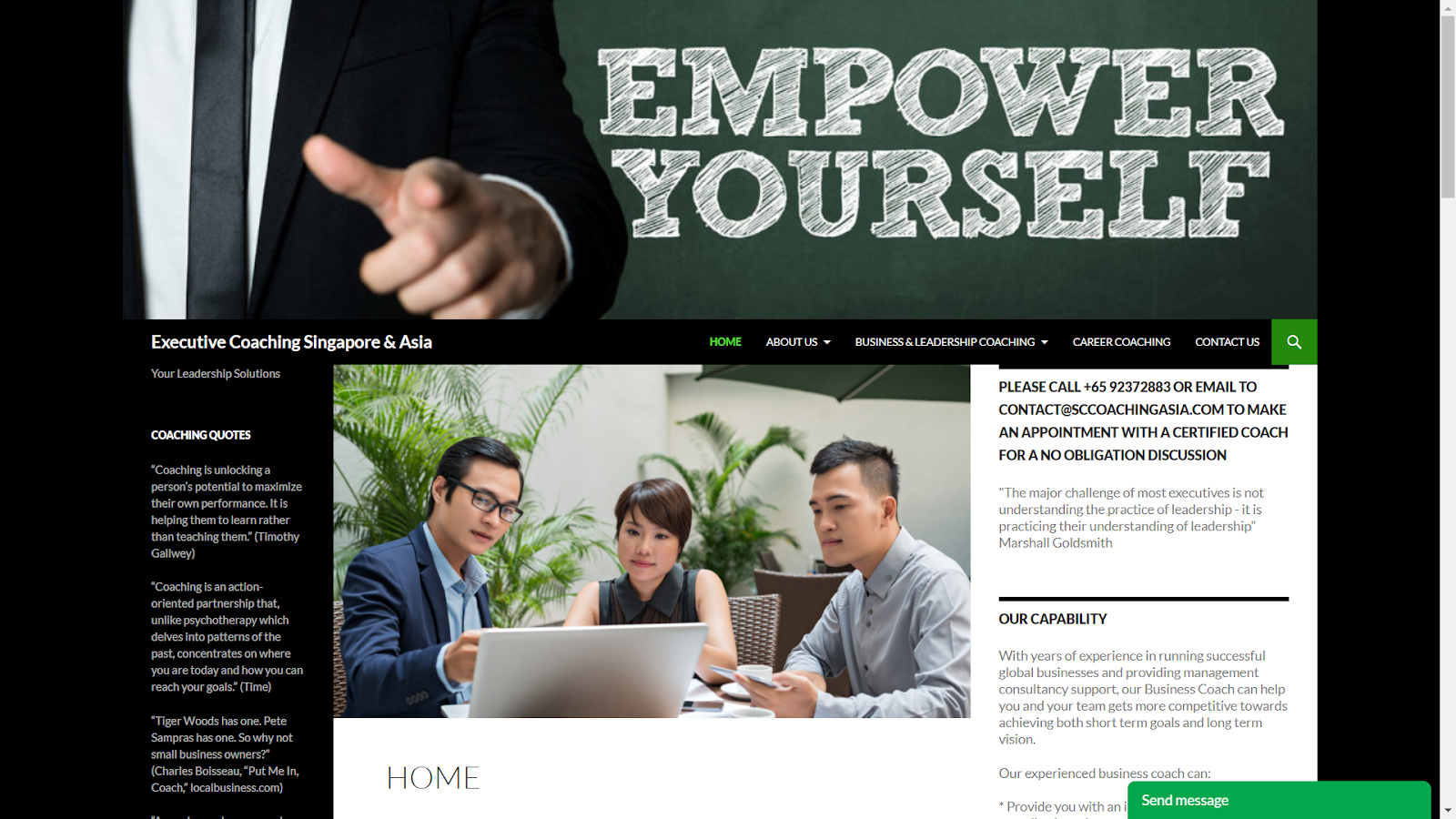 BEST FOR

Executive Coaching

SERVICES

Business & Leadership Coaching, Career Coaching

WEBSITE

http://www.sccoachingasia.com/

ADDRESS

111 North Bridge Raod #21-01 Peninsula Plaza 179098, Singapore

CONTACT DETAILS

+65 92372883 (Singapore)                      

 

+86 13296407547 (China)              

Email: [email protected]

OPERATING HOURS

Weekdays, 8:30 AM – 5PM
SC Coaching Asia does not guarantee that they have the answer to solving your business and leadership problems. Instead, with the right amount of knowledge and experiences, they will work with you to find them. 
They are concerned with your budget responsibility and bottom-line profit to help you cope with the demanding world we are in. Passionate with their work and craft, their purpose is to enrich lives through the power of coaching. 
Highlights
Works fast

Results-driven

Team player
Customer Reviews
Here's a review from one of SC Coaching Asia's clients:
"Sam helped me into thinking more deeply about my personal development and skills that I already had. He engaged with me to discuss my career in depth and explored where I am able to leverage on my strengths to contribute to my organization. The coaching sessions also allowed me to reflect and take actions on the gaps that need to be improved"
Here's another one:
"After the coaching sessions, I had improved self- awareness that while my actions in meeting short term business result is important, I need to reflect on how such actions had an impact on the long term is equally very important. This leads me to increase my focus on team development and succession planning besides meeting the numbers."

16. Emunah Coaching and Training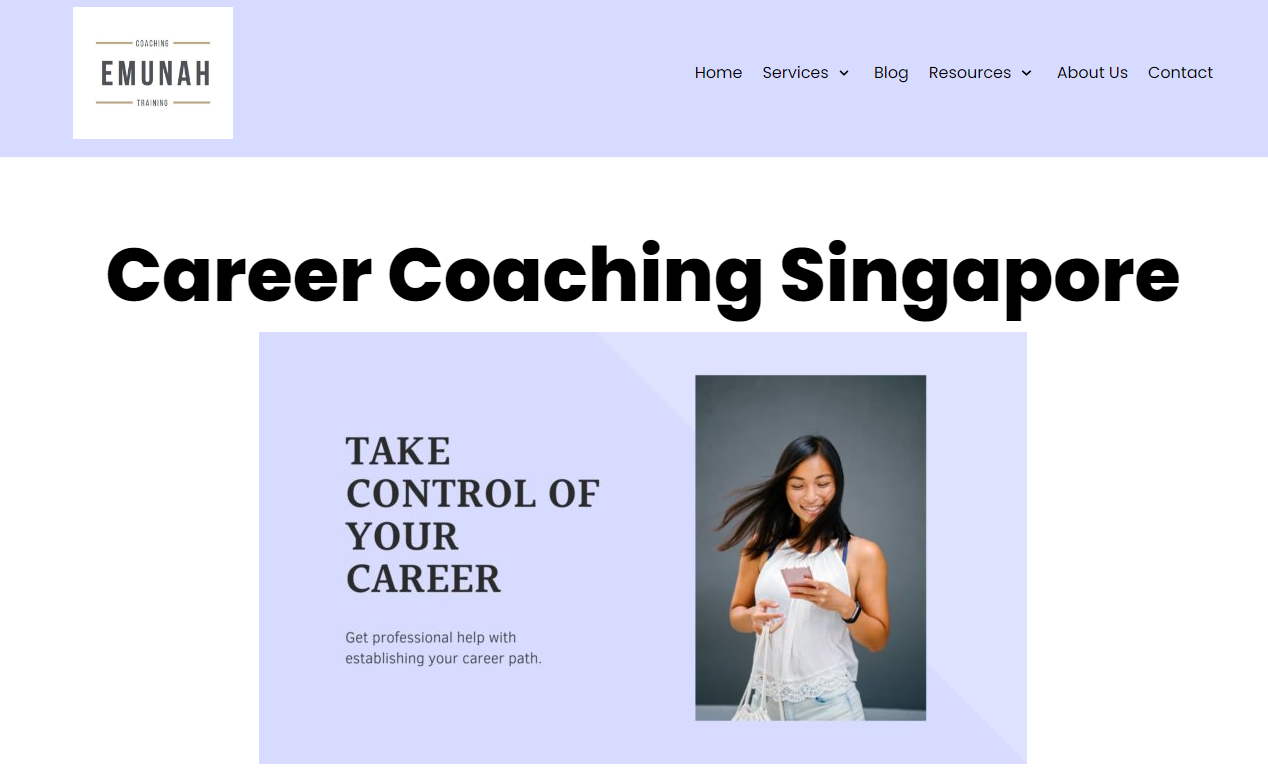 Ben is the founder of Emunah Coaching and Training, providing career coaching services in Singapore. As a DISC and Strengths Consultant, he is here to support his clients on their career journey.
Besides mentoring, counseling, and coaching, he facilitated small groups and organized events. He was the main trainer and program manager to equip the leaders to run the first Alpha Course in the church.
As a life long learner, Ben believes in investing in himself to better serve others. Ben is also a certified Strengths Profile Coach and he is seeking new skills and knowledge to develop himself and his clients.
Highlights
Affordable services
Fast response time
Easy to learn training
Customer Reviews
"I went through a 2 months, 5 session personal growth session with my career coach, Ben. This was during the period of the covid-19 lock down, where I was in the middle of a job switch. Like a skilled surgeon, he carefully separated important information from the non-important ones , and extracted key information, guiding me to question and to understand the motives behind my behaviors. Having a better understanding of myself has led me to feel less frustrated with the decisions that I make allowed myself lots of room for improvement!"

"My fiancé and I are very pleased with the premarital course with our coach, Ben. We did feel nervous before the course commenced, yet it was surprisingly fun and exciting! Ben is very patient and friendly, and he makes us feel so comfortable that it feels as if we have known him for years. Throughout the course, apart from learning more things about each other, my fiancé and I have also discovered much about ourselves. The course has indeed deepened our relationship and we do see positive changes in our behavior and communication with each other."

"Thank you for an interesting session discovering my Strengths Profile. Found out that I had many realised strengths and unrealised strengths that I could use. Especially the unrealised strengths that I could use to help my business and also my team and clients."
17. Ruchi Parekh
| | |
| --- | --- |
| BEST FOR  | Accredited and Certified Coach |
| SERVICES | Life Coaching and Executive Coaching |
| WEBSITE | https://ruchiparekh.com |
| ADDRESS | Singapore |
| CONTACT DETAILS | [email protected] |
| OPERATING HOURS | Contact for more information |
Ruchi Parekh is a coach certified by the International Coach Federation whose expertise is in life coaching, executive coaching, and career coaching.
As a life coach, her main goal is to help clients improve in every aspect of their lives, from the emotional down to the physical. So, if you've ever felt dissatisfied with how your life is playing out, you might want to consider asking help from Ruchi Park.
In terms of experience, Ruchi surely doesn't fall short. She has coached professionals from a wide range of industries such as media, technology, finance, and even politics.
Highlights
Competitive rates
Huge clientele
Customer Reviews
Take a look at how some clients extended their gratitude for Ruchi's services:
"Before I started working with Ruchi, I was riddled with completely unfounded guilt. Despite achieving amazing feats for a 22 year old, my self-esteem was at an all-time low. I felt unloved, and unable to make the people around me happy. All this coupled with repeated adverse events in life as well as a diagnosis of hypothyroidism, I really didn't think I would feel any better.  I am so glad my path crossed with Ruchi's!"
"When I had my first session with Ruchi , I was expecting it to be with someone who would advise me and guide towards my life goals but instead she played a very important role in TEACHING me on how to choose my own directions and discover a new set of realistic, personal and professional goals. Ruchi's coaching gave me the inspiration and tools to explore my strengths and work towards them in a very systematic & organised way."
18. Morphos International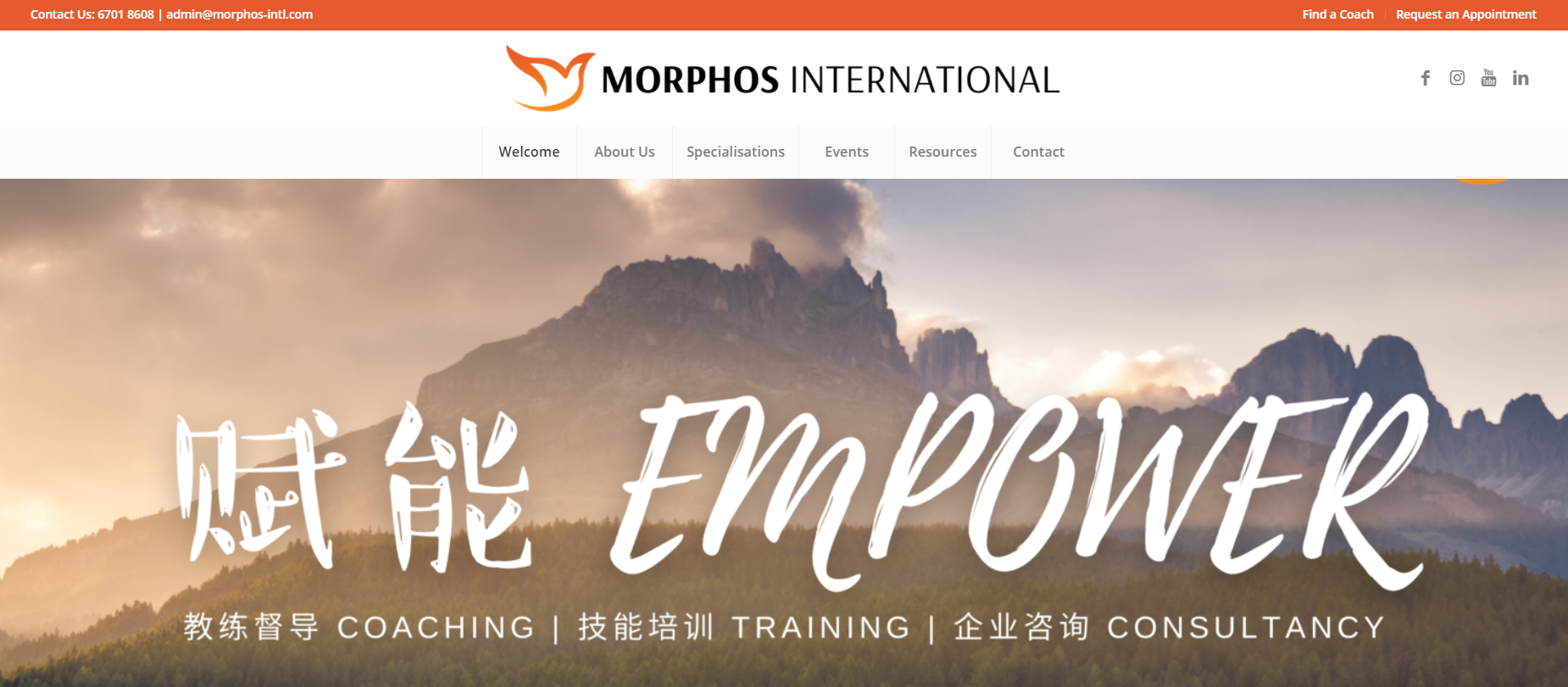 BEST FOR 
Holistic and Sustainable Change
SERVICES
Life Skills
Student Life
Career Skills
Family Relationships
PEAKS Psychometrics
WEBSITE
http://morphos-intl.com
ADDRESS
51 Changi Business Park Central 2
Level 04-05, Singapore 486066
CONTACT DETAILS
6701 8608 | [email protected]
OPERATING HOURS
By Appointment Only
Sometimes, life can be hard to navigate alone — which is why a life coach is something we've all considered at one point in our lives. If you've arrived at that point and are looking to make a lasting change, then Morphos International might be the life coach for you. 
They're well-known for providing personalised solutions to their clients. No matter the problem, their evidence-based methods will ensure that you will experience satisfying and lasting results.
Their team of career coaches are more than proficient in what they do. They can also help you with your work-life balance and workplace mental health. 
Highlights
Personalised solutions
Evidence-based methods
Comprehensive and continuous coach development
Utmost confidentiality
19. Natural Genius Academy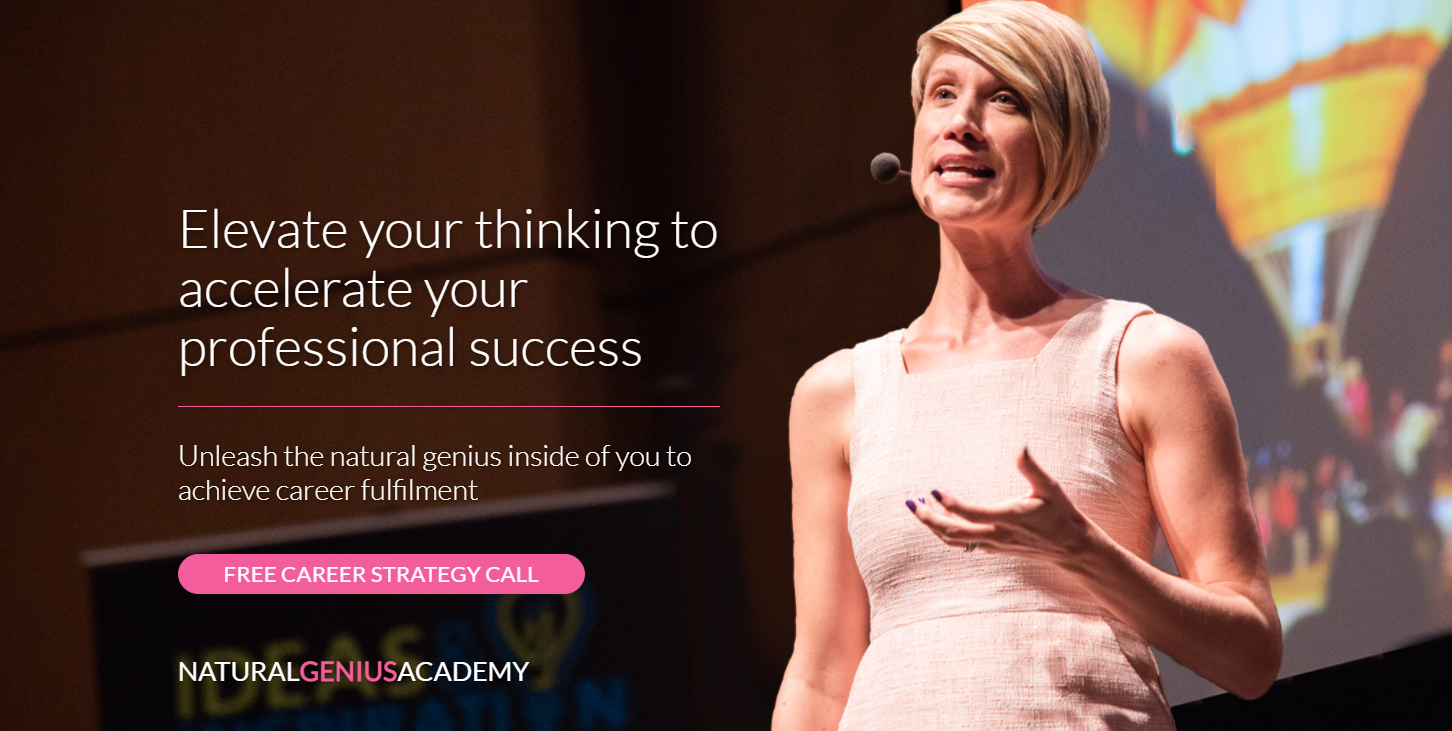 | | |
| --- | --- |
| BEST FOR | Mid-career professionals dissatisfied with their job wanting to create a career they love without compromising on salary or fulfilment |
| SERVICES | Supercharge Your Career Group Mentorship, Private 1:1 coaching and Executive coaching |
| WEBSITE | https://naturalgeniusacademy.com/ |
| ADDRESS | Singapore |
| CONTACT DETAILS | https://naturalgeniusacademy.com/contact/ or +65 8310 8508 (WhatsApp only) |
ANJI HALLEWELL is the Founder of Natural Genius Academy and an International Career-Mastery & Success Coach, who over the last 16+ years, has worked with some of the world's biggest brands, such as Mediacom, National Geographic and FOX in a variety of talent development roles.
After spending years mastering the impact of behaviour on human potential, and personally experiencing some of the high-pressure challenges ambitious professionals face, Anji discovered that self-mastery was the key to achieving natural success.
She has taught 1000s of professionals proven mindset tools for them to rise above the negative workings of the mind to perform at their best. And now runs an international coaching and mentoring academy to supercharge careers by aligning your genius to your work. This has enabled professionals to achieve promotions, attract dream jobs, find their calling, set up businesses, win industry awards and most importantly find career fulfilment.
Highlights
Coached Mediacorp Vasantham actress, Malar Meni Perumal, to win Best Newcomer Award
Trained, impacted and coached 1000s of professionals across 2 continents and 11 countries to be at their best
Featured and spoken on Money FM, Expat Living and Women Lines
Customer Reviews
Here are some comments left by previous clients:
"I wanted balance between my work and my personal life. I went for the first session and I liked it a lot. After 8 months, I'm still with Anji and she's my vitamin A. For the past 3 or 4 years, I think I let go of my dream. The sessions came in hand to reinstate and to tell me that the dream was valid. The sessions helped me get awareness of the things I do consciously and unconsciously so that it doesn't affect my work, family and my personal life." Malar, Award-winning Actress
"I had reached a point in my life where everything was overwhelming. There was a lot going on in my personal space, plus I'd just changed jobs and I saw that as a career for me. [After the programme] It opened up my senses. It made me more self-aware of the environment that I was in, but the one thing for me that really changed is my confidence. It's really built my confidence. I'm really looking forward to seeing what's next." Sally, Talent & Brand Manager

And with that, we end our list of the best career coaches in Singapore. We guarantee that any of these career coaches will be with you every step of the way towards achieving your goals.
Do you know other career coaches in Singapore worth checking out? Share them with us and we'll see if we can add it to our list.
By the way, there are also recruitment agencies all over Singapore worth visiting if you're looking to jump ship to another company in hopes of advancing your career. Check out our list of the best recruitment agencies in Singapore.