The 5 Best Wireless Chargers in Singapore for All Smartphones
By Ryan Lim
It's a massive pain having to untangle the bulky wire of your charger every time you use it. If you no longer want to put yourself through that, you might want to consider getting hold of the best wireless chargers in Singapore.
We combed through the island in search of the best wireless chargers in Singapore for iPhone and Android phones. The ones we'll show you in today's list have also been tested, so you know they don't just look good on paper.
But before that, we'll share a few tips on how to pick the right wireless charger. It'll be easier to browse our list if you're aware of what to look for in the best wireless chargers in Singapore.
So, let's start!
How to Pick the Best Wireless Chargers in Singapore
While using the best wireless chargers in Singapore comes with a lot of benefits, looking for one can be a pain because there are a lot of factors to consider.
For example, one of the first things to check out in the best wireless chargers in Singapore is wattage, as it determines capacity and how long the charger will last. Checking standards and design is important too.
Not sure what to look for when evaluating things like that? That's okay, because we'll give you a quick primer on it here.
1.   Wattage
Wireless chargers usually carry a wattage that ranges from 5 watts to 10 watts. Each type of smartphone needs a certain level of power for it to charge properly.
Apple's iPhones need at least 7.5 watts in order to charge, while Samsung's smartphones need at least 9 watts. For other brands of Android phones, you usually want a charger that goes 10 watts and up for them to charge.
A wireless charger that carries a lower wattage can still charge a wide variety of smartphones, but it'll take a while for them to charge on it. It's much easier and faster to use one that matches their required wattage.
2.   Standards
Wireless chargers follow a variety of standards, but all you need to do is make sure whatever you pick supports the Qi standard.
If you're not aware what Qi is, it's a standard adopted by almost every smartphone manufacturer out there, including Apple and Samsung.
Choosing one that supports Qi means that you will be able to use it to charge different models of smartphones.
On top of that, most Qi wireless chargers come with overcharge and over-voltage protection to ensure the safety of users.
3.   Design
Some of the best wireless chargers in Singapore come in different shapes and sizes, but the most important thing about their design should be their grip.
A wireless charger should have a nice grip that will securely hold your phone while charging, whether it comes with a pad or standing design. You might also want to look for one that has an LED to indicate the charging status.
Lastly, make sure that the one you will pick can charge your phone even with a case. Some heavy duty wireless chargers work with leather, silicon, and even plastic cases.
The Best Wireless Chargers in Singapore
With the help of our buying guide, we hope that you'll find it a lot easier to find the right option for you among our picks for the best wireless chargers in Singapore. If you've managed to pick one, don't forget to tell us which factor was most important in your decision!
Anyway, without further ado, here's our list of the best wireless chargers in Singapore that every smartphone user should have.
1.   TOPK B46W
Best for Affordability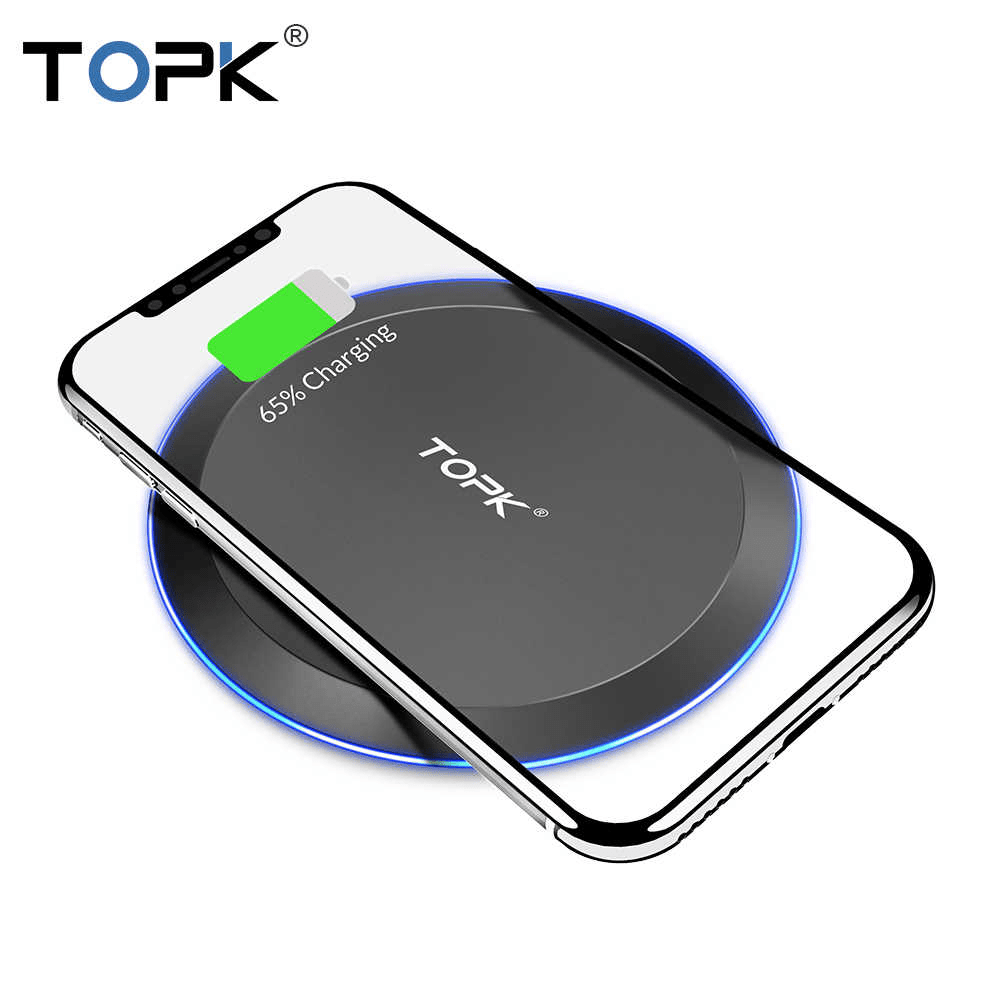 Price: $5.99
If you're a bit short on cash, you might want to check out the TOPK B46W Wireless Charger. It's one of the best wireless chargers in Singapore if you're on a budget, as it only costs $6 despite having specs comparable to high-end, heavy duty products.
For one, the TOPK B46W is a 10-watt charger, allowing it to charge a wide variety of smartphones, from iPhones to Samsung models.
It supports Qi standard as well, so no questions about its capacity to charge smartphones fast.
More than that, the TOPK B46W features a temperature control system that will protect your smartphone from overcharging and overheating. You won't have to worry about it short circuiting even if used for an extended period of time.
However, the TOPK B46W can't charge smartphones with thick metal cases, so it might cost extra effort for some users to remove their phone case.
Pros
Affordable
10 wattage
Qi standard support
Cons
Can't charge with a case on
2.   Ultra-thin Wireless Charger
Best for Portability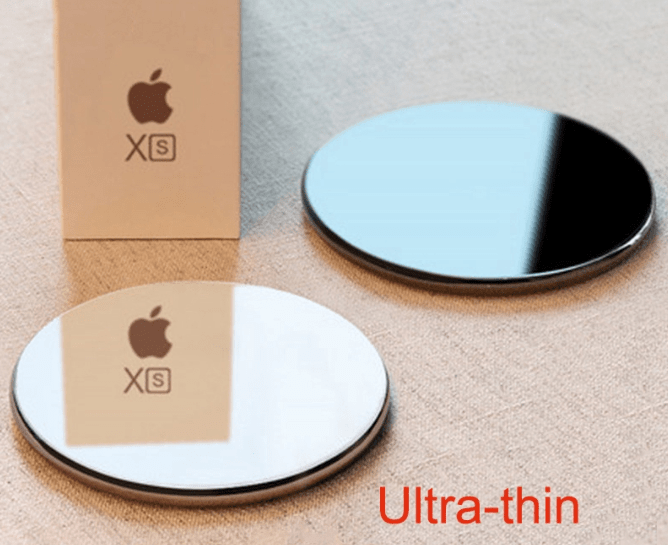 Price: $11.00
There's nothing that can beat a lightweight, portable and compact charger, so if that's what you're looking for, the Ultra-Thin Wireless Charger comes highly recommended. It's been called one of the best wireless chargers in Singapore, even.
It weighs no more than 300 grams and has the capacity to charge both Android and Apple phones. It can charge other models of smartphones as well as long as they don't require more than 9 watts of power.
In terms of design, the Ultra-Thin Wireless Charger as well. It may have a cheaper price, but it doesn't mean it can have an elegant design made of premium acrylic and aluminium alloy materials.
You might want to be extra careful in handling it though because its build is a bit thin and flimsy, hence we can't guarantee that it's one of the most durable wireless chargers out there.
Pros
Affordable
Lightweight and compact
9 wattage
Cons
3.   Xiaomi Wireless Charger
Best for Durability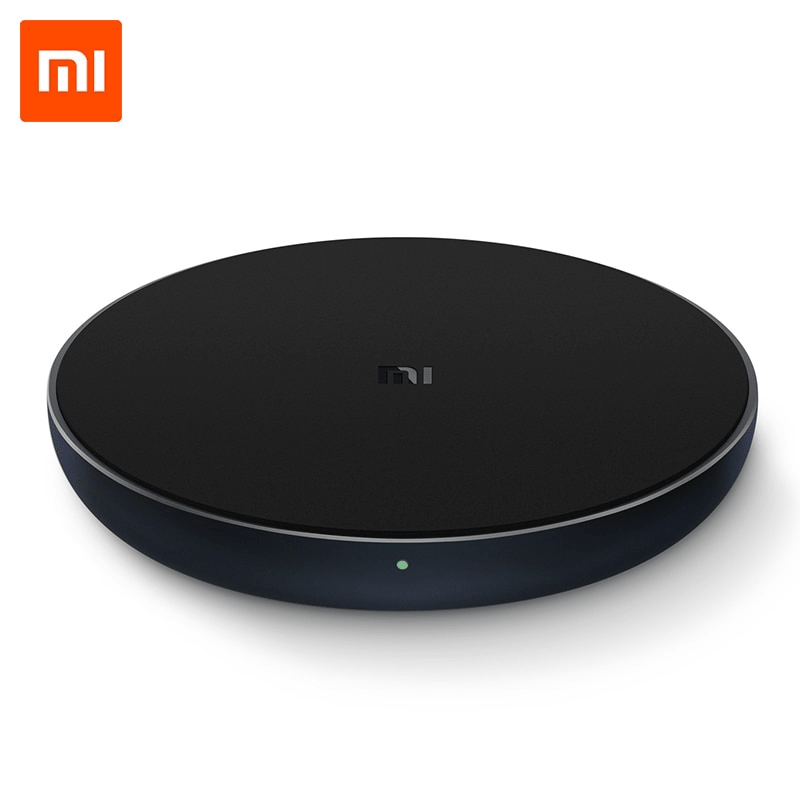 Price: $17.90
If you're looking for a wireless charger that can definitely last for years to come, then you might want to get your hands on the Xiaomi Wireless Charger, tagged one of the best wireless chargers in Singapore.
The Xiaomi Wireless Charger is made with high quality soft-touch silicone with shock absorption features which means extra protection for when it gets dropped!
It supports the Qi wireless charging standard, allowing it to charge an extensive list of smartphones, powered by a 7.5 maximum wattage. It can even charge through thick phone cases, so no need to remove your phone case, unlike with other wireless chargers.
Lastly, the Xiaomi Wireless Charger comes with a smart LED indicator that informs the user of the charging status. It's helpful for users since it doesn't come with an overheating prevention feature.
Pros
Metallic design
Shockproof
LED indicator
Cons
Customer Reviews
Take a look at what customers have to say about it:
"The build quality of the charger is great. It's solid with no loose parts, at the top and bottom of the charger there are rubber pads that keep the smartphone and the wireless charger itself from sliding around."
4.   Samsung Wireless Charger
Best for Fast Charging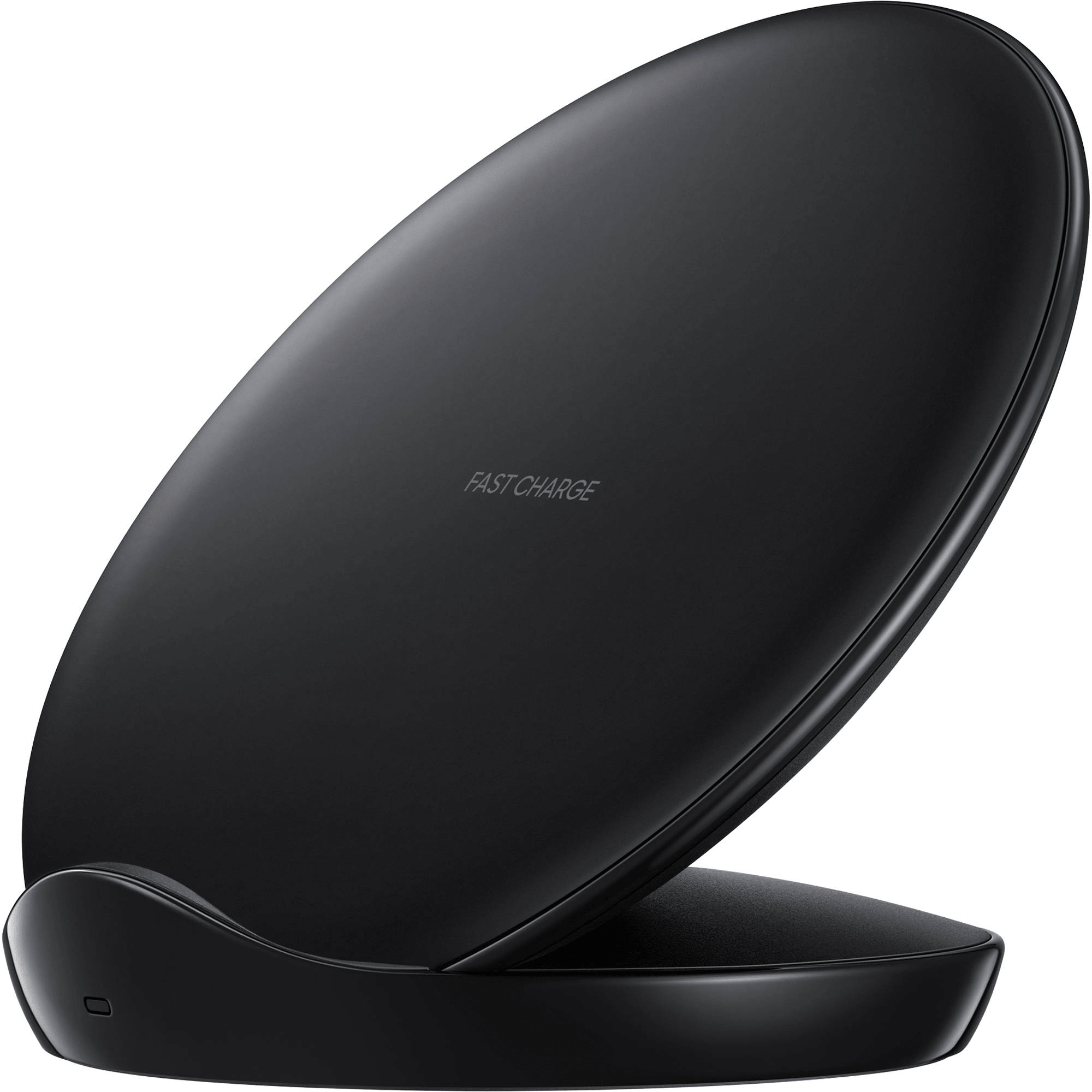 Price: $24.00
If there's one thing that the Samsung Wireless Charger can guarantee, it's that your phone will be fully charged in no time, significantly faster than using wired chargers.
It's mostly compatible with the newest Samsung smartphones such as Galaxy Note5, Galaxy S6 edge+ and later models of the Galaxy Note and Galaxy S series.
That being said, iPhone users will not be able to use the Samsung Wireless Charger as it's designed only for Samsung smartphones.
It even comes with a design that allows you to use a device while charging, without the possibility of it overheating. It's indeed one of the best wireless chargers in Singapore.
Moreover, using the Samsung Wireless Charger doesn't cause any stress as it's designed for easy use! There's even an LED indicator light that will alert users if their device isn't charging properly.
Pros
Quick charging
9 wattage
Standing design
Cons
Exclusive for Samsung
A bit pricey
Customer Reviews
Here are some of the comments posted by buyers on the Samsung website:
"Works as advertised. Only been using this charger for a little over a month, but it does function as advertised. I use it to fast charge my galaxy S7. And the position it sits in while charging makes it great to watch video or whatever you like really, all while charging your phone."
"Awesome! I love this wireless charger. I used to rely only on the wall charger for my phone, but after owning this charger I may only go back to the wall charger as a last resort. I have it on my bedside table. I just set it down and walk away, it charges especially quickly and my phone cases do not interfere with it. Fantastic!"
5.   Spigen Essential F309W
Best for Overall Value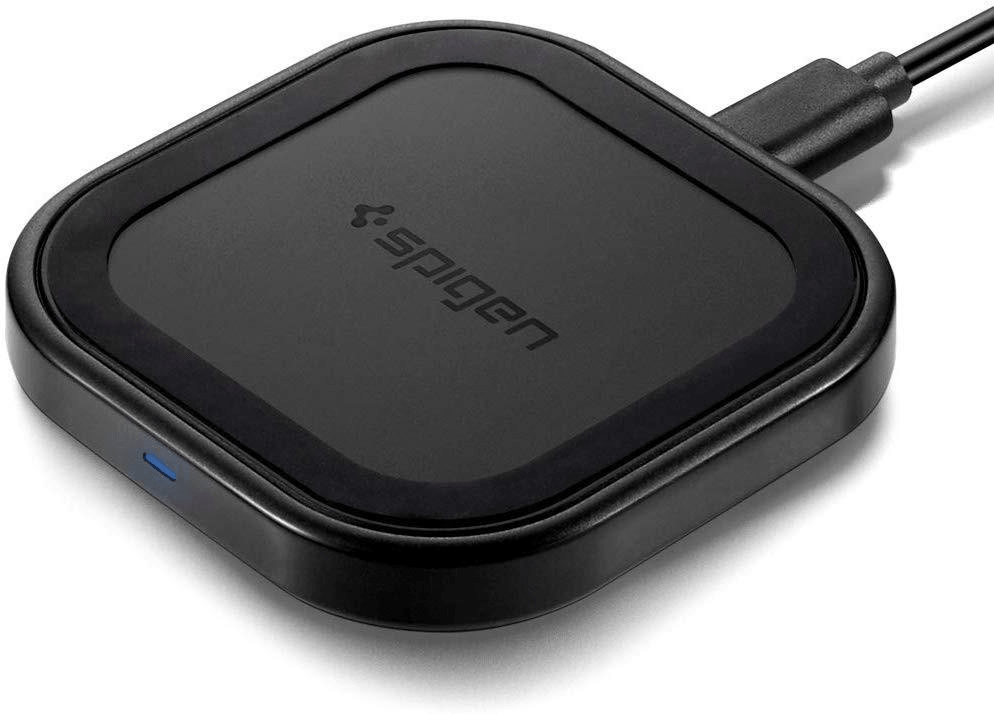 Price: $49.90
If you're willing to spare extra bucks on a quality wireless charger, then the Spigen Essential F309W can make your money count, down to the last coin. It has a 10-watt output and supports Q1 standards, making it compatible with a wide range of smartphones.
On top of that, it features a lightweight and compact design that makes it easier to store inside the bag and bring wherever you go. It won't eat up a lot of space inside your bag, unlike with other bulky wireless chargers.
What's more, the Spigen Essential F309W comes with its own Control Heat Technology that will make sure your device won't overheat, especially when left unattended. It's one of the reasons we call it one of the best wireless chargers in Singapore.
Above all, the Spigen Essential F309W has the capacity to charge even through all types of phone cases, from leather to plastic, regardless of how thick they are.
Pros
Control Heat Technology
Compact and lightweight
10 wattage
Cons
And that's it for our list of the best wireless chargers in Singapore. If you've used any of these wireless chargers in Singapore, share with us what it's like using them!
Besides having the best wireless chargers in Singapore, every smartphone user needs the best power banks in Singapore as well! No need to worry about running out of battery while on the road when you have these reliable power banks!