The 6 Best Garment Steamers in Singapore Under $100
Should you be on the lookout for the best garment steamers in Singapore, worry no more — we have you covered! We combed through the island in search of the ones that every household should have.
However, before setting out to buy the best garment steamers in Singapore, you should take some time to review how to buy one. Different people need different steamers, and the perfect one for you may be different from the perfect one for another.
Luckily for you, we have that covered as well. We've included a buying guide here for those who've never picked a garment steamer for themselves before.
So, without further ado, let's start! The sooner we do, the sooner we can check out the list of the best garment steamers in Singapore!
How to Pick the Best Garment Steamers in Singapore
If you don't want to end up buying a steamer that's just going to waste your money, then you have to be familiar with every feature of the best garment steamers in Singapore.
One of the first things buyers should check out is the size and weight of the steamer. Knowing its steam settings, heating time, and steaming temperature capacity will be beneficial during your search for the right one as well.
Let's go over each point below.
1. Size and Weight
The best garment steamers in Singapore come in different sizes and weights.
So how do you know which ones are best for you? Well, it's always better to go for something that's easy and convenient to use, in which case you might want to consider going for lighter models.
A light option will be easier to use and will give you more freedom to move and carry it around easily. Make sure that it's compact enough to fit inside your bag too, so you can bring it when you're travelling as well.
2. Steam Settings
Steam settings will help users find the mode that works best for them, giving them the freedom to adjust the steam according to their preference.
We recommend going for a model with more steam settings just so you can have more options to choose from. If you have both heavy and delicate clothes, then the more settings, the better.
3. Heating Time
Heating time refers to how quickly a garment steamer heats up. If you're not a fan of waiting, then choosing a model that heats up in no time is your only option.
In line with that, it would be a bummer to wait for a garment steamer to heat up, especially when you're in a rush to leave for work or school. Luckily, there are some models out there with a heating time of no more than 30 seconds.
4. Steaming Temperature
Another important feature to consider is the steaming temperature because it helps in maintaining the quality of your garments.
You need to be able to adjust the temperature according to the fabric of your clothes. If it's a delicate fabric, the temperature should be between medium and low — never high, as it will damage the fabric.
If you're on a tight budget, you may want to consider buying a garment steamer with a single steam temperature. But you need to be extra careful using such steamers, especially with clothes with thin and delicate fabrics.
The Best Garment Steamers in Singapore
Now that you're aware of what to look for when shopping for the best garment steamers, we hope that you're ready to go through our picks!
Any of these garment steamers can remove wrinkles from your clothes in a matter of seconds. Check them out below!
1. Xiaomi Deerma Hand-held Garment Steamer
Best for Portability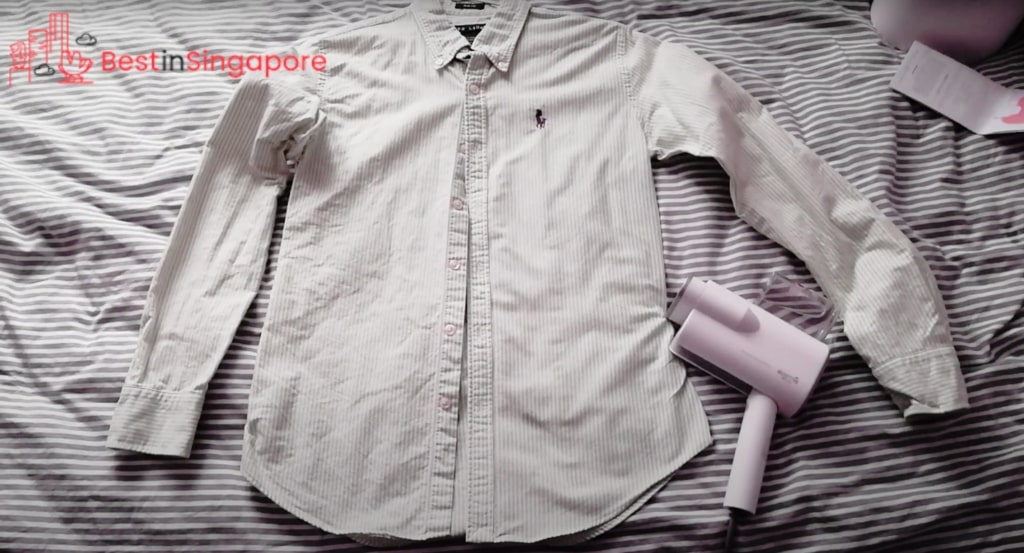 Price: $35.90
Boasting a compact and foldable design, the Xiaomi Deerma Hand-held Garment Steamer is the perfect one to accompany you on your travels. It's lightweight and portable, making it one of the best garment steamers in Singapore for those who need something easy to carry.
It comes with a pressurised heating system as well that takes no more than 10 seconds to heat up the motor, an ideal feature for those always rushing and on the run.
Another feature we love in the Xiaomi Deerma Hang-held Garment Steamer is that it's not only capable of removing wrinkles, but bacteria and germs as well.
You won't have to worry about having to refill the water tank regularly because it has a patented system that conserves water inside the tank. So, it's convenient in that sense as well!
As per some customers, it's a bit hard to hold as it doesn't come with its own stand, but most tend to look past that considering that it's very budget-friendly.
Pros
Budget-friendly
Compact and portable
Can kill germs and bacteria
Cons
Customer Reviews
Here are some comments posted by customers on Amazon:
"This is a good product and does what it is supposed to do. I have used it a few times and it is very easy to use . Works great for shirts, pants, etc to remove wrinkles. Very compact and great for home use to save space in the closet. The travel box is convenient for storage and travel."
"I bought this for business trips. It is very light and compact. Super easy to use on suite shirts. I recommend this item for people who have business travels too often. Waiver wrinkles right away! Really worth every dollar."
2. AFC Garment Steamer
Best for Affordability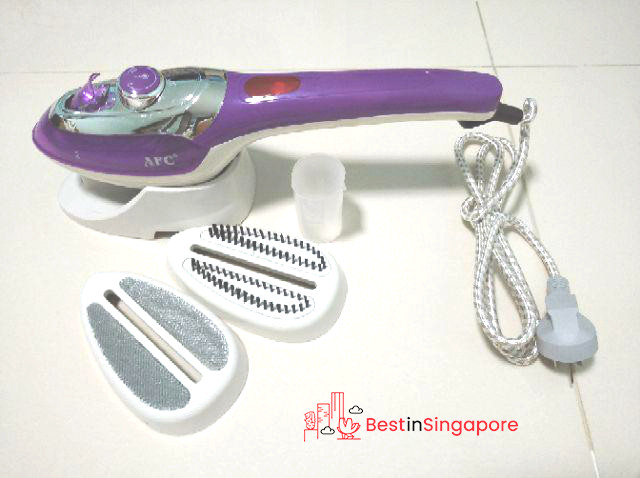 Price: $19.90
If you're looking for a garment steamer with a price that won't break the bank, you might want to check out the AFC Garment Steamer, considered one of the cheapest and best garment steamers in Singapore.
For only $19, you can get a hold of an affordable yet high-quality garment steamer with power like that of expensive, high-end ones. It comes with a powerful motor, heats up quickly, and releases strong vapour.
More than that, the AFC Garment Steamer is lightweight and has an easy grip. Your hands won't feel any discomfort even after using it for hours on end.
It doesn't come with a lot of special features, given that it's a cheap model… but it can definitely deliver more than what you expect from affordable garment steamers.
Pros
Affordable
Lightweight and compact
Easy to grip
Cons
3. Aerogaz AZ-206GS
Best for Water Capacity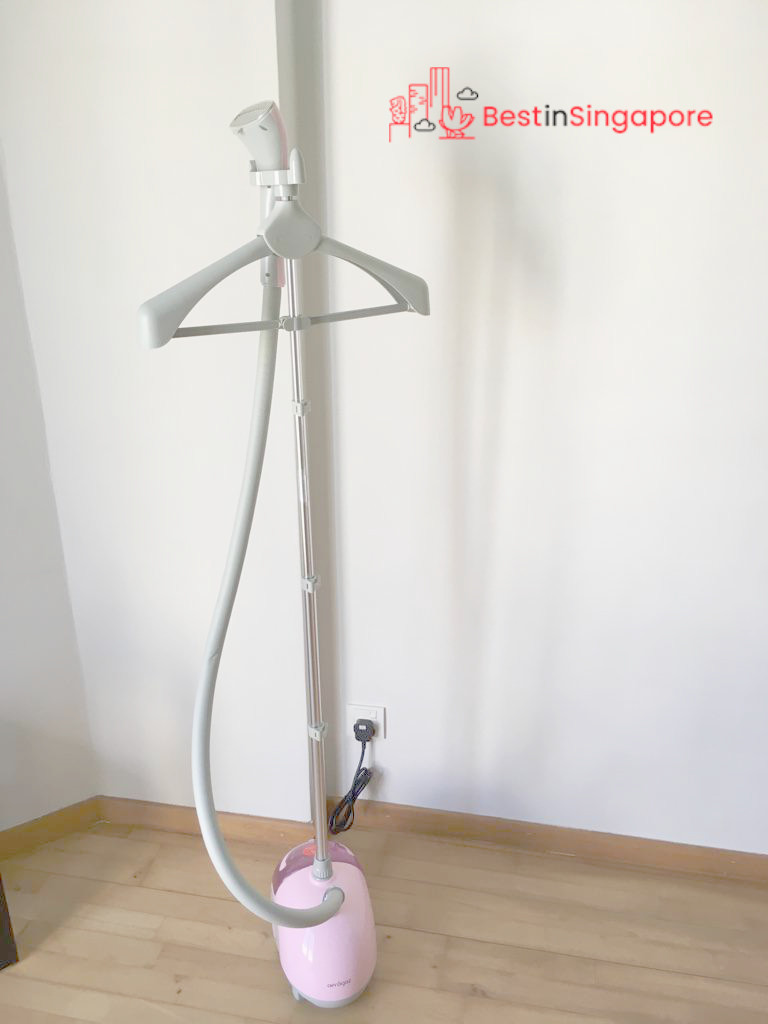 Price: $40.00
The Aerogaz AZ-206GS is among the garment steamers with huge water capacity, engineered to carry up to 3 litres of water. This means users will be able to steam a lot of clothes easily when using it.
On top of that, the Aerogaz AZ-206GS is known for having a powerful, 1800-watt motor that can remove wrinkles better than the ordinary iron — which is why we call it one of the best garment steamers in Singapore.
It can even remove unwanted thread, lint, bacteria, and all sorts of foul odour from your garments. You won't have to spend money buying fabcon and perfume to make your clothes smell better.
The Aerogaz AZ-206GS even comes with a built-in stand and hanger. Unlike with other models, you won't have to hold the garment up yourself while steaming it.
Pros
Powerful motor
Fast heat up
Large water tank
With stand and hanger
Cons
Bulky, not suitable for travel
4.
Best for Extra Features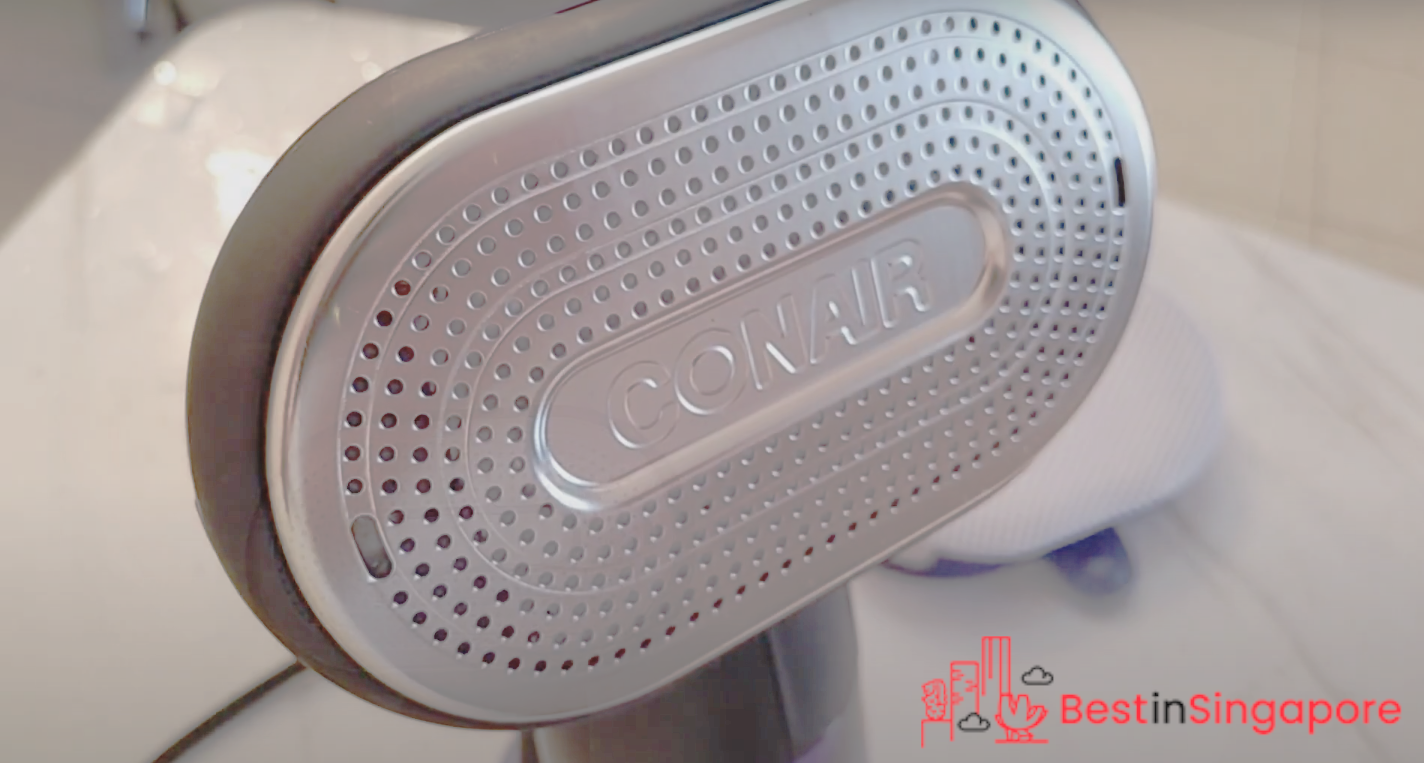 Price: $109.95
The Conair Turbo Handheld Garment Steamer is more than just your typical clothes steamer. Besides removing wrinkles, it can kill 99.9% of bacteria and germs and get rid of bed bugs and dust mites as well.
If you want more features in your garment steamer, then you won't be disappointed with this one. It comes with an aluminium plate, a built-in creaser, steamer stand, and extra steaming settings.
One of the highlights of the Conair Turbo Handheld Garment Steamer is its own Turbo Extreme Steam Technology that produces more concentrated steam, making the task of steaming your clothes a lot faster and easier.
You can even adjust its steaming settings and temperature level to accommodate different types of fabric and prevent damage to your clothes.
It's definitely on the higher end of the range, though, so if you're on a budget, you may want to look at the cheaper options we listed earlier.
Pros
Kills bacteria and germs
With steaming control
Produces concentrated steam
Cons
Customer Reviews
Here's what customers have to say about their experience with using the Conair Turbo Handheld Garment Steamer:
"I bought this 3 months ago, and I love it! My teenagers love it too. It is super easy to use, easy to fill, and works perfect! It has ironed every piece of clothing great. I have not been disappointed at all. I did a lot of research on handheld steamers before I bought it. It works better than the reviews. I was afraid it would be heavy, or bulky, it's not. I suggest putting the item on a hanger, and steam away! I haven't tried it on curtains, or linens yet, but I am sure it would be great for that too."
"This is the best household gadget I've discovered in years. I just moved into an old house. I had to trash all the drapes, which had accumulated twenty years of dust and grease from cooking, and buy and install new drapes. But the new drapes were all wrinkly, and I needed to get them unwrinkled."
5. TEFAL QT1020
Best for Multifunctionality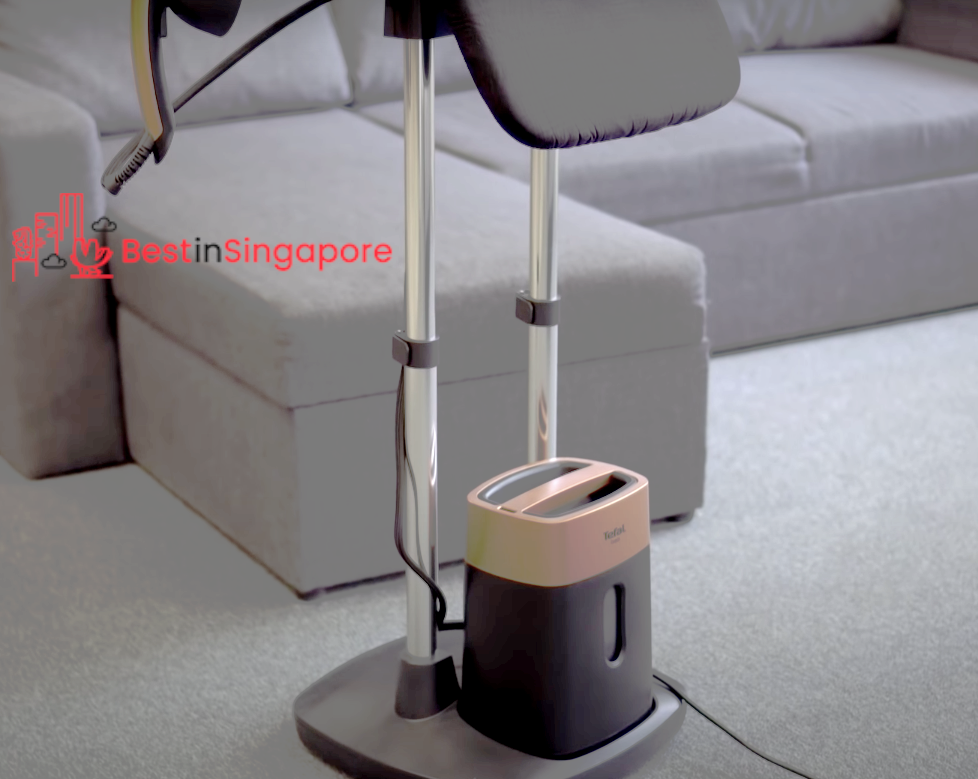 Price: $299.00
If you're looking for an item that functions both as a steamer and iron, then the TEFAL QT1020 would be the right match for you! It might go beyond your budget considering its price, but your money will surely be worth it, down to the last cent.
It's designed to make steaming and ironing more comfortable for the user, as seen in its ergonomic upright design. No need to hold up the garments yourself while doing the steaming with your other hand!
One of the reasons we call it one of the best garment steamers in Singapore is its powerful 1600-watt motor that can make all wrinkles and creases go away in no time.
The TEFAL QT1020 can heat up in no more than 45 seconds as well, making it an ideal option for last-minute touch-ups of casual and formal garments. It also comes with a huge water tank that can carry enough water for up to 40 minutes of steaming.
Pros
Ergonomic design
Doubles as an iron
Huge water tank
45-second heat up time
Cons
Expensive
Will eat up huge space
6. Aerogaz AZ-1116GS
Best for Fast Steaming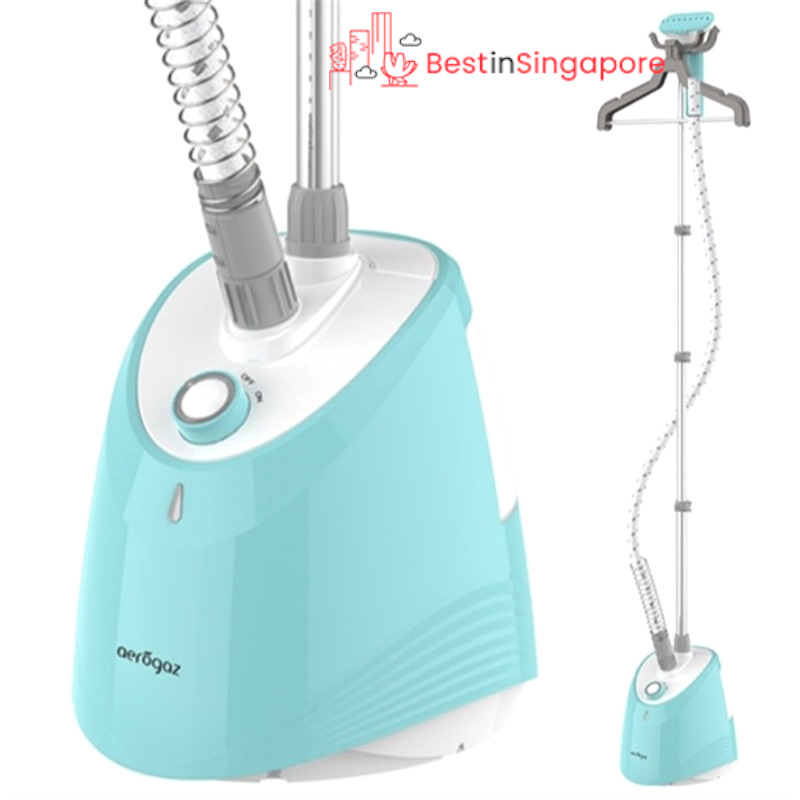 Price: $48.00
Known for its consistent quality of steaming, the Aerogaz AZ-1116GS is suitable for a widescale steaming of garments needed within a limited time.
Hang your clothing one at a time on the steamer stand and conveniently go through all of them in no time!
With its 1.3L water tank, you're sure to be able to use it for a longer frame.
Pros
1800 watts of powerful, continuous steam.
45 seconds initial steam start up.
Multi-hook hanger that swivels to easily steam any garments.
Easy to fill removable translucent 1.3 L water tank."
Cons
Not suitable for traveling
And with that, we conclude our list of the best garment steamers in Singapore. We hope that you were able to pick at last a few that you can think will make your clothes management a lot more convenient.
If you know of other garment steamers in Singapore worth checking out, drop their names and we'll check if we can add them to our roster.
By the way, in case you'd be needing an ironing board in the future, we recommend our list of the best ironing boards in Singapore. Any of these options will make ironing your clothes seem not like a task!