The 7 Options for the Best Indian Funeral in Singapore
Hindu rituals and traditions are a huge part of every Indian's life, regardless of where they were born and raised. So, when an Indian passes away, they deserve nothing other than the best Indian funeral in Singapore.
If you have an Indian relative who recently passed, you must be stressing out over arranging the best Indian funeral for them. It's a good thing that there are funeral parlors on the island willing to carry that burden for the family of the deceased.
Anyway, we did the work ourselves and compiled a list of the ones worth checking out, so you can focus on more important matters. Check them out below to see which one offers the services you're searching for.
1. Sri Rudras Singapore Indian Funeral Services


Mr.Srikanth is the founder and director of Sri Rudras Singapore Indian Funeral Services. He started learning this trade with passion at the age of 16. 
He has gained immerse experience having been in this profession the past 24 years. Being a senior in the Hindu Funeral Service Industry in Singapore, you can ensure that your loved one's final rites and rituals will be conducted rightfully and respectfully by him and his experienced team.
In order to honor the precious final moments of your departed loved one, we can recommend Sri Rudras Singapore Indian Funeral Services for various reasons we will state below.
They are committed to working with utmost attention, dedication, care, and understanding to cater to all your funeral service requirements and to create a memorable service that your loved one truly deserves.
What's great about them is that they will completely understand that in times of bereavement, the family and loved ones of the decedent will be emotionally affected and to make decisions can be overwhelming. That is why they offer non-obligatory calls.
With this, you will be able to ask them for guidance and their range of Hindu Funeral Service Packages that may suit your requirements.
Highlights
Over 24 years of experience
Wide range of services
World wide repatriation
Customer Reviews
Here are some comments posted by previous clients:
"My family and I would like to Thank you and the team for ensuring that my father was well taken care of with honour from the start to the end of the funeral procession. All procedures were carried out with utmost professionalism and we would like to express our gratitude and appreciation for catering to any requests or changes which we had asked for without hesitation. Once again, our heartfelt thanks for carrying out a peaceful sendoff for my father."

"wholeheartedly thanking Sri rudras funeral services for sending off my uncle Raja s/o kumarasamy (Periya Raja) , peacefully, it may just be ashes, but it was everything to us. we felt so overwhelmed by the efforts yull took to fulfill every rites for him. I'm sure he's blessing would be upon yull . on behalf of my uncle raja and he's loved ones A BIG BIG BIG THANKS TO YULL! 😀 GOD BLESS SRI RUDRAS FUNERAL SERVICE AND TEAM! 🙂"

2.  Singapore Indian Casket

BEST FOR 
Funeral Services
SERVICES
Funeral Services, Burial Services, and Repatriation
WEBSITE
http://indiancasket.com.sg/
ADDRESS
131 Lavender Street, Singapore 338737
CONTACT DETAILS
6100 5515 |

[email protected]

OPERATING HOURS
Monday – Sunday, 8:30 AM to 5:30 PM
Singapore Indian Casket is known as the leading funeral parlor that caters to the growing population of Indians on the island. It's made up of a team of professional funeral directors who each have years of experience under their belts.
It's a funeral parlor that's dedicated to lessening the burden and grief of the deceased's family, hence the affordable and competitive funeral rates. You won't have to worry about settling the dues immediately and in lump sum as payment arrangements can be done.
And that's just a few of the reasons we call it one of the top options for the best Indian funeral in Singapore. Customers also appreciate the ease of working with them, as well as their commitment to providing quality services to all clients.
Highlights
Expert funeral directors
Affordable funeral rates
Customer Reviews
Here are some comments posted by previous clients on Google Reviews:
"They are a one stop solution to ensure that my late father has the proper rites. They have many packages to choose from, and the pricing is reasonable. It can be quite stressful arranging for the funeral of your loved one, but Singapore Indian Caskets were there telling us what needs to be done and getting the additional support for us like Temple bookings, boatmen for the sea ritual, etc. Thank you Singapore Indian Casket."
"I would like to thank Mr Kanthan & Mr Vinod(Buddy) for their funeral service of my beloved sister Saratha. They provided excellent service right from the beginning till the very last procedures. Was very clear with the instructions which were given by them and were very patient in carrying out the process without any complications. Overall an excellent service provider that I would highly recommend to people who are intending to carry out a funeral service. Two thumbs up"
3. Hindu Casket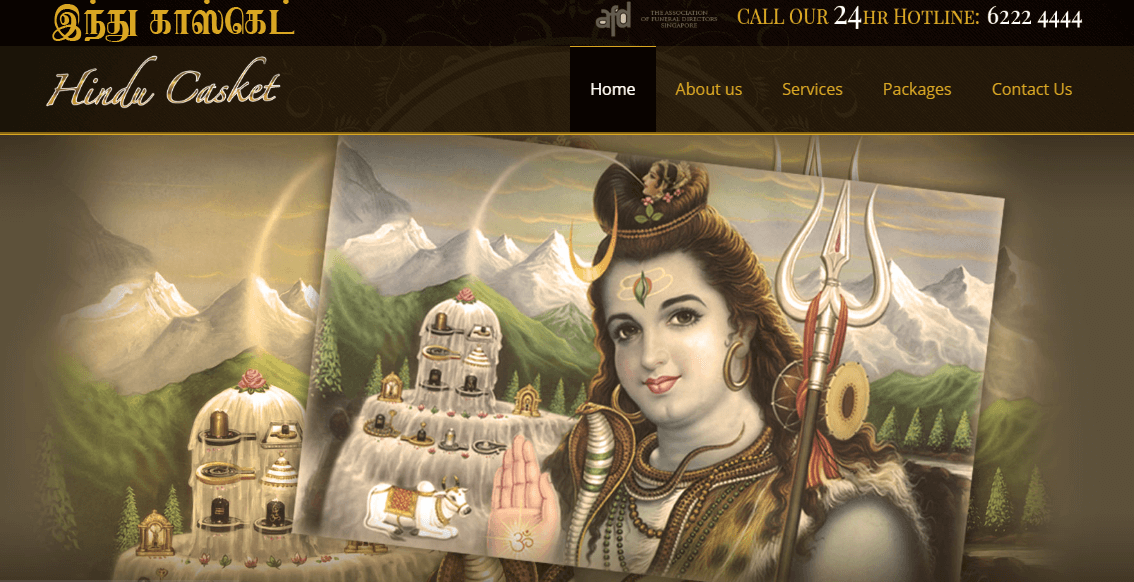 | | |
| --- | --- |
| BEST FOR | Affordable Rates |
| SERVICES | Funeral Services and Burial Services |
| WEBSITE | http://www.hinducasket.com.sg/ |
| ADDRESS | 127 Lavender St, Singapore 338735 |
| CONTACT DETAILS | 6222 4444 |
| OPERATING HOURS | Open 24 Hours |
If you're looking for a funeral parlor that offers cheap funeral packages, then look no further than Hindu Caskets. It provides a range of funeral packages to suit the varying budgets and needs of their customers.
Each funeral package by Hindu Casket comes with a long list of inclusions, such as caskets, a funeral site rental, death certificate, embalming, and even worldwide repatriation.
Hiring their services will surely give your family a huge sigh of relief because everything will be taken care of.
Highlights
Worldwide repatriation
Funeral packages
4. 1 Stop Funeral Services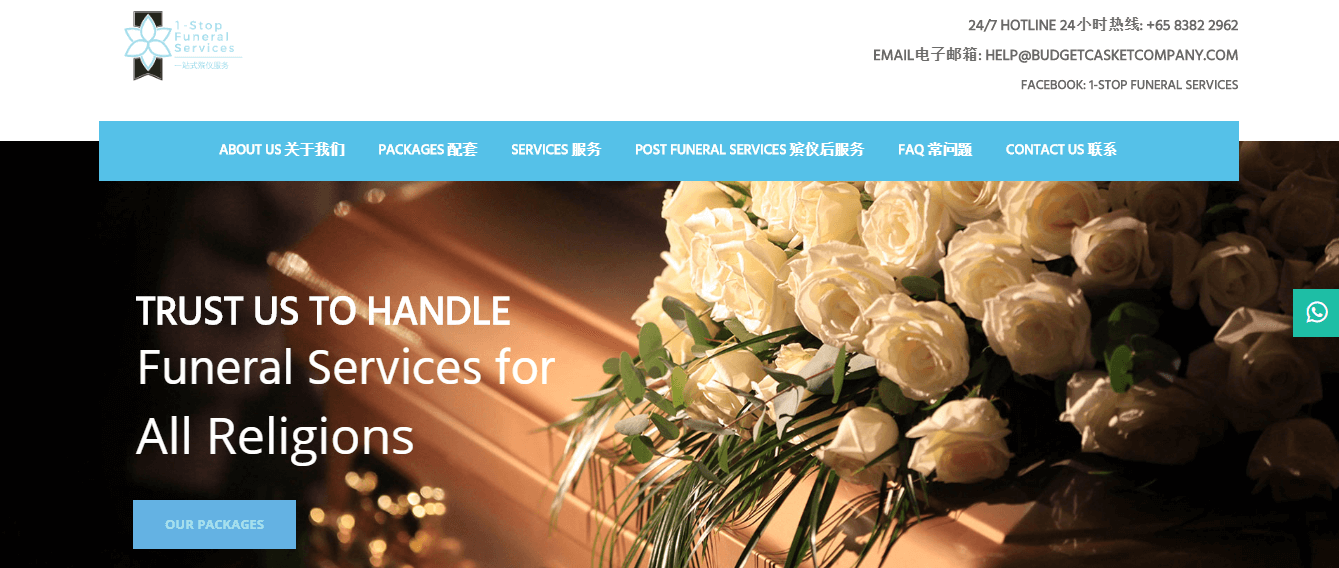 | | |
| --- | --- |
| BEST FOR | Funeral Packages |
| SERVICES | Funeral Services, Burial Services, Cremation, Exhumation, Online Memorial, and Catering |
| WEBSITE | https://budgetcasketcompany.com/ |
| ADDRESS | 2 Gambas Crescent #06-03, 1 Nordcom II Tower, Singapore 757044 |
| CONTACT DETAILS | +65 8382 2962 |
| OPERATING HOURS | Open 24 Hours |
If you're seeking a company that can arrange the best Indian funeral in Singapore, then you'd want to check out what 1 Stop Funeral Services has to offer.
Each of its funeral packages includes everything that a funeral and burial may need, such as cremation, a funeral site rental, catering, repatriation, and many more. If there are more items or services you want included, just ask their funeral directors for the arrangement.
By the way, 1 Stop Funeral Services doesn't only cater to a single religion but a wide range of them. Some of its religion-based funeral services are Taoist funerals, Buddhist funerals, Christian funerals, among others.
Highlights
Affordable rates
24-hour services
5. Eesan Casket

| | |
| --- | --- |
| BEST FOR | Local and Overseas Repatriation |
| SERVICES | Indian Funeral |
| WEBSITE | http://eesancasket.com/ |
| ADDRESS | EESAN Casket, 32 Perak Road, Singapore |
| CONTACT DETAILS | 9666 9221 |
| OPERATING HOURS | Monday – Sunday, 8:00 AM to 5:00 PM |
As a funeral service provider, Eesan Caskets believes that sending your loved ones away shouldn't drain you of your financial resources — hence, their affordable funeral packages.
More than that, Eesan Caskets comprises a team of competent funeral undertakers who will make sure that everything is taken care of, as a sign of respect to the deceased.
Eesan Caskets is also open to accepting requests from the family to make the burial and funeral more personal, adding details that define the life and show the personality of the deceased.
Those are reasons we consider it a top option if you need to have someone arrange the best Indian funeral in Singapore.
Highlights
Dedicated staff
Cheap funeral packages
6. Holy Spirit Bereavement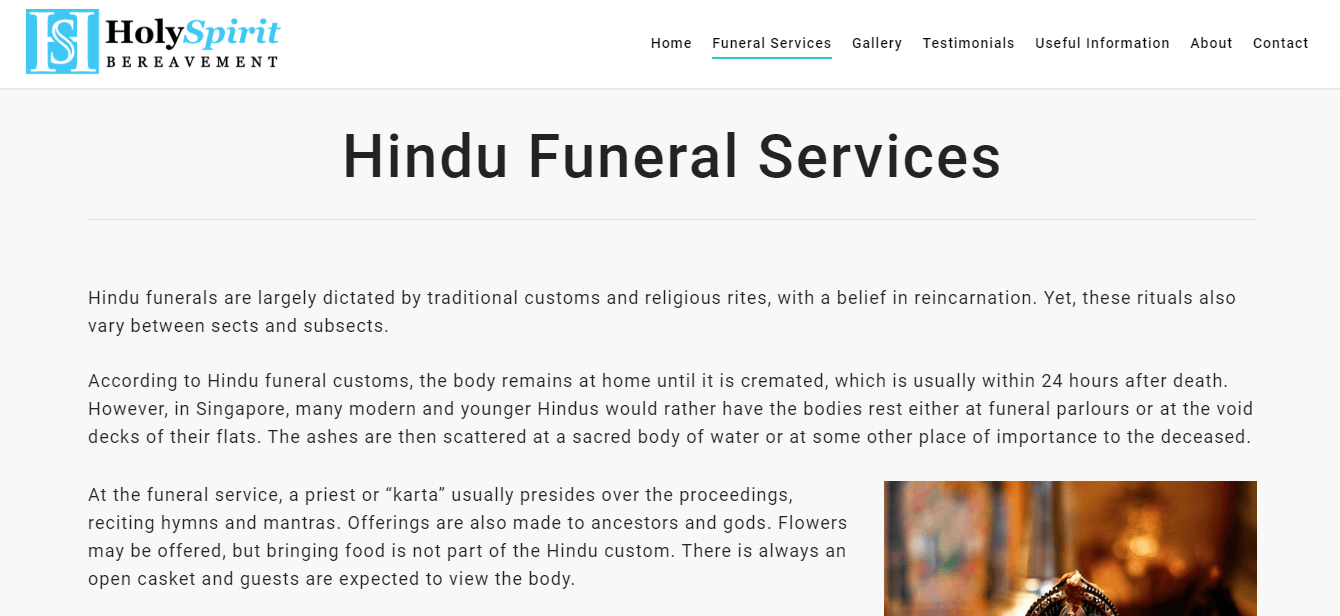 | | |
| --- | --- |
| BEST FOR | Emergency Services |
| SERVICES | Indian Funeral, Christian Funeral, Buddhist Funeral, and Taoist Funeral |
| WEBSITE | https://holyspiritbereavement.sg/ |
| ADDRESS | Holy Spirit Bereavement Pte Ltd 11 Yishun Industrial Street 1 #04-112 (Northspring Bizhub) Singapore 768089 |
| CONTACT DETAILS | 8438 8888 |
| OPERATING HOURS | Open 24 Hours |
As one of the most in-demand funeral service providers in Singapore, Holy Spirit Bereavement promises that the deceased will be taken care of and respected from the start of the funeral until the day of the burial.
Some of the funeral services offered by Holy Spirit Bereavement are Chrtistian funerals, Buddhist funerals, non-religious funerals, and of course, the best Indian funeral in Singapore. All of these services come with a reasonable price too, with no hidden charges.
Highlights
Religion-based funeral services
Reasonable and competitive prices
7. Om Himalaya Hindu Funeral Services
BEST FOR
24 hour services
SERVICES
Catholic
Christian
Free Thinker
Hindu
Others
Soka
WEBSITE
http://www.om-himalaya.com/
ADDRESS
Lorong 1 Toa Payoh
CONTACT DETAILS
+6590159169
OPERATING HOURS
N/A
Om Himalaya Hindu Funeral Services is open at all times to serve their clients better. You can expect them to provide immediate and hassle-free services if you contact them.
As a plus, they can arrange funerals for other cultures too. See your loved ones with respect by choosing Om Himalaya.
Highlights
Arranges funerals of various cultures
Open 24/7
And with that, we put an end to our list of the funeral service providers that are capable of arranging the best Indian funeral in Singapore.
If you know of other funeral parlors whose services are worth checking out, send us their names and we'll check if we should add them to our picks.
Lastly, an Indian funeral wouldn't be complete without the flowers. So, you might want to check out the best funeral flower shops in Singapore if you want a wide variety of options for funeral blooms too.