The 10 Options for the Best Buddhist Funeral in Singapore
Are you looking for a funeral parlor that can accommodate the rituals and traditions of your deceased Buddhist family member or friend? If so, then don't stop reading just yet because we have a list of the funeral parlors that offer the best /buddhist funeral in Singapore.
Luckily, there are a few funeral services on the island that are known for Buddhist funerals and services. We found the most trusted ones with affordable services, competent staff, and true familiarity with Buddhist tradition.
So, without further ado, here are the companies where you can avail of the best Buddhist funeral in Singapore.
1. Singapore Funeral Group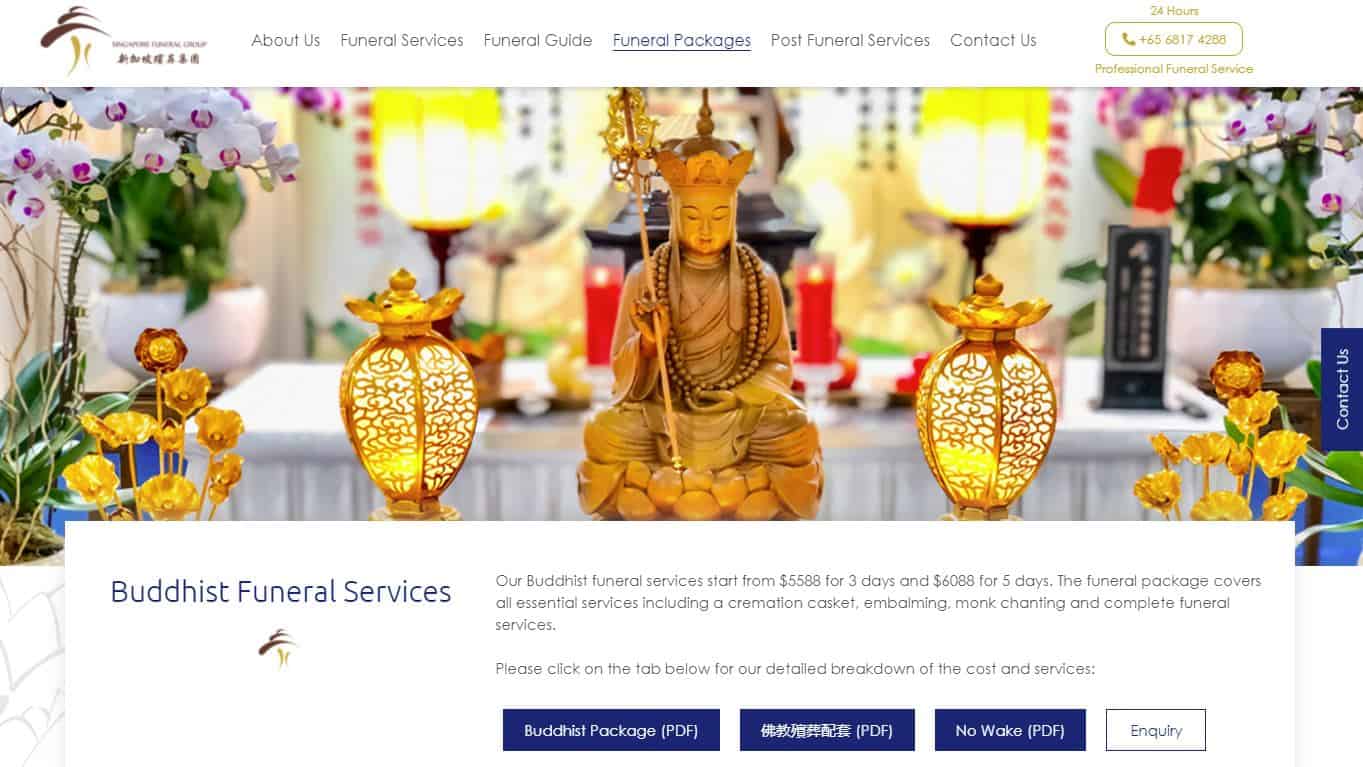 | | |
| --- | --- |
| BEST FOR  | Affordable funeral packages and additional services |
| SERVICES | Packages |
| WEBSITE | https://www.funeralgroup.com.sg |
| ADDRESS | Block 38, Sin Ming Drive #01-523 Singapore 575712 |
| CONTACT DETAILS | +65 6817 4288 |
| OPERATING HOURS | Daily, 24 Hours |
Singapore Funeral Group has years of experience in serving clients. For over a decade, they have been providing services and solutions for all races and religions.
They're known for being a service company able to understand clients' current situations and cultures. With their team, you can be sure that all ceremonies and rituals will be performed according to your traditions.
If you're worried about funeral package price in Singapore, they're also known for being straightforward and transparent with their quotes and packages. Singapore Funeral Group's former customers have several reasons why they recommend the company's services, and these include fair treatment, competitive rates, and dependable arrangements and planning. 
This funeral group suits those who need a funeral service in Singapore that's straightforward in their pricing and also available to cater to multi-religions.
Highlights
Pre-planning funeral services
Catering services
Casket and repatriation services
2.

Nirvana Memorial Garden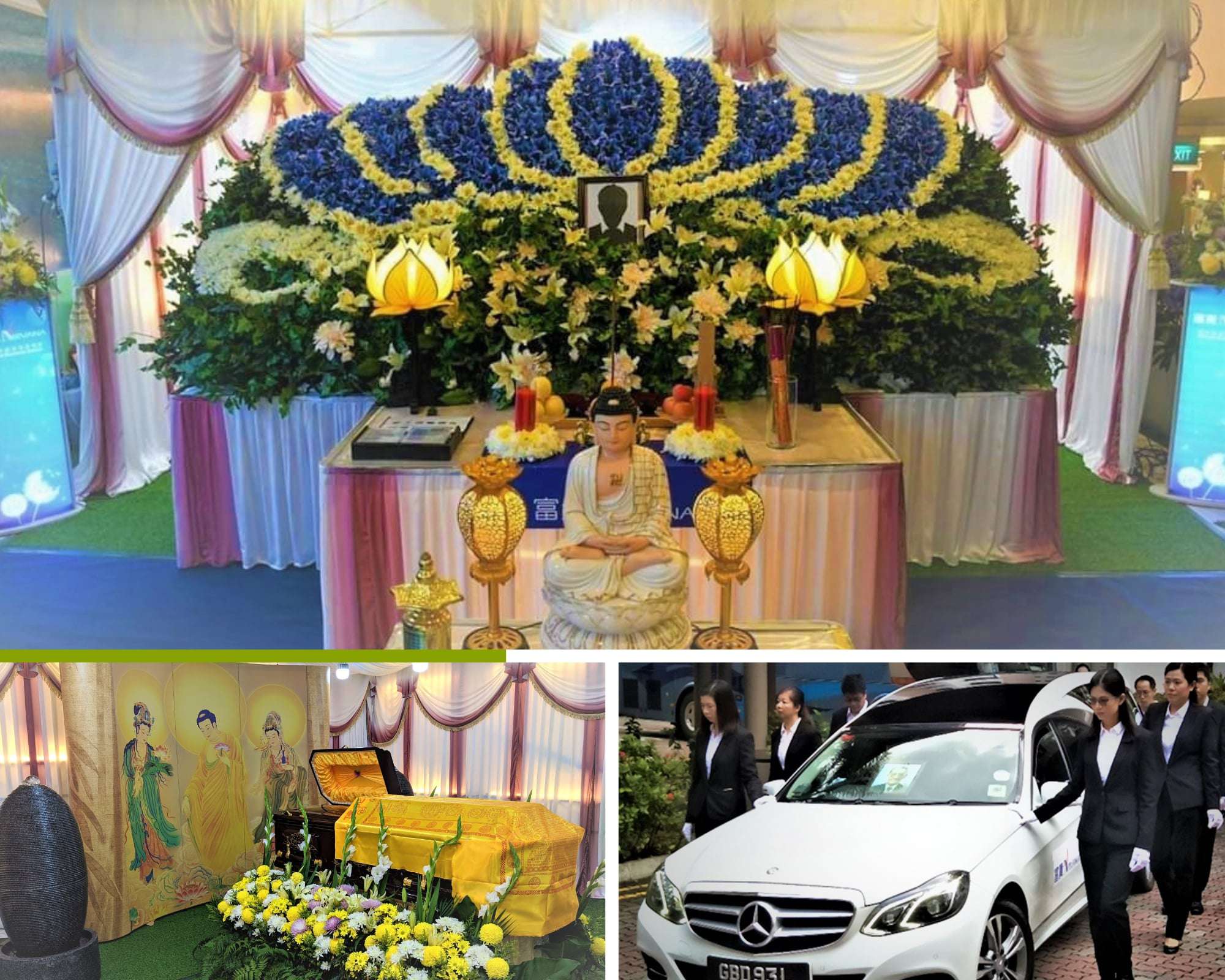 BEST FOR

Professional Buddhist Funeral Services

SERVICES

WEBSITE

ADDRESS

950 Old Choa Chu Kang Rd, Singapore 699816

CONTACT DETAILS

Contact: 9660 3015

Email: [email protected]

OPERATING HOURS

Open 24 hours
Nirvana Memorial Garden offers personalized Buddhist Funeral Services, including casket, funeral hearse, coordination of memorial ceremonies, cremation urn, and ashes collection at the crematorium. Nirvana Memorial Garden was the award winner for the title of "Largest Bereavement Company in Singapore" by Singapore Books of Record (SBOR) in 2018. 
Nirvana Memorial Garden has a team of professionally trained female embalmers. They are dedicated to providing sanitization, presentation, and preservation for the deceased body. 
Nirvana Memorial Garden promotes the funeral pre-planning and offers the monthly installment at no interest rate. The price is transparent, and the checklist is followed and tracked from the beginning till the completion of funeral services.
They help minimize the stress of logistical matters the family has to go through during the funeral wake.
Nirvana Memorial Garden provides fully equipped facilities and exemplary service from the heart. They have the best Buddhist design columbarium niches for urn placement.
Their columbarium niches are elegant and well-maintained, highly recognized as the Final Rest Place for the departed loved ones. 
Highlights
Buddhist funeral services

Buddhist columbarium niches

Lady embalmers

No hidden charges

Post funeral services
3. Empathy Funeral Services

Headed by Eugene Tan, Empathy Funeral Services works to lessen the pain of death by helping families prepare the final rites for their lost loved one.
Every funeral planned by Empathy Funeral Services is prepared with quality in mind. By ensuring that everything is in order, Empathy Funeral Services gives the client the opportunity to focus on grieving and honouring those who have passed.
Highlights
Affordable, quality services
Competitive pricing
Inclusive funeral packages
4. Ang Brothers Funeral Services



The origins of Ang Brothers Funeral Services can be traced all the way back to the 1950's, making it one of the most established and reliable funeral companies in Singapore. If what you're after is a great track record, then we highly recommend checking them out.
Thanks to its years of experience, Ang Brothers is capable of handling every detail of a funeral service, from finding a funeral hall down to making flower arrangements. Hiring them means you will have more time to grieve and process the loss of your loved one.
Ang Brothers handles funeral and post-funeral services for all races and religions, including individuals who chose not to practice a certain religion. Its funeral directors and consultants are well-versed in the traditions and beliefs of different religions and cultures.
For its funeral hearses, Ang Brothers uses the latest models, ensuring a comfortable and excellent send-off. There's more to it than its topnotch hearses, though.
Another reason it landed a spot here is the flexible payment plans that allow customers to split the costs into months. This is good news for those who can't shell out thousands of dollars in one payment.
Its flexible payment plans don't mean higher rates, though. The prices of its funeral packages are still well within the national average.
Highlights
More than 70 years of experience
Flexible payment plans
Open to all religions
Competitive pricing
5. Hock Hin Undertaker

If you're looking for a funeral parlor that will take care of everything, then look no further than Hock Hin Undertaker. It offers different tiers of funeral packages that include all the essential services for sending your loved ones away peacefully.
Some of the funeral services provided by Hock Kin Undertaker are services for a Taoist funeral, Chinese Funeral, Soka Funeral, and of course, the best Buddhist funeral in Singapore.
If you go to them for a Buddhist funeral, you will be provided with funeral logistics, caskets, a memorial hall, embalming, reception, and more.
Highlights
Tiered funeral packages
Professional undertakers
6.  Funeral Solutions

BEST FOR 
24-hour Services
SERVICES
Buddhist Funeral, Taoist Funeral, and Cremation
WEBSITE
http://www.funeralsolutions.com.sg/
ADDRESS
Block 38 Sin Ming Drive #01-523 Singapore 575712
CONTACT DETAILS
1800 800 1818 |

[email protected]

OPERATING HOURS
Open 24 Hours
If you're searching for the best Buddhist funeral in Singapore, then checking out Funeral Solutions might do you good. It offers different types of funeral packages, including Buddhist funerals, all of which are designed to cover all necessities during this difficult time.
On top of that, Funeral Solutions is headed by Mr. Nicky Teo, one of the most prominent funeral directors on the island, so rest assured that your loved ones will be respected and taken care of throughout the entire funeral procedure.
Highlights
Expert funeral director
Long list of services
Comprehensive packages
7. Filial Piety Funeral Services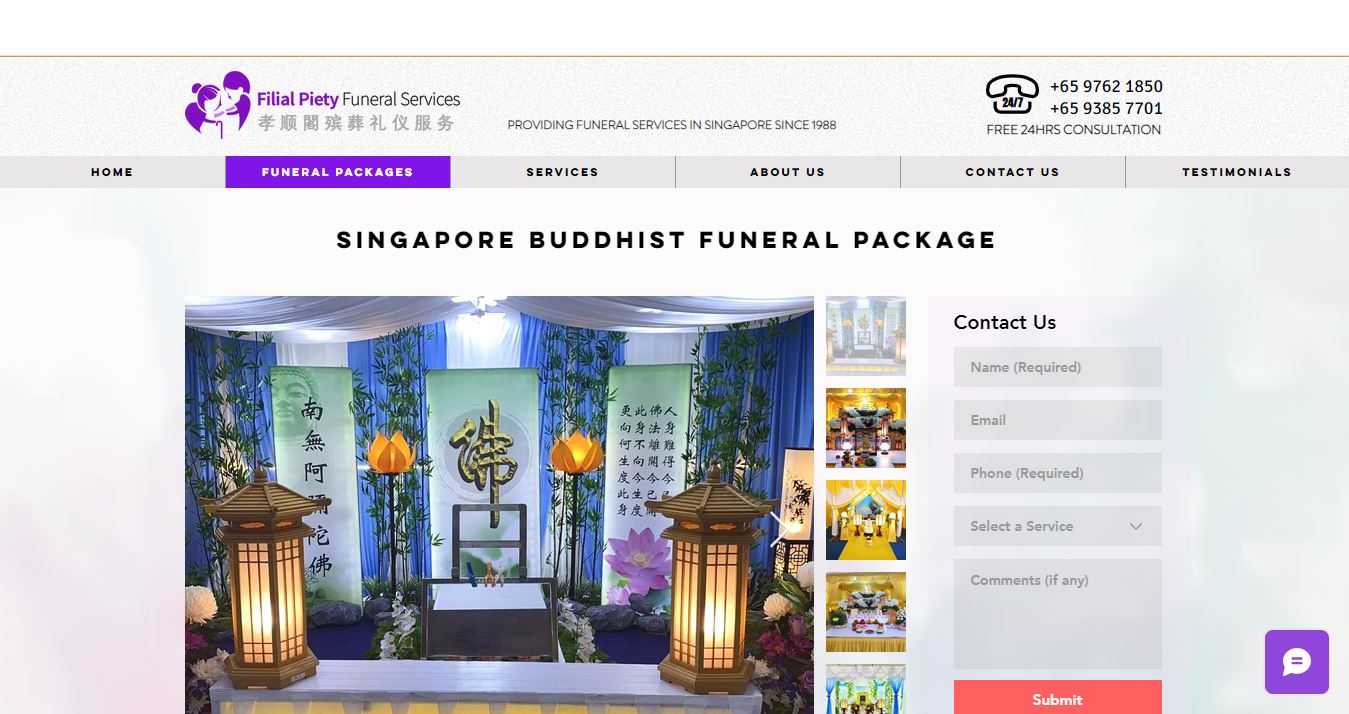 | | |
| --- | --- |
| SERVICES | Taoist funeral, Christian funeral, Buddhist funeral, Catholic funeral, Soka funeral, non-religious funeral, caskets, marble plaques, urns, tombstones, and exhumation |
| WEBSITE | https://www.filialpietyfunerals.com/buddhist-funeral-package |
| CONTACT DETAILS | +65 9762 1850 | [email protected] |
| OPERATING HOURS | 24/7 |
Filial Piety Funeral Services is a funeral company that's been around for more than three decades, providing comfort to grieving families through full-range funeral services.
Instead of sourcing all your funeral needs from different places, hiring Filial Piety Funeral Services makes things easier because it will take care of everything, from transporting the body down to installing tombstones for the burial.
It's not uncommon to overspend for the funeral and burial of a loved one or friend, but that's unlikely to happen with Filial Piety Funeral Services. We say this because this funeral service takes the time to educate families on which funeral aspect to prioritise over the others.
When it comes to Buddhist funerals, Filial Piety Funeral Services offers three packages, with the basic package at $4980. This package already includes ceremonial items and services necessary for a Buddhist funeral.
However, what's going to be included in the funeral package remains your decision, but rest assured that Filial Piety will help you every step of the way to maximise your resources.
If you're interested in its funeral services, you may call its hotline for a free consultation. Worry not though because it's a non-obligatory one, so you don't have to proceed if you're not convinced.
Highlights
3 Buddhist funeral packages

All package include necessary items and services

Free phone consultations

24-hour services
8.  1Stop Buddhist Funeral Services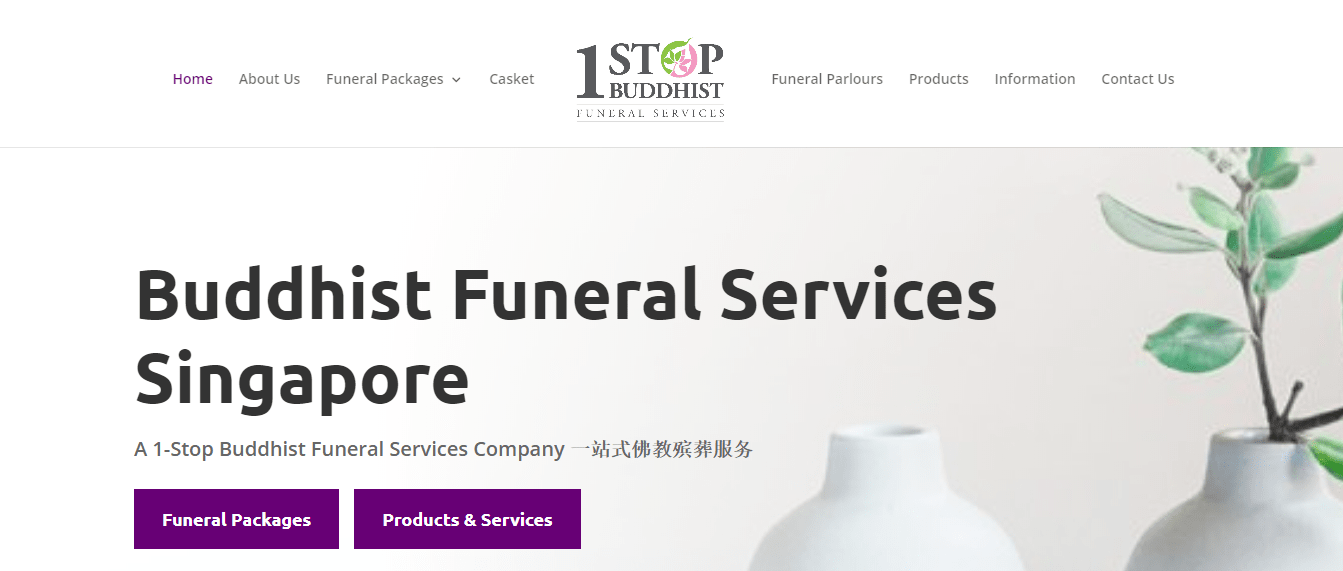 | | |
| --- | --- |
| BEST FOR  | Professional Funeral Advisors |
| SERVICES | Buddhist Funeral and Taoist Funeral |
| WEBSITE | https://www.1stopbuddhistfuneralservices.com.sg/ |
| ADDRESS | Sin Ming Dr, #01-573 Blk 37, Singapore 575711 |
| CONTACT DETAILS | +65 6452 9588 |
| OPERATING HOURS | Open 24 Hours |
1-Stop Buddhist Funeral Services believes that every grieving client should be provided with affordable and reasonable funeral package rates. This is a big part of what makes them so popular among Singaporeans.
Another part of it is the sheer range of services they offer. Some of the services offered by 1-Stop Buddhist Funeral Services are Toaist funeral, cremation, memorial hall rentals, among others.
All the inclusions of their packages are clearly stated and itemised as well, so clients can be sure that all funeral essentials will be taken care of.
Another thing that makes 1-Stop Buddhist Funeral Services worth hiring is its team of experienced funeral advisors who are committed to making the funeral process as easy and smooth as possible.
Highlights
Transparent pricing
No hidden cost
Package inclusions are itemised
9.  Reverence Funeral Services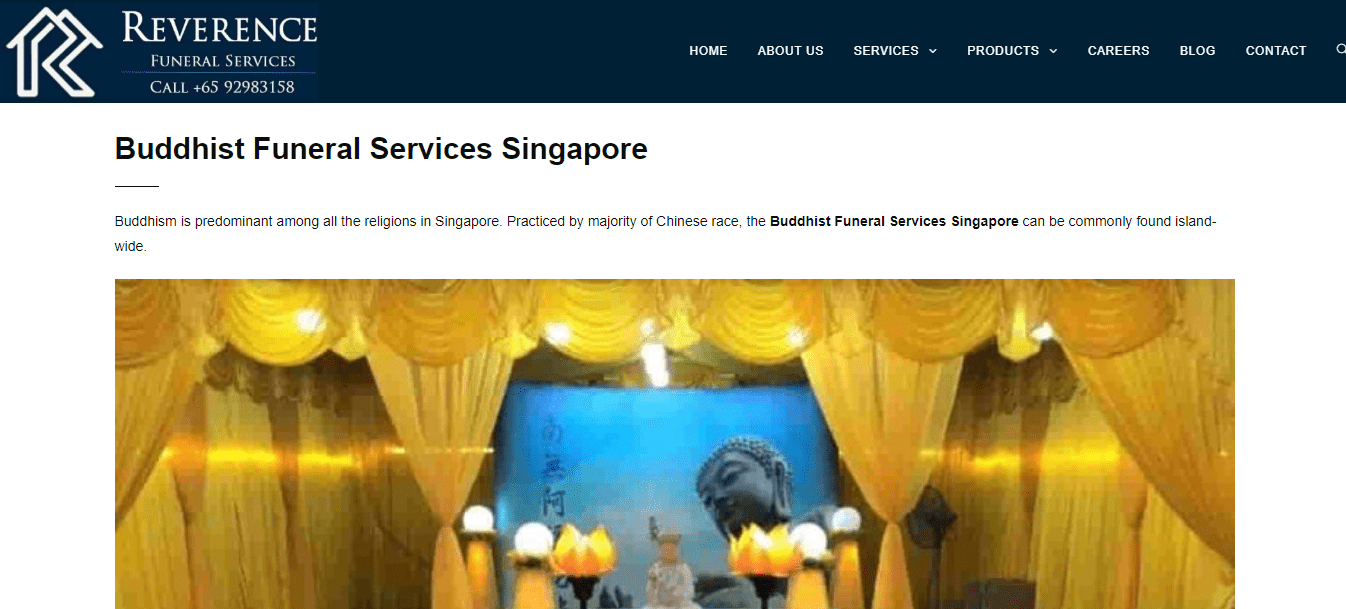 Reverence Funeral Services is among the few funeral parlors that offer all types of funeral and burial services, from sea burial down to religion-based funeral services.
It's composed of a huge team of professional funeral undertakers and directors who make sure that the entire funeral process will start and end as smoothly as possible, without any inconvenience to the ones left behind.
One reason we consider it a top contender for the best Buddhist funeral services in Singapore is its comprehensive funeral package, which starts from the collection of death certification up to the actual day of burial.
Highlights
One-stop funeral services
Competitive and transparent rates
Professional funeral undertakers and directors
10.

Singapore Funeral Sanctuary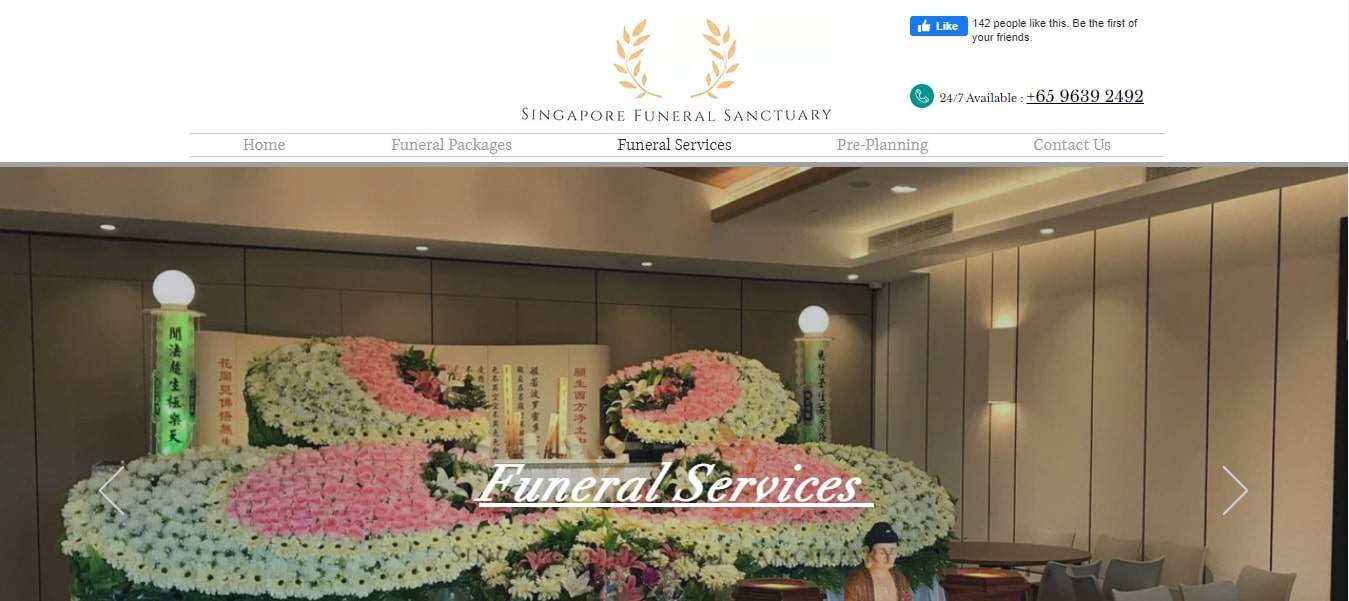 BEST FOR
Different religions' funeral services
SERVICES
Post-Funeral Matters
Casket Services
Funeral Package
Flower Arrangements
Live Band
Repatriation Service
Food Catering
Funeral Hearse
WEBSITE
http://www.funeralsanctuary.sg/
ADDRESS
Singapore
CONTACT DETAILS
Phone : +65 3129 2430
Email : [email protected]
OPERATING HOURS
Open 24 hours
Singapore Funeral Sanctuary is the best company to acquire funeral services in Singapore as they cater to almost every religion there is and even have services available for those who do not have any religion. They're flexible when it comes to offered assistance, and proven to be cheaper in rates.
The quality of service is assured to be the best as they hire skilled individuals and continuously train them to make sure that their knowledge is always up-to-date.
With experience of over 20 years, you're sure to experience the best and most hassle-free set-up for a funeral, only with Singapore Funeral Sanctuary.
Highlights
Religious and Non-religious services
Funeral packages
Sea burial and space burial is available
Buddhist 49/100 days
And with that, we conclude our list of your options if you want the best Buddhist funeral in Singapore. You won't have to worry about anything as long as you have these funeral parlors taking care of everything.
By the way, if you're looking for funeral flowers too, we recommend checking out our list of the best funeral flower shops in Singapore. All of the flower shops on that list can deliver orders within 24 hours!