The 6 Best Ironing Boards in Singapore for Every Household
If you want to make ironing easier and faster, then you should get your hands on the best ironing boards in Singapore. Luckily for you, if you still haven't found the right one, we're going over the ones we believe are worth your attention and money!
If you think that buying an ironing board in Singapore is as simple as counting to three, then you're wrong. There are a lot of factors to consider such as length, height, and sturdiness.
To make your lives easier, we'll go over the factors you should remember when looking for an ironing board. After that, we'll proceed with our list of the best ironing boards in Singapore.
What to Consider When Buying an Ironing Board
As we mentioned earlier, looking for the best ironing board in Singapore isn't easy. If you want one that will be useful and will last for a long time, then you have to be on the lookout for these factors.
There are a lot of ironing board models out there that come in various sizes and with different features. As a buyer, one of the first things you should consider is the portability.
After this, the weight, size, height, and sturdiness are also worth noting.
Anyway, let's discuss each point below:
1. Portability
Ironing boards can either be built-in or portable. But of course, if you prefer to iron clothes in one room, then portability won't be a problem for you.
In most households, ironing boards are usually positioned or installed in the laundry room or the bedroom. If you want a fixed ironing board, you may opt for the wall-mounted model that can be installed in a closet or behind the door.
These types of ironing board are great if you want to save some room space. They can be easily tucked in once you're done ironing.
But if you want one that can be moved from one room to another, you should get a tabletop ironing board. It's a lot smaller compared to the standard sized boards, but it's also easier to store and doesn't take up a lot of space.
2. Weight
An ironing board's weight doesn't matter much if you're planning to get a wall-mounted ironing board. On the other hand, if you prefer portable models, it would be ideal to get one that isn't hard to carry, since you're going to be moving it from one room to another.
The standard-sized ironing boards in Singapore can be a bit heavy since their legs are usually made from metal. There are also lightweight ironing boards out there, but there's no guarantee that they're sturdy enough to last long.
3. Size
Ironing boards come in different sizes. Their sizes vary based on the types of clothes that can be ironed on top of them.
In terms of length, typical ironing boards usually range from 50 inches to 55 inches long and 15 inches wide. Some professional-grade ones can go as long as 64 inches and 19 inches wide.
If you regularly iron formal clothes like slacks, blouses, and long sleeves, it would be better to get a longer ironing board. A longer ironing board means it can accommodate a variety of clothes in various sizes.
Meanwhile, if you only wear basic shirts and shorts, then a small ironing board the size of a tabletop would already suffice.
4. Height
If the ironing board is going to be used by other family members, then we suggest that you get one that has an adjustable height. Luckily, most standard ironing boards have this feature.
The height of a typical ironing board usually ranges from 30 to 36 inches, perfect for accommodating the height of an adult.
Ironing boards with adjustable height are also perfect if your household has varying heights. If your ironing board is height-adjustable, it would be easier for them to use the board as needed.
5. Sturdiness
Ideally, you want an ironing board with a strong and sturdy structure that can withstand multiple uses. Nobody wants to spend their money on something that can't even last for a long time.
An ironing board's sturdiness is important because pressure is applied every time we iron clothes. If an ironing board shakes and squeaks while used, then it's probably not that strong.
More often than not, sturdy ironing boards are durable, although their price tends to be higher. But you'll get the worth of your money because they won't break any time soon.
It can also boil down to the material and construction of an ironing board. To ensure that you're getting the best one, make sure that you inspect the materials used.
The Best Ironing Boards in Singapore
And with that, we're done talking about the things to consider before buying an ironing board. It's time to move on to our list of the best ironing boards in Singapore!
Since we want to make it easier for you, we made sure to include a variety of options that offer great value for your money. Check them out below!
1. Philips GC240 Ironing Board
Best for Added Features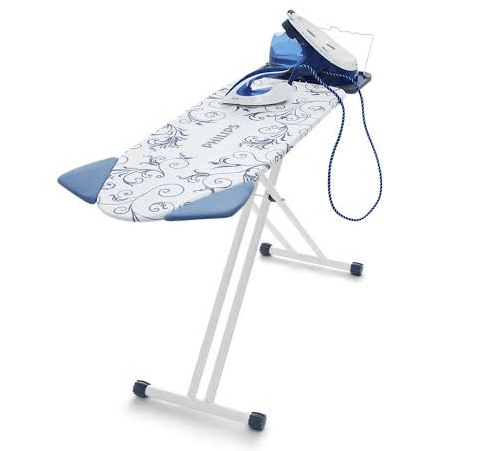 Price: $228.88
If you're feeling a bit fancy and have some extra money to spend on an ironing board in Singapore, then the Philips GC240 would be a great match for you. It's one of the most expensive ironing boards on our list, but we think it's definitely the most eye-catching.
One of the unique features that we really like is the shoulderwing system that makes ironing long sleeves and pants much easier. These extra bits of added board space are ideal for ironing large clothes.
Unlike other ironing boards, it has 4 layers made from cotton, foam, felt, and anti-drip to ensure that your clothes are safe from being damaged. Underneath it, there's a strong ironing surface from premium perforated metal.
What's more, the entire board is supported by durable and sturdy legs also made from high-quality metal. Gone are the days of shaky and unstable ironing sessions!
In terms of its height, it can be adjusted up to 6 positions. It also has safety features such as child lock and transport lock that make it seem glued to the ground.
Lastly, there are anti-slip and protective caps on its four legs to prevent your floors from getting scratches. So if you're renting or have expensive floor in your house, this could be the best ironing board in Singapore for you!
Highlights
ShoulderWing System
Adjustable height
Child lock and transport lock
4-layered board
Strong and durable legs
Customer Reviews
While the Philips GC240 has mostly received praise from buyers, there are some who noted that it's quite heavy for an ironing board, making it hard to carry around the house.
However, most customers really liked its features, some of which have not been seen in other ironing boards.
Another thing that customers noted is that the Philips GC240 has made ironing much easier and more hassle-free.
2. AMARK T-Leg Ironing Board
Best for Safety Features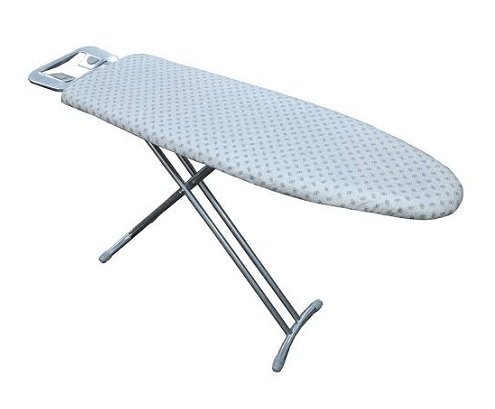 Price: $45.00
If you want an ironing board with high heat-resistance, then you should check out the AMARK T-Leg Ironing Board. It also features a 10mm-thick polyester fibre underneath the cotton board, providing you with a smooth worktop as you iron clothes.
With its adjustable height being adjustable to 7 positions, it can definitely be used by everyone in the family. It's a great encouragement to everyone to start doing their own chores!
Another thing we like about the AMARK Ironing Board is its durable T-Leg design. Ironing boards with this type of leg are sturdier, giving you shake-free and stable ironing sessions.
In terms of safety, this one snatches the top spot for its safety lock feature that keeps it in place even if it's bumped by something. With this feature, you don't have to worry about it collapsing on your feet suddenly.
Of course, its legs also come with anti-slip caps that will not only make it stable but protect your floors from scratches as well.
Highlights
7 adjustable heights
Heat-resistant board
Strong T-Legs
Safety lock feature
Anti-slip leg caps
Customer Reviews
There aren't a lot of comments on its Lazada website, but most buyers gave it a 5-star rating. It's one of the highest-rated ironing boards on the website.
One customer commented that they're extremely happy with the AMARK T-Leg Ironing Board. Right off the bat, they said that it wasn't hard to assemble. It's also very easy to open and fold, another customer said.
3. Home Buddy Ironing Board
Best for Overall Value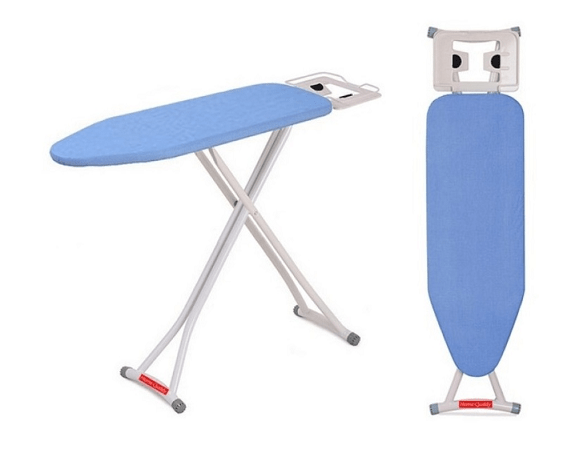 Price: $29.90
Home Buddy is definitely one of the most in-demand brands on the island in terms of household items. So, it's no surprise that their ironing board makes it to our list.
It features a thick and durable frame design made from high-quality and premium-grade materials, so you know that this one's not going to break easily. It's 90cm long and 30 cm wide — you can pretty much iron all sizes of clothes on top of it.
It has the same height as the standard-sized ironing boards out there, but is adjustable to accommodate varying user heights. No matter how tall or small you are, you will iron clothes comfortably with this one.
There's also a heat-resistant pad on the iron holder if you don't want your iron to get scratches. These pads can help regulate the heat of the iron to avoid burning your clothes accidentally.
However, weighing almost 4kg, it's definitely not that easy to carry. But its sturdy frame design definitely makes up for that with most buyers.
Highlights
Durable frame design
Thick board padding
Adjustable height
Woven padding
Customer Reviews
The Home Buddy Ironing Board mostly received positive comments on Lazada, with an average rating of 5 stars.
One of the recurring comments about this product is that it's very stable and sturdy. Most customers who have used it said that ironing clothes becomes a smoother task when this ironing board is used.
4. Rene E14056 Classic Ironing Board
Best for Portability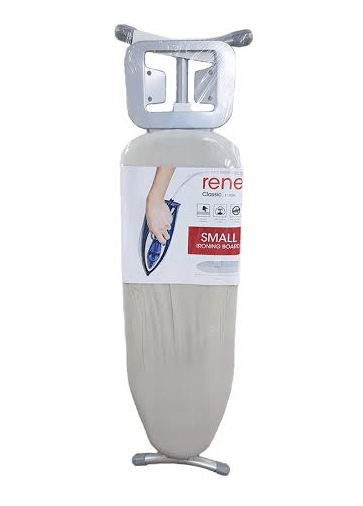 Price: $105.00
If you want an ironing board in Singapore that won't take up too much space in your room, then the Rene E14056 is the perfect match for you! With a board length of only 94cm, it's definitely the most petite ironing board on our list.
There aren't too many special features behind the Rene 14056 but what makes it stand out is its smart design that doesn't make ironing seem like a chore. On top of the thick board padding, there's an ironing surface made from expanded metal that supports the board entirely.
Its legs, on the other hand, are proven to be firm and strong. You won't experience any shaking while ironing clothes.
However, while it's very portable, you can't use it to iron large clothes given that it's a small board. But we believe that its portability is enough to make up for that.
Highlights
Portable
Sturdy and firm
Strong ironing surface
Adjustable height
5. JVD Prestige Board With Iron Rest
Best for Affordability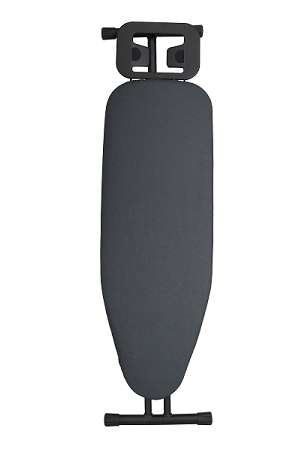 Price: $36.00
If you're a bit tight on money, don't worry because we have one that surely won't hurt your wallet. We present to you the JVD Prestige Board, and we believe it's great considering how cheap it is!
Like the previous model, the JVD Prestige Board has no fancy extra features to brag about, but it does the job pretty well. In addition, it's also quite durable given that its T-Legs are designed for extra strength and stability, and can withstand pressure.
Another thing we love about the JVD Prestige Board is its sleek black color that can turn anyone's eye! It's very rare for an ironing to be black from top to toe.
Lastly, its height is adjustable to multiple positions. If someone's going to use this board aside from you, they're not going to have a hard time finding a comfortable height and position.
Highlights
Adjustable height
Strong and sturdy legs
Stain resistant
Elegant color and design
Customer Reviews
Most customers were very impressed with its elegant color and sturdy structure, despite it being cheaper than most ironing boards. There are also some who said that it's ideal for people who don't want to spend a lot on an ironing board but want to get one that can improve their ironing sessions.
6. Brabantia Small Ironing Board
Best for Easy Handling and Storing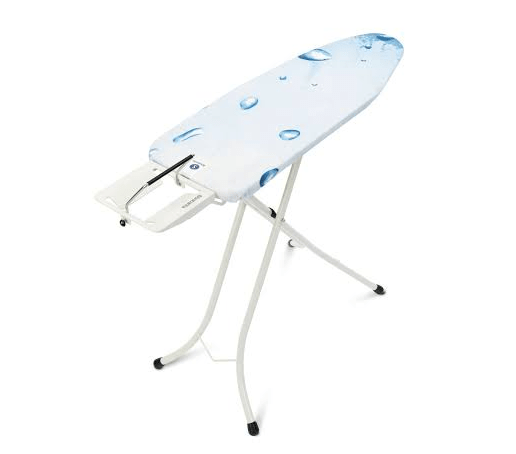 Price: $46.65
Not a lot of ironing boards are easy to fold and store. Oftentimes, you're going to have a hard time trying to fold it and finding a place where it can fit, but consider the Brabantia Ironing Board different.
Whether you're left or right-handed, folding and adjusting this ironing board will not be a hassle. It's also very lightweight, making it easy to carry from one room to another.
In terms of dimensions, the board is 110 cm long and 30 cm wide. It also has an adjustable height that ranges from 69 to 96 cm.
In addition, it has solid and stable legs that can endure long hours of usage. It legs also come with rubber caps that prevent your floor from getting damaged.
Highlights
Sturdy and powerful legs
Adjustable height
Lightweight and portable
Customer Reviews
If you take a look at its reviews on Lazada, you will see that most customers gave it a 5-star rating, proving that this product is excellent.
Customers who bought the Brabantia Ironing Board on Lazada adore how easy it is to carry. Some were even shocked because they didn't expect that an ironing board can be this lightweight.
However, some buyers complain that the design covering the board can be a bit distracting while ironing.
Anyway, that's our list of the best ironing boards in Singapore! Any of these options are great whether you're looking to improve your ironing sessions or just want to find a replacement for your old and rusty ironing board.
Do you have a particular ironing board in mind that deserves a spot here? Tell us about it by commenting below and we'll see if it should've been on our list!
By the way, if you're thinking of getting a new washing machine too, you may want to see our list of the best washing machines in Singapore. Any of these washing machines, along with your new ironing board, will make laundry day more enjoyable!