The 7 Best CPAP in Singapore for Sleep Apnea
Do you have a hard time sleeping every night? If so, it might be the right time for you to start using the best CPAP in Singapore to help you sleep better.
Since CPAP is considered the most effective treatment for sleep apnea, a lot of sleep doctors recommend the best CPAP in Singapore to patients struggling with the condition. It can also be used by people experiencing other sleeping problems.
However, getting your hands on the best CPAP in Singapore isn't that easy. There are a lot of things to know about this device before you can determine which one can address your condition properly.
But worry no more, because we have you covered. Before we introduce our picks for the best CPAP in Singapore, we'll answer the most common pressing questions about CPAP. That way, you'll have a better idea of what a CPAP can do and how it works.
Let's start, shall we?
Frequently Asked Questions about CPAP
If you already know how CPAP works and what to expect from it, you can skip this section. Otherwise, consider this your primer to CPAP therapy!
1. How does a CPAP machine work?
First all of, CPAP stands for Continuous Positive Airway Pressure. It's a machine used to treat a variety of sleeping problems, most especially sleep apnea.
Traditional CPAP, APAP machines, BiPAP machines are the three common types of CPAP machine, and each of them differ in function.
Traditional CPAP machines supply therapy air at a single pressure, while APAP machines provide variable pressures that change according to the needs of the user on a particular night.
Lastly, BiPAP machines come with two settings: one for inhale and another for exhale.
Before knowing which machine is the right one for you, you have to consult with a doctor. That brings us to the next question.
2. How do you get a prescription for a CPAP?
You can only buy a CPAP machine when you have a prescription from a physician who will diagnose your sleep apnea and recommend the type of machine you should get.
However, asking for a prescription isn't that easy. You need to undergo several tests to determine if you even have sleep apnea in the first place.
3. What are the different brands of CPAP?
There are a lot of CPAP machine brands sold on the island, but we can only stand by six brands because they've proven multiple times that their machines work.
Some of the brands that sell the best CPAP machine in Singapore are Human Design Medical, Philips Respinorics, ResMed, Somnetics, DeVilbiss, and Fisher & Paykel.
If you don't know which one to choose from these six names, you may ask for a recommendation from your sleep physician.
4. How important is humidification for a CPAP?
We can't stress enough how important it is because it lowers the chances of developing bloody noses, nasal infections, and other side effects caused by using a CPAP.
Only a few CPAP machines come with a built-in humidifier, though. Still, this remains a feature that you should take note of when looking for a CPAP if you want an even more comfortable sleep every night.
5. What's the cost of a CPAP machine?
As you've probably guessed, CPAP machines don't come cheap. In Singapore, the starting price is $500 and it can go all the way up to $1,000 or even more, depending on the type and brand.
Since it's probably going to hurt your pockets, it's best to take your time to research and know more about CPAP machines, so your money won't go to waste.
The 5 Best CPAP in Singapore
Now that we've answered some of the most pressing questions about CPAP machines, you're probably ready to see our picks.
So, without further ado, here are our picks for the best CPAP in Singapore.
1. BMC Portable Auto CPAP Machine
Best for Durability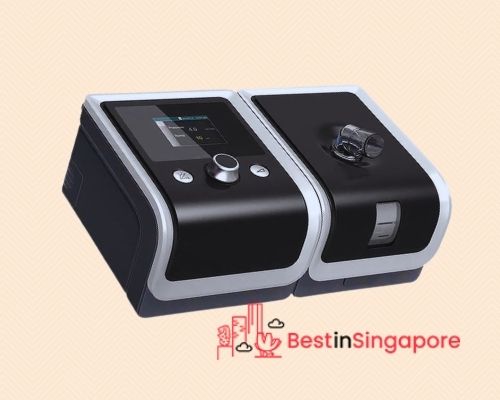 Price: $717.00
If you're looking for a CPAP machine that comes with a lot of additional features, then look no further than the BMC Portable Auto CPAP Machine. We found a total of 9 interesting features about it.
Some of these features are auto mode, eco-smart humidifier, color display, SpO2 Kit Oximeter, Alert System, and data recording. It's extremely rare for a CPAP machine to have all these features — which is why we consider it the best CPAP in Singapore.
In terms of durability, it definitely doesn't disappoint. It's designed by BMC to withstand regular usage of up to 10 years, sometimes even more.
On the other hand, it can be a bit expensive even without a humidifier. That said, it's a pretty solid buy for the money: each purchase of the BMC Portable Auto CPAP Machine also comes with a tube, masks, filters, power adapter, and carrying case.
Highlights
Portable
Lightweight
Quiet and comfortable
2. Philips Dreamstation Auto CPAP w/ Humidifier
Best for Fast Results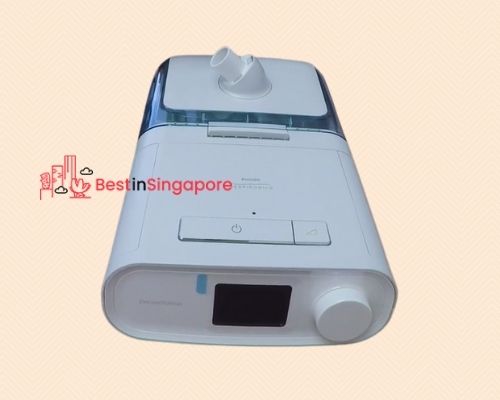 Price: $1,300.00
It's no surprise that it's called the best CPAP in Singapore given that it can resolve sleep apnea faster than most CPAP machines. Majority of its buyers started noticing results in about 3 months!
Beyond that, the Philips Dreamstation Auto CPAP is considered the quietest CPAP machine today, operating at only 25.8 dB.
It also comes with a humidifier to ensure that your sinuses won't dry throughout the night as you're sleeping — which is why we've included it in our list of the best CPAP in Singapore.
What's more, it's also extremely easy to control and operate as it doesn't have multiple, complicated buttons. There's an automatic mode that will control the humidity, pressure, and comfort for you.
But in terms of portability, it might fall a bit short. It's a lot heavier compared to other units because it comes with so many features.
If you're not a fan of heavy and bulky CPAP machines, we recommend going for the more portable options found in our list. Otherwise, this is an amazing buy!
Highlights
8 dBA
Easy to operate
Auto-adjusting pressure
Heated humidifier
3. Philips Dreamstation GO Auto CPAP with Humidifier
Best for Portability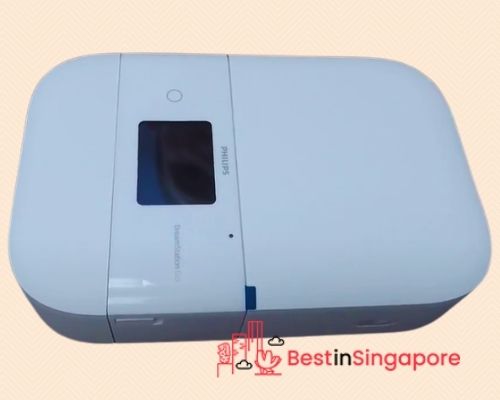 Price: $2,199.00
If you're looking for a CPAP machine that can be brought wherever you go, then the Philips Dreamstation GO Auto CPAP would be the ideal option for you. It's one of the few portable machines sold on the island.
What's more, despite its compact size, it still comes with a humidifier that will ensure your throat and sinuses won't dry as you're sleeping. There's also a USB port where you can charge your smartphones, something that's not found in traditional units.
The only downside is that while it may weigh no more than 2 pounds, it's definitely going to make your pockets hurt. It's a lot more expensive compared to the standard units, so we can only recommend it to those who travel a lot and need their CPAP with them at all times.
Highlights
86 pounds
With USB port
Heated humidifier
Easy navigation
4. BMC Portable CPAP Machine With Humidifier
Best for Affordability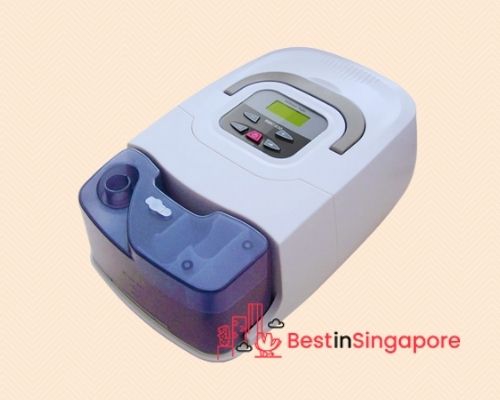 Price: $574.00
If you're looking for an affordable unit, then the BMC Portable CPAP Machine With Humidifier comes highly recommended. For only $574, you can have a portable and quiet CPAP that can be used wherever you go.
Despite its cheap price, it still comes with decent features such as automatic work mode, heated humidifier, and alert system. However, it's not the most quiet CPAP unit other there, operating at noise level of 40 decibels.
If you're sleeping with a roommate, you might want to think twice about getting this one as the noise could become  a disturbance for them.
That aside, it features a sleek design and minimalist build that comes in either white or black. It also comes with a 2-year international warranty, so in case it starts malfunctioning, you don't have to worry about spending to have it repaired.
Highlights
Competitive price
Durable build
Easy to control
5. BMC CPAP Machine With Humidifier
Best for Overall Value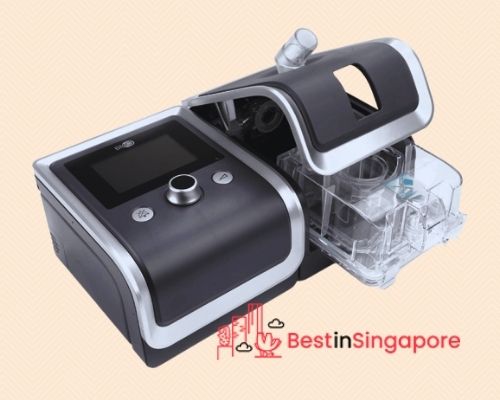 Price: $550.00
Since BMC is one of the most trusted names in sleep therapy, we couldn't help but include one more of its CPAP units in our list. Here's the BMC GII CPAP Machine With 2 Tube, and we can say it's one of the best CPAP in Singapore.
For one, it's a lot more affordable compared to other units that come with a humidifier. It also comes with two tubes: one normal tube and another heated tube, something that's rare in standard CPAP units.
Another reason we love the BMC GII CPAP Machine is that it creates less noise for a plug-in unit. It operates at a noise level of 28 decibels, so rest assured that you're going to be getting a full night sleep while using the BMC GII CPAP Machine.
Highlights
28 decibels
Competitive price
With humidifier
With two tubes
6. ResMed AirMini
Best for Portability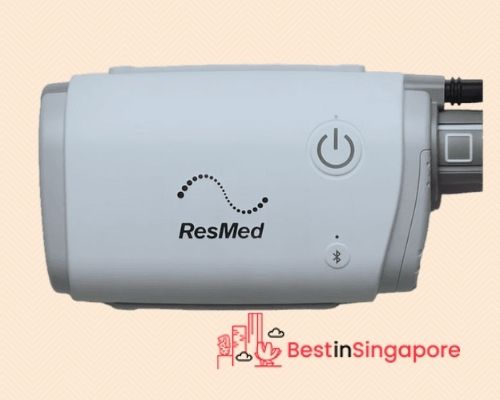 Schedule Your ResMed AirMini CPAP Trial With Easmed
Sleeping isn't just something we do in the comfort of our homes. Sometimes, we also need to travel for business trips or vacations. So, if you want to control your sleep apnea even you're away from home, then the Resmed AirMini CPAP may be what you need.
The ResMed AirMini is portable in a way that it weighs less than a pound and can fit in a small bag that you can carry around in your hand.
In its compact structure, this portable CPAP is still able to conduct the same therapy technique followed by ResMed's AirSense 10. The AirMini CPAP also features a HumidX waterless humidification system so you won't have to bring a bulky water dispenser to use it.
The AirMini is also versatile in a way that it can work with the AirFit 10, Airfit N30, Airfit F20, Airfit F30, AirTouch N20, AirTouch N20, and AirTouch F20 masks. Its app is also compatible with both iOS and Android for easier control.
Should you get this product from Easmed, you can avail of the company's CPAP two-week trial. Clients need only choose their desired mask size and try out the therapy while Easmed's team monitors the actual CPAP outcomes.
Highlights
Light and portable CPAP
Waterless humidification feature
Suitable for various masks
Compatible with iOS and Android
CPAP free trial with Easmed
7. Löwenstein Somnobalance-e
Best for Versatility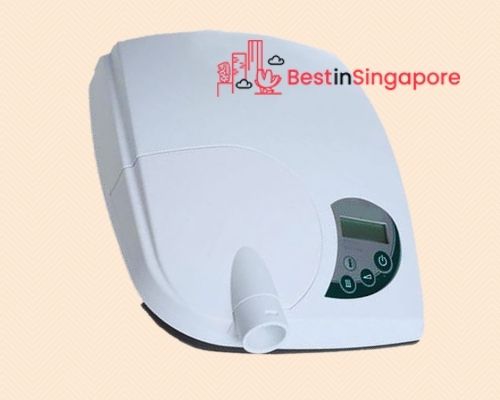 Price: $1,500
Now, if you're looking for a CPAP that can adjust to your needed pressure even while you sleep, the Löwenstein Somnobalance-e may be what you need. This CPAP is also called the auto CPAP therapy device SOMNObalance-e.
It features the Obstructive Pressure Peak technology, making it function not only as a CPAP but also as an APAP. So, this device can vary between automatic positive pressure and continuous positive pressure, depending on what you need.
Aside from having various modes, the SOMNObalance-e can also be paired with softPAP pressure relief for increased comfort during the exhalation of patients. To do necessary minor adjustments in real-time, this CPAP unit also comes with an SD card.
But what we like the most about this product is that it comes with a 2-year manufacturer's warranty. This way, you can worry less about the future and focus on your health improvement.
The Air Station even offers a 2-week trial for its CPAP products. But while its trial period is longer than others and has very comprehensive introductions and instructions, Air Station still relies only on home monitoring.
Highlights
Obstructive Pressure Peaking (OPP) technology
Exit pressure relief for improved breathing
2-year manufacturer's warranty
And with that, we conclude our list of the best CPAP in Singapore. We hope that you were able to pick at least one that you think can help solve your sleeping problems.
If you know other CPAP machines that weren't part of our list, don't hesitate to share their names with us and what makes them a great CPAP unit.
By the way, if you haven't consulted with a sleep physician yet, we recommend checking out the best sleep apnea clinics in Singapore to know where you can get tested. Once you've received your prescription from any of these doctors, you're free to look for a CPAP machine!