The 9 Best Men's Perfumes in Singapore
Are you tired of using the same brand of perfume for years now? If so, maybe now's the right time to switch to the best men's perfumes in Singapore that can keep any gentleman smelling fresh and cool.
Looking for the best colognes for men in Singapore is no easy task because asking for recommendations from friends isn't that much of a help. After all, you're the only one who can determine if the scent is right for you.
Anyway, we're here to narrow down your options by sharing our picks for the best men's perfumes in Singapore. We even tested them ourselves to know if their scent would fit what most men look for in perfumes.
Before that though, we're going to share the steps we follow when looking for the perfect-smelling perfume. No one wants to waste their money on a perfume that doesn't fit.
How to Pick the Best Men's Perfume in Singapore
When shopping for the best colognes for men in Singapore, here's a golden rule to keep in mind: you are the best person to determine which scent matches your tastes.
It wouldn't hurt to know which perfumes some of your male friends are using, but it's not wise to base your decision solely on that. Instead, use their recommendations to question or affirm your decision.
Scents react differently to different body chemistries, so what smells great on others may not smell that great on you.
Anyway, here's our guide on picking the best colognes for men in Singapore. Follow these steps when picking perfumes.
1. Learn the notes
There are three different notes found in the scent of most fragrances: top, middle, and base notes.
The top note is the initial smell of the fragrance that hits your nose. It usually lasts from 15 minutes to more than 2 hours, depending on the brand and composition of the perfume.
Some of the most common top notes are citrus, powdery scenes, marines, aquatics, light floral scenes, and even cinnamon.
The medium note is the main component of any perfume or cologne. It can last 3 to 5 hours after being sprayed, but there are perfumes with middle notes that last 7 hours.
Heavier floral scents, grass, stones, fruity scents, and spice scents are the most common examples of medium notes.
Lastly, the base note is the strongest scent that only becomes noticeable later in the day. It determines how long a perfume will last on your skin, usually ranging from 5 to 10 hours.
Some of the most typical base notes are musk, smoke, tobacco, leather, sandalwood, and moss, among others.
2. Consider your motives
You have to keep in mind your intention when looking for the best men's perfumes in Singapore.
If your end goal is to impress your friends and colleagues, then go for a unique scent that they can associate you with. You need to take time looking for a scent that suits whatever you're trying to put out there.
In line with that, no man would want a scent that overwhelms the people around him, so we recommend dialing down the muskiness because it's what usually irks people, especially women.
You want a perfume that announces you with dignity: not one that just bashes people's noses in with your presence.
3. Don't be afraid to commit mistakes
Finding the right perfume that perfectly complements your preferences is a trial-and-error process that takes time. There will be times when you'll end up spending money on a perfume that doesn't have all the things you're looking for.
Sooner or later, you'll know more about which scents work best for you and develop a framework that can help you pick scents without anyone's help, based on your tastes and preferences alone.
4. Talk to great-smelling people
Instead of asking just about anyone about their perfume, talk to some of your friends you believe have always smelled great. Ask them about the perfume they're using and work your way around it by learning its notes.
Seek recommendations from great-smelling people and look for the common denominator between all of them. This will help you know which fragrance to consider when looking for the best colognes for men in Singapore.
5. Try it yourself
There's no better way to know if a perfume is perfect for you than testing it yourself. If this isn't possible at the moment, you might want to try emailing brands and asking them for testers to be sent to your address.
Some brands are generous enough to send testers free of charge, but others charge a small fee.
The Best Men's Perfumes in Singapore
Now that you know what to do to find the right perfume, we hope that you're ready to go over our list of the best men's perfumes in Singapore.
We included all sorts of scenes here, including woody and refreshing scents. Continue reading below to know more about these perfumes.
1. DAVIDOFF Cool Water for Men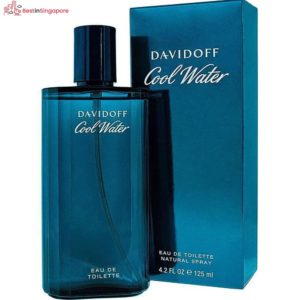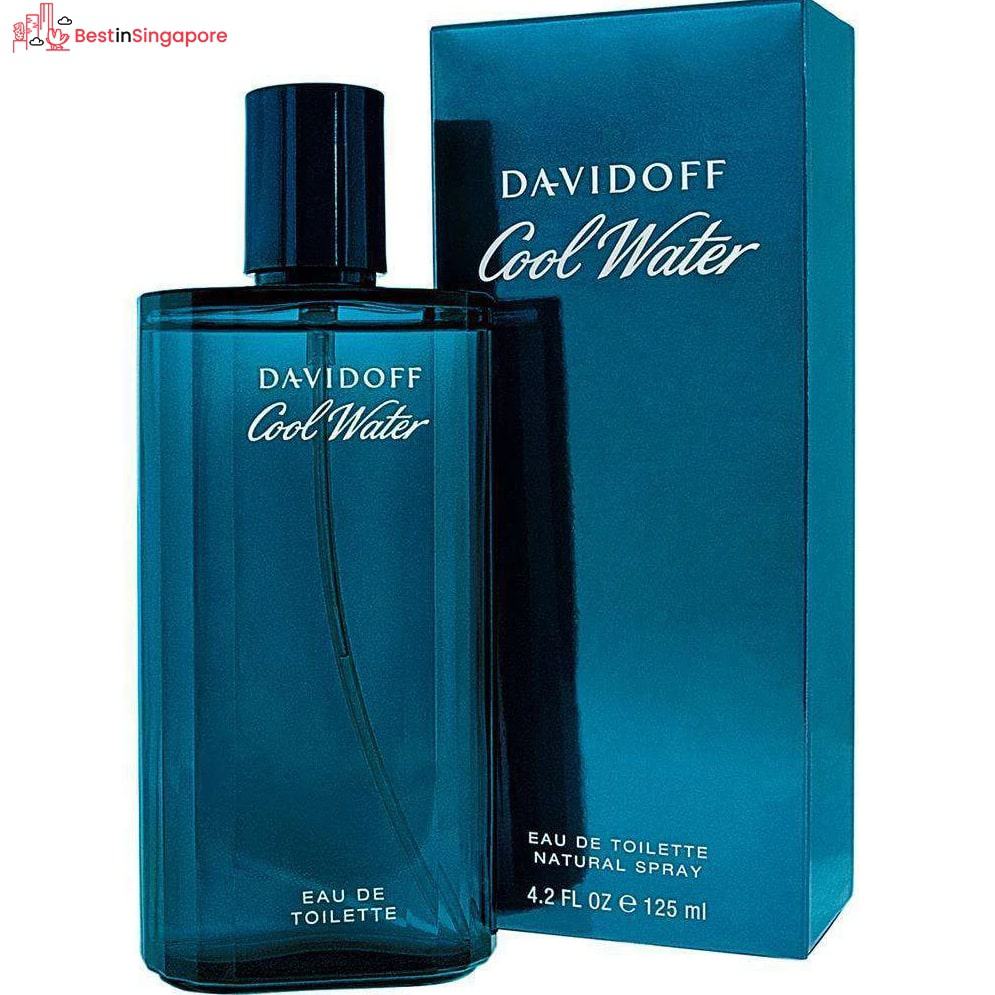 Price: S$48.90
The Davidoff Cool Water typically costs over $100, but you can get it from Shopee for more than half its original price. It's popular among male working professionals in Singapore because of its competitive price and long-lasting scent.
It's a perfume inspired by the freshness of the ocean, with a well-balanced combination of marine, floral, and woody notes. Its masculine marine fragrance is something that we haven't smelled from other perfume makers.
Its top notes are peppermint and lavender, while its base note is an intense combination of oakmoss, geranium, and sandalwood. Its base note is described to be a smooth and warm flow of musk and amber.
What we like the most about the Davidoff Cool Water is that it's compatible with all age groups, but it's usually used by young adults and working professionals. We also love that it has a distinct smell that can be worn for casual and special occasions.
Pros
Discounted price
In the aquatic family, so it tends to smell very fresh
For all age groups
Cons
Limited discount window
Musk and amber base note actually doesn't sit well on all people
2. CALVIN KLEIN CK One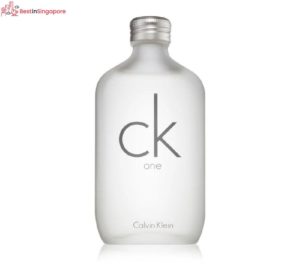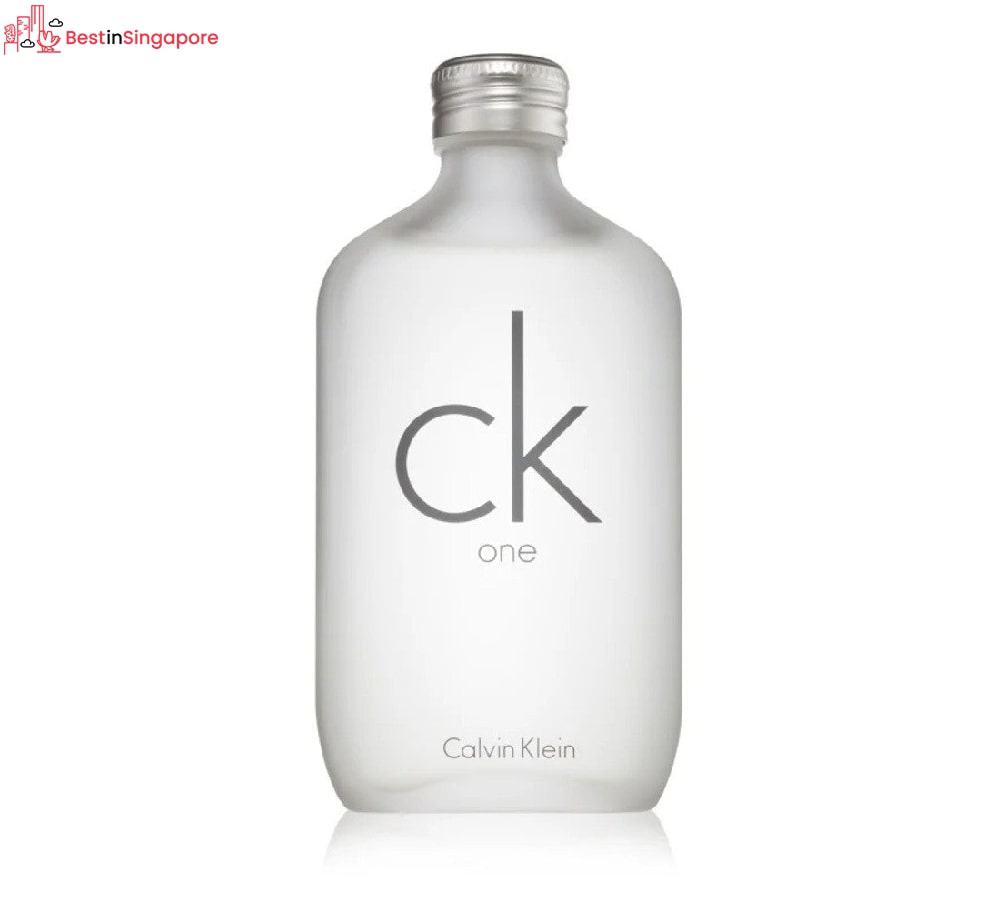 Price: S$45.90
Another affordable men's perfume is CALVIN KLEIN CK One. In fact, it's considered one of the most in-demand unisex perfumes on the island because of the balanced soft feminine scent and strong masculine scent.
CALVIN KLEIN CK One is primarily considered part of the fruit scent family, with green notes, pineapple, papaya, bergamot, and lemon as its top notes. Its middle notes are orris root, jasmine, lily of the valley, rose, freesia, and nutmeg.
It may sound like it's a dominantly sweet perfume, but most men have found its subtle sandalwood, amber, and cedar smell perfect for regular working days and casual weekend hangouts. It's a budget-friendly perfume that strikes the balance between the sweet and the spicy.
Pros
Affordable
Unisex perfume
Classic fragrance
Used by thousands of adult men
Cons
Always out of stock in online stores
Customer Reviews
Take a look at a comment shared by a customer who got it off Amazon:
"This fragrance is my favourite perfect for any occasion it has a citrusy musk smell that is so refreshing as well as sexy I just love it and always get compliments when wearing it plus it is such good value for money the most I have paid for a 200 ml bottle was £26 which is peanuts when compared to most Eau de toilettes."
3. GIORGIO ARMANI Acqua Di Gio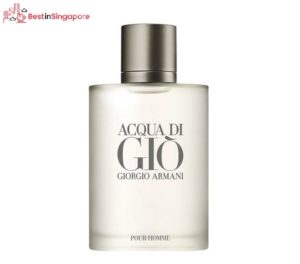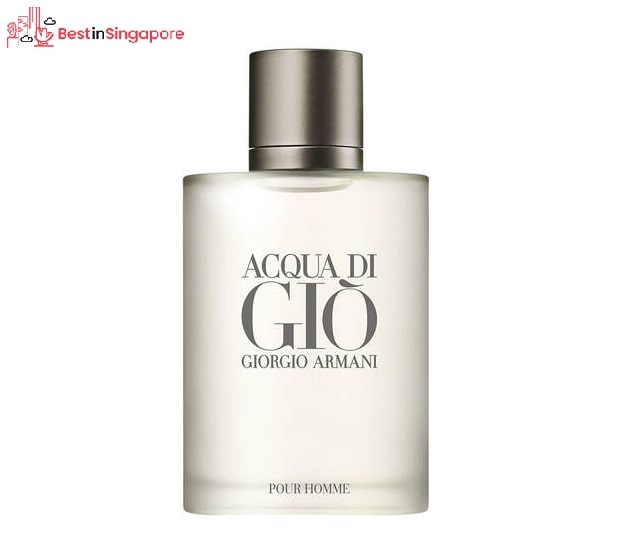 Price: S$87.90
The GIORGIO ARMANI Acqua Di Gio is another crowd favourite that's especially popular among men who prefer strong and refreshing aquatic scents. It features a fragrance that references the smell of the beautiful Mediterranean island of Pantelleria and its ocean and sunshine.
Its top notes are Calabrian bergamot, neroli, and green tangerine, while its main accords are marine notes, bergamot, and cedarwood, giving men a fresh and warm scent that can last until the end of the day.
We found that it's mostly used by working professionals who want a perfume that can handle their busy schedules on weekdays and their groovy lifestyle during the weekends.
If you want a perfume that will remind you of the ocean breeze and breathtaking sunsets, then we highly recommend getting your hands on the GIORGIO ARMANI Acqua Di Gio.
Pros
Aquatic scent
Classic fragrance
Ideal for everyday wear
Cons
Smaller packaging than most
Hard to find due to popularity
4. Hugo Boss Boss Bottled Intense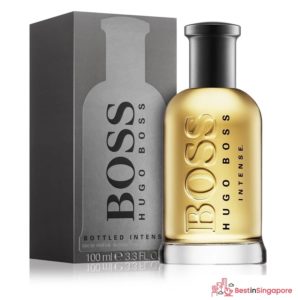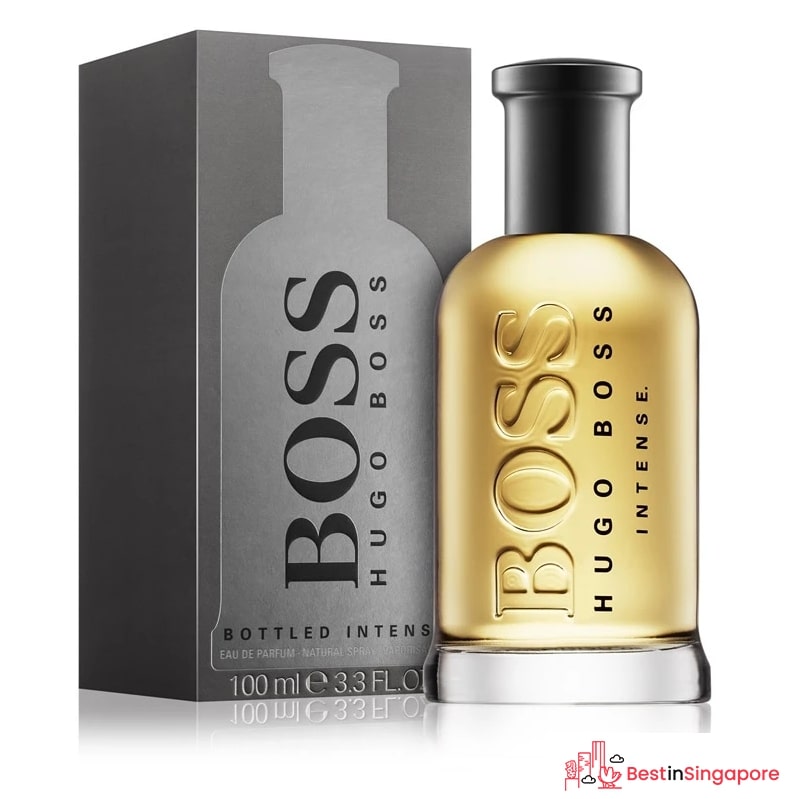 Price: S$72.00
If you've tried Hugo Boss Boss Bottled in the past but found its scent a bit weak and soft, we suggest trying out Hugo Boss Boss Bottled Intense. It's the more enhanced and powerful version of the former, dialing down its sweetness while increasing its spicy and wood oils.
It features an intense and deep masculine scent that's attributed to its clove, geranium, and cinnamon middle notes. We love that it uses the right ingredients to balance its dominantly strong ingredients, preventing it from crossing the threshold of becoming a strong and annoying perfume.
The Hugo Boss Boss Bottled Intense aims to capture the confidence of mature men who are secretly hiding a sweet and spot inside them. It's a scent that will give your confidence level its well-needed boost.
We found that men usually wear it for formal and once-in-a-lifetime occasions such as corporate functions and weddings.
Pros
For formal and special occasions
For older mature men
Cons
Some might find it too intense
Smaller packing than usual
Customer Reviews
Here's what a professional perfumer had to say about Hugo Boss Boss Bottled Intense:
"For me, Boss Bottled Intense is the adult version of Boss Bottled, a bit more masculine and multi-faceted, simply smelling a bit more complex than the Bottled version. Nevertheless, this fragrance remains youthfully warm and refreshing and it will find a place in my perfume cabinet for years to come. Not because it is outstanding, but because the fragrance, without being obtrusive, simply shows off its strengths and one of the sweet scents slowly caresses the nostrils while playing through the whole spectrum of its olfactory notes. This fragrance is like a good friend that accompanies you through the day without playing itself completely to the fore, but is still there when you need it."
5. Christian Dior Sauvage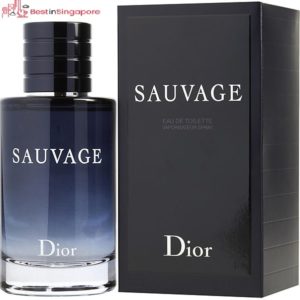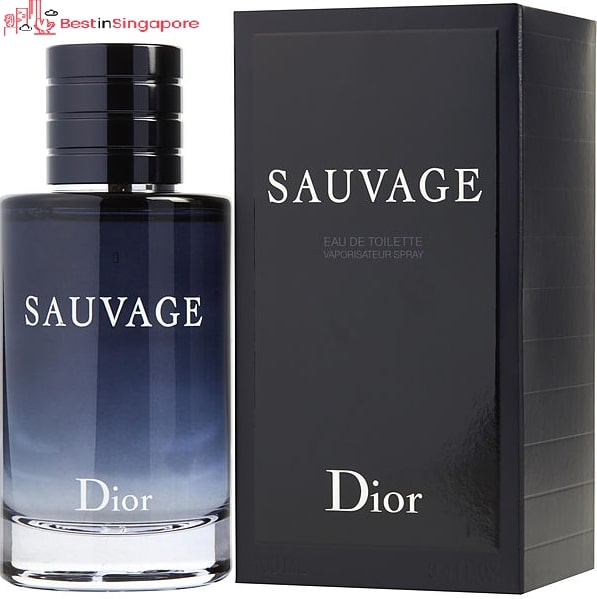 Price: S$189.00
For those who are willing to spend a lot on one of the best men's perfumes in Singapore, then you might want to get your hands on Christian Dior Sauvage. It's a captivating men's perfume used and endorsed by celebrities worldwide.
Christian Dior Sauvage is inspired by the desert at the magical twilight hour, the magical feeling of a cool and breezy night. We love how it starts with a gentle and refreshing scent through its bergamot and mandarin top notes.
After experiencing its gentle and soft top notes, you will be treated to spicy and woody notes of sandalwood and frankincense that linger on the skin longer than what you'd expect. It's why we call it one of the best men's perfumes in Singapore.
What we like the most about it is that it's not too strong, so it shouldn't drive away female attention. It's a perfume that balances sweet notes with strong, masculine scents.
Pros
Light packaging
For older, mature men
Ideal for special occasions
Cons
Expensive
Very limited stock in most stores
6. Reveal Pheromone Perfume for Men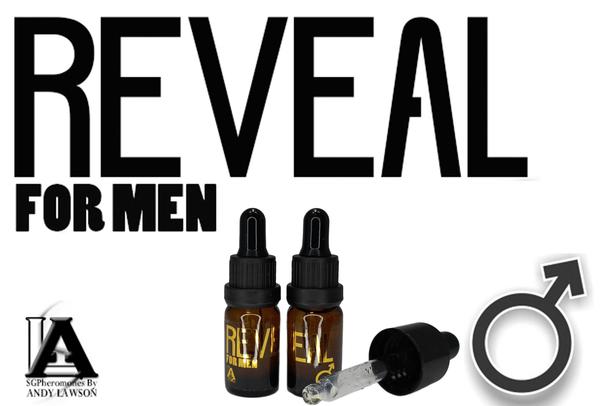 Price: $42
Andy Lawson provides pheromones that are effective in influencing a person's mood. They offer quality products for affordable prices.
The Reveal Pheromone Perfume aims to cater to the male market. It is formulated to increase the sense of assurance of women around the user.
Perfume pendant bundles are also available for users who have sensitive skin. Using it only entails soaking the provided scent wicks and placing it inside the pendant's perfume reservoir.
Pros
Effective formula
Enhances women's mood
Increases sense of assurance
Perfume pendant bundle available
Cons
7. Aranda 1965 (Homme)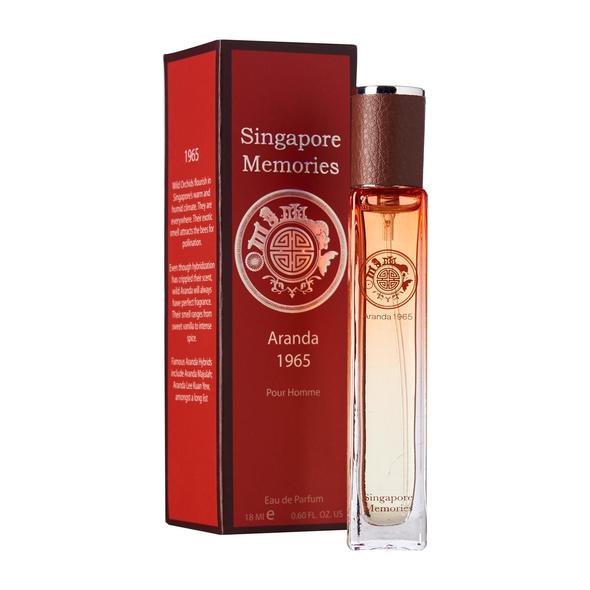 Price: $28 – $148
Check it out on Singapore Memories
Singapore Memories' Aranda 1965 is designed to give you that feeling of nostalgia. It is a strong masculine perfume that's suited for achievers.
It features the scent of wild-Aranda orchids. Bergamot and citrus notes, as well as sparkling asian fruits and Tibetan amber, compliment the primary scent well.
It comes in two sizes, 18 ml and 100 ml. It has both Eau de Parfum and Eau de Cologne variants.
Pros
Uses Wild-Aranda orchids as the main scent
Masculine fragrance
Long-lasting scent
Winner of the Best Fragrances award
Cons
8. Armaf Club De Nuit Intense Men 105ml EDT
Price: $39.50
Get This From Fragrance Castle
The Armaf Club De Nuit Intense was first produced in 2015 and has since been one of the best men's perfumes. This men's perfume can take you on a full roller coaster of scents and feelings.
From the moment it touches your skin, this perfume exudes citrus and delicious fragrances resembling pineapple, blackcurrant, lemon, and bergamot.
Then, the Club De Nuit's smell turns to much more romantic scents of rose, jasmine, and birch.
The base notes of this perfume resemble that of ambergris, musk, patchouli, and vanilla to give you a sweet yet woody scent that can make anyone near you feel satisfied and content.
When you buy this perfume from Fragrance Castle, you can request urgent deliveries. So, if you find that your perfume's run out and you need to get dressed in less than an hour, you can simply request one by calling Fragrance Castle's hotline.
Fragrance Castle even sells the Armaf Club De Nuit Intense even sells at a much lower price, $39.50.
Another benefit of buying Armaf Club De Nuit Intense from Fragrance Castle is that you can pay via numerous options. Such options include AMEX, Mastercard, Visa, Apple Pay, Google Pay, PayPal, and Shop Pay.
Pros
Express and same-day deliveries
Accepts numerous payment options
A mix between playful and romantic scents
Large volume to make it long-lasting
Simple yet elegant packaging
Cons
Sweet and musky scents may not sit well with others
Comes only in one volume option
9. Naiise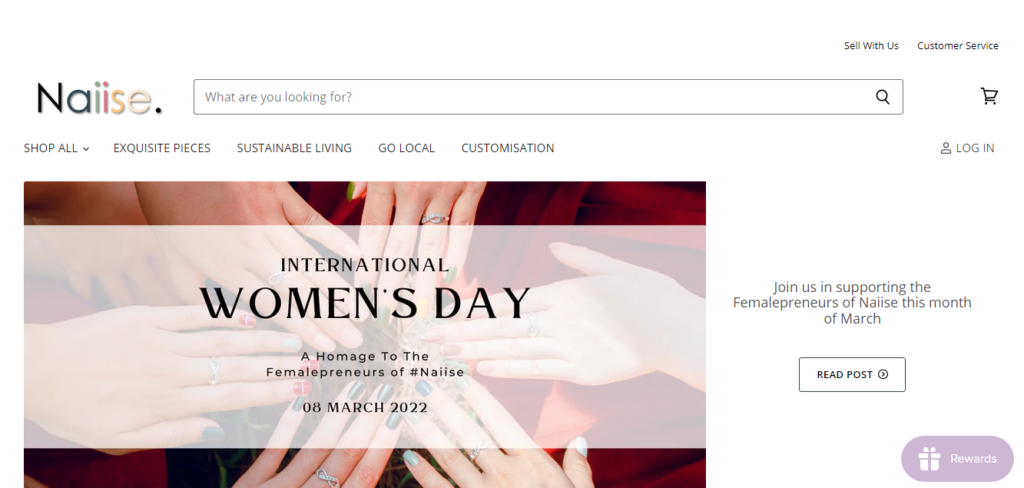 Price: Browse for more Details
Naiise is an online omnichannel marketplace wherein both sellers, creatives, and customers are able to have meaningful interaction to bring their gifting needs in place. It is a platform wherein individuals can easily promote and sell their products and services that is accessible to both customers and companies for maximum exposure.
From home accessories to beauty and wellness products, their website easily categorizes their products to accommodate first-time clients and have a problem-free browsing experience.
We find their platform to be adequately updated and contains all needed information that clients need to know about the product such as its description, stock, brand, and essential shipping information as well.
Largely driven for the community, clients can also browse their selection of local products that not only ensures that it is of excellent quality but also of authentic and creative presentation.
We find their online shop to be ideal for clients who want a wide selection of the product of their choice as their website also features an assistive recommendation system that clients can view and consult to find other similar products.
Pros
Numerous choices of products
Accommodating browsing experience
Wide variety of local products
Cons
Possible stock limitations
And with that, we conclude our list of the best men's perfumes in Singapore. If you've used any of these perfumes in the past, share with us your experience with wearing them.
Since there are thousands of perfumes on the island, we couldn't possibly include everything. If you know other perfumes that should've been included in our list, tell us their names!
If you want to make sure that your home is always smelling fresh, then we recommend taking a look at our list of the best air purifiers in Singapore. You can now give your home the fresh and clean air it deserves!