The 12 Best Air Purifiers in Singapore
Are you in search of a home appliance that can combat indoor air pollution? You've come to the right place: we're rounding up the best air purifiers in Singapore today.
As not all home appliances are made equal, we made sure to go over what makes each air purifier unique and worth your hard-earned money. You'll get to know what customers have to say about them as well.
Before we start, let's take a look at prices of the top air purifiers sold on the island today.
How Much Do Air Purifiers Cost in Singapore?
There's no denying that air purifiers are effective in reducing air pollution inside our homes, but in order to find the best one, you have to be prepared for the cost.
Based on our research, the best air purifiers in Singapore can cost anywhere from $100 to $1,200, depending on the brand. While there are air purifiers cheaper than $100 out there, we can't guarantee that they can deliver what they're supposed to do.
Worry not though, because we found a budget-friendly air purifier that can give homeowners a buck for their buck. It might be what you're looking for if you're on a tight budget.
But before we go into the specifics of each air purifier, check out how our picks fall within your budget:
| | |
| --- | --- |
| AIR PURIFIER MODEL | PRICE |
| DX95® Air Purifier | $555.00 |
| AURABEAT LSP-X1 Purifier | $699.00 |
| Wynd Max Room Air Purifier | $399.00 |
| Airfree P Series Filterless Air Purifier | $299.00 |
| Xiaomi Mijia Air Purifier 3 | $199.00 |
| Trusens Z-2000 Air Purifier | $188.00 |
| Sharp Plasmacluster FP-J30E-A | $349.00 |
| ION PUREAIR P1 | $85.90 to 89.90 |
| Sharp KC-F30E-W Air Purifier | $899.00 |
| NV488A Air Purifier | $699.00 |
| Filtech Aero Air Purifier | $370.00 |
| Airion SA9500 | Call their hotline for the price |
| MayAir AP401 Air Purifier | $1,099 |
| Purlife airclear 880M | $899 inclusive GST |
As with most home appliances, it's recommended to take your time and save some money before settling on which air purifier to go with. That way, you can be sure that all your possible options have been exhausted.
The Best Air Purifiers in Singapore
Now that you have an idea of how much to shell out for an air purifier in Singapore, it's time to go over how our picks can turn your home into a healthier and cleaner space.
1. Fellowes DX95® Air Purifier
Price : $555
TYPE OF FILTER
Carbon, True HEPA with AeraSafe
NOISE LEVEL
Contact for more details
ROOM COVERAGE
Up to 28m²
CADR
Dust: 196
Pollen 188
Smoke 191
ENERGY CONSUMPTION
Contact for more details
DX95® Air Purifier is the only purifier on this list that has a four-stage purification system. It can capture up to 99.97% of airborne particles as small as 0.3 microns, including pollen, other allergens, dust mites, mold spores, pet dander, and cigarette smoke.
Unlike the other ones on this list, this is the only air purifier that has an AeraSafe™ Antimicrobial Treatment. It is built-in protection from the growth of odor-causing bacteria, mildew, and fungi on the True HEPA filter.
Another factor that no other purifiers have is the AeraSmart™ Sensor. This is a sensor that can monitor the air quality of your home and automatically adjust the fan speed to keep the air purified at all times.
Plus, this product is the only one that has filter change indicators. This will let you know when it is already time to replace your Carbon and True HEPA filters.
The change filter type is a side drawer
Weighs 6.44kg
3-year warranty
No other color
A bit pricier
Customer Reviews
Here are some reviews from their previous buyers:
" I've been considering an air purifier for a long time. I have asthma and get congested frequently. I am so glad I chose this one. I set it up as soon as it was delivered and after only a few hours the difference in air quality was like night and day. It was a bit more expensive than I initially planned to spend but it was worth every penny. "
" hubby took our car in for service at subaru. while there he saw this air purifier and noticed how clean the smell in the room was.we had seen others and they were very noisy. this one is very quiet. we both have allergies and in only the 2 weeks we have had it we are feeling better.i can not tell you about the filer . we have not changed it yet. overall we are very happy with this air purifier and hope it keeps up the good work. "
2. Airfree P Series Filterless Air Purifier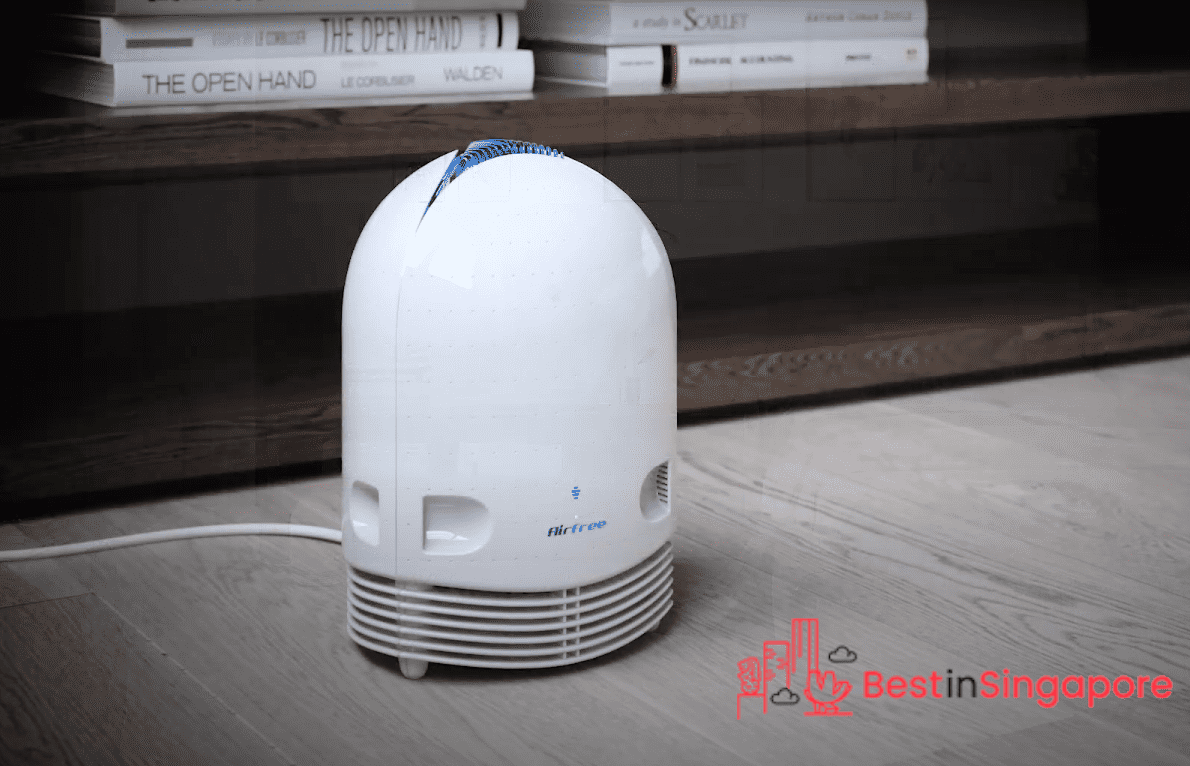 Price: Starts from $299.00
| | |
| --- | --- |
| TYPE OF FILTER | Filterless |
| NOISE LEVEL | 20dB |
| ROOM COVERAGE | Good for living rooms and bedrooms |
| ENERGY CONSUMPTION | Low energy consumption, same energy as a house fan |
| WARRANTY | 2 years |
Do you want an air purifier that's easy to drag from one room to another? Well, you might want to take a look at AirFree, a unique portable air purifier that doesn't come with a filter.
As it's a filterless air purifier, there's no filter to wash and replace after a few weeks or months unlike with most air purifiers. That means less hassle on your end!
AirFree operates by using high heat to destroy microorganisms like bacteria, viruses, and mould, similar to the concept of boiling water. It's also been proven to be effective against the COVID-19 virus.
In terms of energy consumption, it requires about the same energy as a standard house fan, so no worries about a sudden spike in your electricity bill.
You'll even sleep soundly while it's operating because it doesn't produce any noise at all. That's something that can't be said about most air purifiers.
It's not the cheapest air purifier on our list, but it could actually be the most cost-efficient option here. Since it's light and portable, one can simply carry it to another room, so there's no need to purchase multiple air purifiers.
Portable build
Reasonable price
Low energy consumption
Doesn't create any noise
Durability could be improved
Customer Reviews
Thinking of getting Airfree for your home? Here are some comments posted on its website:
As a longstanding allergy sufferer from dust mites, hay fever and many other things I think the product is fantastic. I have it plugged in my bedroom and whenever I am suffering I can go in that room and within about 20 minutes I am 100% better, even with the window open" -LG
"Bought the 1st set in Dec to put in my children's room. My daughter's blocking nose was improved shortly and my son's frequent nasal bleeding stopped. I used to use inhaler everyday but only use it when needed after having Airfree" -Jacky Tan
3. Xiaomi Mijia Air Purifier 3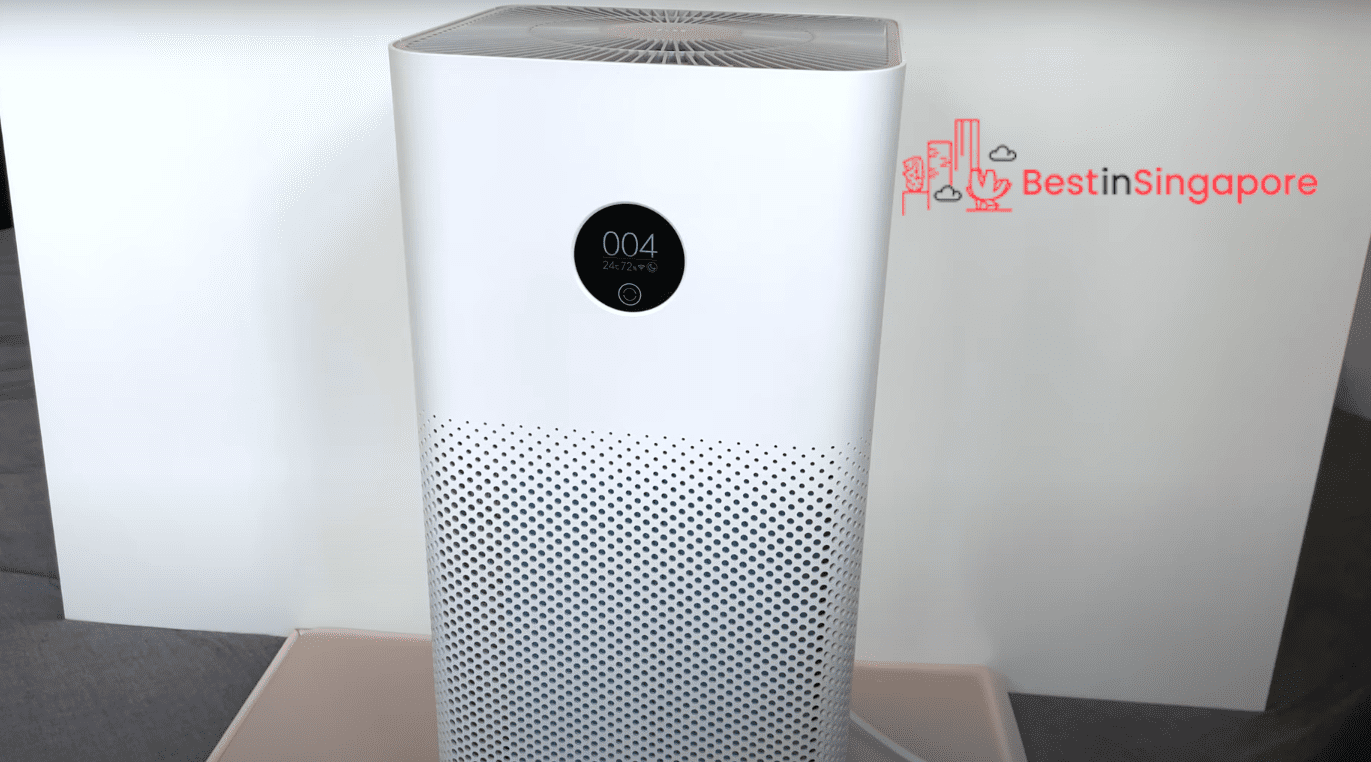 Price: $199.00
| | |
| --- | --- |
| TYPE OF FILTER | 360° barrel filter |
| NOISE LEVEL | 32.1dB |
| ROOM COVERAGE | 28 to 48 sq m |
| CADR | 320 m³ per hour |
| ENERGY CONSUMPTION | 38W |
| WARRANTY | 2 years |
If you want an air purifier that's as powerful on the inside as it is on the outside, the Xiaomi Mijia Air Purifier Gen 3 might be the perfect match for you. Here are the reasons we added it to our picks:
First, it comes with an integrated 360° barrel filter that effectively removes substances like formaldehyde and particles like molds and bacteria, on top of common indoor air pollutants.
Another thing we love about it is that it acts very fast. In less than 10 minutes, it can dissolve all substances and particles circulating inside your home, giving a cleaner and fresher indoor air quicker than most air purifiers.
Controlling it won't be much of a trouble as well because you can use a remote control app, Google Assistant, or even Alexa.
Even if you live in a small studio-type apartment, the Xiaomi Mijia Air Purifier would work for you due to its small and portable design. You can place it next to your working table or under the window sill, even.
Lastly, it was designed to produce as little noise as possible, with a maximum noise level of 32.1dB. You won't have to worry about your sleep getting interrupted because of a noisy air purifier!
3-layer filtration system
Low noise level
Portable design
OLED touch display
Low energy consumption
Not the most durable option out there, as per customer reviews
Customer Reviews
Some reviews on Amazon read as follows:
"I really like this air purifier. It gives an instant read-out of particles in the air, temperature, and humidity. I wish the temp was in Fahrenheit but only shows Celsius. No problem though, just add 50 degrees and you will get Fahrenheit. The unit cleans the air and is very quiet. In Automatic mode, it changes the fan speed but is still very quiet. Mostly once the air is cleaned, it varies from 003 to 0030. The color changes based on particles in the air. Every day is different and you don't realize how much stuff we breathe in on a daily basis till you buy one of these." -Joel A
"Connecting to the app and pairing with my amazon echo was fairly simple. After fine-tuning some schedules and voice commands it behaves just like every other smart gadget I own, if not better! I dusted and cleaned the bedroom to see how well it actually was working and to my surprise it took a good 2 months before a small layer of dust appeared on my counter. This blew me away considering this usually happens within a day or two of dusting. After running this thing on/off for a total of about 5-6 hours a day the air in the bedroom is noticeably "crisper" and just smells fresh compared to before when it was a bit musty." -UnboxKing
4. Sharp Plasmacluster FP-J30E-A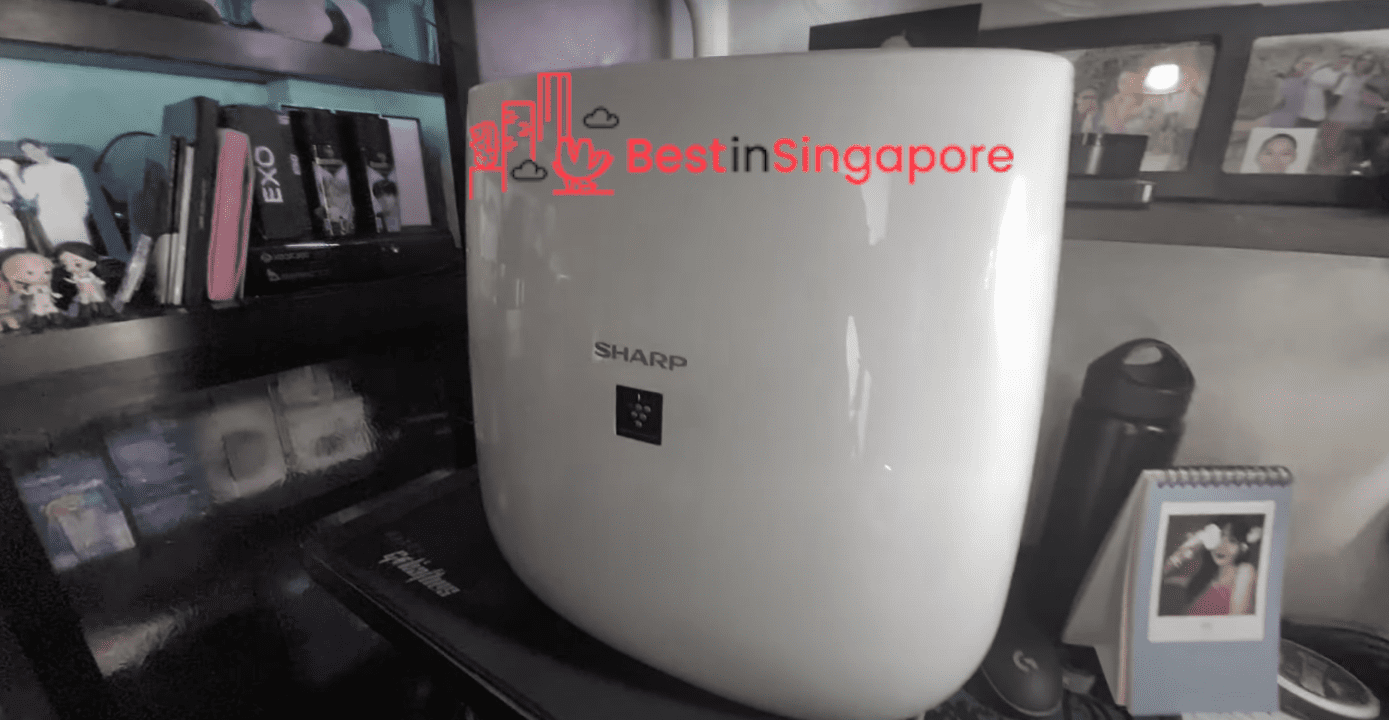 Price: $349.00
| | |
| --- | --- |
| TYPE OF FILTER | HEPA filter |
| NOISE LEVEL | 23 to 44dB |
| ROOM COVERAGE | 23 sq m |
| CADR | 164 CFM for dust, 164 CFM for smoke, and 174 CFM for pollen |
| ENERGY CONSUMPTION | 50W |
| WARRANTY | 12 months |
Gone are the days of inhaling dirty, polluted indoor air once you've set up the Sharp Plasmacluster FP-J30E-A inside your home. It earned a spot here mainly for its capacity to accommodate large rooms.
Aside from the HEPA filters, it's built with a plasmacluster technology that produces positive and negative ions similar to those in nature, which break down harmful air particles. This could explain why it leans toward the expensive side.
The Sharp Plasmacluster comes with features that will make your life easier, though. For example, you will be alerted once the filters need to be replaced, as opposed to guessing if it's time to clean or replace them.
There's even a sleep mode option that switches to low speed and produces less noise during nighttime.
You might not need to get another air purifier as it's capable of collecting dust and particles coming from other rooms — thanks to its aerodynamic structure. If that isn't enough, you can simply drag it across another room since it's lightweight and portable.
Additionally, the plasmacluster ions have the power to remove unpleasant odour circulating around your house, which may stick to your skin and clothes. These odours include cigarette smoke and pet smell.
Lightweight and portable
With sleep mode
Aerodynamic structure
Alerts when filters need to be cleaned or changed
5. Trusens Z-2000 Air Purifier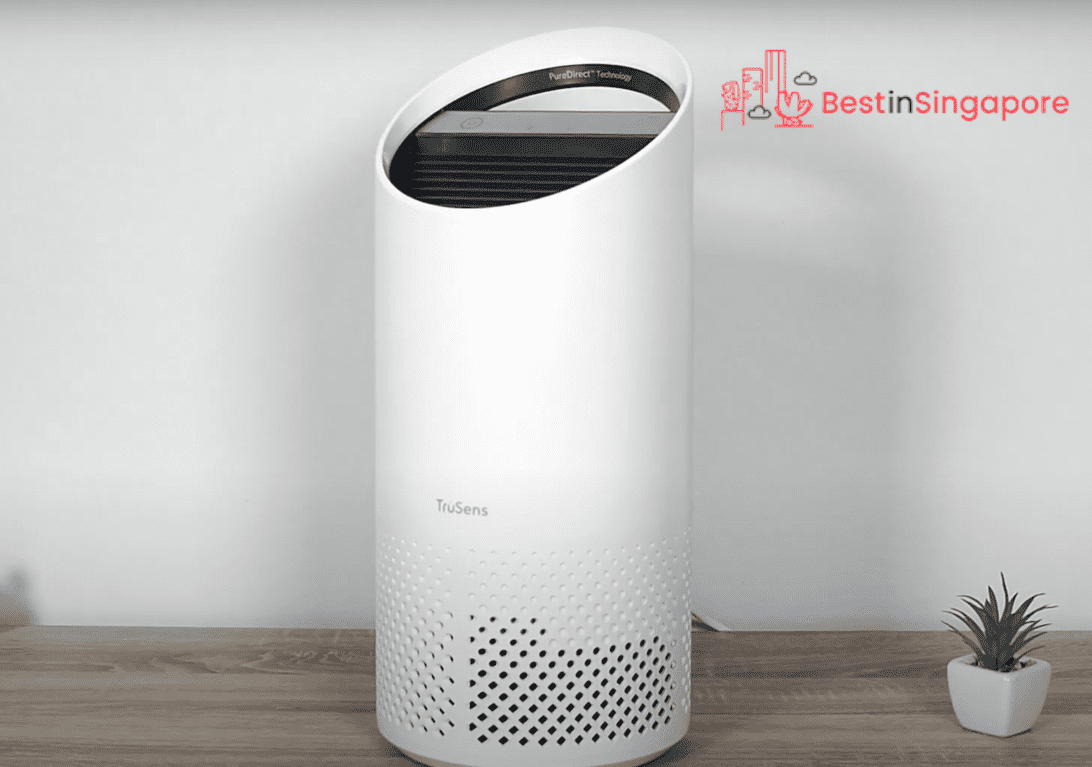 Price: Starts from $188.00
| | |
| --- | --- |
| TYPE OF FILTER | HEPA filters |
| NOISE LEVEL | 33 to 64dB |
| ROOM COVERAGE | 35 sq m |
| CADR | 112 CFM for dust, 94 CFM for smoke, and 117 CFM for pollen |
| ENERGY CONSUMPTION | 28W |
| WARRANTY | 2 years |
The Trusens Z-2000 reimagines what an air purifier can do through its added special features and elegant exterior design. Powered by HEPA filters, it can turn any room into a haven where you can inhale clean and healthy indoor air.
It's built with several features but one of our favourites is the 360-degree Dupont Filtration and UV-C Light. Apart from making sure that every corner of the room is free from all types of pollutants, it prevents them from getting trapped in the filter.
Another feature we like is that it has two airflow systems, which means air is distributed equally throughout the room. It's proven to be 24% more effective than standard air purifiers with a traditional airflow.
Unlike most air purifiers, it informs you if the quality of air is good or not, displayed on its illuminated disk. With this feature, you will never be clueless about whether your air purifier is really doing its job or not.
It might look like a complicated air purifier to control because of its design, but it's actually the opposite. It doesn't have buttons and knobs, only touch controls, making it extremely easy to use.
Washable pre-filters
Touch controls
Displays the quality of indoor air
Two airflow systems
Modern, sleek design
Noisier than most air purifiers
Customer Reviews
See how well-received the TruSens Air Purifier is among its users:
"This is my 4th TruSens Purifier to put into our house, we now have one for 3 bedrooms and the den. I can't say enough good things about how this product has helped our entire family with allergies and defense against COVID. My 81 year old mother lives with us and I'm convinced the reason we were able to keep her healthy is partly due to TRUSENS. We also all suffer from airborne allergies and our symptoms are lessened because we use TRUSENS Allergy Filters." -Terri
"This is my second Trusens purchase. I love the one in my home. It has helped with allergies and gives me a sense of confidence that our air is clean, so much so that I bought another one to put in my classroom. With students returning to in person instruction, having the Trusens in the classroom gives an extra measure of protection and peace of mind." -Denise
6. ION PUREAIR P1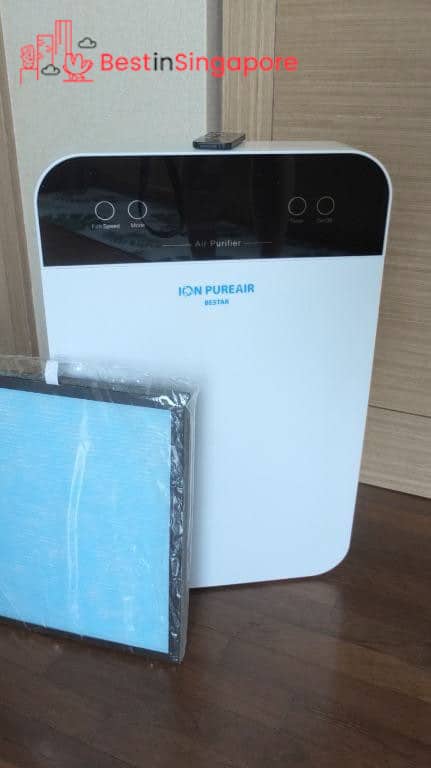 Price: $85.90 to 89.90
| | |
| --- | --- |
| TYPE OF FILTER | HEPA filter |
| NOISE LEVEL | 45 to 54dB |
| ROOM COVERAGE | 50 sq m |
| CADR | 240 to 300 m³ per hour |
| ENERGY CONSUMPTION | 37W |
| WARRANTY | 6 months |
If you're on a tight budget but still want a dependable air purifier, we recommend checking out ION PUREAIR P1. It features an updated multi-layered HEPA filter that's said to be more effective in filtering out bacteria, mould, dust, and even viruses.
Some air purifiers can be a bit hard to control because of the complicated display, but that's not going to be a problem with this. You can even control it using your smartphone, so you will be able to turn it on and off even if you're not at home.
ION PUREAIR P1 comes with a portable and lightweight form as well. If you're planning to use only one air purifier for the entire house, you wouldn't have any trouble dragging it from one room to another.
It may be one of the cheapest air purifiers in the market, but that doesn't mean it's a mediciore model. In fact, we believe it's one of the most durable air purifiers out there, with a high-quality HEPA filter that can last longer than most units.
We admit that it falls short in terms of special features, but considering its price and capacity it's a steal too good to pass on! You'd be a fool not to get your hands on this one.
Budget-friendly air purifier
Easy to control
Lightweight design
Can be controlled using smartphone
No special features
Short warranty coverage
7. Sharp KC-F30E-W Air Purifier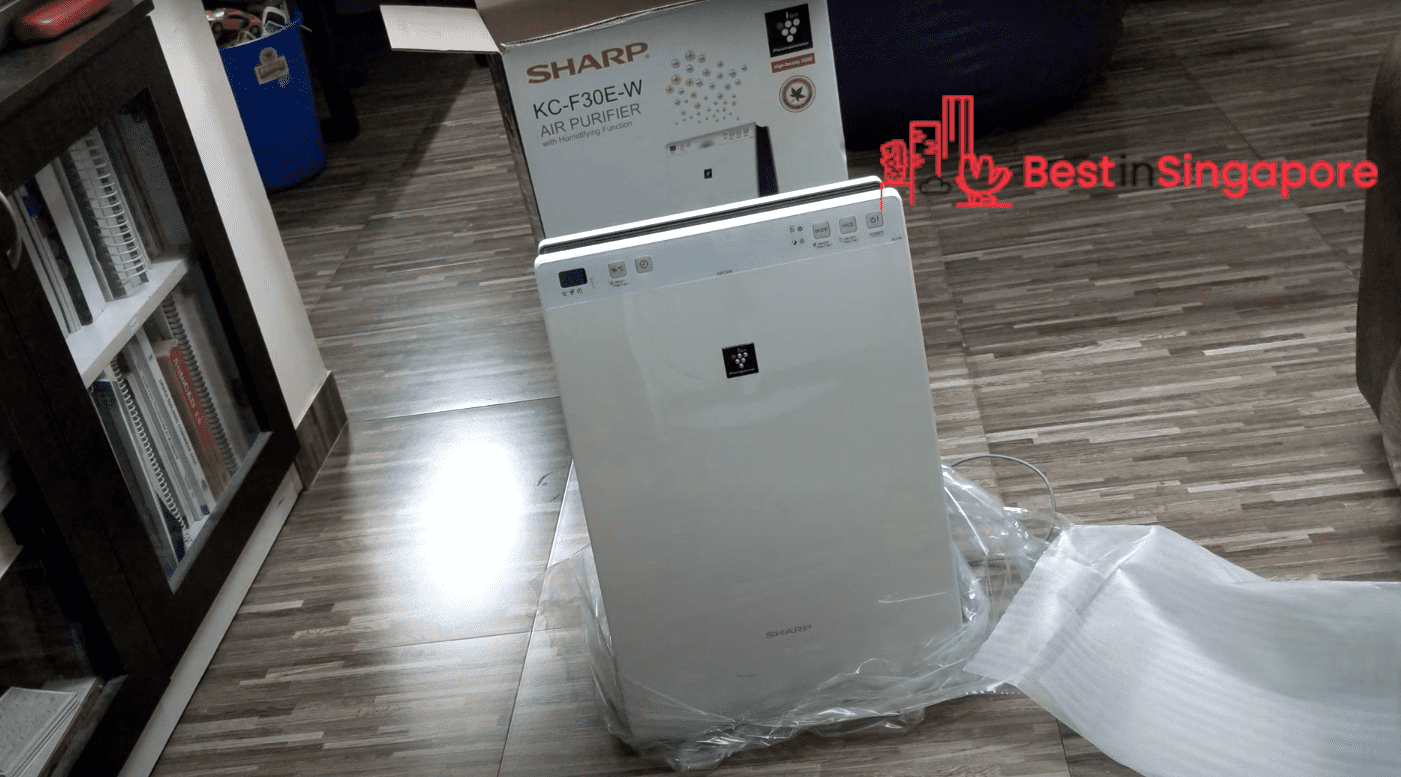 Price: $899.00
| | |
| --- | --- |
| TYPE OF FILTER | Antimicrobial HEPA filter |
| NOISE LEVEL | 21 to 48dB |
| ROOM COVERAGE | 21 sq m |
| CADR | 240 CMH |
| ENERGY CONSUMPTION | 27W |
| WARRANTY | 2 years |
The Sharp KC-F30E-W is the most expensive air purifier on our list as it doubles as a dehumidifier as well, so it's like hitting two birds with one stone. You might break your wallet with this one, but we're sure that it will be worth it.
Since it also comes with a humidifying feature, you won't have to worry about dryness in the skin, eyes, and throat, even if your air conditioner is operating round-the-clock.
Similar to the previous Sharp air purifier, it also releases negative and positive ions that break down harmful particles. One of its main advantages is that it comes with antimicrobial HEPA filters.
If you're having trouble getting rid of the foul odor surrounding your room, this one would be a great match for you. It makes use of a plasmacluster technology that can remove any type of odour, no matter how strong it is.
The only issue we have with it is the smaller room coverage compared to the previous Sharp air purifier. It can only cover about 21 sq m while the other one covers about 23 sq m, but worry not as that's still a decent number!
Despite it being short on additional features, we think that this one would already go a long way. We would highly recommend this to people who don't want a complicated air purifier and just want one that gets the job done.
Antimicrobial HEPA filter
Can get rid of foul odour
Lower energy consumption
Smaller room coverage
Higher price tag compared to our other picks
8. NV488A Air Purifier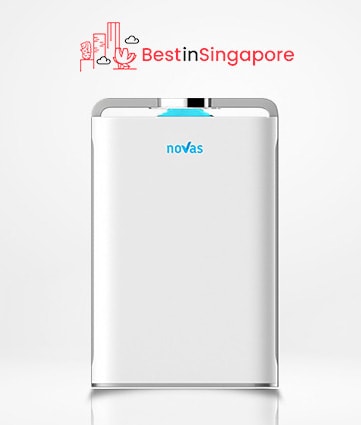 Price: $699.00
| | |
| --- | --- |
| TYPE OF FILTER | HEPA filter |
| NOISE LEVEL | 38dB |
| CADR | 380 m³ per hour |
| ROOM COVERAGE | 400 x 230 x 620 mm |
| WARRANTY | 2 years |
Nova's latest innovation is the NV488A, an air purifier that filters the indoor air in seven intricate stages, meaning there's a smaller chance that air pollutants will remain circulating inside your home.
Each of its individual filters blocks out particles such as dust, pollen, harmful gases, and even air-borne bacteria. That's made possible by its multiple filtration system.
You can rely on the NV488A Air Purifier to function for a long time, thanks to its large capacity. It can purify the air for up to twelve hours, depending on the degree of usage.
It comes with a natural humidification function as well, which can increase indoor humidity by 10% to 15% in just about an hour!
The NV488A Air Purifier is built with a display and control panel that shows if the filters need to be replaced or if it's run out of water. However, you may have a hard time figuring out which button is which.
We like that it's safe to have around the house even if you live with rowdy children because of the child-lock function. No worries about them fidgeting around with your air purifier.
Lastly, the NV488A air purifier is practically noiseless while it's working, giving you and your loved ones a peaceful sleep every night!
Multiple filtration system
Child-lock function
Minimal noise
With natural humidification feature
Can be controlled using smartphone
9. Filtech Aero Air Purifier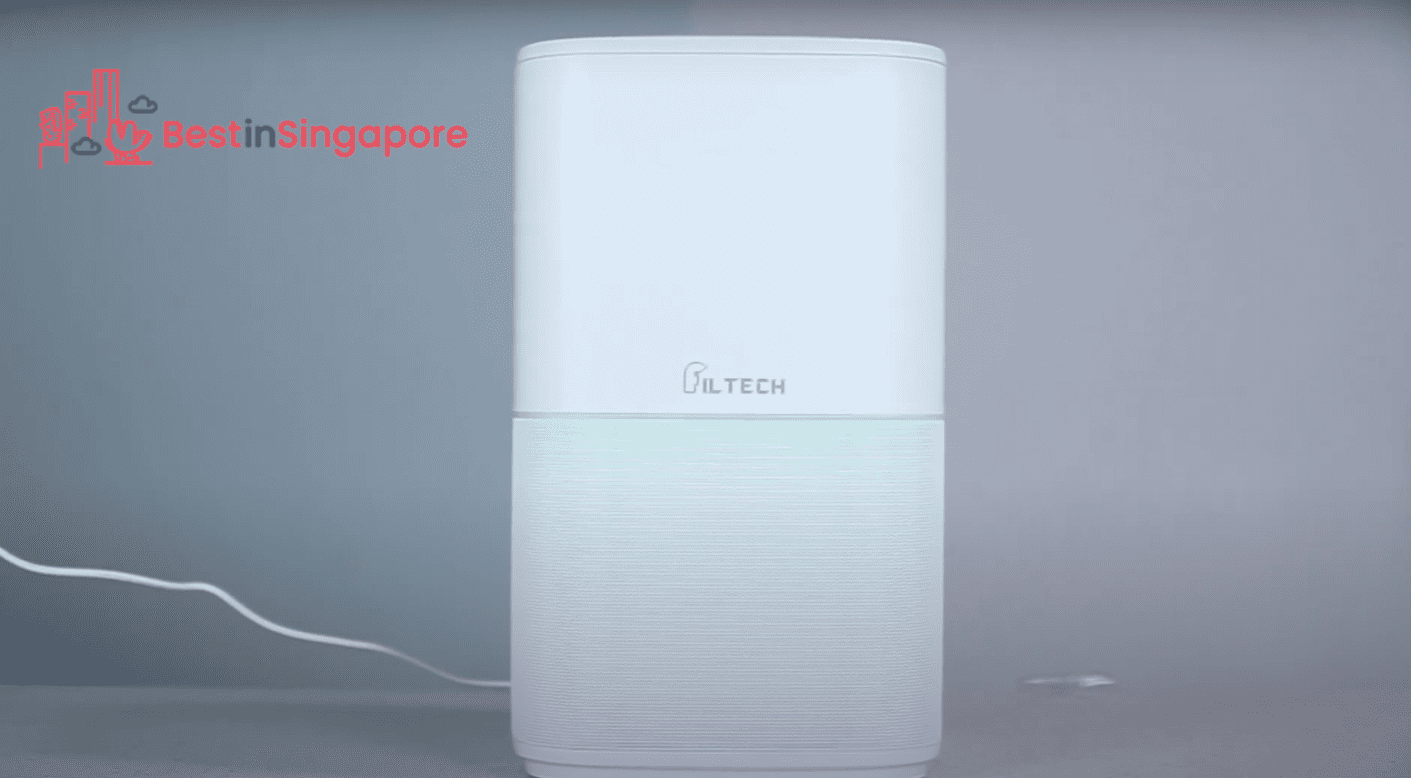 Price: $370.00
| | |
| --- | --- |
| TYPE OF FILTER | AEROTECH™ HEPA Filter |
| NOISE LEVEL | 20dB |
| ROOM COVERAGE | 80 m² |
| CADR | 2500 litres per minute |
| WARRANTY | 2 years |
If you're looking for an air purifier that's perfect for pet owners, children, babies, and elderlies, look no further than Filtech Aero Air Purifier. It's built with the revolutionary AEROTECH™ HEPA Filter that can filter air pollutants of 0.3 microns in size.
Its trademarked HEPA Filter is said to be more powerful than average HEPA filters, which most air purifiers in Singapore have, boasting a filtration capability of 99.98%. It can get rid of dust, pollen, smoke, pet dander, and even large dust particles.
It's quite common for air purifier filters to be difficult to remove and replace, but not this one. Its quick twist mechanism makes it possible to remove the dirty filters in less than 3 seconds.
Another interesting feature about the Filtech Aero is the laser sensor technology that quickly detects any microscopic pollutants circulating in the air. You won't have to wait for hours before noticing the change in indoor air quality.
As with most air purifiers, it doesn't produce any chemical byproduct when left operating for hours on end. Its air cleaning techniques do not produce any harmful ozone and secondary pollution.
Unfortunately, the Filtech Aero has a significantly shorter lifespan, ranging about three to four months against the common lifespan of 12 months.
Competitive price
East to remove filters
Cleans the air in rapid speeds
No chemical byproduct
Customer Reviews
Find out how Filtech Aero users like their purchase:
"Have only had this air purifier for a day, but I'm already impressed! Setup was a breeze. Unbox it, take out the filters and unwrap them, put them back in, plug the device in and it works. I do believe that the room that the purifier is in began feeling more "fresh" within hours. The "Sleep" mode is EXTREMELY quiet, low is still fairly quiet while moving a good bit of air that is good enough for me. Gonna monitor it for the long term but for now recommended." -Nancy
"Good purifier to remove smoke from people smoking around the vicinity, even neighbors next door. I received this yesterday, set it up, turned it to high speed, and the cigarette stench was gone in 5 minutes and my throat isn't burning any more. I'm sure with the way my condo is set up, I'm not getting the full benefit of this air purifier, but it is doing what I needed it to do. Even running at high speed the fan is not overly loud. Highly recommend this air purifier." -Shirley D
10. Airion SA9500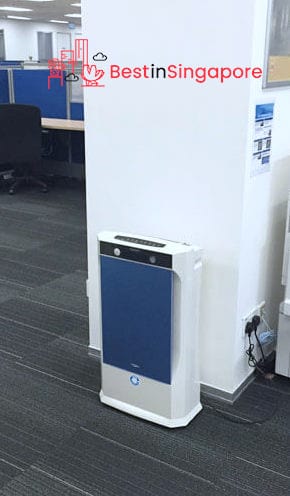 Price: Enquire for more Information
| | |
| --- | --- |
| TYPE OF FILTER | Pre-filter, Nano Silver, HEPA, Carbon, 5-stage Photocatalytic Filter, and UV. |
| NOISE LEVEL | 20dB |
| ROOM COVERAGE | 100 sq m |
| WARRANTY | No warranty |
We believe that the Airion SA9500 is one of the most powerful air purifiers on our list. You see, it uses a 10-stage filtration process to remove indoor airborne particles to ensure that no pollutant will escape.
Aside from the impressive filtration process, the Airion SA9500 can cover up to 100 square metres. We highly recommend it if you live in a large house with multiple rooms and with other people.
More than that, its large room coverage makes it ideal for office settings, so you might want to convince your boss to get it. Its modern, simply-curved design would go well with any corporate interior.
It may be a powerful air purifier but don't expect any increase in energy consumption. In fact, its heavy-duty yet quiet BLDC motor is known for its energy-saving features.
If you're not convinced by any of these, just know that Airion SA9500 is used by healthcare centres in Singapore like Vanguard Healthcare, Tan Tock Seng Hospital, and NTUC Health. The fact that it's trusted by hospitals and clinics already says a lot.
Trusted by hospitals
Large room coverage
Modern and durable design
Low energy consumption
Limited additional features
No warranty coverage mentioned
11. MayAir AP401 Air Purifier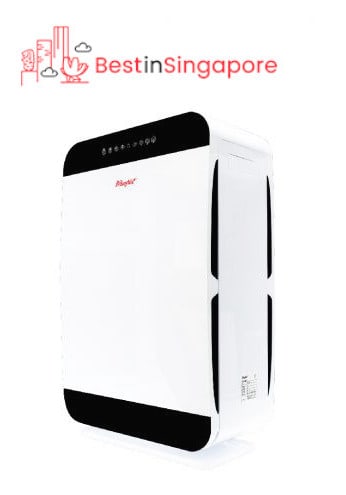 Price: $1,099.00
| | |
| --- | --- |
| TYPE OF FILTER | HEPA filter and activated carbon filter |
| NOISE LEVEL | 34 to 60dB |
| ROOM COVERAGE | 55m² |
| CADR | 684m³/h |
| ENERGY CONSUMPTION | 85W |
| WARRANTY | 1 year |
If you want an air purifier that provides extra protection during the pandemic, the MayAir AP401 Air Purifier might be the one you're looking for. Here are the reasons it landed a spot on our list:
First, the MayAir AP401 Air Purifier may be petite in size, but it packs a punch with the medical-grade technologies that are inside its chassis. It makes sense that it's the most expensive option here.
It comprises a 4-stage filtration system, featuring the PuraWard Antibacterial Filter for viruses, followed by the Pre-Filter for coarse particle removal, Activated Carbon Filter for VOC removal, as well as HEPA Filter for ultrafine particles removal.
If other air purifiers require 10 stages, the MayAir AP40 can do the same work in no more than four simple steps, so it can clean and filter the air much quicker!
Apart from that, MayAir AP401 is also enhanced with Nano-Photocatalytic UV Sterilization and Negative Ioniser, which can further purify, remove dust, deodorise, and sterilise indoor air. See, its work doesn't end with just filtering the air.
It's worth noting that it's used by healthcare facilities in Singapore, meaning that it's trusted by medical experts in protecting doctors, nurses, and of course, patients.
rusted by medical experts
Compact and portable build
Germicidal and virucidal filtration
Priciest air purifier on our list
12. Purlife airclear 880M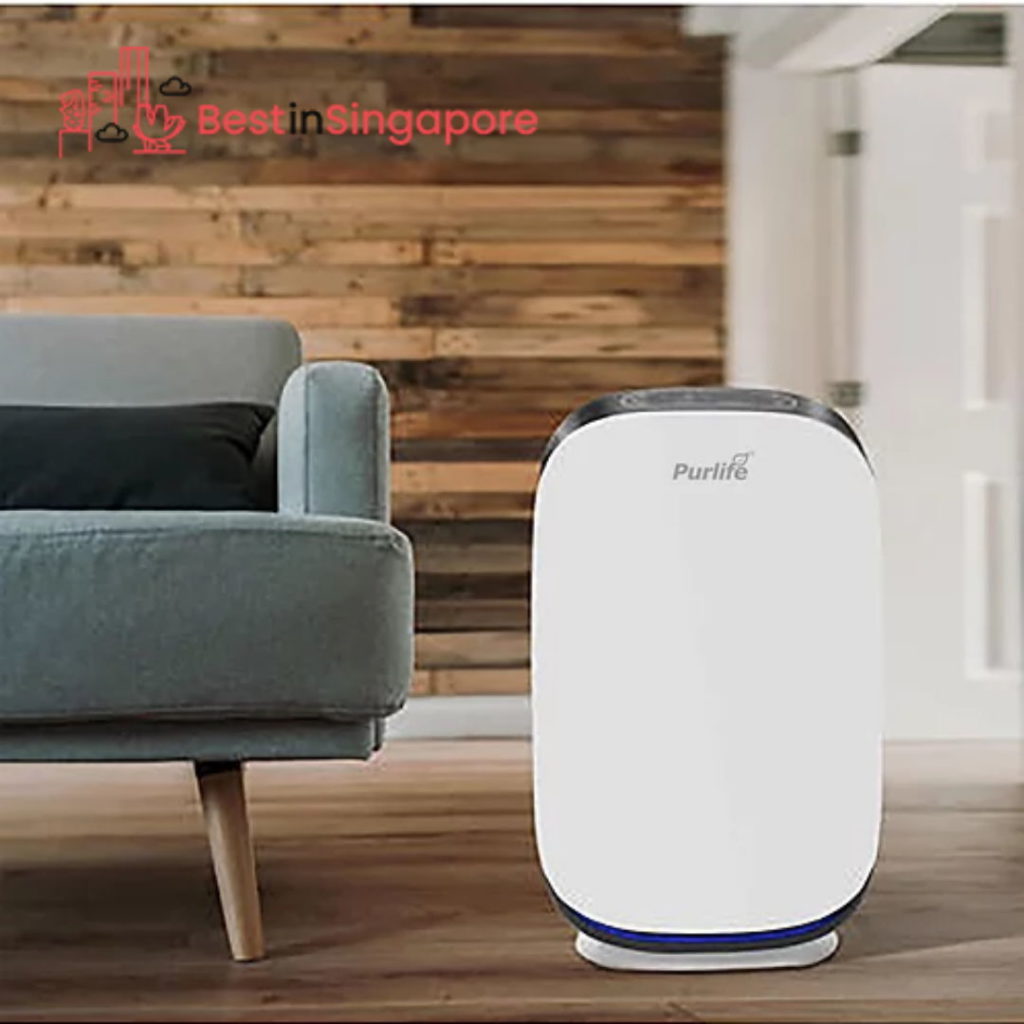 Price: $899.00
TYPE OF FILTER
H13 Medical Grade HEPA Filter
Activated Carbon Filter
NOISE LEVEL
Enquire for more details
ROOM COVERAGE
40-50m²
CADR
350m3/h; 206cfm
ENERGY CONSUMPTION
Enquire for more details
WARRANTY
2 years
As one of Purlife's latest home air purifiers, their airclear 880M model is one of your best options if you're looking to get one.
Its main feature is its three-stage purification system. It has a pre-filter, an H13 Medical Grade HEPA (which captures 99.97% of the particulates that pass through!), and an Activated Carbon filter that removes odours and harmful gases.
What's more is you have the option to add an antiviral coating for the HEPA filter. It's definitely a very useful feature these days in this time of the pandemic.
It also has LED displays that allow you to see the indoor air quality, as well as PM2.5, temperature and humidity values while you use it.
The fan has 5 speed settings, but what's great about it is that it automatically adjusts to the air quality! No need to think about setting the right speed because it will do it for you.
This will surely help your entire family be able to breathe better and without worry and much thought—all you have to do is turn it on.
3-stage purification system (pre-filter, HEPA filter, Activated Carbon filter)
Option to add antiviral coating to HEPA filter
Displays indoor air quality, PM2.5, temperature and humidity values
Its fan automatically adjusts its speed according to the air quality
Option to pay in 3 installments with Atome
Relatively new product
On the pricier end compared to the other options in this list
Factors to Consider before Buying an Air Purifier
Air purifiers aren't always as simple as they seem. There are a handful of things to consider if you want one that can effectively fight dirty air circulating inside your home.
First of all, you must know the different types of filters. Then, the features, noise level, certifications, and the room size are among the other things you shouldn't forget.
1. Type of Filter
Before buying an air purifier, it's important to remember that they don't always work the same. Different air purifiers use different kinds of filters and technology when cleansing the air.
The 6 common types of filters are HEPA, Activated Carbon, UV, Negative Ion, and Ozone, each of which has its own way of defeating polluted air.
If you want a filter that is proven to be effective, then go for the HEPA. It can filter out bacteria, chemicals, viruses, and mould, and doesn't produce any harmful byproducts.
If you live with babies and people with asthma, you may want to go for an air purifier with activated carbon filters. It can free the air inside your home from formaldehyde, perfume, chemicals from cleaning solutions, and other particles that make it harder for us to breathe.
On the other hand, air purifiers with UV technology filters are most effective at eradicating viruses and bacteria that may cause sickness in the family. The chances of your loved ones getting sick will be reduced when you have this type of air purifier.
If there are effective air purifiers out there, there are also some that can't do the job just as well. For example, air purifiers with negative ion filters have lower chances of cleaning.
We can also say the same thing for air purifiers with ozone filters. So, you must really take your time getting to know the type of filter used by an air purifier before purchasing it.
2. Features
An air purifier should be able to do more than just provide you with cleaner and healthier air. Most models today come with unique features that make them more worthwhile.
If you want to easily control your air purifier, then you should get one with a remote control system. Unfortunately, not all units are remote-controlled.
Some units also come with smooth castor wheels, making it easy to drag them from one room to another. Make sure that you're getting a portable one if your house has multiple rooms.
A service indicator light would also be an ideal feature, although it's rarely seen in most air purifiers. It notifies the user if the filter isn't working, or needs to be changed.
3. Noise Level
Since an air purifier basically runs for almost 24 hours, it should be as quiet as possible so as not to disturb anyone, ideally.
Generally, most air purifiers produce only minimal noise because they make use of internal fans. In addition, an air purifier's noise level shouldn't be a big issue unless you're placing it in the baby's room.
Meanwhile, there are also air purifiers that create very little noise. According to most websites, their noise level can go as low as 17dB and as high as 60db.
4. Certifications
If you want an air purifier that won't disappoint you, then you should definitely check its certification. A certification is one way of making sure that an air purifier is effective, and does what it's supposed to do.
Energy Star and AHAM are among the few certifications that you should watch out for in an air purifier. Having any of these two means that the product is tested and has passed certain guidelines.
5. Room Size
Before you forget it, room size also plays an important role in the efficacy of an air purifier. If you have a lightweight air purifier operating for a large room, then chances are it would not be able to clean the air completely.
You have to make sure that the power and capacity of your air purifier matches the size of your room. If you're planning to have an air purifier in the living room, make sure that the unit can accommodate a space of at least 350 square feet.
FAQs about Air Purifiers
---
And with that, we end our list of the best air purifiers in Singapore. We hope that you were able to pick out what you think can turn your home into a space with clean, fresh, and healthy air.
If you have a specific air purifier in mind that wasn't part of our list, feel free to tell us about it by leaving a comment below! We always want to hear about your experience.
And if you're also looking for a great ceiling fan to keep your home cool, you may want to check out our list of the best ceiling fans in Singapore! You may depend on any of these ceiling fans to keep your home cool even during hot seasons!