How to Do Staycations in Singapore During The Pandemic
With the physical distancing guidelines and travel restrictions in different countries, vacations look and feel very different from before.
Fortunately, you can still have a relaxing, fulfilling and fun vacation without travelling far – by doing a staycation! Here is an easy guide on how you can plan your staycation in Singapore during this pandemic, covering what to do for prep, where to go, and more.
Before Your Staycation: What to Know in The New Normal
Let's go over some safety measures first. Even when staying within Singapore, traveling isn't completely risk-free, so it's best to understand the considerations we listed below to make your staycation as safe as possible.
1. Know that there are still risks, so you can't be 100% safe.
Most of us are vaccinated by now… but this doesn't mean you're perfectly safe, especially when traveling to another place.
Since there are still places where the cases of community spread are still high, it's best to understand and weigh the risks of your staycation plans.
For example, immunocompromised people have to be more cautious even if they are fully vaccinated because the efficacy of the vaccines is not 100% guaranteed.
If you want to better understand the level of risk you may face for your staycation, you can consult with your primary care doctor first. All told, if you know that you have a high risk of contracting the virus, we recommend that you limit your chances of exposure by staying at home.
2. If you have a child, get him/her vaccinated as soon as possible.
Although your staycation plan may just be in the next town, you still have to make sure that all your loved ones are protected, especially if you have kids.
It's a good thing that children who crossed their 5th birthday in 2021 are allowed to be vaccinated in Singapore. Of course, children below 18 years old still require their guardian or parent's consent to book an appointment, so make sure that you get them vaccinated before you start your vacation plans.
3. Track community transmissions in the places you plan to visit.
According to Statista, 87% of Singapore's population already completed the recommended vaccination regimen as of January 5, 2022. In addition to that, 44% of those have already received their booster shot. 
However, you shouldn't feel complacent because the country has been going through a surge in infections due to the highly contagious Omicron variant.
That is why if you have plans to hop on a short road trip with your family and friends, we suggest that you look into the community transmission cases of the places you want to visit.
If that particular place is currently experiencing significant spread, it might be best to delay your travel plans to lower the risk of contagion.
Whether you plan to enjoy a staycation in a hotel, go on an out-of-town road trip through a van and lorry rental, or try out different seafood restaurants in Singapore, wearing a facemask and practicing social distancing are non-negotiables. 
Regardless of your vaccination status, these simple safety measures are crucial to ensure that you help avoid the spread of the virus while moving from one place to another. Among other things, you also have to remember these for your day-to-day plans during your staycation.
5. Consider your lodging setup.
If you plan to schedule a staycation with your close friends and family, it's better to know who among them is already vaccinated and who isn't. You can also ask them about their comfort level with the lodging setup you have in mind.
For example, if all of you are fully vaccinated, then it will be less risky even if you stay in one house or villa.
However, if some of you are unvaccinated and you plan to stay in one lodging, it might be best to advise them to avoid crowded indoor areas and always wear a face mask and practice social distancing when they are in common spaces.
Best Things to Do on Your Staycation During the Pandemic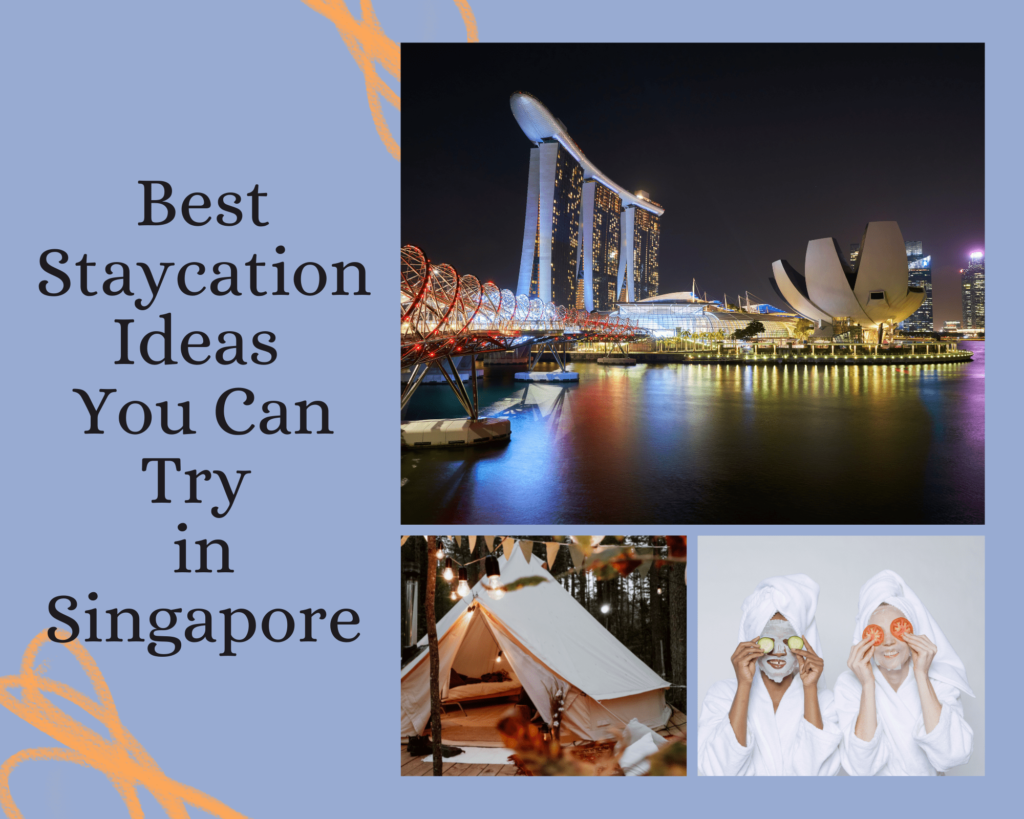 Now that you know how to protect yourself during your staycation, here are our recommendations of the best things to do on your staycation in Singapore during the pandemic.
1. Have a great time at a staycation-approved hotel.
Whether you plan to book a room at a budget hotel or want to have a short stay at an hourly-rate hotel near you, it's best to note that not all hotels in Singapore are accepting staycation guests at the moment due to the pandemic. 
This means that the accommodation you will choose needs to get the approval of the Singapore Tourism Board (STB) before they can take in leisure bookings.
Nonetheless, once you book in a staycation-approved hotel, you can relax and enjoy the range of amenities they offer. Moreover, you can take this opportunity to explore nearby attractions in the area.
For example, if you plan to bring your kids with you, you can check out our recommendations of the best kids' activities you can try in the country. 
On the other hand, if you and your friends are into sports, there are a variety of rock climbing and bouldering gyms you can definitely check out. 
2. Spend some time by the sea.
You can schedule a day out with your special someone on the beach and just have a simple picnic. If you need more tips on how you can explore the city as a couple, you can also look into our list of the best date ideas. 
Another staycation trip you can try is bringing your family to a resort so they can take advantage of the vast pools and water sports and activities offered in the accommodation.
Another luxurious treat you can indulge in is opting for a yacht rental. A private yacht vacation is popular nowadays because it's a safer and more intimate way to celebrate important occasions with loved ones. 
3. Visit unique and hands-on workshops.
Every person has his/her own way to destress, so if you are not up for road trips, another thing you can do in your free time is try out a variety of workshops in Singapore. 
You see, aside from keeping you productive during your vacation, you can also learn a new craft or skill. Besides that, you can also bring your family or friends to bond over the things you enjoy, such as photography, art, cooking, pottery, and more.
4. Hop on different restaurants with your family, friends, or special someone.
Tired of take-outs? Feel like skipping pizza this week? If it's a definite yes, then this might be your sign to dine out with your special someone, family, or friends. 
You don't even have to ride a plane just to have a taste of different cuisines from all over the world because you can easily find them all with a quick search.
What's better is that we've already done the search for you. For your reference, here are some of the restaurants we reviewed, so all you have to do is visit them and satisfy whatever you are craving.
Note that before you visit them, you should still check the restaurant's operating hours and dining capacity as well as the safety protocols they are implementing.
5. Have your much-awaited spa day.
Now that enjoying a vacation in a faraway land seems impossible, why not just treat yourself to a bit of pampering? Just relax and indulge in your much-awaited and well-deserved spa day.
To get more good deals and discounts, we suggest that you bring your besties with you when you visit the best spas in Singapore. You can often get great package prices with a lot of people at spas.
On the other hand, if you want to cut costs, you can also buy face masks, mani-pedi supplies, aromatherapy candles, and bath bombs, and just enjoy a simple spa day in your house.
6. Enjoy a movie night staycation at home.
If you're looking for a budget-friendly and safe staycation idea, you can try having your own movie festival at home. You can pick a theme for the night, such as horror, coming of age, drama, rom coms, or others.
Get a large bowl of popcorn and some chips to snack on and enjoy the movie marathon with your whole family. Another idea you can try is doing it in your backyard. You can pitch a tent and use a mini projector and screen to get a cinema-like experience. 
FAQs about the Current COVID-19 Restrictions in Singapore