The 15 Best Yacht Rentals in Singapore
Renting a yacht is one of the best ways to make parties even more enjoyable. People who want to take celebrations to the next level often look for the best yacht rentals in Singapore.
If you're planning a party soon and don't know where to find the best yacht rentals in Singapore, then consider yourself lucky. Today, we're making a rundown of the yacht charters in Singapore that can definitely make your party one for the books!
Aside from partying, the best yacht charters in Singapore can help you explore places that you've never been to. It's a great way to reach places that can't be accessed with the normal mode of transportation.
1. Yacht Bookings Singapore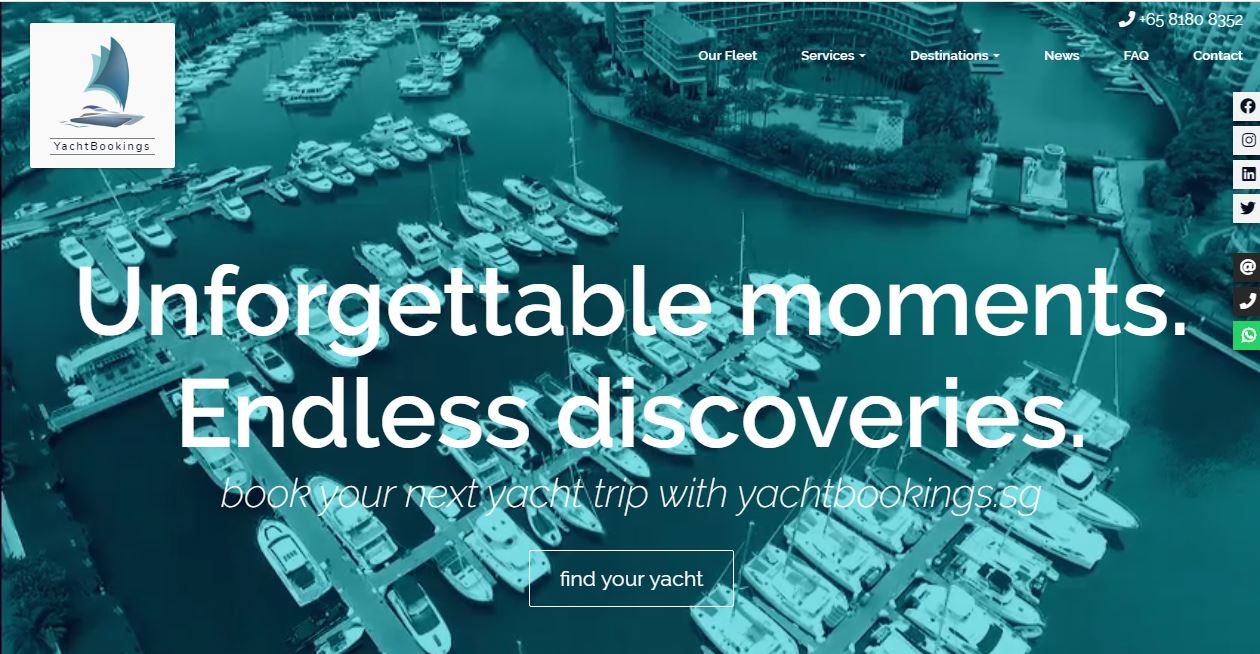 The first and oldest Yacht Charter Company in Singapore. They established themselves with one-of-a-kind trimaran party yacht in Singapore that started operations in Year 2006. Today with over 14 years of experience in the yacht rental industry in Singapore and the largest fleet for boats that are for hire in Singapore.
Their specialty lies in curating corporate events, weddings and solemnisations, birthday parties, anniversaries, team building programmes and much more. The fleet of yachts can accommodate anywhere from 1 guest to 150 guests.
With a wide range of yachts and expert advice from the staff, best service from captain and crew, you are sure to find what you are looking for. Do look for their special offers every now and then.
Highlights
14 years of experience
One stop shop providing yacht, food, beverages, entertainment, photography, decorations and all requirements.
Largest yacht charter fleet in Singapore
Highly skilled Captain and crew
Customer Reviews
Here's one of the reviews given by their clients.
"we went on board SeaDuction, and it was a wonderful trip! the captain and the crew were all very experienced and they made our trip very enjoyable and hassle-free. the sights were fabulous and the weather made it even better, as it was not too sunny. I had a wonderful time, and I would recommend this to anyone looking to spend time with their friends or family."
2.  Singapore Yacht Charter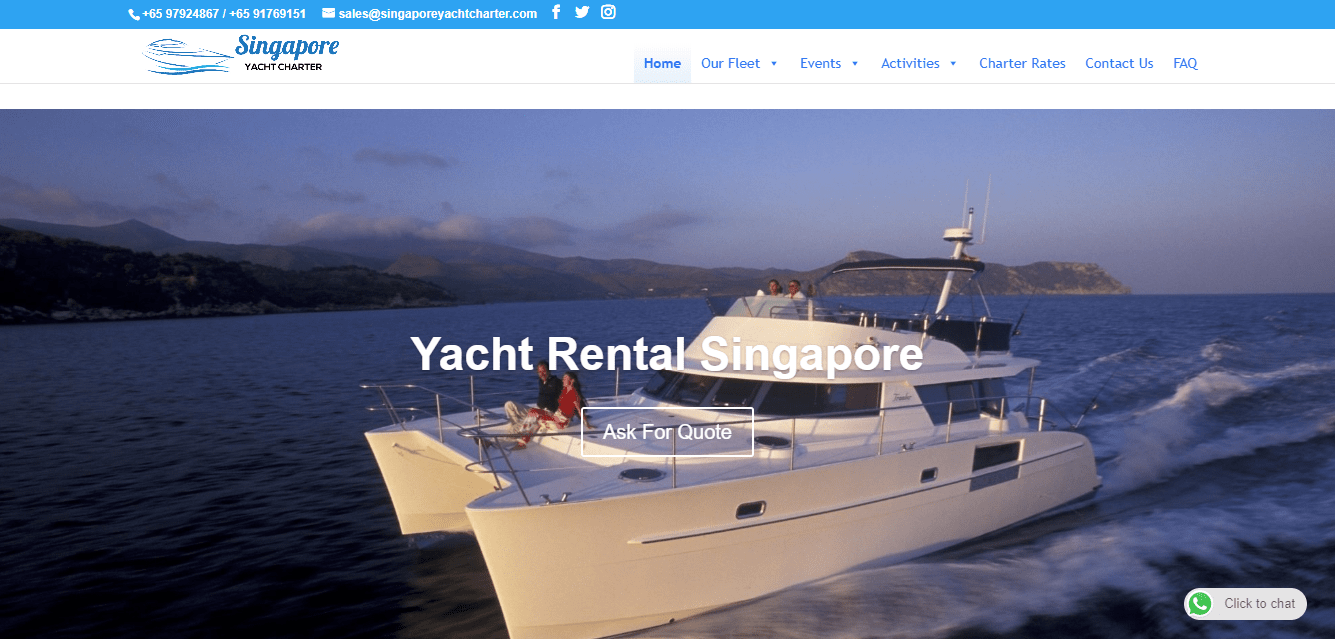 BEST FOR 
Wide Selection of Yachts
SERVICES
Corporate Events, Parties, Weddings, and Vacations
WEBSITE
https://singaporeyachtcharter.com/
ADDRESS
11 Cove Drive, Sentosa Cove, Singapore 098497
CONTACT DETAILS
+65 97924867

+65 91769151

OPERATING HOURS
Monday – Friday, 9:00 AM – 10:00 PM
Yacht Rental Singapore has remained one of the most in-demand yacht rentals on the island. Much of this is due to the fact that they provide high-class, luxury yachts for a price that won't make a hole in your wallet.
Another reason it ended up on our list of the best yacht rentals in Singapore is how well-maintained and clean all their yachts are. On top of their professional crew, they also make sure that clients have not only a safe adventure but an unforgettable one as well.
Over their years of operation, they have managed to garner a huge following of loyal clients who all turn to their services for their events and functions.
All their yachts are open for birthday parties, fishing trips, weddings, wedding pictorials, weekend getaways, and many more! If you have an event in mind, you can make it a lot better by availing of the services of the best yacht charters in Singapore.
Highlights
Competitive rates
Friendly sales representatives
Experienced captain and crew
Customer Reviews
Take a look at some of the reviews detailing the excellent services of Singapore Yacht Charter: 
"Great service! Thanks to LeNa for organising and Daniel for making sure we had an amazing time on the yacht and always keeping us safe. We were able to enjoy our own food and drinks as well onboard which was very convenient!' 
"We really enjoyed the time on board No Name Two, Great yacht, almost new, clean and spacious. Crew was very service minded and helpful. Also very good information in front of the Yacht office. Recommended!"
3.  The Epicurean State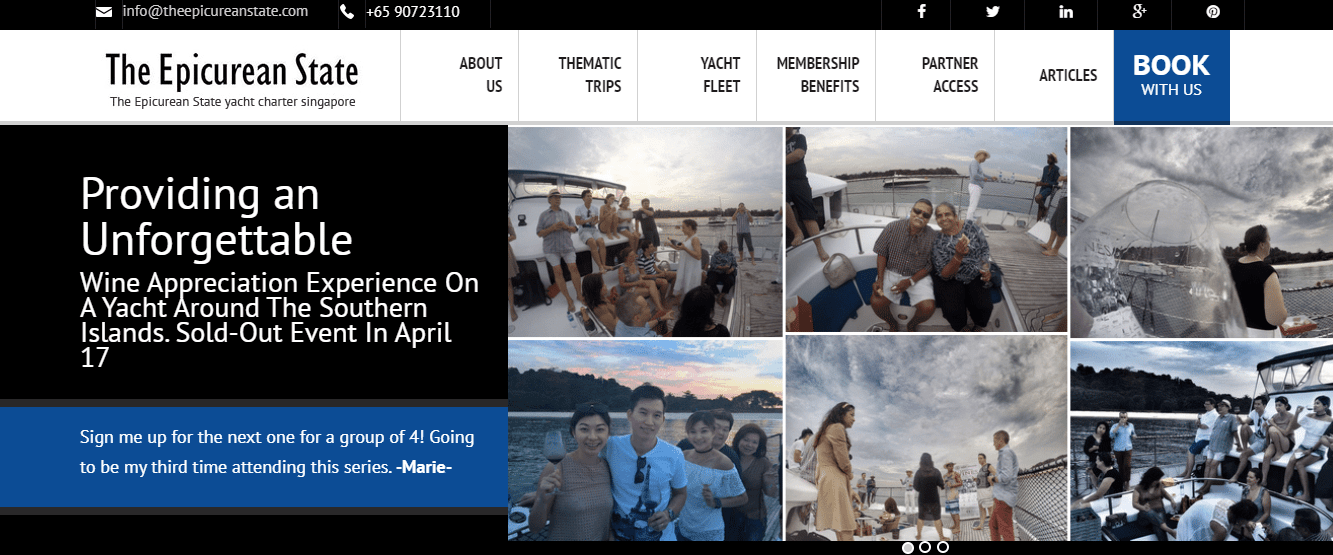 | | |
| --- | --- |
| BEST FOR  | Luxury Yachts |
| SERVICES | Family Gatherings, Birthday Parties, Wedding Proposals, Bachelorette Parties, Diving Trips, Overseas Trips, and Corporate Bonding |
| WEBSITE | https://yachtchartersingapore.com.sg/ |
| ADDRESS | 11 Floor, Wisma Atria, 435 Orchard Rd, Singapore 238877 |
| CONTACT DETAILS | +65 90723110 |
| OPERATING HOURS | Monday – Friday, 9:00 AM – 11:00 PM |
If you're looking for the best yacht rentals in Singapore that go beyond yacht charters, then The Epicurean State is the perfect option for you. It's a one-stop yacht service provider that also offers event management, yacht management services, and even yacht sales.
More than this, The Epicurean State is also known as one of the best yacht charters in Singapore for luxury fleets. Customers who avail of their services will definitely feel classy and fancy on onboard their luxury yachts.
Above all, The Epicurean State treats their members to a variety of restaurants around Singapore. Members also get to enjoy access and discounts to hotels and lifestyle establishments across the island.
Highlights
Luxury yachts
High-capacity yachts
Membership benefits
Customer Reviews
The Epicurean State has an average rating of 4.9 on Google Reviews. Here are some reviews proving that it's worthy of a spot on our list of the best yacht charters in Singapore: 
Really awesome experience!!! We engaged Epicurean State to get a yacht for my company outing, the whole experience was beyond expectations. The crews and captain were all smiles and friendly, very attentive to our needs and professional yet injecting lots of fun & laughter onboard! The process to engage them is seamless, very responsive and meticulous throughout. We had a few changes and demands , but all catered for and addressed by them right away! We will definitely engage Epicurean again! 
"It was one of the most wonderful experiences, with a group of colleagues it was a great evening. The boat ride was smooth, sunset and fireworks were bonus. The crew members were very humble and helpful. Booking was also seamless, Tara was patient in clarifying all my queries. I surely would recommend it to be tried once and I bet once will not be enough."
4.  Marine Bookings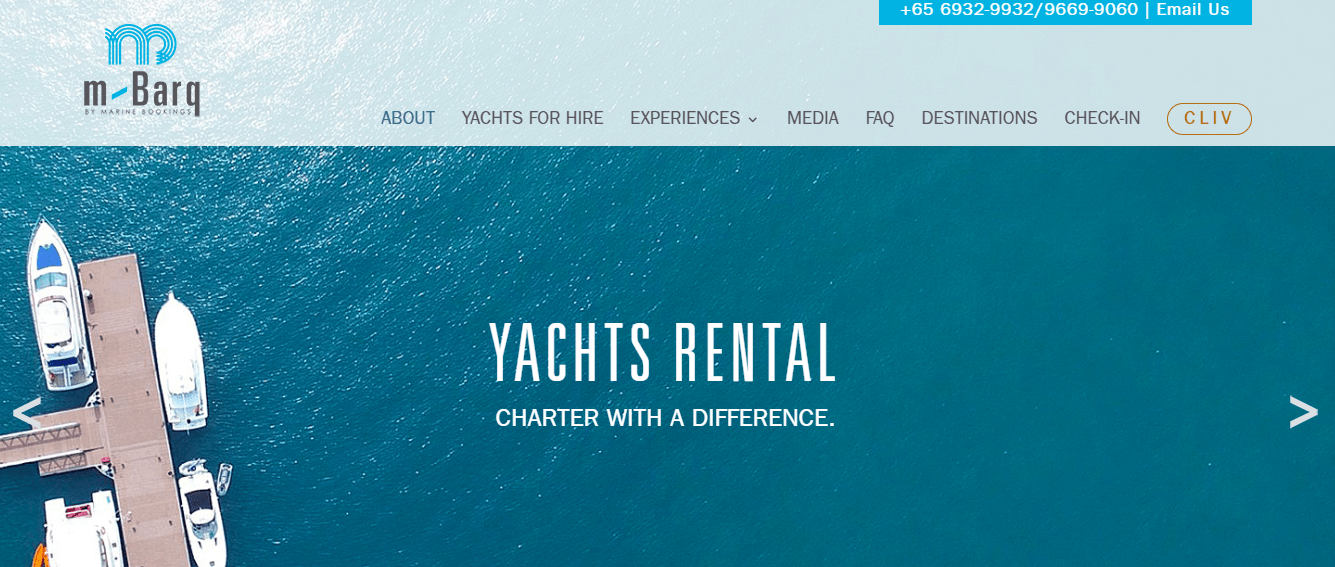 BEST FOR 
Large Fleets
SERVICES
Birthday Parties, Weddings, Corporate Bondings, and Family Gatherings
WEBSITE
http://www.marinebookings.com/
ADDRESS
138 Robinson Rd, #27-03, Singapore 068906
CONTACT DETAILS
+65 6932-9932

9669-9060

OPERATING HOURS
Monday – Friday, 9:30 AM – 6:30 PM
With over 10 years of experience, there's no denying that Marine Bookings remains one of the best yacht rentals in Singapore for its seamless and hassle-free yacht charters. Of course, this wouldn't have been possible without the help of its dedicated captains and professional crew.
It's also the captain and the crew who ensure that customers are having a great time while on board the luxury fleet. What's more, Marine Bookings also has some of the largest fleets out in the market, with a capacity of more than 60 people!
If you have a fleet that can carry more than 60 people, then you'll be able to invite more people to your party. Moreover, their fleets can also be used for overseas adventures and fishing trips.
Highlights
10 years of experience
Large-capacity fleet
Professional captain and crew
Customer Reviews
As one of the best yacht rentals in Singapore, Marine Bookings has received a lot of praise from past customers. Most have noted how professional and approachable everyone on their team is.
"This company has provided us impeccable services! Firstly, the booking of a yacht called Eagle Wings was smooth sailing. The replies they sent were easy to understand and time-efficient which has led to an enjoyable experience with them. Secondly, the crew was very precise and clear about the safety rules and the route for transparency. Thirdly, they are fantastic in their work, no food and time wastage. It was all perfect."
"We had a fantastic experience from beginning to end! The yacht was beautiful and exactly as pictured. We loved sailing to Lazarus Island where we swam and kayaked before heading back to see the Singapore skyline at sunset. It was a truly memorable experience! The staff was phenomenal, friendly, patient with us – thank you!"
5.  Yachtly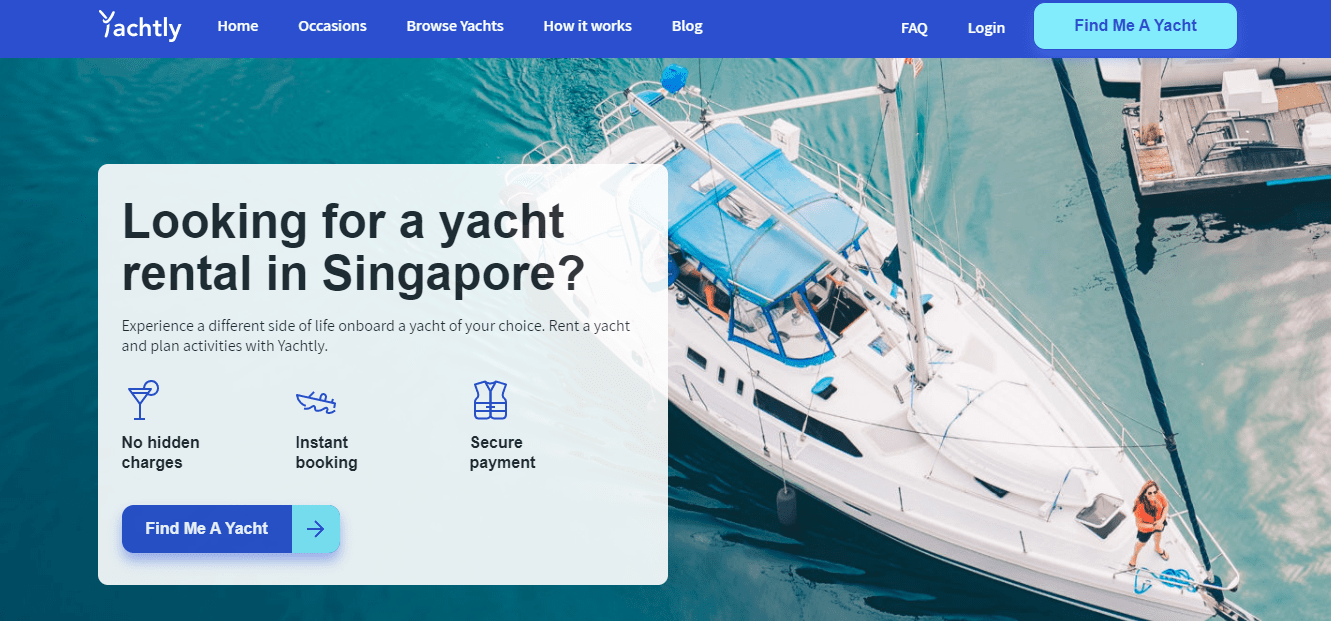 BEST FOR 
Convenient Booking
SERVICES
Family Gatherings, Weddings, and Parties
WEBSITE
https://www.yachtly.com.sg/
ADDRESS
11 Cove Dr, Singapore 098497
CONTACT DETAILS
+65 6932-9932

9669-9060

OPERATING HOURS
Open 24 Hours
Sometimes, even when you've already found the best yacht rentals in Singapore, booking their services becomes a grueling task. Luckily, Yachtly promises that customers won't have a hard time booking their yachts.
In less than 10 minutes, customers can also secure their slots without having to jump through hoops. If other yacht charters will have customers waiting to confirm their slot, Yachtly vows to never make their customers wait a long time
All their luxury yachts are available for weddings and solemnisation, family gatherings, parties, and even corporate functions. On top of theis, their yachts are also open for short adventures overseas if you want to escape the stressful city life.
It also offers 7-day yacht trips overseas if you want to take your vacation to the next level.
Highlights
Affordable rates
Overseas trip packages
Very easy booking
6. The Yacht Club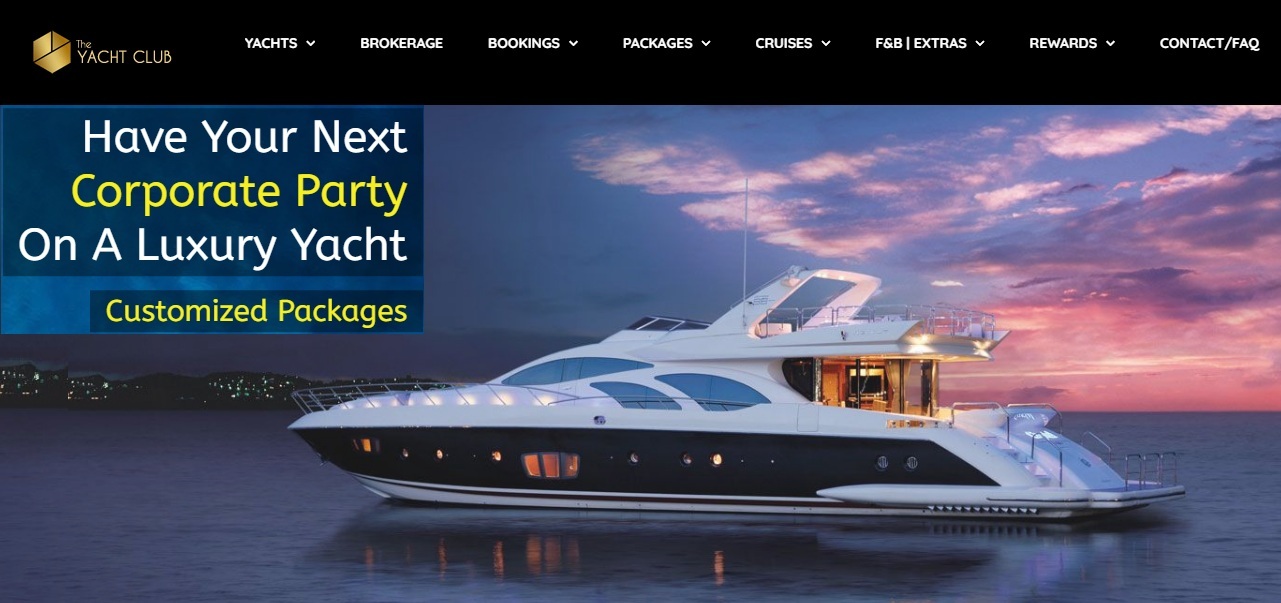 Choose among the wide range of luxurious yacht selection of The Yacht Club and have the most elegant party you and your friends will ever experience.
Their largest yacht has a maximum capacity of up to 55 persons which is perfect if you want to hold a corporate party or personal party. You may even avail their packages that come with food and drinks extras like alcohols and barbeque.
You may also opt to experience a luxurious 2-hour cruise whose prices vary depending on the time and inclusions you prefer.
Highlights
Extensive range of packages
Wide array of yacht options
Corporate and team building activities
7. Yacht Rental by SingExperience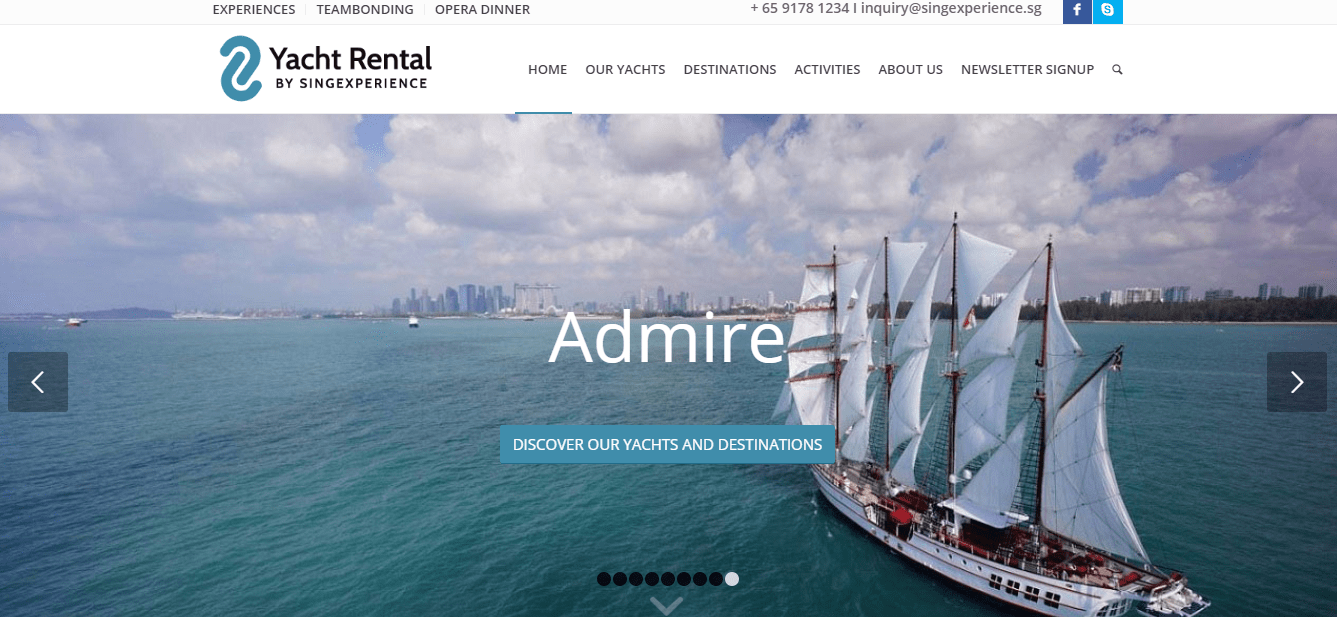 | | |
| --- | --- |
| BEST FOR  | Professional Staff |
| SERVICES | Corporate Events, Family Cruise, BBQ to Southern Islands, Team Bonding, and Yacht Fishing |
| WEBSITE | https://yachtrental.com.sg/ |
| ADDRESS | 4 Greenmead Ave, Singapore 289397 |
| CONTACT DETAILS | +65 9178 1234 |
| OPERATING HOURS | Open 24 Hours |
Considered one of the best yacht rentals in Singapore, Yacht Rental by SingExperience offers a wide range of yachts that customers can choose from. Some of these yachts can handle more than 33 guests, making them ideal for corporate events and celebrations with friends.
Besides large events, their yachts can also be used to explore Singapore's southern islands for no less than a day. If you're in the mood to sail all the way to other countries, then you're free to do so with Yacht Rental by SingExperience!
Customers may sail all the way to Malaysia and Indonesia to explore some of their cities and go back to Singapore feeling more refreshed. You may already avail of their services for as little as $649!
Highlights
Variety of yachts
Overseas destination
Open for fishing trips
Customer Reviews
Here are some reviews left by satisfied customers: 
"Our team really enjoyed ourselves.  I think we would have enjoyed a little more if there was more of a cruise to a few more islands as part of the basic itinerary.  That said, the captain was very accommodating and kudos to him for taking the scenic route back."
"We went to Singapore last May and did a yacht cruise… It was one of our most unforgettable experiences as me and my family had a great time! The crew was friendly and nice… kudos to all the staff of SingExperience, we will definitely be back and charter one of their yachts."
8. Singapore Fishing Charter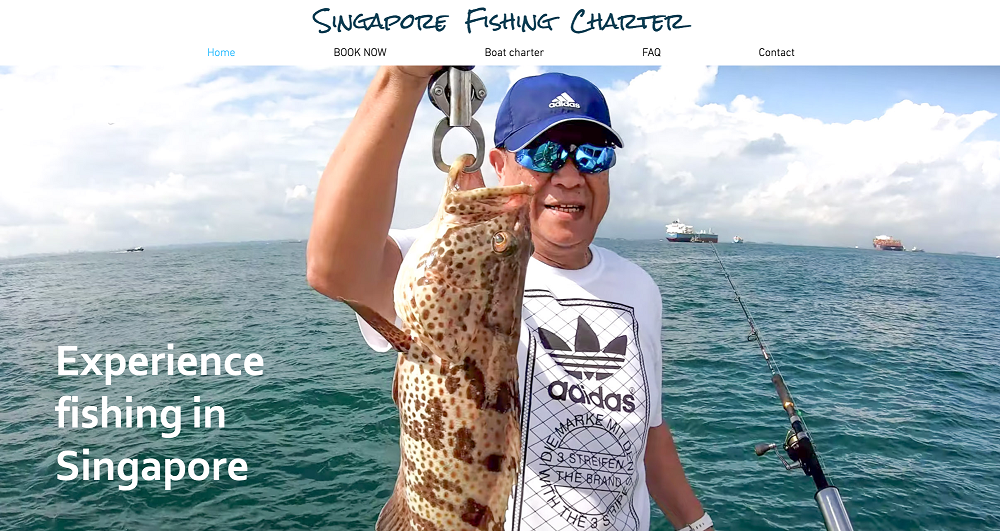 BEST FOR
Fun fishing experience, suitable for beginner and experienced
anglers
SERVICES
 Fishing, Fishing lessons, Island hopping, Social gatherings for family, friends and couples, Corporate events and Team bonding, Catch and Cook (BBQ)
WEBSITE
https://www.singaporefishingcharter.com/
ADDRESS
11 Cove Drive, Sentosa Cove, Singapore 098497
52 West Coast Ferry Road, Singapore 126887
CONTACT DETAILS
+65 8255 5552
[email protected]
OPERATING HOURS
Daily, 8am – 8pm
Singapore Fishing Charter is the go-to operator for fishing trips in Singapore. With a fleet of three specialist fishing yachts, they are one of the most sought-after fishing trip operators in Singapore. Their captains and crew have decades of fishing experience in the local waters.
Whether you are a beginner or experienced at fishing, they will guide and assist you to maximise your chances of catching fish! All their boats are equipped with specialist fishing amenities such as sonar fish finders, live bait wells, fishing gear and bait.
Try out your luck to catch a table-sized fish for dinner! Better still, BBQ your fresh catch at the idyllic Lazarus Island! An adventure awaits!
Highlights
Specialised fishing skipper and crew
Half day, full day and BBQ options
Private charters and Open group trips (individuals share a boat)
Selection of fishing yachts
Customer Reviews
Singapore Fishing Charter's aim is to provide people with a good time out at sea. They take pride in serving over a thousand guests annually. Ranked 4.9 stars on Google reviews and Facebook, and the coveted Angler's Choice award on FishingBooker. 
Here is what some of their happy customers say: 
 'It was our first ever fishing experience and we thoroughly enjoyed it. We were well looked after and coached along the way which made the whole family enjoy it (including our 10 year old daughter!)'
'We had a great day out with the crew. Caught a variety of fish from grouper, bream and a few others of different sizes. Crew were professional, attentive and hospitable to go the extra mile in making our trip a success. BBQ was an added bonus to an already good day on the waters around Singapore.'
'Great day out, Very knowledgeable and helpful crew. All in all a very worthwhile experience and will be back for sure. Loved it. A fantastic way to spend the day out on the water.'
'It was a great trip. I took the family out for a fishing cum swim in the sea (off Lazarus Island) trip. Caught a few Grouper off Southern tip of Singapore, just to allow the kids to experience 1st hand what fishing is all about, followed by heading to Lazarus Island for a plunge into the sea! Kids enjoyed the swim more than everything as I am sure one will agree, swimming in the mother nature is such a wonderful feeling!'
 'Excellent fishing trip! Captain was hard-working and helpful. Great for beginners! Boat is clean and well maintained!'
'I had a great day fishing with Singapore Fishing Charter. The deck hand and captain did a great job putting us on the fish. Darius the deck hand did a great job making sure my day was special. Will definitely return. Thanks guys!'
9. Ximula Sail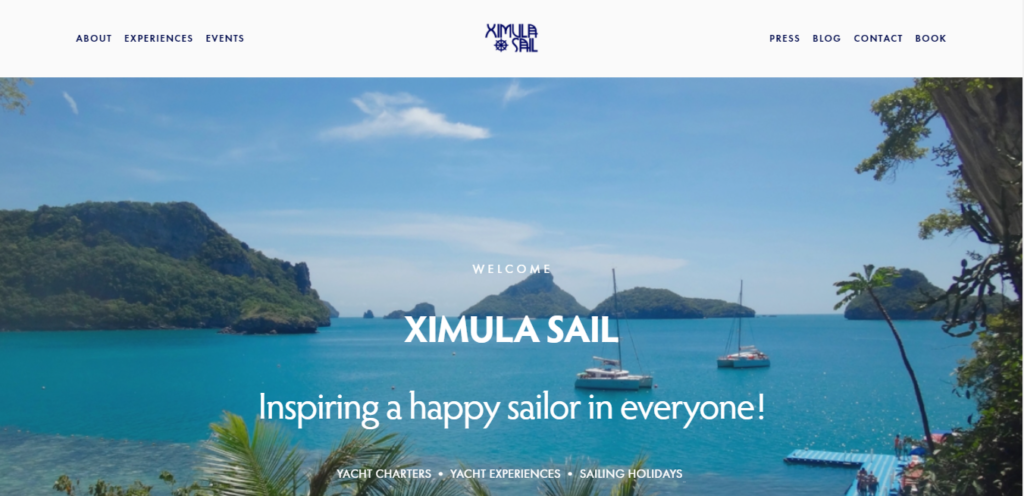 BEST FOR   
Experimental sailing programs
SERVICES
Yacht charters, yacht experiences, sailing holidays
WEBSITE
https://www.ximulasail.com/
ADDRESS
ONE°15 MARINA CLUB, 11 Cove Dr, Sentosa Cove, Singapore 098497
CONTACT DETAILS
+65 8716 1519


[email protected]

OPERATING HOURS
24/7
Ximula Sail believes that one doesn't need to be a sailor to enjoy sailing. This belief translates into the wide variety of services they have to offer, which includes experimental sailing programs.
These sailing programs work to educate and inspire attendees to embody the traits of a sailor – such as being appreciative of nature, agility, and a positive attitude. Their expert and friendly staff endeavours to provide a fun and hassle-free experience to guests, starting from pre- to onboard to post- charter.
Aside from the experimental sailing programs, Ximula Sail also caters to private events and parties. Large groups can make use of the space to enjoy nature, all the while holding special events.
Add-ons are all offered. Thus, you can add event photography, catering, party decorations, sports accessories, and toys to your package.
Highlights
Sailing programs teach the ways and attitude of sailors
Hospitable and knowledgeable staff
Excellent customer service
Customer Reviews
Here are customer reviews to tell you about what you can experience should you choose Ximula Sail:
"We had an absolutely wonderful times on board the Ximula. The boat is fabulous, and the crew (Victor and Faris) were wonderful. They were experienced, professional and engaged in a relaxed and extremely friendly way with everyone in our family, including our 7 and 10 year old kids. The cabins were very comfortable and food delicious. I cannot recommend this company highly enough."
"We had an great day on Gracefully with Shawn and his crew – the yacht is beautiful and they really went over and above to ensure we had a good time. The boat comes with a kayak, paddle board, large float and ice box. Overall a fantastic experience, would highly recommend"
10. BOB Marine
BEST FOR
Yacht experience
SERVICES
Corporate

Family

Party

Wedding
WEBSITE
https://bobmarine.com.sg/
ADDRESS
Bobmarine Pte Ltd
114 Lavender Street, #03-59
CT Hub 2, Singapore 338729
CONTACT DETAILS
[email protected]/65 9104 2626/65 6281 0285
OPERATING HOURS
 
Band of Brothers love to share their remarkable yacht experience with friends, and families. B.O.B Marine team is like family.
They focus on human first, and business later. They urge their beloved guests to bring their entire family on their yacht to satisfy everyone's expectations.
The young can explore the waters and islands while the elderly can sit back, relax, enjoy the food and the sea. With their premier services, a Private yacht party rental can be made affordable.
Highlights
Fun boat experience
Private yacht services
Luxury party and event place
Customer Reviews
Here are some feedback left by previous clients:
"We had a wonderful birthday celebration on board with the nice and friendly captain & funny "PAPA" crew who filled us with laughters throughout the whole 4 hours out in the sea! Highly recommend them for small group events! Thumbs up!"

"Had one of the best experiences with Bob Marine! Great for family bonding and events."

"It was my first experience being up in the yacht. Thank you Bob Marine Yacht Charter for bringing me onto this experience. Their yacht is very spacious and they have all the facilities needed when you are up on the yacht."
11. Marina at Keppel Bay 
Situated at the necklace of Singapore's premier entertainment, Marina at Keppel Bay outshines retail hubs like Resorts World Sentosa and VivoCity. It is known as the crown jewel of the island's southern shores.
Developed as a world-class berthing dock, international luxury yachts, historic and privately owned Keppel Island becomes a worthy entrance to Singapore's most exclusive venues and indulgent living. With an expansive dining catalogue, it aims to satiate the most discerning tastebuds.
Charter yacht fleets love offering a slice of the affluent lifestyle. With this, Marina at Keppel Bay is one of the most sought-after waterfront lifestyle experiences in Singapore's vibrant cultural landscape.
Highlights
Amazing view
Luxury services
Good for special events and occasions
12. The Boat Shop Asia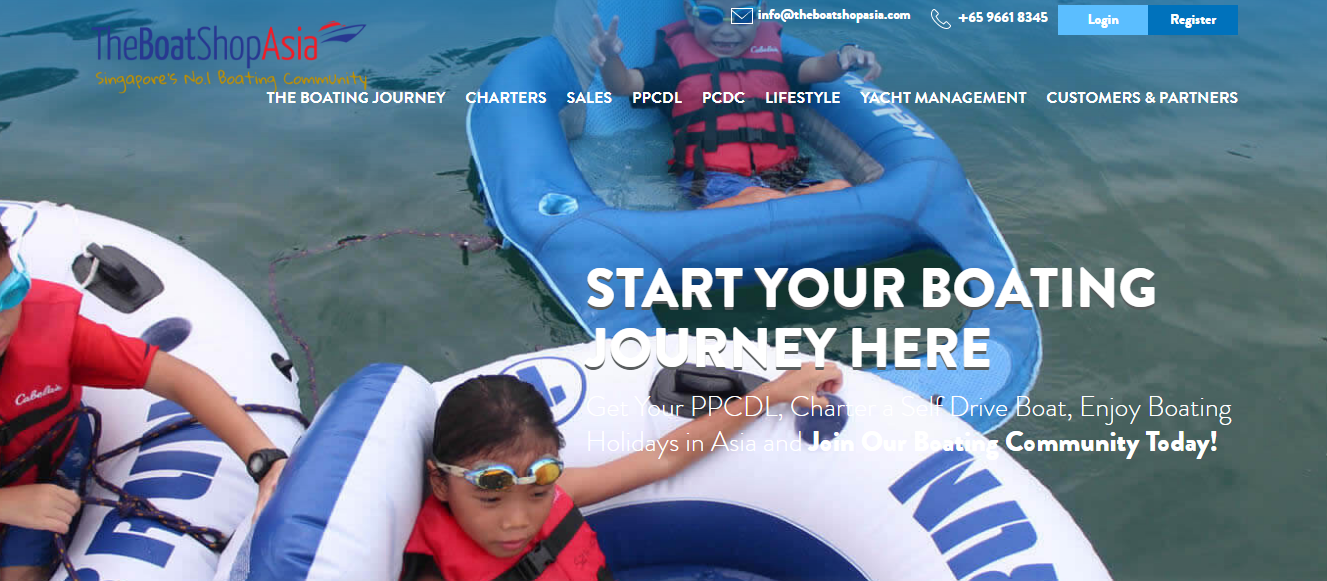 TheBoatShopAsia's vision is to introduce boating to the regular guys. The team continues to uphold this by making it affordable, thereby allowing anyone to live out our boating lifestyle.
Through a collaborative boating community, TheBoatShopAsia is created. Starting out in 2013 with 2 charter boats, they now have a fleet of over 100 yachts in multiple countries.
They continue to collaborate and build a good community with various boat owners, charterers, and sponsors. They also are in business with the best event organizers, attendees, cleaners, skippers & crew, maintenance and retailers as part of this community.
Highlights
Yacht rentals
Boat services
Events on charter boats and yachts
Customer Reviews
Here are some feedback left by previous clients:
"I highly recommend. The curriculum is all digitalised and accessible, making it easy for me to learn and revise. The instructors are highly knowledgeable and experienced. I passed both my theory and practical test on my first attempt.
Maj Lim really helped me a lot with my practical and oral test. Under his superb guidance, he made sure that the testers would not be able to find any fault with my practical and oral answers. I believe that no one else could do a better job at guiding me other than Maj Lim."

"I just passed my practical test with refresher with Mr. Lim. He is a very knowledgeable and patient coach. The way he taught about the moving out, MOB and berthing is very useful and simple to remember. I passed the test with zero mistake."
13. ONE°15 Marina Sentosa Cove
BEST FOR
Marina and Leisure
SERVICES
Marina facilities, hotel accommodations, club amenities
WEBSITE
https://one15marina.com
ADDRESS
#01-01, 11 Cove Drive, Sentosa Cove, Singapore 098497
CONTACT DETAILS
+65 6305 6988
[email protected]
OPERATING HOURS
Always Open
ONE°15 Marina Sentosa Cove is one of the best waterfront destinations in Singapore. They offer high-quality services, as well as comprehensive and varied club amenities.
Their yacht rental services are a cut above the rest, with both dry and wet berths available for rental. Each one is carefully and painstakingly maintained by their staff. Any yacht you rent from them is sure to be the best.
Highlights
Wide range of amenities
Excellent facilities
Top-notch services
Outstanding Hospitality Award awardee
14. Yacht Charter Singapore by SingExperience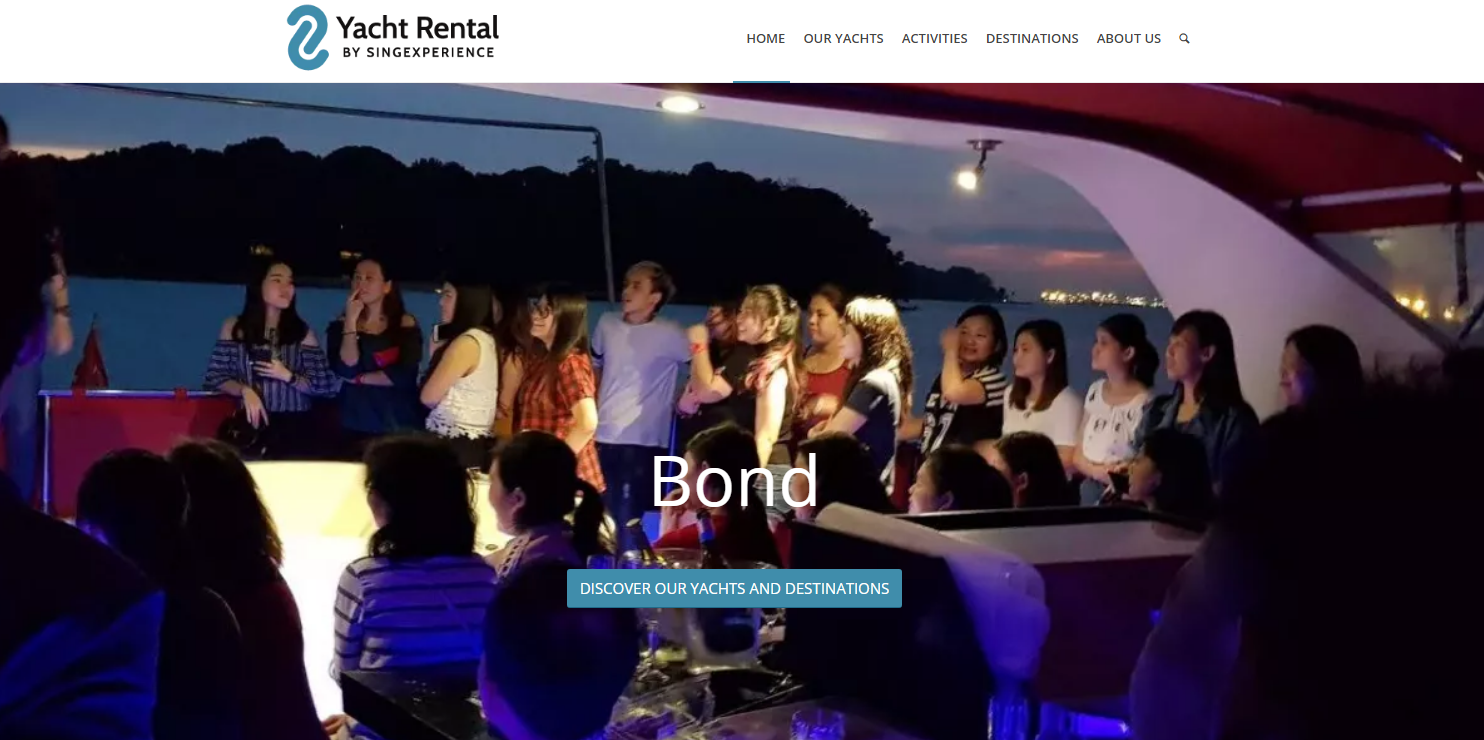 SingExperience is one of the leading experience providers in Singapore. Their services are often custom-tailored to ensure that clients have the best time all the while seeing what hidden gems Singapore has to offer.
One of the activities SingExperience has to offer ties in with their Yacht Charter. Here, one will find a large fleet of yachts to choose from, ranging in function, time spent in the yacht, and the number of people it can accommodate. 
Aside from the yacht choices it offers, Yacht Charter by SingExperience is also known for the activities that one can do on deck. These activities include corporate events, cruise with family and friends, boat fishing, and even BBQ to the Southern Islands.
Clients can also experience the majestic Sentosa Sunset with the help of this yacht charter. 
Highlights
Custom caterings offered
Various yacht types available
Destinations include Southern Islands, Batam, Bintan, Nikoi Island, and Tioman Island
15. Infinity Sails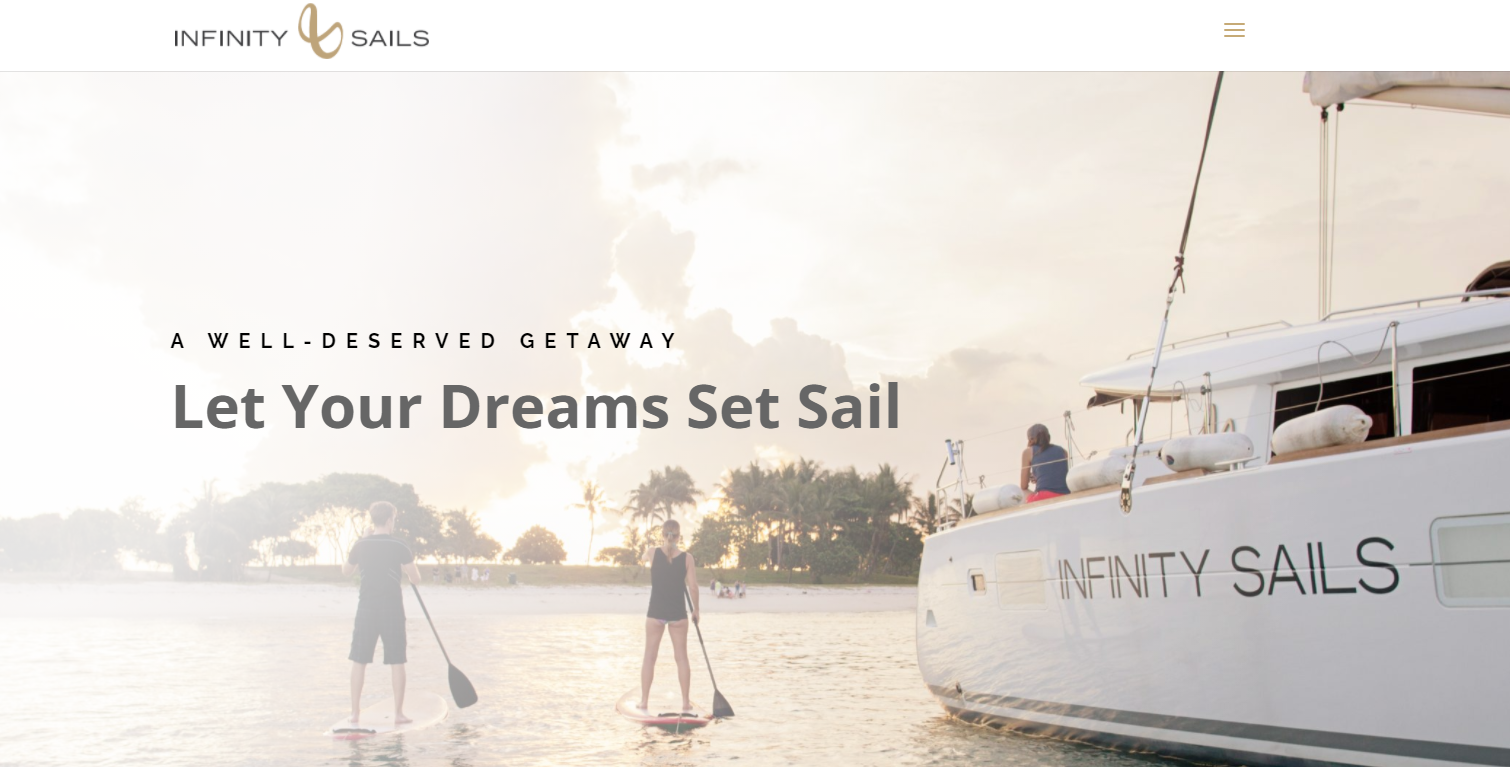 | | |
| --- | --- |
| BEST FOR | Wide range of Yacht choices |
| SERVICES | Rates |
| WEBSITE | https://infinitysails.com |
| ADDRESS | 11 Cove Drive, #01-01, Sentosa Cove, Singapore 098497 |
| CONTACT DETAILS | |
| OPERATING HOURS | Contact for more information |
For a luxurious yacht experience in the southern waters of Singapore and neighbouring islands, we recommend Infinity Sails.
Infinity Sails strives to provide its clients with a personalised customer experience of maritime flair. Their charter yacht comes with two fully air-conditioned double cabins, one master cabin with maximised space and privacy and a huge saloon, as well as two large bathrooms, each one with separate shower.
For daytime trips, Infinity Sails can accommodate up to 18 guests, and up to 8 guests for overnight trips. Moreover, the yacht comes with highly professional, experienced crew members who will ensure that clients are well treated and taken care of during the duration of their trips.
It's worth noting that the rates for the daytime and overnight trips vary depending on the days of the week. Infinity Sails, for convenience, neatly details their current rates on their website alongside the terms and conditions. 
Highlights
Daytime and overnight trips available
Different rates for different days of the week
Yacht rental comes with help of experienced crew 
Here are some comments left by customers who went through the SingExperience:
"My family and I took the Sunset Cruise to Lazarus Island last week. To be honest, we were not sure what to expect and to our surprise, we got more than what was expected. It was fun and relaxing and the service from the booking to the return to the Marina was fantastic.The sceneries, from the beginning of the cruise till the return,were so beautiful and memorable. We had great fun swimming, catching fish, strolling, collecting seashells, etc,etc . The BBQ was more than expected, great diversity: Satay, King Prawns, Chicken wings, Squids, meshmelllows, etc,etc…each being perfectly cooked . I discovered the Southern Islands, so close, yet mysterious. A great way to spend an evening with family, friends and love ones. I would strongly recommend to anyone who wants to experience something "different" . Double thumps up to SingExperience.Thank You SingExperience."

"Great cruise to Singapore's southern island. Best value for money in my view. Booking was fast and easy, service very friendly. The boat is a nice Grandbanks, very well maintained, and the BBQ on board very cool. A great evening spent with friends that I happily recommend."

And that it's for our list of the best yacht rentals in Singapore! Fulfill your dreams of being on a yacht by availing of the services of these reliable and professional yacht charters.
If you know other yacht rentals that provide quality services, then tell us their names and we'll definitely add them to our list!
By the way, if you're looking for transportation services on land instead, then we suggest that you read our list of the best limousine services in Singapore. Say goodbye to the stress of commuting and driving if you've got a chauffeur to drive a fancy car for you!