15 Secret Cuddle Spots in Singapore
If you have a significant other, it might be hard to take your hands off them most of the time. You may want to know some of the best secret cuddle spots in Singapore.
We're ready to spill the beans on where you can snuggle with that special someone when the mood hits. Are you ready?
Where can I cuddle in SG?
Like any other place, Singapore has nooks and crannies that allow lovers to engage in some touchy-feelies. But due to conservative societal factors, we're featuring a list of spots that (hopefully) won't offend other people's sense of decorum and propriety.
Best Make-Out Spots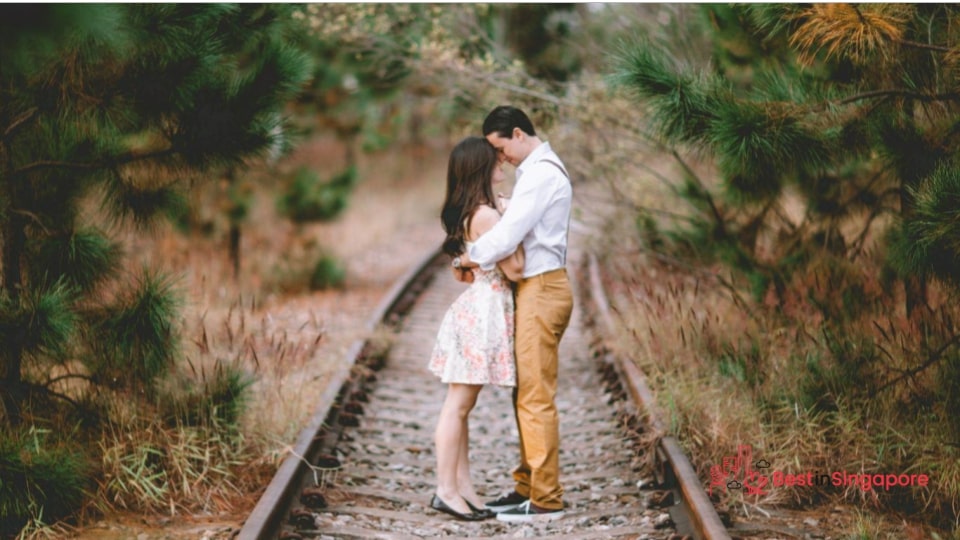 Can you make out in public in Singapore? While there are no hard and fast laws against it (more on this at the end of the post), you may want to take your smooching somewhere more private.
With that in mind, here are some great date ideas—with a discreet side of make-out.
1. Siloso Beach (During the Magical Shores Light Show)
Location: Sentosa Island, Singapore, Singapore
How to get there: Take the Harbourfront MRT, the Sentosa Express MRT, or the 123 Bus
Smoochy suggestion: It's an interactive multi-sensory show based on people's movements, so your make-out session might even influence it!
Want some magic with your make-out moments? Then hit the beach at Sentosa—specifically at Siloso Beach where the Magical Shores light show happens nightly.
The show starts at 7:30 PM and runs until 10:30 so there's plenty of time to enjoy how the beach is transformed by music, lights, and fog. And it's interactive, so you can move around as you like to affect the display.
In the middle of it, you have a choice to appreciate it all or spend a bit of the show to make out with your beloved. One thing's for sure—nothing else can hold a candle to your backdrop.
2. Fort Canning Staircase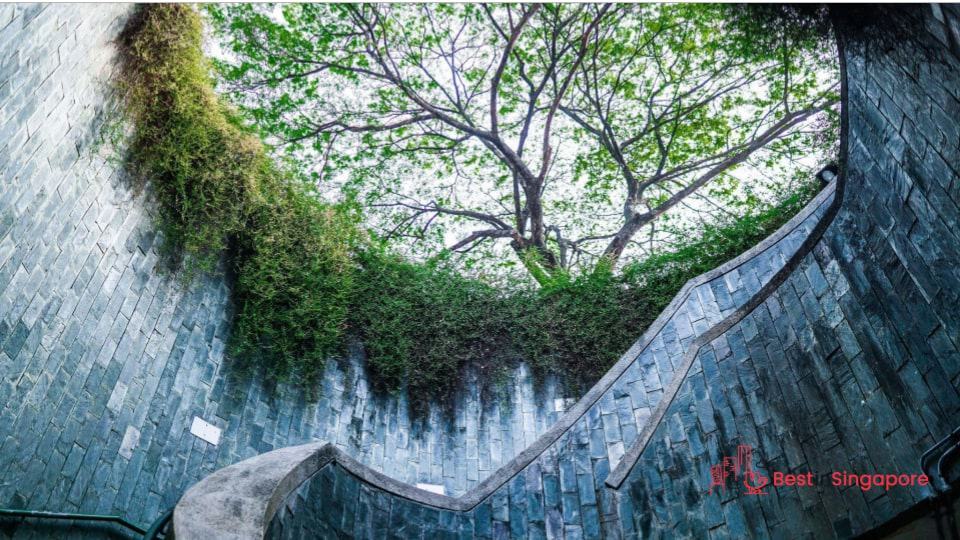 Location: River Valley Rd, Singapore 179037
How to get there: Take the Dhoby Ghaut MRT or the 143, 147, 33, or 51 Bus
Smoochy suggestion: Pack some mosquito repellent to ward off (unwanted) bites.
A favourite among wedding photographers, the Fort Canning staircase presents a dramatic and secluded nook that's appealing to lovers. Many prenuptial and wedding shoots have been staged on its gently winding steps and bannisters.
It also leads up to the Fort Canning Tree Tunnel which presents a gorgeously lush vista for anyone visiting. The treetops form a canopy that temptingly beckons when viewed from below the staircase.
It's a popular spot for selfies and fashion shoots, though. So pick a day when it's not so crowded and enjoy the silence with your sweetheart.
3. Henderson Waves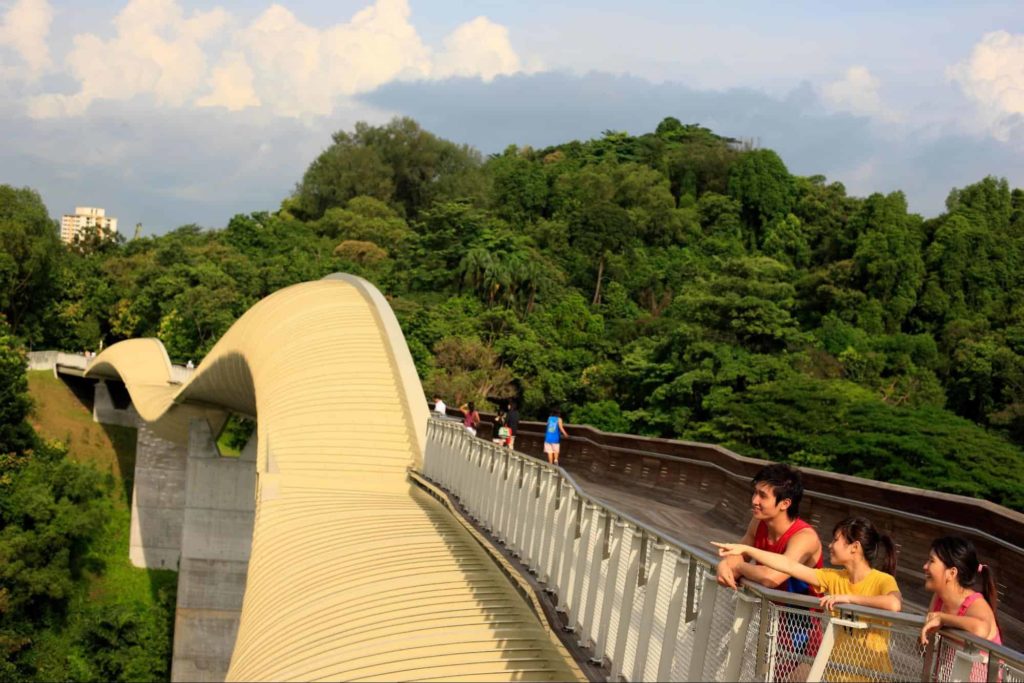 Location: Henderson Road, Singapore
How to get there: Take the Redhill MRT or the 131, 145, or 176 Bus
Smoochy suggestion: The bridge gets all lit up between 7 PM and 2 AM, so time your romantic excursion accordingly.
With its undulating structure and surrounding lush forests, Henderson Waves has become a premier make-out spot in Singapore. And it gets even dreamier at dusk so get ready to pucker up then.
This highest pedestrian bridge in the county is the ideal place to catch your breath after a hike on the Southern Ridges. And because it's a great spot for watching sunsets and appreciating the view, you can expect a lot of courting couples to be here, as well.
Who knows—you might even pick up an idea or two on how Singaporeans flirt just by observing them.
4. Roof Terrace at the Esplanade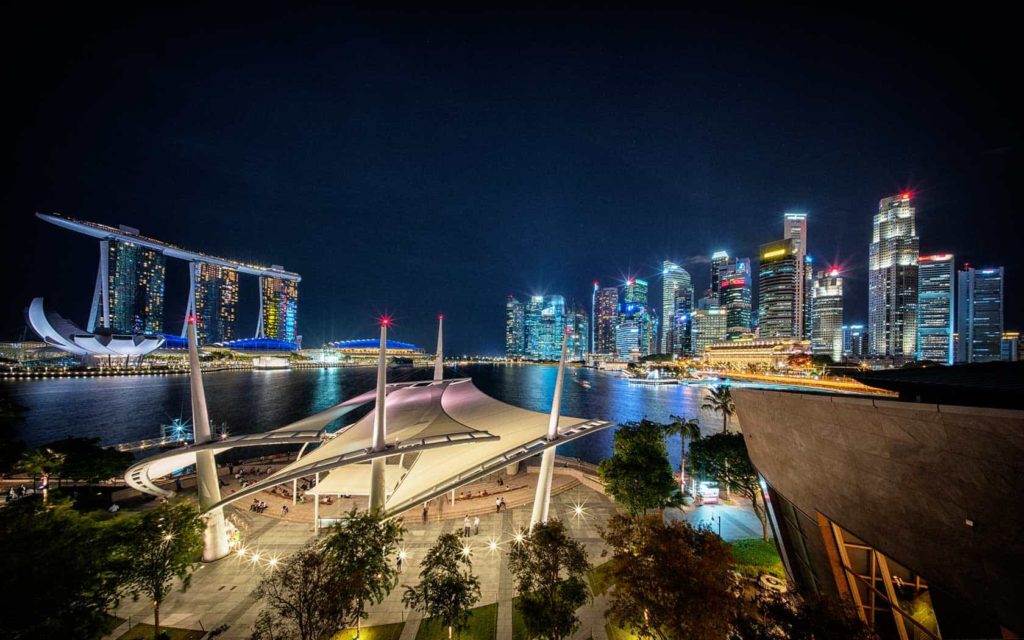 Location: 1 Esplanade Drive, Singapore 03898
How to get there: Take the Esplanade MRT or the 10, 57, 70, 128, 162, 196, 531, 652, 656, 660, 700, 850E, 868, 951E, or 971E Bus
Smoochy suggestion: The picturesque backdrop is perfect for some sweet snuggly selfies.
Singapore is so carefully curated and laid out that it hardly presents a bad angle when viewed from above. So if you want your make-out session preceded by a great bird's eye view, consider the Roof Terrace at Esplanade.
It's usually the spot for product launches and corporate events because it presents an awesome view of the skyline. But if none of those things is scheduled to happen, it can become the ultimate snuggle spot for you.
There's also an art trail on the premises—just in case you want to come up for air and feast your eyes on aesthetic things.
5. Jurong Lake Gardens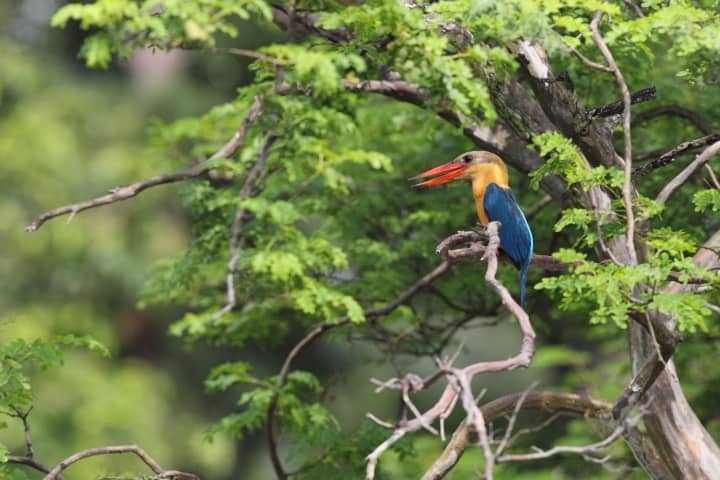 Location: 104 Yuan Ching Road S 618665
How to get there: Take the Lakeside MRT or the 49 or 145 Bus
Smoochy suggestion: Exotic birds are known to frequent the place, so bring a trusty pair of binoculars with you.
With 90 hectares of flora and fauna as a witness, you can smooch and embrace to your heart's content at Jurong Lake Gardens. Add some birdsong and a refreshing breeze, and you can freeze-frame the moment to add to your cherished memories as a couple.
This national garden is carefully tended and features several charming gardens on its premises. You can explore the Chinese and Japanese Gardens or check out the beautifully landscaped promenade while you're there.
The place is also a favourite among yoga enthusiasts to do their sessions, so be mindful of them and other visitors, as well.
Most Romantic Places to Kiss in Singapore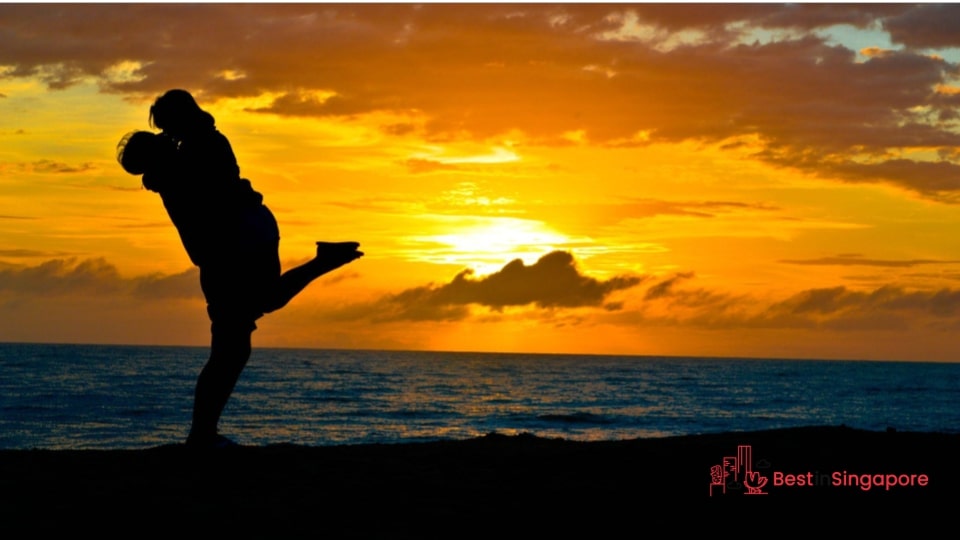 They say you can burn two to three calories per minute when you engage in a simple liplock with someone—and up to 26 calories per minute during a serious smoochfest!
While that doesn't beat the calories burned during a good kickboxing workout, you might still find yourself asking: "Where can I kiss in Singapore?" Lucky for you, we've got some great suggestions.
6. Amber Beacon Tower East Coast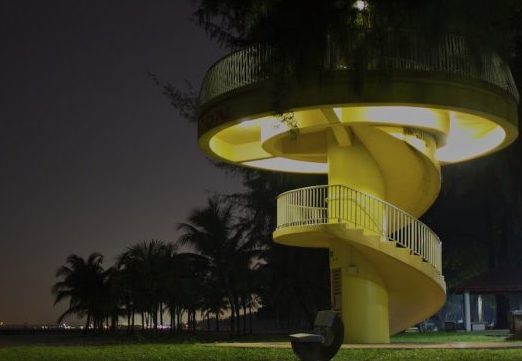 Location: 920 East Coast Parkway, Singapore 449875
How to get there: Take the 16, 196, 36, 48, or 966 Bus, or the Circle Line
Smoochy suggestion: Want some scare factor to go with your snogging session? Then look up some urban legends surrounding this tower before you go.
It's got spiral stairs, it's elevated, and it's away from prying eyes. It's also one of the most haunted places in Singapore—at least according to urban legends.
The Amber Beacon Tower has a mysterious and newsworthy background involving a deadly attack on a dating couple back in 1990. It's become a closed murder case that resulted in numerous ghost stories and alleged paranormal activities.
But because it's in such a secluded place, the tower has remained a favourite meeting spot among lovers who want to be intimate in private.
So if you're brave and curious, consider clandestinely meeting your lover here at night (we double-dare you!).
7. Singapore Flyer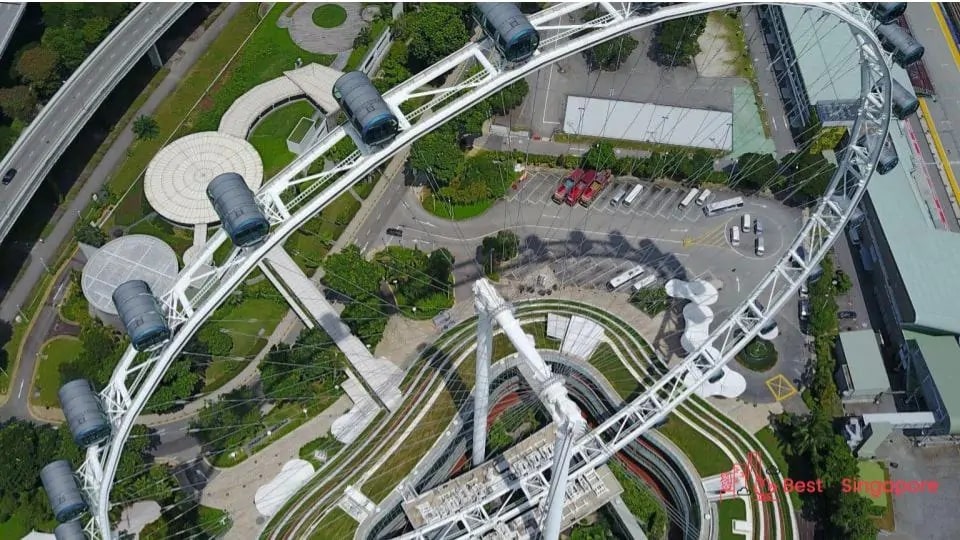 Location: 30 Raffles Avenue, Singapore 039803
How to get there: Take the Promenade MRT and follow pedestrian signs leading to the Flyer
Smoochy suggestion: Make sure neither of you is afraid of heights so you won't spoil the mood.
What could be more private than being 165 metres up in the air in a passenger capsule attached to a giant observation wheel? If that visual makes you swoon instead of throwing up, then the Singapore Flyer might be the ideal kissing location for you.
You can see the entire city laid out beneath you while you hold hands, cuddle, and smooch. Think of it as getting two of the best views in Singapore—your significant other and practically the whole island.
Oh, and one rotation of the Singapore Flyer takes around half an hour. We reckon that's more than enough time to get as many smacks, kisses, and smooches in and away from prying eyes.
8. Marina Barrage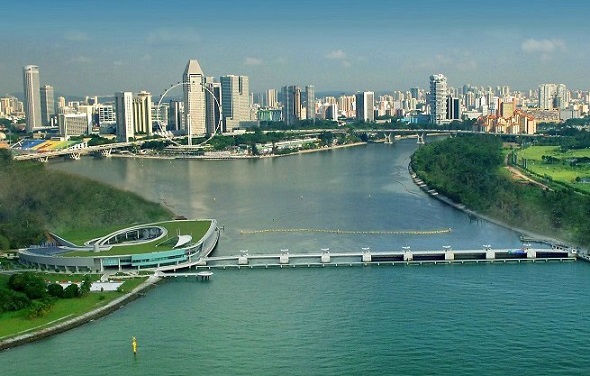 Location: 8 Marina Gardens Drive Marina Barrage Singapore 018951
How to get there: Take the Marina Bay MRT or the 400 service bus
Smoochy suggestion: The view is quite spectacular at night when the city gets all lit up.
To those who don't regard Marina Barrage as one of the most romantic places to visit for couples in Singapore, you might have another think coming.
For starters, it presents one of the most aesthetic sunset scenes in the country. The way the sun's rays hit the water can put anyone in a romantic, kissing mood.
For another, once the cityscape gets lit up and the breeze picks up, there's nothing more majestic nor more intimate than that moment. The Marina Barrage is open 24/7, too, so you can even have a midnight picnic there if you want.
9. Raffles Marina Lighthouse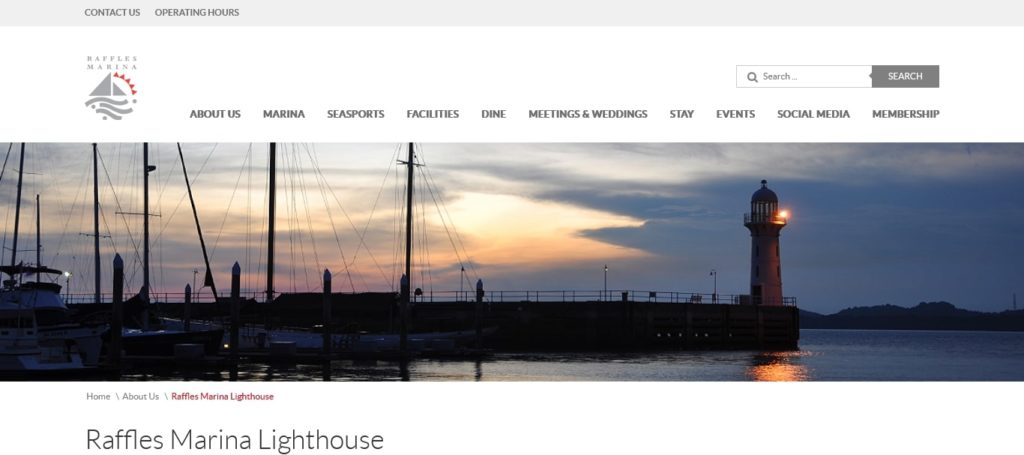 Location: 10 Tuas West Drive, Singapore 638404
How to get there: Take the Tuas Link MRT or the 182, 182M, 192, or 193 Bus
Smoochy suggestion: It's also a great scene for a marriage proposal—just saying!
If you want truly hidden spots for a smoochfest, we recommend the Raffles Marina Lighthouse. Found at the end of a short pier, there's ample time for the swoon factor to build up before you reach the lighthouse itself.
Its beacon is not just a whimsical touch to your date, though. It flashes every ten seconds to light up the entire city and assure everyone that everything's fine.
So if you aren't easily distracted by a flashing beacon light and find the waters calming and romantic, make plans to visit the Raffles Marina Lighthouse. It's definitely a liplock-worthy place.
10. Hotel NuVe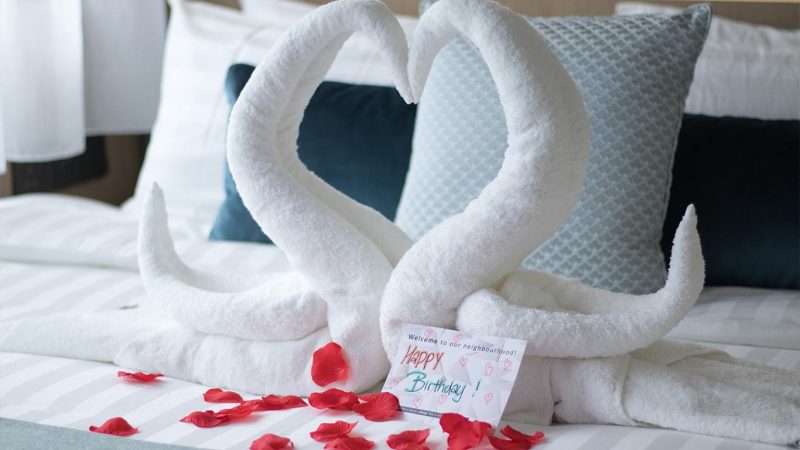 Location: 9A-13 Jalan Pinang, Singapore, 199141, Singapore
How to get there: Take the Tanah Merah MRT or the 133, 197, 33, 61, or 857 Bus
Smoochy suggestion: The hotel has staycation promotions if you want to extend your snuggle sessions a bit more.
Are you the practical as well as sentimental kind? Then you might want to consider some of the best hourly rate hotels in Singapore for your next date.
The Hotel NuVe allows you to do all the kissing, cuddling, hugging, and other things that come with intimacy in an affordable, private, comfortable, air-conditioned setting. There's also a current staycation promo if you don't feel like checking out right away.
The hotel does special decorations for free if you have an anniversary or special occasion coming up.
Plus, it's close to many major attractions if you and your beloved feel like stepping out and doing some PDA elsewhere.
Top Places for Couples to Cuddle in Singapore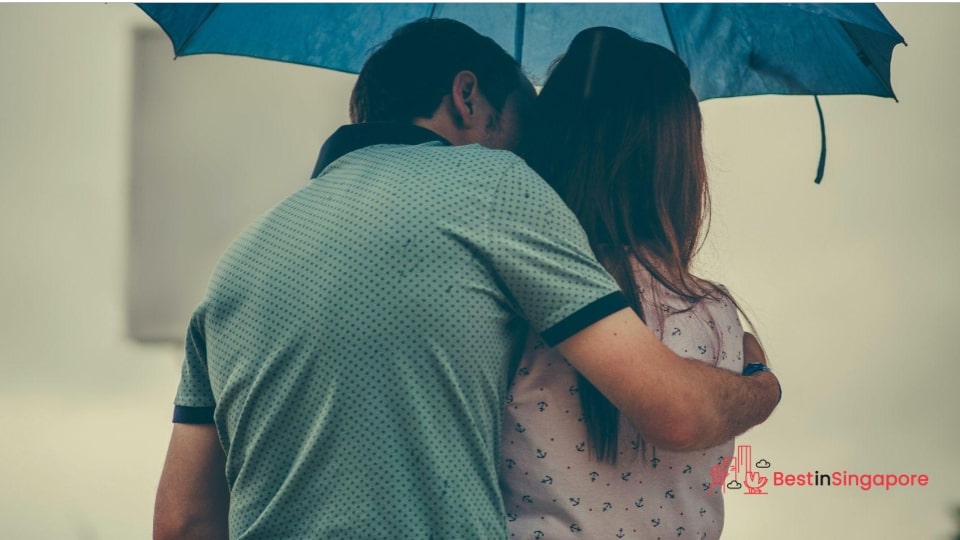 Tired of cuddling with your favourite pillows and aching to put your arms around your special someone instead? For this section, we rounded up some nooks and crannies where you can hug it out for hours.
11. Timbre X SEA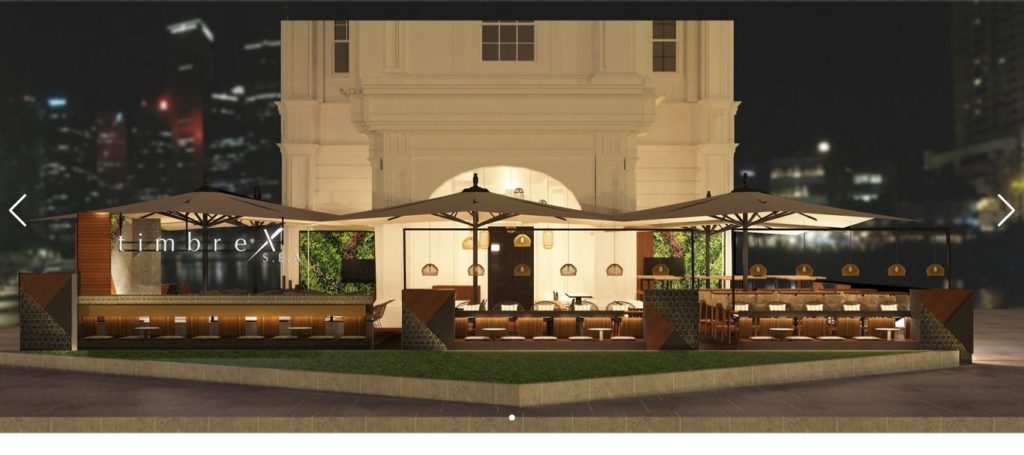 Location: 1 Old Parliament Lane, #01-04 The Arts House, Singapore 179429
How to get there: Take the Raffles Place MRT
Smoochy suggestion: Reservations are required here, so choose a schedule to cuddle the night away to live music.
Cuddling during a live music event comes naturally to most couples. After all, who can blame you for getting carried away by the soothing sounds?
Timbre X SEA is an intimate venue for live music that also serves up choice beverages and an imaginative food menu. Located at a beautifully restored historical building, the mood is immediately set to romantic once you step foot on the premises.
You can also request to dedicate a song to your beloved, along with a sweet message to be read out loud by the musicians.
And if he or she rewards you with a sweet kiss and a cuddle during or afterwards—well, mission accomplished, right?
12. MacRitchie Reservoir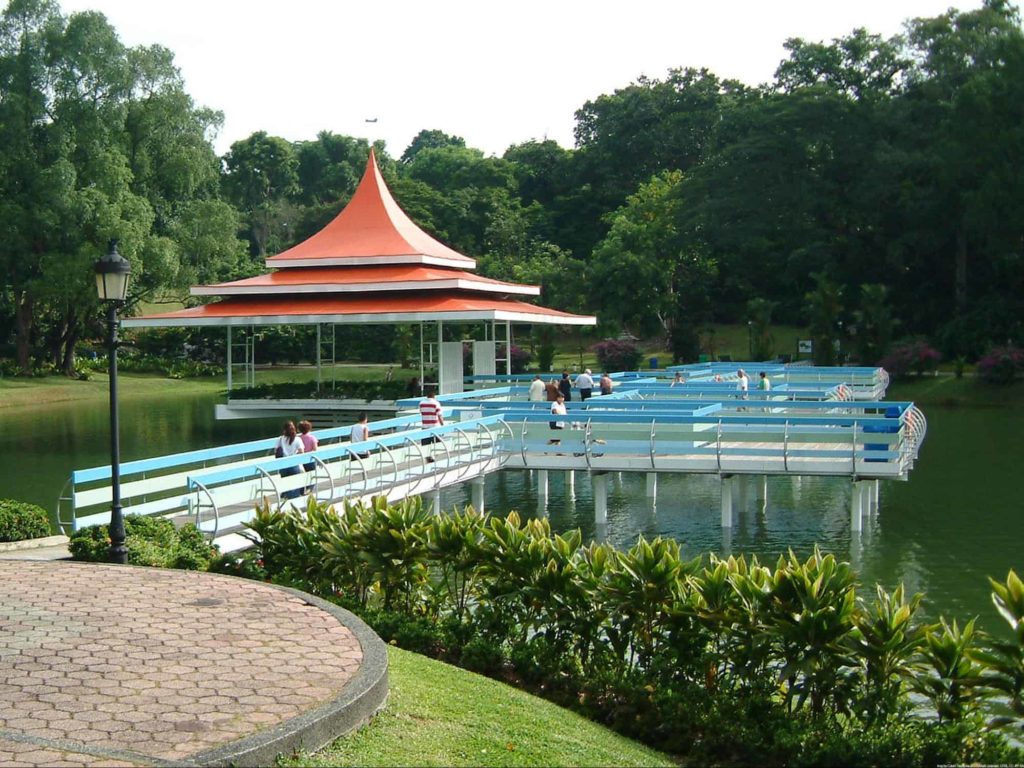 Location: 601 Island Club Road (Located close to Singapore Island Country Club, via Venus Drive)
How to get there: Take the Caldecott MRT or the 52, 74, 130, 132, 165, 166, or 167 Bus
Smoochy suggestion: As tempting as cuddling during sunrise and after sunset sounds, the park is open only from 7 AM to 7 PM.
It's not just one of the quietest places to smooch and snuggle in. MacRitchie Reservoir is also on our list of the best sunset spots in Singapore just in case you want to add a magical golden hour layer to your date.
If you're the athletic type, you can schedule a bit of a hike on the Treetop Walk along the McRitchie Nature trail. Just be sure to wear comfy hiking boots or running shoes to prevent blisters.
A note of caution: it does get dark really fast around the forested areas. This could either be exhilarating or scary for you and your partner, but arm yourself with a flashlight just to be safe.
13. Labrador Park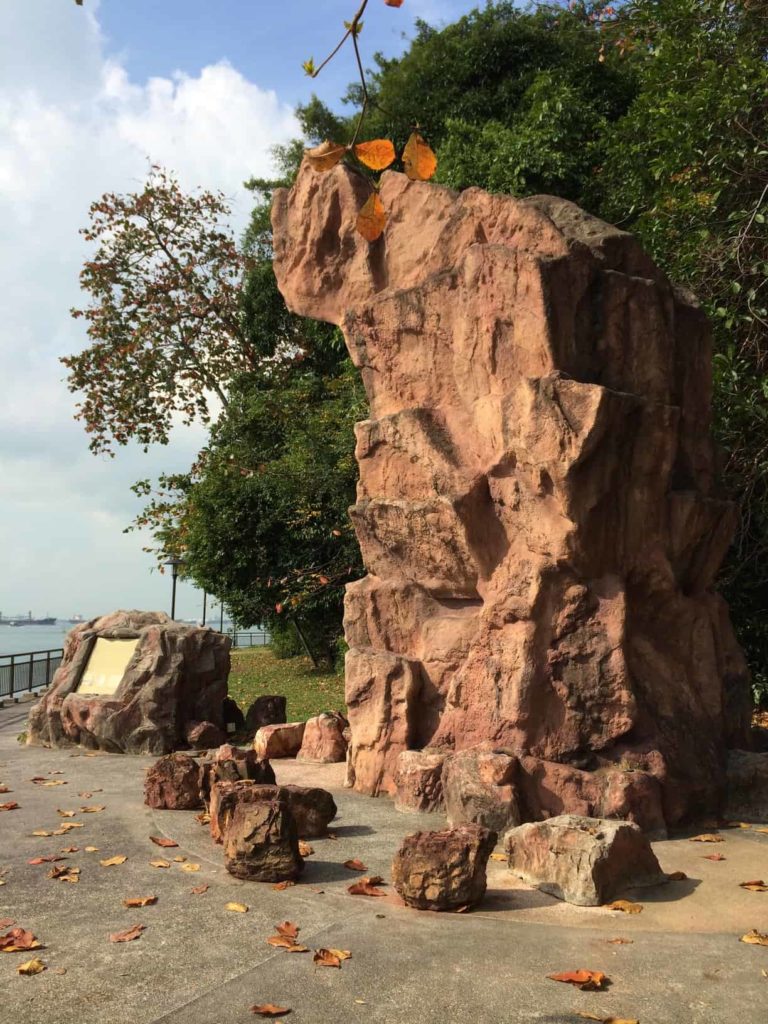 Location: Along Labrador Villa Road
How to get there: Take the Labrador Park MRT or the 10, 30, 51, 143 or 176 Bus
Smoochy suggestion: Look for areas that aren't as brightly lit as the rest (well, duh!).
In our essential Singapore park guide, Labrador Park is considered to be one of the most secluded. It's constructed around a forested area and gives visitors a stunning view of the cliffside and tranquil waters.
It's part of the Southern ridges, too, so you can expect a bit of wildlife to come flying or scurrying past. For us, that adds a layer of excitement even when cuddling is the main part of the day.
The coast is well-lit for safety, so you might want to avoid that part if you're feeling extra naughty. But there are plenty of dimly lit areas if you're craving privacy, so be on the lookout for them.
14. Pulau Ubin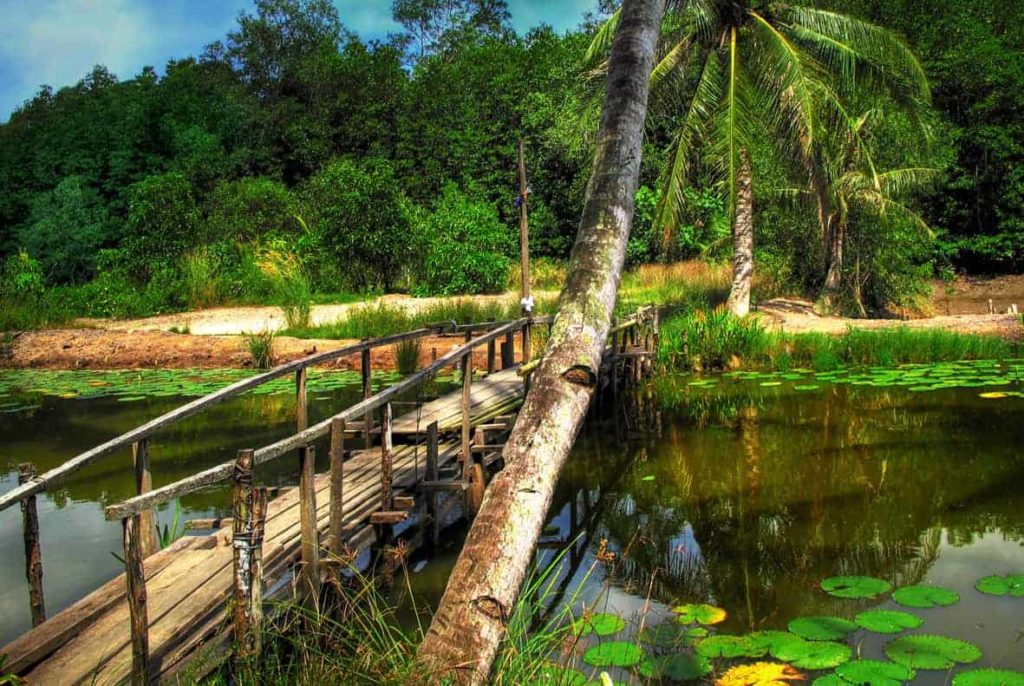 Location: Off the north-eastern corner of mainland Singapore
How to get there: Take a 15-minute bumboat ride from Changi Point Ferry Terminal
Smoochy suggestion: Check out the weather first before heading out to the island, unless you want to get stranded.
A date aboard a yacht is idyllic, but you might want to berth somewhere so you can walk around and find a cuddle spot. Pulau Ubin is a delightful island to do so while inviting an intimate exploration of its rustic charms.
It's an unconventional yet logical spot to spend significant time cuddling. After all, it's practically uninhabited, so you can do some serious canoodling when you're there.
If you do have to go by bumboat and not your own or rented vessel, be mindful of the time.
Rented boats go to Pulau Ubin between 7 AM and 7 PM but don't have a set schedule since they set out as soon as enough passengers are onboard.
15. Bukit Timah Hill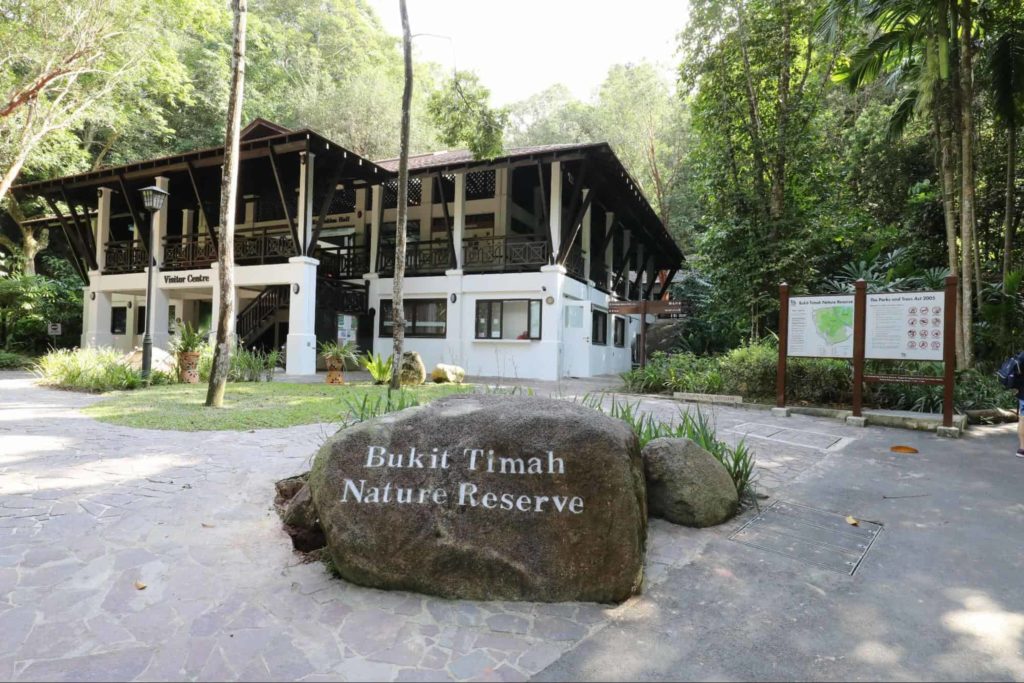 Location: Hindhede Dr, Singapore 589318, near the geographic centre of Singapore
How to get there: Take the Beauty World MRT or the 67, 75, 170, 171, 184, 852, or 961 Bus
Smoochy suggestion: You'll need to head out of the nature reserve before 7 PM.
Singapore's highest hill also has one of the most popular hiking trails. So if you and your loved one like a bit of adventure to go with your steal-away time, consider climbing Bukit Timah Hill.
It starts at the nature reserve and offers multiple trails for exploration. It might prove to be a bit of a challenge for beginners, though the lush and verdant forests surrounding it should distract you from the effort.
So if you want to get close to nature and to each other, try this one on for size. Mother Nature won't mind having a pair of lovebirds getting cosy with each other under a canopy of her trees, anyway.
A Cuddle-Cautious Commentary…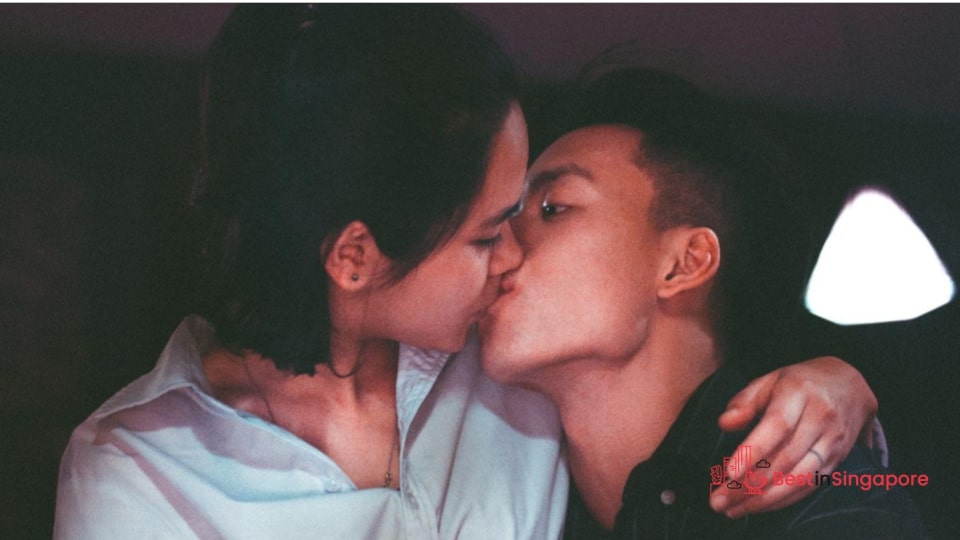 Public displays of affection are allowed in Singapore—but only up to a certain point. If you don't cross the line into lewd and indecent behaviour, we reckon you'll be fine physically expressing your love and affection.
That said, can you make out in public in Singapore? The best answer to that is: "yes, but…"
For starters, there are the Miscellaneous Offences (Public Order and Nuisance) Act 1906 to consider. It mentions an offence on "riotous, disorderly or indecent behaviour in, or in the immediate vicinity of, certain places."
So even if you think you're acting with mutual consent and doing PDA in a seemingly "safe" public place, other people around you might not think so. To be on the safe side, conduct cuddles, kisses, and make-out sessions indoors.
And if you're out of fresh ideas, here's a great list of indoor date ideas we've made for you.