12 Best Neighbourhoods in Singapore to Live with Family
Singapore is a good place to raise a family because it's a country that's safe, secure, and has a world-class education system.
But of course, not every family is built the same. What's ideal for yours might not apply to another.
With that in mind, today's post presents several options for neighbourhoods in Singapore where a family can live. We hope you'll find something here that suits your lifestyle and needs.
Factors to Consider when Choosing a Family-Friendly Neighborhood in Singapore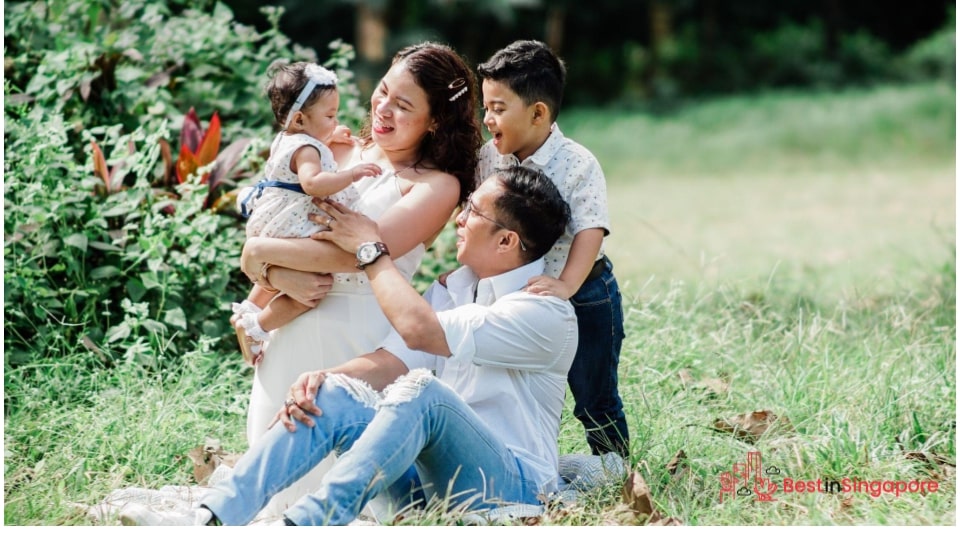 Commuting and transportation
House type, price, and size
Neighbourhood affordability and crime rate
Nearby schools and kid-friendly entertainment options
By 2020, Singapore's average household was composed of 3.22 members. Around 655,000 dwellings in the same year had married couples with children, according to our guide on housing and development.
One consideration in choosing where to establish such a household is commuting and transportation.
Parents would prefer a home that's easy to access using public or private transportation. It won't be ideal if a certain place is prone to traffic and car accidents, either.
Besides this, there are the factors in the table below. Let's take a look at this comparison of median house prices, average house sizes, and which areas offer the most affordable options.
Housing type
Median price/price per square foot
Average size in square feet
Most affordable neighbourhood
Average HDB flat
S$495,000/

S$507 per sq ft

1,067 sq ft
Jurong West, Sembawang, Woodlands
Condo
S$1,467,778/

S$1,731 per sq ft

1,053 sq ft
Geylang, Balestier, Sengkang
Landed
S$3,850,000/

S$1,462 per sq ft

4,244 sq ft
Jalan Loyang Besar, East Coast Park, Chempaka Kuning Link
Because safety is a priority, you can expect family residences in secure communities where there's a low crime rate. It would also be practical to consider locations where fun family activities are possible.
And of course, a family with school-aged kids would like to be close to reputable schools and colleges to get the best education. We'll be showing options for education and amusement centres in each listed neighbourhood.
Best Neighbourhoods for High-End Family Living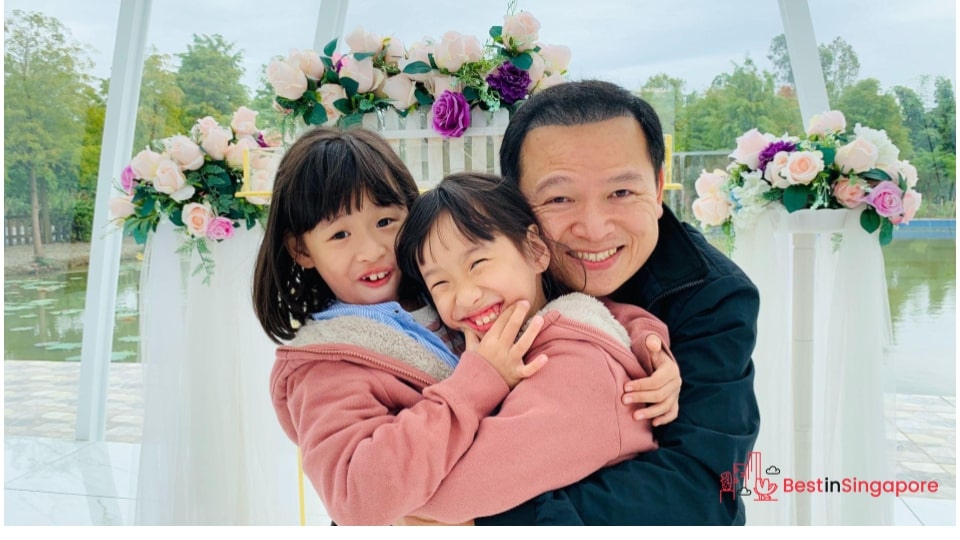 Families who can afford luxury amenities and convenient locations that have everything within reach can choose from some of the most expensive neighbourhoods in Singapore.
And while expats can go for corporate housing and long-term leases, those who want to have their own place might want to consider something more permanent and with lots of room to grow (and have fun).
1. Orchard Road
Location: Central
Unique features: A great mix of urban and suburban living
How to get there: Take the 106, 143, 502, or 77 Buses or the Orchard MRT
Schools
• Invictus International School (Grades 1 to 8)

• Eton House International School (Years 1 to 13)

• MapleBear Orchard Preschool

• Dynamics International School (Kindergarten to 6th Grade)

Parks/amusement centres
• Istana Park

• Orchard Central Roof Garden

• Pirate Land

• Sandbox VR

• Bounce
Does your family want the kind of quiet living that a suburban setting gives, mixed with the convenience of an urbanised area? Then consider getting a home on Orchard Road.
Aside from being the Singapore retail destination with its wide range of shopping malls and retail outlets, Orchard also offers all the amenities that can make family life easier and hassle-free. 
Teenagers can appreciate the hip boutiques and hangouts in the area. Meanwhile, parents won't have to worry about where to enrol their kids, thanks to the great selection of reputable schools in the district.
Plus, it's a safe and secure area offering plenty of kids' activities, so you'll know your little ones won't get bored in Orchard.
2. Bukit Timah
Location: North West
Unique features: Wide green spaces and lush gardens in the area
How to get there: Take the 170, 174, 184, 67, 852, or 961 Buses or the Beauty World MRT
Schools
• Chatsworth International School (Kindergarten to Year 13)

• Integrated International School (Kindergarten to High School)

• Middleton International School (Grades 1 to 5)

• Bukit Timah Primary School

• Methodist Girls' School (Primary Section)

Parks/amusement centres
• Bukit Timah Nature Reserve

• Bukit Timah Railway Station

• The Karting Arena

• Singapore Botanic Gardens
Bigger families looking for landed properties in a more upscale setting can consider living in Bukit Timah. It's an area surrounded by lush gardens and landscaping, so it's the perfect setup for urban gardening fanatics.
The Singapore Botanic Gardens are also in the vicinity so you can get all the regular nature immersion you and your family want. 
There's a Children's Garden designed to educate young minds about botany as well as an Eco-Lake and Garden showcasing hundreds of plant species.
Bukit Timah is strategically located for families with school-age kids, too. And the entire family can enjoy the various small shops and restaurants in the area.
3. Sentosa
Location: South
Unique features: Universal Studios and beaches are your neighbours!
How to get there: Take the 123 Bus, the Sentosa Express Monorail, or the Harbourfront MRT
Schools
• Invictus International School (Grade 1 to 2)

• Eton House International School Sentosa

• MindChamps Preschool at Sentosa

• Sentosa Island School

Parks/amusement centres
• Universal Studios Singapore

• Skyline Luge

• Resorts World Sentosa

• iFly Singapore

• MegaBounce

• Adventure Cove Waterpark

• Wave House Sentosa
If your family has active members who simply love being outdoors. Sentosa might just be your cup of tea. It's a tranquil yet luxurious neighbourhood that's ideal for raising children with the sun, sea, and sand nearby.
Living in Sentosa can make a family feel as though they're always on holiday. Swimming, sunbathing, and indulging in watersports are all part of the package since the beach is practically your neighbour.
Plus, if you're big fans of theme parks and rides, Universal Studios is just within spitting distance!
Best Neighbourhoods for Expatriate Families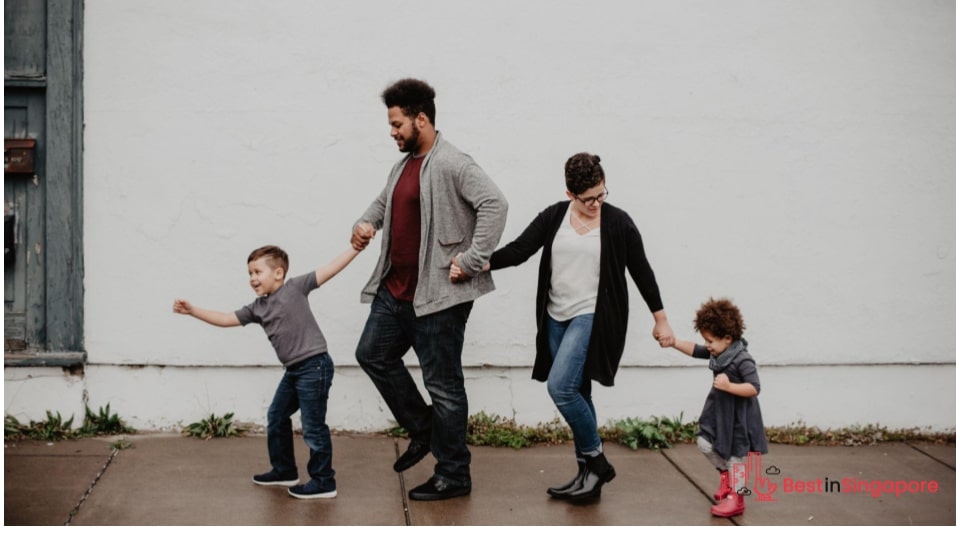 An expat family in Singapore can rest assured that they will be welcomed with open arms in various neighbourhoods on the island. After all, the entire country is a multicultural melting pot of different traditions, cuisines, languages, and heritage.
And for those who are worried about feeling homesick, a lot of these locations have plenty of expat-friendly hangouts to make you feel right at home.
4. Woodlands
Location: North
Unique features: An active American community
How to get there: Take the 187, 963, 965, or 966 Buses or the Thomson East Coast MRT
Schools
• Singapore American School (Pre-K to High School)

• Woodlands Primary School

• Woodlands Secondary School

• Admiralty Secondary School

• Riverside Secondary School

• Evergreen Secondary School

Parks/amusement centres
• Woodlands Waterfront Park

• Admiralty Park

• Woodlands Town Garden
American expat families, in particular, might want to look into getting a home in Woodlands. While the area is still expanding with recent developments, it already offers enough amenities and features for a comfy, convenient lifestyle.
Plans are underway to introduce a network of cycling paths, playgrounds, and a town garden for families to enjoy for free.
Americans who live in Singapore will likely appreciate the presence of different international schools in the area. In particular, the Singapore American School is on 40 Woodlands Street, making it easier to get to and from campus.
Entrepreneurs and business people can take advantage of the solid American community via networking in this suburb, as well.
5. Tanjong Pagar
Location: Central
Unique features: Playgrounds and parks for entire families
How to get there: Take the 10, 100, 167, 30, or 97 Buses or the Tanjong Pagar MRT
Schools
• Cantonment Primary School

• Mulberry Learning at Tanjong Pagar

• Sejong Korean Language School

• Star Learners Preschool

• Hampton Preschool

Parks/amusement centres

• Tanjong Pagar Park

• Vanda Miss Joaquim Park

• Tanjong Pagar Centre Urban Park
Foreign families who want to immerse themselves in local culture can check out what Tanjong Pagar can offer. In fact, expats have recently discovered this small, quiet enclave filled with colourful shophouses and hangouts.
It's a historic district that's still a stone's throw away from the Central Business District. This makes it convenient for expats who need to commute to work every day.
There are recreational spots to explore and lots of diverse menus to sample, too. Tanjong Pagar has plenty of outdoor and indoor playgrounds for young ones to enjoy, aside from the local parks that are available all year round.
6. Holland Village
Location: North West
Unique features: Heritage and black and white houses, many schools nearby
How to get there: Take the 185, 61, 7, 75, 77, or 970 Buses or the Holland Village MRT
Schools
• MindChamps Preschool

• Global Tots Preschool

• St. James Church Kindergarten

• Little Paddington Preschool

• Between Two Trees Preschool

• Henry Park Primary School

• Nanyang Primary School

• Fairfield Methodist Primary School

• National University of Singapore

• Singapore Polytechnic

• Anglo-Chinese School

• Dover Court International School

• UWC South East Asia

Parks/amusement centres
• HDB Playgrounds

• Rail Corridor

• Watten Estate
Holland Village has the distinction of having a slight European look and feel to it. Some of its buildings still bear the atmosphere of the early expatriate living.
This is especially true of the black and white houses and the conservation homes in the area. It's also quite the cultural borough with art galleries, local boutiques, and artisanal shops here and there.
But what makes this a great place to raise an expat family is the unmistakable Singaporean hustle and bustle in the vicinity. Hawker centres, eateries, and bars make it a hip and happening place that's nevertheless safe for a young family to frequent.
Best Neighbourhoods for Families with School-Age Kids
Children need a secure and stable home where they can grow up and reach their full potential. That's why neighbourhoods with reputable preschools and secondary schools are often on the top of the list of families with school-age kids.
Let's take a look at some locations that have good educational options to offer.
7. Siglap
Location: East Coast
Unique features: Quiet, laidback, beachfront suburb vibe
How to get there: Take the 10, 12, 155, 16, 36, 40, or 48 Buses or the Siglap MRT
Schools
• Victoria School

• St. Stephen's School

• Bedok Green Primary School

• Siglap Secondary School

• Kinderland Preschool

Parks/amusement centres
• Siglap Park Connector

• Parkland Green

• Cyclist Park

• Tag Team, Inc.
Those who prefer living on the East Coast of Singapore might want to consider Siglap as their next home location. It's quiet, calm, and serene yet still has all the amenities and conveniences of a busier metropolis (like groceries and restaurants).
Siglap has an almost sleepy town feel with its bungalows and low-rise buildings. The best part is that it's a beachside location, so you can get the kind of beachfront rest and recreation you need all year round.
The peaceful ambience of Siglap is perfect for families with small kids who don't like the distractions of a loud, buzzing urban area. They can hear and understand what their tutors' lessons better because of this.
8. Alexandra
Location: West Coast
Unique features: The Alexandra Canal
How to get there: Take the 14, 153, 195, 197, 33, 855, or 961M Buses or the Queenstown/Redhill MRTs
Schools
• Alexandra Primary School

• MapleBear Alexandra

• Kingston International School

• Cristofori Music School

• Little Skool House

• Berries World of Learning

Parks/amusement centres
• Alexandra Canal Linear Park

• Alexandra Garden Trail
Alexandra is another great location with a primary school, a hospital, malls, HDB flats, residential condominiums, and its very own park. It also has several international schools to choose from.
It's a self-contained suburban area that's perfect for young families because of current and future developments promising more exciting facilities and happenings.
But as it is, it's already one of the most child-friendly places you can think of. Small kids can learn how to ride on their balance bikes and not worry about getting lost. 
And it's not just kids' activities that keep entire families in Alexandra happy. Let's just say four letters in the area bring a sort of wonderland-level ecstasy to everyone with what they promise (I-K-E-A)!
9. Potong Pasir
Location: Central
Unique features: An exciting rugby culture
How to get there: Take the Potong Pasir MRT or the Toa Payoh MRT
Schools
• St. Andrew Junior School

• St. Joseph Institution

• Stamford International School

• Kent Ridge Education

• Nanyang Junior College

Parks/amusement centres
• Potong Pasir Dog Park

• Siang Kuang Avenue Interim Park
Potong Pasir makes it to this listicle despite being relatively unknown (it's not the glitziest or most developed enclave in Singapore).
However, families who simply want their kids to grow up with good social skills and superb education might see its value straight away.
The place has an active rugby culture in which active children and adolescents can participate. There are also a couple of exclusive schools for boys and girls in Potong Pasir to make friends and learn with.
There's a good mix of HDB flats and landed properties in Potong Pasir for families of different sizes (and budgets) to choose from. Getting to and from the area won't be a problem, either, as two MRT stations are already in the vicinity. 
Best Neighbourhoods for Foodie Families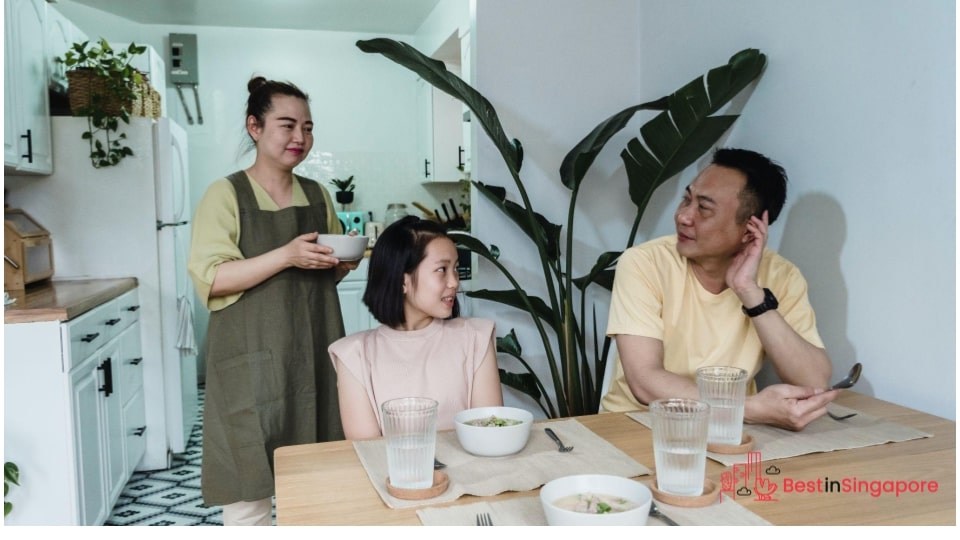 Got a healthy, growing family that's big on dining out and sampling new cuisine regularly? If food plays a major part in your family dynamics, take a look at the following neighbourhood suggestions and see if they fill the bill.
10. Robertson Quay
Location: Singapore River
Unique features: A gorgeous view of the Singapore river
How to get there: Take the Clarke Quay MRT, or the 123, 51, or 64 Buses
Schools
• Blue House Infant and Toddler Atelier

• Eton House Robertson Walk

• Superland

• Cambridge Preschool

Parks/amusement centres
• Waka Waka

• Power Kids Gym

• Amazonia

• Amped

• Fort Canning
Food and recreation provide the habitues of Robertson Quay with great reasons to visit (and often) stay there. Its cuisine is imaginative and fresh, and its festivals and art gallery offerings are always vibrant and colourful.
So for families with a bohemian streak as well as a foodie one, Robertson Quay might be worth looking into. Set against a calming river backdrop, a wide range of restaurants offer mouthwatering lunches from hawker fare to spicy curries and fresh seafood.
The area itself is punctuated by footbridges decorated in different hues and decorations. Entire families are known to go jogging, strolling, or just generally relaxing on these bridges and watching the day go by.
11. Tiong Bahru
Location: West
Unique features: Colourful murals, hipster boutiques and coffee shops
How to get there: Take the Tiong Bahru MRT, or the 122, 123, 175, 5, 63, or 970 Buses
Schools
• Zhangde Primary School

• Ascencia International School

• Tiong Bahru Secondary School

• The Orange Academy (Preschool)

• Superland Preschool

Parks/amusement centres
• Tiong Bahru Park

• Tiong Bahru Adventure Playground

• Degiosart Art Gallery

• Seng Poh Tea Garden
Millennial parents who keep running out of ideas for dinner in Singapore might breathe a sigh of relief when they find themselves living in Tiong Bahru. Bars, restaurants, cafes, and other eateries offer a myriad of cuisine that won't make dinnertime boring.
This "little 'hood that could" is regarded by many as a hipster locale, but it's also a place to bring up creative-minded kids.
Walking its streets already reveals colourful murals, but art galleries and quaint bookstores also vie for aesthetic attention among residents and visitors.
Tiong Bahru also has unique play places for kids and teens to enjoy. Certain architecture in the area features interesting Art Deco inspiration from the 1930s, which is a good blast from the past set in a contemporary neighbourhood. 
12. Katong
Location: East Coast
Unique features: Colourful shophouses juxtaposed with modern condos
How to get there: Take the Dakota MRT or the 10, 15, 16, 36, 43, 48, or 966 Buses
Schools
• Canadian International School

• Tanjong Katong Secondary School

• Tanjong Katong Primary School

• RG Channel Future School

• Schoolhouse By the Bay

Parks/amusement centres
• Katong Park

• East Coast Park

• Eurasian Heritage Centre

• Kiddles World of Wonder
Katong's charm has beckoned foodies from all over Singapore (and even beyond) to partake in authentic Peranakan cuisine. 
You can eat as much as you want while enjoying the harmonious layout of pastel-coloured shophouses mixed with contemporary condo buildings.
The fact that Katong is also one of the most Instagram-worthy places in Singapore is an added (but very welcome) bonus. Families with school-age kids will be glad to know that the area also has reputable schools and learning institutions.
Overall, Katong is a child-friendly place with open spaces that are ideal for outdoor recreation. And adults who love a laidback yet convenient lifestyle will find nothing to complain about this neighbourhood, either.
To Wrap Up…
The definition of the "best" neighbourhood for your family would ultimately be up to your needs, preferences, and of course, budget.
Hopefully, this listicle provided enough useful information to help you gauge which one presents the ideal environment for your family and suits a range of personal needs.