Guide to Universal Studios: Tickets, Rides, and More! (2021)
If you've scored some Universal Studios Singapore tickets (or intend to score them), you'd better make the most of it! Universal Studios Singapore is one of the best theme parks on the island and you don't want to waste your visit.
That's why we've prepared this complete guide to Universal Studios Singapore. We'll walk you through the attractions, guide you through the events, and even give you hacks on scoring cheap Universal Studios Singapore tickets as well as other money-savings tips!
UNIVERSAL STUDIOS SINGAPORE: A QUICK OVERVIEW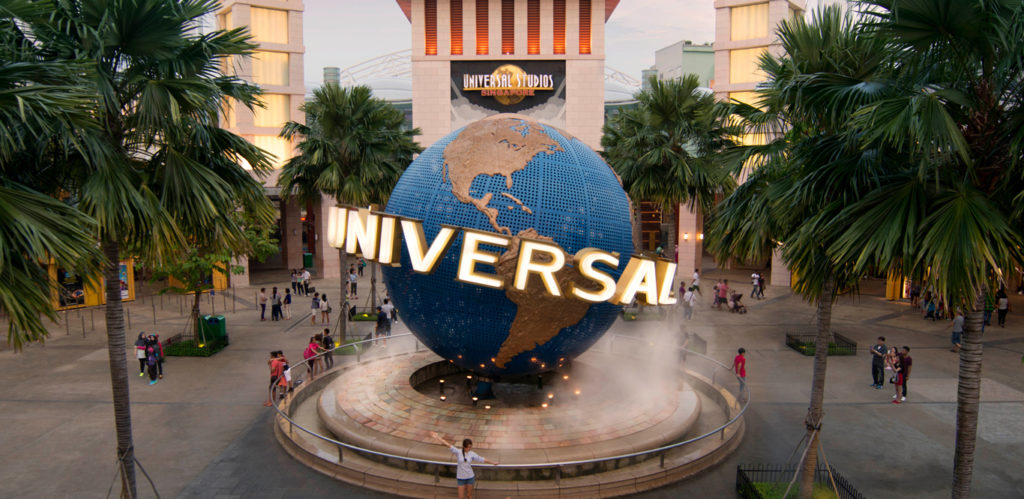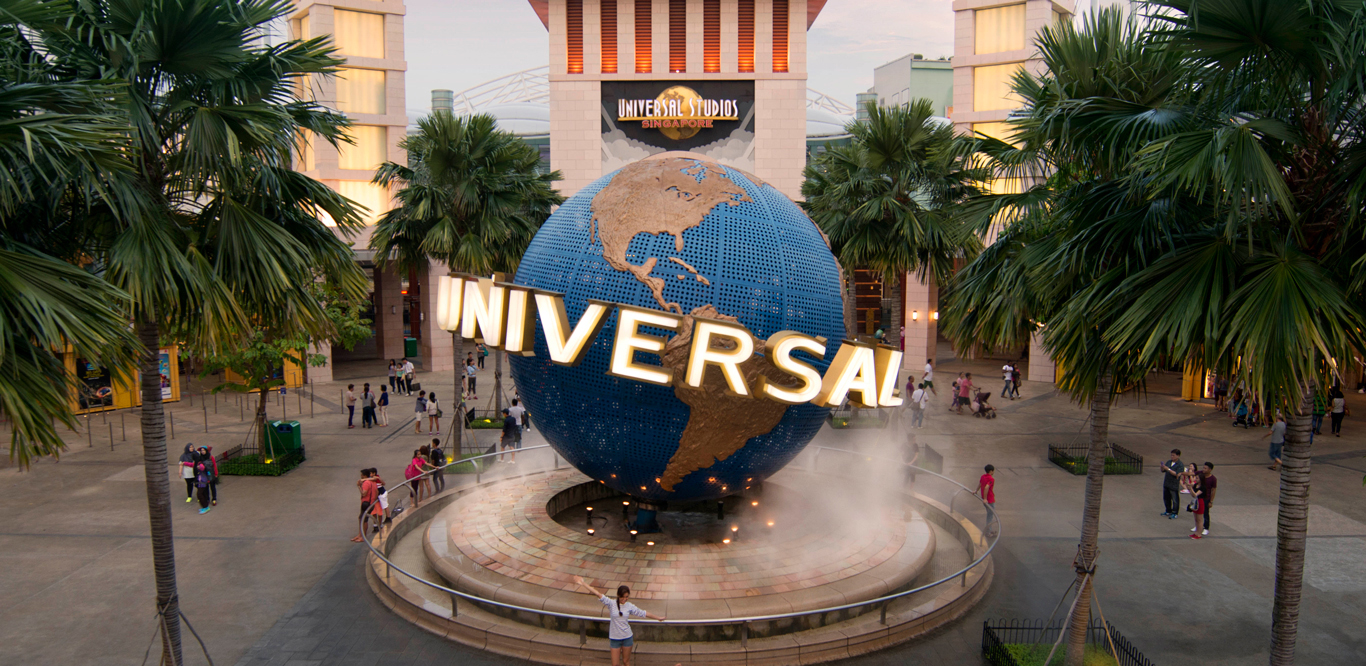 Before we tell you where to get Universal Studios Singapore tickets, first here are some general information about the park:
Address: 8 Sentosa Gateway, Sentosa Island, Singapore 098269
Getting There


By Public Buses


Option 1a

:

Take buses 65, 80, 93, 188, 855, 10, 30, 97, 100, 131, 143, 145 or 166 and alight at VivoCity. Board bus RWS8 from bus stop 14141 at VivoCity or bus stop 14121 at Merrill Lynch, HarbourFront. Alight at Resorts World Sentosa drop-off point.
Option 1b

:

Take bus 123, 188R, 963R, NR1 or NR6 and alight at Resorts World Sentosa bus stop 14519.


By Train/Sentosa Express


Take North-East line or Circle line to HarbourFront station.
Take Exit E to VivoCity and proceed to level 3 to board the Sentosa Express. Alight 1 stop later at Resorts World Station.
Walk straight till you see Twelve Cupcakes on your right. Turn right and head towards the Universal Studios Globe.
Opening Hours*
Sunday-Thursday: 10:00am-8:00pm
Universal After Hours: 10:00am-10:00pm, Friday & Saturday
Peak: Fridays, Saturdays, Sundays, Public Holidays, June, December
Off-Peak: Mon – Thu, except Gazetted School & Public Holidays

You can grab a map of Universal Studios Singapore at the entrance or you can download a copy here. This is helpful if you want to plan out your trek across the park as you go from attraction to attraction.

*Operating hours are subject to change without prior notice. Check the official website for schedule changes.
Universal Studios Singapore (USS) is located in the award-winning Resorts World Sentosa. It's there along with other world-class attractions such as S.E.A. Aquarium, the Maritime Experiential Museum and Dolphin Island and Adventure Cove Waterpark.
USS is Southeast Asia's first and only Universal Studios theme park divided into seven zones: Hollywood, New York,  Sci-Fi City, Ancient Egypt, The Lost World, Far Far Away, and Madagascar.
Universal Studios Singapore Rides
All Universal Studios Singapore ticket price already includes rides.
Here is a list of rides and experiences with the corresponding height requirements to help you plan your trip: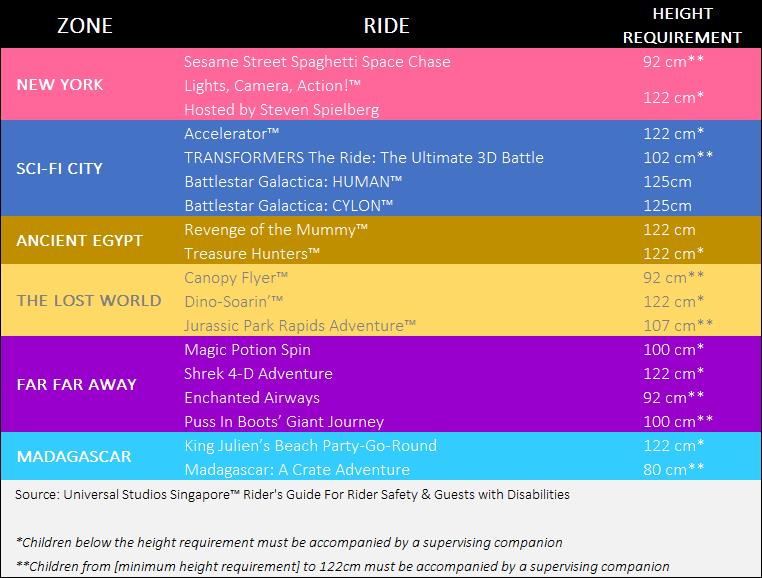 Universal Studios Singapore Meet-and-Greets
Some special USS tickets include meet-and-greets. There are also special shows as well as meet-and-greets at different zones to get up close and personal with your favourite film characters.
Make sure you grab a copy of the schedule for shows and meet-and-greets so you don't miss out on this opportunity. Here are the characters and events you can enjoy, by zone: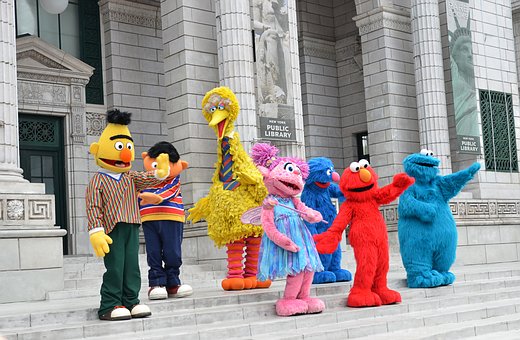 HOLLYWOOD
Minions from Despicable Me
Famous Hollywood celebrities such as Marilyn Monroe
NEW YORK
Sesame Street with Elmo and Big Bird
SCI-FI CITY
Autobots from Transformers
ANCIENT EGYPT
THE LOST WORLD
The hatching of a baby Velociraptor with Dr. Rodney
Velociraptors
FAR FAR AWAY
Shrek, Princess Fiona, and Puss in Boots
Universal Studios Singapore Shows
For shows, visitors can enjoy Fireworks Spectacular™ (Hollywood), Elmo's TV Time (New York), WaterWorld™ (The Lost World), Shrek 4-D Adventure (Far Far Away) and Donkey Live (Far Far Away).
Fireworks Spectacular usually happens at 8:30pm, Fridays and Saturdays, so if you want to catch it, be sure to time your rides accordingly. Make the most out of your Universal Studio Singapore ticket as they include shows and fireworks!
BUYING GUIDE TO UNIVERSAL STUDIOS SINGAPORE TICKETS 
Getting cheap Universal Studios Singapore tickets is easy. It's choosing which type of Singapore USS ticket (or pass) you should get that can be confusing.
An admission ticket is required to get into the park, of course. However, you also have several options in terms of add-on tickets as well as bundles.
To help you choose the best package, we've compiled the types of tickets you need to maximise your visit. There are various USS ticket price and packages so you need to choose which one suits your needs.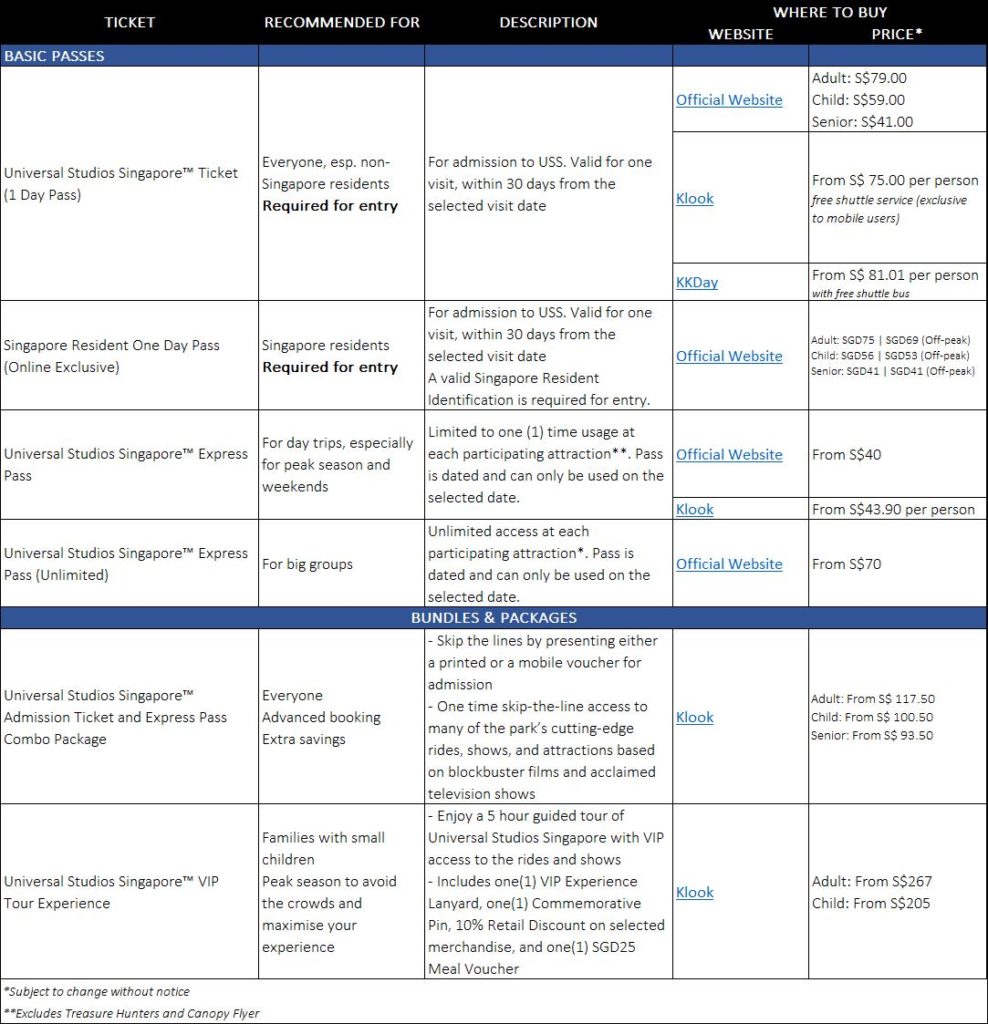 How to Score Cheap Universal Studios Singapore Tickets
Buy tickets online. Compared to the regular rate, you can save S$4- S$5 on your ticket. Not only is it cheaper to buy tickets online, it's also more convenient. You get to skip lines! You can just present your e-voucher or a printout on the day and you're good. Plus, there are usually online exclusives like cheaper tickets for Singapore residents and add-on services like free shuttle service when you book through your mobile. Check out Klook and kkday deals to compare prices.
Book in advance. Prices usually increase the nearer it is to your trip. They can also fluctuate depending on the expected volume of people, so make sure you get your tickets beforehand. How far in advance? One to two weeks in advance should get you a good price.
Schedule your trip during off-peak days. Weekdays are usually off-peak at USS, which means shorter lines and cheaper tickets. During peak season, waiting time for popular rides can go up to 90 minutes! Fortunately, off-peak days will be less busy, so you won't even need to buy express tickets. And for adult visitors, you can always line up in single-rider queues, which move faster.
Buying direct versus from agencies. There are pros and cons to buying your Universal Studios Singapore ticket direct from the park. While the rates are higher for tickets, they do offer additional perks like discounts or vouchers in restaurants and other participating outlets in Resorts World Sentosa. Plus, they also offer promotions such as group rates from time to time, so make sure you check the promotions page on their website for any ongoing promos which you can avail.
Score cheap USS tickets from Carousell. Since admission tickets from Klook, kkday and other reputable websites are usually open-date tickets (or with a longer validity time, at least), you'll find people selling their USS vouchers for much cheaper prices along with other unused RWS (Resorts World Sentosa) vouchers you can take advantage of. However, make sure you purchase with caution. For example, choose a seller with a lot of positive feedback and successful transactions to avoid getting duped.
MUST TRY RIDES AT UNIVERSAL STUDIOS SINGAPORE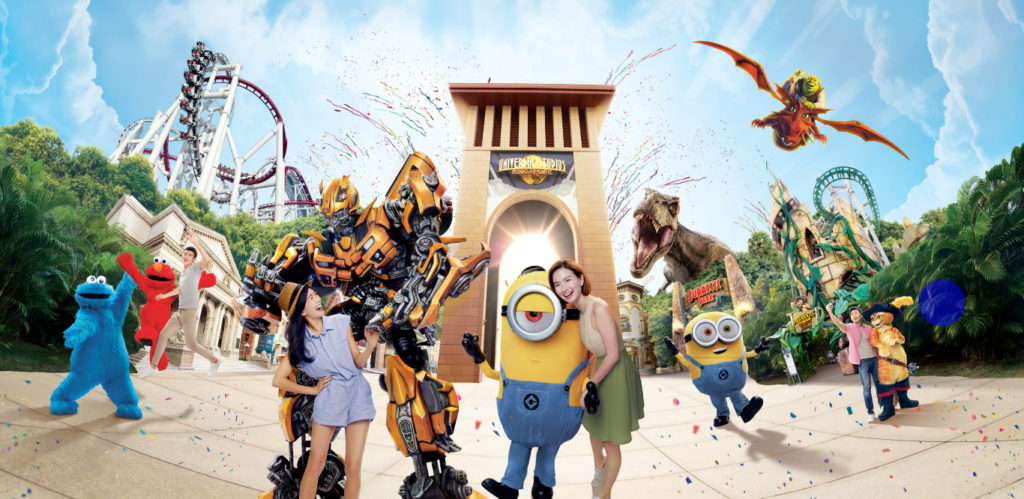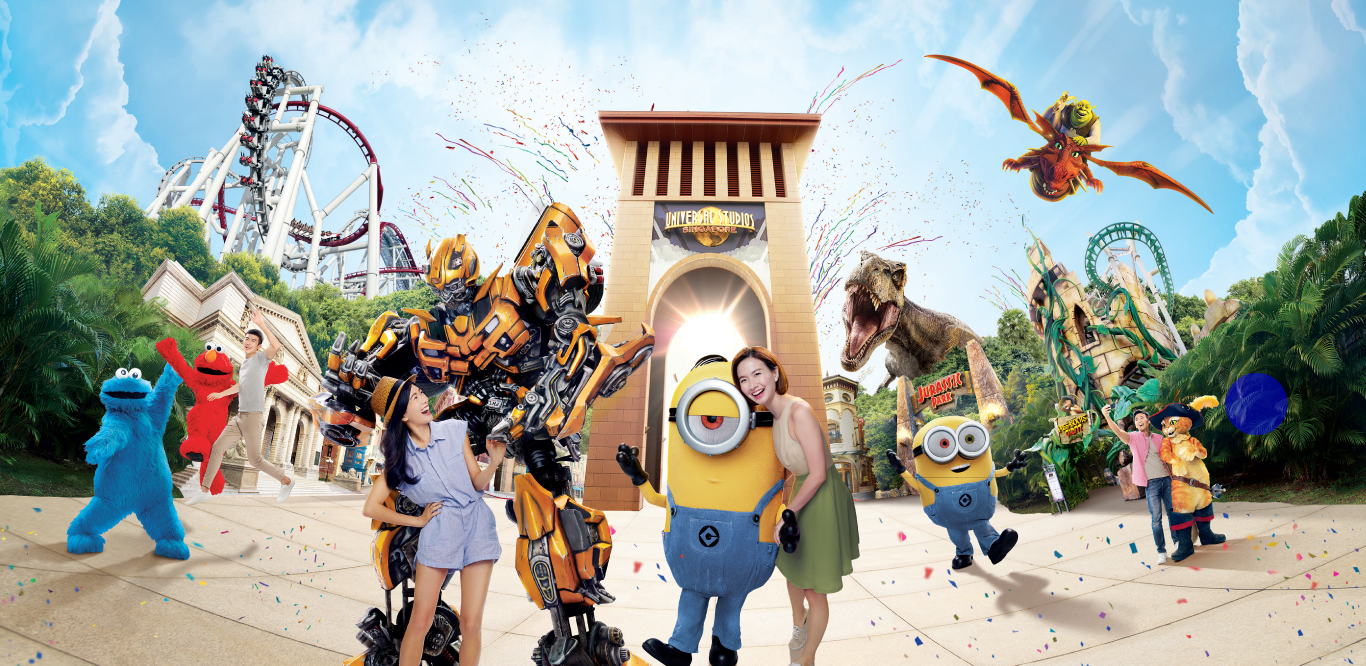 Let's face it, you can't experience all attractions and shows in a single day. So, you need to choose wisely.
In terms of zones, adults will more likely enjoy Sci-Fi City and The Lost World, while kids of all ages will love New York, Far Far Away, and Madagascar.
To help you plan your stops, especially if you're only spending a day, we've compiled the best rides at Universal Studios Singapore. We've even split them up according to which ones are most likely to appeal to kids or to adults:
Best Universal Studios Singapore Rides for Adults
To be clear, the rides we've listed here are still accessible to kids. However, whether it's because of the way they're designed or the actual franchise they represent, these seem to go over best with adults.
Anyway, there's nothing stopping your kids from enjoying some or even all of these rides too, in spite of that! If your kids can take the intensity of these rides, bring them with you.
After all, your Universal Studios Singapore tickets include access to rides and shows so we suggest making the most out of it!
1. TRANSFORMERS The Ride: The Ultimate 3D Battle
ZONE: Sci-Fi City
This is a 3D ride, so you will be given 3D glasses for the full experience. This transports you into the world of Transformers as you ride around in a high-speed robotic vehicle trying to escape giant alien robots.
The vehicle speeds up, stops, turns, spins, rises, and drops. This one's a must try for thrill-seekers!
2. Battlestar Galactica: HUMAN vs. CYLON™
ZONE: Sci-Fi City
This is two roller coaster rides in one, just choose a side (red or blue, or try both!). Just like any roller coaster, expect sudden acceleration, lifts and drops.
Riders need to be in good physical state. Again, this one's perfect for an adrenaline junkie!
Note: Loose items are strictly prohibited, so leave your belongings in a nearby locker. They're usually free for the first 45 minutes.
3. Revenge of the Mummy™
ZONE: Ancient Egypt
This is another high-speed ride with dramatic jolts, tilts, backwards movement, and drops. In addition, riders will experience impressive special effects such as fog, strobe lighting, and fire.
It also plunges you into total darkness, through an ancient Egyptian tomb, where you'll encounter fireballs, scarab beetles and mummies!
Note: Loose articles are not permitted. Free lockers are available during a visit to this ride.
4. Jurassic Park Rapids Adventure™
Zone: The Lost World
You will board a circular raft that will simulate a white-water rafting experience, complete with a thrilling waterfall drop!
Prepare to be drenched or soaked, so leave your valuables (and pack a change of clothes, to be sure) in a nearby locker.
That said, they do have drying pods for a quick blow dry that you can use for a fee.
5. Madagascar: A Crate Adventure
Zone: Madagascar
This is another water journey, but unlike Jurassic Park Rapids Adventure, this ride can be enjoyed by both kids and adults because it's not as intense.
This boat ride involves moderate acceleration, elevation changes, and jarring actions.
Also, prepare to get wet, so leave your things in a nearby locker and wear quick-drying clothes if you don't plan on bringing extras.
Best Universal Studios Singapore Attractions for Kids
Now, these rides are still exciting but not so intense that they can scare the little ones. Be sure to take your kids to these for thrilling but lighthearted fun!
1. Sesame Street Spaghetti Space Chase
Zone: New York
This ride can be enjoyed by kids and adults alike. The vehicle is suspended and simulates a space mission together with beloved Sesame Street characters.
The vehicle tilts and accelerates in this high-flying adventure.
2. Lights, Camera, Action!™ Hosted by Steven Spielberg
Zone: New York
This one's more of an experience than a ride. It lets guests witness first-hand the magic of special effects.
Hosted by award-winning director Steven Spielberg, this experience lets guests watch as a sound stage becomes the site of a Category 5 hurricane hitting the New York City harbour. Even if you're not a film enthusiast, you'll be blown away by the awesome effects.
3. Magic Potion Spin
Zone: Far Far Away
This is an attraction perfect for the young ones and the young at heart. Here, guests enter Fairy Godmother's Potion Shop riding a circular motion gondola ferris wheel for a magical, peaceful ride.
The gondolas are fully enclosed. Each gondola can seat up to 4 children, 2 adults, or 2 children and 1 adult.
4. Shrek 4-D Adventure
Zone: Far Far Away
This attraction is more of an experience than a ride as it is a 4D movie with theatre-style seating.
The seats move along with the action depicted on screen, which features Princess Fiona, Shrek, and Donkey on a honeymoon adventure.
5. King Julien's Beach Party-Go-Round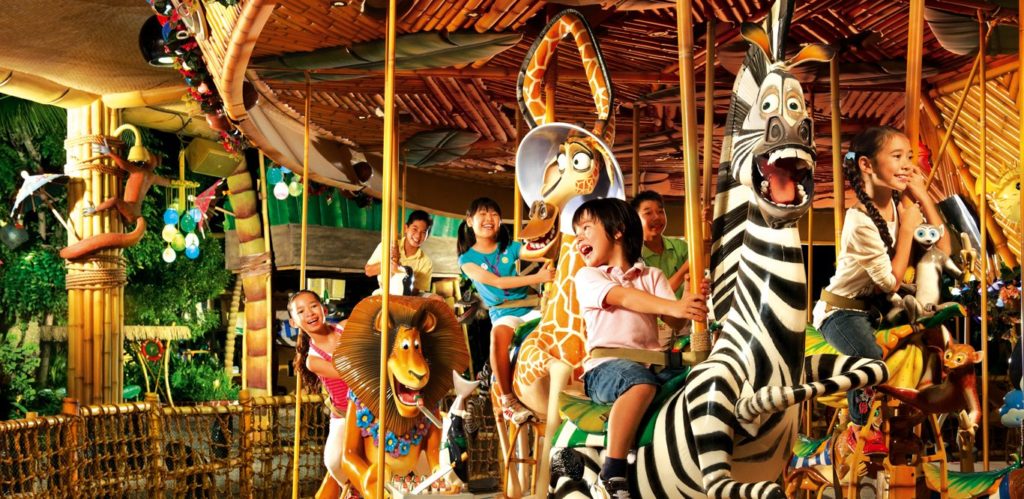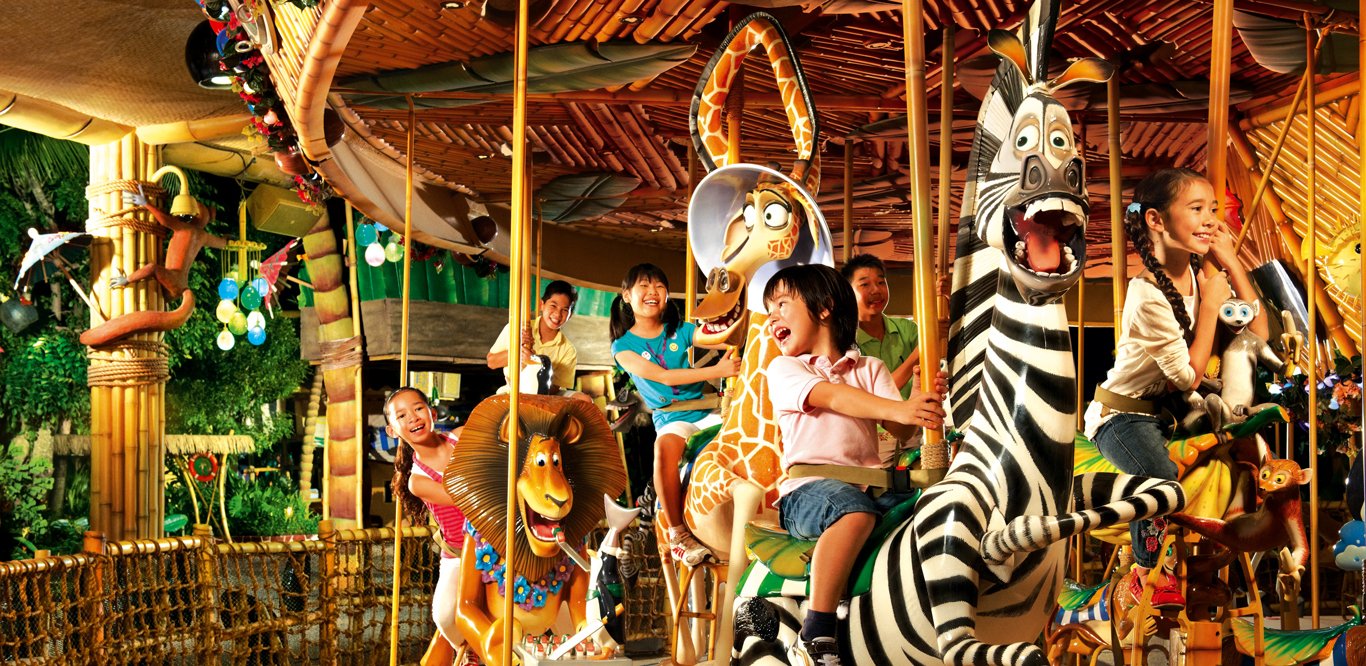 Zone: Madagascar
This one's a perfect way to slow down and let the kids have some fun. Guests spin round and round this kid-friendly carousel, which features characters from the Madagascar films.
MONEY-SAVING TIPS & TRICKS FOR YOUR USS TRIP
After splurging on admission tickets and express tickets for you and your family, you may want to save some money during the rest of the actual trip.
It's worth noting that food can be quite expensive inside the park. That can be a problem if you're on a budget and want to have dough leftover to buy your souvenirs.
So, here are some USS hacks to keep you from blowing your budget and ensure you get your money's worth: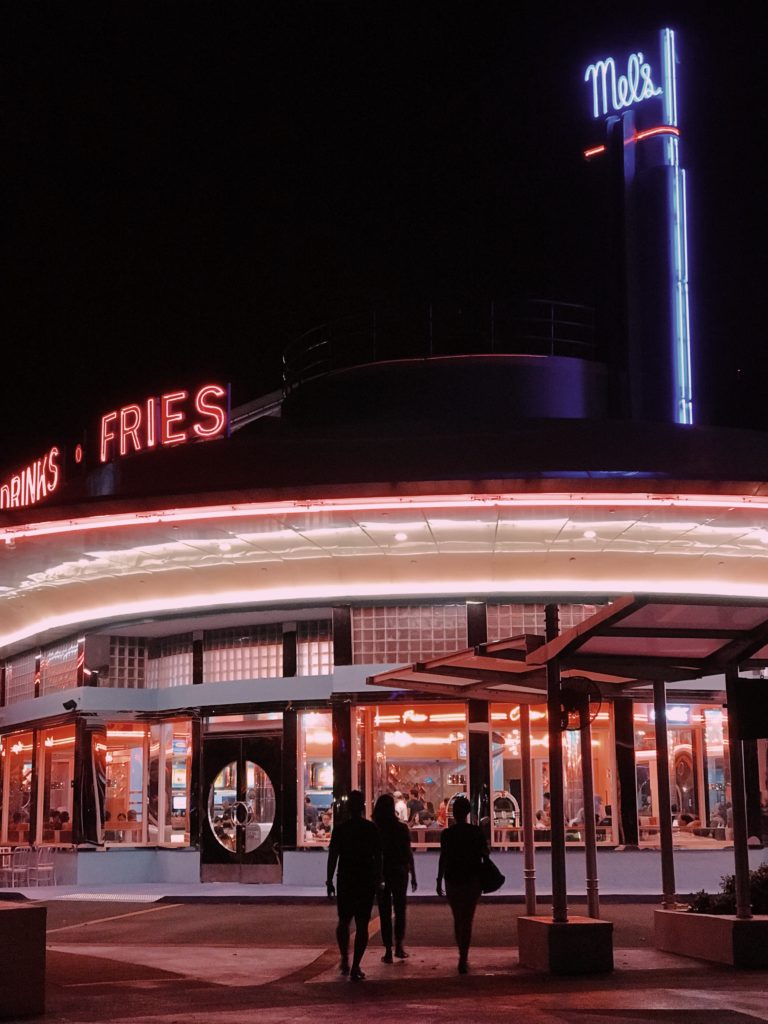 1. Visit during off-peak days!
This is worth repeating because less people means less waiting. Less waiting, means there's less chance to wander around, buying food or beverages or any shiny trinket that catches your eye.
Check the USS calendar on their website for off-peak and non-peak days, operating hours and blackout dates (usually public holidays).
2. Dress appropriately.
Wear light, breathable, and quick-dry clothing as well as comfortable shoes. Since you'll be walking around a lot, comfortable clothes will help you preserve your energy.
The heat and humidity can dehydrate you quickly and uncomfortable clothes can just hinder your mobility.
Again, discomfort can dampen the fun and lead to unplanned expenditures. Plus, quick-dry clothes will be helpful if you plan on going to the splashier rides like the rapids and crate adventure.
You might also want to bring ponchos during the rainy season, usually from September to February.
3. Eat outside.
Since prices of food inside the park can be steep, it is recommended that you eat your breakfast and lunch outside the park, where you can buy a meal for just S$6-SG8.
Pro tip: Bring a water bottle or drink from water fountains inside the park to avoid shelling out S$3-S$5 for a beverage!
4. Buy unused vouchers.
If you really want to eat inside the park, you can cut costs by buying unused vouchers from Carousell. Just make sure they're legitimate sellers.
5. Check the RWS promotions page.
Resorts World Sentosa usually posts seasonal promos that range from discounted tickets to group rates, meal vouchers and other bundles. These promos are often scheduled near public holidays and national events.
And that's it! With these tips, you now know how to get the best deals for your Universal Studios Singapore tickets as well as make the most of the experience.
All that's left now is to book Universal Studios Singapore tickets for your fun-filled trip! 
If you're in USS as a tourist to the island, by the way, you might also be interested in our guide to the best cheap hotels in Singapore. Give it a try if you need a good place to stay on a budget.
---
PHOTO CREDITS: Antonio Carlos Barbosa from Pixabay  | Cedric Yong from Pixabay  | Fonthip Ward from Pixabay  | Gigi on Unsplash