The 8 Best Cordless Vacuum Cleaners in Singapore
Are you tired of having to drag the vacuum cleaner across the room and untangling its cord every time? Well, maybe now's the time to consider switching to cordless vacuum cleaners to avoid tripping while cleaning!
However, looking for the best cordless vacuum cleaners can get a little difficult as there are hundreds of options to choose from. No worries, though – we already filtered the choices for you.
Before we reveal which ones we think are worth purchasing, we're going to share the factors you need to take note of when looking for cordless vacuum cleaners.
How to Pick the Best Cordless Vacuum Cleaners in Singapore
Not all cordless vacuum cleaners can do what they're supposed to do. There are some factors you need to remember when searching for one to make sure that you end up with the right model.
1. Type
There are several types of cordless vacuum cleaners: stick, cylinder, upright, and robotic vacuum cleaners.
Stick vacuum cleaners are the most common of all three, widely used in households in Singapore. They're compact handheld vacuum cleaners with a slim cleaning tube for floors, tall bodies, and a powerhead.
We recommend going for stick vacuum cleaners if you want a lightweight vacuum that doesn't take a lot of storage space.
On the other hand, cylinder vacuum cleaners are the old-school type of vacuum cleaners that come with a barrel on wheels and a long flexible cleaning tube.
They're excellent at cleaning bare floors, stairs, and under furniture thanks to their strong suction power… but carrying them can be a hassle.
Upright vacuums tend to be cheaper, but can weigh up to 10 kilograms, so cleaning multiple rooms will definitely be a hard time. We strongly recommend them if you have more than one carpet at home.
Then there are the robovacuums.
One of the best things about robotic vacuum cleaners is that they can do all of the work while you're relaxing. Some models can be controlled via smartphone and can find their way out of tight spots and around extension cords.
We can't recommend robotic vacuums to those with rugs and carpets at home, though. They tend to struggle with those.
2. Battery life
How long you're able to use a cordless vacuum cleaner depends on its battery type and the setting you're using it on. We suggest going for vacuums with lithium-ion batteries for faster charging and longer battery life.
In terms of run time, make sure that your vacuum choice can last anywhere from 30 minutes to an hour.
When you do have to charge the vacuum, check if the charging time ranges from as short as one hour to five hours. You might want to think twice about getting a vacuum that needs to be charged for more than five hours.
Since cordless vacuums with longer battery life tend to be expensive, swappable batteries can be an alternative. Look for cordless units that come with extra batteries so you can continue cleaning if one set of batteries runs out of juice.
3. Capacity
If there's one disadvantage to cordless vacuums, it'd have to be their small dust capacity. Nearly all cordless vacuum cleaners have low dust capacity, so you'll need to empty them more frequently.
The average dust capacity of a cordless unit is less than one litre, compared to corded ones that can carry up to 2.1 litres of dust.
Some of them are bagless too, which means that you might have to come into contact with dust and debris while emptying them.
4. Weight
Weight can be a huge factor if you need to clean multiple rooms. If you end up with a heavy and bulky vacuum, you will be tired from carrying and dragging it from one room to another.
Luckily, cordless vacuums are significantly lighter than corded models. On average, cordless units weigh around 3 kilograms, while corded machines can be as heavy as 6 kilograms.
Another factor that comes with weight is balance. It's important for cordless vacuum cleaners because poorly balanced units feel heavier in the hand, which makes it harder to clean the corners of the ceilings.
The Best Cordless Vacuum Cleaners in Singapore
Now that you're aware of what to consider when looking for the best cordless vacuum cleaners in Singapore, we assume that you're ready to see our selection.
Check them out below to see which cordless unit can cater to your home cleaning needs. Let's start with the cheapest one we could find and like:
1. Lupe Technology Pure Cordless Vacuum Cleaner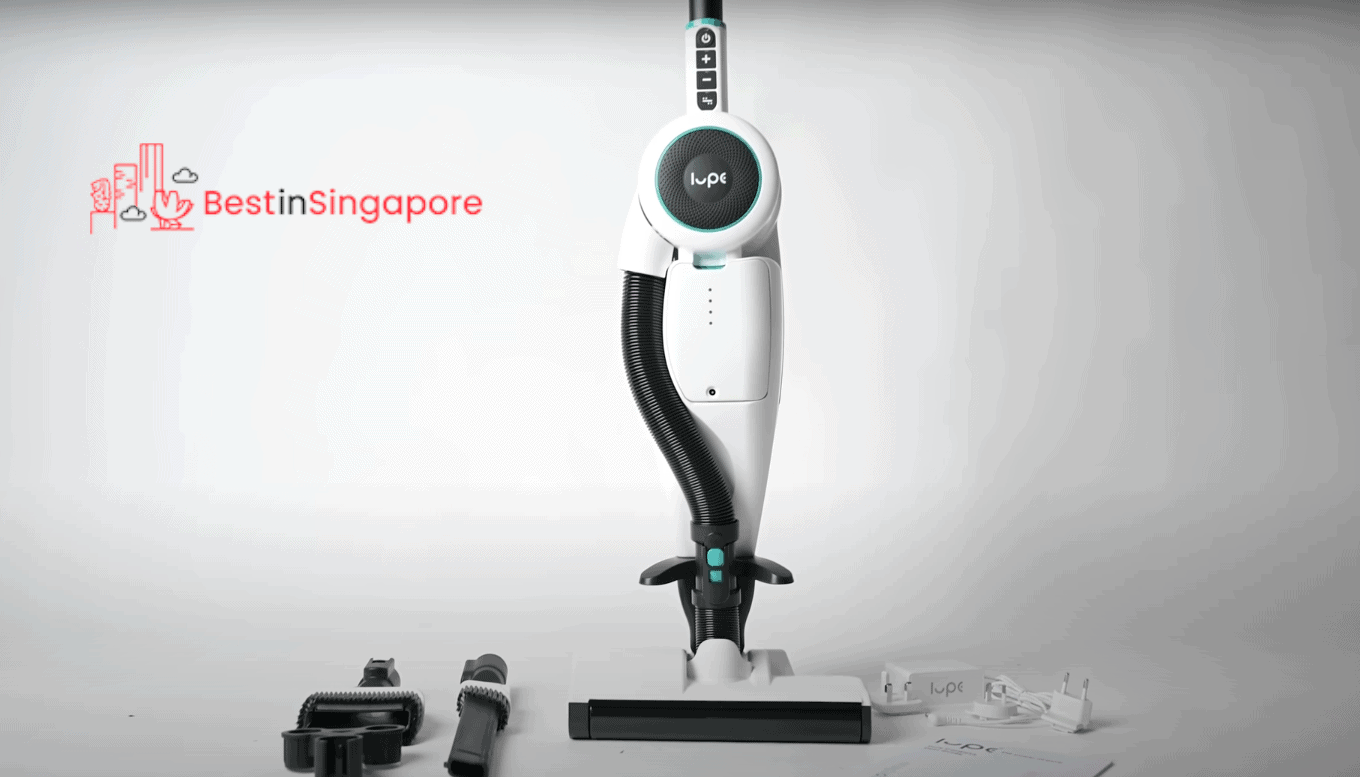 BEST FOR
Easy and Cordless Vacuum Cleaning
TYPE
Cordless
SIZE
Height: 1145mm (660mm with the wand removed)
Width: 175mm
Depth: 260mm
WEIGHT
4.6kg
WARRANTY
2 years
PRICE
SGD$1,087
In comparison to the other vacuums on this list, Lupe Technology is the only company that offers a pure cordless vacuum cleaner. It is also the only vacuums that is super durable with easily replaceable parts.
According to Forbes, this product is "the Rolls Royce of Vacuums." The reason behind this is other than it offers the usual features of detachable hoses, powerful suction, and versatile cleaning, it is one of the vacuums that are very easy to clean. charge, and to empty. A previous buyer mentioned that their carpets were visibly a different color after vacuuming them and it was also able to suck bigger debris that other vacuums struggled with.
What is unique about this product is how it only has one head yet still has an optimum pick-up across different surfaces and types of debris. Another factor why people prefer to but this is is how its charging time is only 3 and a half hours,.
In line with the battery, another amazing feature of the Lupe Pure Cordless Vacuum Cleaner is its three modes, eco, normal, and max. Eco is the power level for maximum cleaning since you can use it for about 60 minutes. Normal is the default level that is perfect for general use and it can last up to 30 minutes of usage. Max is the last mode that can be used for about 15 minutes and has an enhanced power that is suitable for dirty areas.
Most powerful useful suction available
60 minute run time
One head, all surfaces
Bagless 4 stage filtration
HEPA filter
Built to last
Some complaints about small vacuum head
Customer Reviews
Here are some reviews from their previous buyers:
"This machine is amazing! The best vacuum I have ever had! I love it."
"Ordered on line arrived within a couple of days. Excellent service"
"We tried a cheaper stick vacuum and promptly returned it. Lupe is much quieter, better performance, and we appreciate the thoughtful design to make a versatile and effective product. I also appreciate the carbon neutrality & commitment to repair & circular economy rather than just throwing products in a landfill. Stay ambitious with your environmental objectives and you'll always have loyal customers."
"Innovative, effective and great looking tech, backed up by the best customer service and readily available spares and repairs. Top marks!"
2. Bosch BCS61BAT2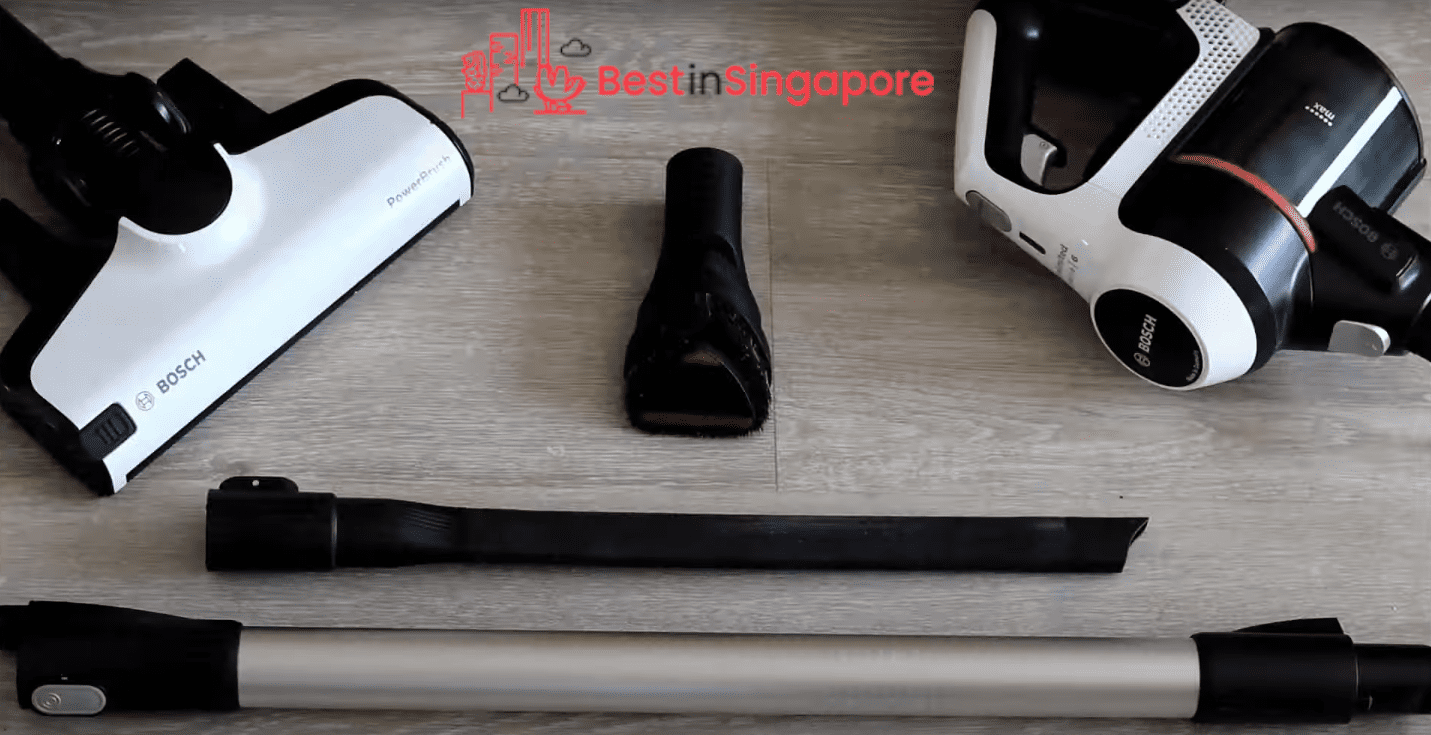 BEST FOR
All-in-One Cleaning Vacuum
TYPE
Cordless
SIZE
Depth: 265 mm
Height: 1,220 mm
Width: 200mm
WEIGHT
2.3kg
WARRANTY
2 years
PRICE
SGD$1,199.00
Next on our list is the Bosch BCS61BAT2 that was made in Germany and is backed by over 80 years of experience in vacuum cleaning technology. Due to their high-quality standards and thorough testing for enduring satisfaction, you are in safe hands.
Unlike other vacuums, this is equipped with the latest Compact DigitalSpin brushless motor. What's great about this is that it revolves up to 65,000 times per minute to deliver excellent emission-free suction.
This is Bosch's most compact cordless multi-use handstick in classic white. We can recommend you to buy this product because it comes along with two exchangeable battery packs that can make your cleaning time even longer!
What is better is that these battery packs are part of their Power for ALL system. So if you have other tools from their green product line, these batteries are compatible with them as well.
Regarding its runtime, normal mode with non-electrical accessories can run up to 30 minutes, 25 minutes on normal mode with the electrical floor nozzle, and 8 minutes on turbo mode with the electrical floor nozzle.
Comes with useful accessories
Dust container volume is medium
Bagless vacuum cleaner
4 hours charging time
Some complaints about short battery life
Customer Reviews
Here are some reviews from their Lazada Pages:
"strong suction. not too heavy"
"The Bosch Vacumm cleaner is so light and easy to assemble. Briefly tried it and it sucks up so much dust in a small space!"
3. Deerma Cordless Handheld Vacuum CM1900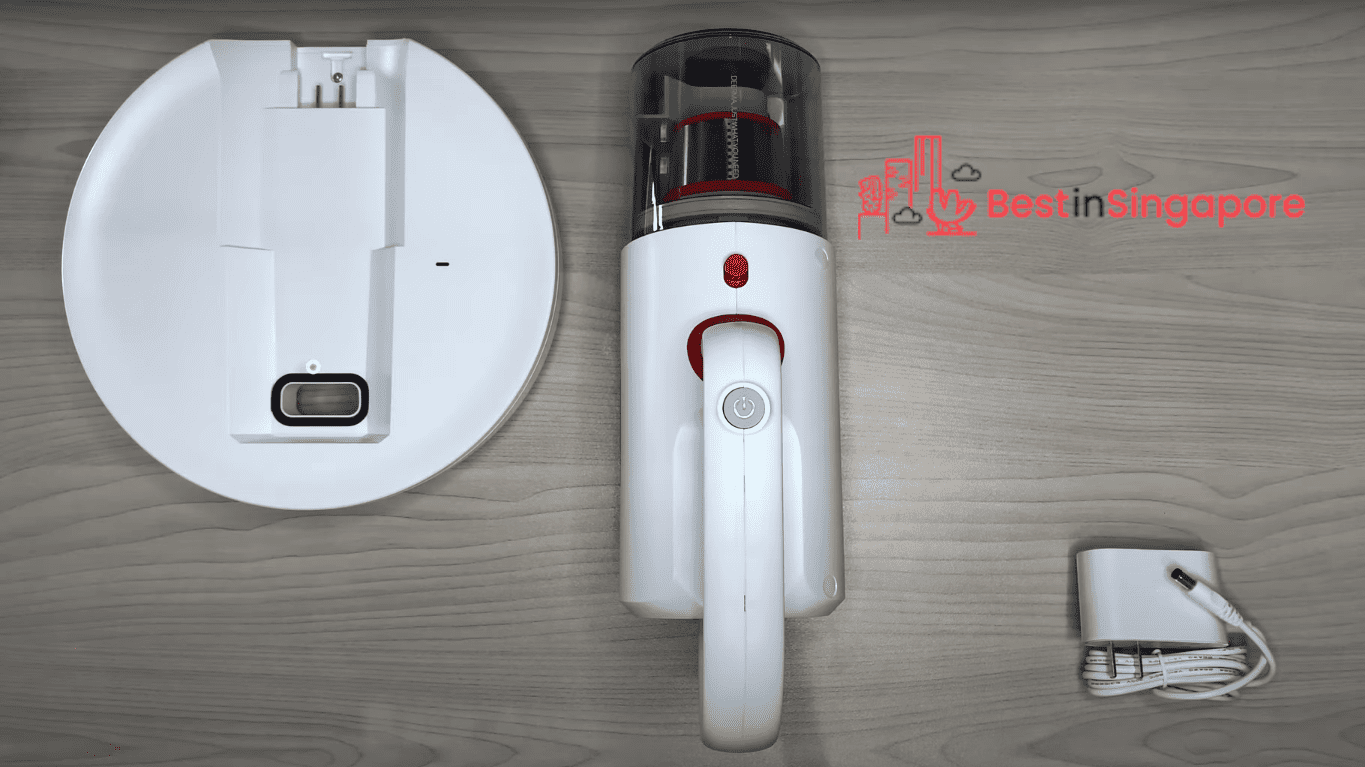 | | |
| --- | --- |
| BEST FOR | Dust and mite vacuum |
| TYPE | Handheld |
| SIZE | 35 x 21 x 28 cm |
| WEIGHT | 1.85 kg |
| WARRANTY | 1 month |
| PRICE | S$67.90 |
The Deerma Cordless Handheld Vacuum may be the cheapest vacuum on our list, but that doesn't mean it falls short in terms of features.
For one, it's a multifunctional cordless vacuum that can get rid of not only debris, dust, hair, and slags but mites as well. It can be used to clean sofas, furniture, mattresses, baby cots, pillows, quilts, and even car seats.
Another thing we like about this cordless vacuum is that it can be assembled into three forms, which basically makes it a 3-in-1 cleaning tool. It can be a handheld cleaner, a car cleaner, or a dust controller.
It even comes with a UV lamp that sterilises surfaces as you're getting rid of the dust and mites. You won't have to spend money on fabric and surface disinfectants to make sure that your household items aren't housing any germs and viruses.
It's also lightweight and portable, weighing only 1.85 kg, so carrying it from one room to another won't be a hassle. Storing it won't be a problem as well because it's small enough to fit into small spaces inside the cabinets.
In terms of battery life, this cordless vacuum can last about 30 minutes, which is a bit short considering that it takes 5 hours to charge fully. Most customers tend to look past this, though.
Affordable
Portable and lightweight
Has a UV lamp
Can get rid of mites and locusts
Can be used on mattresses and car seats
It's a small vacuum, so it can't be used on floors (unless you're just cleaning a small spot)
Short battery life, longer charging time
4. Trojan SGP8 Cordless Stick Vacuum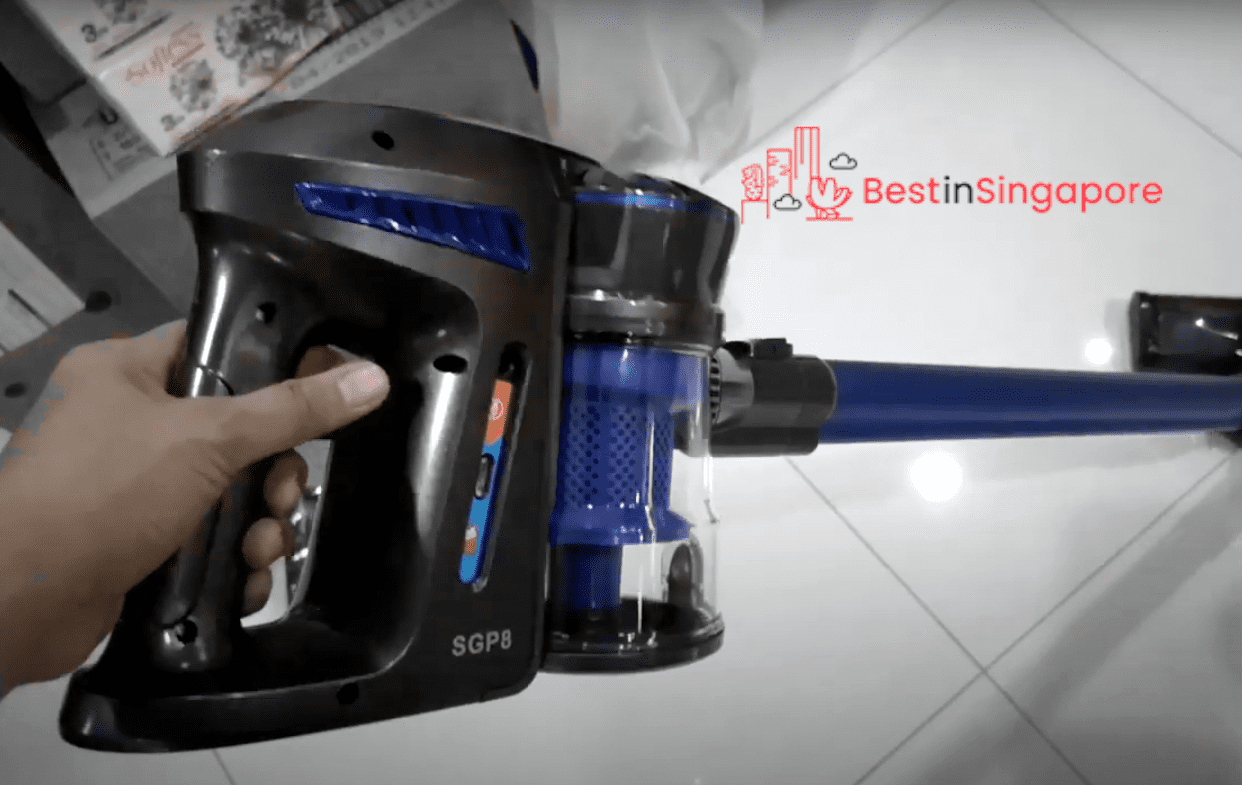 | | |
| --- | --- |
| BEST FOR | Lightweight and ergonomic design |
| TYPE | Stick |
| SIZE | 35 x 23 cm |
| WEIGHT | 1.5 kg |
| WARRANTY | 12 months |
| PRICE | S$130.00 |
The Trojan Cordless Stick Vacuum is designed for convenient all-around cleaning. It's a lightweight vacuum that comes with a powerful yet silent suction motor that can collect fine dust, debris, and other particles of 0.03 microns in size.
It might look like a heavy vacuum, but it can actually be used with a single hand. Some customers even compared cleaning the house using this cordless vacuum to waltzing.
When it comes to battery, it can last up to 30 minutes of continuous usage, which is equivalent to 180 m² of covered area. It also comes with a 2,200mAh lithium-ion battery that can be easily removed and replaced.
It can clean tight corners and narrow spots with ease because of its 180° flexible hinge and 90° up-down hinge. You no longer have to break your back trying to clean the space under the bed, sofa, and cabinet.
Its capacity, on the other hand, can hold as much as 1.2 litres of dust, debris, allergens, and even mites.
Aside from cleaning the household, this Trojan cordless vacuum can be used to clean the upholstery of your car. Every purchase comes with an attachable short brush.
Can be used for household and car cleaning
Powerful suction motor
Can reach impossible angle and narrow spots
Detachable vacuum tube and brushes
Customer Reviews
Here are some comments from customers who got it from Shopee:
"Excellent for the price – paid SGD130 for it. Suction is good, battery life is excellent and it is portable. Use the mite attachment for the sofa and bed. Overall quality is good – but this is not a premium product. Plastics should be thicker around the joints – just handle with a little more care!"
-Shopee user meljoe28
"Works straight out of the box. Like that the battery pack is separate. Hope the battery life is good or they offer replacement batteries in the future. Was pretty light, and came with free mite brush attachment. Not too noisy, powerful enough to clean dust and hair."
-Shopee user mxnmtch
5. Airbot Hypersonics Cordless Vacuum Cleaner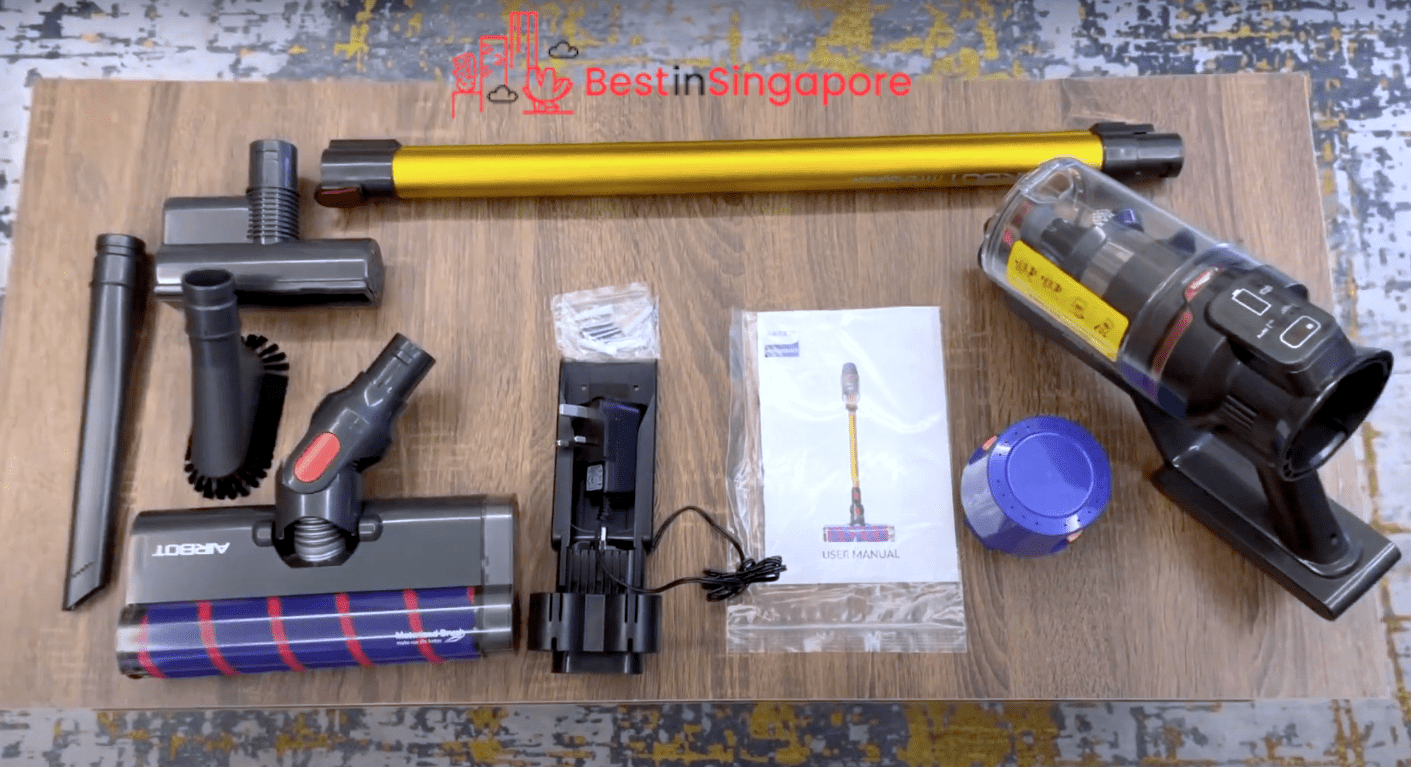 | | |
| --- | --- |
| BEST FOR | 5 speed options |
| TYPE | Stick |
| SIZE | 71 x 28.5 x 16 cm |
| WEIGHT | 2.2 kg |
| WARRANTY | 12 months |
| PRICE | S$199.00 |
The Airbot Hypersonics is a handheld vacuum cleaner that can be used on different types of surfaces, such as wooden floors, tile floors, beddings, carpets, and car seats, among others. It's designed with five modes, with 15,000 Pa as the minimum and 27,000 Pa as the maximum power.
It's the only cordless vacuum cleaner we know that can automatically sense dust density and self-adjust to balance motor power and battery life.
It's also one of the few cordless units that come with an LED control panel that indicates battery life, vacuum mode, and speed level indicators. This is the feature that makes it easy to control.
Since it's lightweight and balanced, cleaning up high, low, and in between has never been easier! It also comes with a crevice nozzle, mite brush head, and a large fluffy floor brush, all of which are easy to attach and detach.
When it comes to battery life, it doesn't disappoint as well. It's built with a 7-cell lithium-ion battery that can operate for an hour.
An hour of usage can cover up to 4 or 5 rooms in a flat. That's actually pretty good for vacuums this size!
Longer battery life
Lightweight and portable build
With LED control panel
Can be used on different surfaces
27KPA deep suction motor
Leans toward the expensive side
Doesn't come with replacement batteries
Customer Reviews
Take a look at some of the comments shared by buyers on Shopee:
"I've been using it for the past week and it's so much easier with a vacuum cleaner around, with cordless it's even more easier to handle. I don't really find it heavy too. It's easy to clean and the suction power is very good even at the lowest speed. Really happy with my purchase."
-Shopee user afshanesha
"Good quality cordless vacuum cleaner with auto pressure operation. Bought together a spare battery and dust cup to facilitate a continuous cleaning. I also ordered a supersonic model whose accessories are interchangeable. Together with the hypersonic vacuum cleaner, my house cleaning work will be accomplished without any interruption"
-Tony, from Airbot's office website
6. Dibea F20 MAX Cordless Vacuum Cleaner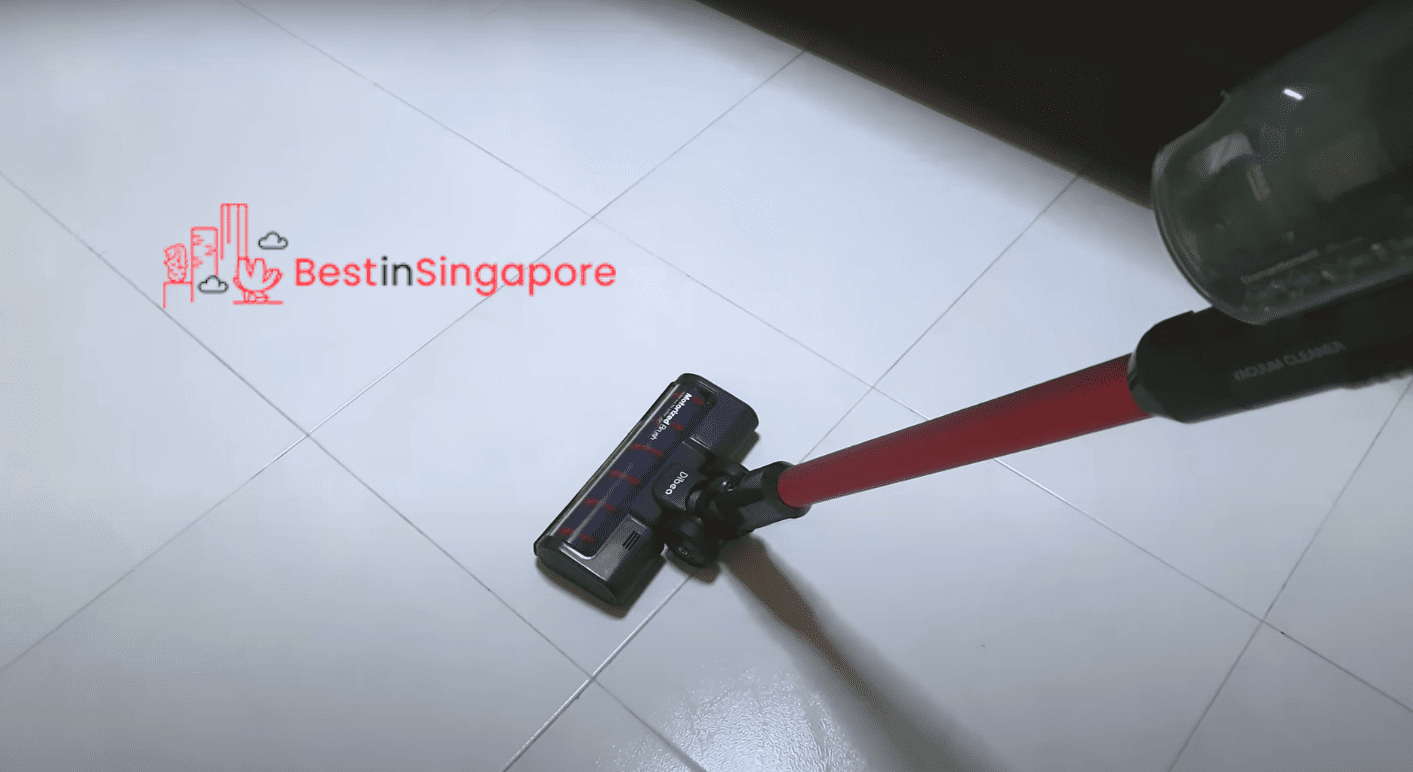 | | |
| --- | --- |
| BEST FOR | Improved battery life |
| TYPE | Stick |
| SIZE | 117 x 25.6 x 21.7 cm |
| WARRANTY | 12 months |
| PRICE | S$290.00 |
The Dibea F20 MAX is another lightweight but powerful cordless vacuum cleaner. It stands as Dibea's current flagship vacuum cleaner, boasting more than 60% of improvements compared to the previous models.
Among the new features of this cordless vacuum is the longer battery life and faster changer. It can last up to 50 minutes when used on eco-friendly mode, and only needs 2 to 3 hours of charging time.
It also comes with three power suction modes that can collect pet hair, dirt, food crumbs, rock candy, and even nuts. It can be used on different kinds of surfaces as well, including wooden floors, tile floors, carpets, car upholstery, and even mattresses.
There's also a detachable wide floor brush with a cleaning depth that can reach up to 90 centimetres. It's even capable of sweeping under furniture over 8 centimetres.
Another reason we call it one of the best cordless vacuum cleaners in Singapore is its low noise level of only 75dB. You won't have to worry about waking up other people inside the house should you decide to clean your room at night.
Low noise level
Wall-mountable design, so it saves storage space
Powerful suction
Longer battery life, faster charging time
Extended tube length
Large-capacity dust bucket
Expensive
Limited and short warranty coverage
Customer Reviews
Here are some comments from customers who bought it from Amazon:
"First, it's very lightweight. It handles rounded corners very well. The headlights make it look jazz. You can use joystick cleaners and handheld devices. Easily switch between devices, which is useful for quickly hovering a sofa and bringing it to your car. No matter what accessories you need, they are very convenient. It has enough power to build a house and it charges quickly. A stand so you can secure it on top for easy placement, which is a good idea. Anyway, this has saved a lot of space. The vacuum cleaner is easy to empty, and I personally like to empty it every time I use it, because I find myself in short, I highly recommend this vacuum cleaner.
-Andy
"This Dibea cordless vacuum cleaner has a very elegant appearance. It is quite powerful yet quiet and lightweight. The adjustable suction level feature is our favorite. You can use this vacuum to clean different surfaces with different suction levels. Secondly, this vacuum cleaner can easily transform from a long handled floor vacuum to a short handled vacuum for a car or sofa. The easy to empty dirt cup feature is very nice to have also. Finally, the detachable and washable filter makes the after-using job very easy. So glad we purchased this vacuum."
-Little Tiger
7. ECOVACS OZMO950 Robot Vacuum Cleaner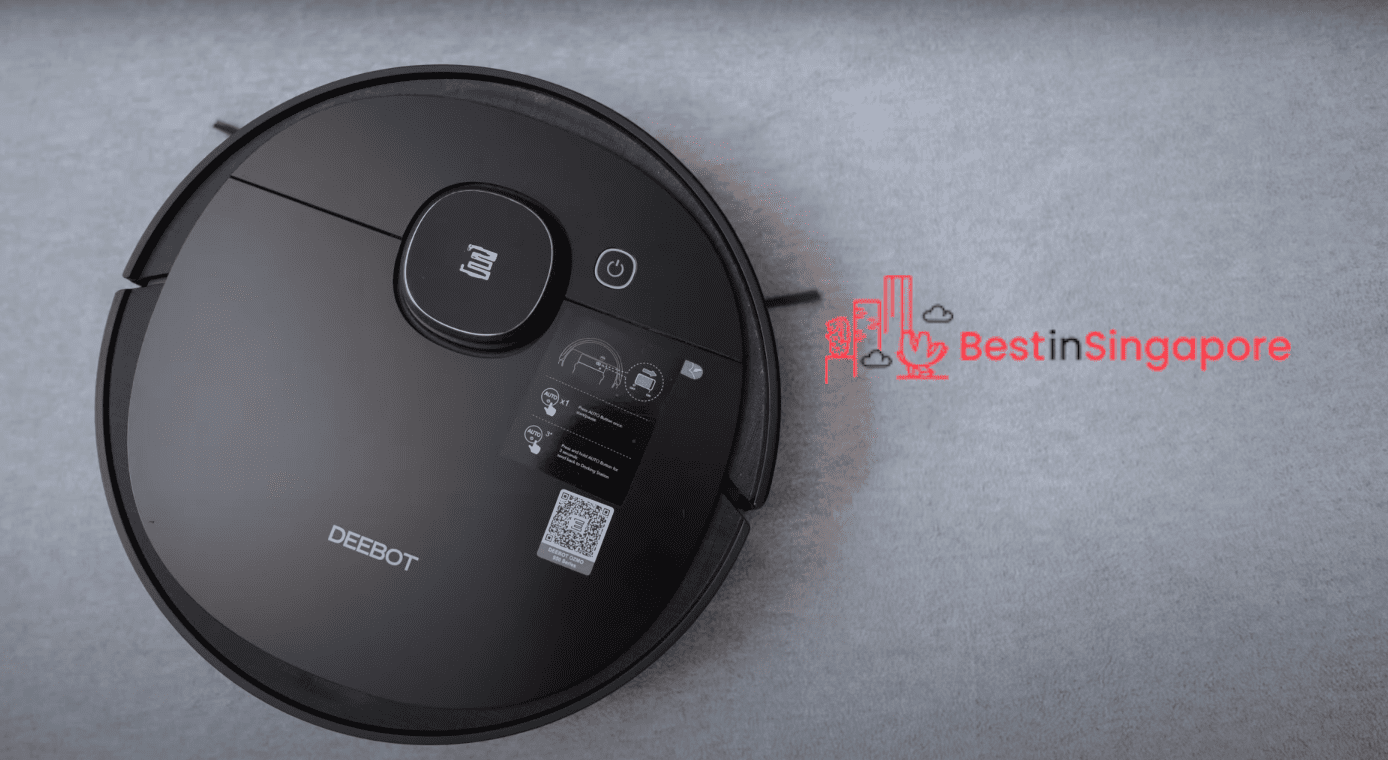 | | |
| --- | --- |
| BEST FOR | High cleaning efficiency |
| TYPE | Robot |
| SIZE | 39 x 9.3 cm |
| WEIGHT | 1 kg |
| WARRANTY | 12 months |
| PRICE | S$509.00 |
If you're looking to spend more than $500 bucks for a vacuum that cleans on its own, then we recommend getting your hands on the ECOVACS OZMO950. It's a robot vacuum cleaner that can give your entire home a deep and intense clean.
It's designed with a revolutionary pressure-retention system that promotes energy efficiency and high vacuum pressure without creating any loud machine noise. In fact, its noise level is only at 66dB, far quieter than most vacuum cleaners.
It can also last for up to three hours of continuous house cleaning due to its powerful 5200 m(A)h battery. If it's used under the normal mode, it can operate for more than three hours.
One of the best features of this robot vacuum would have to be the OZMO™ Mopping that can detect carpets. If most robot vacuums aren't suitable for houses with carpets, consider this one different.
It can also familiarise itself with the structure of your home, formulating a unique cleaning path all by itself that efficiently cleans your entire home in a short amount of time. It's capable of scanning and storing multiple maps of different levels of your home too.
Above all, the ECOVACS OZMO950 is extremely easy to use. You can control it using your smartphone or by connecting it to Amazon Echo and Google Home.
Operates as a vacuum and a mop
Can be controlled using smartphone
Automatic charging and longer battery life
Low noise level
Can recognise carpets
Expensive
Suitable only for large houses
Customer Reviews
Here's what clients had to say about their experience with the ECOVACS OZMO950:
"Tested for probably a week and this robot is working just as I expected.
Intelligent: This robot is smaaaaaart! It can distinguish the hard floor and carpet precisely. It also has a very good memory. Just with one time use, it has already mapped and stored the floors of the whole house and afterwards the efficiency is further promoted.
APP: the app is easy to use. It has an excellent control on the robot, the mapping, the water flow level…
Battery: Each charge lasts for 3+ hrs, more than sufficient to clean my floor (about 250 square meters) . This really impresses me!
Coverage: the robot has a low profile and high mobility. It covers almost every edge and even corners of my floors. I do not need to clean the ends manually."
-Huan Zhang, Amazon
"This is the best gift for my wife. It is so busy for new parents with small kids, tons of housework and accidents everyday. Small kids always need a clean environment. The Ecovacs Ozmo 950 is very helpful at this point. It is easy to set up, and use with Ecovacs Home. I can schedule it to clean my house when we are not home. I also can tell it to avoid some areas with electric wires or furniture, or just let it clean a certain area. All of these can easily be set by App. It also has a good sensor to avoid falling down from stairs. When vacuuming, it strengthens its suction power on carpets; when mopping, it won't wet your carpet. It also cleans the areas which you may not or cannot reach to clean, like under bedding or furniture….. More than 3 hours working time, and not much noise when working. Great Helper, highly recommended!"
-Jack, Amazon
8. Tefal's AIR FORCE™ 360 LIGHT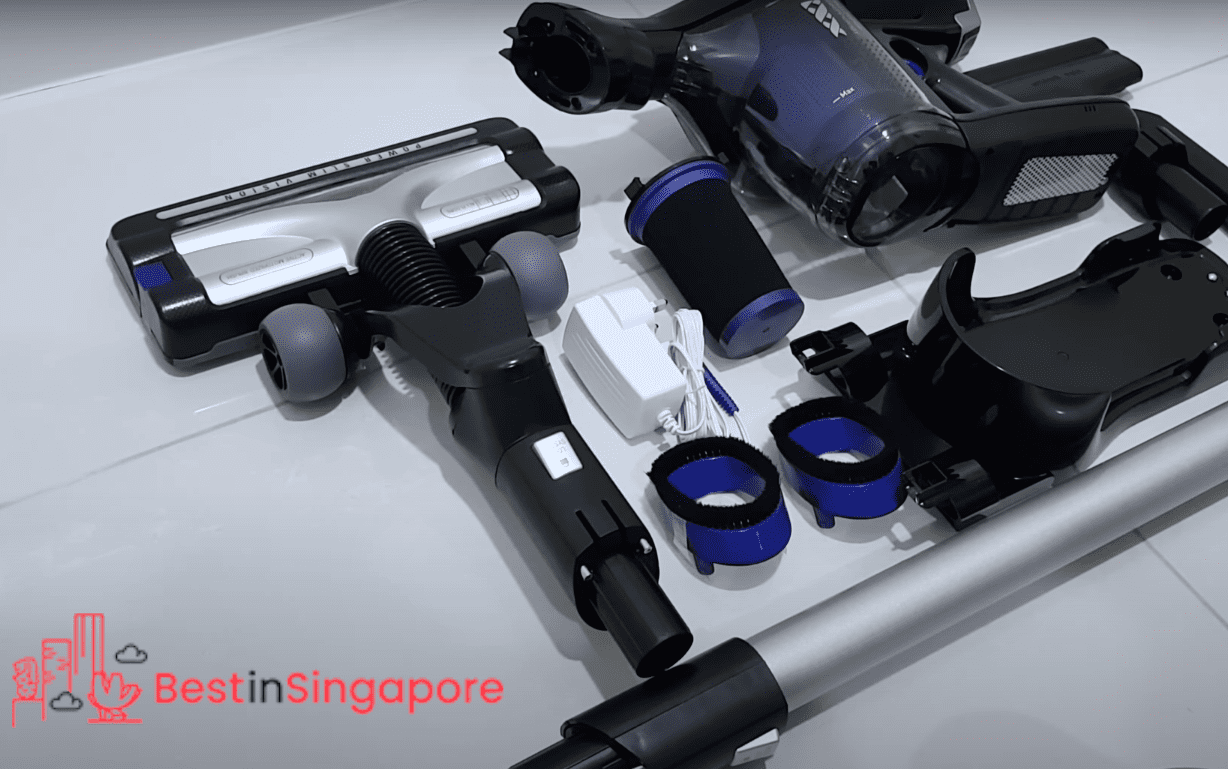 | | |
| --- | --- |
| BEST FOR | Light vacuum |
| TYPE | Hand-held vacuum |
| SIZE | Contact for more information |
| WEIGHT | 1.4kg |
| WARRANTY | Contact for more information |
| PRICE | $699, Promo $469 |
Let's face it, as convenient as it is to use vacuums, they can be a pain to handle at times, what with how heavy they can be. Fortunately, that isn't the case with Tefal's AIR FORCE™ 360 LIGHT.
The AIR FORCE™ 360 LIGHT is a traditional vacuum built with a motor that weighs less than a 1.5 liter water bottle, resulting in an ultra light vacuum that is easy to handle and less tiring to maneuver around. It also has an ergonomic handle, so it's comfortable to handle regardless of the hand position.
Another feature worth noting is the dust container, which removes seamlessly, not at all like the other vacuum dust containers in the market. Alongside this dust container is a filtration system that features six steps, resulting in a 99% filtration rate regardless of the environment.
To end things off, the AIR FORCE™ 360 LIGHT also has a removable and replaceable battery that requires only four hours of charging. After that, the user can go about their day and use the vacuum to its fullest potential.
Easy to remove dust container
Single-click power trigger
Light
Ergonomic handle
FAQs about Cordless Vacuum Cleaners
---
And with that, we conclude our list of the best cordless vacuum cleaners in Singapore. If you've used any of these cordless units in the past, share with us your experience with cleaning your house using them.
If you believe we missed out on other cordless vacuums, don't hesitate to drop their names so we can check if they're worthy of being added to our list.
For more options, we recommend checking out our list of the best vacuum cleaners in Singapore. That list features all types of vacuum cleaners, including handheld, bagged, bagless, and smart models.