Fly Away to Bird Paradise in Singapore: The Ultimate Guide
Located on the margins of Upper Seletar Reservoir, Mandai Wildlife Reserve is a haven for people who love animals, nature, and adventure. It contains several themed parks, and one of the newest additions (opened only in 2023) is Bird Paradise.
As you can guess from the name, Bird Paradise is an aviary with an area of 42 acres. With that size, it can house about 3,500 wild animals and more, which is why the park is divided into several zones.
To ensure a seamless and memorable experience in Bird Paradise, here's an article that you can use as a guide. Happy exploring!
Things to Know
Address: 20 Mandai Lake Rd, Singapore 729825
Operating Hours: Monday to Sunday—9 am to 6 pm
Background
— From: joviefash and singaporeforeveryone
Before 2023, Mandai Wildlife Reserve already had an aviary, Jurong Bird Park, which had been operating since 1971. It had about 49 acres of land on the western slope of Jurong Hill, and at the time, it was considered the largest bird park in Asia.
However, in 2016, Mandai Wildlife Group decided to relocate the bird park to the reserve so that it would be near the other reserve parks. Eventually, the park was renamed Bird Paradise and opened to the public on May 8, 2023.
Even though Bird Paradise is technically smaller than Jurong Bird Park by a few acres, it still has larger aviaries.
How to Get There
MRT/Bus: In terms of public transportation, a combination of MRT and bus is the ideal method to get to Bird Paradise.
Ride the train and alight at Springleaf, Ang Mo Kio, Choa Chu Kang, or Khatib; the bus you're going to ride to the reserve depends on where you disembark.
If you alight at Springleaf or Ang Mo Kio, take bus 138 and alight at bus stop #48111.
For Choa Chu Kang, take bus 927 and alight at bus stop #48111.
For Khatib, take the Mandai Khatib Shuttle. You have to take the station's Exit A first and wait at the Passenger Pick-up Point. The shuttle arrives every 10 or 15 minutes.
Mandai Heartland Express: If you're visiting on a school holiday weekend or a public holiday, you can ride the Mandai Heartland Express. This takes you between the reserve and three heartland locations: Heartbeat@Bedok, Sengkang MRT Station, and Our Tampines Hub.
Taxi/Ride-Hailing Service: Whether you're riding a taxi or you've booked a ride from a ride-hailing app, the pick-up/drop-off point is at Mandai East Carpark (Car Park 2).
Car: For visitors who are driving, Bird Paradise has a parking lot. The rates are S$3 for the first hour and S$2 for every additional hour or part thereof. If your vehicle doesn't have an IU or cash card, you'll have to pay S$10 per entry.
Park Layout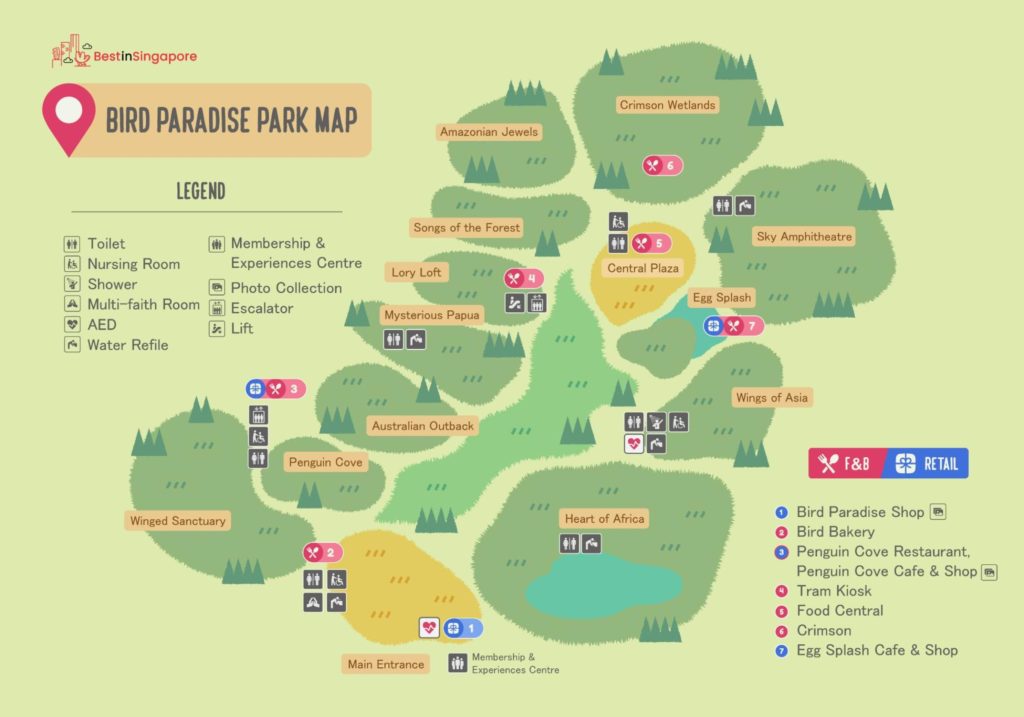 The layout of Bird Paradise is relatively simple and easy to follow. It's like one giant corridor with the entrance plaza at one end, the Sky Amphitheatre on the other end, and the other zones in between.
As of now, there are 12 sections within Bird Paradise, each having its distinct theme and perks. We'll talk more about each zone in the next few sections.
Admission Fee
— From: heyaishah
If you're only visiting Bird Paradise out of all the attractions in Mandai Wildlife Reserve, here are the park's ticket prices:
Non-Resident—S$48 (adult), S$33 (child ages 3–12 years old)
Resident—S$43.20 (adult), S$29.70 (child), S$20 (senior citizen ages 60 years old and above)
It's also possible to buy multi-park tickets if you want to visit another park in addition to Bird Paradise. Here are your multi-park admission options:
Two-Park Admission. With this, you only have to pay once to visit two parks of your choice. It costs S$96 for adults and S$66 for children, and you need to use the ticket within seven days of your purchase.
ParkHopper Plus. This option allows you to visit all parks, and it also saves you up to 40%. It costs S$118 for adults and S$90 for children, and just like the previous option, this one has a flexibility of seven days.
Best Time to Visit
— From: ssanin82_nature
The best time to visit Bird Paradise is in the morning or late afternoon because that's when the birds are active the most.
Additionally, I recommend coming here on a weekday instead of the weekend or a public holiday. This is because the park is a lot less crowded on weekdays, allowing you to explore everything in peace.
What to Expect
Entrance Plaza
— From: happyhappyyzen
The first zone you'll come across in Bird Paradise is the Entrance Plaza, and this is where you can find the Guest Services. So, if you have any questions regarding the park, this is the perfect opportunity to ask them.
Another highlight of the Entrance Plaza is the Orchid Waterfall, which pays tribute to the former Mandai Orchid Gardens (this garden was located where Bird Paradise is now).
This waterfall is a serene location with mature trees and orchids in the area. It's a perfect place to chill or take photos to post on Instagram later.
Winged Sanctuary
— From: jd_toh
Winged Sanctuary is right next to the Entrance Plaza, so it's likely the next stop you're going to see in Bird Paradise.
This zone is dedicated to rare or predatory birds of high conservation value. For this reason, most of the birds you'll find here are hornbills, like the Sulawesi hornbill and the western piping hornbill.
There are other bird species here. A few examples include the Philippine eagle, the brahminy starling, and the Santa Cruz ground dove.
Penguin Cove
— From: mandaiwildlifereserve
Even though they can't fly, penguins are still some of the most beloved bird species in the world. If you're one of those penguin enthusiasts, then Penguin Cove will definitely delight you.
This zone has three stories. The first story is where you can find penguins swimming through the water, and the sight is so adorable that you might forget about the other stories!
But if you're keen on exploring more, you can find a room with a screen that plays an informational video about these cute creatures. On the topmost floor, there's a viewing gallery where you can see more penguins; this time, they're wandering on land.
Australian Outback
— From: mandaiwildlifereserve
Transport yourself to the wild lands of Australia at the Australian Outback. In this zone, you'll come across some of the avian fellows found in the Land Down Under; the majestic emu, in particular, is the most popular animal to be spotted here.
You can also see lorikeets, endangered cockatoos, pigeons, kookaburra, and lapwings. Just keep in mind that these birds are loud and noisy; they'll be communicating enthusiastically with each other and even with you.
Lory Loft
— From: mandaiwildlifereserve
Lory Loft was actually a zone in Jurong Bird Park, so it's a good thing that it's been brought back to Bird Paradise. It's also a new and improved version; the sprawling space is modeled after a monsoon forest, and it looks quite breathtaking.
As the name suggests, this zone is home to 10 species of lories; some that you can find here are the green-naped lory and the rainbow lorikeet. There are also several colorful parrots, so be on the lookout for them.
If you're interested in seeing these birds getting fed, come here by 11 am or 3:30 pm because that's when the feeding session happens.
Mysterious Papua
The entrance of Mysterious Papua is a grand hut-like structure, so right off the bat, you can tell that exploring this zone is a memorable experience.
This area is styled after the coastal forests of lowland Papua, so you can find stilt roots of several pandan species. There are also pavilions that are designed to resemble the houses of the Korowai tribe.
As for the animals, this zone houses over 25 species of rainforest birds. Palm cockatoos are a crowd favorite because they're quite expressive, but other birds worth checking out include the flightless southern cassowary and the ground-dwelling Nicobar pigeons.
Songs of the Forest
There's nothing better than the feeling of being serenaded by birds. If you've never experienced this yet, then you better head to Songs of the Forest; the birds here are always singing such melodious symphonies!
The common species found here are the Bali myna, straw-headed bulbul, and Victoria crowned pigeon, all of which are popular songbirds in Asia.
Aside from the lovely singing, this zone also boasts gentle streams and serene greenery, very much reminiscent of the riverine forests of Southeast Asia. So, strolling here is quite a relaxing experience.
Amazonian Jewels
The Amazon forest is famous for being a green paradise with countless wild plants and animals. Luckily, you don't have to travel halfway across the world to experience this forest because Bird Paradise has Amazonian Jewels.
This zone features some of the beautiful Amazonian flora, such as ficus trees and terrestrial and epiphytic bromeliads. Giant buttress roots can also be found here!
As for bird species, be on the lookout for golden parakeets, saffron toucanets, and crested quail doves.
Crimson Wetlands
— From: darrensohphoto
The Crimson Wetlands area takes inspiration from the flooded savannahs of South America. In fact, the Bird Paradise team is so determined to keep everything accurate that they even visited the Juan Curi waterfall during the design process.
Stroll amidst the tall grass and watch out for birds like the scarlet macaw, blue-throated macaw, and scarlet ibis. Of course, the American flamingo is also hard to miss!
Central Plaza
— From: smriti_khanna
If you're tired of walking around Bird Paradise and would like to take a break, the Central Plaza is the place to go. Located in the center of the park, this plaza is filled with food outlets, so you can buy drinks or snacks to refill your energy.
There are also playgrounds here for your little ones.
Treetop Play is a dry playground with trampolines and a netted structure that children can climb up. The other playground is Egg Splash, which is a wet playground with several cool fountains.
If you're interested in catching some of the park shows, the Sky Amphitheatre is here as well.
Wings of Asia
Wings of Asia is a breezy zone inspired by the lands of Southeast Asia. What I love about this section is that it has two hiking trails if you want an adventure: the first takes you to water-based sound sculptures, while the other brings you to a bamboo grove.
There's even a bridge that's connected to Mysterious Papua, so you can prolong your hike if you want to!
Wings of Asia also boasts terraced rice paddy fields. Whether you're out on these fields or in the bamboo grove, always keep an eye out for black-faced spoonbills, milky storks, and Australian pelicans.
Heart of Africa
At 1.5 hectares, Heart of Africa is one of the largest zones in Bird Paradise, and it's themed after the forested valleys of continental Africa. Because of its size, this area also has the park's largest bird population, with over 800 birds!
When you're strolling along winding streams and mature vegetation, you might be able to spot great blue turacos, superb starlings, and blue-bellied roller. For a better view of your surroundings, head to the suspension bridge or the viewing tower.
If you're tired of walking around, you can take a break in any of the Congolese pavilions.
Interactive Presentations
— From: snehlatavasaikar_official
While you're in Bird Paradise, you might as well catch the birds in action, and you can do this by watching the 20-minute interactive presentations held at the Sky Amphitheatre.
Currently, there are two presentations.
Predators on Wings features fierce and formidable birds of prey, and its show times are every 10:30 am and 2:30 pm. During this show, you can even volunteer and learn a few things about falconry.
The second show is Wings of the World, which is shown every 12:30 and 5 pm and is all about smart and talented birds. Here, you can see how fast and agile macaws and hornbills are and listen to an Amazon parrot speaking in three languages!
If you want to attend these shows, I recommend coming early because seats are subject to availability.
Bird Feeding Sessions
— From: hanaffia_hamzah and lilfia
Price: S$8
Another way you can interact with the birds is by feeding them. Fortunately, the park does host feeding sessions. The best part is that you can choose which avian to feed; your options are starlings, pelicans, lories and lorikeets, and cassowaries.
Times for the feeding sessions are as follows:
Heart of Africa: 9:30 am and 2 pm
Wings of Asia: 10 am and 4:30 pm
Lory Loft: 11 am and 3:30 pm
Mysterious Papua: 1 pm
If you're interested in these feeding sessions, be sure to book your spot online, and on the day of your visit, arrive at your chosen zone around 15 minutes early.
Bird Discovery Tour
— From: crystallow_
Time: Monday to Sunday—10:30 am to 12 pm, 3:30 to 5 pm
Price:
Public—S$400 per 1.5 hours (weekdays), S$500 per 1.5 hours (weekends, public holidays)
WildPass Holders—S$360 per 1.5 hours (weekdays)
Friends of Wildlife Members—S$320 per 1.5 hours (weekdays), S$400 per 1.5 hours (weekends, public holidays)
Even though you can explore the entirety of Bird Paradise by yourself, you might want to consider booking a Bird Discovery Tour instead—especially if you're traveling with a group.
With this tour, you'll have your own wildlife guide who will provide you with information and fun tidbits about the different birds in the park. Additionally, you can interact with the lovely avians, so you'll be able to get a taste of their personalities.
This tour can accept groups with up to eight members, so bring along your family and friends if possible.
Avian Healthcare
— From: raeframes
Time: Monday to Sunday—1:45 pm to 3 pm
Price:
Public—S$118.40 per person (weekdays), S$148 per person (weekends, public holidays)
WildPass Holders—S$106.56 per person (weekdays)
Friends of Wildlife Members—S$94.72 per person (weekdays), S$118.40 per person (weekends, public holidays)
Avian Healthcare is another service offered to visitors, and this one gives you a behind-the-scenes look at how the park's veterinarians take care of the birds.
At the Avian Hospital, you can watch as nutritionists prepare meals for the birds and observe when the bird nannies take care of the little ones at the Breeding Center. It's so cool to see everything!
If you're interested in booking, just know that your group should have a minimum of two members. The limit is eight members.
Where to Shop
Bird Paradise Shop
Location: Park Entrance
Operating Hours: Monday to Sunday—9 am to 7 pm
You can't leave Bird Paradise without getting a souvenir to bring home. So, you better head to Bird Paradise Shop before leaving and find something that you'll like.
This shop boasts an impressive collection of avian-inspired shirts, caps, and other pieces of apparel. It also has many plush toys, so your children might want to get an adorable penguin to cuddle with.
The best part is that a portion of the shop's proceeds will go towards wildlife conservation and protection, so you can rest assured that your money is being used well.
Penguin Cove Cafe and Shop
Address: Ocean Network Express Penguin Cove, Level 2
Operating Hours: Monday to Sunday—9 am to 5:30 pm
If penguins are your favorite birds, then the Penguin Cove Cafe and Shop is the one for you. This shop is unsurprisingly filled with all sorts of penguin merchandise—from shirts to plush toys to backpacks!
The shop also has a cafe, so if you want to grab a quick bite or buy a bottle of water for refreshment, you can easily do so here.
Egg Splash Cafe and Shop
Location: Egg Splash, Central Plaza
Operating Hours: Monday to Sunday—9:30 am to 5:30 pm
Another shop-and-cafe combo in Bird Paradise is the Egg Splash Cafe and Shop. As you can eggs-pect from the name, this shop is dedicated to all things egg and chick-related.
I particularly love the adorable bags sold here; I want to squish the little chick in front! This store even has wet suits, so if your child wants to play in Egg Splash but doesn't have a wet suit, you can buy one here.
Unsurprisingly, the menu is also full of egg dishes. Whether you want them fried, boiled, poached, or scrambled, there's an egg-themed snack for you here.
Bird Paradise Photo Shop and Penguin Cove Photo Shop
— From: dzungbeo
Location: Bird Paradise Shop and Penguin Cove
Operating Hours:
Bird Paradise Photo Shop—9 am to 7 pm (Monday to Sunday)
Penguin Cove Photo Shop—9 am to 5:30 pm (Monday to Sunday)
Technically, these two aren't souvenir shops, but they offer services that might interest you, hence why I'm mentioning them here.
Essentially, the Bird Paradise Photo Shop and Penguin Cove Photo Shop are photography counters where you can redeem your digital photos and videos. The photos will also be customized, so you can have a memento when you go back home.
In order to get your customized photos and videos, you need to go to the Mandai Moments website and follow the directions there.
Where to Eat
Penguin Cove Restaurant
Location: Ocean Network Express Penguin Cove, Level 1
Operating Hours: Monday to Sunday—11 am to 5:30 pm
Pricing: $$
Starving? Then, you'll love the Penguin Cove Restaurant because it has a mouthwatering buffet spread featuring local and international cuisines!
Personally, I always make a beeline for the sushi and dim sum sections; they're so filling! They also have a great variety of local desserts; I always go back for the kueh lapis, kueh dadar, and ondeh ondeh.
The restaurant also boasts a penguin theme. There's even an aquarium, so you can see penguins swimming around while eating your meal!
Crimson Restaurant
Location: Crimson Wetlands
Operating Hours: Monday to Sunday—11 am to 5:30 pm
Pricing: $$$
The great thing about the Crimson Restaurant is that it has floor-to-ceiling windows and overlooks the Crimson Wetlands, so you'll be treated to a gorgeous view while dining. I especially recommend sitting by the windows for the ultimate view.
It also has a menu specially curated by a local celebrity chef, Eric Teo. You can order a la carte items, but I highly recommend the 3-course set lunch; the king prawn aglio olio is so indulgent.
Just keep in mind that the 3-course set lunch is only available from 11 am to 2:30 pm.
Bird Bakery
Location: Park Entrance
Operating Hours: Monday to Sunday—9 am to 5:30 pm
Pricing: $
If, for some reason, you came to Bird Paradise before you've had your breakfast, then Bird Bakery is where you should go to grab something to eat.
This bakery has various bread products and pastries, and it's adorable that they're all shaped like birds! You can also buy a cup of coffee here if you need something to wake you up and energize you for the day.
Food Central
Location: Central Plaza
Operating Hours: Monday to Sunday—9:30 am to 5:30 pm
Pricing: $
Food Central is set up like a hawker center; there are multiple stalls to choose from, and the seats are all in a common area. The environment here is also pretty laid-back, so you can sit back and just relax with your companions.
As for the food selection, Singaporean classics like Hainanese chicken rice are the common dishes provided. But you can also find Western favorites like fish and chips, so don't hesitate to browse your options.
Tram Kiosk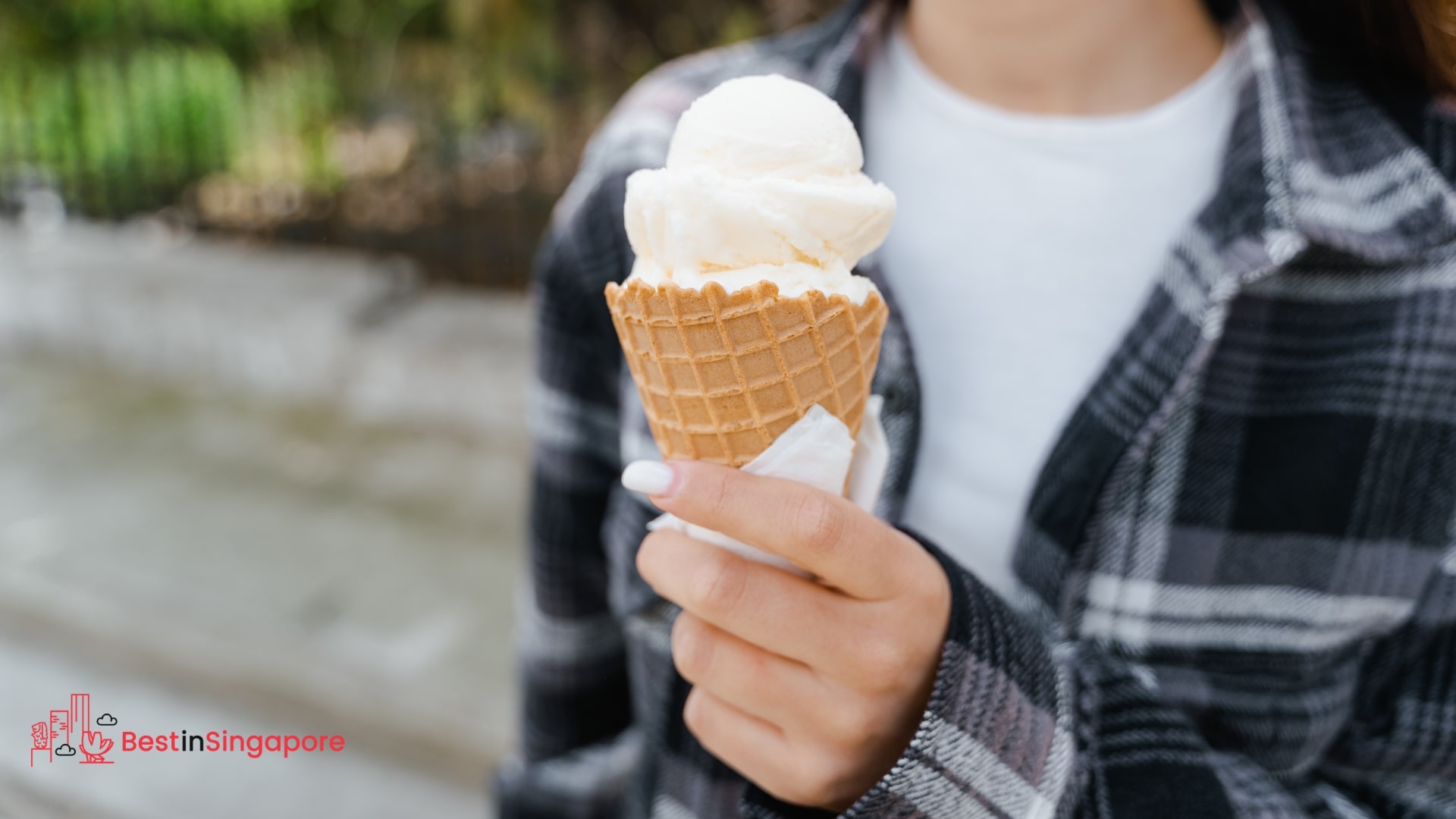 Location: Shuttle Station 2
Operating Hours: Monday to Sunday—9:30 am to 5:30 pm
Pricing: $
Want to beat the hot Singapore weather? Then grab a cone of ice cream from Tram Kiosk.
This ice cream shop is located by Shuttle Station 2, so it should be easy to find. It also has a good selection of premium ice cream flavors and beverages, so you can satisfy your sweet tooth cravings and be refreshed at the same time.
Tips
For a seamless experience in Bird Paradise, here are additional tips that I recommend you follow:
Download the Mandai App. This app will provide you with a suggested itinerary if you don't know what to do and a map if you easily get lost. It will also add reminders if you've booked a show or a tour around the park!
Wear comfortable shoes. You're likely going to spend your time walking around Bird Paradise, so it's important that your feet are comfortable throughout.
Bring and put on insect repellent. No matter how many preventive measures the park staff has taken, there will still be insects in Bird Paradise. So, I recommend putting on some insect repellent for extra protection.
Bring sunscreen and a cap. Most of the exhibits in Bird Paradise are located outdoors, so you'll be spending a lot of time under the sun. Protect your skin by putting on sunscreen.
Bring a water bottle. Walking around the park will dehydrate you in no time, so it's important to drink water often. Luckily, there are multiple refill stations in the park, so you just have to bring your own water bottle.