Why is Singapore MRT so good?
Public transportation in Singapore is one of the nation's best features, and the highlight is undoubtedly its Mass Rapid Transit (MRT) system. I've traveled to a few countries myself, and I have to say that Singapore's MRT outshines them all. 
The MRT system is just comprehensive and convenient!
I can go on and on about everything related to Singapore's MRT system, and that's why I wrote this article. I prepared all you need to know about the MRT in Singapore so by the time you visit, you can explore the island like a pro!
All About the Singapore MRT
Singapore's MRT system began operating in November 1987, making it the oldest metro system in Southeast Asia. Aside from that, it's also one of the busiest and most comprehensive because it encompasses a total length of 231 km.
There are plans to expand the system—be it adding new lines or new stations to existing stations. Specifically, it's expected that the length will be doubled to roughly 450 km by 2040.
What are the different lines of Singapore MRT?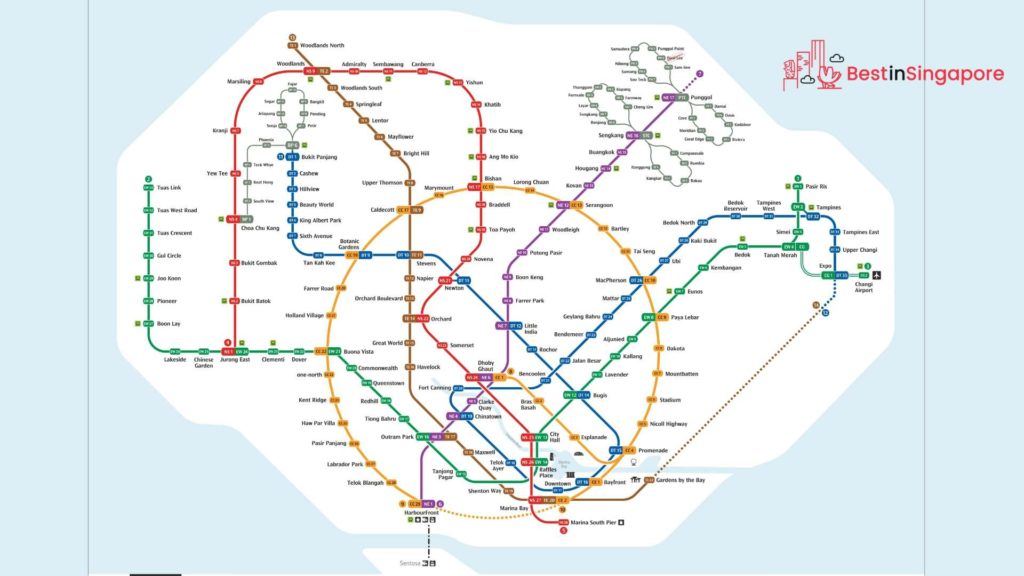 As of now, the Singapore MRT system has six lines and a total of 134 operational stations. These lines are arranged in a circle-radial topology, and they're distinguished by their respective colors.
For more information, here are the different lines of Singapore MRT and their respective stations.
North-South Line
— From: tsuba1985
The North-South Line is the first MRT line to be built in Singapore, and it's still one of the most utilized to this day. It's colored red on the Singapore rail map.
This line is about 45 km long, with a total of 30 stations (two of them are infill stations). It runs from Jurong East station, which is located in the West Region, to Marina South Pier station, which is in the Central Area. 
Station Name
Station Code
Interchange Station (If Available)
Jurong East
NS1, EW24, JE5
East-West Line
JRL East Branch (2028)
Jurong East Bus Interchange
Bukit Batok
NS2
N/A
Bukit Gombak
NS3
N/A
Brickland (infill station)
NS3A
N/A
Choa Chu Kang
NS4, BP1, JS1
Bukit Panjang LRT
Jurong Region Line (2027)
Choa Chu Kang Bus Interchange
Yew Tee
NS5
N/A
Sungei Kadut (infill stations)
NS6, DT
Downtown Line (mid-2030s)
Kranji
NS7
N/A
Marsiling
NS8
N/A
Woodlands
NS9, TE2
Thomson-East Coast Line
Woodlands Bus Interchange
Admiralty
NS10
N/A
Sembawang
NS11
Sembawang Bus Interchange
Canberra
NS12
N/A
Yishun
NS13
Yishun Bus Interchange
Khatib
NS14
N/A
Yio Chu Kang
NS15
Yio Chu Kang Bus Interchange
Ang Mo Kio
NS16, CR11
Cross Island Line (2030)
Ang Mo Kio Bus Interchange
Bishan
NS17, CC15
Circle Line
Bishan Bus Interchange
Braddell
NS18
N/A
Toa Payoh
NS19
Toa Payoh Bus Interchange
Novena
NS20
N/A
Newton
NS21, DT11
Downtown Line
Orchard
NS22, TE14
Thomson-East Coast Line
Somerset
NS23
N/A
Dhoby Ghaut
NS24, NE6, CC1
North East Line
Circle Line
City Hall
NS25, EW13
East-West Line
Raffles Place
NS26, EW14
East-West Line
Marina Bay
NS27, CE2, TE20
Circle Line Extension
Thomson-East Coast Line
Marina South Pier
NS28
Marina South Pier
Marina Bay Cruise Center
East-West Line
— From: translas_transportation_2021
The East-West Line is the second MRT station to be built in Singapore, and currently, it holds the title as the longest line in the system—with a total length of 57.2 km.
Colored green on the rail map, the East-West Line has 35 stations, running from Pasir Ris to Tuas Link. Around eight of these stations are located underground.
Station Name
Station Code
Interchange Station (If Available)
Pasir Ris
EW1, CR5, CP1
Cross Island Line (2030)
CRL Punggol Extension (2032)
Pasir Ris Bus Interchange
Tampines
EW2, DT32
Downtown Line
Tampines Bus Interchange
Simei
EW3
N/A
Tanah Merah
EW4 CG
EWL Changi Airport Branch Line (until 2040)
Thomson-East Coast Line (after 2040)
Bedok
EW5
Bedok Bus Interchange
Kembangan
EW6
N/A
Eunos
EW7
Eunos Bus Interchange
Paya Lebar
EW8, CC9
Circle Line
Aljunied
EW9
N/A
Kallang
EW10
Lorong 1 Geylang Bus Interchange
Lavender
EW11
N/A
Bugis
EW12, DT14
Downtown Line
City Hall
EW13, NS25
North-South Line
Raffles Place
EW14, NS26
North-South Line
Tanjong Pagar
EW15
N/A
Outram Park
EW16, NE3, TE17
North East Line
Thomson-East Coast Line
Tiong Bahru
EW17
N/A
Redhill
EW18
N/A
Queenstown
EW19
N/A
Commonwealth
EW20
N/A
Buona Vista
EW21
Circle Line
Buona Vista Bus Interchange
Ghim Moh Bus Interchange
Dover (infill station)
EW22
N/A
Clementi
EW23, CR17
Cross Island Line (2032)
Clementi Bus Interchange
Jurong East
EW24, NS1, JE5
North-South Line
JRL East Branch (2028)
Jurong East Bus Interchange
Chinese Garden
EW25
N/A
Lakeside
EW26
N/A
Boon Lay
EW27, JS8
Jurong Region Line (2027)
Boon Lay Bus Interchange
Pioneer
EW28
N/A
Joo Koon
EW29
Joo Koon Bus Interchange
Gul Circle
EW30
N/A
Tuas Crescent
EW31
N/A
Tuas West Road
EW32
N/A
Tuas Link
EW33
Tuas Bus Interchange
Expo
CG1, DT35
Downtown Line
Changi Airport
CG2
Changi Airport Bus Interchange
Take note that the Changi Airport Line (both Expo and Changi Airport stations) will be integrated into the Thomson-East Coast Line by 2040.
North East Line
— From: neliluo and agustinus05_
The plan for the North East Line came to be when congestion on roads leading to the northeast suburbs was constantly happening back in the 1980s. But it was only in 1997 that the construction began, and in 2003, the line was opened to the public.
As of now, the line has 16 stations, with some of them serving popular neighborhoods like Little India and Chinatown. The North East Line is colored purple on the rail map.
Station Name
Station Code
Interchange Station (If Available)
HarbourFront
NE1, CC29
Circle Line
HarbourFront Bus Station
Outram Park
NE3, EW16, TE17
East-West Line
Thomson-East Coast Line
Chinatown
NE4, DT19
Downtown Line
Clarke Quay
NE5
N/A
Dhoby Ghaut
NE6, NS24, CC1
North-South Line
Circle Line
Little India
NE7, DT12
Downtown Line
Farrer Park
NE8
N/A
Boon Keng
NE9
N/A
Potong Pasir
NE10
N/A
Woodleigh
NE11
N/A
Serangoon
NE12, CC13
Circle Line
Serangoon Bus Interchange
Kovan
NE13
N/A
Hougang
NE14, CR8
Cross Island Line (2030)
Hougang Central Bus Interchange
Buangkok
NE15
N/A
Sengkang
NE16, STC
Sengkang LRT
Sengkang Bus Interchange
Punggol
NE17, PTC, CP4
Punggol LRT
CRL Punggol Extension (2032)
Punggol Bus Interchange
Circle Line
— From: kazamahusein
The Circle Line currently runs an incomplete loop from Dhoby Ghaut station to HarbourFront station. But by 2026, the loop will be complete once the extension from the Promenade station to HarbourFront is finished.
The interesting thing about the Circle Line is that it's the second line in Singapore that's completely automated and driverless. It's also the country's first medium-capacity line, which means that the train has a three-car configuration.
It's colored orange on the map and has 30 stations.
Station Name
Station Code
Interchange Station (If Available)
Dhoby Ghaut
CC1, NS24, NE6
North-South Line
North East Line
Bras Basah
CC2
N/A
Esplanade
CC3
N/A
Promenade
CC4, DT15
Downtown Line
Marina Center Bus Interchange
Nicoll Highway
CC5
N/A
Stadium
CC6
N/A
Mountbatten
CC7
N/A
Dakota
CC8
N/A
Paya Lebar
CC9, EW8
East-West Line
MacPherson
CC10, DT26
Downtown Line
Tai Seng
CC11
N/A
Bartley
CC12
N/A
Serangoon
CC13, NE12
North East Line
Serangoon Bus Interchange
Lorong Chuan
CC14
N/A
Bishan
CC15, NS17
North-South Line
Bishan Bus Interchange
Marymount
CC16
N/A
Caldecott
CC17, TE9
Thomson-East Coast Line
Bukit Brown (infill station)
CC18
N/A
Botanic Gardens
CC19, DT9
Downtown Line
Farrer Road
CC20
N/A
Holland Village
CC21
N/A
Buona Vista
CC22, EW21
East-West Line
Buona Vista Bus Interchange
Ghim Moh Bus Interchange
one-north
CC23
N/A
Kent Ridge
CC24
N/A
Hawa Par Villa
CC25
N/A
Pasir Panjang
CC26
N/A
Labrador Park
CC27
N/A
Telok Blangah
CC28
N/A
HarbourFront
CC29
North East Line
HarbourFront Bus Interchange
Sentosa Express VivoCity
Singapore Cable Car Mount Faber Line
HarbourFront Center
Singapore Cruise Center
Downtown Line
— From: splow2008
The Downtown Line is another medium-capacity MRT line in Singapore, and it's about 41.9 km long, with 34 stations. These stations are all located underground, making this line the longest underground and automated rapid transit line in Singapore.
The Downtown Line is colored blue on the rail map.
Station Name
Station Code
Interchange Station (If Available)
Sungei Kadut (infill station)
DT, NS6
North-South line (mid-2030s)
Bukit Panjang
DT1, BP6
Bukit Panjang LRT
Bukit Panjang Bus Interchange
Cashew
DT2
N/A
Hillview
DT3
N/A
Hume (infill station)
DT4
N/A
Beauty World
DT5
Beauty World
King Albert Park
DT6, CR15
Cross Island Line (2032)
Sixth Avenue
DT7
N/A
Tan Kah Kee
DT8
N/A
Botanic Gardens
DT9, CC19
Circle Line
Stevens
DT10, TE11
Thomson-East Coast Line
Newton
DT11, NS21
North-South Line
Little India
DT12, NE7
North East Line
Rochor
DT13
N/A
Bugis
DT14, EW12
East-West Line
Promenade
DT15, CC4
Circle Line
Marina Center Bus Interchange
Bayfront
DT16, CE1
Circle Line Extension
Downtown
DT17
N/A
Telok Ayer
DT18
N/A
Chinatown
DT19, NE4
North East Line
Fort Canning
DT20
N/A
Bencoolen
DT21
N/A
Jalan Besar
DT22
N/A
Bendemeer
DT23
N/A
Geylang Bahru
DT24
N/A
Mattar
DT25
N/A
MacPherson
DT26, CC10
Circle Line
Ubi
DT27
N/A
Kaki Bukit
DT28
N/A
Bedok North
DT29
N/A
Bedok Reservoir
DT30
N/A
Tampines West
DT31
N/A
Tampines
DT32, EW2
East-West Line
Tampines Bus Interchange
Tampines East
DT33
N/A
Upper Changi
DT34
N/A
Thomson-East Coast Line
— From: alkabajpai28
The Thomson-East Coast Line is the most recent line built in Singapore, and it's also one that's completely underground. Its length is about 43 km, and it currently has 22 stations, with more coming in the next few years.
This line's route is a combination of north-south and east-west. It starts in the north at Woodlands town, then heads south to Orchard Road and Marina Bay, before running eastward along Kallang, and then it ends at Upper East Coast.
On the rail map, it's colored brown. 
Station Name
Station Code
Interchange Station (If Available)
Woodlands North
TE1, RTS
Johor Bahru-Singapore Rapid Transit System (2026)
Woodlands
TE2, NS9
North-South Line
Woodlands Bus Interchange
Woodlands South
TE3
N/A
Springleaf
TE4
N/A
Lentor
TE5
N/A
Mayflower
TE6
N/A
Bright Hill
TE7, CR13
Cross Island Line (2030)
Upper Thomson
TE8
N/A
Caldecott
TE9, CC17
Circle Line
Stevens
TE11, DT10
Downtown Line
Napier
TE12
N/A
Orchard Boulevard
TE13
N/A
Orchard
TE14, NS22
North-South Line
Great World
TE15
N/A
Havelock
TE16
N/A
Outram Park
TE17, EW16, NE3
East-West Line
North East Line
Maxwell
TE18
N/A
Shenton Way
TE19
N/A
Marina Bay
TE20, NS27, CE2
North-South Line
Circle Line Extension
Gardens by the Bay
TE22
N/A
Future Expansions
— From: bennysaik
There are still future expansions being planned for Singapore's MRT system. Most of these expansions are just new stations added to the existing lines or changes in the route.
That said, there are two major expansions that are coming in the 2030s and 2040s. These are two new MRT lines, namely the Jurong Region and Cross Island Lines.
The Jurong Region Line was initially planned as an LRT line, but eventually, it was upgraded to a medium-capacity MRT line. It's expected to serve the areas of the West Coast, Tengah, Choa Chu Kang, and Jurong.
Meanwhile, the Cross Island Line is planned to be the MRT line to span the island of Singapore. It will be connected to all the other major lines, so hopefully, commuting and traveling will feel even more streamlined than before.
What are the operating hours of Singapore MRT?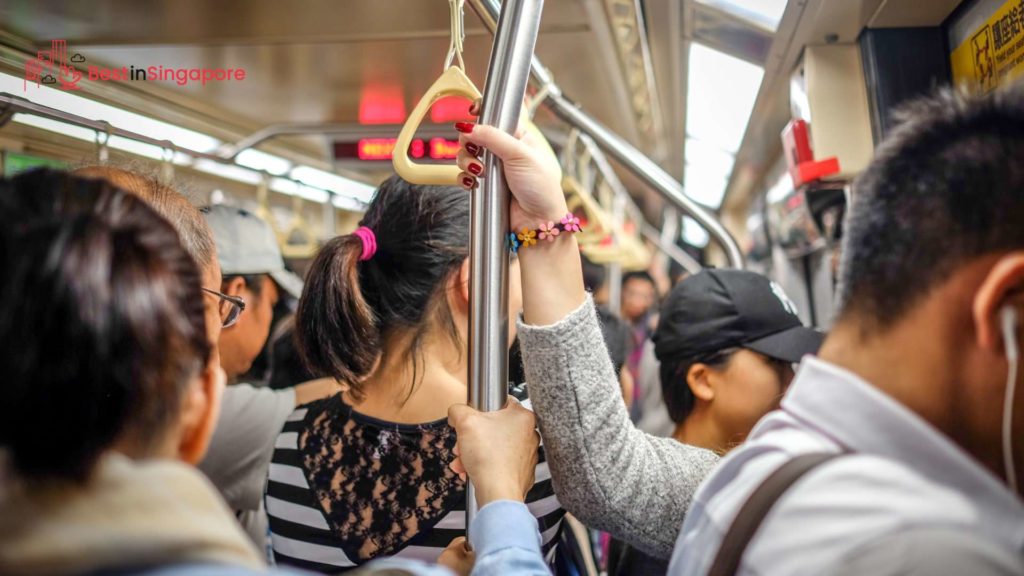 Generally speaking, MRT lines operate for 20 hours every day—from 5:30 am to 1 am. The only strict exceptions for this are during certain holidays and events, such as New Year's Eve, Chinese New Year, Christmas, Deepavali, and Hari Raya.
That said, there are some rare occurrences when the MRT lines close early or open later. But these occurrences are most likely due to an unexpected event or accident, so don't expect the operating hours to change much.
How do I buy tickets for Singapore MRT?
— From: ms.persian_rose
Unlike other countries that still use a physical ticket to ride a train, Singapore's MRT system makes use of contactless smart cards entirely.
You have to buy an EZ-Link card, which costs S$12 (already includes a S$7 credit that you can use for train rides). You can also purchase the NETS Prepaid, which can be used to pay public transit fares and select merchants.
Once you've used up your credits for your card, you can top it up at these following places:
General Ticketing Machines (GTM) at train stations
TransitLink Kiosks located in MRT stations, bus interchanges, and integrated transport hubs
TransitLink Ticket Offices
Convenience stores (e.g. 7-Eleven and Cheers)
DBS, POSB, and OCBC ATMs
AVS Stations
If you use an EZ-Link card, you can use the EZ-Link app to top it up.
Singapore Tourist Pass
— From: kanitoma69 
If you're a tourist who'll be staying in Singapore for a few days, then I highly suggest that you get a Singapore Tourist Pass. This pass is a special kind of EZ-Link card that provides you with unlimited travel for one, two, or three days.
You can purchase a Singapore Tourist Pass at selected TransitLink Ticket Offices, Singapore Visitors Centers, and Passenger Service Centers. These offices and centers can be found in the following stations:
Ang Mo Kio
Bayfront
Bugis
Changi Airport (Terminal 2)
Chinatown
City Hall
Farrer Park
HarborFront
Jurong East
Lavender
Maxwell
Orchard
Raffles Place
Somerset (Concession Card Replacement Office)
Woodlands
What about Singapore LRT? Is it connected to MRT?
— From: temasekaperture
Looking at the tables with the various MRT stations, you might have noticed that some interchange stations are LRT stations.
This might lead you to ask a few questions: what's an LRT station in Singapore? How is it different from MRT?
Basically, the Light Rail Transit (LRT) is a series of localized automated guideway transit systems that serve as feeder services to the MRT. In Singapore, the LRT is connected to a public housing estate to make it easier for the residents to travel.
Since the LRT isn't intended for wide travel, there are only three lines available in Singapore: Bukit Panjang, Sengkang, and Punggol. These lines act as interchange stations to their respective MRT stations.
What makes Singapore MRT great?
Jam-Packed with Facilities
One of the best things about the MRT stations here is that they're jam-packed with facilities. All stations have platform screen doors for your safety and lifts and climate control for your comfort.
You can even connect to the Wi-Fi, which is great if you need to stand by and work for a bit or just scroll through social media while waiting for your ride.
And of course, there are also accessibility provisions for people with disabilities. So, everyone can safely navigate the MRT station.
Extensive Network and Fast Trains
— From: adibmohdzain
The MRT system is quite an extensive network. There are six lines and over a hundred stations with interchange stations.
Plus, there are more lines and stations coming in the future!
Because of this, it's easy to travel from one side of the island to another, which is great news if you really want to explore as much of Singapore as you can.
In addition to that, the MRT trains are high-speed, so you can get to your destination in no time.
There's no need to worry about getting stuck in traffic. Now, you can just focus on visiting all the landmarks in your itinerary.
Affordable and Convenient
— From: amdg1556
Another feature that makes Singapore's MRT system a cut above others is its affordability. Singapore is notoriously known for its high cost of living, but luckily, riding the train is quite affordable.
Aside from that, it's just convenient to ride the MRT. The stations are strategically located, so people can easily get to them however they want—be it taking a taxi or bus to the station or simply walking.
What are some tips to consider when riding the Singapore MRT?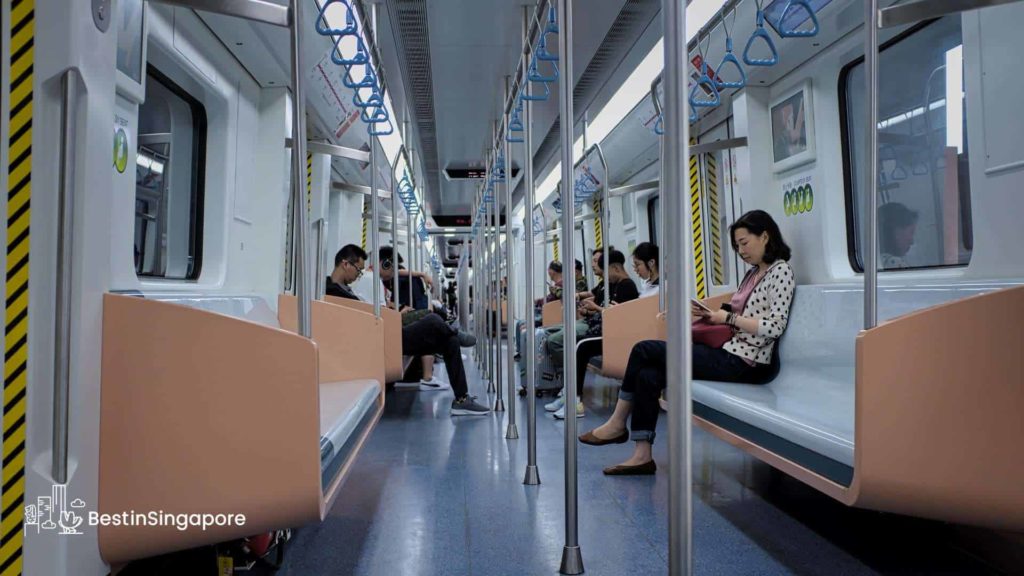 Download the MyTransport.SG app. This is a mobile app developed by SMRT itself, and it's a multi-modal journey planner. It lets you check nearby MRT stations and even send real-time traffic news.
Make use of the charging station if needed. If you're traveling extensively around Singapore, your phone might die before you know it. If you don't have a power bank, just head to a station and ask the staff where the charging station is.
When you have spare time, stop by a mall. The great thing about MRT stations is that many of them are connected to a shopping mall. Because of this, you can choose to go on a shopping spree before setting out to travel! 
Ride the train in the morning. This is a hack that tourists usually don't know: MRT fares are cheaper (usually, the discount is about S$0.50) when you ride the train before 7:45 am on weekdays. So, take advantage of that when you can!