THE BEST MOBILE APPLICATION DEVELOPERS IN SINGAPORE
A mobile app is software that offers various functionalities and services to users and has immense potential for businesses. Singaporeans are tech-savvy individuals, and 90% of their population uses mobile apps. But developing one is no walk in the Gardens by the Bay. If you are leading a business or organization, here are some mobile application developers in Singapore who can help you.
How Much Do Mobile Application Developers Charge in Singapore?
Mobile shopping applications in Singapore cost SGD 20,000 to SGD 40,000 to develop, while gaming apps in Singapore cost SGD 80,000 to SGD 100,000 to make.
How We Chose The Best Mobile Application Developers in Singapore
1. Hipster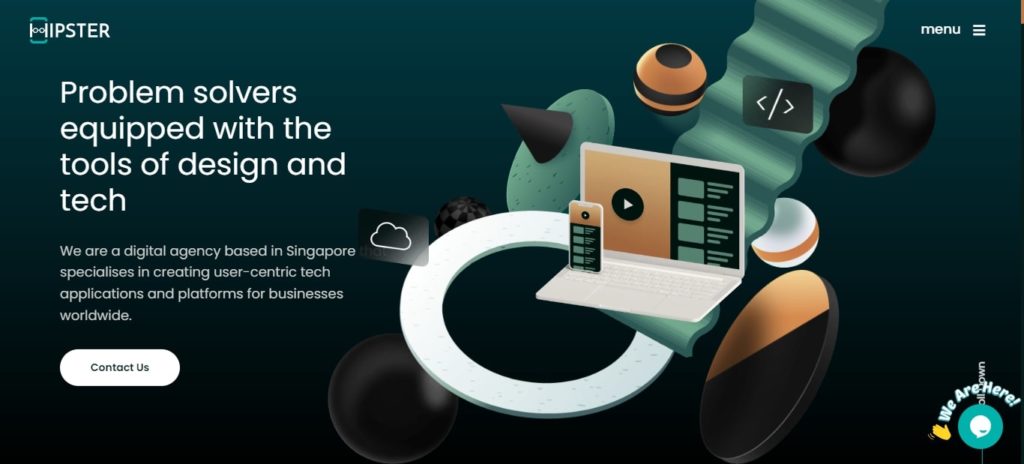 Nikhil Gupta and Thye Boon Bok founded the Singapore-based software development company Hipster over dinner at a hawker center in 2016. Nikhil has worked on tech products in the education, retail, e-commerce, and food and beverage industries since 2011, while Thye Boon worked for over 10 years across the aerospace engineering, healthcare, and consumer goods industries.
Nikhil and Thye Boon have gone from working on projects in public housing to having their own office with a team of 60 user interface or user experience (UI/UX) designers, developers, and project managers.
Hipster aims to grow and automate businesses and help them engage with customers. Their team provides programming for most systems, including iOS, Android, React Native, and Flutter. They also have two other locations in India and Canada. They work with emerging, small, and large companies in industries like education, food and beverage, and health in Singapore and beyond.
Large tech team
Caters to both big and small businesses
Diverse portfolio of clients
Paid parking for on-site meetings
Customer Reviews
Genuine, Hardworking, Competent
"6 years is how long we have been working with the Hipster team. In any business – more so in development I feel – that's a loooooooong time to not uncover mediocrity and pretence in a partnership. Hipster is the exact opposite. They have been every bit as genuine, hardworking and competent as before, if not more. Talk about work ethics, we have never once heard a "no" for any job requested, however difficult one may be. The Hipster team will always try their level best and oftentimes, come up with quality and creative solutions that wow us. I highly recommend Hipster for any development work big or small." -Han Sing Tan, Google Review 
Sincere and Dedicated
"They may be a new startup but a team of very sincere and dedicated professionals. With their hardwork, any organizer will find it easy to communicate with and get the job done properly. Can always consider engaging and speak to them on any event. Highly recommended." -Joseph Tan, Google Review 
2. Singsys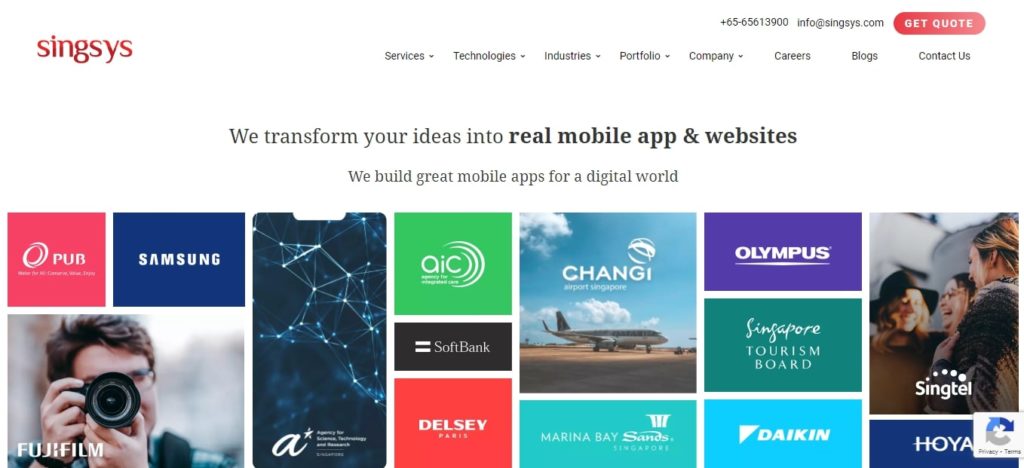 Singsys is a web and mobile app development agency in Singapore founded by Sri Narayan Shukla in 2011. His team is mostly from India. They use technology to provide creative and comprehensive digital solutions for businesses.
Singsys has more than 200 professionals who have bachelor's and master's degrees from top schools like the Indian Institute of Technology and the National Institute of Technology. They have also worked with small and big brands, including a few Fortune 500 companies like Samsung, Cisco Systems, and Fujifilm.
They do not just focus on how the mobile apps work but also prioritize the overall design experience to create unique and eye-catching results. They adhere to international development standards and apply the latest native and hybrid technologies, following the best practices in the industry.
They also have offices in Singapore and India and cater to many industries, such as beauty, e-commerce, finance, and SaaS.
Large team
Has worked Fortune 500 brands
Works with international clients
Complaints about unresponsiveness
Customer Reviews
Fast, Effective, Highly Competent
"SingSys is fast, effective, highly responsive, and highly competent.  They are one of the best in this game. I can recommend them to all my friends with total confidence.  They are the best in this game, knowledgeable, efficient, and dedicated beyond fault. My experience with them has been uniformly superlative. Five Star fellows!! ✳️✳️✳️✳️✳️" -Foo Cheow Ming, Google Review 
Tremendous Knowledge
"Singsys, Thanks to give your support and adorable advice for my website. You guyz are really awesome with tremendous knowledge, I am happy to get your service Singsys." -Jhon Catalan, Google Review 
3. Calvin Seng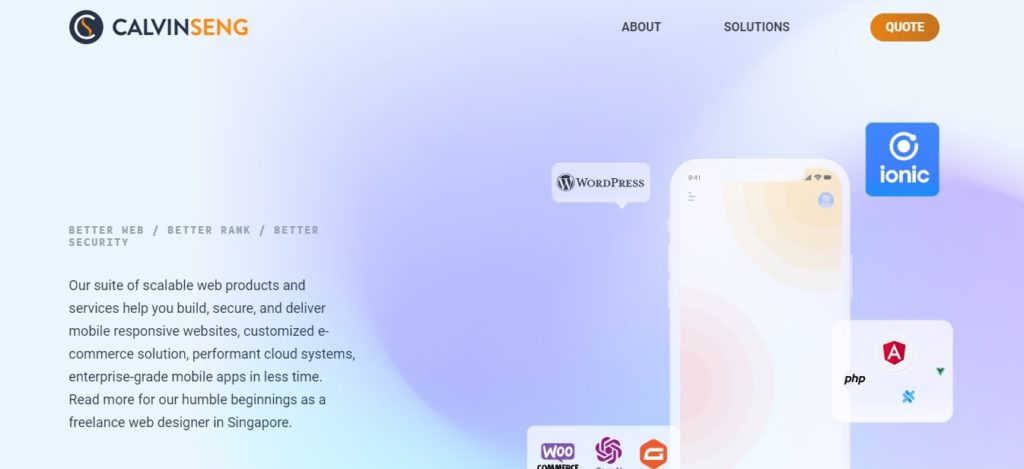 Title
Info
WEBSITE
https://calvinseng.com/
ADDRESS
11 Woodlands Drive 72 Woodsvale 07-35
PHONE NUMBER
(65) 9234-8807
BUSINESS HOURS
Mon-Fri: 8:30am – 6:30pm

Sat: 8:30am – 11:30am
Armed with experience in filmmaking, business strategy, entrepreneurship, and web development, Calvin Seng founded his namesake company in 2015. Before starting this online-based business in Singapore, Calvin worked as a freelance web designer for 10 years. His goal is to help businesses build, secure, and deliver better web technology, rank, and security in less time.
To do this, Calvin Seng makes web and mobile apps that are inspiring, scalable, interesting, and fun. He has worked with famous brands, influential leaders, and business owners. Notably, one of the remarkable offerings from his company is the PayNow plugin, a software component that enhances the payment experience by allowing customers to conveniently pay through QR codes.
Diverse clientele
Offers PayNow plugin
Quick turnaround times
Customer Reviews
Deserves More Than 5 Stars
"I got connected with Calvin Seng by coincidence out of desperation searching for a good WordPress webmaster and indeed Calvin and team has proven beyond expectation, always there to save me from mess I made on my website 24/7. Deserves more than 5 stars !!!" -Ark Nova, Google Review 
Ver Patient and Knowledgeable
"I found Calvin on internet search and glad that i found him. They are very patient with our requests and have great knowledge and provide us the greatest service. We recommend to everyone who needs web designer. Thank you Calvin." -Dedy Goh, Google Review 
4. Abi-Tech Solution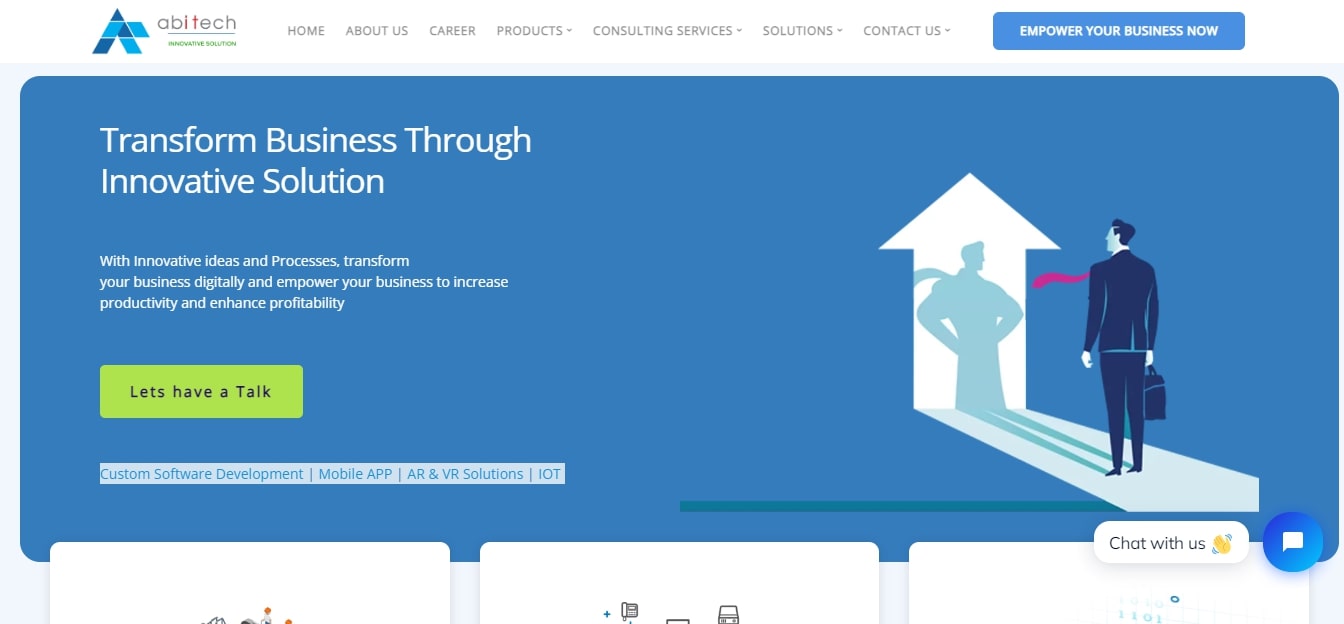 Sheik Dawood and several business innovation experts established Abi-Tech Solution, a web and mobile application company, in Singapore in 2015. Sheik has 20 years of experience providing heavy engineering collaboration solutions around Southeast Asia. Through their software solutions, they have helped many businesses transition from traditional to digital methods.
In building Android and iOS mobile apps, they take a holistic development approach and prioritize both functionality and aesthetics, from ideation to release. Their team assists clients in understanding their current market and competition to make more successful apps. On top of that, they offer high-end security layers like data encryption for more privacy and safer in-app transactions and sales.
Abi-Tech Solution has over 25 years' experience working with industries like architecture, engineering, construction, retail, hospitality, and education. They are headquartered in Singapore, but they also have branches in Malaysia and India and work with Southeast Asian and Middle Eastern clients.
Over 25 years of experience
Worked with numerous industries
Provides strong app security
Some miscommunication issues with clients
Customer Reviews
Simply Outstanding
"Thanks ABI-Tech Solution. Their website development work is simply outstanding and always meets our needs. Their team has a deep understanding of user experience and always delivers work that is both visually stunning and highly functional. Their mobile app development work is equally impressive and has helped us improve our customer engagement. They are true experts in their field and always go above and beyond to ensure our satisfaction. I would highly recommend ABI-Tech Solution to anyone in need of software development services." -Rohini, Google Review 
Incredibly Knowledgeable and Skilled
"The team at this software solution provider company is incredibly knowledgeable and skilled. Their mobile app development work has helped us improve our customer engagement and retention. Thank You ABI-Tech." -Charu Latha, Google Review 
5. SleekDigital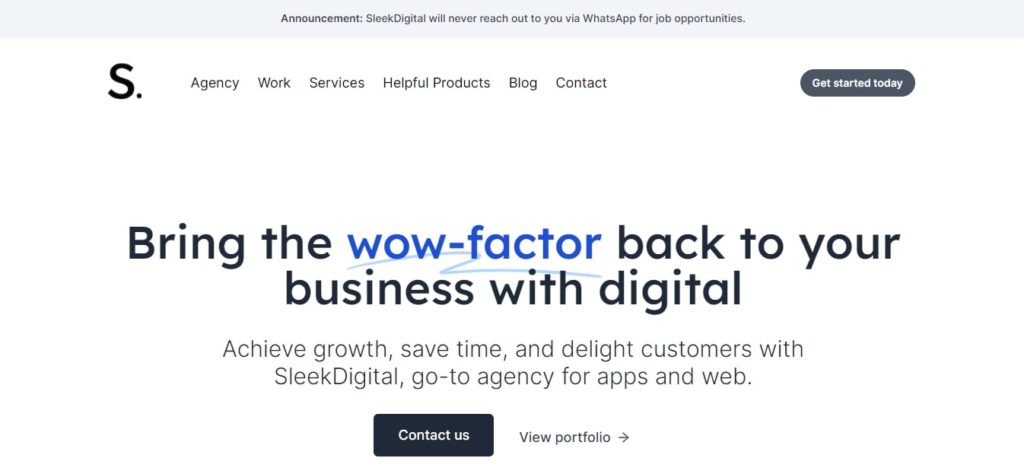 Lester Law, a former freelance web developer, founded the Singapore-based digital agency SleekDigital in 2017. Specializing in creatives, codes, and content, his company aims to design and develop digital products that bring in profit and value.
Lester and his tech team are ROI-driven, so apps can reach their key performance indicators (KPIs). Their mobile app goals are to attract more users, keep them engaged, retain their interest, and generate revenue. They combine design thinking, agile methodologies, and lean strategies to create successful apps tailored for growth.
But beyond the numbers, they make every mobile app memorable. One example is their app for SomethingNew, a mental health brand that needed a mobile app for anonymous counselling.
SleekDigital has 2 offices in Singapore, on North Bridge Road and on Ang Mo Kio Avenue. Their team has also done various projects with international clients like AstraZeneca, Daimler, and Prudential.
Open daily
Result-driven designs
Caters to big and small companies
Has 2 offices in Singapore
Customer Reviews
Energetic and Dynamic
"Lester is an awesome guy. We work on several projects together and will continue to trust him because I can tell he really cares for his clients. I am so impressed by his and his agency's energy and dynamism!!!" -Tom Koh, Google Review 
Knows What They're Doing
"One thing I must say about Sleekdigital is that they really know what they are doing. I didn't know what to expect from a mobile app when I first consulted them, but they understood my problems and made it easy for me. Unlike other mobile app developers, they actually came up with a whole mobile app plan on where my project was going and what to expect. Had quite a good experience working with them." -Brandon Chan, Google Review