Your Ultimate Guide to the Singapore Botanic Gardens
Singapore is undoubtedly a highly urbanized country, but it still has an abundance of parks and gardens that people can visit to immerse themselves in nature. Of all these green spaces, the most popular — and my personal favorite — is the Botanic Gardens.
Occupying 82 hectares of land, the Singapore Botanic Gardens serves as the country's horticultural and botanical institute, growing and nurturing all kinds of tropical plants. It's also a popular spot for tourists and residents since there are many attractions here.
I myself have been to the Gardens multiple times, and I still get overwhelmed with all the things to do. If you don't want to get overwhelmed yourself, continue reading on because this article serves as your ultimate guide to the Singapore Botanic Gardens.
The Basics of Singapore Botanic Gardens
The idea of a national garden in Singapore came about when Sir Stamford Raffles created a botanical and experimental garden at Fort Canning in 1822. It was only in 1859 when the Gardens as we knew it was established and laid out at Tanglin.
Over the years, several botanists grew and experimented with different plants, and eventually, the Gardens became integral to the botanical and agricultural development in Singapore. To this day, it's still considered a leading tropical botanical institute.
But the Botanical Gardens is more than just a botanical institute — it's also a significant historical and cultural landmark. In fact, UNESCO acknowledged it as a World Heritage Site in 2015 — the first and only tropical botanic garden to ever receive such an honor.
How do I get to Singapore Botanic Gardens?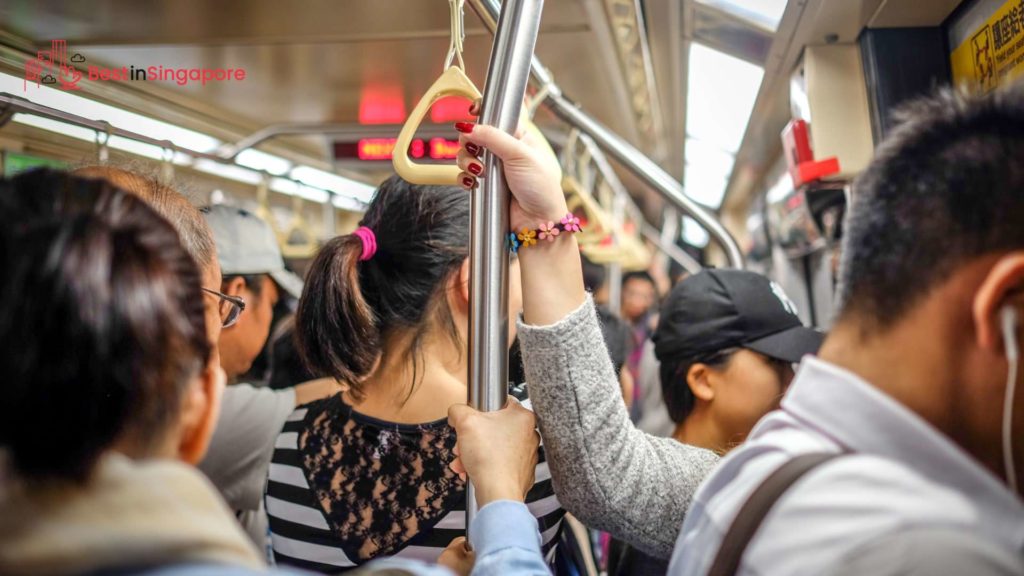 There are different ways to get to Singapore Botanic Gardens since it has several entrances: Tanglin, Tyersall-Gallop, Nassim, and Bukit Timah.

If you're planning to travel via taxi, MRT, or bus, refer to the table below so that you know what to ride and where to stop.
Entrance
By MRT
By Bus
Taxi Drop-Off Points
Tanglin
• If you're taking the North-South Line, stop at Orchard Station. The entrance is a short walk away.

• If you're taking the Thomson East Coast Line, stop at Napier Station, which is directly opposite the entrance.

Take Bus 7, 105, 123, 174, 174E, 75, 77, NR8, or 106.
Botany Centre
Tyersall-Gallop
N/A
Ride Hop-On-Hop-off Bus, and alight at the bus stop at Holland Road.

The entrance is about 10 minutes away on foot.

• Learning Forest (via Tyersall Gate)

• Gallop Extension (via Gallop Gate)

Nassim
N/A
Visitor Centre
Bukit Timah
Ride the Circle Line & Downtown Line (Yellow & Blue), then stop at Botanic Gardens Station.
Take Bus 48, 66, 151, 153, 154, 156, 170, or 67.
• Downtown Line

• Cluny Park Road
Where do I park in the Singapore Botanic Gardens?
Aside from the transportation options I discussed in the previous section, driving is also a great way to get to the Gardens!
Singapore Botanic Gardens has many parking areas near its entrances, with a total of 652 available slots. Here are the available car parks in the Gardens:
Entrance
Where to Park
Operating Hours
Available Slots
Tanglin
Basement car park at Botany Center
Daily: 5 am to 12 am
224
Tyersall
Tyersall Gate open-air car park
36
Gallop
Gallop Gate car park
29
Nassim
NParks HQ car parks A, B, & C
141
Raffles Building car parks (RB1 & RB2)
Weekdays: 8 am to 6 pm

Weekends: Closed

133
Bukit Timah
Cluny Park Road open-air car park
Daily: 7 am to 10:30 pm
50
Jacob Ballas Children's Garden open-air car park
39
What attractions can I see in the Singapore Botanic Gardens?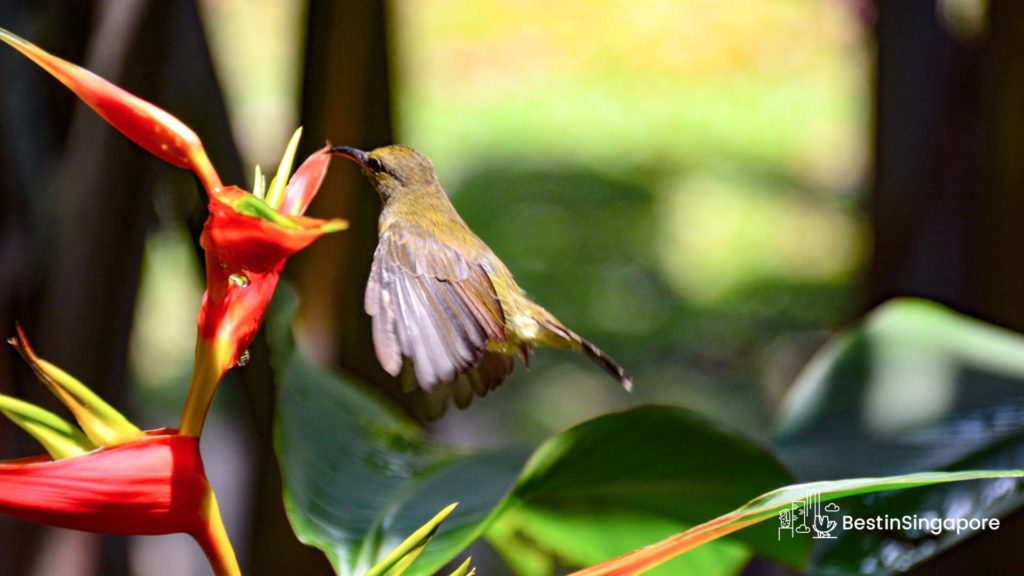 As of right now, the Singapore Botanic Gardens has about 28 attractions, which are divided into five sections. These attractions are as follows:
From Tanglin Entrance
• Bandstand

• Bonsai Garden

• Botany Center

• Heritage Museum

• CDL Green Gallery

• Swan Lake

• Sun Garden

• Vanda Miss Joaquim

From Tyersall Entrance
• Ginger Garden

• Keppel Discovery Wetlands

• National Orchid Garden

• SPH Walk of Giants

• The Learning Forest

From Gallop Entrance
• Botanical Art Gallery

• COMO Adventure Grove

• Forest Discovery Center @ OCBC Arboretum

• Mingxin Foundation Rambler's Ridge

From Nassim Entrance
• Evolution Garden

• Fragrant Garden

• Healing Garden

• Palm Valley

• Symphony Lake

• Rain Forest

From Bukit Timah
• Eco-Garden and Eco-Lake

• Ethnobotany Garden

• Foliage Garden

• Jacob Ballas Children's Garden

• Seed Bank
From Tanglin Entrance
Bandstand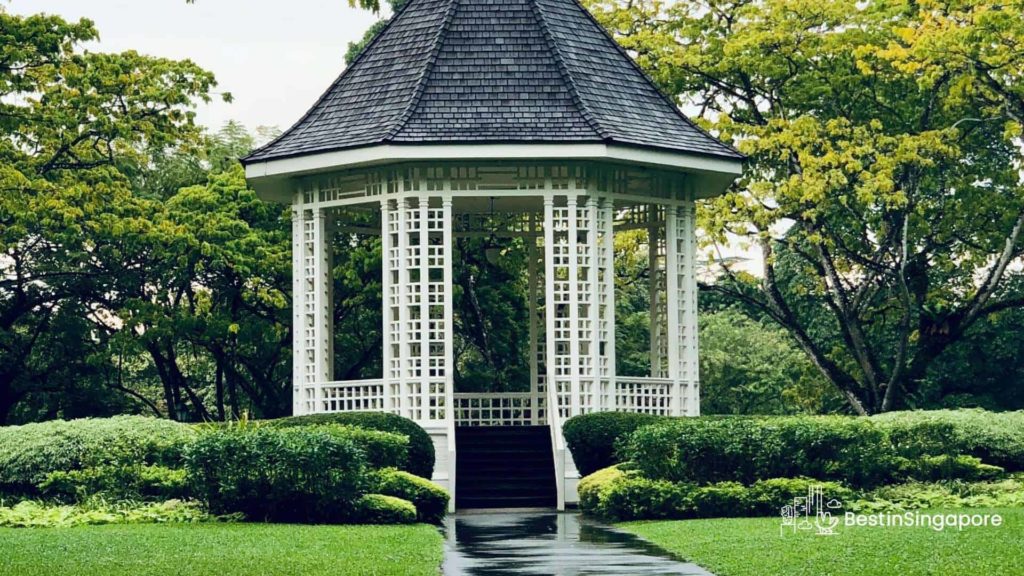 Bandstand got its name from the fact that it used to be a site where regimental bands held music performances in the past. But as the years pass by, this site isn't used for music performances anymore, but the name remains to honor its history.
Now, Bandstand is a popular spot for photoshoots, especially for wedding-themed ones. This is because the site is quite picturesque — there's a ring of Yellow Rain Trees, and at the center is an octagonal gazebo.
Even if we don't have a monumental event like a wedding, people like you and me can still enjoy traipsing around and taking pictures of Bandstand. I myself have lost count of how many selfies I took when stopping by this attraction.
Bonsai Garden
I may not be a botanist, but I've always been fond of bonsai trees. There's just something so awe-inspiring about them — their miniature size looks so aesthetically pleasing, and when grouped with others, it just forms a soothing sight somehow.
If you're like me and you love bonsai trees, you'll also consider the Bonsai Garden as one of your favorite spots in the Gardens. Here, you can find 49 various specimens — from tropical to sub-tropical species and more — and the display still continues to grow.
Botany Center
The Botany Center is the hub of everything that's going on in the Gardens. It's where the Green Pavilion and Visitor Services Desk are located, as well as the function rooms and a few halls.
The center also has the Orchid Breeding Micropropagation Laboratory and the Singapore Herbarium, which holds the main collection of about 750,000 herbarium specimens taken from the Malesian region and adjacent areas.
The Library of Botany and Horticulture is in the center as well, and this was built in 1875, making it one of the oldest specialized libraries in Southeast Asia. It boasts a collection of more than 30,000 books and over 120,000 accessioned items.
Part of the library is actually open to the public, and sometimes I love stopping by just to check out the field books and pieces of botanical artwork. Reading about the development of the Gardens lets you appreciate everything even more.
Operating Hours of the Library of Botany and Horticulture:
Mondays to Thursdays: 9 am to 5 pm
Fridays: 9 am to 3 pm
Weekends and public holidays: Closed
Heritage Museum
Constructed in 1921, the SBG Heritage Museum initially served as the Director of the Gardens' office and laboratory. Right now, it's a place that celebrates the Gardens' rich history and heritage.
Inside this 240-square-meter building, you'll find many interactive and multimedia exhibits about the Gardens. There are also other fascinating items, such as old photographs, botanical paintings, and even rare books dating back to the 19th century.
Visiting this museum just really fills you with awe and wonder at how far the Gardens has come. That's why I always make time to stop here even though I've already seen the displays countless times.
Operating Hours of SBG Heritage Museum:
Daily: 9 am to 6 pm
Closed every last Monday of the month
Important Note: SBG Heritage Museum will be closed from March 13 to June 30, 2023 for renovations.
CDL Green Gallery
If you're visiting SBG Heritage Museum, then be sure to check out the CDL Green Gallery as well, which is often considered the extension of the museum. This eco-friendly gallery features botanical exhibits that showcase the country's greening journey.
The most interesting thing about this gallery is that it's the first one in Singapore to use zero energy. On top of the building, there are solar PV roof panels that harvest all energy needed for the gallery's operations, which is roughly 31,000 kWh a year.
Isn't it cool to know that a gallery about the environment is going out of its way to help preserve the said environment in some way? The exhibits are definitely cool as well, and I would suggest coming here often because they change every six to nine months.
Operating Hours: 9 am to 6 pm (daily), closed every last Tuesday of the month
Important Note: CDL Green Gallery will be closed for a change of exhibition from March 20 to June 30, 2023.
Swan Lake
Swan Lake is most probably one of the most famous attractions in the Gardens, and it's easy to see why. This lake has been around since 1866, making it a historical landmark, and at the center is the oldest ornamental water feature in Singapore.
I agree that the monument in the center of the lake is a highlight — the image of the swans frozen as they're about to fly just adds an interesting character to the place.
But what I love the most about Swan Lake is the thriving ecosystem found here. It's home to numerous species of aquatic plants and fish, and if you look hard enough, you'll definitely spot a few animals underwater.
I also love just relaxing here after spending hours walking around the park. I would suggest doing the same if you're visiting the Gardens.
Sun Garden
The Sun Garden is easily overlooked, but this underrated landmark manages to stand out all the same. It features a desert landscape, with succulents and other plants that thrive in arid regions.
The Sun Garden is far from the lush greenery of the Botanic Gardens, but if you want a change of scenery, this is the place to go. It's also a great background for photos, so be sure to take as many pictures as you want here.
Vanda Miss Joaquim
Unlike the other attractions mentioned in this article, this one is actually not a building. Instead, Vanda Miss Joaquim refers to a flower — specifically, Singapore's National Flower.
This flower has an interesting history: it was the first plant hybrid ever registered in Singapore — it's a cross between Vanda teres and Vanda hookeriana. It's named after Miss Agnes Joaquim, who was the first person to succeed in growing the flower.
Vanda Miss Joaquim is a slow-growing hybrid with slender stems and pink and white petals. It grows best in an open and sunny area, so you can easily spot clusters of them throughout the Gardens — be sure to admire them when you get the chance.
From Tyersall Entrance
Ginger Garden
For me, the Ginger Garden feels like something that's taken straight out of a painting. Vibrant greenery is all your eyes can see — various species of ginger are scattered throughout the garden, and the pool is adorned with giant Amazon water lilies.
The garden also comes with a waterfall, and I sometimes stroll behind it as I pretend I'm in some faraway fictional land. This area is also popular among couples — the whole scenery just has a romantic element to it.
Keppel Discovery Wetlands
The Keppel Discovery Wetlands is more than just a beautiful attraction — it also plays an integral role in Singapore's conservation efforts. It's a 1.8-hectare restoration project that aims to save the freshwater forest wetland habitats that are currently endangered.
This project is comprised of three areas: Pulai Marsh, the Botanists' Boardwalk, and Orchid Islands.
Pulai Marsh is where water from the surrounding areas, including a natural spring. Fun fact: this natural spring contributes so much water that it can actually fill up an Olympic-sized pool every month — isn't that impressive?
The Botanists' Boardwalk is essentially a boardwalk that displays the work of the Gardens' most renowned botanists. The area surrounding the boardwalk is littered with various plant species collected from all around the region.
Lastly, we have the Orchid Islands, which is my personal favorite spot in the wetlands. These islands boast a great number of native orchids — they all vary in color and size, making for quite a gorgeous sight.
National Orchid Garden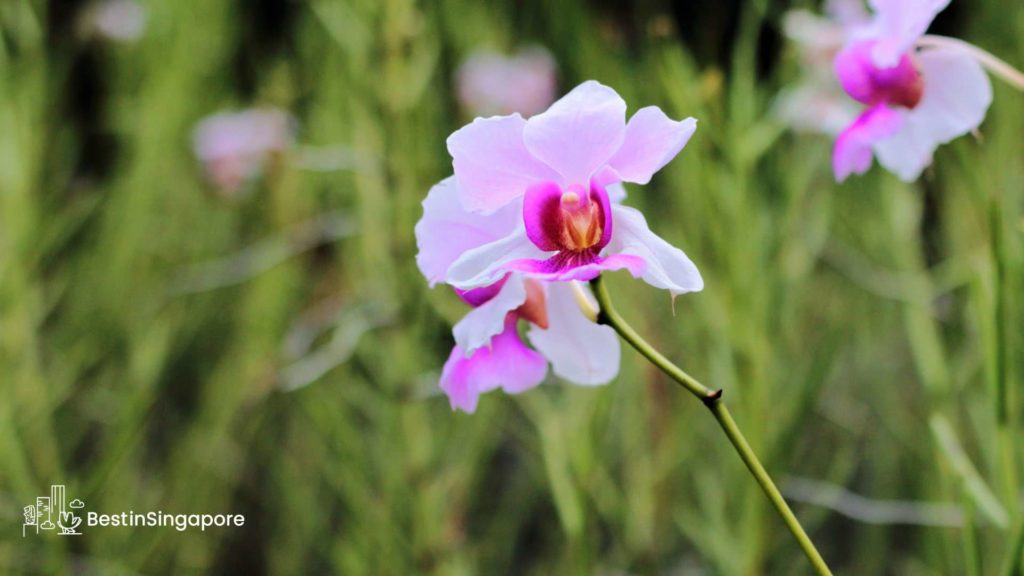 The National Orchid Garden is one of the most important locations in the Botanic Gardens simply because it's the leading institute for orchid studies and a pioneer in the cultivation of hybrids.
It's also popular among visitors because of its vast array of beautiful orchids — about 1,000 species and 2,000 hybrids are on display, making for a colorful and gorgeous scenery. And who doesn't love the sight of pretty flowers?
This garden is a sprawling one, so it's divided into four sections. Here's a summary of what I've seen in these sections so that you know what to expect:
Area
Striking Characteristic
What You Can See
Tropical Montane Orchidetum
• Simulates the experience of climbing up a tropical montane forest
• Plants that are typically from the rich low to high-elevation montane forest

• Aside from orchids, these plants include bromeliads, gingers, tropical rhododendrons, and more.

The Sembcorp Cool House
• Simulates a high-elevation montane forest

• With a curated collection of orchids from five biogeographical regions: Melsia, Continental Southeast Asia and South Asia, Australia, Afrotropics, and the Neotropics

• Rare orchids that are only found at higher elevations, such as Boat Orchids, Chain Orchids, and Slipper Orchids.
Yuen Peng McNeice Bromeliad Collection
• Simulates a mid-elevation Neotropical forest
• Neotropical plants, such as bromeliads, aroids, and Calathea species

• Orchids from the Neotropics, such as the Cattleya, Epidendrum, and Oncidium species and hybrids

Tan Hoon Siang Mist House
• Emulates a paleotropical garden at 650–1,000 meters in altitude
• Hybrids and species from the specialty breeding stock of orchids

• Examples of orchid species hybrids include Phalaenopsis and Vandaceous.
Do take note that though it's free to enter the Botanic Gardens, you'll have to pay a fee if you want to check out the National Orchid Garden. The prices are as follows:
| Type | Fee for Locals | Standard Fee |
| --- | --- | --- |
| Students | 1 SGD | 3 SGD |
| Seniors (above 60 years old) | | |
| Adults | 5 SGD | 15 SGD |
| Children below 12 years old | Free | |
Operating Hours of the National Orchid Garden:
Daily: 8:30 am to 7 pm (last ticket sales and entry at 6 pm)
SPH Walk of Giants
If you enjoy pretending like you're strolling in a whimsical, fantasy land — like me — then the SPH Walk of Giants is right up your alley. This is an elevated boardwalk with forest "giant" trees sprinkled throughout.
The giant trees always incite a feeling of wonder from passersby — or, at the very least, me — and the palms, epiphytes, and climbers in the area really add a nice, quaint touch as well.
This boardwalk also comes with a "Canopy Web," which I think is an interesting feature because it lets visitors like you and me feel like we're in the canopy of a forest, looking down into the crowns of surrounding trees and the forest floor.
Whenever I go hiking in the Botanic Gardens, I always make sure to include the Walk of Giants in the hiking trail that I create for myself. The scenery is just something I don't want to miss, and it also works as a wonderful little resting spot.
The Learning Forest
Speaking of locations that you can include in your personalized hiking trails, the Learning Forest is another attraction that you can consider. This attraction is created to form an enlarged forest habitat by integrating the existing 6-hectare Rain Forest.
To achieve this goal, the Learning Forest has a network of boardwalks and elevated walkways that take you from one habitat to another.
What I love the most about the Learning Forest is that the scenery always changes: the HPL Canopy Link lets you get up close with a lowland deciduous forest, then you find yourself surrounded by wild fruit trees and, eventually, a grove of tropical bamboo trees.
There's even a section in the Learning Forest that features trees with interesting and unique forms and bark! There's just so much to see here, which is why I'll always encourage anyone interested to check out this forest when visiting the Botanic Gardens.
From Gallop Entrance
Botanical Art Gallery
For the art enthusiasts out there, here's another landmark that you should include in your itinerary! Built in 1906, the Botanical Art Gallery is constructed to highlight the significant role that art has played in the scientific documentation of plants in Singapore.
This gallery boasts quite an extensive display — there are over 2,000 paintings, but you can also find sketches, line drawings, photographs, watercolors, and even printing blocks.
One artist I recommend you check out is James the Alwis because he was the first botanical artist ever hired by the Gardens, so it will be interesting to see how everything started. The works of Waiwai Hove are also perfect if you enjoy modern watercolors.
Operating Hours of the Botanical Art Gallery
Daily: 9 am to 6 pm (last entry at 5:30 pm)
COMO Adventure Grove
COMO Adventure Grove will undoubtedly capture the eyes of everyone — children and adults alike — prompting everyone to play for a while.
This playground embraces the "wild" look of nature — the giant slide is set amidst trees and greenery, while there are climbing structures that look like the aerial roots of the Weeping Fig. There are also "pods" and "seeds" where you can roll and hop around.
Since this is a playground, children are the target demographic — but don't let that stop you from joining in the fun. Adults also deserve to play — I definitely have played around here, and I have no regrets!
Operating Hours of COMO Adventure Grove:
Daily: 7 am to 7 pm
Forest Discovery Center @ OCBC Arboretum
Forest Discovery Center is being housed in Gallop House No. 5 (Atbara), which is the oldest-surviving and colonial-era bungalow in Singapore. The center's goal is to highlight the country's forest ecosystems and the importance of conserving them.
Inside, you can find a series of interpretive and interactive displays, so you'll really learn so much about Singapore's forests. The space is also so light and cozy, so it's easy to just get lost in the moment and check out as many displays as you can.
While you're at the Forest Discovery Center, be sure to stop by the OCBC Arboretum, which features innovative high technology. The displays — which show the Gardens' conservation work — are so beautiful that you can't take your eyes away from them.
Operating Hours of Forest Discovery Center @ OCBC Arboretum:
Daily: 9 am to 6 pm
Closed every last Monday of the month
Mingxin Foundation Rambler's Ridge
The Mingxin Foundation Rambler's Ridge is another underrated spot in the Gardens, but it's one worth checking out all the same — especially for hikers and trekkers.
The ridge's appearance is inspired by the unique forest habitats on the tropical hills of Southeast Asia. That's why it looks rugged with a rocky path that's lined with various trees — some are critically endangered, such as Spike Oak and Braided Chestnut.
If you want to add a bit of challenge to your hike, passing by this ridge is a great way to do so because the rocky steps provide some incline. This ridge and the HPL Canopy Link are also connected, so you can enjoy a seamless hike.
Operating Hours of the Mingxin Foundation Rambler's Ridge
Daily: 7 am to 7 pm
From Nassim Entrance
Evolution Garden
If there's one thing the Singapore Botanic Gardens does well, it's to make learning about botany fun and immersive. The Evolution Garden is one prime example of that.
As the name suggests, the Evolution Garden aims to showcase how plants evolve over time. The best way I can describe visiting this landmark is that it feels like you're taking a journey through time — it's like Jurassic Park, just with plants.
Even if you're not interested to have an in-depth look at the evolution of plants, this garden is still a perfect place to go to because of its lush greenery. Isn't it just relaxing to take a stroll under a canopy of tall trees?
Fragrant Garden
The Fragrant Garden is a crowd favorite, and it's not surprising to learn why. As you can gather from the name, this garden's main role is to perfume the air — so not only does the place look pretty and colorful, but it also smells fantastic.
I personally love this part of the Gardens as well — it's simply a soothing experience to wander here, seeing all the lovely flowers and smelling the fragrance in the air. You'll also get a chance to spot butterflies, making the scenery even more charming.
Healing Garden
Whereas the Fragrant Garden focuses on sweet-scented blooms, the Healing Garden is all about medicinal plants. In fact, there are over 400 varieties here, and they're organized based on which parts of the body they're used for.
Just like the other attractions in the Gardens, the Healing Garden provides information about the plants featured here. But it's also a great place to just hang out and enjoy a moment of peace — this is personally why I stop by this place.
Operating Hours of the Healing Garden
Daily: 7 am to 7 pm
Closed every Tuesday unless it falls on a public holiday
Palm Valley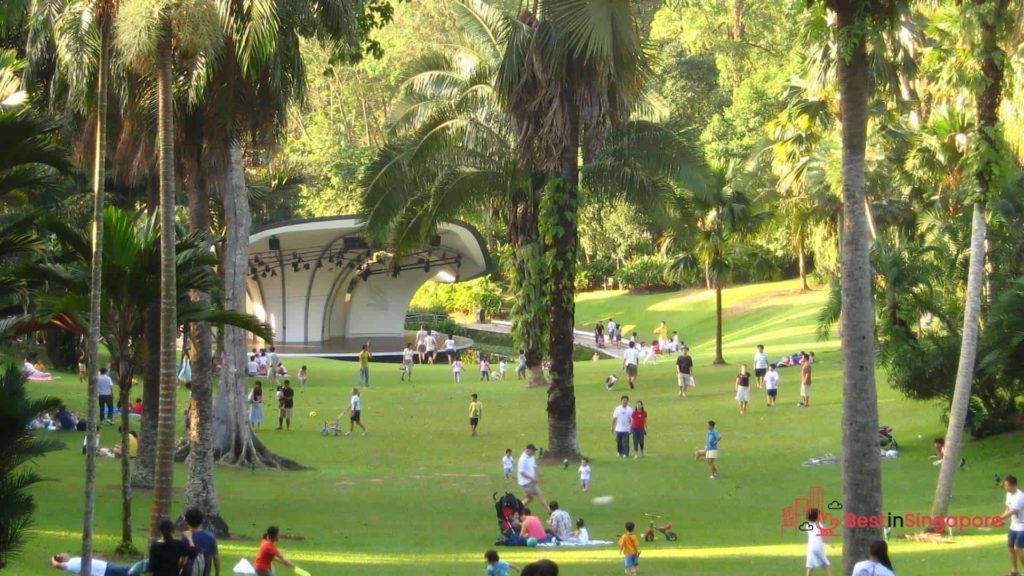 Palm Valley is home to over 115 genera and 220 species of palm trees; all six sub-families are also represented here. The trees are laid out in a herringbone pattern, and plants under a specific major group are arranged together.
This section of the Botanic Gardens is simple yet scenic, and I enjoy lounging on the lawn when I visit. It's the perfect spot to read a book or nibble on a few snacks while breathing in the fresh air.
Symphony Lake
At the Singapore Botanic Gardens, you can learn more about plants and immerse yourself in the beauty of nature. But did you also know that you can enjoy free concerts here?
Yes, you read that right — music events are sometimes held here, usually by the Singapore Symphony Orchestra. This is because right in the middle of the lake, there's a stage that was constructed for the sole purpose of holding musical performances.
The orchestra holds "SSO in the Park," which is a concert that happens every month. I would personally recommend that you check them out when you can — watching an orchestra perform in the midst of nature is quite a magical experience.
Rain Forest
At six hectares, the Rain Forest is probably the crown jewel of the Botanic Gardens. This area is a fragment of a primary tropical forest, which means it's home to a multi-layered ecosystem of over 314 plant species.
Some of the trees can grow up to a whopping 50 meters, so sometimes, when you're strolling through the forest, the sky is partially covered by the canopy. This is why I love coming here — because I can take a break from the sun and just enjoy the cool shade.
If you're also fond of learning about plants, there are placards scattered throughout that provide more information about the trees, shrubs, and herbs. Feel free to read them whenever you can.
Operating Hours of the Rain Forest:
Daily: 7 am to 7 pm
From Bukit Timah Entrance
Eco-Garden and Eco-Lake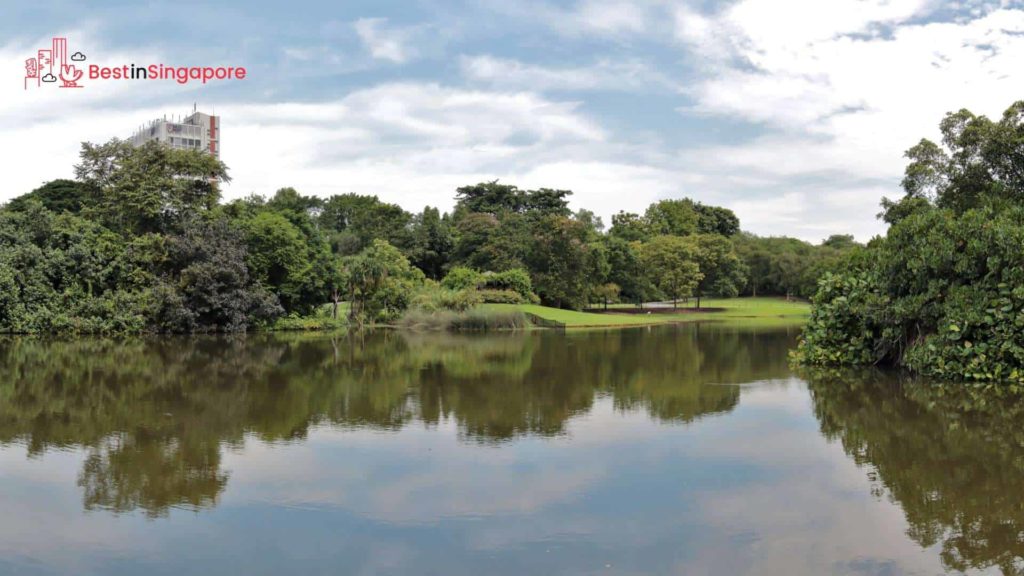 One thing I love about Eco-Garden is its name. You would think that it's named as such because the garden is eco-friendly, and while that's true, there's a second meaning attached to it as well: economical.
Essentially, this discovery garden features plants that have had economic significance throughout human history. These trees, shrubs, and herbs have been used to create and sell spices, dyes, and fibers.
In a way, browsing through the plants in this garden lets you appreciate the ingenuity and creativity of humans. I mean, they didn't have our technology back then, so just imagine them thinking up clever ways to make use of these plants in different ways!
Plus, this garden is surrounded by the green waters of the Eco-Lake. This lake houses a family of elegant Black Swans and attracts a few other birds, so if you're interested in bird-watching, this is the place to be.
Ethnobotany Garden
Located near Eco-Lake, the Ethnobotany Garden is an outdoor garden boasting over 300 species of plants that are found in the traditional cultures of the Malay Archipelago, Indochina, and South Asia. The Center for Ethnobotany is also situated here.
The garden is divided into four zones: Living, Craft and Construction, Symbolism, and Medicinal. Just like the Eco-Garden, I love coming here to learn how cultures used to perceive and utilize certain plants — it gives me an insight into how life was back then.
If you want to learn more about the relationships between plants and humans, then feel free to check out the Center for Ethnobotany. Here, you can find interactive displays that show you how plants played a major role in shaping cultures all over the world.
Operating Hours for the Center of Ethnobotany:
Daily: 9 am to 6 pm
Closed every last Wednesday of the month
Foliage Garden
If you park your car in the car park at Cluny Park Gate, the Foliage Garden will be the first attraction you'll see — and what a welcome that will be! A recent addition, this garden is a uniquely themed attraction with a collection of terrestrial and aquatic foliage.
The plants featured here all vary in shapes, textures, and colors, so the sight of them might cause you to drop your jaw. It also will motivate you to take some pictures because who doesn't want to immortalize such breathtaking scenery?
Operating Hours of the Foliage Garden:
Daily: 7 am to 7 pm
Jacob Ballas Children's Garden
For families with children who have a fascination with plants and the environment, this one's for you. The Jacob Ballas Children's Garden is the first garden in Asia that's dedicated to children, and its aim is to instill a deep love for nature in young people.
The garden offers a lot of space for exploration, adventure, and play — little ones can roam in a farm, orchard, or forest. They can also tread in streams and ponds or climb into tree houses; children with green thumbs can also learn all about gardening here.
The things to do are endless, so if you have a child and you want them to have fun while learning, you should bring them here. This garden is only open to children aged 14 and below — children aged 12 and below will need to be accompanied by an adult.
I know this garden sounds so fun, but it's not really open to adults. If you really want to come inside but you don't have a child, you can consult the Service Desk — they might permit you, but they will assign a staff member to accompany you.
Operating Hours of Jacob Ballas Children's Garden:
Tuesdays to Sundays: 8 am to 7 pm (last admission at 6:30 pm)
Closed on Mondays except when it falls on a public holiday
Seed Bank
The Seed Bank is technically a conservation, research, and education facility that specializes in preserving the seeds and germplasm of plants found in Southeast Asia. That said, it might still appeal to visitors because it has an interpretive gallery.
The gallery basically just informs people about the different seed banking methods. I'm not planning to become a botanist any time soon, but I still found the gallery to be an insightful read — I'm sure you might think so as well.
Operating Hours of SGB Seed Bank:
Daily: 9 am to 6 pm
Closed every last Friday of the month.
If this falls on a public holiday, SGB will be closed the following Monday.
Are there restaurants in the Singapore Botanic Gardens?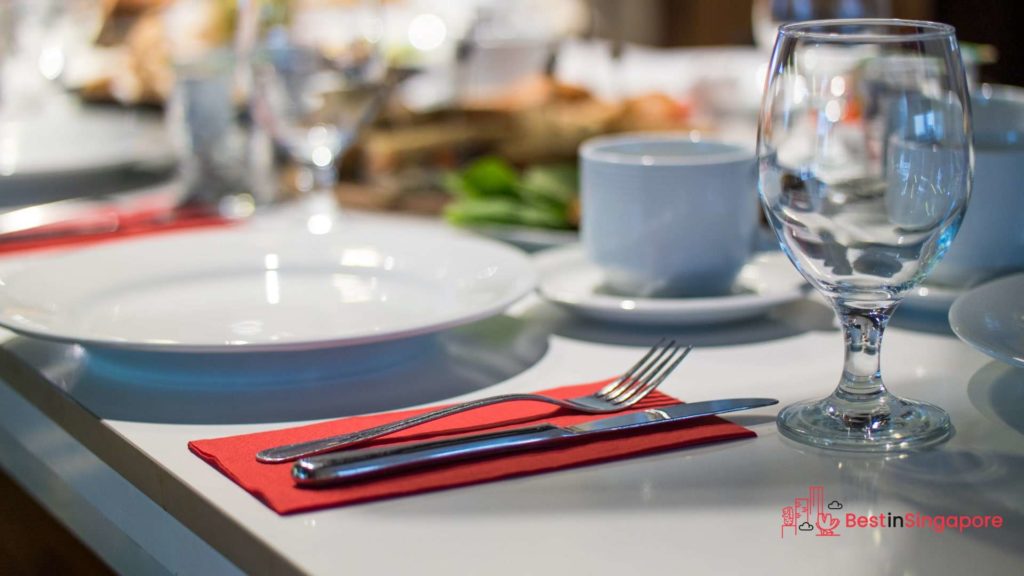 Aside from a great number of attractions, Singapore Botanic Gardens also has many restaurants and other dining options — each having its own distinctive menu.
This is good to know because exploring the Gardens takes up a lot of energy, so you need to eat during your stay. The restaurants you can find here are the following:
Casual Dining
Fine Dining
Cafes, Desserts, and Grab and Go
• Bee's Knees at The Garage

• Fusion Spoon

• Privé

• Corner House

• Botanico at The Garage

• Pangium

• The Halia Restaurant

• Bee's Knees Petite

• The Provisions

• Little Spot

• Ice Cream Man and Friends
Casual Dining
Do you want to grab breakfast at the Gardens — or maybe you're planning a breezy lunch date with a friend or your family? Whatever it is, feel free to grab a bite from the casual dining restaurants here.
What's great about these restaurants is that not only do they serve a wide variety of dishes, but they also feature charming decorations. Some are even open-air and surrounded by a garden — what a lovely scenery!
Restaurant Name
Where You Can Find It
Operating Hours
What You Can Expect
Bee's Knees at The Garage
50 Cluny Park Road (near Cluny Park Gate)
• Daily: 8 am to 10 pm
• All-day dining garden cafe and bistro

• Western cuisine with Asian fusion

• Breakfast menu, pizza, pasta, and salads

Fusion Spoon
Tanglin Gate, #B1-00
• Weekdays: 9 am to 9 pm

• Weekends and public holidays: 7 am to 9:30 pm

• Warm earthy interiors and an outdoor area for al fresco dining

• Play areas for children are available.

• Western, Asian, and Japanese cuisines

Privé
Near Nassim Gate
• Daily: 8 am to 9 pm (last order at 8:30 pm)
• All-day dining with both indoor and al fresco dining

• Pet-friendly and child-friendly (there's a dedicated play area)

• Western and Asian dishes
Fine Dining
If you're on a romantic date with a partner — or maybe you just want to treat yourself to a fancy meal (because why not?) — then make sure to book your dinner at one of the fine dining restaurants in the Gardens.
Restaurant Name
Where You Can Find It
Operating Hours
What You Can Expect
Corner House
Near Nassim Gate
• Lunch: 12 pm to 3 pm (last order 1:30 pm)

• Dinner: 6:30 pm to 11 pm (last order 8:30 pm)

• Open from Wednesdays to Sundays

• Closed on Mondays and Tuesdays

• Featuring dynamic and ever-changing menus

• Multi-course dining experience

• Must wear smart casual attire

Botanico at The Garage
50 Cluny Park Road, Level 2, Cluny Park Gate
• Tuesdays to Thursdays: 6 pm to 10:30 pm

• Fridays: 12 to 3 pm, 6 pm to 10:30 pm

• Weekends: 11 am to 3 pm, 6 pm to 10:30 pm

• Closed on Mondays

• RSVP required

• Contemporary bistro

• Seasonality-driven menu

• Multi-course dining experience

Pangium
11 Gallop Road
• Tuesdays to Saturdays: 6:30 pm to 8 pm
• Tasting menu-only restaurant

• Modern interiors with a sweeping view of the Gardens

The Halia Restaurant
Ginger Garden
• Weekdays: 9 am to 9 pm

• Weekends and public holidays: 10 am to 9 pm

• European-Asian fusion

• Serving halal-certified meals
Cafes, Desserts, and Grab and Go
If you have a sweet tooth like me, then you'll want to grab some dessert or pastries to snack on while roaming around the Gardens. Or maybe you just want to grab a quick bite because you're in a rush.
Whatever your case is, here are some dessert spots, cafes, and grab-and-go establishments that you might want to check out
Restaurant Name
Where You Can Find It
Operating Hours
What You Can Expect
Bee's Knees Petite
Annex at Gallop Extension, 9 Gallop Road (near Gallop Entrance)
• Weekdays: 9 am to 6 pm (last order at 5 pm)

• Weekdays: 8 am to 7 pm (last order at 6 pm)

• Western cuisine with Asian fusion

• Kids breakfasts, salads, pasta, pastries, and dessert

The Provisions
Ginger Garden
• Weekdays: 8 am to 5 pm

• Weekends and public holidays: 8 am to 7 pm

• Grab-and-go food and beverage

• Gifts and souvenirs

Little Spot
Jacob Ballas Children's Garden
• Tuesdays to Fridays: 9 am to 5 pm (last order at 4:30 pm)

• Weekends and public holidays: 8:30 am to 5 pm (last order at 4:30 pm)

• Closed every Monday, unless it falls on a public holiday

• Kids-centric cafe with adorably plated meals

• Children can check out the books and coloring sheets while waiting for their food.

Ice Cream Man and Friends
Near Ginger Garden
• Weekdays: 9 am to 7 pm

• Weekends: 7 am to 7 pm

• Whimsically decorated ice-cream kiosk offering 14 flavors of ice cream

• Also serving teas, soda, and iced coffee (try out "The Black Swan" — it's a fan-favorite)
FAQs about Singapore Botanic Gardens