13 Best Sunscreens in Singapore For All Skin Types
If you need to spend extended periods under the sun for one reason or another, you need to think about your skin's health. In these cases, you need the best sunscreens in Singapore to protect you from harmful UV rays.
But now you're probably wondering which is the best sunscreen in Singapore for you. What should you look for? How can you tell if a product is any good?
Well, we've taken care of that for you by comparing the all good sunscreens in Singapore for you. Below is our extensively-researched list of the best sunscreens in Singapore.
1. Shiseido Perfect UV Protector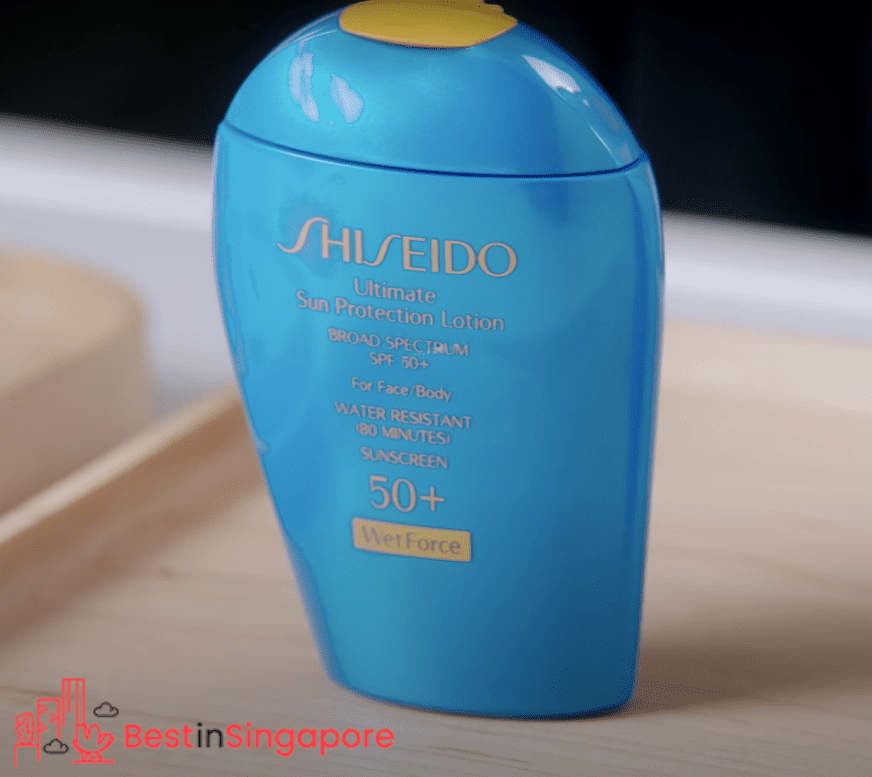 Price: $59
For those who enjoy intense outdoor and indoor activities, Shiseido Perfect UV Protector is a must-have for your essentials kit. It has WetForce technology, which provides multi-protection against extreme heat and sunlight.
As you sweat, the protection gets stronger as well. In addition, its fragrance actually synergises with natural sweat to produce a pleasant scent.
You might think that its power means the sunscreen will be too heavy on the skin. However, it's actually so lightweight that you may not even feel it when you put it on your face.
Apart from this, it also prevents you from looking older with its SuperVeil-UV 360 technology. Meanwhile, the ProfenseCEL reduces the possibility of wrinkles and dark spots. Due to this, we consider the Shiseido Perfect UV Protector as the best sunscreen for face in Singapore against ageing and sun damage.
That amazing list of features should be argument enough for why it's one of the best sunscreens in Singapore. If you don't try this product, you'll be missing out!
Highlights
Transforms the smell of sweat into a pleasing scent
Reduces wrinkles and dark spots
Customer Reviews
Many users of Shiseido Perfect UV Protector actually call it the best sunblock for face in Singapore. There's a lot of praise in particular for its non-greasy, high-quality feel and performance.
The only complaints were that some people thought it was slightly drying and others called it pricey. In spite of that, it remains a shoo-in to be listed as one of the best sunscreens in Singapore.
A reviewer from MakeupAlley wrote:
"The best sunscreen for the face I've ever used. It's effective and makes my skin very smooth. It feels very light and comfortable. I've used it every day for over a month now. It doesn't break me out, it doesn't make my face greasy. It's perfect under makeup. Not the cheapest but definitely worth the money. If they don't stop the product I'll keep on purchasing. I also don't use it for the body so it'll last for quite a long time."
2. Eau Thermale Avene Very High Protection Fluid SPF 50+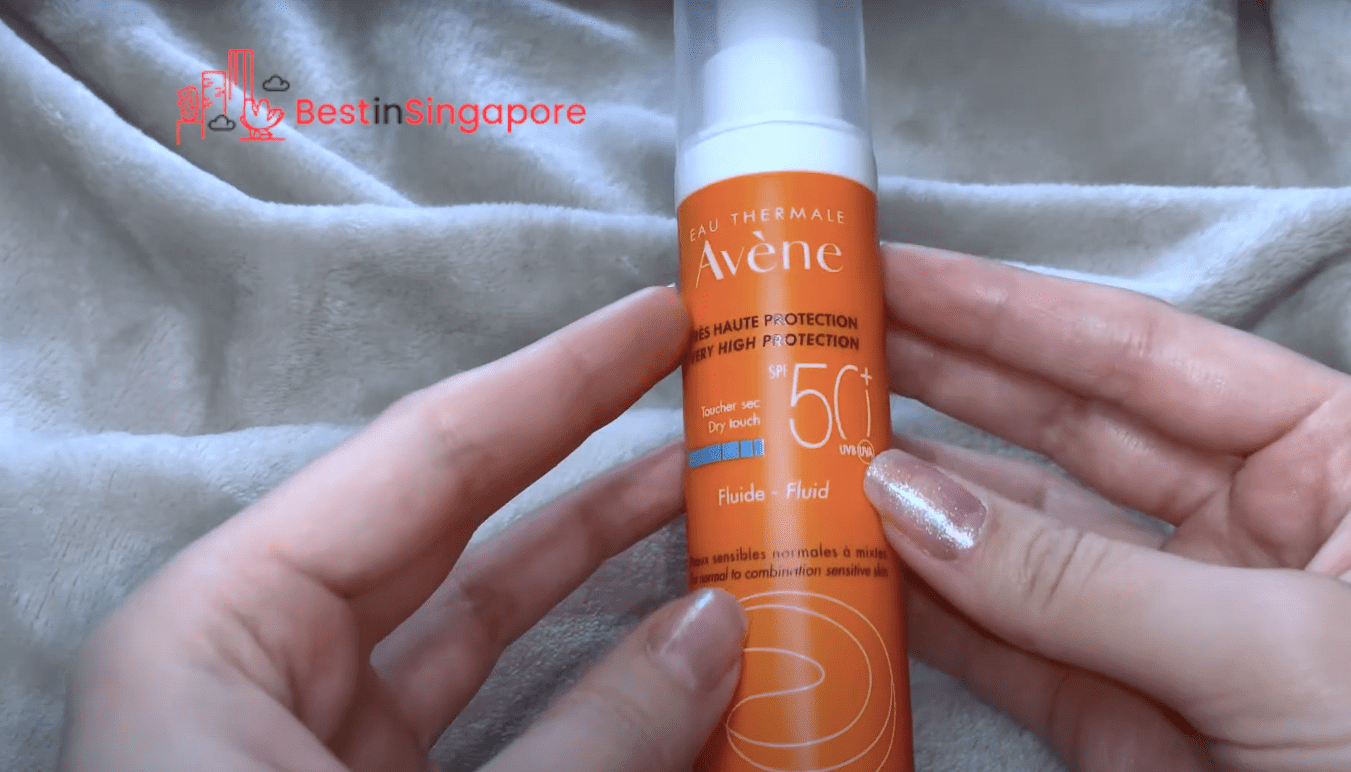 Price: $30.90
If you're looking for a good sunscreen in Singapore that's water-resistant, Eau Thermale Avene would be the best choice for you. It has an antioxidant complex that will provide full sun damage protection.
Most importantly, it's not greasy, sticky, and shiny so you don't have to be conscious while wearing sunscreen. It's suitable for sensitive skin since it has anti-irritating and soothing features. We think this is definitely the best sunscreen for the face in Singapore for those with sensitive skin.
It's also designed with an airless pump-bottle for easy usage. For the athlete and those who have an active lifestyle, you will not regret having this product on your list!
Highlights
UVB-UVA spectrum
Long-lasting protection
Customer Reviews
Eau Thermale Avene is said to be highly effective based on the positive reviews from its users. They also claim that it's one of the best sunscreens in Singapore in terms of longevity.
Though it's not quite suitable for oily skins, it still does not cause breakouts. Because of this, users deem it a skin-friendly product.
A reviewer also left this feedback on the company's official website:
"It is a little oily but goes well under makeup. Also, it protects well from the sun, I use it as a moisturiser in the morning to feel ready to go. However, it is a little expensive, but it is a quality product so I understand. I would love this sunscreen made available for oily skins too. It doesn't cause breakouts, but it makes me look a little too bright."
3. Murad City Skin Age Defense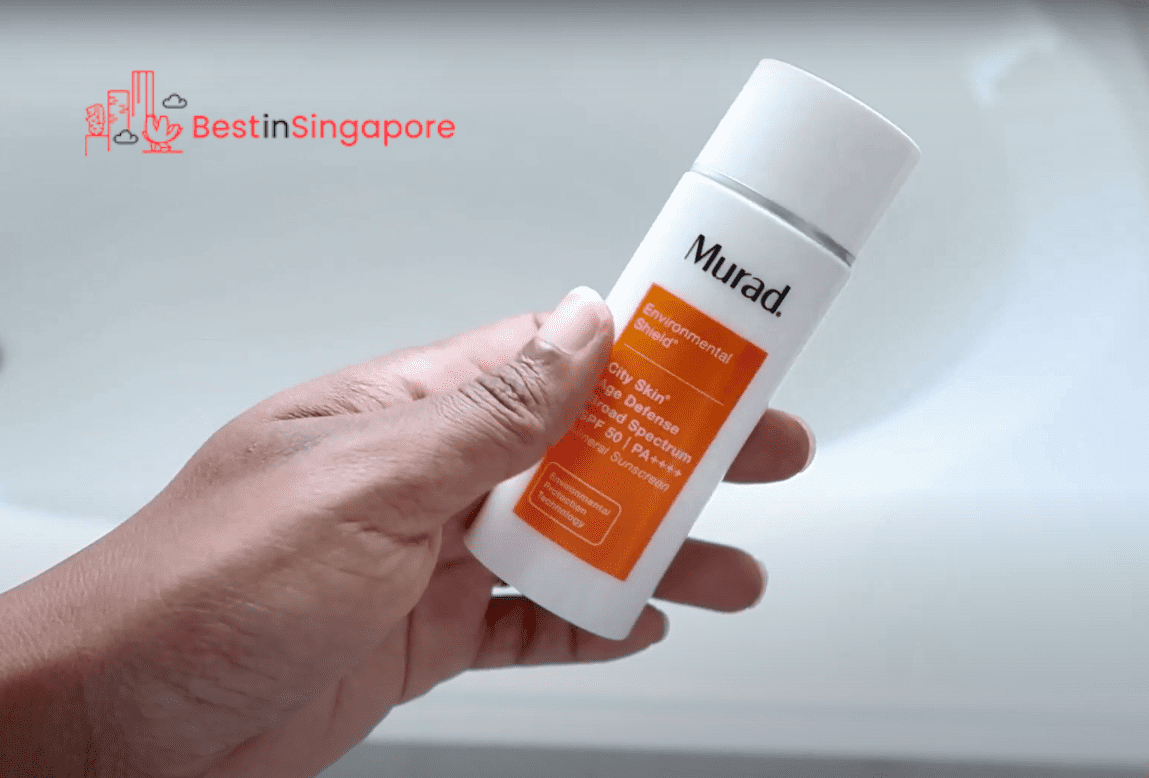 Price: $68.00
It's quite hard to find a sunscreen suitable for all skin types, right? Well, as we said earlier, we've combed the market for the best sunscreens in Singapore for you — and here's one of the products we've found to be great for all skin types.
Murad City Skin Age Defense is the answer you've been looking for. It's ultra-lightweight and has environmental protection technology that shields your skin from UVA and UVB rays.
This sunscreen also shields your skin from pollution and infrared radiation. That means you get a multifaceted skin defence system in a single bottle!
This product will solve your uneven skin texture and tone, dullness, and even fine lines and wrinkles. It will also brighten up your skin and make it look more radiant.
Shake it well before you use it and apply evenly to face, neck, and chest. Coming from a brand known for creating products that will solve skin concerns, this sunscreen can be your holy grail!
Highlights
Reduces signs of ageing
Solves uneven skin tone
Customer Reviews
After using Murad City Skin Age Defense, users have only praise for its features. The only actual complaints for it were actually about its cost, as some thought it a little too expensive for a sunscreen.
In spite of that, it's still well-loved by many. A reviewer from Sephora shared this story:
"Loved this product immediately. I rarely find a sunscreen that works for my oily/ acne-prone skin as well as this one has. It's hydrating but doesn't make me oily. It's mattifying, but not drying. It doesn't leave a white cast or have a strong sunscreen fragrance to it. I love that it kind of blurs my imperfections and corrects my discolouration. My skin has definitely improved since using it. It's expensive, but a little bit can go a long way. I've had mine for a few months now. I use it twice a day and am just now starting to run low."
4. La Roche Posay Anthelios Anti-Shine Dry Touch Gel Crème
Price: $37.42
The best feature of La Roche Posay Anthelios is the anti-shine mattifying effect. This makes it the perfect sunscreen to use if you're going to use it with makeup.
It has a dry-touch texture, has rapid absorption, and leaves no white marks. It's matte feel also makes it one of the best sunscreens in Singapore for oily or combination skin type.
It also has SPF 50+ too, which brings broad and photostable UVA/UVB protection. And if you're worried about whether it can withstand sweat and sebum, the answer is yes.
It contains no fragrance or parabens, and is water-resistant so you can feel comfortable. What more could you ask for? Absolutely the best sunscreen for oily skin in Singapore.
Highlights
Dry touch texture
No fragrance
Customer Reviews
Compared to the other options, La Roche Posay Anthelios is less pricey… but this does not lessen the quality of the product, based on what users have to say.
Many customers have admired the fact that they can use this on a daily basis. The dry touch gel texture has made many of them consider it to be the best sunscreen for oily skin in Singapore. It might not be completely free of fragrance (a minor complaint), but most users agree that the fragrance isn't unpleasant.
Here's a review from Influenster:
"This sunscreen is probably one of the best facial sunscreens I have tried. It is very lightweight, fluid in texture so it blends seamlessly into the skin. I love that it doesn't feel sticky, heavy nor does it leave a white cast. I use this on a daily basis and even before I apply makeup as this sits very nicely without it sliding. Before I apply this, I make sure I give it a good shake and apply a generous amount all over my face. On my dry skin, this sunscreen works very well and lasts all day without feeling sticky and oily. I truly believe that wearing sunscreen on a daily basis is very important in protecting our skin so I highly recommend anyone who is in the market and looking to try out a new sunscreen." 
5. Laneige Marshmallow Sun Cushion SPF 50 PA+++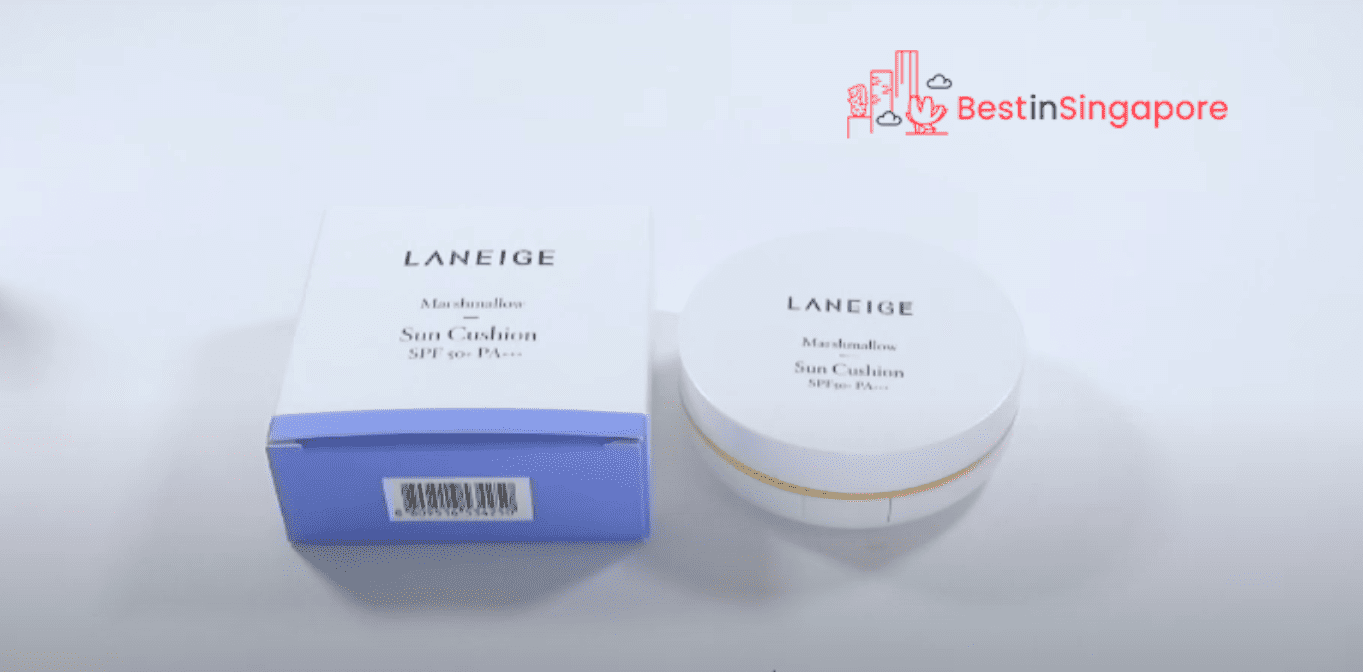 Price: $12.65
It's not common for a cushion compact to have full sun protection but with Laneige Marshmallow Sun Cushion, you can "put your face on" while putting your sunscreen protection on.
A good sunscreen in Singapore for those with fair skin, it features a soft texture that can block strong UV rays thanks to a high SPF. With its compact design, you can bring and use it whenever and wherever as well.
It's pressed-powder design makes it one of the more unusual entries in this list of the best sunscreens in Singapore. It may also make it preferable for those who want a more compact sunscreen product.
This sunscreen also has Laneige Water Screen. All in all, it's easy to see it's included in a list of the best sunscreens in Singapore.
Highlights
Soothes the skin
No harmful elements
Customer Reviews
Laneige Marshmallow Sun Cushion is loved by many for its combination of aesthetics and protection.
Some customers do say that it's more suitable for a fair skin tone, though. So, make sure to check first if it will complement your skin colour.
A review from Lazada left this feedback:
"The cushion itself is very easy to apply and blends in well with my skin. Was a bit apprehensive as I am cappuccino coloured and not exactly fair-skinned, but it doesn't leave a trace and blends well. As for whether it works as an effective sunscreen, I am hoping it does; no way of telling for sure. Will definitely buy again."
6. Orbis Sunscreen on Face Light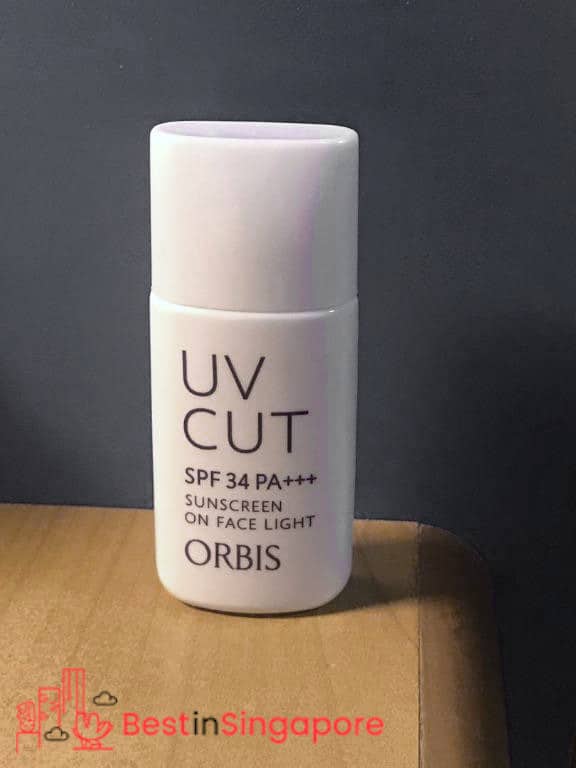 Price: $27.67
Orbis Sunscreen on Face Light is one of the best sunscreens in Singapore when it comes to living up to a name. It's light enough to be nearly unnoticeable, but still boasts massive sun protection.
It has ultimate triple threat protection that will shield you against UVA/UVB rays, infrared rays, and airborne pollutants.
The most unique thing about this sunscreen is that it has a natural tint that will blend well with yellow-hued skin tones. The result is a healthy-looking and flawless appearance.
It also has Hybrid Airy Powder that can conceal the pores and produce a soft finish. Furthermore, it has a rosemary extract and beauty serum that also help prevent sun damage.
A sunscreen that you can wear every day isn't easy to find, but this product actually fits the bill. It's among the best sunblock in Singapore if you want something extremely light and comfy.
Highlights
Sweat and water-resistant
Tested and proven to be hypoallergenic and non-comedogenic
Customer Reviews
Orbis Sunscreen on Face Light is loved by many customers for its ability to even out skin tone. The SPF is a little lower compared to the other sunscreens, some note, but this only becomes a concern for those with very high SPF needs.
One thing many users note is that it's great when used with makeup. A reviewer from MakeupAlley left this comment:
"before this bottle, I used the brand's sunscreen but it comes in a tube. so this is the new package I'm using. I find that for a reasonable amount of money this bottle of sunscreen is great. First, the texture is thin and liquid-watery so it doesn't make your face looks like it's been plastered with glue, and you can spread on face smoothly. Second, this product is tinted lightly, it helps to tone my skin and preps my skin prior to powder foundation. It evens out your skin tone. Third, the SA said it is sweat-proof, not the same as water-proof though. But I would like to reapply during the day because I really think nothing is really sweat-proof in sunscreens. Generally speaking, I'm quite satisfied with this product"
7. L'Oreal Paris UV Perfect Aqua Essence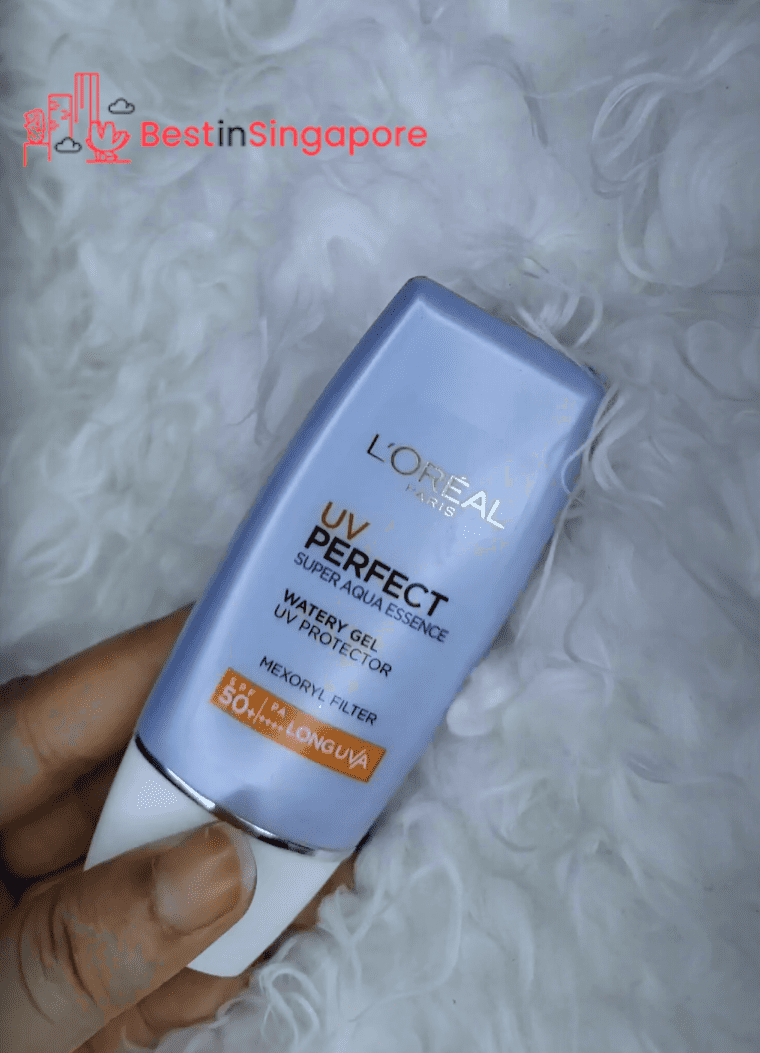 Price: $31.91
If you're looking for an all-around good sunscreen in Singapore that's affordable and effective, this is a great option for you. As we all know, L'Oreal Paris is one of the most famous brands in skin and hair care products. The non-sticky and non-greasy L'Oreal Paris UV Perfect Aqua Essence will shield you from sun damage.
It has SPF 50 that can protect your skin against long UVA filters and lasts up to 12 hours. It also hydrates your skin and prevents the usual signs of ageing, like dark spots, wrinkles, and more.
This sunscreen easily glides and is absorbed quickly by the skin. Its smooth, easy-applying texture is a testament to why it's one of the best sunscreens in Singapore.
Highlights
Lightweight texture
12 hours UV shield
Customer Reviews
Most users are very impressed and satisfied with L'Oreal Paris UV Perfect Aqua Essence. In fact, most reviews show that surpasses the expectations many users have.
An Amazon reviewer wrote:
"The perfect sunscreen for the hot Indian summers. The sunscreen has a very liquidy, runny texture and spreads smoothly onto the face. It gets absorbed completely and even after a whole day in the Sun, there isn't any white cast or patchiness. The SPF 50 is more than enough for everyday use and also for heavy-duty use in the bright seaside sun. I have been using this every day for the past 2 years and I am not exaggerating when I say I didn't tan at all with this on. I have oily skin and this didn't break me out at all, or make my skin greasy. My mother, who has more dry skin also loved this sunscreen. Lastly, all of this comes in a travel-friendly packaging so I highly recommend buying this Sunscreen. You won't regret it."
That's as good a note as any on which to end our list of the best sunscreens in Singapore. With the sunscreens we've listed above, you should feel safe under the sun even in the middle of summer.
8. CNP Cosmetics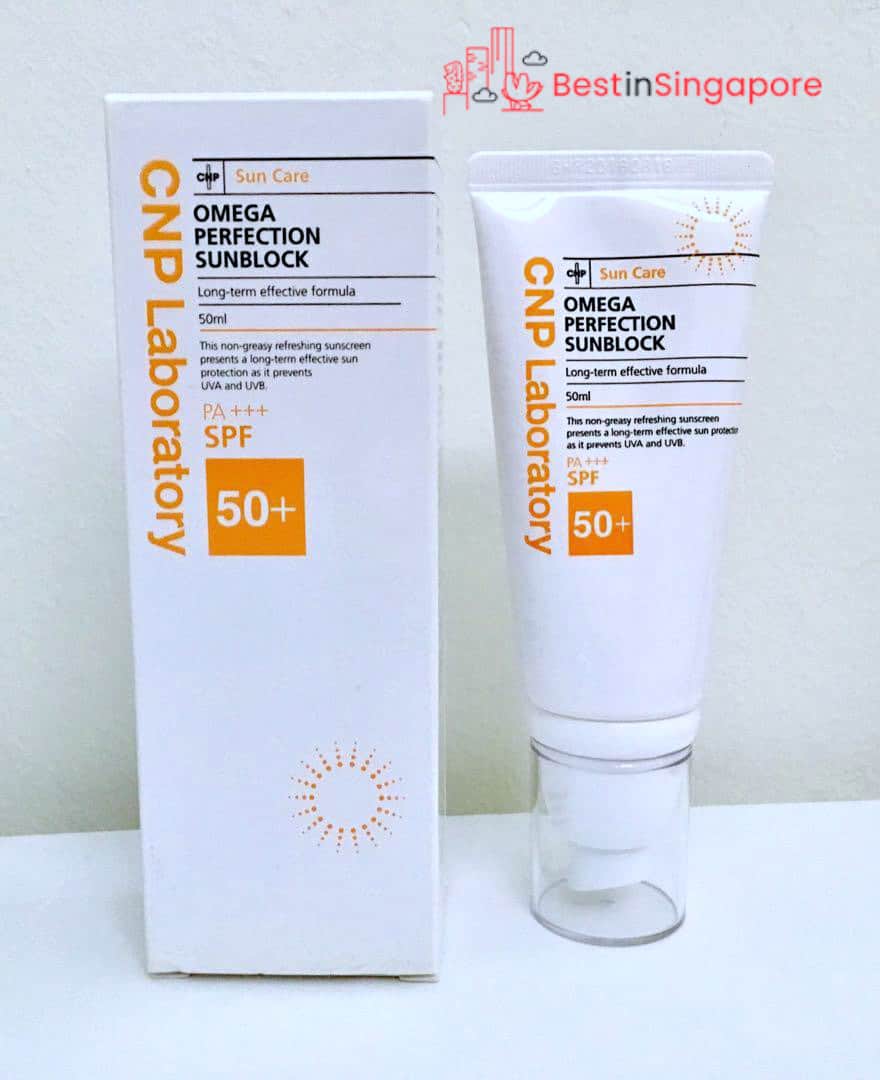 CNP Cosmetics is a popular skin care brand from Korea.

It started as dermatology clinic and has later expanded into a laboratory which allows them to produce different products. They cater to various skin types including but not limited to acne
CNprone skin, oily skin, dehydrated skin, dry skin, matured skin, and sensitive skin. Here, you can buy peeling cleansing gel, peeling cream mask, blackhead clear kit, and of course, sunscreen.
Their sunscreen, unlike their competitors, does not produce whitening effect on the skin once you applied it. But that does not mean that it's not effective nor it won't protect against the heat of the sun.
Several users reviewed the product and attest to the result of using sunscreen.
Customers loved how it serves the purpose of being a sunscreen—oil control and no white cast or breakout. The only downside is that it can be pricey as compared to other Korean brands.
Highlights
Products for all skin type

Maximizes the benefit of using sunscreen
Good oil control
No white cast or breakout
Customer Reviews
There is nothing much to say about the product other than what the result provides. Nonetheless, CNP Cosmetics users leave out some positive feedback for further reference:
"I usually don't like to put my make up on since my skin gets dried up so fast and I feel itchy by night. However, this tone up sunscreen makes my face toned up so I don't need to put foundation anymore! And this cream seems to be made out of pure ingredients so I feel like my skin is getting even healthier!" – Irene Hwang
9. Heliocare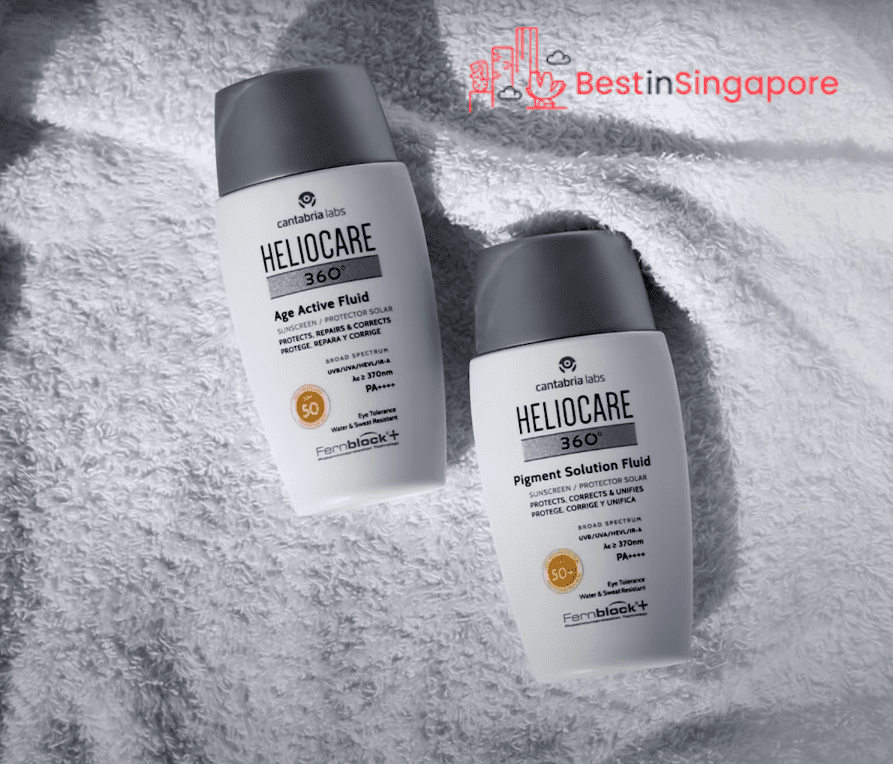 Heliocare's sunscreen, specifically the Advanced Gel SPF50, is the number one best selling sunscreen in Singapore online. This speaks volume of the kind of result this sunscreen provides to its users.
The sunscreen is claimed to be easy to apply and that no residues stick to the face. Customers attest to this fact as they deemed it ideal to apply as a base for makeup.
Their oil free gel is suitable for all skin types but it specifically works on oily or spot prone skin. You can also find other types of products for your skin. Whether you're looking for face or the best sunblock for body in Singapore, Heliocare's sun-care range has something for you.
learn more at Heliocare website: www.heliocare.com.sg
Highlights
Does not leave sticky residue

Superior sun protection for skin

Easy to apply
Customer Reviews
"This is a good price for a very good product. This sunblock was recommended to me by the dermatologist treating problems on the top of my bald head caused by too many years in the tropical sun without sufficient protection.
The protection is SPF 50 but coupled with my present hat that also has at least 50 SPF protection my dermatologist is quite satisfied.
The sunblock she recommended initially had 100% protection, but it was white and stayed white. Who wants to go around looking like a clown. This gel is clear, covers well and is not noticeable when I am out and about. It does not look or feel sticky.
The main reason my head has gone unprotected was because the sunblocks I tried caused an allergic reaction. I have had no problems with this. I am very pleased with it.
It covers well and does not require using a lot. I bought two tubes and they should keep me protected for a long time.
I was pleased to find that the expiration date for both was September 2020. I was worried that because this seller was charging less than some others that it might be because the expiration date was near, but that was not the case." – Kenneth Depree
10. Astalift D-UV Clear Series SPF50+ PA++++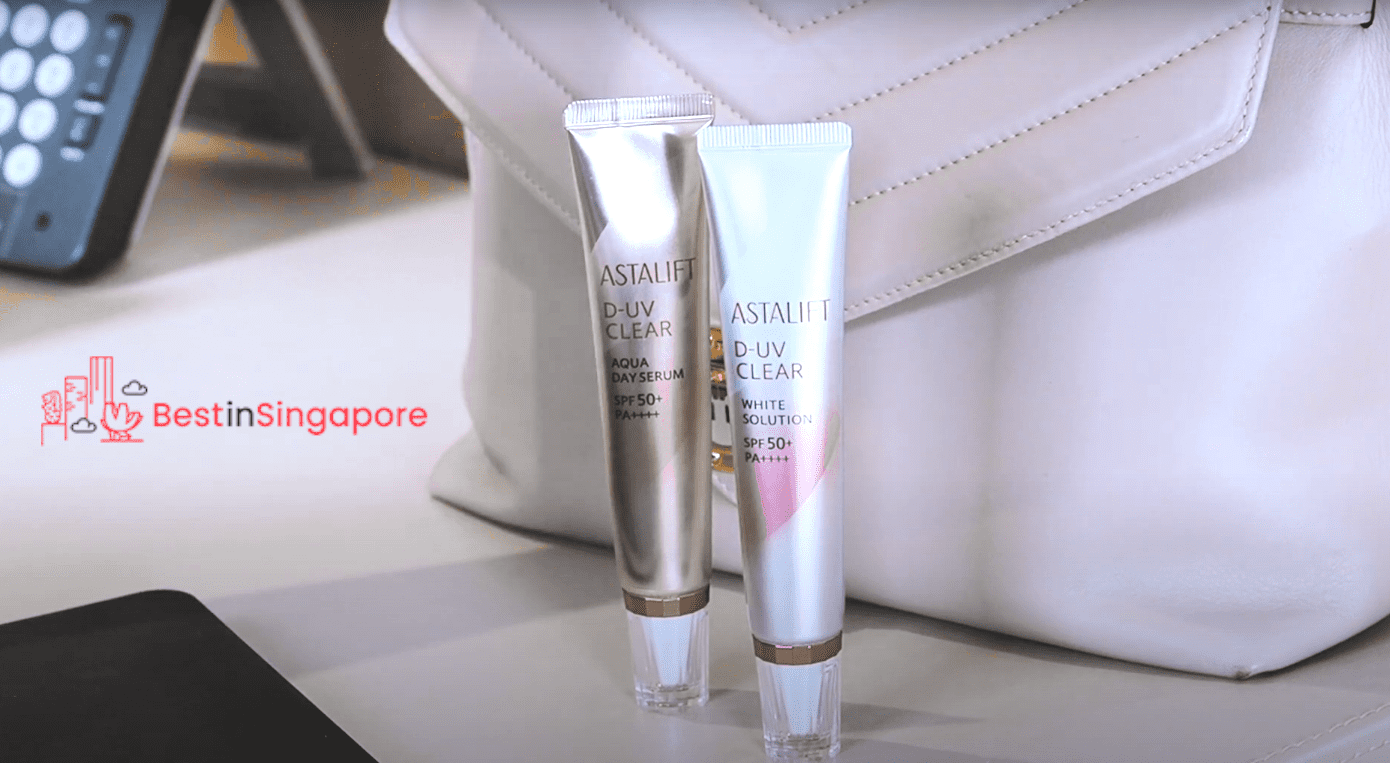 Price: $72.00
Shop Now On Astalift (Aqua Day Serum)
Shop Now On Astalift (White Solution)
Astalift D-UV Clear Sunscreen series with D-UV Guard protects you all day long even against the longest UVA wavelength.
The D-UV Clear Aqua Day Serum has a refreshing dewy texture that moisturises and hydrates extensively throughout the day. Meanwhile, the D-UV Clear White Solution comes with a unique stretchable technology that doesn't crack with facial expressions.
These products contain collagen rich ingredients to increase skin elasticity and reduce skin wrinkles. With its Light Analyzing Powder ingredients, it brightens your skin tone naturally, making it a welcome addition to your makeup routine as a base.
Their ultra airy-light texture accompanied with its water & sweat resistant formula sits comfortably on the skin without leaving a shiny look or greasy after-feel, that looks naked on your face all day long.
Learn more about the D-UV Clear series here.
Highlights
Deep UVA protection
Protects and restores skin
Promotes radiant and hydrated skin
11. SkinLab Day Protect Gel (Tinted)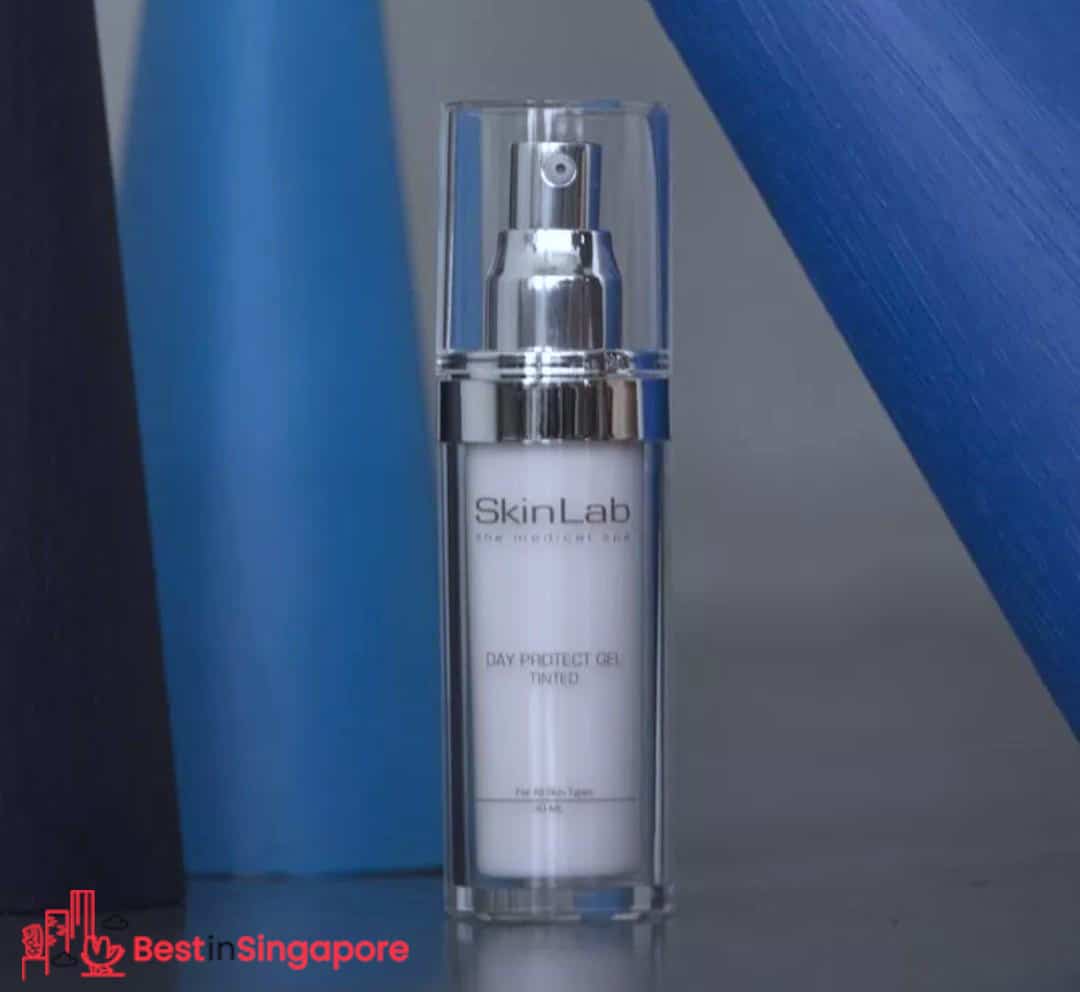 Price: $72.00
Shop Now on SkinLab The Medical Spa
If you're looking for a high quality sunscreen in Singapore at the best price, then you may want to consider SkinLab's Day Protect Gel.
This light, moisturising sunscreen contains four protective sun shields, including UVA and UVB sun filters. It's also non-greasy and non-comedogenic, which means no oily looking skin and no blocked pores!
You can reapply it throughout the day especially if going for a swim, for the ultimate protection against the sun, while still being able to enjoy the heat.
Highlights
Small amount needed
Contains 4 protective sun shields
Moisturising sunscreen
12. Beyond Sun Protection by Crystal Tomato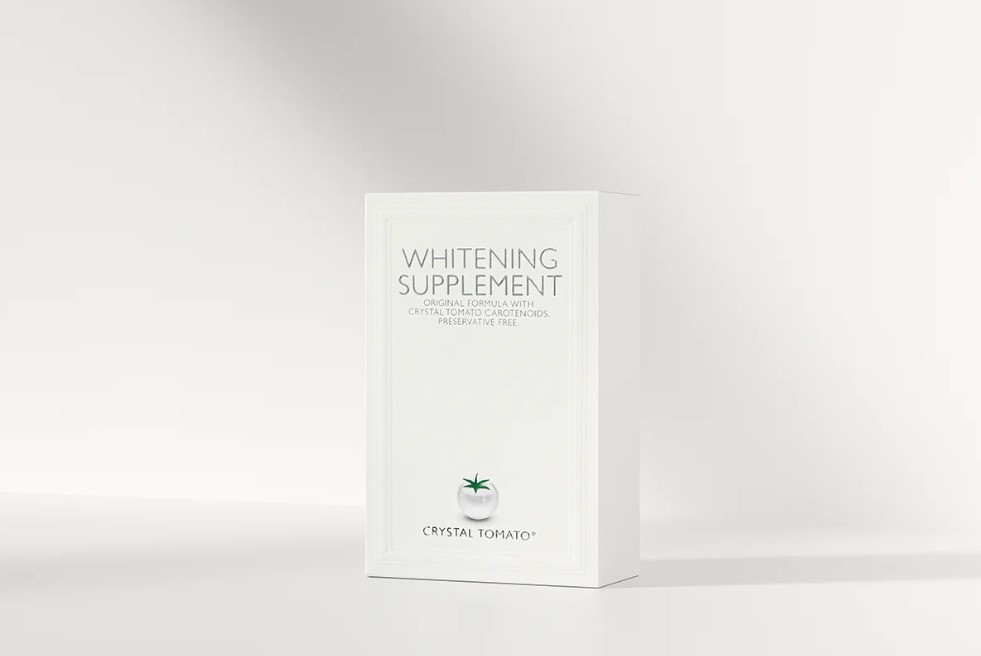 Price: $79.00
The promise is in its name: Crystal Tomato ® Beyond Sun Protection goes beyond ordinary sunscreens, unrivalled as the most complete skin protection cream ever made. Dermatologist-recommended and medically proven, this extraordinary formulation is both a chemical (organic) sunscreen and a physical (mineral) sunblock, protecting skin from the sun, blue light, and environmental pollution—setting a new standard in total skin defense.
Many women aren't aware that blue light in our modern lifestyle is ageing us prematurely. Blue light penetrates deeper into our skin dermis as compared to UVA & UVB. Frequent exposure to blue light is scientifically shown to cause skin damage and accelerate skin ageing process: hyperpigmentation, skin wrinkling and sagging.
Clinically proven with Blue Light 54+, SPF 80+, PPD 17+(PA++++) and powerful antioxidants, Crystal Tomato ® Beyond Sun Protection provides users high protection against UVA/UVB, blue light, pro-oxidative air pollutants, and infrared present in our daily environment.
Beyond Sun Protection is also hypoallergenic and non-comedogenic. It has a light dry touch which blends well with make-up.
Aside from sunscreen, check out Crystal Tomato ® signature Whitening Supplement and Crystal Tomato® Skin Clarity Cream for radiant and flawless complexion. Crystal Tomato® products can be bought from their e-store, online stockists (Tangs, Lazada, Shopee), authorized aesthetic and medical clinics, and hospitals in Singapore. Payment can be made through VISA, American Express, MasterCard, Diners Club. PayPal, and Apple Pay.
Highlights
Medically proven blue light protection
Highest UVA and UVB protection
Filled with powerful antioxidants
Whitening and hydration properties
Certified safe and effective
Suitable for any skin type
If you feel like taking the next step to caring for your skin, though, give our list of the best facials in Singapore a try. Putting a good facial together with the sunscreens we've listed here should help you maintain healthy, radiant skin.