Our 25 Favourite Places to Get Facial in Singapore
If you're here seeking the best facial in Singapore, we don't have to convince you of the importance of proper skincare. Healthy skin helps you look your best in any situation, even when you've just jumped out of bed and haven't had time to put on makeup!
A good facial can do a lot to refresh your skin after a tiring week. But of course, you want to be sure that you only get a reliable and good facial in singapore — otherwise, you may do your skin more harm than good.
Today, we'll go over the beauty establishments that we think you should go to first for the best facial in Singapore. These spas and beauty studios provide the type of facial care everyone deserves!
1. Edwin Lim Medical Aesthetic Clinic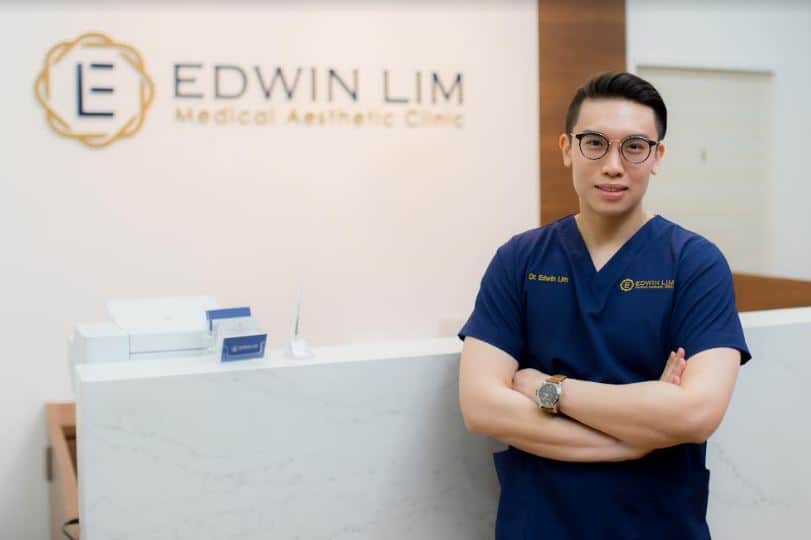 BEST FOR
Customised Medical Grade Facial Treatments
SERVICES
Botox and Filler Injectables, Acne and Pigmentation Lasers, Medi-Facials, HIFU, Hair Removal Laser and Fat Freezing
WEBSITE

https://edwinlimclinic.sg/

ADDRESS

2 conveniently located clinics

East clinic – #02-12/13 Changi City Point

Orchard clinic – #05-51 Lucky Plaza, Orchard Medical Specialists Centre (By appointment only)

CONTACT DETAILS

96372218 (whatsapp only)

OPERATING HOURS

Monday – Friday: 11:00 to 8:00 pm

Saturday: 11:00 am to 6:00 pm
Edwin Lim Medical Aesthetic Clinic offers an extensive and comprehensive array of aesthetic services for their clients. They are equipped with the safest and latest in medical aesthetic technology for their treatments. Dr Edwin's goal is to provide evidence based anti-aging and aesthetic treatments that are both safe and effective with minimal downtime and discomfort.
One of the popular services they offer is a microdermabrasion facial treatment called the Aquapure Medi-Facial. This aesthetic facial treatment uses medical-grade serums to promote younger, more hydrated, healthy-looking skin.
The seven-step process includes aquapeel (step 1-3), which unclogs the pores, kills acne bacteria and removes impurities, and then rehydrates the skin; (step 4) serum electroporation uses a specially formulated Tri Whitening Vitamin C serum for skin brightening, whitening and collagen stimulation; (step 5) microcurrent stimulates collagen for skin tightening and to slim the face; (step 6) hydrating face mask contains a plethora of antioxidants and beneficial ingredients for skin rejuvenation; and finished off with (step 7) cooling stamp, which reduces redness and sensitivity post facial.
Dr Edwin's clinic recently launched a new CO2 Oxygen facial which further boosts collagen production and is ideal for its anti-aging benefits.
While the process may be longer compared to other facials, the Aquapure Medi-Facial helps rejuvenate the skin without requiring a long recovery period. Furthermore, the Aquapure Medical Facial addresses a multitude of skin concerns such as aging and sagging skin, acne, fine lines, dull skin, impurities, and dryness. 
Highlights
Comprehensive medical aesthetic service

Minimal discomfort and pain

Flexible treatment process
Customer Reviews
At Edwin Lim Medical Aesthetics, you will get the service that you deserve. Check out what their customer has to say regarding their service: 
Dr Edwin Lim came highly recommended through a good friend. I am not disappointed at all. Initially, concerned about finding the way to clinic but it turned out to be a breeze. There is an underground link from the EXPO station all the way to Changi City Point Mall; that keep me sheltered from the weather. He is thorough in his explanation, professional in the clinical care, exercise dexterity in surgical skills, has gentle touch and has a friendly persona. There is no hard sales. The Clinic staff are great too! The Clinic's emphasis on clients' needs taking centre stage is commendable. Just done my neurotoxin and fillers; really happy with the outcomes. Always gratifying to invest in my skincare as I am wearing it everyday. – Madeline Chan
A month ago, I messaged the clinic asking it about mole removal late at 11pm. To my surprise, the reply came within a minute. After the review today, I am more than happy with the outcome of the procedure. What had been a dark raised mole is now a reddish scar. Moreover, it is most likely going to return to skin colour in two to three weeks. There are no complaints whatsoever with my smooth and minimal-pain experience with the clinic. Dr Edwin and his female manager are there to help you and allow you to make the most informed decision as possible. I highly recommend dropping them an inquiry especially if you're unsure. – Brad 
2. Nuffield Wellness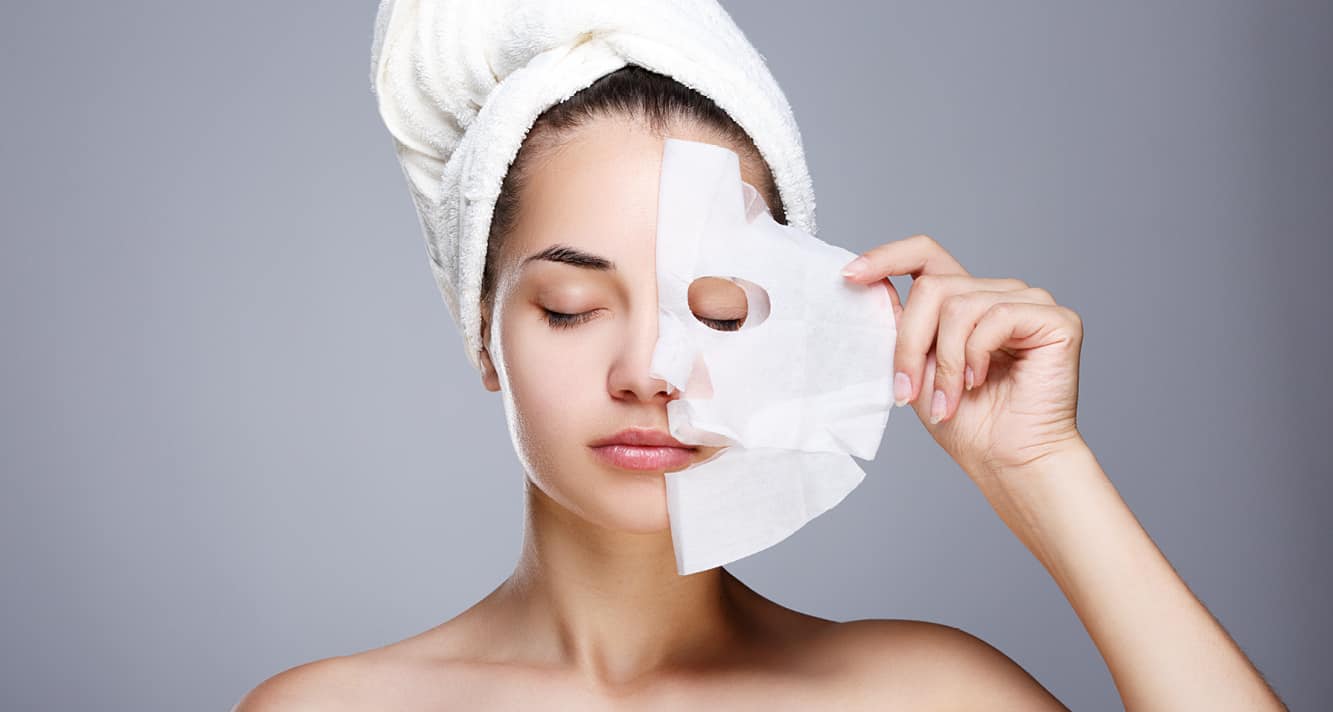 Nuffield Wellness is a medispa that provides aesthetic treatments to your face, skin, and even your whole body. What's great about them is that they extend these services to all genders
Want to take a break from everything? We recommend to you this clinic and their Madonna Oxylight Facial. This is an all-in-one non-invasive facial treatment that combines LED light therapy and oxygen therapy.
With this, their aestheticians are able to treat a myriad of skin issues such as acne and rosacea.
What we like about them is how detailed everything is on their website. You will read all the steps that their experts will do and what their benefits are.
Their Madonna Oxylight Facial is priced at $238 per session so make sure to save that money right now and give your skin the love it deserves.
The only catch here is that their rates are not available on their website so make sure to contact them first and know their prices beforehand.
They also offer first trials at $99 for the Madonna Facial and it is award-winning as reviewed by their clients.
Service Highlights
Extensive range of services

Have two doctors

Offers personalized treatments
Customer Reviews
Here are a few reviews from their previous clients:
"I did 3 sessions Morpheus8 in this clinic with very good results.  Morpheus8 really helped my skin to recover from the sun damage I have been daily exposed over the past years while playing tennis – almost daily – with no sun protection !! Dr. Sau  was appointed for my treatment. She is a good professional, very pleasant to interact with. Morpheus8 is a bit painful but overall bearable procedure. I got a numbing cream, a pain killer and the doctor administered additional injections. Dr. Sau assistants Meixuan and Wendy always accompanied the sessions . They used a special vibration technique to distract my attention from the pain that sometimes emerged. I found this particular nice and caring ! Also, the manager Kim always came personally to check if everything was going. Overall, I felt the doctor and all the staff at the clinic showed genuine care and empathy which is crucial when undergoing such treatments. Also, they followed up  with me next day to see if i was ok. Although , they suggested several procedures, there was no hard selling as unfortunately happens in Singapore in many places. The clinic is very nice , clean and give a cozy feeling. Overall, I am very happy with my experience at Nuffield Aesthetics and I can recommend it to anyone looking for cosmetic procedures. It is a nice and trustable place!"
"I have been to many medical clinics seeking advise. But i must say Dr Sau has a vast knowledge on aesthetics, and also in depth knowledge on other  skin/body/ hormones related problems that is inevitably interlink to our skin condition. Her explanation was detailed and give you a better idea what you are going for and what to expect. The staff did not hard sell and personally this is the way to run a business in a long term as customers these days will do their homework and eventually choose a doctor and clinic that they are comfortable with.  The staff  was very professional and excellent product knowledge. I tried their Pico Pigment Laser and it is very effective."
3. SG Face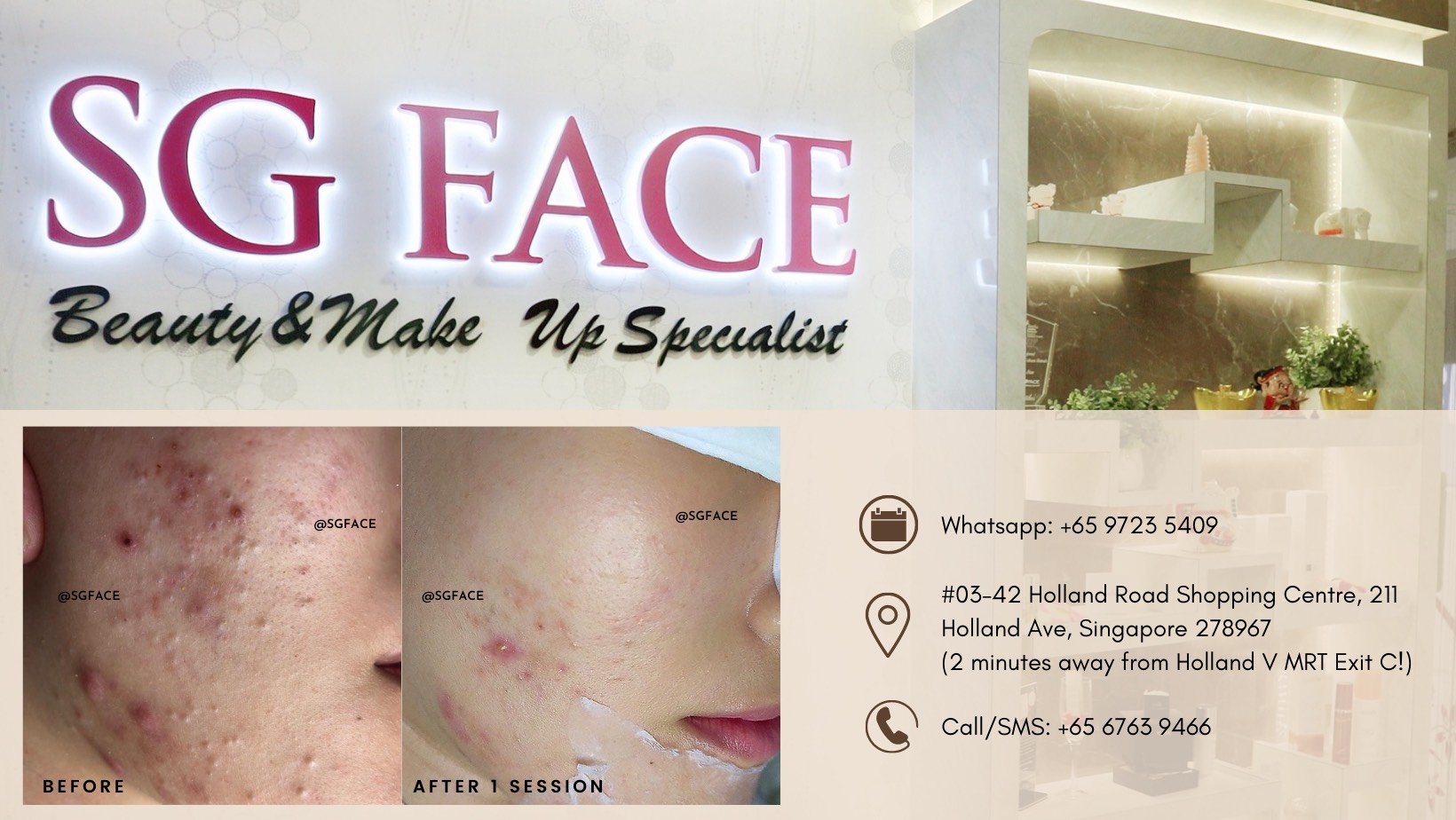 BEST FOR

Facial treatments targeted for your skin concerns

SERVICES

Facial Treatments

IPL Aesthetics for Acne and Hair removal

Makeup and Hair Services

WEBSITE

http://www.sgface.com.sg

ADDRESS

#03-42 Holland Road Shopping Centre, 211 Holland Ave, Singapore 278967

(2 minutes away from Holland V MRT Exit C!)

CONTACT DETAILS

Call: +65 6763 9466

Whatsapp/SMS: 9723 5409

Email: [email protected]

OPERATING HOURS

Weekdays: 11am-8pm

Weekends/PH: 10am-7pm
SGFACE is an establishment with over 20 years of experience. We firmly believe in treating acne, blackheads, and other skin conditions with med-aesthetic machines, professional products, and unique in-house extraction methods to obtain the best results.
There is a wide array of facial treatments available at SG Face, all of which are performed by exceptionally skilled staff using premium German skincare brands such as Babor and Dr Spiller.
Because of their years of experience, SG Face is considered by many to be the centre for the best facial in Singapore.
Service Highlights
Affordable packages
High quality Germans products used
Professionally trained therapist
Well-known for thorough extractions
Customer Reviews
SG Face has been commended for their top-notch facial and makeup services. Clients also enjoyed the cosy ambience and customer service provided by pleasant, knowledgeable staff members.
Plenty of reviews rave about having one of the most relaxing facial massage in Singapore at SG Face.
Eunice Chin on Facebook wrote:
"Had an amazing experience here. The staff are very professional and welcoming, and take really good care of my needs. Love how my skin glows after each session. The products recommended by the staff works well on my skin, especially the Algae Vitalizer concentrate. It provides my dry skin with the intensive moisture needed and my skin condition has definitely improve significantly whilst under their care. Will recommend people to try out their wide range of facial services and products!"
Abber Tan on Google wrote:
"A review for Michelle and her team of therapists. I've been visiting SGFace for 8 years since 2014. Detailed facial procedure including for myself as a guy client: facial cleansing, facial scrubbing, pore softening patches, steaming of face, detailed extraction process, anti-bacteria zap using machine, soothing and cooling serum roll on with machine, facial massage, mask(s) applications, and ending off with toner and moisturizer.
Enjoyable and find it essential for facial maintenance over the years. Michelle continues to keep high standard of service and professional procedures intact to ensure the facial done well each time by the staff. As much as possible she would also ensure the staff is the same whenever a re-booking is made. Also, products used by Michelle are of good quality – such as Babor, Dr. Spiller, etc. Which are known and recognized products. Staff here also do not engage in hard selling of services and products, which respects the clients' decision. Down to earth business. Michelle and her staff also provide trustworthy advice and recommendations. Booking of appointment is also not difficult as long it is done around 1 week in advance. So far the results of the facials have been satisfactory and I will continue to revisit."
4. Ikeda Spa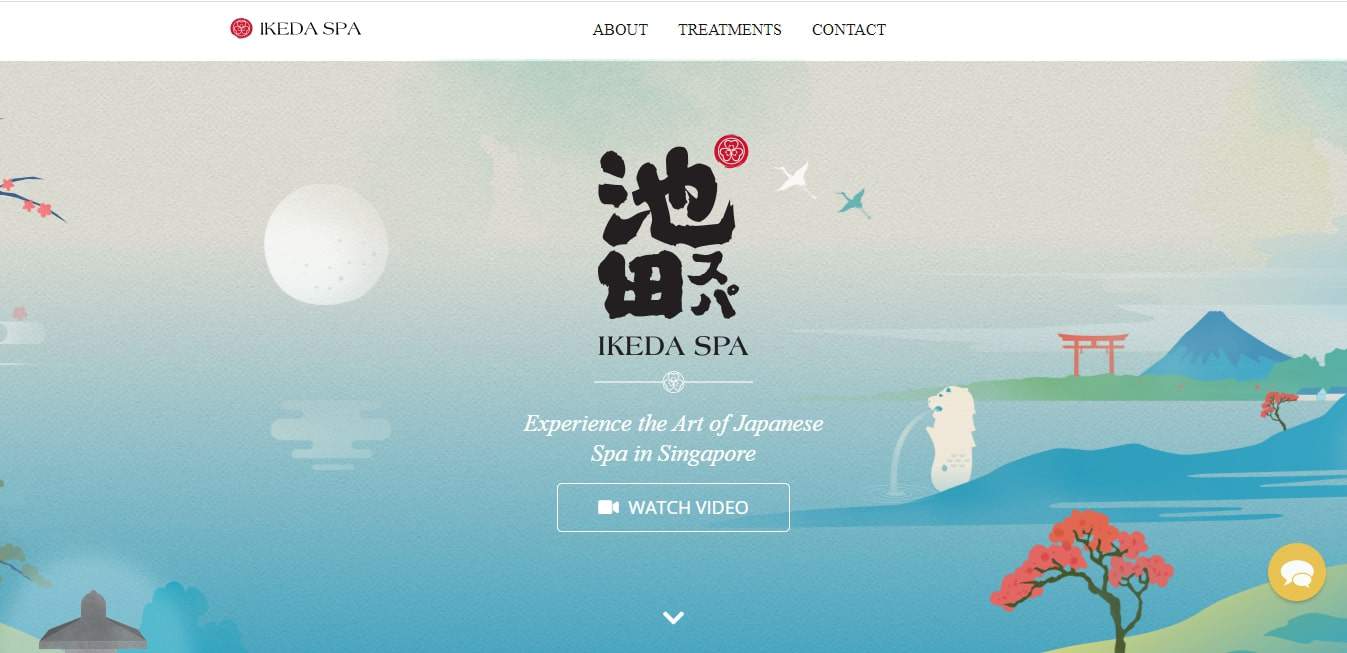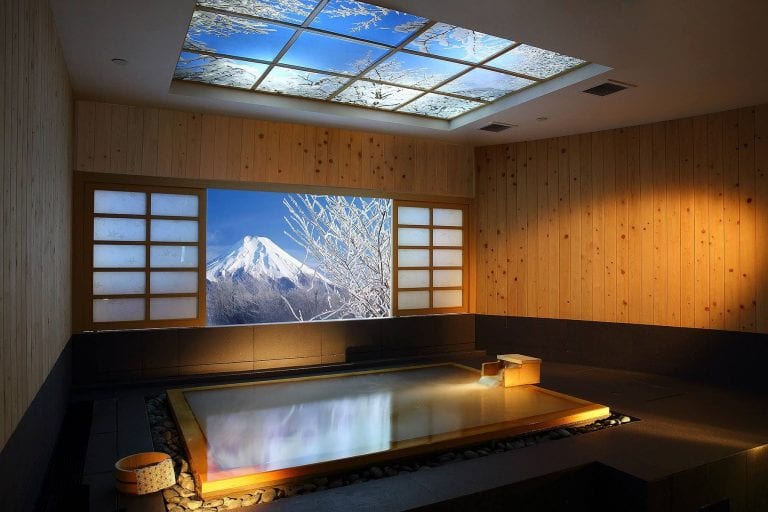 | | |
| --- | --- |
| BEST FOR  | Hinoki Onsen, Shiatsu Massage, Japanese Facial |
| PRICING | https://www.ikedaspa.com/treatments/facial/ |
| WEBSITE | https://www.ikedaspa.com/ |
| ADDRESS | 787 Bukit Timah Road (Before 6th Ave) Singapore 269762 |
| CONTACT DETAILS | +65 6388 8080 |
| OPERATING HOURS | 1.30pm – 10.30pm daily |
Japan is known for its excellent skincare products, which have been recognised internationally. Hence, it only makes sense that they have a good reputation when it comes to beauty treatments too.
That's why you will surely enjoy a nourishing experience at Ikeda Spa if you go there for a facial. Their team specialises in giving traditional Japanese facials that have earned numerous awards.
This is good news for those looking for a Japanese facial treatment in Singapore.
They even have organic facial and spa services that come with old rituals and ceremonies. This will let you explore the historic culture of Japan even as you refresh your face and body.
Service Highlights
Signature facial treatments
Affordable packages
Body and bath treatments 
Customer Reviews
Ikeda Spa can be a one-stop beauty solution, say customers, because it provides a wide range of treatments including massages, body and bath, facial, and beauty treatments. The place will also make you feel privileged and posh, and some claim that it's the one of the more posh places to get a facial spa in Singapore.
Shona Woo, Ms. Universe Singapore Finalist, had a very memorable experience with them and left these compliments on the company's official website:
 "I love how authentic the experience here is. I like the fact that I can do lots of different types of massages here on top of my onsen and there's a variety of treatments here. In addition to that, I get this very good service here so I think everything here is exceptional. So I would definitely come here if I want to pamper myself."
5. Porcelain Skin
The services of Porcelain Skin are categorised based on your needs. They offer special treatments for acne/congestion and scars, dull skin, hydration, repair, anti-ageing, pigmentation, etc.
They are fully equipped with proficient therapists, modern technology, and high-quality skincare products. They also provide body treatments.
If you're looking for a customised facial treatment in Singapore, we suggest you contact them for options.
Service Highlights
Highly trained facial therapists
Perfect combination of natural and artificial treatments
Original and organic beauty products
Customer Reviews
Porcelain Skin has become a trusted brand in the beauty industry due to its timely products, which are able to cater to the constant changing of skin condition. A lot of the online reviews say that they consider their experience in Porcelain to be the best facial treatment in Singapore they've received.
Customer Cherie Lee had nothing but praise for the company and she also gave Porcelain Skin this  feedback on Google Reviews:
"This is the holy grail of facials should you be looking for one. I have been with them since May 2013 and left my skin in their good hands till today. I am an avid supporter of them because their therapist is highly skilled and no hard selling. My skin is maintained glowing and clogged free thanks to their foundation – free philosophy. Their follow ups for first time clients is also very rigorous and you can genuinely feel their concern for the betterment of your skin. Try them and you will not regret!" 
6. Freia Aesthetics
Freia Aesthetics uses treatments to help clients end up with healthier and radiant skin. They offer the best facial in Singapore for those seeking exfoliation.
Their signature services focus on deep cleaning and exfoliation to eliminate basic facial concerns. Then, serums, lotions, and masks are their following offers to prevent further issues after getting a Singapore facial.
Some of their facials have won awards from prestigious institutions, making them credible and reliable.
Service Highlights
Online beauty shop
Men's facial treatments
Body treatments
Customer Reviews
Customers of Freia Aesthetics are highly satisfied with their treatment sessions. They also like that their services do not only end with their facial and body therapies — staff at Freia Aesthetics also serve clients a well-crafted drinks menu, provide calming music, and supply tranquil scents that will revitalise the body and mind.
Shi Yun Foong recommended their services and wrote this positive review on Google Reviews:
"The place to go for the most effective and relaxing facials in spacious rooms with the perfect lighting, scent and temperature. There is no need to worry about the staff being pushy. They only recommend the service and products you need. The best part is that the recommendations work!" 
7. Pure Tincture
Image Source: Pure Tincture's Facebook Page
If you're wondering whether there's the right facial in Singapore for your sensitive skin condition, you must visit Pure Tincture. Their services highlight organic beauty and offer you hydration, anti-acne, anti-aging, and more.
They even offer customised treatments for those who are unsure of what they actually need. You can also go to them to get the best facial in Singapore.
They also have an online shop where you can buy skincare products, body and hair items, cosmetics, and more. 
Service Highlights
Teeth whitening treatment
Skin care products and cosmetics
Special discounts
Customer Reviews
Pure Tincture's accomplishments have received awards from beauty institutions and praise from their loyal customers. Grace Tang is highly satisfied with their services and she wrote this positive review on Google Reviews:
 "Have been with Pure Tincture for 3 years now, and am pleased with the organic products that are used. Minna is awesome! I always look forward to my facials with Minna. She is friendly, conscientious and careful with her extractions, and her massages are absolutely relaxing. Love the quaint and cosy ambience at Tras Street too. Great products, yet no pushy sales. Facial packages are worth every penny!"
8. Erabelle
Image Source: The Star
Erabelle focuses on keeping your skin nourished and glowing. They also have distinct services for specific parts of the face, including the eyes, lips, and neck.
Apart from these, cosmetic artistry is also a part of their services. As such, they can help you achieve the perfect eyebrows, eyelines, and lip colour.
Service Highlights
Value packages
Cosmetic artistry
Online shop for beauty tools
Customer Reviews
When it comes to cosmetics and facial treatments, Erabelle truly has the best options. For this reason, customers often recommend their services, particularly to those looking for the best facial in Singapore.
A reviewer gave the company a 5-star rating and gave this feedback on Google Reviews:
"Melody was sweet, patient and communicative, answering questions and making it a breeze to book an appointment. Winnie was experienced, professional and very attentive in her service. She did everything she could to ensure I felt no discomfort. My session took hours, it was back breaking work, and I bet she was tired, although she did not show it! I like that Erabelle is transparent with their pricing, and ensures the staff is well trained to provide design and advice. It was great value as the package included eyebrow design to match your face shape, several embroidery sessions to get the colour fixed, a facial voucher enough for 2-3 times of facial, an eyebrow kit to take care of your fresh new brows. There was also a free eyeliner, all in a nice tote bag. The free omotenashi biscuits were really yummy too. It was a peaceful, reassuring and relaxing experience."
9. Neu Age Clinic

Neu Age Clinic is located away from the crowdedness of Orchard Road, where patients get to enjoy a greater degree of privacy and exclusivity. The clinic is very accessible to public transport being only 100 metres away from Outram MRT Station.
In the clinic, patients can consult with Dr. Nicholas Ngui. Dr. Ngui has 19 years of clinical practice experience and 12 years of pharmaceutical industry experience. As a pharmaceutical medical director he was involved in physician and patient education and clinical research with a strong emphasis on ethical practice, treatment compliance and patient safety.
Service Highlights
Acne and Acne Scar Treatment
Hyperpigmentation Treatment
Tattoo Removal
Skin Rejuvenation
Non Surgical Skin Tightening and Lifting
Dark Eye Circle Treatment
Botox for Expression Wrinkles and Square Jaw
Hair Removal
Dermal Fillers for Facial Contouring
Removal of Skin Tags and Bumps
Treatment of Common Skin Conditions
Skin care products
Customer Reviews
Many online reviews rave about Neu Age as the place to get the best facial in Singapore if you want quiet and exclusivity.
5-star Facebook review from Mst Atrngsh:
"Good service, doctor and his assistant make sure that I am comfortable for my treatment"
10. Apple Queen Beauty

Apple Queen Beauty is a salon that offers a wide range of aesthetic services to help clients achieve their beauty and facial goals. Able to accommodate all skin types, they are able to employ the most appropriate procedure to get maximum results.
We find their extraction facials to be very unique and personalized so that each client can have more than relaxation with them but also healthier and more rejuvenated skin as well.
We also think that their professionals are adequately trained and certified for the job that they do and able to employ the needed techniques to better apply products on their skin.
Clients can also avail of a free consultation with them so that each of their customers can also get to get into the details on what procedure will they be experiencing and what is best adequate for them.
We recommend their aesthetic and facial services since not only is there a convenient booking feature readily at their website but also customer service and professionals that are able to deliver significant long-term results to the client.
Service Highlights
Comprehensive and hassle-free booking

Accommodates all skin types
Highly beneficial treatments
Customer Reviews
Here is a review from their client:
"I had an amazing experience at Apple Queen Beauty. The therapist was knowledgeable and very thorough. After a few treatments, I have noticed a significant improvement of my skin. Highly recommended!" –  Jessica
11. Supreme Q.X. Beauty Spa

BEST FOR

Profession Bojin Face and Body Treatments

SERVICES

Bojin & Meridian, Supreme Q.X. Jadeite Bojin, Facial, Eye & Neck

Body Massage & Wellness, Eyebrow Embroidery

WEBSITE

https://www.supremeqxspa.com.sg

ADDRESS

9 Scotts Road, Pacific Plaza #03-09/10 Singapore 228210

Blk 513 Bishan St 13 #01-510 Singapore 570513

CONTACT DETAILS

+65 6358 3029 | +65 6736 1617

OPERATING HOURS

(Bishan) Monday to Friday:
11am – 8.30pm
Weekends and Public Holidays:
10.30am – 7pm(Orchard) Monday to Friday:
11.30am – 9pm
Weekends and Public Holidays:
11am – 7pm
Supreme Q.X. Beauty Spa started because of the desire of the founder Dato Icemichelle Chen to make people beautiful, not just externally, but also internally – by improving their health. Having been suffering from an extremely sensitive skin herself, she then decided to study and join the world of skincare.
It is Singapore's First Award Winning and Bojin Spa and the pioneers of this technique and treatment. Also an innovator, we are at the forefront of combining Bojin Treatment with advanced technology to provide the best results for both beauty and physiological concerns.
They have a strong track record of 20years for Bojin Treatment and our clients continually come back to us to improve and maintain both beauty and their body's wellness. The spa offers various services namely Bojin & Meridian, Supreme Q.X. Jadeite Bojin, Facial, Eye & Neck, Body Massage & Wellness, Eyebrow Embroidery that are guaranteed to be equally amazing.
Service Highlights
Team of expert health and skin professionals

Advanced technologies and facial techniques

Signature therapy and treatments
Customer Reviews
The spa is applauded for their refreshing and relaxing treatments that really give the best value for money. Their friendly staff are also praised for their accommodating and pleasant responses to their clients.  Wong Siying left this review on their page.
"Friendly staff who were genuinely concern about customer's well-being and very pleasant environment. Bo Jin eye treatment made me felt really refreshed on the first experience. Definitely recommended!"
12. Indulgence Beauty

| | |
| --- | --- |
| BEST FOR | Personalised facial treatments |
| SERVICES | Acne solutions, skin solutions, skin consultation |
| WEBSITE | https://indulgencebeauty.com.sg/ |
| ADDRESS | 10 Anson Rd, #02-58, Singapore 079903 |
| CONTACT DETAILS | (+65)62258980 | [email protected] |
| OPERATING HOURS | Contact for more information |
Indulgence Beauty at International Plaza excels in providing services for beauty, skin care and clinical facial treatments. They only use the most effective products from MD Dermatics Skin Care and advanced technologies and have treated a variety of different skin imperfections and conditions. From skin problems like acne, dull skin to ageing skin, they have a broad range of various facial treatments to help revitalise your skin and acne treatment to treat your acne.
Service Highlights
Their services are meant to be enjoyable and relaxing, providing premier service that everyone can enjoy.
Their facials incorporate the latest technology to help your skin be in its best possible condition. Apart from their signature extraction treatment facial, another one of the many facial treatments they provide is the Oxy Liqui Treatment facial to help resolve a multitude of skin concerns at the same time.
Customer Reviews
Julliane Sim's 5-star Google review:
"Indulgence Beauty really knows skin. I must really give credit to their therapists who are highly skilled on their extraction facial and extremely welcoming.  They will continually work with your skin and definitely the best extraction facial I had tried. They gave great recommendations for MD Dermatics skin care regimen and made my skin look gorgeous and refreshed.
Had since changed my skin care regimen after my first visit to MD Dermatics and my skin dramatically improved within a couple of weeks. I highly recommend going here if you're looking for skin care guidance.
They really know their stuff!"
13. The Pamper Room

| | |
| --- | --- |
| BEST FOR | Premium facial treatments |
| SERVICES | Skin Care Service · Beauty Salon · Laser Hair Removal Service |
| WEBSITE | https://thepamperroom.sg/en/ |
| ADDRESS | 211 Holland Avenue, #03-14 Holland Road Shopping Centre, Singapore 278967 |
| CONTACT DETAILS | +65 6737 3808 |
| OPERATING HOURS | Contact for more information |
The Pamper Room provides luxury, quality, and comfort for those who are seeking facial treatments in Singapore. Not only will you look well but you'll feel great too once you're done with their service. And you might come back for another one, too!
Service Highlights
Customer Reviews
Megan Soong's Facebook recommendation review:
"Did a package with The Pamper a Room for facials, and they've always done a good job for me! The staff are always very nice and welcoming, and the environment is comfortable as well. Recommended! ?"
14. QUEEN BEAUTY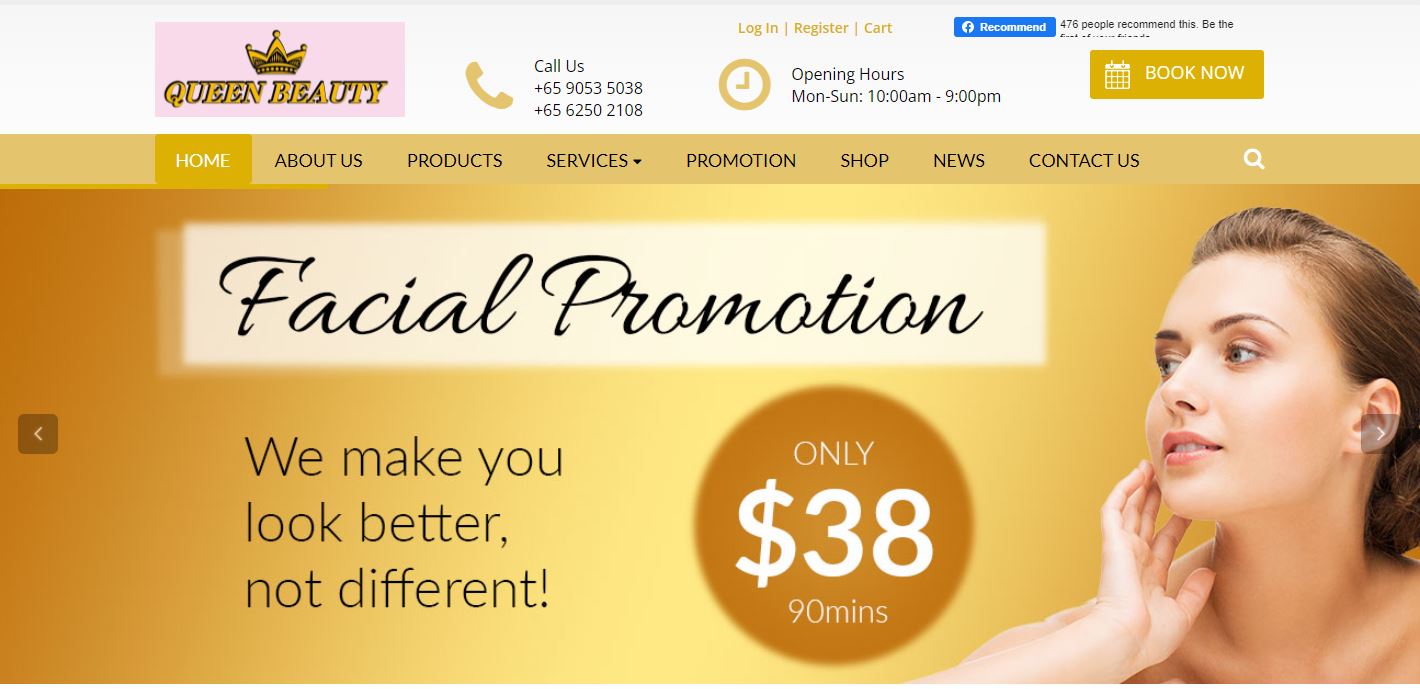 Starting only with classic eyebrow embroidery 15 years ago, Queen Beauty has now made its name in the Beauty and Wellness industry in Singapore. They are offering the latest Korean 3D and 6D eyebrow embroidery, among many other services. 
Queen Beauty offers facial, body, massage, beauty treatments, as well as manicure and pedicure. In addition to their highly-skilled therapists, they make sure that customers get utmost satisfaction from their services by equipping their beauty salon with modern, state-of-the-art facilities that provide customers an environment as relaxing as it can be.
They also offer a wide array of beauty products at their salon for customers' skin care needs.
Service Highlights
Eyebrow embroidery

Modern, relaxing facilities, with the latest technology

Manicure
Customer Reviews
Queen Beauty's customers are evidently happy with the salon's services, especially with their manicure/pedicure treatment, based on their feedback on Queen Beauty's Facebook page.
Agnes Chaw commended the staff of the Queen Beauty, and recommended the salon to other friends, writing the below:
"Thanks for Honey Li for her professional service and her staffs are great and excellent, they are very attentive to customer requirement, very detail oriented. Lots of nail colours to choose from, Highly recommended, will definitely come back again!"
15. My Cozy Room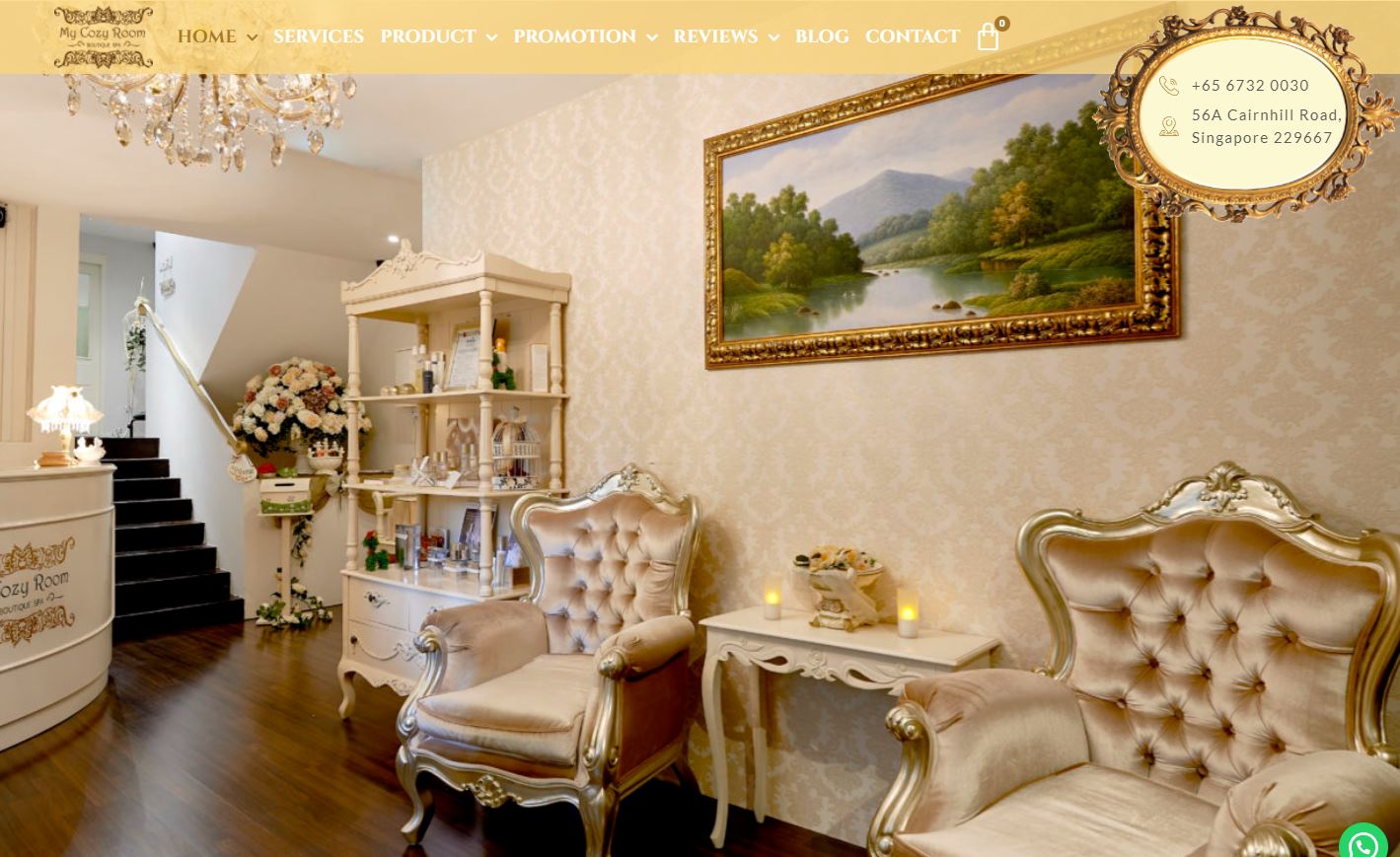 | | |
| --- | --- |
| BEST FOR  | Personalized facial treatments and luxurious experience |
| SERVICES | https://mycozyroom.com.sg/services/ |
| WEBSITE | https://mycozyroom.com.sg/ |
| ADDRESS | 56A Cairnhill Road, Singapore 229667 (Behind Orchard Paragon) |
| CONTACT DETAILS | +65 6732 0030 |
| OPERATING HOURS | Monday to Friday – 11am to 9pm , Saturday & Sunday – 10am to 8pm |
If you're after a facial in Singapore that also provides body pampering treatments, My Cozy Room could be the best option for you.
In tandem with the My Cozy Room's luxurious interiors, their facial services and products are also truly luxe. They're rich in nutrients that will give you glowing, healthy-looking skin.
Their signature treatments include customised facials, premium facials, and also bridal facials. Regardless of your skin type and condition, they will consult with you and give you the ideal options for your case.
Note that aside from arguably the best facial in Singapore, they also offer body massages to help you rest and relax.
Service Highlights
Beauty tips and products
Skilled beauty therapists
Special promotions
Customer Reviews
The award-winning My Cozy Room has been named as Singapore's best extraction facial by many clients. The staff have also gained endless praise from their customers, many claiming it's one of their best facial Sg experience.
Christabelle Peh shared her own experience and wrote this review on the company's official website:
"I've received so much compliments this year for my facial complexion so I decided to share my little story on how I achieved better skin. Love the extraction process which is meticulous and painless compared to other places I have tried! Therefore it's the best extraction facial which I've been! None of the beauticians tried to hard sell their products, services or packages to me during or after my treatment. I can assure you a thoroughly relaxing and peaceful time when you're there." 
16. Kew Organics
BEST FOR

Organic treatments

SERVICES

https://keworganics.com/organic-treatments/

WEBSITE

https://keworganics.com/

 

ADDRESS

Clarke Quay Central

6 Eu Tong Sen Street #03-83 Singapore 059817

 

Everton Park

Block 2 Everton Park #01-47, Singapore 081002

 

Cluny Court

501 Bukit Timah Road #03-03 Singapore 259760

CONTACT DETAILS

Clarke Quay Central

Tel: +65 6904 4161

 

Everton Park

Tel: +65 6534 8255

 

Cluny Court

Tel: +65 6767 3008
Treat yourself with some relaxing facial treatment at Kew Organics. Aside from making sure that they provide you with best quality facial care services, they also invest in high quality, non-chemical products that protect and nourish your skin all at the same time.
They even have their own product called Sugar K Organic Peel Bar that unclog pores, minimize pore size, reduce visible wrinkles, and gives your skin a glowing and radiant effect.
For your first trial, they give you 20% off all treatments & services. Great deal, right?
Highlights
Safe and organic treatments

Full spectrum of facial spa services

Special promotions
Customer Reviews
"I chanced upon kew organics online and decided to give it a shot to fix my acne problems. Never regretted it since then, not only have my complexion improved tremendously, I've been going make-up free, even to work! Best feeling is to have your friends and family notice the glow and make up free skin. Both their products and the magical hands of their therapists got me glowing everyday without makeup. I don't think I'll ever fall out of love with kew organics."
17. 8 Medi Aesthetics Group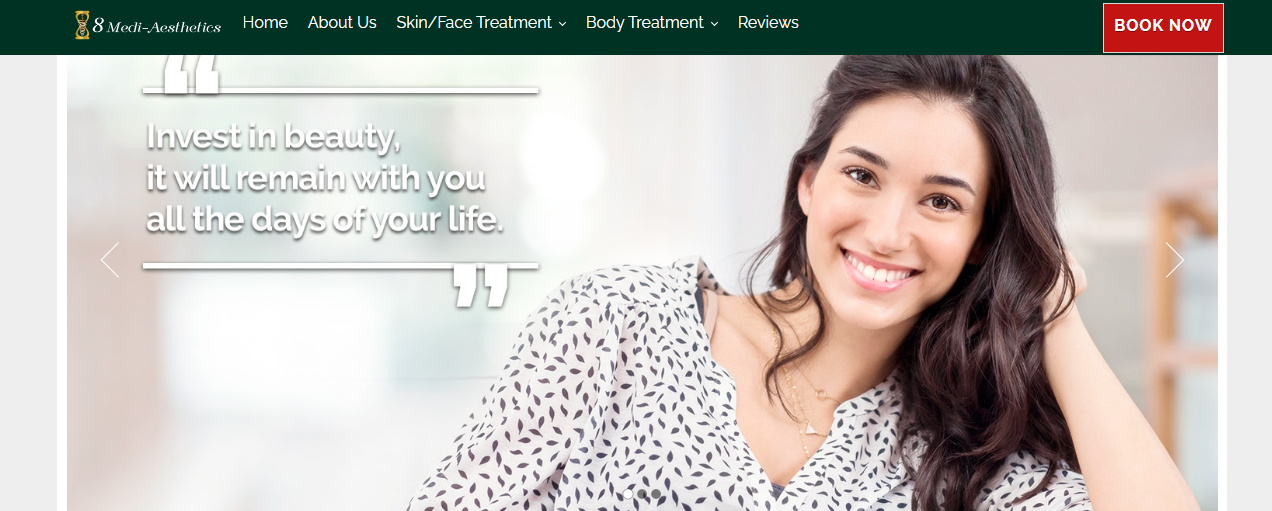 BEST FOR
Non-invasive and non-surgical procedures
SERVICES
Skin/Face Treatment, Body Treatment
WEBSITE
https://8medigroup.sg/
ADDRESS

SOMERSET BRANCH
51 CUPPAGE ROAD, #06-22, SINGAPORE 229469DHOBY GHAUT BRANCH
2 HANDY ROAD, #04-19/20 THE CATHAY, SINGAPORE – 229233

 

CLEMENTI BRANCH
41 SUNSET WAY, #01-05, CLEMENTI ARCADE, SINGAPORE 597071

TAMPINES BRANCH
TAMPINES PLAZA, 5 TAMPINES CENTRAL 1 #03-01 S529541

CONTACT DETAILS

Tel: +65 3157 5947

 

SMS/WHATSAPP : +65 9151 9017
The 8 Medi-Aesthetics Group provides quality aesthetic treatments for their clients. They are equipped with the latest skin care and aesthetic services in the industry.
Their team of medi-aestheticians are more than qualified, with each specialising in certain treatments. You can rest assured that they will provide the right solution for any of your aesthetic concerns.
Service Highlights
Team of qualified medi-aesthetician experts
Clinically proven
18. Casa-Beauty Tampines 
BEST FOR
High-quality facials
SERVICES
Jyunka Face Treatments
Speciality Treatments
Signature Treatments
Permanent Hair Removal
WEBSITE
http://www.casabeautytampines.com/
ADDRESS

Casa Beauty Block 477, Tampines Street 43. #01-162 Singapore 520477

CONTACT DETAILS
Tel: 65874889
Whatsapp: +65 96471119
[email protected]
OPERATING HOURS
Monday to Friday: 10:30am–8:30pm
Saturday: 10:30am–7pm
Sunday: 10:30am–6pm
Casa Beauty is one of the best place to go for a facial, especially if you're in need of a good care for your skin. They have different services to offer, each ensured to be high in quality and worth the price.
Aside from that, Casa Beauty also offers promotions that you shouldn't pass up on, seeing as they have major discounts for first trials.
Contact the shop now and book an appointment!
Highlights
Painless pimple extractions
No hidden fees
Amazing promotions
Special treatments
Customer Reviews
Here's what Angela Lim, a very happy customer, had to say about Casa Beauty's facials and other services:
"Exceptional and very professional services extended by the team. Products used are mostly from France and Germany, and they don't do any hard-selling on packages (which normally annoys me most by other outlets). Been patronizing them for over 10 years and the team of facial therapists is extremely friendly and warm. They will propose the use of the most suitable products for different skin conditions accordingly after careful diagnosis. Facial treatments are catered for both women and men, so I would often go for my facial sessions with my husband."
19. Expressions

Expressions pride itself on introducing the concept of Slimming and Facial/Aesthetics aka "Total Wellness" based on the fact that looking and feeling good is a natural consequence of being healthy and fit. The Total Wellness philosophy embraces a holistic and natural approach to achieve health and beauty from the inside out.
Service Highlights
Hydration Peel
Double Deep Cleanse
Milia Seeds / Oil Clogs
Elixir Oxyjet
Sensitive Skin
Oily Blemish
Pro Radiance
Apple Stem Cell
Dr Stem Cell
Shimmer Cell
Bright Eyes & Dark Circles
Acne Clearance
Customer Reviews
Bosco Lee's 5-star Facebook review:
"Been to Funan Mall for my facial, a friendly staff  member assisted me for the facial and during the facial, she was kind enough to explain the condition of my face and the way to deal with my face skin type which is really informative. After the facial, I felt my skin to be softer."
20. Illumia Therapeutics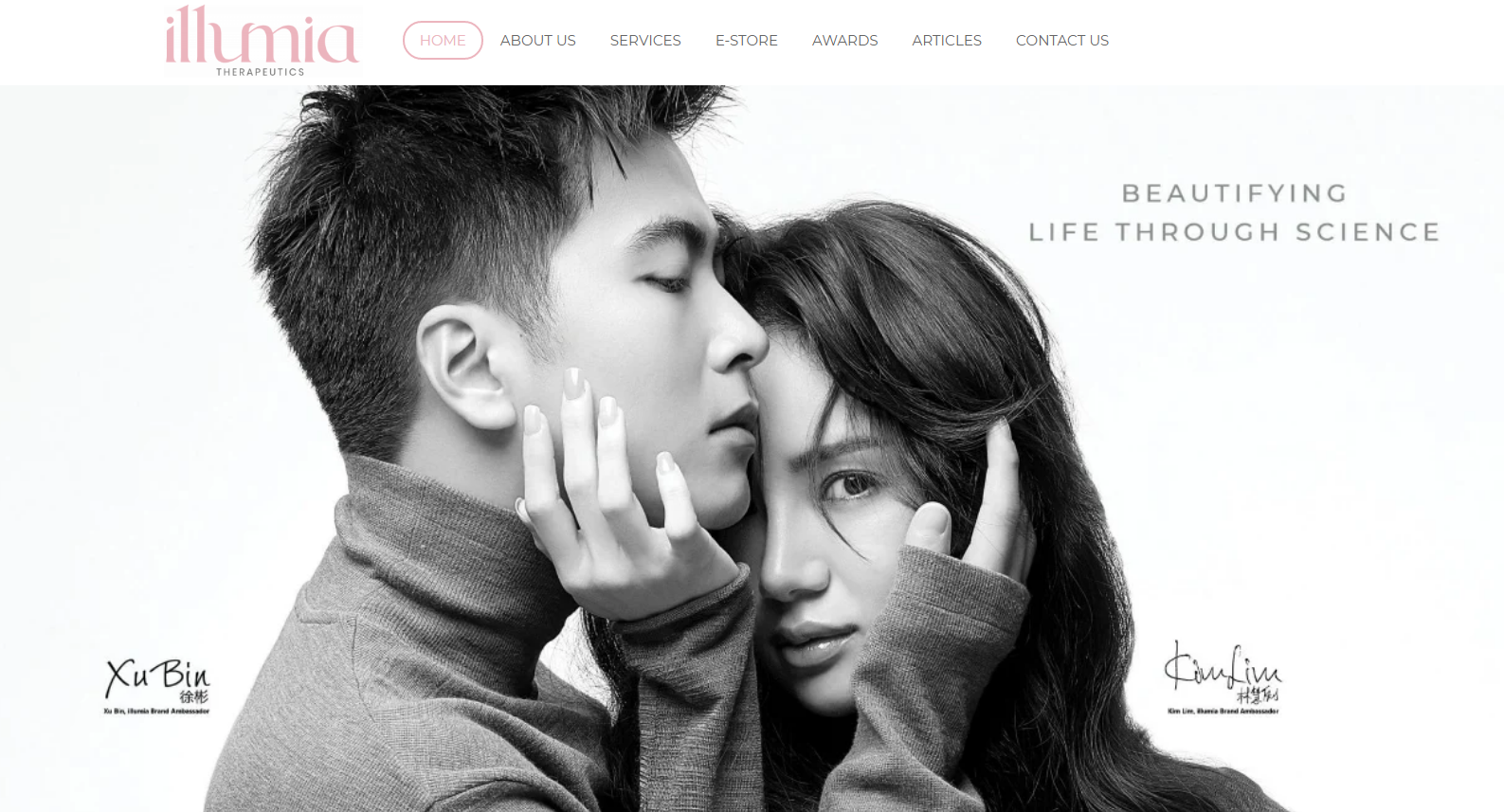 Illumia Therapeutics prides itself on providing high-quality skincare treatments delivered by trained and certified professionals.
When it comes to facials, the Illumia team works to provide custom treatments, all of which are specially tailored to fit the clients' needs. Regardless of the issue, however, facials with Illumia Therapeutics typically involve deep cleansing, hydrating elements, facial massages, and exfoliation.
Aside from the top-notch treatments, the range of issues they address is also worth noting. They cater to clients with acne problems, whiteheads and blackheads, dry skin, oily skin, pigmentation issues, and sagging skin. 
All that's needed is to book an appointment with Illumia so that their professional team can provide consultation and put together a treatment that best suits your skin. 
Service Highlights
Excellent customer service
Custom treatments
Treats a wide range of skin issues
Customer Reviews
Here are some comments left by happy clients of Illumia Therapeutics:
"My skin has significantly improved after the treatments. The therapists are very professional, especially Yann. They know their stuffs well and really help to provide really good advice for skincare. Really enjoyed all the treatments and very happy with my good skin. Definitely the best place to achieve great skin and other beauty services."

"I had my trial session today and the way the consultant advise me is professional and advise me on what treatment is suitable for my skin. My therapist Yann did a good job on the treatment, I can really see result after treatment. Overall, I enjoy the ambiance and treatment provided."
21. AsterSpring Singapore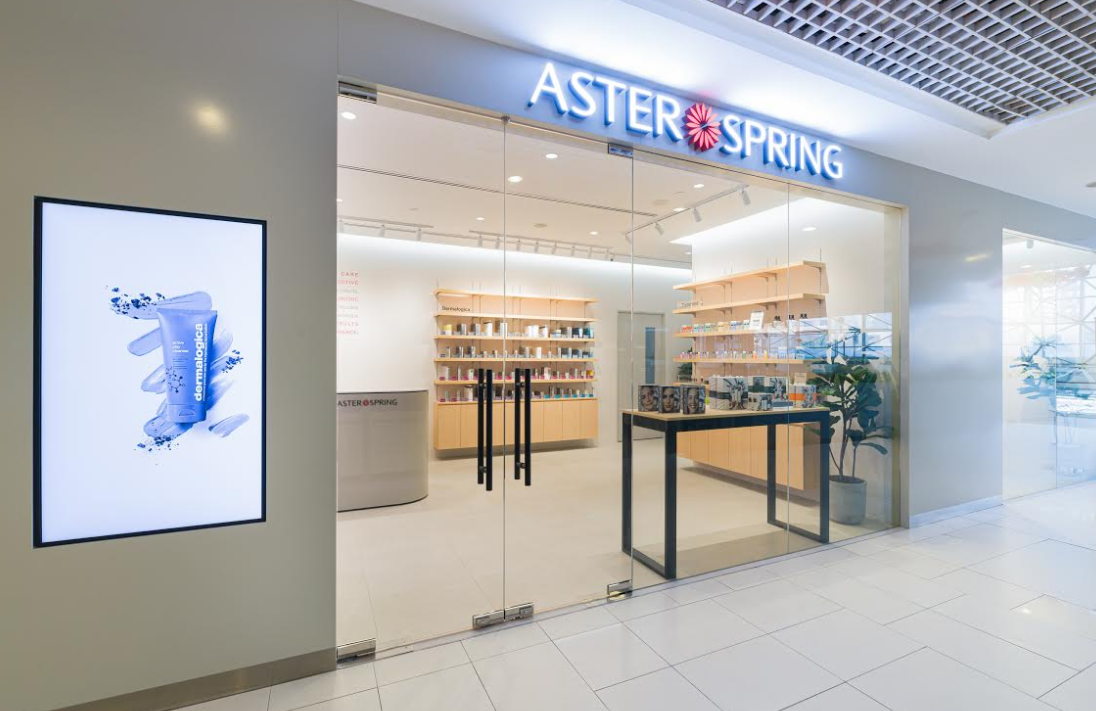 When it comes to providing diverse skincare services, AsterSpring is one of our top choices in Singapore. This salon is part of a leading chair of professional aesthetic service providers that has treated more than 10 million faces since 1984.
The years of experience in the beauty industry isn't the only thing we like about AsterSpring, though. We also enjoy the fact that the chain has locations all over ASEAN and Hong Kong, making AsterSpring and its sister salons some of the most accessible beauty establishments in Asia.
Now, let's talk about the salon and its services. The AsterSpring team comprises of highly trained, professional and certified skincare therapists whose years and expertise allow them to competently work on every patients' needs.
This expert team also has access to world-leading skincare and wellness products, as well as cutting-edge technology. Combined, these equipment make it possible for AsterSpring to address a wide array of beauty and aesthetic issues with little to no trouble encountered.
Service Highlights
Professional and certified aestheticians
Innovative facial treatments utilising unique hand touch techniques and advanced technology
Homecare regimens with world leading brands including Dermologica, the No.1 professional skincare globally
22. SkinLab The Medical Spa

BEST FOR
Medical-grade AHAs & BHAs
SERVICES
Medical peels, Acne Scar Treatments
WEBSITE
ADDRESS

WHEELOCK PLACE
501 Orchard Road, #04-04
Wheelock Place, S 238880

PLAZA SINGAPURA
68 Orchard Road, #04-56
Plaza Singapura, S 238839

JUNCTION 8
9 Bishan Place, #04-02 B/C
Junction 8, S 579837

CAUSEWAY POINT
1 Woodlands Square, #04-11
Causeway Point, S 738099

TAMPINES 1
10 Tampines Central 1, #04-30/32
Tampines 1, S 529536

WESTGATE
3 Gateway Drive, #04-22
Westgate, S 608532

JURONG POINT
63 Jurong West Central 3, #B1-32
Jurong Point Shopping Centre
House 2, S 648331

CONTACT DETAILS

WHEELOCK PLACE
6235 3246

PLAZA SINGAPURA
6235 6108

JUNCTION 8
6262 5698

CAUSEWAY POINT
6877 0162

TAMPINES 1
6634 8101

WESTGATE
6358 3088

JURONG POINT
6316 2246

OPERATING HOURS
Monday – Friday: 10am–9:30pm
Saturday:10am–8:30pm
Sunday: 10am–7:30pm
SkinLab The Medical Spa offers beauty services that are result-driven and offers long-term benefits. Their treatments are non-invasive, and are done with great care and attention to detail.
Since they first started in 2006, SkinLab has established itself to be one of the best when it comes to anything about beauty enhancements and ministrations. They offer a wide range of services, which includes facials.
Now, SkinLab's medical peeling services is listed as one of Singapore's top pick, with numerous raving about its quality. Said chemical peels help with numerous problems, ranging from skin ageing to skin blemishes.
The procedure is done within 30 to 90 minutes, depending on the medical peel specifically catered to your skin. Their doctors on-call follow a specific protocol that will ensure you reap maximum benefits from the service.
Service Highlights
Minimal downtime
World-class spa
Advanced aesthetic techniques used
Expert beauty therapists
---
23. Perfect Beauty Bedok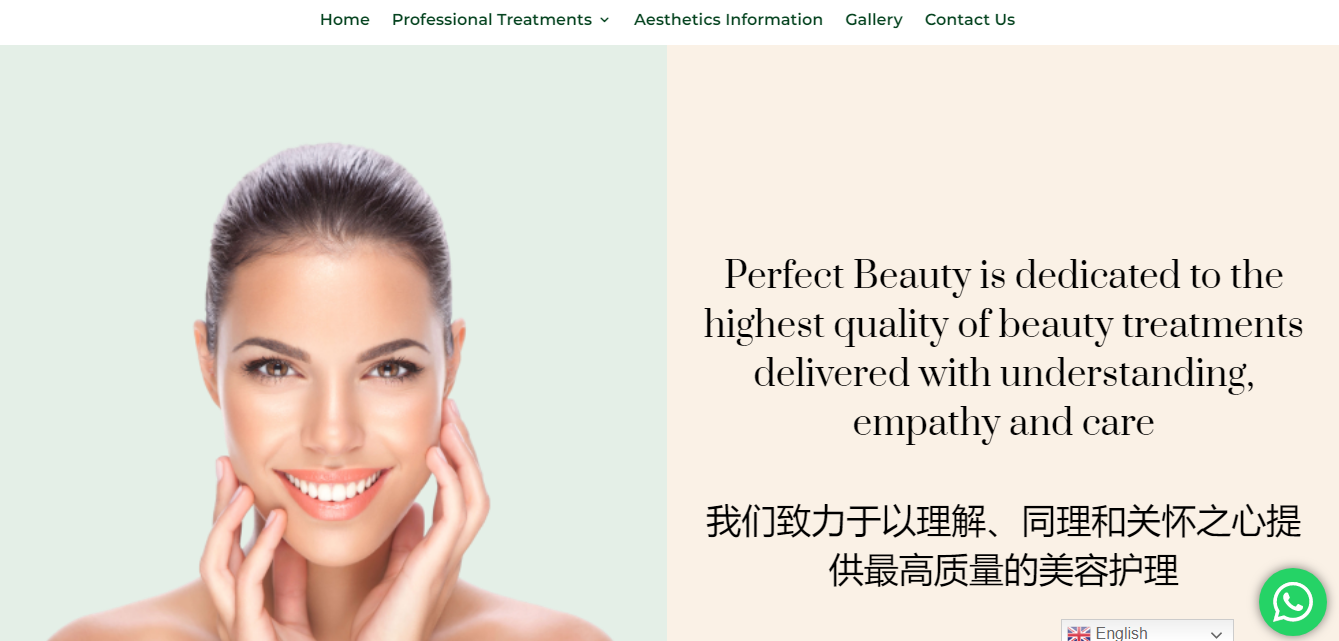 Perfect Beauty Bedok is a company that provides professional aesthetic treatments that are focused on procedures for hair, face, and skincare in general. They can employ various brands of treatments such as Phyris, Skin Origin, Elos, and PB Bespoke among many others that are all adequately certified and highly beneficial.
Their methodologies dig deep into the science of the skin and the structure of each cell in general, so clients are sure that all treatments are evidence-based and produce long-lasting results as well.
Their website is an amazing resource for clients who are new to the field and could serve as exemplary material for such individuals. Though they lack information regarding the company in general which could be easily improved by providing visuals and a short history of their establishment.
Clients are also ensured that they are going to receive treatments only from highly experienced beauticians that can deliver both painless yet effective extractions and removals that can last a long time.
Packages and price ranges are accessible and stated and their treatments are also ideal for first time clients since they offer 50% off their first treatment. Affordable and free of hidden costs, their services can put a good value on money.
Highlights
Innovative facilities
Cozy yet clinical clinic
Numerous discounts
Customer Reviews
Here are some reviews from their clients:
"I have been customer of Perfect Beauty (Bedok) for more than 10 years. Catherine is my beauty therapist. She has good knowledge and is really good with her techniques. I also enjoy the massages she did during the facial. Not pushy at all and will give me only what I need. My daughter is now a customer of Catherine too."
"Professional service. The beauticians are very friendly, kind and knowledgeable of what they are doing. There was a tremendous improvement on my skin after doing my facial here. Hence, I highly recommend the facial :)"
24. Shugar Spa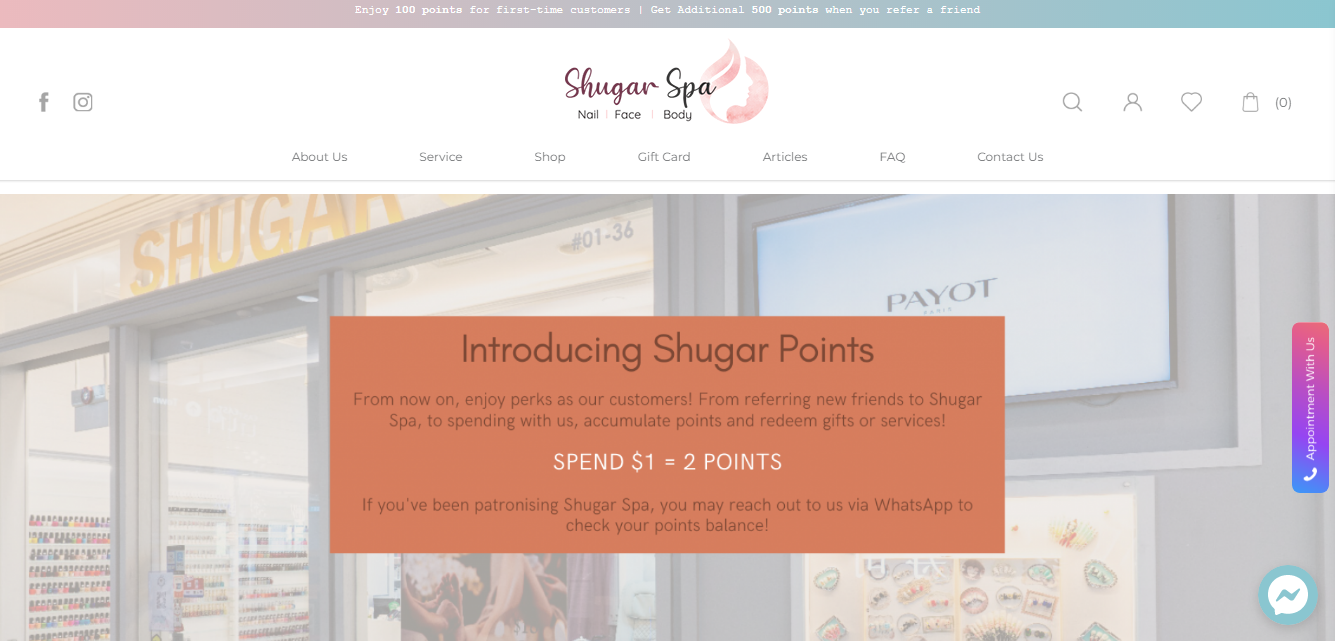 BEST FOR
Consistent Waxing Services
SERVICES
Botox and Filler Injectables, Acne and Pigmentation Lasers, Medi-Facials, HIFU, Hair Removal Laser and Fat Freezing
WEBSITE
https://www.shugarspa.com.sg/
ADDRESS

83 Punggol Central, 01 – 35 / 36, Singapore 828761

CONTACT DETAILS

+65 6385 7644
[email protected]

OPERATING HOURS

Mon to Fri. 11:00 – 21:00
Sat & Sun 10:00 – 20:00
Shugar Spa is a 100% homegrown brand that is founded to offer clients a family-friendly facility that accommodates a wide range of pampering services. From facial treatments to nail care, they have been in the industry for over 13 years and offer around 130 advanced and specialized treatments.
We find it appropriate that they put a face to the 13 specialists they employ so clients can build a sense of recognition and trust with their technicians along with the assurance of their certification and skill set.
We perceive their facial treatments to be highly customizable and are geared to accommodate individuals of all ages. Furthermore, they also provide impressive discount rates for first-time clients to help them assess their situation at a lesser cost.
Their website also features an online shop wherein clients can purchase points for their services and other supplies for aesthetic services.
Past customer reviews commend them for their accommodating and professional staff that makes sure that clients get the whole package for what they pay for along with the comfort and pampering experience as well.
Highlights
Hospitable staff

Comprehensive discount deals
Various specialized treatments offered
Customer Reviews
Here are some reviews from their clients:
"Repeated customer at Shugar. Pleasant environment. Thank you Ms Anna for the good gelish manicure service. Told her a brief idea of the color I hope to have, and she gave me a good recommendation too! love my new nail color."
"My first time visiting Shugar and had a classic pedicure done by Hanna. Extremely polite lady and good service provided. There was no hard selling by the staff (which I really like) and I would rate the overall experience as clean and comfortable. Will definitely head back again."
25. Avante Body and Wellness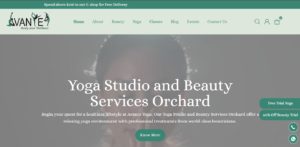 BEST FOR

All-Around Wellness

SERVICES

Face, Body, Yoga

WEBSITE

https://www.avante.com.sg/

ADDRESS

402 Orchard Road Delfi Orchard #05-03 to #05-07 Singapore 238876

CONTACT DETAILS

+65 6365 6869 – Hotline
+65 92991993 – Whatsapp
[email protected]

OPERATING HOURS

Monday to Friday | 12:00 PM – 9:00 PM

Saturday to Sunday | 10:00 AM – 6:00 PM
Avante Body and Wellness is a facility that provides its clients with an excellent combination of beauty and wellness wherein they offer yoga and aesthetic services complementary to one another. Established back in 2008, they have since then been offering consistent relaxation to their clients with an exemplary balance of variety and quality.
What we like about their services is that clients can easily select a package and still get a variety of options which gives more way for personalization and customization features.
Aside from this, clients can also be assured that the facility uses exemplary and only the highest quality and standard of products to ensure both the safety of the product and its efficiency as well.
They also employ various styles and techniques to see the best treatment for each client in order is to relieve tension and exude the best experience of relaxation.
Their yoga sessions are also something to commend since they offer a variety of classes that is ideal for a wide plethora of benefits and purposes wherein they employ only certified instructors and modern facilities to maximize the client's experience.
Service Highlights
Flexible to various diets and lifestyles

First-time promotions available
Open on weekends
Customer Reviews
Here are some reviews from their clients:
"Nice ambience, y~o🥰is good at help me boijin facial is comfortable and it really lift up my face. I could feel the tightness on my face after the session."
"Staffs are friendly and service are good. Have tried both massage and facial and will definitely return for more. Easy to make booking through WhatsApp, staffs will try to accommodate even if it's a last minute booking."
And with that, we have our list of the best spas and beauty studios if you want the best facial in Singapore.
At first, it may be quite difficult for you to find the right facial studio for your skin's current condition and type. However, it does help if your starting options are all great ones, like those we listed above.
If you want to see a dermatologist in particular first, though, we're all for that. To that end, you may want to see our list of the best dermatologists in Singapore too.
*Images are taken from each company's official websites/social media