Get around Like a Local: Singapore's Public Transportation
There are many pros and cons of living in Singapore, but one of the biggest pros that outweigh the cons is the public transportation here. Public transportation in Singapore is so fast and efficient that owning a car is practically pointless.
No matter where I plan to go on the island, I know I can find a bus route or an MRT/LRT route that will take me there without any problem. I can even get to islands off the coast of Singapore via ferries and water taxis—nothing is impossible here!
If you don't have a car and you're feeling overwhelmed about the transportation choices here, don't worry because I've got you covered. Here's everything you need to know about public transportation in Singapore.
Road Transport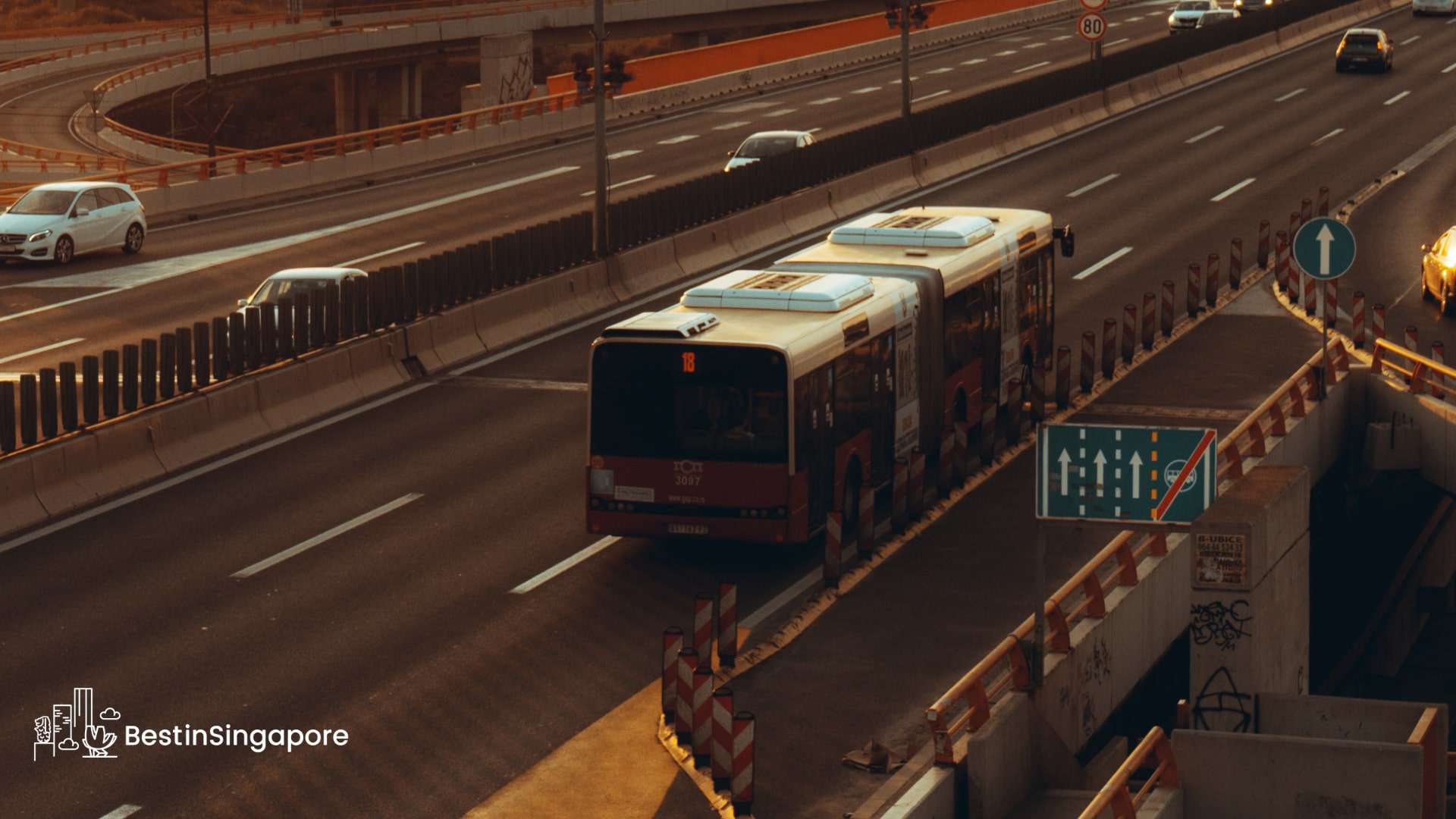 Transport within Singapore is predominantly land-based. There are countless roads and streets, and in terms of expressways, there are currently 10 of them available throughout the island, with an 11th coming soon.
These expressways are as follows:
Ayer Rajah Expressway (AYE)
Bukit Timah Expressway (BKE)
Central Expressway (CTE)
East Coast Parkway (ECP)
Marina Coastal Expressway (MCE)
Kallang–Paya Lebar Expressway (KPE)
Kranji Expressway (KJE)
Pan Island Expressway (PIE)
Seletar Expressway (SLE)
Tampines Expressway (TPE)
North–South Corridor (scheduled to open in 2026)
In addition to all these roads and expressways, there's the Johor-Singapore Causeway, which connects Singapore with Johor Bahru in Malaysia. This causeway is what tourists tend to use to enter Singapore. 
Buses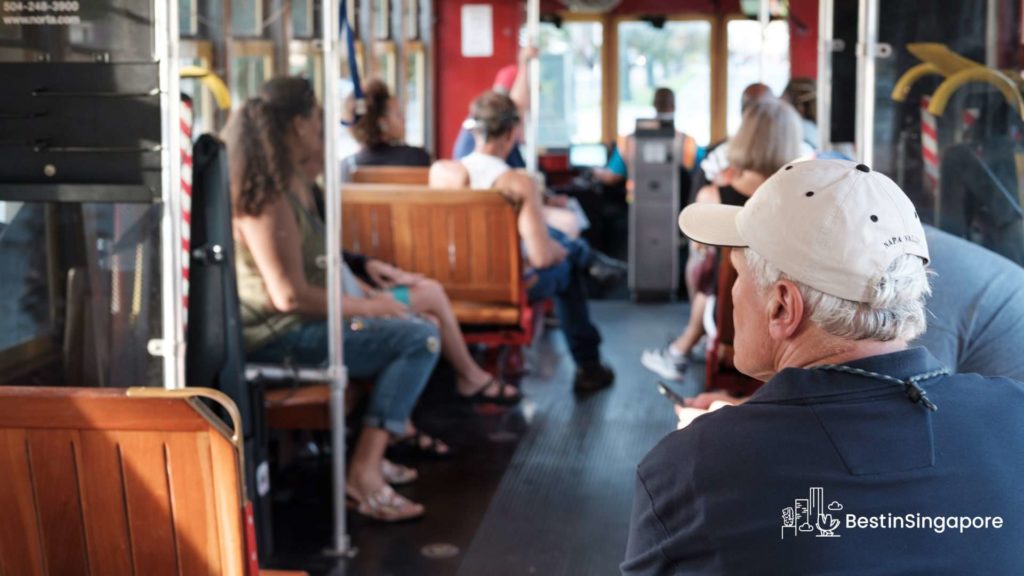 Riding the bus is arguably the most popular mode of transportation in Singapore. In fact, the Land Transport Authority has reported that there are over 300 bus services on the island, transporting over 3.6 million people every day.
Additionally, there's a wide variety of buses—from single-deck to double-deck to articulated buses. Bus stations and bus stops are also spread throughout the island, so you can easily find one to take you to your destination.
If you're riding a bus in Singapore for the first time, here are some essentials that you should know about.
BusRouter SG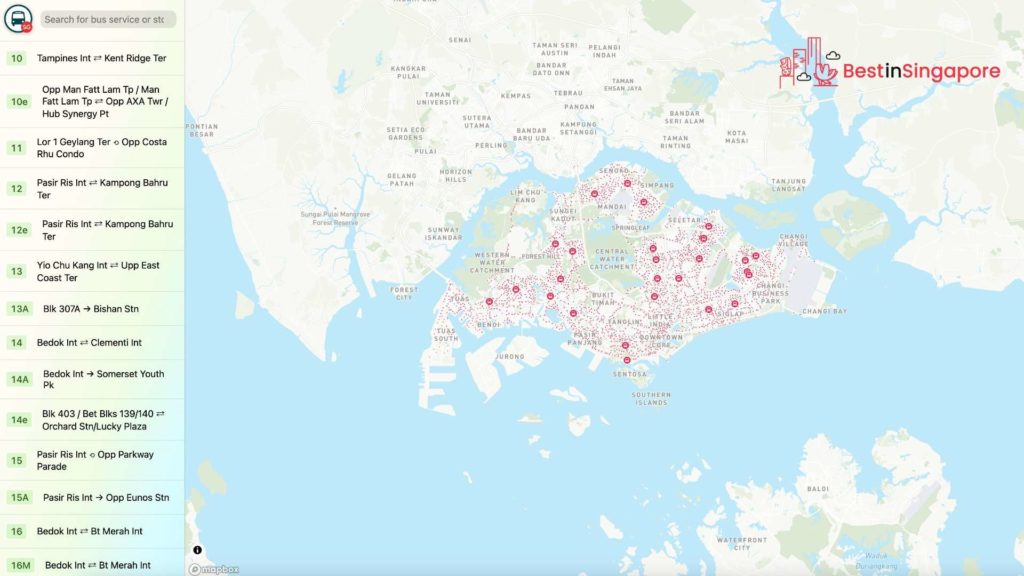 For first-timers, it can get really overwhelming to learn new bus routes. I understand the feeling because before I became a permanent resident, I also got confused by the bus routes and ended up getting lost multiple times.
Luckily, I discovered that BusRouter SG. It's a website that lets you see all the bus routes in Singapore, so you can properly map out where to ride and where to disembark.
What I love about BusRouter SG is that the routes are color-coded, so it's so easy to track everything. Plus, bus schedules and ticket prices are available for viewing, so you can really plan ahead for your travels.
EZ-Link Card
— From: kowfong 
When we ride buses, we usually pay in cash, but in Singapore, that mode of payment is actually not popular. Instead, Singaporean citizens pay their ticket fares by tapping an EZ-Link Card to a card reader. 
Buying an EZ-Link Card is really easy because you can do it anywhere. You can buy it at Passenger Service Centers in train stations and any TransitLink Ticket Office.
You can even find this card in convenience stores like 7-Eleven!
This card costs S$10, of which you can use S$5 to use for your commute. Once your card runs out of money, you can top it up via the EZ-Link app or at any of the following places:
General Ticketing Machines (GTM) at train stations
TransitLink Kiosks at a few MRT stations, bus interchanges, and Integrated Transport Hubs
TransitLink Ticket Offices
Convenience stores, such as 7-Eleven and Cheers
DBS/POSB and OCBC ATMs
AXS Stations
Selected car parks that use EZ-Link cards as a mode of payment
If you don't have an EZ-Link Card, you can still pay in cash. But you have to prepare the exact fare because bus drivers won't provide you with change.
Singapore Tourist Pass
— From: kanitoma69 
If you're a tourist who's only staying in Singapore for a few days, then you might want to buy a Singapore Tourist Pass.
As the name suggests, this is a special EZ-Link Card that's catered to tourists, and it gives you unlimited travel for one, two, or three days (depending on the kind you choose). If you're planning to travel extensively, this card is going to be a lifesaver!
The Singapore Tourist Pass is only available at the TransitLink Ticket Offices at the following MRT stations:
Ang Mo Kio
Bayfront
Bugis
Changi Airport (Terminal 2)
Chinatown
City Hall
Farrer Park
HarborFront
Jurong East
Lavender
Maxwell
Orchard
Raffles Place
Somerset (Concession Card Replacement Office)
Woodlands
Child Concession Card
— From: mari_with_babiesg
If you're traveling with a child who's below seven years old but is above 0.9 m, then you should apply for a Child Concession Card at any TransitLink Ticket Office. This card lets your child ride the bus for free on any basic bus service.
If your child is below 0.9 m, their fare is automatically free so long as you're traveling with them. In this scenario, there's no need to buy a card.
Taxis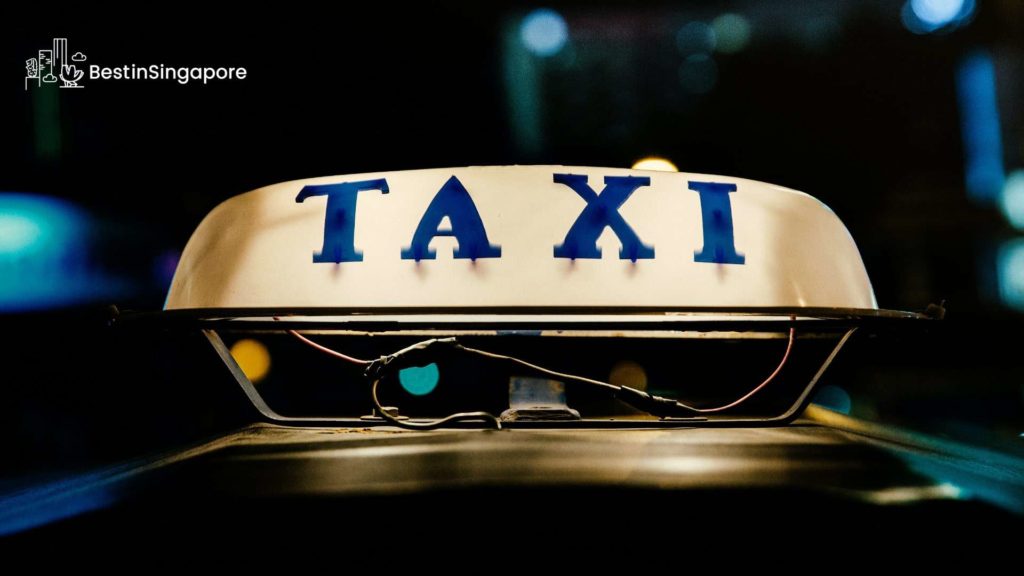 As great as buses are, sometimes, there are places they can't reach. If that's the case, then taxis are the way to go.
Taxis typically use the street-hail metered fare structure to determine the fare you'll be paying by the end of the ride. This structure is made up of the following components:
Flag down sum
Basic unit charges (e.g. distance rate and waiting time rate)
Peak period surcharge
Location surcharge
Passenger surcharge
Road user and cashless payment charges
Private Hire Vehicles (PHVs)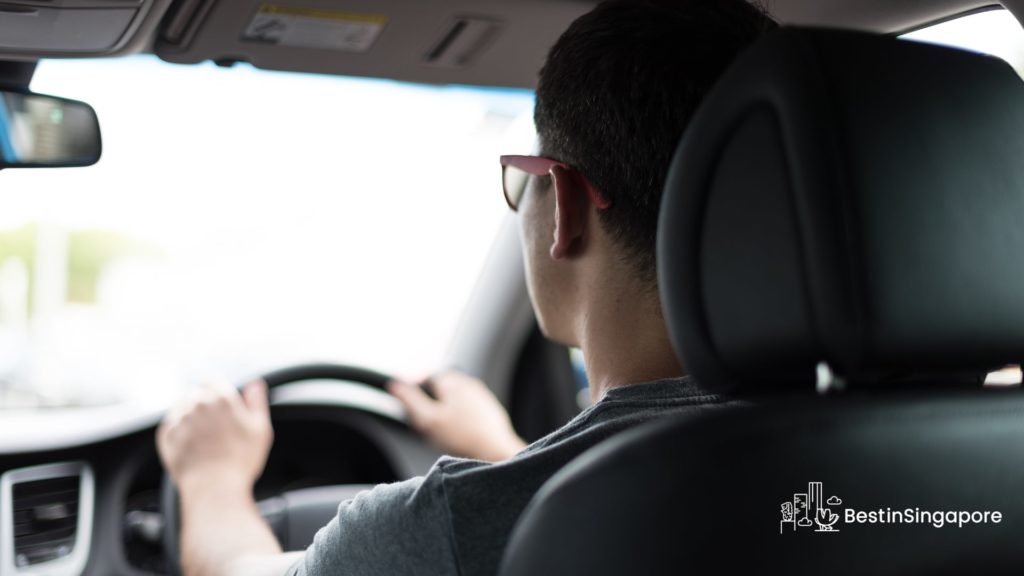 If you can't find any taxi to hail, then your next best option is to book a private hire vehicle (PHV). Grab is a PHV operator that foreigners are most likely to be familiar with, but there are other options too, such as Ryde, Gojeck, Prime Taxi, and TransCab.
When you book a PHV, you'll get either a metered fare or a flat fare. Metered fares are just like the ones you get from a street-hail taxi, but PHV operators can set their own booking fees to add on top of the fare.
Meanwhile, flat fares are dynamically determined by operators, and you can see the amount before booking. The reasons why flat fares fluctuate include additional stop charges and waiting time charges.
Rail Transport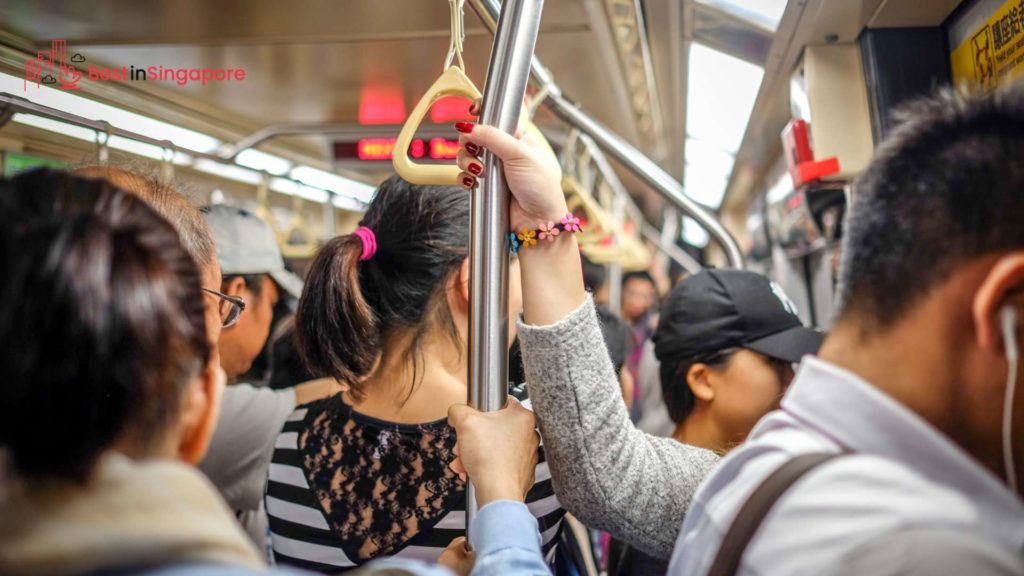 Aside from buses public buses, another popular mode of transportation in Singapore is rail transport.
What's great about rail transit systems is that their coverage is wide, and at the same time, they're incredibly fast. So, you can hypothetically travel from one end of Singapore to the other in just a short amount of time.
There are two kinds of rail transport in Singapore: Mass Rapid Transit (MRT) and Light Rail Transit (LRT). In addition to these, you can find special light rail lines in areas like Changi Airport and Sentosa as well as a rail link to Malaysia.
Mass Rapid Transit (MRT)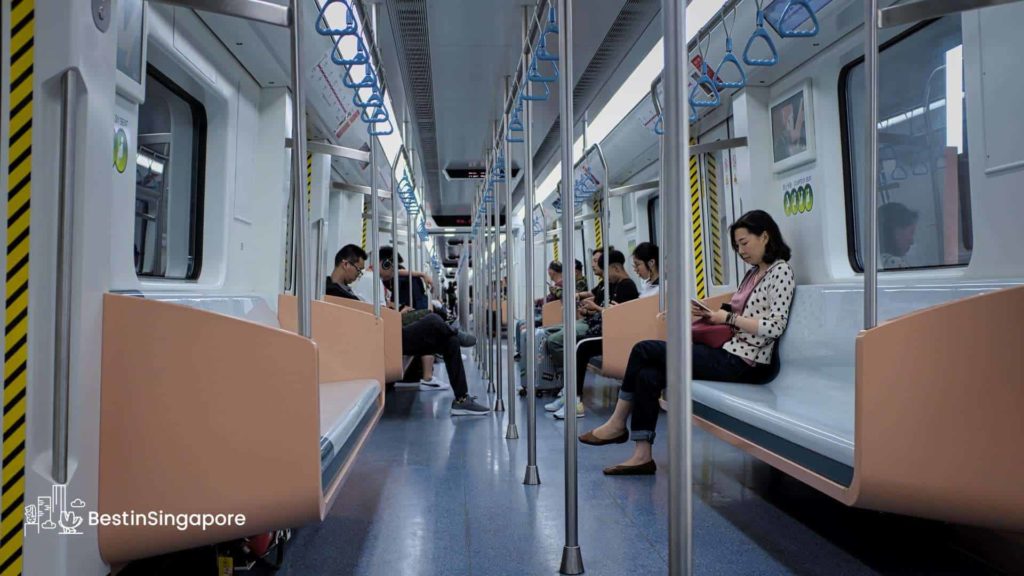 Together with public buses, the Mass Rapid Transit (MRT) acts as the backbone of the country's public transport system. It was opened in 1987, and as of now, there are about 134 stations and a network with a length of 230 km.
The MRT has six main lines, which are as follows:
| MRT Line | Starting Point and End Point | Total Length | Color on the Map |
| --- | --- | --- | --- |
| North–South Line (NSL) | Jurong East to Marina South Pier  | 45 km | Red |
| East–West Line (EWL) | Pasir Ris to Tuas Link  | 57.2 km | Green |
| Circle Line (CCL) | Dhoby Ghaut to HarborFront | 35.5 km | Orange |
| Thomson–East Coast Line (TEL) | Woodlands town to Upper East Coast | 43 km | Brown |
| North East Line (NEL) | HarborFront to Punggol | 20 km | Purple |
| Downtown Line (DTL) | Bukit Panjang to Expo | 41.9 km | Blue |
In addition to these, there will be two more lines to be added: Jurong Region Line (from Choa Chu Kang to Pandan Reservoir) and Cross Island Line (from Changi to Jurong Industrial Estate).
How do I use the MRT in Singapore?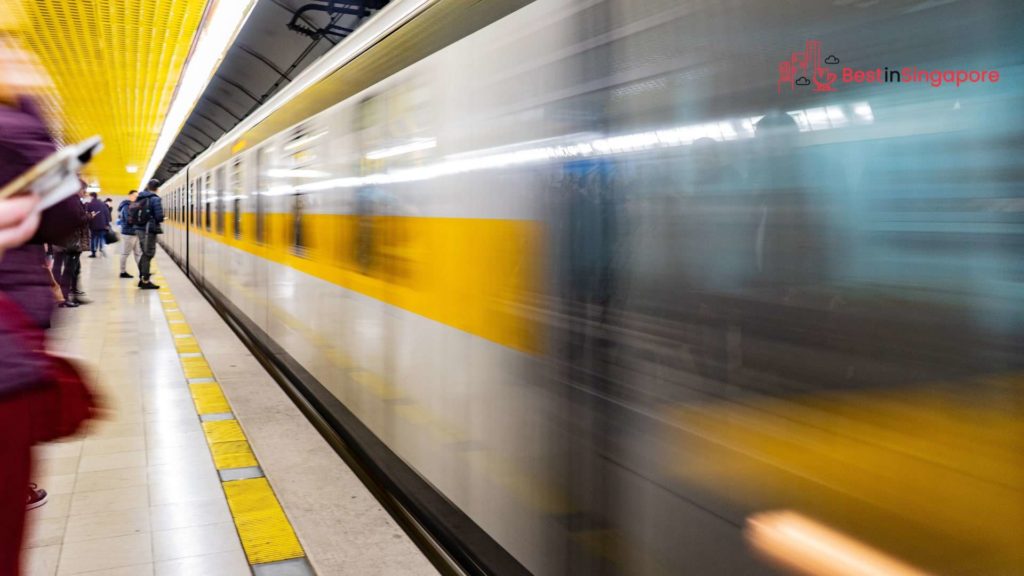 Using the MRT is very much like riding the bus in Singapore. You'll need to buy an EZ-Link Card or Singapore Tourist Pass and tap it at the gate before passing through.
Once you're in, just head to the platform and board the train. There's enough space inside, so you can take a seat, but during rush hour, all seats will most likely be occupied, so you'll have to stand and hold onto a hanging strap.
While inside the train, do be mindful of the following dos and don'ts:
Don't sit in priority seating. This seat stands out because it has a different color than the others. It's reserved for senior citizens, people with disabilities, pregnant women, and people with small children.
Don't bring or eat durians. Durian is popular in Singapore and other countries in Southeast Asia, but it's also notorious for its strong, pungent smell. So, avoid buying the fruit if you're planning to ride the train.
Pay attention to the announcement. Once the train's close to a station, the conductor will announce the stop. So, to avoid missing your stop, be sure to listen closely to the announcements.
When you reach your station, simply hop off the train and tap the card at the exit gate.
Light Rail Transit (LRT)
While the MRT is a heavy rail network, the Light Rail Transit (LRT) is a series of localized rubber-tired, automated guideway transit systems. Opened in 1999, LRT in Singapore serves as a feeder to the main MRT network.
There are only three LRT lines available today, and they are all connected to a public housing estate. These lines are the following:
| LRT Line | Areas Served | Total Length |
| --- | --- | --- |
| Bukit Panjang LRT (BPLRT) | Bukit Panjang, parts of Choa Chu Kang | 7.6 km |
| Sengkang LRT | Sengkang, Sengkang Town Center | 10.7 km |
| Punggol LRT | Punggol, Punggol Town Center | 10.3 km |
Since there aren't that many LRT lines, it's possible that you can travel around Singapore without having to hop onto an LRT train. That said, when you do have to ride the LRT, the process is just similar to riding the MRT.
Rail Link to Malaysia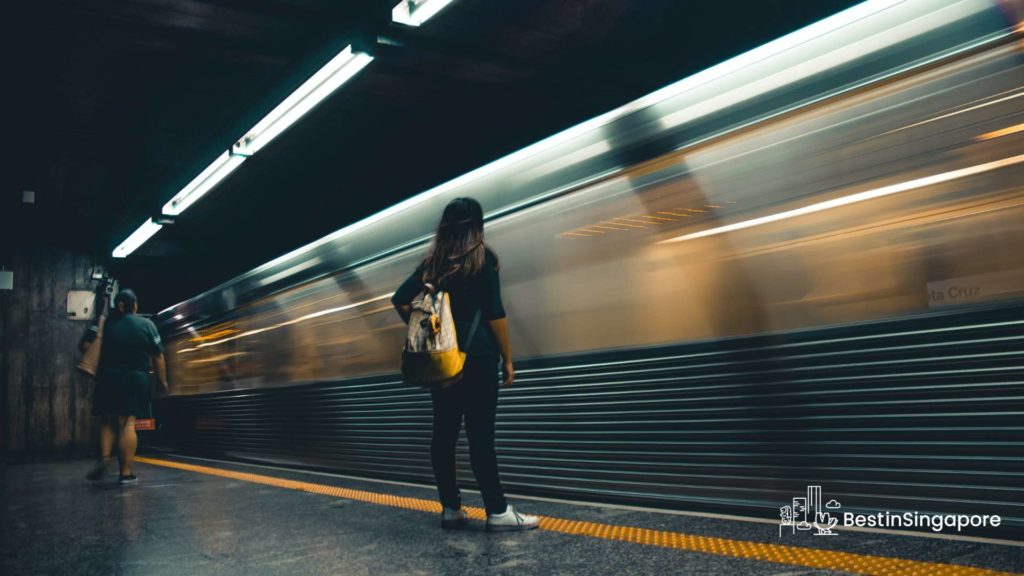 Are you thinking of going to the neighboring country of Malaysia but dreading the inevitable traffic on the JB Causeway? Luckily for you, now you have an alternative option: the international railway link to Malaysia.
This particular line is an extension of the Malaysian rail network, which is operated by Keretapi Tanah Melayu (also known as Malayan Railways). 
How do I ride the international rail line to Malaysia?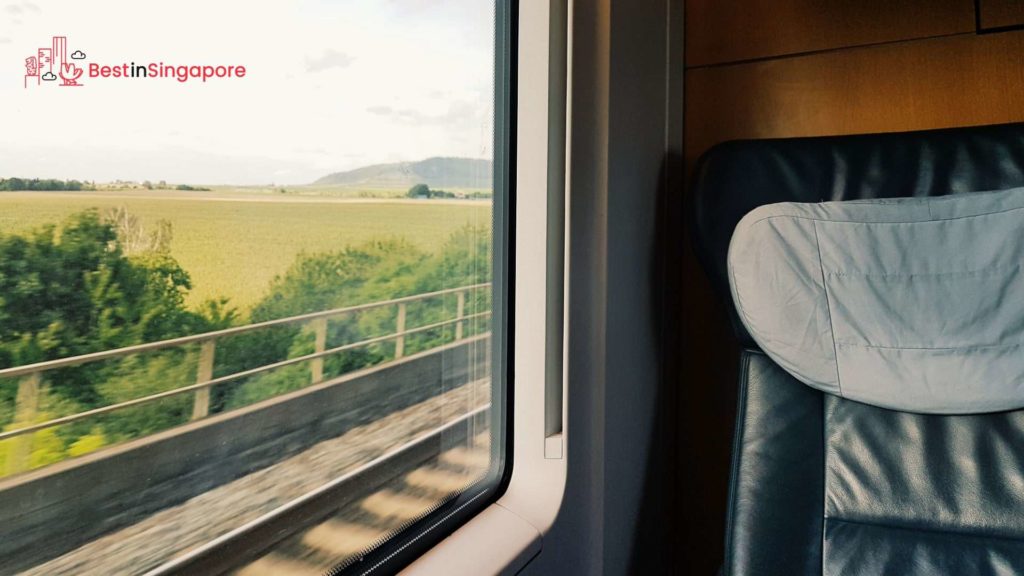 If you're planning to get to Malaysia via the international rail line, be sure to do the following steps:
Head to Woodlands Train Checkpoint because that's the southern terminus of the KTM rail network.
Purchase a train ticket from the ticketing office on the ground floor. You can also book in advance at the KTMB website if you want. 
Go through Immigration and customs. Be sure to prepare your passport, identification cards, and other essential travel documents.
Ride the KTM train (Tebrau Shuttle train), and depart at JB Sentral Station. This ride is really fast. It only takes about five minutes!
Voila! Now, you're in Malaysia!
If you want to take an extra step and head to Kuala Lumpur, you can ride the train to Gemas Station. This ride costs RM 21, and it takes about five hours, so keep that in mind so that you can prepare properly.
Aerial Lift Transport: Cable Car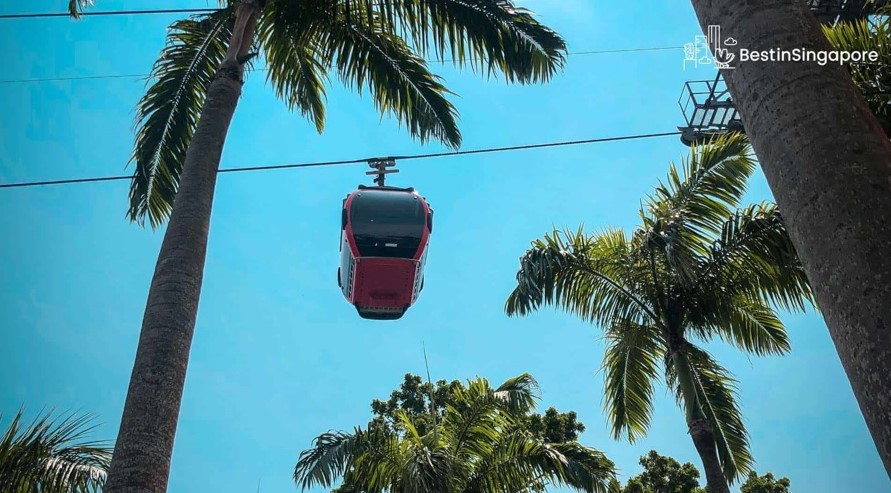 The Singapore Cable Car is a mode of transportation that can only be taken in certain locations, but it's always been a favorite of mine because the experience is just so fun.
You get to see an aerial view of Singapore while traveling. Isn't that cool?
Opened in 1974, the Singapore Cable Car is a three-station gondola lift system that travels from Mount Faber, which is located on the mainland, to the resort island of Sentosa.
Within Sentosa, you can also find a similar gondola lift system that you can use to explore the island, visiting places like Siloso Point and Imbiah. This form of transportation is just really great for sightseeing.
How much does a cable car ride cost in Singapore?
The cost of a cable car ride in Singapore depends on what kind of ticket you purchase. The available tickets are as follows:
| Ticket | For Adults | For Children (Ages 4–12) |
| --- | --- | --- |
| Cable Car Sky Pass (Round Trip) | S$35 | S$25 |
| Cable Car Sky Pass (Unlimited) | S$45 | S$35 |
| Mount Faber Line (Round Trip) | S$33 | S$22 |
| Mount Faber Line (Unlimited) | S$43 | S$32 |
| Sentosa Line (Round Trip) | S$15 | S$10 |
| Sentosa Line (Unlimited) | S$25 | S$20 |
Air Transport: Airports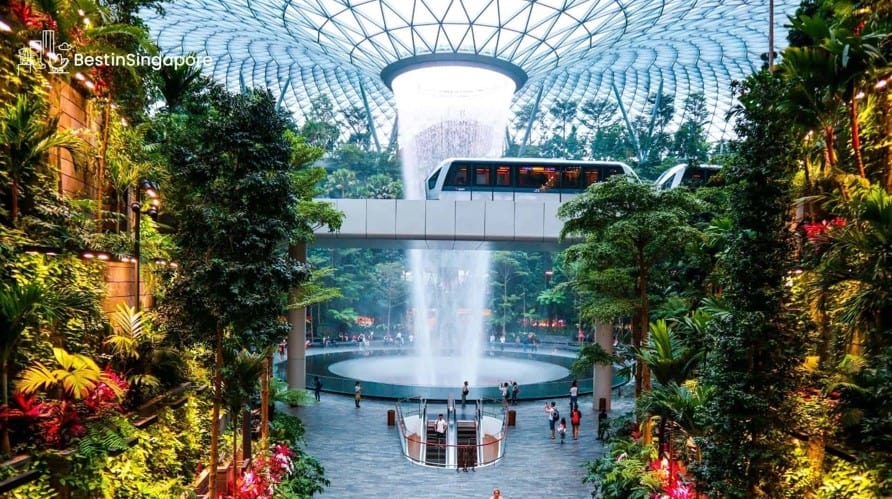 Being a small nation, Singapore doesn't have a lot of airports. In fact, there are only five airports on the island, namely: 
As you can see from the table above, only one of the airports in Singapore is strictly for public flights: the Singapore Changi Airport.
Changi Airport has four terminals, and the terminal reserved for international flights is on the easternmost tip. Ever since the opening of the fourth terminal in 2017, the airport has now handled 70 million passengers yearly.
The best part about Changi Airport, aside from the fact that it's an attraction in its own right, is that it's well-connected to the other modes of public transportation in Singapore.
It has an MRT station, a bus station, and even an area for taxis. So, you won't have to worry about getting to your next destination.
Maritime Transport: Ports and Harbors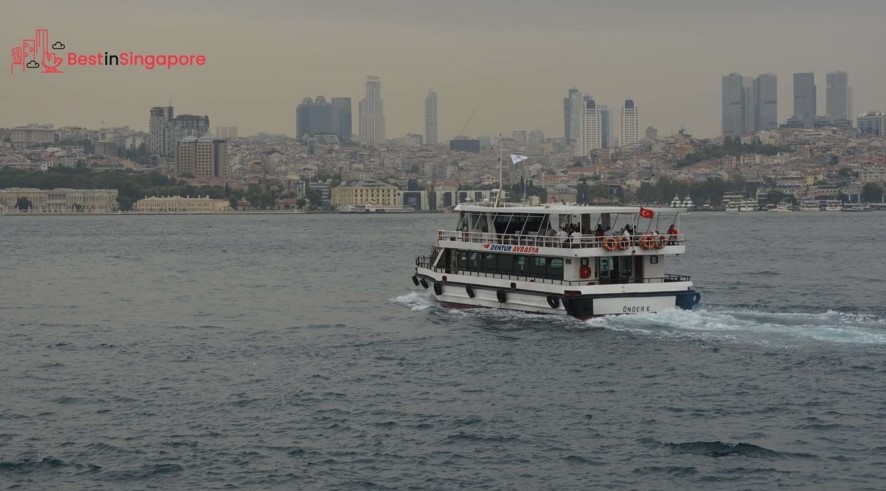 Most of Singapore's ports and harbors are for cargo freighters, bulk carriers, and container vessels. But there are still a few of them that are intended for passenger transport, and these are as follows: 
Of the three, Marina South Pier is arguably the most visited, and that's most likely because it's where you can find ferries that will take you to the Southern Islands. 
These islands—namely, Lazarus Island, St. John's Island, Kusu Island, and Sisters' Islands—are essentially untouched paradise, making them ideal getaway destinations.
If you want to book a ferry ride to the Southern Islands, here are some of your options:
Island Hopping Pass. This is an all-around trip that lets you enjoy the sandy shores of the Southern Islands.
Marina South Pier to Lazarus. If you're only interested in going to Lazarus Island, this is for you.
Water Taxi Service. By booking a water taxi, you get to make your own itinerary instead of following the one you'll get when you book an Island Hopping Pass. Plus, you get to invite anyone you want!
Tips on Riding Public Transportation in Singapore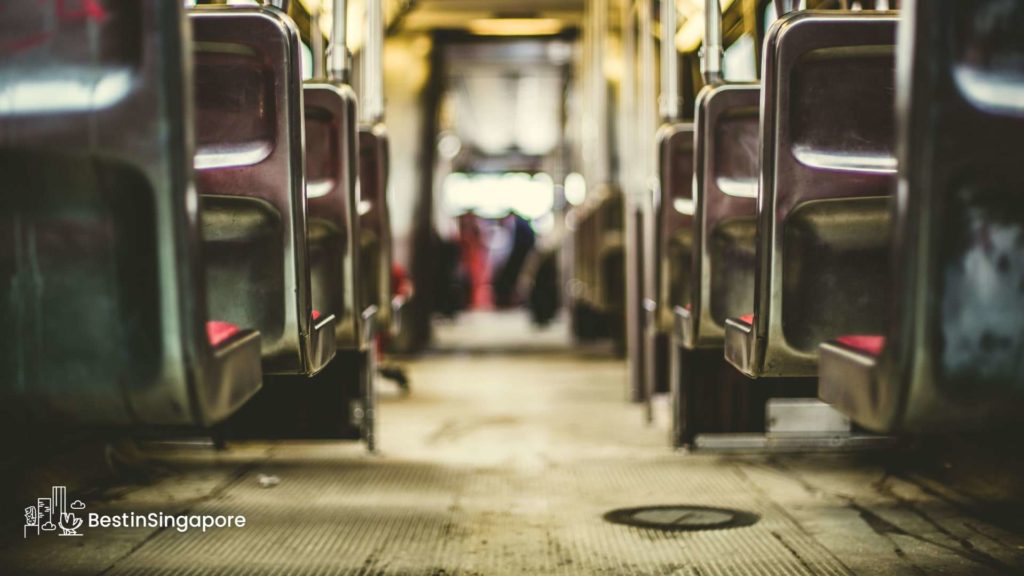 Keep your belongings secure. Singapore's crime rate is pretty low, but petty theft, such as pickpocketing, is still common. So, to avoid getting your phone or wallet stolen, be sure to put them inside your bag and always be vigilant.
Know your route ahead of time. This is just to make sure that you won't miss your stop. If you're riding a taxi or a PHV, I suggest checking the route on your phone to ensure that the driver hasn't detoured.
Bring a water bottle. This tip is for people who have to take long rides. Traveling can get really exhausting really fast, so I recommend bringing a bottle to quench your thirst when you have to. 
Commit to being cashless. As stated earlier, public transportation in Singapore primarily uses a cashless mode of payment, so I highly suggest following suit. Doing so will make your travels much more efficient and hassle-free!