Singapore Permanent Residence Application: Things You Should Know
With a strong economy, fantastic healthcare, and many other impressive characteristics, Singapore is truly one of the best countries in the world. For that reason, many people in other countries dream of moving here and becoming Singaporean citizens.
But before this dream becomes a reality, you first have to undergo Singapore permanent residence application.
If you're not sure about where to start, this article is here to help you out. Here are all the things you should know about the Singapore permanent residence application.
How can I permanently live in Singapore?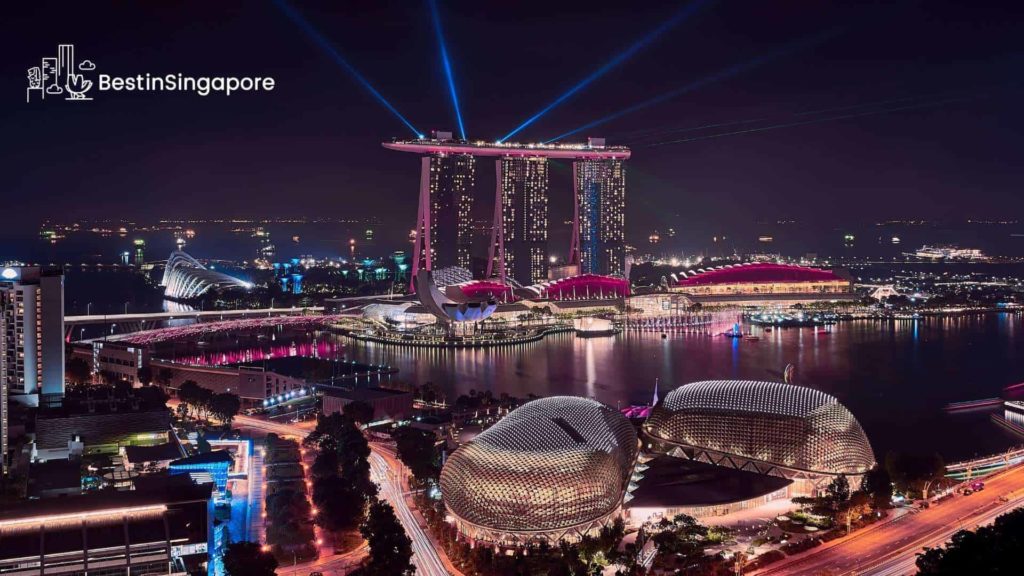 To permanently live in Singapore, you need to go through the following steps:
Gather all the necessary documents.
Pull up the ICA's eService portal.
Download the PR application form or complete it online.
Fill out the disclosure form and personnel list.
Review the information provided.
Upload the PR application supporting documents.
Pay the PR application fees.
For more detailed information, let's take a look at each of these steps.
Step 1: Gather all the necessary documents first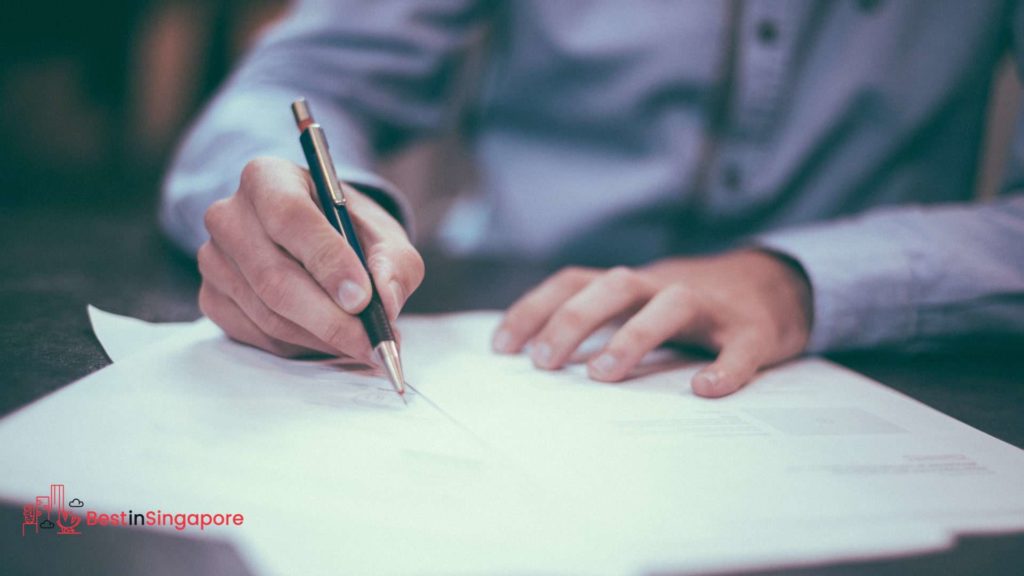 In order to maximize your chances of getting Singapore permanent residence application approval, it's incredibly important that you prepare all the essential documents beforehand. Here are the six most important documents you need to gather:
A passport-sized photograph with a white background
Educational certificates, transcripts, and other qualifications
Travel documents (especially passport) and valid immigration passes
Current employment documentation
Identification documents (e.g. ID, birth certificate, family census or family register, deed poll, or change of name certificate if applicable)
Cover letter
You only have seven days from when you start your application online until you submit all the required documents. So you really have to work fast if you want your application to be successful.
Step 2: Pull up the ICA's eService portal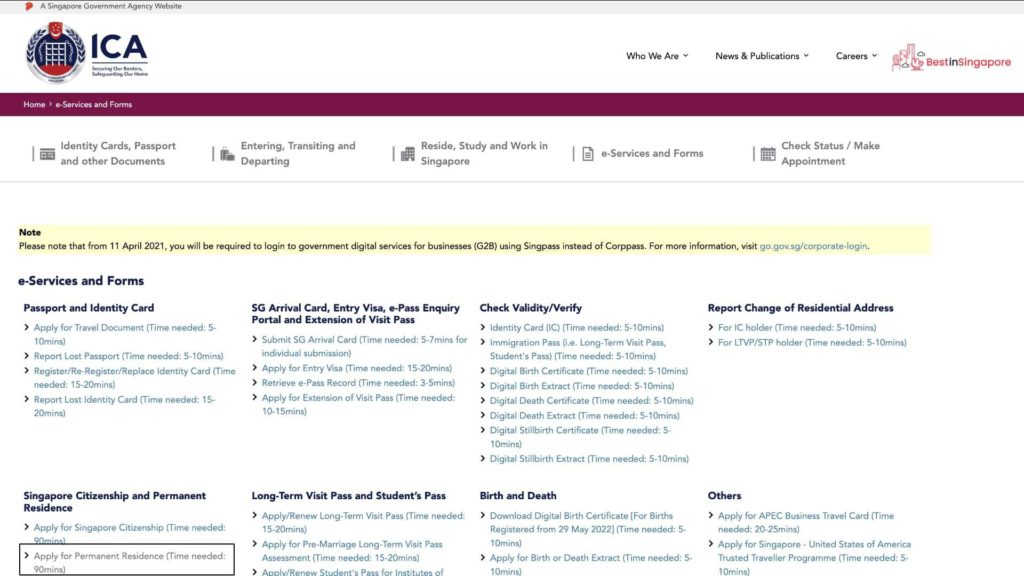 To make things more convenient for the applicants, the Singapore government has made the PR application an entirely online process. You'll only have to use the ICA's eService portal to submit documents and complete forms.
Once you're on the eService dashboard, choose "Apply for Permanent Residence." Then, select the PR category that best describes you.
Depending on what you've chosen, you might be required to do extra steps to verify your identity.
If you're a student in Singapore, you have to answer a questionnaire to determine your eligibility.
If you're the spouse of a Singaporean citizen or permanent resident, you need to select "I am…a Singapore Citizen or Permanent Resident," and your spouse will have to log in using their Singpass account.
If you're not a student, you'll need to log in using your Singpass. If you are a student, you'll have to use your Foreign Identification Number (FIN).
Step 3: Download or complete the PR form online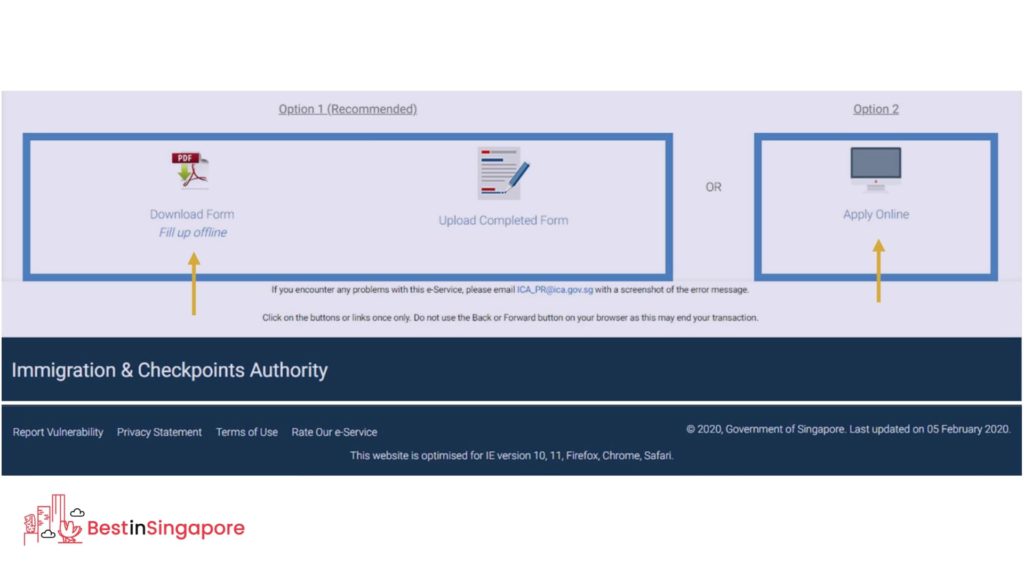 Once you've logged in and selected the PR category, the portal will lead you to a page showing you the application form and detailing the documents you need to submit.
You'll also be required to download certain documents, such as the Declaration of Applicant(s), the Inland Revenue Authority of Singapore (IRAS) Consent Form, and Annex A.
There are two ways you can fill up the form:
Download the application form, complete it offline, then return to the same page to upload it.
Complete the whole form online.
The former method is recommended because it allows you to fill out the form without connection problems disrupting the procedure.
If you completed the form offline, you have to upload it into the portal before continuing to the next step.
As for Annex A, be sure to sign it—you can do this electronically—then, save this signed document.
Step 4: Fill out the disclosure form and the personnel list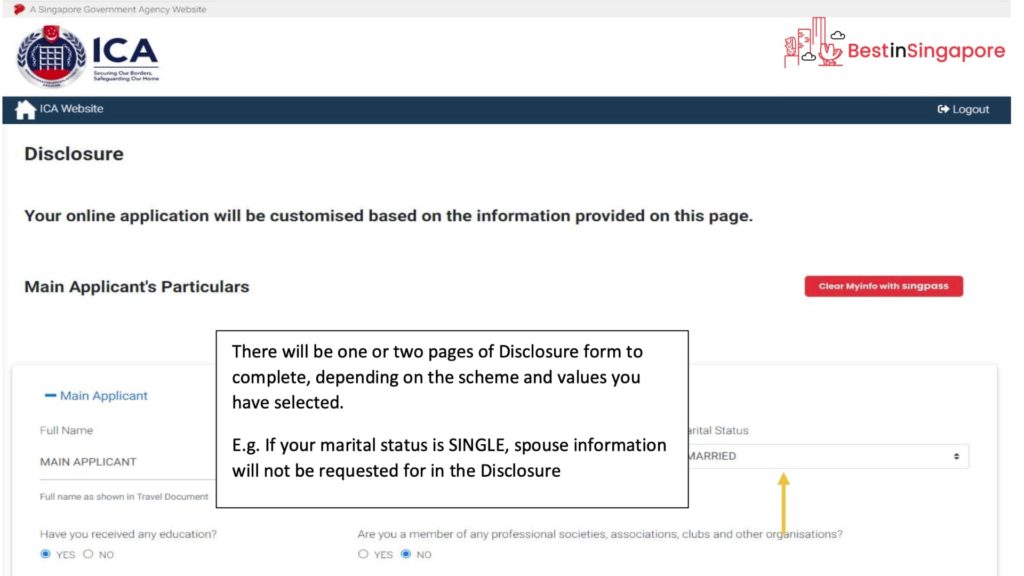 After completing the application form, you'll be led to a disclosure page, where you have to answer all the required questions. This disclosure form has either one or two pages, depending on the PR scheme and values you've chosen.
If you're applying for PR for your family, another important step you have to take is to provide all the necessary information for every person on the personnel list. Once all the fields have been filled out, you can click on the "Proceed" button.
Step 5: Review the information you've provided
Providing accurate information is essential when it comes to applying for PR, so you need to put in extra effort to check if all the information you've given is accurate.
In particular, ensure that your email address and correspondence addresses are correct.
Additionally, you'll be provided with a deadline.
By this specified date and time, you should've uploaded your documents and paid the fees already. Do take note of this one.
Once you're sure that everything is correct, press "OK" to continue.
Step 6: Upload the PR application supporting documents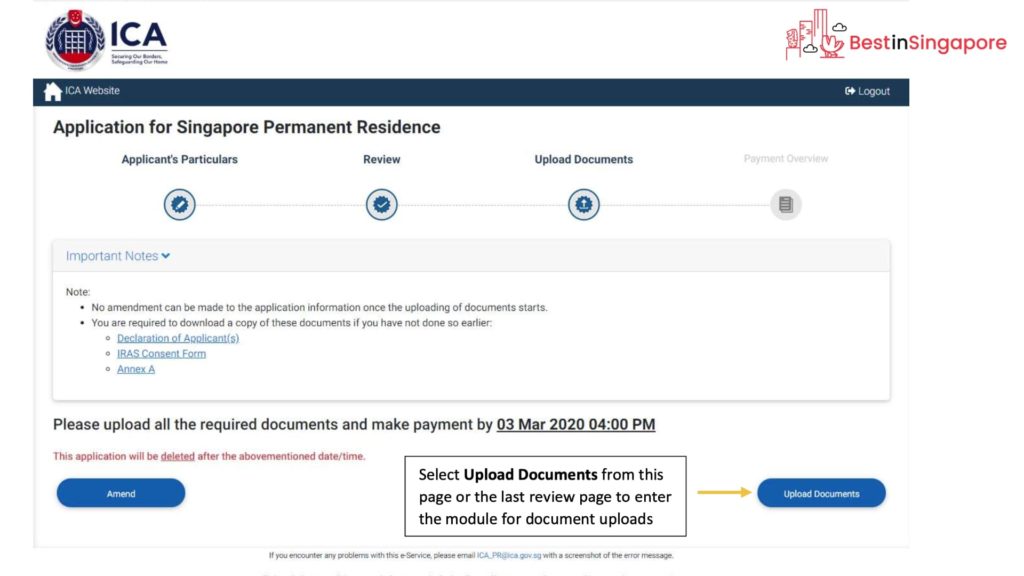 Please make sure that all your PR application documents are in PDF or JPG formats because these are the only accepted formats. Also, keep in mind that once the upload has begun, you cannot amend any information you've provided before this section.
Step 7: Pay the PR application fees
Once all the documents have been successfully uploaded, make sure to verify the number of applicants and the amount payable. Also, you should enable pop-ups so that you can see your receipt later on.
When you're done with all of this, click the "Make Payment" button to proceed. Your payment will be processed through MyCart.
Once you've paid the fees, you will be shown an acknowledge page to let you know that your application has been successfully submitted. For extra assurance, you can download a PDF copy of your application form.
How many years does it take to become a permanent resident in Singapore?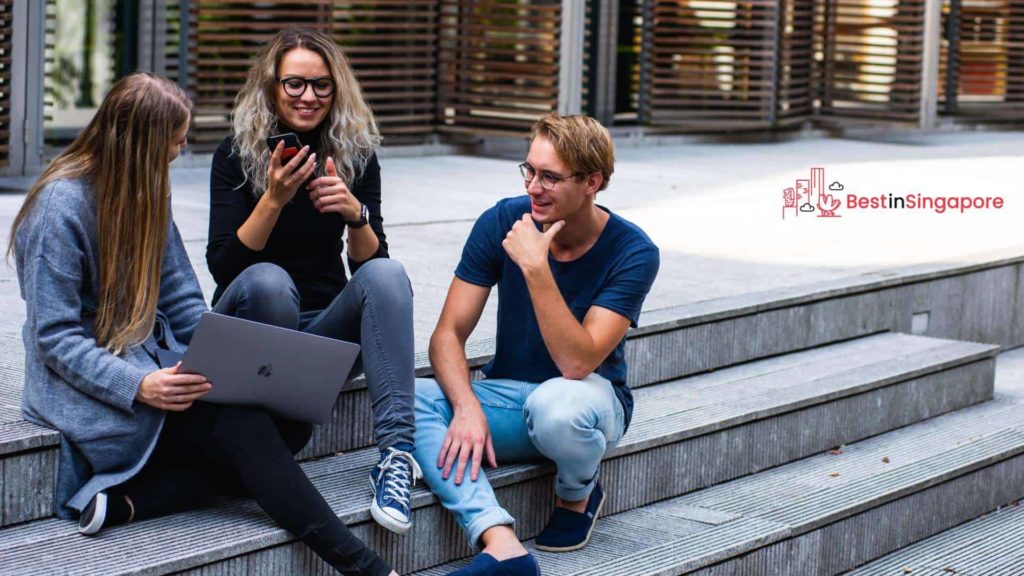 If you're a foreign student in Singapore, it will take a least two years of living in the country before you're eligible to apply for PR.
Meanwhile, if you're an employee, you need to have worked for at least six months at the time of application.
When you've lived in Singapore for some time and decided to go through the application process, the ICA will review your submission thoroughly.
Generally, it takes about six months to process the PR applications, but it can take longer if your case is complex and requires more verification.
Singapore Permanent Resident Eligibility
How can I get Singapore permanent citizenship?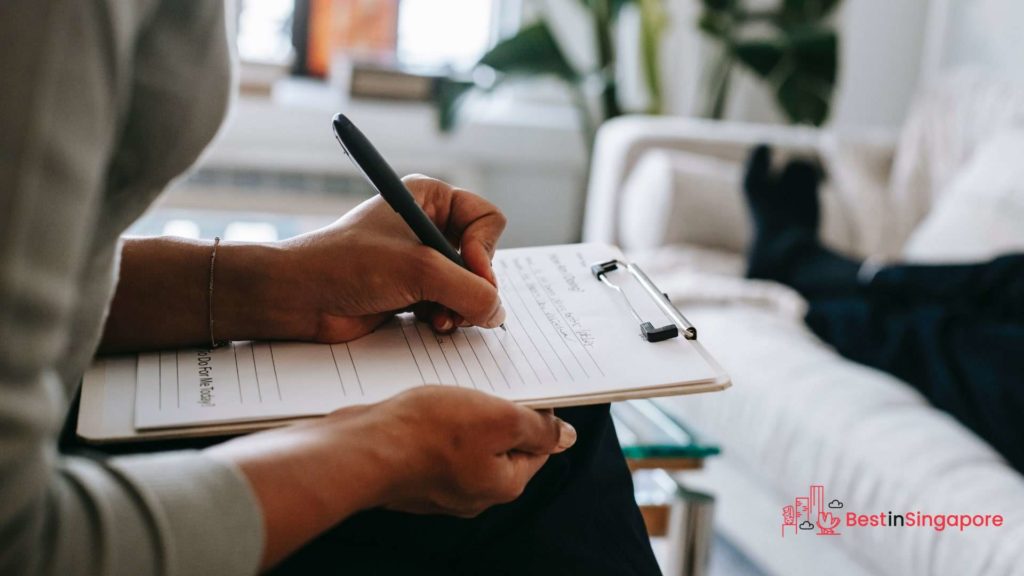 To get Singapore permanent citizenship, you must meet at least one of the following criteria:
A student studying in Singapore (Foreign Students Scheme)
A foreign investor in Singapore (Global Investor Programme or GIP Scheme)
A holder of an Employment Pass or S Pass (Professional, Technical Personnel, and Skilled Workers or PTS Scheme)
An arts professional (Foreign Artistic Talent Scheme)
An aged parent of a Singaporean citizen
A spouse of a Singaporean citizen or permanent resident
An unmarried child aged 21 years and below, born to a legally married Singaporean couple or adopted by a Singaporean citizen or permanent resident
In addition to these criteria, the ICA will consider other factors to assess your ability to contribute to Singapore and your commitment to integrating into society. These other necessary factors include
Your family ties to Singaporeans
Economic contributions
Qualifications
Age
Family profile
Length of residency
What are the requirements for obtaining a permanent residency in Singapore?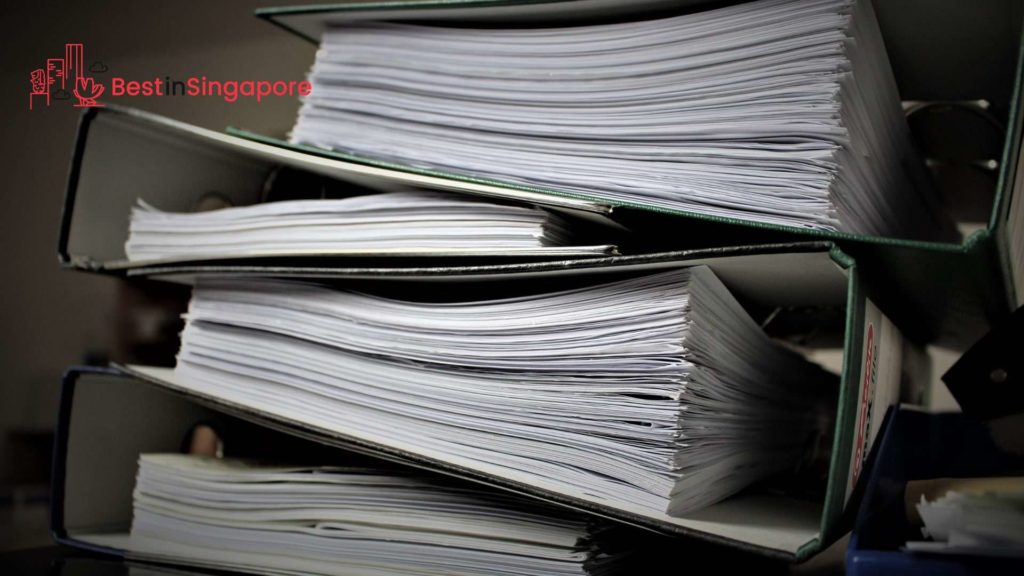 The requirements for obtaining a permanent residency in Singapore are the following:
Passport-sized photo
Educational certificates
Travel documents and valid immigration passes
Current employment documentation
Identification documents
Cover letter
Passport-Sized Photo
Your photo has to comply with the aspects specified by the ICA:
It should be taken against a white background.
It should be 35mm wide and 45 mm high.
It should not have a border around it.
You also need to make sure that the digital image file is sized to 400 to 514 pixels and isn't any larger than 1MB in JPG or JPEG format.
Educational Certificates, Transcripts, and Other Qualifications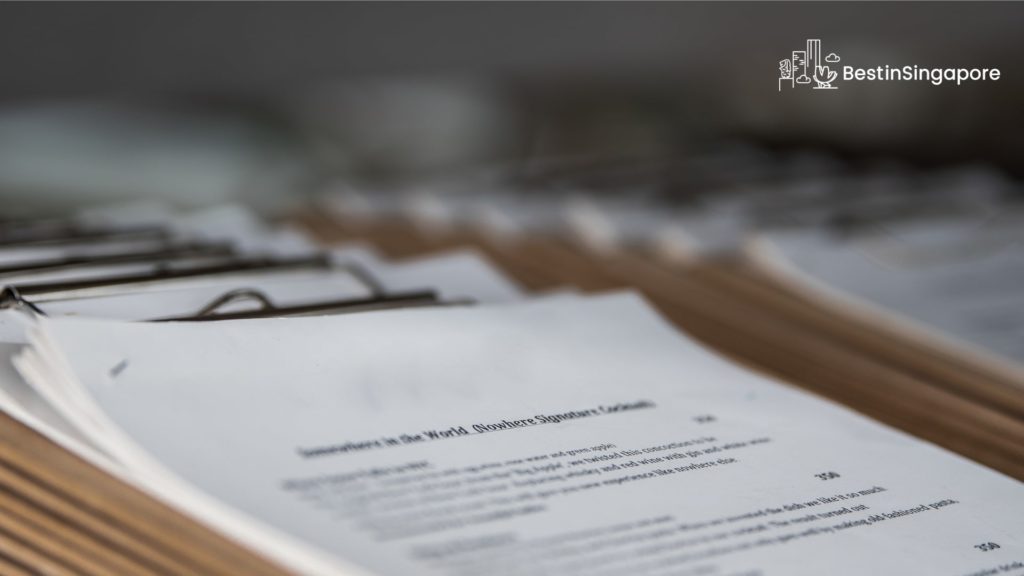 You need to submit all relevant tertiary educational documents. If your documents aren't in English, you need to have them translated before submitting them.
If you're under the GIP or PTS Schemes, you should also prepare all relevant professional licenses or vocational trade certificates. This way, the ICA can determine whether you have the skills required in the local industries.
Travel Documents (Especially Passport) and Valid Immigration Passes
For passports, you only have to submit the page that shows your personal details (name, passport number, and official description). You should also make sure that your passport is valid at least six months prior to the date of entry.
A valid immigration pass can be an Employment Pass, S-pass, Entrepreneur Pass, or Student Pass.
If you're a student, it's possible that you'll be required to submit your parents' travel documents during PR application.
Current Employment Documentation
If you're employed, be sure to prepare all documents that prove your employment status.
If you're applying under the PTS Scheme, you should include testimonials from your previous employers.
Meanwhile, if you're self-employed, you should be ready to provide a Valid Business Registration Certificate, names of your partners, and occupational license.
Prepare copies of your payslips for the past six months as well as IRAS consent forms.
Also, submit a letter from your employer—dated within the month of your PR application—that details your current position, date of employment, and a detailed breakdown of your payslip.
Identification Documents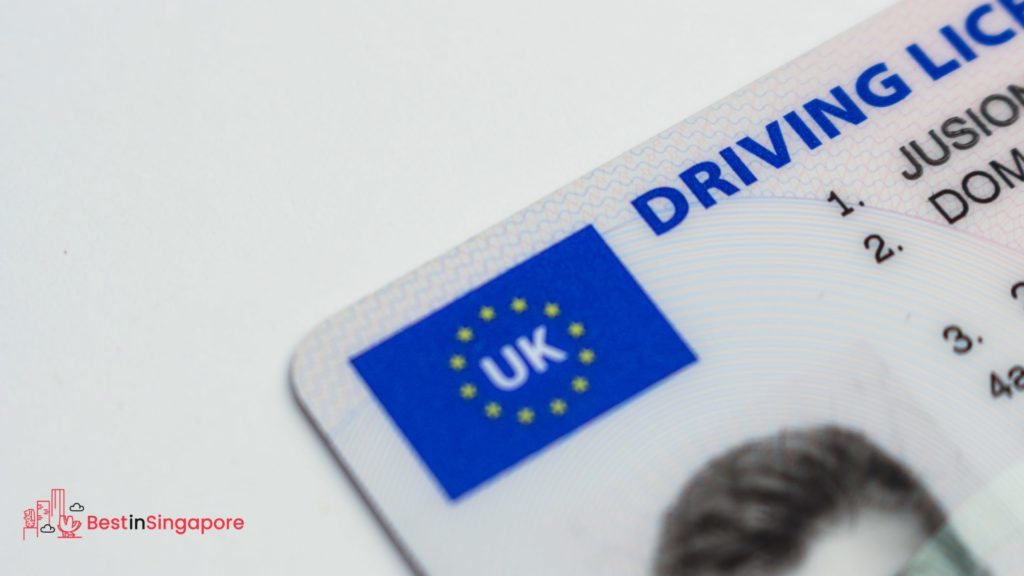 Your identification documents can be your ID, birth certificate, family census or family register, deed poll, or change of name certificate (if applicable).
These documents are to help the ICA in identifying and building your profile. They will also let the ICA know if you have family ties to Singaporean citizens.
Cover Letter
A cover letter is technically considered a formality for submission, but it's still an essential tool that will leverage your PR application.
When writing a cover letter for your Singapore PR application, think about what sets you apart from the other applicants. It will especially be helpful if you show how committed you are to becoming a part of Singaporean society.
Keep the letter well-organized and professional.
Singapore PR Points Calculator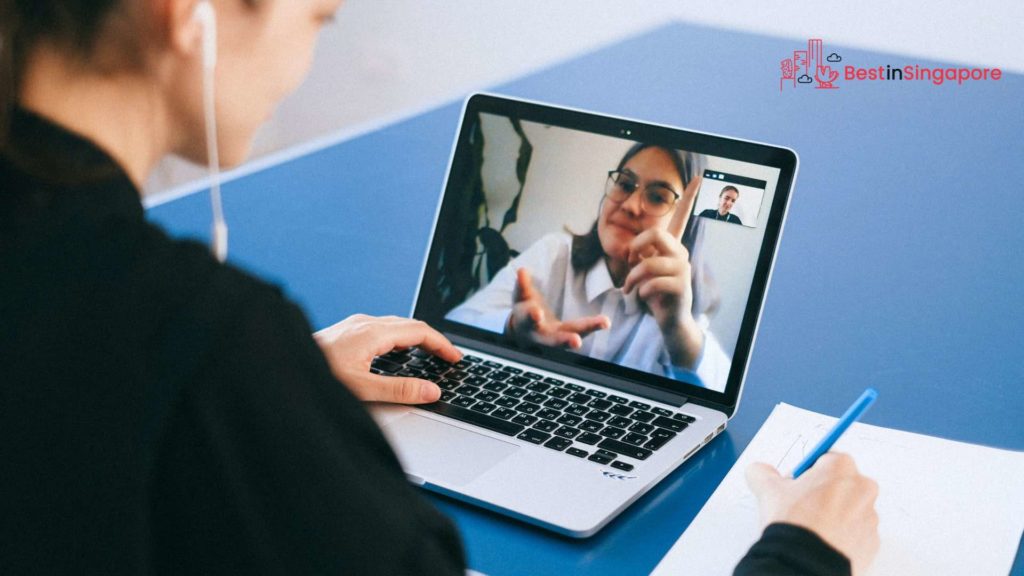 The Singapore PR application requires you to prepare and submit so much paperwork, which is why it's understandable if you feel frustrated sometime in the procedure.
To help ease your worries, you can check out several Singapore PR points calculators to see what your chances of approval are.
These calculators are created by developers with more than ten years of immigration knowledge. They are also supported by algorithms that will add and deduct points from your profile overview.
These calculators usually follow a questionnaire format, and you have to provide important information, such as your highest educational level and pass type.
The following are some of the Singapore PR points calculators that you can check out.
What are the most common reasons why Singapore PR applications are rejected?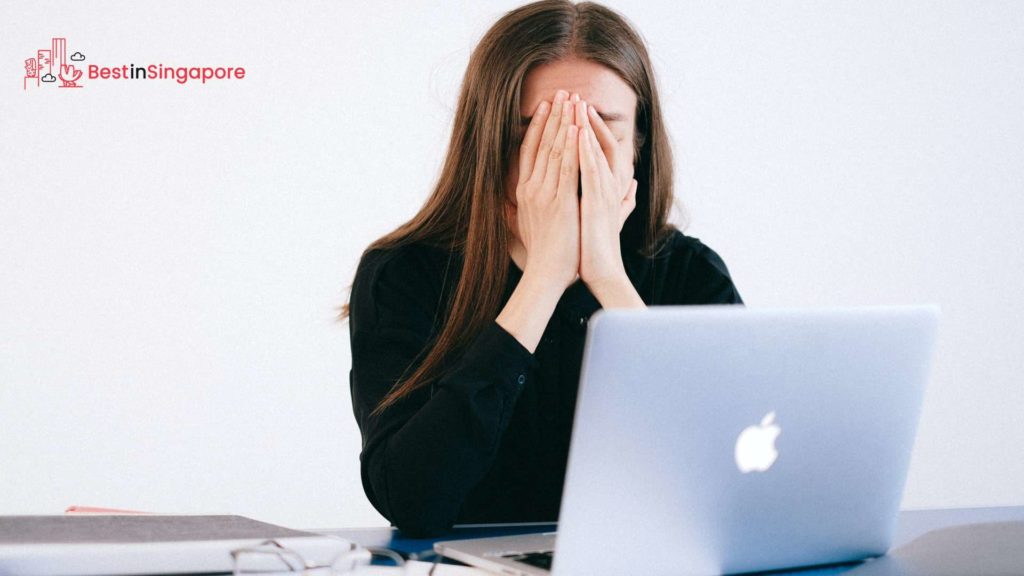 Even if you've done everything right—gathered all the essential documents and passed them on time—there's still a likelihood that your PR application will be rejected.
But why does this happen? To help you manage your expectations and prepare for the worst, here are the most common reasons why Singapore PR applications are rejected:
Problems regarding your submission
Implementation of new policies
Lack of integration efforts into Singapore society
Lack of relevant knowledge about your market or industry
Race and ethnicity
Problems Regarding Your Submission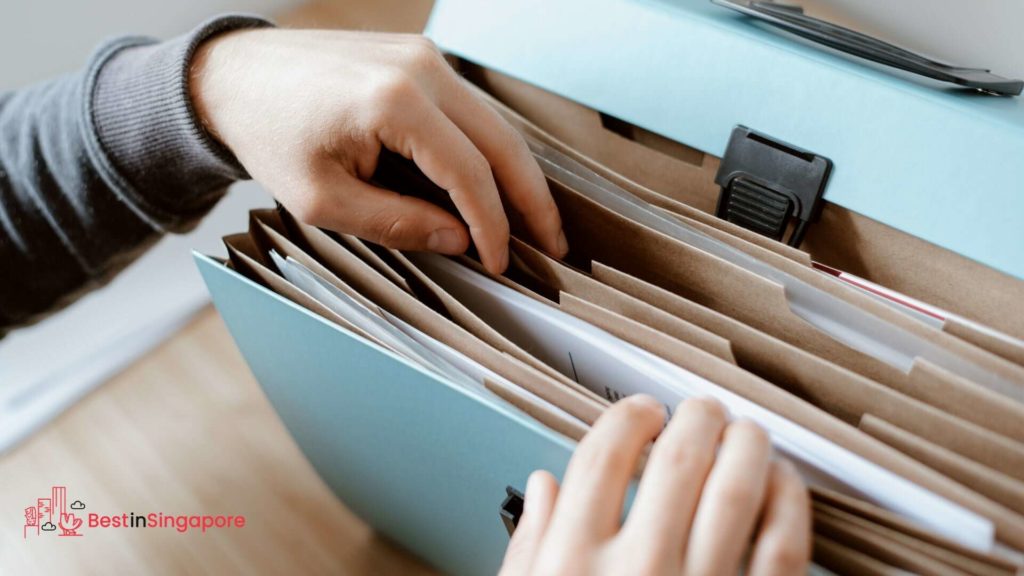 The most common reason for the rejection of your PR application is that there are problems regarding your submission. These problems can manifest in a variety of ways. 
Incomplete Requirements
Firstly, it could be that the documents you submitted are incomplete or they didn't meet the ICA's requirements. Because of the many requirements to keep track of, you probably overlooked something important, hence why you're rejected.
Your application didn't stand out
Ironically, another way this problem manifests is that you only submitted the mandatory documents. This is a problem because even though it's great that you submitted all the essentials, doing so doesn't make you stand out.
Submitting the mandatory documents is the expected bare minimum. If you want to up your chances, you'll have to submit supporting materials—such as a cover letter or a recommendation—that will convince the ICA to approve your application.
Documents weren't scanned or printed properly
Thirdly, another possibility is that your documents aren't scanned or printed properly, rendering them hard to read. Since the ICA staff are busy people, they'll simply move on to the next application instead of trying to decipher your papers.
Missed Deadline
The fourth submission problem you might encounter that will lead to your rejection is missing the deadline. If you submit your documents long after your due date, you can expect that ICA's answer to your PR application will be no.
Implementation of New Policies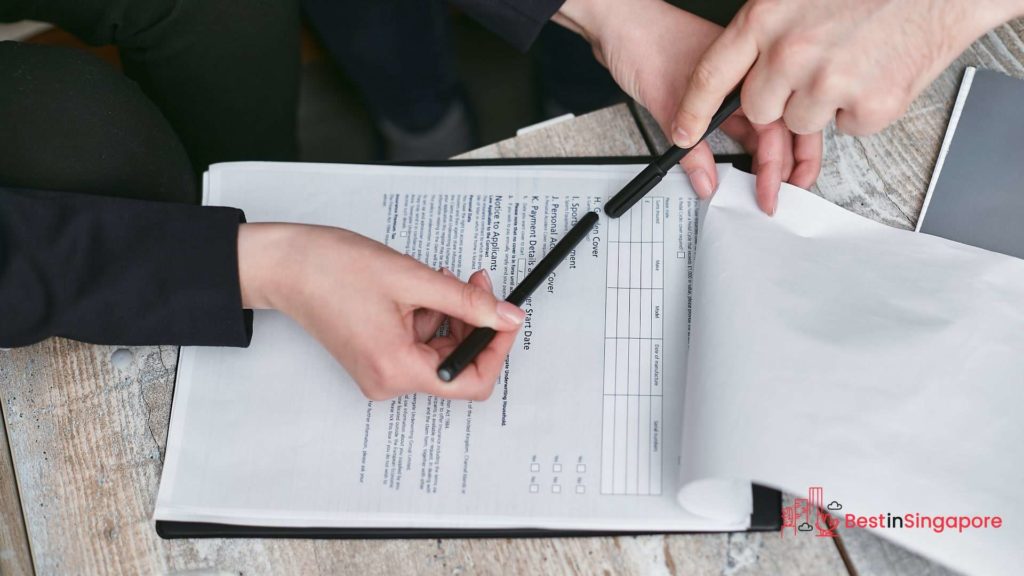 The policies in Singapore, especially those regarding immigration, are not set in stone. They are ever-changing.
And sometimes, these new changes will mean new requirements or steps in the PR application process.
So, if you're not keeping tabs on the country's immigration laws, you might not know of these potential new requirements, resulting in a failed PR application. To avoid this from happening, you better keep yourself updated about Singaporean laws. 
Lack of Integration Efforts into Singapore Society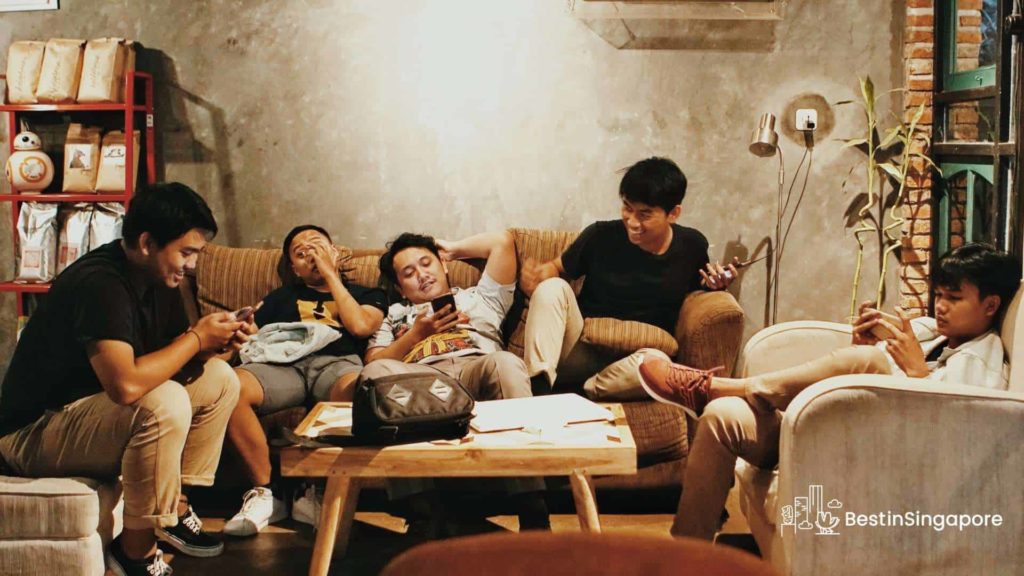 As mentioned earlier, one of the PR application requirements is your willingness to integrate into Singaporean society. So, it stands to reason that if you have no proof that you've exerted effort to blend into the local culture, ICA will reject your application.
But what are a few examples of social integration efforts, you might ask? You can try the following:
Volunteering. Are there programs that help out the less fortunate? Then, you might want to join at least one. This way, you get to meet your fellow volunteers and get a first-hand look at one of the communities in the country.
Making friends with Singaporeans. Nothing says "ready to integrate into Singapore society" quite like making friendships with Singaporeans. So, be sure to talk to your neighbors and colleagues and form meaningful bonds with them.
Eating. At the heart of any culture is food, so if you're ready to be part of Singapore society, it's wise to indulge in the local food scene. Be sure to try out all sorts of cuisines because there are many sub-cultural groups in the country.
Attending sports and cultural community events. Parties and community events are the perfect time to mingle with other people, so be sure to take the chance when it presents itself.
Donating to Singaporean charities. The fact that you're willing to help out improve the lives of many Singaporeans by donating shows that you're ready to become a permanent resident or citizen.
There are still many other activities that are worth trying out. So long as these activities involve you socializing with Singaporeans or contributing to society, they're perfect.
Lack of Relevant Knowledge about Your Market or Industry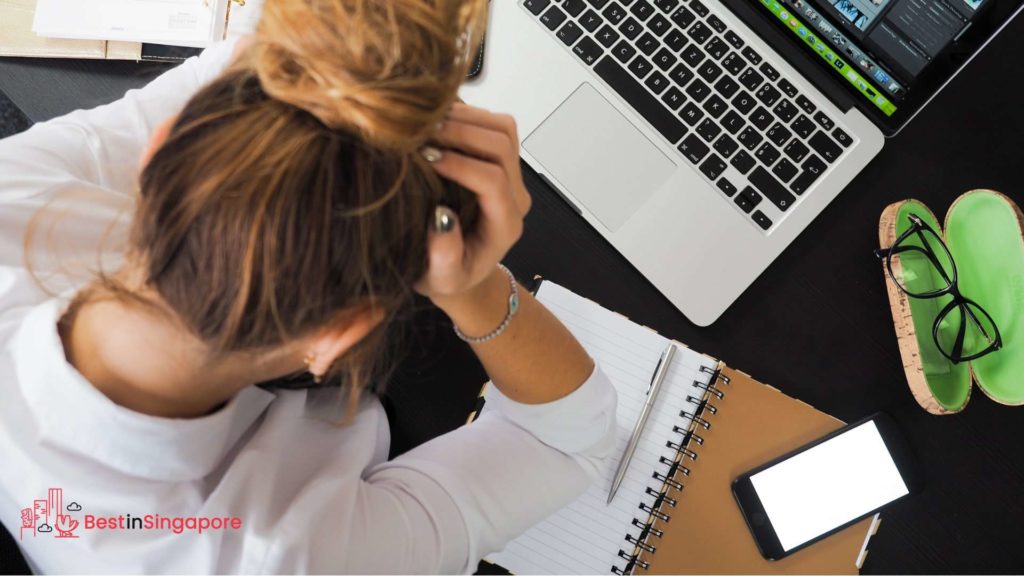 Some foreigners want to become PRs simply because the status allows them to look for better jobs or start their own businesses without all the stress and hassle that come with bureaucratic procedures.
If you're one of these people, you need to show proof that you have relevant knowledge about the market or industry you're aiming to work in. But if you can't show proof or the one you have shows a lack of relevant knowledge, then chances are you'll be rejected.
So, be sure to gather all the right documents that prove you're knowledgeable and experienced in the market you want to break into.
Race and Ethnicity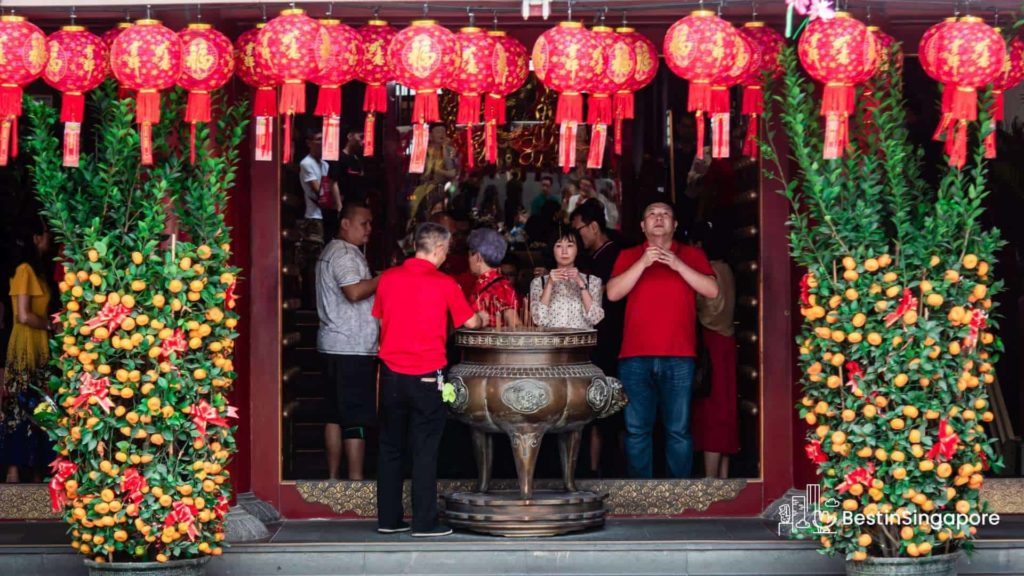 This factor is more of a rumor than a proven fact, but it's still worth considering because countless applicants have attested to its prevalence. Essentially, it's believed that race and ethnicity play a significant role in your PR application status.
According to many applicants, the ICA has a preferred race or ethnicity. Specifically, they claim that if you're a person from another Southeast Asian country, your chances of getting accepted are much higher than if you're from the USA or any other nation.
Once again, this whole "ICA has favoritism towards certain racial and ethnic groups" isn't necessarily fact. It mostly comes from hearsay.
So, it will be wise if you take this one with a pinch of salt.
What do I do if my Singapore PR application is rejected?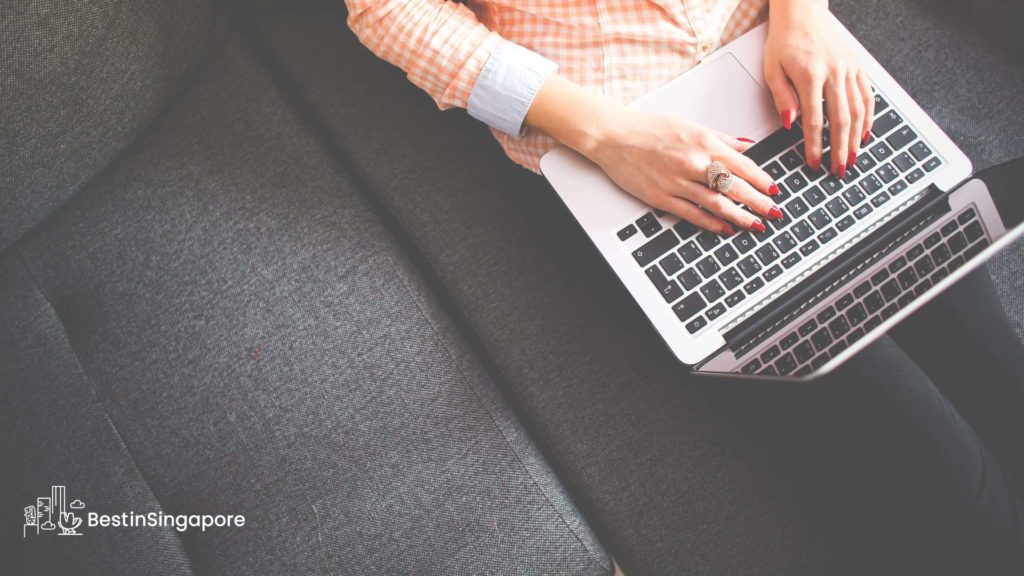 Getting your PR application rejected is definitely not a pleasant feeling. But luckily for you, all hope is not yet lost.
You can still do something if your Singapore PR application is rejected, and that is to either appeal your rejection or reapply.
But which of the two best fits your situation? Read on for more information. 
Appealing the PR Rejection
Between the two options, you might think that appealing your PR rejection is the better one, but this is not necessarily the case. The right method will depend entirely on your circumstance, so you need to weigh everything in before making a decision.
How do you know if you should appeal your Singapore PR rejection?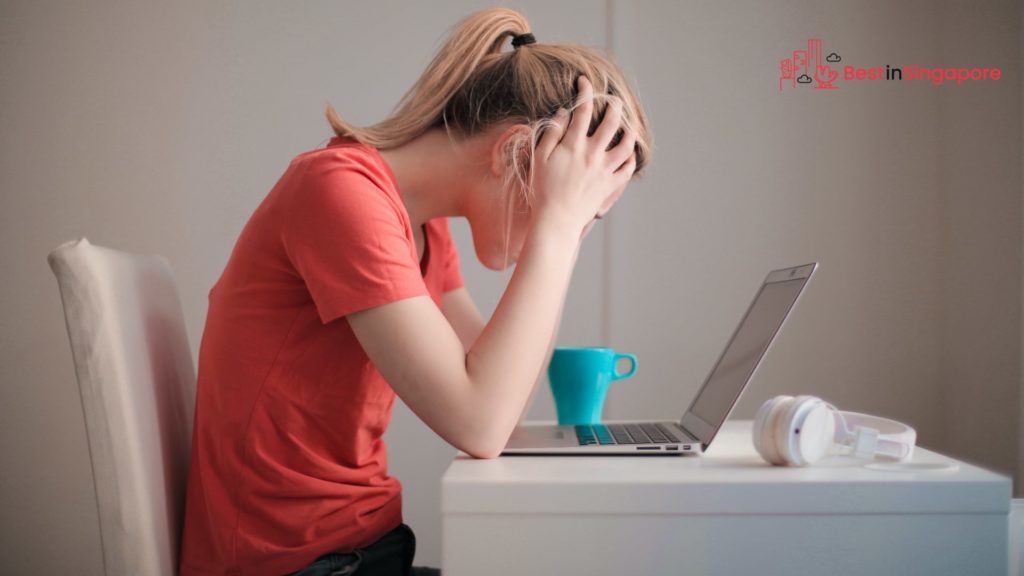 You can consider appealing your Singapore PR rejection if you meet either one of the two categories mentioned below:
If your circumstances have changed since your initial application. For example, you just graduated from college or a higher tier of studies, or you just got promoted to a new, higher-paying job.

If this fits your situation right now, you need to update your credentials by providing new supporting documents.

If you didn't include documents showing any substantial accomplishments or contributions during your initial application.

Appealing will give you a new chance to make your application look more impressive to the authorities, hopefully resulting in an accepted status this time around.
How do I appeal my Singapore PR rejection?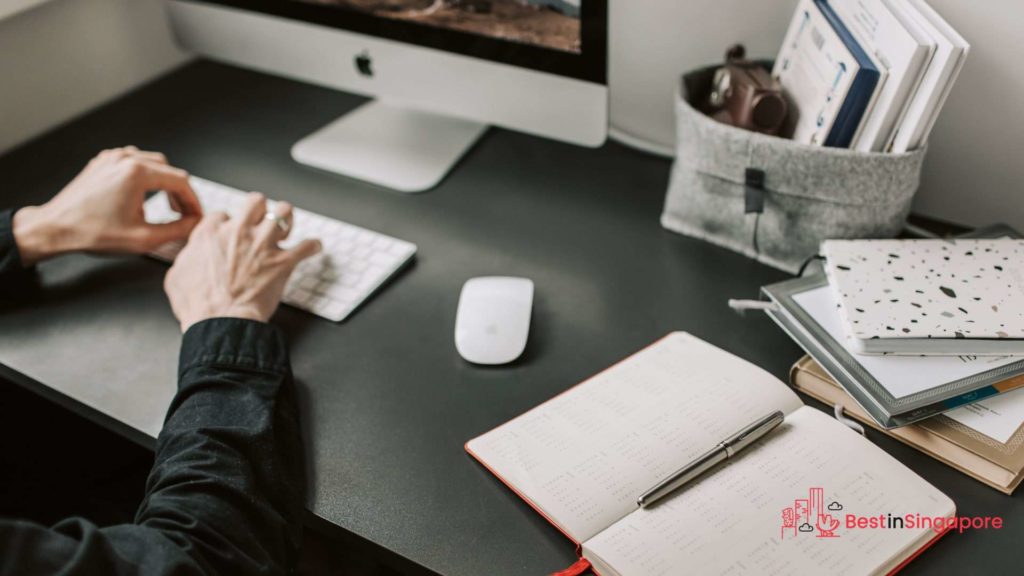 Simply put, you appeal your Singapore PR rejection by writing an appeal letter. It's in the appeal letter where you explain in detail why you'd like to stay in Singapore for good.
To make sure you stand out, avoid resorting to general reasons, such as Singapore's strong economy and super education system. Instead, you should highlight the following topics:
How you've integrated into Singaporean society. Mention activities, such as volunteering, community events, and the like.
How you and your family are now rooted in Singapore. If you have one, be sure to mention a relative who is already a PR or citizen. Mentioning that your children are doing well in school is also a great idea.
Your achievements and milestones at work
Your future plans, assuming that your application will be accepted. Feel free to talk about grand plans, such as setting up a company in the country or applying for citizenship in the future.
Other factors that show your willingness to be a part of Singaporean society
Another urgent thing you should keep in mind is that you need to include your application reference number in your letter. Once you're done writing the appeal letter, be sure to mail it to this address:
Permanent Residency Department
ICA Building
10 Kallang Road
Singapore 208719
When should I submit my appeal letter to ICA?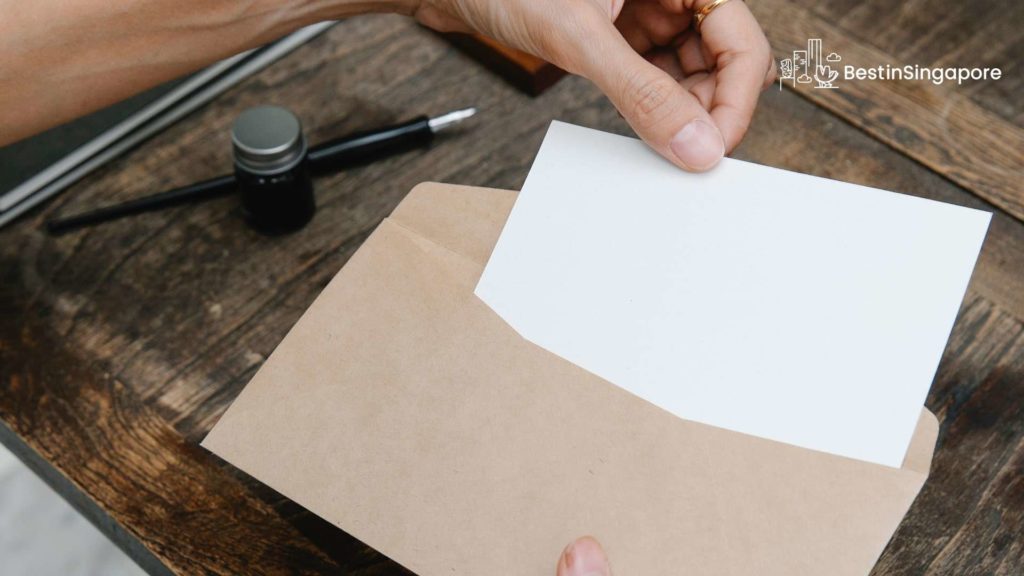 Writing and mailing your appeal letter to ICA should be done within six months from the date of your Singapore PR application's rejection.
Do keep in mind that you might be required to fill up a request form in order to be able to appeal. You can obtain this form at the reception desk of the Permanent Residence Department, which is located on level 5 of the ICA building.
How long does the ICA process appeal letters?
There's no way to determine how much time the ICA takes to process appeal letters simply because it varies depending on the circumstance.
That said, you can expect the processing time to be between four to six months since that's the processing time for standard applications.
If you're lucky, you might get your appeal processed and accepted in only a few weeks. But if not, you might have to wait longer than six months—even up to a year is likely.
Reapplying for Singapore PR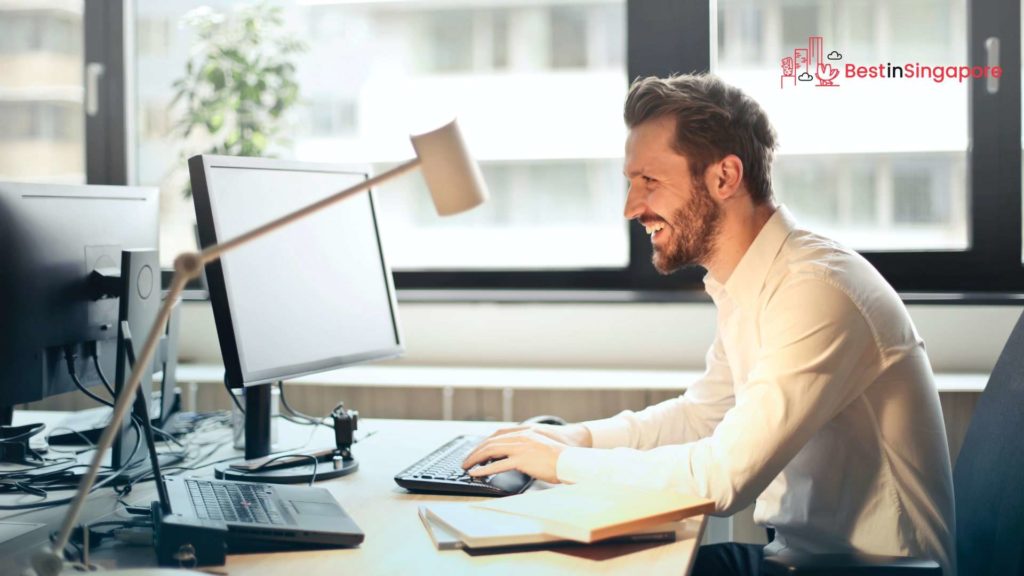 If you prefer not to stress yourself by creating an appeal letter and submitting it within six months after your rejection, you can choose to reapply for Singapore PR instead.
Reapplying is technically an easy process. You'll have to submit the essential documents again, just like you did the first time around.
The only difference between this and appealing your rejection is that you can only reapply after six months from when your application is rejected, while appealing is only allowed within six months of your rejection.
However, do take note that even though reapplying is relatively easier now since you already have the essential documents ready, there's still a high chance that you'll be rejected yet again if you don't make any changes to your application or credentials.
So, be wary this time around and really go through your documents.
How do I know whether appealing or reapplying is the better option for me?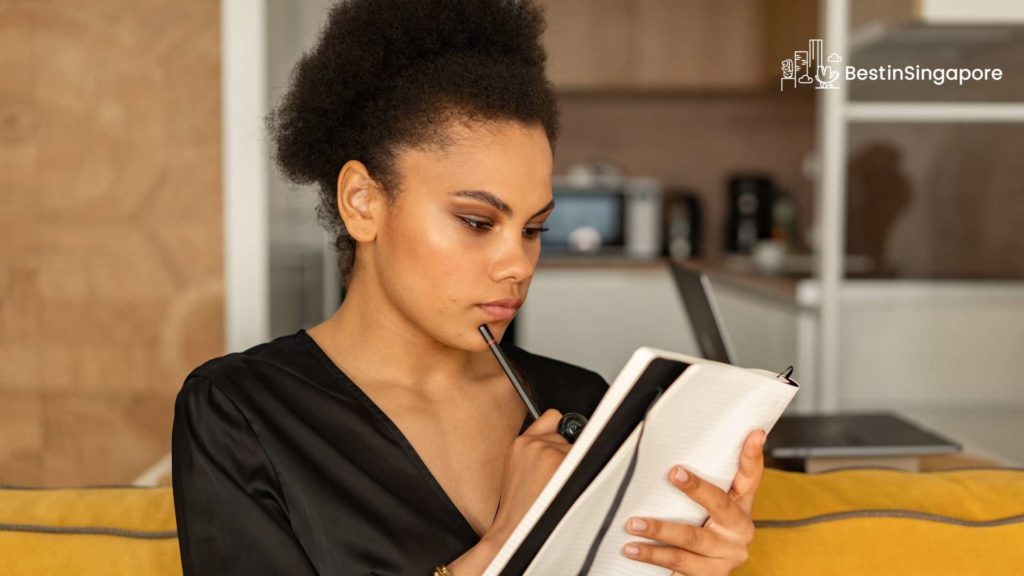 When you receive your rejection letter from the ICA, you might be conflicted about which is the better option for you: sending an appeal letter or waiting six months to reapply.
To help you solve this dilemma, you need to deliberate over three factors: a strong case, the time and effort you're willing to exert, and the costs.
Do you have a strong case?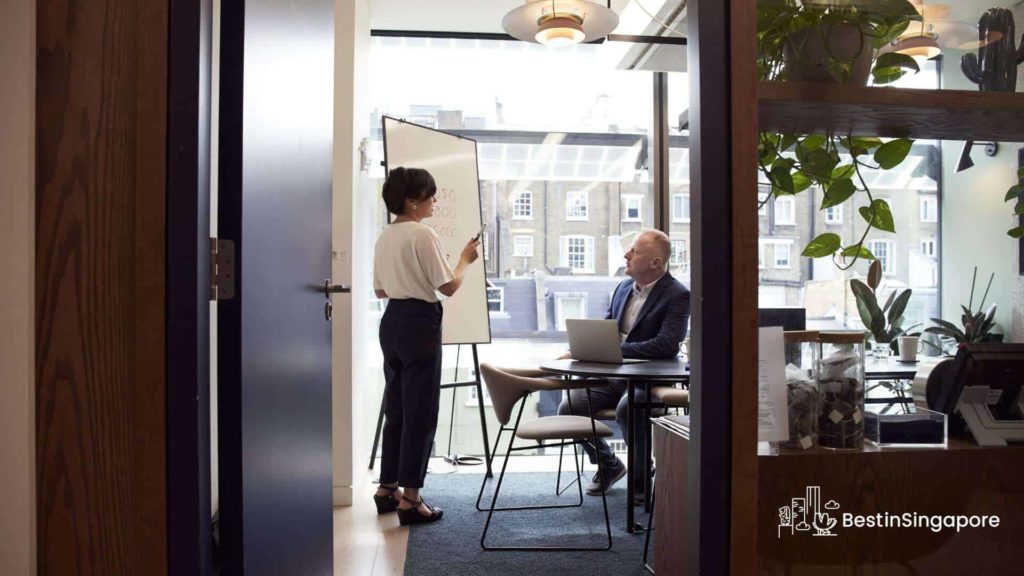 The first factor you need to think about is whether you have a strong case or not. You only have a strong case if the grounds for your rejection were incorrect or unjustified.
For example, ICA claimed you didn't submit a document even though you actually did.
If this is your scenario right now, then chances are you might win your appeal. However, if the reason for your rejection is that you really didn't submit the right documents and any other justified grounds, then writing an appeal letter will only be a waste of time.
How much time and effort are you willing to exert?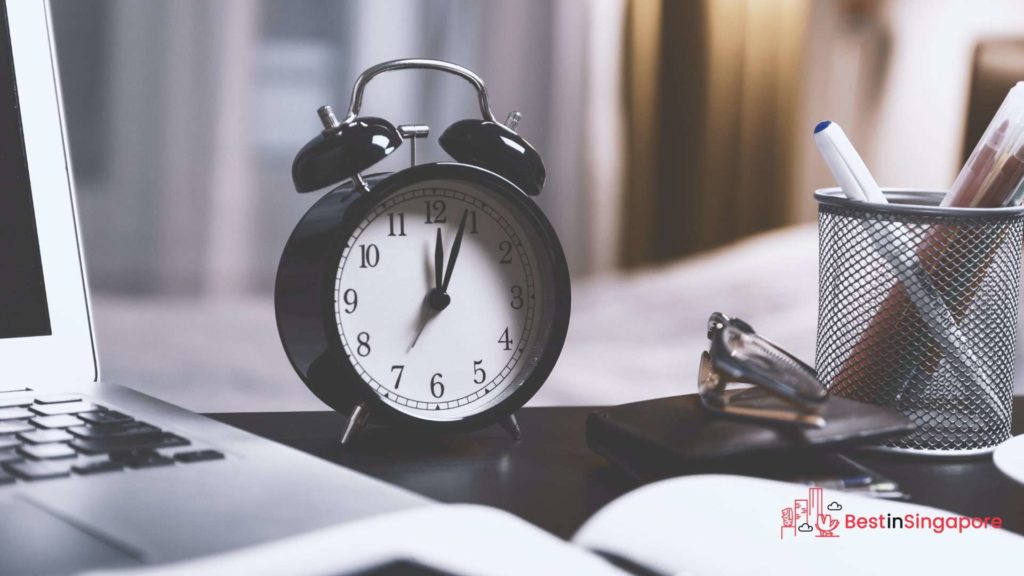 Of the two options, appealing is the method that takes up the most time and effort, and the chances of winning aren't great. But on the other hand, appealing will yield the best results in a short amount of time if ICA accepts your letter.
Because of this, you need to ask yourself the question: are you willing to put in the time and effort to write an appeal letter explaining why you deserve to be accepted and mailing that said letter within six months of being rejected by the ICA?
And, more importantly, ask yourself: are you willing to take the risk of getting your appeal rejected again despite putting in a lot of time and effort?
If your answer is yes, you're willing to put in the extra effort to make an appeal despite knowing the risks, then go ahead and write that appeal letter.
However, if you don't think it's not worth the stress, you're better off waiting six months after you initially get rejected and reapplying for Singapore PR. 
Are you willing to pay for extra costs?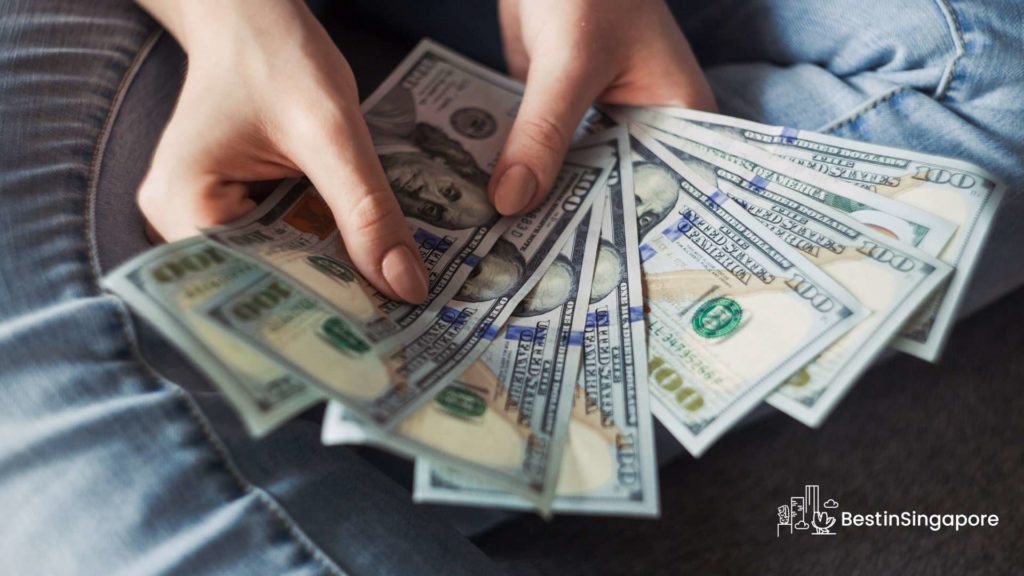 In addition to extra time and effort, appealing might require you to pay additional costs. So, you better make sure that you're making a compelling case so that all your sacrifice will pay off.
But if your appeal is weak, then you might want to skip this process altogether so that you can save your time, energy, and money.
What are things I should consider when appealing or reapplying for Singapore PR?
Whether you decide to appeal or reapply for Singapore PR, you need to have a game plan so that you won't run the risk of getting rejected again.
To ensure you'll have a successful appeal or reapplication, be sure to take the following things into consideration:
Figure out where you fell short.
Take note of any drastic and significant changes.
Provide more information or supporting documents.
Figure out where you fell short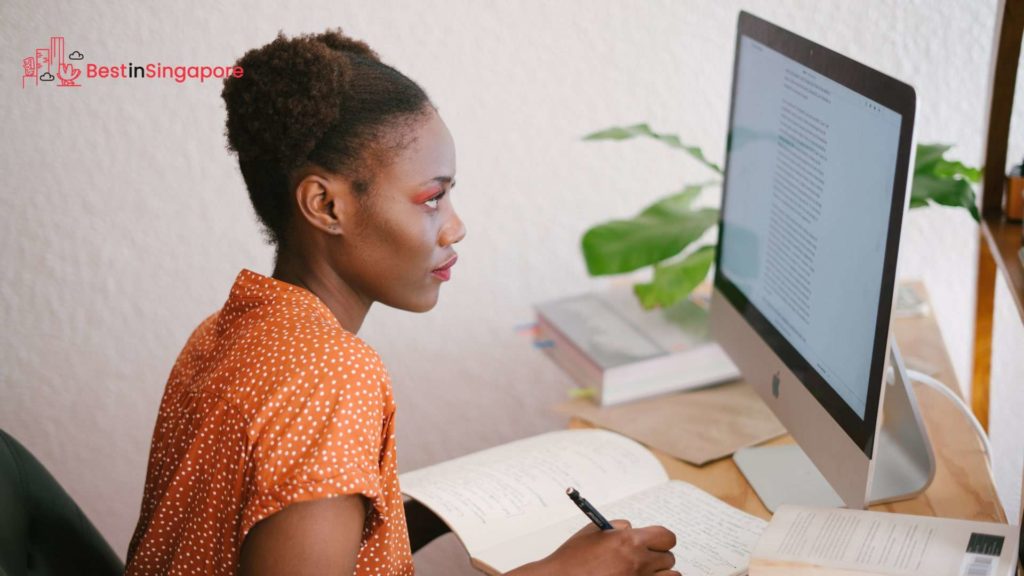 The moment you receive your rejection letter, you need to examine why you were rejected in the first place. While the ICA doesn't declare outright why they didn't accept your application, you do your own sleuthing to figure it out.
As mentioned earlier, there are generally five sets of criteria used to judge one's application, which are
Education and vocational certifications
Employment documents
Duration of stay
Societal contributions
Existing family ties
Check one by one if you have all these requirements. Chances are you missed a few essential and supporting documents, or you didn't provide enough proof of your contributions to Singaporean society.
If you have all these documents, check their quality.
Maybe they're blurry because they weren't printed or scanned properly. Their poor quality might have compelled the ICA staff to reject your application.
Whatever it is, figure out where you went wrong—and be sure to avoid making the same mistakes again next time. 
Take note of any drastic and significant changes
Have you just experienced a drastic yet significant change in your life recently? Perhaps you just graduated from university or got promoted to a higher position?
If the answer is yes, take note of these changes—and keep documents that prove their existence. When you have a positive update on your credentials, it will mean better odds for your appeal or reapplication to get accepted. 
Provide more information or support documents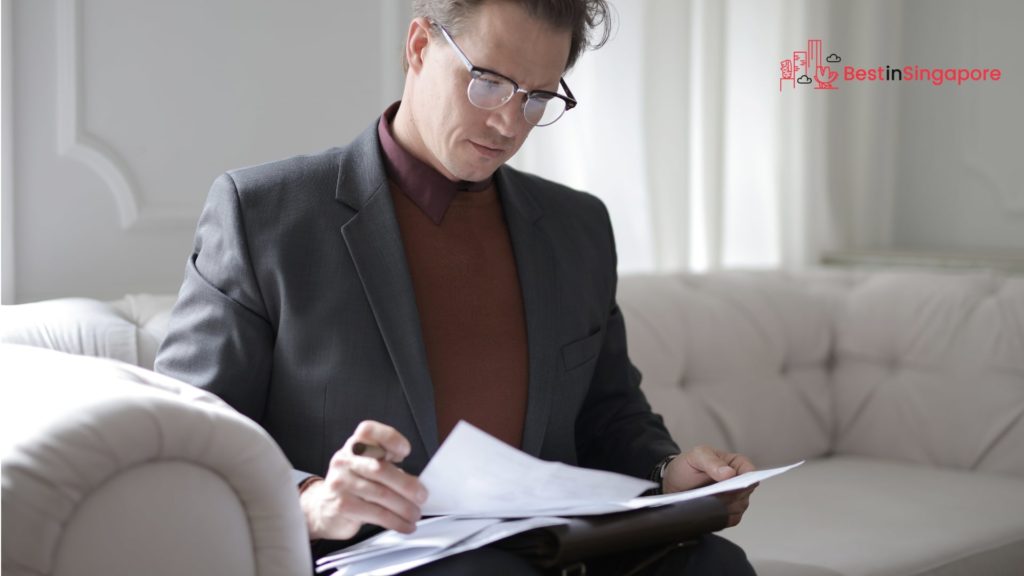 While it's true that there are mandatory documents you need to submit for your Singapore PR application, it's actually a good idea to include even more supporting documents.
These extra papers can be regarding your finances, familial background, and the like. So long as they can help make your application stand out and boost your chances of getting accepted, submitting them to ICA is a wise idea.
What are the benefits of being a Singapore citizen?
Singapore may be a tiny country, but its quality of living is high.
Some of the benefits of being a Singapore citizen are
The superb healthcare system
The excellent education system
The Singapore Passport
Central Provident Fund (CPF)
Leave benefits
Tax relief benefits
Employment benefits
Housing priority
SG's Superb Healthcare System
Singapore's healthcare system comes with several medical coverage and subsidies that are open to citizens only. As such, you don't have to worry much when you get sick or get into an accident.
SG's Excellent Education System
Singapore's education system is one of the best in the world, and your future children can benefit from subsidized school fees and tuition.
The Singapore Passport
The Singapore Passport is one of the world's most powerful passports. So when you hold it, you'll be able to enjoy visa-free travel to more than 190 countries.
The Central Provident Fund (CPF)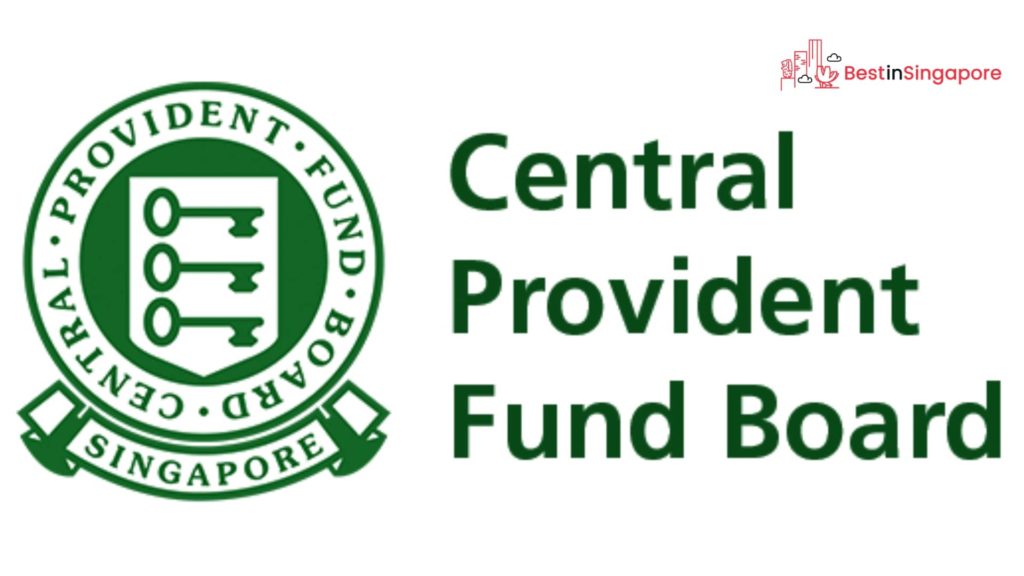 As a Singapore permanent resident, you'll also be able to contribute to the Central Provident Fund (CPF), a government-run social security institution. Eventually, you can use your contributions for retirement, investments, housing, and more.
Leave Benefits
Singapore citizens are entitled to several leave benefits, such as maternity leave, enhanced childcare leave, and new infant care leave.
Tax Relief Benefits
As a Singapore citizen, you'll be able to enjoy several tax reliefs, deductions, and rebates of all kinds. A few examples include
The Parenthood Tax Rebate
Personal Tax Rebate
Deductions on rental expenses
Tax savings for married couples and families
Employment Benefits
As a PR, you'll have more chances of landing your preferred jobs since most companies in Singapore prefer hiring citizens and permanent residents to foreigners.
Housing Priority
Land in Singapore is limited, and that's why the government always ensures to prioritize Singaporean citizens first when it comes to buying houses and other properties.
Are there any restrictions on what Singapore citizens can do in Singapore?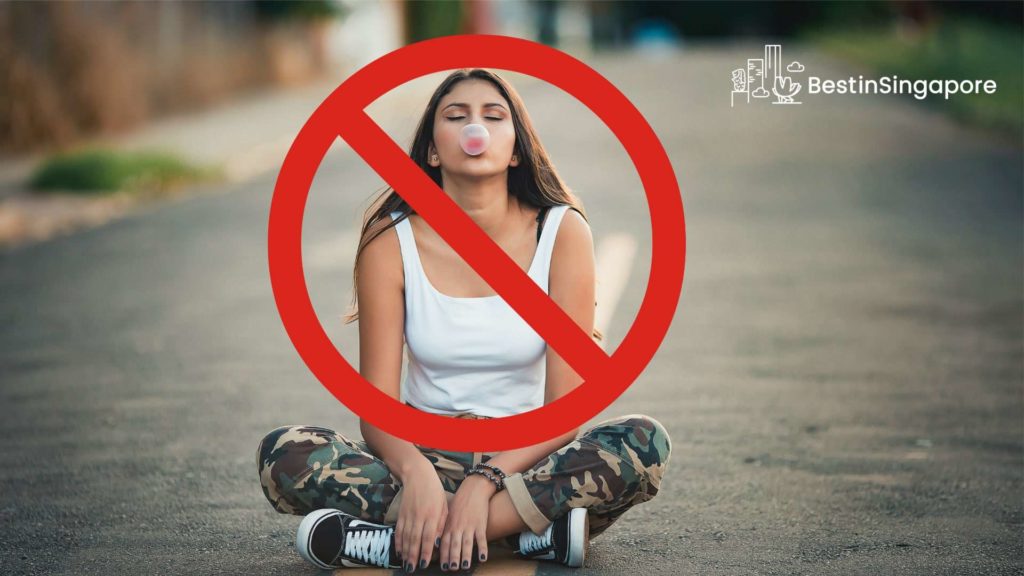 Just like any other country, Singapore has its own rules and restrictions for its citizens.
Here are some of the things that Singaporeans aren't allowed to do.
| Banned Activity | Fine/Punishment |
| --- | --- |
| Walking naked in your house | 2,000 SGD or up to 3 months in prison |
| Chewing gum | 100,000 SGD or up to 2 years in prison |
| Littering | 1,000 SGD |
| Jaywalking | 20 SGD on the spot, a fine of up to 1,000 SGD, or up to 3 months in prison |
| Graffiti | Caning |
| Playing a musical instrument or singing in public | Up to 3 months in prison |
| Doing drugs | 20,000 SGD, up to 10 years in prison, or death penalty |
| Drinking alcohol and partying sometime between 10:30 pm and 7 am | Up to 2,000 SGD |
| Feeding pigeons | 500 SGD |
| Distribution of obscene materials, including pictures, DVDs, and books | Up to 80,000 SGD or up to 2 years in prison |
FAQs about Living Permanently in Singapore