15 Fun and Free Activities in Singapore You Can Enjoy with Your Family
Singapore is a country full of wonders. With magnificent infrastructure, world-class healthcare, and a superb education system, it's no surprise that many people consider Singapore a great place to raise a family.
On top of all that, Singapore also boasts several family-friendly activities and attractions that you can enjoy whenever you want. Best of all, many of these attractions and activities come at no extra charge.
So if you're planning some quality bonding time with your loved ones, you should check this article out. Here, we've compiled for you some of the best fun and free activities in Singapore that you can enjoy with your family.
Pick what you like and have fun!
What are the best free family activities in Singapore?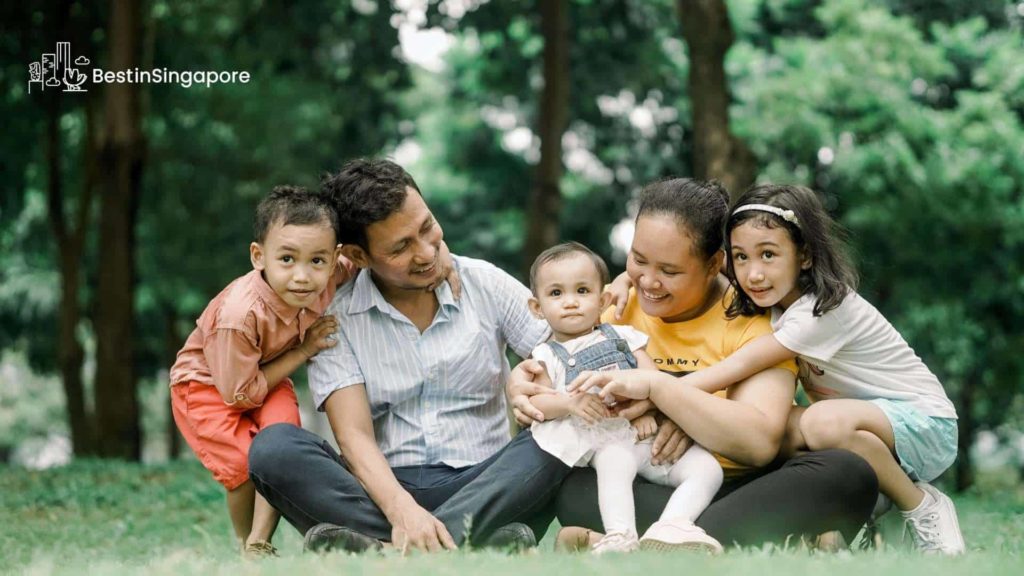 There are many amazing free family activities in Singapore, and they even come in various categories. Here are a few examples worth checking out:
If you want to explore nature

Go on a nature walk
Explore Singapore's gardens
Visit a few farms
Hit the beach
If you want a fun, easy time outdoors

Have fun on outdoor playgrounds
Splash around at free waterparks
Try your hand at kite-flying
If you want to have fun while learning

Revisit the era of the dinosaurs at Jurassic Mile
Appreciate history and culture by visiting museums and art galleries
Sightsee some of Singapore's cultural and religious sites
Embark on a heritage tour
If it's raining and you need to be indoors

Have a relaxing time at the library
Hit a mall
Enjoy live music at free concerts
Explore Changi Airport
If You Want to Explore Nature
Go on a hiking trip
If you're looking for fun things to do for free, exploring your natural surroundings is always a great place to start. And what better way to explore and enjoy nature with your loved ones than going on a hiking trip?
Hiking is an activity that appeals most to adventurers and nature lovers, but even if you or your family members don't consider yourselves avid hikers, you can still benefit so much from this activity.
For one thing, hiking lets you take a break from your busy life. You can forget about your worries for a second and simply take a moment to breathe the fresh air and immerse yourself in the beauty of nature.
For another, hiking is a form of exercise. It gets your heart pumping, making it a great cardio workout, and if you do it regularly enough, it can help reduce the risk of heart disease, high blood pressure, and even some cancers.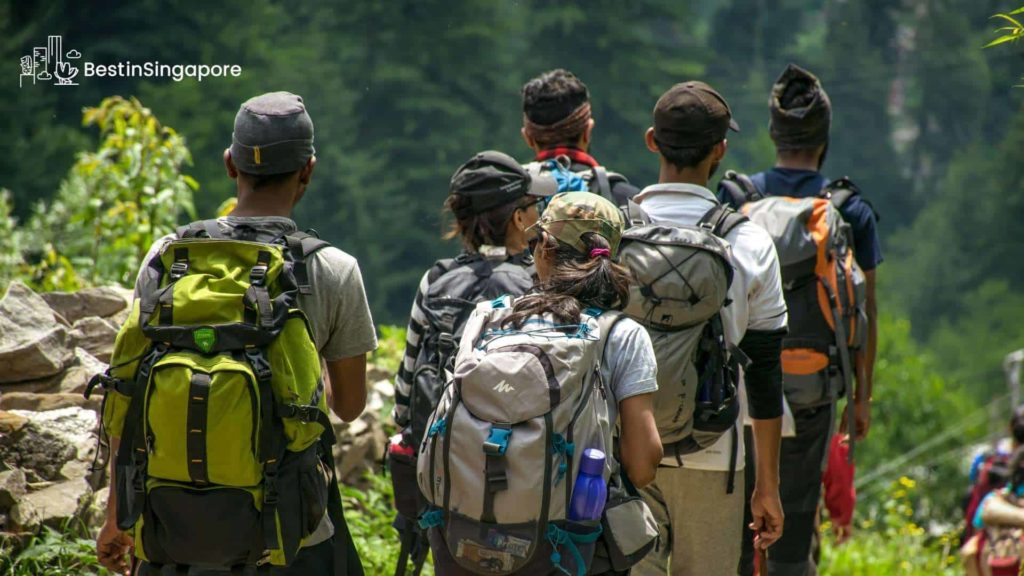 So if you're interested in hiking to bond with your children, you should check out the many parks and trails in Singapore. Take a look at this table if you're looking for suggestions on where to go:
| Park or Trail | Location | Description |
| --- | --- | --- |
| Rifle Range Nature Park | Rifle Range Road | Singapore's first net positive energy nature park, uses solar panels to harvest energy |
| Changi Bay Park Connector | Changi Ferry Road | Stretches across 3.6 km and connects Changi Beach Park to the East Coastal Park Connector Network |
| The Southern Ridges | Along the southern ridge of Singapore | Comprises of 10 km of green, open spaces made up of Mount Faber Park, Telok Blangah Hill Park, HortPark, Kent Ridge Park, and Labrador Nature Reserve |
| Bukit Timah Nature Reserve | Hindhede Drive | Bukit Timah Hill stands tall at 163.63 m, making it Singapore's highest natural peak |
| Clementi Forest | | An untouched forest best known for its lush greenery, thick foliage, and open valleys |
Explore Singapore's gardens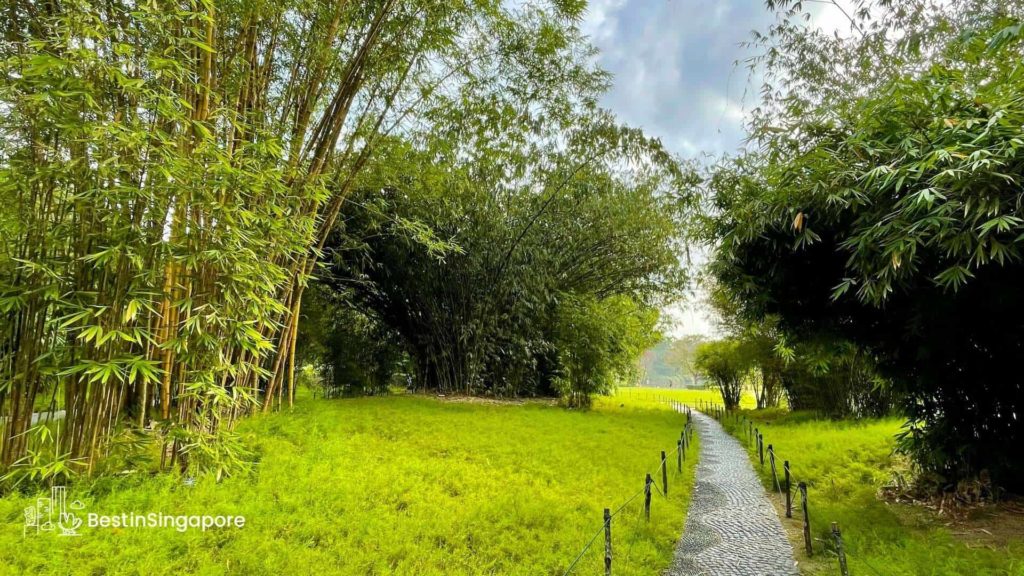 In addition to parks and trails, Singapore has an abundance of gorgeous public gardens. These gardens showcase the unparalleled beauty of nature just like parks do, but they also have other structures that children can play with.
There are so many things you and your family can do in these gardens. You can hike, and your children can around and play with the structures, but you can also just sit down on the green grass and have a relaxing picnic.
The possibilities for things to do are endless! Here are a few gardens that you might be interested in checking out:
Garden
Location
Features
Jurong Lake Gardens
Yuan Ching Road
• Singapore's largest man-made floating wetlands

• With a nature play garden, wet play venue, therapeutic garden, butterfly maze, and many more

Singapore Botanic Gardens
1 Cluny Road
• Now a UNESCO World Heritage Site

• Made up of several gardens and play gardens, such as Bonsai Garden and COMO Adventure Grove

• There are many museums and art galleries here as well

Jacob Ballas Children's Garden
1 Cluny Road
• The first garden in Asia dedicated to Children

• The perfect place for exploration, adventure, and play—with farms, orchards, and forests on the premises

Tampines Changkat Butterfly Garden
124 Tampines Street
• 50 butterflies of 7 different species
Gardens by the Bay
18 Marina Gardens Drive
• Supertree Grove

• Heritage Gardens

• Bay East Garden

• Sun Pavilion
Visit a few farms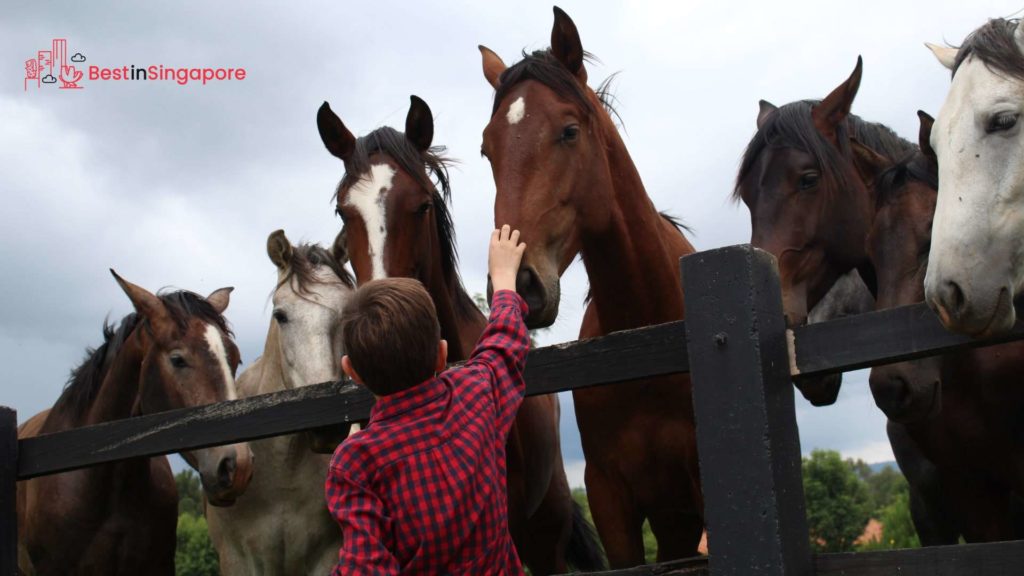 Is anyone in your family fond of animals? If yes, then you should definitely consider going on a farm excursion with your loved ones.
Farms are abundant here in Singapore. In fact, there are over 100 farms in this country, ranging from dairy farms to animal farms.
To make things better, some of these farms have free admission.
Here's a list of farms that might pique your interest:
Farm
Location
Opening Hours
Description
Hay Diairies Goat Farm
3 Lim Chu Kang Lane 4
9 am to 4 pm (closed on Tuesdays)
• The only goat farm in Singapore

• Visitors can view goat milking sessions

Jurong Frog Farm
56 Lim Chu Kang Lane 6
Weekends, 9 am to 5:30 pm
• Free self-guided tour around the farm (you can also choose a guided tour for a fee)

• If interested, you can try different types of frog meat

Qian Hu Fish Farm
71 Jalan Lekar
9 am to 6 pm (weekdays), 9 am to 7 pm (weekends)
• Home to over 1,000 species and varieties of ornamental fish
Viknesh Dairy Farm
6 Lim Chu Kang Lane 8A
10 am to 4 pm
• Sells direct farm-fresh milk without preservatives

• You can also purchase grass to feed the cows
Hit the beach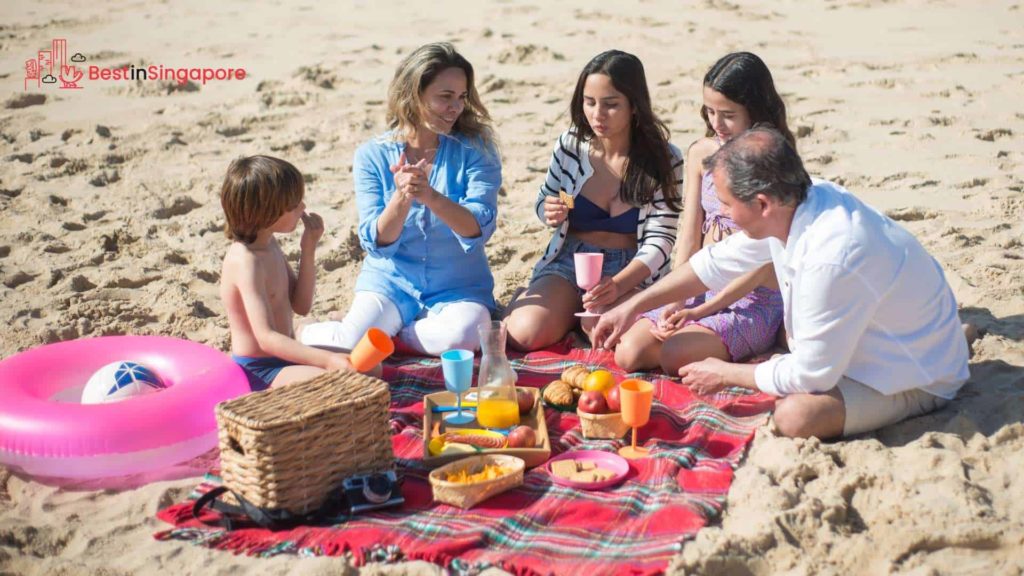 What if you or your children aren't in the mood to go hiking or feed some farm animals? If that's the case, consider hitting the beach instead, and spend your hours lounging on the sandy shores or swimming in the turquoise waters of the sea.
Sentosa is the area in Singapore widely known for its white-sand beaches, but you can also find gorgeous beaches on the east coast. Here are a few examples of worthwhile beaches if you're looking for suggestions:
Beach
Description
Palawan Beach
• Also known as Sentosa Beach

• With several fun amenities, such as a rope bridge, a pirate-themed waterpark, and many more

Siloso Beach
• Perfect for beach sports, horse riding, and other fun activities on the water
Tanjong Beach
• The ultimate party destination
Changi Beach
• With several amenities included, such as barbeque pits, playgrounds, and cycling trails
Punggol Beach
• Known for its beauty and peaceful nature

• Perfect if you want to watch the sunrise and sunset
So what are you waiting for? Pack all your essential beach gear and head to one (or two! Or three!) of the beaches mentioned above.
If You Want a Fun, Easy Time Outdoors
Have fun on outdoor playgrounds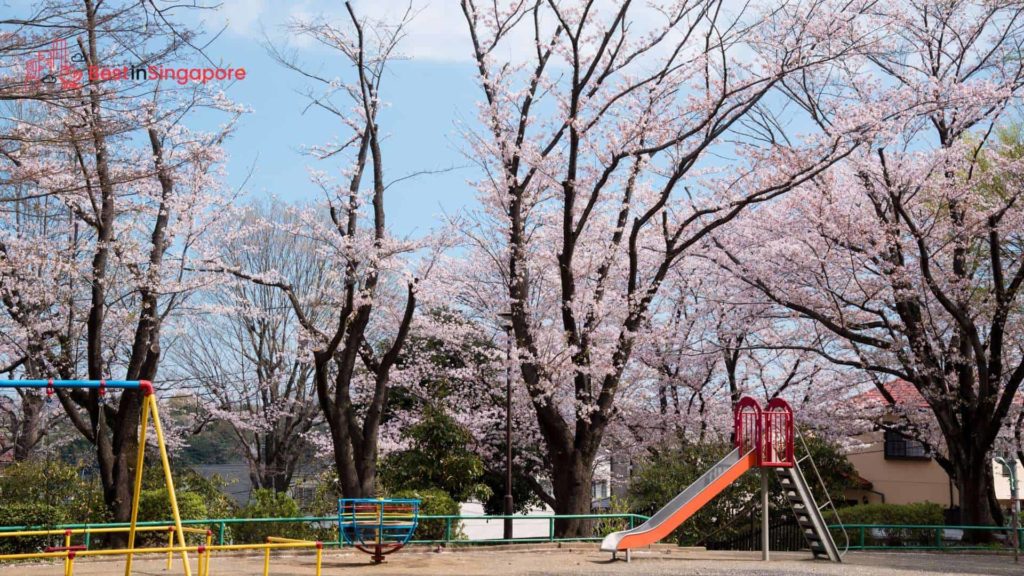 One fun trivia about Singapore that most people probably don't know is that this country actually has the most playgrounds per land area in the entire world.
So if you're living in a family-friendly neighborhood, you're most likely going to find a playground on every corner. As if that's not good enough, many of these playgrounds offer unique features, so your children won't run out of exciting things to do.
So if you don't have time to plan an elaborate family outing, why not just go to a playground and let your little ones run free? You can simply relax on a bench nearby, but if you're feeling inspired, you can definitely join your children in the fun.
Here are some of the coolest playgrounds that you can find in Singapore:
| Playground | Location | Description |
| --- | --- | --- |
| Stilted Houses Playground at Yishun Neighborhood N8 Park | 807 Yishun Ring Road | Colorful "houses" on stilts that children can climb on to navigate |
| Battleship Playground at Sembawang Park | Sembawang Road | Maritime-themed playground |
| Train Playground at Tiong Bahru Park | 1 Henderson Road | With quirky design elements, such as sand play and a flying fox |
| Transport-Themed Playground at Great World | 1 Kim Seng Promenade | Play elements include a hot-air balloon, a train, and a ship |
| Admiralty Park | 6A Admiralty Road | 27 hectares in size, with the widest and longest slide in Singapore, wheelchair-accessible play equipment is also available |
Splash around at free waterparks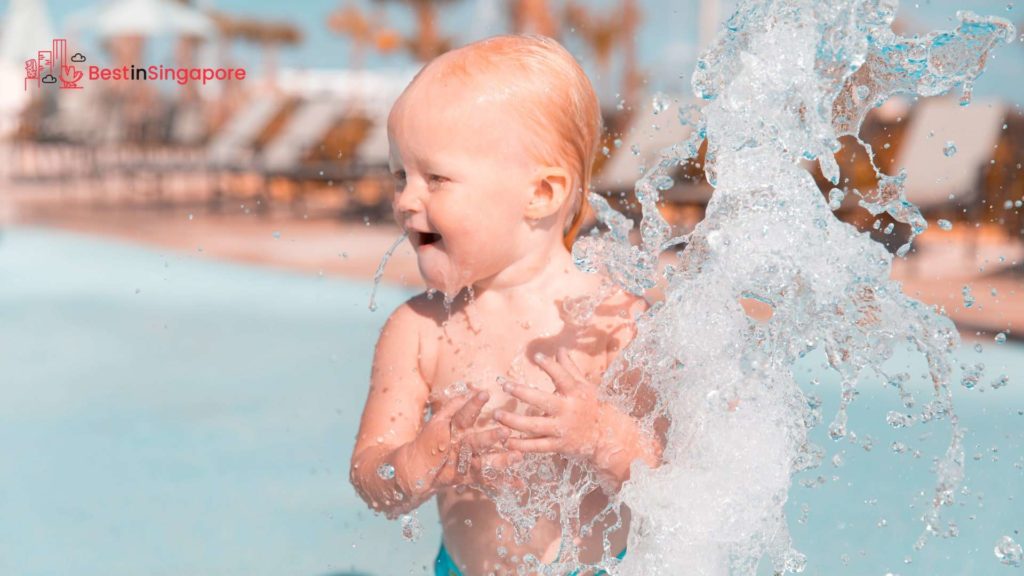 When you hear "waterpark," the first thing you'll think of is probably a luxurious resort with elaborate waterslides and lazy rivers. But did you know that there are actually free waterparks in Singapore?
It's understandable why free waterparks exist in Singapore.
This country is located near the equator, so most of its days are sunny, humid, and hot. Because of this, citizens need a way to cool down.
Interested in splashing around with your little ones? Here are a few waterparks worth checking out:
| Waterpark | Location | Features |
| --- | --- | --- |
| Oasis Waterpark | Between Block 307, 325, and 326 Yishun Ring Road | Slides, water fountains, and more |
| Jelutong Harbour Park | Admiralty Link | Water play and dry play sections |
| Far East Organization Children's Garden at Gardens by the Bay | 18 Marina Gardens Drive | Spacious water play area, with sections for sand play and toddlers |
| Splash 'N' Surf at Singapore Sports Hub | Kallang | Water playground (free), lazy river and waterboarding facilities (fees apply) |
Try your hand at kite-flying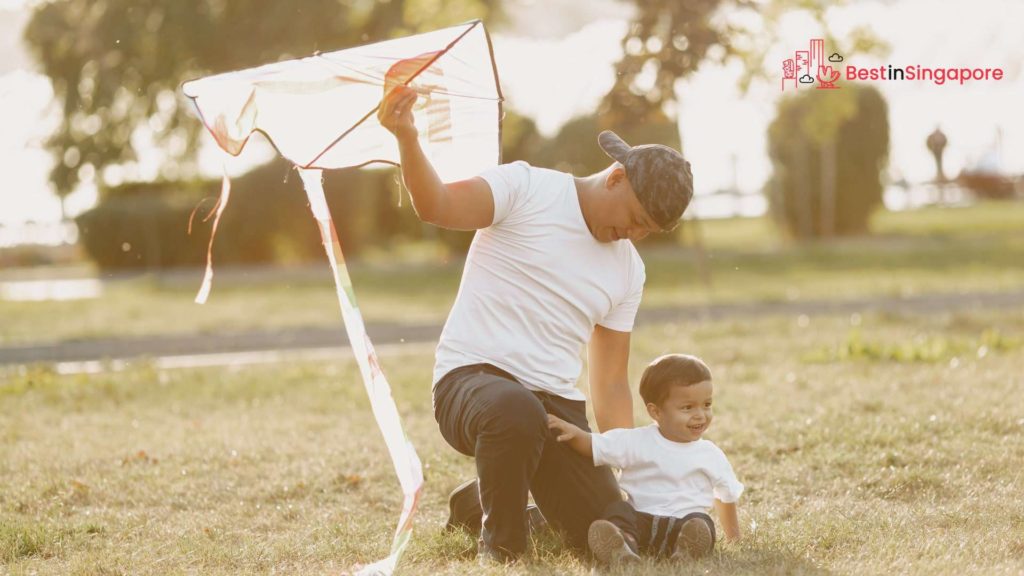 Is it windy today? If so, then you definitely don't want to miss trying to fly a kite.
At first, you might hesitate because you think you have to purchase pre-made kites for yourself and your children. But this is actually not necessary.
Sure, you can buy kites if you want, but you can also make them at home if you want to save money. The only materials you would need are two sticks for the frame, a plastic bag for the sail, and a string.
Once you're done with your handmade kites, find a windy spot and let them fly. To make things even more fun, you and your loved ones can have a competition on whose kite will fly the highest and the longest up in the air.
Another thing you can do to make your kite-flying activity memorable is to head to the nearby park or playground. That way, you can fly your kites while enjoying the beautiful scenery around you.
If You Want to Have Fun While Learning
Revisit the era of the dinosaurs at Jurassic Mile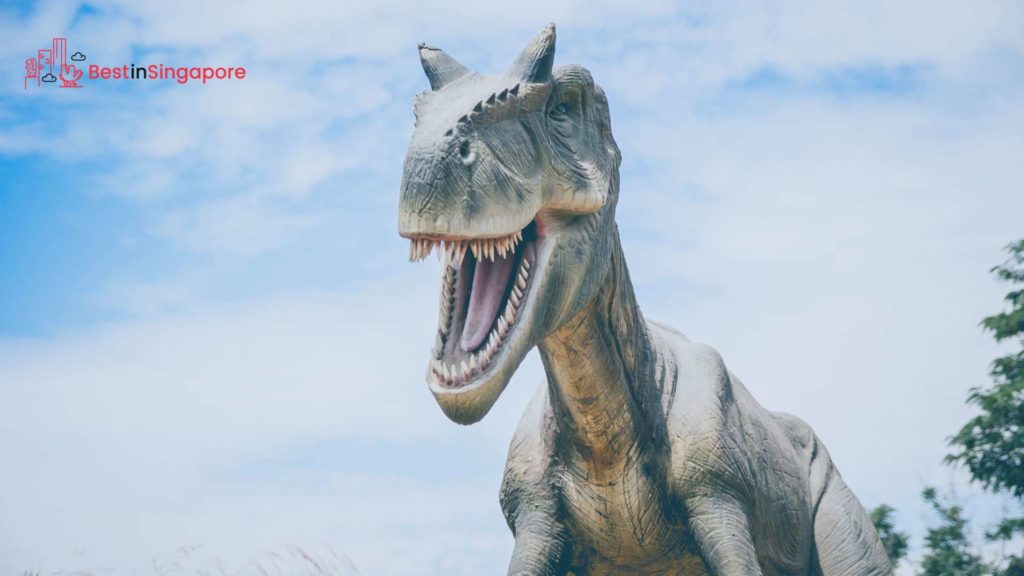 Dinosaurs are all the rage for many young children, and if your little ones are obsessed with them too, then having a family outing at Jurassic Mile sounds like a perfect time.
The Jurassic Mile is located in the newly opened Changi Airport Connector, and it's a 1-km stretch of land that's filled with statues of over 20 life-size prehistoric creatures from 9 different species.
So bring your little paleontologists-to-be to this attraction and let them appreciate the ferocity and awesomeness of dinosaurs.
Appreciate history and culture by visiting museums and art galleries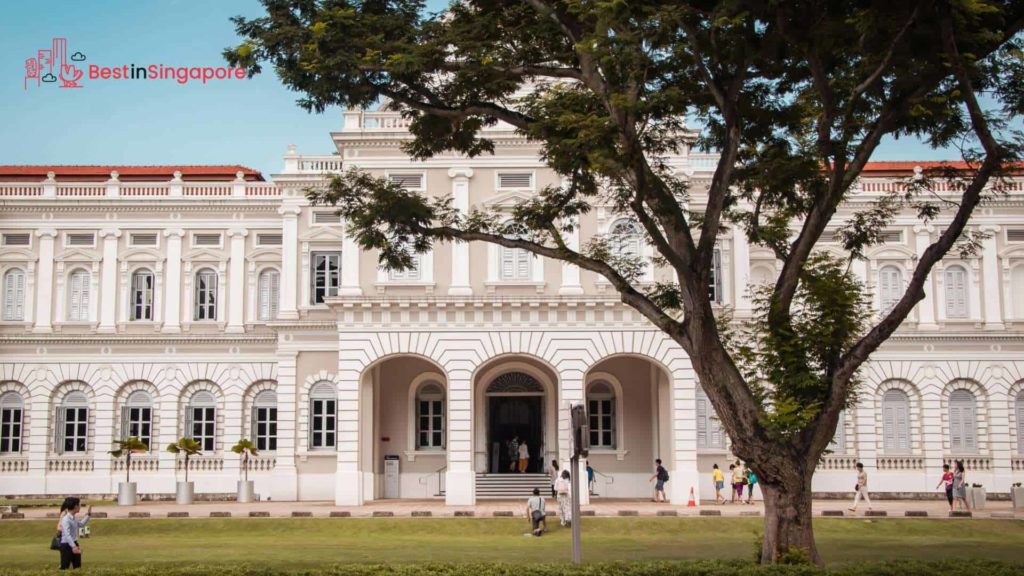 Singapore has a rich history and a multitude of cultures, so it only makes sense to appreciate the country's history and culture. One way you can do this is by visiting a few fantastic museums and art galleries.
Fortunately for you, there are many free museums and art galleries in Singapore. Some of the ones worth checking out are the following:
| Museum or Art Gallery | Location | Description |
| --- | --- | --- |
| Reflections at Bukit Chandu | 31 K Pepys Road | Features the story behind one of the fiercest battles in Singapore |
| National Gallery Singapore | 1 St. Andrews Road | Features the largest public collections of modern Singaporean and Southeast Asian art |
| National Museum of Singapore | 93 Stamford Road | Singapore's oldest museum, presents the country's history and development over the years |
| Asian Civilizations Museum | 1 Empress Place | Explores the rich artistic heritage of Asia, also shows the roots of ancestral cultures of Singaporeans |
| Republic of Singapore Air Force Museum | 400 Airport Road | Shows what it's like to be a pilot through interactive media and displays of original artifacts |
Embark on a heritage tour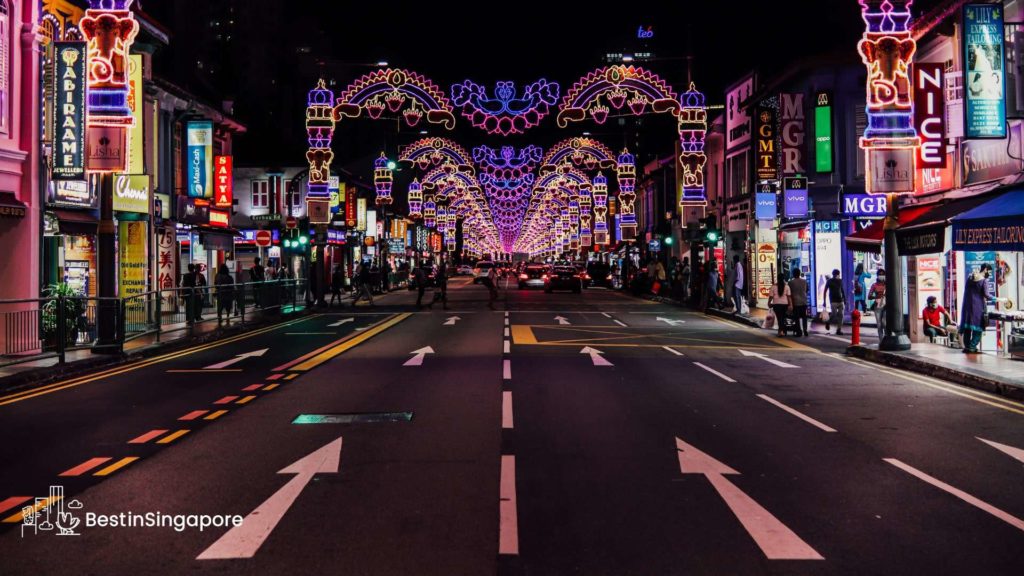 On a similar vein as the previous topic, another way you can immerse yourself in Singapore's history and culture is by going on a free walking heritage tour.
There are many heritage trails that you can take in this country, and they always come with a tour guide who will give you a crash course about the landmarks you've visited.
The most popular heritage tours are the ones that explore cultural neighborhoods, such as Chinatown, Little India, and Kampong Glam. But you can also book a tour that explores the city center and Marina Bay.
The choice of which place to explore is up to you, and if you really can't decide, you can always book other tours next time.
Sightsee some of Singapore's cultural and religious sites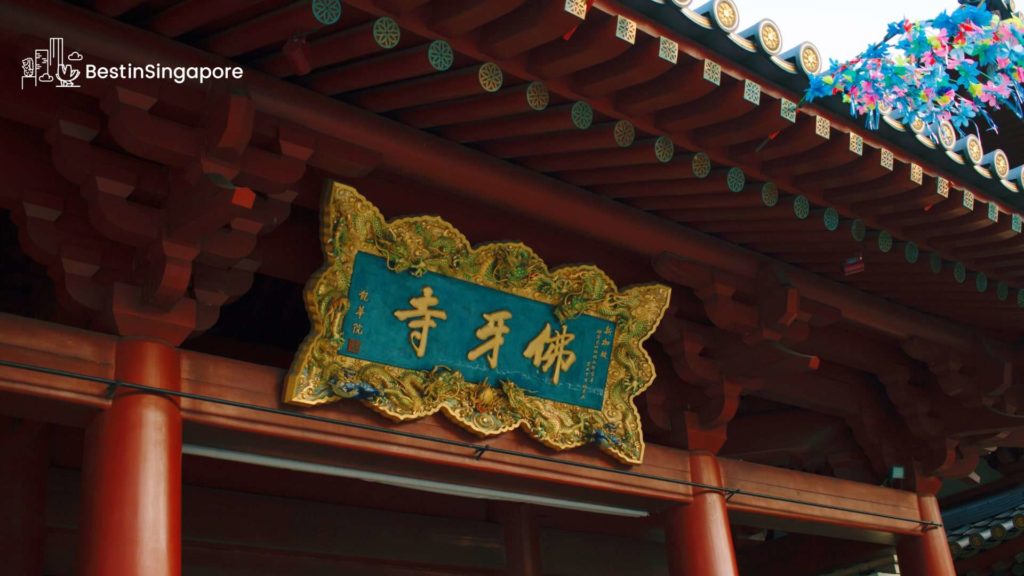 What if you just want to plan a heritage tour of your own, without relying on someone else's itinerary? Well, you absolutely can do this as well, and you would need to compile a list of cultural and religious sites you want to visit.
These sites could be the museums mentioned above, but you can also stop by temples and monasteries. A few examples you can check out include
| Cultural or Religious Site | Location |
| --- | --- |
| Buddha Tooth Relic Temple and Museum | 288 South Bridge Road |
| Sultan Mosque | 3 Muscat Street Masjid Sultan |
| Sri Veeramakaliamman Temple | 141 Serangoon Road |
| Kong Meng San Phor Kark See Monastery | 88 Bright Hill Road |
| Sri Mariamman Temple | 244 South Bridge Road |
If It's Raining and You Need to Be Indoors
Have a relaxing time at the library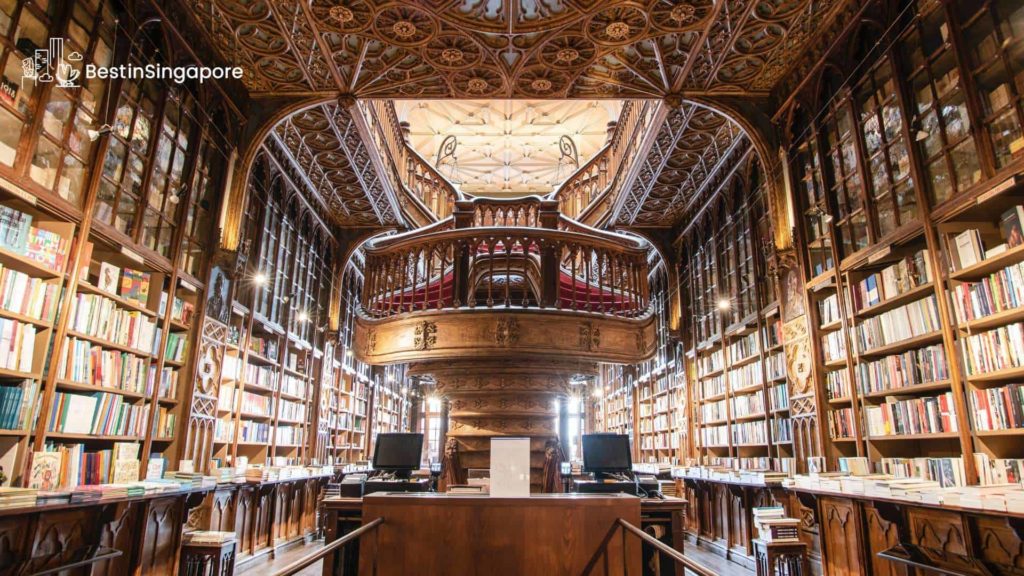 What better way to spend a cozy rainy day than getting lost in a book? And if you don't have books in your home, there's no need to worry because there are many public libraries in Singapore that you can visit.
Going to a library as a family will truly delight your bookworm child, but even non-bookworms in your family can enjoy staying at a library.
There are comfortable seats for you to lounge on, and some even have auditoriums where you can watch public screenings of TV shows. If you prefer watching movies or shows to reading, feel free to use the library's Wi-Fi access to stream on your phone.
If you're looking for suggestions on which libraries to visit, take a look at this table:
Library
Location
Features
Yishun Public Library
930 Yishun Avenue, #04-01 North Wing Northpoint City
• Home to over 125,000 titles

• The Virtual Library (where you can read and learn digitally) and The Quiet Reading Lounge (cozy nooks where you can read)

Woodlands Regional Library
900 South Woodlands Drive, #01-03 Civic Center
• The largest regional library

• Nature-themed and has a special focus on children

• Boasts an impressive collection of children's literature all over Asia

• A 250-seat auditorium in the basement, a performance stage, and a 20-seat AV for public screening of TV shows

Marine Parade Library
278 Marine Parade Road
• With a mezzanine level

• Programme Zone, which hosts exciting events such as storytelling sessions for families

Library @ Harbourfront
1 Harbourfront Walk
• Over 200,000 volumes of books

• A reading lounge that boasts gorgeous waterfront views

National Library
100 Victoria Street
• The flagship national library and the country's largest
Hit a mall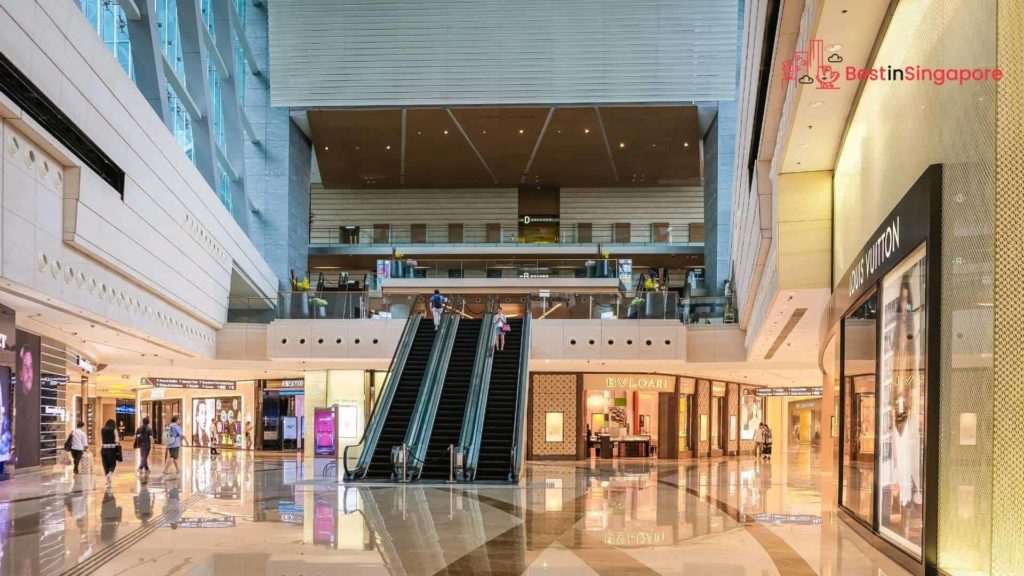 Malls are more than shops and restaurants. You can also find many fun and free places inside that will entertain both you and your children.
In particular, you can enjoy art displays, playgrounds, and outdoor spaces where you can relax and take in the view.
Some of the malls that you might want to visit in Singapore are the following:
| Mall | Location |
| --- | --- |
| Clarke Quay | 3 River Valley Road |
| Vivo City | 1 Harbourfront Walk |
| The Shoppes at Marina Bay Sands | 10 Bayfront Avenue |
| Mustafa Center | 145 Syed Alwi Road |
| ION Orchard | 2 Orchard Turn |
Enjoy live music at free concerts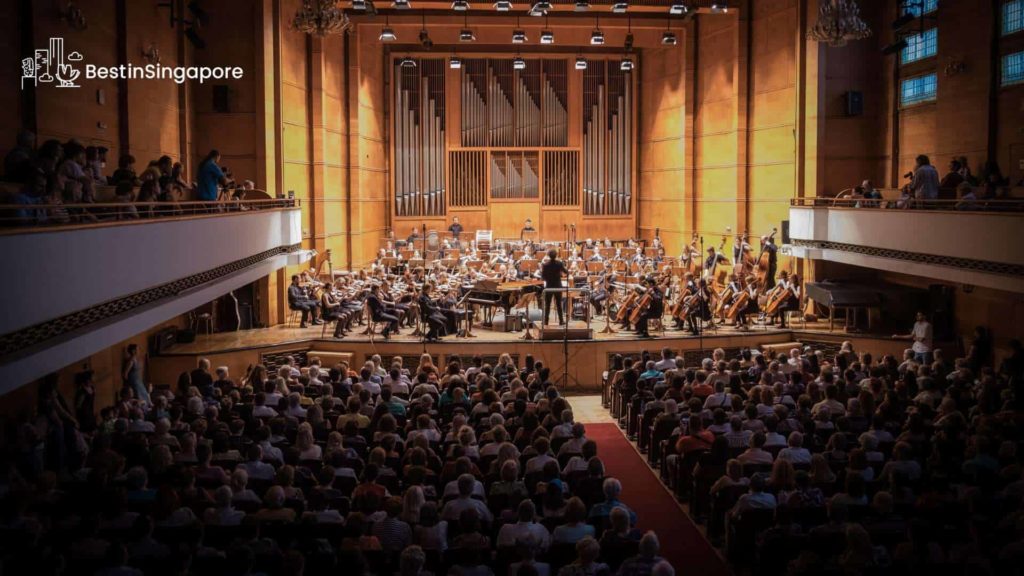 Live concerts are some of the most exciting events to attend, but more often than not, they come at a hefty price. Luckily, in Singapore, you can find free concerts that you and your family will undoubtedly love.
For example, the Singapore Symphony Orchestra hosts free concerts at several locations, such as Gardens by the Bay and Singapore Botanic Gardens. So if you ever happen to be in these places, you can lay out a picnic blanket and enjoy the show.
Another location where you can find free live concerts is The Esplanade. Local and international artists frequent this venue to perform for free, so be sure to check out its events list and catch a show with your loved ones.
Explore Changi Airport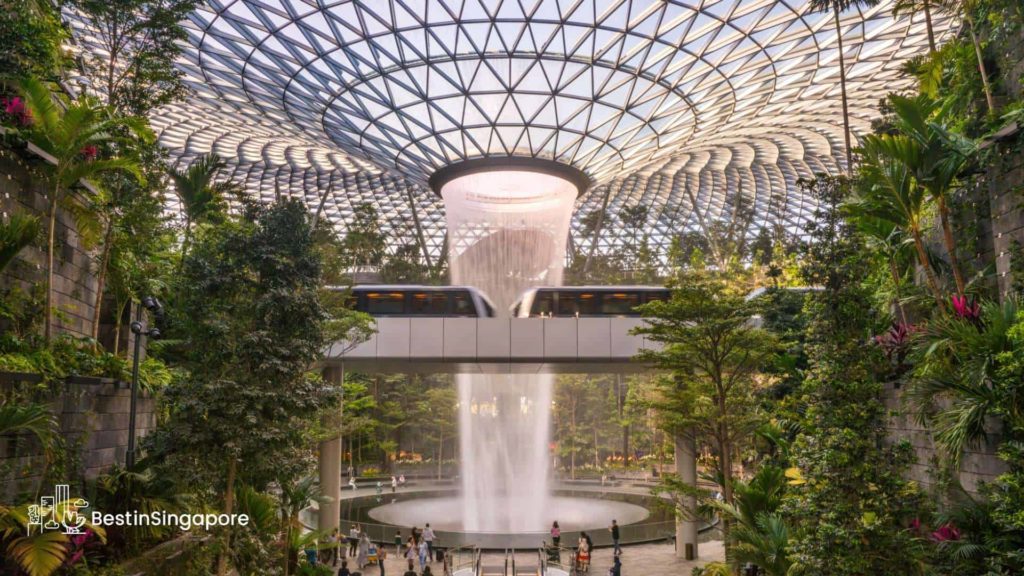 Changi Airport has been regarded as one of the best airports in the entire world—and for a good reason.
This airport is more than just a place where people go to travel abroad. It also boasts several attractions that you can enjoy at no extra cost.
Some of the attractions you can find within Changi Airpor are the following:
| Attraction | Description |
| --- | --- |
| Entertainment Center | Offers a fun selection of games via arcade machines and Xbox Kinect |
| Discovery Slides | An interactive sculpture that lets you enjoy it however you want |
| Hedge Maze | Get lost in the maze and find your way out |
| Butterfly Garden | See more than 1,000 tropical butterflies from 40 species. There are also educational corners where you can see the breeding and feeding of butterflies at close range. |
| Discovery Garden | Featuring tree-like sculptures in diverse foliage |
These are only five attractions out of the 46 currently available in Changi Airport. So take a trip with your family to this airport, and you might find that you don't want to leave this place ever again.
FAQs about Free Family Activities in Singapore