Discover Sentosa Singapore: 24 Attractions You Must Visit!
Of all the neighborhoods in Singapore, Sentosa is arguably the most popular. This area is known for its luxurious lifestyle; properties here are extravagant and expensive, which is why only the wealthy can purchase a house here.
But aside from being a great place to live, Sentosa is a local treasure. It boasts world-class attractions, trendy fine-dining restaurants, and white-sand beaches, so it's not surprising that practically all tourists have this island on their itineraries.
I've been to Sentosa several times ever since I moved to Singapore and became a permanent resident—and I've yet to get bored. If you're planning a visit soon, here's a handy-dandy guide to all the attractions in Sentosa that you shouldn't miss out on.
A Brief History of Sentosa in Singapore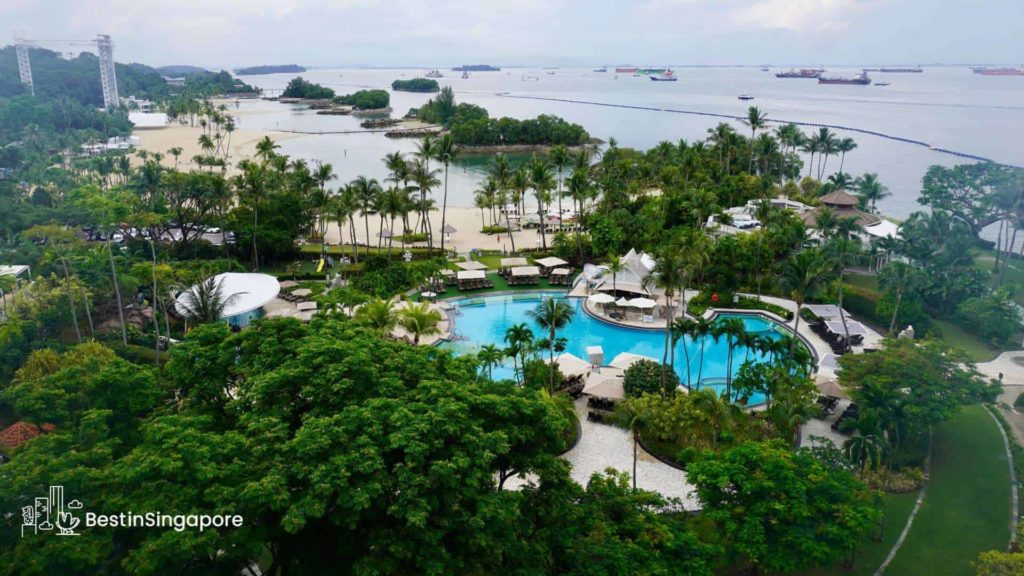 Formerly known as Pulau Blakang Mati, Sentosa is an island off the southern coast of Singapore that's separated from the mainland by a channel of water called Keppel Harbor.
Even though "Sentosa" is the Malay term for "peace and tranquility," the island actually features a brutal past. Firstly, it was notorious for savage pirates, then it became a military base and a prisoner-of-war camp during World War II.
It was only in the 1970s that the government started developing the island into a holiday getaway for local visitors and foreigners. Sure enough, resorts and other attractions were built on Sentosa, and to this day, it's still a popular tourist destination.
How do I get to Sentosa, Singapore?
There are different ways to get to Sentosa, Singapore: you can either drive, ride a GrabCar, bus, cable car, Sentosa Express, or walk. Of all these options, only walking and riding a bicycle are free of charge.
Here are the different rates, which depend on your transportation method of choice.
Driving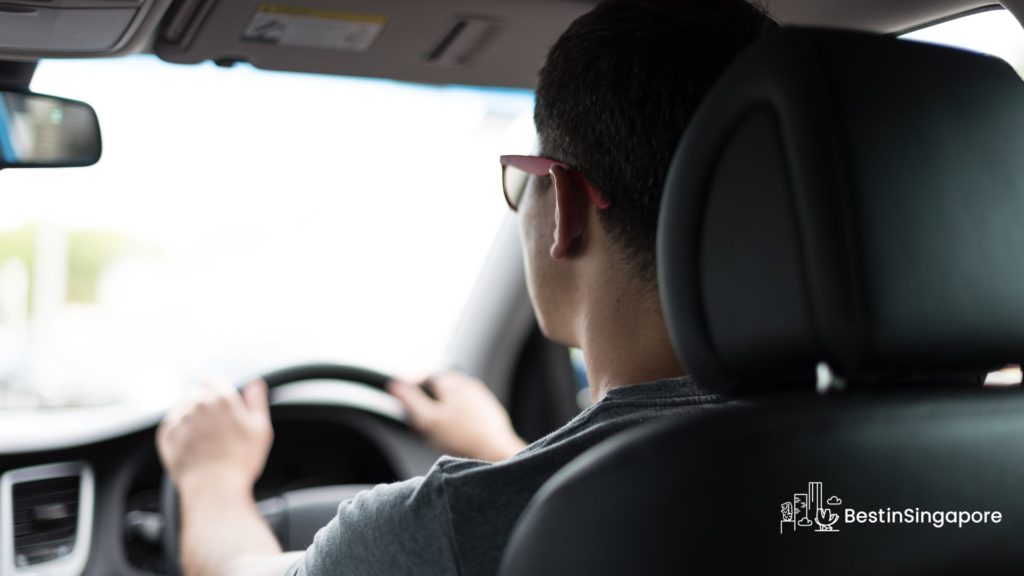 If you're planning to drive to Sentosa, you have to pass through the Sentosa Gateway. The entry fee will be deducted from your CashCard if you have one, but if you don't, you can pay cash to the counters at the gantry. 
| Time | Entry Fee for Cars and Taxis (in SGD) |
| --- | --- |
| 7 am to 12 pm | 6 |
| 12 to 2 pm | 2 |
| 2 to 5 pm | 6 |
| 5 pm to 7 am | 2 |
As for where to park, there are several parking lots on the island. Specifically, you can find one at Beach Station, Imbiah, Tanjong Beach, Palawan Beach, and Sentosa Cove Village Parks.
The parking charge starts at S$1.20 per hour if you park sometime between 7 am and 5 pm, but if you park beyond 5 pm, it will be S$2.40 per entry.
Riding a GrabCar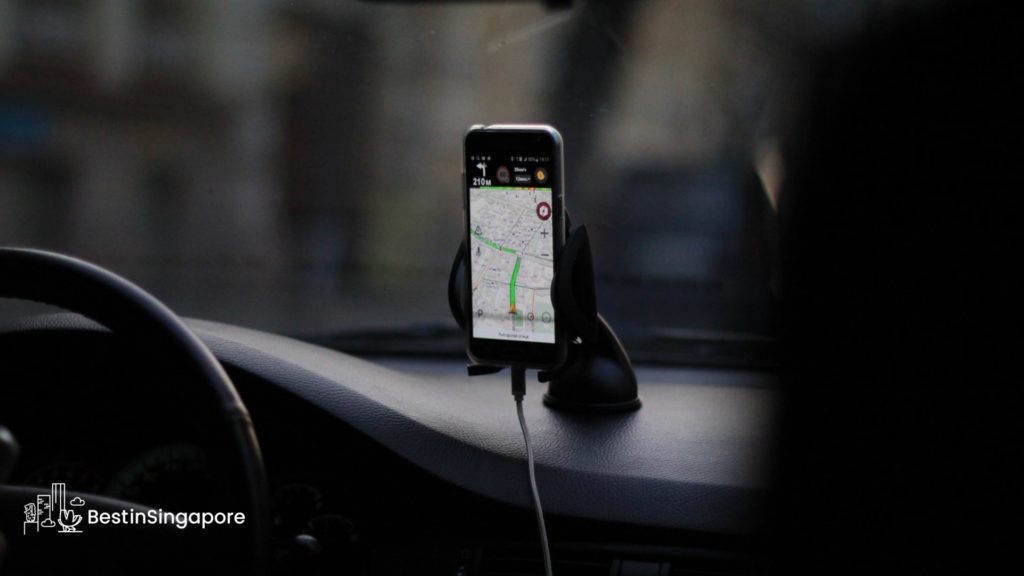 Riding a GrabCar to Sentosa is just like driving your own car. You go through the Sentosa Gateway and pay the entry fee that corresponds with the time of your arrival.
The following are the Grab pick-up and drop-off points on Sentosa Island:
Imbiah Lookout
Siloso Point
Palawan Beach
Tanjong Beach
Beach Station (car park basement level near Lift B)
Roundabout outside Beach Car Park
SDC Office
Sentosa Golf Club
Quayside Isle
Sentosa Cove Village
Village Hotel at Sentosa
Riding a Bus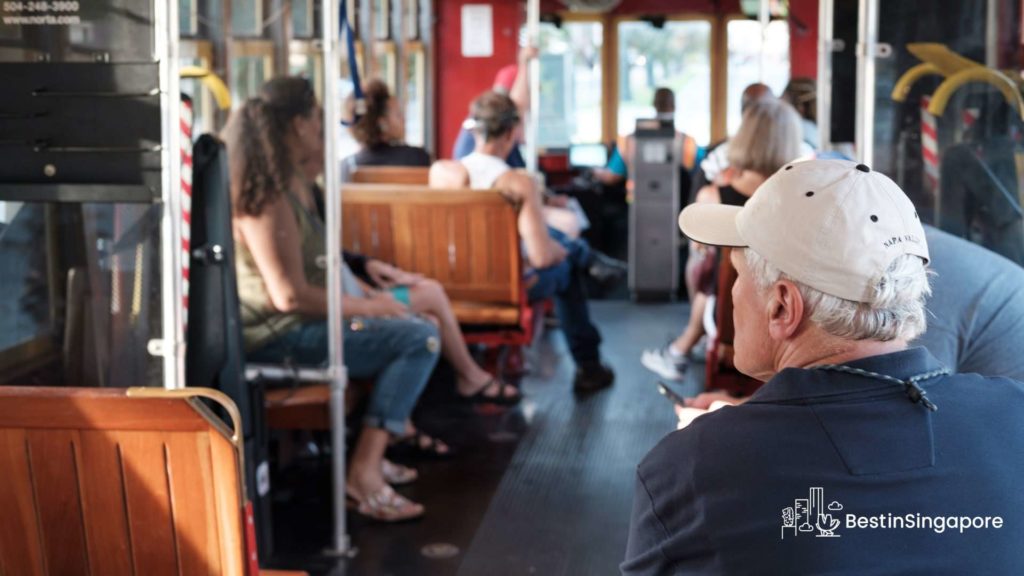 You have several options if you'd like to travel to Sentosa via bus. Refer to the table below for more information:
Bus Number
Start Point
End Point
Fee
123
Multiple points within Singapore's central region
• Resorts World Sentosa

• Merlion Plaza

• Opposite Merlion Plaza

• Beach Station

Depends on the distance
65, 80, 93, 188, 855, 10, 30, 97, 100, 131, 143, 145, 166
Multiple points within mainland Singapore
• Vivocity (Bus Stop 14141)

• Merrill Lynch

• Harbourfront (Bus Stop 14121)

S$1
Taking a Cable Car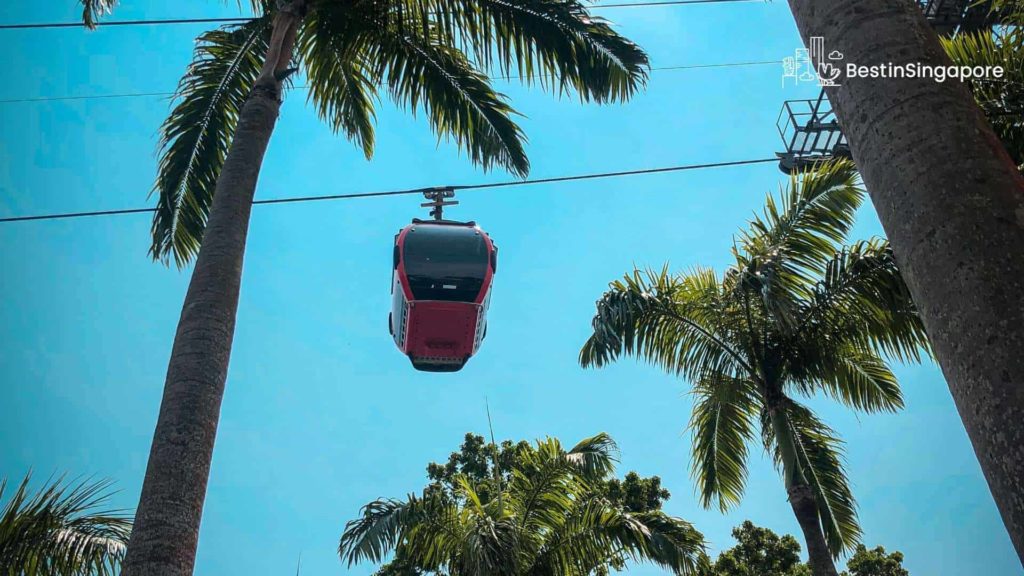 Do you want to commute while enjoying a bird's eye view of Singapore? Then I suggest taking a cable car to Sentosa!
The only way to ride a cable car to Sentosa is by going to the Singapore Cable Car station at Harbourfront Tower II. To get here, you only have to ride the MRT and stop at the Harbourfront station and exit to Harbourfront Center.
Then, simply follow the directional signs that will lead you to the cable car station. Here are the prices for the cable car tickets:
| Ride Options | Price | When to Board |
| --- | --- | --- |
| Mount Faber Line + Sentosa Line | S$35 (adult), S$25 (child) | Daily: 8:45 am to 8:30 pm (last boarding at 8 pm) |
| Mount Faber Line | S$33 (adult), S$22 (child) | |
| Sentosa Line | S$15 (adult), S$10 (child) | |
Riding the Sentosa Express
Another way to get into Sentosa is by riding the Sentosa Express. To get to the station, you have to take the MRT and alight at the Harbourfront station, then head to VivoCity Lobby L, Level 3.
The standard entry fee is S$4, but selected TransitLink concession card holders (specifically, senior citizens, persons with disabilities, and workfare transport workers, college, and ITE students) will only have to pay S$2.
Meanwhile, if you have a child who holds a concession card or who is below one meter tall, they are free of charge.
Cycling or Walking to Sentosa
What if you want to come to Sentosa without having to pay a fee? Luckily, you have two options: you can either walk to Sentosa or ride a bicycle.
You can do so along the Sentosa Boardwalk, which is near the VivoCity waterfront promenade. The best thing about walking or cycling to Sentosa isn't just the free admission; you'll also get to enjoy the view and the fresh air.
Personally, I like walking or strolling on the boardwalk during the late afternoon because then, I get to catch the sunset on the horizon.
What are the best attractions in Sentosa, Singapore?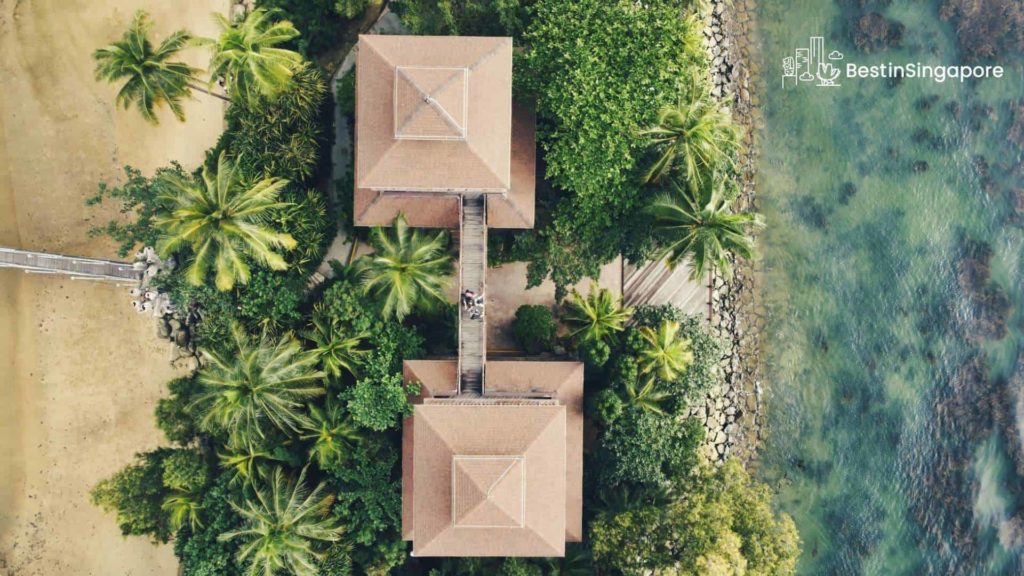 Sentosa is teeming with all kinds of attractions—with iconic and easily accessible sights—and there's always something for everyone. Here are some of the best attractions in Sentosa, divided into four main categories:
World-Famous Attractions
If you don't know where to start with your Sentosa exploration, you can never go wrong with the island's most famous attractions.
Now, technically, practically all attractions in Sentosa can be considered famous, but if I were to pick the top three, the following places would be my choice.
Universal Studios Singapore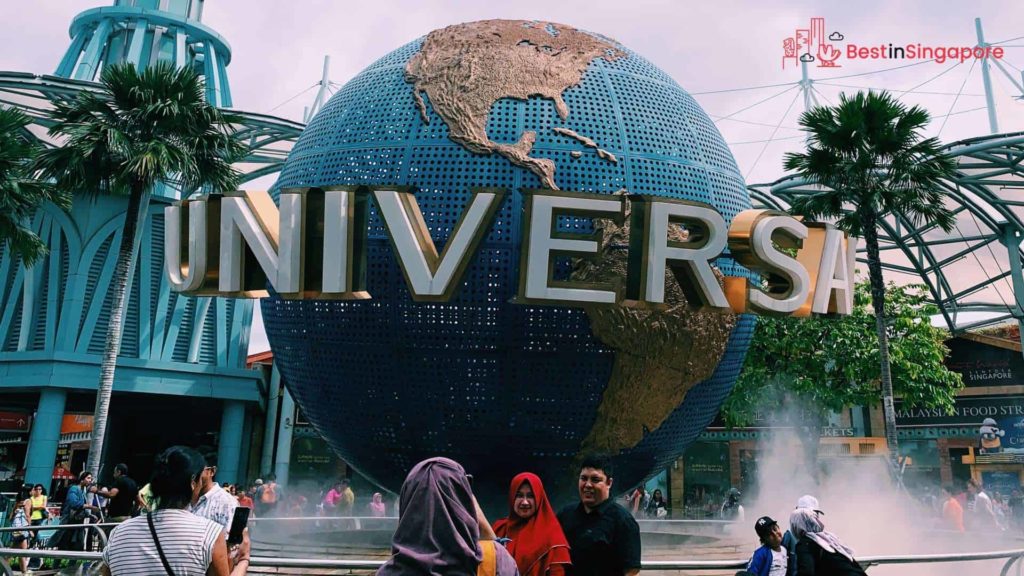 If you ask a foreigner what attraction they're planning to go to during their Singapore visit, chances are Universal Studios Singapore is one of the answers. I myself also beelined for this theme park when I first visited the country years ago.
It's not a surprise that Universal Studios Singapore is one of the most popular destinations in the country. The theme park is already well-known on its own, and it's the very first Universal Studios branch in Southeast Asia.
This theme park comprises seven themed zones—based on the company's most beloved franchises—with several rides, shows, and other attractions.
My favorite has to be the Revenge of the Mummy Ride. It's a rollercoaster with a twist; I love it!
Traveler Tip: Try coming to the theme park as early as possible. That way, you'll be able to spend the entire day just exploring the park and getting on all the rides that you want!
Madame Tussauds Singapore
Another world-renowned landmark that has a branch in Singapore is Madame Tussauds, and just like what you would expect from a wax museum, this place features several wax sculptures of famous celebrities, historical figures, and film characters.
Honestly, when I first came here, I felt a bit weirded out because the wax sculptures looked so real. But eventually, I got used to it, and instead of freaking out about how realistic they all looked, I was taking pictures with them like we were good friends.
But Madame Tussauds is more than just a wax museum. There are also 4D theaters and rides.
I personally enjoyed the Marvel Universe 4D because it lets you feel all the action of the movie you're watching—be it the wind, rain, and more!
Traveler Tip: If you really want to come to Madame Tussauds Singapore, be sure to book your tickets online. That way, you'll get them for a much cheaper price compared to the walk-in rate. 
SkyHelix Sentosa
Operating Hours: 10 am to 9:30 pm (daily)
Estimated Cost: S$13.50 (child), S$16.20 (adult)
Just a short walk away from Madame Tussauds is a structure that probably have caught your eye the moment you stepped foot in Sentosa. This eye-catching structure is SkyHelix Sentosa, and it's shaped like—you guessed it—a helix.
Its design is only the icing on the cake; SkyHelix Sentosa is the highest open-air panoramic ride in Singapore. In other words, you get to sit in an open-air gondola as it gently ascends up to a height of 79 meters above sea level.
Once you reach the peak, you get to enjoy the gorgeous panoramic view of Singapore. The scenery stretches from Sentosa to the harbor and even to the Southern Islands!
Aside from the view, another thing I like about SkyHelix is that you get a free drink.
And let me tell you there's just something nice about drinking a delicious beverage while drinking in the view. It feels like you're in a movie.
Traveler Tip: While you can ride the SkyHelix any time, I suggest doing so at night because the view then is unparalleled. Twinkling lights from the buildings replace the cityscape—and just imagine how good the photos will look with that view.
Free Attractions
Who says that Sentosa is only for rich tourists? Visitors on a budget can still enjoy this luxurious holiday land because there are many free things to do scattered throughout the island.
Here are some of my favorites—a.k.a. ones that I routinely come back to if I'm in the mood to unwind and have fun.
Sentosa Beaches (Siloso, Tanjong, and Palawan)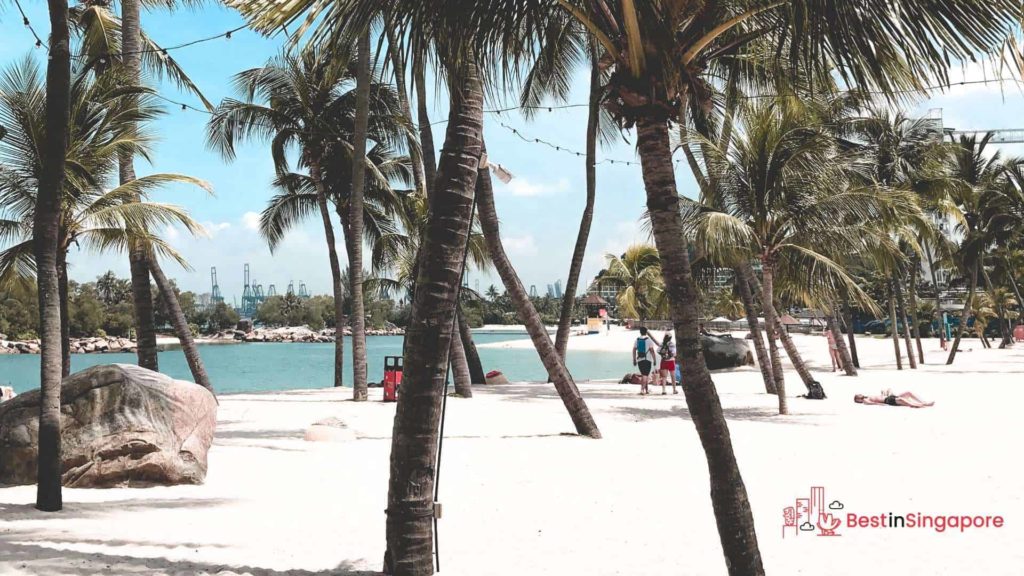 Is the weather hot and humid and you just want to cool down? If so, Sentosa is the place to be because this island comes with three beaches, namely Siloso, Tanjong, and Palawan—and all of them are free to enter!
So, be sure to wear your best swimsuit, put on a good amount of sunscreen on your skin, and enjoy sunbathing on the shores or swimming in the water. If you have money to spare, you can also try skimboarding or kayaking.
The beaches also have a few attractions that promise exciting activities like bungee jumping—but more on that later.
Traveler Tip: If you love to party, you might want to stay on Siloso Beach after dark. This beach is well-known for its lively nightclubs and bars.
Magical Shores
Operating Hours: 7:30 am to 9:30 pm (Mondays to Thursdays), 7:30 am to 10:30 pm (Fridays to Sundays, public holidays)
While we're on the topic of the beaches in Sentosa, you might also be interested to know that Siloso Beach hosts a free show called Magical Shores. And I couldn't recommend it more!
The best thing about Magical Shores is that it's a multi-sensory delight. The show transforms the beach into an interactive light and sound spectacle with its striking visual effects on the sand and nature's enchanting song playing all around.
There are sensors that gather data like wind speed and people's movement, which will then be used in producing the interactive art in real time.
Because of that, the show is always different every night. Isn't that cool? 
Traveler Tip: Keep your phone or camera at the ready because you'll want to take photos and videos when this show starts.
Fort Siloso and Skywalk
I mentioned earlier that Sentosa actually has a rich history, and one landmark that proves this is Fort Siloso. Fort Siloso is a coastal fort that used to be part of the country's defenses, especially during World War II.
Even though it's been several decades since it's been used, Fort Siloso is still wonderfully preserved, and it now serves as a museum. Here, you can find a treasure trove of war memorabilia, such as coastal guns and structure remains.
I also really like how there's an interactive video documentary and several wax figures of Japanese and British soldiers. These details make the experience even more immersive.
And while you're at Fort Siloso, you might as well check out the Skywalk too. It's about 11 stories high and 181 meters long, making it a great addition to anyone's hiking trail.
But even if you're not hiking, I still suggest coming here. The canopy of green trees is all you can see throughout, and you'll get to enjoy the soothing sea breeze.
That sounds like a relaxing time if you ask me. 
Traveler Tip: To enjoy your time at Fort Siloso, I suggest that you join the free walking tour offered on-site. This tour happens every second and third Saturday of the month, from 3 to 4 pm, and it can accommodate up to 20 people, so book your spot ASAP!
Sentosa SkyJet
Operating Hours: 10 am to 10 pm (daily, not operating during Sentosa Musical Fountain and Wings of Time show periods)
The Sentosa SkyJet may seem like an attraction that you can overlook, but I still think it's worth checking out. This fountain has water jets that can spew water up to a whopping 80 meters high; it's literally equivalent to a 24-story building!
Because of this, this fountain—which is the tallest in all of Southeast Asia, by the way—will still grab your attention even if you're just passing by.
Sometimes, I actually take a seat nearby and just watch the fountain. The sight of it is just relaxing.
Traveler Tip: Nighttime is the best time to view the Sentosa SkyJet. There are 24 LED lights that illuminate the fountain, so it looks quite breathtaking in the evening.
Sentosa Musical Fountain
A Tribute to the Original Sentosa Musical Fountain (Show 1): 4 pm, 5 pm, and 6 pm
Singapore's National Day Songs (Show 2): 4:30 pm, 5:30 pm, 6:30 pm
Be honest: how often do you witness a fountain show where the water jets dance to an array of national soundtracks? Not often, right?
If this piques your interest, the Sentosa Musical Fountain is something you won't want to miss out on.
Sentosa Musical Fountain used to be one of the most iconic shows in Sentosa during the early 1980s. Now, it's back to let Singaporeans relive the nostalgia, but foreigners—or people born after the 80s like me—are also free to enjoy the event.
The shows only last five minutes each, but still, the whole thing is worth experiencing.
Prepare to take photos and videos as well. The water jets set against the open sea just make for a stunning photo!
Traveler Tip: Arrive before the show even starts so that you can find the best position with the best view of the fountain. 
Sentosa Nature Discovery
Nature lovers, this one's for you! The Sentosa Nature Discovery is a nature trail featuring several interactive exhibits, sculptures, and eight habitat types full of trees and flowers. There's also a lookout point where you can stop and enjoy the view.
My favorite spot in the whole trail has to be the Geology Gallery. I don't consider myself to be a geology nerd, but this gallery has so much information on how the island of Sentosa came to be, so now I'm convinced that rocks are interesting in their own right.
Even if you're not a nature nerd, you can still come here to enjoy the quiet, especially since most of Sentosa is bustling with activity.
Traveler Tip: If you have binoculars, I recommend bringing them here. There are so many birds to spot along the trail, including the endangered Magpie Robin.
Unique Attractions
Sentosa is more than just an island with gorgeous beaches, vibrant nightlife, and fun theme parks. It also has destinations that promise a unique experience: from virtual reality events to a shop where you can make your own perfumes!
So, if you're on the hunt for activities that you don't typically gravitate towards but are willing to try, here are some that I wholeheartedly recommend.
Sentosa 4D Adventureland
Address: 518 Imbiah Road, Singapore 099708
Operating Hours: 12 to 7 pm (daily)
Estimated Cost: S$43.90 (4-in-1 combo), S$108 (family package 4-in-1 combo)
Sometimes, all it takes is a combination of cutting-edge technology and your imagination to have an unforgettable adventure. That's what Sentosa 4D Adventureland aims to deliver!
Essentially, this establishment features rides where you'll feel like you're part of the action because of the different 4D technology used. The best part of all is that the tickets already include all four rides, so you can enjoy everything they have to offer.
Personally, I love being a part of the Journey 2: Mysterious Island ride, and I also had a blast pretending to be a sharpshooter in Desperados. The Haunted Mine was also fun (even though I got scared a lot), and the Extreme Log Ride was exhilarating. 
Traveler Tip: If possible, bring a group with you. Whether your friends or your family, it's up to you. Going on rides here is much more fun if you're with other people.
Wings of Time
End your Sentosa trip with a blast by attending the Wings of Time show, which occurs every night.
Wings of Time is a light water show that's as spectacular as you can imagine. There are fire, water, and laser effects—all set to a majestic soundtrack—and by the end, a captivating fireworks display illuminates the sky.
Every time I catch this show, I end up with my jaw open in amazement!
Traveler Tip: If you sign up for the Sentosa Islander membership, you'll get a 15% discount off the Wings of Time ticket price (among other perks).
Scentopia Singapore
Operating Hours: 11 am to 7 pm (daily)
Estimated Cost: S$95–125 (perfume-making ticket for adults), S$75–95 (perfume-making ticket for children)
Buying a bottle of perfume from stores is overrated. It's time to create your own, based on your unique personality!
If this sounds interesting to you, then Scentopia is where you should go next in your Sentosa adventure.
The best thing about Scentopia is that it has about 200 scent oils, so you can definitely create all the combinations you want. And if you're like me and don't know where to start, simply take their personality quiz, and they'll give you a scent preference.
My favorite part of the whole experience is the behind-the-scenes tour of the perfumery.
During this tour, I got to explore an augmented reality artwork and learned more about Sentosa's microhabitat of native orchids. It was a fun time all in all. 
Traveler Tip: Purchase the DIY kit, and you can create perfumes with your family right in the comfort of your own home.
HeadRock VR
Operating Hours: 12 to 7 pm (weekdays), 11 am to 7 pm (weekends, public holidays)
Estimated Cost: S$15 (single ticket), S$40 (three games/rides package), S$60 (five games/rides package), S$75 (seven games/rides package)
Craving some adrenaline rush?
Then, you better head to HeadRock VR. You can never go wrong with their selection of games and rides.
Featuring eight themed virtual reality experiences, this attraction gives you the illusion of stepping into a new world—be it the depths of a jungle or a city overrun with zombies. And these new worlds are so immersive that sometimes, I forget this isn't reality.
The Zombie Busters (where we shoot zombies to survive the apocalypse) is a popular choice among my family and friends. This isn't my favorite, and sometimes, I get easily freaked out mid-play, but I can't deny that playing it with others is such a blast.
If you have children with you, they'll love the Kids Media Interactive Zone, where they get to catch baby dinosaurs swimming in the water tank or jump around a dinosaur hill.
Traveler Tip: If you want to save some money, be sure to buy your tickets online. 
Trickeye
Operating Hours: 11 am to 7 pm (daily)
Estimated Cost: S$28 (tickets for children and senior citizens), S$32 (for adults)
An adventure in a hidden world awaits you at Trickeye, a unique museum featuring three-dimensional artwork that uses optical illusions. These illusions trick your eyes (hence the name) and activate your imagination!
The best part about the artwork in this museum is that they're all interactive. So, you get to live out your fantasy of swimming with whales, hanging out with wild animals, and even slaying vicious dragons!
This establishment has four sections, namely Eco Garden, AR Trickeye, Aqua Trickeye, and the Rainbow Garden.
While I enjoy all the sections, I have to say the Eco Garden and AR Trickeye is my favorite. They just remind me so much of Alice in Wonderland. 
Traveler Tip: Be sure to download the free XR Museum mobile app from Google Play Store or App Store. When you use the app on your Trickeye photos and videos, you'll find hidden animals, fireworks, and other special effects!
Attractions for Families and Thrill Seekers
Sentosa is many things, but at the very heart of it, I have to say that it's a haven for adventure lovers, thrill seekers, and families. That's why most of the attractions here are targeted toward the aforementioned demographic.
It's easy to get overwhelmed with all the options available, so allow me to help you narrow down your list to the best of the best. The following attractions are ones that I've tried with my family and friends.
Adventure Cove Waterpark
Operating Hours: 10 am to 5 pm (Fridays to Tuesdays), closed on Wednesday and Thursday
Estimated Cost: S$27 (for children who are Singapore residents), S$34 (for adult residents), S$31 (for children tourists), S$39 (for adult tourists)
Make your beach getaway even more exciting by spending the day at Adventure Cove Waterpark. This waterpark is one of the most popular in Singapore, which isn't surprising especially since it comes with some of the coolest features.
For starters, they have a hydro-magnetic coaster: a thrilling combination of a water slide and roller coaster. I remember when I first tried it, my stomach almost dropped multiple times because of the many gravity-defying twists, turns, climbs, and drops.
And the fun doesn't stop there! This waterpark also has several water slides that will send you reeling down into the water and the Adventure River, which takes you to 14 themed zones full of so many marine animals.
If you're just in the mood to relax and vibe with the sea animals, I suggest you go snorkeling. Not only will you be greeted by schools of fish, but you'll also see some of the most vibrant coral reefs in your life!
Traveler Tip: The demand is high for Adventure Cove Waterpark, so you better book a reservation so that your spot will be secured.
Dolphin Island
Also located within Resorts World Sentosa is another attraction for marine animal lovers: Dolphin Island. The great thing about Dolphin Island is that it allows you to interact with dolphins firsthand.
Depending on the program you've chosen, you can interact with the dolphins without having to get in the water or actually wade out with them for a while. You can even swim in deeper waters with dolphins, which is an experience you won't forget.
I only tried out Dolphin Discovery (swimming with dolphins in shallow water) because I had my little cousins with me and they can't swim in deeper waters yet.
That said, it was still a fun time. The dolphin was so playful it felt like a good friend of ours.
Traveler Tip: Be sure to follow the rules to keep the dolphins safe.
S.E.A. Aquarium
Operating Hours: 10 am to 5 pm (daily)
Estimated Cost: S$28 (for children who are Singapore residents), S$38 (for adult residents), S$30 (for children tourists), S$41 (for adult tourists)
Another iconic attraction that you definitely don't want to skip—especially if you love animals—is the S.E.A. Aquarium. This aquarium is quite impressive: it boasts over 100,000 marine animals, spanning over 1,000 species and across 45 different habitats.
When you visit here, be sure to take your time strolling along the tunnel, craning your neck to look at all the fish and sharks.
Personally, I love standing by the giant aquarium. The blueness of the water and the sight of animals are comforting.
Traveler Tip: To make the most of your trip, I suggest you book the S.E.A. Aquarium VIP Experience. This gives you priority access to the aquarium as well as a complimentary Dolphin Encounter at Dolphin Island!
Gogreen Eco Adventure
Operating Hours: 10 am to 7:30 pm (daily)
Estimated Cost: S$15–60 (bike rentals)
You know what's a great way to explore Sentosa? It's by riding a bicycle or scooter.
If you don't have a bicycle of your own, no worries because Gogreen Eco Adventure offers rentals. If you're a newbie or casual cyclist, you can rent a bike for an hour or two, but using one overnight is what I would suggest.
After all, with the overnight rental, you have all the time in the world to bike around Sentosa. You're free to check out nooks and crannies without worrying about the cut-off.
My family and I tend to stick to the beach roads because the terrain is flat, making it perfect for my little cousins. But if it's just me and the other adults, we'd go for the nature trails because they're moderately challenging and come with a scenic view.
Traveler Tip: If you have a competitive spirit, then you might be interested in choosing the Sentosa Explorer Quest. Featuring clues to be found and puzzles to be solved, this quest is the most fun way to explore the island!
Mega Adventure Park
Operating Hours: 11 am to 6 pm (daily)
Estimated Cost: S$15–110
Get your heart pumping by doing any of the wild and thrilling activities at Mega Adventure Park! The main highlight of this park is the MegaZip, which is a 450-meter zip line that sends you reeling from one end of the beach to the other.
Even though the height from the ground isn't that high, riding this zip line is still exhilarating. I felt like I was Tarzan as I was flying through the air.
MegaClimb is just as thrilling and scary. I had to get through the treetop obstacle course without falling!
For my little cousins, their favorite has to be the MegaBounce. They love to challenge each other to see who can jump the highest on the trampoline.
If one of them is feeling extra competitive, they sometimes dare to do somersaults while in the air. 
Traveler Tip: Book your tickets online so that you can save some money!
Nestopia
Operating Hours: 2 to 6:45 pm (Wednesdays to Fridays), 10 am to 7 pm (weekends), closed on Mondays and Tuesdays
Estimated Cost: S$12 (for one-hour play)
Nestopia is a playground with an interesting layout: its main features are three giant nests spread evenly from each other, and connecting them are sturdy climbing nets. Two of the nests have slides so that the children can go down with ease.
Since this is a playground, it's technically catered to children. But I've actually been here because my cousins are below the age of 12, and children that age or younger need to have a guardian.
While my cousins are out there climbing and sliding, I usually spend my time enjoying the sea view. Sometimes, my cousins will start a game of tag with the other children, and I play with them because why not?
Since Nestopia is located on Siloso Beach, it's the perfect place for your children to go to and play while you swim and do other fun beach-related activities.
Traveler Tip: Nestopia is an outdoor playground, so be sure to put on some sunscreen on your child before they play. Also, bring water bottles to keep them hydrated!
Skyline Luge Singapore
Address: 1 Imbiah Road, Singapore 099692
Operating Hours: 11 am to 7:30 pm (Mondays to Thursdays), 11 am to 9 pm (Fridays), 10 am to 9 pm (Saturdays), 10 am to 7:30 pm (Sundays)
Estimated Cost: S$32–39 (for tickets)
Just like a lot of people my age, I grew up playing Mario Kart with my friends, and one of my dreams as a child was to play Mario Kart in real life. When I moved to Singapore, my childish dreams finally came true because there's Skyline Luge in Sentosa.
Okay, Skyline Luge obviously uses luges instead of karts, but still, it's close enough. There are various themed trails with slopes and hairpin corners, and at night, they become even more beautiful with all the lights.
When I'm alone, I just cruise along the trails, enjoying the scenery as I zip by. When I have friends, we sometimes have friendly races, and whoever loses has to pay for our next meal!
Traveler Tip: Always follow the rules and safety precautions when driving a luge! Getting into an accident is the last thing you want to happen.
HydroDash Sentosa
Address: Palawan Beach, Singapore 098498
Operating Hours: 11 am to 6 pm (weekdays), 10 am to 7 pm (Saturdays), 10 am to 6 pm (Sundays)
Estimated Cost: S$13–36 (for tickets)
Another way you can make your beach vacation at Sentosa even better is by spending some time at HydroDash.
HydroDash isn't like your typical waterpark. Instead, it's more of a floating park because it features an obstacle course made of inflatables.
Honestly, the whole park just felt like an inflatable playground on the water, and I love that. It was so fun bouncing around, leaping, and getting pushed off into the water by my companions.
If we're feeling competitive, we would have a climbing race and find ways to sabotage each other, sending poor victims sliding into the water. No one ever wins, but hey, we all end up laughing, so it's still a victory. 
Traveler Tip: Always wear a life jacket when playing in this park—children, especially. 
iFly Singapore
Address: 43 Siloso Beach Walk, #01-01, Singapore 099010
Operating Hours: 9 am to 10 pm (Thursdays to Tuesdays), 11 am to 10 pm (Wednesdays)
Estimated Cost: prices start at S$69 (for first timers).
Another fixation I had as a kid was espionage: for many years, I liked to imagine myself being a spy and having to skydive multiple times to avoid the bad guys. I eventually outgrew this fantasy (a bit, at least), but I was still pleased to hear about iFly Singapore.
Essentially, iFly is an indoor skydiving wind tunnel, and it's the largest one of its kind in the world.
You get to experience free fall here as if you truly jumped from an aircraft. The wind tunnels lift you up, making you feel like you're flying.
I know it sounds a bit intimidating, but it's actually easy to get around to it—and that's from someone who gets scared easily. Even my cousins have tried "skydiving" here, and they loved it, so if children can endure it, you definitely can too!
Traveler Tip: Ear plugs aren't provided from the get-go, but I suggest you request some for yourself. The wind tunnels can be quite loud, so you need the plugs to protect your eardrums.
Skypark Sentosa by AJ Hackett
Operating Hours: 12:30 to 7 pm (weekdays), 11:30 am to 7 pm (weekends)
Estimated Cost: S$59 (Giant Swing), S$99 (Bungee Jumping), S$15 (Skybridge)
Okay, a confession: I know I mentioned earlier that I recommend these attractions because I've tried them and absolutely loved the experience. But I actually lied: I'm too much of a scaredy cat to try the bungee jumping or the giant swing at Skypark Sentosa.
In my defense, my friends have tried. I was with them whenever they came here, and they also shared with me in great detail how the experience was.
So, in a way, I'm still confident enough to recommend this one because people I trust enjoyed it.
Essentially, Skypark Sentosa specializes in extremely adrenaline-pumping activities. To be more specific, you can either bungee jump up to 47 meters or swing through the open air like an eagle—or both if you dare.
The idea of jumping off a really tall building just terrifies me, which is why I'm only content watching my friends.
The only thing I did here was take a stroll along the Skybridge. The height freaked me out, but the view of the beach made it all worth it.
Traveler Tip: If you want to immortalize the moment that you took the leap (or maybe you just want to brag to your family or friends), you can purchase a photo or video memento of your jump or swing.
Where can I eat in Sentosa, Singapore?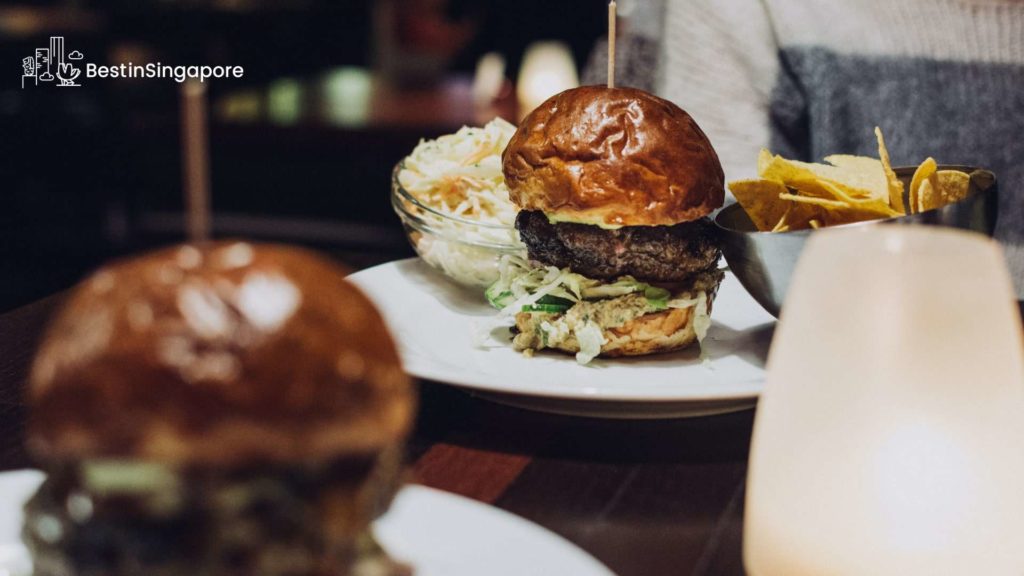 As of now, there are about 105 dining options in Sentosa, so you can satisfy whatever cravings you have. Here are some of the noteworthy restaurants and eateries in Sentosa that you might want to check out:
Bars
Name
Address
Operating Hours
What You Can Expect
1-Altitude Coast
10 Artillery Avenue, #07-01
• 11 am to 10 pm (Mondays and Tuesdays)

• 11 am to 12 am (Wednesdays, Thursdays, Sundays)

• 11 am to 2 am (Fridays and Saturdays)

• Rooftop bar with an al fresco pool

• All-day casual dining experience

• Offers cocktails, salads, sandwiches, and burgers

Boaters' Bar
11 Cove Drive
• 5 to 11 pm (Wednesdays, Thursdays, and Sundays)

• 5 pm to 12 am (Fridays and Saturdays)

• Closed on Mondays and Tuesdays

• A floating bar on the Sentosa Cove Marina

• Featuring gourmet meals, such as fried soft-shell crab, chicken karaage, and grilled boneless short ribs

The Rock Bar
8 Sentosa Gateway, Level 2 Hard Rock Hotel, Resorts World Sentosa
12 to 11 pm (Sundays to Thursdays), 12 pm to 1 am (Fridays and Saturdays)
• A high-energy bar with live bands and other top-notch entertainment every Friday and Saturday

• Serving a wide variety of drinks, such as draught beers, whisky, and more

• For meals, you can find tacos, sushi, pasta dishes, and more.

Harry's
26 Sentosa Gateway, #01-215/216
11:30 am to 11 pm (Sundays to Thursdays), 11:30 am to 1 am (Fridays and Saturdays)
• Features the largest selection of drinks on tap in Singapore (from beers to cocktails to kid-friendly drinks)

• Meals include wings, burgers, steaks, and more

Le Bar
2 Bukit Manis Road
12 pm to 12 am (daily)
• Featuring colonial-era interior design and inviting atmosphere

• At night, there are live performances.

• You can pair cocktails and champagne with a tasty array of finger sandwiches and mini-pastries.
Halal
Name
Address
Operating Hours
What You Can Expect
Good Old Days Food Court
60 Siloso Beach Walk
11 am to 10 pm (daily)
• Offering a diverse range of local and Asian cuisines at an affordable rate

• Some of the dishes you can find here include seafood fried rice, braised seafood tofu, and many more.

Malaysian Food Street
8 Sentosa Gateway Waterfront, Level 1 Resorts World Sentosa
• 11 am to 6:30 pm (Mondays, Wednesdays, and Thursdays)

• 11 am to 7:30 pm (Fridays to Sundays)

• Closed on Tuesdays

• A cluster of hawker stalls that offer various Malaysian cuisines, such as clay pot chicken rice and char koay teow
Marrybrown
43 Siloso Beach Walk #01-03, iFly
11:30 am to 8:30 pm (daily)
• Specializing in halal-certified fried chicken dishes, especially chicken meals and chicken burgers
Old Chang Kee
50 Beach View Road, #01-K7 Beach Station
10 am to 8 pm (daily)
• Specializing in curry puffs filled with spiced potato, chicken, and hard-boiled egg
Streats Asian Café
Resorts World Sentosa
• 11 am to 3 pm, 5 pm to 10 pm (weekdays)

• 11 am to 10 pm (weekends, public holidays)

• Serving casual and affordable comfort foods

• Bestsellers include hot dumpling noodle bowls and rice meals.
Casual Dining
Name
Address
Operating Hours
What You Can Expect
Arbora Hilltop Garden and Bistro
109 Mount Faber Road, Faber Peak
11 am to 10:30 pm (weekdays), 8:30 am to 10:30 pm (weekends)
• Located on the hilltop, so you can enjoy views of the cable cars, Sentosa, and the rainforest hillside

• Featuring a garden theme and serving pasta and grains, sandwiches, and salads

Blue Lotus
31 Ocean Way, #01-13 Quayside Isle
• 5:30 to 10 pm (Mondays to Thursdays)

• 11:30 am to 3 pm, 5:30 to 10 pm (Fridays to Sundays)

• Serving traditional Chinese cuisines—but with inventive twists

• Bestsellers include chili pomelo crab and chili pomelo seafood pita pizza.

Bones 'n Barrels
Sentosa Boardwalk
12 to 11 pm (daily)
• Family-friendly by day and a lively bar in the evening

• The perfect spot to chill along the boardwalk

• Serving Italian, Mexican, and Indian dishes

Co+Nut+Ink
40 Siloso Beach Walk
9:30 am to 9:30 pm (weekdays), 10 am to 9:30 pm (weekends)
• A dessert shop that's perfect to beat the heat

• Serving all kinds of coconut desserts, such as ice cream, coconut water, and many more

Kwee Zeen
2 Bukit Manis Road, Floors 1 and 2 Sofitel Singapore Sentosa Resort and Spa
• Lunch: 12 to 2:30 pm (daily)

• Dinner: 6 to 9:30 pm (daily)

• Sunday Champagne Brunch: 12 to 3 pm

• All-day dining buffet restaurant

• Specialties include Pan-Asian fare, gluten-free, and vegetarian meals.
Fine Dining
Name
Address
Operating Hours
What You Can Expect
Bedrock Origin
Oasia Resort Sentosa Hotel, 23 Beach View Road, #01-02 Palawan Ridge
7 to 11 am, 12 to 3 pm, and 6 to 10:30 pm (daily)
• Serving the finest chops and steaks that are dry-aged in-house and prepared using classic cooking techniques

• As for drinks, they have fine wines, traditional whiskies, and rare spirits.

Cable Car Sky Dining
Level 2 Faber Peak Singapore, 109 Mount Faber Road
5:30 to 8 pm (daily)
• Private dinner inside a cable car

• Perfect for couples who want a romantic date night

• Menu includes pan-roasted Norwegian salmon fillet

Ocean Restaurant
8 Sentosa Gateway, B1M B1-455 and 456 Equarius Hotel
11:30 am to 3 pm, 6 to 10:30 pm (daily)
• A restaurant with an aquarium full of exotic sea creatures

• Serving Mediterranean-Californian cuisine

SKIRT
21 Ocean Way
6 to 10 pm (Sundays to Thursdays), 6 to 11 pm (Fridays and Saturdays)
• Specializing in modern European cuisine with distinct Asian overtones

• Bestsellers include Tajima Wagyu Butchers Cut Steak and Root Beer Float Foie Gras Terrine.

Sushi Kondo
27 Bukit Manis Road, Tanjong Golf Course
12 to 2:30 pm, 5:30 to 9:30 pm (Tuesdays to Sundays), closed on Mondays
• Japanese fine-dining restaurant

• Using only the freshest ingredients

• Also serving the best sake available
FAQs about Sentosa, Singapore