Hit That Sweet Spot: The Best Local Desserts in Singapore 
Savory dishes are great and all, but if I could only choose one type of food to eat forever, I'd probably choose dessert. I know eating sweets for all of eternity isn't good for my health, but I really can't picture myself giving up cakes and ice cream forever.
With that said, you can just imagine how delighted I was when I started living permanently in Singapore and discovered the desserts here.
The options are so varied. There are fried bananas, deep-fried doughnuts, glutinous rice cakes, and more!
I could go on and on about my love for anything sweet, so for today's article, allow me to share my favorite local desserts in Singapore as well as my favorite dessert shops. If you have a sweet tooth like me, then be sure to try these desserts for yourself.
What local desserts in Singapore should I try?
Ice Kachang
— From: sen028
Also known as ais kacang or bean ice, ice kachang is a cold dessert featuring sweet toppings and ice cream on top of shaved ice. I know it sounds so simple and straightforward, but this is the perfect sweet treat after a hot, sweltering day.
What I love about ice kachang is that there are different variations every time you visit a different store. My favorite has to be the Milo Dinosaur iteration because I'm a big fan of both Milo and the chocolate flavor in general.
Pandan Cake
— From: plasa.cake
Light, fluffy, and infused with the flavor from the juices of the pandan leaves, pandan cake is hard to beat. It's the kind of dessert that appeals to non-dessert people because it isn't sickly sweet and you can eat multiple slices without getting too full.
Because of this, pandan cake is a popular pastry choice for afternoon high tea, but I've also found that it's great with coffee. Sometimes, if I'm in the mood, I even add a dollop of frosting to make the pandan cake even sweeter.
Gulab Jamun
— From: mumbai__food_blogger
Gulab jamun originates in the Indian subcontinent, but eventually, it made its way to Singapore, where it became even more of a hit to the citizens. And how can it not become a hit when it's such a sweet delight?
This dessert is made from milk solids—though some iterations make use of powdered milk—then the dough is deep-fried to crispy perfection.
After that, it gets drenched in rose water infused with a sugary syrup. My mouth is watering just thinking about this!
Ang Ku Kueh
— From: alan_travellingfoodies
In general, kuehs, also known as bite-sized snacks, are a treat in all of its iterations, but if I were to pick a favorite, it will have to be ang ku kueh.
Ang ku kueh is an oval-shaped pastry made from soft glutinous rice flour with a sweet filling. It usually comes in the color red, hence its alternate name "red tortoise cake," but some stores sell cakes in other colors.
Most people living in Singapore tend to eat ang ku kueh during important festivals (e.g. Chinese New Year) because this pastry is said to bring good fortune and prosperity. Personally, I eat them whenever I can because they're so filling and delicious.
Tutu Kueh
— From: vivienneeluv
Another kind of kueh, tutu kueh may look simple to the eyes, but wow, it packs so much flavor. This rice cake is made by steaming rice flour with pandan leaves, and because of the mold typically used for this, it comes out shaped like a flower.
Tutu kueh is so soft that it feels like biting into a pillow, and then when you reach the center, you get a bit of crunch from the peanut filling, followed by a sugary rush. I love eating this rice cake fresh off the steamer and pairing it with a hot cup of tea.
Ondeh Ondeh
— From: jojanneeats
Speaking of delicious rice cakes, another one of my go-to snacks is ondeh ondeh. This dessert is made up of round and bite-sized balls that are coated with coconut and filled with gula melaka (palm sugar) in the center.
The moment you pop one into your mouth, it just melts, inundating you with sugary goodness.
Many Singaporeans have told me ondeh ondeh was their favorite snack as a child, but even as an adult, I still think it holds up. It's just so addictive!
Tang Yuan
— From: Tang Yuan
When I first saw tang yuan, the first thing that popped into my mind was that it's like a soup dumpling but made sweet.
And I still stand by that comparison because this dessert features dumpling-shaped balls that are filled with peanuts, sesame, yam, and other fillings and are served with a hot, sweet soup.
Tang yuan is such an addictive local treat. Sipping the sweet soup and then getting surprised by the filling inside the chewy rice ball instantly squashes my sweet cravings.
I always end up eating more than I initially expected, but I have no regrets.
Cincau
— From: kelvintanwc
You're most likely going to know cincau by its English name "grass jelly," and once you recognize it, you'll realize you've probably eaten it in various dishes. After all, grass jelly has been used as a main ingredient for ice kachang, milk teas, and so many more.
Personally, I love eating grass jelly as is. Just cut it into cubes, then slather a dollop of honey and syrup.
It's such an easy dessert to make and satisfies my sweet tooth in no time.
Goreng Pisang
— From: yolandaliee.kitchen
Another satisfying treat that's so easy to make is goreng pisang, which literally translates to fried bananas. This treat used to be my school snack back in the day, so eating it now as an adult really makes me feel sentimental and nostalgic.
What I like about these banana fritters is the way the sweetness of the bananas complements very well with the slight saltiness of the batter. Whenever my mom cooks a batch of goreng pisang, just know that I could eat more than a handful of them.
Tissue Prata
— From: we are japanfoodie
Also called roti tissue, tissue prata has to be one of the most unique-looking desserts I've ever seen. It's essentially a sweet flatbread that's spread out until it becomes extremely thin and crispy, and it's presented as a towering cone slathered in sauce.
I like mine with a scoop of ice cream because, in my opinion, the tissue prata's crispiness and the cold sweetness of the ice cream are the perfect combination. Whenever I come across a Malay or Indian food stall, I always order this one.
Cendol
— From: sin.simon
If you've tried ice kachang and loved it, then I'm sure you'll greatly love cendol as well. This dessert only has a few ingredients—namely, shaved ice, coconut cream, palm sugar, and pandan leaves—but the end result is so addictive and refreshing.
The only downside is that it can get too rich for some people, so they can't finish a bowl unless they have help from a friend. As a dessert lover through and through, I usually have no problems with the level of sweetness, but I'm still willing to share.
Durian Pengat
— From: gingersingapore
I have a confession: I'm not the biggest fan of durian. I know it's popular among Southeast Asians, but I just don't find it appealing, so I always think that I'll never ever eat anything related to this fruit.
At least, that's what I thought before discovering the rich delight that is durian pengat.
What I love about this dessert is that it takes out the one thing I dislike about the fruit (the odor) and enhances everything else. It's incredibly creamy and luxuriously smooth, and the flavor just bursts in your mouth.
Honestly, it's just so sinfully good that it might have convinced me to reconsider my stance on durian as a whole (not really, but close).
Cheng Tng
— From: songfamedan
I've tasted many desserts in my lifetime, but I have to say that cheng tng is one of the most unique. It's basically just a light, amber-colored cold soup made from boiling barley, agar strips, and other toppings with sugar and pandan leaves.
It can be served warm, but many people, including myself, prefer it cold. The great thing about this dessert is the toppings have nutritional properties, so I don't feel guilty consuming it in multiple rounds.
Pulut Hitam
— From: sugarandchopsticks
Pulut hitam is the best dish to eat during cold weather because its warmth just envelopes you in a hug. This rice porridge is made from black glutinous rice, and to make it sweet and rich, sugar and coconut milk are added to it.
It's one of those simple yet satisfying dishes, and whenever my family makes it, I usually go through several bowls before I'm finished. You can also find pulut hitam at most hawker centers, so be sure to try it when you have the chance.
Ladoo
— From: tastewithshailja
Ladoo is a staple dessert at any Indian ceremony, but I'm of the opinion that this should be consumed whenever. This dish is a mixture of flour, chickpea flour, and sugar, and then it's fried in ghee and submerged in sugary syrup.
Every bite of ladoo gives you the sugary satisfaction you're craving, and because of its bite-sized nature, it's so easy to lose count of how many balls you've eaten. Whenever I'm at an Indian restaurant, I always look at the menu to see if they offer ladoo.
Orh Nee
— From: danielfooddiary
Orh nee is an old-school Teochew dessert that makes the older generation citizens sentimental about the times past, but younger people are also quite fond of it. It's made by cooking yams with sugar and shallot oil until a paste is formed.
What's great about orh nee is that it's highly customizable. If you don't like things that are too sweet, you can put a small amount of sugar, and depending on the weather, you can serve it warm or cold.
Tau Huay
— From: chayteves
Tau huay is another simple dessert that's quite versatile in terms of application. It's a sweet soya beancurd pudding that you can be served cold or hot.
Personally, I prefer eating it cold and with a couple of fried dough fritters. There's just something so satisfying about dipping a steaming fritter into a cold tau huay—and the sweet explosion in my mouth is utter perfection.
Apam Balik
— From: tumblinbumblincrumblincookie
I've always thought of apam balik as the Singaporean version of a crepe, but that comparison might be misleading because crepes are thin, while apam balik is thick and fluffy.
Essentially, apam balik is a pancake that's folded over and stuffed with the sweet filling of your choice.
The classic rendition has a peanut filling or red bean paste, but you're welcome to do your own twist. Personally, I go for Nutella and a bit of cheese.
Sugee Cake
— From: thewayofkueh
Sugee cake is a pound cake with semolina flour as its main ingredient, and it's such a scrumptious and hearty treat. Just a couple of slices are enough to make me full, which is why it's my go-to morning snack.
Additionally, I love that I can customize it however I want. On lazy days, I just eat it as is, but when I'm in the mood for something more elaborate, I add frosting and crushed almonds as a finishing garnish.
Apom Berkuah
— From: mejtime
Apom berkuah is easily one of my favorite things to eat for breakfast. This is a fluffy pancake made from fermented rice, coconut water, and a splash of bunga telang flower juice (for color), and then it's served with the most decadent banana sauce.
It always thrills me when I pour the sauce over the pancake and take a slice to my mouth. The bite hits the right spot instantly, and I just can't get enough of this treat!
Bubur Cha Cha
— From: peaceful_cuisine
Bubur cha cha is a colorful dessert that will undoubtedly catch your eye. It's essentially a creamy coconut milk broth with steamed chunks of sweet potatoes, yam, tapioca jelly, and sago, and every spoonful is a delight.
It's available at most Peranakan restaurants in Singapore, so you won't have a hard time finding it. Additionally, I recommend eating it hot during rainy days, but you're free to consume this cold if you want.
Jalebi
— From: nikhil_negi49
Whenever I come across a stall that serves jalebi, I always stop to witness the cook creating this treat. For me, it's fun to see the cook plopping the batter (usually in a spiral motion) into the hot oil and then coating the cooked confection with saffron sugar syrup.
By the time I'm ready to buy jalebi, my mouth is already watering. Admittedly, this is the kind of dessert that can get sickeningly sweet, but it's still a guilty pleasure of mine, so I'll always try to buy it when my sugar cravings hit.
Muah Chee
— From: sherbakes
In a way, muah chee is the Chinese version of mochi because they're both made from glutinous rice flour. But muah chee, in my opinion, is a lot stickier and chewier, and yet it's still one of my favorite Singaporean desserts.
It's just so fun eating muah chee. Sometimes, I actually treat it like popcorn and eat it while watching movies in the living room.
I can also easily find it anywhere. Night markets and pushcart vendors are most likely selling fresh muah chee.
Nonya Kueh Lapis
— From: trove.of.delight
Admittedly, the first time I saw nonya kueh lapis, I mistakenly thought that it was some kind of chewing gum. Then, I remembered that chewing gums are banned here, so I instantly realized that it was most likely another colorful rice cake.
Ever since tasting nonya kueh lapis, this treat has become a staple in every party and celebration in my house. It's a hit among kids in particular, but we adults still love munching on this cake and devouring the sweet filling of peanut and mung beans.
What are some amazing dessert shops in Singapore?
The Durian Bakery
Website: https://thedurianbakery.com.sg/
Address: 2 Jln Lokam, #01-47 Kensington Square, Singapore 537846
Contact Details: +6588751069
Operating Hours: Monday to Sunday—9 am to 5 pm
Whether you're a big fan of durian flavor or you're eager to try it out, The Durian Bakery is the place to be. This bakery makes use of high-grade SilkyGold Mao Shan Wang durian filling, so the pastries here boast a rich, creamy taste.
I already mentioned earlier that durian isn't for me, but even I can admit that the durian cakes and puffs in this bakery are so indulgent I can't help but buy more. They even have island-wide delivery, so when the cravings hit, I know I can just call them.
Pro Tip: Overwhelmed with your choices? I suggest you try out their D24 Durian Mochi or the Mao Shan Wang Giant Puffs. If you want to bring a dessert home with you, you can't go wrong with the Durian Chocolate Cake or the Durian Cheesecake.
Birds of Paradise
— From: piktien
Website: https://birdsofparadise.sg/
Address: 63 E Coast Rd, #01-05, Singapore 428776
Contact Details: +6596786092
Operating Hours: Monday to Sunday—12 to 10 pm
Whenever I'm in the mood for gelato, Birds of Paradise is one of the shops that come to mind.
What I love about this shop is that its flavors are incredibly unique. Where else can you find gelato that's infused with Southeast Asian herbs and plants?
Before finding this shop, it never occurred to me that basil or chrysanthemum works great as ingredients for gelato, but now I know better. Now, I'm excited to see what other flavors the people behind Birds of Paradise can come up with.
Pro Tips: Sometimes, the queue for this ice cream shop can get long, so brace yourself.If you're not sure what to get, I suggest the strawberry basil, the white chrysanthemum, or the lemongrass.
Bengawan Solo
— From: thebelly_eats
Website: https://bengawansolo.sg/
Address: 58 Marine Terrace, #01-69, Marine Terrace Haven, Singapore 440058
Contact Details: +6564438053
Operating Hours: Monday to Sunday—9 am to 8:30 pm
Bengawan Solo features many of the local desserts I mentioned in this article—pandan cakes, ondeh ondeh, and ang ku kueh—so it only makes sense that it's one of my favorites.
Eating a treat at Bengawan Solo just feels like a warm hug. It brings me back to the good old days of devouring sweets as a kid. It also helps that their selection is so varied and made with quality ingredients, so every bite is indulgent and satisfying.
Pro Tip: My recommendations include the pandan chiffon, ondeh ondeh, lapis sagu, and kueh lapis. The egg tarts are scrumptious too!
Four Seasons Cendol
Website: https://www.instagram.com/fourseasonscendol/?hl=en
Address: 210 Lor 8 Toa Payoh, #01-07, Singapore 310210
Contact Details: +6587201124
Operating Hours: Monday to Sunday—9 am to 10 pm
If you ever find yourself in the Toa Payoh Lorong 8 Market and Hawker Center, be sure to make a beeline for Four Seasons Cendol. This stall sells various flavors of cendol, so when you're trying to beat the Singaporean heat, get your cold fix here.
What's great about this stall is its prices are affordable, and it already has a generous serving. And if you're in a rush, you can always buy the ice-blended cendol in a cup, which you can easily slurp with a straw.
Pro Tip: Since you're already inside a hawker center, you might as well use the opportunity to check out the other stalls here and discover more amazing food.
Jin Jin Hot/Cold Dessert
— From: tj.pangyfungy
Website: http://www.jinjindessertclub.com/home/
Address: 6 Jalan Bukit Merah, #01-21 ABC Brickworks Market Food Centre, Singapore 150006
Contact Details: +6590932018
Operating Hours:
Thursday to Tuesday—12 to 10 pm
Wednesday—closed
Speaking stalls serving iced desserts, Jin Jin Hot/Cold Dessert is another crowd favorite. This stall comes with traditional ice kachang and cendol offerings, but there are also modern twists and unique flavor combinations, so don't hesitate to experiment.
My favorite has to be the mango grass jelly. It's my go-to order, and I've yet to get tired of it. Other personal favorites include the red ruby and the powder cendol (the condensed milk and gula melaka syrup just elevate this dessert).
Pro Tip: This is a popular stall, so be ready for long lines, especially during peak hours.
No Name Dessert
— From: jonnyboyeats
Address: 69 Bedok South Ave 3, #01-490, Singapore 460069
Contact Details: +6591811909
Operating Hours:
Tuesday to Sunday—1 to 7 pm
Monday—closed
On the outside, this shop may seem like a humble establishment, but don't let that fool you. This is actually an underrated spot that serves delicious food.
Its signature dish is the No Name Cheng Tng, and I'm not kidding when I say that regulars bulk-order this icy soup. That's how you know that the dishes here are delicious!
Aside from that cheng tng, their menu includes ice kachang, pulut hitam, bubur terigu (wheat pearl porridge), and more, so you'll really have a lot of options. At the end of your visit, your sweet cravings will be satisfied.
Pro Tip: To make the most of the experience, I suggest bringing a few people and having them order different desserts. That way, you can share, and you can get to taste as many of them as possible.
Ji Xiang Confectionery
— From: natoeats
Website: https://jixiangconfectionery.com.sg/
Address: 235 Victoria St, Singapore 188027
Contact Details: +6598888500
Operating Hours: Monday to Sunday—7 am to 7 pm
Ji Xiang Confectionery is basically a haven for ang ku kueh lovers. This store sells all kinds of ang ku kueh.
There are traditional red tortoise cakes, but there are also cakes with other colors and unique fillings.
My favorite thing about this shop is that it has a service called "Baby Full Month Celebration," which essentially means you get a gift set full of Chinese dessert goodies in celebration of giving birth to your baby.
My family ordered this when my cousin gave birth to a baby boy, and I had a great time munching on the cakes. You really can't beat the vibrant and flavorful ang ku kueh that Ji Xiang Confectionery delivers.
Pro Tip: If you're looking for recommendations, I'd say order the yam or coconut ang ku kueh. These are my favorites from the menu, and you might like them too.
Ratu Lemper
— From: artofmoood
Website: https://ratulemper.com/
Address: 31 Arab St, Singapore 199730
Contact Details: +6598132450
Operating Hours:
Tuesday to Thursday, Saturday and Sunday—10 am to 6 pm
Friday—10 am to 1 pm, 1:30 to 6 pm
Monday—closed
Located on Arab Street, Ratu Lemper is a restaurant serving halal-certified sweets, and it's one you don't want to miss out on.
Understandably, the star of the show is the titular lemper (a glutinous rice snack with a shredded chicken filling), but they also have an impressive array of kuehs. I always get flustered whenever I try to order here because I can't decide which ones to try first.
So far, from the ones I've tried, my favorites are the bingka ubi (baked tapioca cake) and bakar pandan (pandan custard cake). The next time I visit, I'll try at least one of the five kueh lapis flavors because I keep hearing good things about them.
Pro Tip: Some of the products here can get pricey, so be mindful of what you order.
Nonya Bong The Peranakan
Social media: https://www.instagram.com/nonyabong/?igshid=66obs4nxyduh
Address: 663 Choa Chu Kang Cres, Block 663, Singapore 680663
Contact Details: +6596191949
Technically, Nonya Bong The Peranakan isn't a dessert shop. You enjoy savory dishes here like you would in a typical restaurant.
But the sweet treats served here are so good that I end up recommending this to my fellow dessert lovers.
To be specific, the two highlights of this restaurant are the sago gula melaka and pengat (made from banana, yam, and sweet potato cooked in palm sugar and coconut milk).
Pouring gula melaka on a steaming dome of sago pearls never fails to amaze me.
Meanwhile, the rich flavors of the pengat just hit the spot every time.
Pro Tip: The serving for sago gula melaka is generous, so be sure to share it with your loved ones.
One Last Tip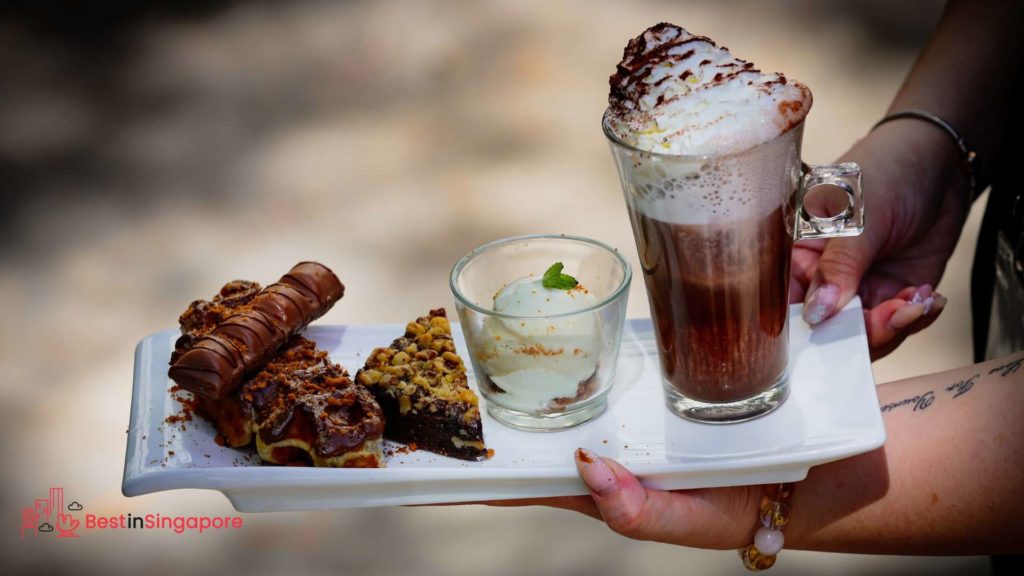 Add a few savory dishes to the mix. I know this is an article dedicated to sweets, but I still suggest that you eat something savory in between desserts.
You need something to cut through the sweetness to avoid getting sick of it.