A City in Bloom: Plants You Can Find in Singapore
Singapore may be a glistening metropolis now, but before all this urbanization occurred, it was once covered in forests. When the British came, a huge chunk of these forests was transformed into towns, but still many plants have survived up to this day.
Now, the government has created various gardens to nurture and protect various species of plants—from native ones to plants you can only see in other countries. And best of all, you can visit these gardens to check out the plants for yourself.
Curious as to what plants you might want to see in Singapore? Then, you're in luck because, in this article, I've listed my favorite native and unique plants as well as my go-to gardens in Singapore!
What native plants can I see in Singapore?
According to the National Parks, Singapore currently has 2,200 plant species on record, which is a big number for such a small island. Many of these species are native to Singapore, but we can't possibly enumerate them all.
That said, some of the native plants in Singapore stand out, and the following are some of the ones you will most likely see in various gardens and parks: 
Lipstick Plant
— From: pisceanplantboy
Binomial Name: Aeschynanthus pulcher
Habitats: Primary rainforests
Maximum Height: 0.5–1 m
Maximum Plant Spread/Crown Width: 0.1–0.5 m
As the name suggests, the lipstick plant resembles a lipstick. Its petals have that vivid red hue that just catches your eye.
In addition to that, this plant has thick, fleshy leaves, and its stem can either be green or dark purple and sparsely hairy or smooth.
The lipstick plant is commonly found in primary rainforests, but since it thrives well on well-drained soils and it's okay being under a semi-shade, many people have cultivated it in their gardens.
For that reason, you might be able to spot lipstick plants as ornaments in a house or building. Usually, they're placed in hanging baskets, so be sure to be on the lookout for them.
Aquatic Ginger
— From: twogreensquarefeet 
Binomial Name: Alpinia aquatica
Habitats: Primary and secondary rainforests, coastal forests, freshwater swamp forests, riverine, shorelines
Maximum Height: 2 m
The interesting thing about aquatic ginger is that it's a species of ginger that can actually grow even when it's partially underwater. Because of that, you can mostly find aquatic gingers in waterlogged areas, streams, and other bodies of water.
Just like the lipstick plant, the aquatic ginger prefers to be under a semi-shade, making it perfect for ornaments in parks and gardens. I've seen this plant in the Singapore Botanic Gardens, so you might want to head there if you want to see it for yourself.
Asian Spiral Ginger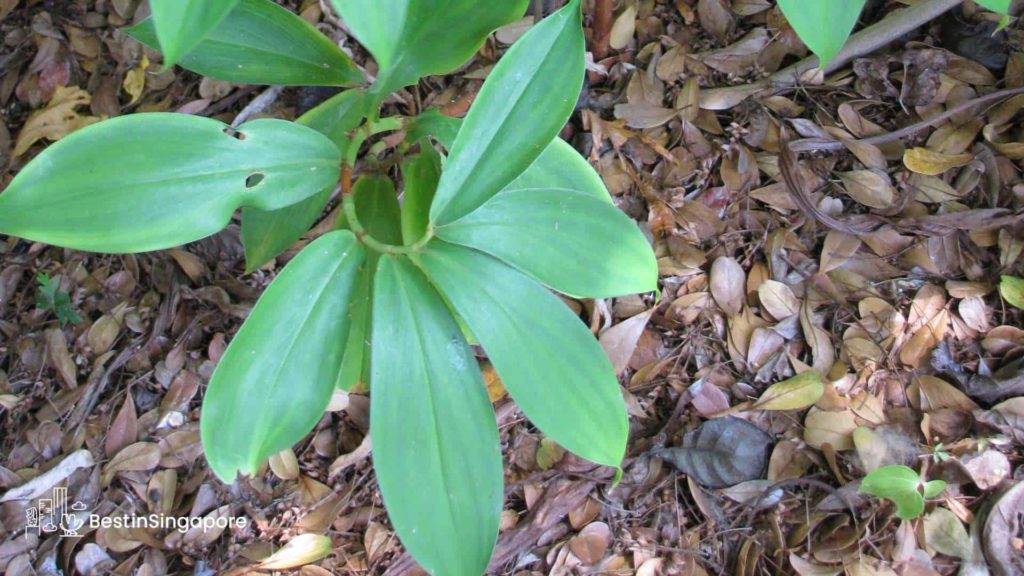 Binomial Name: Cheilocostus globosus
Habitats: Primary and secondary forests
Maximum Height: 1.5 m
The Asian spiral ginger was actually thought to be extinct once, but then Dr. Jana Skornickova, a researcher from the Botanic Gardens, rediscovered it.
This plant is the taller relative of the edible ginger that we know. It can grow up to a height of 1.5 m.
Aside from that, it features large flowers that look reddish-orange in color, and those are lovely to look at.
The Asian spiral ginger is easy to cultivate. It works well with moist and fertile loamy soils, and it doesn't need to be under sunlight all the time.
Because of this, this plant can be found in many gardens, including those owned by hobby gardeners.
Common Dianella
— From: william6_dylan 
Binomial Name: Dianella ensifolia
Habitats: Primary and secondary rainforests, grassland, savannah, scrubland
Maximum Height: 2 m
The common Dianella, also known as umbrella dracaena or flax lily, is a plant that's just full of surprises. To begin with, it looks like a clump of grass with long leaves during its initial stages, but then, it produces star-shaped flowers with a beautiful blue-violet color.
Its growth doesn't stop there. It also continues to bear berries that feature a rich shade of blue!
All these features make the common Dianella much more interesting. You never know which stage you're going to get when you look at this plant for the first time.
Simpoh Lak
— From: miconecobreeze
Binomial Name: Dillenia excelsa
Habitats: Primary and secondary rainforests, monsoon forests, riverine, freshwater swamp forests
Maximum Height: 25 m
The Simpoh Lack is a medium-sized riverine tree that can grow up to 25 meters and has a bushy columnar crown. This plant also produces glossy green leaves and large petals (typically 10 cm in diameter) that are bright yellow.
This tree is pretty tolerant, as it can grow in almost any kind of soil, so you can typically find it being planted along roadsides and, of course, parks and gardens. I love seeing Simpoh Lak, especially its flowers, on a very sunny day because the colors just pop.
Freycinetia javanica 
— From: gaiaurbanjungle 
Habitats: Terrestrial
On the surface, this plant is very much overlooked, but it's actually everywhere in Singapore. Freycinetia javanica is a climbing shrub with a stout stem, and since it grows well on most kinds of soils, it's a great plant to feature in parks and gardens.
Additionally, its flowers are a striking reddish-orange, so they're used as ornaments in houses, stores, and other establishments.
Malayan Ixora
— From: miconecobreeze
Binomial Name: Ixora congesta
Habitats: Primary and secondary rainforests, monsoon forests
Maximum Height: 7 m
The Malayan Ixora is a plant that people either see as a big woody shrub or a small understorey tree.
Depending on the environmental conditions, it can grow beyond two meters. The maximum height is roughly seven meters.
The highlight of this plant is its many clusters of orange flowers. These flower buds look like a bunch of needles, which is why some locals call it "Jarum Jarum" (literally means "needle needle").
Additionally, the flowers attract a lot of butterflies, so if a garden has a bunch of Malayan Ixora, you might be lucky enough to spot a few brightly colored butterflies zipping past you.
Wax Flower
— From: hoya_mismo
Binomial Name: Hoya latifolia
Habitats: Terrestrial
The wax flower may look simple at first glance, but it becomes even prettier the more you look at it. The plant features clusters of light pink flowers that look like a burst of fireworks, and when you look closer, you'll realize each flower is star-shaped.
Because of this, the wax flower is perfect for decorations. I've seen it being used in landscape designs in parks, gardens, balconies, and more, and I'm sure you'll see it everywhere, too, when you visit Singapore.
Bamboo Orchid
— From: dawson_community_garden 
Binomial Name: Arundina graminifolia
Habitats: Secondary rainforests, monsoon forests, mountains, riverine, grasslands, savannahs, scrublands
Maximum Height: 2.5 m
The bamboo orchid is one of my favorite flowers of all time. It's so gorgeous with its three petals and the combination of white and purple colors; I just can't help but take pictures whenever I see it!
For this reason, bamboo orchids are primarily used for decorative purposes. Once the plant has bloomed, the flowers are then gathered to embellish streetscapes, gardens, and parks.
River Tarenna 
— From: sir_thomas2013
Binomial Name: Tarenna fragrans
Habitats: Primary and secondary forests, riverine
Maximum Height: 2.5 m
The river tarenna is undeniably a pretty plant, but more than that, its flowers are delightfully fragrant. It's even better during peak season because the whole plant can be covered with flowers, so the fragrance will be all over the place.
Even though it grows primarily in a forested area, you can still find this plant on the side of the road or in a park or garden. When you do spot it, don't hesitate to smell the flowers or take photos for remembrance. 
What are some unique plants in Singapore?
Vanda Miss Joaquim
— From: orchid.valley 
Binomial Name: Papilionanthe Miss Joaquim
Habitats: Gardens
Maximum Height: 3 m
If you can only check out one species of plant in Singapore, let it be the Vanda Miss Joaquim. After all, this beautiful flower with its bright colors is the country's national flower.
But aside from its beauty, Vanda Miss Joaquim has an interesting history. Back in the 1890s, Miss Agnes Joaquim, a Singaporean Armenian, crossed two orchid species, successfully creating the first-ever hybrid on the island.
The then-director of the Botanic Gardens, Henry Ridley, recognized the hybrid orchid and eventually named it after Miss Joaquim herself. The flower then made its home in the Gardens, where it can still be found to this day.
A century later, Vanda Miss Joaquim was honored as Singapore's national flower because its resilience and hybrid nature represent the island's growth as a community and its very own hybrid culture.
Tiger Orchid
— From: tinegarden 
Binomial Name: Grammatophyllum speciosum
Habitats: Primary rainforests, freshwater swamp forests, riverine
Maximum Height: 3 m
The tiger orchid is one that will just leave its spectators in awe. For starters, its appearance is captivating—the petals bear a brown-and-yellow pattern, very much like tigers—and for another, it's the largest orchid species in the world.
In fact, a clump of tiger orchids can weigh as heavy as two tons! Plus, each plant can bear up to 7,000 blooms at a time. Isn't that amazing?
I occasionally spot this flower whenever I'm hiking deep into a forested area, so if you'd like to see this one as well, I suggest checking out the rainforests in any of Singapore's gardens and parks.
Swiss Cheese Plant
— From: stephbplants_ 
Binomial Name: Monstera deliciosa
Habitats: Terrestrial
There are many things that I love about the Swiss cheese plant. Firstly, I love that the holes that form on the leaves really make the plant look like a type of Swiss cheese, and secondly, I love that it takes on various names.
The most common name is "Swiss cheese plant," but other people also call it "delicious monster" or "fruit salad plant" in reference to its edible fruit, which does taste like fruit salad. The list of other names goes on to include monster fruit, window leaf, and more.
The Swiss cheese plant is a tolerant species, so it can grow anywhere. Because of this, it's usually one of the plants used to decorate an interior space or a small garden.
Snake Plant
— From: golkhune.nafas 
Binomial Name: Dracaena trifasciata
Habitats: Rocky, dry terrestrial
The snake plant is arguably one of the most resilient plants out there. It can tolerate whatever growing condition—from fertile loamy soils to dry soils brought by droughts—and it doesn't need a lot of water or sun.
For this reason, it's the ideal plant for most types of landscaping, which is why you'll see this being featured a lot in parks, gardens, green roofs, and interior spaces. It's also an amazing houseplant, so you might see it inside various homes. 
Money Tree
— From: kentapics 
Binomial Name: Pachira aquatica
Habitats: Riverine
Maximum Height: 20 m
Pachira aquatica has earned several names depending on the location (e.g. it's called Monguba in Brazil or Pumpo in Guatemala), but "money tree" is undeniably the most interesting of them all. And when you know the backstory, you'll be intrigued even more.
The name "money tree" is commonly used in Asia primarily because of an old story about a man praying for money but instead receiving this odd plant. The man then took it home, planted the seeds, and eventually made money selling the fully grown plants.
Because of all this, the money tree is the ornamental plant of choice for many businesses. When you come inside a store or restaurant in Singapore, you'll usually find this plant in a pot with red ribbons attached to it.
Corpse Flower
— From: plantdelights
Binomial Name: Amorphophallus titanum
Habitat: Terrestrial
You'll know that you're in the presence of a corpse flower way before you can actually see it. This is because the corpse flower gives off a distinctive odor that is very much like that of a rotting corpse. Yes, you read that right.
But don't let the horrible smell deter you from ever checking out this flower. It's actually quite majestic.
It can tower over you and weigh more than 100 kg, and the color combination of green and crimson makes for an aesthetically pleasing sight.
I'm not sure if you can find corpse flowers in the wild since they're rare, but if you really want to see one, I suggest you head to the Singapore Botanic Gardens. There are several corpse flowers being cultivated and nurtured there.
Upside Down Tree
— From: nrh.official 
Binomial Name: Adansonia digitata
Habitats: Terrestrial, woodlands
Maximum Height: 30 m
The moment I learned that this tree is called the upside-down tree, I couldn't unsee it. It really does look like a tree that's torn upside down with scraggly branches resembling roots!
Though this plant is technically native to Africa, it was introduced here in Singapore, where it seems to thrive well too. Because of its unique appearance, it's great for landscaping designs and even bonsai, so you might find it in parks and gardens here.
Dischidia hirsuta 
— From: moss.project
Habitats: Primary rainforests, freshwater swamp forests
Dischidia hirsuta is an epiphyte that's only common in Southeast Asia, and it's one that I think is quite adorable. Its leaves are small and fleshy, and once it blooms, it produces flowers that are dark red with pink lobes.
Since it's pretty and easy to grow and cultivate, it's a great houseplant. Aside from that, it's also used to grow on trees or decorate the roadside.
Hanguana neglecta
— From: matti.niissalo 
Habitats: Parks, gardens
Maximum Height: 0.8 m
Hanguana neglecta is a herbaceous plant with long and spread leaves and tiny single-seeded berries that start out green and then become red-brown and black once they're ripe.
The berries aren't edible, but the plant itself works great as an ornament. Many parks and gardens have this plant in pots, and some are out there growing in the wild, so be on the lookout for them.
Singapore Ginger
— From: journeythroughparadise 
Binomial Name: Zingiber singapurense
Habitats: Primary and secondary rainforests
Maximum Height: 0.8 m
It's easy to overlook the Singapore ginger, but personally, it's one that I always like to spot in the wild. I just think that there's something so captivating about its cream-white flowers set against its showy orange-red bracts.
Sadly, this plant is considered critically endangered now, but considering that it doesn't need constant sunlight and only requires moderate water, I have high hopes that things will turn out for the better for this species.
Where do I find plants in Singapore?
Parks and gardens are the best way to find plants in Singapore, and luckily for you, there are many of them on the island. My go-to recommendations will always be Singapore Botanic Gardens, Gardens by the Bay, and Jurong Lake Gardens.
The best part about these attractions is that there are various mini-gardens within them, all filled with a variety of plants. So, whether you just want to admire beautiful flowers or learn more about medicinal plants, these gardens have got you covered. 
Singapore Botanic Gardens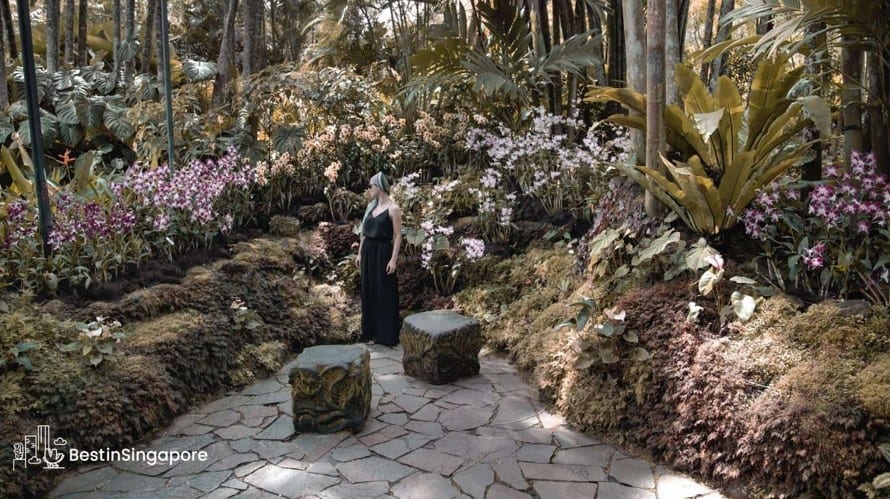 Website: https://www.nparks.gov.sg/sbg 
Address: 1 Cluny Road, Singapore 259569
Operating Hours: Monday to Sunday – 5 am to 12 am
Price: Free
The Singapore Botanic Gardens is the pinnacle of botanical study on the island. It was established in 1859 to allow botanists to grow and cultivate plants, and to this day, it still serves as a leading institute for botany.
Because of the role it has played in studying and preserving Singapore's plants, the Gardens was inscribed as a UNESCO World Heritage Site in 2015—the first and only tropical garden to ever receive the honor.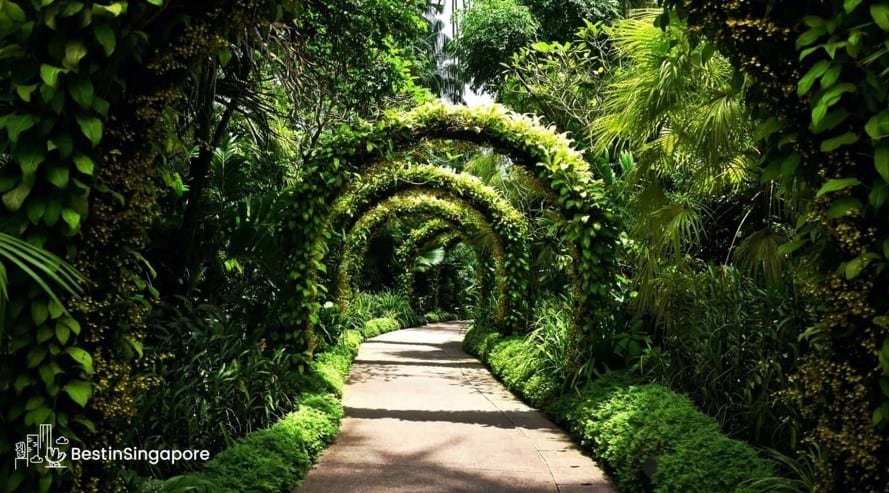 Here are my recommendations on where to go in the Botanic Gardens to check out and admire various plants:
Bonsai Garden. Bonsai is an art form of growing miniature trees, and this garden will really make you appreciate it.
Ginger Garden. As the name suggests, this garden houses several species of gingers, but my favorite thing about this area is that it looks like a painting that's come to life. It's so serene and lovely. I highly recommend it!
National Orchid Garden. Are you a big fan of orchids—or flowers in general? Or maybe you just like to see colorful scenery? If you're any of those three, the National Orchid Garden is the place to be.
Evolution Garden. What I find so unique about this garden is that it walks you through the evolution of plants. I've always described it as something like Jurassic Park but with plants, and I'll stick with that comparison.
Fragrant Garden. As you can guess from the name, this garden features flowers that smell really great. Because of this, it's a crowd favorite, so be sure to check it out too.
Gardens by the Bay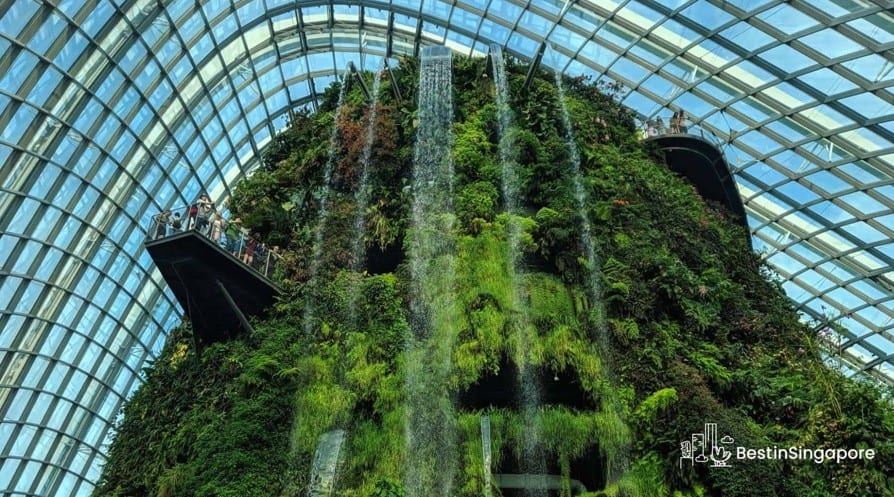 Website: https://www.gardensbythebay.com.sg/ 
Address: 18 Marina Gardens Drive, Singapore 018953
Operating Hours: Monday to Sunday – 5 am to 2 am
Price: Free, except for a few attractions inside (Cloud Forest, Flower Dome, Floral Fantasy, Supertree Observatory, and OCBC Skyway)
Another paradise for plant lovers is Gardens by the Bay, which is on Singapore's southern end, near Marina South Pier. 
This attraction is just so gorgeous. The Supertree Grove alone can take your breath away.
But there are other places within the Gardens where you can find countless plants. Here are some of my recommendations on what to check out:
Cloud Forest. This conservatory is nothing short of breathtaking. The interior is made to imitate how a mountain forest looks and feels, so you can find numerous exotic plant species here. And oh, don't forget those iconic waterfalls!
Flower Dome. For flower lovers, this conservatory should be on your itinerary because this place has everything you can dream of. You can even find flowers that only grow in South African savannahs here. How cool is that?
Floral Fantasy. This is another great spot for flower enthusiasts. Here, you can find pretty flowers in pretty arrangements, so you can't help but gawk at everything or take out your camera phone to take some photos.
Serene Garden. This garden is such an underrated attraction, but I love it because it makes me feel so calm and at ease. And of course, the greenery is worth checking out here.
Sun Pavilion. Do you want to see a real cactus and other plants that you can only find in deserts? If so, then the Sun Pavilion is where you'll want to go.
Jurong Lake Gardens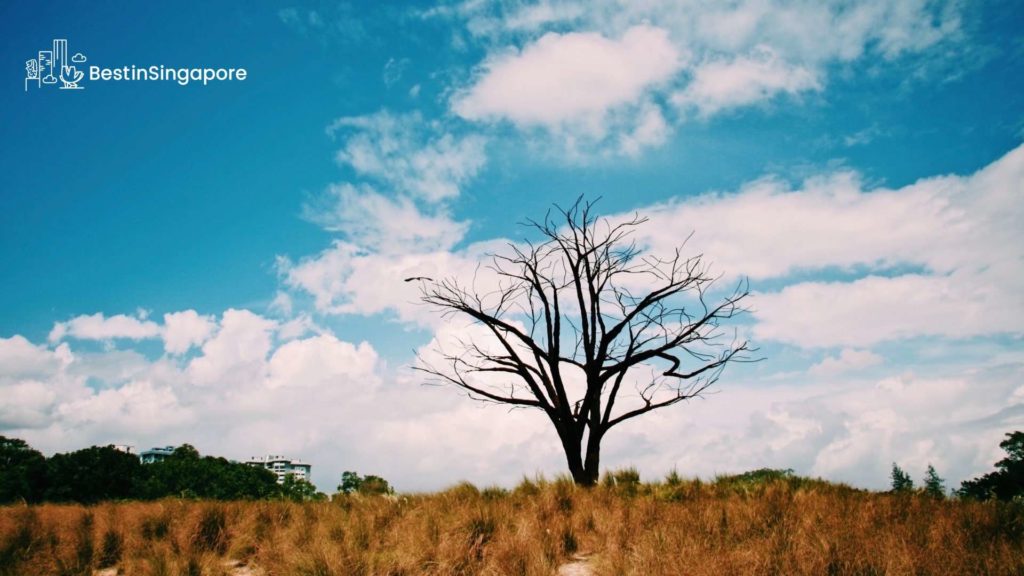 Website: https://www.nparks.gov.sg/juronglakegardens 
Address: Yuan Ching Rd, Singapore 
Operating Hours: Monday to Sunday – open 24 hours
Price: Free
Located in the heartlands, Jurong Lake Gardens is meant to be a place for families and communities to gather and relax together. But more than that, this attraction is a haven for plant lovers since there are several areas that will pique your botanical interest.
I always tell people that the best way to experience the gardens is to go on a hike because the hiking trails here take you through various sections with ease. If you'd like to make your own trail, here are the areas I suggest you include.
Japanese Garden. Currently closed for renovations, this garden will feature flowers and aquatic plants that will make the entire place burst in color. Other exciting features include the Riparian Forest and the Flowering Canopy Walk.
Neram Streams. These streams come with various plants that help clean the water. If you'd like to check them out, you should take on a guided tour so that you'll learn more about the rich biodiversity here.
Rasau Walk. This 300-meter boardwalk has to be my favorite part of the Gardens. It's because it winds through a restored freshwater swamp, so you can find many plant species here. I've been told there are about 50!
Therapeutic Garden. Another one of my favorites is the Therapeutic Garden simply because it really does a good job of making you feel peaceful. Aside from that, the plants are in beautiful arrangements, and I love admiring them.
Grasslands. Whenever I come by this section, I always feel like I'm being transported to a different land. The dominant plant here is Chinese fountain grass, but you can also find other species, such as Vetiver grass.
Tips to Consider When Dealing with Plants in Singapore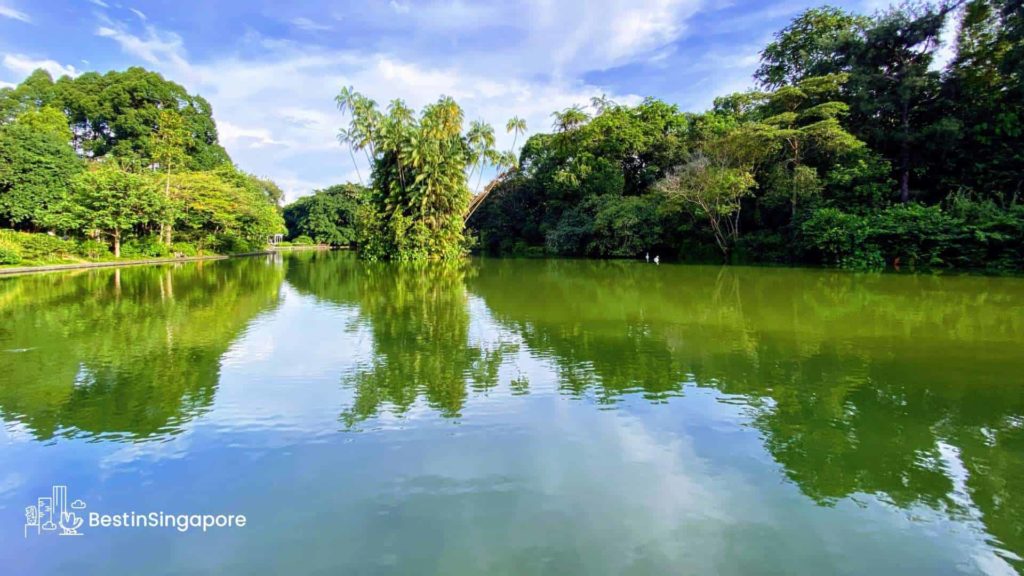 The parks and gardens in Singapore are such great places to be to stroll and admire all kinds of plants. If you do plan to visit some of these green spaces, be sure to follow these tips for a seamless experience:
Don't tamper with the plants. The parks and gardens meticulously take care of the plants they host, so it will be totally disrespectful if you pick them off. If you must, you have to touch the plants gently and carefully.
Visit galleries and museums. Aside from mini gardens, the three main attractions I recommended above actually have galleries and museums with more information about plants. I suggest checking them out to learn more.
Scan QR codes or read the plaques. While we're on the topic of learning, some of the areas within the gardens have QR codes or plaques. These hold fun trivia about the area's flora and fauna, and I love looking them up and reading about them.