The 12 Best Kids' Toys Shops in Singapore – Reviewed
If you're wondering where the best kids' toys shops in Singapore are, wonder no more. Today's review aims to point you in their direction.
We made sure to round up only those toy stores worth visiting with your little ones in mind. But first, let's take a look at the expenses involved.
Are kids' toys in Singapore costly?
The average cost of a basic toy in Singapore (with no electronics or fancy stuff) is around S$50. More popular toys, especially those under exclusive licenses, can be even more expensive—almost in the S$100 range.
In recent years, the distinction between mere toys and those considered collectables has become blurred. The fact that most media companies have also ventured into toy production has also affected the prices of toy shops in general.
But because the Singapore toy market is saturated with trendy products, you can at least canvass several toy stores to find the best price for similar items. And sales are always expected at toy shops, so you might want to check out items then.
The Best Kids' Toys Shops
We selected the toy stores in this review using the following criteria:
1. Toytag Singapore
Toy shop for kids of all ages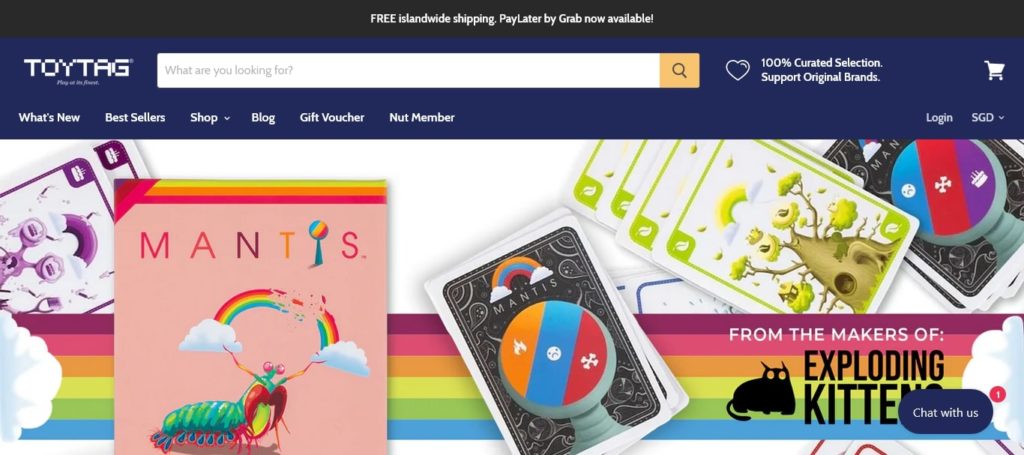 Title
Info
SERVICES
Tabletop games, tech and gizmo, brain toys, craft and DIY, party supplies, active play, music
WEBSITE
https://www.toytag.com/
ADDRESS
201 Henderson Road, #06-02/03, Apex @ Henderson, Singapore, Singapore
CONTACT DETAILS

[email protected]

+65 6276 7268

OPERATING HOURS
Monday to Friday, 10 AM - 7 PM

Closed on weekends
Because it places special emphasis on original, homegrown brands, there's certainly a lot of unique items to find at Toytag. And we think this is quite a feat for a toy shop in Singapore that operates both as a retail store and an online shop.
It carries everything from tabletop games to high-tech gadgets like 3D printing pens. Plus, it does free island-wide shipping!
However, we do find it disappointing that the shop isn't open on weekends. And Toytag also doesn't accept credit card payments, which is somewhat inconvenient.
Carries homegrown educational toy brands
Also has an online shop
Free island-wide shipping
Closed on weekends
Doesn't accept credit card payments 
Customer Reviews
A huge number of options for all ages
"A great place to get board games. A huge number of options to choose from for all ages. Stem toy kits for kids were pretty impressive too. Though the online store listed all the games, the staff there was pretty helpful in giving me recommendations and suggestions. Would definitely recommend this place!" – Ram Nagarajan
Excellent customer service
"Great selection of games and excellent customer service. They know the games well and we're able to suggest options for my tastes." – Isaak Hayes
2. Kiddy Palace
Where to buy cheap toys in Singapore
Kiddy Palace has been around since 1992 and has since expanded to 14 retail stores across Singapore. It's also become a popular shop for maternity and baby accessories.
There is a toys section at the shop, though it isn't as extensive as others on this list. While it carries toys for both kids and babies, the shop itself is primarily focused on expectant mothers, infants, and toddlers.
That said, it does have a good range of reasonably priced playthings that are within national averages. And it holds regular sales on a lot of its inventory, too.
Open daily
Has multiple branches in Singapore
Holds regular sales
More of a baby and mom accessories shop
Doesn't carry toys for bigger/older kids
Customer Reviews
Great range of items on sale
"They've rearranged their layout, with what looks like a bigger toy section, the aisles are easier to manoeuvre, while still managing to have a great range of items on sale. They've been our consistent go-to place for pretty much most things kids & babies and will continue to be if they keep doing things right." – Daniel Chua
Good collection of toys
"Good collection of toys, dresses, daily essentials and specific items, for babies, kids and maternity needs." – Shilpa Purushothaman
3. Tickle Your Senses
Where to get wholesale toys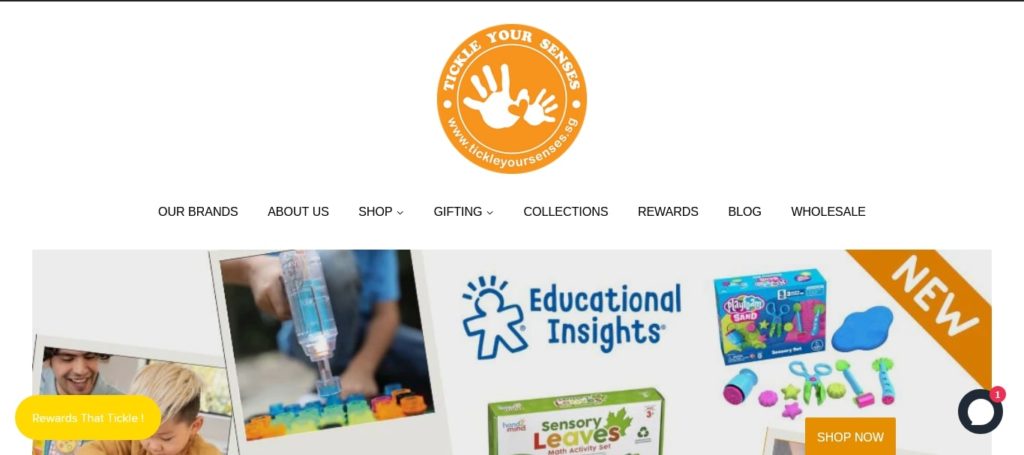 Title
Info
SERVICES
Thematic sensory play kits, party favours, baby toys and accessories, wholesale
WEBSITE
https://tickleyoursenses.sg/
ADDRESS
Online store
CONTACT DETAILS

[email protected]

+65 9488 7443

OPERATING HOURS
24/7 chat support
As its name implies, Tickle Your Senses is a toy store that caters to sensory play. It has collections by theme such as farm, sea, jungle, space, or dinosaur for every imaginative mind to learn from and enjoy.
Its unique vision is that sensory play should be messy so that all of a child's senses are engaged. From play dough to water beads, there are plenty of toys for young kids to interact with and use all their senses.
Tickle Your Senses is one of the few toy shops in Singapore that also sell wholesale. Unfortunately, since it doesn't have its own brick-and-mortar store, some of its items might not readily be in stock in certain consignment shops.
Focuses on sensory play
Can sell wholesale
Free local shipping for purchases above S$90
Functions more as an online shop
Item availability is subject to individual stockists
Customer Reviews
Sells cool, thoughtfully conceived tool kits
"These Sensory Play enthusiasts create workshops (and can even run activity stations at kids parties and events) and sell cool, thoughtfully conceived toolkits that include water play beads and their own hand-made dough (which smells divine like essential oils, unlike commercial play dough).." – Tjin Lee
My boys and I fell in love with the Tickle Your Senses play dough
"Oh my, my boys and I fell in love with Tickle Your Senses play dough. I can finally understand why my friends have been raving about it – the sand-coloured homemade play dough is non-toxic and taste-safe and was truly soft and lovely to mould. I also really appreciated that it did not stick to the table, the tools or our hands as most commercial play dough did.." – Debra Li
4. Le Petit Society
Great toy shop on Orchard
Title
Info
SERVICES
Baby gifts and items, party favours and accessories, bags, children's and family clothing, plush toys, personalised items, gift wrapping
WEBSITE
https://www.lepetitsociety.com/
ADDRESS
290 Orchard Rd, Mall, #05-35 Paragon, Singapore 238859 (flagship store)

Multiple stores across Singapore

CONTACT DETAILS

[email protected]

+65 6957 5008

OPERATING HOURS
Daily, 10 AM - 9 PM
Though it's better known for providing fashionable and sustainable kids' clothing, Le Petit Society also carries adorable toys for kids from one to nine years old.
Its main toy brand is Jellycat, and you can expect plenty of cute, whimsical plushies for your little ones. The shop also carries items from Moulin Roty and activity kits from OOLY.
The Jellycat items can admittedly be pricey, with some seasonal ones going for around S$375. But the shop does offer free local shipping for purchases over S$80 and free international shipping for orders S$150 and up.
Has multiple branches across Singapore
Open daily
Free local shipping for orders over S$80
Limited toys for bigger/older kids
Some Jellycat toys are a bit pricey
Customer Reviews
Awesome customer service
"Friendly staff and gave lots of suggestions when I was buying a gift for my newborn baby niece. In the end not just bought newborn gifts. But many pretty dresses for my girls. Awesome customer service and great quality stuff! Looking forward to the upcoming CNY collections." – Eunice Low
Lovely in-store shopping experience
"The clothes material is very good and it is also very cute for a family matching style and the two ladies' staff in the store are extremely helpful and friendly. Special thanks to jasmine for knowing what the clients need! Thank you for the lovely in-store shopping experience." – Queenie Ng
5. My Toy Shop
A Singapore toy shop selling online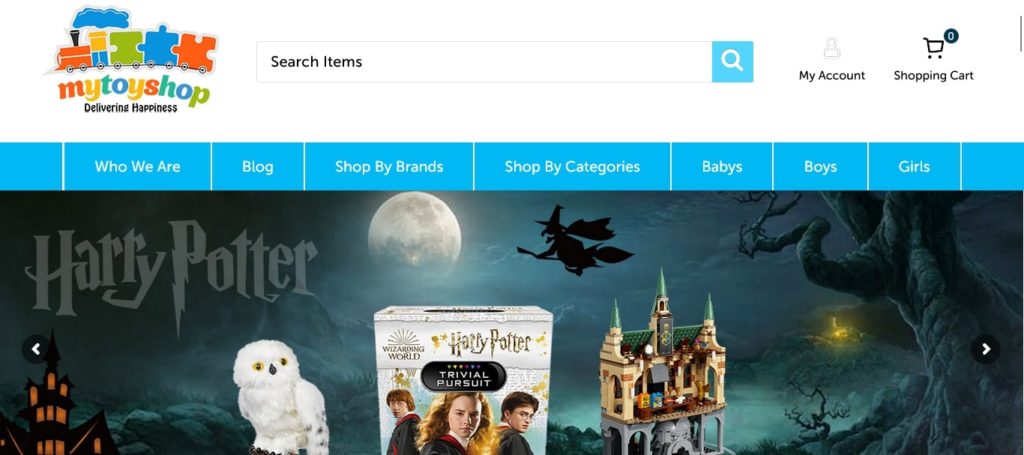 Title
Info
SERVICES
Baby and toddler toys, baby accessories, games and puzzles, hobbies and collectables, learning toys, dolls and accessories
WEBSITE
https://mytoyshop.com.sg/
ADDRESS
293 Holland Rd, #02-11 Jelita Shopping Mall, Singapore 278628
CONTACT DETAILS
+65 9127 3521
OPERATING HOURS
Monday to Saturday, 10:30 AM - 6 PM

Sundays, 11 AM - 4 PM
While My Toy Shop has a physical store at the Jelita Shopping Mall, it also has an e-commerce platform. It's easier to see the wide range of playthings by brand, category, or age range.
It's got a great variety of toys from toddler items to games and puzzles. And if you're looking for particular brands, you're likely to find most of them, as the shop carries dozens of local and international toys.
Customers have the option to order online and do self-pick-up at the Jelita Shopping Mall outlet. As for deliveries, it does come with a flat rate (at a reasonable S$4, so it's still good).
Has both a physical and an online store
Wide range of toy brands
Open daily
Some deliveries can take from 7 to 10 working days
Doesn't allow reservations
Customer Reviews
Impressed by the collection of toys
"I was impressed by the collection of toys. I saw that he had 4M toys which were very educational. I wanted to go back again but was unable to, which is why I contacted him via phone. He was flexible enough for me to purchase via PayNow and for me to arrange my own delivery. Overall good customer experience. I will go back for more." – Mark Anthony Canios
Shop owner was attentive to requests
"Had a good selection of Lego toys. The shop owner was attentive to our requests and gave good recommendations." – Ivan Loh
6. The Children's Showcase
Toy shop for kids of all ages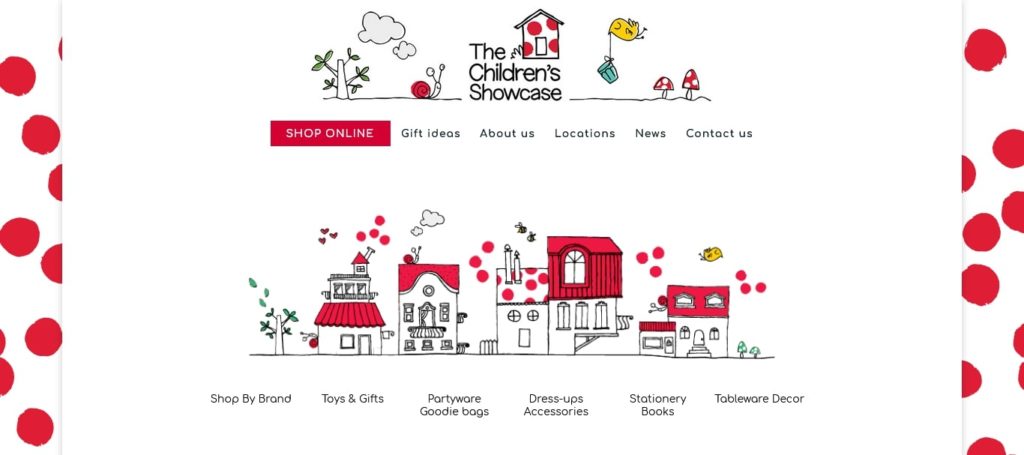 | Title | Info |
| --- | --- |
| SERVICES | Toys and gifts, partyware, goodie bags, dress-ups, accessories, stationery, books, tableware decor |
| WEBSITE | http://thechildrensshowcase.com/ |
| ADDRESS | 163 Tanglin Rd, #02-107, Singapore 247933 |
| CONTACT DETAILS | +65 6735 0884 |
| OPERATING HOURS | Daily, 10 AM - 7 PM |
The Little Showcase carries some of the most unique toys in Singapore we've seen. Local and international brands like Meri meri, Maileg, Legler, and others are waiting for little ones to play with and learn from.
It's hard not to squeal at all the pastel cuteness at this shop. Everything from colourful mermaid tails to whimsical wooden vehicles will vie for shoppers' (and browsers') attention.
There's also free delivery in Singapore for a minimum of S$20 purchase. However, we find it disappointing that The Little Showcase doesn't accept cash payments.
2 locations in Singapore
Carries unique brands and items
Free local delivery for a minimum of S$20
Open daily
Doesn't accept cash payments
Doesn't have a lot of options for older kids
Customer Reviews
Very cute and lovely products
"Absolutely amazing place if you wanna get gifts for kids! Friendly staff and very cute & lovely products." – Calvin Ong
Does gift wrap at no extra cost
"I started purchasing from this store online since the start of the circuit breaker and have not visited their physical store so far. They do gift wrap at no extra cost, which was a nice touch, especially during the pandemic when you cant buy gifts, wrap them yourself and hand them to the recipient personally. Recently I made another purchase and they included such a lovely, pretty handmade card. Made the recipient's and my day!" – Aline Pang
7. Playhao
Great toy shop on Orchard
Title
Info
SERVICES
Gift registry, arts and crafts activities, sensory toys and games, travel-friendly toys, puzzles, games, pre-writing and learning toys, STEM coding and electronics
WEBSITE
https://www.playhao.com/
ADDRESS
583 Orchard Road, #02-15 Forum The Shopping Mall, Singapore 238884
CONTACT DETAILS
+(65)8869 7805

+(65) 6592 0938

OPERATING HOURS
Daily, 10 AM - 7 PM
Playhao has a great range of products that caters to the imagination and interests of kids of different ages. There are traditional toys like building blocks and doll houses as well as STEM toys for coding and non-electronic uses.
Toddlers to school-age kids can find something to play with and learn from at this shop. There are beginner puzzles to more complex ones as well as sensory toys to help develop fine motor skills.
The shop's catalogue is a bit on the costly side, though. Block sets can cost anywhere from S$60 to almost S$1,380. But there are still some items that fall within national averages.
Carries STEM toys
Wide range of unique brands
Open daily
Pricey items
Gift wrapping costs almost S$5 per item
Customer Reviews
Items arrived well packaged and wrapped with a personal note
"A fantastic shop. We can't walk out without buying! I started buying online after COVID and their service is brilliant.
Items arrived well packaged and wrapped with a personal note. Toys that haven't arrived because of delivery delays are well communicated. I feel confident knowing my items will arrive during these difficult times.
I highly recommend PlayHao and Ticklemysenses to my friends. I've already persuaded friends to take the open ended wooden toy plunge. It's definitely worth the investment." – Emma Louise Oddie
Kudos to the management
"Thanks for bringing Sumblox into Singapore on my suggestion. Honestly, I was surprised you could pull it off! Great teamwork, John and Kris! Kudos to the management who was decisive and recognise a winner when they see it. Glad to see that Sumblox is now part of your product offering! But do look into beefing up your online presence as the brands you represent have so much more potential to create a far more exciting customer experience." – Elizabeth Cho
8. KYDZ
Where to get educational toys in Singapore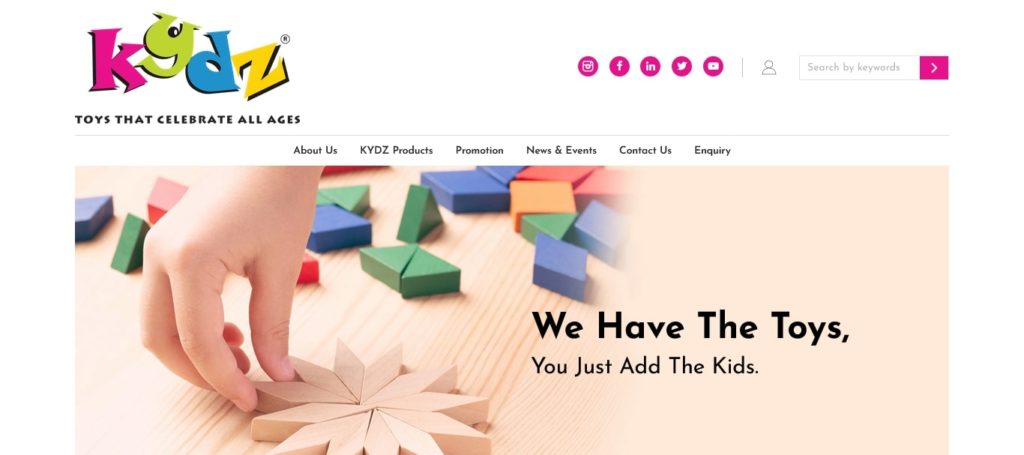 Title
Info
SERVICES
Assistive technology toys, books, building toys, developmental toys, electronic learning, gifts, novelties, party favours, mathematical toys, Montessori aids, music, occupational therapy items, puzzles, teacher's essentials, science and discovery toys
WEBSITE
https://www.kydzedu.com/
ADDRESS
3791 Jalan Bukit Merah, Singapore 159471
CONTACT DETAILS
+65 6274 3688
OPERATING HOURS
Monday to Friday, 9:30 AM - 6 PM

Saturdays and Sundays by appointment
Offering "toys that celebrate all ages," KYDZ has a great range of educational tools and products that help with the developmental process.
Even those with learning difficulties and special needs can find something at this store that's appropriate for them. In fact, the shop has partnered with numerous educational institutions and even nursing homes for its products to be used in therapy.
It's a bit of a letodwn that the shop is strictly by appointment only on weekends, though. And enquiries are required to get to know the products' price tags.
Wide range of educational toys
Good variety of local and international brands
Has toys for those with learning difficulties 
Weekends by appointment only
Doesn't immediately offer its price list 
Customer Reviews
Good quality toys for all ages
"Good quality toys for all ages. Friendly and helpful owners. Highly recommended to go to Kydz to source for educational toys!" – PC Lim
A homegrown company with a heart for the young and old
"Extensive range of brain development toys and manipulatives! So proud that this is a home grown company with a heart for the young and old!" – Elizabeth Cho
9. Bricks World
One of the biggest toy stores in Singapore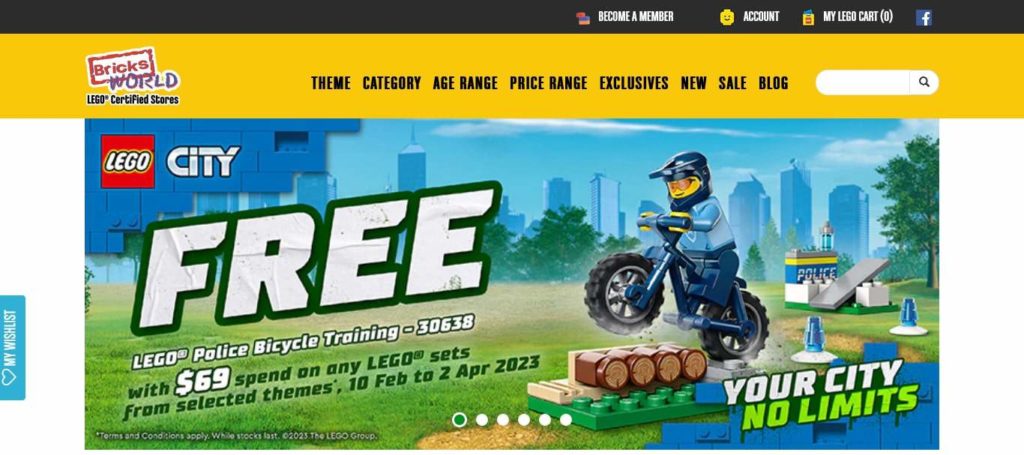 Title
Info
SERVICES
LEGO specialist retailer, various themed LEGO sets
WEBSITE
https://www.bricksworld.com/
ADDRESS
68 Orchard Rd, #03-17, Singapore 238839

Multiple branches across Singapore

CONTACT DETAILS
+65 6238 8252
OPERATING HOURS
Daily, 10:30 AM - 9:30 PM
Is your little one a LEGO enthusiast? Then bring them to Bricks World, which is a LEGO-certified toy shop in Singapore.
Although it only offers LEGO and no other brands, we're happy to note that Bricks World has items that satisfy a wide age range. Anyone from toddlers to teenagers and above (that's you, Mom and Dad!) can find a set they love here.
And if you think LEGO items are all pricey, think again. While the shop carries sets that are on the pricier spectrum, there are items here below S$15, too.
The free delivery does come with a steep stipulation though. Only purchases S$300 and up can avail of it.
Some LEGO items are below S$15
Wide range of LEGO themed toys and accessories
Open daily
Doesn't offer other brands aside from LEGO
Free delivery only for orders S$300 and up
Customer Reviews
Staff helped me pack a couple of large sets
"The staff was very helpful. I bought a couple of large sets and the staff helped me to pack them in 2 boxes so that it was easy for me to carry to the taxi stand. Thank you." – Jaslin Chia
Excellent range and well-stocked
"Excellent range and well stocked. They also offer single brick and make your own minifigs which other retails stores don't." – Francis Yeo
10. T For Toys
Where to buy cheap toys in Singapore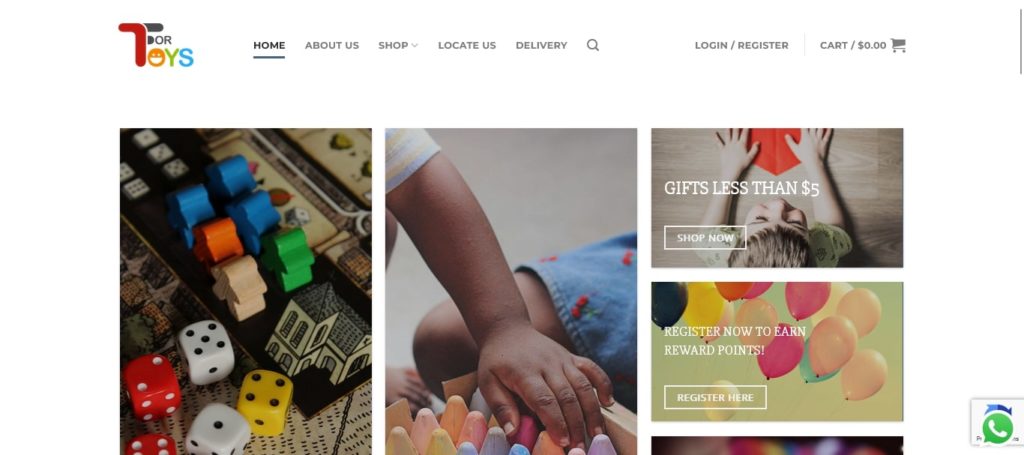 Title
Info
SERVICES
Arts and craft, activity sets, building blocks, books, costumes, family activity, games, learning tools, puzzles, science toys, musical toys, walkers
WEBSITE
https://tfortoys.com/
ADDRESS
18 Tampines Industrial Crescent #01-02A Space @ Tampines Singapore 528605
CONTACT DETAILS

[email protected]

+65 9021 7376

+65 9001 0857

OPERATING HOURS
Monday to Friday, noon - 6 PM

Saturdays and Sundays, noon - 7 PM
T for Toys is a homegrown kids' toy shop in Singapore with an emphasis on affordability. So if you want quality playthings that won't mess up your budget, you'll find toys below S$5 here.
The store comes fully stocked with everything from wooden toys to interactive games for parents and kids to enjoy. And the shop allows customers to try out the items before buying them!
The shop is open daily, though we'd love it if it opened earlier than noontime. There's also a flat delivery fee of S$5, with free delivery applying only to purchases above S$120.
Items available for less than S$5
Wide array of toy types
Open daily
Free delivery only for purchases above S$120
Not open in the morning
Customer Reviews
Place is stocked with toys for children and family activities
"Monica helped us select our toys for the appropriate age group and gender. Place is stocked with toys for children and family activities. Spacious and the parking is free… at least on Sunday when I visited." – Colin Liew
Awesome range of affordable toys for toddlers and infants
"Awesome range of affordable toys for my toddler and infant. 90% of what I would have bought from Shopee is here, and at a cheaper price for some. You can park right outside their entrance at the green flooring there." – Azhar Kamar
11. Toy Station
Toy shop for kids of all ages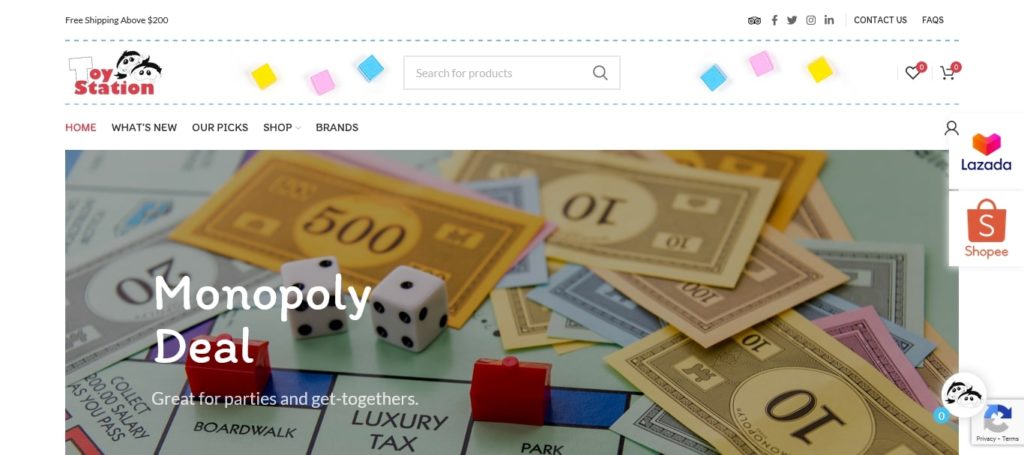 Title
Info
SERVICES
Arts and crafts, LEGO, tabletop games, toys for boys and girls, party favours and supplies, baby and toddler toys, STEM tools
WEBSITE
https://toybrickstation.com/
ADDRESS
10 Jln Serene, #02-09 Serene Centre, Singapore 258748
CONTACT DETAILS
+65 6468 3054
OPERATING HOURS
Tuesday to Saturday, 11 AM - 7 PM

Sundays, 11 AM - 5 PM

Closed on Mondays
Though it doesn't specialise in LEGO, Toy Station has become a sort of unofficial place to get this particular brand. Shoppers often rave about its selection of LEGO products (which has its own category on the online store).
There are plenty of affordable choices for very young kids to teenagers, making Toy Station a good one-stop shop for gifts. Aside from LEGO, there's a wide range of other brands to choose from.
ToyStation does offer free local delivery but only for purchases worth S$200 and up. We think that's quite steep if you're just looking for a gift to give to a child.
Wide selection of toys for toddlers to teens
Many toy brands to choose from
Reasonably priced items
Closed on Mondays
Free shipping only for S$200 and up purchases
Customer Reviews
One of the iconic stores of Singapore
"One of the iconic toy stores of Singapore. Unmatched selection of LEGO products!" – Daniel Hejl
Friendly customer service
"With friendly customer service and a respectable selection of card and board games in this outlet, Toy Station would be an option to consider to buy toys." – Samuel Lim
12. ActionCity
A Singapore toy shop selling online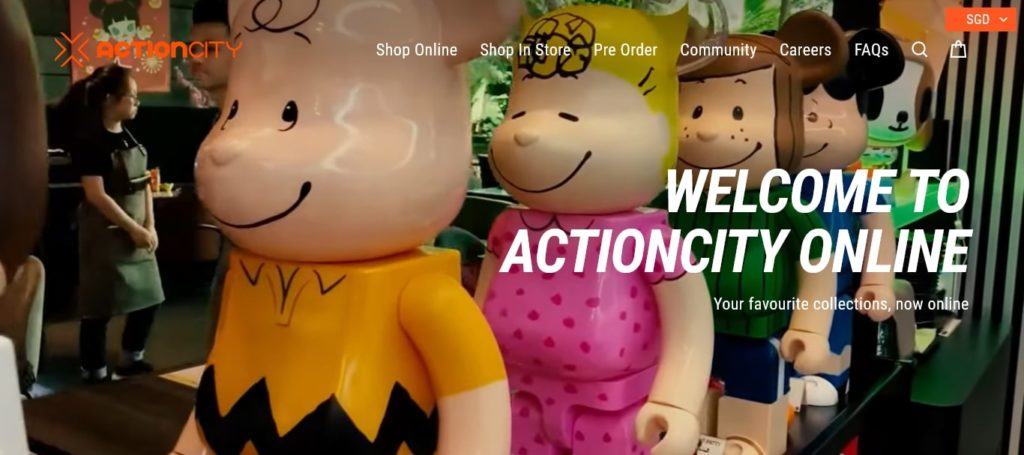 | Title | Info |
| --- | --- |
| SERVICES | Online and in-store shop, action figures, decorative toys, pre-ordered toys, blind boxes, art toys, vinyl toys, collectibles, comics and pop-art based toys |
| WEBSITE | https://www.actioncity.com.sg/ |
| ADDRESS | Multiple locations across Singapore |
| CONTACT DETAILS | +65 6255 6190 |
| OPERATING HOURS | Hours vary per store |
If you're a comic book, literature, or pop art fan, you might just blow a gasket at ActionCity. It's got one of the largest collections of Hot Toys, Tokidoki, Medicom toys, and other vinyl and art toys in Singapore.
It has several brick-and-mortar stores across the country as well as an online shop. At the moment though, in-store order collecting isn't allowed because of the pandemic.
But because ActionCity caters more to collectors, there aren't too many products here you can find for very young children. And some of the items are on the expensive spectrum, too.
Online and in-store toy shop
Free delivery within Singapore (for online purchases)
Multiple branches across Singapore
In-store collection is currently not available
No items for very young kids
Some items are quite pricey
Customer Reviews
Best collection of Bear Bricks, Tokidoki, and blind boxes
"Best collections of bear bricks. Tokidoki, hello kitty and other collection blind box sold here too." – Vitamin K
Wide range of collectibles
"Amazing place to spend some time before flying. Wide range of collectibles and many [email protected] available. Everytime i visit there they will always have new [email protected] in their display shelves which is very good. Highly recommend!" – Tom Wei Hao
FAQs about Kids' Toy Shops
---
More Resources on Kids' Toys