Escape from the Urban Jungle: Your Guide to Changi Bay Point
Whenever I have some spare time, I always try to spend it outdoors. It's nice to be surrounded by nature's beauty and sneak in some exercise to keep healthy.
Plus, it's a fun yet free activity, so yes, it's a win-win situation.
If you want to do the same thing soon, then allow me to suggest going to Changi Bay Point. This destination may be located so far east of Singapore, but you won't regret coming there.
It has gorgeous views of the sea and open lands for you to explore.
Not sure what you can do there? Don't worry because I'm here to help you out.
Let this article serve as your ultimate guide to Changi Bay Point because it has all kinds of recommendations: from what to do to where to eat and more!
How do I get to Changi Bay Point?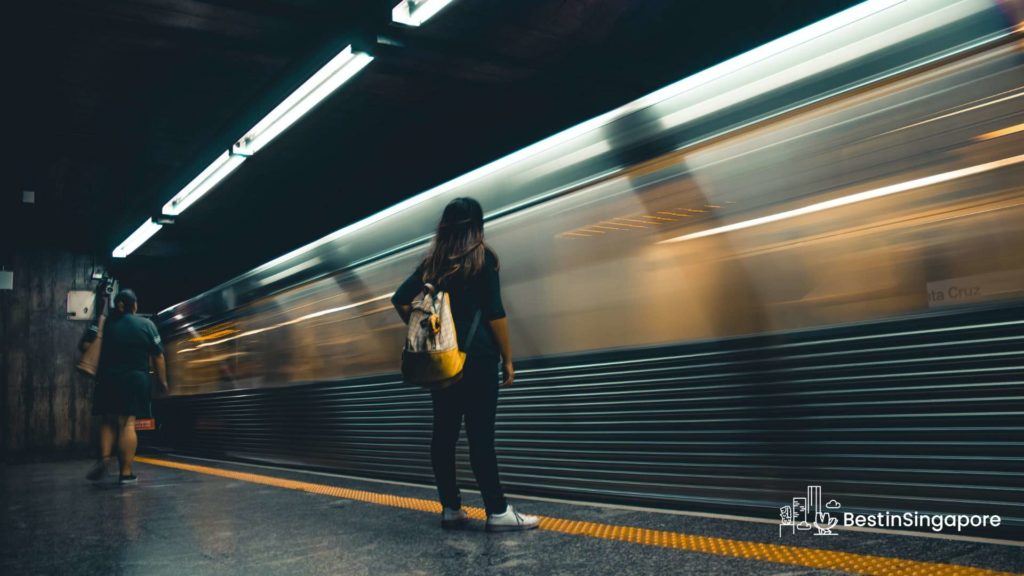 Changi Bay Point is a hangout spot located somewhere along Aviation Park Road and right by Changi Coast Road. Because of this, the best way to get to this location is a combination of bus and biking or walking.
Specifically, you have to take bus 35 from Bedok or Tanah Merah Station and alight at Changi Beach Park. Then, you simply ride your bike eastward to reach Changi Bay Point.
Where can I park near Changi Bay Point?
Alternatively, you can get to Changi Bay Point by driving. There's a parking area at Changi Beach Park, so be sure to head there first.
Once your car is parked, you can bike your way or walk toward Changi Bay Point.
What are the best things to do in Changi Bay Point?
Changi Bay Point and its neighboring areas promise so many amazing activities. Here are some of the best things to do in Changi Bay Point:
Hanging out at Changi Beach Park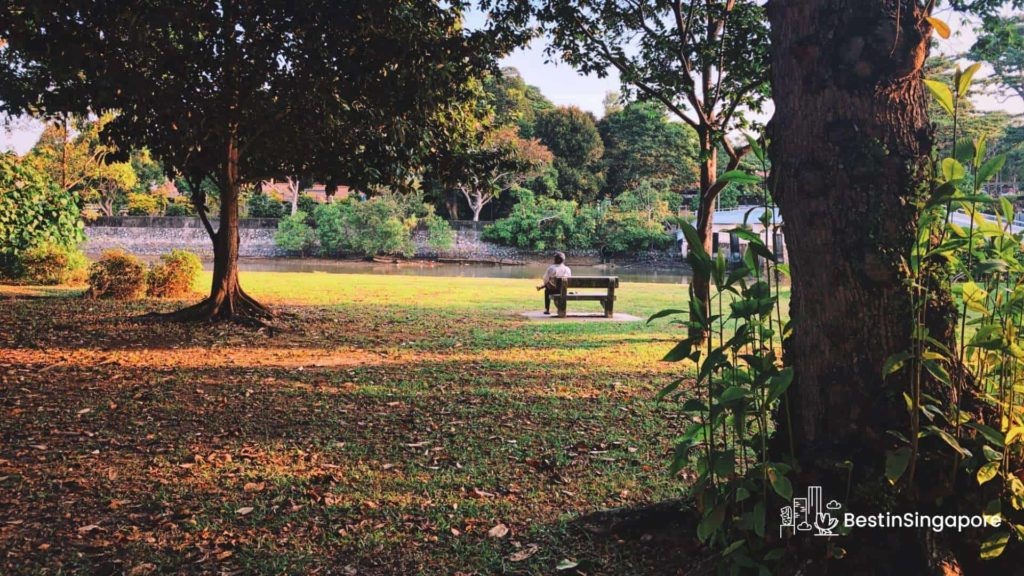 Since you'll most likely get off at Changi Beach Park to get to the bay, you might as well enjoy your time here.
And why shouldn't you? The park is free to enter, and it's quite spacious; with 28 hectares, you have a lot of room to explore.
One tidbit I learned about Changi Beach Park that I always like to share is that it's actually one of the oldest coastal parks in all of Singapore. Development for it started in the 1970s, and today, the place exudes a rustic charm.
I simply do typical beach activities when I'm here: just lounging on the sandy shores and enjoying the sea breeze before I embark on my cycling journey to Changi Bay Point. If I'm traveling with my little cousins, they insist on a quick dip in the sea.
If you're hungry, there are some stalls scattered throughout the park. You can grab a snack before heading out to Changi Bay Point.
Traveler Tip: Truly, Changi Beach Park alone features many things to do. So, if your schedule permits it, I suggest you return to this beach park some other day just to explore it.
Riding a Bike at Changi Bay Point Park Connector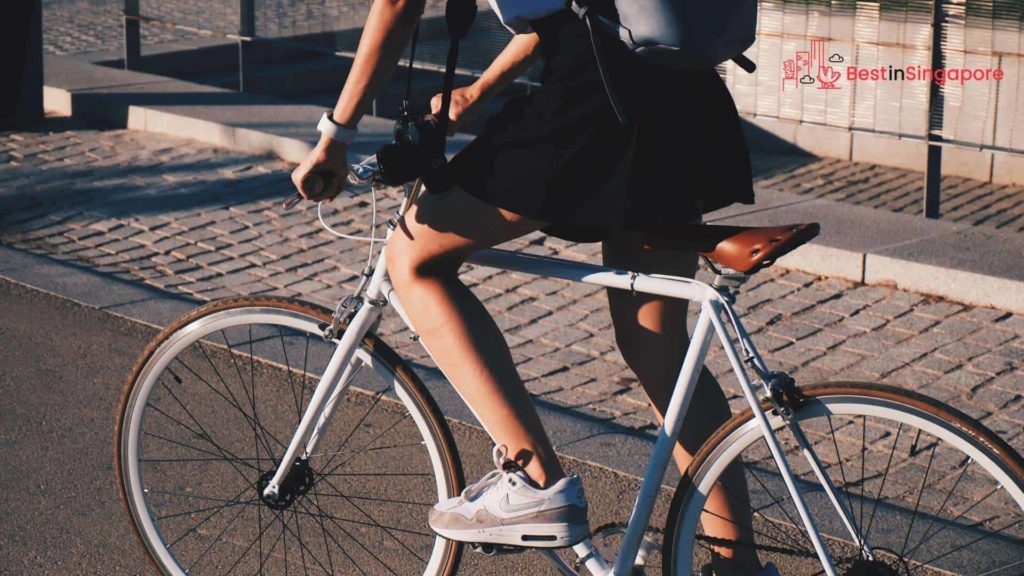 When I was younger, I was made to believe by the movies I watched that there was nothing better than riding a bike with the sea by your side. And now that I've tried this at Changi Bay Point Park Connector, I'm happy to report that the movies weren't lying.
This activity is just so refreshing—with the cool wind whipping your hair and the bright scenery all around you.
It's even better if you're cycling early in the morning or late in the afternoon. You'll get to enjoy the view of the sun rising or setting on the horizon.
And the best part is that connectors, as their name denotes, connect one part to another, so you can easily prolong your ride and head to other destinations—right after spending some time on Changi Bay Point, of course.
What I usually do is bike from Changi Beach Park to Changi Bay Point, rest there, drink in the scenery, then make my way to Marina Bay and sometimes even Coney Island! 
Traveler Tip: If you're planning a long ride, you better prepare for the occasion. Wear comfortable clothes, a hat, and sunglasses, and also bring a big water bottle to keep yourself hydrated.
Hiking along the Connector
Alternatively, if you don't like biking, you can always choose to go on a hike from Changi Beach Park to Bay Point instead. It's quite an invigorating hike too, so you get to have good exercise while enjoying the stunning seaside view.
This hiking trail has a distance of roughly 10 km—especially if you start from the Changi Village Bus Terminal—so it takes about three to four hours to complete. That's a half day's worth of hiking, which is completely worth it if you ask me!
Don't get intimidated by the time it takes to finish the trail. Since the terrain is pretty flat, even beginners can hike this route without any problem.
This is the trail I usually pick if I'm hiking with a family member or friend who is new to this. 
Traveler Tip: Since this is a relatively long hike, be sure to put on high-quality sunscreen on your skin. The sun can be brutal here in Singapore, so you better protect your skin from its harmful UV rays.
Enjoying the View from the Lookout Point
Finally, you've reached Changi Bay Point! It's time to rest and enjoy your surroundings, which you can easily do so because this area has a lookout point.
To get to the lookout point, you have to stroll along the 140-meter boardwalk, which is made from slip-resistant glass fiber and connected to a breakwater. Because of this, you're actually close to the water's edge, letting you enjoy unobstructed water views.
Once you reach the edge, there's the lookout point, which is equipped with benches. Feel free to sit down for as long as you want, and eat your snacks (if you've brought some) while drinking in the view.
Personally, I enjoy listening to music when I'm resting here. The atmosphere just makes me feel like I'm in a music video!
If I'm with friends or family members, they usually watch out for birds passing by. 
Traveler Tip: If you do want to watch birds, be sure to bring binoculars so that you won't miss a thing.
Taking Photos of Beautiful Landmarks and Scenery
While you're enjoying the view, you might as well take the opportunity to shoot some gorgeous pictures from your camera phone. Personally, I prefer taking pictures when I'm already on the lookout point, but you can do this when you're hiking or biking. 
My favorite thing to take photos of is the "floating" lone tree, which is usually located along the water.
The reason it's named as such is that during high tide, it really looks like it's floating. Just imagine how great that will look in a photo!
Another scenic spot is this area with lalang grass and flower patches. It looks like it's straight out of a romance film, and that's why my friends and I love having photoshoots here.
Oh, and don't forget about the sunrise and sunset. The Changi Bay Point offers an unparalleled view, so be sure to stick around and catch the sun as it dips below the horizon and paints the sky with all sorts of bright colors.
Traveler Tip: If you're riding your bike and there's a view you want to take pictures of, be sure to stop first. Don't take photos while you're on the bike. It's illegal and dangerous!
Going on a Food Trip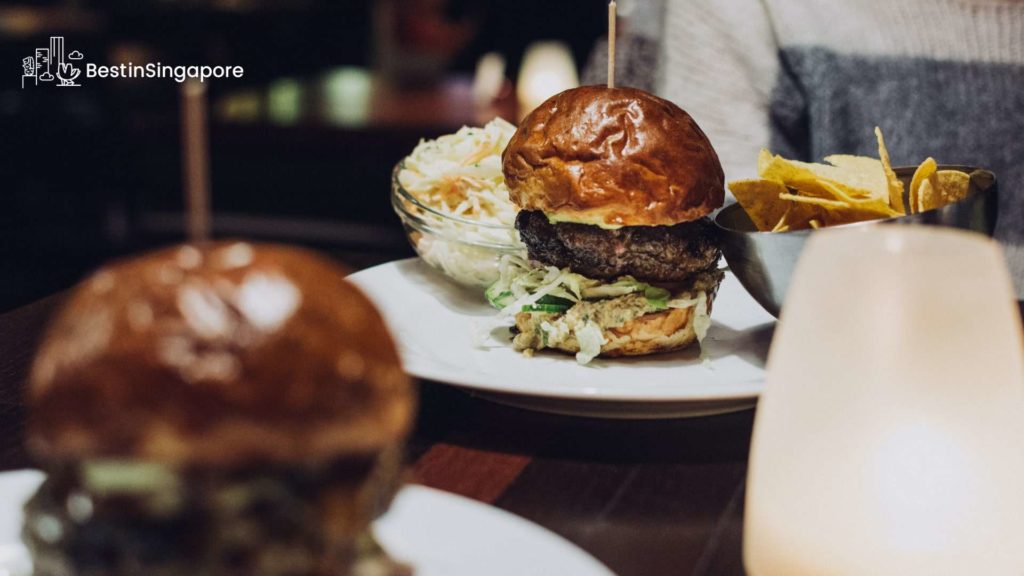 Beautiful nature spots aren't the only ones you can find near Changi Bay Point. There are also countless eateries and restaurants, which is great to know because all that hiking and biking will drain your energy really fast.
The best part is that the dining options come in a great variety, so you'll most likely satisfy whatever craving you have when coming here. If you're curious, I've listed down all the ones I've tried and loved in the next section of this article.
Traveler Tip: Be sure to bring your wallet because you'll definitely be tempted to splurge on multiple eateries and restaurants. 
What are the best restaurants near Changi Bay Point?
Dining is another thing that visitors to Changi Bay Point can enjoy. Here are some of the best restaurants near Changi Bay Point that you should definitely check out:
The Seagrill
The Seagrill is a seafood restaurant at Changi Beach Park, and it's an ideal place to be if you're looking for something with a casual setting.
Understandably, the bistro's bestsellers are its seafood dishes. I've personally tried the Seafood Platter because it has a good variety of seafood (grilled king prawns, baked scallops, and more), and I loved it.
Their Fish and Chips is another one of my favorites.
Aside from seafood, they also offer other kinds of dishes, especially ones with chicken and meat.
They even have vegetarian options. My vegetarian friend ordered penne primavera, and she absolutely vouches for it.
And if you're a lover of brunch, the good news continues because The Seagrill is also a great brunch spot! The bar has a brunch menu with meals like breakfast steak with eggs and grilled teriyaki salmon steak, so you better try it when you come here. 
Traveler Tip: I suggest choosing a table on the patio. That way, you get an unobstructed view of the sea while also enjoying the sea breeze as you're dining.
Little Island Brewing Co @ Changi
Speaking of restaurants that let you indulge in hearty dishes and refreshing drinks, Little Island Brewing Co is another one you must check out. This dining spot is mostly famous for its fresh, locally brewed craft beers, but the dishes are worth noting as well.
The highlight has to be the 15-hour smoked beef brisket. The meat was so tender and juicy that it actually melted in my mouth!
I've also tried their Wagyu Burger with truffle fries, and what a perfect combination! My mouth is watering just thinking about it.
And of course, I never pass up on dessert, and for this restaurant, I ordered the Spiced Rum Chocolate Lava Cake. It's topped with brandied cherry and creme fraiche sauce, and that really elevates the cake's rich sweet flavor. 
Traveler Tip: This restaurant is relatively well-known, so if you really want to eat here, I suggest reserving a table beforehand.
Tekong Seafood Restaurant
Seafood lovers, here's another dining spot you shouldn't pass up. Tekong Seafood Restaurant specializes in only the very best seafood dishes.
Their ingredients are caught by local fishermen, and the spices used never overpower the meat.
Their bestselling dish is the chili crab, and I do think it deserves the hype. The heat from the spices mixes really well with the sweet crab meat, and I can't help but shove forkfuls of it every time.
I've also tried their butter lobster, and my goodness, it was so scrumptious! The juices from the lobster dripped down my chin and hands, and I ended up licking my own fingers when I finished because I couldn't get enough. 
Traveler Tip: This restaurant is perfect for families and groups because the portions are generous. It's also fun just to share delectable seafood dishes with other people.
Le Xuan Hong Kong Dim Sum
Le Xuan Hong Kong Dim Sum is just one of those restaurants that I can't help but keep going back to, especially with my family. The restaurant has cozy vibes, and the delicious are tasty and filling!
Whenever I come here with my loved ones, we usually go overboard with the order. We'd order several kinds of dumplings and spring rolls just to get a variety, and if it's raining outside, we'll have a big bowl of soup to warm us up.
Sometimes, we break out of our routine and try dishes we haven't tasted before (their menu is really extensive). Some of my recent favorites are fried carrot cake, Malay cake, and chicken century egg porridge. 
Traveler Tip: Seriously, try having a variety in your order. You might be surprised to discover that your favorites are the underrated dishes instead of the bestsellers. 
Pranakorn
Are you craving Thai cuisine? Then, you're in luck because there's a Thai restaurant near Changi Bay Point: Pranakorn.
I came here with some of my friends, and we ordered quite a lot because we're big fans of Thai cuisine. From what we ordered, the ones that eventually became my favorites were the chicken tom yum, basil chicken, and the pork cake with century egg.
I also had Thai milk tea (who doesn't order Thai milk tea when dining at a Thai restaurant?) and mango sticky rice. These two are just the perfect way to end a savory meal.
Traveler Tip: Be sure to visit before peak hours because it can get crowded here.
Changi Village Hawker Center
If what you're looking for is a variety of dishes to order, then you should head to Changi Village Hawker Center. This place has over 100 stalls, so you'll definitely find a few that will satisfy whatever cravings you have.
Understandably, I haven't tried all the stalls here, but I've ordered from a few that really caught my attention. One of the standouts in my opinion is Charlie's Corner, which serves fish and chips, lamb chops, and even steaks.
I was so amazed that a stall was selling tenderloin steaks, and I was even more so impressed that it tasted delicious. My friend ordered the fish and chips, and she liked that one as well.
Aside from Charlie's Corner, I also bought something from Changi V. Dessert House, Woon Woon Pek Bee Hoon, and King Grouper Fish Soup. I hope to return here soon because I really want to try the other hawker stalls in this center. 
Traveler Tip: If you get overwhelmed with your options and don't know where to start, you can choose the ones with a long queue because they're most likely the bestselling stalls.
Chock Full of Beans
If a cute and charming coffee shop is your jam, then look no further than Chock Full of Beans. When you order your hot drink here, you'll get a cute foam art of animals.
I've had bear and pig art multiple times, and they were so adorable!
They also have several delicious meals on their menu to fill your hungry stomach. My go-to order is either a Thai-style fried chicken mid-wing or the Bacon & Cheese Croquette, but I'm eager to try the other entries soon.
For dessert, they have a few options, which is thrilling because I love anything sweet. I've tasted the assorted cakes and the lava cake, and the next time I go there, I want to try the espresso cream brûlée. It sounds so delicious!
Traveler Tip: Some drinks actually allow for 3D art instead of your typical 2D art, but it takes some time. So, if you want 3D art on your coffee, be prepared to wait about 30 minutes.
Tang Tea House Changi
One thing I love about Tang Tea House Changi is that it offers more than just drinks. You can also find full meals, sets, and desserts. So, whether you just want a light snack or a hearty and tasty meal, this place is for you.
When I came here, I only ordered a Milo Dinosaur drink and a plate of Thai fish cakes because I had already eaten lunch and I just needed a snack to replenish my energy. I was surprised to see the long menu, so I'll have to return someday to try other dishes. 
Traveler Tip: If you're traveling with a group, you can order one of their sets to make things more convenient for you.
Jacob's Cafe
The first thing that surprised me when I came to Jacob's Cafe for lunch was how long the menu was. I can't remember the exact number of pages now, but I'm pretty sure it was over 10!
This restaurant features "home-style country cooking," and they serve just about every cuisine you can think of.
There are meals from the UK, the US, Australia, Norway, Italy, and more. It truly feels like you're going on a world tour via their dishes!
During my visit here, I tried out Spaghetti Bolognese, which was just as creamy and rich as I wanted. My friends and I also ordered Hawaiian Pizza and Tomahawk USA Prime Ribeye (totally a splurge), and we were so full once we finished.
But even though we were stuffed, we still ordered dessert (banana split and waffle with ice cream) because all of us have a soft spot for anything sweet.
Traveler Tip: Bring your family or friends here. Since there are so many food options, it's best to order many dishes and share.
Ciclo e Caffè
Ciclo e Caffè is arguably the most unique dining spot I found near Changi Bay Point because it has a distinctive theme: bicycles. And true enough, this cafe is actually catering to bikers who need to take a break and grab a snack.
I'm not much of a coffee person, so the only reason I came here was because of my friend. I ordered a mocha drink, which tasted good, but the highlight has to be the delectable pastries I bought: butter croissant and tiramisu.
All in all, this cafe was such a relaxing place to be. My friends and I just either scrolled through our phones or read a book while observing all the bikers coming and going. 
Traveler Tip: Don't come to this spot when you're hungry because you won't find full meals. This place only has snacks and drinks. 
Are pets allowed in Changi Bay Point?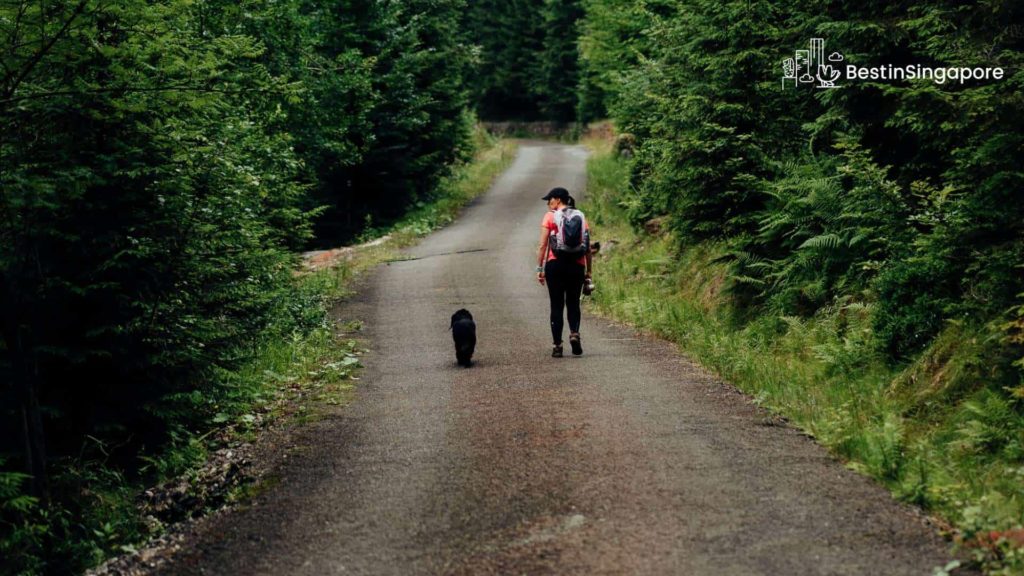 Pets are most definitely allowed in Changi Bay Point. So, if you're planning to hike around the area, be sure to bring your furry friends along.
Just make sure that you've also brought some essentials for them, such as treats and water. It's also wise to bring along shampoo and soap just in case they get dirty and you need to clean them up before going home. 
What attractions are near Changi Bay Point?
While Changi Bay Point is a cool place to be, you might be tempted to explore the neighboring areas because you're in the mood to be outdoors. If that's the case, here are some attractions near Changi Bay Point that you should check out:
Name
Address
Operating Hours
What You Can Expect
Changi Chapel and Museum
1000 Upper Changi Rd N, Singapore 507707
9:30 am to 5:30 pm (Tuesdays to Sundays)
• Free admission for Singapore citizens and permanent residents

• Admission for foreigners: S$8 (adult), S$5 (senior, student, special access)

• Exhibits and art displays showing the Japanese occupation in Singapore

Changi Airport
Airport Blvd., Singapore
Open 24 hours
• An airport with about 46 attractions
Changi Jurassic Mile
Airport Blvd., Changi Airport, Singapore
• Located just outside the airport, it's a trail with life-sized statues of dinosaurs.
East Coast Park
East Coast Park Service Rd, Singapore
• One of Singapore's largest parks, with skate parks, white sandy beach, and dining spots
Changi City Point
5 Changi Business Park Central 1, Singapore 486038
10 am to 10 pm (daily)
• A lively mall that houses many global brands

• It also has play areas for children and a roof garden where guests can relax.