All By Myself: Top 20 Places to Chill Privately in Singapore
Hanging out with friends undeniably promises a great time, but sometimes, you just want to be alone. As an introvert, this is something I can relate to, and luckily, Singapore has many places where people can hang out all by themselves.
So far, I've tried visiting the various parks and green spaces on the island as well as beaches and quiet cafes. I've even taken a ferry ride to an offshore island—the possibilities are endless!
If you're looking for suggestions on where you can chill privately, I've got you covered. Here's a list of my favorite places to chill privately in Singapore, and hopefully, you'll enjoy them as much as I have.
Where can I chill privately in Singapore?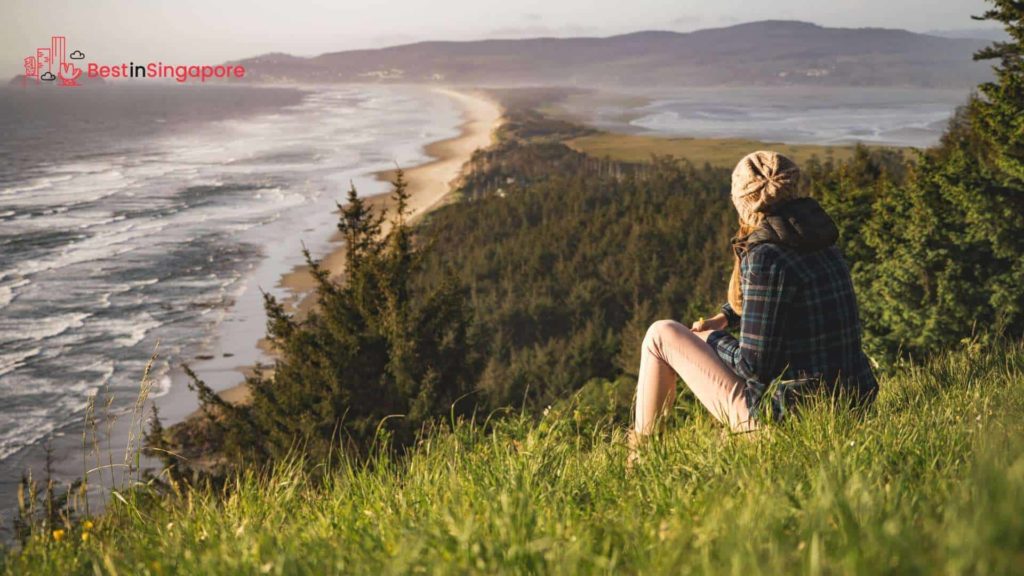 There are various locations in Singapore where you can chill privately, and from my experience, these places can be divided into four categories: namely, parks and green spaces, beaches and islands, quiet cafes, and libraries.
Here are my suggestions based on the aforementioned categories, so you can pick one based on your preference.
Parks and Green Spaces
When it comes to peace and tranquility, you can never go wrong with parks and green spaces in Singapore. There are many parks and green spaces in our island, but these five are my go-to options.
Singapore Botanic Gardens
— From: codsingapore
If you can only visit one park during your vacation, let it be the Singapore Botanic Gardens. As much as I love the other parks and gardens on the island, this one is undeniably the most iconic.
I mean, the Gardens has played an integral role in the botanical and agricultural development of Singapore since 1859. And it's also a UNESCO World Heritage Site—the first and only tropical botanic garden to ever receive the honor.
How iconic is that!
Despite being such a popular and beloved attraction, the Botanic Gardens still manages to be a safe green haven for people who want to take a break from bustling city life.
Personally, my favorite gardens where I can hang out in peace are the Bonsai Garden, Ethnobotany Garden, and the SPH Walk of Giants. The Ginger Garden also stands out to me because it makes you feel like you're in a painting.
Truly, the Botanic Gardens is so picturesque that you might end up picturing yourself in a fantasy land. And honestly, that sounds like a good time to me.
Traveler's Tip: Aside from various gardens, this park features museums and galleries. I suggest you check them out too because you get to learn about the plants and flowers in Singapore and other countries in Southeast Asia.
Gardens by the Bay
— From: benjamin.trickey
Operating Hours: 5 am to 2 am (daily)
While we're on the topic of iconic parks in Singapore, another one that deserves the title is Gardens by the Bay.
Truthfully, this park has garnered popularity because of its grand design. I mean, the Supertree Grove alone is enough to capture everyone's attention!
Out of all the attractions, the Cloud Forest, Flower Dome, Floral Fantasy, OCBC Skyway, and Supertree Observatory are the most popular among visitors. I'd also suggest checking them out because they're architectural marvels in their own right.
But if you really want some alone time, you can never go wrong with Bay East Garden, Dragonfly and Kingfisher Lakes, and Kingfisher Wetlands. My personal favorite is the Serene Garden because it's really designed to be like a Japanese zen garden.
Another great place to hang out is the Heritage Gardens. This attraction has four themed gardens, and while you can simply sit down on any of the benches, you can also take up the opportunity to learn about Singapore's diverse history through plants.
Traveler's Tip: Most of the attractions here are outdoors, so be sure to bring your best sunscreen and lather a good amount on your skin for protection against the sun's UV rays.
East Coast Park
— From: ck.sg_brompton
Another incredibly popular park in Singapore is East Coast Park. At 185 hectares, this park is the largest one on the island (it encompasses Bedok, Tampines, and Marine Parade!), so you can just expect to find many things to do and see here.
When I'm feeling lazy, I usually just relax on the green. Sometimes, I read a book, while other times I take a nap.
I also love heading to Bedok Jetty during the late afternoon to watch the sunset.
But when I'm in the mood to do something active, I either practice my skating skills in the skate park or ride my bike all around the park. One of these days, I'll find the courage to take a sailing lesson at the centers here and show off my skills to my family.
Traveler's Tip: This park may be free to enter, but I still suggest bringing some extra cash with you. This is because some of the attractions require payment, and there are also several dining spots you might want to try out.
Jurong Lake Gardens
— From: liakchee
If East Coast Park is my favorite park in East Singapore, then Jurong Lake Gardens is my favorite on the western side.
The reason why I love Jurong Lake Gardens is that it really showcases the beauty of nature in different ways. The various attractions here feature many natural habitats, so a hike around the park will take you from wetlands to grasslands to marshes and more.
My favorite spot has to be the Rasau Walk, a boardwalk along a restored freshwater swamp. It's quite a serene place, and there are benches scattered throughout the boardwalk, so I always sit down here and just enjoy the view.
There are also many beautiful gardens with different themes, such as the Chinese Garden, Lakeside Garden, and Butterfly Maze.
Though some of these gardens are popular attractions, people mostly keep to themselves, so you don't have to worry about anyone bothering you. Personally, I either spend my time lying down on the lawn or mindlessly strolling to cherish the scenery.
Traveler's Tip: If you're fond of birds, I suggest bringing your own binoculars. There are many species of birds frequenting the Gardens, especially the Rasau Walk, Southern Promenade, and the Grasslands.
MacRitchie Reservoir Park
— From: patrick_lim_m_k
Out of all the parks I mentioned in this section, MacRitchie Reservoir Park is arguably the most underrated. But that's exactly why it's such a good place to chill privately: almost every corner here is peaceful and devoid of crowds.
The most popular attraction within the park is the TreeTop Walk, which is essentially a suspended bridge that hovers above the forest floor. I love strolling across this bridge because it gives me a bird's eye view of the canopy as well as a clear view of the sky.
If you really want to enjoy your me time as much as possible, I suggest you take up hiking here. This park is actually best known for its many hiking trails with varying difficulty levels, and many of them take you deep into the heart of the forest.
If you're new to hiking, you're better off starting at the Windsor Nature Park trails because they're relatively easy to complete. I also really like the Lornie Trail because it's short but hilly, so it provides enough of a challenge for me.
There are still many trails to check out here, so don't hesitate to try out the ones that pique your interest.
Traveler's Tip: If you do plan to go hiking here, be sure to bring the right gear. I suggest wearing comfortable sportswear and bringing a backpack with a water bottle and navigation tools (a map and a compass).
Beaches and Islands
Is the weather on the island too hot for your liking and you just want to take a splash to cool down? Or maybe you're just in the mood to sail away from the mainland and enjoy the beautiful nature somewhere else?
Whatever your answer is, I can't recommend checking out Singapore's beaches and offshore islands enough. So, grab your sunglasses and travel backpack, and get ready to chill in any of the places mentioned below.
Sentosa Beaches
— From: raffineu
If hanging out at a beach is what you want, then Sentosa Island is the place to be. This island is widely known for being a holiday wonderland for tourists, and it's also the home of three of the most popular beaches in Singapore: Siloso, Tanjong, and Palawan.
Of the three, Tanjong Beach is the most tranquil, in my opinion. This is where I go when I want to go to a beach but don't want to deal with crowds (which Siloso and Palawan Beaches are prone to). It's also just a great spot to sunbathe and read a book.
I still love going to Siloso and Palawan because they have many amazing things to do here, like kayaking and other fun water sports. If you really want to hang out at either beach, I suggest coming there during the weekdays (weekends are the beaches' peak).
Traveler's Tip: Are you a daredevil? Then, you might want to try bungee jumping at AJ Hackett Sentosa, which is located on Siloso Beach.
Coney Island
— From: _kim_1795
New York City isn't the only one with a Coney Island; Singapore has its own too, and it's just as majestic. Also known as Serangoon Island, Coney Island covers 123.5 acres of land, so there are many habitats here—from coastal forests to grasslands and more.
My favorite thing to do here is ride my bike throughout the island. It's such a peaceful experience since there aren't that many people and I'm only surrounded by greenery and tall trees.
If I don't have a bike with me, I usually just hike. It's just as tranquil and soothing to the soul.
Sometimes, I even try to spot birds with my binoculars even though I'm not good at it because the birds move faster than I ever could.
Traveler's Tip: Some parts of the terrain at Coney Island are rugged, so be careful when biking here.
Lazarus Island
— From: xclarieacaciateo
Here's a tidbit about Singapore that not a lot of outsiders know: it's not made up of just one big island connected to smaller islands like Sentosa. It also has four other islands off the southern coast that you can access via a ferry ride at Marina South Pier.
These islands are Lazarus Island, Saint John's Island, Kusu Island, and Sisters' Island, and collectively, they're called the Southern Islands. For this section, let's focus on Lazarus Island first.
— From: geelarious
I'm not kidding when I say that Lazarus Island is the ideal beach destination for people wanting to take a break from their busy lives on the mainland. The island is uninhabited, and it features lush and thriving flora and fauna.
The beach is a C-shaped lagoon with clear blue waters and a strip of white sand, so swimming here feels magical. You can also just spread a blanket on the shores and lie down to get that tan you've always wanted.
You can even bring your bikes and scooter and ride them around the island! I've tried this before, and wow, what a great way to exercise and decompress.
Sometimes, I'm not in the mood to do any physical activity, so I just have a picnic on the expansive green lawn.
Traveler's Tip: Don't forget to apply sunscreen on your skin when exploring the island!
Saint John's Island
— From: yuanjinq
Want to explore more? Then be sure to head out to Saint John's Island, which you can access via a causeway if you're already on Lazarus Island (in fact, I recommend biking across the causeway; it's so much fun!).
The interesting thing about this island is that even though it's the largest among the Southern Islands, only 35% of it is accessible to the public. The rest is reserved for research.
However, don't let that 35% of accessible land fool you because there are still many things to do. One of my favorite activities is checking out the National Marine Laboratory and learning more about the research being done there.
Of course, swimming is another popular activity. Just like Lazarus Island, Saint John's has a lagoon with turquoise waters.
Camping is also allowed here. I personally haven't tried, but I'm tempted to because it sounds so fun.
Traveler's Tip: If you do plan to camp here, be sure to apply for a permit from Singapore Land Authority (SLA) a few days before your scheduled camp.
Kusu Island
— From: etilu
Kusu Island is actually more of a religious destination. In fact, many pious people come here for pilgrimage on the ninth month of the lunar calendar.
The reason for this is that legends say that a giant tortoise turned itself into an island to save two sailors (a Chinese and a Malay) who got shipwrecked. In honor of this legend, Chinese temples and kramats were built on the island.
With that said, it goes without saying that visiting the temples and kramats is one of the best things to do here. I also love visiting the Tortoise Sanctuary, which is just populated by so many adorable tortoises.
This island also has two lagoons, so you can enjoy a peaceful swim here.
Traveler's Tip: At the Chinese temple, there's a Wishing Well, which is shaped like a lotus. I suggest throwing a penny to make a wish. You never know what's going to happen.
Sisters' Islands
— From: nparksbuzz
Just like Kusu Island, legends and myths surround the Sisters' Islands. A common iteration involves two sisters drowning to save each other during a storm, and when the storm lifted, two islands sprouted where they once were.
Right now, the islands have actually become a marine park managed by the National Parks Board of Singapore due to their rich biodiversity. For that reason, one island is for research, while the other is for the public.
Seriously, the Big Sister's Island is such a great destination if you want a quiet hangout. This place doesn't get as many visitors as the other Southern Islands, but it's just as beautiful and serene.
Naturally, swimming is my favorite thing to do here, but I also love checking out the lagoon during low tide because I'm curious to see what marine animals are living here.
Big Sister's Island is also great for divers because there are two established diving spots here.
That said, you can't dive on your own. You need the supervision of licensed dive operators.
Traveler's Tip: When you're swimming, be sure to stay within the lagoon. The current outside the lagoon is pretty strong and dangerous, so it might sweep you away if you're not careful.
Quiet Cafes
Strolling along parks and exploring islands sound great and all, but sometimes, I just want to do nothing except enjoy good food and coffee (or kopi, as we call it here). When this is the mood I'm feeling, I usually gravitate toward quiet cafes.
Luckily, cafes are abundant throughout Singapore, and not only do they serve good food, but they also have aesthetically pleasing interiors.
The Book Cafe
— From: moni_portillo
Operating Hours: 8:30 am to 5:30 pm (daily)
What You Must Try: Eggs Blackstone (S$17.95), Grass-Fed Steak (S$20.95), Iced Mocha with Ice Cream (S$8.50)
If you're a book lover like me, then I'm sure you'd love The Book Cafe as much as I do. This cafe invokes the calm and cozy atmosphere that we get from libraries, and of course, there are also shelves of books to really complete the aesthetic.
This is where I usually go if I'm tired of staying inside my apartment and I just want a quiet space to read. Sometimes, I also come here just to watch movies on my laptop or work on a passion project that I've been meaning to complete for some time.
Their menu here is just comfort food galore. Personally, I'm a big fan of their all-day breakfast—their Eggs Blackstone and Grass-Fed Steak have my heart—and I also like trying out their various coffee drinks.
I also don't pass up the opportunity to try out their dessert. I've already tasted—and loved—their Molten Chocolate Lava and Traditional Apple Pie, and I'm excited to try the others the next time I come here.
Traveler's Tip: If you end up loving the Traditional Apple Pie that you want more, you can buy the whole pie. It's S$30, and it will surely last you a couple of days.
The Coffee Academics
Operating Hours: 8 am to 10 pm (daily)
What You Must Try: Slow-Cooked Beef Cheek Ragu Burger (S$24), Grilled Salmon Fillet (S$30), Chocolate Cocoa Regular (S$6.40)
The Coffee Academics is a popular brand, and for that reason, you can find many branches all over the island. Personally, my favorite is the one at Raffles City Shopping Center simply because of its ambiance and proximity to where I work.
No matter which branch you visit, you'll get the same cozy vibes and an extensive menu with every comfort food you can think of. The Grilled Salmon Fillet with Tomato is just an explosion of flavor and juiciness, while the Ragu Burger is savory heaven.
The coffee here is also worth noting. I'm not the biggest coffee fan, but even I have to admit that their coffee just hits the right spots; it's rich, flavorful, and only slightly acidic.
They even have unique lattes like Manuka (velvety latte with natural and raw New Zealand honey) and Pepper Agave (latte with natural raw agave nectar from Mexico), so be sure to try them out whenever you can.
Traveler's Tip: If you're vegetarian, you might enjoy the Korean Fried Cauliflowers. They're coated with a homemade sweet and spicy Korean sauce, and they're just so addicting to eat.
Lowercase
— From: giamwls
Operating Hours: 8 am to 8 pm (Mondays to Saturdays), closed on Sundays
What You Must Try: Burrata Cheese Steak Puccia (S$25), Grass-Fed Ribeye (S$27), Mentaiko Fries (S$15)
Lowercase describes themselves as a safe space for creatives and busy individuals, and I'm glad to say that it's true. Whenever I come here, I always notice people working something on their laptops, reading textbooks, or sketching on their notepads.
Since everyone is so busy here, I can rest assured that I'll be in my own little bubble, minding my own business and chilling out. Usually, I bring out a book or type away on my laptop, but other times, I just scroll mindlessly on social media.
The food here is also delicious. My go-to orders are their dips and fries because I typically come here in the afternoon after I've had my lunch, but on the occasion that I'm starving, I go for Grass-Fed Ribeye because it's so hearty and filling.
Traveler's Tip: Don't miss out on their gelato. Lowercase churns their own gelatos in-house, and they're so rich and creamy—a treat for your sweet tooth!
Genius Central
Operating Hours: 8 am to 8:30 pm (Mondays to Thursdays), 8 am to 9:30 pm (Fridays and Saturdays), 8 am to 4 pm (Sundays)
What You Must Try: Falafel Bowl (S$18), Elvis (S$11), Dragonberry Healer (S$9)
Speaking of a cafe that also doubles as a co-working space, another one of my favorites is Genius Central.
What I love about Genius Central is that it's really designed to be a conducive co-working space. There's ample seating, the atmosphere is warm and welcoming, and there are sections dedicated to events and meetings.
And to top it all off, they serve great food. They know that most of their customers will spend hours inside the cafe, so they make sure that the dishes they serve are healthy and hearty (their smoothie bowls are just top-tier).
I usually come here to work on my projects.
Being surrounded by people who are just highly motivated like me is just a great motivator. I'm always eager to finish projects that I've been procrastinating for so long.
Traveler's Tip: I suggest coming here as early as possible. That way, you can pick the seat that you want.
Kōhī Roastery and Coffee Bar
— From: bromptonbengg
Address: 283 Joo Chiat Rd, Singapore 427535
Operating Hours: 6:30 am to 11 pm (Sundays to Thursdays), 6:30 am to 1 am (Fridays and Saturdays)
What You Must Try: Iced Mocha (S$7.50), Iced Matcha Latte (S$8), Dark Chocolate (S$7)
Kōhī Roastery and Coffee Bar really takes the term "hole in the wall" literally: it's a cafe with a hole in the wall! How cute is that?
This place is a bona fide coffee shop, meaning that the menu only contains beverages and no food. That said, it's still a good spot to stop by first thing in the morning or sometime in the afternoon to relax.
I personally come here around breakfast because I find that everything is much more tranquil around this time. Sometimes, I scroll through the news app on my phone, but other times, I just enjoy sipping my drink while enjoying the view of my surroundings.
Traveler's Tip: If you're in the mood to try something unique, I suggest ordering the Ice Coco(nut) Xspresso. It's a combination of fresh coconut water and espresso—which I know sounds weird, but don't knock it till you've tried it!
Libraries
Since I'm an avid reader, it would be very remiss of me not to include libraries in this article. After all, libraries are inherently quiet and cozy, so they're the perfect place to be when you just want to hang out privately.
Fortunately, there are many libraries in Singapore, and to make things better, they're also free to enter. I haven't been to every single one there is, but the ones I've visited, I've loved so much that I always find time to visit them whenever I can.
National Library
— From: atsusingapore
The National Library on Victoria Street is the flagship national library of Singapore, and naturally, it's as grand as you expect. It boasts an area of 11,304 square meters, making it the largest library on the island.
I've visited the National Library multiple times, and I've yet to completely explore the whole building. This is because there's just so much to see.
There are 13 levels here, and each level has its own collection.
The Central Public Library is arguably the most popular section, and it's also my favorite simply because it has My Tree House, the world's first green library for children.
When I'm not exploring the shelves in various sections, I head to a study room to hang out. As you can already guess by now, I spend most of my time reading or on my laptop, but sometimes I just enjoy the view of the city because the rooms overlook it.
Traveler's Tip: As much as it's tempting to take photos and videos while you're inside the library, don't do that here because it's not allowed.
Woodlands Regional Library
— From: leoanonyyy
Operating Hours: 10 am to 9 pm (daily)
The Woodlands Regional Library is the largest regional library, and in my opinion, it's also one of the prettiest. It features a nature-themed interior design, which just makes the whole place extra cozy.
I also love that this library puts a special focus on children. There's a Reading Park, which has all the features that will inspire children to read.
Whenever I come here, I always see children, and it warms my heart to see young people cherish literature.
If you're worried that the presence of children is going to make the library rowdy, allow me to squash that worry because the place is still serene. You can easily book a table and enjoy an hour or more of me time inside the library.
Another fun fact I have about this library is that it's home to the largest collection of Chinese and Malay books. I personally can't read in any Chinese or Malay languages, but if this piques your interest, you might want to check out the collection here.
Traveler's Tip: There's a section inside the library called My Community Hall, which displays places and schools around Woodlands. I suggest checking it out, especially if you're curious about the neighborhood and all the various community efforts.
Tampines Regional Library
— From: zippyzipeng
Operating Hours: 10 am to 9 pm (daily)
I've only been to Tampines Regional Library a couple of times, but it's steadily rising in my list of favorite libraries in Singapore. The interior is just so sleek and modern, and the floor-to-ceiling windows let in a lot of natural light, brightening the space with ease.
Of course, I always make a beeline to the study lounge or cozy reading areas, and I try to pick the one by the windows. But aside from these areas, the library boasts other features, such as an indoor playground for children, a hardware lab, and activity rooms.
There are even PA-managed culinary studios here! Truly, this library seems to go beyond, and I have to say that it's working because I keep thinking about coming here even though I live far away from it.
Traveler's Tip: Are you tired of sitting for hours on end? Then, you can head to the 700-m long running track or hop on the exercise bike, which lets you read and cycle at the same time!
Yishun Public Library
— From: shutterbugzz118
Operating Hours: 11 am to 9 pm (daily)
Yishun Public Library is located within Northpoint Shopping Center, so this is usually where I go when I want to take a break after spending a long time shopping or socializing with my friends.
The one thing that will always strike me about this library is its design: it's all about going digital, and you can see this theme in the pixel furniture and virtual bookshelves.
But my favorite part is their reading area. There are booths so that you'll have the privacy that you want, and the atmosphere is warm, so you'll feel like you're simply lounging at home.
Traveler's Tip: Sometimes, during my visit, the air conditioning can make the whole place a bit too cold, so I end up shivering the entire time. I suggest bringing a jacket to keep yourself warm.
Tips to Consider When Chilling Privately in Singapore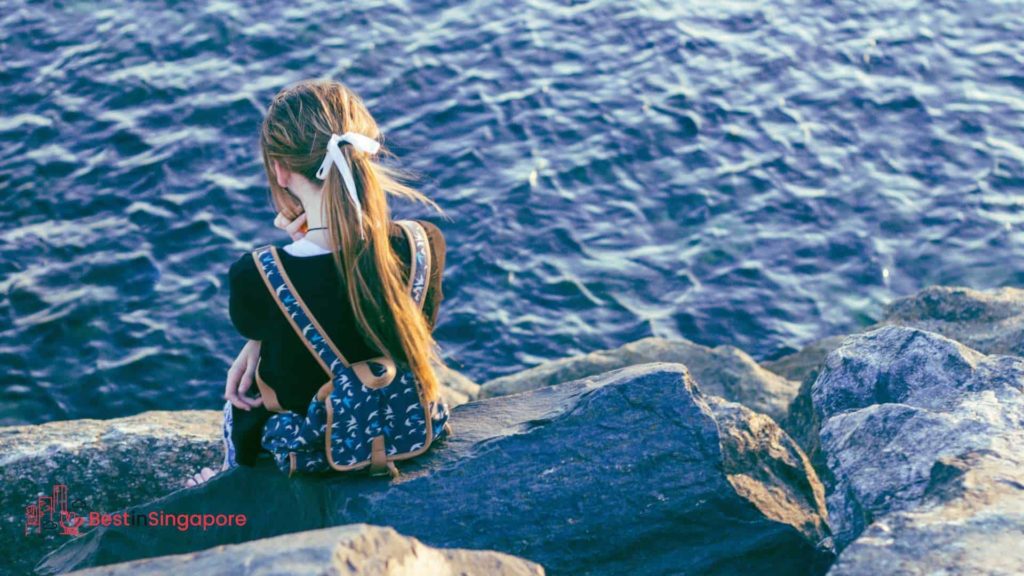 Chilling privately is such a fun thing to do, especially if you've spent most of your time during the week socializing with people. But it's also important to keep yourself safe during these hangout sessions, so here are some tips I'd like you to keep in mind:
Plan your routes. If you're planning to go to places that you've never been to before, you need to note down their addresses. It's even better if you have Google Maps at the ready so that you can easily navigate when you're lost.
Tell someone else about your plans. For your own safety, make sure that someone—be it a friend or a family member—knows what you're planning to do or where you're going to go for that day.
Park your car somewhere safe. If you're planning to bring a car, be sure to park it on a lot that's well-lit and easy to see from the street. Never ever park in any dark areas.
Bring some self-defense weapons. It's even better if you know some self-defense moves. But if you don't, you can resort to bringing self-defense weapons like pepper sprays, tasers, and whistles.
Don't overshare. I know the whole point of hanging out at these spots is to enjoy a fun time alone. But sometimes, you might end up befriending a stranger; if this happens, be sure to avoid giving too much personal information.