Everything You Need to Know about MacRitchie Reservoir in Singapore
Many people think of Singapore as a highly urbanized country, and though there's truth to that statement, it doesn't paint the whole picture. The reality is that Singapore is also blessed in nature.
Throughout the country, you can find sprawling parks boasting lush greenery and thriving wildlife. And best of all, these parks are open to everyone, so you can stop by them if you want to take a break from your busy life and immerse yourself in nature.
Don't know where to start on your nature park adventure in Singapore? Consider MacRitchie Reservoir as your first destination.
Here's everything you need to know about MacRitchie Reservoir to help you prepare for your trip.
The Basics of MacRitchie Reservoir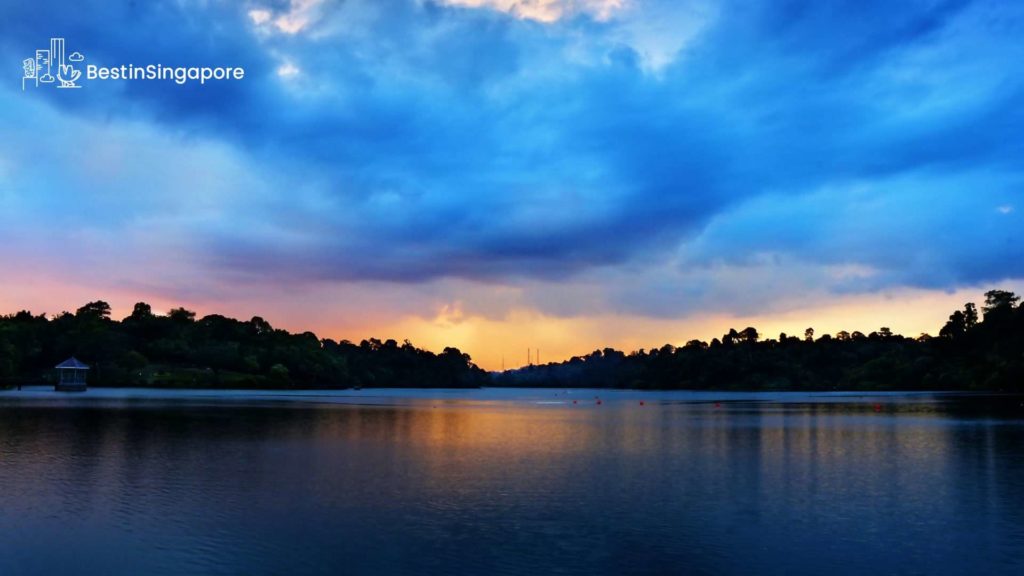 Operating Hours: 7 am to 7 pm (daily)
Entrance Fee: Free
MacRitchie Reservoir is actually the oldest reservoir in Singapore. Before the 19th century, the country was primarily made of forests, and when the British established a settlement here, there was a great demand for freshwater.
To meet that demand, water must be impounded from an earth embankment, and by 1868, a reservoir was completed. It was originally named the Impounding Reservoir or Thomson Reservoir.
Right now, the reservoir is part of the Central Catchment Nature Reserve and has become a park with various attractions and activities for visitors to enjoy.
How do I get to MacRitchie Reservoir?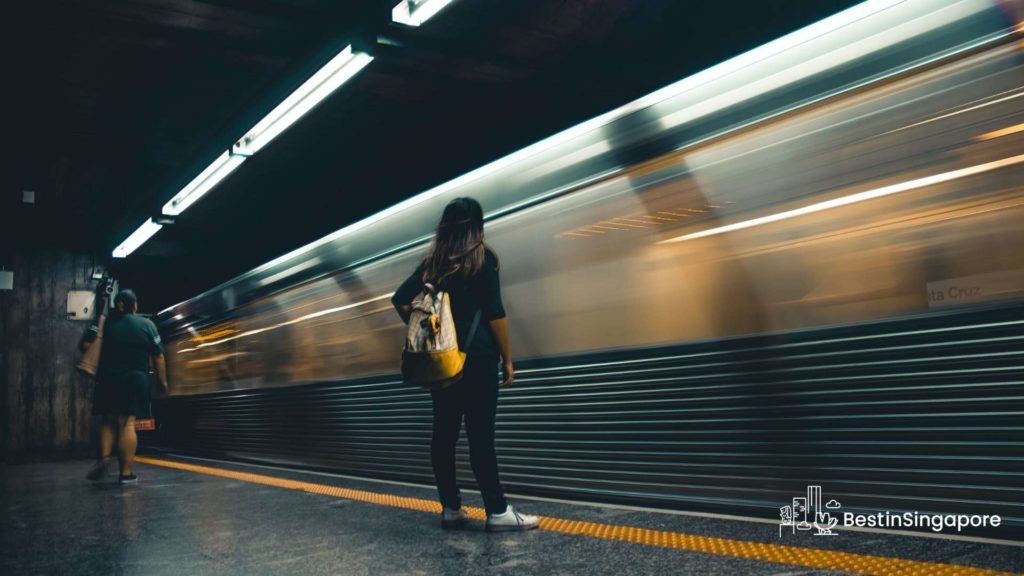 MacRitchie Reservoir has two main entrances: the first is at MacRitchie Reservoir Park, while the second is at Venus Drive. Both these entrances are accessible via MRT, bus, and car.
Here's a table detailing how to get to the reservoir depending on your chosen mode of transportation.
If you want to stop at the MacRitchie Reservoir Park entrance…
By MRT
1. Ride the MRT to Caldecott Station, then take Exit A.

2. Head west along Toa Payoh Rise, then turn right to Thomson Road.

3. Continue heading north on Thomson Road until you reach the entrance.

By Bus
• From Bishan Interchange: bus 52

• From Ang Mo Kio: bus 74, 130, 132, 165, 166, or 167

• From Farrer Road MRT: bus 93, 165, or 855

• From Toa Payoh Interchange: bus 157

• From Yio Chu Kang MRT: bus 162 or 852

If you want to stop at the Venus Drive entrance…
By MRT
1. Ride the MRT to the Upper Thomson station.

2. Take Exit 5, then ride the bus 132, 163, 165, 166, 167, 855, or 980. Disembark after two stops at the Opp Flame Tree Park bus stop.

3. Walk to the Venus Drive Entrance.

• Alternatively, you can take Exit 1 at the Upper Thomson MRT, then walk to Venus Drive. This is a longer walk compared to the other method.
By Bus
• From Bishan Interchange: bus 52

• From Ang Mo Kio: bus 132, 165, 166, 167

• From Marymount MRT: bus 410

• From Yio Chu Kang MRT: bus 162
Where can I park my car in MacRitchie Reservoir?
If you choose to drive to MacRitchie Reservoir, parking is the only thing you need to worry about. Luckily, there are three places where you can park your car here, and they are as follows:
MacRitchie Reservoir Car Park: along Lornie Road
Venus Drive Car Park
Windsor Park Car Park
Do keep in mind that the Venus Drive Car Park is small, so it gets filled up rather quickly. This is especially true during weekends and public holidays.
If you prefer entering the reservoir through the Venus Drive entrance but the car park is already full, you can try the parking lots at Thomson Plaza or the ones near HDB flats.
What are the attractions and facilities in MacRitchie Reservoir?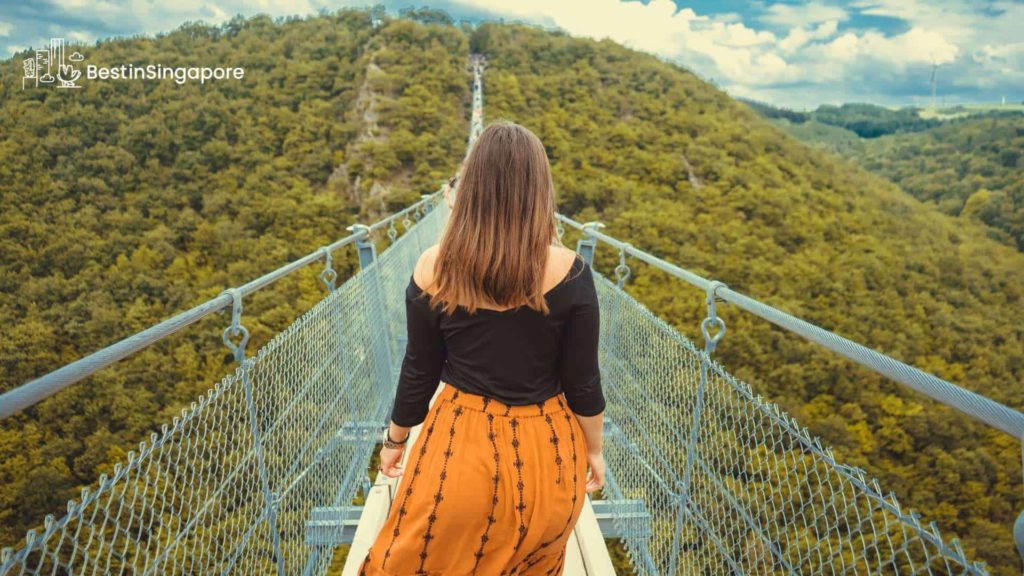 To ensure that everyone has a grand time, MacRitchie Reservoir features several attractions and facilities, each of them offering its own share of exciting activities.
These attractions and facilities are as follows:
Windsor Nature Park
TreeTop Walk
Jelutong Tower
Paddle Lodge
Zigzag Bridge
Submerged Boardwalk
Lim Bo Seng Memorial Tomb
The Promenade
Mushroom Cafe
Fishing Ground
Mini-Rope Course
Windsor Nature Park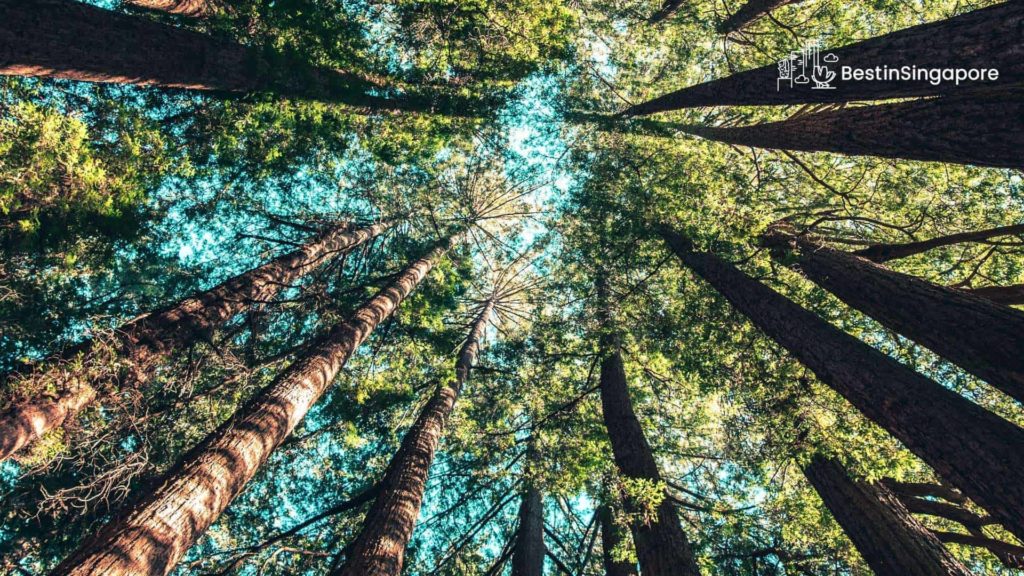 Windsor Nature Park is a 75-hectare park located right off the Venus Drive entrance. It's not as crowded as the MacRitchie Reservoir Park, making it an ideal destination for people craving peace and quiet.
Referred to as a green buffer for the Central Catchment Nature Reserve, Windsor Nature Park is home to a regenerating secondary forest, marsh habitat, and freshwater streams.
Here, visitors are more than welcome to join workshops to learn more about the country's natural heritage and the various biodiversity conservation efforts. They can also go on a hike, exploring the rare plants and birds available in this park.
Do keep in mind that during bad weather, you're advised to immediately seek cover at the nearest shelter. For your own safety, you shouldn't enter any forested areas.
Location: 30 Venus Drive, Singapore
Operating Hours: 7 am to 7 pm
TreeTop Walk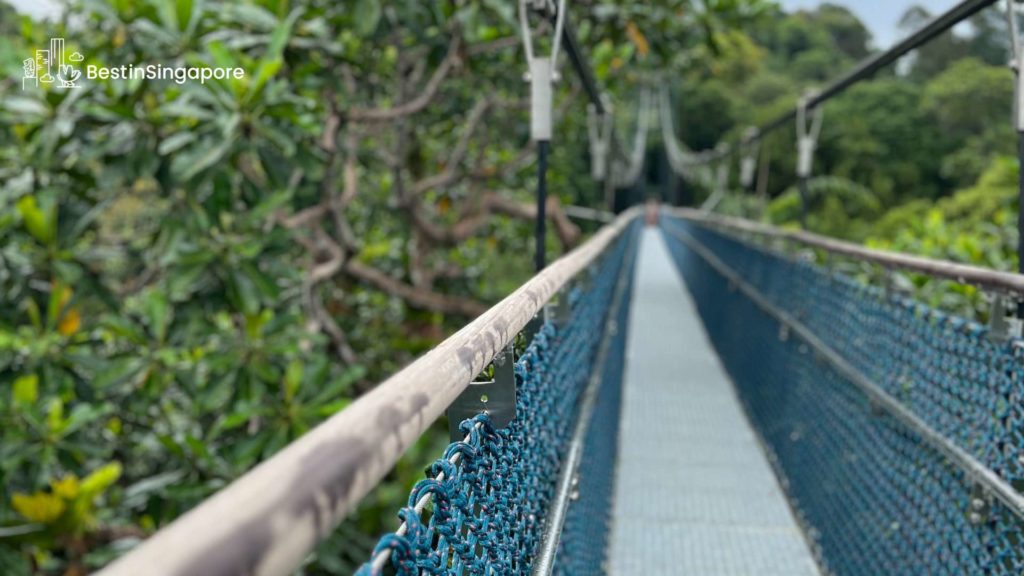 Do you dare to test the limits of your fearlessness? Then you might want to take the challenge of the TreeTop Walk.
TreeTop Walk is a 250-meter-long free-standing suspension bridge that connects Bukit Peirce and Bukit Kalang—the two highest points in the country.
This bridge is the first of its kind in Singapore. It hovers above the forest floor, giving passersby a bird's eye view of flora and fauna living in the forest canopy.
If you have a fear of heights, you might want to avoid this bridge altogether. Its distance from the forest floor varies, but the highest point is 25 meters, and it also shakes when it gets crowded.
Operating Hours: 9 am to 5 pm (weekdays), 8:30 am to 5 pm (weekends), closed on Mondays (unless it's a public holiday)
Jelutong Tower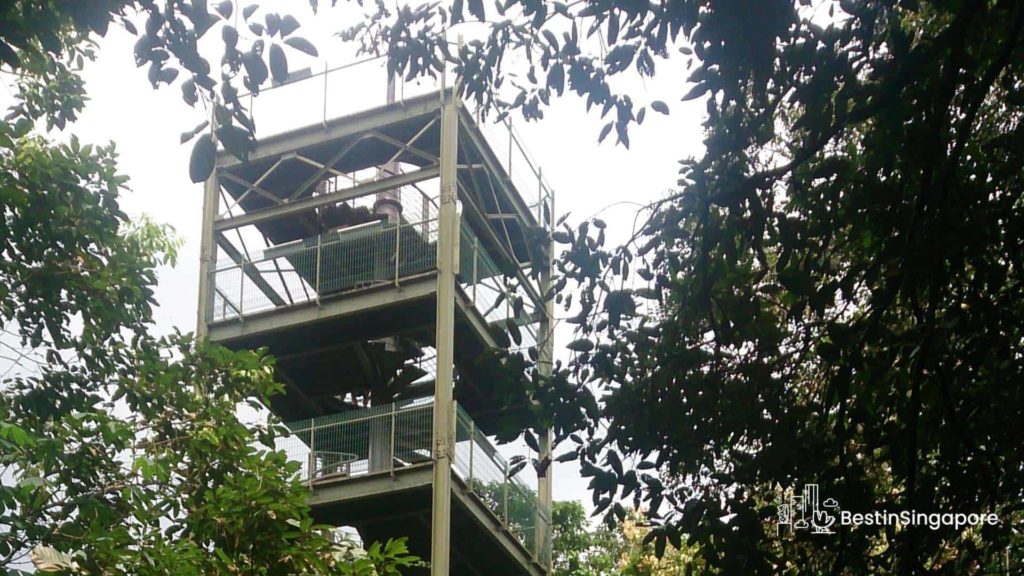 Did you enjoy walking along the TreeTop Walk and observing the forest canopy from above? Then you'll also definitely love Jelutong Tower.
Jelutong Tower is a tall structure made with steel frame and timber planks, and it features seven decks connected by a spiral staircase. The staircase is narrow, and the building itself slightly shakes when there's a lot of movement, so do be careful.
That said, once you reach the top of this observation tower, the vast expanse of green forest greets your vision. If you're a bird enthusiast, you don't want to miss the many species of birds flying everywhere, so be sure to bring your binoculars here.
Moreover, if you've just finished a hike and you want to rest, you can use Jelutong Tower as a rest stop. There are benches at every story, so you can relax while enjoying the breathtaking scenery around you.
Paddle Lodge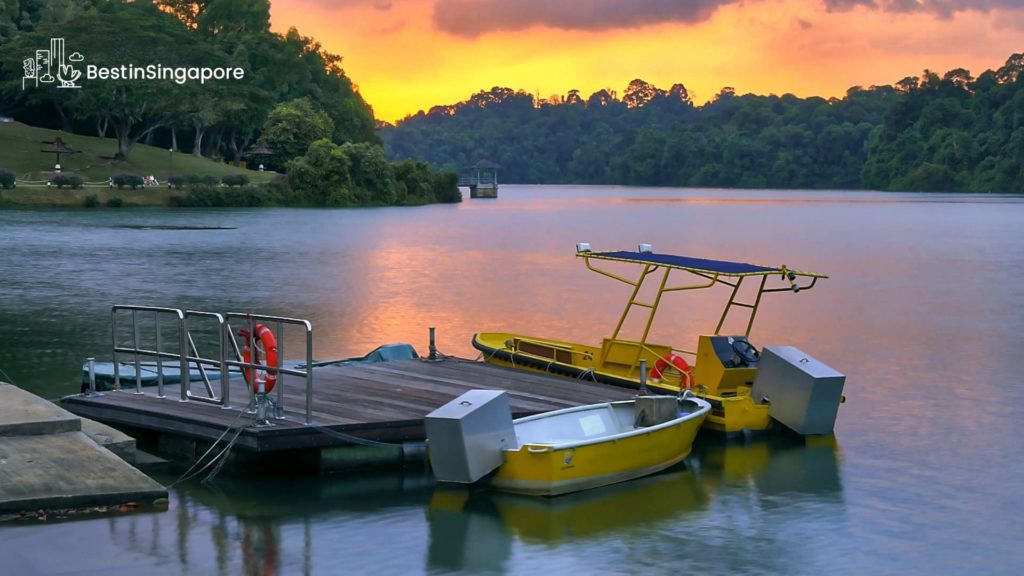 Looking for fun activities for families? Then you'll want to stop by Paddle Lodge, which is located in the eastern corner of MacRitchie Reservoir Park.
Paddle Lodge is operated by the Singapore Canoe Federation, and this is where you can rent equipment for kayaking. The waters of MacRitchie Reservoir are calm, so everyone, even children, is welcome to paddle here.
That said, children who are seven years old and above need to have adult company when riding a double sit-on-top kayak. Anyone above the age of 12 is allowed to use the single sit-on-top kayak by themselves.
Another important thing to keep in mind is that you need to book in advance. You can't just turn up at Paddle Lodge and expect to get a kayak right away.
Here are the rental rates for the various equipment.
| Boat Type | Rental Fee (Per Hour) | Requirements |
| --- | --- | --- |
| Single Sit-on-Top Kayak | 15 SGD | 12 years old and above |
| Double Sit-on-Top Kayak | | 7 years old and above (children must be accompanied by an adult in the same boat) |
| Closed-Deck Kayak | 12 SGD | Patron must have a minimum 1-star kayak certification. |
| Canoe Spring Kayak Single (K1) | 20 SGD | |
| Other Items | Rental Fee | Requirements |
| Spray Skirt | 5 SGD per session | Patron must have a minimum 1-star kayak certification. |
| Seat Cushion (SOT) | | |
| K1 Rudder (Broken) | 70 SGD per piece | |
Operating Hours: 9 am to 10 am, 2 pm to 4:30 pm (daily)
Zigzag Bridge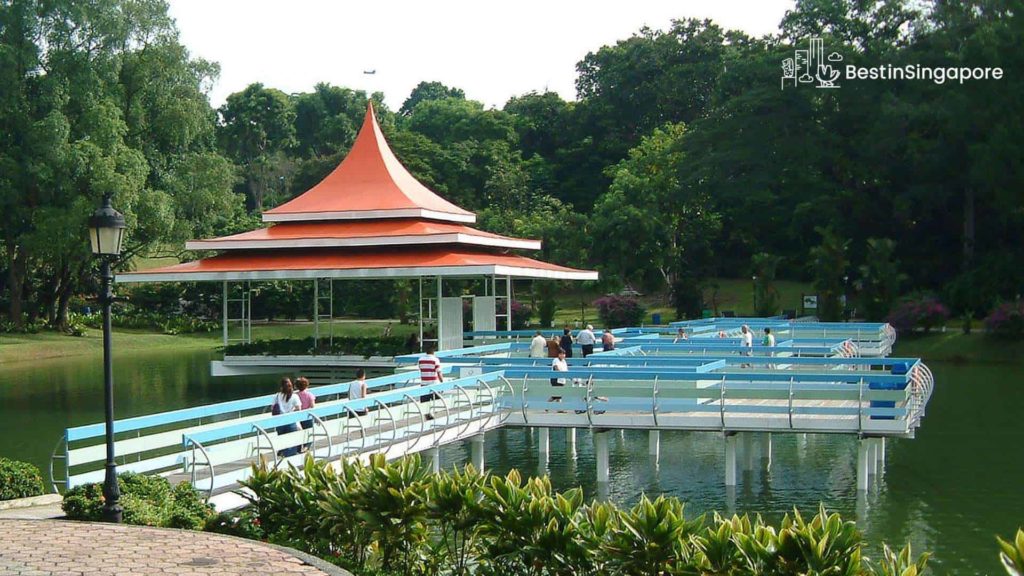 As you can probably tell from the name, Zigzag Bridge isn't your typical bridge. It "zigzags" and goes over the tranquil, green waters of the reservoir.
Because of this, this is one of the most picturesque spots in the area, which is why visitors love taking photos here. So if you're ever passing by—and you definitely will pass this bridge if you're doing the Lornie Trail—be sure to snap some pictures.
Submerged Boardwalk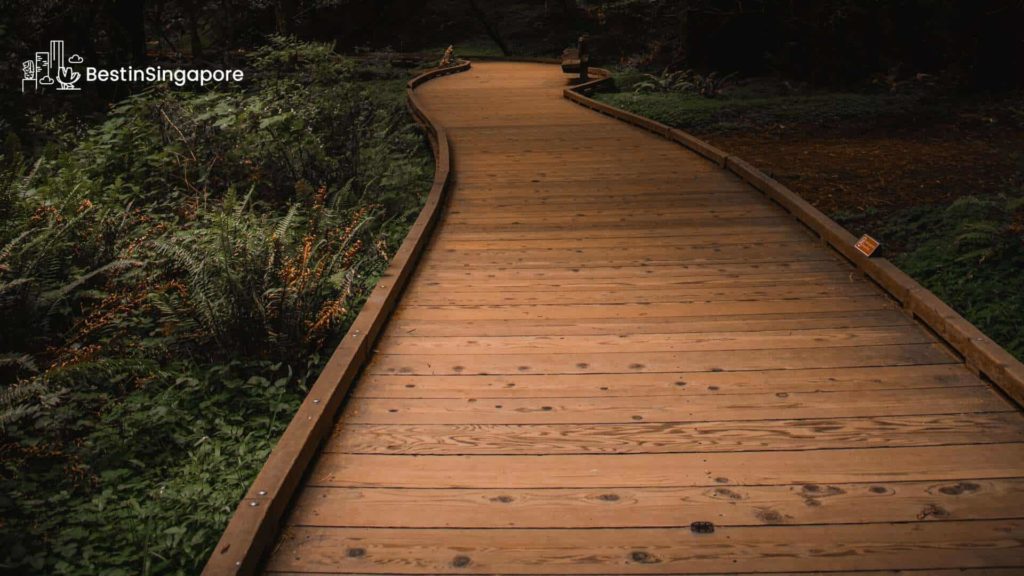 Right next to the Zigzag Bridge is the Submerged Boardwalk, another unique landmark in the park. During the dry season, it looks like your usual boardwalk, but when it's the rainy season, the boardwalk becomes submerged, hence its name.
You might think that it wasn't intentional to build this boardwalk so low, but actually, it was intentional. The reason for this is to let visitors walk through the clean water of the reservoir.
Because of this, the 40-meter-long Submerged Boardwalk is open to everyone—even when it's in its submerged state.
Don't miss the opportunity to stroll on this boardwalk. You never know what animals and plants you'll see here!
Lim Bo Seng Memorial Tomb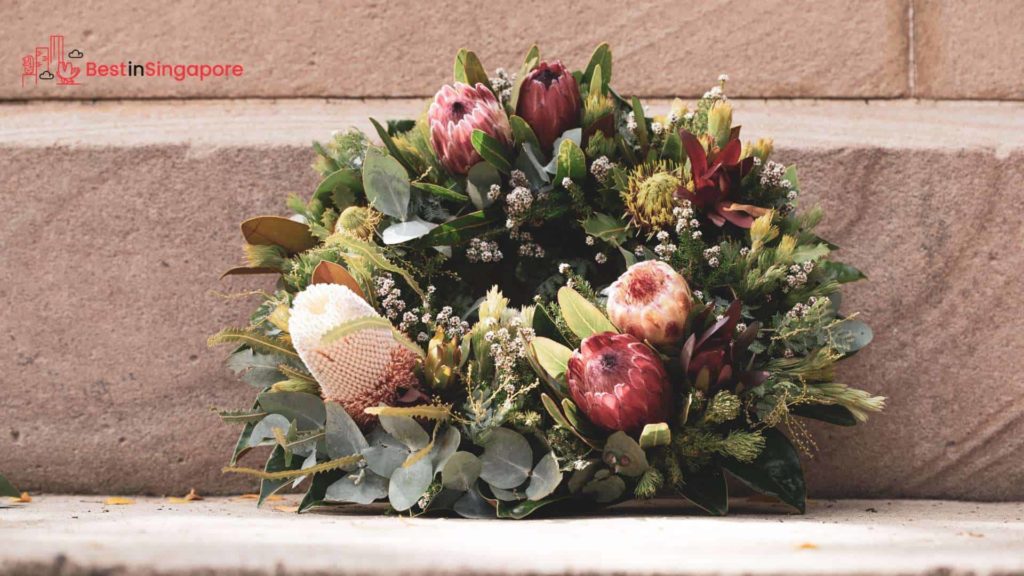 On an elevated ground near the Zigzag Bridge, you can find the Lim Bo Seng Memorial Tomb.
Lim Bo Seng was a Chinese-born man who worked as a spy during World War 2. He was an anti-Japanese activist at the time, and to help fight the empire, he became an agent of Force 136, an organization spying on Japanese activities in Malaya.
Lim Bo Seng was sent to Malaya in November 1943 as part of Operation Gustavus. Unfortunately, the operation failed, and he was captured in March 1944, dying only three months after that.
To honor his heroic efforts, a memorial tomb was constructed for him in the MacRitchie Reservoir Park. Be sure to spare some time to pay your respects when visiting the area.
The Promenade
Do you enjoy strolling while deep in thought? Then The Promenade is exactly your cup of tea.
The Promenade is located right on top of the concrete dam holding the reservoir water, and it's about 300 meters in length. Since the walkway isn't sheltered, the ideal time to stroll here is during early mornings, late afternoons, or cloudy days.
Aside from walking while getting lost in your thoughts, another great pastime here is taking photos. There are many Instagram-worthy spots on The Promenade, and you'll definitely want to capture them in pictures for remembrance.
Mushroom Cafe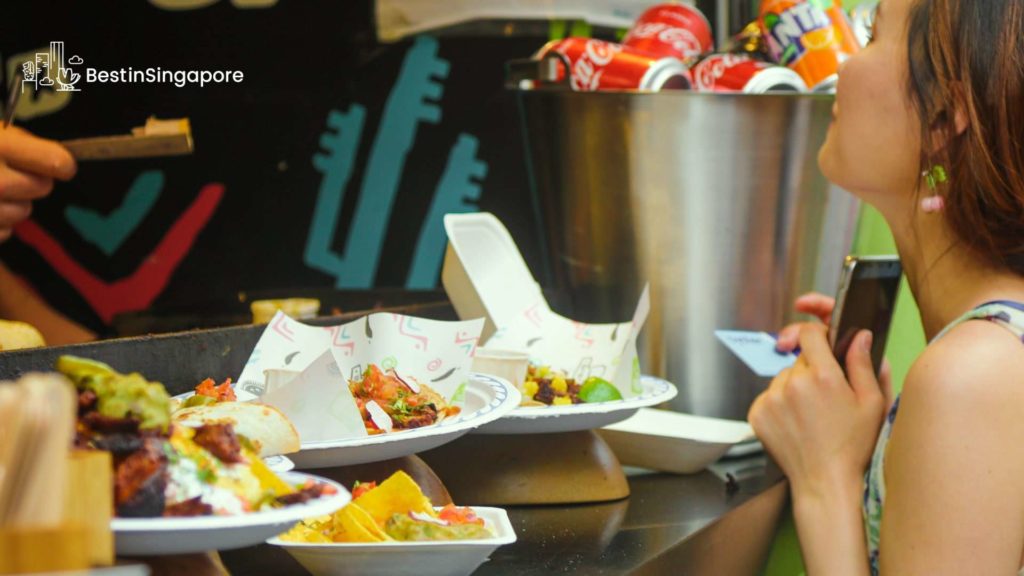 Whether you're hiking, kayaking, or just roaming around the park, you're bound to get hungry after some time. When that happens, head to Mushroom Cafe, the only food establishment in MacRitchie Reservoir.
Mushroom Cafe serves a variety of halal dishes, including nasi lemak, laksa, curry chicken, and more. Plus, the food prices are affordable, starting at 4.90 SGD.
So if you need to fuel up and your snack stash has run out, Mushroom Cafe is the place to go.
Fishing Ground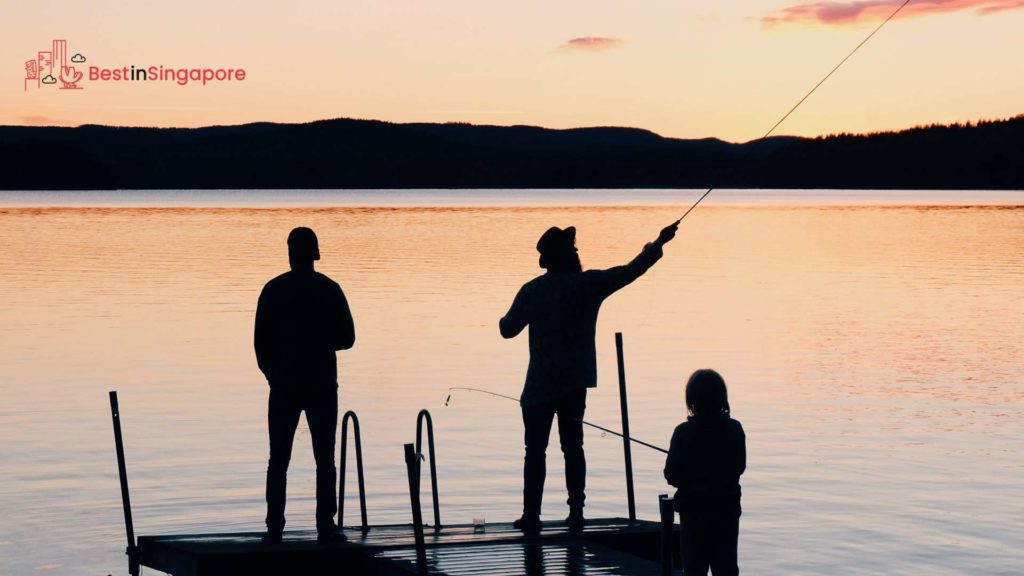 Do you enjoy fishing—or, at the very least, do you want to give it a try? Then you're in luck because fishing is actually allowed at MacRitchie Reservoir—but only in designated areas.
As of right now, there's only one fishing ground at MacRitchie Reservoir: it's the area between Paddle Lodge and the Promenade. You can't rent fishing gear here, so you'll have to bring your own fishing rod and other gear if you want to fish.
Mini-Rope Course
Near Mushroom Cafe, you can find a playground with a mini-rope course. This attraction will most likely appeal to your children, so while you order your food at Mushroom Cafe, they can embark on a rope challenge and have fun.
What are the available trails in MacRitchie Reservoir?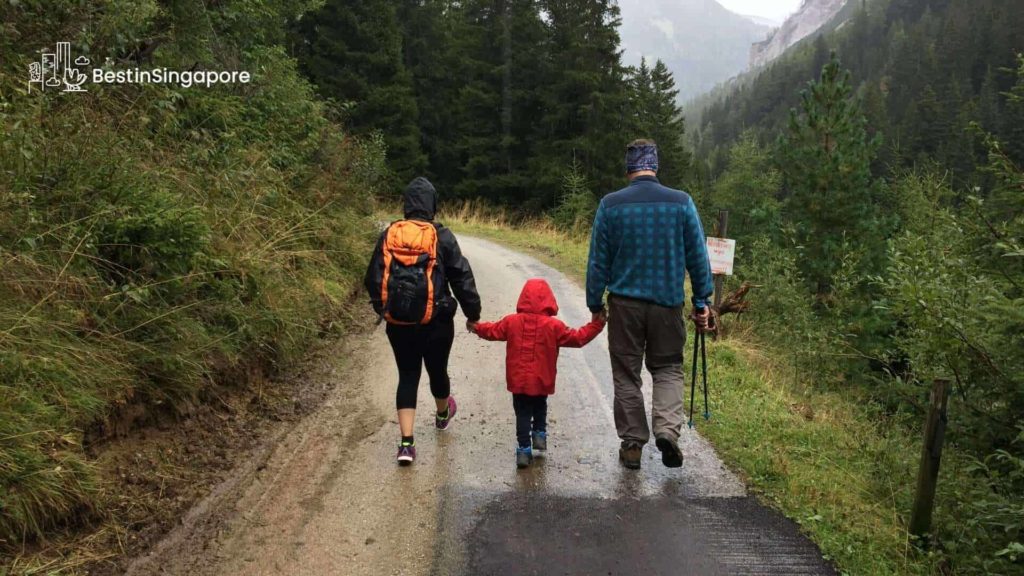 If you're a big fan of hiking and trekking, you'll be delighted to know that MacRitchie Reservoir comes with several trails that you can explore. The available hiking trails are the following:
Windsor Nature Park Trails

Venus Loop
Hanguana Trail
Squirrel and Drongo Trail

Prunus-Petai Trail Loop
Lornie Trail
Chemperai Trail
Jering Trail
Terentang Trail
Peirce Track
Petaling Trail
Sime Track
Golf Link
MacRitchie Nature Trail
MacRitchie Loop
Windsor Nature Park Trails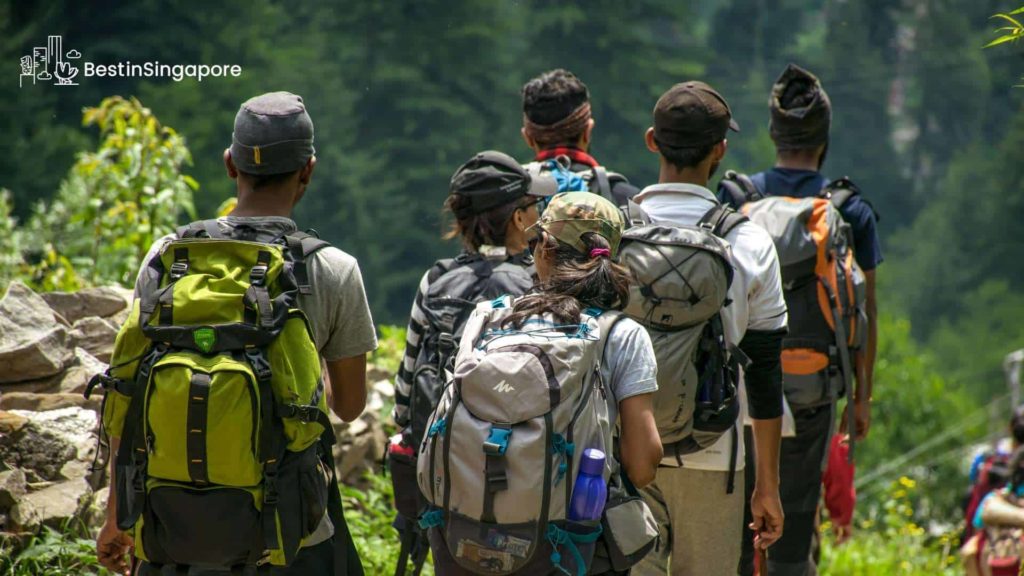 If you're new to hiking and trekking, or you're just not in the mood for a long, complicated hike, you might want to check out the trails in Windsor Nature Park.
These trails are all easy and short—at least when compared to the other ones in the reservoir—and they still feature breathtaking scenery for you to enjoy. Because of this, these trails are perfect for beginners.
If you're interested, here are the four trails in Windsor Nature Park.
Venus Loop
Venus Loop is the main trail of Windsor Nature Park. It brings you right to the heart of the park, providing you with gorgeous views of wildlife and flowers.
This trail is roughly around 1.5 to 2.1 kilometers in length, and it takes around 45 minutes to complete. Because of this, many people consider Venus Loop as an easy route.
Hanguana Trail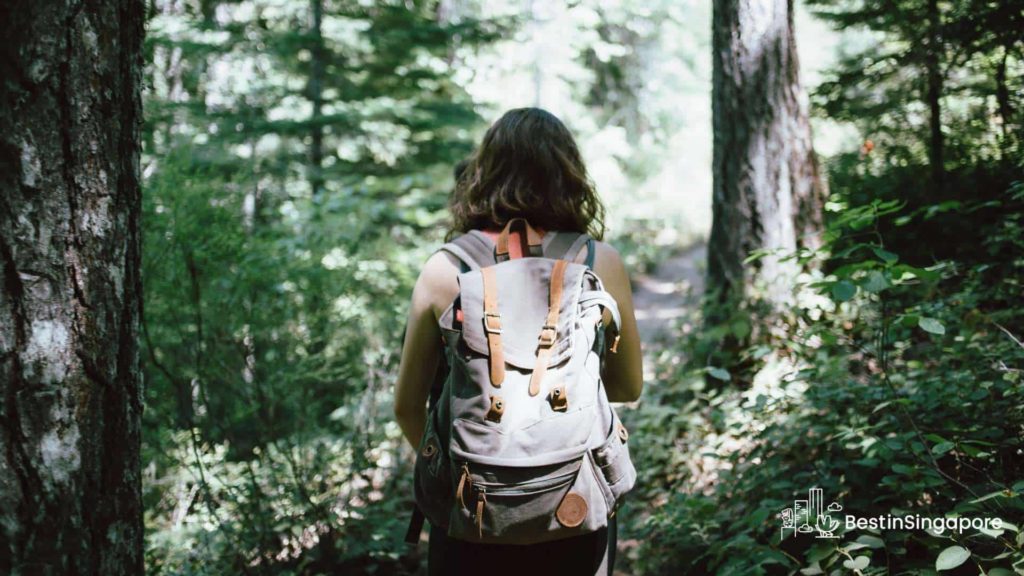 Branching off the main trail is the Hanguana Trail, a route created for educational purposes. This trail features many rare and endangered plants, including ten native tree species and plants named after Singapore.
The best part of the Hanguana Trail is that it's wheelchair-friendly, so everyone—including people with disabilities—can enjoy traversing this route.
Since this trail is only 350 meters long, it only takes 10 minutes to complete it.
Squirrel and Drongo Trails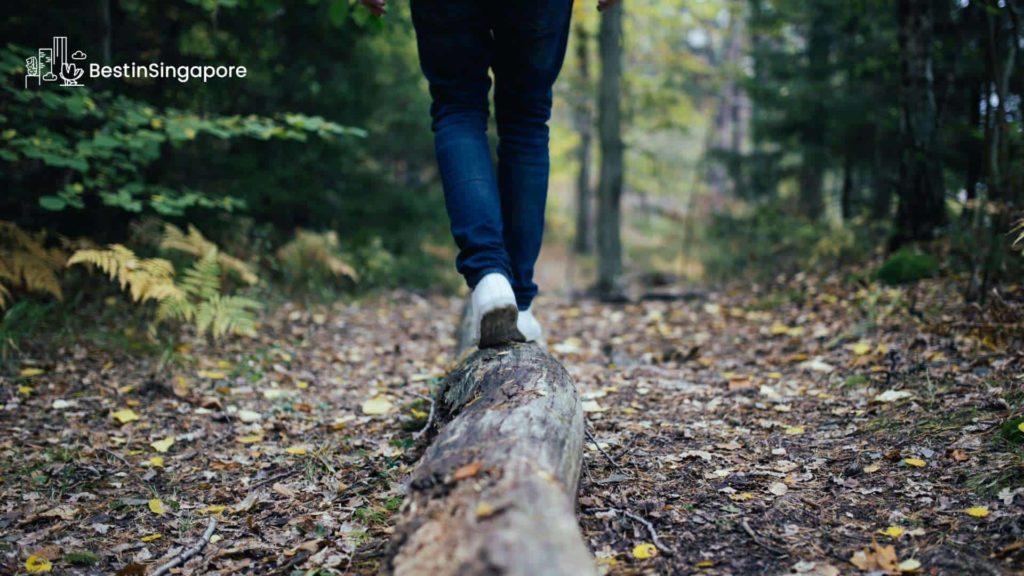 The Squirrel Trail is a route that passes through a swampy habitat, and unsurprisingly, its name is derived from the fact that playful squirrels are abundant in this area.
This trail features a mix of cobbled pathways and raised boardwalks. In fact, this trail connects to the Drongo Trail, which is a 150-meter-long elevated walkway that allows you to view the forest below the canopy.
Once you've reached the end of the Drongo Trail, you'll be met with a fork. One leads to the TreeTop Walk, while the other leads back to the Venus Loop intersection.
The Squirrel and Drongo Trails are about 2.2 kilometers long altogether. These can take you about one hour to complete.
Prunus-Petai Trail Loop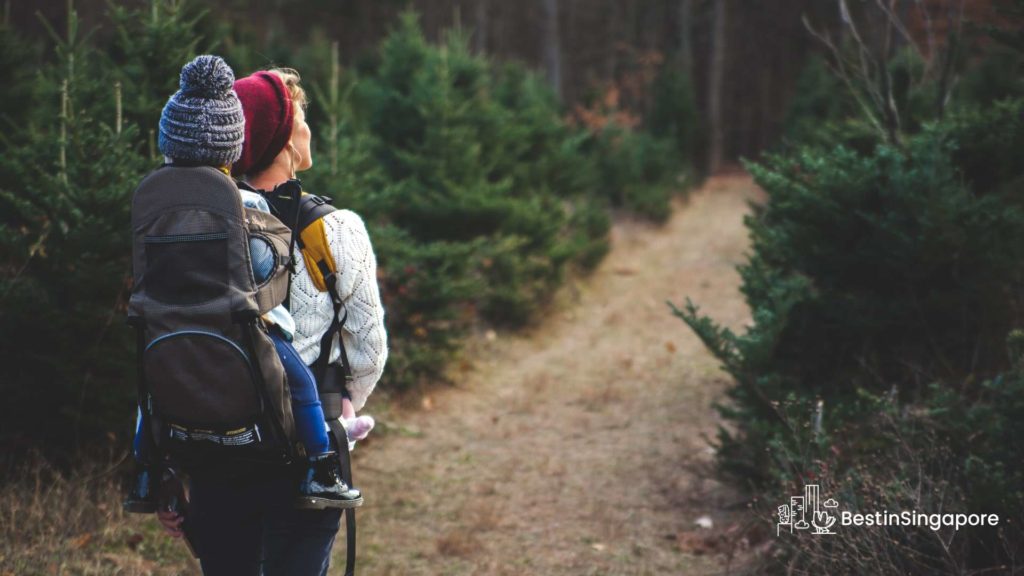 The Prunus-Petai Trail Loop is probably the first trail you'll come across in MacRitchie Reservoir. It's located near the MacRitchie Reservoir Park entrance, and it's about two kilometers in length (one way).
This trail will let you explore a calm forest, passing by various plants and animals, such as clouded monitor lizards and orange-bellied squirrels.
The Prunus-Petai Trail Loop is considered a relatively easy route, and it takes about one hour to complete it. It's also quite a popular trail, so you'll probably come across other fellow hikers while exploring.
Lornie Trail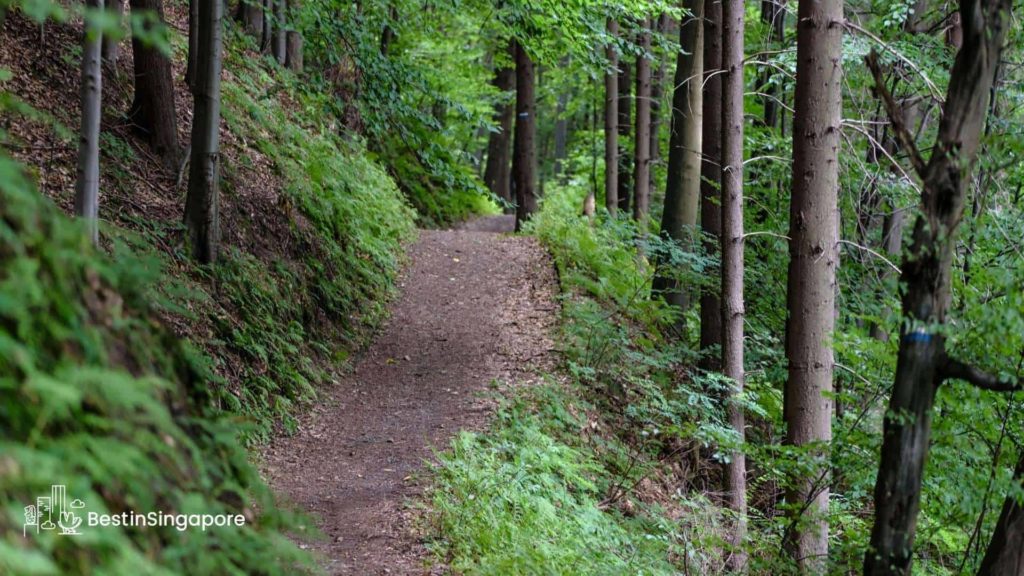 Do you want a trail that includes boardwalks? Then the Lornie Trail is worth checking out.
Part of this loop is a section that goes through the forest, and then it connects with the Chemperai and Jering Trails. This trail also passes by the Lim Bo Seng Memorial Tomb.
Even though the Lornie Trail is relatively short—around two kilometers one way—you shouldn't underestimate it because it features a hilly terrain. Because of this, its difficulty is considered moderate, and beginners will find this route challenging.
Chemperai Trail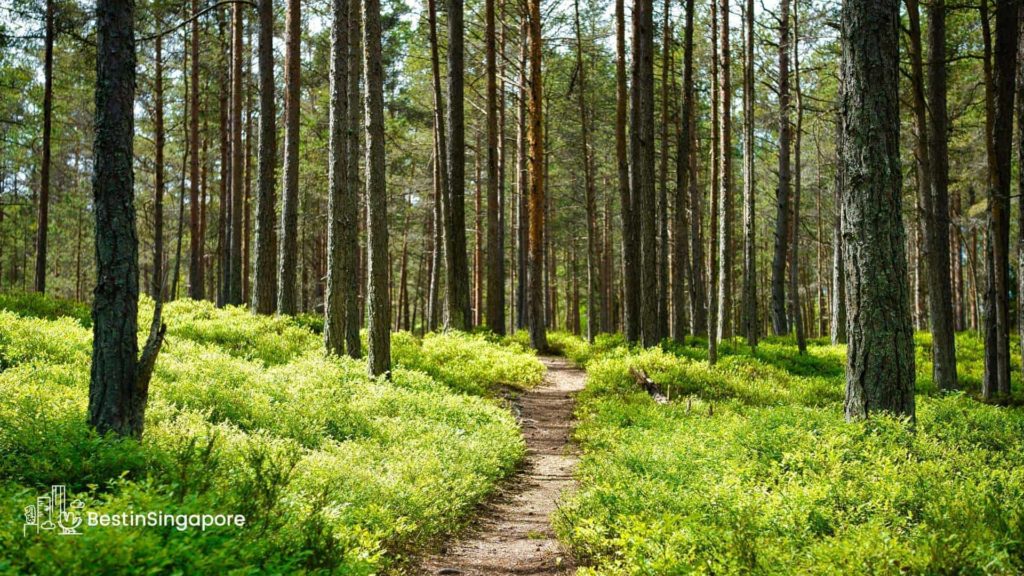 The Chemperai Trail is comprised of a wooden boardwalk that takes you close to the water. As a result, you'll have access to a stunning, panoramic view of the reservoir.
This trail is roughly 1.5 kilometers long and can be slightly winding. That said, the terrain on this trail is relatively flat, making it easier to walk.
The Chemperai Trail is also connected to Lornie Trail if you want to extend your hike.
Jering Trail
A trail that you can connect to the Lornie Trail and Chemperai Trail, Jering Trail is a 1.3-kilometer-long route that takes you to a wooden boardwalk overlooking the waters of the reservoir on one side and the forest on the other.
Featuring a flat and easy terrain, this trail is perfect for beginners.
Terentang Trail
As the name suggests, the Terentang Trail is lined with Terentang trees, whose large leaves cover the route. Because of this, this trail is often described as a "scenic forest walk."
It's only one kilometer long and is mostly easy to walk.
Peirce Track
Do you want a short and quick hike? Then the Peirce Track is for you.
The Peirce Track is only 800 meters long, and it starts from the Ranger's Station and continues to the TreeTop Walk. Because of this short length, it takes no time to complete, and if you want to go for a longer hike, this route connects to other trails.
This track also has a moderate incline if you prefer to have a slight challenge on your hike.
Petaling Trail
At 1.2 kilometers, Petaling Trail begins from the TreeTop Walk and ends at the Sime Track. This route features lush trees on both sides, and you can constantly hear birds singing and chirping, making for a lovely sound.
This trail features moderate to steep steps, so it's suited for amateur and experienced hikers.
Sime Track
The Sime Track boasts tall shrubs on both sides, so the whole route looks like it's inside a green tunnel with pockets of sun rays poking through. This makes for an ethereal image, so you definitely should take photos to remember this trail by.
The Sime Track is 1.2 kilometers long, and it connects MacRitchie Reservoir to Bukit Timah Nature Reserve.
Golf Link
The Golf Link passes through the Singapore Island Country Club golf course, and all the while, you get a beautiful view of the forest, reservoir, and grassland.
This trail is intermediate in length—at 2.5 kilometers—but it's a flat and easy walk, so beginners can enjoy this route for their first hike.
MacRitchie Nature Trail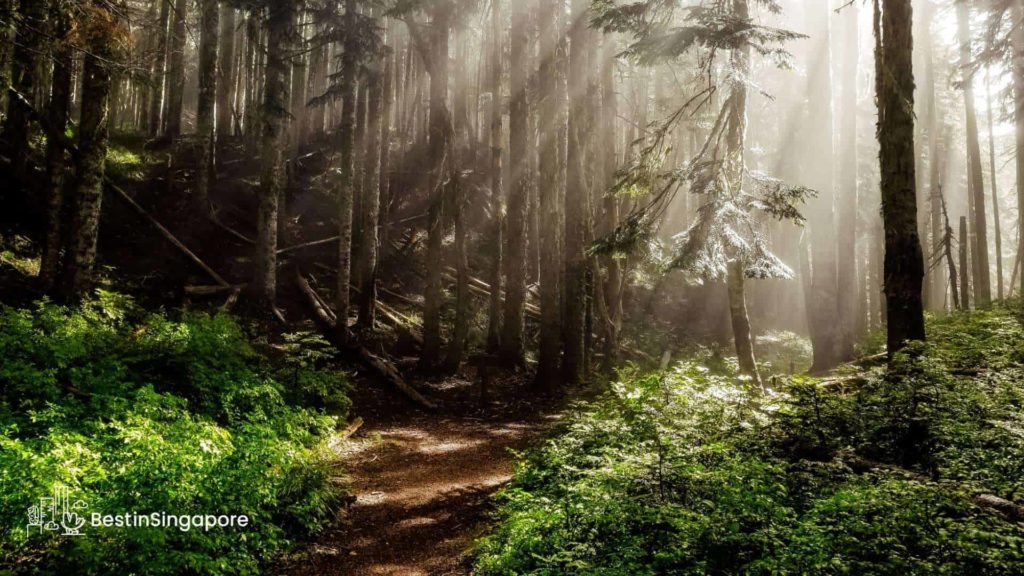 Are you ready to challenge yourself even further? Then be sure to take up the MacRitchie Nature Trail.
This trail features an uphill climb, so hiking here will be a workout for your glutes, hamstrings, and quads. But don't worry about it too much because you'll have the scenery of the dense forest to distract you from feeling tired.
The whole loop takes about 10.3 kilometers, and you can choose to branch out to other trails and loops for more adventure. Some of the trails connected to the MacRitchie Nature Trail are the Venus Loop, Peirce Track, and Terentang Trail.
MacRitchie Loop
MacRitchie Loop is the ultimate trail for all avid hikers. This loop challenges you to take a turn around the entire reservoir, going through and passing by the park's beloved attractions, such as the TreeTop Walk, Jelutong Tower, and the open track at Golf Link.
This loop is about 11 to 12 kilometers long, so completing it would take about three hours—four if you like to stop sometimes to enjoy the view or rest up.
FAQs about MacRitchie Reservoir