Discover Little India, a Charming Neighborhood in Singapore
Singapore has an abundance of lively neighborhoods to visit; Chinatown and Kampong Glam are two of the most popular. Another one that you should include in your itinerary—and it's also near the aforementioned districts—is Little India.
Little India is a cultural enclave in Singapore that's bursting with charm and color. Its streets are decorated with fascinating temples, brightly painted shophouses, exciting dining spots, and more!
There's a lot to discover in Little India. If you'd like to explore this neighborhood, feel free to use this article as your guide.
Things to Know about Little India
A Brief Background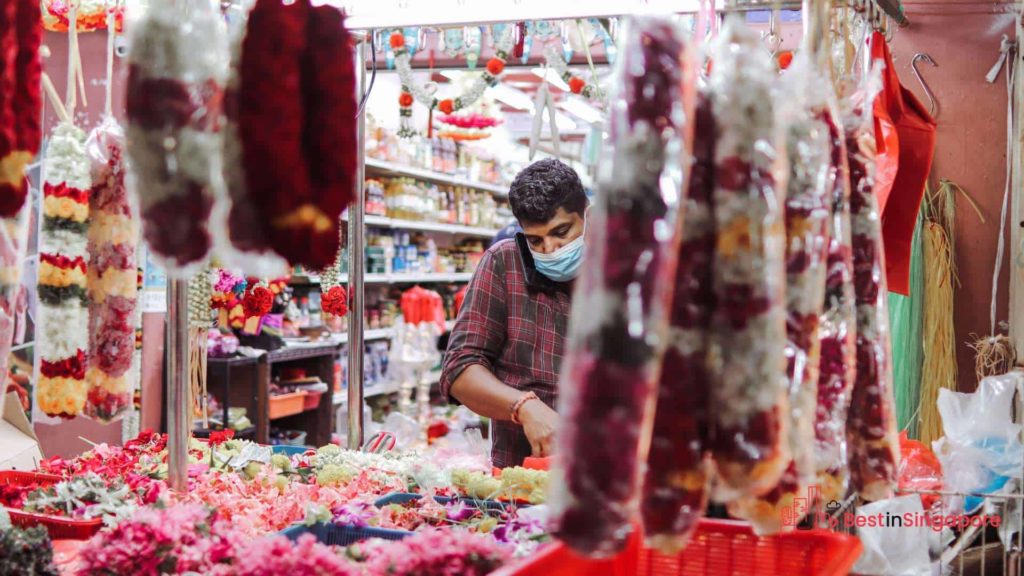 During the colonial era in Singapore, Indian immigrants used to reside in the Chulia Kampong area. However, over time, the area became crowded, and people started fighting over land, so many moved to a new area that is now called Little India.
The heart of Little India is Serangoon Road, one of the oldest roads in Singapore. Lieutenant Jackson referred to this road as "the road leading across the island" in the 1828 Plan of Singapore, and there were several farms set up along the road.
The population of Indians in Little India grew in the late 19th and early 20th centuries, which made the area even more commercially active.
Even now, Little India is still home to a diverse set of people, which is why the area is filled with places of worship catering to different religions and various cultural landmarks.
How to Get There
MRT: If you prefer riding the MRT, you'll be glad to know there are various stations where you can disembark in Little India. These stations are Little India, Rochor, Newton, Farrer Park, and Dhoby Ghaut. 
Bus: Another mode of public transportation you can ride to get to Little India is the bus. Specifically, ride the bus services 131, 147, 64, and 67. 
Taxi or Car Service: Little India is a popular neighborhood in Singapore, so taxi services can navigate the area well. You can also book a ride via a ride-hailing app, such as Grab, Ryde, or Gojek. 
Car: If you own a car or you're renting one, you can also choose to drive to Little India. There are various car parks in the neighborhood, such as the parking lot on Kerbau Road, Hindoo Road, and Race Course Lane.
Best Time to Go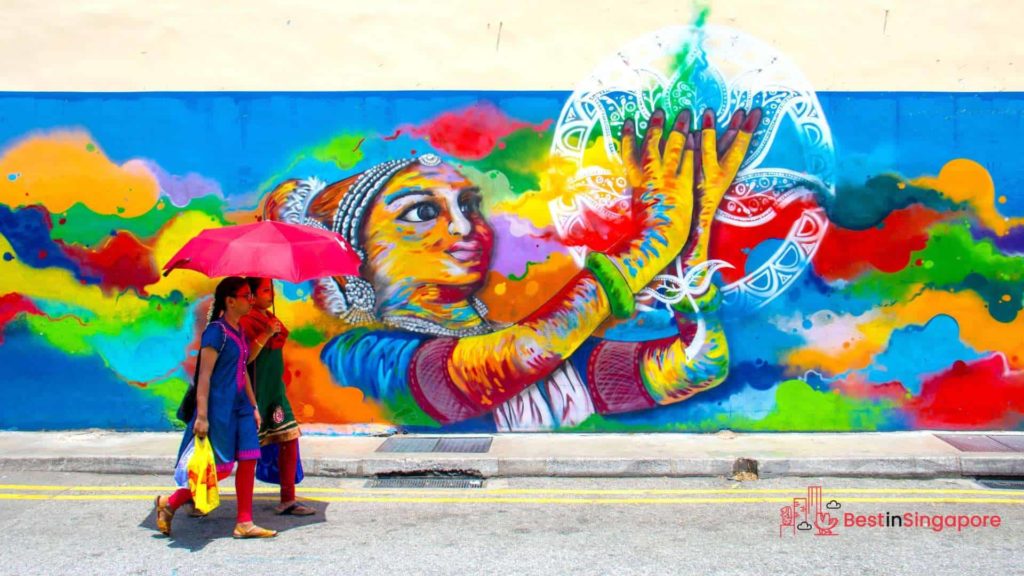 If you want to spend the whole day shopping, I recommend coming to Little India by 10:30 am because that's when most of the shops open. It's also a good idea to come earlier and get breakfast in a restaurant before going shopping.
Additionally, I suggest coming to Little India during certain celebrations like Vesak Day and Deepavali. This is because the whole neighborhood becomes even more alive with all the decorations, food kiosks, and other exciting festivities.  
What to Do in Little India
Visit mosques and temples
Since Little India is home to people of different religions, you can find all kinds of places of worship here. Mosques and temples are quite plentiful in the neighborhood.
Here are some of them you should check out.
Sri Veeramakaliamman Temple
Address: 141 Serangoon Rd, Singapore 218042
Operating Hours: Monday to Sunday—5:30 am to 12 pm, 5 to 9 pm
Contact Number: +6562954538
Website
One of the oldest temples in Singapore, Sri Veeramakaliamman Temple was built by Indian pioneers who settled in Little India. Since then, it has served as a prime location for important cultural activities.
In my opinion, the most interesting thing about this temple is the choice of deity. Sri Veeramakaliamman is considered a powerful goddess and destroyer of evil.
She is the chosen deity of the temple because immigrants need to feel secure in their new land.
The architecture of this temple is also striking. At the entrance, you can find a sculpture featuring various deities and important figures in Hinduism.
Sri Srinivasa Perumal Temple
Address: 397 Serangoon Rd, Singapore 218123
Operating Hours: Monday to Sunday—5:30 am to 12 pm, 5:30 to 9 pm
Contact Number: +6562985771
Website
Sri Srinivasa Perumal Temple is another old temple in Singapore. Its history can be traced back to the late 1800s when influential leaders in the community decided to buy a piece of land to build a Hindu temple for Vaishnavites (people who worship Vishnu).
Just like the previous temple, this one features a dynamic display of deities, creatures, and other figures in Hinduism, and its interior is just as majestic. The ceiling boasts a vivid design filled with beautiful depictions of mythical figures and creatures.
Even if you don't practice Hinduism, it's so fun exploring the temple and seeing all these beautiful designs and sculptures. They're works of art that will leave your jaw hanging in awe!
Sakya Muni Buddha Gaya Temple
Address: 366 Race Course Rd, Singapore 218638
Operating Hours: Monday to Sunday—8 am to 4:30 pm
Contact Number: +6562940714
Sakya Muni Buddha Gaya Temple is about 15 meters tall and is home to a 300-ton statue of Buddha, several smaller Buddha statues, and colorful murals showing Buddha's life story.
The giant statue is surrounded by an endless chain of lights, thereby creating an almost mystical effect. Because of this, the temple earned the nickname "Temple of 1,000 Lights."
This temple is one of the best places to go during Vesak Day. On this day, you'll witness devotees placing gold leaves onto a statue of Buddha.
Abdul Gafoor Mosque
Address: 41 Dunlop St, Singapore 209369
Operating Hours: 
Monday to Friday—1 to 9 pm
Saturday—9 am to 1 pm
Closed on Sunday
Boasting majestic architecture and intricate design details all throughout its facade, Abdul Gafoor Mosque is truly a sight to behold. If you're an architecture nerd, you'll most likely see that the temple's architecture is inspired by Asian and European styles.
The beautiful designs continue inside the temple. Be on the lookout for the star and crescent moon motifs, which appear frequently.
Aside from gorgeous architecture and interior design, the mosque offers language sessions for both Tamil and Dravidian. So, if you're interested in learning a new language (or even just a few phrases), stop by here.
Leong San See Temple
Address: 371 Race Course Rd, Singapore 218641
Operating Hours: Monday to Sunday—8 am to 4 pm
Contact Number: +6562989371
Website
Known as the Dragon Mountain Temple in Mandarin, Leong San See Temple is one of the most well-known Buddhist temples in Singapore.
This temple was established in 1917 by Reverend Chun Wu who came to this island with just an urn and a statue of Guan Yin (the Goddess of Mercy). So, during its first years, the temple housed the statue and a few huts where the reverend treated the sick.
Now, the temple has been upgraded to include a striking facade. The golden roof has beautiful sculptures of people and mythical creatures!
There's also an altar for Confucius, which is popular among families because parents bring their children here to pray for intelligence and filial piety.
Learn more about Indian history at the Indian Heritage Center
Address: 5 Campbell Ln, Singapore 209924
Operating Hours: 
Tuesday to Sunday—10 am to 6 pm
Closed on Monday
Contact Number: +6562911601
Website
If you're a big fan of history, then you shouldn't miss the opportunity to visit the Indian Heritage Center. This heritage center—which acts both as a museum and an art gallery—aims to inform you about the history of the Indian community in Singapore. 
The highlight is the permanent gallery called "Indians in Singapore—Past and Present." This gallery features five different themed areas detailing Indians' experiences in Singapore and Southeast Asia throughout time.
tThe center also hosts other activities like Indian New Year festivities and storytelling sessions with children.
I also recommend going on a guided tour. That way, you can really see all the great things within the heritage center.
Take a walk along New World's End
Address: 85 Desker Rd, Singapore 209646
Operating Hours: 
Wednesday, Friday to Sunday—5:30 to 10:30 pm
Closed on Monday, Tuesday, and Thursday
Admission Fee: S$35 per person, S$136 per group of four
Website
New World's End is touted as an immersive audio experience, and it's certainly one worth trying. This "show" is set in the 60s in the now-defunct New World Amusement Park and follows a couple as they go on a memory lane.
You'll be going down memory lane with them as you wear headphones and play 16 tracks of narration on an MP3 player. I really love all the historical details laid out in the back alleys and hidden rooms.
There's even a possibility of you stumbling inside a hidden artist's studio! From what I hear, this room isn't open all the time, so if you come across it, consider yourself a lucky duck!
Be dazzled by all the fancy stones at The Gem Museum
Address: 9 Perak Rd, Singapore 208130 
Operating Hours: 
Tuesday—12 to 5 pm
Wednesday and Thursday—1 to 5 pm
Saturday—11 am to 3 pm
Closed on Monday, Friday, and Sunday
Contact Number: +6567343172 
Website
The Gem Museum is perhaps one of the most unique museums I've ever been to. After all, it's the first museum in Singapore that's dedicated to all sorts of gemstones!
In the museum, you'll learn more about how gems are formed, how they are mined and extracted, and how they become available to the market.
If the display of gemstones impresses you, you might be interested in purchasing your own; jewelry pieces are also available! Some of the bestsellers include ametrine (a lovely combination of gold and purple), topaz, amethyst, and jade necklaces.
Where to Eat in Little India
Warm Up Cafe
Address: 110 Mackenzie Rd, Singapore 228708
Operating Hours: Monday to Sunday—12 pm to 6 am
Contact Number: +6587232332
Pricing: $
Warm Up Cafe is a cozy Thai restaurant. It's perfect for late-night outings and is open late at night and during the wee hours of the morning!
The bestselling dish here is the Thai boat noodle, but my personal favorite is the tom yum tiger prawn boat noodle, which consists of tiger prawns, mussels, and rice noodles drowned in that deliciously indulgent soup—the perfect comfort dish if you ask me.
Bacos
Address: 2 Serangoon Rd, #01-12/13 Tekka Place, Singapore 218227
Operating Hours: 
Monday to Wednesday, Friday—11 am to 3:30 pm, 5:30 to 10 pm
Thursday—9 am to 3:30 pm, 5:30 to 9:30 pm
Saturday and Sunday—11 am to 10 pm
Contact Number: +6565921377
Pricing: $$
Website
Have you ever thought about how dishes would taste if they combined elements from Italian and Indian cuisines? Well, now you'll have your answer because that's exactly what Bacos has been aiming to do!
Taste savory and sweet flavors when you bite into any of their burgers (personally, my favorite is the grilled lamb burger). Pasta dishes are great if you want something filling, and if you can afford to splurge, don't miss out on the chef's special biryani!
I'd also recommend trying out the mocktails. They're fizzy and sweet—the perfect way to end a meal!
The Banana Leaf Apolo
Address: 54 Race Course Rd, Singapore 218564
Operating Hours: Monday to Sunday—10:30 am to 10:30 pm
Contact Number: +6562938682
Pricing: $$
Website
One fun fact about The Banana Leaf Apolo is that it's named after the Apollo landing on the moon in 1969, five years before the creation of this restaurant. According to the founder, he hoped that his business venture would take off like the Apollo rocket.
And take off it did because now, it's a popular dining spot in Little India. This Indian restaurant boasts an extensive menu—from starters to different meat types to desserts. 
If you're overwhelmed with your options, you can't go wrong with the signature dishes, especially the fish head curry. Other dishes worth trying include the tandoori chicken, seekh kebab, and paneer tikka.
Komala Vilas Restaurant
Address: 76-78 Serangoon Rd, Singapore 217981
Operating Hours: Monday to Sunday—7 am to 10:30 pm
Contact Number: +6562936980
Pricing: $
Website 
Komala Vilas Restaurant has been around since 1947, making it one of the oldest Indian restaurants in Singapore. Additionally, it serves primarily vegetarian dishes, so if you don't eat meat, this place is for you!
Some of the dishes you might want to try out include vegetable biryani, bhatura, and onion rava dosa. For dessert, I recommend the gulab jamun and a slice of vegetarian cake (your options are between classic chocolate and black forest).
Since this is a popular spot, expect a queue during rush hour (lunchtime). I suggest coming as early as possible if you don't want to wait.
Gayatri Restaurant
Address: 122 Race Course Rd, #01-01, Singapore 218583
Operating Hours: Monday to Sunday—11 am to 10:30 pm
Contact Number: +6562911011
Pricing: $$
Website
Gayatri Restaurant is best known for its authentic Indian dishes. Its setting is very cozy and family-friendly, so you'll really feel at ease when dining here.
The biryani here is savory perfection. My favorite has to be the chicken dum biryani; it's made of chicken and fluffy saffron rice mixed with traditional spices.
Other dishes I love here are chicken masala, butter chicken, and tahu sambal (fried beancurd that's tossed in a tangy gravy).
Mr. Biryani
Address: 32 Norris Rd, Singapore 208274
Operating Hours: 
Tuesday to Sunday—11 am to 3:30 pm, 6 to 10 pm
Closed on Monday
Contact Number: +6586614271
Pricing: $$
Website
Mr. Biryani was founded in 2017 by Chef Govinda Rajan, and in just a few years, it has become a highlight in Little India. As the name suggests, this restaurant specializes in Hyderabadi-style biryani, but you can also find other classic Indian dishes here.
I usually start with an Andhra chili paneer, then for the main course, I go for either the crispy chicken, fried Andhra prawn, or butter chicken masala. Of course, I have to order a biryani too; my go-to choice is the Kampong chicken biryani.
Khansama Tandoori Restaurant
Address: 166 Serangoon Road Junction of Norris Rd, Singapore 218050
Operating Hours: Monday to Sunday—10 am to 12 am
Contact Number: +6562990300
Pricing: $$
Craving North Indian cuisine? Khansama Tandoori Restaurant has the fix for you!
Indulge in a great variety of dishes; biryani, butter chicken, and samosa are the highlights. I recommend ordering the bread basket as a side dish; dipping the bread into the butter chicken is so addictive.
Another thing that I love about this restaurant is its ambiance. It's so chill and cozy, which is why I love bringing my friends and family here just to hang out.
Kailash Parbat Restaurant
Address: 3 Belilios Rd, #01-03 Hilton Garden Inn, Singapore 219924
Operating Hours: Monday to Sunday—11 am to 10:30 pm
Contact Number: +6568365545
Pricing: $$
Website
Kailash Parbat Restaurant isn't just a Little India staple; it's also quite popular in other places, and currently, it has locations in India, Australia, Hong Kong, England, Canada, and the United States!
You can expect to find high-quality dishes here. My favorite thing to order here is the Indian set because you get a variety of dishes—like biryani, samosa, and other popular main courses in Indian cuisine—in one order.
The tandoori platter is just as good as well.
Sometimes, the restaurant has some special offers like Sunday lunch specials and other themes. Be on the lookout for them and give them a try!
Where to Shop in Little India
Mustafa Center
Address: 145 Syed Alwi Rd, Singapore 207704 
Operating Hours: Monday to Sunday—9:30 am to 2 am
Contact Number: +6562955855
Website
Mustafa Center is one of the most visited shopping malls in Little India, and it's also one with most stores selling products and services at affordable prices. This is the perfect mall if you want to do a shopping spree without breaking the bank. 
I also love the variety of goods being offered here. There's a store selling jewelry and household appliances, and others offer books, DVDs, electronic goods, clothing, and more.
City Square Mall
Address: 180 Kitchener Rd, Singapore 208539
Operating Hours: Monday to Sunday—10 am to 10 pm
Contact Number: +6565956595
Website
City Square Mall is located where the historic New World Amusement Park once stood, and it's the first "eco-mall" in Singapore since it's integrated with an urban park called City Green.
City Green is a great place to unwind after a long day, and it also lets you learn more about ecology and the natural environment.
This mall is also home to roughly 200 tenants, ranging from clothing stores to fine-dining restaurants. Sometimes, there's even a sale promotion catering to tourists, so watch out for that!
Little India Arcade
Address: 48 Serangoon Rd, #02-07, Singapore 217959
Operating Hours: Monday to Sunday—9 am to 10 pm
Contact Number: +6562955998
If you're tired of shopping in malls, then you might want to stop by Little India Arcade for a change. Little India Arcade is made up of various quaint shophouses selling Indian sweets, textiles, and spices, among other products.
I recommend coming during Vesak Day and other cultural celebrations. The shophouses become a lot livelier, and you might see even more cool knick-knacks to buy as a souvenir!
Jothi Store and Flower Shop
Address: 1 Campbell Ln, Singapore 209882 
Operating Hours: Monday to Sunday—10 am to 9 pm
Contact Number: +6563387008
Website
Jothi Store and Flower Shop was once a small flower store, but now it's a five-story shop catering to all the needs of the Indian community.
Personally, I really love browsing and buying the flower garlands. But aside from them, you can also find a great variety of other products, such as cosmetics and prayer items.
Where to Stay in Little India
Hilton Garden Inn Singapore Serangoon
Address: 3 Belilios Rd, Singapore 219924
Contact Number: +6564910500
Book Now
Make your trip to Little India a lot more luxurious by staying at Hilton Garden Inn Singapore Serangoon.
This 4-star hotel is set in a concrete-and-glass building, and its rooms are elegantly furnished. If you're lucky, you might even book one with a bay window; that way, you'll get to enjoy city views from the comfort of your bed.
You can also enjoy other fun amenities, such as the grill-style restaurant, an outdoor pool, and a gym. If you need to buy snacks and other necessities, there's an in-house convenience store that runs 24/7.
Broadway Hotel
Address: 195 Serangoon Rd, Singapore 218067
Contact Number: +6562924661
Book Now
If you want a more affordable option, Broadway Hotel is worth checking out. This 2-star hotel is conveniently located in Little India; it's near a shop that's open for 24 hours, and it's also within walking distance to various landmarks in the neighborhood.
As a guest, you'll enjoy perks, such as free Wi-Fi and a complimentary breakfast. Parking is available if you're driving, but if you're taking public transport, there's an MRT station nearby.
7 Wonders Hostel @ Upper Dickson
Address: 12 A Upper Dickson Rd, Singapore 207474 
Contact Numbers: +6562910697
Book Now 
7 Wonders Hostel touts itself as an avant-garde hostel where you can sleep in cozy capsules with bunk beds. Aside from the capsules, you'll have access to other amenities like free Wi-Fi, a luggage storage room, and laundry facilities.
This accommodation is best suited for tourists on a budget, but it also works for people who are only planning to stay in Little India for a little while.
Aqueen Heritage Hotel Little India
Address: 22 Belilios Ln, Singapore 219962
Contact Number: +6562289999
Book Now
Aqueen Heritage Hotel Little India is a 3-star mid-range hotel that puts you close to many shops in the neighborhood. For instance, Mustafa Center is only seven minutes away on foot!
In addition to its convenient location, the hotel offers countless amenities to ensure a comfortable stay. These include access to laundry facilities, daily housekeeping, luggage storage, and a front desk safe.
In terms of room options, you have plenty—from cozy rooms that can host one or two people to family rooms that can accommodate up to four. So, whether you're traveling alone or with a group, there's a room for you.
The Great Madras by Hotel Calmo
Address: 28 Madras St, Singapore 208422
Contact Number: +6569882364
Book Now
The Great Madras is a boutique hotel in Little India, and just as you would expect from a boutique hotel, its interior is quite charming. It has a retro-inspired design, and the ambiance is chill and cozy.
The best part about this hotel is its room variety. If you want something affordable, you can go for the co-living space with a common bathroom, but if you want privacy, lots of space, and a view of the neighborhood, choose The Balcony Room.
For people who can afford to splurge a bit, The Great Suite is the best choice. It's the only room option with a large bathtub in its bathroom, so you can enjoy a long, hot soak before going to bed every night.
Hotel 81 Dickson
Address: 3 Dickson Rd, Singapore 209530
Contact Number: +6563928181
Book Now
Another budget-friendly accommodation in Little India is Hotel 81 Dickson. This hotel is known for its simplicity and convenience, which is why it's a popular option among tourists on a budget.
To make things better, if you're booking a stay during your birth month, you can enjoy a 20% discount. The hotel is also flexible in its check-in/check-out time, so you can enjoy a longer stay.