A Guide on How Deepavali Is Celebrated in Singapore
Get ready for a blast of festive joy because Deepavali is one of the most interesting festivals celebrated by Hindus in the country (and my personal favourite!).
With this guide, get ready to soak in the vibrant atmosphere, indulge in delicious treats, and join the epic celebration of Deepavali.
What is the significance of Deepavali in Singapore?
— From tinku_collectibles
Deepavali, also known as Diwali, holds great significance for the Indian community in Singapore. It's even a public holiday, showing how much love it gets from people of all backgrounds.
It's all about lights, lights, and more lights, symbolising the epic victory of good over evil and banishing the darkness. It usually falls between October and November, and it's a multi-day occasion filled with excitement and pure joy.
The main event happens on the new moon day of the Hindu month of Kartik, and trust me, you won't want to miss it.
Deepavali in Singapore also means awesome family reunions, mind-blowing cultural performances, and an incredible sense of unity and togetherness.
The festival gives everyone a chance to learn about and embrace Indian traditions and customs, no matter what their ethnic background is.
But for me, Deepavali is more than just an Indian celebration, as it's also a powerful reminder of the beautiful multicultural tapestry we have in Singapore.
Tip: Remember to check the specific dates and events happening during Deepavali in Singapore, as they may vary from year to year.
Things to Do During Deepavali in Singapore
Take part in Little India activities
Get ready for an explosion of colours, lights, and pure excitement in Singapore's very own Little India! This lively neighbourhood, nestled along Serangoon Road, transforms into a dazzling wonderland during Deepavali.
Elaborate light displays will take your breath away as if you've stepped into a fairytale land.
— From krislawrence777 
Deepavali in Little India is also synonymous with beautiful floral neckpieces. During this time, the streets are lined with shops selling a variety of fresh and fragrant flower garlands, which are an integral part of the celebrations.
And if you've got a sweet tooth, Little India is dotted with traditional sweet shops offering a mouthwatering variety of Indian sweets, known as mithai. From gulab jamuns to jalebis and ladoos, you can satisfy your sweets cravings with these delectable treats.
The shops lining the streets will be bursting with goodies that will make your inner shopaholic go wild. From trinkets to traditional clothing that will make you feel like royalty, there's something for everyone.
Tip: Don't forget to explore the Deepavali bazaars that pop up in various locations, such as Little India and shopping malls!
Marvel at intricately-decorated homes
Being the Festival of Lights, Deepavali is when homes are adorned with flickering oil lamps called diyas, spreading a warm glow that symbolises the triumph of light over darkness and attracting heaps of positive vibes and blessings.
Before Deepavali, homes are thoroughly cleaned and decorated to welcome the goddess Lakshmi. It's believed that a clean home invites wealth and prosperity.
Abodes are decorated with intricate kolam patterns (designs made with coloured rice, flour, or flower petals) that typically adorn the entrances. They're a marvel to behold.
— From atshayakumari 
Another common practice is sprucing up doorways and entrances with torans, which are decorative hanging garlands made of flowers, leaves, or beads. These vibrant and fragrant decorations are believed to welcome good fortune into a home.
Traditional sweets and snacks, known as mithai, are also prepared and shared among friends and relatives. And trust me, a Deepavali experience won't be complete without partaking in these delicious treats!
Tip: For convenience, rangoli stickers and wall hangings with intricate designs can be bought and easily applied to walls or windows.
Celebrate with fireworks (where allowed)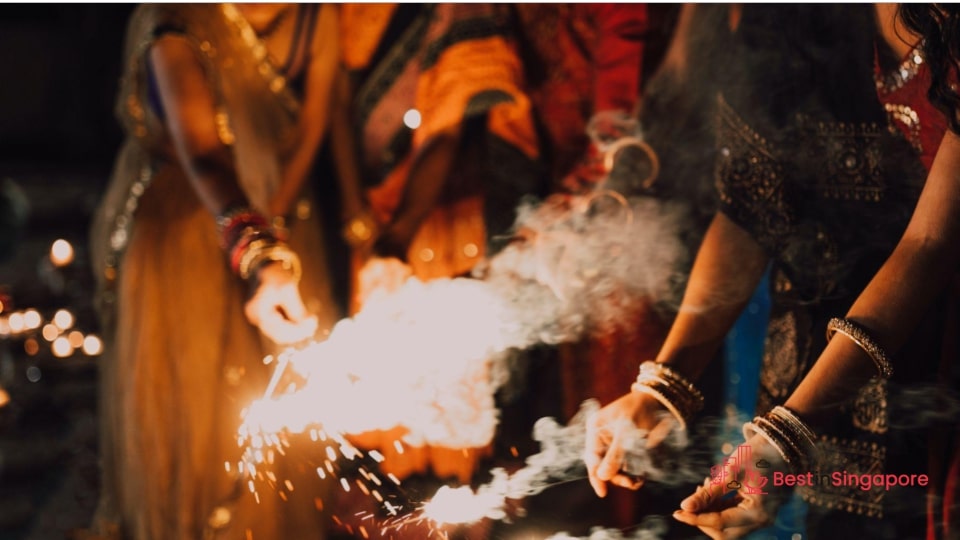 Fireworks are a must-have during Deepavali celebrations. It's like a dazzling symphony of colours and sparks that mirror the epic triumph of good over evil.
The Deepavali Countdown Concert often concludes with a spectacular fireworks display that lights up the night sky. They add a magical touch to the celebration and create a memorable experience for the attendees.
But here's a little heads-up: while fireworks have traditionally been a part of Deepavali celebrations, it's important to be aware that there have been some restrictions in recent years.
Safety and environmental concerns have prompted the need for caution. But don't worry, you can still catch amazing firecracker displays and enjoy mesmerising fireworks shows in designated areas.
— By cutipie_vishu_4444
Tip: Check with the Singapore Civil Defence Force (SCDF) if there are any authorised fireworks displays happening in designated areas to celebrate Deepavali while adhering to safety guidelines.
Explore Hindu temples
Of course, the spiritual side of Deepavali involves some serious prayer power. Hindu families come together to perform sacred rituals and offer heartfelt prayers to their beloved deities, with a special focus on the goddess Lakshmi.
Deepavali is all about spreading love and joy through thoughtful presents and meals, too. It emphasises Annadanam as one of the main activities.
Annadanam is the act of offering food to devotees as a form of charity. Temples often organise special Annadanam programs during Deepavali, where delicious meals are served to devotees and visitors.
If you're up for a soul-stirring adventure, why not pay a visit to some of the stunning Hindu temples in Singapore? Places like Sri Mariamman Temple or Sri Veeramakaliamman Temple are absolute gems, especially during Deepavali.
One iconic Hindu temple worth visiting during Deepavali is Sri Veeramakaliamman Temple. This temple is dedicated to the goddess Kali and showcases stunning sculptures and vibrant colours.
— From roxxy.m
The temple has an impressive South Indian Dravidian architectural style. It features intricate carvings, colourful sculptures, and ornate decorations, making it a visual masterpiece.
It's one of the oldest and most prominent Hindu temples in Singapore. It's beautifully decorated during Deepavali, and here you can experience the fervour of devotees and witness the rituals that take place during the festival.
Fact: Sri Veeramakaliamman Temple underwent extensive renovation in the late 1990s to restore its architectural glory and preserve its cultural significance. The restoration efforts have ensured that the temple remains a vital spiritual and cultural centre in Singapore.
Indulge in some Indian cuisine
You can go on a mouthwatering journey through the flavours of India during Deepavali, too! Make your way to Little India or other parts of Singapore and dive into a gastronomic adventure that will tantalise your taste buds.
Indian restaurants and eateries await, ready to serve you a delightful array of traditional dishes. From aromatic curries to fragrant biryanis, to crispy dosas and heavenly sweets, the options are endless.
Check out Flying Monkey for its Tandoori Chicken and TANI Bistro Bar for its Mutton Biryani! 
And if you're a budget-conscious tourist, you'll be glad to know that Indian hawker centres are known for their affordable prices, making them accessible to a wide range of diners.
During Deepavali, Indian hawker centres often feature special festive delicacies on their menus. These may include traditional Indian sweets like laddoos, barfis, and jalebis as well as savoury snacks like samosas and pakoras.
— From tastie_yummies1227
Many stalls are run by Indian chefs or families who bring their culinary expertise and recipes from their home regions, ensuring an authentic taste experience. Allaudin's Briyani at Tekka Centre and Delhi Lahori on Buffalo Road are great examples.
Indian hawker centres also serve as community gathering spots, especially during festive occasions like Deepavali. Families and friends come together to enjoy a meal, share stories, and celebrate the festival, fostering a sense of togetherness and unity.
Fact: Many households opt for vegetarian meals during Deepavali, as it is considered a time of purity and spiritual significance.
Attend cultural performances
From mesmerising dance performances to captivating music concerts, Deepavali celebrations in Singapore offer a feast for all the senses.
You can witness the grace and beauty of traditional dance forms like Bharatanatyam, where intricate movements and expressions tell stories of mythology and tradition.
— From snehalalit_kala_kendra
Let the rhythmic beats of Indian music transport you to another world as talented musicians showcase their mastery of Indian instruments like sitar, tabla, and veena.
In addition to dance and music, you can also explore traditional art displays that highlight the rich artistic heritage of India. Marvel at intricate paintings, sculptures, and handicrafts that showcase the skill and craftsmanship of Indian artisans.
Community centres in areas with a significant Indian population, such as Little India, may organize art exhibitions and showcases during Deepavali.
Fact: The Indian Heritage Centre showcases the history, culture, and art of the Indian community in Singapore. They often organise special exhibitions and events during Deepavali, featuring Indian artworks, artefacts, and traditional crafts.
Visit Sentosa Island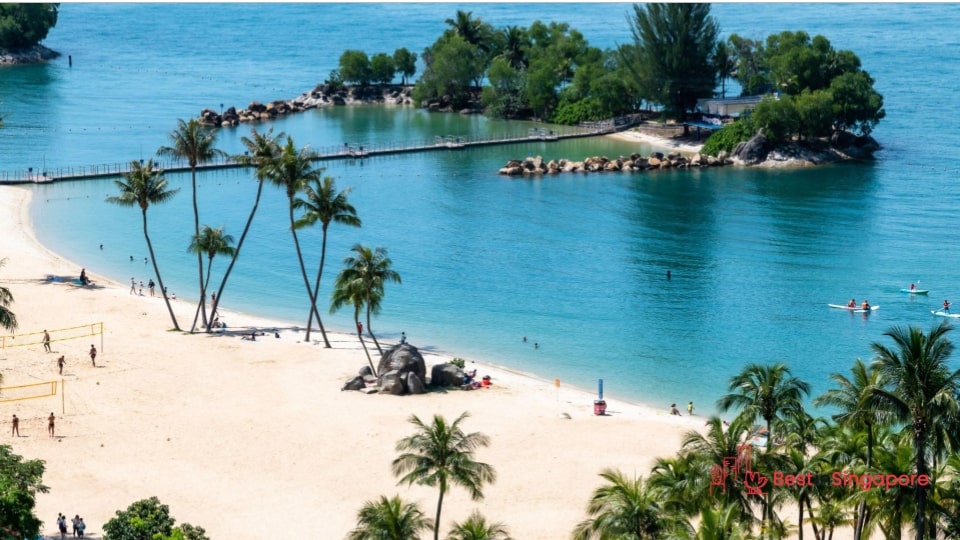 Yes, you can visit Sentosa Island during Deepavali for a fun-filled day of entertainment!
Sentosa is famous for its spectacular fireworks displays, and Deepavali is no exception. Visitors can enjoy magnificent fireworks lighting up the night sky, adding a touch of magic and excitement to the festivities.
The island also offers a range of Deepavali-themed activities. You can participate in cultural performances, art exhibitions, and interactive workshops to learn about Indian traditions and customs.
Sentosa's Siloso Beach hosts a lively beach party during Deepavali, too. The event features music, dance performances, and DJs spinning upbeat tunes, creating a vibrant and energetic atmosphere for everyone to enjoy.
Tip: Deepavali is a great time to visit Universal Studios Singapore on Sentosa Island. The theme park offers special Deepavali-themed shows, parades, and entertainment, providing a unique way to celebrate the festival with family and friends.
Check out the ArtScience Museum
You can immerse yourself in the interactive exhibits at the ArtScience Museum during Deepavali. Discover the intersection of art, science, and technology through captivating displays and special Deepavali-themed exhibitions.
— From trixiadianne
The ArtScience Museum is known for its iconic lotus-shaped architecture, which symbolises the harmony between art and science. Coincidentally, the lotus is also the national flower of India!
During Deepavali, the museum may organize special programs, workshops, or exhibitions that showcase the significance and traditions of this festive occasion.
These offerings typically include interactive displays, informative exhibits, and immersive experiences that highlight the cultural aspects of Deepavali.
Singapore Deepavali Attractions
Deepavali Light-Up Ceremony
— By sahilmathurdxb
The Deepavali light-up ceremony usually takes place a few weeks before the actual festival and continues throughout the Deepavali season.
This allows locals and visitors ample time to enjoy the festive ambience and visit Little India to soak in the festive spirit.
So if you don't make it to the actual ceremony, fret not. You'll have plenty of time to get bedazzled by all the colourful illumination during your stay.
The ceremony is a community-driven event that involves the active participation of residents, businesses, and cultural organisations in Little India. Their collective efforts contribute to the festive decorations and overall joyful atmosphere.
The main event often features a guest of honour, which can include prominent figures from the Indian community, government officials, or community leaders.
Deepavali Festive Market
Alongside the light-up ceremony, a vibrant street market is set up in Little India. Visitors can explore the market and indulge in a variety of Indian street food and snacks and shop for festive goodies and garments.
The Deepavali Festive Market is organised by the Hindu Endowments Board. Here you can find a diverse range of Deepavali-related items, including traditional clothing, accessories, decorations, and yummy treats.
Some popular attractions at the Deepavali market are skilled Mehndi (henna) artists. Visitors can get intricate and beautiful henna designs applied to their hands or other body parts, adding a touch of traditional artistry to their festive look.
During the Deepavali season, the market often extends its operating hours, allowing visitors more time to explore and enjoy the colourful offerings.
Deepavali Countdown Concert
The Deepavali Countdown Concert is an annual event held in Singapore to celebrate the upcoming Deepavali festival. It's a grand celebration that brings together people from all walks of life to enjoy a night of live music, entertainment, and festivities.
— From benchanmalichan
The concert is usually held in a prominent location, such as a public park or an open-air space, which can accommodate a large gathering of attendees. Popular venues in the past have included Esplanade Park and the open field near Marina Bay.
Expect a star-studded line-up of performers, including renowned Indian artists, local musicians, and popular Bollywood celebrities. These performers entertain the audience with energetic music, dance performances, and engaging acts throughout the evening.
Alongside the music performances, the concert also features cultural showcases that highlight the rich traditions and heritage of Indian culture. These may include traditional dance performances, martial arts demonstrations, and other authentic touches.
In the spirit of inclusivity and accessibility, the Deepavali Countdown Concert is usually free for the public to attend!
Deepavali Processions
During Deepavali, certain temples in Singapore organize processions called pradakshina. These processions hold great significance, as they involve taking the deities out in a grand parade around the temple premises.
— From littledesitribe
Pradakshina is a form of worship where devotees circumambulate the temple, walking in a clockwise direction. This act is believed to symbolize the journey of life, with the temple representing the centre of the universe and the deities as the divine guides.
During the pradakshina, devotees may carry traditional items such as flowers, incense sticks, or lamps, which they offer to the deities as a token of their reverence.
Chants, hymns, and devotional music fill the air, creating a sacred atmosphere during the procession.
The pradakshina not only allows devotees to express their devotion and seek blessings but also serves as a way to engage in a collective spiritual experience. It brings the community together, fostering a sense of unity and shared faith.
Temples may decorate the deities and the procession route with colourful flowers, traditional motifs, and ornate decorations, enhancing the visual spectacle and adding to the overall religious fervour.
Singapore River
The Singapore River holds significance during Deepavali, as it provides a beautiful backdrop for celebrations and activities. The river waterfront is adorned with dazzling lights and decorations, creating a vibrant and festive atmosphere.
The Singapore River precinct, including Clarke Quay and Boat Quay, participates in the Deepavali light-up ceremony. The area is transformed with elaborate light displays, artistic installations, and decorative motifs inspired by the festival.
— From globekim 
The precinct also often hosts cultural performances, music concerts, and other activities during the holiday. Visitors can enjoy traditional Indian dance performances, music shows, and street entertainment here.
Tip: Deepavali provides an excellent opportunity to take a river cruise! Cruises offer a unique perspective of the festival celebrations, allowing passengers to witness the illuminated riverfront and experience the festive atmosphere from the water.
What clothes are worn during Diwali?
During Deepavali, people in Singapore, particularly those of Indian descent, dress up in traditional attire.
Women often wear sarees or salwar kameez, while men opt for traditional outfits like kurta pyjamas or sherwanis. These are just some of the garments that reflect the rich cultural heritage of India.
— From houseofethnicwear_
Deepavali clothing is characterised by vibrant and bright colours. Traditional outfits are often adorned with intricate designs, embroidery, and embellishments.
The use of bold and striking colours symbolises joy, celebration, and positivity.
Individuals from various cultural backgrounds may also embrace Indian attire during the festival, showcasing the diversity and inclusivity of the country's celebrations.
While traditional attire is widely embraced during Deepavali, there is also a trend of blending traditional elements with modern fashion.