Celebrate the Life of Gautama Buddha: Vesak Day in Singapore
Singapore is a melting pot of various cultures and religions, and one thriving community here is the Buddhist community. Because of this, the government acknowledges several Buddhist celebrations, especially Vesak Day.
Ever since I started living permanently in Singapore, I've celebrated Vesak Day with my loved ones even though I'm not Buddhist myself. If you're ever in Singapore during this occasion, feel free to join the celebrations as well. 
To guide you, here's an article on everything you need to know about Vesak Day in Singapore. Check it out so that you come prepared when the day comes!
What is Vesak Day?
— From: bbsisters_sg
Simply put, Vesak Day is a festival that celebrates the birth, enlightenment, and death of Gautama Buddha, the founder of Buddhism. For this reason, Vesak has other names, such as Buddha Day and Buddha Jayanti.
Siddharta Gautama Shakyamuni Buddha was born into a noble family around 3,000 years ago in what we now know as Nepal. It's believed that Buddha gave up his riches to travel as a homeless man, which he did for several years.
— From: lucabucchianica 
During his travels, he meditated and practiced self-restraint, and eventually, he discovered how to achieve self-restraint. Since then, he began spreading his teachings, and that's how the religion of Buddhism came to be.
Since Vesak is a celebration of Buddha's birthday and life, it's considered the most important Buddhist celebration.
Where is Vesak Day celebrated?
— From: yanfasy_
Vesak Day is celebrated wherever there's a Buddhist community. That said, this festival is much more common in South and Southeast Asia, especially in the following countries:
Vietnam
Malaysia
Sri Lanka
Singapore
Philippines
Thailand
Bhutan
Cambodia
Indonesia
Laos
Myanmar
Some countries in East Asia also practice Vesak, including China, Japan, South Korea, Mongolia, and Tibet.
When is Vesak Day celebrated in Singapore?
— From: ishanmihir and shreya.mihir
The date on which Vesak is celebrated in Singapore is actually different from the dates in other countries that practice the festival.
In Singapore, Vesak uses the lunisolar calendar, so its actual date varies from year to year. Usually, it falls in April or May, but it can also fall in June during leap years.
In 2022, Vesak was held on May 15, while in 2023, it was on June 2.
— From: alexgmoments
Other countries use a different system in choosing the dates. In Nepal, Buddha's supposed birth country, Vesak falls on the full moon day of the Vaisakha month of the Hindu calendar—which is May in Gregorian.
Meanwhile, for countries that follow the Buddhist calendar, the celebration happens on Uposatha Day, which is the full moon in the fifth or sixth lunar month.
What are the rites and rituals of Vesak Day in Singapore?
Visiting Temples at Dawn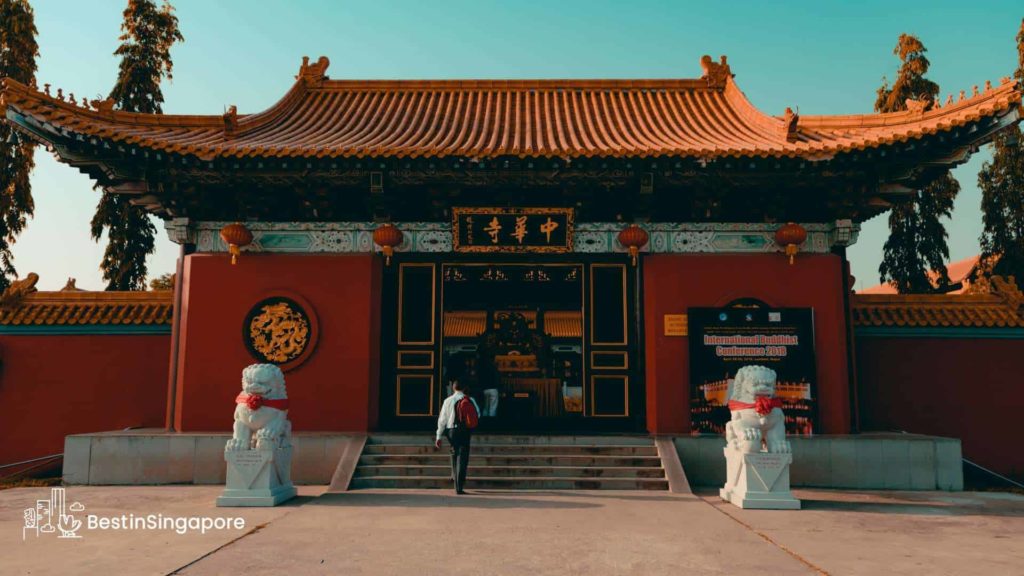 The first thing that devout Buddhists and followers do on Vesak Day is visit temples at dawn. Once they're at the temple of their choosing, they will then do ceremonial activities, such as the hoisting of the Buddhist flag and the singing of hymns.
The hymns they sing are all about the holy triple gem: the Buddha, the Dharma (his teachings), and the Sangha (his disciples).
Offering Flowers, Candles, and Joss Sticks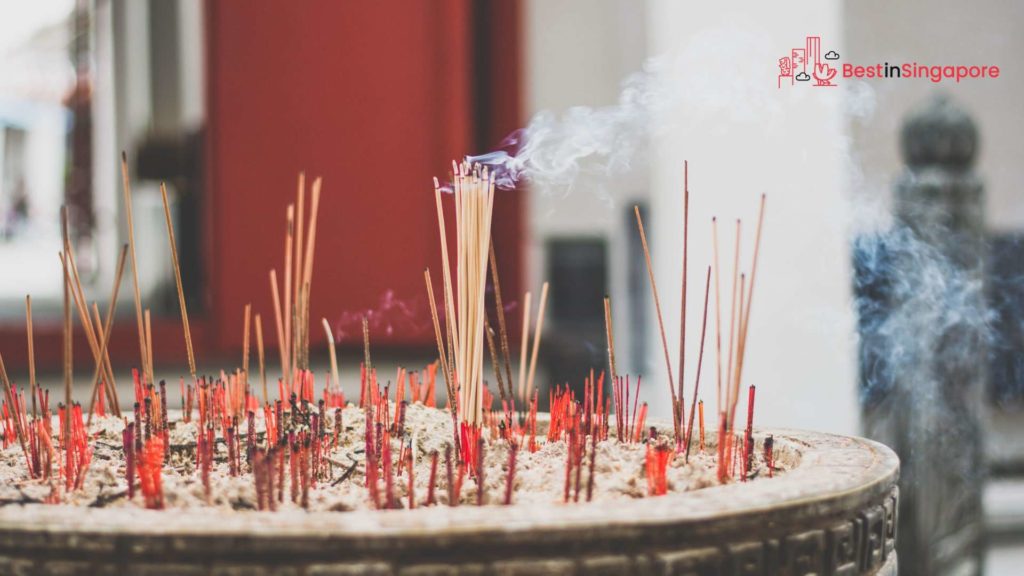 Bringing offerings is also another thing that followers do in temples during Vesak. These offerings don't have to be elaborate; you can just bring flowers, candles, and joss sticks.
The reason flowers, candles, and joss sticks are the most common offerings is the fact that they're symbolic. Flowers are pretty until they wither, and candles and joss sticks would burn for a while before burning out.
As a result, the followers are reminded of Buddha's teachings, specifically about how life is subject to decay and destruction and how we should appreciate it as it is. 
Eating Only Vegetarian Meals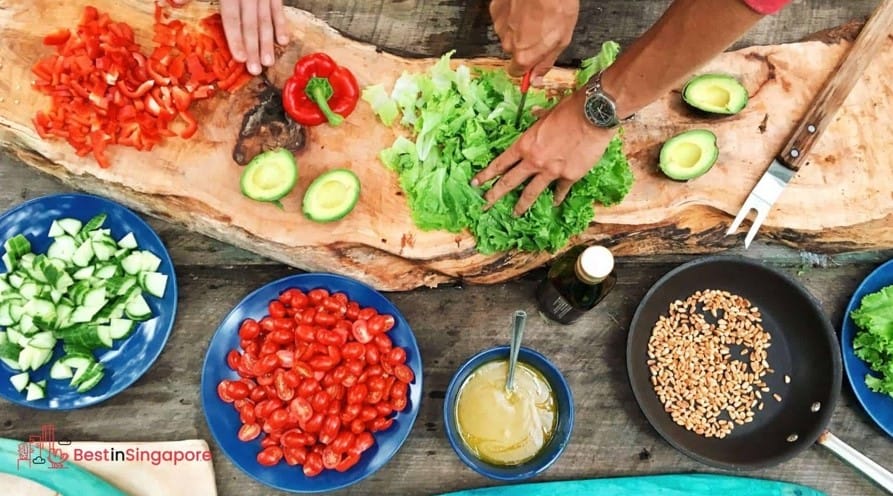 Followers of Buddhism are encouraged to make a special effort to stop killing of any kind. Because of this, they only make vegetarian meals, or if they'd like to eat out, they only choose vegetarian restaurants.
For Burmese and Sri Lankan Buddhists in Singapore, one thing they do that's specific to the school of Buddhism they follow (Theravada Buddhism) is cooking and consuming kheer.
Essentially, kheer is a form of pudding made from rice and milk, and it's believed that the Buddha accepted this food from a milkmaid during his travels.
Paying Homage to the Buddha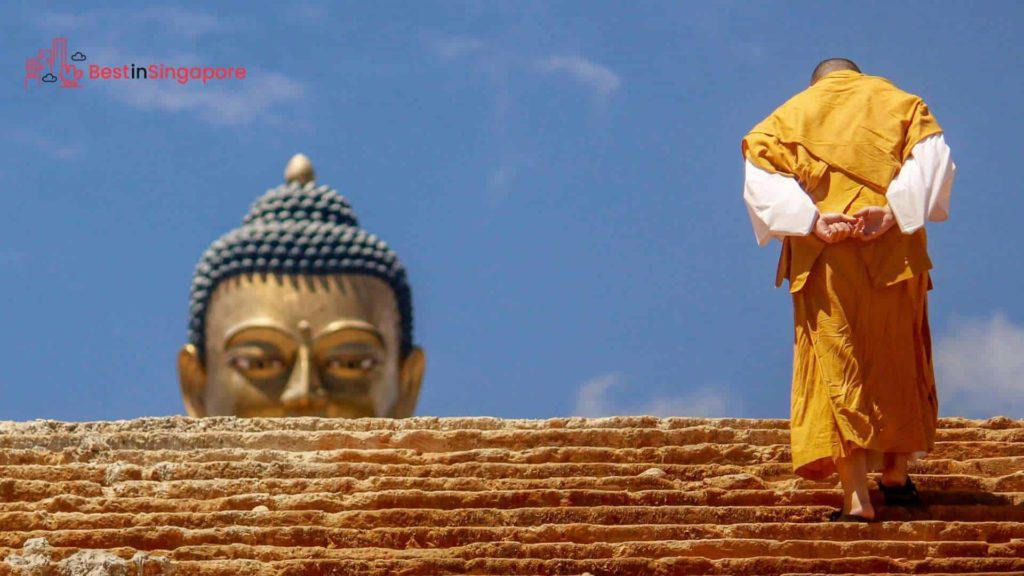 Understandably, since Vesak is all about the Buddha, followers make it a priority to pay homage to him. Paying homage simply means striving to follow his teachings, so anything can fall under this umbrella term.
Visiting temples, bringing offerings, and eating only vegetarian meals are already regarded as paying homage, but other people might do other activities, such as bathing the Buddha.
Basically, on Vesak Day, temples prepare altars with small statues of the Buddha and basins filled with water and flowers. Visitors can then bathe the statue with the scented water.
Doing so is said to cleanse you from any bad karma.
Bringing Happiness to Other People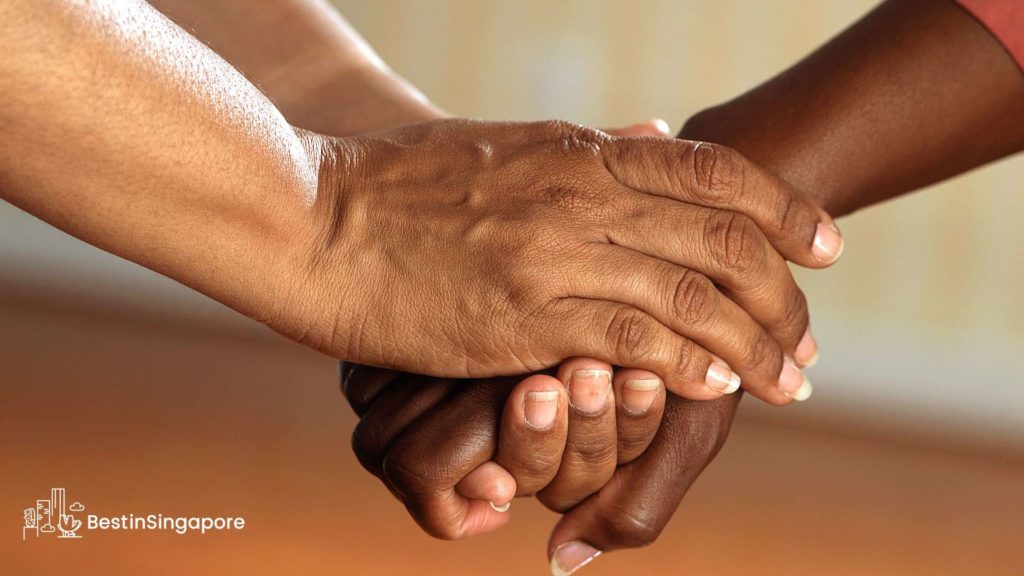 During Vesak, followers feel motivated to make special efforts to help and bring happiness to other people, especially the less fortunate like the aged, the disabled, and the sick.
Because of this, many devotees join volunteer centers to offer help, while others simply resort to distributing gifts (both cash and in-kind).
What temples should I visit on Vesak Day?
Foo Hai Ch'an Monastery
— From: leelilyious
Address: 87 Geylang East Ave 2, Singapore 389753
Operating Hours: Monday to Sunday—8 am to 4 pm
Contact Number: +65 6748 6676
Foo Hai Ch'an Monastery was founded by Hong Zong, a Taiwan-born Japan-ordained Venerable who is credited with popularizing Buddhism in Singapore.
This monastery follows the Chinese strand of Buddhism, so it features influences of Taoism and folk religions. The architecture, in particular, features the classic Chinese design, and there are two Vajra warriors at the entrance.
My favorite elements in this monastery are the five-story-high pagoda and the Bodhi Tree.
The Bodhi Tree is a gift that came from the Jaya Sri Maha Bodhi Tree, a tree that was planted at Anuradhapura, Sri Lanka in 288 BC by Sangamitta (King Ashoka's eldest daughter).
Because of this, I've always thought that the Bodhi Tree at Foo Hai Ch'an Monastery is a sacred thing.
H3: Sri Lankaramaya Buddhist Temple
— From: kasunedward 
Address: 30C St Michael's Rd, Sri Lankaramaya Temple, Singapore 328002
Operating Hours: Monday to Sunday—6 am to 9 pm
Contact Number: +65 6293 2132
Also known as St. Michael Buddhist Temple, the Sri Lankaramaya Buddhist Temple is the main Sri Lankan Buddhist Temple in Singapore. Established in 1920, the temple follows the Theravada School of Buddhism.
Though Vesak is the most popular festival celebrated here, this temple is also known for its various activities. To be specific, monks regularly host Dhamma events, such as meditation practices, pujas, and blessings.
If you're in Singapore sometime in April, you might also want to catch the Sinhalese New Year here. The Sri Lankan community gathers here, and you'll also get to experience colorful celebrations and delicious sweetmeats.
Tiong Bahru Qi Tian Gong Temple
— From: caveman_sean
Address: 44 Eng Hoon St, Singapore 169786
Operating Hours: Monday to Sunday—7 am to 5 pm
Contact Number: +65 6220 2469
The Tiong Bahru Qi Tian Gong Temple is the first—and only—temple in Singapore that's dedicated to the Monkey God. I literally lost count how many statues of this deity are here!
This temple is also quite old—it's about 90 years old—so it has a lot of history attached to it. The caretaker taught me some things about the history and the different incarnations of the Monkey God, which I greatly appreciated.
Sakya Muni Buddha Gaya Temple
— From: johnvirzonlorenzo
Address: 366 Race Course Rd, Singapore 218638
Operating Hours: Monday to Sunday—8 am to 4:30 pm
Contact Number: +65 6294 0714
The Sakya Muni Buddha Gaya Temple is one of the most prominent Buddhist temples in Singapore. It has also earned the nickname Temple of 1,000 Lights because the large central statue is surrounded by numerous light bulbs.
A unique tradition of this temple is on Vesak Day, people can donate money to the temple, which, in turn, will allow them to place a gold leaf onto the small statue of the Buddha.
At the end of the day, the statue becomes covered in several layers of gold leaves.
Kong Meng San Phor Kark See Monastery
— From: singaporeinsiders
Address: 88 Bright Hill Rd, Singapore 574117
Operating Hours: Monday to Sunday—8 am to 4 pm
Contact Number: +65 6849 5300
It's hard to overlook the Kong Meng San Phor Kark See Monastery. It's pretty massive, and its architecture is definitely eye-catching.
And when you stop by this monastery, you'll find a sprawling, green land with an enormous statue and several little ones as decorations.
In the temple's Hall of No Form, you can find the largest bronze Buddha statue. It weighs 55 tons!
I love visiting this temple whenever I can. Even if there's no event being held here, I just stroll to appreciate the beautiful architecture and decorations.
Buddha Tooth Relic Temple and Museum
— From: llihyi
Address: 288 South Bridge Rd, Singapore 058840
Operating Hours: Monday to Sunday—7 am to 5 pm
Contact Number: +65 6220 0220
Located in the Chinatown district, the Buddha Tooth Relic Temple is an iconic attraction that brings in tourists all year round. What I love about this temple is that it serves as a fascinating museum, with various relics inside. 
The most important relic is the tooth relic of the historical Buddha himself. It measures 7.5 cm, which is too long for a human tooth, and you can view it on the fourth floor of the temple.
When you're hungry, head to the basement, where you can find a vegetarian dining hall.
Thian Hock Keng
— From: lim_supasith 
Address: 158 Telok Ayer St, Singapore 068613
Operating Hours: Monday to Sunday—7:30 am to 5 pm
Contact Number: +65 6423 4616
"Classic" is the best way to describe Thian Hock Keng. It was built in the 1800s, making it one of the oldest temples in Singapore, and its history is reflected in its architecture.
It's in Chinese-style, with ancient columns and dragon sculptures.
Other things within the temple that you should pay a visit to are the Music Box Museum and the Museum Cafe.
Since this temple is considered a national monument, it's quite popular among tourists, so it can get crowded especially during lunchtime.
Wat Ananda Metyarama Thai Buddhist Temple
— From: escodotung
Address: 50B Jalan Bukit Merah, Singapore 169545
Operating Hours: Monday to Sunday—6:30 am to 8 pm
Contact Number: +65 6276 9646
The Wat Ananda Metyarama Thai Buddhist Temple is a Theravada Buddhist monastery and temple located in Bukit Merah New Town. This was built in the 1920s, making it one of the oldest Thai Theravada Buddhist temples in Singapore.
In 2014, it underwent several renovations, so now the temple includes a Dhamma hall, a meditation hall, a cultural center, the monks' abode, and many more.
Lian Shan Shuang Lin Monastery
— From: kellykong_eatplaylove
Address: 184 Jalan Toa Payoh, Singapore 319944
Operating Hours: Monday to Sunday—8 am to 5 pm
Contact Number: +65 6259 6924
The Lian Shan Shuang Lin Monastery is one of my favorite temples in Singapore simply because I think it's so serene and gorgeous. The grounds are meticulously landscaped, and the interior is spacious and colorful.
My favorite feature of this monastery is the pagoda. It's tall, and the architecture is beautifully traditional.
Whenever I come across it, I can't help but have a mini photo session.
Aside from taking photos, I just love strolling around the monastery. It's so peaceful, making it a great place for self-reflection.
Burmese Buddhist Temple
— From: djmaxwellwong
Address: 14 Tai Gin Rd, Singapore 327873
Operating Hours: Monday to Sunday—9 am to 6 pm
Contact Number: +65 6251 1717
Founded in 1875, the Burmese Buddhist Temple is the only Burmese Buddhist temple in Singapore and the oldest Theravada institution. It's also home to the largest pure white marble statue of the Buddha outside of Myanmar.
With all of that said, it's not a surprise that it's become an important landmark for Burmese devotees, but non-Burmese visitors are also welcome here.
This temple is quite active; it hosts events all year round. Aside from Vesak Day, you can also partake in the celebrations for the Chinese New Year, the Water Festival, and the Vassa (rain retreat).
The Buddhist Library
— From: nouman.ghaffar
Address: 24A Geylang, Singapore 398526
Operating Hours:
Tuesday to Friday—4 to 8 pm
Saturday—12 to 8 pm
Sunday—10 am to 5 pm
Closed on Monday
Contact Number: +65 6746 8435
The Buddhist Library isn't a temple, but it's still one you might want to visit on Vesak Day. This is because it's the first dedicated Buddhist Library in Singapore, so you can learn more about the Buddha here if you want.
Additionally, the library hosts activities for the whole of Vesak Day, including the bathing of the Buddha, morning and evening pujas, and candlelight processions. So, feel free to drop by here whenever you can on Vesak Day.