Central Beach Bazaar Sentosa: A Sunny Hidden Gem
Did you know that the iconic Sentosa Musical Fountain, which was shut down in 2007, is now elevated by the presence of the impressive Sentosa SkyJet? This combined spectacle is now at the Central Beach Bazaar Sentosa!
Whether you're a dedicated shopaholic, a connoisseur of local delights, or simply in search of a relaxing day by the sea, the bazaar offers a haven of leisure and entertainment.
So join us today as we delve into the heart (and art) of this coastal haven.
Basic Info on Central Beach Bazaar Sentosa
Address: 60 Siloso Beach Walk, Singapore 098997 (Google Maps)
Hours: Daily, 10 AM – 10 PM
Phone: +65 6361 0088
Central Beach Bazaar presents a dynamic day-to-night carnival on the beach. It opened on September 15, 2022.
Nestled at the core of Sentosa, this recently established beach attraction offers an immersive experience. It brings captivating visuals, alluring aromas, and enchanting sounds on one sandy stretch. 
It serves as a central hub where families and groups of friends can relish a variety of entertainment and dining options, all conveniently situated in one vibrant locale.
Best Time to Go
Central Beach Bazaar Sentosa offers something special all day long, so choose a time that aligns with your desired experiences.
If you prefer a quieter visit, consider arriving during weekdays or off-peak hours in the early morning or late afternoon.
If you enjoy basking in the sun, indulging in beachside activities, and exploring local crafts, visiting during the daytime is ideal. You can enjoy the vibrant atmosphere, shop at various stalls, and savour street food.
For a more romantic and visually captivating experience, consider arriving in the late afternoon to witness the sunset over the beach. As the sun dips below the horizon, the transition to evening creates a charming ambience.
If you're drawn to vibrant lights, live performances, and a different kind of atmosphere, the evening is perfect. 
As night falls, the bazaar transforms with illuminated displays, and the Sentosa Musical Fountain and Sentosa SkyJet performances come to life.
How to Get Around
Bus: In Singapore's central region, the central bus services like 65, 80, 93, 188, 855, 10, 30, 97, 100, 131, 143, 145, and 166 offer transportation to various points including Resorts World Sentosa, Merlion Plaza, Opposite Merlion Plaza, and Beach Station.
The fare depends on the distance travelled.
On the mainland, buses from multiple points such as Vivocity (Bus Stop 14141), Merrill Lynch, and Harbourfront (Bus Stop 14121) provide easy access to Sentosa for a fare of S$1.
Train: Access Sentosa via the Sentosa Express. Take the MRT to Harbourfront station, and proceed to VivoCity Lobby L, Level 3.
The standard entry is S$4.
Concession card holders (senior citizens, persons with disabilities, workfare transport workers, college, and ITE students) pay S$2. Children with a concession card or under one meter tall are free.
Car: When driving to Sentosa, pass through Sentosa Gateway. Pay the entry fee via CashCard or cash on the platform.
Parking: Parking lots are located at Beach Station, Imbiah, Tanjong Beach, Palawan Beach, and Sentosa Cove Village Parks. Rates begin at S$1.20/hour from 7 AM to 5 PM and S$2.40 per entry after 5 PM.
Cable car: Experience a panoramic view of Singapore by taking the cable car to Sentosa. Visit the Singapore Cable Car station at Harbourfront Tower II, accessible via MRT to Harbourfront station, followed by a short walk to the cable car station.
Choose from different ticket options:
Mount Faber Line + Sentosa Line: S$35 (adult), S$25 (child). Daily: 8:45 am to 8:30 pm. Last boarding at 8 pm.
Mount Faber Line: S$33 (adult), S$22 (child)
Sentosa Line: S$15 (adult), S$10 (child)
Taxi/taxi alternatives: Pass through the same entry as when driving a car. Here are the taxi/ride-share points on Sentosa Island:
Imbiah Lookout
Siloso Point
Palawan Beach
Tanjong Beach
Beach Station (car park basement, near Lift B)
Roundabout outside Beach Car Park
SDC Office
Sentosa Golf Club
Quayside Isle
Sentosa Cove Village
Village Hotel at Sentosa
On foot/by bike: Want to access Sentosa for free? Choose between walking or cycling along the Sentosa Boardwalk near VivoCity's waterfront.
Enjoy not only cost-free entry but also the scenic views and refreshing air.
Things Do
Be mesmerised by the Sentosa Musical Fountain
Location: 50 Beach View, Singapore 098604 
Hours: 
Show 1: A Tribute to the Original Sentosa Musical Fountain, 4 PM, 5 PM, 6 PM
Show 2: Singapore's National Day Songs, 4.30 PM, 5.30 PM, 6.30 PM
Fee: Access to the viewing gallery is complimentary upon spending at least S$5 per person at the International Food Street.
The iconic Sentosa Musical Fountain is revived here and continues to enchant as water, light, and music combine to create a visual and auditory spectacle. Synchronised water jets dance to a variety of soundtracks for two curated 5-minute performances.
The first pays tribute to the Sentosa Musical Fountain inaugurated in 1980, and the second is a combination of three popular theme songs specially crafted to celebrate Singapore's National Day on August 9th.
See the stunning Sentosa SkyJet
Location: 50 Beach View, Singapore 098604 
Hours: 10 AM – 3 PM and 3.30 PM – 10 PM
Fees: Free admission
Standing at 80 metres (equivalent to a 24-story building!), Sentosa SkyJet holds the record for the tallest fountain in Southeast Asia.
It becomes even more of a remarkable visual landmark for beachgoers, captivating both during the day against the sky and at night with 24 LED lights casting a magical spectacle in the evening sky.
Get some sun, surf, and sand time at Siloso Beach
Location: Siloso Beach Walk, Singapore, Sentosa
Hours: Daily, 8 AM –  7 PM
Fees: No entrance fee
You can always bask in the sun and unwind on Sentosa's beautiful Siloso beach. Take your time lounging on the sandy shores, taking refreshing dips in the sea, and enjoying the soothing ocean breeze.
Whether you're looking to sit back with a book, engage in beach yoga, or simply people-watch, the Central Beach Bazaar provides a tranquil and scenic setting for relaxation.
Have a virtual air combat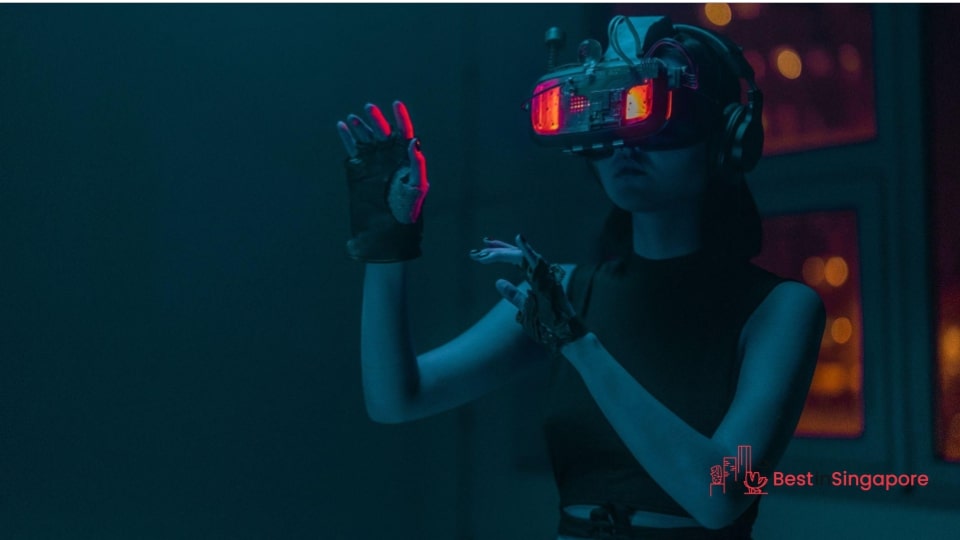 Location: 60 Siloso Beach Walk, Singapore 098997
Hours: 10 AM – 10 PM (the last ride is at 9.40 PM); ride duration: 8 minutes
Fees: S$15 per ride
Air Combat gives you the chance to pilot a fighter jet through realistic skies, enjoying exploration with six distinct movements. Make sure to watch out for the new 'surge' sensation as the plane takes off from a runway!
To enjoy the VR experience, guests must be between 110 cm and 190 cm tall, with a maximum weight limit of 100 kg. Additionally, participants must be at least 12 years old.
Watch the Wings of Time
Location: 50 Beach View Road, Singapore 098604
Hours: 7.40 PM and 8.40 PM; show duration: 20 minutes
Fees: For locals: S$5 discount on Wings of Time tickets for standard and premium seats. Originally priced at S$19.00 for standard and S$24.00 for premium. Free for children under 4 years old. 
The Wings of Time is an award-winning show that can provide a stunning finale to your Sentosa adventure.
Join a prehistoric bird named Shahbaz and friends in a captivating multisensory night show by the open sea. You can experience enhanced pyrotechnics, water, laser, and fire effects as the courageous story unfolds.
Capture scenic views
Capture picturesque moments with the stunning beachfront as your backdrop. The Central Beach Bazaar offers fantastic opportunities for photography and capturing the beauty of Sentosa.
Taste diverse culinary delights at International Food Street
Hours: 10.15 AM to 10 PM, last order at 9.30 PM
Treat your taste buds to a culinary journey at the various food trucks, kombi vans, and upcycled shipping containers offering a range of delectable street food and diverse cuisines. You can savour these delights while enjoying the scenic beach views.
Do note that the International Food Street doesn't have designated seating areas. It's recommended to bring a picnic mat and enjoy your meal at one of the nearby beaches.
Experience day-to-night carnival vibes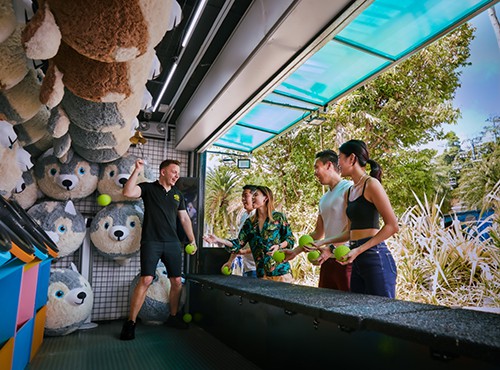 Location: 50 Beach View, Singapore 098604 
Hours: Daily, 10.15 AM – 10 PM
The carnival atmosphere of the Central Beach Bazaar continues well into the evening, offering a different ambience for those who visit after sunset.
You can also test your skills and win large plushies at the carnival games for a chance to bring home attractive prizes. It's for families, couples, and friends to engage in friendly competitions and secure a giant soft toy!
Go for some souvenir shopping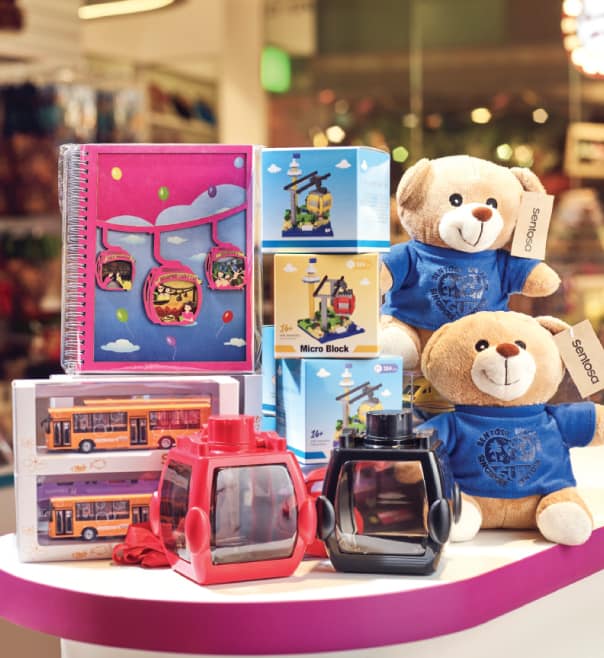 Location: FUN Shop, Beach Station, 60 Siloso Beach Walk, Singapore 098997
Hours: Weekdays, 10.15 AM – 9.30 PM; Weekends, eve of public holidays, and public holidays, 10 AM – 9.30 PM
Browse through a selection of unique souvenirs, beachwear, and local crafts at FUN Shop. You can take home mementoes that remind you of your unforgettable time at Sentosa.
Cold drinks are also available at this souvenir store to beat the heat.
Places to Eat
Chipper Roll Seafood Cafe
Hours: Daily, 10.15 AM to 10 PM; last order at 9.30 PM
Pricing: $$
As the sole airconditioned unit in a row of repurposed shipping containers, Chipper Roll features a premium viewing gallery for Wings of Time shows. 
You can enjoy a S$38 Show and Dine combo, including a lavish lobster roll with chips, along with a Wings of Time ticket and complimentary entry to experience Sentosa Musical Fountain and Sentosa SkyJet.
Bentori
Hours: Daily, 10.15 AM to 10 PM; last order at 9.30 PM
Pricing: $
Bentori presents Japanese yakitori infused with a Southeast Asian flair. I particularly enjoyed its enticing bento options starting at S$8.80, along with a selection of delectable yakitori.
Thai Dee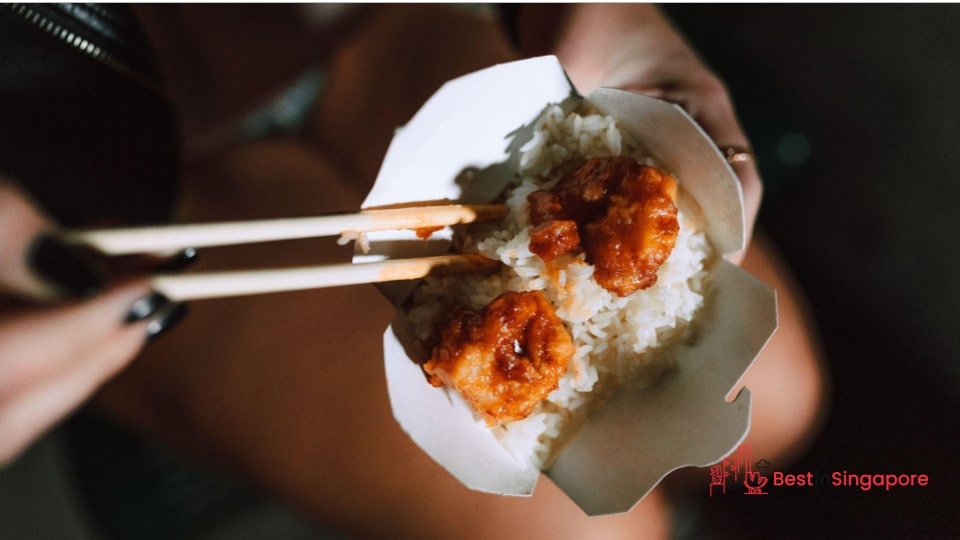 Hours: Daily, 10.15 AM to 10 PM; last order at 9.30 PM
Pricing: $
Discover the flavours of Thailand through a delectable array of noodles and street food snacks at Thai Dee. Indulge in sets starting at just S$6.80, treating your taste buds to a delightful journey of Thai-inspired cuisine.
Taco Pau
Hours: Daily, 10.15 AM to 10 PM; last order at 9.30 PM
Pricing: $
Experience the fusion of Mexican, Western, and Middle Eastern flavours at Taco Pau. We highly recommend its tortillas or quesadillas starting from $7.80. 
Don't pass on the diverse wrap offerings featuring options like tandoori chicken (S$7.80) or for a more deluxe choice, lamb Rogan and potato kofta with cashew gravy(S$9.80).
Masala Wala
Hours: Monday to Friday, 10.15 AM to 10 PM; Saturdays and Sundays, 4 PM to 10 PM; last order at 9.30 PM
Pricing: $
Savour halal and vegetarian treats such as Punjabi samosa (3 pieces for $7.80) and other delectable options at Masala Wala. For a quick and flavorful pick-me-up, try the paneer kathi roll, also priced at $7.80!
Slurps and Scoops
Hours: Daily, 10.15 AM to 10 PM; last order at 9.30 PM
Pricing: $
There are delightful confections to be had at Slurps & Scoops. It sells a variety of sweet treats including ice cream (a cup costs S$5.80), candy floss, and popcorn.
Additionally, the shop offers a range of bottled juices, coffee, smoothies, and mocktails for your enjoyment.
Mama Shop
Hours: Monday to Friday, 10.15 AM – 10 PM; Saturdays and Sundays, 4 PM-10 PM; last order at 9.30 PM
Pricing: $
Mama Shop presents a blend of traditional and contemporary Singaporean snacks and beverages. You'll love discovering beloved classics like Merlion biscuits and nostalgic old-school wafers.