The Thrill of the Risk: Can Foreigners Bet in Singapore?
Different kinds of gambling are popular in Singapore—from the classic lottery to the complex games played in casinos. 
Local residents are welcome to gamble any time (legally, of course), but what about foreigners? Can they bet in Singapore, too?
Luckily, the answer to that question is yes, foreigners can bet in Singapore.
If you want to try your luck, we'll detail all you need to know about gambling as a foreigner in Singapore.
What does "gambling" mean in Singapore?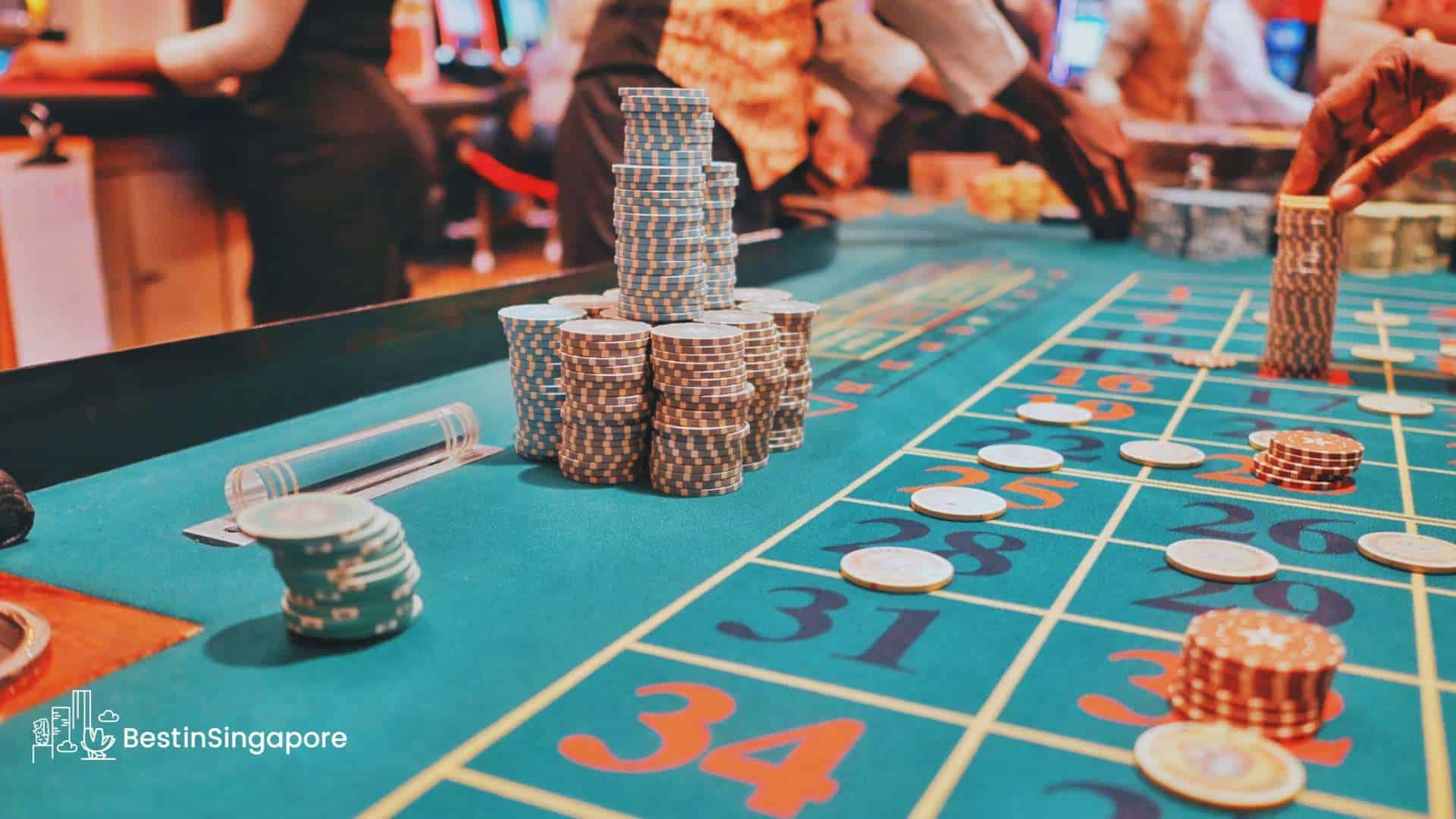 Before we talk about the different ways foreigners can gamble in Singapore, we first have to define what "gambling" means here.
Essentially, gambling in Singapore encompasses three types of activities: betting, lottery, and other games with an element of chance.
Here's a detailed breakdown of each kind of gambling activity.
Betting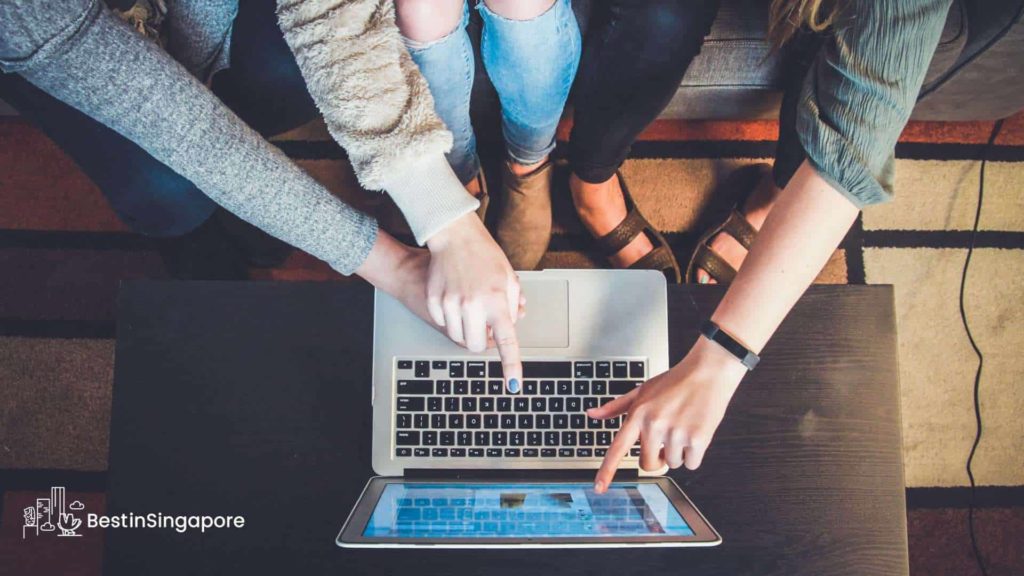 Betting refers to the act of staking money on the outcome of a race, competition, sport, or any other event.
The two most popular examples of betting in Singapore are sports betting and horse race betting. These two can feature simple mechanics (betting on a match winner) or complex ones (betting on the match's outcome or scores).
Betting can also happen when you play mahjong or certain casino table games. In these two instances, you're most likely going to put your money in a pile along with the other players' contributions, and whoever wins the game will get the pile.
Lottery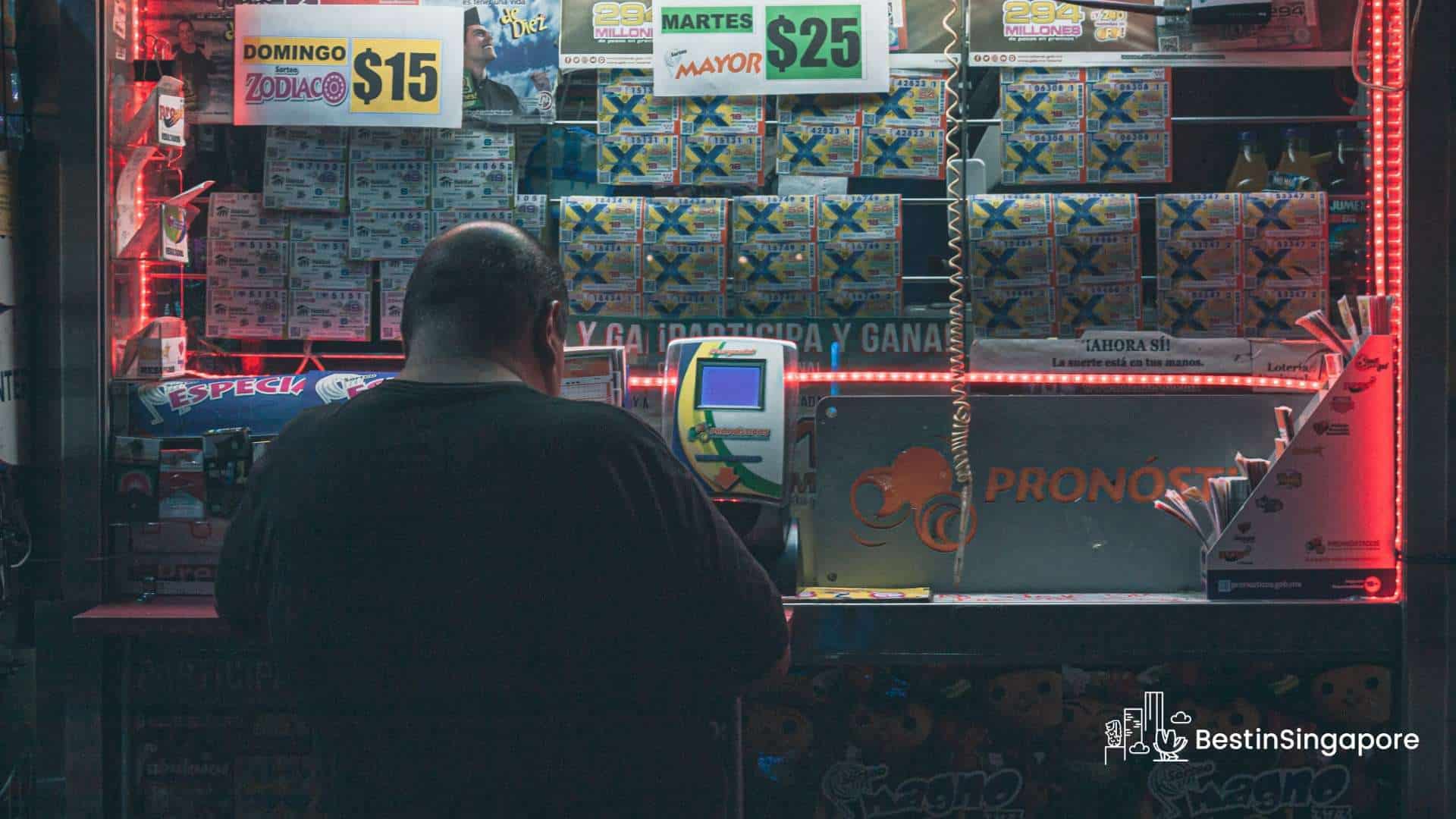 Lottery is arguably the most popular form of gambling in Singapore, especially among citizens and permanent residents. 
Generally speaking, this method requires you to purchase a ticket where you choose a certain amount of numbers and then you watch a televised draw to see if your numbers match up. Whoever gets the same numbers wins.
In Singapore, there are three kinds of lottery, namely, 4-D, TOTO, and Singapore Sweep, and each has a unique set of mechanics. Of the three, Singapore Sweep has the highest prize money as well as the highest stakes.
Other Games with an Element of Chance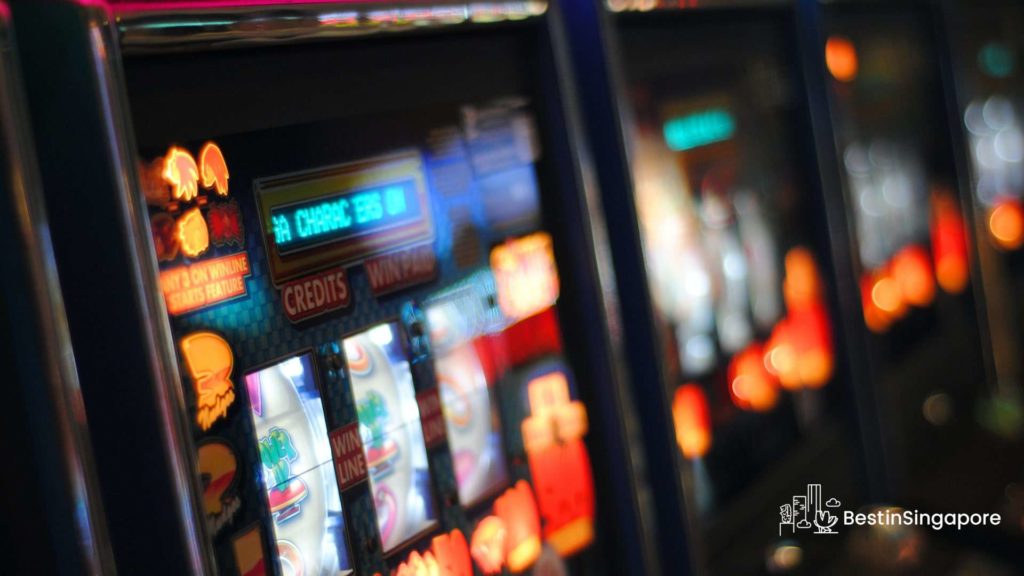 Another way of gambling is when you play certain kinds of games that involve some element of chance. These games give you the possibility of winning money or any other item of value.
Playing on a slot machine located at country clubs and casinos is the best example of this scenario. Other notable examples include games that make use of dice, roulette wheels, and spinning tops to determine a winner.
How can foreigners bet in Singapore?
There are two ways that foreigners can bet in Singapore: you can go to casinos and play there, and you can create an account in Singapore Pools.
Via Casinos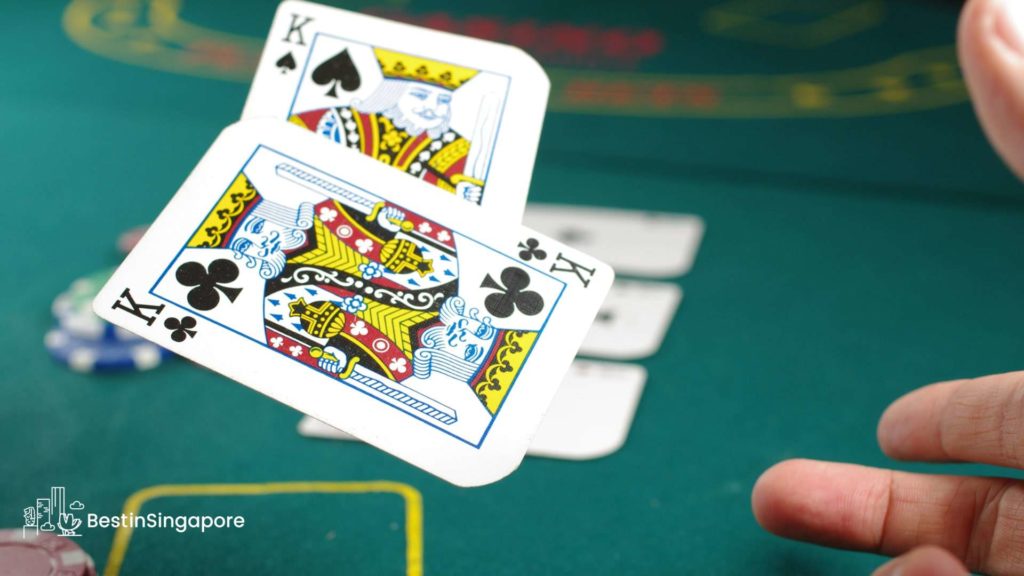 Casinos are the best place to go if you'd like to engage in betting games immediately. This is because casinos house hundreds of slot machines, table games, and more, so you have a lot of options at your disposal.
Additionally, casinos are perfect for foreigners who don't reside in Singapore. So, if you're vacationing here and you want some fun, head to a casino!
Fortunately, Singapore has several popular casinos where you can go and try your luck. Here are a few examples worth checking out.
Marina Bay Sands
Address: 10 Bayfront Ave, Singapore 018956
Contact Number: +6566888868
Website
Marina Bay Sands is one of the most iconic landmarks in the country, and it's mostly known for its unique structure and luxury hotel rooms. But it's also an integrated resort, which means it has a variety of entertainment options—including a casino.
With 15,000 square meters of space, the atrium casino here is one of the largest in the world! It contains about 500 tables and more than 1,600 slot machines, so you won't run out of things to do.
The minimum bet here depends on the table you're planning to play. Roulette has one of the cheapest fees—its minimum is S$5—while other tables will have either a S$25, S$50, or S$100 fee.
Resorts World Sentosa
Address: 8 Sentosa Gateway, Singapore 098269
Operating Hours: Open 24 hours
Contact Number: +6565778000
Located in Sentosa, Resorts World Sentosa is another integrated resort with a casino. This one is owned and operated by the largest gaming operator in Asia, so you can expect a ton of gambling options here. 
Some of the table games you can find in Resorts World Sentosa include blackjack, pai gow, casino stud poker, and baccarat.
If you want to play poker, the designated room for the game is located separate from the casino. The room consists of seven poker tables, and the blinds start at S$10 or S$20 with the rake capped at 5%.
Additionally, poker players can enjoy a free drink, so you'll always be refreshed when playing here.
Seabourn Encore Cruise
Location: Port of Singapore
Website
Do you want a memorable gambling experience? Then, you might want to try riding a cruise that has a casino!
There are many cruises that pass by Singapore, and one that I personally recommend is Seabourn Encore Cruise. This cruise boasts countless destinations all around the world, making it a perfect vacation spot for tourists.
Some of the popular cruises include the 28-Day Circle the South China Sea (departing from and arriving at the Port of Singapore) and 14-Day Thailand, Cambodia & Vietnam (departing from the Port of Singapore and final destination at Hong Kong).
For entertainment, head down to the casino, which is a well-appointed enclave with different games. There are mechanical games that test your odds, and if you prefer games that require skill, try playing against professional dealers at poker tables.
Via Singapore Pools
Singapore Pools is a state-owned lottery company, and it's the only place that's legally allowed to host lottery games and online gambling. So, to anyone in Singapore who wants to gamble, making a Singapore Pools account is a must.
Luckily, citizens and permanent residents aren't the only ones who can create an account; foreigners who live on the island are allowed as well! Just make sure you have the following requirements:
Must be at least 21 years old
Have a valid Foreign Identification Number (FIN)
Can provide a local mobile number and a residential address in Singapore
Once you create a Singapore Pools account, you'll have to verify your identity before you're allowed to participate in any of the games. To verify, you'll be required to get on a video call with a customer service representative.
After you've done everything, you can now engage in various betting activities. Here are a few that might capture your interest.
Sports Betting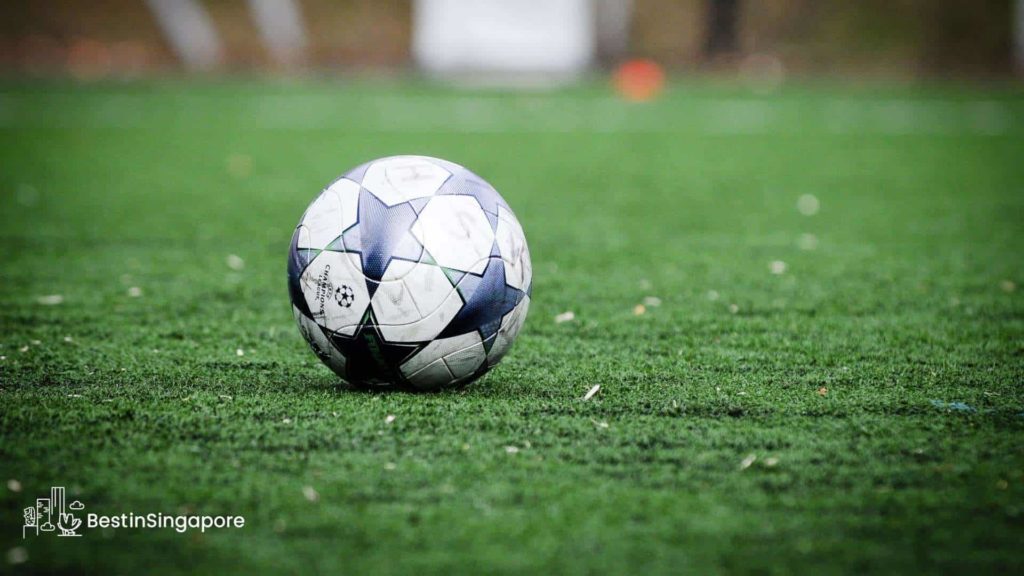 Sports betting is one of the most popular activities in Singapore Pools. You can place pre-match bets before the start of the event or engage in live bets while the event is happening.
The minimum stake is S$1, and your sports options are football and motor racing.
If you win a bet, there are three ways you can collect your prize money:
Withdrawing Online. If you place your bets online, you can withdraw your winnings from your account as soon as the sports results are verified.
Visiting Any Singapore Pools Branch. If you place your bets at an outlet and you win a prize of up to S$5,000, you can visit any Singapore Pools branch for cash collection.
Visiting the Main Branch. If you place your bets at an outlet and your prize money exceeds S$5,000, head to the Singapore Pools main branch (210 Middle Road) for cheque collection. It's open during weekdays from 8 am to 4:30 pm.
Horse Race Betting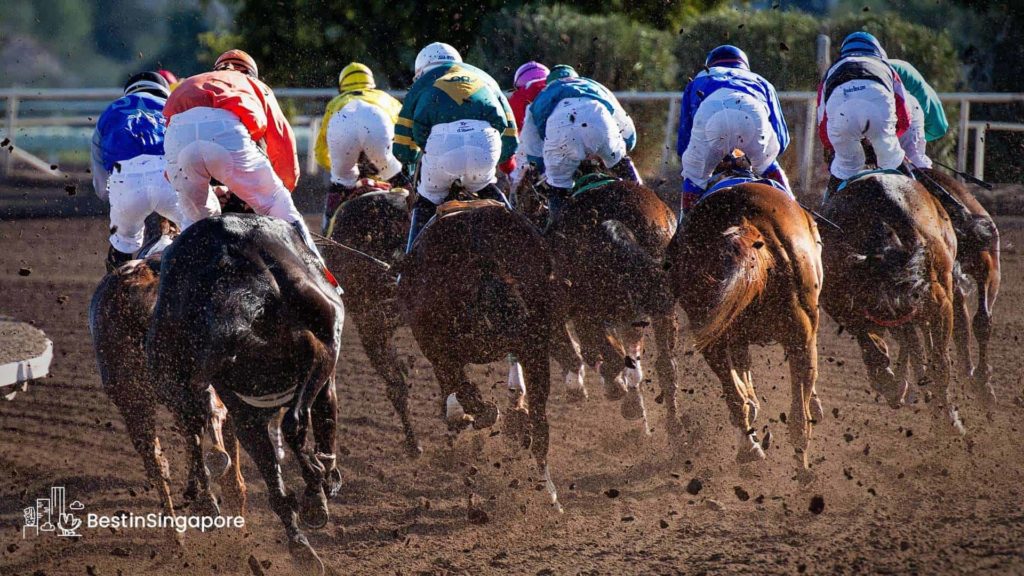 Horse races are also hosted by Singapore Pools, and you can place bets right up to the start of the race. There are various bet types that you can place, namely,
Win: Choose a horse that you think will finish first.
Place: Choose a horse that you think will finish first, second, or third.
Forecast: Choose two horses that you think will finish first and second.
Place Forecast: Choose two horses that you think will finish first and second or first and third or second and third.
Tierce: Choose three horses that you think will finish first, second, and third.
Quartet: Choose four horses that you think will finish first, second, third, and fourth.
These types will have a corresponding unit bet value. Win and Place bet types cost S$5, while Forecast, Place Forecast, Tierce, Trio, and Quartet bet types are S$2.
If you want to participate, check the page for an overview of all horse racing events. There's also a live race schedule for the day, so you can get live updates of the race status. 
Lottery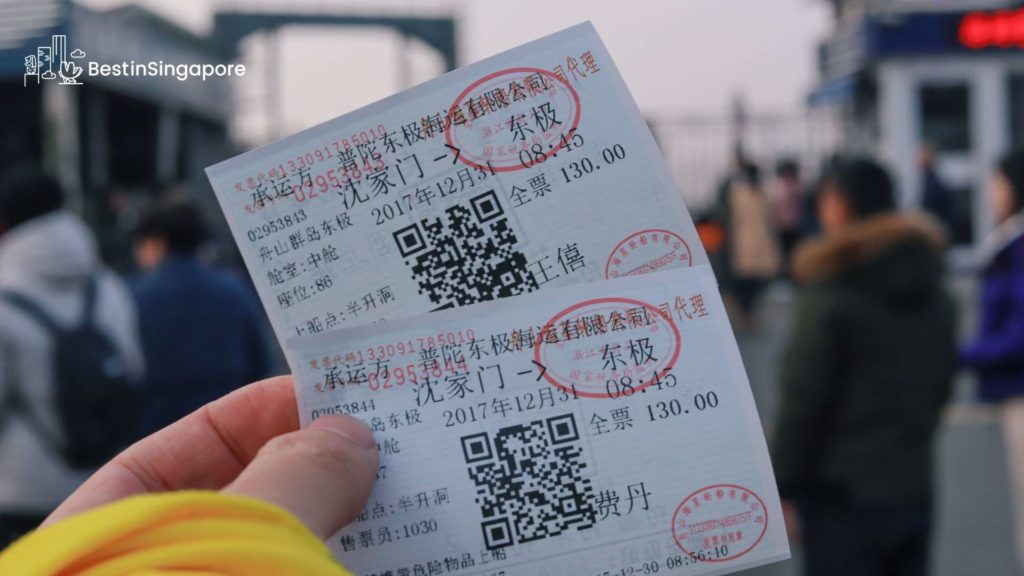 If you want more chances of winning big, then you might want to try the lottery. There are three different lottery types available in Singapore:
4-D: 4-D is a lottery type with fixed-odds mechanics. You choose any number from 0000 to 9999, and if your numbers match the drawn numbers, you win a prize.
TOTO: This type of lottery features "snowballing" mechanics. You pick six numbers from 1 to 49, and the winner is the one whose numbers match the drawn numbers; but if no one wins, the prize will gradually increase.
Singapore Sweep: This lottery type works like a raffle. You only have to buy a ticket with a number from 1,000,000 to 4,499,999, and if the number drawn is your ticket number, you win.
As mentioned earlier, Singapore Sweep has the biggest prize money out of all three; it's around S$2,300,000! That said, these three lottery types have consolation prizes, so there's a small chance that you might win something.
Things to Keep in Mind When Betting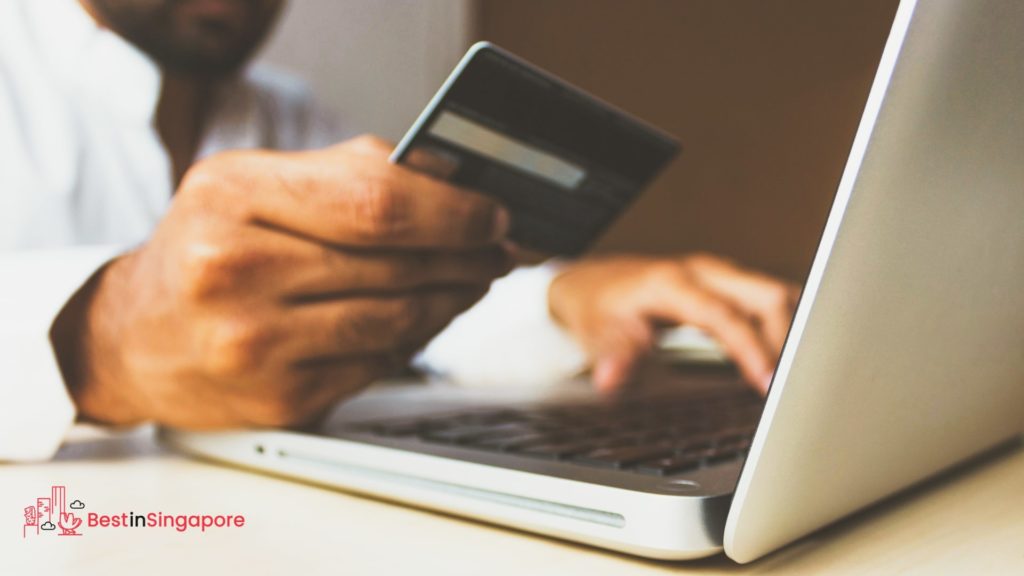 Gambling is a fun experience for many people, but keep in mind that technically, it's illegal in Singapore. The only exception is if the company is licensed and exempted, which is the case for Singapore Pools and the casinos.
So, if you're planning to engage in betting activities, avoid gambling websites and gambling service providers that aren't Singapore Pools.
Also, be sure to practice responsible gambling. Many casinos have a program that promotes responsible gambling, and it contains services that allow you to track the time and money you've spent or set a limit on how many times you can visit a casino.
I suggest joining a responsible gambling program so that you won't get sucked into an addiction.