Crossing to the Other Side: the Best Bridges in Singapore
Singapore is filled with architectural marvels, and some of these marvels include bridges. It never occurred to me before that bridges could be aesthetically pleasing, but now that I've seen the ones in Singapore, I'm a changed person.
I've visited countless bridges over the years, and many of them have stood out for various reasons like their history or their appearance.
If you're interested to see them as well, here's a list of my favorite bridges in Singapore. Check them out when you can!
What bridges should I visit in Singapore?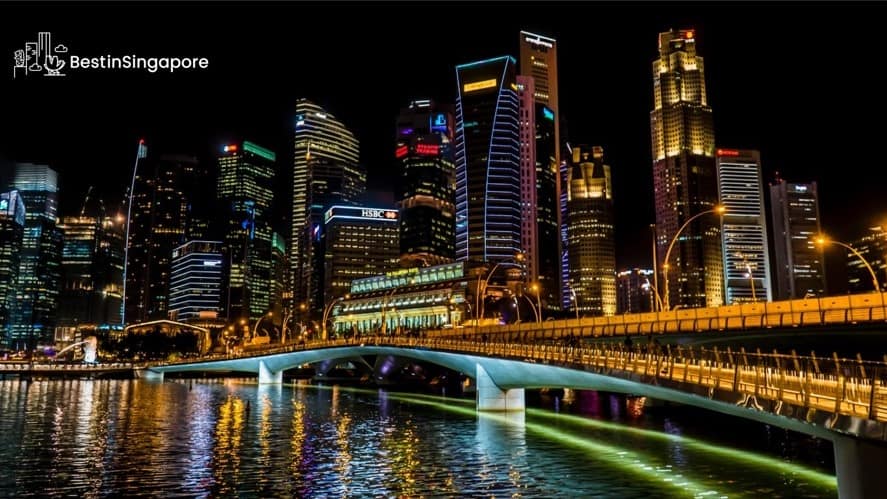 There are many different kinds of bridges in Singapore: pedestrian-only bridges, bridges in parks and nature reserves, and vehicular bridges. So, for organization's sake, I divided my suggestions into these aforementioned categories. 
Pedestrian Bridges
Helix Bridge
— From: thesmartlocalsg 
Location: By the ArtScience Museum, near Marina Bay Sands
Operating Hours: Open 24 hours
The Helix Bridge is probably the most popular bridge in Singapore, and in my opinion, it's for a good reason. This steel bridge is the longest pedestrian bridge in the country, and its design is really eye-catching!
The bridge's structure is inspired by the DNA's curved form, so you can't help but be in awe of its appearance. It also boasts a fantastic view of many iconic sights, such as Marina Bay Sands, the Singapore Flyer, and the Esplanade Theatre.
So, when you cross this bridge, be sure to take your time, drink in the views, and take some photos on your camera phone to remember the moment.
Pro Tip: I suggest checking this bridge out at night because the structure lights up, making for an even more beautiful sight.
Henderson Waves
— From: archigardener
Location: Along Henderson Road, Singapore
While the Helix Bridge is the longest pedestrian bridge in Singapore, the Henderson Waves holds the title for being the highest. It's about 36 meters above the ground, so you get an unparalleled view of the greenery around you.
Another great thing about this bridge is its design. The titular "waves" (though I've always thought they look more like curved ribs) are iconic and can be spotted from far away.
And when the sun is high up in the sky, you can duck under the wave-like structure to get shade. Talk about being aesthetically pleasing and practical at the same time!
Pro Tip: The Henderson Waves is near another famous bridge in Singapore, the Southern Ridges (we'll talk about this later in the article), so be sure to check it out too.
Cavenagh Bridge
— From: hutomoryan 
Location: 1 Fullerton Square, Singapore 049178
Operating Hours: Open 24 hours
Are you interested in historical landmarks? Then, you'd definitely want to visit and cross Cavenagh Bridge.
This suspension bridge was created way back in 1870, and you can definitely see the period's influence in its design.
Whenever I come here, I like to imagine what it was like to cross this bridge in the past. I wonder what the scenery was like!
Alkaff Bridge
— From: ailivelaughlove
Location: Near The Quayside at 60 Robertson Quay
Operating Hours: Open 24 hours
If I have to pick only one bridge as my favorite, then I'll have to pick the Alkaff Bridge.
And how can I not? This bridge is screaming in vivid colors, so every time I see it, I can't help but smile and light up as well.
Another thing I love about this bridge is its backstory. It was designed by a Filipino female artist, Pacita Abad, and she used the image of a tongkang (a light boat used for transportation back in the day) as the inspiration for the bridge's look.
She and her team then swathed the bridge with bright colors, which is why Alkaff Bridge is oftentimes referred to as the Singapore Art Bridge.
Pro Tip: Do keep your eye out for otters along the Singapore River. They're sometimes spotted swimming in this area, and they're so cute! You don't want to miss them out.
Jubilee Bridge
— From: _aishahsanusi_ 
Location: 1 Esplanade Dr, Singapore 038981
Operating Hours: Open 24 hours
The Jubilee Bridge was constructed at the suggestion of former Prime Minister Lee Kuan Yew, who thought that the Esplanade Bridge was too narrow for pedestrians to cross safely. It was opened to the public in 2015, and since then, it's been widely visited.
Just like the Helix Bridge, the Jubilee Bridge features a stunning view of the Singapore skyline and the river.
Sometimes, I just lean on the railing as I enjoy the scenery all around me. It's relaxing! 
Pro Tip: The view becomes even prettier at night because all the skyscrapers are lit up. You might want to visit and check out the view during this time. 
Ord Bridge
— From: gwalchmei 
Location: Merchant Loop, Singapore 787056
Operating Hours: Open 24 hours
Another historical bridge that might pique your interest is Ord Bridge. Originally named Ordnance Bridge, this one was constructed back in 1886 as a replacement for another footbridge that was to be demolished.
I have to admit that the Ord Bridge is easily overlooked because of its simple design, but I'm quite fond of its simplicity. I also love just watching all the boats passing below the bridge and the birds flying by. 
Pro Tip: Just like the other bridges on this list, this one also lights up at night, so don't miss out on that. 
Read Bridge
— From: christopher.lee0307
Location: 1B Clarke Quay, Singapore 179023
Operating Hours: Open 24 hours
Also known as the Malacca Bridge, the Read Bridge is another example of a simple yet elegant bridge. What makes this bridge stand out is the fact that it becomes lively and vibrant at night, especially on the weekends.
Essentially, when night comes, crowds form here. There are clubbers partying, while others are listening to the tales spun by Teochew storytellers on soapboxes and stools.
I've only visited this bridge at night a couple of times, but each time yielded a unique experience. If you're looking for a fun thing to do at night, I highly suggest trying this one. 
Pro Tip: If you are going to this bridge at night to check out the activities, be sure to be mindful of your belongings. There will be a lot of people, and you don't want to get your valuables stolen or lost.
Upper Bukit Timah Truss Bridge
— From: kizhu_clicks
Location: Upper Bukit Timah Rd, Singapore
Operating Hours: Open 24 hours
The Upper Bukit Timah Truss Bridge was initially commissioned to be a railway, but it was eventually converted to a walkway as part of the Green Corridor Project.
As of now, this bridge acts as a beautiful heritage monument that celebrates Singapore's railway history. And though it's a short bridge, I've enjoyed peaceful walks here. 
Pro Tip: This bridge makes for a scenic backdrop for your photos, so if you're looking for an Instagram-worthy place, this one might interest you.
Old KTM Railway Bridge Hindhede Crossing
— From: linda.koh 
Location: 80 Hindhede Rd, Singapore 589244
Operating Hours: Open 24 hours
Speaking of railway corridors that work great as scenic backdrops for photos, another one that I think you might like is the Old KTM Railway Bridge at Hindhede Crossing.
This bridge was built as a railway in 1932 and was used to connect Singapore to the Malaya peninsula. Though it's not used anymore these days, it's still open to the public for hiking, jogging, or simply taking pictures. 
Pro Tip: This bridge is near Bukit Timah Nature Reserve, so I suggest heading there if you're interested. If you're already in the park, you can also go on a hike with this bridge as part of your route.
Sentosa Gateway
— From: roy_singapore
Location: near VivoCity
Operating Hours: Open 24 hours
Sentosa Island is one of Singapore's most popular tourist attractions, and people usually come here via train, bus, or cable car. But if you're looking for a memorable experience, I suggest walking on the Sentosa Gateway to visit this getaway haven.
The view here is just pretty. You get to see the channel as well as the coastlines of both the mainland and Sentosa.
The sea breeze is refreshing, and there are also a lot of photo-op moments. What's not to love?
Pro Tip: Biking is also possible here if you're interested. Simply rent a bike at your preferred bike rental and enjoy the ride.
Floating Bridges at Siloso and Palawan Beaches
— From: giordana
Location:
Siloso Beach—10A Siloso Beach Walk, Singapore
Palawan Beach—Palawan Beach Walk, Singapore
While we're on the topic of Sentosa, it would be remiss of me not to mention the Floating Bridges. These bridges can be found at two beaches in Sentosa: Siloso Beach and Palawan Beach.
Walking along either of these bridges really makes you feel like you're in a tropical paradise. You get the sea breeze caressing your face and marine life swimming beneath your feet.
If you're on Palawan Beach, I suggest going to the Southernmost Point of Continental Asia, which is on the other end of the Floating Bridge there. The view of nature there is just unparalleled.
Pro Tip: The Floating Bridges are narrow, so if you're with a few people, be sure to avoid crowding. Also, refrain from doing unnecessary movements like jumping or swaying the bridge.
Tanjong Rhu Bridge
— From: haimi.edz 
Location: Near Singapore Indoor Stadium
Situated in the heart of Singapore, Tanjong Rhu Bridge is a suspension bridge that lets visitors access the Singapore Sports Hub. Additionally, its architecture features two A-frames situated on each end and about 100 cables supporting the bridge.
One great thing about this bridge is that it's such a good spot for photo opportunities. In particular, the view of the sunrise here is said to be spellbinding.
I've never seen it for myself, but I'm eager to catch this view soon. 
Pro Tip: In addition to the Singapore Indoor Stadium, other attractions near this bridge that you might want to visit include Leisure Park Kallang and Kallang Wave Mall.
Lazarus–St. John's Island Bridge
— From: furrybombom 
Location: St. John's Island, Singapore
If you're not aware, Lazarus Island and St. John's Island are two of the Southern Islands, which are islands far from the coast of mainland Singapore. These two boast untouched nature, which you can enjoy by swimming in the blue sea or having a picnic.
Another way you can immerse yourself in the greenery is by walking along the bridge that connects both islands.
You get a 360-degree view of beautiful nature and breathe in the salty air. The experience is truly soothing. 
Pro Tip: Tired of walking? You can ride a bike instead!
Bridges in Parks and Nature Reserves
MacRitchie TreeTop Walk
— From: chenjessicayj
Location: MacRitchie Reservoir Park, Lornie Road, Singapore
Operating Hours:
Tuesday to Friday—9 am to 5 pm
Saturday and Sunday—8:30 am to 5 pm
Closed on Monday
There are many things to love about MacRitchie Reservoir Park, but one of my personal favorites is its TreeTop Walk. Essentially, it's a suspension bridge that's 25 meters from the ground, so you get to see the plants and animals living on the forest canopy.
This bridge is popular among hikers and researchers, but casual visitors will love strolling here too. Personally, I love observing the birds nesting in the trees or flying skyward, while my friends enjoy taking selfies whenever they can. 
Pro Tip: If you have the time, you might want to join the Walking Trail at TreeTop Walk, which will take about two hours to complete.
OCBC Skyway
— From: nikodeguzzi 
Location: 18 Marina Gardens Dr, Singapore 018953
Operating Hours: Monday to Sunday—9 am to 9 pm
Admission Fee:
Adult (non-resident)—S$12
Child (non-resident)—S$8
Adult (Singaporean resident)—S$8
Senior citizen, child (Singaporean resident)—S$5
The OCBC Skyway is probably the only skywalk on this list that isn't free, but in my opinion, it's still worth it. It puts you right in the heart of the iconic Supertree Grove in Gardens by the Bay.
I love casually strolling on this bridge and taking selfies and photos of the majestic Supertree along the way. I would also suggest heading to the Supertree Observatory to enjoy a bird's eye view of the entire gardens.
Pro Tip: Around 7 pm is the optimal visiting time for this skyway because you get to experience the Garden Rhapsody, Gardens by the Bay's famous light and sound show.
Fort Siloso Skywalk
— From: lonelytravelog
Location: Siloso Rd, Singapore 099981
Operating Hours: Monday to Sunday—9 am to 6 pm
Fort Siloso is the only well-preserved coastal fort in Singapore, making it a popular landmark for history lovers. And though I do love checking out the WWII memorabilia in the on-site museum, my favorite part of this fort is the newly added skywalk.
The Fort Siloso Skywalk is about 11 stories high and 181 meters long. Here, you can cherish a scenic treetop walk.
In my opinion, the optimal time for strolling on the bridge is during the late afternoon because you'll be able to watch the beautiful sunset.
Pro Tip: If you have the time, I suggest joining the guided tour at Fort Siloso so that you can get a detailed historical account of this place.
The Southern Ridges
— From: kkxiao_334556
Location: Near Alexandra Road, Singapore
Operating Hours: Open 24 hours
The Southern Ridges is the ultimate trail-slash-bridge for avid hikers and joggers. This bridge stretches up to 10 km long, connecting various parks such as Mount Faber Park, Telok Blangah Hill Park, HortPark, Kent Ridge Park, and Labrador Nature Reserve.
What I love the most about the Southern Ridges is that since it's such a long bridge, the scenery changes many times. One minute, you're enjoying a walk by the coast, then the next, you're deep in the forest.
Even if you're not planning to walk the entirety of this bridge, I still think it's worth checking out.
Pro Tip: Once you feel tired, you can stop at any of the parks that are connected by the Southern Ridges and rest there. 
Jewel Bridge
— From: pehtitus 
Location: Near Sumang Walk, Singapore
The Jewel Bridge is a hidden gem near Punggol Park. The view you'll get here is just absolutely breathtaking, and you'll also be far from the hustle and bustle of the city.
I mostly see hikers and bikers here, but sometimes, I also spot families having some quality time together. Personally, I love walking here with my headphones on, getting lost in my favorite songs or a fun podcast.
Pro Tip: Come here during the late afternoon to enjoy a view of the sunset.
Jiak Kim Bridge
— From: thepilategirl
Location: Near Kim Seng Park at River Valley Green
Operating Hours: Open 24 hours
If you're planning to visit Kim Seng Park, then you'll likely encounter the Jiak Kim Bridge. This bridge looks relatively simple—the only defining characteristic is its arch on one side of the railing—but I love its serene atmosphere.
When I'm in the mood to be active, I include this in my hiking trail or go jogging here.
Pro Tip: Wild animals (especially birds) frequent this bridge too, so be careful. If you're a bird enthusiast, you might want to bring your binoculars so that you can spot the visiting birds better.
Vehicular Bridges
Anderson Bridge
— From: my_world_travel 
Location: Fullerton Rd, Singapore 049212
Operating Hours: Open 24 hours
The Anderson Bridge is another one of the Singapore River Bridges (the other two being Cavenagh Bridge and Elgin Bridge), and it was opened to the public in 1910. Since it's been here for a long time, it has quite an interesting historical background.
For example, did you know that during the Japanese occupation of Singapore, the bridge was where the Japanese soldiers hung the severed heads of criminals to discourage citizens from breaking the law? Horrifying, I know!
Because of its historical background, the National Heritage Board gazetted the Anderson Bridge (along with the other Singapore River Bridges) as the 73rd National Monument of Singapore in 2019.
Pro Tip: Even though this bridge is mostly for vehicular purposes, there's still a side that's pedestrian-friendly. So, feel free to enjoy a casual walk here. 
Elgin Bridge
— From: jhmusic2023 
Location: South Bridge Rd, Singapore
Operating Hours: Open 24 hours
Speaking of historical bridges, the Elgin Bridge is another one that should be on your radar. This bridge was constructed in the 1800s, and it was predominantly used by Chinese merchants and Indian traders.
On either side of the bridge, you can find cast-iron lamps that have medallions carved with the Singapore Lion. I like that they add an elegant touch to this simple, historical bridge.
Pro Tip: At night, the Boat Quay becomes beautifully illuminated, which makes for a pretty sight. I suggest visiting this bridge at that time.
Esplanade Bridge
— From: julesofsingapore 
Location: Esplanade Drive, Singapore
Operating Hours: Open 24 hours
The Esplanade Bridge is most likely one of the bridges that you'll constantly cross in Singapore. After all, it's located near many of the nation's most famous attractions, such as Gardens by the Bay, Marina Bay Sands, and Merlion Park.
Riding a bus or taxi across this bridge is always an exhilarating experience because, for a moment, I feel like I'm in the heart of Singapore. Sometimes, I'm even tempted to disembark at the nearest stop so that I can enjoy the views even more.
Pro Tip: If you'd like to enjoy the panoramic view, there's a section of the bridge dedicated to sightseeing. Depending on the day, there might be a crowd here, but it's okay because the view is mostly unobstructed. 
Pulau Saigon Bridge
— From: grandfathersroadpod 
Location: Saiboo Street, Singapore
Operating Hours: Open 24 hours
Pulau Saigon Bridge may seem simple at first glance, but when you check out its pedestrian walkway, which is under the bridge, you'll realize how much of a hidden gem this place actually is.
This walkway is filled with murals so colorful that I can't help but blurt out "oohs" and "aahs" every few seconds. I'm not much of an art nerd myself, but I do love all things colorful, so these paintings resonated with me.
If you love art, the murals under the Pulau Saigon Bridge might pique your interest. 
Pro Tip: There are several restaurants near the bridge, so I suggest you take up this opportunity to splurge on good food as well. My recommendations are
• Limoncello (if you're craving wood-fired pizzas and delectable pasta dishes)
• Botany Roberston Quay (if you're looking for a brunch spot)
• Super Loco Robertson Quay (if you'd like to eat Mexican food)
Benjamin Sheares Bridge
— From: property_ipat
Location: Near Gardens by the Bay, Singapore
Operating Hours: Open 24 hours
The Benjamin Sheares Bridge makes up the final part of the East Coast Parkway, and it can take you to several beloved attractions, such as Gardens by the Bay and East Coast Park.
Just like Pulau Saigon Bridge, the walkway under Benjamin Sheares is where all the exciting things happen.
Sure, most people (myself included) simply hike or jog here, but there are some who skate. And when someone is extremely experienced, they might actually show off some impressive moves that will leave your mouth open!
I'm not a pro skater, but sometimes, I like to practice my skills here. I highly recommend it — it's even more fun with family and friends. 
Pro Tip: If you do plan to skate in the underpass, be sure to bring the right gear, especially knee pads and helmets. It's better to be safe than sorry!
Johor–Singapore Causeway
— From: udnglobal 
Location: Near Woodlands Waterfront Park, Singapore
Operating Hours: Open 24 hours
Let's say you've seen all the attractions that you want to see in Singapore, but you're still itching for more. If that's the case, you might want to go to Singapore's neighboring country, Malaysia, and to do that, you need to cross the Johor-Singapore Causeway.
On Singapore's side, the causeway's starting point is in Woodlands, and you'll have a variety of transportation options. The most popular is riding the bus, but you can also take the train or hail a taxi.
You can even cross the causeway on foot! I've never done that before, but I think that might be a great option if I'm in the mood for a long walk (or if I'm sick of the traffic).
Pro Tip: The causeway will always be packed with vehicles no matter when you cross it. So, I suggest preparing for the long traffic that you'll likely experience.